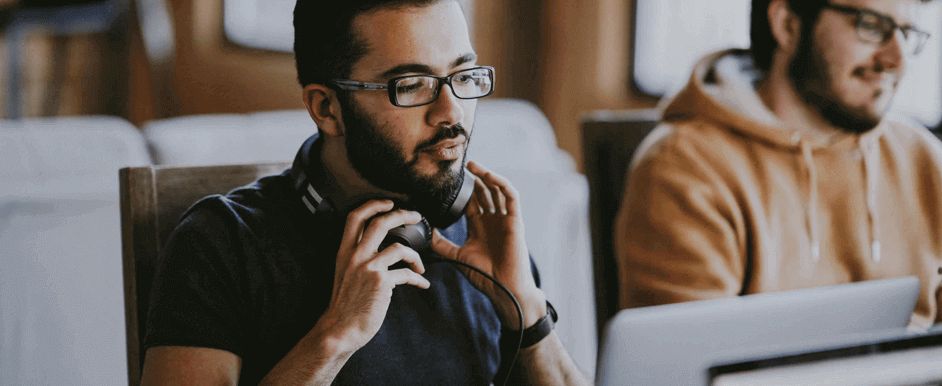 Which is the Best Microlearning Tool?
There are several microlearning platforms that you can find and compare based on your needs. Ideally, quality microlearning software tools should support learning paths, gamification, videos, quizzes, and social learning. The key is to adopt a tool that facilitates learning in engaging ways. This will enhance retention, simplify how you achieve learning goals, and make learning sustainable.
Microlearning is the trend these days. It is a leading mode of learning that modern learners prefer. In fact, in recent years, it has earned a top spot in the learning and development industry. As a proven method of delivery learning, microlearning ensures increased engagement, better knowledge retention, better development, and lower training costs.
It employs learning materials such as graphic images, short video clips, podcasts, infographics, and other engaging media to teach and train learners. In most cases, microlearning combines gamification and mobile learning to facilitate learning on the go.
The following is a quick list of the top 10 microlearning tools that are trending these days.
10 Best Microlearning Tools
10 Best Microlearning Tools
Why Is It Best?
ProProfs LMS

Mobile LMS
Anytime, anywhere learning
Learning paths
Audio, video, & infographic formats
Course & chapter scheduling
Quizzes

TalentCards

Mobile app
Short training sessions
Multiple formats
Learning cards
Quizzes
Gamification

Grovo

Course authoring tool
Microlearning platform
Microlearning lessons
Lesson player
Content porting
User-friendly knowledgebase

TalentLMS

Responsive design
Learning paths
Gamification
Communication tools
Mobile LMS app
Learning platform

Docebo

Mobile app publisher
Social learning
Mobile-ready content
Offline player app
Content specialists
Screen reader

SAP Litmos

Gamification
Mobile training software
Video courses
Handouts
Workbooks
Automatic course update

EduMe

Mobile learning
Content studio
Quizzes
Asynchronous Learning
Engagement monitoring
Learner portal

OttoLearn

Micro-lessons
Gamification
Multimedia content
Spaced repetition
Adaptive content delivery
Instructional scaffolding

Oust Labs

Mobile microlearning
Gamified platform
Personalized micro-content
Multilingual delivery
Interactive notice boards
Quizzes

mLevel

Microlearning platform
Game-based learning
17 microlearning activities
Analytics platform
Badge management
Mobile learning
Before we look at these best microlearning tools in more detail, let's answer some quick questions:
What Is Microlearning?
Microlearning, sometimes referred to as nanolearning, is a style of learning characterized by small learning units or modules. Learners learn at their convenience by absorbing information at the micro-level in short sessions lasting a few minutes. In this method of learning, the content is designed for quick uptake by learners, and so it is more specific and focussed on a single topic at a time.
Why Is Microlearning Important?
Microlearning is significant from several angles. It takes a more targeted approach to learning and provides just what an individual can digest at a single point in time. It overcomes the practice of loading learners with tons of overwhelming information like in traditional classroom lectures.
Instead, it supports just-in-time learning that one can even implement in the flow of work. Microlearning provides learners the liberty to decide what to learn, when, and where.
How To Use Microlearning in Employee Training
You can make online employee training more engaging by introducing microlearning into it. For example, gamification, learning paths, and scenario-based learning employ different elements of microlearning.
Generally, learning management systems can help you deliver microlearning, especially through their microlearning mobile platforms. Features in an LMS such as self-paced learning let you break down long-term goals into short and manageable learning objectives. This ensures better retention and makes learning consistent and sustainable.
What Is Microlearning?
Microlearning, sometimes referred to as nanolearning, is a style of learning characterized by small learning units or modules. Learners learn at their convenience by absorbing information at the micro-level in short sessions lasting a few minutes. In this method of learning, the content is designed for quick uptake by learners, and so it is more specific and focussed on a single topic at a time.
Let's drill down further and unbox the microlearning tools that we've lined up for you in this post.
10 Best Microlearning Tools For Modern Businesses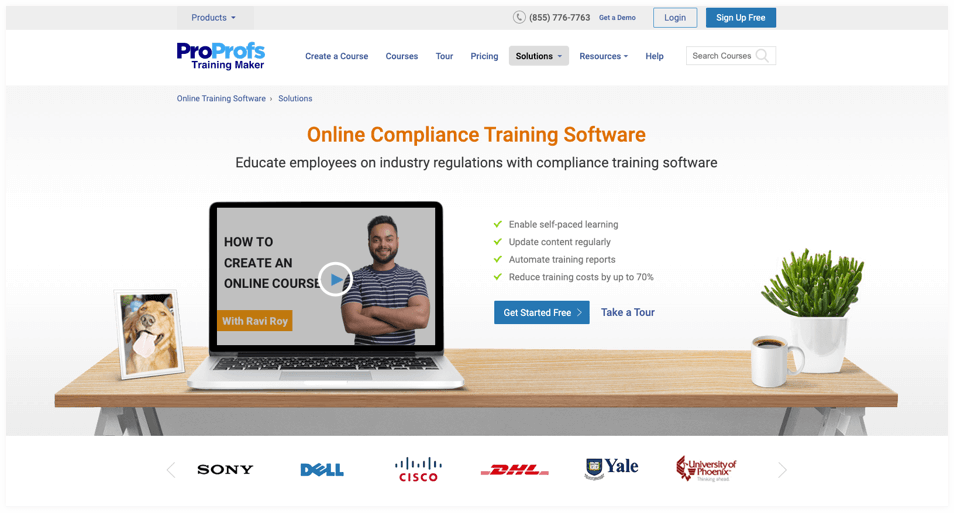 ProProfs LMS is an easy, simple, and mobile-friendly learning management system. With a virtual classroom that provides 24/7 access to microlearning online courses and test assignments, learners can engage in anytime, anywhere learning. The LMS' integration with Quiz Maker enables users to create engaging quizzes by utilizing hundreds of training templates and question types.
Apart from this, the LMS supports videos, infographics, and flashcards. You can also assign learning paths and schedule courses and lessons for drip-feeding. The tool is compatible with all devices, browsers, and operating systems.
All this makes it one of the best microlearning LMS platforms.
Features:
✓ Course Library
ProProfs LMS comes with a premium library consisting of 100+ ready-to-use courses and templates. These resources are designed by professional instructional designers and subject-matter experts to deliver maximum engagement and retention. Each course is made up of chapters, bullet points, short videos, summaries, and quizzes that learners can go through in minutes.
✓ Multimedia SupportEasily train different learners with individual learning styles and preferences such as visual and auditory. You can easily add audio, videos, docs, infographics, PDFs, and many other content types to cater to a variety of learning choices.
✓ Quizzes
ProProfs quizzes
are designed to help learners refresh their memory and keep them motivated. You can add these quizzes at the end of each chapter or course for the final assessment. Testing and assessment at regular intervals like this empower learners to ultimately master a topic or subject.
✓ Course SchedulingThis feature lets you decide how you want to reveal your course and its chapters to your learners. You can leverage it to introduce content gradually and in bite-sized amounts by setting a timeframe, so that course participants can fully learn a topic before moving to the next one.
Pricing:
Forever free plan (up to 10 learners). Paid plan
starts at $1.97/learner/month
(billed annually) for large teams. No hidden charges. 15-day money-back guarantee.
Why Choose ProProfs LMS?
Easy to UseLearners of all skill levels find ProProfs LMS easy to understand and use. Whether you're delivering microlearning or long-form training, the tool's clean interface enables learners to focus on quick and efficient learning without any distraction.
Anytime, Anywhere LearningSince the LMS is cloud-based, learners can access it any time and from anywhere. This gives them the freedom to self-pace learning and makes it work around their schedules.
Mobile-FriendlyProProfs LMS is completely mobile-friendly. Its mobile LMS seamlessly fits the screen sizes of all portable devices. Learners can learn on the go and choose the time, place, and device for the purpose.
Ease of Course CreationCourse creation is a breeze with ProProfs. You can design it the way you want to facilitate microlearning. For example, you can add short quizzes & videos, and make the chapters scannable by adding sections and subsections.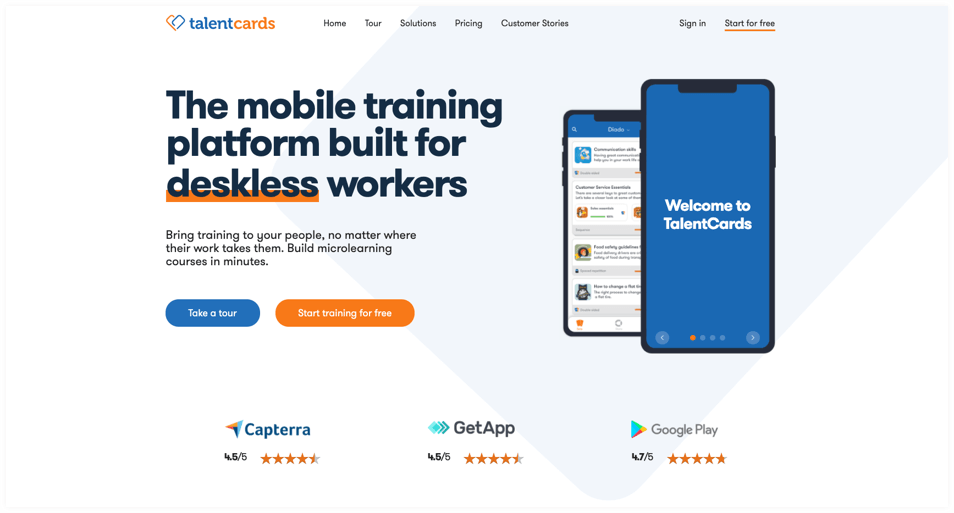 As a mobile learning app, TalentCards lets you deliver low time-commitment but high-impact learning. The application enables training administrators to create eLearning resources that learners enjoy learning while allowing the latter to learn from anywhere.
You can create and share flashcard sets with learners, which they can access via smartphones. Rapid microlearning is easily possible since the app is characterized by a high level of engagement. With training modules that learners can complete in 5-10 minutes, TalentCards helps turn training into a daily habit.
Features:
✓ Mobile App
Go desk-free with your
workforce training
by delivering it right to your learners' smartphones and other portable devices. With TalentCards, people can now learn out of their pockets.
✓ Learning CardsThis feature in the tool makes online learning easy, fast, and fun. Instructors can create beautiful learning cards easily and deliver them to the personal devices of learners. It boosts the retention rate and helps build a knowledgeable workforce.
✓ Short Training SessionsLet learners attend short training sessions at regular intervals on their mobile devices. Make use of cards, quizzes, and games to transfer knowledge and develop skills.
✓ QuizzesThese quizzes play a significant role in the assessment of learners. You can require them to take quizzes before they can progress to the next card. Choose from multiple choice quizzes or game-based quizzes.
Pricing:
$49/month/up to 50 users
Why Choose TalentCards?
Best Learning ExperienceTalentCards brings one of the best online learning experiences, one flashcard at a time. Its microlearning and micro-assessment systems can complement conventional training.
Highly RatedTalentCards received high ratings from top sites such as Capterra, Google Play, and GetApp. It is based on the ease of use, customer service, and overall factors.
It's EffectiveThe tool uses small and focussed information to communicate effectively with learners. For this, it relies on single or two-sided cards for spaced repetition of training.
Gamified LearningLearners can earn points every time they complete a quiz or a card set. Employees can compete with their peers and jostle for high ranks in the app's leaderboard.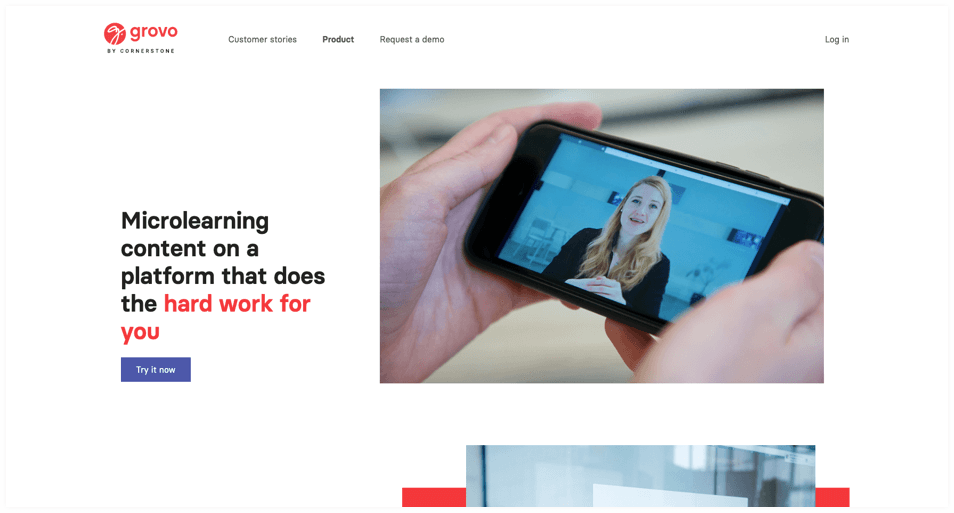 Grovo makes it easy to create and deliver powerful microlearning experiences that are relevant, digestible, and measurable. You may use it to ensure a higher retention rate and performance level. The tool offers a regularly updated microlearning library on a variety of workplace training topics.
You can leverage thousands of ready-to-go microlearning lessons or create your own from scratch using standardized templates.
Grovo helps companies of all sizes educate their employees to gain a competitive edge over others.
Features:
✓ Course Authoring ToolGrovo offers a microlearning authoring tool called Grovo Create. The tool is fully customizable, which means you can tailor the courses and lessons to your brand and specific business needs.
✓ Lesson PlayerThe Grovo lesson player is an immersive platform devoid of intrusive ads you find on the likes of YouTube. It employs mixed media cards to deliver quick and engaging learning experiences.
✓ Microlearning LessonsThe microlearning company houses 2,500+ microlearning lessons. You can use them off-the-shelf as-is, customize them to reflect your needs, or create entirely new ones from scratch using the lesson templates.
✓ Knowledge BaseGrovo's knowledge base is in a self-service format and easily searchable. It consists of help articles in different categories, including getting started, Grovo 101, microlearning library, video tutorials, and FAQs.
Pricing:
Starts at $69/user. Billed annually.
Why Choose Grovo?
Partnership With CornerstoneGrovo is in strategic partnership with leading software solutions provider Cornerstone. The objective of this alliance is to promote microlearning as a core component of learning.
Awesome Content + PlatformGrovo combines award-winning content with an equally wonderful platform. You get to create, curate, assign, and track learning programs from one place.
Learners First ApproachThe provider put learners first when it comes to learning. It serves up lessons to learners at the moment they need them and on any device.
Customizable LessonsChoose from thousands of micro lessons on important business topics. Easily tailor these lessons to meet your specific learning & development requirements.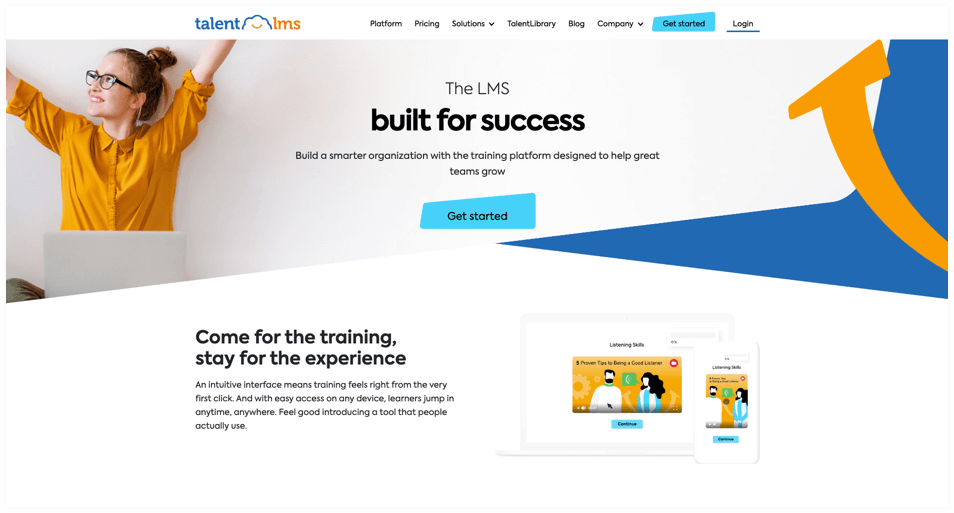 TalentLMS for Android and iOS provides a comprehensive microlearning solution in the form of rich learning experiences. Using this technology, you can access courses on the go. The in-app communication lets you send messages, attach files, and participate in discussions.
These mobile learning apps are platform-independent. You can even download courses for offline access and synchronize them once you're online.
Features:
✓ Mobile LMS AppDeliver microlearning, offline learning, and micro-certifications with the help of the TalentLMS mobile LMS app. Make resources readily available to meet learning on demand.
✓ Learning PathsSet up well-defined learning paths and course completion rules to guide learners on their road to growth. Group related courses so that learners find them easily.
✓ GamificationTalentLMS offers several gamification features, including levels, points, badges, and leaderboards. They are designed to keep learners engaged and motivated throughout a course.
✓ Responsive DesignYou'll find a responsive UI design in the tool that ensures that it fits on any device you use. The visual elements are scalable and retina-ready.
Pricing:
Starts at $59/month/up to 40 users.
Why Choose TalentLMS?
It's Democratizes LearningTalentLMS is dedicated to delivering quality learning experiences that are affordable, accessible, and thoroughly enjoyable by all. With the tool, learning is no longer a chore but an opportunity to grow.
Problem SolverTalentLMS does not believe in pushing its product around but in solving people's real problems. It doesn't over-promise but lets customers decide whether to buy from it or not.
SimplicityMaking things less complicated. This is what TalentLMS strives for from the beginning. It believes in decluttering things and delivering tools that just work fine without all the frills.
Numbers to Back UpTalentLMS has over 8,000 customers and 3 million-plus courses created so far. It is the winner of several prestigious awards.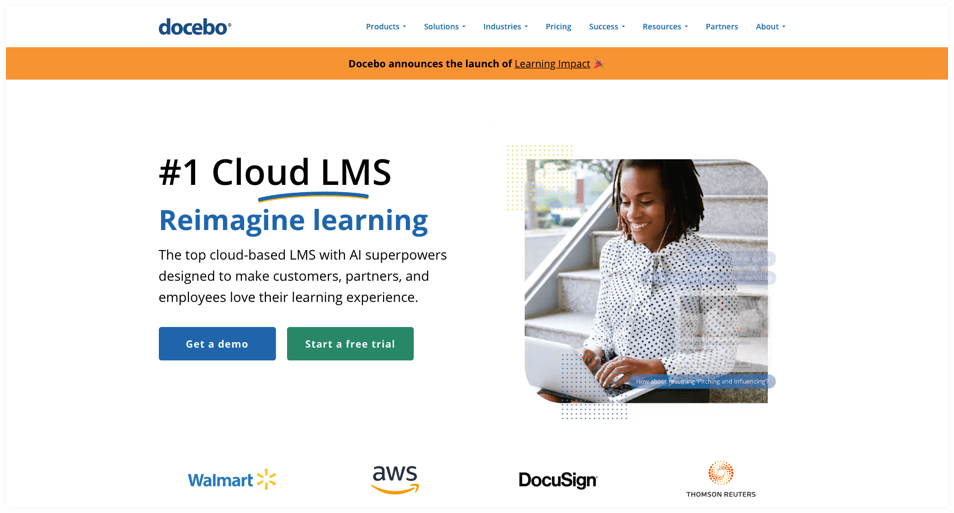 Docebo is a cloud-based enterprise LMS solution. Its AI-powered platform is made up of several compelling features and modules and you can tailor them to meet your unique needs. You can use the platform to deliver learning in short bursts.
Its mobile learning app lets learners learn both online and offline. Docebo Discover, Coach & Share offers a place where you can create short videos and share content seamlessly.
Features:
✓ Mobile App PublisherDeliver beautifully designed and branded mobile learning experiences with the help of this on-demand app builder. Engage and empower people to learn on the go, no matter where they are.
✓ Mobile-Ready ContentUnlock free and mobile-friendly content from over 100 top providers. Let your learners leverage uninterrupted learning through content that has been optimized for mobile learning.
✓ Offline Player AppThere are times when people experience patchy internet connectivity, but they need to continue learning. Docebo offline player app lets them use the LMS in offline mode, record all activities, and sync the data online.
✓ Screen ReaderDocebo makes sure that all of its accessible pages can be interpreted by a screen reader. Users can interact with the LMS via a screen reader while navigating the platform.
Pricing:
Available on request.
Why Choose Docebo?
Easy to UseDocebo is holistic and easy to use. The UI is modern and customizable. This makes it suitable for companies of all sizes.
Available in 40 LanguagesThe LMS supports 40 different languages, including Portuguese, Brazilian, and Korean. You can easily train learners in their native language.
Native Mobile AppDeliver an exciting and consistent user experience with Docebo mobile app. Facilitate microlearning on the go, both online and offline.
AI AutomationArtificial intelligence technology in the LMS helps automate manual and repetitive admin tasks and leaves you with more time to devote to improving learning.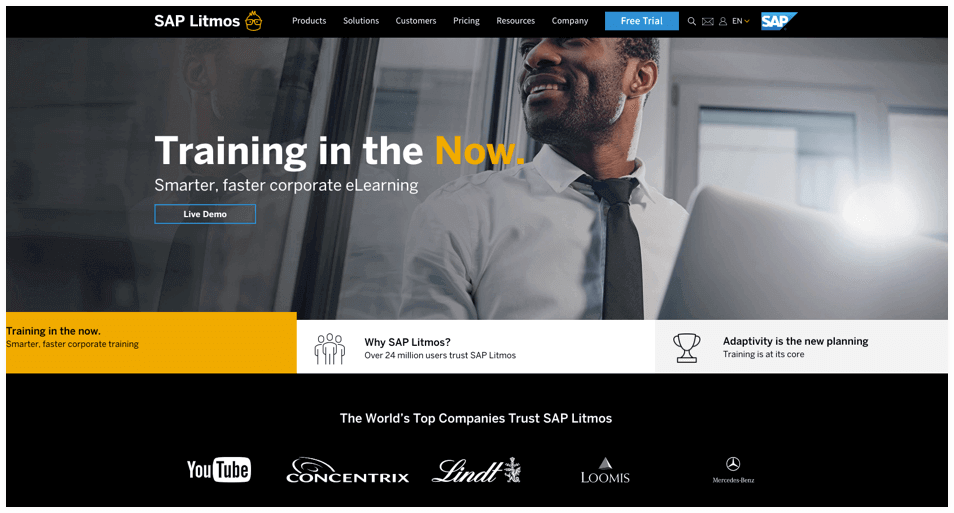 SAP Litmos is one of the most well-known learning solutions providers in the learning management system market. The tool supports anytime, anywhere, any device learning through quizzes, videos, gamification, and leaderboards.
This makes it a perfect tool for microlearning. A high degree of mobility and flexibility like this enables busy professionals to learn on the go and in the moment of need. For example, you can train groups of gig workers using mobile apps and mobile-friendly training resources.
Features:
✓ Mobile Training SoftwareLet learners attend training sessions on mobile devices at a personalized pace, starting and pausing according to their schedules.
✓ Video Courses
These courses cover popular
corporate training
topics such as
compliance
,
HR
, and sales. SAP Litmos regularly adds fresh content to its course library, which is accessible at no extra charge.
✓ GamificationKeep learners engaged and motivated to complete courses on time and earn rewards. Add points, badges, and levels.
✓ Downloadable ResourcesSAP Litmos provides a number of downloadable eBooks, infographics, and brochures on interesting L&D topics. They can be valuable resources for learners.
Pricing:
Available on request.
Why Choose SAP Litmos?
Trusted By Top BrandsSAP Litmos solutions are used by top companies, including IBM, YouTube, Mercedes-Benz, and PepsiCo.
Numbers Speak For ThemselvesThe LMS has 5,000+ customers, and it has been awarded 50 times. It has 250 employees across 25 global offices.
Fastest-Growing SolutionSAP Litmos is the world's fastest-growing provider of enterprise learning solutions. It unifies an LMS with pre-packaged courses to meet varied training needs.
Communication ToolsThe LMS offers several in-platform communication tools, including a messaging system for seamless communication with learners and to ensure that they are on track with learning.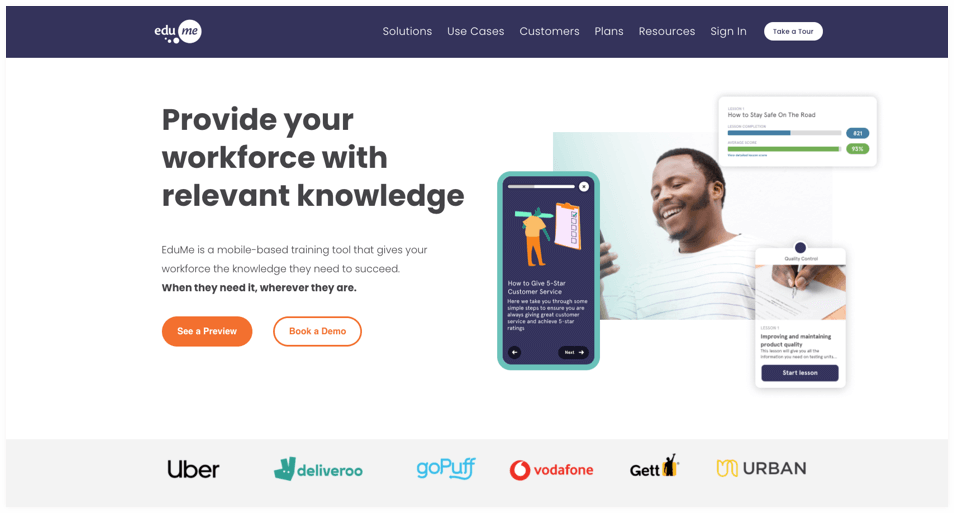 This workforce success platform enables users to create and deliver content that is easy to consume straight to learners' devices. EduMe courses take a few minutes to complete, leaving more time for learners to spend on other important tasks.
Companies such as Uber, Vodafone, Airbnb, and Deloitte rely on EduMe to bring learning at their learners' fingertips. EduMe was named one of London's top startups on several occasions, and has won numerous awards for its product innovation.
Features:
✓ Mobile LearningEduMe is a mobile-based learning tool that companies use for remote training. It utilizes bite-sized content for eLearning that is simple, fast, and accessible from anywhere, anytime.
✓ Content StudioThe Content Studio is an all-in-one solution for everything related to content creation. You have access to instructional designers and course authoring and testing services.
✓ Engagement MonitoringUse surveys to gain insights into the engagement level of your learners so that you can enhance their productivity accordingly. Make your learners feel heard and see their performance soar.
✓ Learner PortalTake advantage of a dedicated learner portal that lets learners view and access course assignments and other helpful resources. Simplify learning by providing in one place everything that your learners need.
Pricing:
Available on request.
Why Choose EduMe?
It's EasyCreate short training in minutes using an intuitive and templated authoring tool. Enable your learners to read text, watch videos, or respond to queries quickly and easily using their smartphones.
It's EngagingLearners usually find EduMe an enjoyable experience because it is simple and easy to use. Its flashcards are helpful during lesson revisions and as a repository of important information.
It's EfficientEduMe empowers training administrators to spend less time getting training ready while it demands less time from learners to master a topic.
It's EffectiveThe tool is proven to drive real change in employee behavior and performance by reducing stressful learning situations and increasing happiness.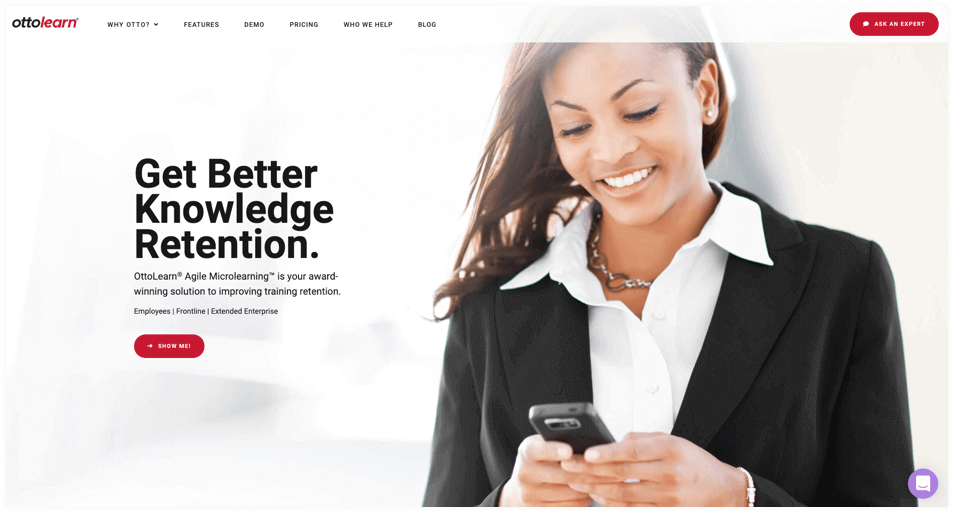 OttoLearn is an award-winning microlearning solution designed to ensure better engagement and knowledge retention. Using this tool, you can "create and deploy content shockingly fast." It delivers focussed and relevant micro-lessons through spaced repetition.
The tool measures learners' knowledge and automatically adapts itself to focus on improvement areas. Continuous and effective learning is what OttoLearn strives to provide its clients.
Features:
✓ Micro-LessonsThese bite-sized lessons are effective in engaging learners continuously. They let learners decide how, when, and where they want to learn. They also fit easily into their workdays without disrupting the routine.
✓ Instructional ScaffoldingCreate scaffolded learning in the form of learning paths by arranging modules in a sequence. Take them from the beginner to master stage smoothly.
✓ Spaced Repetition
Make knowledge stick around longer with learners through spaced repetition. Put them to training at regular intervals to maximize retention and ROI.
✓ Adaptive Content Delivery
OttoLearn utilizes the algorithm-based adaptive content delivery method to identify and bridge knowledge gaps and improve knowledge retention.
Pricing:
$250/month. Billed annually.
Why Choose OttoLearn?
Hosted With AmazonThis top microlearning LMS software is hosted with AWS that ensures low latency and a high degree of reliability.
Managed Microlearning ServicesOttoLearn provides world-class guidance and support to its clients on the implementation of targeted microlearning.
Content TranslationEasily create content in multiple languages using the automatic translation tool. Never let language become a barrier in learning & development.
Bulletproof SecurityAt OttoLearn, the privacy and security of customers are a top priority. User data is encrypted with SSL to protect the customers and partners.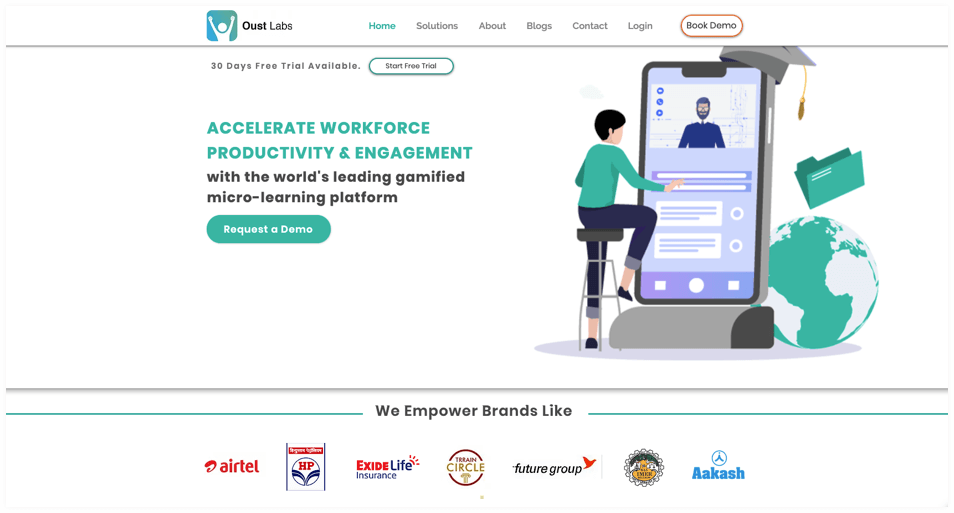 Oust Labs is a leading provider of microlearning solutions. It is used by enterprises having distributed workforces to automate onboarding and continually train and engage the modern workforce.
Learning is quick, seamless, and fun with the solution as it offers a mobile-first gamified microlearning platform to help train, assess, and develop employees. Well-known brands such as Airtel, HP, Swiggy, and Future Group have benefitted from Oust Labs.
Features:
✓ Mobile MicrolearningOust Labs supports gamified mobile microlearning. It has over 1 million users with 0.75+ million app downloads.
✓ Micro ContentThe platform's personalized micro-content is designed to ensure rapid onboarding, higher completion rates, and faster time to revenue.
✓ QuizzesShort-form eLearning content such as quizzes helps keep learners engaged. Learners can take a 2-minute quiz consisting of 5 questions on any subject and learn on the go.
✓ Multilingual SupportOust Labs is a multilingual platform offering content in more than 35 languages. Learning becomes highly effective when it is delivered in a language that one understands.
Pricing:
Available on request.
Why Choose Oust Labs?
Learning ReinforcementsOusts is dedicated to providing microlearning solutions that reinforce learning. This is intended to sustain ongoing knowledge acquisition and skill development.
Ease of AuthoringIts world-class content authoring tool, MPower, offers a fast and easy way to build microlearning content by following simple steps.
Solution for Poor EngagementOust's gamified microlearning content serves to check poor engagement that arises from multitasking and shortage of time.
Accelerated Time to RevenuePersonalized content for distributed workforce accelerates onboarding and course completion rates and shortens the time to revenue.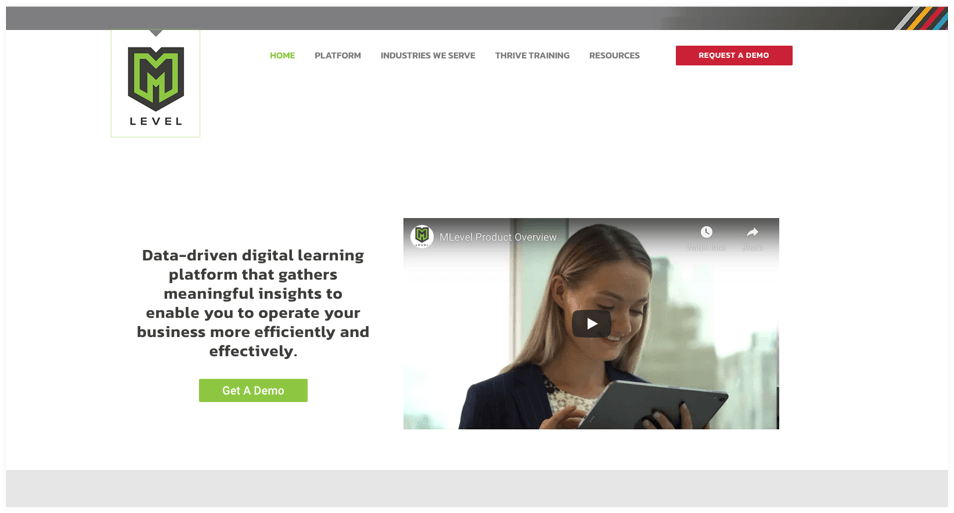 mLevel is a microlearning platform that makes online training short, engaging, and fun by delivering them in the form of bite-sized chunks of information. Anyone can create eLearning modules quickly with its authoring tool.
You can achieve more positive results by enhancing knowledge retention and skill development. mLevel is one of the best tools to ensure a shorter time to productivity for new hires. HR, financial services, telecom, and hospitality are some of the industries that the microlearning tool serves.
Features:
✓ Authoring ToolThe built-in authoring tool in the microlearning solution is templated and requires no prior knowledge of coding. It makes creating training modules a walk in the park. You can add audio, videos, and gamification.
✓ Mobile LearningmLevel addresses the present-day need for mobile learning. Its mobile app can be downloaded free on any mobile device. This makes it convenient for learners to learn anytime, anywhere.
✓ GamificationThe platform supports gamification and you can manage badges, contests, and leaderboards easily. You can turn the gamification feature on or off with just a click.
✓ mLevel StudioThis feature simplifies how you build, share, and update branded eLearning content. It lets you add videos, knowledge base, games, and assessments.
Pricing:
Starts at $49.00/month
Why Choose mLevel?
It's Customer-CentricmLevel puts customers at the center of its business. It measures its success by how satisfied its customers are with using its product.
Easy to UsemLevel stacks up well against its competitors in terms of ease of use. Users don't need to know how to code. You can add content and branding without writing a single code.
Outstanding Customer ServiceIn addition to its fun and engaging nature, mLevel is noted for its excellent customer service. Its proactive and responsive service exceeds customer expectations.
Short Learning CurveUsers can get the hang of the platform quickly and get down to developing new and meaningful microlearning content.
Pick Your Microlearning Tools Today!
These microlearning platforms follow some of the best practices to ensure faster learning, improve learning efficiency, and satisfy learners. In turn, you increase learning retention.
As a learner-centric online training software, ProProfs LMS helps reduce content development time and cost and foster a culture of learning.
ProProfs doesn't just offer a cloud LMS; it also provides ready-to-use courses and templates. You can use the tool to administer these resources and track learning milestones.
Do you want a free Training Software?
We have the #1 Online Training Software for employee training & assessment