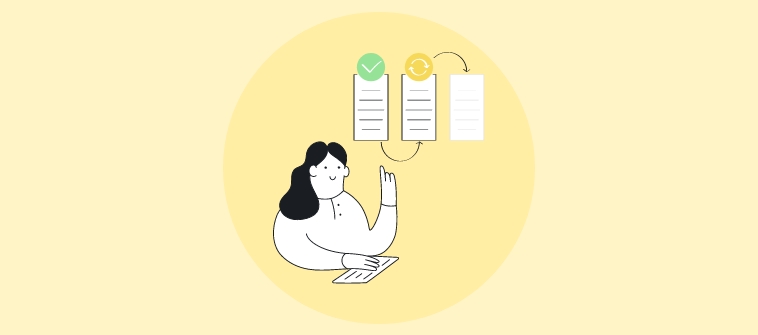 The need for online training software is growing by leaps and bounds because most organizations are turning to e-learning platforms to meet all types of training requirements.
However, since the market is full of online training tools, choosing the most suitable software becomes a daunting task. Plus, each tool has its own unique set of features, pros and price, making things more complicated.
Keeping the above aspects in mind, we have created this post to help you pick the best online training software for your business. We have researched on your behalf and have come up with the top 15 training software that can take your learning & development (L&D) initiatives to the next level.
A Quick Feature & Price Comparison Table of the 15 Best Online Training Software
15 Best Online Training Software
Why Is It Best?
Pricing
ProProfs Training Maker
Course Building

Ready to Use Courses

White Labeling

Learning Paths

Testing and Assessment

Track Learner Progress and Obtain Real-time Reports

Starts at $1.97/learner/month, billed annually
Docebo
Course Creation

Branding & White Labeling

Gamification

Certifications

Personalized Learning Paths

Get in touch with the company for a quote.
SkyPrep
Course Creation

Reporting and Analytics

Workflow Automation

Software Integration

Learner Engagement

Starts from $349/month, billed annually
Trakstar Learn
Course Creation

Quizzes & Assessments

Reports & Dashboards

Mobile Friendly

White Labeling

Starts from $290/month, billed annually
SAP Litmos
Easy Course Creation

Tracking and Reporting

Mobile Friendly

Learning Paths

Video Assessments

Get in touch with the company for a quote
Lessonly
Lesson Builder

Quizzes and Assessments

Surveys to Collect Feedback

Reports and Analytics

Practice Sessions

Get in touch with the company for a quote.
TalentLMS
Course Creation

Learning Paths

Assessments

Survey Creation

Gamification

Starts from $0 / month, billed annually
WizIQ
Virtual Classroom

Online Exam Builder

Track Learner Progress

Mobile Learning

Software Integrations

Starts from $25/month, billed annually
eFront LMS
Course Creation

Assessments

Surveys

Certifications

Learning Paths

Starts from $1000 per month, billed annually
Claned
Course Creation

Social Learning

White Labeling

Track Learner Progress

Learning Analytics

Get in touch with the company for a quote.
uQualio
Build Courses

Create Reports

Customization

Integration with Apps and Services

Collaboration

Starts from $85 per month, billed annually
GyrusAim
Provide Learning Materials

Assessments

Certifications

Gap Analysis

Feedback and Analysis

Get in touch with the company for a quote
TalentCards
Mobile Learning

Microlearning

Customization

Gamification

Reporting

Starts from $0 per month
Moodle
Social Learning

Microlearning

Gamification

Analytics

Course Management

Starts from $110, billed annually
Articulate
Easy Authoring

Animations

Interactions

Media and Simulations

Assessments

Starts from $1099 per user, billed annually
Before we explore these tools, check out the must-have features an ideal online training software system should support.
Features to Consider in Online Training Software
To find the best training software, you need to ensure that the software has the following features.
• Course Creation Tools
Course creation is one of the top features of training software. Ideally, it should have an authoring tool or a library of ready-to-use courses and templates or both to make course creation a breeze.
• Assessment and Tests
Online training software, such as a Learning Management System (LMS) lets you embed quizzes to ask different questions to assess knowledge retention.
• Surveys
Feedback mechanisms are another feature in online training software. You can integrate surveys into your courses to collect actionable feedback from learners regarding course quality and instructors to make necessary course improvements and enhance the learning experience.
• Collaboration Tools
Collaboration tools facilitate knowledge exchange and help build a learning community. This helps you keep knowledge organized and searchable.
• Reporting Features
Get real-time learner reports through reporting features of training software. Monitor individual and group progress, export reports as PDF or excel, and share them with your learners via email.
• Customization
This feature lets you customize your courses with your logo and brand color. With most training software, you can use custom fonts and styles, colorful themes, and personalized certificates and badges. Make your course public/private, set due date reminders, and more!
• Multilingual Support
The best online training software supports multiple languages to help you conduct training in any language your learners understand.
Now that you know the best features online training software must have let's check out the top 15 training tools that will help you achieve your learning objectives.
Top 15 Tools for Online Training to Redefine Learning
We have handpicked the best online training platforms to meet varied training needs in modern workplaces. Let's take a look at each one of them in detail.


ProProfs Training Maker is an online training software that caters to the training needs of various industries, such as financial, hospitality, manufacturing, construction, NPOs, and more. This LMS gives you everything you need to automate organization-wide learning.
The training software is best known for course creation and supports English, Spanish, and 70+ other languages. Over 4 million learners trust this award-winning software for streamlined online training.
ProProfs' Tin Can API feature lets users import courses from other LMS solutions. It can also be integrated with Customer Relationship Management (CRM) and email marketing solutions.
Features
Create courses using readymade courses and training templates or upload existing documents, such as docs, videos, PDFs, presentations, etc., and turn them into engaging course materials.
Get access to professionally designed, customizable, and ready-to-use courses on different topics, such as skills training, customer service, HR, compliance, safety, and more!
Remove ProProfs branding and add your own logo to customize your courses. Select fonts, styles, and layouts to suit your preference. Create custom certificates and badges.
Create a well-defined roadmap for your learners to facilitate guided learning. Bundle existing courses into learning paths and provide a holistic learning experience.
Embed quizzes into your course to assess learner knowledge. Use different kinds of quizzes to keep learners engaged. Enable video responses and prevent question skipping.
Access insightful AI reports to track individual and group learning data. Export test reports in PDF, Excel, and more, and share them with your learners via email.
Pros
Great course library

Mobile friendly

Intuitive UI

Trial period is short

Needs more software upgrades
Pricing
Starts at $1.97/learner/month (billed annually). Free trial on all plans for 15 days.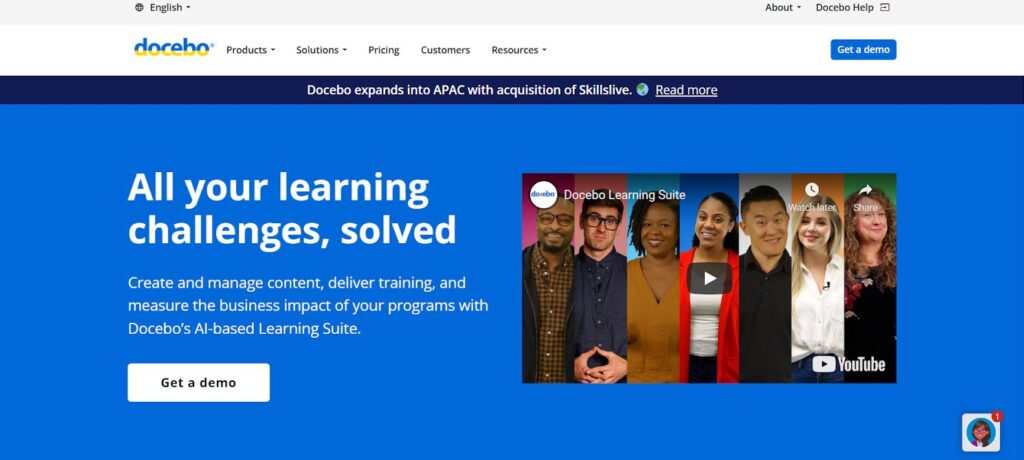 Docebo is one of the best training software platforms for quickly creating and delivering online training. It is a comprehensive solution that caters to the entire enterprise learning lifecycle. This software provides a suite of tools to tackle any learning challenge easily.
Docebo is an award-winning training platform packed with all the features you need to deliver online training. It is a highly secured e-learning solution used in over 1600 countries.
With this online training software, you can deliver courses in multiple formats. You can also customize the course, which is a plus.
Features
Deploy the content you need directly from Docebo LMS and meet the diverse learning needs of your business. Get access to a premium course library curated by industry experts.
Branding & White Labeling
Customize your course using your brand colors, logo, and other elements to deliver a familiar learning experience to your learners.
Gamify your content with exciting games to enhance your course quality and keep your learners engaged. Gamified learning like this increases knowledge retention.
Create certificates and distribute them among your learners after course completion. This will add a sense of accomplishment to your learners.
Personalized Learning Paths
Structure your training materials by creating personalized learning paths. Show the correct learning order in which your learners should take up the courses.
Pros and Cons
Great customization choices

Validation tools are great

Easy PPT import

Expensive for small businesses

UI is not intuitive
Pricing
Get in touch with the company for a quote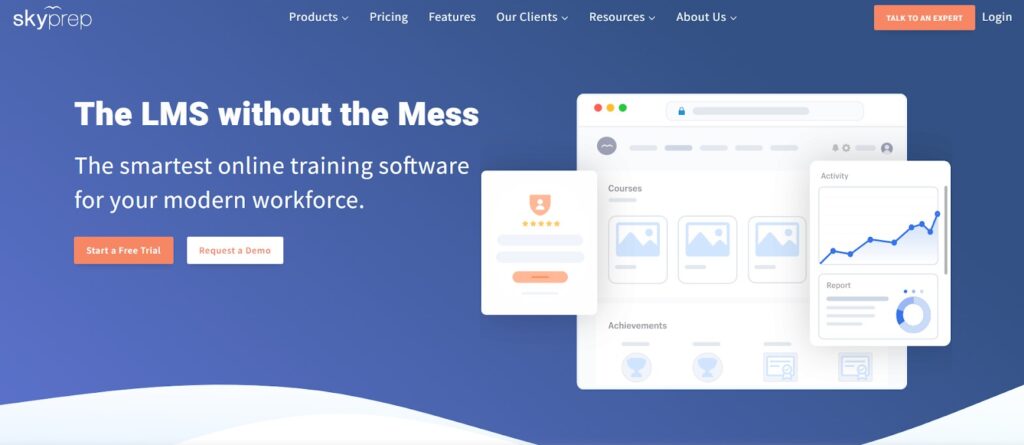 SkyPrep is an online employee training platform that facilitates distance learning and automates the training process. This software is best for employee development, customer training, compliance training, and onboarding.
This intuitive platform lets you create content and measure learner progress. Plus, SkyPrep has tools for managing and tracking all learner activities. The customization features are great because they let you have custom domain names, themes, colors, and logos making it ones of the best online training software out there.
This award-winning training platform is everything you need for your modern workforce. With this training software platform, you can increase knowledge retention by 60% and employee engagement by 18%.
Features
Leverage the course creation tools to build a streamlined training program. Develop multimedia courses using premade courses or upload SCORM files to import courses through the platform.
Know the performance of your learners through AI-generated reports. Track KPIs and measure success through real-time statistics and analytics.
Automate tasks and reduce admin workload to save time managing your training program. Automatically enroll learners, send notifications to those who did not complete a course, schedule custom reports, etc.
Seamlessly connect SkyPrep LMS with other third-party tools you already use. Set up webinars with Microsoft Teams, Zoom, GoToMeeting, and more!
Customize courses and add engaging elements, such as images, videos, presentations, and brain games. Create a diverse content mix to accommodate different learning styles.
Pros and Cons
Clean and intuitive UI

Supports offline learning

Setup process is easy

Integrations could be expanded

Need more courses on onboarding
Pricing
Starts from $349/month, billed annually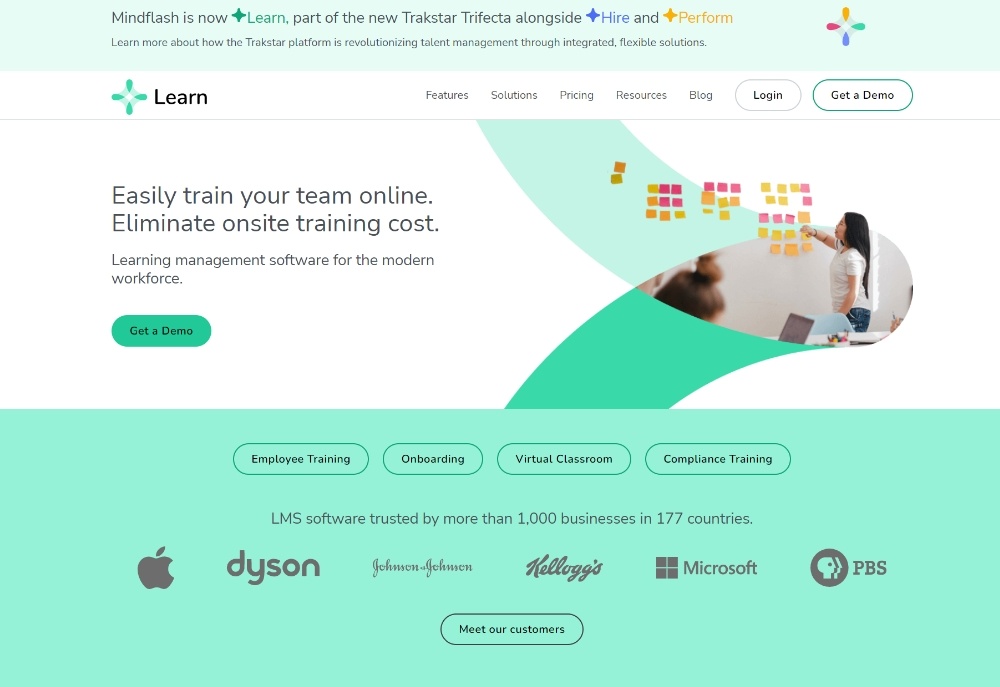 Trakstar Learn, earlier named Mindflash, is a versatile online training software widely used for employee and customer training. This software caters to businesses of all types & sizes and you can use it to streamline online training.
Since the platform is hosted in the cloud, you don't need to install or download this software. It enables large & fast-growing organizations to meet training requirements on various topics and it has excellent course creation tools.
Trakstar Learn is an excellent solution for enterprises, healthcare providers, and city and local governments.
Features
Deliver an interactive learning experience through engaging training courses. With Mindflash, content creation is easy, and upon upload, all your content gets stored and perfectly converted.
Embed quizzes into your courses to assess knowledge retention. Get your hands on various pre-built quizzes, such as MCQ, True/False, picture labeling, etc.
Get reports and statistics in an easy-to-understand format. Check how well your learners have retained the information and ensure they are progressing in the right direction.
Train your workforce anytime and anywhere through Trakstar Learn's mobile responsive LMS. Add flexibility to online learning experiences and enable learning on the go!
Customize and rebrand your courses to align your course content with your brand values. Use your brand color and logo by removing Trakstar Learn branding using the white label feature.
Pros and Cons
Easy course creation

Personalized dashboard

Import training packs in several formats

Report system can be improved

Issues with logins
Pricing
Starts from $290/month (billed annually)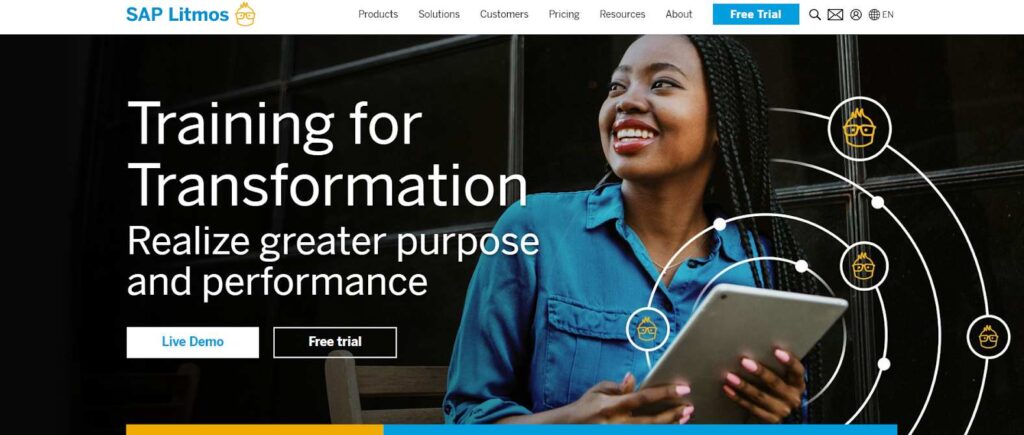 SAP Litmos is a cloud-based online training system that empowers training for today's modern enterprises. This software is well-known for its simplicity. It supports multiple languages and is used across 150 nations.
This comprehensive training software has all the features to manage your training program from a centralized environment.
This LMS works for everyone, and training courses can be accessed on any device from anywhere, anytime. This LMS is designed for maximum knowledge retention and engagement.
Features
Create courses using a professionally built course library. Get access to over 300 interactive courses. Train your employees in marketing, finance, compliance, IT, and more.
Track your learners' activities and progress and gain insights into training impacts through automated reports. Or you may also create custom reports and share them via email.
SAP Litmos is mobile-friendly and enables learners to access training materials anytime, anywhere, and on any device, such as tablets, smartphones, and laptops.
Bundle courses together and add a logical sequence to your courses to increase knowledge retention and prevent skipping important chapters.
Learners can record and upload their video responses. Videos can be assessed through speech rates or AI functionality on keywords.
Pros and Cons
Reporting feature is good

Good courses on onboarding

Easy to migrate from other LMSs

Limited customization options

Not good for first-time users
Pricing
Get in touch with the company for a quote.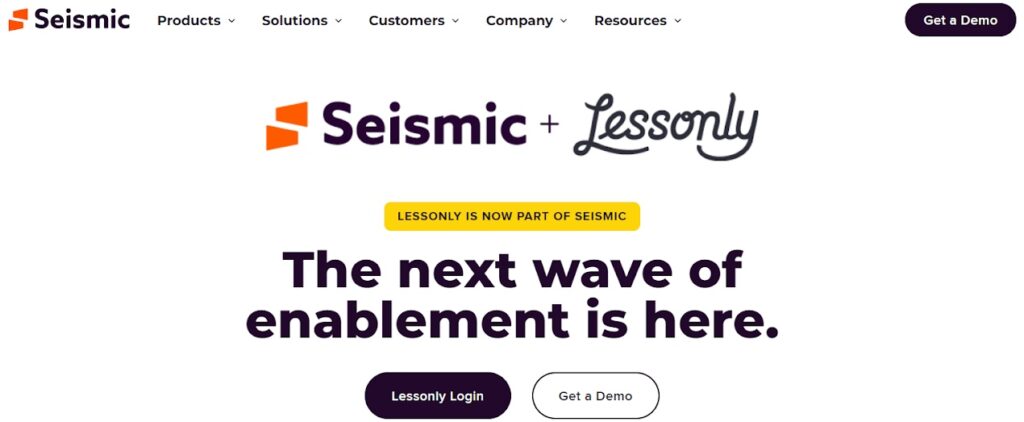 Lessonly by Seismic is a cloud-based online training management software that lets you build, share, and track your courses from a centralized location. It is a mobile-friendly LMS that lets you train your employees anytime, anywhere, and on any device.
With over 1 million users, this software is used across 100+ nations and constantly strives to maintain excellence and quality in learning and development.
Lessonly is one of the best training platforms because it supports live and synchronous training to equip your learners with the necessary knowledge and skills.
Features
Create unlimited lesions and courses using Lessonly's course builder. Lessonly focuses on micro-learning, making it easy for novices to build courses quickly.
Embed quizzes into your courses to assess retention. These assessments can be manually or automatically graded. The minimum score tool is the main USP of this software.
Collect actionable feedback through surveys and make necessary improvements to your course to enhance the overall learning experience.
Lessonly's reporting features give insights into training programs, including enrollments and lesson progress. Get instant reports on course engagement and ratings.
Create practice assignments where learners can reply to sample ticket request messages or emails. Practice tools usually come with the Pro + Coaching package.
Pros and Cons
Easy to use for admin and learners

Best for employee onboarding

Engaging UI

Quizzes are slightly clunky

Reviewing lessons can be difficult at times
Price
Get in touch with the company for a quote.

If you are looking for a platform to deliver online training efficiently, you must try TalentLMS. It is an award-winning cloud-based LMS that helps in achieving your L&D objectives. It's the perfect solution for organizations that want to rapidly meet their training needs.
This LMS supports TinCan and SCORM API and provides multilingual support, which makes it easy to train a diverse workforce.
The platform uses Amazon CloudFront to deliver content, which is one of the significant pros of TalentLMS. It has a thoughtfully designed UI with sophisticated features to avoid complexity.
Features
Create multimedia courses from scratch using images, videos, PDFs, presentations, and more. Reuse existing content as many times as you want to build your lessons.
Show the learning roadmap to your learners and help them understand the logical sequence in which they should take courses.
Build different types of tests, such as MCQ, true and false, fill in the blanks, etc., to check how well your learners have retained information.
Gather actionable feedback from learners and know more about your training program. Incorporate the suggestions into your courses to enhance your course quality.
Design custom certificates with or without expiry date and hand them out to your learners after completing your training program.
Pros and Cons
Good reporting and grading tools

Easy quiz creation

Centralized location for all training manuals

Online chat assistance needs to be improved

Improvements required in mobile version
Pricing
Starts from $0 / month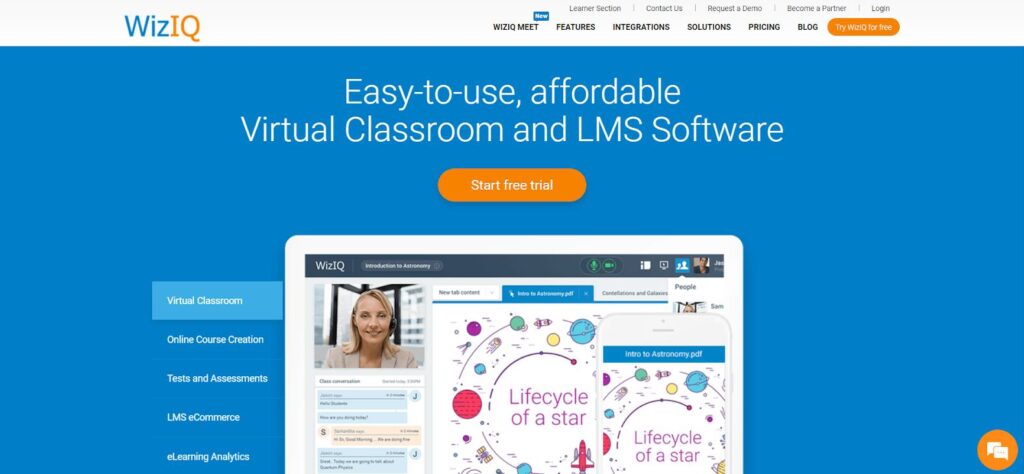 WizIQ is one of the best online training platforms known for its state-of-the-art virtual classroom that supports live teaching. This training system enables trainers to create synchronous courses along with live lessons.
Instructors can add any type of file to their courses, such as PPT, PDF, word documents, audio, and video files. The platform is mainly known for its intuitive interface and ability to support 20 languages.
Text chats, audio-visual communication, screen sharing, interactive whiteboards, etc., are some of the significant features in WizIQ, making it stand out from the rest.
Features
Train your learners live with interactive and engaging sessions. Enjoy high-quality video streaming, live screen sharing, advanced collaboration, live session recording, and more!
WizIQ provides all the resources necessary to create online exams. Content library, built-in course structure, white-labeling, etc., are some of the pros. Deliver different kinds of training in a seamless manner.
Assess your learners' progress through assessments and tests. Create and launch your tests, prevent cheating, and get real-time scorecards for performance evaluation.
Let your learners access course content and live classes on smartphones and tablets. With WizIQ's mobile learning, learners can log in from their personal devices, get notifications, and take assessments.
WizIQ integrates well with other LMS solutions, such as Moodle, Joomla, Sakai, Blackboard, etc. This ensures better data management and seamless data flow.
Pros and Cons
Video quality is good

Can record live sessions

Provides multiple classes in a single session

Customer support needs to improve

Lacks features like collaboration and multiple whiteboards
Price
Starts from $25/month (billed annually)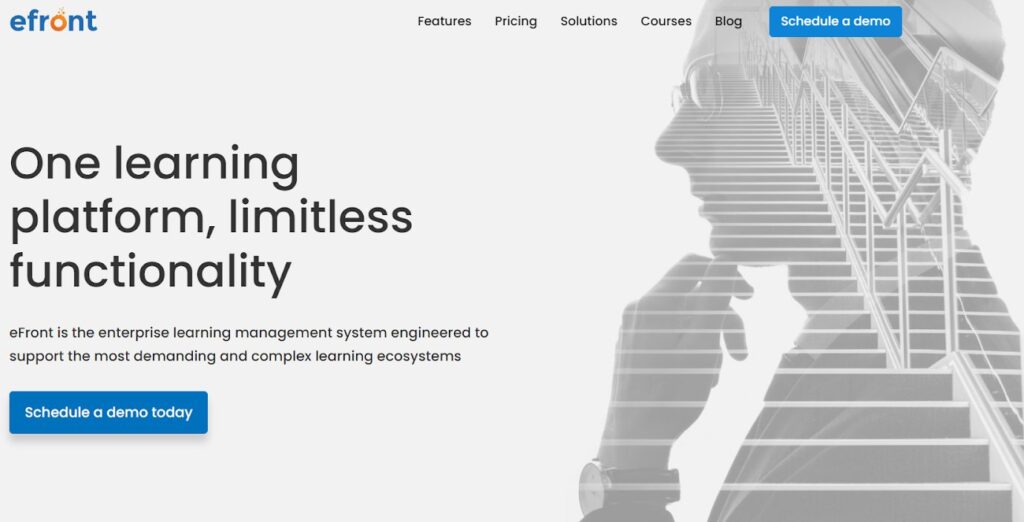 eFront is an online training software with compelling features, such as e-commerce, course-building tools, gamification, and skill gap testing. This LMS has been thoughtfully designed around security, control, and flexibility. Plus, this platform is capable of handling the most demanding learning environments.
eFront is an excellent choice for organizations that want complete control over their training. This out-of-the-box solution helps companies train remote workforce or sell their courses.
It supports learning even when there is no internet. The software automatically syncs back when the internet connection is restored.
Features
You can build courses from scratch and reuse your existing materials on multiple courses. Import documents, PDFs, presentations, videos, etc., for course creation.
Add different types of quiz questions to assess knowledge retention. Set deadlines and conditions based on course rules.
Integrate surveys into your course to collect important information on course quality and employee engagement.
Validate course completion by distributing custom-designed certificates. Define milestones, expiry dates, and certification rules.
Assign a chronological order to your courses to help learners know the correct order in which learners must take up the course.
Pros and Cons
Easy course creation

Great adaptability

Intuitive interface

Dashboard needs improvement

Automatic updates don't always work
Pricing
Starts from $1000 per month / billed annually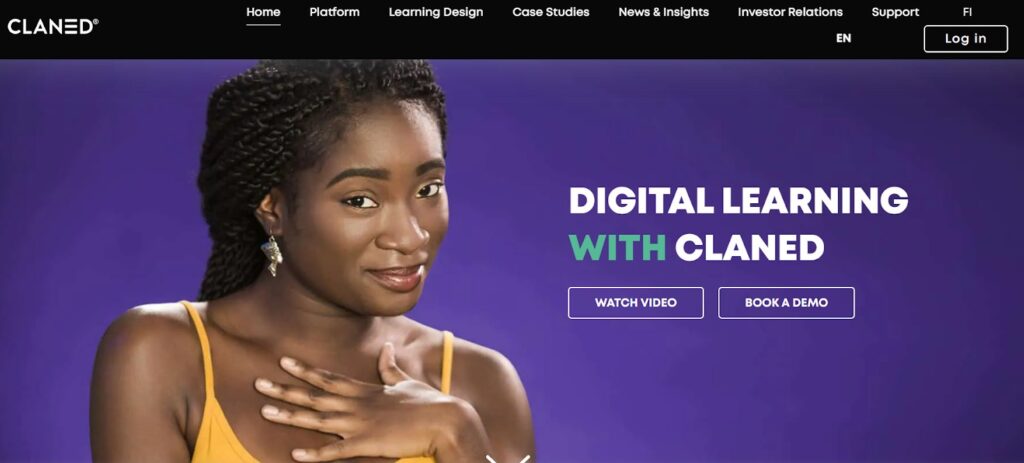 Claned is a modern online training software system that provides the best-in-class learning experience. The interactive UI and the built-in learning design elements make it easy for instructors to create engaging and high-quality courses.
This platform combines world-class pedagogy & AI and supports collaborative learning to deliver an enriching experience.
It's easy to set up, intuitive to use, and integrates well with existing technologies. With over 100+ years of experience in EdTech, Claned is bringing cutting-edge innovations to help people learn online.
Features
Create high-quality content using Claned's interactive design elements. It supports all kinds of digital learning materials, be it corporate training or university courses.
Encourage learners to interact and collaborate like as they do on social media. Let them ask questions, post comments, and share notes on this platform.
Remove all branding and add your course's custom URL, brand logo, and color. This means you can personalize the platform to reflect your branding.
Claned provides real-time data and statistics to track learner progress. With just a click, you will see the courses taken by learners, the time spent on each course, and which materials they could be struggling with.
Collect actionable data on every learner interaction that takes place on this platform. Use it to determine your training program's effectiveness and identify learners at risk of dropping out.
Pros and Cons
Modern interface

Advanced learning analytics

Pedagogical approach

No auto-grading option for assessments

Lacks tools for live workshops
Pricing
Get in touch with the company for a quote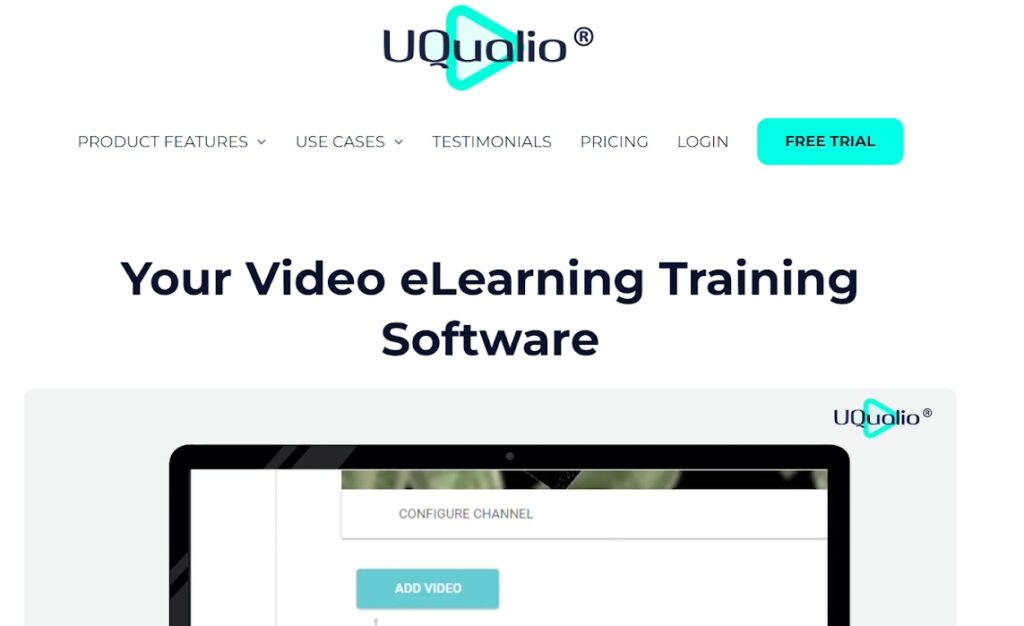 uQualio is one of the best online training software that supports video e-learning. It is a flexible and easy-to-use LMS packed with excellent features to make course creation a breeze. The easy deployment, online portal, and affordability make it one of the best e-learning training software.
This cloud-based software is used across various industries, such as construction, retail, manufacturing, government, NGOs, hospitality, and more.
uQualio is an effective tool that supports microlearning and allows seamless collaboration with key target groups. It helps in real-time tracking and measuring user performance with ease.
Features
Take charge of your content creation tasks with uQualio's powerful course builder. Add videos, and supplementary files to each video, embed quiz questions, etc.
Leverage the dynamic reporting system and keep track of learner progress. Monitor individual performance through customized dashboards.
Rebrand your courses with your own logo, upload media assets, configure language settings and customize your privacy and permissions.
Integration with Apps and Services
uQualio seamlessly integrates with other third-party apps and software, such as API Pro, Recurly, Zapier, etc.
Use this platform to collaborate and communicate directly with your users. Apply filters while communicating through sms or email.
Pros and Cons
Intuitive tool

Tracking course progress is easy

High-quality videos

Lacks knowledge-base support

No free trial offered
Pricing
Starts from $85 per month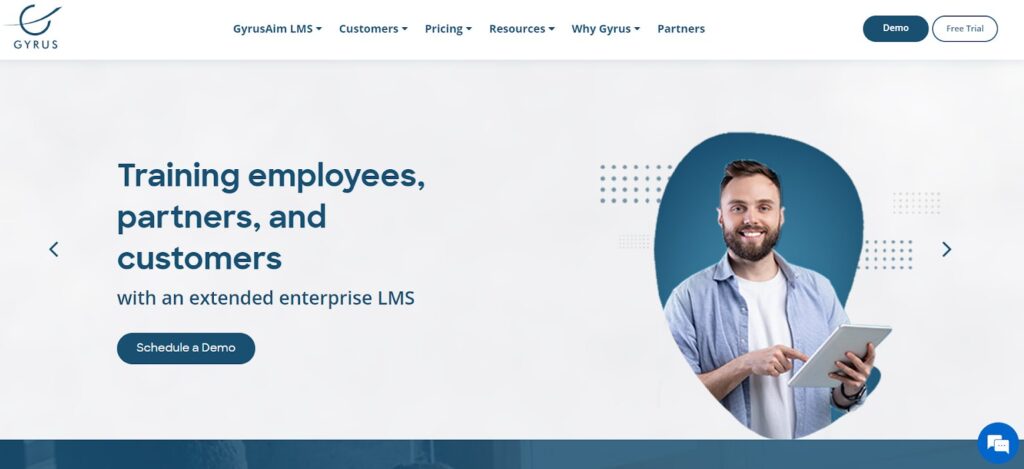 GyrusAim is a powerful and easy-to-use LMS to train your customers, partners, and employees. It is hosted in the cloud and comes with intuitive AI-driven features. This automated software for training is designed for a streamlined learning experience.
It is fully scalable, allows quick deployment, and comes with a robust reporting system. GyrusAim is a perfect solution for those training managers who don't have the resources and time to create effective training programs.
The software includes extensive integrations and APIs, which lets you connect with other business tools you use.
Features
Provide Learning Materials
Deliver high-quality learning courses to your learners in different formats, such as webinars, classrooms, documents, e-learning videos, and more!
Assess learner performance through assessments and evaluations. You can create on-the-job training tests and assessments like detailed exams, short quizzes, and surveys. Gauge learning levels through test results and reporting.
Keep your learners motivated by distributing professionally designed certificates. You can award this document only after learners clear the assessment.
Identify knowledge gaps in your employees and align your learning strategies to bridge them and meet specific learning outcomes. Fill out the learning gaps through personalized learning.
Collect quality feedback from learners to improve course quality and learner engagement. Add different formats of feedback systems to get unbiased feedback.
Pros and Cons
Easy to use

High data storage capacity

Awesome reporting feature

Has a learning curve

Needs more advanced features
Pricing
Get in touch with the company for a quote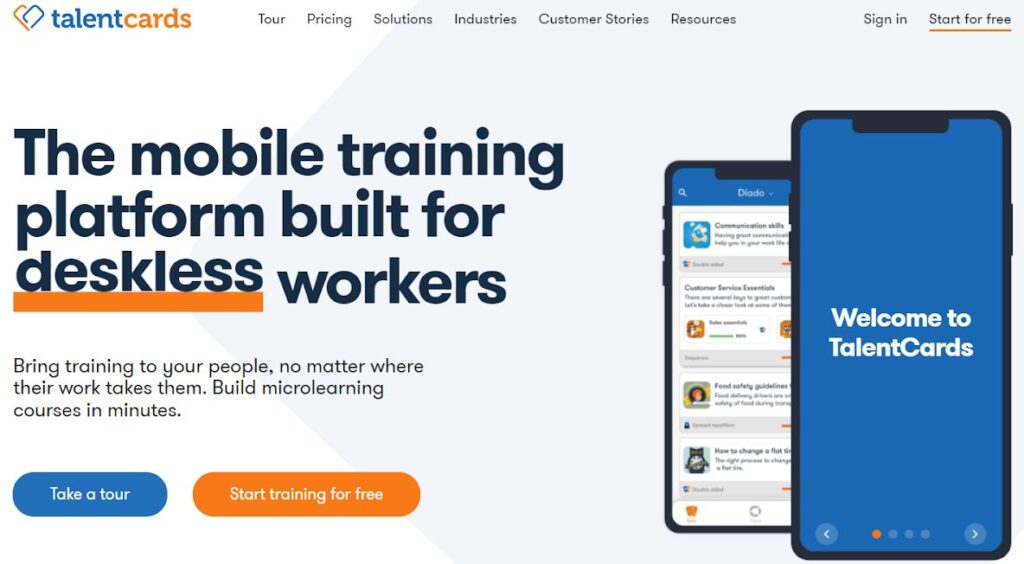 TalentCards is mobile learning software for creating high-impact training. This platform is purpose-built for deskless, frontline, and mobile employees to enable them to access training materials no matter where they are.
This training software helps you build microlearning courses and add multimedia, such as images, videos, hyperlinks, audio, and videos to make the training interactive and engaging.
With this app, learners can also download courses for offline viewing. It also supports 14 languages, making it easy to train a diverse workforce.
Features
Train your employees anytime, anywhere, and see tangible results with TalentCard's first-ever mobile learning platform. Mobile learning improves engagement and increases course completion rates.
Create bite-sized content to increase knowledge retention. Microlearning makes a significant impact on learners within a short time frame.
Personalize your content with your own brand logo, theme, and colors. Remove all TalentCard branding and white label it to suit your brand style.
Enhance your training experience with gamified learning. Encourage healthy competition between employees to boost engagement. Reward points and badges for completing courses and quizzes.
View insightful reports to know about your course quality, monitor employee engagement, and identify learners at high risk of dropping out.
Pros and Cons
Learning on the go

Exciting gamified elements

Simple, intuitive, and easy to use

No push notifications

Limited quiz widget
Pricing
Starts from $0 per month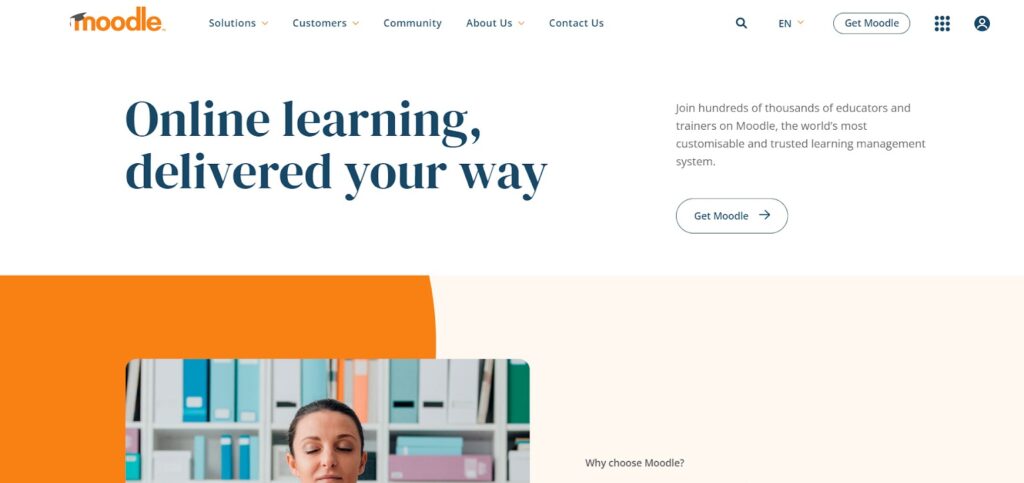 Moodle is an open-source LMS software that helps deliver an enriching e-learning experience. It has millions of users across the globe and provides multilingual support to train a diverse workforce.
Moodle LMS lets you deliver content in multiple formats and lets you notify your learners of course deadlines. Plus, it allows easy integration with third-party platforms and services, such as plagiarism detection, video conferences, etc.
The endless customization options offered by this LMS make it one of the best online training software for improving the overall learning experience.
Features
Transform your course into a social learning platform. Let your learners interact, collaborate, and add likes, comments, and upvotes.
Create short and interactive pieces of content to increase knowledge retention and enhance learner engagement. Plus, it also reduces cognitive overload.
This is another compelling feature in Moodle that keeps learners engaged using game mechanics. Games such as crossword puzzles, hangman, etc., can be used.
Keep track of your learner's progress through insightful reports and analytics. Get a detailed understanding of course engagement, completion rates, and more!
Moodle provides 500+ useful plugins that help fulfill all your training requirements and make the learning experience comprehensive.
Pros and Cons
Supports asynchronous learning

Reporting feature is good

Plenty of customization choices

Needs to improve the UI

Difficult to export test results and responses
Pricing
Starts from $110, billed annually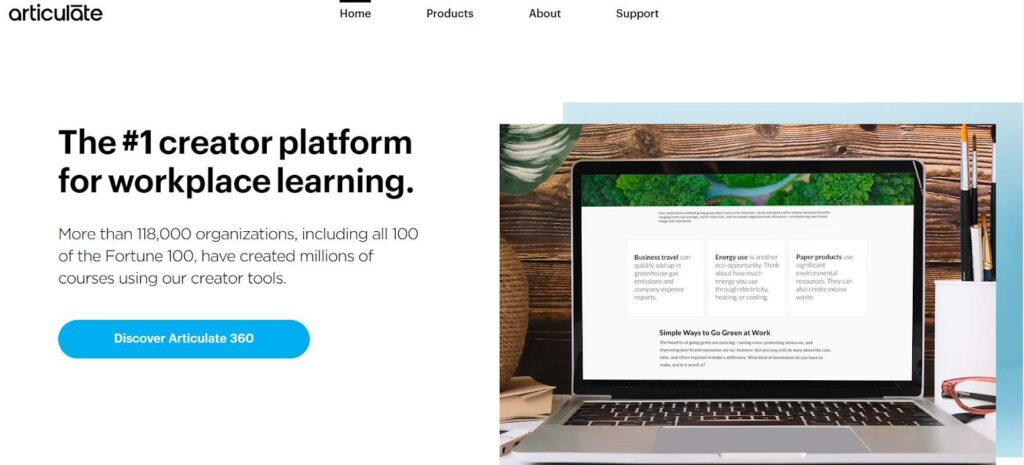 Articulate is a comprehensive online training solution with a visually appealing interface. It is an award-winning training creator tool with over 9 million course templates and stock assets. Whether you need multimedia functionality or responsive design, Articulate 360 can meet all your needs.
Articulate Storyline and Rise 360 let you create responsive courses and conduct live training. With Rise 360, you can format customizable blocks to deliver assessments, multimedia content, and quizzes.
More than 78,000 organizations use this software because it helps manage all the learning activities from a centralized system. Plus, it offers high-end tools to achieve learning objectives and lets you deliver a cohesive experience making it the top choice of many organizations looking for the best online training software.
Features
The course authoring tool gives you access to a content library with 360 templates and over 9 million illustrations, photographs, and icons. The other features are the slide templates, illustrated characters, custom text styles, etc.
Create animated content with Moodle's motion paths, entrance and exit animations, transitions, animation painter, and more.
Create beautiful interactions with over 20 interaction types, such as checklist interactions, folder interactions, FAQ interactions, etc., to make your learning experience engaging and effective.
Build courses faster with the storyline 360 media library. Record your screen and show your learners what exactly they need to learn. Easily create or import multimedia, such as audio, video, and images.
Track learner progress by adding quizzes and assessments. Choose from 20 pre-defined professionally designed form-based questions and create your quizzes in seconds.
Pros and Cons
Readymade assessments

Huge content library

Robust importing

Scoring and reporting need to be improved

Storyline has a steep learning curve
Pricing
Starts from $1099 per user annually
Choose the Best Online Training Software for Hassle-Free Training
We hope that the list of top 15 best online training software and the tips on finding the right software will help you choose the best training tool that meets your business needs based on your training budget.
Each tool may share similar features, but they have their own USPs. Therefore, you need to identify your training requirements, how you want to deliver your training, and which of these tools can help you fulfill those needs.
Identify which tool features you need the most and if there are any other criteria for choosing your software. Working with the right tool is essential as it helps achieve learning objectives and equips your learners with the necessary knowledge and skills.
Do you want a free Training Software?
We have the #1 Online Training Software for employee training & assessment