What Makes an Online Training Software the Best?
The best online training software should be easy yet powerful to use. It should be flexible enough to accommodate changing training needs while making it possible to achieve consistency in results. Also, the best training software should provide end-to-end solutions to help meet all aspects of online training without having to look for additional tools.
The concept of learning, as most of us understand it, is on the verge of transformation. See this news story on schools ushering in the 3.0 era of learning.
Thanks to the increasing adoption of online training software, today we are fast transitioning to online learning & development to meet both educational and business needs. The growing number of digital natives has not only led to rising demand for online training tools but it has changed an instructor's role from authority to that of a facilitator.
To help in your quest for the best online training software in 2020 and beyond, in this blog post we present a list of the 10 best software for online employee training. They should make it to your shortlist. Continue reading to find out.
10 Best Online Training Software
Best For
ProProfs Training Maker

Creating, sharing, & tracking online courses easily
Virtual classrooms
Online discussion & collaboration
Leveraging online communities
Quizzes, surveys, flashcards, memory games, etc.
Learning reports & analytics

Docebo

People looking for SaaS LMS
SCORM & TinCan-compliant LMS
Mobile-ready learning platform
AI-driven learning experiences
Enterprise learning ecosystem
Extensible online training

iSpring Suite

eLearning authoring
Creating PowerPoint courses for any use case
Online employee training
Mobile learning
Video lectures
Creating online quizzes

SmarterU

Those looking for ready-to-launch courses
Blended learning
Real-time learning summary
On-demand multi-lingual support
Online discussion forums
Custom branding

SkyPrep

Those who need a scalable online training platform
Automating employing training
Mobile learning
Blended learning
Built-in course authoring tool
Certification management

Electa Live

Using as a virtual classroom software
Online teaching & training
Creating online courses & tutorials
Mobile learning
Live classes
Learner management

Lessonly

Simplifying online L&D
Measuring learning success
Designating learning paths
Lesson & course library
Asynchronous Learning
Video conferencing

TalentLMS

Cloud-based employee training
Online course management
Mobile learning
Multi-lingual training
Third-party integrations
Strong security features

Mindflash

Modern workforce training
Quick & easy employee onboarding
Virtual classroom tools
Compliance training
Assessment tools - quizzes & surveys
Complete data security

SAP Litmos

Built-in authoring tool
Ready-made themes
Extended enterprise training
Compliance management
Self-enrollment
Gradebooks
Let's now look at each online training software in greater detail feature-wise as well as pricing and why you should consider using them.
1.

ProProfs Training Maker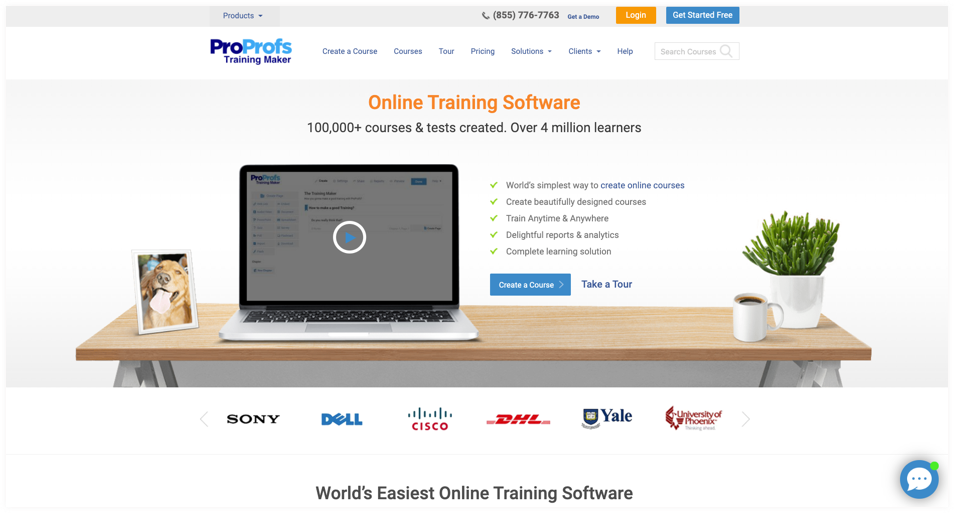 Create custom courses and train learners any time, anywhere, and on any device using this business training software. Upload multimedia files including audio, video, presentation, and documents to make learning more engaging. Facilitate discussion & collaboration among learners using built-in Q&A tools and online communities.
As a corporate training, eLearning, and cloud based learning management system (LMS), Training Maker is an easy and powerful solution.
Features:
✓ Course Builder
Easily build
online courses
from scratch or use existing materials.
✓ Course Library
100+ ready-to-use, professionally designed courses &
templates
.
✓ Virtual Classroom
Train learners using a centralized and secure
online classroom
.
✓ Anytime, Anywhere AccessLet learners take courses or exams from wherever they are, whenever they want.
✓ 100+ CustomizationsConfigure the settings for access control, security, & branding with 100+ customizations.
✓ Discussion & CollaborationMake learning interactive by facilitating real-time discussions and collaborations among learners.
✓ Testing & AssessmentMeasure learning progress and knowledge retention through different quizzes.
✓ Simple & EasyDesigned for users of all skill levels and all use cases.
2.

Docebo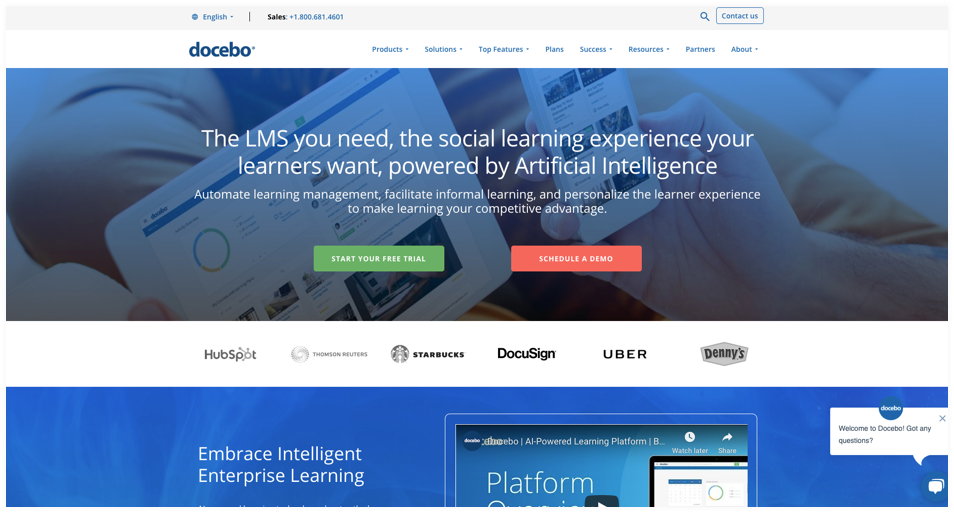 Docebo is a cloud-based and top training software for training employees, partners, and customers. It is powered by AI and helps turn learning into an organization's competitive advantage. Available in 32+ languages, Docebo is what you need to accelerate employee training and offer learner-centric experiences.
Features:
✓ Import & Create CoursesSimplify how you manage online training content. Publish and deliver them in any format.
✓ Easy LocalizationLocalize the training software easily regardless of where your learners are located. Enable learners to use the tool in their local language and shorten implementation time.
✓ Automated Admin TasksAutomate repetitive administrative tasks and get more time on hands to devote to core business activities.
✓ Coach & ShareFine-tune social learning experience. Let your learners learn from peers and subject-matter experts.
Pricing:
Depends on the number of active users, features and services required.
Free Trial:
Yes, for 14 days
Why Use Docebo?
Mixed Learning ModalitiesLeverage a variety of learning methods – online courses, social learning, experiential learning, live classes, etc.
Easy File Upload & SharingUpload and share training materials in any format you want, such as PPT, PDF, video, and SCORM and Tin Can files.
Course MonetizationUse Docebo's eCommerce app to sell the courses you create. Track the number of courses sold through the transaction tracking tool.
Powerful IntegrationsAmplify the effectiveness of the software by integrating it seamlessly with third-party applications, both free and paid.
3.

iSpring Suite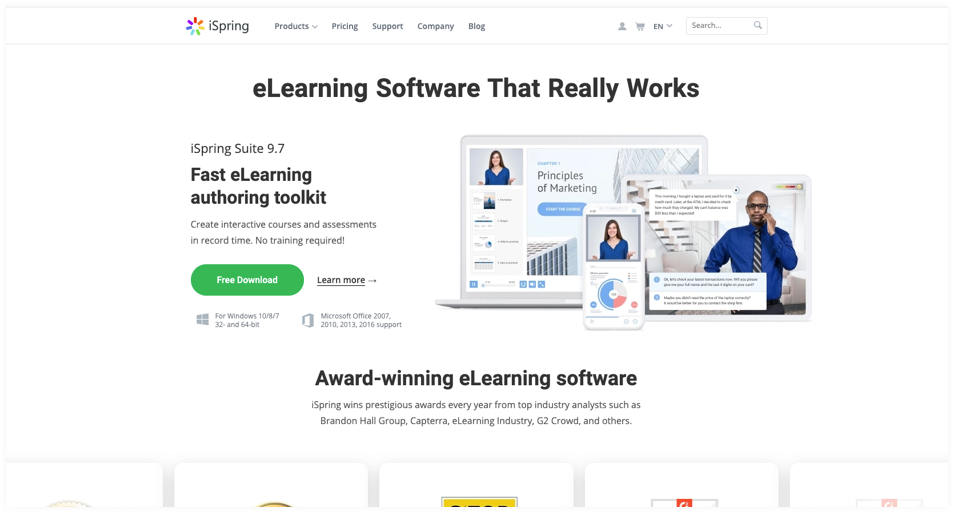 iSpring simplifies online employee training. Create eLearning materials in PowerPoint, add interactive & assessment tools, and deliver and track learning on any modern platform. Get the benefits of regular authoring features and security upgrades.
Features:
✓ Instant eLearningTransform PowerPoint, Word, and PDF files into interactive eBooks in no time. Upload the eBooks to any LMS. Track who has read your eBook and how many pages.
✓ Multi-Device CompatibilityWhen you publish content with iSpring, it displays flawlessly on Android, iOS, and operating systems. No need to tweak a course manually to fit into different devices.
✓ Preview ModeCheck your course before publishing to see how it will look on desktop computers, smartphones, laptops, and tablets.
✓ Audio & Video NarrationAdd audio or video narration to create a feel of the presence of an instructor as well as to let learners digest learning content better.
Free Trial:
Yes, for 14 days.
Why Use iSpring Suite?
Powerful ToolkitCreate courses, video lectures, and quizzes for adaptive learning with a supercharged content authoring toolkit.
Intuitive DesignThe tool is characterized by a small learning curve. You don't have to spend time learning the interface, but start creating eLearning content right away.
Award-Winning Customer ServiceiSpring is backed by an exceptional customer support team with a track record of resolving 83% of issues in less than 2 hours.
Built-In LibraryGet quick access to a vast collection of eLearning assets, including course templates, icons, and characters to expedite course creation.
4.

SmarterU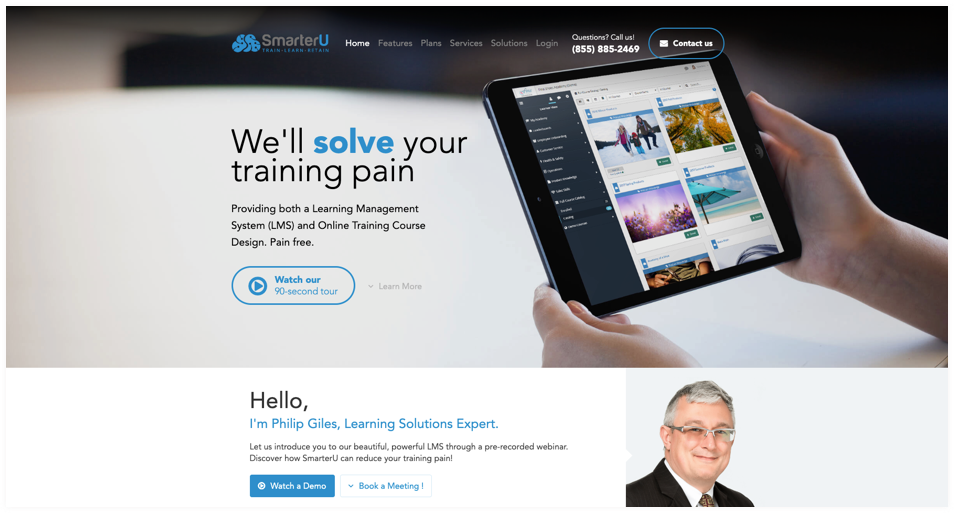 SmarterU is one of the best learning management systems that is designed to address all the common pain points of online training programs. It is a fully-featured, SCORM-compliant tool with an integrated online course builder software and executive dashboard. Perfect choice for certification training of all kinds.
Features:
✓ Course BuilderBuild great courses easily. Add quizzes, exams, and games. No need for programming background or technical expertise.
✓ Knowledge BaseCreate and store information in the form of articles, documents, and files. Organize them neatly into folders. Sort or filter them for searchability.
✓ Post-Course EvaluationsGet a better understanding of the learning experiences of your learners by enabling them to provide post-course evaluations through surveys.
✓ ScalabilityTrain hundreds or thousands of learners at a time. Manage an unlimited number of users, courses, and tasks easily.
Pricing:
$6,999/300 Users/Year
Why Use SmarterU?
All-In-One SolutionSmarterU provides all the features you need to deliver online training for employees successfully – a built-in eLearning course builder, SCORM/AICC/xAPI-compliant LMS, executive dashboard reporting and more.
Guaranteed ROIReduce overall employee training time, eliminate dependency on subject-matter experts, and reduce employee turnover.
Solution For Every Industry TypeWhether you're an enterprise, corporate trainer, franchisor, or association, SmarterU has online learning & development answers for you.
Responsive Technical SupportA dedicated and responsive customer support team for success coaching and other help that you may need.
5.

SkyPrep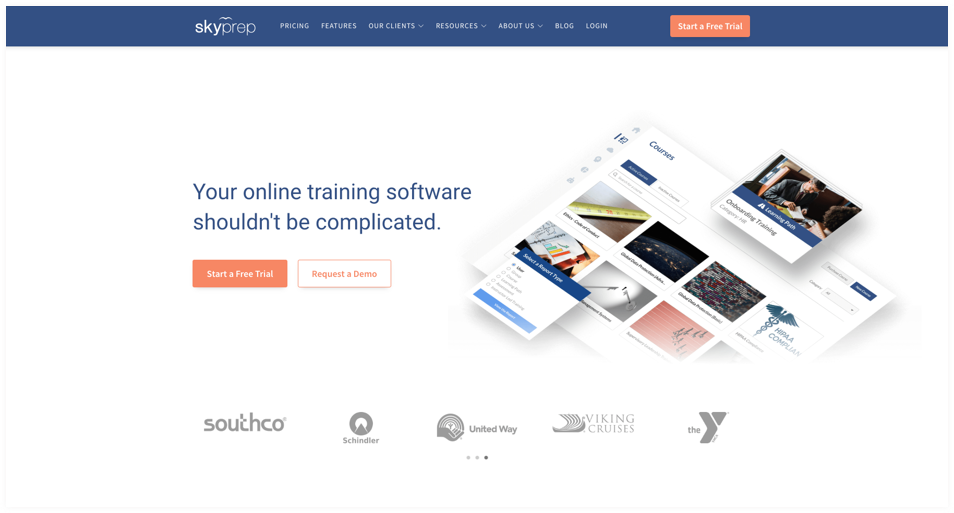 Award-Winning online training software and LMS, SkyPrep is designed around the goal of helping simplify online training and knowledge sharing, so that organizations reach their full potential. The tool enables users to deliver smarter training and make employees a part of every business' success story. You can use this business training software to meet your internal as well as external training needs.
Features:
✓ Robust Content Management
Upload any type of file – PDFs, PowerPoint, videos, HTML, as well as
create tests
and
surveys
from within the platform. Develop a course in minutes.
✓ Platform CustomizationUse white labeling to customize the platform easily with your business logo, colors, welcome screen, and email notifications. Make the online training software your own.
✓ Advanced Reporting & AnalyticsKeep track of your learners with visual reports. Get an overview of learning progress. Leverage automatic grading and feedback system.
✓ Enterprise-Grade SecuritySkyPrep is PCI-DSS compliant. Store all your training data on a secure cloud environment certified by SSL. Backup all information continuously.
Pricing:
Starts @ $349/Up To 100 Active Users/Month
Free Trial:
Yes, for 14 days.
Why Use SkyPrep?
Large Client BaseThe software application enjoys more than 250,000 current users in leading companies encompassing different sectors.
RecognitionCapterra listed SkyPrep as the most recommended LMS in 2017, No.1 user-friendly LMS software in 2018, and included it among the top 20 LMS list in 2019. Also, it got 5/5 in user reviews.
Intuitive PlatformThe software application is fun to use. Learners can easily use the tool the minute they log in.
Ease of ManagementUpload existing training material to the platform with simple drag-and-drop functionality. Use the content in as many courses as you want – no need to upload the same content again.
6.

Electa Live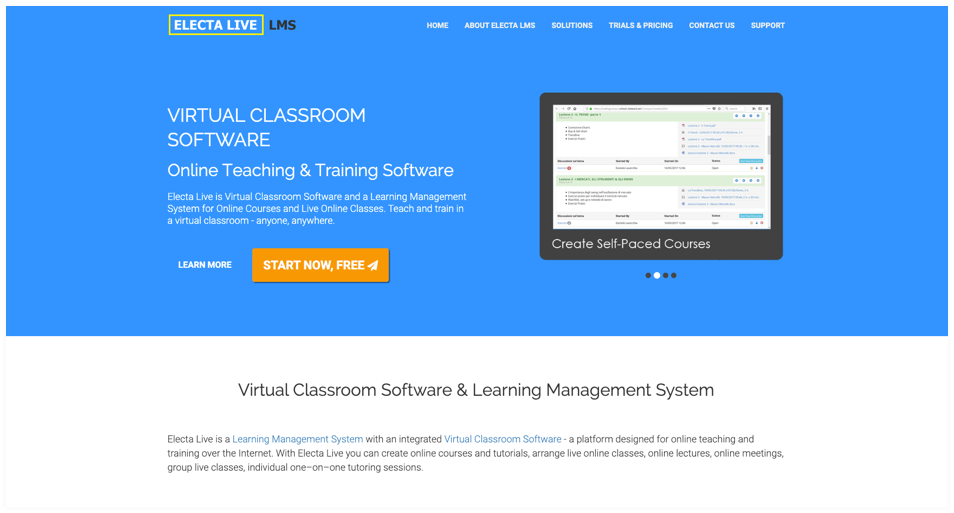 Electa Live is a learning management system and an online training platform that comes integrated with virtual classroom software for online teaching and training. Using this tool, you can create online training courses & tutorials and deploy online lectures & meetings. You can integrate the tool with existing applications and deliver training in a collaborative online environment.
Features:
✓ Course BuilderCreate engaging online courses on a range of topics using text and audiovisual. Format the content beautifully and link them to external resources for effective learning.
✓ Learner ManagementCreate unlimited learner profiles and organize them into groups for ease of administration. Provide individual or group access permissions to courses and other resources.
✓ Live SessionsHold synchronous live training classes and online meetings with your learners. Use live audiovisuals and whiteboards. Share screens.
✓ Discussion Forums
Make learning interactive for your learners with
online discussion forums
. Create as many discussion groups as you want for each course. Let learners get support from their peers.
Pricing:
Starts @ $29.90/25 Attendees/Month
Free Trial:
Yes, for 14 days.
Why Use Electa Live?
Trusted ProductElecta has been helping users teach and train better since 2005. It is trusted by 1 million professional trainers around the world.
Designed For Trainers & EducatorsElecta is designed around the specific learning & development requirements of online instructors. It is constantly improved to meet the changing needs of employee training online.
Feature-RichThe online training software offers a unique set of tools for seamless communication and eLearning experience. You will feel as if you're inside a real classroom.
No Lock-InNo customer is bound by any terms of a contract to use the software application. Its no-obligations nature means you can stop services the moment you want.
7.

Lessonly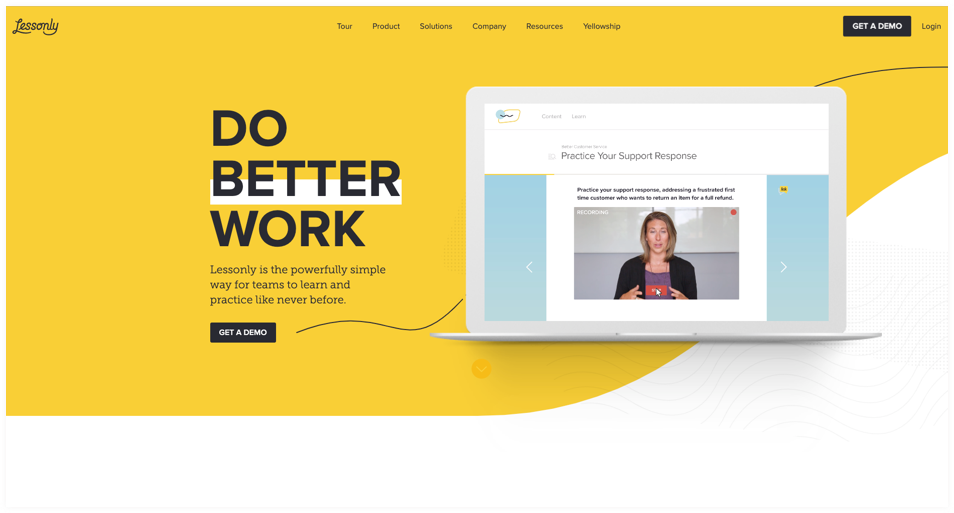 Lessonly is a popular and one of the best online training software for teams. Powerfully simple, this learning management system helps teams learn, practice, and do better work. It is used by more than 3 million learners in over 900 leading companies.
Features:
✓ Easy Course AuthoringCreating a lesson in Lessonly is as easy as writing an email. Just drag and drop text, images, videos, and other resources.
✓ Automated Learning PathsCreate automated learning paths so that learners master topics according to a set sequence, step by step. Guide your employees with the courses and lessons they need to take.
✓ Learning MeasurementTrack the engagement level and performance of your individual learners and teams. Integrate Lessonly into your existing applications and workflows easily.
Pricing:
Available On Request
Why Use Lessonly?
Reduced Ramp TimeLessonly utilizes practice and feedback to help you reduce ramp time – the time it takes for employees to become productive at work after they are hired. This is significant from a business competition point of view.
Easy Addition to GroupsSmart Group enables you to add users to specific groups automatically. This allows learners to access the right course or lesson. You can also pair Smart Groups with personalized learning paths.
All Content TypesYou can prepare a variety of content types within Lessonly, including those based on text, images, videos, quizzes, and other interactive mediums.
Learning LibraryCourses and lessons in Lessonly Library are organized topic-wise. Click on a topic and it takes learners to all the learning resources available under it.
8.

TalentLMS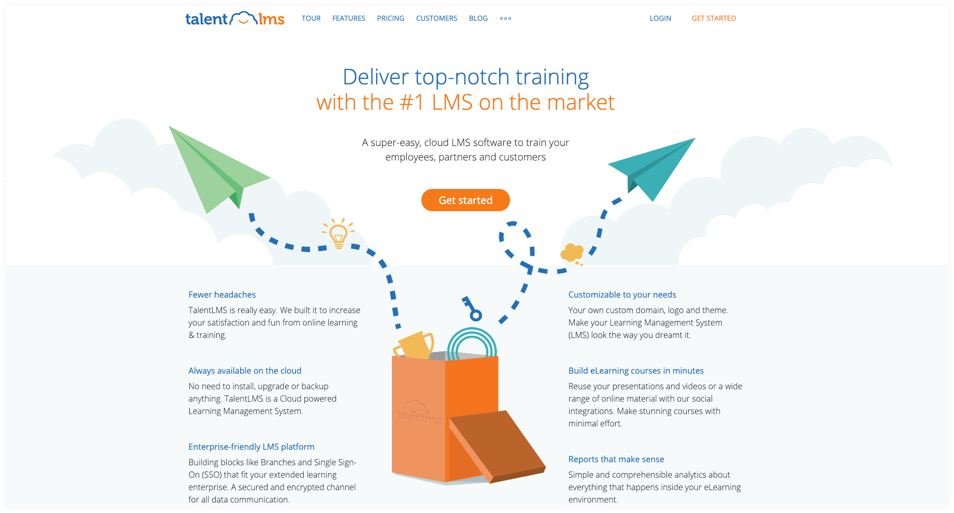 TalentLMS is an easy-to-use LMS in the cloud that you can use to train employees, partners, and customers. It enables not only faster training but also achieve consistency in them. Take charge of every step of online training for employees, measure growth effectively, and access insightful results.
Features:
✓ Content ManagementBuild online training courses by sourcing content from the Internet or re-using existing resources. SCORM and Tin Can-compliant for content interoperability.
✓ Learning Delivery
Train learners using the
blended learning method
. Add gamification to bring your courses and lessons to life. Use messaging and videoconferencing tools for seamless communications.
✓ White-LabelingUse a logo and theme of your choice. Reflect your brand by tweaking the look and feel of the training portal.
✓ Responsive DesignThe responsive design of TalentLMS means it is compatible with any device. All the visual elements in the software application are scalable and Retina display-ready.
Pricing:
Starts @ $59/Month/Upto 40 users
Free Trial:
Yes, for up to 5 users, up to 10 courses with unlimited email support.
Why Use TalentLMS?
Full-Featured Training SoftwareIt has all the necessary features built-in to enable the delivery of effective online employee training.
Enterprise-ReadyWith features such as Single Sign-On, extensible user profiles, integrations, and security, the tool is made for enterprise solutions.
Multi-Lingual SupportTalentLMS supports 13 major languages, including English, Chinese, German, and French.
Caters to Different Customer TypesThe tool can help meet the online training and eLearning requirements of small & medium businesses, large enterprises, and freelancers.
9.

Mindflash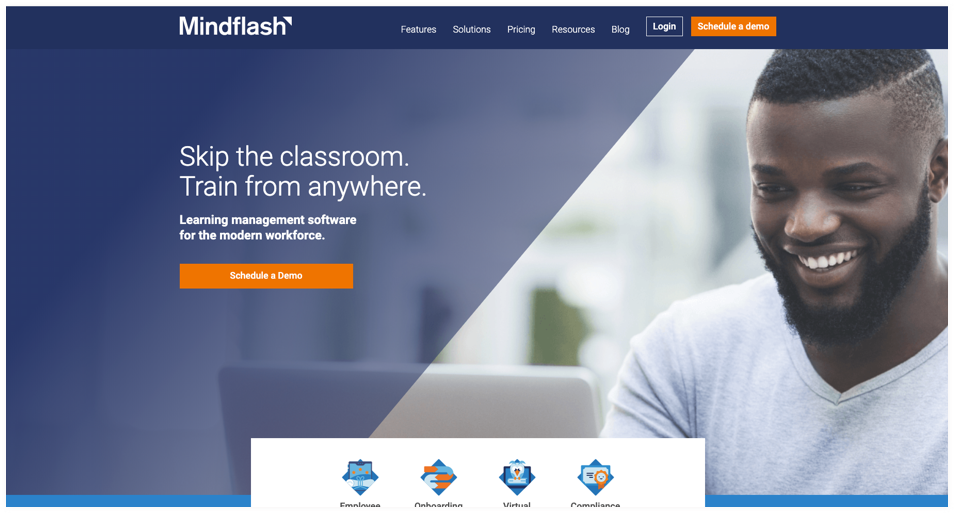 Mindflash is an online learning and training management software designed to meet the needs of modern organizations. Simple online content creation, quick onboarding, and effective assessment are the highlights of the software application. Trusted by more than 1,000 companies, Mindflash is one of the best business training software for employees, customers, partners, and resellers.
Features:
✓ Course CreationCreate high-quality online courses with the help of Mindflash-Perfect Content Conversion. It saves all your content upon upload and converts them perfectly.
✓ Quizzes & SurveysAdd pre-built quizzes, surveys, and other assessment tools to keep track of individual and group learning progress.
✓ Powerful Reporting ToolMake smarter online training decisions through actionable data. Improve your courses and make sure learners are progressing.
✓ SCORM-Compliant
Streamline online learning experiences with a
SCORM-compliant LMS
. Create and deliver compelling training content. Allow learners to access them anytime, anywhere, and on multiple devices.
Pricing:
Starts @ $599/Month (billed annually)
Free Trial:
Yes, for 14 days.
Why Use Mindflash?
Unlimited CoursesBuild, add, and store as many eLearning materials, including modules, courses, and tests as needed.
Data SecurityThe customer data security system in Mindflash is approved by Salesforce and trusted by Chief Information Officers (CIOs) at leading organizations.
Powerful AnalyticsMeasure the impact of your online training through real-time access to statistics on trainees and courses.
Global ReachAs one of the best online training software, it has delivered 10,000,000 courses in 177 countries and registered 97% customer satisfaction.
10.

SAP Litmos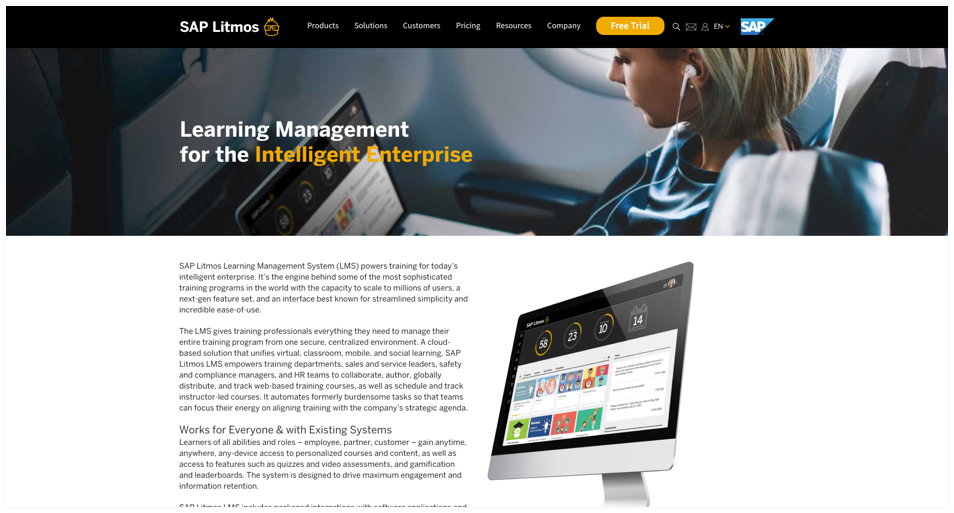 SAP Litmos is one of the leading online training platforms that purely focuses on learner experience. It takes care of the relevancy, mobility, and personalization parts of employee training. With this tool, you can easily meet the demands for training employees, customers, partners, suppliers, and contractors.
Features:
✓ Built-In Content Creation ToolsCreate rich online courses containing images, video, text, audio, and animations. Author courses, modules, and other content in no time using easy drag-and-drop functionality.
✓ Real-Time ReportingThe Reporting Engine in SAP Litmos addresses a vast number of reporting needs, including report scheduling and filtering. Get access to real-time reports and keep track of trainees' progress.
✓ eCommerce Solution
SAP Litmos provides the right platform to monetize your work. Easily
sell your courses online
using a PayPal account.
✓ Multi-Lingual & LocalizationTrain learners in a language they understand for maximum impact. Go global by breaking down the barriers of language.
Pricing:
Starts @ $6/150-500 Users/Month (billed annually)
Free Trial:
Yes, for 14 Days.
Why Use SAP Litmos?
Fast Deployment of TrainingWhether it is onboarding or sexual harassment training, this online training software enables you to deploy them in the now. A powerful LMS and a course catalog facilitate faster and smarter training.
Highly ScalableThe tool grows as your training needs grow. Easily scales to millions of users at a time.
24/7 Tech SupportThe customer support team is available 24/7 to take calls, answer queries, and resolve issues on a priority basis.
CertifiedThe online training system is SSAE 16 SOC 1 Type 2 and SOC 2 Type 2 certified.
Looking For the Best Online Training Software? Look No More!
Online training is a different ball game altogether compared to traditional instruction-led classroom training and for good reasons. With the right training software, you can make online learning & development more manageable, consistent, and effective.
If you're out in the market looking for a software application to meet the needs of your online training programs, the above list will definitely assist you. It has some of the best online learning platforms for 2022 and beyond.
We're here to help you. Simply give us a call @ (855) 776-7763 (Toll Free) and one of our representatives will take it from there.
Do you want a free Training Software?
We have the #1 Online Training Software for employee training & assessment