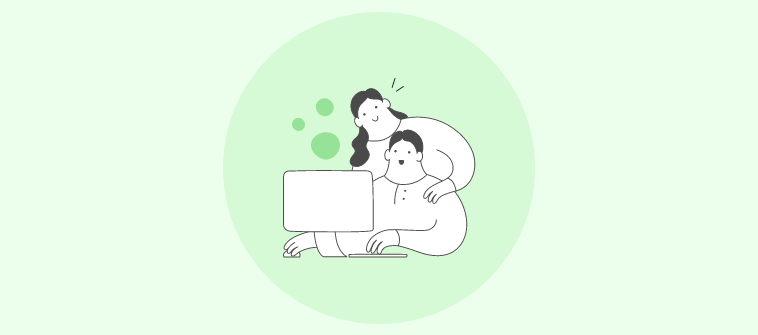 Investing in the best employee training software for workplace learning and development (L&D) is not a choice anymore; it is a necessity.
Whether you're training just 10 learners or 1,000, there's always a need for organized and consistent learning. This is especially true when your target audience is geographically dispersed teams.
In addition, learning outcomes should be measurable so that you can make accurate L&D decisions.
This leads you to employee training software. Generally, these tools are customizable, scalable, and efficient. In fact, the best employee training systems let you take complete control of online training.
Reduced training development time, improved communication, process automation, and better engagement are other significant advantages of using training software.
If you're yet to switch to such employee training platforms, you'd want to know some of the top ones available on the market.
We present a list of the best tools to make your search easier.
Keep reading to find out.
What Is Employee Training Software?
Employee training software is a solution you can use to create, design, share, track, and analyze online employee training programs. Generally, training departments, HR, instructors, and training administrators use these solutions to streamline and centrally manage L&D across organizations.
You can achieve better planning, administration, control, and training assessment through these software solutions. In addition, you can make learning more engaging by adding various media, quizzes, surveys, polls, gamification, and learning paths.
Read More: What Is Employee Training?
Watch: What Is Employee Training?
What Are the Features of Employee Training Software?
To create the best training programs for employees, you need to identify the features available in training solutions. Ideally, you should try looking for the following features:
Mobile learning
Personalization & Branding
That was all about the top features a standard training software solution should provide. Let's now explore the best training tools along with their features, pros and prices.
A Comparison Table of the Best Employee Training Software
Before we dig into each online employee training software in detail, let's understand the following:
10 Best Employee Training Software
Why Is It Best?
Pricing
ProProfs Training Maker
Easy to use

Course builder

Mobile LMS

Engaging quizzes & surveys

Customizations

Collaborative learning

Reports & analytics

Forever free for up to 10 learners.Paid plan starts at $1.97/active learner/month for large teams. Billed annually.
Edstellar
Wide range of training courses
Vast network of expert trainers
Comprehensive training administration & management
Get in touch with the company for a quote
Docebo
Content marketplace

White labeling

Gamification

Reports

Learning paths

Get in touch with the company for a quote
Whatfix
Smart content creation

Monitor user analytics

Context-aware and personalized

On-demand learning

No-code course creation

Get in touch with the company for a quote
SAP Litmos
Built-in content authoring

Gamification

Tracking and reporting

Customized learning paths

Video assessments

Get in touch with the company for a quote
TalentLMS
Content builder

Assessment engine

Gamification

Learning paths

Certificates

Starts from $0/month. Up to 10 courses and best for 5 users
LearnUpon
Course management

Mobile learning

Branding

Learning portal

Exams & surveys

Get in touch with the company for a quote
SkyPreP
Course Management

Customization

Integrations

Advanced Analytics

Workflow Automation

Get in touch with the company for a quote
Absorb LMS
Content library

Learner experience

Mobile app

Reporting and analytics

Learner engagement

Get in touch with the company for a quote
Tovuti
Course authoring

Branding

Virtual classroom

Personalized learner portals

Incredible support

Starts from $775/month, billed annually
Coassemble
Authoring tool

Quiz templates

Assessment

Branding

User management

Starts from $50/month
11 Best Employee Training Software in 2023
Here's a closer look at the best training tools for employees we discussed briefly above to know which one could be the best pick of employee training software for small business and large organizations.

ProProfs Training Maker is the world's most user-friendly employee training software. As a cloud-based LMS Software, it covers all the bases for corporate training – from course creation to designing, sharing, tracking, and reporting.
It is a learner-centric platform that lets you deliver engaging and just-in-time learning experiences across devices. For this, it supports training delivery across all popular devices.
A huge course library, a centralized virtual classroom, testing & assessment tools, and collaborative learning make ProProfs a complete online training solution, whether you need it for onboarding training, just-in-time training, compliance training or anything else.
In addition to enterprises of all sizes, educational institutions, private tutors, teachers, and non-profit organizations use this software to meet their online learning & development needs. In short, ProProfs is the best LMS for employee training.
Features
Develop online training courses for employees easily and quickly. Use existing materials or start from scratch.
Utilize a well-stocked library of 100+ professionally designed and customizable courses and training templates.
Set up your own online classroom and administer learners, assign courses, make announcements, view reports, and more.
Leverage the Q&A-based forum to build an online community of learners and facilitate collaborative learning.
Assess knowledge retention and gather feedback through beautifully designed quizzes and surveys.
Provide seamless learning experiences with self-paced mobile learning, multilingual support, course announcements, etc.
Create, share, and sell courses under your own brand. Add a custom logo, colors, themes, and messaging. Remove any references to ProProfs with white labeling.
Get an overview of learners' progress, completed & pending courses, knowledge gaps, engagement level, and scores with auto-generated reports & analytics.
Pros
Intuitive
Ready courses & templates
Huge assessment library
Pricing
Forever free plan (up to 10 learners). Paid plan starts at $1.97/learner/month (billed annually) for large teams. No hidden charges. 15-day money-back guarantee.
Watch: How to Create Employee Training Courses Online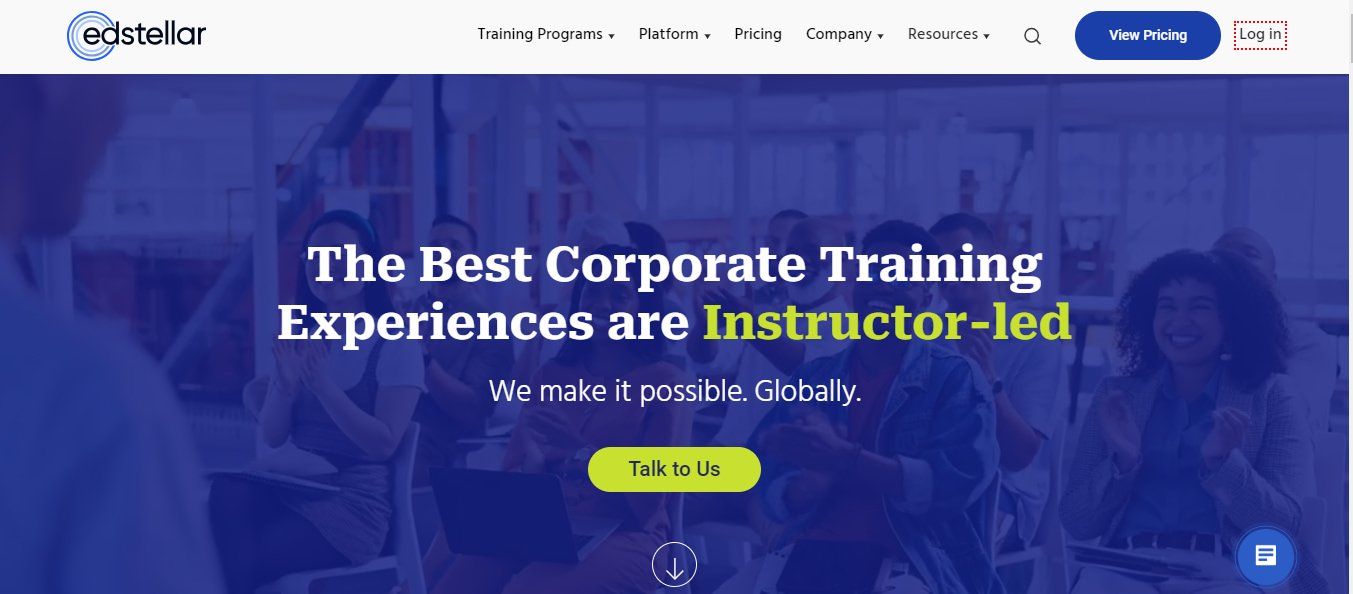 Edstellar is a one-stop solution for onsite/virtual instructor-led corporate training requirements. It blends training administration and delivery seamlessly by providing high-impact, cost-effective training solutions. The training solutions are tailored to align with business goals and contribute to higher knowledge retention rates.
Edstellar has a client-centric approach and offers flexible training solutions. It's also effective in meeting diverse skill needs and centralizing training administration.
Its corporate training packages include starter, growth, enterprise, and custom. These packages offer various benefits, such as accessibility to the wide array of training courses, complimentary access to the training management system, and various customized add-ons, and additional services.
Features
Innovative Training Management PlatformThe cloud-based TMS of Edstellar provides a strong and dynamic platform for managing the training lifecycle entirely.
Comprehensive Training Service
Edstellar provides a holistic approach to training that includes TNA, instructional design, training delivery, post-training support, and evaluation.
Extensive Global Trainer Network
5,000+ experienced and qualified trainers around the globe.
AI-Driven Training Suggestion
The AI-driven recommendation engine, STellar-AI, enables organizations to analyze employee data and training history to receive personalized training suggestions.
Mentorship and Coaching
The mentorship and coaching programs offered by Edstellar provide personalized guidance and support to professionals.
Pros
Course Discovery
Easy HRMS integration
Analytics and Reports
Skill gap analysis
Pricing
Get in touch with the company for a quote.

Docebo is one of the best training software powered by artificial intelligence. You can use it for corporate training. It is easy to use as it is designed keeping in mind the learning experience of employees, customers, and partners.
The software supports branding, localization, social learning, mobile learning, and training at scale. Admins can keep track of actions performed inside the platform using audit trails, while automatic triggers help you automate recurring processes.
Docebo is a secure employee training solution trusted by 1,600+ companies. The tool ranks high in terms of usability, customer satisfaction, and the likelihood of a recommendation.
Features
Leverage one of the biggest online marketplaces for courses from the world's leading content providers.
Add custom branding for a unique learning experience with your employee training tool. Create an identity of your own.
Take your training to the next level with engaging gamification. Double the course completion rates and increase knowledge retention.
Track and measure training progress with robust reporting tools. Use configurable dashboards for a glance at all training-related activities.
Personalized Learning Paths
Guide your learners and show them the right direction to complete their courses. Personalized learning paths simplify the learning journey for both learners and admins.
Pros
Learner-centric
Ease of navigation
Customized experience
Pricing
Get in touch with the company for a quote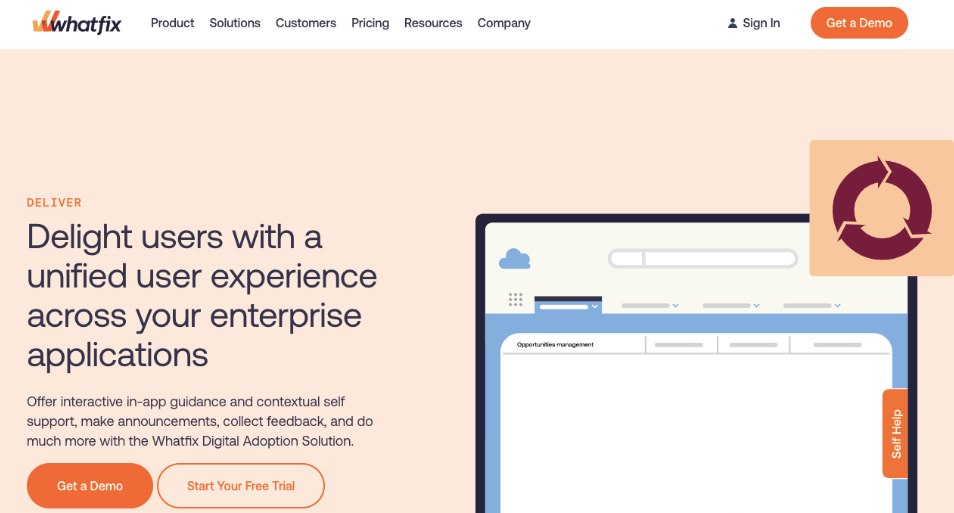 Whatfix is a digital adoption platform that lets organizations create the best employee training programs, including onboarding programs. The tool also provides a self-service user knowledge center for continuous learning.
With Whatifix, employees follow in-app guidance and interactive walkthroughs to become proficient users of any application or software. Its self-support knowledge base lets employees continually learn without raising IT or support tickets.
It helps you get the most ROI out of software platforms by highlighting new product features and check-in courses at just the right time to ensure employees are using the tool to its full potential.
Features
Whatfix's context-aware technology reduces your manual effort by making content creation more automated and intelligent. Also, personalize learning flows for various user types or job roles.
Watch how employees engage with the training and see where they struggle. Use this information to create additional content and help streamline the training processes for other users.
Context-Aware & Personalized
Delight your users with personalized help. Engage them by showing the most useful and timely information in-app.
Easy-to-create in-app content such as guided walkthroughs, tutorials, tooltips, help desks, knowledge centers, etc. —with zero coding.
Identify, deliver, and measure training in-app. Make learning fluid across all enterprise systems and user touchpoints.
Pros
Easy-to-create in-app content
Personalized experience
Highly secure
Pricing
Get in touch with the company for a quote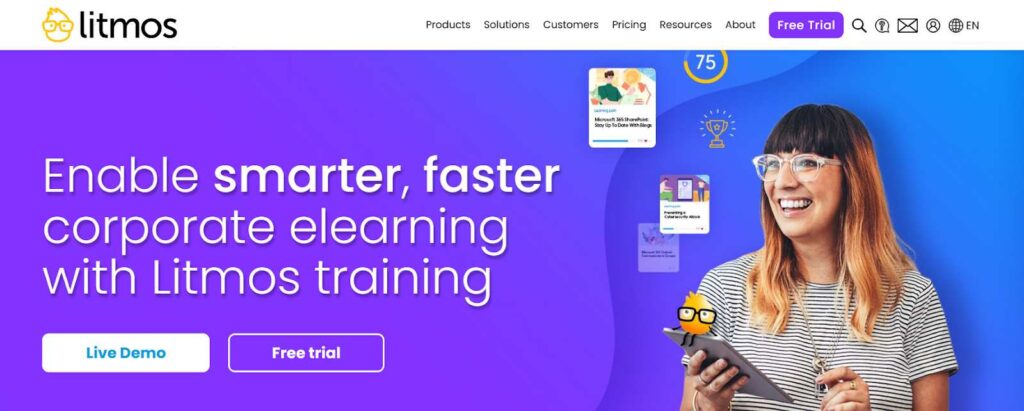 SAP Litmos is one of the best employee training software solutions for today's progressive workplaces. It's just what you need to formulate a systematic employee training plan. Deliver relevant training programs quickly using this tool with the utmost flexibility, mobility, and integrations.
The software's mobile learning capability enables just-in-time learning anytime, anywhere. When learners learn nearly the same way, you can easily ensure training consistency.
The application was built by experts keeping successful skill development in mind. This corporate training software supports millions of users in 130 countries in more than 24 languages. It is SSAE 16 SOC 1 Type 2 and SOC 2 Type 2 certified.
Features
Built-In Content Authoring
Create SCORM content with the tools available within this LMS. It supports novice trainers and expert course instructors, eliminating the need for external content creation.
Enable learners to record video responses of themselves to answer certain questions. Let them upload videos of delivering elevator pitches and product overviews.
Keep your trainees engaged and motivated with gamified learning. Offer points and badges for achievements. Facilitate healthy competition among teams.
Customized Learning Paths
Bundle your existing courses together and create need-based personalized learning paths for an enhanced learning experience.
Easily track course completion and the ROI of your training efforts. Get regular feedback on course effectiveness and make necessary improvements.
Pros
User-centric
Highly secure
Works seamlessly with existing systems
Pricing
Get in touch with the company for a quote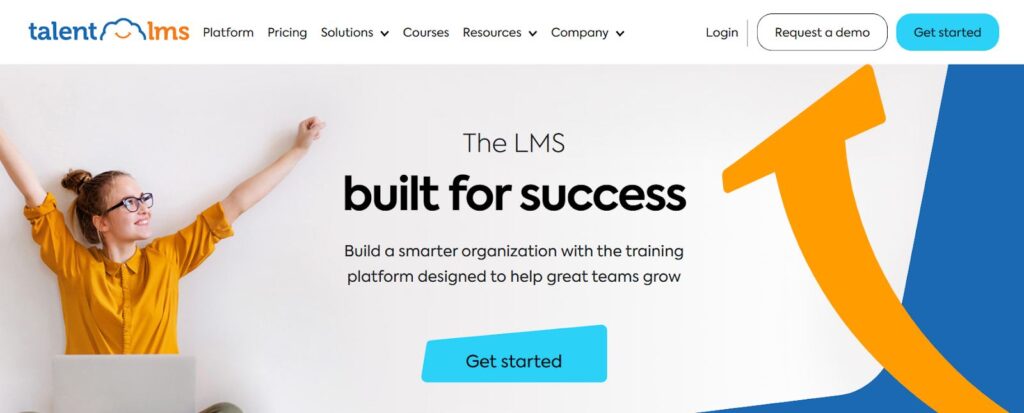 TalentLMS is an award-winning cloud-based LMS that you can use as an employee training system. It is simple, feature-rich, and effective. You can easily customize this tool to suit your eLearning environment.
This employee training software application supports SCORM, Tin Can, gamification, video conferencing, and eCommerce. Besides supporting different types of online content, it offers robust reporting functionalities. All this makes it suitable for web-based employee training.
The tool is enterprise-ready, thanks to single sign-on, extensible user profiles, integrations, and security solutions. It also supports 13 major languages, including English, Chinese, German, and French.
Features
Develop various courses by reusing existing documents, presentations, and videos. You can also source materials online.
Decide how learners can access, view, and take a course. Set the rules for learning according to learners' pace and achieve the results you expect.
Administer tests, quizzes, and surveys easily. Auto-grade the assessments based on the criteria you set for training and development.
Use the certification management tool to provide accreditation for your training program. Provide formal recognition and motivate your learners to complete the training program.
Gamify your training programs to increase engagement, foster creativity, and encourage social interaction. Make learning exciting through points, leaderboards, and badges.
Pros
Retina-ready responsive design
Reliable data storage and backups on AWS
Language support makes it an ideal for training global teams
Pricing
Starts from $0/month. Best for up to 5 users.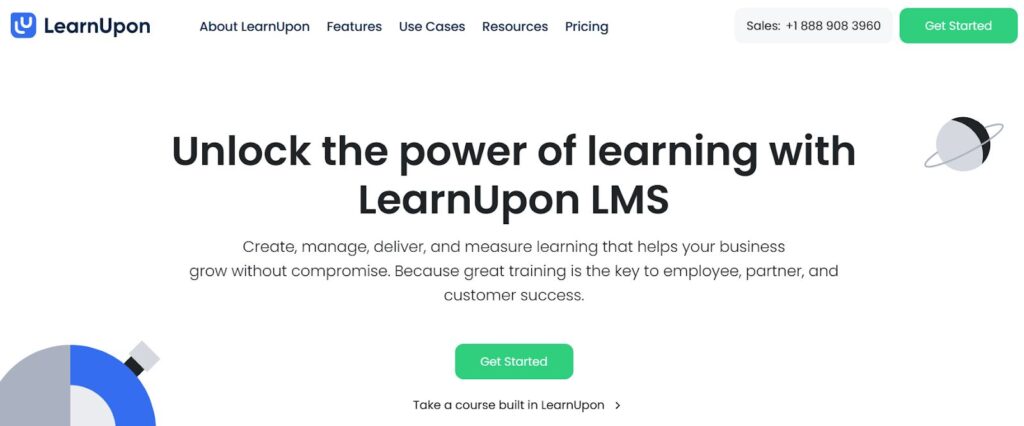 Simple to use, scalable, and trusted by businesses worldwide, LearnUpon makes employee training management and delivery easy. As one of the top employee training management software, it facilitates high-quality learning experiences for consistent results. The software can resolve the common problems faced by large organizations during employee training.
As one of the leading enterprise training solutions, LearnUpon boasts of having thousands of customers, including over 4 million active users worldwide. It can boost your learning & development with its set of powerful tools and integrations.
LearnUpon combines a user-focused LMS with industry-leading expertise to enable businesses to deliver impactful training programs. By putting its customers at the center of everything it does, the employee training tool strives to deliver the best solutions.
Features
Build diverse and engaging courses without requiring technical expertise. Create modules by uploading existing materials rapidly for a dynamic learning experience.
Track learner progress, assessment results, training histories, survey responses, and much more using out-of-the-box reports. Pull out a comprehensive training history and export your reports in Excel & PDF formats.
Customize the employee training software to reflect your brand's unique look and feel. Add your logo, colors, and banners. It takes just a few minutes.
Create personalized portals and train different groups of learners in a unique environment. Set up portals whenever you need them.
Test knowledge retention and collect feedback using exams and tests. Choose from a range of question types.
Pros
Easy to use
Salesforce integration
Supportive staff
Pricing
Get in touch with the company for a quote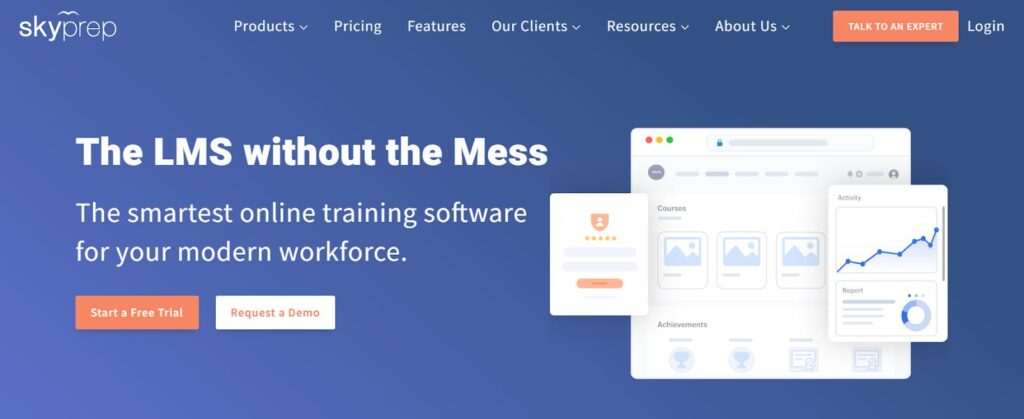 SkyPrep is another award-winning and trusted employee training software on the market. Developing courses and testing knowledge is easier than you think with this tool in your hand. Plenty of options for customization give a personalized feel to the training platform.
The application supports multiple languages, including English, French, Chinese, and Hindi. This makes it suitable for global online training programs for employees.
Training automation and transitioning employee training to an online environment become simple and painless with SkyPrep. Add to that a sleek design and the support for uploading any file type, creating assessments, and running reporting.
Good customer support is another strong point that users associate with this tool. SkyPrep believes in delivering an LMS without a mess.
Features
Create employee training courses in minutes and upload any file. Bundle the courses together to build learning paths. Also, create auto-graded tests and surveys.
Tailor the training platform in tune with your company's identity. Use a custom logo, colors, emails, and domain.
Easily integrate SkyPrep with the tools you are already using, such as Zoom, PayPal, and Stripe. Boost employee training through integrated solutions.
Keep track of training using robust reporting and analytics tools. Create visual reports to ensure ongoing compliance.
Automate workflows and reduce your admins' workload to enhance productivity.
Pros
It's easy to use
Enterprise-grade security, SSL-certified cloud infrastructure
Flexible with customization
Pricing
Get in touch with the company for a quote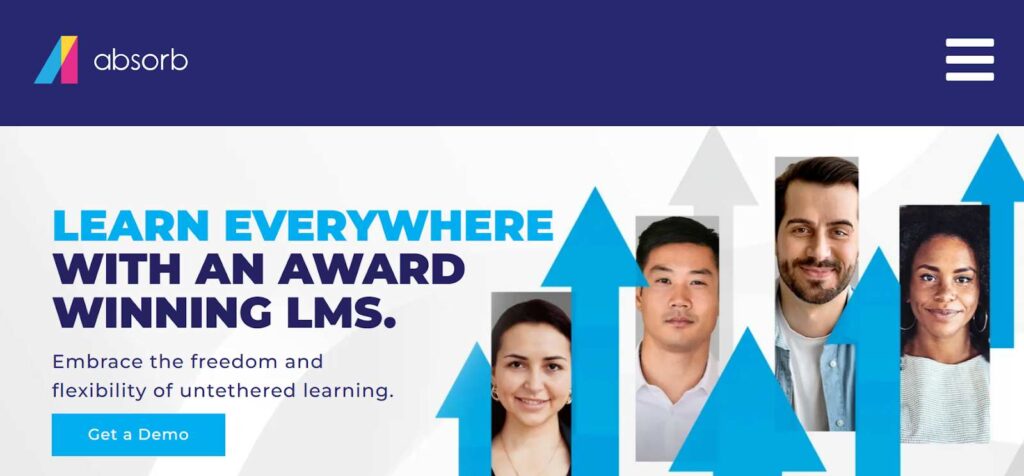 If you want to accelerate employee training and prepare your workforce for the future, look no further than Absorb LMS. This is one of the top 10 training software platforms, and you can use it to deploy targeted training programs and overcome L&D challenges. It is a comprehensive solution designed to meet the demands of modern businesses.
The software supports SCORM 1.2, SCORM 2004, and other popular standards such as HTML5, AICC, and xAPI.
Businesses of all sizes can get custom pricing plans that suit their budgets from this employee training system.
You can get AbsorbLMS up and running quickly. It offers one of the best solutions to streamline employee training and make training administration more efficient.
Features
Access thousands of pre-built quality courses curated by the world's top online content providers. Keep your employees' knowledge and skills current.
Create unique learning experiences for each group of learners. Let them learn using an intuitive and progressive LMS interface.
Empower your learners to learn online and offline using the mobile app anytime, anywhere. Take advantage of uninterrupted learning.
Enhance the learning experience through gamification and effective collaboration. Customize the look and feel of the LMS, enable social learning, and issue custom certificates.
Make informed decisions through learning data. Measure your ROI on employee training with key insights. Keep all the information at your fingertips.
Pros
It is a straightforward platform
Excellent admin side functionality
Outstanding support
Pricing
Get in touch with the company for a quote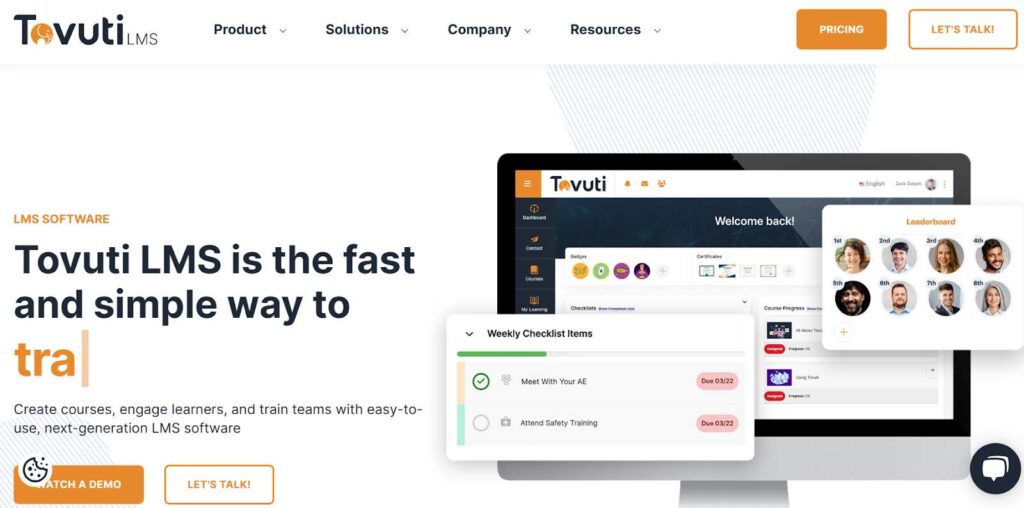 Tovuti is a cloud-based and all-in-one employee training software application. Like other top-rated learning solutions, it enables users to create, deliver, and track online training and education. It is easy to use, robust, entertaining, and effective at the same time.
Create different training modules, deploy them on desktop or mobile, hold videoconferencing-based live classes, and adapt the tool to your changing needs. With Tovuti, you've got everything in one place.
A personal dashboard for learners provides a seamless learning experience by including courses, videos, checklists, social learning, badges, and certificates.
Features
Create 40+ different content types that are interactive, social, and gamified. No need to download and install additional programs.
The library houses employee handbooks, videos, technical documentation, and other files that your learners can access anytime.
Make sure your learners take lessons in the correct order. Let them complete all the required tasks before proceeding to the next.
Build learners' communities within Tovuti where they can interact socially and engage in meaningful discussions.
Understand your learning strategy and view how well your learners perform through interactive reports.
Pros
End-to-end training solutions
Highly interactive and engaging
Excellent customer service
Pricing
Starts from $775/month, billed annually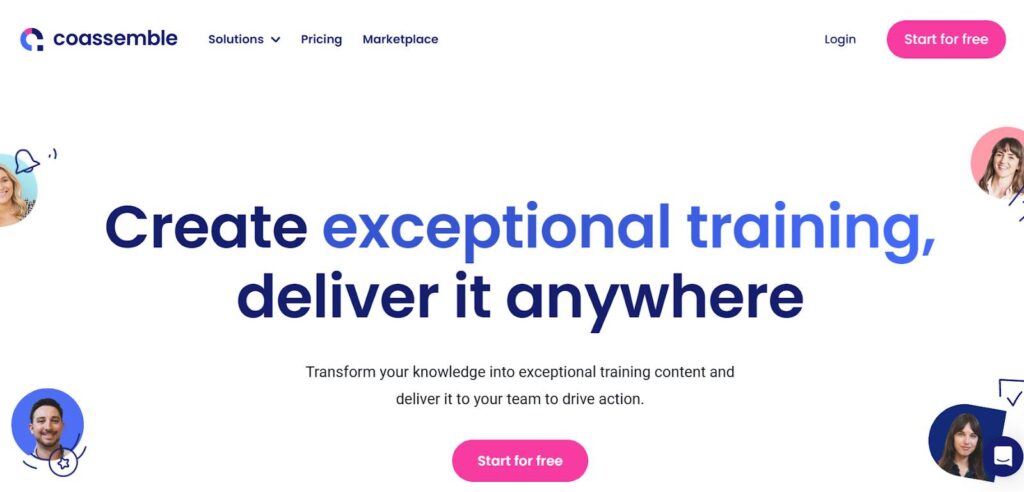 Coassemble is an LMS and employee training software trusted by businesses and training organizations worldwide. It offers you all the tools in one place to help consolidate online training for employees.
As online staff training software driven by UX, Coassemble enables users to translate business knowledge into clear and concise wisdom. Add to this the human support that it provides to help customers overcome the challenges of workforce training & development.
The software is clean and intuitive and comes with a drag-and-drop authoring tool for admins. It supports mobile-optimized training. Straightforward pricing is another significant feature of Coassemble.
Features
Administrators can create courses, lessons, and quizzes using the authoring tool. A total of 35 templates make building and publishing content easy.
Enroll learners in a course and manage them efficiently. All you need to do is add the names and email addresses of the learners.
The preloaded quiz templates are another great feature. They offer various question types, including multiple-choice and true & false.
Assess and grade learning outcomes with a robust assessment feature. Track performance with real-time analytics tools and view reports on a dashboard.
Customize every aspect of your training and deliver a branded experience to your learners. Set up a custom domain, add themes and logos, and deliver personalized emails.
Pros
Easy course creation
Video hosting service
Clean design and intuitive
Pricing
Starts from $50/month
These are the top 10 employee training software that'll simplify and standardize your training programs while providing an engaging experience. Now that you have the list of tools with you, it's important to know how to choose the right software from this list. So, let's quickly go through the factors you must consider for selecting the best training software.
How to Choose the Right Employee Training Software
Remember: There is no one size fits all approach. Every business has unique learning needs, so they need to choose training software based on their goals. Though you may think of working with the free online training platforms for employees, you may miss out on the important features and functionalities. So, here are a few factors you need to consider when selecting the right software.
1. High Compatibility
The first thing you need to check in the software is its compatibility across devices. The best training software must enable learners to access training materials and assessments on any device. It should work smoothly across desktops, laptops, smartphones, and tablets.
2. Course Builder
Your training software should provide course-authoring tools, pre-built templates, and readymade courses. This will reduce development time, and you can focus more on your learning outcomes.
3. Reports & Analytics
The best employee training software should let you view and track learner progress through insightful reports. These reports help you identify learning gaps and completed & pending courses to provide a bird's eye view of your training program.
Good training software must enable smooth integrations with your existing and third-party tools without hassles. For instance, ProProfs training software is compatible with Mailchimp, SugarCRM, Zoom, BambooHR, and more.
5. Collaboration
Asynchronous training can sometimes become dull and isolating. That's why, having employee training software with a collaboration tool can be very useful. A collaboration tool facilitates knowledge exchange and real-time discussions, which promotes employee engagement.
To know more, you may also watch this video.
Watch: How to Choose the Best LMS Software for Employee Training
Frequently Asked Questions
What is the best employee training software?
There are many training software available on the market, and each has its own features and benefits. However, according to the latest data, ProProfs Training Maker, Absorb LMS, Docebo, iSpring, and TalentLMS are some of the best.
What is the best way to train employees?
There are different ways you can use to train your employees. Some of them are e-learning, instructor-led training, coaching, role playing, blended learning, simulation employee training, etc.
What systems can I use to build training programs for employees?
The best way to create your training program is by using employee training software that has the best course creation abilities, reporting features, collaboration tools, assessments and surveys, multilingual support, and good number of security and configuration settings.
Ready to Buy the Best Employee Training Software?
If yes, then this guide can be very helpful. Go through our training tools list, and compare the features, pros and pricing. The right training software can simplify your training programs while offering an engaging learning experience. To land the right one, go for a free trial with a couple of them.
Make sure you choose a simple tool that gives you the full liberty to customize and optimize workforce training. Also, look for easy course creation, admin side functionality, collaborative learning, learning analytics, and awesome customer support.
Whichever software you finally take home, it should empower you to train people in the best possible way.
Do you want a free Training Software?
We have the #1 Online Training Software for employee training & assessment