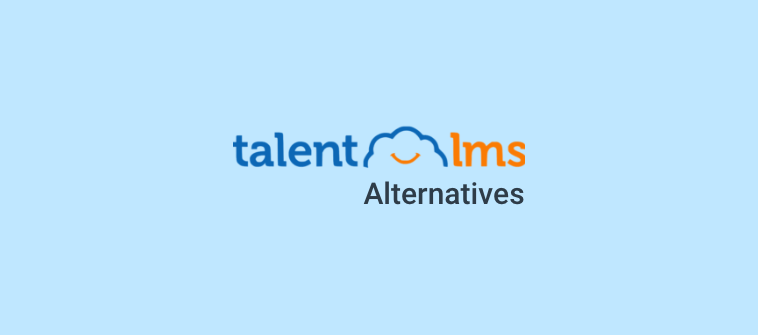 Are you considering switching from TalentLMS? Do you want to unpack more TalentLMS alternatives during your software discovery stage?
If the answer is yes, it helps to adopt the best employee training software possible that suits your learning requirements and budget.
To make the navigation easy for you, this post brings a roundup of the 10 must-try TalentLMS competitors. They can assist you in creating, managing, administering, and tracking corporate training programs seamlessly.
But before that, let's understand TalentLMS a bit.
An Overview of TalentLMS
TalentLMS is an award-winning and popular cloud-based platform that serves as a one-stop solution for training employees, customers, partners, and students. Users usually come here for the training and stay for the experience. Its plug-and-play design enables you to skip months-long software setup time.
Content creation & management, user management & authentication, customization, gamification, assessments, social & collaboration tools, and advanced security settings are among its core features.
You can use this proprietary platform to deliver training for any team, use case, and scenario.
Despite these compelling characteristics, the platform comes with a few drawbacks:
Modifying the user interface doesn't come easy

Limited question types in built-in quizzes

Reports are not that thorough

Certification management can improve
If these features are important to you, it's necessary to look for a better option on the market. With that in mind, we'll take you through a detailed overview, pros and pricing of the top alternatives to TalentLMS. Knowing this will help you land the next best replacement for the LMS.
TalentLMS Alternatives: A Quick Comparison Chart
Top 10 TalentLMS Alternatives
Why Is It Worth Considering?
Pricing
ProProfs LMS
Course library
Engaging quizzes
Desktop & mobile support
English, Spanish & 70+ languages
100+ customizations
Reports & analytics
Starts at $1.97/learner/month
iSpring Learn
Authoring tools
Interactive quizzes
Customization
Mobile learning
Starts at $2.82/user/month
Litmos LMS
Built-in content authoring
Task automation
Video assessments
Tracking & reporting
Get in touch with the company for a quote.
Easy LMS
Course builder
Assessments & exams
Tracking & reporting
Software integrations
Starts at $50/month
Paradiso LMS
Course library
Gamification
Social learning
Video conferencing
Get in touch with the company for a quote.
Docebo Learn LMS
Course catalog
Gamification
Certifications and retraining
Custom domain
Get in touch with the company for a quote.
Trakstar Learn
Course creation
Quizzes
SCORM & API
Reports & dashboards
Get in touch with the company for a quote.
Thinkific
Course creation
Custom marketing websites
eCommerce features
Learning community
Starts at $0/month
Absorb LMS
Content libraries
Smart administration
Observation checklists
Reporting & analytics
Get in touch with the company for a quote.
LearnUpon
Course creation
User management
Webinars
Reporting
Get in touch with the company for a quote.
Let's now look at each of these alternatives in granular detail so that you can form a better idea about them.
List of Popular TalentLMS Alternatives
1. TalentLMS vs. ProProfs LMS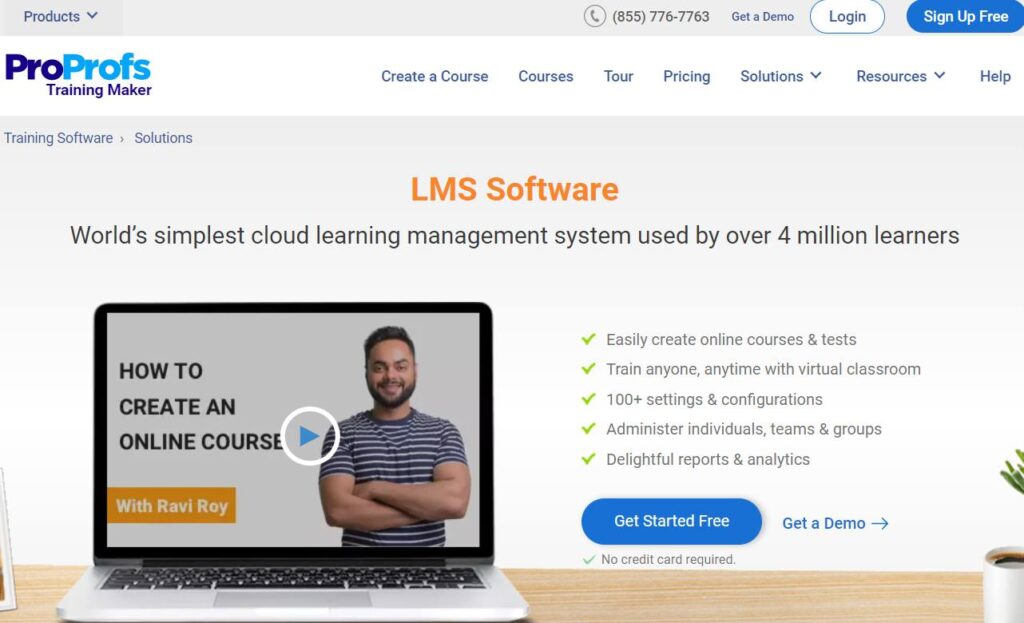 ProProfs LMS is a recognized leader in learning management systems. As the world's easiest-to-use cloud LMS, it makes creating, sharing, tracking, and analyzing online courses & tests a breeze. It's a versatile and robust solution suitable for delivering any corporate training program, including onboarding, skills training, safety, and compliance.
The SaaS LMS provides a well-stocked and regularly updated library of 100+ courses and templates. These resources are professionally designed, customizable, and ready for deployment.
The LMS also comes integrated with a centralized virtual classroom that provides a controlled environment for group management, assignments, setting up roles & permissions, and pulling out training reports.
Leverage a catalog of online quizzes in different formats, question types, an option for video responses, and anti-cheating settings.
SCORM and Tin Can compliance, collaboration tools, mobile LMS, surveys, software integrations, and certification are other offerings in the LMS.
ProProfs LMS is easy, reliable, and maintenance-free. You can use it to upskill your employees, teach students, and deploy continuing education programs.
Why We Picked It
User-friendly interface

Ready courses for a quick start

The ability to add any file type and media
Pricing
Starts at $1.97/learner/month (billed annually).
2. TalentLMS vs. iSpring Learn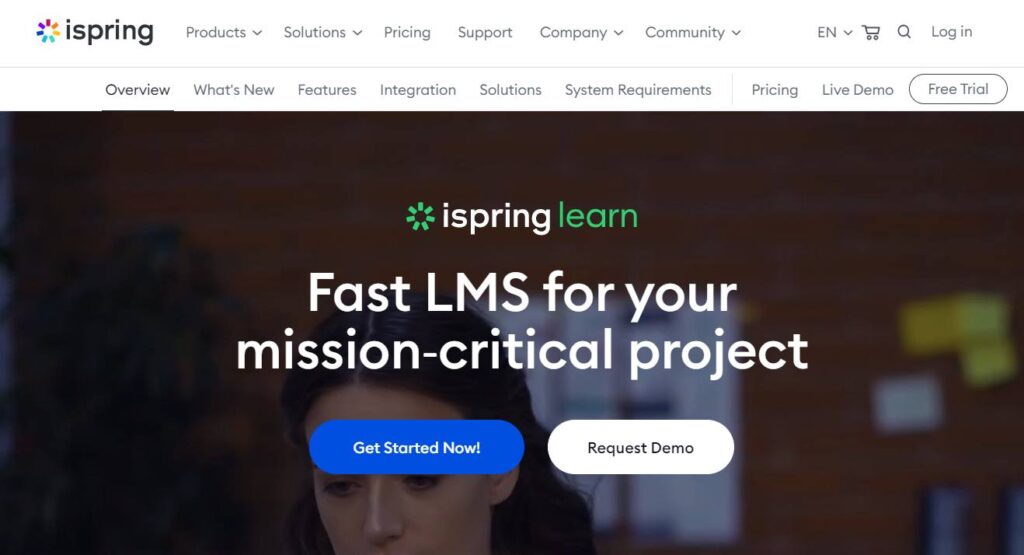 iSpring Learn is a robust LMS designed for the speedy creation and delivery of training programs. It's easy to use for both training administrators and learners.
You can put online training management on autopilot and focus on more important matters.
Notable features in the LMS include an authoring tool, customizations, security, user groups, interactions, and comprehensive reports.
For over 20 years, iSpring Learn has been designing eLearning software to drive growth for people and businesses. Competent engineers and an emphasis on a continuous learning culture are behind this popular software solution.
It can be your top choice for mission-critical learning & development projects since it takes care of all the training use cases and scenarios.
Why We Picked It
Easy to create a diverse range of courses

Helpful in meeting varied learning styles

Integrations
Pricing
Starts at $2.82/user/month
3. TalentLMS vs. SAP Litmos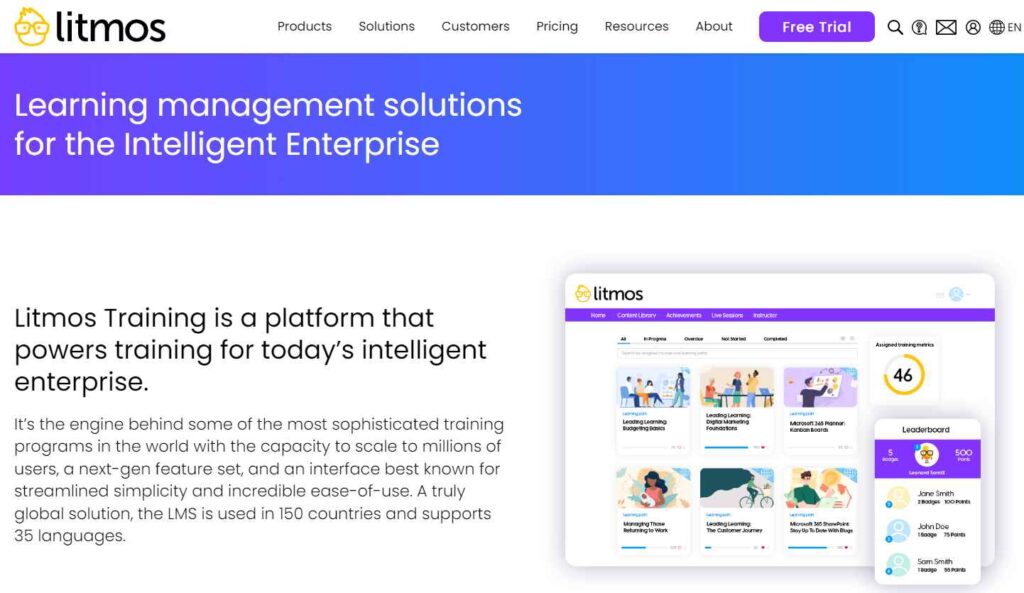 With Litmos LMS, you can create quality courses, share them with your audiences, get automated alerts, provide real-time feedback, and gather reports. It's designed for today's intelligent enterprises. Training professionals get everything they need to manage an entire training program from one centralized and secure environment.
The LMS easily integrates with industry-leading business tools. Besides, it has advanced features for improved training and information retention. Best of all, you can get the system up and running in minutes.
Users can use the platform to schedule, deploy, and track instructor-led live training sessions. The API Support enables you to share learning data between different systems.
Litmos LMS provides online training solutions for every segment of a business. It provides a no-obligation and zero-risk free trial for 14 days. You can leverage it to see how it can dramatically change how you create and manage online learning.
Why We Picked It
Custom course creation

Assign training based on roles, interests, and other criteria

Calendar-based planning
Pricing
Get in touch with the company for a quote.
4. TalentLMS vs. Easy LMS

Easy LMS is a user-friendly online training platform and one of the best alternatives to TalentLMS.
Its primary customer base is small and medium enterprises, but it works great for all teams and scenarios. The LMS makes it easy to create and manage online courses, exams, and certifications. So it can be an ideal solution for new hire onboarding and continued education of employees.
The software application guarantees self-paced and distraction-free learning experiences. Unlimited courses, multiple admins to manage learners and assignments, and assessments make knowledge transfer to employees easy.
With Easy LMS, you can train people in multiple locations, automate routine tasks, and make your learning & development programs more interactive.
Why We Picked It
It's easy to use

Course & test creation

Easy integration with existing infrastructure
Pricing
Starts at $50/month
5. TalentLMS vs. Paradiso LMS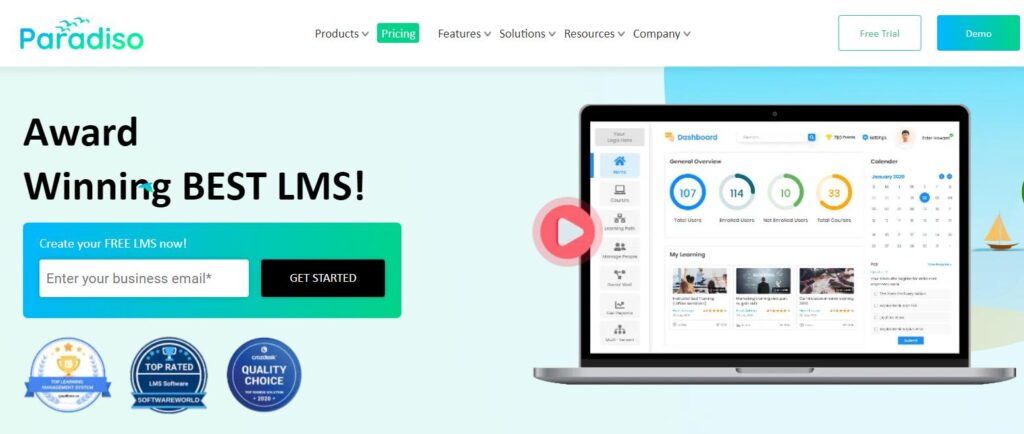 Paradiso LMS is another award-winning LMS suitable for internal and external training programs. It's the "world's most customizable eLearning software".
The LMS supports blended learning, mobile and social learning, extended enterprise training, SCORM, and Tin Can API.
It's one of the best online platforms to create and sell courses online. You can promote your courses while driving and retaining traffic.
Course composer, course catalog, multilingual support, gamification, multitenancy, mobile-friendly content, responsive videos, and 100+ integrations are the tool's highlights.
By taking care of all eLearning needs, the LMS provides memorable learning experiences worldwide. Easily scale up your course creation, training, and course-selling business with this top TalentLMS alternative.
Why We Picked It
Excellent UI

Rich collection of features

User-friendly for beginners
Pricing
Get in touch with the company for a quote.
6. TalentLMS vs. Docebo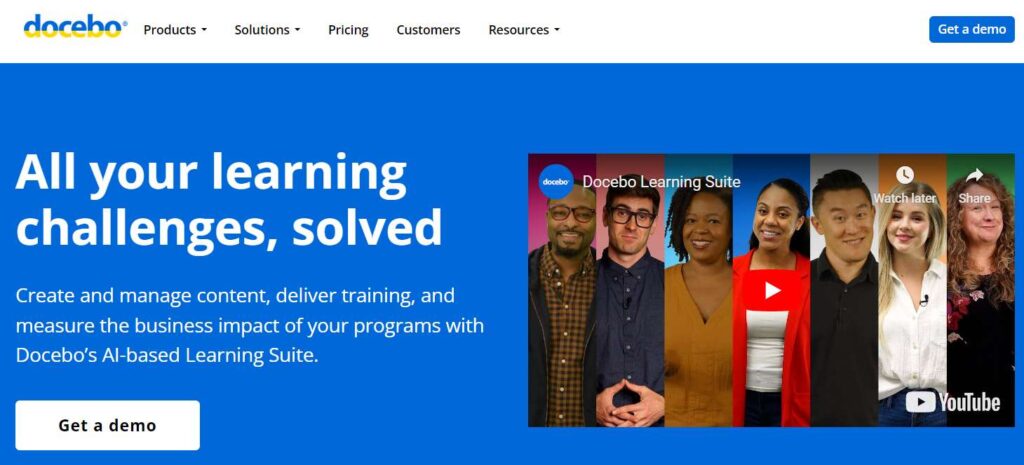 Docebo Learn LMS is the sweet spot of technologies and strategies that propels users in their learning & development initiatives. It delivers AI-powered learning experiences to any team.
With a sharp design and even sharper features, the LMS helps you work smarter, not harder, with the complete flexibility to scale.
You can tailor the platform to your unique use case with boundless configurability. More than 400 integrations offer a unified experience in operating business tools you use daily.
Create a sustainable learning culture founded on ongoing upskilling, engagement, and business impact measurement. Similarly, you can move beyond the boundaries of formal learning with social learning.
Docebo LMS can be one of the best choices for a TalentLMS alternative in your efforts to adapt and thrive in a fast-changing environment.
Why We Picked It
Clean UI

Uploading and converting files is easy

You can assign learning paths automatically
Pricing
Get in touch with the company for a quote.
7. TalentLMS vs. Trakstar Learn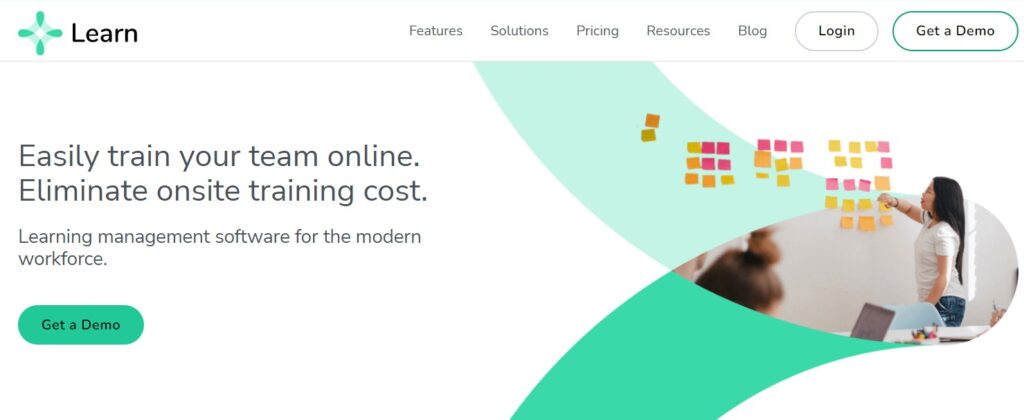 Another alternative to TalentLMS, Trakstar Learn (formerly Mindflash), is designed for the modern workforce. It enables users to create dynamic and effective onboarding and training programs.
The Learn-Perfect Content Conversion technology makes creating new course content or importing existing ones a breeze. Preserve your slides, videos, animations, audio, and other content types during conversion.
With a set of core LMS functionalities, Trakstar Learn takes the stress out of employee training, clearing the way for you to focus on important matters. You can empower your audiences to learn at their own pace on their mobile devices.
Apart from enterprises, the LMS caters to governments and healthcare organizations.
The Trakstar Learn team is dedicated to helping customers worldwide deliver training online so they can skip classrooms, keep content fresh, and learn from anywhere.
Why We Picked It
Clean & uncomplicated UI

Access to historical records for each learner or class

Creating course series from individual modules
Pricing
Get in touch with the company for a quote.
8. TalentLMS vs. Thinkific

If you're searching for one of the best learning technologies, Thinkific can be a great choice. You can create online courses, membership sites, and vibrant communities using this LMS platform. Leverage the power of multiple learning products working in sync or simply pick a solution that your business needs.
Useful features in Thinkific include custom domains, live lessons, quizzes, drip scheduling, community spaces, coupons, and cross-selling.
The LMS' app store lets you integrate the training software with tools you already know and create a powerful online learning environment.
Fine-tune your content, optimize the learner experience, and maximize the impact by deeply understanding your learners' behaviors and interests.
Scale your business without the customary hurdles and benefit from the LMS like other enterprises do.
Why We Picked It
Commendable admin-side functionality

Create high-quality courses with no coding experience

Useful resources in videos & tutorials
Pricing
Starts at $0/month
9. TalentLMS vs. Absorb LMS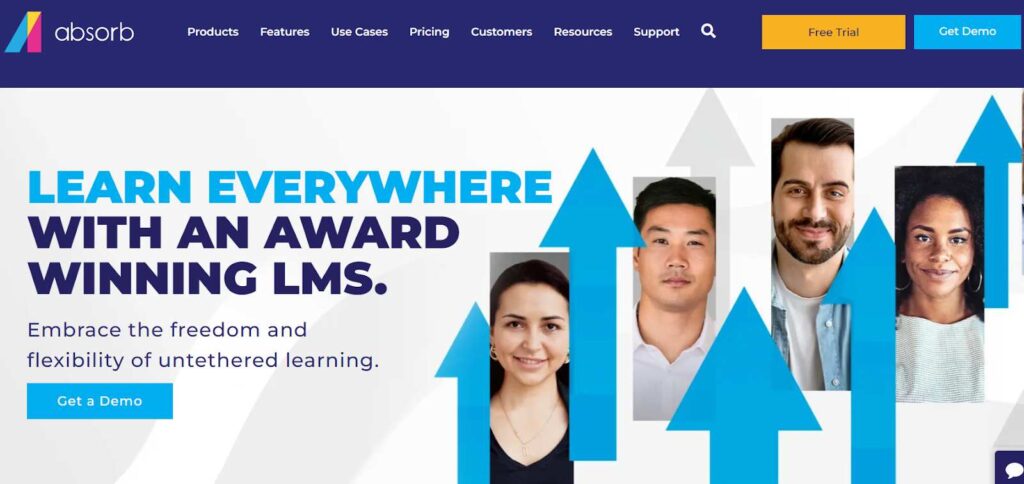 Absorb LMS is a cloud-based learning management system engineered to inspire learning and fuel business productivity. A turnkey content library combined with forward-thinking technology enables users to offer amazing learning experiences and elevate their L&D programs.
Whether you're training employees, channel partners, and customers, or selling courses, the LMS can be the inevitable power behind your success.
Smart administration, learner engagement, observation checklists, mobile apps, AI, and integrations are among the compelling features in the platform that scale as your business grows.
As a holistic learning management software system, Absorb LMS caters to all types of organizations and learners. It has been intelligently crafted to help users align their learning needs with business demands, regardless of who they're training and why.
Why We Picked It
Ease of use

Amazing reporting dashboard for admins

Helpful knowledge base & resources
Pricing
Get in touch with the company for a quote.
10. TalentLMS vs. LearnUpon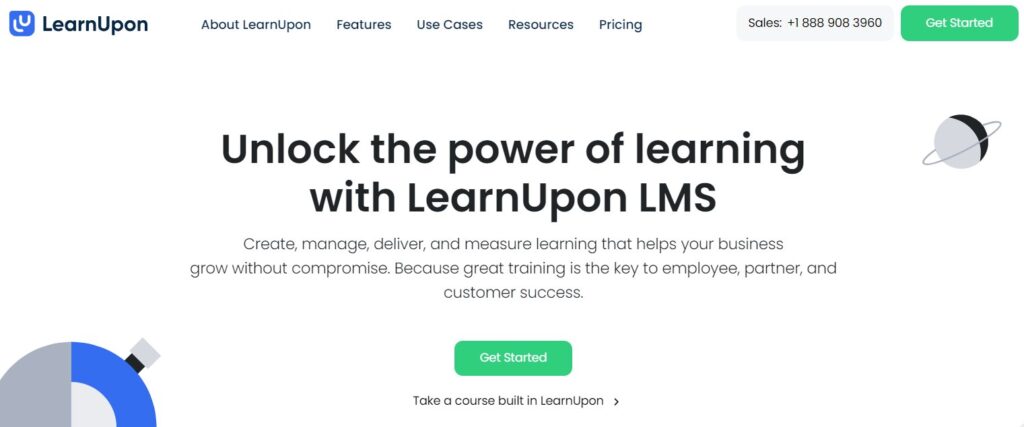 LearnUpon LMS is an easy-to-use and powerful LMS to deliver corporate training at scale. It lets users create, manage, deliver, and measure learning and grow their business without compromise.
You can deploy the tool to deliver exceptional experiences and meet the high expectations of a fast-changing business world. It provides one centralized solution for anytime, anywhere learning and enables you to make learning a key pillar of your business operations.
Automate workflows, integrate the LMS with your most-used tools, and track, measure, & amplify the impact of your training programs.
No matter what your learning goal is – onboarding, engagement, adoption, or retention – LearnUpon LMS is the ultimate solution you can count on, wherever you are and whatever you do.
As one of the leading TalentLMS alternatives, it helps you deliver large-scale training with unshakeable confidence.
Why We Picked It
Immersive learning experience

Reliable & hardly any issue

Many automated features
Pricing
Get in touch with the company for a quote.
Looking for TalentLMS Competitors?
If yes, this list of replacements hopefully gives a fair idea of the top tools you can consider.
You may have been a TalentLMS user for some time; still, looking at these similar or better alternatives will enable you to improve your online learning initiatives with functionalities you won't find in TalentLMS.
Give as many of them a try as possible before you decide which one can best serve your learning & development needs.
So, take your pick from the best alternatives to TalentLMS to set yourself and your teams up for success with improved teaching & learning experiences.
Do you want a free Training Software?
We have the #1 Online Training Software for employee training & assessment