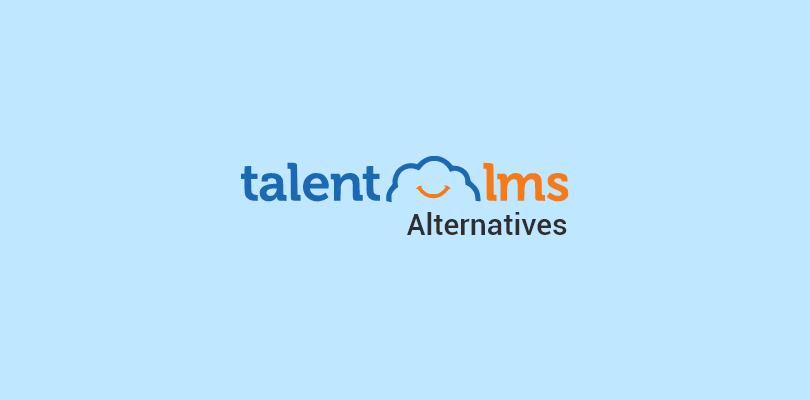 Are you considering switching from TalentLMS? Do you want to unpack more TalentLMS alternatives that perfectly fit your e-learning requirements?
If the answer is yes, then you're in the right place. TalentLMS is a great tool for training, but it may not be suitable, especially if you want to train at scale or need more features at an affordable price.
I needed advanced features in my LMS, which took me to other available LMS options.
Having used different tools, I am here to simplify the research process. I will share the 13 topTalentLMS competitors and alternatives. I can confidently state that these options offer diverse features and functionalities that cater to various training needs.
Keep reading to find out.
Top 13 TalentLMS Alternatives and Competitors
I have used different LMS platforms for a long time. I've seen the pros and cons of each one and know what makes a great LMS.
This brings me to the following 10 best alternatives to TalentLMS. I came up with them after thorough research. I also sought peer recommendations and read customer testimonials and third-party reviews.
1. ProProfs LMS – Best LMS for Employee Training

I have used ProProfs LMS, and I can tell you it is one of the best TalentLMS competitors on the market.
And here are the reasons.
It's a cloud-based LMS that's incredibly easy to use. It has all the functionalities and features that are expected of an LMS to deliver an incredible employee training experience. With this platform, creating, sharing, tracking, and analyzing online courses and tests becomes simple. It's perfect for corporate training needs, like onboarding, skills training, safety, and compliance.
One great thing about this LMS is its library of over 100 courses and templates that get updated regularly. These resources are professionally designed, customizable, and ready to go.
The LMS also has a virtual classroom that's centrally managed, making it easy to handle groups, assignments, roles & permissions, and training reports.
Various online quizzes are available, with different question formats, such as multiple choice questions, true and false, an option to add audio/video response questions, etc.
Additionally, ProProfs LMS is compliant with SCORM and Tin Can standards. It offers collaboration tools, a mobile LMS, surveys, software integrations, and certification options. It has recently updated a few new features where you can share courses using a QR code and schedule emails to learners for course sharing.
Watch: How to Create an Online Course
What You Will Like:
Professionally designed courses for a quick and efficient start to your learning journey

Mobile-friendly LMS that allows you to learn on the go, ensuring flexibility and convenience

A clean and user-friendly interface that makes navigation easy and intuitive

White labeling capabilities that empower you to personalize and deliver training according to your preferences and branding
What You May Not Like:
Limited native integrations for video conferencing, which could affect seamless virtual communication

Need more professional courses on topics like finance training

Being primarily cloud-based, it is perfect for remote learning but might be a shift for those used to traditional, on-premises LMS

Solo trainers might find some collaborative tools less relevant
Pricing:
Forever free plan for 10 learners. Paid plans start at $1.97 /learner/month (billed annually) for large teams. No hidden costs. A 15-day money-back guarantee.
2. iSpring Learn
–
Best LMS for Automated Training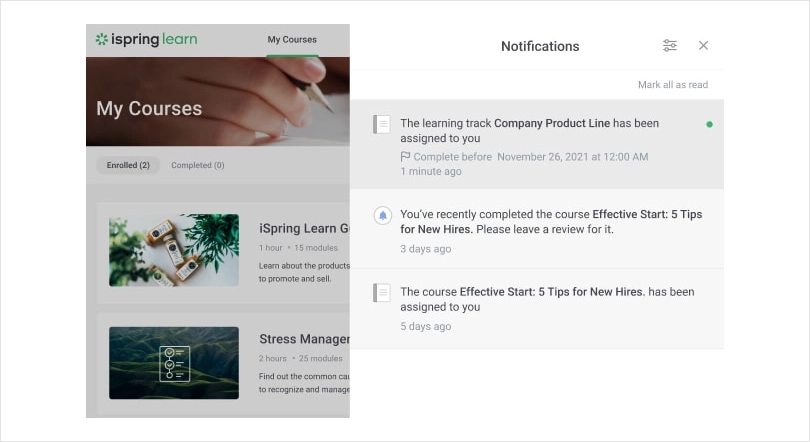 I feel that iSpring Learn is a powerful employee training software offering a comprehensive solution for upskilling teams. The platform's user-friendly interface and diverse course creation options make it easy to develop captivating learning materials without coding skills.
I appreciate its focus on streamlining processes and enhancing workflow efficiency, which boosts productivity and saves time. You can now automate repetitive tasks, eliminating the need for manual re-enrollment of employees in recurring training and certification, whether quarterly or yearly. Simply set the parameters once, and the platform will handle everything.
Moreover, the platform's ability to measure training ROI and automate repetitive tasks is a game-changer for businesses seeking tangible results.
As a user, I find the mobile app support and analytics helpful for on-the-go learning and tracking progress. With iSpring Learn, I am confident in building a stronger brand and empowering my team for success.
What You Will Like:
Easy to create courses. Anyone from L&D experts to SMEs can build engaging training

Comprehensive reporting and analytics to track learner progress in every step

Assign multiple admin roles for smart training management

Features for employee engagement, such as points, badges, certificates, and leaderboards
What You May Not Like:
Lacks a pre-made template for the evaluation form, so one has to create the form from scratch

The default certificate should look more professional, so it needs an update

The LMS cannot grade essay-type questions. Need a space for manual marking for questions that the testing system cannot grade automatically

Need more courses on soft skills and generic skills
Pricing:
Starts at $2.29/user/month, billed annually
3. Litmos – Best LMS for Learner Engagement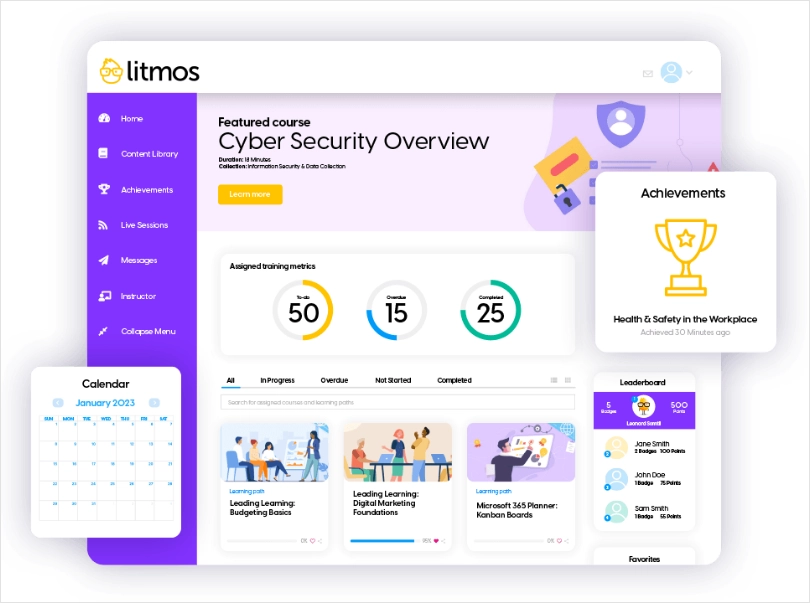 I believe Litmos is a robust and powerful LMS that competes strongly with TalentLMS. It caters to the needs of top-performing companies, offering an easy-to-use platform with a wide range of features. Litmos is cloud-based, mobile-friendly, and scalable, providing quick deployment and integration options.
One of the key strengths of Litmos is its focus on employee engagement. The platform supports deep learner engagement through video assessments, gamification with leaderboards, and custom branding options. It also allows social learning and real-time notifications to increase course completion rates.
Litmos offers comprehensive tools to create and manage online learning, including built-in content authoring, e-commerce capabilities, tracking and reporting, and instructor-led training support.
With over 20 million learners in 150 countries and support for 35 languages, Litmos has become a popular choice for world-class training programs. A 14-day free trial is available for those interested in exploring the platform without any risk or obligation to purchase.
What You Will Like:
A vast library of content allows for easy course creation, providing instructors with a wide array of resources

The user interface is exceptionally well-designed, ensuring seamless navigation and a user-friendly experience

Learning paths facilitate guided learning experiences that help learners progress through courses in a structured manner

The gamification elements enhance learner engagement by incorporating game-like features, rewards, and challenges
What You May Not Like:
Lacks a straightforward way to upload and share recorded sessions from live training events

The search functionality is not very user-friendly, requiring precise and exact titles to find specific courses or content

Limited customization options for how course information is presented to learners

The surveying capabilities in Litmos are restricted, particularly when it comes to gathering feedback across all courses or live training events
Pricing:
Starts at $3 per user/month
4. Docebo – Best LMS for Enterprise Learning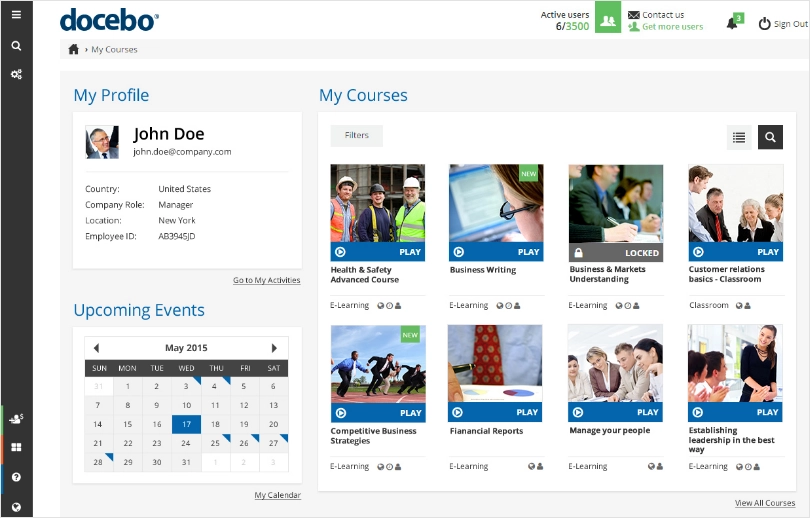 Another TalentLMS alternative you can try is Docebo LMS. If you're looking for powerful AI features, this is the right tool. Docebo is a comprehensive learning and development suite that covers the entire enterprise learning lifecycle.
I have explored all of their solutions for enterprise training, and I found them effective. The LMS offers various products, including Shape for AI-powered content creation, Content for access to industry-leading e-learning content, Learning Impact for insights into learning program effectiveness, Learn Data to link learning data to business outcomes, and Flow for seamless integration of learning into daily work processes.
With a focus on being user-friendly, cloud-based, mobile-ready, social-enabled, and gamified, Docebo aims to provide organizations with a single solution to enhance their learning and training initiatives. By offering a range of features and tools, Docebo empowers companies to create engaging learning experiences, measure the impact of their training programs, and integrate learning seamlessly into their workflows.
What You Will Like:
My favorite aspect is the PPT import feature, which allows effortless use of existing materials

The UI is clean and intuitive, enabling the audience to easily navigate and utilize most of the features

Learning analytics are insightful and can be analyzed offline without difficulty

The integration of Linkedin Learning within the platform saved time, as I had access to content while also having the freedom to develop my own material
What You May Not Like:
After completing training, there is a delay before it appears in personal records leading to potential bottlenecks in the learning process.

An LMS administrator cannot access another user's account, which can be limiting when troubleshooting issues or providing direct assistance

There are restrictions on the size of training videos you can upload, impacting the effectiveness of the training materials

Would like to see more upgrades, especially for the certification feature
Pricing:
Starts at $25,000/ year
5. Absorb LMS – Best for AI-Powered Learning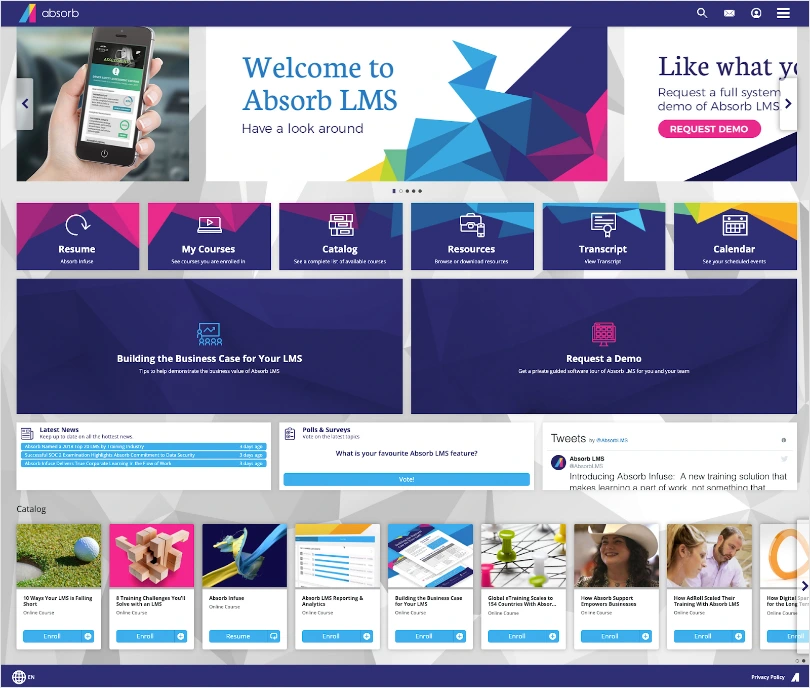 Absorb LMS is an award-winning, cloud-based LMS designed to enhance learning experiences and drive business productivity. Some features that I like are learner engagement tools, eCommerce capabilities, comprehensive reporting and analytics, observation checklists, content libraries, e-signatures, mobile app support, etc.
I used this tool mainly for its AI capabilities. By simplifying learning through AI-powered technology, Absorb LMS enables seamless and accessible learning across the organization. Absorb Intelligence, the AI-powered feature of Absorb LMS revolutionizes the learning experience with its predictive capabilities and natural language recognition.
AbsorbLMS also simplifies the admin tasks, giving learners more opportunities to gain knowledge and skills. With AI's continuous improvement, Absorb LMS offers a smarter, more engaging, and more efficient learning platform.
Trusted by major brands like Sony, Johnson & Johnson, Samsung, and more, Absorb LMS is praised for its user-friendliness, flexibility, and ability to support diverse learning styles. The platform empowers organizations to create impactful and personalized training content, fostering an engaging learning experience for their employees, customers, and partners.
What You Will Like:
Provides an intuitive interface that makes it easy to navigate through the platform without any confusion or complexities

Admin reports are easy to use and provide great insights into your training programs

Administrators can set up automated course assignments, saving time and effort in manually assigning courses to individual learners

Offers self-paced learning, empowering learners to take control of their learning journey
What You May Not Like:
Users might find the user enrollment process slightly cumbersome or time-consuming

Lacks features to efficiently manage blended learning

Need more assessment methods to effectively measure knowledge

The platform currently lacks the ability to automate the scheduling of recurring training sessions
Pricing:
Starts at $800/active user/month
6. LearnUpon – Best LMS for Customized Learning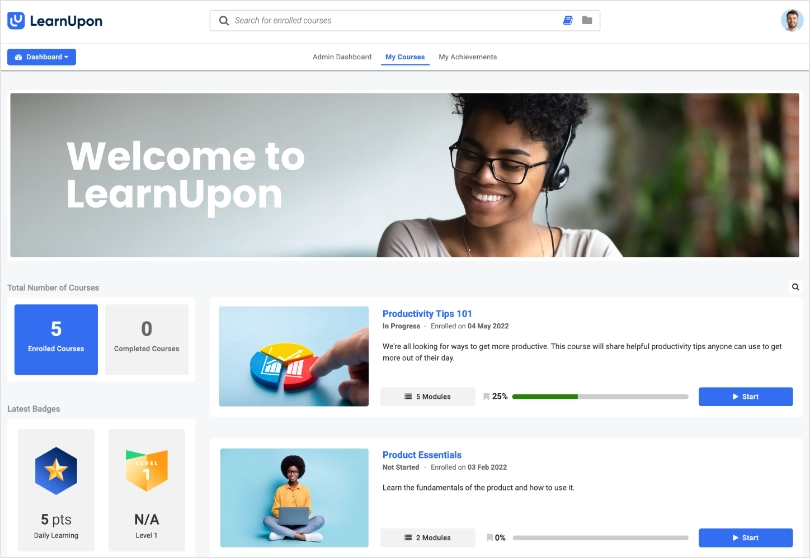 Another great TalentLMS competitor tool is LearnUpon. If you compare it with the TalentLMS training tool, you will find plenty of reasons to choose it for your business. Whether it's employees, customers, partners, members, or extended enterprises, LearnUpon caters to all training needs under one roof.
Their expert Customer Experience team partners with businesses to design personalized strategies for success. Trusted by over 1,300 customers and recognized with numerous awards, LearnUpon offers a user-friendly solution to drive performance, retention, and growth through engaging learning experiences.
One standout feature I admire in the LMS is the ability to create learning portals tailored to different target audiences. These portals can be branded and white-labeled without technical expertise, making them unique for each user group.
The platform facilitates efficient content management across portals, allowing easy course sharing, editing, and deployment of courses. With a user-friendly interface and comprehensive features, LearnUpon provides a seamless learning experience for both learners and administrators.
What You Will Like:
It has a user-friendly interface that simplifies the process of setting up courses for administrators

The platform allows for smooth course updates without disrupting learners' ongoing progress

The tool provides robust SEO features enabling administrators to optimize course visibility easily

The storefront editing tools are intuitive, and the availability of various layout choices allows administrators to customize the store's look and feel
What You May Not Like:
Cannot filter search results, making it difficult for administrators to find specific courses

The standard reporting options do not include the functionality to generate reports specifically for bundled courses

Certificate generation can be cumbersome with slow field selection

Certain aspects of the instructor-led training create obstacles when dealing with canceled or rescheduled attendance
Pricing:
Starts at $599/month (billed annually)
7. Moodle – Best LMS for Competency-Based Training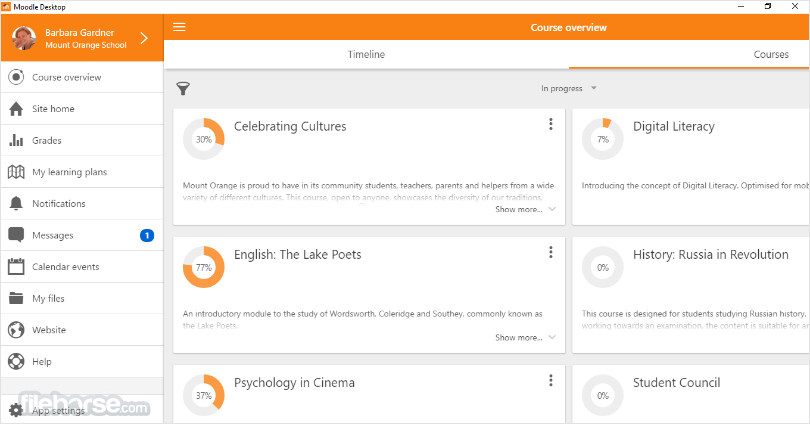 If you have been looking for a TalentLMS alternative that would help you create competency-based training, look no further than Moodle LMS. It is a highly flexible and feature-rich LMS offering a fully customizable online platform for personalized learning experiences. From K-12 classrooms to corporate training, it caters to diverse learner needs.
It helped me deliver content in various formats, keeping learners updated with email and mobile alerts. It also offers integrated accessibility checkers and text-to-speech tools. Moodle LMS enables seamless integration with video conferencing and plagiarism detection tools.
Moodle offers valuable features to support competency-based training. Administrators and teachers can create competency frameworks and link them to courses, import existing frameworks using plugins, and manually add competencies to tasks or courses for efficient grading. The platform also provides a competency breakdown report for each learner, displaying their competencies and ratings.
The learning plan interface allows learners to submit evidence of prior learning, proving their proficiency and facilitating smoother navigation. Additionally, teachers can create learning plan templates for groups or individuals, providing learners with a clear view of their academic progress.
What You Will Like:
Flexibility in teaching and learning, enabling access from anywhere at any time

Comprehensive tools for tracking learner progress through detailed reports

Accessibility features, such as text-to-speech assistive technology, to cater to the visually challenged

Support for delivering learning materials in multiple formats
What You May Not Like
:
Engagement tracking may not be as robust and comprehensive as desired

Limited integration with third-party software may disrupt workflow efficiency

Improvement is needed in scheduling management for better task organization

The mobile version requires further development to improve usability
Pricing:
Starts at AUD 180 annually for 50 users
8. 360Learning – Best for Upskilling and Reskilling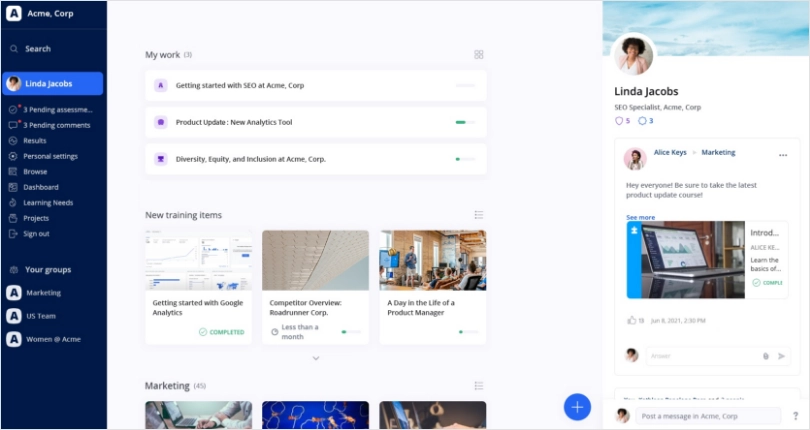 For me, 360Learning has been a transformative platform, and I'll tell you why.
This tool empowers organizations to build a collaborative learning culture, making upskilling and reskilling efforts highly effective.
Unlike traditional top-down approaches, this tool fosters a learner-centric environment where employees become teachers and learners. With an impressive 91% course completion rate and proactive engagement from learners, 360Learning ensures a workforce that is motivated and equipped with essential skills.
360Learning has partnered with over 1,700 leading companies. It covers many use cases, from employee onboarding to customer training, and its user-friendly interface garners praise from L&D leaders.
360Learning allows organizations to tap into employees' untapped knowledge and find company subject matter experts easily. Collaborating with L&D, these experts can contribute to course content and maintain course quality. The platform also provides end-to-end project management, ensuring streamlined training delivery.
What You Will Like:
Incorporating real-time feedback mechanisms keeps courses up-to-date and maximizes engagement

You can overcome the challenges of skill gaps, retraining, and the need for constant upskilling

It's a highly intuitive platform that makes it easy to navigate

Grouping parameters enable customization of programming based on specific departments' needs
What You May Not Like:
Lacks options for tracking and managing certifications

Uploading files and embedded links can be complex and needs improvement for ease of use

The search field requires enhancements to provide better filtering options

Adjustments are necessary for assigning programs to offer more control over scheduling
Pricing:
Starts at $8/user/month
9. Thinkific – Best LMS for E-commerce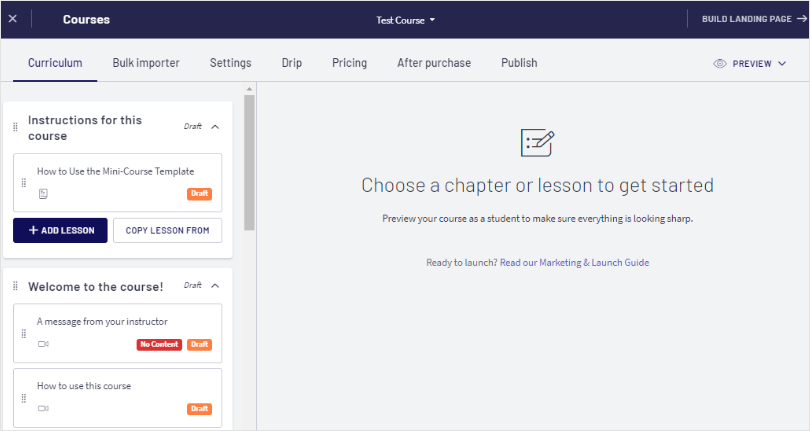 Thinkific is an amazing platform that has made it incredibly easy to turn my expertise into revenue. I can create and sell online courses, build vibrant communities, and monetize memberships on one scalable platform.
What I appreciate about Thinkific is the control it gives me over my knowledge business. I can customize every touchpoint to showcase my unique brand. Plus, I get to keep all the revenue with no hidden fees. The platform seamlessly integrates with trusted tools, allowing me to automate emails, create custom coupons, and convert leads effortlessly.
Thinkific provides complete control over pricing, revenue, and branding, ensuring that businesses can sell their expertise in a way that aligns with their unique brand. Integration with trusted tools through the Thinkific App Store streamlines processes and boosts business efficiency.
Detailed analytics offer valuable insights into learner behavior, enabling course creators to optimize content and marketing efforts. With its user-friendly interface, Thinkific makes it easy for anyone to transform their passion into profits.
What You Will Like:
Being part of the Thinkific creator community is a huge plus. Networking and learning from other course creators can be invaluable

As a first-time creator, you can benefit from their free Thinkific Academy courses for a quick start

Freedom to incorporate diverse content into their courses, such as videos, text, presentations, quizzes, worksheets, etc.

Huge flexibility to customize to match the training platform with your brand tone
What You May Not Like:
Unlike some other course platforms, Thinkific does not have built-in webinar functionality

Advanced marketing features, like upselling, automation, and affiliate management, are only available on higher-tier plans

If you're using the free plan, the platform charges a transaction fee on every sale, which can eat into your profits

While the tool allows you to create quizzes and assessments, some users may find the built-in grading options to be basic
Pricing:
Starts at $0/month (Limited to one course only)
10. Paradiso LMS – Best LMS for Mobile Learning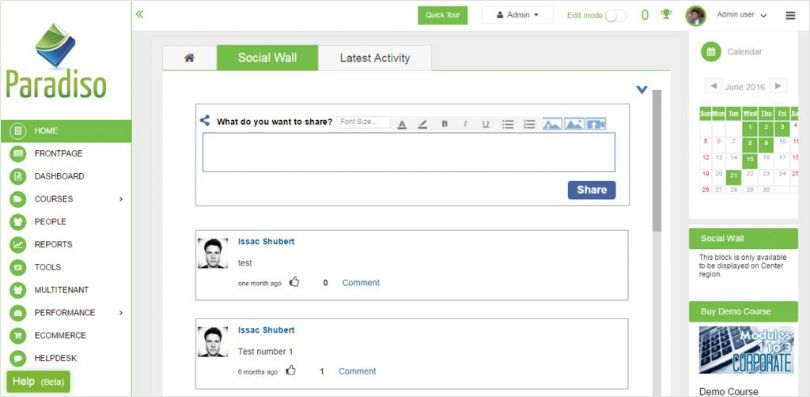 I feel that Paradiso Solutions is another compelling alternative to TalentLMS, offering a versatile and feature-rich eLearning platform that caters to various learning needs. While TalentLMS is known for its simplicity, Paradiso provides a fully customizable and scalable LMS enriched with cutting-edge AI-powered learning solutions.
Paradiso's mobile LMS empowers learners to access courses and learning materials anytime, anywhere, ensuring a seamless learning experience.
The platform stands out with its interactive and engaging learning content, incorporating gamification and social learning features to boost learner engagement and knowledge retention.
The integration of AI technology allows Paradiso to generate personalized content, recommend courses, and create realistic media, setting it apart as a modern and innovative eLearning solution.
What You Will Like:
Offers easy integration with various tools and systems, streamlining the learning experience and enabling efficient data exchange

Provides comprehensive and detailed reporting functionalities, allowing administrators to track learners' progress

Incorporates virtual classrooms, enabling live, interactive, and real-time learning sessions for a more engaging learning

Multilingual capabilities, accommodating learners from different regions and promoting a truly global learning experience
What You May Not Like:
It does not work with Shopify, which can limit the eCommerce options for selling courses online

It has a slow site navigation, which can affect the user experience and learning efficiency

It does not offer dedicated technical support for open-source LMS, which can make it difficult to resolve issues and get satisfaction

It has a limited customization and branding options for the LMS interface, which affects the user engagement and retention
Pricing:
Starting at $5.50/user/month
11. Easy LMS – Best LMS for Assessment Creation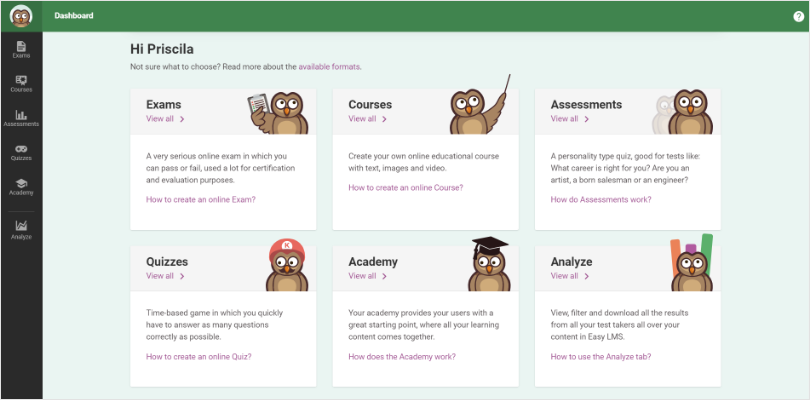 Easy LMS is a powerful and user-friendly online learning management system designed to simplify training for businesses of all sizes.
What I particularly like about this platform is that it promotes effective learning by providing distraction-free environments and accommodating various learning styles. No technical skills are required for maintenance, ensuring ease of use for everyone.
It centralizes all training materials in one place, giving employees control over their learning journeys.
The platform supports multilingual interfaces to cater to international teams and allows customization to seamlessly match a company's branding. Over 2,500 clients trust Easy LMS, including renowned brands like Heineken, Dell, Schiphol, Toyota, and Sogeti.
Easy LMS offers an intuitive and feature-rich online exam builder, empowering businesses to assess their employees' skills and track their progress effectively. Creating challenging exams becomes easy with various question types, including multiple-choice, fill-in-the-blank, image, essay, video, and audio questions.
The tool enables easy sharing of exams through restricted groups, public URLs, or integration into courses and the Academy. Detailed exam results provide insights into knowledge gaps, offering session overviews, global graphs, and exportable data.
What You Will Like:
You can easily upload and publish training content, courses, and materials

Allows the incorporation of links to courses, quizzes, and exams from the organization's internal training content

Automated email notifications to users upon the completion of exams. This feature helps learners stay informed about their progress and achievements

The platform's robust reporting system enables thorough tracking of learners' progress, performance, and completion rates
What You May Not Like:
Navigating the back end of the platform could be challenging, causing difficulties while managing quizzes and courses

Reliance solely on email for customer support can lead to delays in issue resolution

The new method of displaying results is less useful compared to the previous version

Teacher Owl subscribers may face restricted access to certain functions, limiting their ability to utilize the platform to its fullest
Pricing:
Starts at $55/month
12. Trakstar Learn – Best for Compliance Training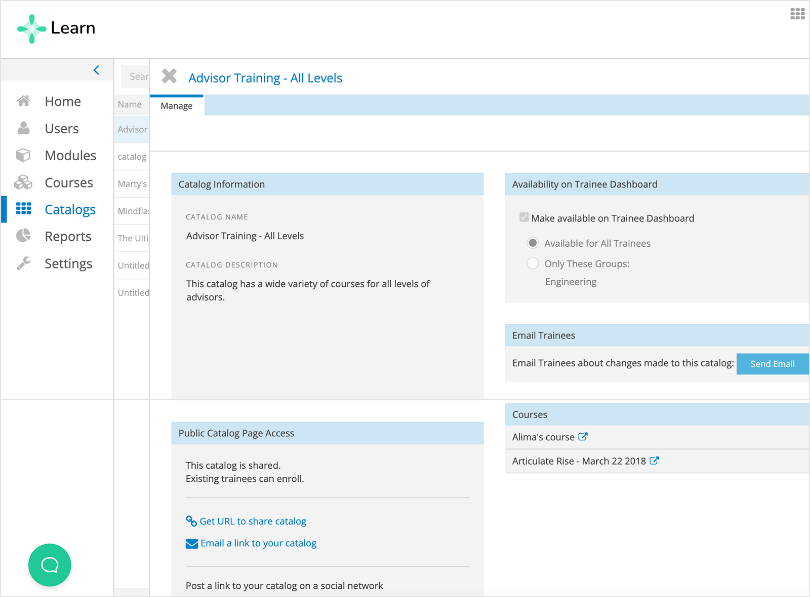 Trakstar Learn (formerly Mindflash), a part of the new Trakstar Trifecta along with Hire and Perform, is an exceptional alternative to TalentLMS. Trusted by over 1,000 businesses across 177 countries, Trakstar Learn offers a dynamic and cost-effective online employee training and onboarding solution.
Its user-friendly interface and Perfect Content Conversion feature streamline course creation, seamlessly preserving existing content and multimedia. Tailored for various industries, including healthcare and government organizations, Trakstar Learn empowers organizations to deliver engaging eLearning content, track progress, and ensure regulatory compliance.
I particularly recommend this tool for compliance training as it simplifies the management of regulatory and internal compliance training in one centralized platform. With automated email reminders, progress tracking, and robust reporting, organizations can ensure employees complete their mandatory training requirements efficiently and on time.
What You Will Like:
The tool offers a clean and user-friendly interface enhancing the ease of navigation for learners

The reporting tool is unmatched, allowing users to generate various types of comprehensive reports as needed

Setting completion timelines for course materials and monitoring progress is easy

Works seamlessly across all devices, enabling learners to take training on the device of their choice
What You May Not Like:
Adding voice-overs is straightforward but requires continuous recording for each slide as editing within the platform is limited.

Trakstar Learn does not handle PowerPoint animations effectively

Once slides are in the LMS, you cannot delete, reorder, or directly edit them

Lacks features for scheduling training or retraining, leaving users to manage these aspects outside the platform
Pricing:
Starts from $249/month
13. Tovuti – Best LMS for Blended Learning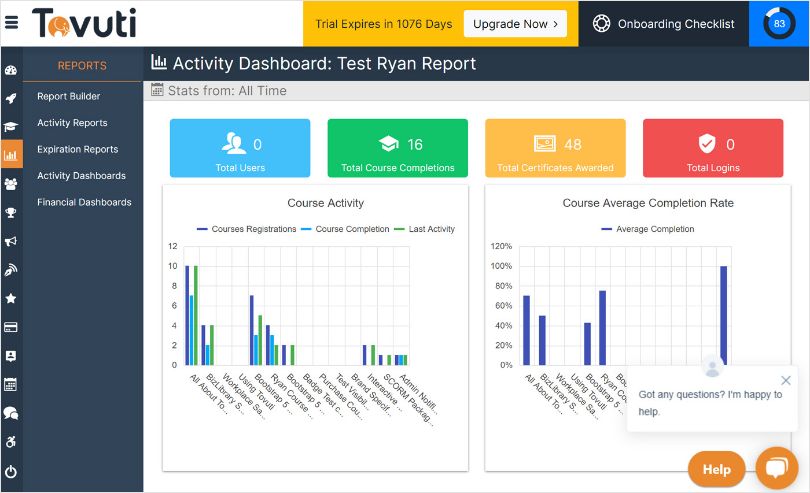 If you've been searching for a tool that'll let you easily manage blended learning, don't forget to check out Tovuti LMS. I have used it for my team, and I can assure you won't be disheartened with the purchase.
The tool incorporates blended learning approaches, combining classroom sessions, self-paced modules, webinars, podcasts, and more, all on a user-friendly platform.
The LMS features on-the-go learning, access to pre-built courses, and extensive integrations with leading platforms. Tovuti simplifies course authoring, streamlines administration, and offers robust automation capabilities.
With detailed data insights, organizations can make data-driven decisions to improve training programs and gauge employee satisfaction.
Tovuti fosters career development and upskilling while supporting multi-language offerings and adhering to accessibility and security standards.
What You Will Like:
A wide range of high-quality courses, empowering you to deliver more effective and engaging training experiences

Navigating the platform is a breeze making it easy for administrators to manage and organize training content

Tovuti enables you to host virtual classrooms and manage online events providing flexibility in delivering training to remote learners

The platform offers granular insights empowering you to make informed decisions
What You May Not Like:
While Tovuti provides a diverse course library, note that the majority of the courses are available in the English language only

Some users may find Tovuti's initial learning curve challenging, requiring time and effort to fully grasp all the functionalities

Tovuti's pricing might be slightly on the higher side compared to other options

Assessment capabilities may be perceived as limited, and some users might prefer more diverse formats for assessments
Pricing:
Starts at $3 per user/month
Which TalentLMS Alternative Is Best for You?
Well! The right choice of TalentLMS alternative lies on you. It will depend on several factors. You need to understand the training needs of your business, team size, budget, etc. However, based on my expertise, I have picked the first three options for you:
Option A: ProProfs LMS
ProProfs LMS stood out for its user-friendly interface, making course creation and management a breeze. It offers a wide range of customization options, enabling me to tailor the learning experience to suit my organization's needs. Additionally, its extensive library of pre-built courses was a huge time-saver.
Option B: iSpring Learn
iSpring Learn impressed me with its comprehensive reporting and analytics, providing valuable insights into learners' progress. Integrating multimedia elements like videos and quizzes enhanced engagement, and its mobile-friendly design allowed my team to access training materials on the go.
Option C: Litmos
Litmos caught my attention with its scalable and intuitive platform, which is suitable for businesses of all sizes. The wide selection of integrations enabled seamless incorporation with existing tools. I particularly appreciated its gamification features, which added an element of fun to learning and motivated learners.
After considering my options, ProProfs LMS emerged as the best fit. Its intuitive interface allowed for easy course creation and customization, and the extensive library of pre-built courses saved valuable time. The user-friendly platform suited my organization's needs perfectly, making ProProfs the ideal TalentLMS alternative for me.
Do you want a free Training Software?
We have the #1 Online Training Software for employee training & assessment