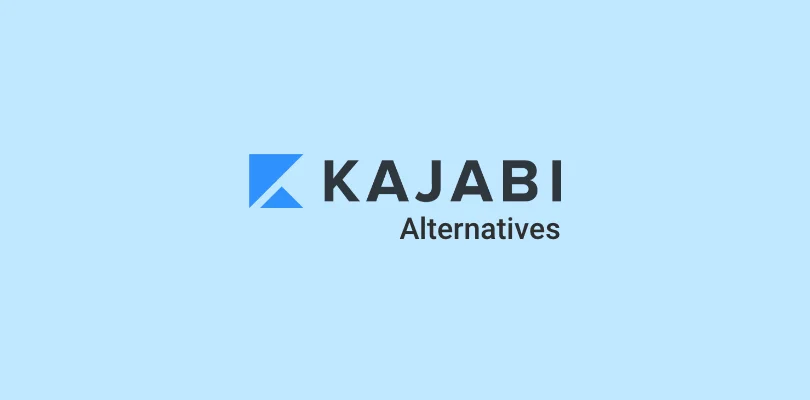 A few years back, a friend of mine tried her hand at creating an online course on yoga. She thought this worldwide phenomenon of teaching how to balance and discipline your body and mind would excite interest in many people.
The intention was good, but the plan backfired sooner than she expected.
Post failure, she realized a few things:
She didn't identify her target audience (you just can't throw a course randomly at anyone).

She didn't have a functional website.

Though she had sound ideas, she didn't leverage a robust tool to fully implement them
Sad indeed, isn't it? I wished her better luck next time.
For a course creator, the right platform is a must. It can be an indispensable assistant in their creative journeys.
If you've been using Kajabi for a while, you have probably realized how incredibly helpful a solution it is for starting, sustaining, and growing an online course business. But if for some reason you're considering switching from this tool, don't worry. We've got you covered.
In this post, you'll learn about the trending alternatives to Kajabi – their detailed descriptions, pricing, and why we picked them.
Let's get started.
Watch: How to Create an Online Course
Kajabi: An Overview
What Is Kajabi?
Kajabi is an online platform for course creators and entrepreneurs to create, market, and sell digital content, including online courses. Its technology is designed to remove any kind of barrier in building a successful online business.
Using the platform, you can create online courses, podcasts, coaching, memberships, and communities. You can easily manage contacts, payments, and analytics, and grow your business through websites, pages, emails, and funnels.
Kajabi lets users get started and grow faster, putting all the pieces of a successful online business in one convenient platform. As Kajabi CEO Ahad Khan explains, "Kajabi helps serious business owners get unstuck and just keep going."
Kajabi was launched in 2010 and since then, it has empowered more than 50,000 knowledge entrepreneurs in 120 countries to serve 60 million learners and make over $4 billion in sales.
Customers are happy about its excellent customer service and the fact that the platform is the engine behind their thriving online businesses.
Key Features
Online courses

Memberships

Podcasts

Coaching

Communities

Websites

Pages

Analytics

Webinars
Kajabi Pricing
The Kajabi pricing plans are designed to grow with your business. You can choose a plan that fits your budget and business goals.
The basic plan will work for you to get your business functional or in operation quickly.
As the name suggests, the Growth plan can help you grow your business with an increased audience and offerings. It is the most purchased plan.
The Pro plan comes with more advanced features to further expand your teams and business.
There are no setup and transaction fees with Kajabi. According to customers, the platform delivers good value for the price.
Why Look for a Kajabi Alternative?
Kajabi is a premium course platform that offers everything you need to create, market, and sell your knowledge online. It scores high in terms of ease of use, effectiveness, pricing, and support.
But like all other tools in any category, it also has its share of limitations. This is evident from numerous Kajabi reviews online. For example:
The page builder requires too many clicks to arrive at the settings and elements you need.

The email platform needs to be more robust.

Integrations come with additional costs.

Selling is limited to digital products; you can't sell physical products or merchandise.
If these functionalities are important to you, then you should go for an alternative to Kajabi.
Kajabi Alternatives: A Quick Comparison Chart
Top 17 Kajabi Competitors
Why Is it Worth Considering?
Pricing
ProProfs LMS
eLearning Authoring Software

Premium Course Library

Engaging Quizzes

100+ Settings

White Labeling

Actionable Reports

Multilingual Support

eCommerce LMS

Forever free for up to 10 learners.Paid plan starts at $1.97/active learner/month for large teams. Billed annually.
Podia
Website Builder

Online Courses

Digital Downloads

Webinars & Workshops

Coaching & Consultations

Starts at $0/month (Limited to 1 coaching product & 1 download)
Thinkific
Create Courses

Build Marketing Websites

Learning Community

Business Management & Selling Tools

Approved Apps

Starts at $0/month (Limited to 1 course & 1 admin)
Teachable
Intuitive Course Builder

Sales Page Builder

Integrations

AI Curriculum Generator

Digital Downloads

Starts at $0 (Limited to 1 course & 1 admin)
Kartra
One-Click Publishing

Page & Section Templates

Affiliate Management

Video Publication

Analytics Dashboard

Starts at $79/month
Mighty Networks
Cohort-Based Courses

Content-Only Course

Course Communities

Zapier Integrations

Insights

Starts at $33/month
Skillshare
Course Publication

Teaching Creative Skills

Video Lessons

Projects

Community

Get in touch with the company for a quote.
Udemy
Instructor Dashboard

Curriculum Pages

Instructor Support Team

Teaching Center

Online Community

Get in touch with the company for a quote.
LearnWorlds
Website Builder

Flexible Courses

Interactive Videos

Live Sessions

Assessment Builder

Starts at $24/month
FreshLearn
Course Building

Memberships

Payment Systems

Quizzes & Assessments

Custom Branding

Starts at $0/month (Limited to 1 admin)
Patreon
Build Memberships

Creator Hub

App Directory

WordPress Plugin

Google Analytics

Patreon charges a commission (starting at 5%) of the monthly income you earn on the platform.
Memberful
Membership Software

Easy Member Management

Gated Content

Dashboard Analytics

Communities

Starts at $0/month (Limited to 2 plans.)
ClickFunnels
Online Courses

Landing Pages

Sales Funnel

Membership Sites

Analytics

Starts at $127/month
Gumroad
Flexible Page Editor

Custom Domain

Memberships & Subscriptions

Secure Payments

Sales Analytics

Charges a 10% fee on every sale.
Teachery
Built by Course Creators

Customizable Course Templates

Live Course Editor

Zapier Integration

Zero Additional Fees

Starts at $49/month
LearnDash
Built By Experts

Intuitive Course Builder

Expert Videos

eCommerce Solution

Course Analytics

Starts at $199/year (for 1 site)
Ruzuku
Course Templates

Live Courses

Multimedia Support

Mailchimp Integration

Subscriptions or Single Payments

Starts at $0/month (Limited to 5 students.)
List of Popular Kajabi Alternatives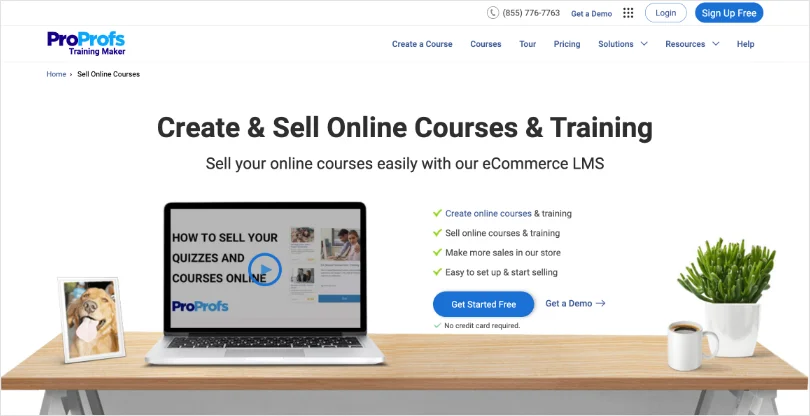 ProProfs LMS is an award-winning and easy-to-use cloud LMS. As an excellent alternative to Kajabi, you can use it to create, manage, sell, and analyze online courses and quizzes.
ProProfs LMS comes with in-demand features such as:
Other features in the platform include white-labeling to stay on brand, single sign-on (SSO) for ease of access and authentication, SCORM/Tin Can compliance for software interoperability, multiple admins to reduce administrative workload, and multilingual support to cater to a worldwide audience.
ProProfs LMS is used by course creators for both corporate training and academic education. It is intuitive and usable by people of all skill levels. No coding knowledge is required.
Recently, it rolled out a new feature where you can add questions to a course video to make your course highly engaging and interactive. Learners can pause the video, answer the questions, and then resume it.
The software application supports 100+ customizations. You can also add different media files to your courses.
Sell your courses and tests via ProProfs or your own website. Add coupons, accept different currencies, and view detailed sales reports & analytics to keep track of online transactions.
Why We Picked ProProfs LMS?
User-friendly

Highly customizable

Dedicated platform to create & sell courses

Delightful customer service
Pricing
Forever free plan (up to 10 learners). Paid plan starts at $1.97/learner/month (billed annually) for large teams. No hidden charges. 15-day money-back guarantee.
Watch: How to Sell Your Quizzes and Courses Online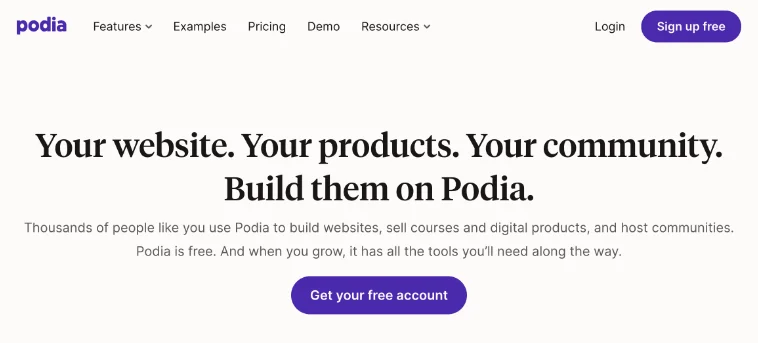 Podia empowers creative entrepreneurs to make a living by doing what they are passionate about. For close to a decade, it has been building the most creator-friendly tools to help them sell online courses, digital downloads, memberships, subscriptions and more to their audience.
It takes a creators-first approach and treats everyone equally. It also makes the software friendly and fun to work with and less robotic.
Podia is a close-knit remote team driven to make creators successful. It gives you the functionality of multiple tools for the price and simplicity of one.
Why We Picked Podia?
Easy to use

Built-in affiliate program

You can deploy it during pre-product launch

Awesome customer support
Pricing
Starts at $0/month (Limited to 1 coaching product & 1 download)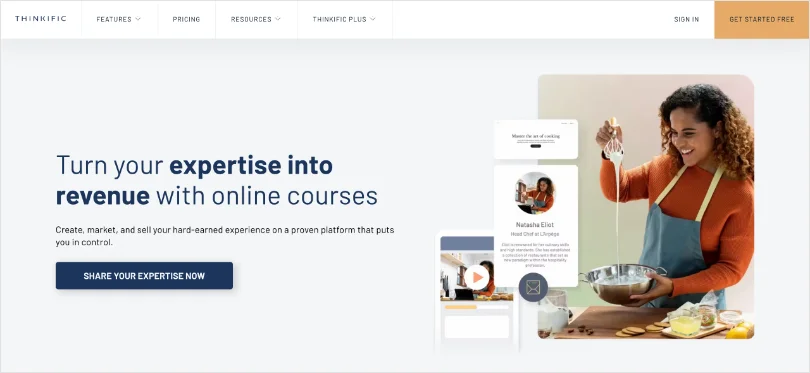 Thinkific provides a platform to turn your expertise into amazing experiences for learners. You can create custom courses and membership sites, provide numerous options to keep your audience engaged, and grow unlimitedly.
Whether you're sharing knowledge with 10 learners or 10 million, you can rest assured that you will always receive the expertise and support you need along the way.
Thinkific provides 30-day free access to the platform. Custom domains and web themes, live lessons and events, quizzes and assignments, drip scheduling, community spaces, notifications, product bundles, coupons, and cross-selling are among the core features of the solution.
It also supports integration with some of the most trusted tools, and provides analytics to understand your audience at a deeper level.
Why We Picked Thinkific?
Relatively easy

Fast course delivery

Knowledge checks

Great learner experience
Pricing
Starts at $0/month (Limited to 1 course & 1 admin)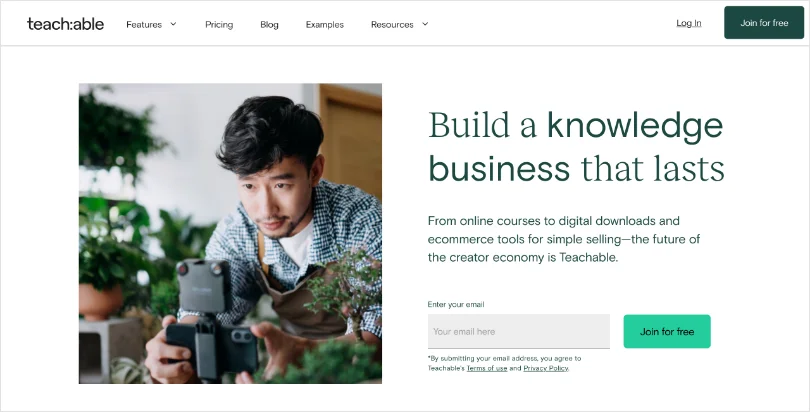 Another close alternative to Kajabi, Teachable lets you share what you know and get paid for it. Whether it is online courses, digital downloads, or coaching products, the platform is free to start and simple to scale.
Teachable gives you the tools you need to build, manage, and grow a thriving knowledge business. All you have to do is prepare your product, set a price for it, and upload it online.
The provider has spent years working closely with creators and the result is a set of features that help users scale and give them peace of mind.
An intuitive drag-and-drop course builder, a fully customizable sales page builder, direct integrations with the tools you already use, and learner-side features to drive engagement, optimal outcomes, and satisfaction are notable offerings of Teachable.
Why We Picked Teachable?
An all-in-one platform

Courses can go live easily & quickly

Training course video hosting

Great customer service
Pricing
Starts at $0 (Limited to 1 course & 1 admin)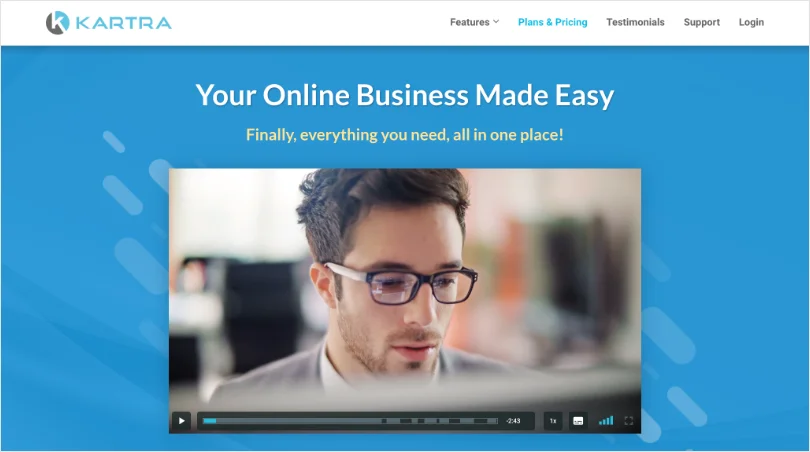 If you want a comprehensive platform with all the solutions working synchronously in one account, then Kartra is the tool. It replaces almost 15 platforms and services that you need to create, manage, market, and sell online courses.
It is devoid of different disconnected solutions duct-taped together that only add to your frustration instead of alleviating it. In fact, the tool is designed to minimize the points of failure and stress.
Kartra gives you the option to use your own domain to point to your Kartra-hosted pages. Page templates, lead databases, funnels, campaigns, emails, memberships, videos, forms, marketplace, and checkouts are among the top features of this solution.
It has been built for both beginners and seasoned users. Additionally, user data is stored safely in the cloud. The provider doesn't charge you anything extra for extra features you might need. It's all a part of the package.
Why We Picked Kartra?
Easy to set up

Several functions in one place

It replaces many programs

Makes online business efficient & stress-free
Pricing
Starts at $79/month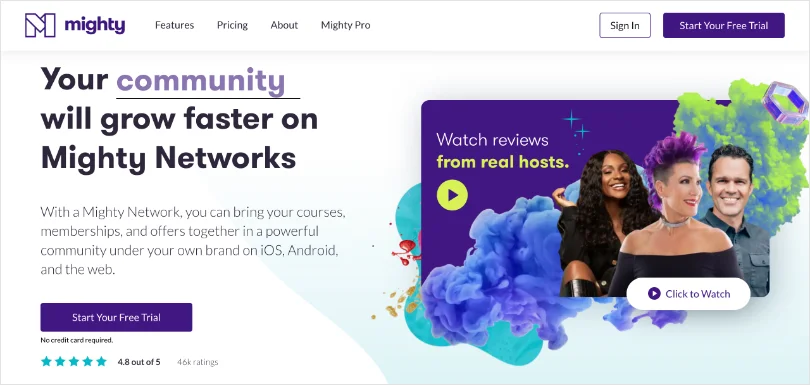 Mighty Networks is a place for course creators and entrepreneurs with an emphasis on vibrant digital communities. You can bring your courses, memberships, and other offers and stay on brand on the web, Android, or iOS.
Kick-start by launching your Mighty Network with a free community. After that, you can add a paid membership and design online courses with live streaming, events, dedicated course communities, and more.
The solution aims at unlocking a breed of creators by establishing a unique relationship with technology. You can use the platform to create experiences your members would hardly find anywhere else.
Some of the significant features of Mighty Networks are cohort-based courses, event series, chat communities, webpages, videos, articles, and insights.
Why We Picked Mighty Networks?
Ease of use

Networked communities

Supports a variety of content types

Value-driven software design
Pricing
Starts at $33/month

Skillshare is another great Kajabi alternative and competitor. It is a place where people come to learn creative skills for personal or professional goals. This makes it an amazing choice for teachers and subject-matter experts. They can capitalize on it to share their knowledge and earn a steady income.
You can grow your online business and get rewarded for it. Skillshare offers an extensive suite of resources and support to help course creators and teachers create engaging and impactful classes. They can offer pro tips, techniques, and demonstrable skills.
You can find any topic under the sun on this platform to plan, build, share, and track your knowledge and skills.
The new teacher programs at Skillshare are designed to support new teachers at every step in their journey so that they can become successful on Skillshare.
Why We Picked Skillshare?
Ease of registration & setup

It empowers teachers to share expertise

The functionalities are stable

Effortless class creation
Pricing
Get in touch with the company for a quote.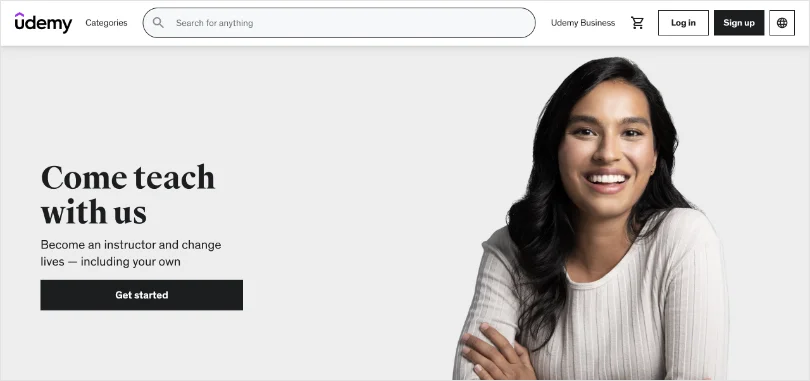 When it comes to online learning by students or professionals, Udemy is one of the most popular platforms out there. There, you can easily find the topics you want, taught by real-world experts. It offers over 213,000 online video courses, with new ones added every month.
This opens up an opportunity for instructors to teach their way, inspire learners, and get rewarded in the process.
Getting started with knowledge sharing at Udemy is straightforward. Plan your curriculum, record your video, and launch your course.
But you don't have to do it alone. Udemy's Instructor Support Team is always there to answer your queries and review your test videos. Similarly, its Teaching Center offers various resources to help you through the process.
By adopting Udemy as an alternative solution to Kajabi, you will be joining one of the largest online learning marketplaces.
Why We Picked Udemy?
Continuously growing course catalog & community

Easy course creation process

Access to learner data & analytics

The ability to reach out to a huge audience
Pricing
Get in touch with the company for a quote.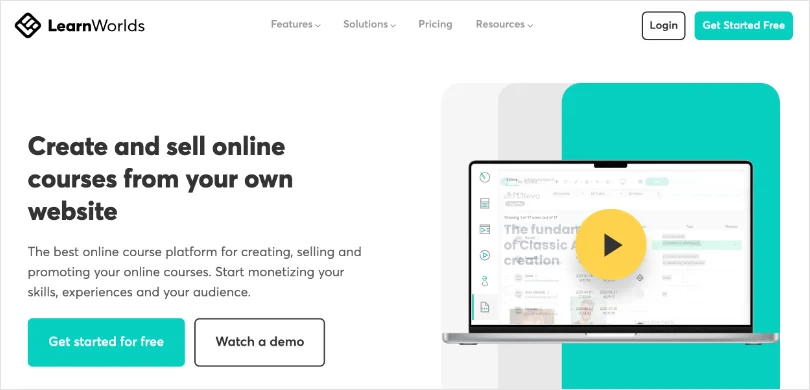 With LearnWorlds, you can build a high-converting course website and craft learning experiences your audience will love. Sell course bundles, memberships, and subscriptions. Upsell and cross-sell with attractive offers and promotions.
A website builder, marketing tools, affiliate programs, interactive videos, checkout & payments, and analytics & reports are a few of the helpful features in the solution.
Whether you're a yoga instructor, chef, or teacher, you can easily monetize your knowledge by transferring your passion into a source of recurring income.
You don't just have to sell courses but also offer incredible learning experiences to an online community of customers.
Why We Picked LearnWorlds?
Speedy course development

The platform is constantly evolving

Stable site

Premium support
Pricing
Starts at $24/month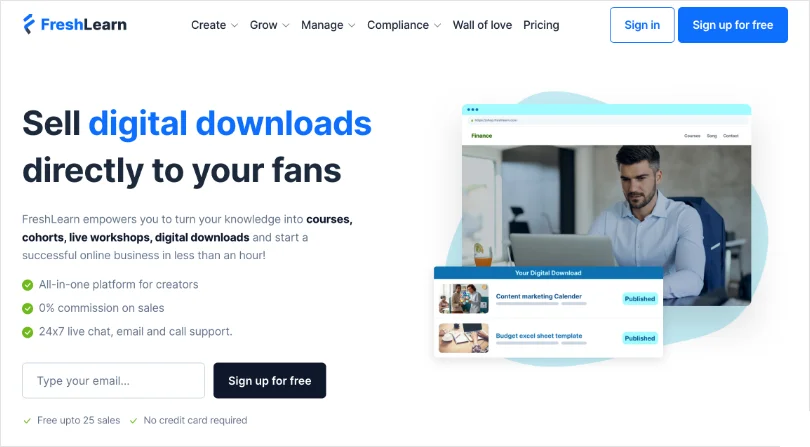 FreshLearn is also one of the recommended Kajabi alternatives that can help you start a successful online business in record time. It empowers users to turn their knowledge into courses, live workshops, digital downloads, and cohorts.
As a one-stop platform with endless possibilities, it takes care of the nuts and bolts so that you can focus on what you do best.
Like all top course platforms, FreshLearn supports a website builder, email marketing, integrated payments, custom branding, coupons, reports & insights, and many other features.
Why We Picked FreshLearn?
Easy to use

Hassle-free course launch

Video hosting

Great support
Pricing
Starts at $0/month (Limited to 1 admin)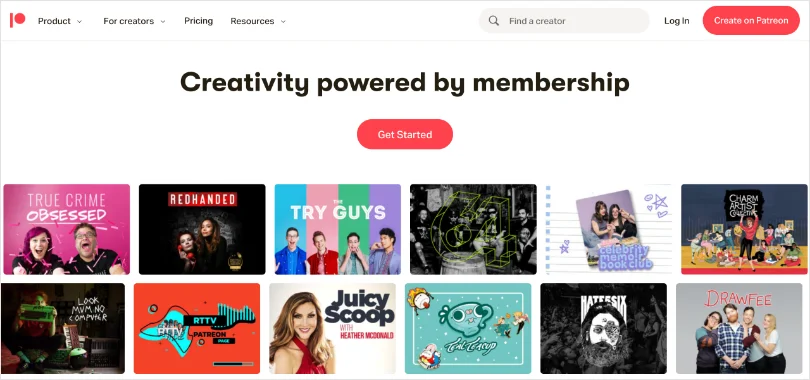 Patreon lets you build memberships and provide exclusive access to your work while establishing a connection with communities. Hundreds of thousands of video creators, podcasters, writers, gamers, musicians, and other professionals rely on Patreon to do what they love and achieve creative and financial freedom.
The platform powers membership businesses by giving creators the tools they need to acquire and manage their paying patrons.
Patreon has categorized its products into Lite, Pro, and Premium based on the type of users and their creative needs.
With over 250,000 creators on its platform, Patreon takes the responsibility of providing creative freedom to them and helping them earn income.
Why We Picked Patreon?
Setting up an account is easy

Customization tools

A growing community of creators

Helpful customer service
Pricing
Patreon charges a commission (starting at 5%) of the monthly income you earn on the platform.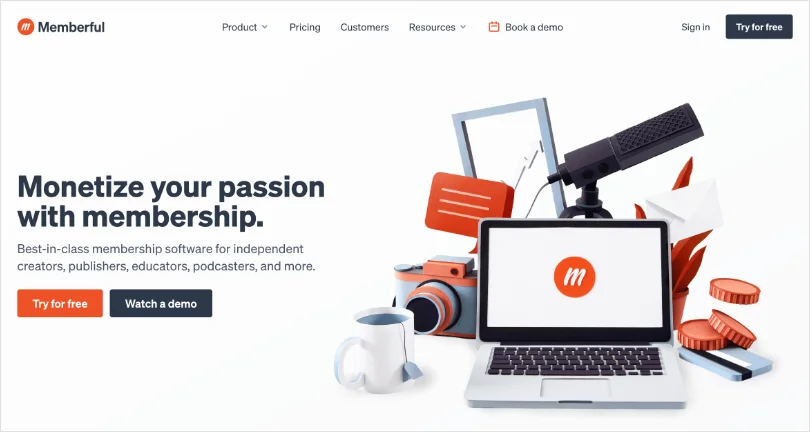 Memberful is one of the best platforms for independent creators, publishers, educators, podcasters, and more. This membership software takes care of the hard work so that your ardent followers can support your work in minutes. It provides everything you need to run a membership program.
The platform is flexible enough to accommodate your brand, website, and audience, and it grows with you as your online business evolves.
One of the most significant aspects of this solution is that it works with your existing technology and you don't have to rebuild your technology from scratch.
Since 2013, Memberful has been helping creative individuals sell memberships to their target audience and build sustainable businesses online.
Why We Picked Memberful?
Easy account & payment management

Constantly upgraded

Free test mode

Unmatched customer support
Pricing
Starts at $0/month (Limited to 2 plans.)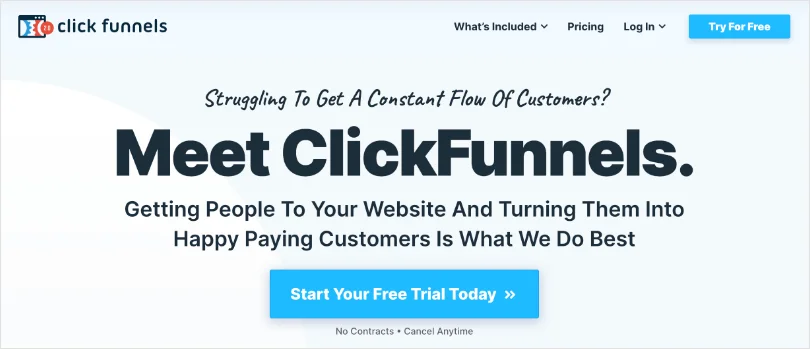 Looking for a platform that gives possibly everything you need to run a successful online business? ClickFunnels is the answer.
This alternative to Kajabi enables companies to grow through funnels. It works great for all types of businesses.
Whether it is online courses, live events, books, or merchandise, you can use a sales funnel to market and sell your products. No computer skills required.
Attract a stream of customers, offer them an amazing buying experience, and make abundant sales.
Signing up for the platform is easy. Also, in addition to its 14-day free trial, ClickFunnels provides a 30-day satisfaction guarantee.
Why We Picked ClickFunnels?
Simple design

Sales funnel

No-code landing & sales pages

Customer service
Pricing
Starts at $127/month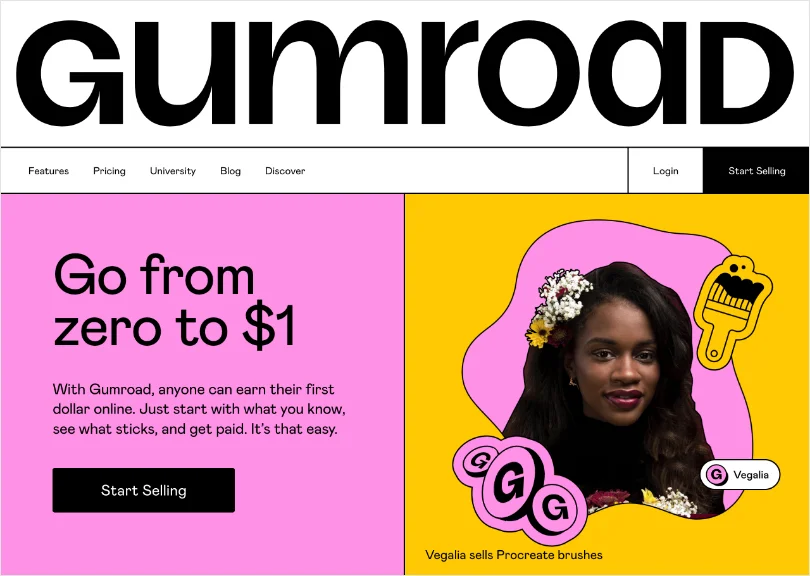 Gumroad is a simple yet powerful eCommerce platform where you can easily earn by selling digital products, memberships and more. All you have to do is just start with what you know, see what sticks, and get paid for it.
The platform makes it easier to chart a new online business path, and you don't necessarily have to be a tech expert to get started.
Whether it is video lessons, physical products, or monthly/yearly subscriptions, you can sell virtually anything. Gumroad is designed to help users experiment with all kinds of ideas and formats.
Zapier enables you to connect your Gumroad account with thousands of popular apps.
If you're looking for inspiration, you can explore the best-selling products and creators on the platform.
Why We Picked Gumroad?
Easy to set up

Sales stats

No charge until you make a profit

Discount codes
Pricing
Charges a 10% fee on every sale.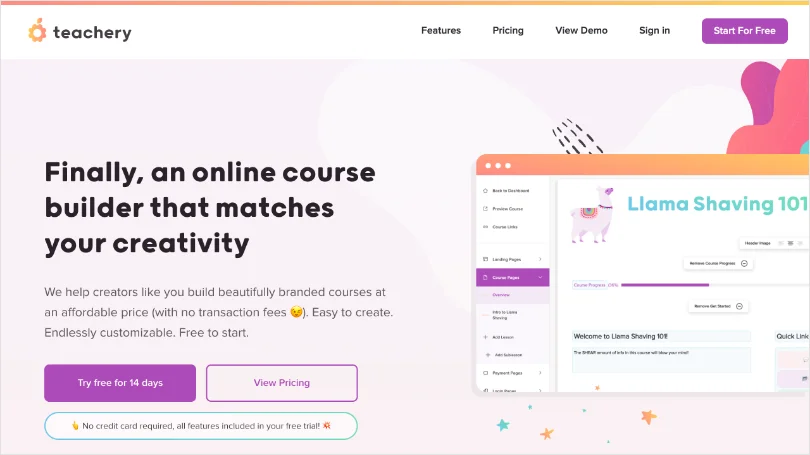 Teachery is another Kajabi competitor for creating branded courses that match your creativity. Built by course creators for course creators, the platform keeps things simple. It makes course creation as easy as writing an email.
The tried and tested course templates allow you to build your own custom courses. You can easily add videos, audio, and text as lessons or sub-lessons. Similarly, there are several options for branding your courses.
Once those are ready, you can create a payment page, add your course price, and start selling.
Teachery's course affiliate system lets you choose the pages that an affiliate will promote. The platform uses PayPal to handle the payouts for affiliates.
Why We Picked Teachery?
Simplicity & customizability

Unlimited courses & lessons

Professional templates

Easy to work with
Pricing
Starts at $49/month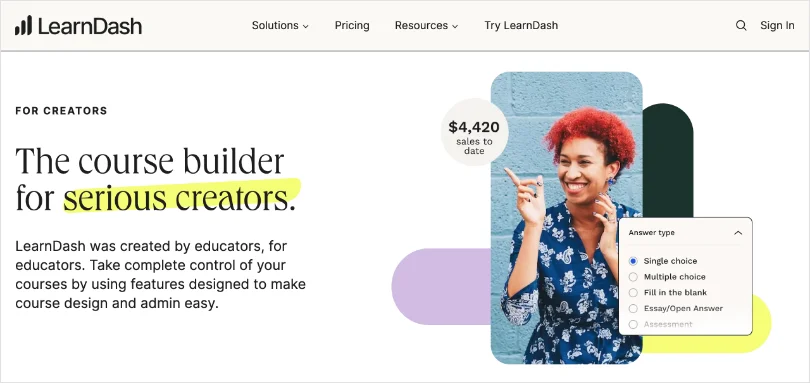 LearnDash is an LMS that you can use as a course creation and eCommerce platform. Created by educators, this solution lets you create and administer impressive online courses easily on WordPress.
Begin with a customizable template, add your content in seconds, and start selling right away with a ready-to-go payment processor.
The platform onboards users once they install the software application so that they can start creating courses immediately. You can visualize your content placement and add content easily. No coding required.
Provide access to your courses, lessons, and assessments based on custom prerequisites.
Since 2012, LearnDash has been delivering a best-in-class LMS platform to empower anyone to build courses on WordPress. It serves as the engine behind many successful learning programs for major universities, companies, startups, entrepreneurs, and bloggers worldwide.
Why We Picked LearnDash?
Run by a global team of specialists

Intuitive interface

Video progression support

Best LMS plugin for WordPress
Pricing
Starts at $199/year (for 1 site)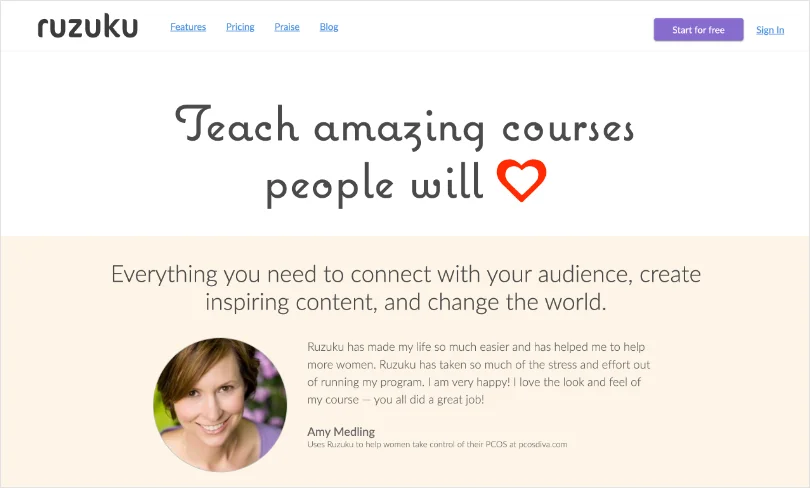 Whether you're planning to launch your first online course or looking for a more efficient way to teach online, Ruzuku can help.
You can use a prebuilt course or design your own. The platform makes it ridiculously easy to teach online.
In fact, with Ruzuku, you're not buying a course-building tool but joining a team of experts so that you can single-mindedly focus on creating inspiring experiences for your audience. Simply create online courses and teach learners anywhere; no time is wasted on technology.
This all-in-one website and course builder can help you monetize online courses by making a business out of your expert knowledge.
Why We Picked Ruzuku?
Incredibly easy to use

No transaction fee

No fancy features that add to the cost

Extraordinary support
Pricing
Starts at $0/month (Limited to 5 students.)
Looking for Kajabi Alternatives?
If yes, this software list will hopefully give you a fair idea of the top players on the market.
Always keep your options open so you can try the best alternatives that fetch better results.
Give as many of these platforms a try as possible before you make your pick.
Still not sure which one might be right for you? We can help. Give us a call at (855) 776-7763 (toll-free), and our customer success team will be happy to assist you.
Do you want a free Training Software?
We have the #1 Online Training Software for employee training & assessment