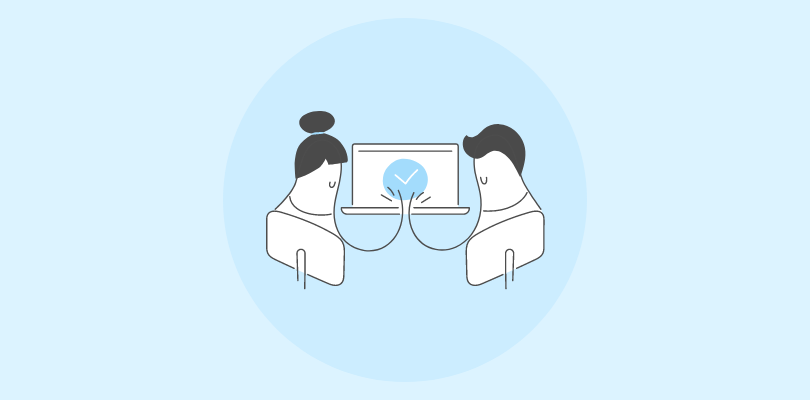 Training modules make up each online course, and the success of the courses depends, to a great extent, on the effectiveness of the modules. It's similar to the important roles each family member plays in building a happy family.
One rotten apple spoils the whole barrel, and so a negative experience with a poorly developed training module can put off learners and fail to fetch the results you want.
But there's a way out.
You can create and publish the most impactful online modules by
understanding your audience
analyzing the learning objectives
choosing the right eLearning format and tool, and
running a pilot test
This post provides a step-by-step guide to creating training modules for employees to engage and motivate them and achieve better learning outcomes.
Continue reading to find out.
What Is a Training Module?
A training module is an individual but related component of an online course that focuses on a specific topic or learning objective. It is similar to a chapter in a book. Each module is made up of different lessons, activities, and assessments.
Taken together, training modules for employees can be tailored toward achieving the overall objective of your programs. You can use these units to develop personalized learning paths. Due to their effectiveness, modules form an essential part of every multimodal learning approach.
These modules help you standardize training and ensure consistency
Here's a sample training module for employees for your better understanding.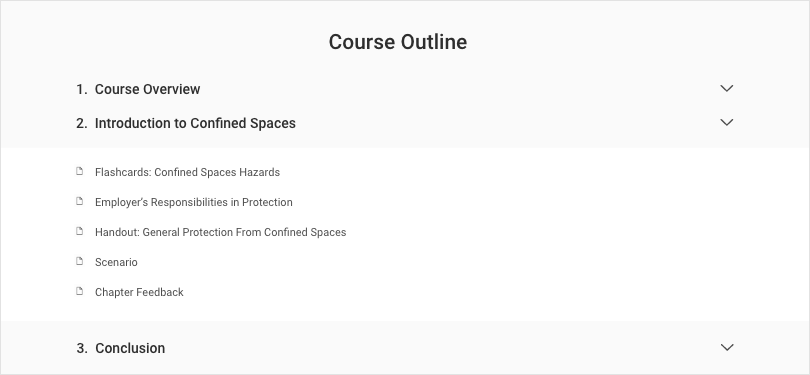 Watch: How to Create Employee Training Courses Online
Why Are Training Modules Important for Employees?
Modular learning is significant in terms of enhancing accessibility, engagement, and retention. They also make learning more efficient.
Some of the top reasons why training modules are important are given below:
They enable learners to grasp key topics by breaking down a course into smaller segments.
Modules can be accessed anywhere, anytime, and you can modify them to suit each learner or group's needs.
Since learning takes place in small chunks, learners feel less overwhelmed or stressed out and retain information better.
As learners are evaluated after each module, they can prioritize which module to learn first and proceed according to how the modules are structured.
It gives instructors a room to utilize different eLearning formats for different modules, thereby providing an enriching experience.
After knowing what a training module is and its importance, you must be eager to know more about it. Keep reading. We'll be unpacking them in the following sections.
Types of Training Modules

Training modules come in different forms, allowing you to take a mix-and-match approach to employee training. They include:
1. E-courses
An e-course is a lesser common term for an online course. This training module is administered and taken over the internet via a cloud-based learning management system (LMS), website, or social media. This makes them accessible to anyone, anytime, anywhere, and on any device.
Example: To understand e-courses better, check out these examples.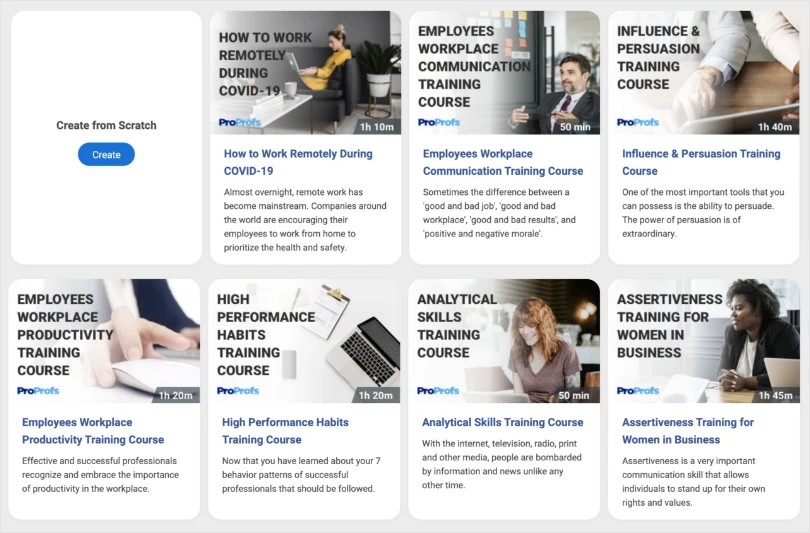 Suitable for: As the most popular form of training resource, e-courses are used as a standard medium for training employees on skills, safety & compliance, products & services, leadership & management, policies, procedures, and more.
2. Video Lessons
Video lessons are educational or training resources presented in a video format. These lessons are often created and hosted by subject-matter experts and they are accessible online through platforms such as YouTube.
Example: Here's an example of a video lesson.
Suitable for: Video lessons can be a valuable resource for anyone looking to learn something new regardless of the subject. They are handy, especially for explaining complex ideas in a simple and engaging way. Learners can pause, rewind, and watch them again anytime, anywhere.
3. Micro-lessons
Micro-lessons are bite-sized pieces of information designed to be consumed quickly and easily. They may last from a few seconds to a few minutes. Micro-lessons improve engagement and retention as they enable learners to stay focused on small-scale learning while allowing them to fit learning into their busy schedules.
Example: Examples include text, images, audio, and videos.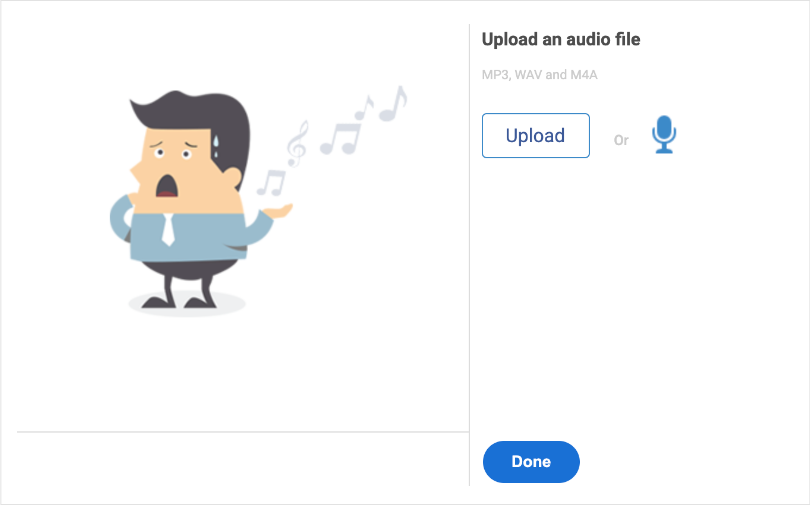 Suitable for: You can use micro-lessons anywhere where there is a need for a focused and quick intake of information while teaching or reinforcing a topic.
4. FAQs
Whether you use them in your website, blogs, or a dedicated knowledge base, FAQs can be a great tool for customers and employees. An FAQ page answers common questions, clarifies doubts, and provides practical tips. This makes it an excellent module for employee training.
Example: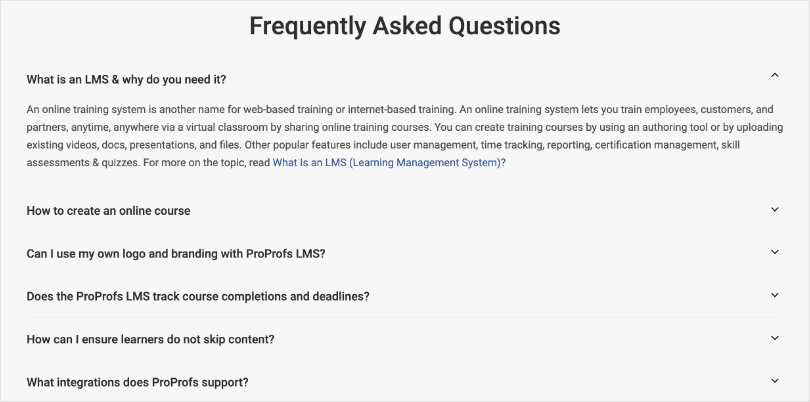 Suitable for: FAQs are suitable for internal usage in organizations to provide useful information to employees. Similarly, you can use them for sales, customer support, academic education, and other purposes.
5. Aids
Aids are basically materials or tools used to enhance the effectiveness of learning programs. They can be physical or digital.
Example:
Printed aids like handouts and manuals
Visual aids like charts and diagrams
Audio aids like recorded lectures and audiobooks
Interactive aids such as simulations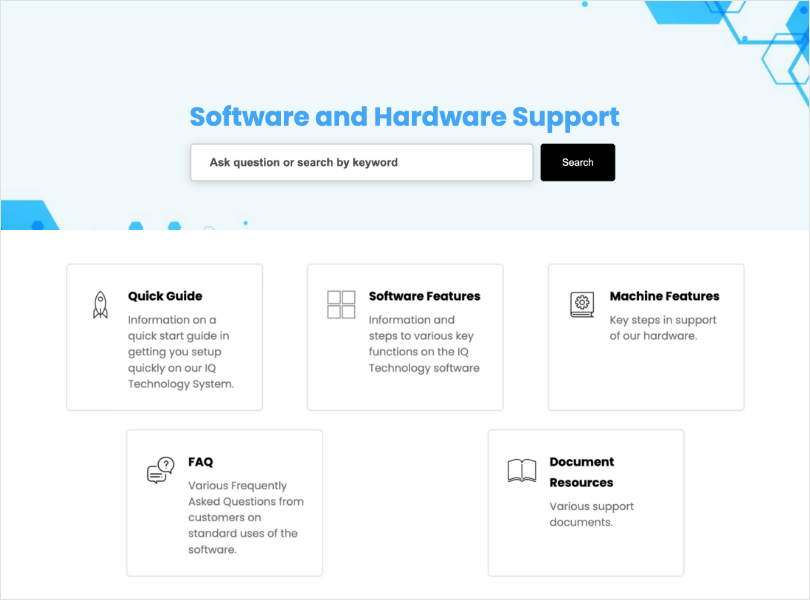 Suitable for: Learning aids can be used in a wide range of contexts, including classroom learning, corporate training, distance learning, and personal development programs.
6. Role-plays
Role plays are a form of experiential learning focusing on activities. Learners assume different roles and act out scenarios to develop specific skills.
Example: Here's an example of a scenario-based role-play used in sexual harassment prevention training.
Watch: Example Scenario: How to Spot & Report Workplace Harassment
Suitable for: You can use role plays in a variety of situations, including customer support training, communication training, leadership training, or any other setting where you need to practice and apply new skills.
7. Quizzes
Online quizzes are the most popular assessment tools for knowledge checks and reinforcement. You can easily embed them into courses. Their engaging and interactive nature makes them an essential element in ensuring participation, retention, and completion of any eLearning program.
Example: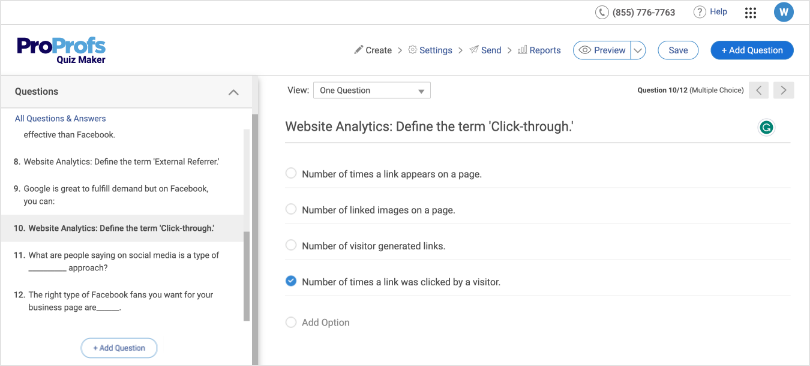 Suitable for: As a training module, quizzes are versatile and you can embed it in any course, lesson, exam, or fun activity. This is true for both business and educational use cases. Different question types, automatic grading, proctoring, and custom feedback are among the core features of an online quiz that find application in assessments in all learning situations.
Watch: How to Create an Online Quiz in Under 5 Mins
So, those were the top learning modules examples.
Ideally, you should employ different modules in your training programs to ensure you cater to different learning styles and preferences. This will enhance the engagement level and improve the module completion rate.
How to Create Training Modules for Employees: 7 Easy Steps
Now that you've learned a thing or two about training modules, let's find out how to create them in a few easy steps. When strictly followed, these best practices will enable you to design impactful modules.
Step 1: Identify Your Audience
The first step in creating effective modules is figuring out the type of learners with whom you will be sharing your modules. Take time to know them better so that you can engage them in the best way possible.
For example, you can't use the same module for desk-bound graphic designers and those construction workers out in the field most of the time. While the former enjoy the luxury of sitting and going through extensive modules, the latter would prefer to learn using shorter units.
Knowledge about your audience will enable you to choose the difficulty level, tone, and materials for the modules.
Step 2: Understand Your Training Objectives
After identifying your audience type, the next step is to find out what your modules aim to achieve.
Do you want to use modules to bring new hires up to speed quickly?
Or do you want to use them to deliver safety & compliance training or training on policy & procedure?
Either way, you need to set SMART goals to achieve specific objectives.
Watch: How to Set SMART Goals | Training Course Introduction
Step 3: Choose the Right Authoring Tool
Whether you're a seasoned instructional designer or a novice who wants to try your hand at creating your first training modules, adopting the right tool is necessary.
The act of making modules becomes simple and fast when you deploy the right online employee training software, such as a learning management system (LMS), with built-in and intuitive authoring tools.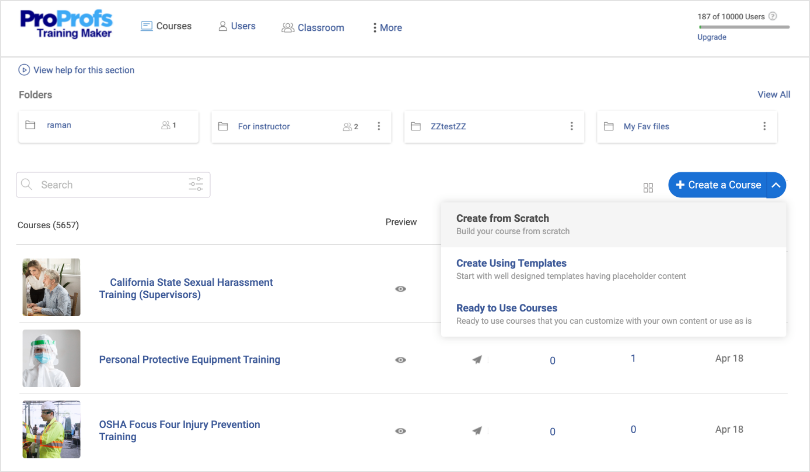 Most of these online training systems provide ready-to-use training module templates and courses designed for maximized engagement and retention. You can customize these resources based on your needs.
Modifying and updating content also becomes easy since it is done through drag-and-drop. You can even import your existing materials like images, videos, PDF files, recorded webinars, and presentations.
Watch: TM Template In Action
Step 4: Create the Right Module
"Instead of worrying about what you cannot control, shift your energy to what you can create." ― Roy T. Bennett
Once you know your audience and their learning needs and have a course authoring tool by your side, it's time to create online training modules that match their requirements. The right information delivered through the right modules helps in effective learning.
The modules can be:
Live online sessions, pre-recorded lessons, and interactive assessments for onboarding, training on job knowledge and skills, and safety & compliance matters.
For policy & procedure training, you may create FAQs, employee manuals, and guides.
Similarly, screencasts, video lectures, and webinars work well for product training.
Step 5: Conduct a Test Run
Before you finally roll out your modules, it is best to run a test with a sample group of learners to examine whether the modules create the intended impact. You can collect feedback to learn what your audience thinks about your modules and if there are any suggestions for refinement.
During this phase, you can take advantage of a review process where stakeholders can review your modules, discuss the design aspects, detect issues, and make edits, if necessary. This is important for quality assurance. For this, you may use an online collaboration tool.
Watch: How to Enable Collaboration & Discussions in Your Course
Step 6: Publish Your Modules
After you make changes and modifications to your modules, finally, it is time to launch them, make them live, and provide access to your learners. You can upload modules to your LMS, website, or any other platform where your learners prefer to learn.
One advantage of sharing modules via an LMS is that it provides real-time reports on participation, progress, and completion. Not only that, you'll also receive data on gaps, engagement levels, satisfaction ratings, and challenges.
These actionable insights enable you to make informed decisions about your training and development.
Step 7: Gather Feedback
Feedback and suggestions from learners can help you shape your training modules for optimal results. Here, surveys for feedback from course attendees can simplify your job. You can collect information on your course, pages, instructors, and more.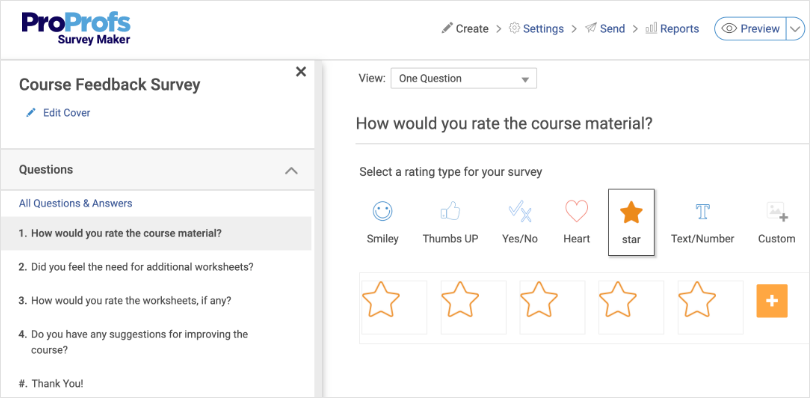 Along with this, you may use one-on-one meetings, feedback forms, focus groups, observation, monitoring, and social media polls.
Consider which approach is best suited for you and your learners. Combining multiple approaches can provide you with a more comprehensive view of your training modules.
Frequently Asked Questions
Which tool or technology can I use to build training modules?
You can adopt a cloud LMS for this purpose. They are the most widely used solution for creating, managing, sharing, tracking, and analyzing online training courses and tests. Built-in authoring tools in these platforms enable users to develop engaging modules rapidly. You can import materials you already have and create multimedia-rich modules. You can also leverage ready-to-go and fully editable courses that top LMS software provide to develop custom modules.
What are the key elements of an effective training module?
All impactful training modules are characterized by clear learning objectives, clear instructions, engaging content, well-defined learning pathways, and assessments. Additionally, the modules are relevant and easily applicable to day-to-day jobs. When you include these key elements, trainees can easily acquire new knowledge and skills.
How can I measure the effectiveness of modules?
To measure the effectiveness of your training modules, you can use pre and post-training assessments, surveys, feedback forms, observations, performance metrics, and follow-up assessments. Measuring the effectiveness of modules can help you ensure that every training program achieves its goals. The best way is to use a combination of these methods to broaden how you gain valuable insights into the impact of your training modules.
Start Creating Training Modules for Employee Training!
Module-based learning is known to result in better learning experiences and better outcomes. Learning in large volumes and at one time often puts unnecessary pressure on learners and makes them spread too thin. The result is they cannot focus on one training area for too long.
Unlike this, modular learning is learner-friendly, and it gives learners enough time and space to master each topic before moving to the next. This makes learning more consistent, sustainable, and positive.
Also, modules are easily accessible across devices, including mobile, and they make the best ingredient for microlearning, which is in demand these days.
Implement the above steps to create online training modules and train your learners effectively, one topic at a time.
Do you want a free Training Software?
We have the #1 Online Training Software for employee training & assessment