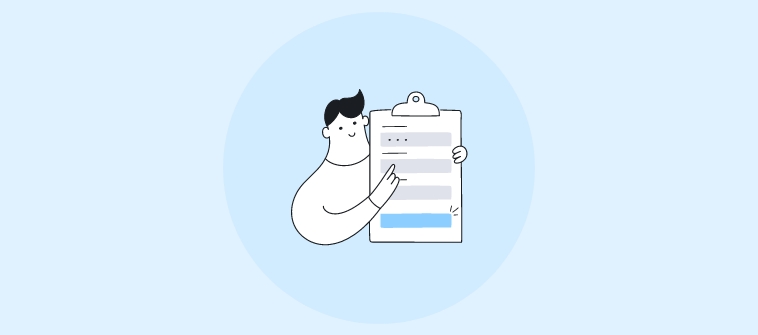 Training modules make up each online course, and the success of the courses depends, to a great extent, on the effectiveness of the modules. It's similar to the important roles each family member plays in building a happy family.
One rotten apple spoils the whole barrel, and so a negative experience with a poorly developed training module can put off learners and fail to fetch the results you want.
But there's a way out.
You can create and publish the most impactful online modules by
understanding your audience

analyzing the learning objectives

choosing the right eLearning format and tool, and

running a pilot test
This post provides a step-by-step guide to creating training modules for online training courses to engage and motivate learners and achieve better learning outcomes.
Continue reading to find out more.
Watch: How to Create Employee Training Courses Online
What is a Training Module?
A training module is an individual but related component of an online course that focuses on a specific topic or learning objective. It is similar to a chapter in a book. Each module is made up of different lessons and assessments.
Taken together, training modules for employees can be tailored toward achieving the overall objective of your programs. You can use them to develop personalized learning paths. Due to their effectiveness, modules form an essential part of every multimodal learning approach.
Here's an example of modules in a course for your better understanding.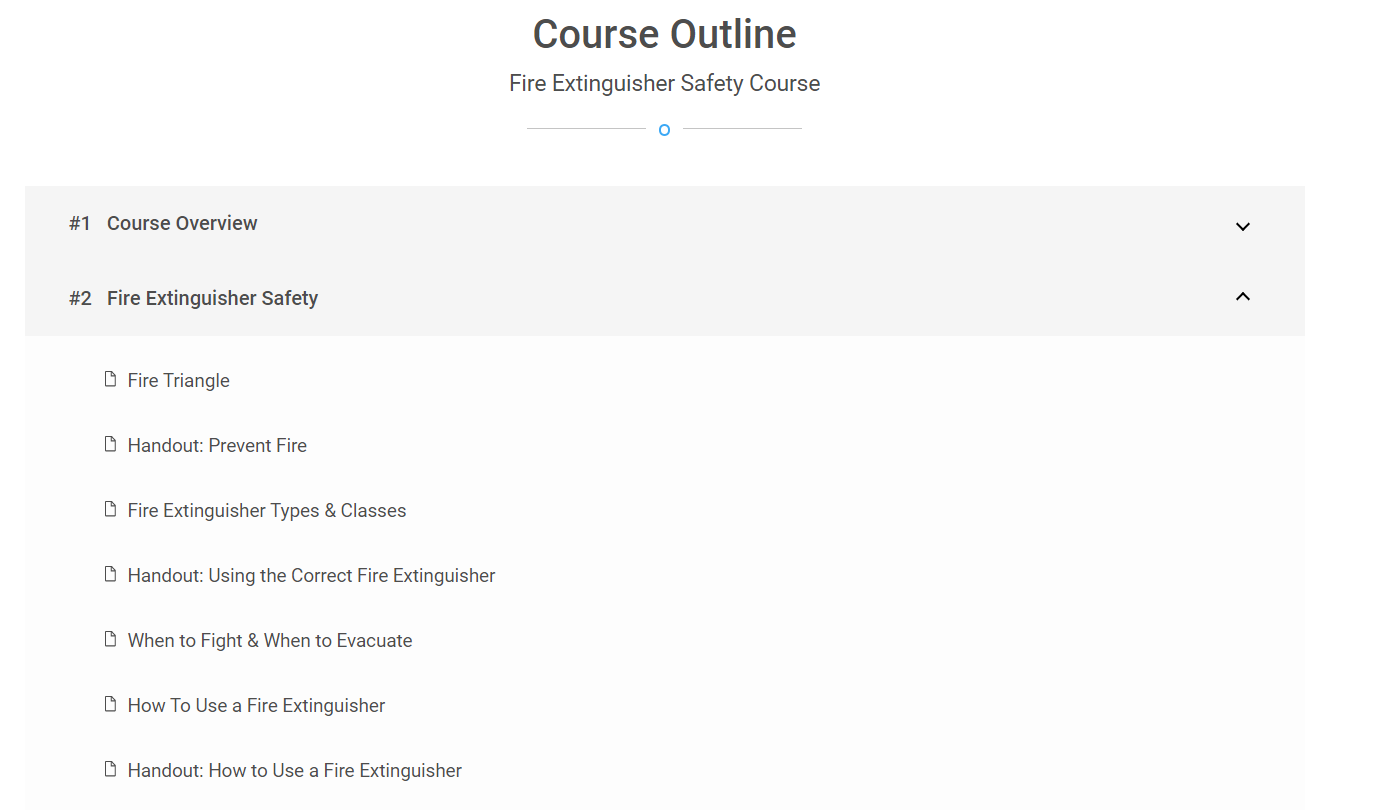 Types of Training Module
Training modules come in different formats, allowing you to provide an enriching experience to your learners. These include:
e-courses
video lessons
micro-lessons
FAQs
aids
quizzes
assessments
Ideally, you should employ different modules in your training programs to ensure you cater to different learning styles and preferences. This will enhance the engagement level and improve the module completion rate.
Top 4 Benefits of Training Modules
There are many advantages of modular learning in terms of accessibility, flexibility, and choice. Some of the top ones are given below:
It enables learners to

grasp key topics

by breaking down a course into smaller segments.

Since learning takes place in small chunks, learners

feel less overwhelmed

or stressed and

retain information better.

As learners are evaluated after each module, they can

prioritize which module to learn

first and proceed according to how the modules are structured.

It gives instructors room for utilizing

different eLearning formats

for different modules, thereby providing an

enriching experience.
A learning module can provide an enriching experience with its interactive elements. Let's discover that these are in the next section.
What Makes a Training Module Interactive?
Several elements go into making an eLearning module interactive. The level of interactivity you add depends on the complexity of a module.
Basic training modules may be characterized by text, images, videos, audio files, and visuals. Course participants may only need to view, read through, click to watch a video, or play audio.
On the other hand, a more advanced online module may feature branching scenarios, animations, gamification, life-like characters and props, and realistic stories.
Regardless of the nature of the module, your goal should be to make learning as immersive and fun as possible for better outcomes.
Watch: How to Add Media to Your Online Courses
Developing the Best Training Modules: A Step-by-Step Guide
Now that you've learned the basics, let's find out how to create training modules in a few easy steps. This will help you see them in action. When strictly followed, these best practices will enable you to design impactful modules.
Step 1: Identify Your Audience
The first step for creating effective modules is figuring out the type of learners with whom you will be sharing your modules. Take time to know them better so that you can engage them in the best way possible.
For example, you can't use the same module for desk-bound graphic designers and those construction workers out in the field most of the time. While the former enjoy the luxury of sitting and going through extensive modules, the latter would prefer to learn using shorter units.
Knowledge about your audience will enable you to choose the difficulty level, tone, and materials for the modules.
Step 2: Understand Your Training Objectives
After identifying your audience type, the next step is to find out what your modules aim to achieve.
Do you want to use modules for new hire onboarding?
Or do you want to use them to deliver safety & compliance training or training on policy & procedure?
Either way, you need to set SMART goals to achieve specific objectives.
Step 3: Choose the Right Authoring Tool
Whether you're a seasoned instructional designer or a novice who wants to try your hand at creating your first training modules, adopting the right tool is necessary.
Module creation becomes simple and fast when you choose the right online employee training software, such as a learning management system (LMS) with built-in and intuitive authoring software.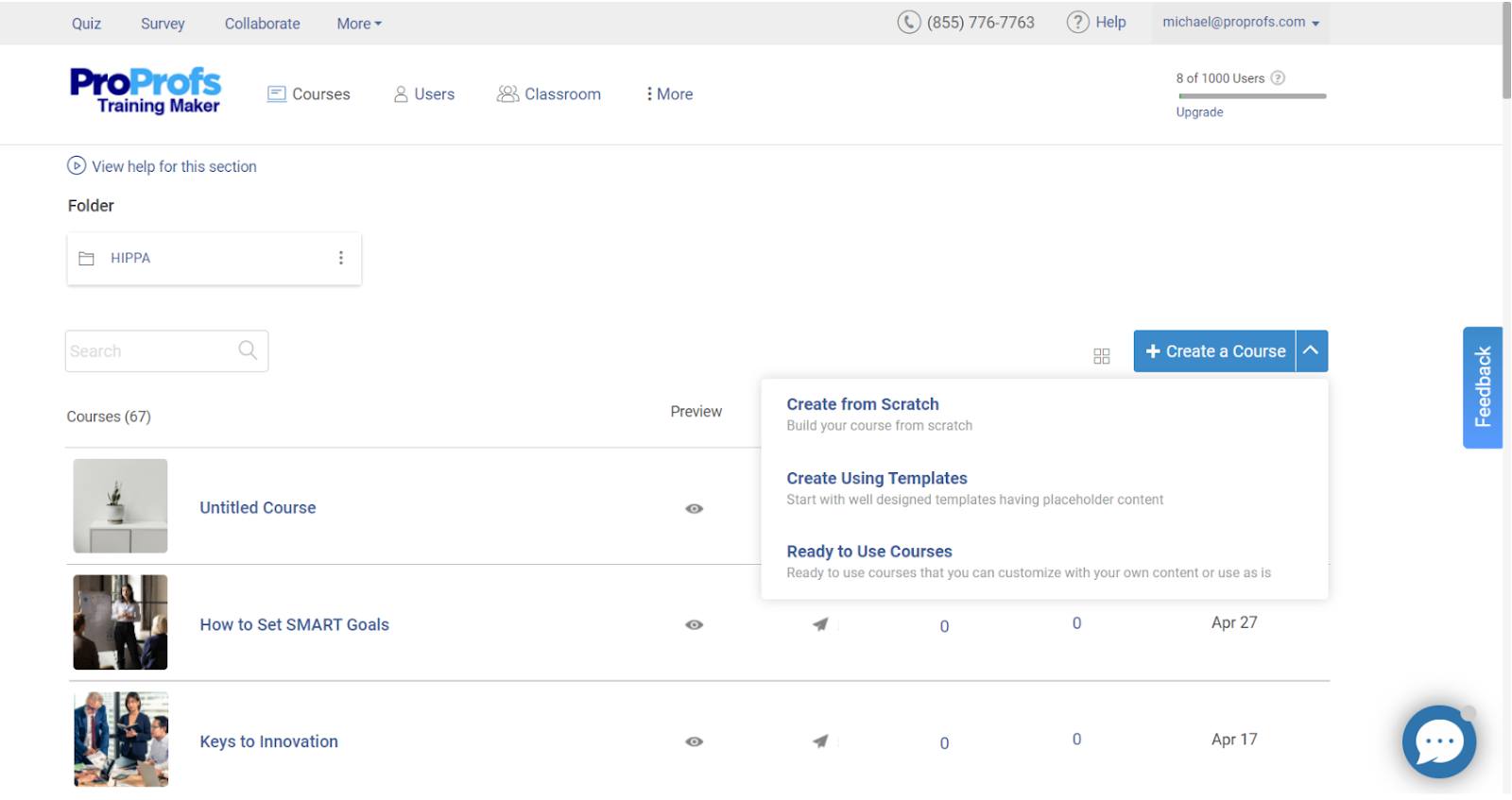 Most of these online training software tools provide ready-to-use online employee training module templates and courses designed for maximized engagement and retention. You can customize these resources based on your needs.
Modifying and updating content also becomes easy since it is done through drag-and-drop. You can even import your existing content like images, videos, PDF files, and presentations.
Watch: TM Template
Step 4: Create the Right Module
"Instead of worrying about what you cannot control, shift your energy to what you can create." ― Roy T. Bennett
Once you know your audience and their learning needs and have a course authoring tool by your side, it's time to create online training modules that match their requirements. The right information delivered through the right module helps learners learn effectively.
The modules can be:
Live online sessions, pre-recorded lessons, and interactive assessments for onboarding, training on job knowledge and skills, and safety & compliance matters.

For policy & procedure training, you may create FAQs, employee manuals, and guides.

Similarly, screencasts, video lectures, and webinars work well for product training.
Step 5: Conduct a Test Run
Before you finally roll out your modules, it is best to run a test with a sample group of learners to examine whether they create the intended impact. You can collect feedback to learn what your audience thinks about your modules and if there are any suggestions for refinement.
During this phase, you can take advantage of a review process where stakeholders can review your modules, discuss the design aspects, detect issues, and make edits, if necessary. This is important for quality assurance. For this, you may use an online collaboration tool.
Watch: How to Enable Collaboration & Discussions in Your Course
Step 6: Publish Your Modules
After you make changes and modifications to your modules, finally, it is time to launch them, make them live, and provide access to your learners. You can upload modules to your LMS, website, or any other platform where your learners prefer to learn.
One advantage of sharing modules via an LMS is that it provides real-time reports on participation, progress, and completion. Not only that, you'll also receive data on gaps, engagement level, satisfaction rating, and challenging areas.
These actionable insights enable you to make informed decisions about your training and development.
Start Creating Training Modules For Employee Training

Module-based learning is known to result in better learning experiences and better outcomes. Learning in large volumes and at one time often puts unnecessary pressure on learners and makes them spread too thin. The result is they cannot focus on one training area for too long.
Unlike this, modular learning is learner-friendly, and it gives learners enough time and space to master each topic before moving to the next. This makes learning more consistent, sustainable, and positive.
Also, modules are easily accessible across devices, including mobile, and they make the best ingredient for microlearning, which is in demand these days.
So all you need to do is implement the above steps for creating online training modules and train your learners effectively, one topic at a time.
Do you want a free Training Software?
We have the #1 Online Training Software for employee training & assessment