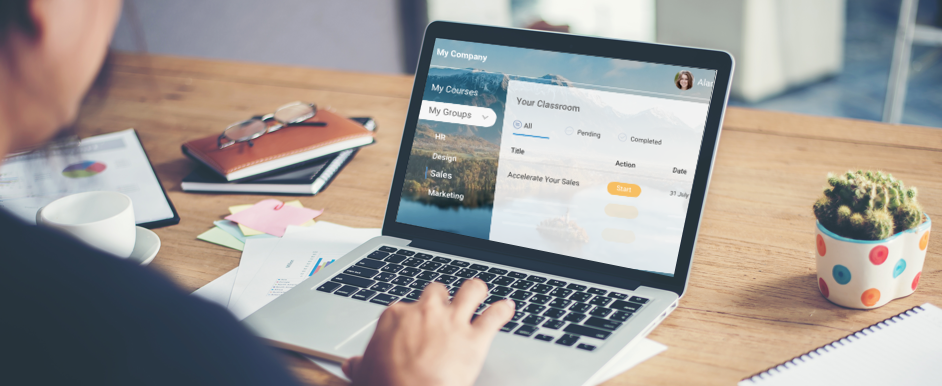 Corporate eLearning has grown by an impressive 900% in the last 16 years.
The global eLearning market is projected to reach $325 billion by 2025.
These numbers indicate only one thing – the eLearning industry is only gaining ground with time.
The growing use of both paid and free eLearning authoring tools is a contributing factor here. As a matter of fact, adopting eLearning software is inevitable for businesses. The ability to rapidly build and deliver online courseware is significant, particularly when the time is short and you're loaded with responsibilities.
You can easily overcome the challenges of rapid course development by adopting an eLearning authoring tool.
To make the search easier for you, we present a list of the best eLearning authoring tools on the market.
Let's dig in.
Key Features and Price Comparison of the Best eLearning Authoring Tools
10 Best eLearning Authoring Tools
Why Is It Best?
Pricing
ProProfs eLearning Authoring Tool

Creating Online Courses & Tests
Cloud-Based LMS
Virtual Classroom Software
Quizzes & Surveys
Discussion & Collaboration
Learning Reports & Analytics

Starts at $1/learner/month. Billed annually. No hidden costs.
dominKnow | ONE

Responsive eLearning
Translation & Localization
Publication & Distribution
Learning Content Management System
WAI-ARIA, WCAG AA Level 2.0
Collaboration & Review

Starts at $997/author/year
Gomo

Easy Content Creation
Customization
Collaboration
Importing Audio
Video Editor
Animations

Starts at $2,070/author/year
Uptale

Enterprise-Ready System
Automated Translation
Storyboard
Gamified Hotspots
Cognitive Services
Multi-Device Access

Available on request.
Lectora Inspire

Course Templates
Text to Speech Converter
Easy Course Distribution
Style Painter
Library of Stock Buttons
Set Time Action

Starts at $899/year
Easygenerator

Compliance with eLearning Standards
Drag-and-Drop Content Creation
Real-Time Collaboration
Review Options
Single Sign-On
In-App Support

Starts at $99/author/month
Elucidat

Role-Based Feature
Co-Authoring
Image & Video Manager
Localization
Live Device Preview
Learning Launchpad

Available on request.
iSpring Suite

eLearning authoring
PowerPoint courses
Mobile learning
Video lectures
Creating online quizzes

Starts at $770/author/year
Knowbly

Easy content creation
xAPI publishing
Real-time collaboration
Inline editing
Centralized updates
Actionable Insights

Available on request.
Articulate 360

5+ Million Course Assets
Authoring Apps
Project Reviews
Live & On-Demand Training
Folders
Group Admins

$499/user/year
Before we explore each of these authoring tools at length, let's understand the following:
What is an Authoring Tool?
An eLearning authoring tool is a type of software to create digital content such as video, images, online courses, online tests, audio, and games for training purposes. They can be either standalone or integrated into a learning management system (LMS).
Unlike off-the-shelf content, where you have no control over what's included inside, the content you created with training development software allows full customization. You can develop custom training courses and assessments, add engaging quizzes, gamification, and even branding.
Is eLearning Software Different From an Authoring Tool?
No, they are two terms used to refer to more or less the same product. eLearning software is an umbrella term for those solutions that enable users to create, share, run, and manage eLearning experiences. In this sense, an authoring tool falls under eLearning software as the latter also takes care of digital content development.
Types of Authoring Tools
There are two main types of elearning software tools that perform authoring functions in one form or another. Let's check them out.
1. Standalone Authoring Tools
As the name suggests, these tools come as a standalone platform. Their primary purpose is to assist users in developing eLearning content.
Examples include Adobe Captivate and Lectora.
These tools are suitable for eLearning developers who regularly create content in large volumes. They are crafted for purely authoring functions.
2. Learning Management Systems
An LMS can also be considered for authoring when it comes with a built-in authoring tool. Many of the current LMS software support this in-platform feature to offer complete online learning solutions.
Examples include ProProfs LMS, Tovuti, LearnDash, and 360Learning.
Compared to specially designed independent authoring tools, these LMS tools may not be that advanced. But they are worth it as they remove the need to switch between different tools for creating and managing content.
Why Do You Need an Authoring Tool?
Ask any eLearning course developer and training department, and you'll realize the real value of course authoring tools. These tools assume significance particularly when you are creating a course, exam, or assessment from the ground up or by importing your existing materials.
To put it in another way, unlike using ready-to-use content, creating content from scratch takes time and labor. This is where authoring tools can help you out.
These let you do the following:
Create custom digital content

Make training development more efficient

Add interactivity to eLearning

Update legacy content to a modern version

Deploy branding exercises

Build device-agnostic responsive content
Watch: How to Create Employee Training Courses Online
Criteria for Choosing the Best Authoring Software
Since you now know what you can do with these tools, let's quickly see how to select the best one for your needs. Make sure the tool you adopt comes with the following features:
When it comes to user-friendliness, what is true of all other tools is true for eLearning software tools as well. No matter how feature-rich or affordable a tool is, if the user interface or UI is clunky, it will affect navigation, and you will be unable to perform tasks at the required speed.
So, make user-friendly UI a primary condition for selecting an authoring tool.
Online training assets prove incredibly handy during rapid eLearning authoring. They can be ready-to-use courses, templates, images, fonts, and characters. These resources can significantly reduce your eLearning development time through drag-and-drop. So, this is another feature to consider.
Depending on the audience type and your business needs, you should ideally have the freedom to build custom eLearning programs and tweak existing materials. This will enable you to author personalized content and add branding. Make sure you get the most out of your authoring tool by choosing a customizable one.
eLearning software tools that support responsive design ensure that whatever content you create displays well on different devices.
For example, when you create a master version of an image, you should be able to optimize it so that it appears flawlessly on different screens.
Built-in previewers in the tools let you test your eLearning designs for responsiveness and make adjustments, if necessary.
This feature can save you ample time you would otherwise invest in creating new content every time. For example, the tool you choose should support the repurposing of PowerPoint presentations to create a mini-course or turn blog content into video content.
This way, you can use the same piece of content to deliver eLearning through various engaging mediums.
There are many authoring tools with reporting features. The benefit of reporting in these tools is that it allows you to track online learners' participation, engagement, and performance.
By doing so, you can identify the overall effectiveness of your eLearning designs and improvement areas. Tick this box while shopping for an authoring tool.
Look for an authoring tool with exemplary service. This is because, at the end of the day, the quality of customer support determines whether you want to stay on or cut ties with a provider.
Ideally, you should get 24/7 support through email, phone, and live chat for assistance with the tool.
Budgetary considerations are a must before hitting the buy button. You should be convinced that the price of an authoring tool is right for the offerings, and it's worth the investment based on your training budget.
Even if you need to pay a higher price than you expected, the tool should add value to your eLearning efforts in the long term.
Business Use Cases for eLearning Authoring Tools
Developing standard eLearning content is the first step towards a full-fledged and sustainable online training program. So, it is no wonder that businesses heavily rely on authoring tools to initiate the process.
Let's look at some use cases for these tools in the context of a business.
Employee Training
Authoring tools make it easy to develop quality online content collaboratively for workforce training. In fact, these tools find maximum usage in companies for developing engaging, interactive, and relevant online training resources. It can be for any one of the following training types:
Extended Enterprise Training
It is not just employees that companies train regularly. They also train customers, channel partners, resellers, distributors, franchisees, and even consultants. These stakeholders become aware of products and services through standard training and develop healthy relationships with an organization.
So, authoring tools play an equally significant role here in creating product demos, video walkthroughs, manuals, and guides. Since this audience is generally remote, companies can deliver engaging content for quick uptake with the help of authoring tools.
Volunteer Training
Volunteers working for a cause need constant motivation and engagement to continue to serve communities better. Finding time to learn from their busy schedules can be stressful as it adds to the workload. For this, many nonprofit organizations plan and deliver volunteer training that their members can take on the go.
Authoring tools help them create microlearning modules, such as short videos, flashcards, and infographics. This removes the need to sit for hours on end for an extensive training session but focus on one topic at a time. With the right tool, you can build content that volunteers can consume as and when they want.
Top 10 eLearning Authoring Software
Let's now get down to discussing the best authoring tools we've lined up for you.
1. ProProfs eLearning Authoring Tool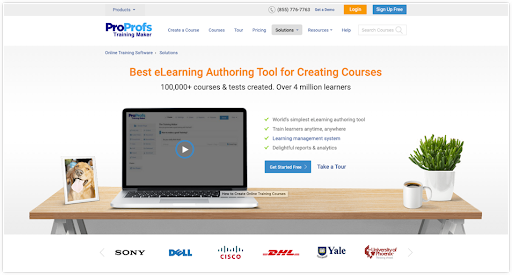 ProProfs is an award-winning eLearning software application and one of the best online learning tools in the cloud. You can easily author online content in minutes with the help of the tool. Create content from scratch or use the readymade courses and templates from its library. Make learning engaging by adding quizzes, surveys, images, videos, and presentations.
You can also use ProProfs as a learning management system for managing online learning & development. In that sense, it is an LMS authoring tool.
Its reporting & analytics feature enables you to measure learners' participation rate, engagement level, and progress. The best part is that the platform is simple and easy to use. It was designed for all skill levels and is suitable for a large number of use cases.
Features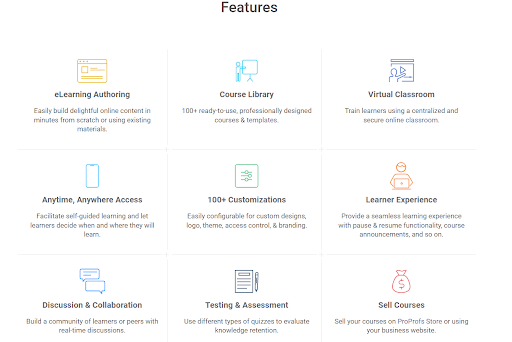 Pros & Cons
+ Easy to use
+ Fully customizable
+ Content library
– The tool is primarily designed for corporate needs, not educational
– It involves a learning curve when using connected tools
Pricing: Starts from $1/learner/month (billed annually)
2. dominKnow | ONE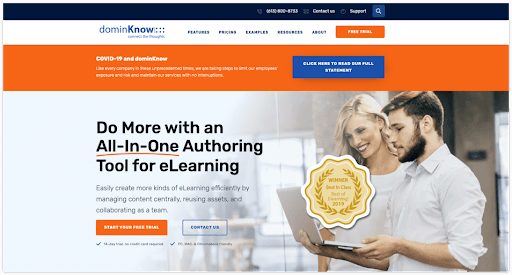 dominKnow | ONE integrates the functionality of several powerful elearning development tools into one. It lets you create, share, reuse, and collaborate on different kinds of content by centrally managing assets. There is no need to modify content to fit different devices.
According to industry experts, dominKnow | ONE has what it takes to deliver when it comes to eLearning authoring tools. It can help you achieve immediate results for learning & development teams. So, if you want to get more things done and faster, this tool is for you.
dominKnow | ONE is a strategic partner of ATD Atlanta and a member of xAPI Down Under.
Features
✓ Authoring Tool
Create almost any type of content easily and use it on any device. Adapt the tool to meet the needs of different author types.
✓ Publication
Easily publish and distribute any eLearning content imaginable, anywhere. Publish content in all versions of SCORM and AICC in just one click.
✓ LCMS
Optimize how you author eLearning content with its Learning Content Management System. Manage your assets in a central library.
✓ Collaboration & Review
Leverage built-in collaborative workflow and review tools, and complete eLearning projects faster.
Pros & Cons
+ Easy to work with once mastered
+ Gives freedom to eLearning creators
+ Good support
– Cumbersome review process
– There's definitely a learning curve
Pricing: Starts from $997/author/year
3. Gomo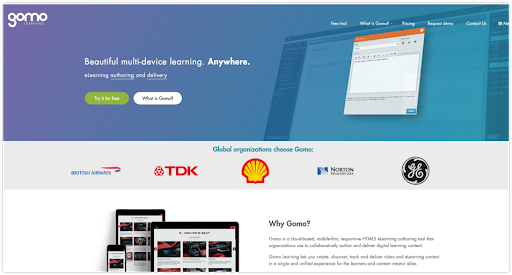 Gomo is course-building software for superfast creation and distribution of eLearning content. You can use its simple drag-and-drop interface to build media-rich and interactive courses. eLearning designers love the solution for its collaborative work environment, quick update, and distribution.
Deliver content to users, websites, or social media sites with a single click. View reports by date, topic, device type, and geography on the Gomo Analytics dashboard.
Gomo relies on HTML5 and other web technologies to create custom courses that work effortlessly on any device. It also has multi-language support and localization features to cater to a global network of learners. Gomo takes hard work out of eLearning authoring.
Features
✓ Direct Content Update
Save time by updating courses on your LMS from within Gomo. No uploading, zipping, and republishing is required.
✓ Responsive Design
This online learning software is supported by HTML5, which ensures that content displays correctly on every device.
✓ Cloud Storage
Easily access the platform from a web browser. Data related to all activities is stored securely in the cloud.
✓ Online Library
The library is well stocked with characters, background scenes, templates gallery, text-to-speech voices, and many more.
Pros & Cons
+ Quick start wizard
+ Global collaboration
+ Easy to figure things out
– Pricey for small teams
– No video recording functionality
Pricing: Starts from $2,070/author/year
4. Uptale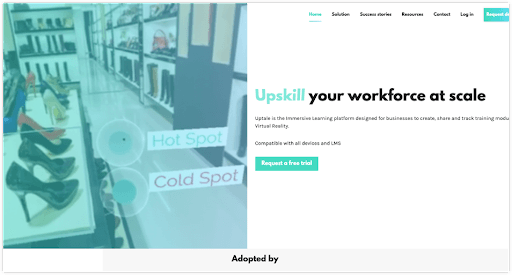 Uptale is an immersive eLearning solution for enterprises with customers in the automotive, healthcare, retail, and manufacturing industry. It lets you create, distribute, and track eLearning experiences at scale in 360° and virtual reality.
You can use this eLearning course builder to onboard newcomers and upskill the workforce. It comes with all the enterprise-grade security and privacy solutions.
The tool supports audio creation in 23+ languages, custom icons, 360° stereoscopic media manager, and gamified learning.
Features
✓ Authoring Tools
Redefine eLearning authoring with launch pages, icons, automated storyboarding editor, magic tags, and 50+ interactions.
✓ Distribution Solutions
Share live online learning experiences on any device or LMS. Use online web browsers or offline apps.
✓ Authentication System
Easily meet the highest standards of confidentiality, security, and authentication. Never leave anything to chance.
✓ Data Tracking
Get advanced learning data, such as learner behavior, scores, and time spent on an executive dashboard.
Pros & Cons
+ Language translation
+ Immersive learning
+ Support
– Slow to load
– Takes time to master
Pricing: Contact vendor.
5. Lectora Inspire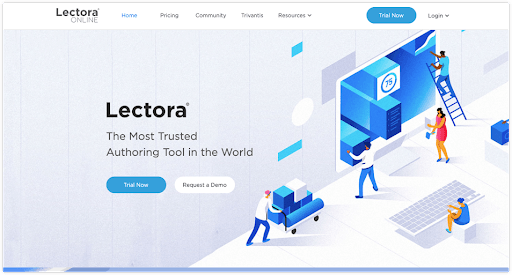 Lectora Inspire is one of the leading eLearning tools for quick and responsive desktop authoring. Using this tool, you can create a variety of learner-centric and realistic online learning modules.

It comes with a number of add-ins that further amplify the tool's functionality. A library of background themes, images, and videos ensures that you never have to develop a course from scratch.
Formative assessments, multiple languages, LMS interaction reports, and progress bars are other functionalities that Lectora Inspire supports.
Features
✓ Course Templates
Save course development time by directly using the unique templates, each catering to different learning styles.
✓ BranchTrack
Easily add the BranchTrack app to Lectora and create branching scenarios for your learners in minutes. This feature is useful in employee training involving decision points.
✓ Responsive Course Design
Convert your existing, non-responsive eLearning materials to Responsive Course Design (RCD). Also, make device-specific adjustments.
✓ Text to Speech
Convert text to a voice format. Choose a male or female voice. Use Speech Synthesis Markup Language (SSML) to add pronunciation and pauses.
Pros & Cons
+ Simple UI
+ Easy design and distribution
+ Interactive assessments
– Poor customer support
– Some features take time to learn
Pricing: Starts from$899/year
6. Easygenerator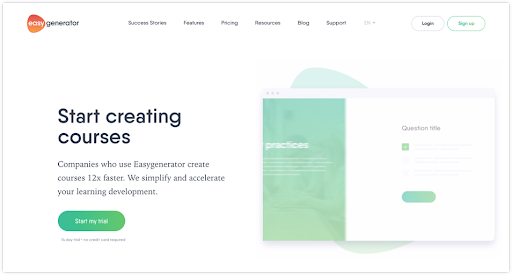 Easygenerator is one of the most user-friendly eLearning authoring software that caters to businesses of all sizes. It offers ready-to-start templates, drag-and-drop question types, and team collaboration.

You can streamline the review and approval process and get sanity checks from subject-matter experts. This online authoring tool is easy and efficient from a course builder and course participant's perspective.
Create, maintain, collaborate, and share eLearning content easily. Simplify and accelerate online learning development while getting access to data that matters to developers.
Features
✓ Easy Course Authoring
Kick start content creation with readymade templates, audio, video, and content blocks. Collaborate in real-time on building digital learning.
✓ Rich Question Types
Teach your learners the way they prefer by engaging them with the right question type. Ensure better knowledge retention.
✓ Powerful Integrations
Integrate your authoring tool with other powerful software applications and provide a better user experience.
✓ People Support
Customer support from real people (not chatbots) via phone, email, and in-app chat window.
Pros & Cons
+ It's an all-in-all solution
+ Easy to navigate
+ Support team is quick to respond
– Restricted to SCORM 1.2 files
– Integration in various LMSs can be overwhelming
Pricing: Starts from $99/author/month
7. Elucidat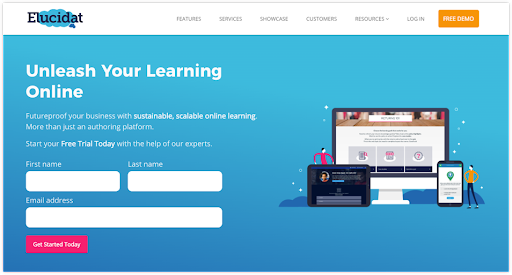 One of the top authoring tools for eLearning, Elucidat offers an easy way to build high-quality and mobile-friendly eLearning content that resonates with brands. It keeps the entire process so simple that teams can focus on more important tasks.
The tool is designed to help meet the needs of organizations with large audiences. So, producing high-quality digital content on a global scale is easier than you think. To top it all, the customer support system enjoys high satisfaction ratings.

Features
✓ Localized Content
Create localized versions of eLearning in multiple languages. Add, track, and update these versions effortlessly using the Variations Manager.
✓ Asset Management
Centrally manage all your assets – audios, images, videos, captions, and fonts with the media library. Keep the resources up-to-date and handy.
✓ Measurement of Learning Impact
Get detailed reports on learners, analyze issues with content, identify knowledge gaps, and find out learning trends.
✓ Expert Support
Gain access to expert toolkits and in-app live support to ensure your eLearning solution is of high quality and ultimately successful.
Pros & Cons
+ It's lightning fast
+ eLearning consultants
+ Responsive slider
– No screen recording
– No white labeling for basic plans
Pricing: Contact vendor for detailed prices.
8. iSpring Suite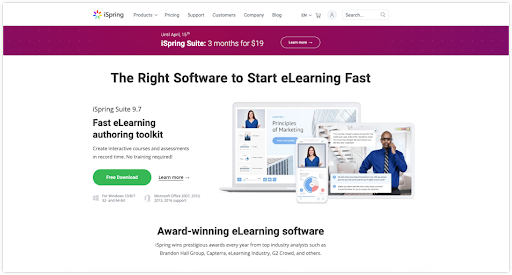 iSpring Suite is a PowerPoint-based online learning development tool made up of five authoring components. You can create slide-based courses, video lectures, and other interactive eLearning materials using the tool.
Once that is ready, you just need to publish and upload the content to LMS. This way, you spend less time on developing content to create effective courses and get better results.
With a professional video studio, quiz maker, interaction editor, and more, you get maximum functionality with the least effort. You can develop content for any training scenario and work on any eLearning projects as a team using a central online space.
Features
✓ Easy Authoring
iSpring Suite is user‑friendly and fast. Easily create a course, record narration, add quizzes, and publish online. No prior experience in eLearning is required.
✓ Video Lessons & Screencasts
Create stunning video lectures, tutorials, and screencasts. Add captions, graphs, and annotations.
✓ Role-Plays
Develop effective business communication skills through interactive role-play simulations. Train employees on interpersonal communication and sales skills. Pick a character from the library.
Create beautiful and interactive quizzes with the help of built-in QuizMaker. Leverage 14 question types, surveys, and drag-and-drop assessments.
Pros & Cons

+ Powerful toolkit
+ The design is intuitive
+ Exceptional customer service
– Works only in Windows
– Quiz reporting could be better
Pricing: Starts from $770/author/year
9. Knowbly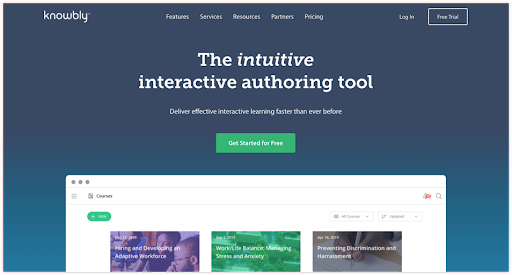 Knowbly believes that creating today's content with yesterday's software is like trying to download music from a Walkman. That's how the idea of Knowbly was born – to help generate format-agnostic, engaging, customizable, and future-proof eLearning objects.
The elearning software tool offers a complete cloud-based toolset to help users keep pace with an ever-evolving digital learning industry. Responsive design, interactive templates, and rapid authoring – this sums up Knowbly.
Create cross-platform, customizable, and reusable content easily. Deliver effective eLearning programs of any size in minutes with one of the best eLearning software.
Features
✓ Fast Authoring
Collaborate with your team in real-time and create interactive eLearning content that works seamlessly across all devices and platforms.
✓ Customizable Templates
Access more than 20 customizable and mobile-friendly templates, including flashcards, games, videos, and fill-in-the-blank.
✓ Content Analytics
Find out the efficacy of your course, identify improvement areas, and continuously improve content.
✓ Team Management
Manage the roles of each team member, transfer asset ownership, and provide external reviewers. Streamline workflow with shared content and workspaces.
Pros & Cons
+ It is easy and fast
+ Content can be distributed to any destination
+ PowerPoint conversion
– No storyboarding
– No learner portal
Pricing: Available on request.
10. Articulate 360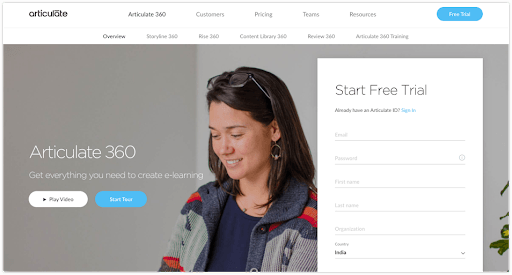 Articulate 360 brings a collection of tools to make eLearning authoring smooth sailing. It enables users to source content assets, author courses for multiple devices, collaborate with different stakeholders, and ensure successful eLearning.
The tool lets you discover all the necessary tools in one place to get up to speed and become productive. Share and gather feedback easily and simplify project reviews.
This complete cloud-based toolset can help you bridge the knowledge gap produced by fast-evolving digital learning trends. It also offers flexible templates, reusable eLearning objects, and actionable insights.
Features
✓ Authoring Apps
Articulate 360 comprises a number of award-winning tools, including Storyline 360 and Rise 360. Easy for beginners and efficient for experts.
✓ 5+ Million Course Assets
eLearning authoring is made super-easy. Templates, images, videos, icons, characters – you name it, and it's all there. A complete solution for an entire project.
✓ Folder System
Easily create folders on your Articulate Review dashboard and organize your projects so that you can find what you need quickly.
✓ Group Admins
Organize Articulate 360 users by groups, departments, or locations. Assign admins to each group and manage them with ease.
Pros & Cons
+ Content library
+ Ease of language translation
+ User-friendliness

– No offline access
– Learning curve in Storyline

Pricing: Starts from $499/user/year
Choose the Best eLearning Authoring Tool
Hope this eLearning tools list makes your search for the best solutions easier.
eLearning software tools power the development and distribution of eLearning experiences. With it, you can kick-start the process.
Make sure you choose a user-friendly and customizable tool with an asset library and awesome customer service. This way, you can fulfill your eLearning authoring needs.
Do you want a free Training Software?
We have the #1 Online Training Software for employee training & assessment