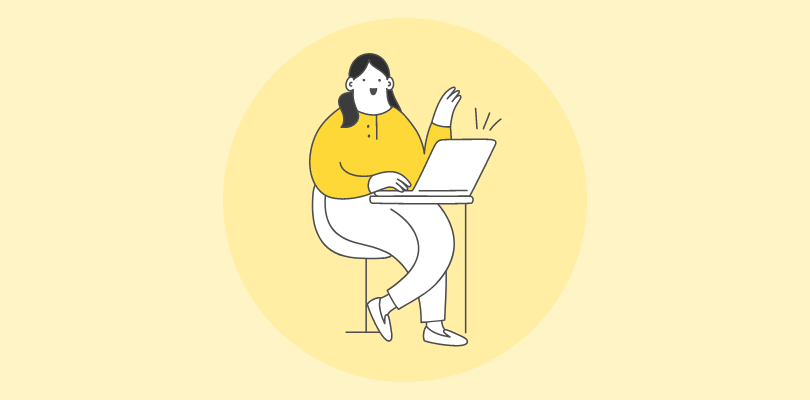 Adopting eLearning authoring tools and software are inevitable for businesses. The ability to rapidly build and deliver online courseware is significant, particularly when the time is limited and you're loaded with administrative responsibilities.
Every educational or corporate training program revolves around the content you use for the purpose. True, the type of learning materials, tools, and delivery methods you choose does play a significant role in achieving the desired results. But creating courses, lessons, and assessments is the starting point.
The growing demand for paid and free content authoring tools from training managers and educators has led to a surge in the global eLearning market.
You can easily overcome the challenges of quick course development by adopting an intuitive eLearning authoring tool.
If the lack of such a solution is hampering your online training or eLearning programs, don't worry. We're here to help you out.
This post presents the top picks of the best authoring tools for eLearning on the market you can consider.
Let's dig in.
Watch: What is eLearning and How Can It Help You?
What Is an eLearning Authoring Tool?
An eLearning authoring tool is a software application that individuals or organizations can use to create and design online learning content, such as courses, lessons, and modules. These tools are designed to simplify the process of creating engaging and interactive eLearning materials for seamless digital learning experiences.
You can use authoring software as a standalone solution or integrate it into a learning management system (LMS).
They provide a range of features to help users create content rapidly, including a drag-and-drop interface, templates, and multimedia support.
The primary goal of an eLearning authoring tool is to empower subject-matter experts, educators, instructional designers, and content developers to create engaging and impactful eLearning content without requiring extensive technical knowledge.
These tools often employ a "what you see is what you get" (WYSIWYG) approach, allowing users to see the content as it will appear to learners while they are designing and editing it.
Unlike off-the-shelf content, where you have no control over what's included inside, the content you create with eLearning authoring software allows full customization. You can develop custom training courses and assessments, add engaging quizzes, gamification, and even branding.
Authoring tools play a vital role in the development of online training materials and educational resources by providing a user-friendly interface, powerful features, and streamlined workflows for content creation, interactivity, and distribution.
Watch: What is an eLearning Course Authoring Tool?
Best eLearning Authoring Tools: A Quick Comparison Table
15 Best eLearning Authoring Tools
Why Is It Best?
Pricing
ProProfs eLearning Authoring Tool
Incredibly Easy to Use
Course Library
100+ Customizations
Cloud-Based LMS
Anytime, Anywhere

Virtual Classroom Software
Quizzes & Surveys
AI-Powered Reporting

Forever free for up to 10 learners.
Paid plan starts at $1.97/active learner/month for large teams. Billed annually.
dominKnow | ONE
Responsive eLearning
Translation & Localization
Publication & Distribution
Learning Content Management System
WAI-ARIA, WCAG AA Level 2.0
Collaboration & Review
Get in touch with the company for a quote.
Gomo
Easy Content Creation
Customization
Collaboration
Audio Import
Video Editor
Animations
Get in touch with the company for a quote.
Uptale
Enterprise-Ready System
Automated Translation
Storyboard
Gamified Hotspots
Cognitive Services
Multi-Device Access
Get in touch with the company for a quote.
Lectora
Collaborative Authoring
Course Templates
Text-to-Speech Converter
Easy Course Distribution
Style Painter
Library of Stock Buttons
Starts at $117/author/month
Easygenerator
Compliance With eLearning Standards
Drag-and-Drop Content Creation
Real-Time Collaboration
Review Options
Single Sign-On
In-App Support
Starts at $108/month
Elucidat
Co-Authoring
Role-Based Feature
Image & Video Manager
Localization
Live Device Preview
Learning Launchpad
Get in touch with the company for a quote.
iSpring Suite
eLearning Authoring
PowerPoint Courses
Online Employee Training
Mobile Learning
Video Lectures
Creating Online Quizzes
Starts at $470/year
Thinkific
Easy Content Creation
Website Building
Pre-Built Templates
Live Lessons & Webinars
Test and Track
Self-Paced Learning
Starts from $0/month (limited to one course)
Articulate 360
12+ Million Stock Assets
Authoring Apps
Project Reviews
Live & On-Demand Training
Folders
Group Admins
Starts from $1,399/user/year
Adobe Captivate
Quick Course Creation

Asset Store

Ready-to-Go Slides

Interactive Videos
Multiscreen Responsive Authoring

Typekit integration

Starts at $33.99/month
TalentLMS
Drag-and-Drop Course Builder

Live Sessions

Quizzes & Tests

SCORM, cmi5 & xAPI

Multilingual Support

Conformity With WCAG-2

Starts at $69/month. Billed yearly.
Docebo
Great for Creating Microlearning Content

40+ Languages

SCORM, Tin Can & AICC

Content Marketplace

WCAG 2.1 AA Compliant

Partnership With Content Curation
Specialists

Get in touch with the company for a quote.
360Learning
Award-Winning Authoring Tool

Off-the-Shelf Content

Course Templates

File Imports

SCORM Player

Language Manager

Starts from $8/registered user/month
Adapt
Intuitive

HTML5 Content

Responsive eLearning

Multi-Device Support

Course Import

Award-Winning Developer Framework

Free & open source (limited interactive elements)
That was a brief overview of the top-rated eLearning authoring tools that can make a real difference in your content creation initiatives. Let's now take a closeup of these solutions to understand them better.
15 Best eLearning Authoring Tools & Software
1. ProProfs eLearning Authoring Tool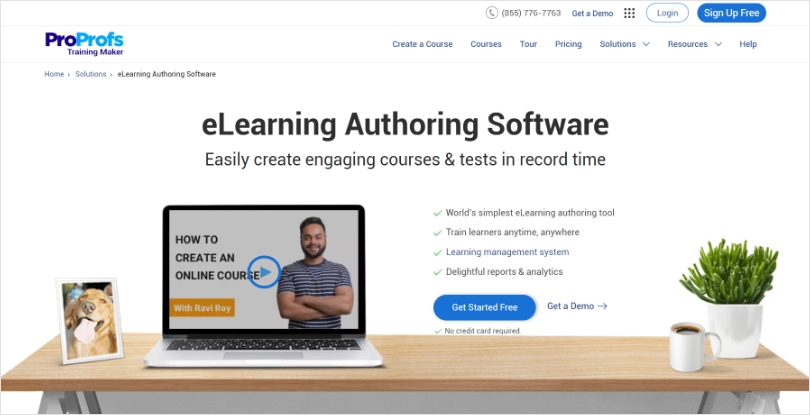 ProProfs is an award-winning and the easiest authoring tool that enables users to create online courses and tests in minutes and roll them out worldwide.
Create content from scratch or use your existing docs, presentations, videos, audio, labeled graphics, and recorded webinars.
You can also use the readymade courses and templates from its library. Make learning engaging by adding learning paths, quizzes, brain games, surveys, flash cards, and relatable scenarios.
Watch: Example Scenario: How to Spot & Report Workplace Harassment
With this instructional design authoring tool, you can add interactive questions to a video course. The video will pause once the question pops up and resume after the learner responds.
Once you create a course, you can share it with your learners via email, as a direct link through chat, on social media, or embed it on your website.
Its reporting & analytics feature lets you measure learners' participation rate, engagement level, and progress.
The best part is that the platform is designed for all skill levels and use cases.
You can also use ProProfs as a learning management system for managing online learning & development. In that sense, it is an LMS authoring tool.
Why We Picked It?
Ease of setup and use
Customization & branding
100+ ready courses and templates
Gels well with other third-party platforms
Best For
Authoring all types of content
One of the best authoring tools for teachers and training managers
Supports unlimited courses, learners, and instructors
Safety & compliance training
HR training
Pricing
Forever free plan (up to 10 learners). Paid plan starts at $1.97/learner/month (billed annually) for large teams. No hidden charges. 15-day money-back guarantee.
2. dominKnow | ONE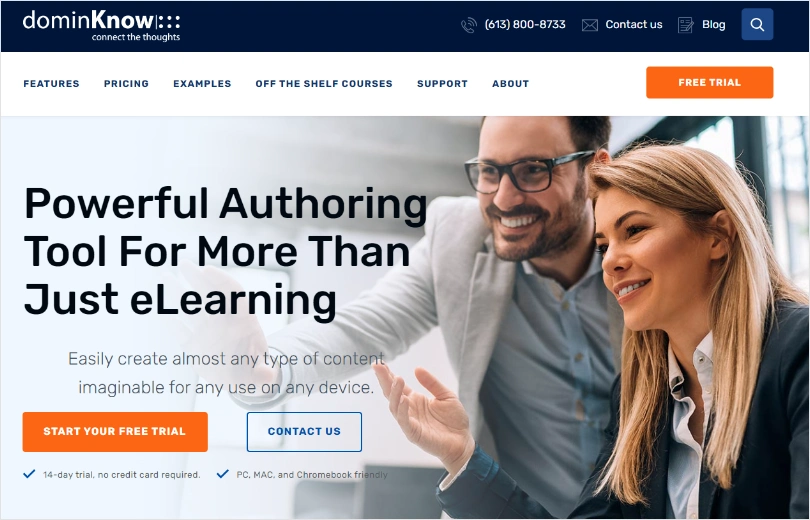 dominKnow|ONE is a powerful cloud-based authoring system that integrates the functionality of several powerful eLearning development tools into one. It lets you create, share, reuse, and collaborate on content by centrally managing assets. There is no need to modify content to fit different devices.
According to industry experts, dominKnow | ONE has what it takes to deliver when it comes to eLearning authoring tools. It offers a comprehensive suite of authoring and content management tools, making it suitable for both instructional designers and subject-matter experts.
It can help you achieve immediate results for learning & development teams. So, if you want to get more things done faster, this tool is for you.
The company is a strategic partner of ATD Atlanta and a member of xAPI Down Under.
Why We Picked It?
Easy to use
Responsive courses
Adding an image or other files quickly from the media library
Helpful support
Best For
Fast-growing teams
Large eLearning departments
Content reuse
Microlearning
Interactive courses
Pricing
Get in touch with the company for a quote.
3. Gomo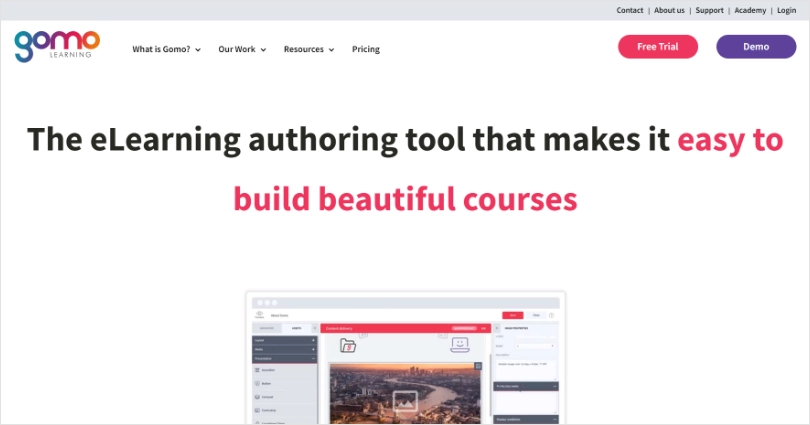 Gomo is a course-building software solution for the superfast creation and distribution of eLearning content. You can use its simple drag-and-drop interface to build media-rich and interactive courses.
eLearning designers love the solution for its collaborative work environment, quick update, and distribution.
Deliver content to users, websites, or social media sites with a single click. View reports by date, topic, device type, and geography on the Gomo Analytics dashboard.
Gomo relies on HTML5 and other web technologies to create custom courses that work effortlessly on any device.
It also supports multiple languages and localization to cater to a global network of learners.
Gomo takes hard work out of eLearning authoring.
Why We Picked It?
Simple to use
Promotes collaborative authoring
Supports multi-device eLearning
Quick content update and distribution
Best For
Global enterprises and L&D teams
Instant training delivery and update
All levels of users
Complex learning journeys
Pricing
Get in touch with the company for a quote.
4. Uptale

Uptale is an immersive eLearning software for enterprises with customers in the automotive, healthcare, retail, and manufacturing industry. It lets you create, distribute, and track eLearning experiences at scale in 360° and virtual reality.
You can use this eLearning tool to onboard newcomers and upskill the workforce. It comes with enterprise-grade security and privacy solutions.
One of the key features of Uptale authoring tool is its ability to incorporate real-world locations into virtual experiences through geolocation-based AR. This opens up possibilities for creating location-based games, educational tours, and interactive training simulations that seamlessly merge virtual and physical spaces.
It provides version control and project management features, ensuring smooth workflows and efficient content creation.
The tool supports audio creation in 35+ languages, custom icons, 360° stereoscopic media manager, and gamified learning.
Why We Picked It?
Collaborative authoring with version history
Advanced graphic customization
Complete immersive learning solution
Cutting-edge technology with expert support​
Best For
Training in retail, manufacturing, sports, safety and more
VR-based training programs
Translation and localization management
Training frontline employees
Addresses all use cases
Pricing
Get in touch with the company for a quote.
5. Lectora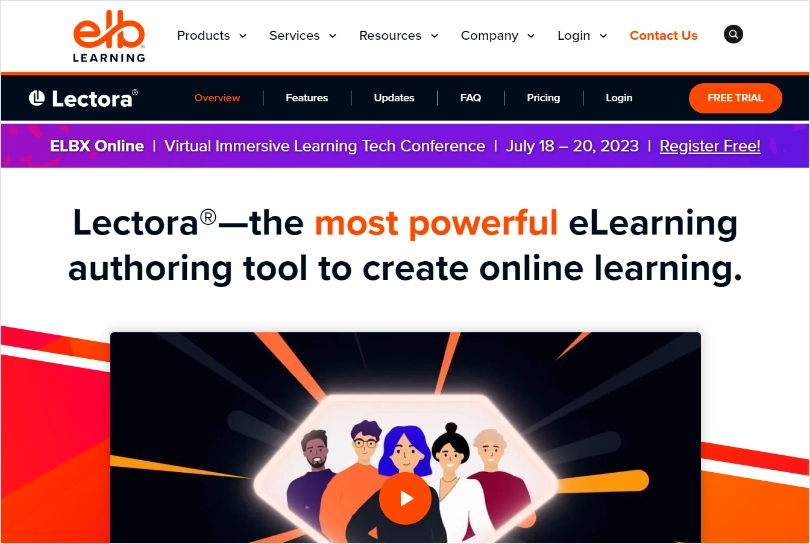 Lectora is one of the leading eLearning development tools for quick and responsive desktop authoring. Using this tool, you can create a variety of learner-centric and realistic online learning modules. It supports SCORM and Tin Can API for seamless integration with learning management systems.
The responsive design ensures that courses can be accessed on different devices. The tool comes with a number of add-ons that further amplify the tool's functionality.
A library of background themes, images, and videos ensures that you never have to develop a course from scratch.
Formative assessments, multiple languages, LMS interaction reports, and progress bars are other functionalities that this eLearning authoring software supports.
Its powerful features make it a popular choice for instructional designers and trainers in the corporate, education, and government sectors.
Why We Picked It?
Flexible and easy to use
Used by top global companies
20+ years' experience in eLearning​
Supports adaptive learning
Best For
Business, academic, and military departments
Gaining complete control during rapid authoring
Leveraging an asset library with icons, images, templates, and cutout characters
Meeting the needs of all types of learners
Pricing
Starts at $117/author/month
6. Easygenerator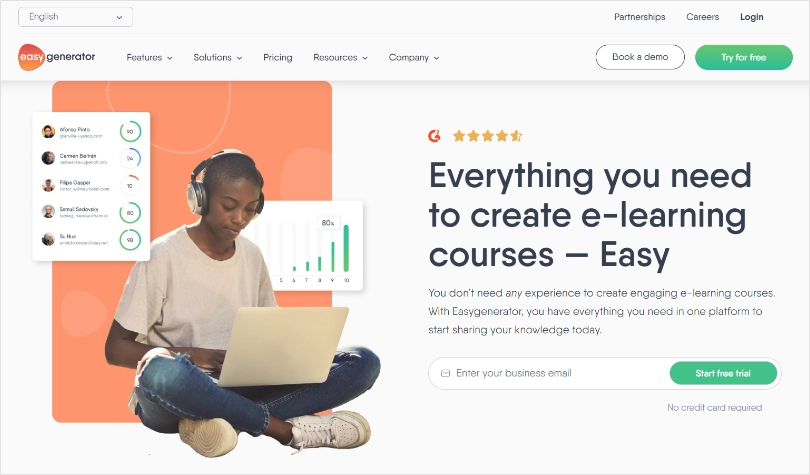 Easygenerator is one of the most user-friendly eLearning authoring tools that cater to businesses of all sizes. It offers ready-to-start templates, drag-and-drop question types, and team collaboration.
You can streamline the review and approval process and get sanity checks from subject-matter experts. This online authoring tool is easy and efficient from a course builder and course participants' perspective.
Create, manage, collaborate, and share eLearning content easily. Simplify and accelerate online learning development while getting access to data that matters to developers.
As a faster and more agile way of developing eLearning programs, the solution enables users to create, localize, and share online courses in one easy-to-use platform. You can also automatically translate courses to and from 75 languages with the click of a button.
In terms of security, Easygenerator is GDPR compliant and it uses AWS services and OWASP secure development standards.
Why We Picked It?
User-friendly interface
It can help fulfill all training requests
Easy PowerPoint to course conversion
Supports employee-generated learning
Excellent support team
Best For
Onboarding, employee training & customer training
Producing as much content as you want
Authoring content without any expertise
Cost-saving on high-stake training
Pricing
Starts at $108/month
7. Elucidat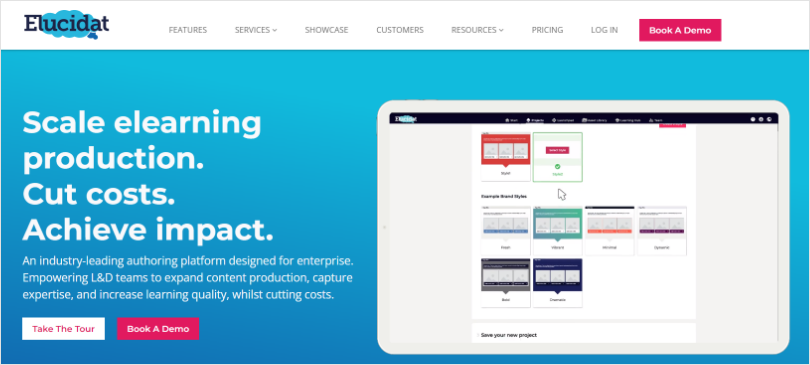 Another robust eLearning authoring tool in our list, Elucidat offers an easy way to build high-quality and mobile-friendly content that resonates with brands. It keeps the entire process so simple that teams can focus on more important tasks.
Its intuitive interface provides a range of customizable templates, multimedia assets, and interactive components to help users create visually-appealing courses.
With Elucidat, users can incorporate gamification, quizzes, and surveys to increase learner engagement and measure progress.
Localized content, asset management, and learning impact measurement are other significant offerings from this solution.
This eLearning software is designed to help meet the needs of organizations with large audiences. So, producing high-quality digital content on a global scale is easier than you think.
To top it all, the customer support system enjoys high satisfaction ratings.
Why We Picked It?
Easy-to-use workflows
Seamless content integration into LMS
Personalized content clips, branching, and social polls
Tailored user permissions and access controls
Best For
Dispersed teams
Delivering localized content
Those looking to expand content production
Experience authors looking for advanced authoring features
Pricing
Get in touch with the company for a quote.
8. iSpring Suite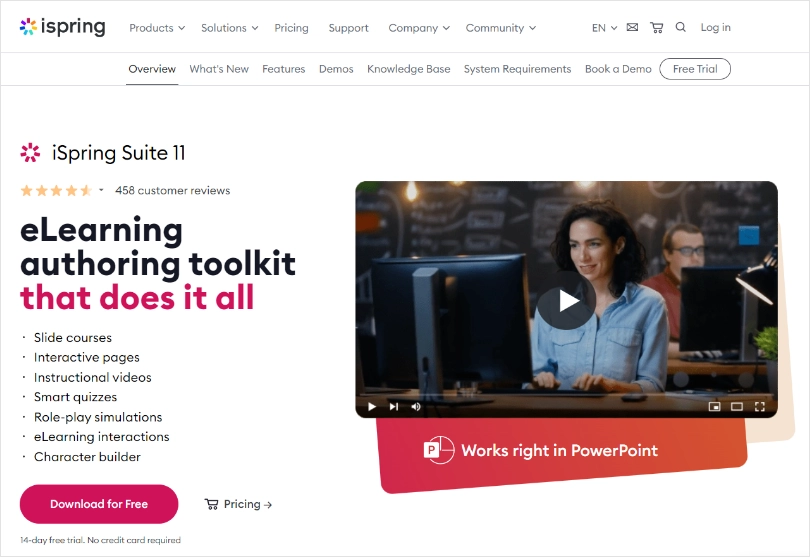 iSpring Suite is a PowerPoint-based online course authoring tool. Using this tool, you can create slide-based courses, video lectures, and other interactive eLearning materials.
It provides a familiar PowerPoint environment to make course creation easy and fast. "If you know PowerPoint, you know iSpring." It is this straightforward.
Once that is ready, you just need to upload the content to an LMS and publish it. This way, you spend less time developing content to create effective courses and get better results.
With a professional video studio, quiz maker, interaction editor, and more, you get maximum functionality with the least effort.
A central online space lets you develop content for any training scenario and work on any eLearning projects as a team.
A character builder, illustrated characters, and backgrounds or backdrops for training scenarios are some of the new additions to the tool's assets.
Why We Picked It?
Simple and easy to use
Recognized by top industry experts
2,300+ slide templates
Provides a range of interactive features
Best For
All regular training programs
Creating interactive & engaging online learning sessions
Rapid PowerPoint-based content development
Creating simple presentations as well as comprehensive online courses
Pricing
Starts at $470/year
9. Thinkific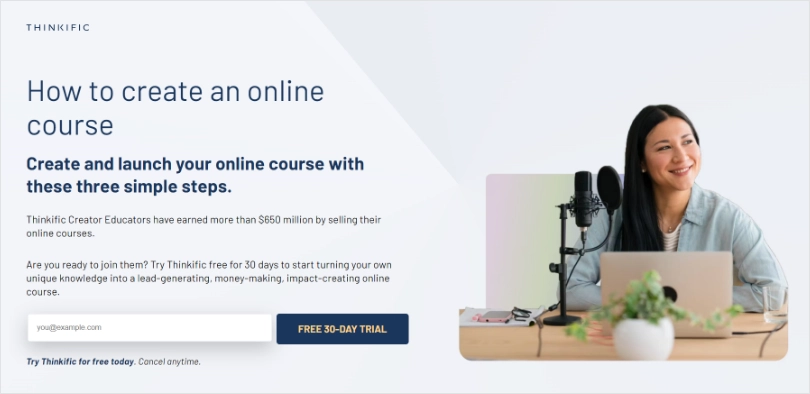 Thinkific enables users to create and sell engaging courses with its powerful eLearning authoring features. Its intuitive interface allows users to easily create and publish multimedia-rich course content, including videos, quizzes, and assignments.
Thinkific provides various tools to help course creators design and customize their courses, including a drag-and-drop course builder, customizable themes, and course templates.
In addition, it allows you to build and design a website to sell your courses and provides a full suite of tools for marketing purposes.
The detailed analytics and reporting features help users track the performance of their courses and make data-driven decisions.
The platform plays well with other third-party tools, such as Zapier, Mailchimp, and Shopify, to provide users with additional flexibility and customization options.
As a versatile and user-friendly solution, Thinkific provides all the necessary tools to educators, coaches, consultants, and entrepreneurs to turn their knowledge into profitable online courses.
Why We Picked It?
Intuitive user interface
Multimedia lessons
Collaborative learning
Powerful integrations
Best For
Those looking for exceptional experiences
Course marketing and sales
Users who need a solution that grows with them
Staying in control of content, brand, customers, & revenue
Pricing
Starts from $0/month (limited to one course)
10. Articulate 360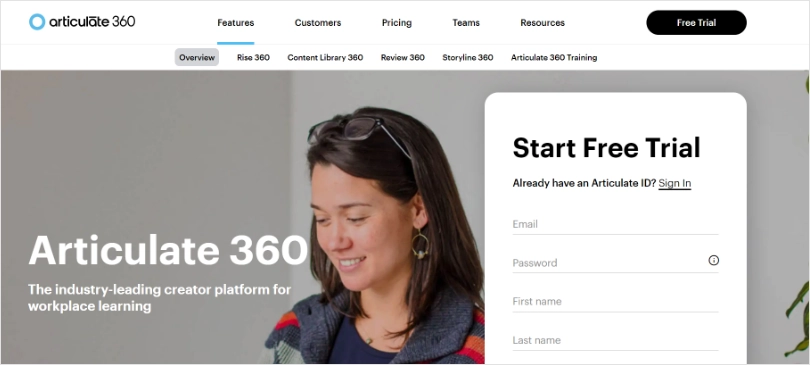 Articulate 360 brings a collection of tools to make eLearning authoring smooth sailing. They include award-winning creator tools, millions of stock assets, live & on-demand training, and a project review app.
With these tools and more in one place, you can save valuable time in project development. Share and gather feedback easily and simplify project reviews.
It enables users to source content assets, author courses for multiple devices, collaborate with different stakeholders, and ensure successful online learning.
As one of the best eLearning software out there, Articulate 360 lets you discover all the necessary tools in one place to get up to speed and become productive quickly. It offers microlearning and photographic characters.
This complete cloud-based toolset can help you bridge the knowledge gap produced by fast-evolving digital learning trends. It also offers flexible templates, reusable eLearning objects, and actionable insights.
Why We Picked It?
Prebuilt and customizable course themes
Collaborator roles
360-degree feedback
Rich text editor
Best For
Creating engaging courses
Reducing the cost of professional training
Responsive and mobile-friendly design
Collaborative workflow
Those looking for a comprehensive set of tools
Pricing
Starts from $1,399/user/year
11. Adobe Captivate

Adobe Captivate is a powerful authoring tool that empowers users to develop interactive and engaging online content, including software demos, simulations, branched scenarios, and randomized quizzes, all in the HTML5 format.
You can create beautiful and mobile-ready courses in minutes with the help of Quick Start Projects, out-of-the-box interactions, and ready-to-go slides.
Automated branching and easy copying of appearances and styles accelerate course authoring. You can convert your existing PowerPoint content into interactive videos. VR walkthroughs and quizzing are other things you can do with this solution.
Edit Scalable Vector Graphics (SVGs) and convert them to buttons. Play overlay videos by clicking a VR hotspot. What's more, you can add multiple overlay slides at any point in your videos.
Businesses count on Adobe Captivate to build and sustain their digital learning experiences, and the tool's game-changing innovations are living up to these expectations.
Why We Picked It?
Easy to use
Comprehensive and feature-rich
Based on recognized eLearning standards
The solution continues to evolve
Best For
Mid-sized businesses to large enterprises
Versatile content creation
Educational & training programs that require flexibility & adaptability
Creating fully-responsive content without any programming
Pricing
Starts at $33.99/month
12. TalentLMS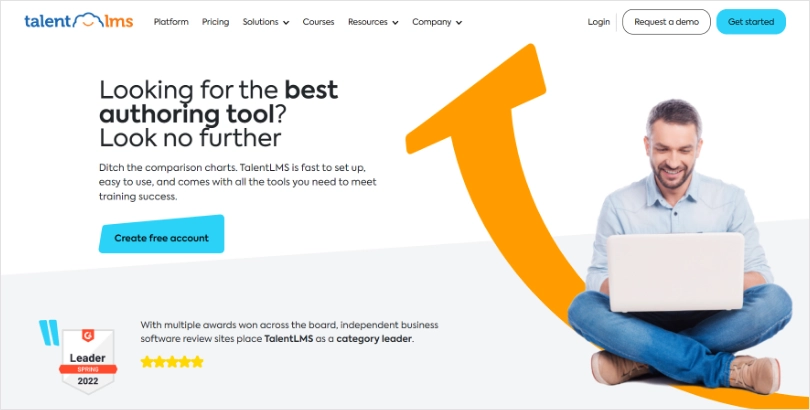 TalentLMS is a cloud learning platform with a drag-and-drop course builder. You can add all types of media, such as videos, presentations, and docs, to your courses. Build courses either from scratch or reuse content you already have.
The platform is "ready to go, right out of the box" since it has minimized the time interval between sign-up and launch. A clean interface removes any possibility of struggle among users.
As one of the best eLearning tools, it lets you fine-tune your courses by using real-time learning data. You can review progress, seek feedback from learners, and gain valuable insight into what works and what doesn't.
Its growing collection of ready-to-use training courses can particularly help those without content or who don't have the bandwidth to create from the ground up.
TalentLMS supports SCORM, cmi5, and xAPI files, and it is available in 30+ languages, including Spanish, French, and German.
Watch: What Is SCORM & How Does It Work?
Why We Picked It?
High usability quotient
Ease of course design
Supports several content types
Everything you need in one place
Outstanding customer service
Best For
The platform works for almost anyone since it is easy to set up and deploy
Those looking for a one-stop authoring solution
Data-driven custom course creation
Users who want to create eLearning in various formats
Pricing
Starts at $69/month. Billed yearly.
13. Docebo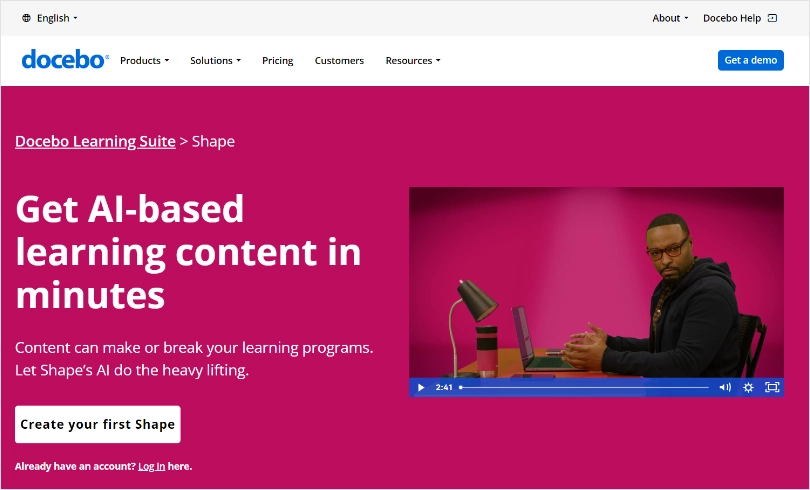 Docebo is a powerful authoring tool designed to simplify the process of creating engaging and interactive eLearning content. With Docebo, authors can effortlessly develop high-quality online courses without the need for extensive programming knowledge.
This intuitive tool provides a user-friendly interface that allows authors to design visually-appealing content using drag-and-drop functionality. Authors can easily incorporate multimedia elements, such as videos, images, and audio to enhance the learning experience.
Customizable templates and themes enable users to create consistent and branded course materials. The tool also supports integration with quizzes, assessments, and interactive activities, fostering learner engagement and knowledge retention.
Collaboration allows multiple authors to work simultaneously on course development. They can share and review content, providing feedback and ensuring seamless collaboration throughout the authoring process.
Additionally, the platform provides insights into learner progress and course effectiveness. You can monitor performance, identify knowledge gaps, and make data-driven improvements to optimize learning experiences.
Why We Picked It?
Clean & intuitive UI
Straightforward training administration
Integration with other tools is quick
Support is superlative
Best For
All types of formal training
Those seeking a user-friendly authoring tool to create engaging content
Deployment across an organization globally
Customer training
Pricing
Get in touch with the company for a quote.
14. 360Learning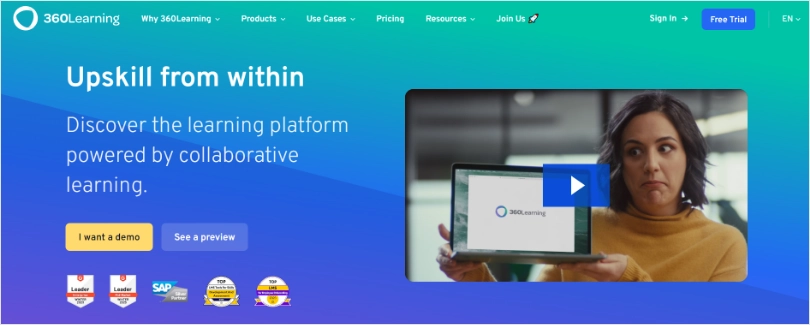 With 360Learning, it becomes easy to develop 100% relevant training fast and cost-effectively. This award-winning authoring tool comes with many rich editing functionalities and anyone can use them without requiring any technical know-how.
There are course templates, a feature for embedding web-based files, and cheat sheets to create and format any file type.
Upload SCORM courses in the language your target audience understands.
360Learning emphasizes collaboration and social learning. Learners can interact, share knowledge, and engage in group discussions. The software facilitates peer-to-peer learning and fosters a sense of community among learners.
Similarly, the platform promotes adaptive learning to personalize the learning experience for each individual or group. For this, it relies on data and analytics to identify learners' strengths and weaknesses, and offer custom content and targeted interventions.
Why We Picked It?
Collaborative learning culture
On average, 360Learning courses have a 91% completion rate
It covers every use case
Prompt responses from the support team
Best For
Compliance, sales, frontline staff and other training
Large teams that need ongoing collaboration
eLearning & training content development
ILT, on-the-job training, and distance learning
Pricing
Starts from $8/registered user/month
15. Adapt

Adapt is a free and user-friendly eLearning authoring tool that can help you create fully responsive, HTML5, and multi-device content. The platform is powered by an award-winning developer framework.
Using the framework, you can quickly build content. Create an account, log in, start creating courses, add interactive elements, preview, and finally publish your content.
With the release of v0.10.0 by this free eLearning software, you can now import a course built in an older version of the Adapt framework into your authoring tool.
Adapt is a community-led eLearning project. Everyone is welcome to ask questions and make suggestions.
The company strongly believes that learners should be at the heart of all activities. It works closely with industry experts and clients to ensure that its projects don't just look great but lead to great learner outcomes.
Why We Picked It?
Flexibility in custom course design
Responsive content
Compatible with any SCORM LMS
Built-in plugins
Best For
It is ideal for those who want to create responsive courses
Anyone demanding unlimited possibilities in course design
Cross-platform content
Working in a community-based environment
Pricing
Free & open source (limited interactive elements)
How to Choose the Best eLearning Authoring Tool
Choosing the best eLearning software for your needs requires careful consideration of several factors. Here's a step-by-step guide to help you make an informed decision:
👉 Identify your requirements: Determine your specific eLearning needs and goals. Consider factors such as the type of content you want to deliver, the target audience, the desired learning outcomes, and any specific features or functionalities you require.
👉 Assess usability: Look for eLearning software that is easy to use. It should make creating, managing, and uploading courses, and tracking learner progress intuitive. A user-friendly interface is easily navigable and it will save time and minimize the learning curve for both administrators and learners.
👉 Evaluate content creation and management capabilities: Consider the software's content creation features. Does it support various multimedia formats (text, images, videos, audio)? Can you easily organize and manage your content within the software? Look for features like content authoring tools, customizable templates, and a content library.
👉 Check compatibility and integration: Ensure that the eLearning software is compatible with the devices and operating systems used by your learners. Additionally, consider integration capabilities with other tools and platforms you currently use, such as LMS, CRM, and video conferencing platforms.
👉 Review assessment and tracking features: Assess the software's ability to create assessments and track learner progress. Look for features like quizzes, assignments, progress tracking, and reporting. The software should provide comprehensive analytics and reporting tools to monitor learner performance over time.
👉 Consider engagement and interactivity: Look for features that enhance learner engagement and interactivity. This may include gamification, interactive multimedia, discussion forums, social learning features, and collaborative tools. Engaging content can improve knowledge retention and learner satisfaction.
👉 Evaluate scalability and flexibility: Consider the scalability of the software to accommodate your current and future needs. If you anticipate growing your eLearning program, ensure the software can handle increasing user numbers and content volume. Additionally, check if the software offers flexibility in terms of customization and adapting to your specific branding or instructional design requirements.
👉 Assess the quality of technical support: The level of technical support provided by the software vendor is another key factor to consider. Look for options like documentation, user forums, online tutorials, and direct support channels. Adequate support is crucial in troubleshooting issues and maximizing the software's potential.
👉 Review pricing and licensing: Evaluate the pricing structure and licensing options offered by the software vendor. Consider whether it aligns with your budget and the value provided by the software. Some vendors offer a subscription-based model, while others charge based on the number of users or courses.
👉 Seek user reviews and recommendations: Read neutral third-party reviews and testimonials by users who have experience with the eLearning software you're considering. Their feedback can provide valuable insights into the software's strengths and weaknesses, its user experience, and overall satisfaction levels.
By following these steps, you can make a well-informed decision when choosing the best eLearning software for your business or educational needs. Remember to prioritize your specific requirements and consider the long-term feasibility of the solution.
Watch: How to Choose the Best SaaS LMS Software
Try eLearning Software for Creating Better Content
Hope this eLearning tools list makes your search for the best solutions easier.
eLearning authoring software tools power the rapid development and distribution of online learning experiences. You can also leverage interactive and collaborative elements in these solutions to enhance and streamline how you build your content.
But the results you achieve are as good as the tool you deploy. So, make sure you choose a user-friendly and customizable solution with an asset library and awesome customer service.
This way, you can fulfill your eLearning authoring needs easily and be on top of your creative journey.
Frequently Asked Questions
What is a SCORM authoring tool?
It is an authoring tool that enables you to create eLearning content that is compatible with SCORM standards. Courses built with these tools can be easily shared and reused across any SCORM-compliant platform. For example, ProProfs LMS is a SCORM LMS that allows users to centrally access all content that meets the technical specifications, record learner interactions through a learning record store (LRS), and do a host of other things. Find out the Benefits of SCORM in eLearning.
Why do I need an eLearning authoring tool?
eLearning authoring tools empower course creators to develop high-quality content. This content is generally interactive and engaging, and it can meet the diverse needs of learners. These tools make content creation more efficient, promote learner engagement, and enable seamless collaboration, resulting in a more impactful and successful eLearning experience. Also, most authoring tools support industry standards like HTML5, SCORM, and xAPI, ensuring greater compatibility and accessibility.
What features should I look for in the best eLearning authoring tools?
The features may vary slightly from tool to tool. That said, some commonly found features are:
content builder
multimedia integration
templates
themes
interactive elements
accessibility features
assessments and feedback
SCORM and xAPI support
responsive design
collaboration and review
reporting & analytics
These features contribute to the overall functionality and effectiveness of eLearning authoring tools, enabling course creators to develop engaging, interactive, and impactful online courses. Explore the full feature list.
What are the different types of eLearning authoring tools?
Based on the purpose, authoring tools may fall into one of these categories: word processing software, presentation software, web authoring tools, eLearning authoring tools, multimedia authoring tools, desktop publishing tools, content management systems (CMS), and collaboration & documentation tools. These are just a few authoring tool examples and there are many more available depending on the specific needs and requirements of content creators. For more on this, read this post.
Do you want a free Training Software?
We have the #1 Online Training Software for employee training & assessment