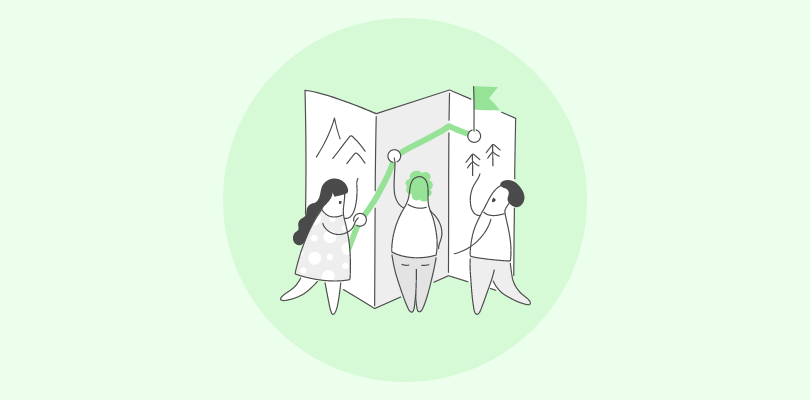 In a world brimming with endless information and distractions, it's crucial to have a roadmap that guides your learners toward your goals. Embrace learning paths, your secret weapon for unlocking the true potential of your workforce!
Whether you want your employees to become coding wizards, marketing maestros, or language experts, learning paths are here to pave the way.
Think of learning paths as a personal GPS, helping you navigate through the vast landscape of learning opportunities. They provide the clarity and direction you need to maximize your time and resources.
With the tremendous growth in remote workers, organizations must ensure that their training programs are flexible and easily accessible.
Companies can create better employee learning opportunities by creating learning paths in a training program and delivering them through a learning management system (LMS).
Most organizations have realized the importance of leveraging learning paths to achieve learning objectives.
For instance, Global Linking Solutions (GLS), a North Carolina-based network solutions provider,
had employees in six different states. The company operates 24/7. However, they faced challenges in employee connectivity, primarily due to a lack of cohesive training and ineffective communication.
These issues were highlighted in surveys conducted internally and externally. The turnover rate was approximately 30%, and the most common complaint in both evaluations was the absence of a well-structured training department.
The company initially struggled to find a suitable LMS but eventually found ProProfs, which offered great flexibility. The pre-built management courses were impressive and easily customizable. Including pre-employment quizzes was valuable for assessing customer service and critical thinking skills.
The tool also stood out by automatically saving progress and offering 17 different question types for quizzes and surveys. The ability to rearrange and combine courses was particularly appreciated for creating customized learning paths.
From the above case study, it's clear how learning paths define an employee's training journey.
Now the question is: how to create engaging and effective learning paths.
Well, it's not rocket science.
In this post, you will learn the definition, benefits, types, and the best ways to create a learning path.
Keep reading.
What Is a Learning Path?
A learning path, also known as a learning track or a learning pathway, is a predefined route through which learners navigate a series of courses and modules. They learn incrementally, building upon their understanding as they progress, until they gain mastery of a particular topic or subject.
Learning paths break down the learning process into manageable chunks. As we told you before, it's like a roadmap, with milestones at the end that lead to the fulfillment of the learning goals.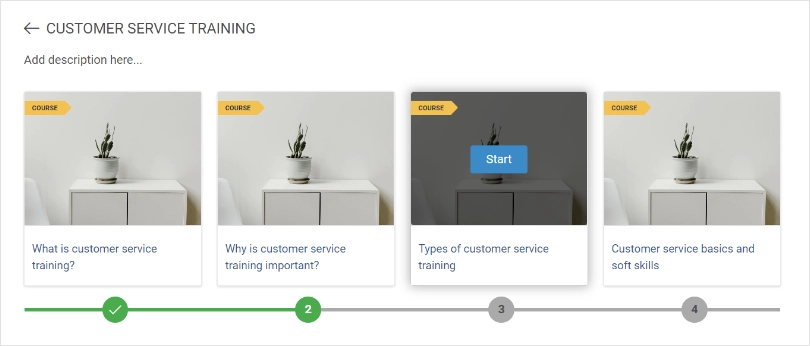 Generally, an administrator or instructor creates personalized learning paths for each learner or group. Such learning pathways are based on the skill level, learning patterns, styles, and preferences of the learners.
How easily and how well you assign these paths will depend on the tools you use for the purpose.
Point to remember: You can easily implement learning paths through a Cloud-Based Learning Management System.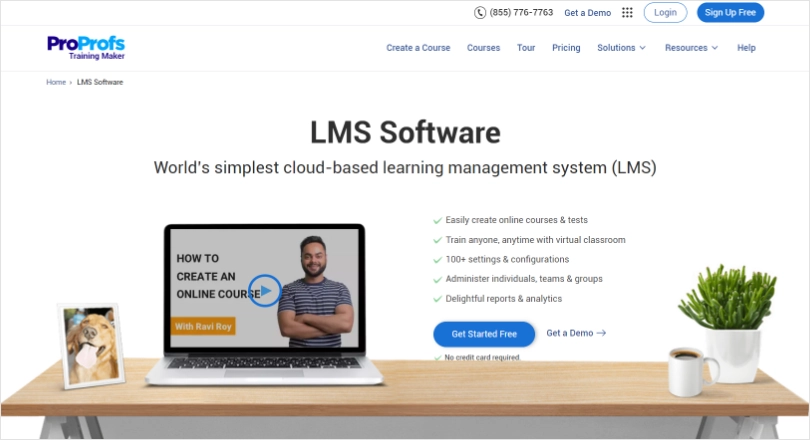 These pathways work best when combined with other e-learning practices such as blended learning, microlearning, mobile learning, and gamification.
Benefits of Learning Paths
Learning paths enable learners to master a subject or topic in a self-paced and independent manner. As a type of guided learning approach, these paths are beneficial for both academic learning and corporate training.
A well-defined learning path provides a proper structure to a learning process. Such a structure gives participants a fair idea of their training program over a specified period.
It also allows instructors to control how courses are assigned to learners and the timeframe within which the courses must be completed – making it easier for both parties.
Learning paths have various other benefits, and you should implement them in your training program to achieve the desired learning outcomes.
For instance, many organizations including Salesforce have implemented learning paths to bridge training gaps with personalized content. The company launched "Salesforce Learning Paths", a feature that is delivered through Trailhead (Salesforce's online learning platform).
Salesforce offers various learning paths based on different roles and objectives, such as administrators, developers, consultants, marketers, and sales professionals. Each learning path consists of a curated set of resources, including online courses, interactive modules, Trailhead trails, videos, documentation, and hands-on exercises.
With that, let's now explore some of the top benefits of learning pathways.
1. The Ability to Add a Structure to Learning Programs
Learning paths provide a structured framework to organize learning programs and decide how learners can proceed to learn. They guide learners through a logical progression of topics and skills, ensuring a cohesive learning experience.
By defining a clear pathway, learning paths help learners understand their goals, track their progress, and stay motivated. They align learning resources and activities to facilitate effective learning outcomes and maximize the efficiency of educational programs.
2. Delivering Information in an Organized Manner
Learning paths follow the microlearning approach for better knowledge retention. Segregating large pieces of information into manageable chunks helps deliver information in an organized way and makes learning easy and effective.
Modular learning improves knowledge retention as they put a less cognitive load on learners.
You can make learning paths highly engaging by using employee training software like an LMS.
An LMS enables you to bundle existing courses, facilitate guided learning, add multimedia, scenarios, and final assessments, and set up rules for course compliance.
Watch: What is a Cloud-Based Learning Management System?
3. Self-Paced Learning
It's an acknowledged fact that different learners learn at different paces. So, a one-size-fits-all approach to instruction rarely works.
That's why your training programs should have a clearly defined learning path.
Once the learners have the path in front of them, they get the liberty to decide the pace of learning. This kind of self-directed learning engages learners and gives them more control over their learning.
Self-paced learning enables learners to take courses anytime, and the control shifts from instructors to learners.
4. Achieving Goals Faster
A learning path encompasses a defined objective, divided into smaller, attainable milestones, which learners can accomplish by completing specific courses or modules.
This structured approach empowers learners by providing them with a comprehensive roadmap, outlining the precise steps they must undertake to achieve their ultimate educational goal.
By breaking down the learning process into manageable chunks, learners clearly understand the sequential steps required to progress and succeed. Learning also becomes less overwhelming.
5. Time-Saving
As an administrator, it is a common practice to establish learning paths for enrolling learners and to streamline administrative tasks.
Once learners are assigned to a specific path, they can navigate the courses with minimal assistance. After completing one course, the learner is seamlessly added to the next course automatically, eliminating the need for any additional effort on your part.
6. Continuous Feedback System
Training alone cannot help employees acquire new skills and knowledge. They should also receive continuous feedback on their progress to ensure they're on the right track.
Learners should also be allowed to share their feedback on the course quality.
How can you do this?
Use an LMS system!
It allows you to integrate surveys at any point in your course to collect actionable feedback.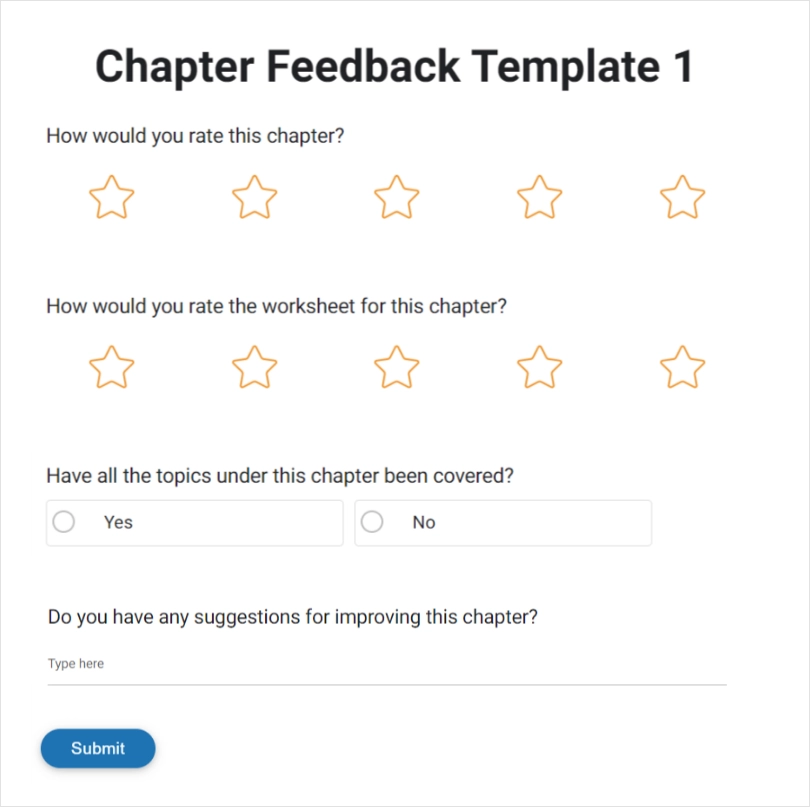 Get insights into what your learners liked about your course and what they didn't. Refine your learning paths based on their feedback to deliver an exceptional learning experience.
Watch: How to Create a Survey Using ProProfs Survey Maker
7. Proper Learning Environment
With learning paths, organizations can create an ideal learning environment that promotes an end-to-end understanding of a course. You can guide your learners through a roadmap to enhance their skills and master a particular topic or subject.
Learning paths help develop a sustainable learning environment through regular assessments of skills and knowledge gaps and adjustments to learning plans based on them.
By resolving these gaps, organizations can boost productivity.
How?
You can enable your learners to collaborate at every learning point to clear their doubts on the spot.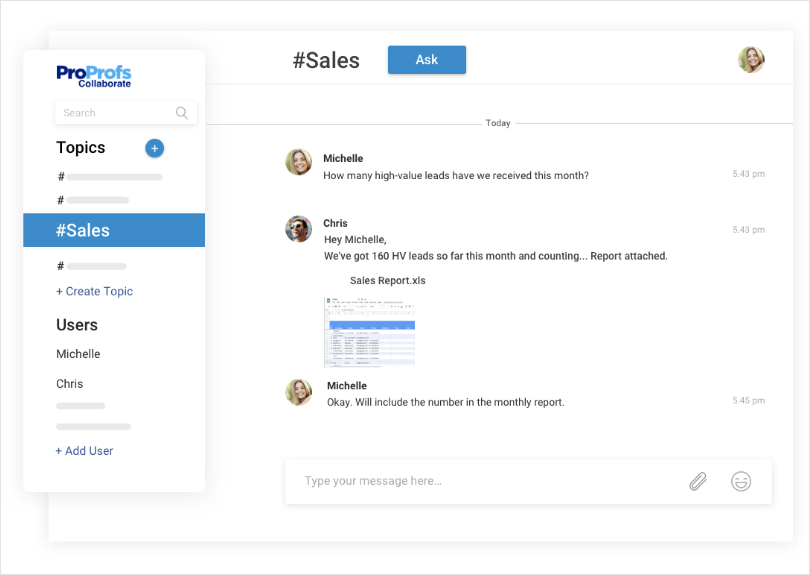 Facilitate collaborative learning and grow your team's knowledge with a learning-focused Q&A community. When learning becomes a habit, organizations can reduce expenses on talent hunts.
That was all about the benefits of learning paths. Now, let's delve into the different types of learning paths that can be employed to cater to diverse learner needs and objectives.
Types of Learning Paths
There are three types of learning paths – successive, alternative, and level. Each learning path aims to achieve a particular objective. So, you need to identify your training objective to select the right learning path.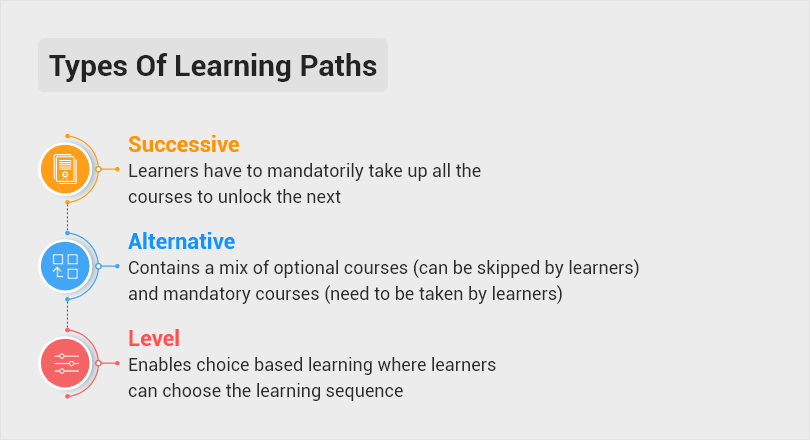 Source: ProProfs
Let's now understand each of the paths in detail.
Administrators can create a series of structured courses in this learning path, and learners have to follow the route which the administrators decide. Simply, learners must complete one course to access the next one.
Unless learners complete one course or an assessment, they'll not get permission to view the subsequent courses. In this type, courses are arranged from basic to advanced versions.
This is a shortcut learning route where learners can skip optional chapters or lessons but must complete the mandatory courses to complete the learning path.
This learning path allows learners to choose the learning order without compromising the learning objectives. Alternative learning paths focus on achieving the learning outcomes rather than the learning order.
Instructors can set the course sequence by mixing up optional and mandatory courses.
Administrators can create hierarchies or levels in learning paths. Each level will consist of a course bundle that can be mandatory or optional. Learners who complete one level will be considered successful in mastering the courses corresponding to that level.
To put it in simple words, this type of learning path combines successive and alternative learning paths, but it may or may not have any stipulated time frame.
So, these are the types of learning paths. Next, let's explore some of the examples/use cases where learning paths can enhance your learning and development (L&D) programs.
Use Cases for Learning Paths
Educational paths have plenty of use cases which have been elaborated on below.
1. Individual Skilling
Learning paths are for those individuals who want to acquire new skills or enhance existing ones. These paths provide a structured and progressive way to learn and develop expertise in a specific field. Examples include:
Hard Skills: In terms of hard skills, learning paths help individuals develop specialized technical abilities and analytical skills. For example, if a person wants to master data science, a learning path might include modules like python, statistics, machine learning algorithms, and data visualization.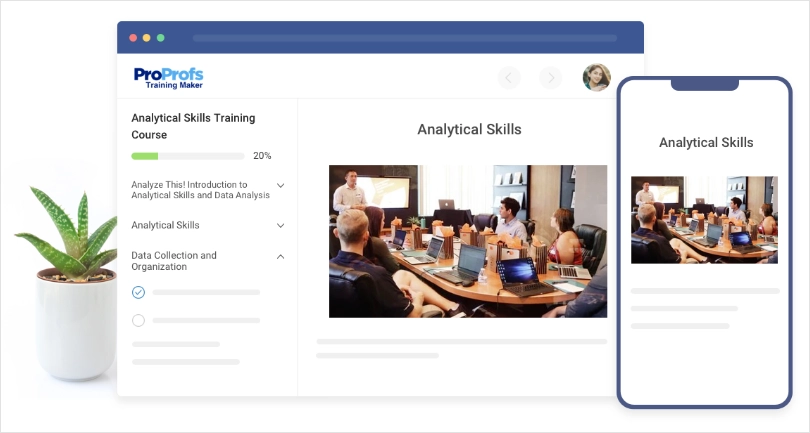 This course has a collection of modules and activities that will help you understand how to organize, analyze, and act on data for making crucial business decisions.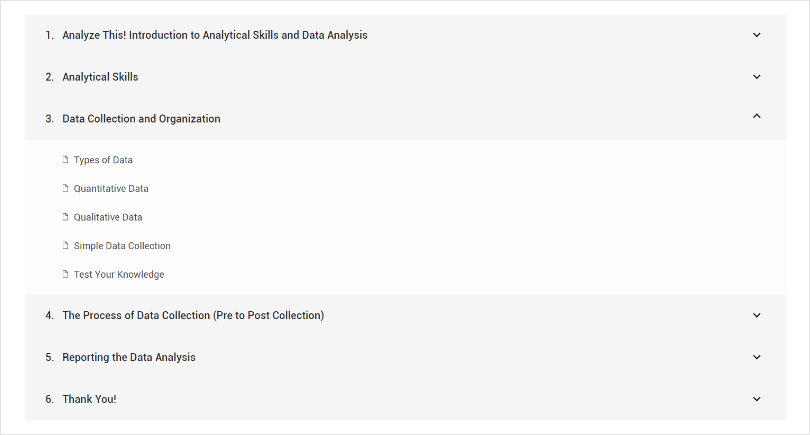 By following this path, individuals can acquire a solid foundation in data science and gradually advance their expertise.
Soft Skills: Regarding soft skills, learning paths focus on developing interpersonal and professional capabilities.
For instance, a learning path on effective communication could include modules on active listening, public speaking, and conflict resolution.
By following this path, individuals can enhance their communication skills and become more adept at expressing their ideas, resolving conflicts, and building productive relationships.
Learning Path: Discipline Training >> Active Listening Skills >> Workplace Communication >> Conflict Resolution >> Mastering Leadership Skills Training

2. Team Learning
Learning paths are beneficial for teams within an organization who need to acquire new skills collectively or align their knowledge base. These paths enable teams to learn together, collaborate, and achieve common goals. Examples of team learning include:
Learning Path: Introduction to Sales >> Professional Sales Skills >> Making a Sales Pitch >> Nurturing Sales Leads >> Closing Sales

Workplace Management: When teams engage in learning activities related to workplace management, they can enhance their abilities to collaborate, communicate, and optimize processes.
A learning path will often include modules like team building, performance management, time management, change management, and conflict resolution.
Learning Path: Introduction to Workplace Ethics >> Time and Task Management >> Team Building Activities >> Resolving Workplace Conflicts >> Performance Management

3. Organizational Development
Organizations often use learning paths to foster continuous employee learning and development. These paths align with organizational goals and help employees acquire the skills to contribute to the company's growth. For example:
Leadership Development: An organization may create a learning path for aspiring leaders, covering strategic thinking, team management, decision-making, and change management. This path allows employees to develop the necessary skills to take on organizational leadership roles.
Learning Path: Finding Your Authentic Leadership Style >> Core Leadership Skills >> Team Building Activities >> Supervising a Team >> Giving Great Feedback

Diversity and Inclusion Training: To promote diversity and inclusion, an organization can design a learning path that educates employees about ethics, unconscious bias, cultural competence, handling microaggressions, etc. This path helps create a more inclusive work environment and fosters understanding among employees.
Watch: What Is Diversity, Equity & Inclusion? | Training Course Introduction
From the above discussion, it's clear that learning pathways cater to different use cases.
But how to design an effective learning path?
It's easy. We will show you the steps to create the best learning path for your learners.
Designing Learning Paths That Inspire: 6 Steps to Consider
Are you wondering if creating a learning path is daunting?
Don't fret!
Let's explore the secret recipe for designing learning paths that inspire and foster continuous growth.
Step 1: Analyze the Training Needs
First things first. Before you create learning paths, figuring out the training needs is essential. There are three things under this step that you need to consider:
Your target audience
Skills gaps
Learning goals
Coming to the first point, you need to figure out who your target audience is. Will you train novice employees or experienced ones? Which department are they from – sales, customer relationship, managers, or team leaders?
Once done, you have to understand the skills they possess and the ones they lack. This will help you decide which content you want to include.
Pro tip: Skills assessment plays an incredible role in identifying skills gaps. Read this guide to know more.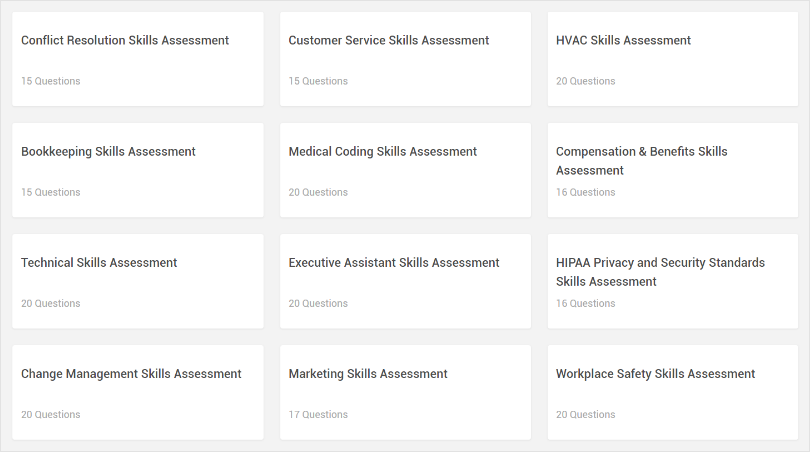 Now comes the most crucial thing: realizing your ultimate learning goals. No matter who your target audience is, setting a goal is essential. Every learner should achieve a milestone after completing a path.
Here's how you can set goals for your learning path:
Watch: How to Set SMART Goals | Training Course Introduction
Step 2: Prepare the Content
The next step is creating and bundling your content. If you already have courses prepared, then you simply need to import and arrange them in a logical order.
However, if you don't have one, you must create the training materials first.
Remember: Your content need not always be text-based. It may include podcasts, videos, online lectures, and presentations. Embed assessments after each module or chapter to measure knowledge. Learning paths become effective only when learners grasp the concepts. By adding assessments, you can check how attentively they have gone through each course.
The best way to prepare a course is to use an LMS, which lets you create courses from scratch using your existing materials and provides professionally-designed online courses for instant use. You can also find training templates to ensure consistency in the structure and format.
Also, with some LMS systems, you can embed quizzes and record video responses to your questions and prevent skipping questions. This way, you make it mandatory for learners to attempt all the questions to unlock the next course.
Watch: How to Create an Online Course
Pro tip: Add real-life examples and scenarios to keep your employees engaged and motivated. This goes a long way in keeping your learners focused, and it also helps them to connect with the content in a better way.
Through these relatable examples, your learners can think of ways to apply information to real work situations. Also use multimedia, such as images, videos, audio, simulations, games, and quizzes, to cater to different learning preferences.
Watch: How to Add Media to Your Online Courses
Step 3: Create the Learning Path
Now that you have all the content prepared, connect all the relevant courses, guides, files, and assessments in your LMS.
Let's see what a learning path looks like in ProProfs LMS.
From your ProProfs Training Maker dashboard, click "More" and choose "Learning Path."

Click "+ Create Learning Path"

Enter all the learning path details and then start adding courses. Click "+Add Courses."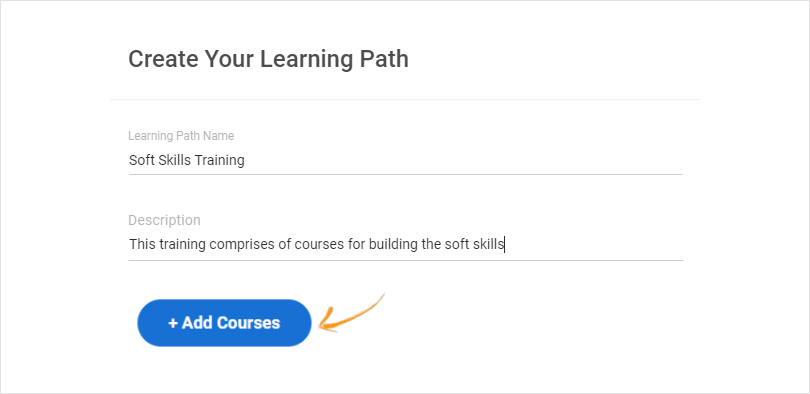 Choose all the relevant courses that you want to add.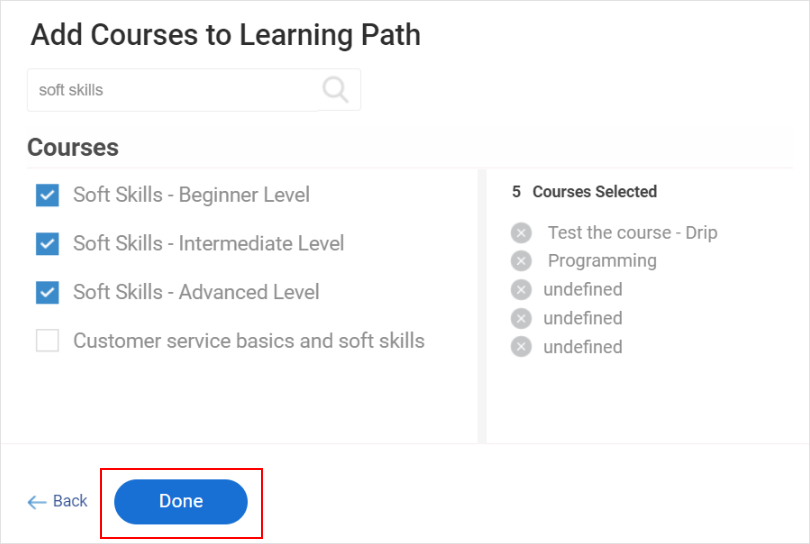 Select the order in which learners must take up the course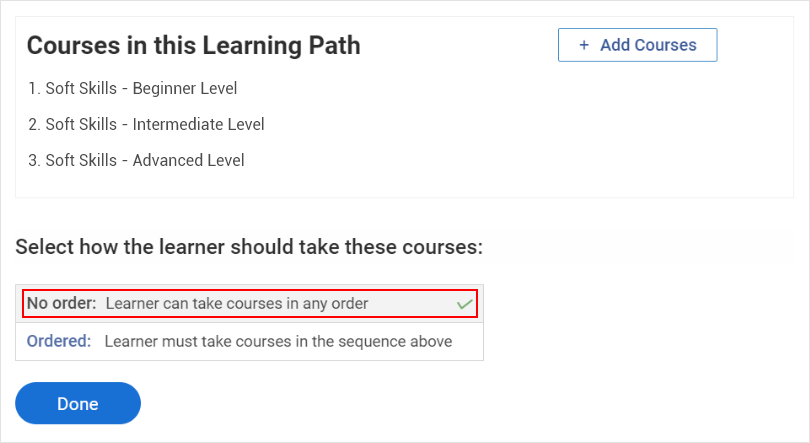 Your learning path is ready and will appear as a dropdown on the learning path page.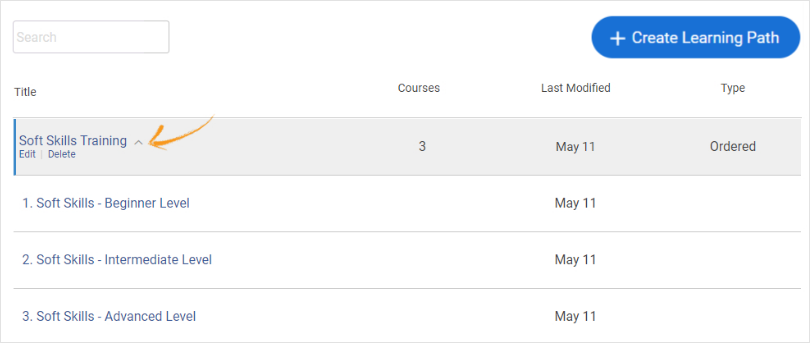 Once ready, you can now share the path with your learners.
Here's a detailed guide to How to Set up a Learning Path for Your Learners
Step 4: Make the Learning Path Exciting and Engaging
Creating effective learning paths can be tricky as you need to ensure that your learners are motivated and engaged at every point of the learning journey.
How can you do it?
It's easy.
With tools like ProProfs, you can find features that recognize learners' accomplishments and encourage them to strive for further success. Employees can earn bonus points and badges by actively participating in courses and completing tests, simulations, and assignments. Read this guide to know more.
These mechanisms acknowledge learners' achievements and foster a sense of healthy competition among learners, thereby promoting a culture of continuous improvement.
Furthermore, you can automatically award students a certificate of completion upon finishing a learning path.
This recognition enhances their engagement with the training material, as they have a tangible reward to strive for.
Watch: How to Create Custom Certificates With Your Own Logo and Branding
Step 5: Share the Path With Your Learners
Once you're ready with the learning path, the next step is to share it with your learners. If you're using an LMS like ProProfs, here's how to assign a learning path.
Go to "Users" and click on the user name to share the path. If you want to share it with a group, select the "Groups" option.

Next, go to the tab "courses" and click " + Courses"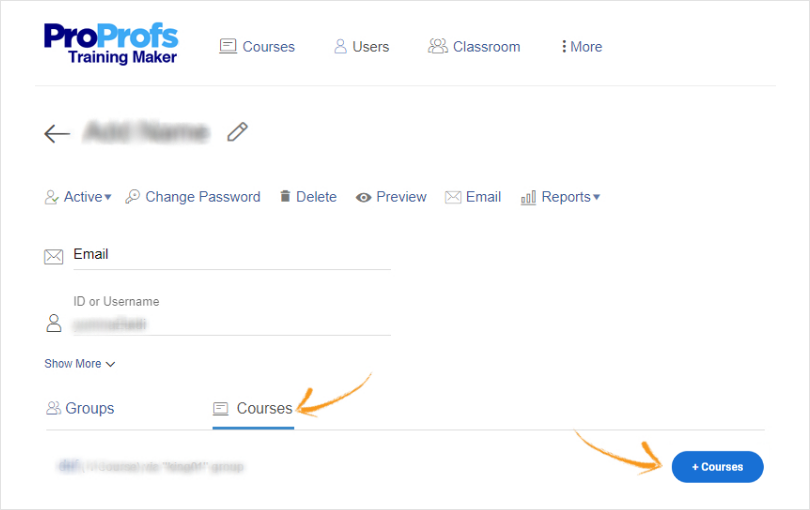 Choose the learning path you want to add and click "Save."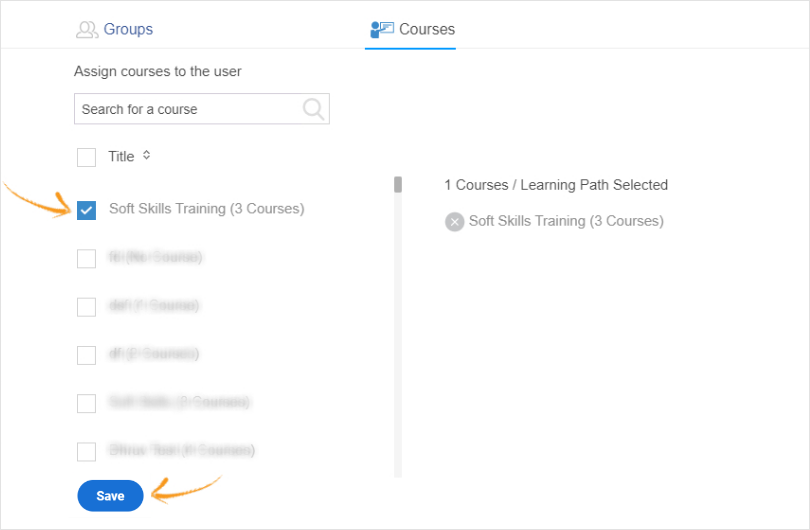 That's how you can easily share the path with your learners.
With that, we move on to the final step.
Step 6: Evaluate the Progress
Gathering actionable feedback from your learners is essential to making your learning paths effective. Integrate survey forms into your courses and gather feedback from training participants to improve your course quality.
Learning is a two-way process. Instructors should provide quality courses to fulfill the training needs of employees, and the latter should be able to meet the learning objectives after completing the program.
Watch: How to Create a Survey Using ProProfs Survey Maker
So, that's how you can create the most effective and engaging learning paths. If you follow the steps as discussed, it won't take much of your time and effort.
However, make sure you use an LMS for this purpose!
Wondering how an LMS can help with creating learning paths?
Continue reading to find out more.
How Does an LMS Support Learning Paths?
An LMS helps create effective learning paths and deliver them. Let's see how they do so.
Creating Courses and Learning Paths
An LMS provides eLearning authoring tools to create courses and bundle them into learning paths within an LMS. It helps drive learners to take courses in the order of complexity or any other criteria set up by instructors.
With some online training software, you can get ready-to-use courses and training templates that you can customize according to your training needs. This saves you time and effort.
Facilitates Guided Learning
With an LMS, you can turn beginners into experts by providing a well-defined learning path. You can allow your learners to collaborate with peers and their instructors to clear out confusion and doubts at every learning point.
Watch: How to Enable Collaboration & Discussions in Your Course
Lets You Set Course Availability and Expiration Date
With most LMSs, you can set course availability and expiration date through its reminder and compliance feature. You can set a date by which the course must be completed and define what happens if the due date expires.
This way, learners can stay on track and complete the courses within the stipulated time.
Watch: How to Set up Reminders and Ensure Course Compliance
Provide Certificates on Course Completion
Once your learner completes the learning path, you can provide certificates. With some LMS systems, you can auto-generate certificates and white-label them with your logo and brand name.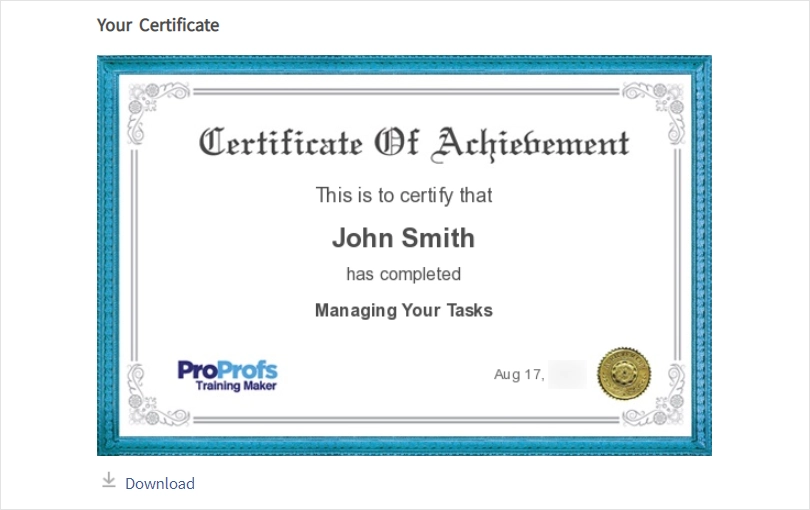 Certificates provide a sense of accomplishment to your learners, which further engages them to learn more.
Get Reports on Learner Progress
You can track learner progress and learning path performance through auto-generated reports, which help monitor individual progress, learner participation, and course engagement levels. Assess knowledge gaps and provide instant feedback to your learners.

Launch Surveys and Get Actionable Feedback
You can integrate surveys at any point in your learning path to capture actionable feedback.

Implement the responses from learners and make necessary changes to improve your course quality. This will also enhance future learning experiences and outcomes.
With that, we are almost at the end of our discussion on the role of an LMS in creating learning paths. Let's now find answers to the most common questions about learning pathways.
Frequently Asked Questions
Why should I follow a learning path?
Following a learning path provides structure and direction to your learning journey. It helps you set clear goals, organize your study materials, and progress systematically. A learning path can ensure you cover essential concepts, build a strong foundation, and progress efficiently. It also helps you stay motivated and focused, maximizing your chances of success in acquiring new knowledge and skills.
How do learning paths help in acquiring new skills?
Learning paths help acquire new skills by providing a clear roadmap and step-by-step progression. They break down complex subjects into manageable chunks, ensuring a logical and structured learning process. Learning paths also offer curated resources, such as courses, tutorials, and practice exercises, saving time and effort in searching for relevant materials.
Are learning paths suitable for beginners or advanced learners?
Learning paths are beneficial for both beginners and advanced learners. For beginners, learning paths offer a structured and guided approach, providing a clear starting point and a logical progression through foundational concepts. Advanced learners can use learning paths to fill knowledge gaps, explore specialized topics, and advance their skills further. You can customize the learning path to make them suitable for individuals at various stages of their learning journey.
Where can I find learning paths?
Learning paths can be found on various online learning platforms and educational websites. Some popular platforms that offer learning paths include ProProfs, Coursera, Udemy, LinkedIn Learning, Khan Academy, and edX.
How long does it typically take to complete a learning path?
The time required to complete a learning path varies depending on factors such as the subject's complexity, the material's depth, the learner's prior knowledge, and the individual's learning pace. It can range from a few days or weeks to several months, but it ultimately depends on the specific learning path and the learner's dedication and commitment.
Can I access learning paths on mobile devices?
Yes, most online learning platforms like ProProfs are mobile-friendly, allowing you to access and follow learning paths on your mobile devices. This enables you to learn on the go and ensures flexibility in your learning journey.
How can I track my progress in a learning path?
There are plenty of ways to track your progress in a learning path. However, it will depend on your chosen online platform because each platform has unique features that let you track progress. While some platforms may provide AI-generated reports and analytics, others may have features like progress bars, completion badges, or percentage indicators for each course or module.
Are there any assessments or quizzes within a learning path?
Yes! Many learning paths include assessments or quizzes to gauge your understanding and retention of the material. These assessments can be in the form of multiple-choice questions, assignments, projects, or interactive activities. They reinforce learning and provide feedback on your progress.
Ready to Create Structured Learning Paths?
By creating learning paths, your training program becomes more structured. This learning sequence makes it easy for learners to acquire knowledge and increases knowledge retention.
Now that you know about learning paths, you can design an effective one by simply picking an intuitive LMS. It will make course creation as straightforward as possible. Besides, you can make the courses engaging through multimedia and measurable through real-time tracking.
With learning paths, the possibilities for achievement are limitless, propelling individuals toward unprecedented success and fostering a culture of lifelong learning. So, embrace the power of learning paths and ignite your passion for effective learning, growth, and excellence!
Do you want a free Training Software?
We have the #1 Online Training Software for employee training & assessment