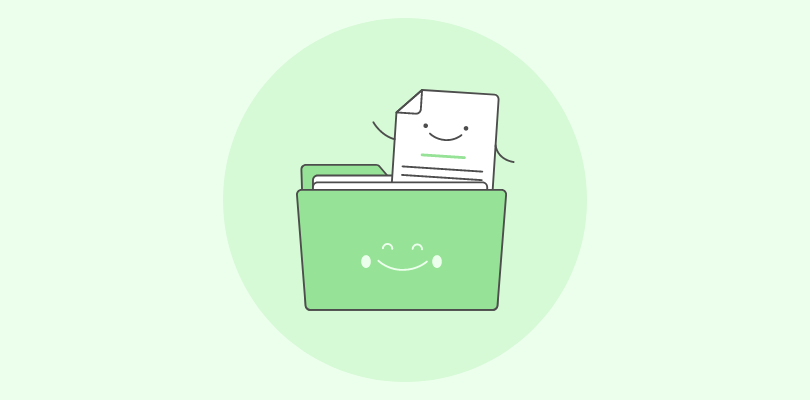 As a training manager and technology enthusiast, I have always been fascinated by the positive results of utilizing cloud-based learning solutions.
A cloud-based learning management system (LMS) can be a game-changer for both individuals and organizations.
If you're yet to leverage these platforms and don't know where to start, don't worry.
In this article, I will introduce you to the top 10 cloud LMSs, which can redefine how you train and how your learners learn.
10 Best LMSs
Best For
Pricing
ProProfs LMS
Best cloud LMS for readymade courses and templates
Forever free for up to 10 learners.Paid plan starts at $1.97/learner/month for large teams. Billed annually.
TalentLMS
Best cloud LMS for course creation
Starts at $69/month (billed yearly)
Absorb LMS
Best cloud LMS for artificial intelligence
Starts at $800/ active user/month
Docebo
Best cloud LMS for an automated learning experience
Starts at $25000/ year
LearnUpon
Best cloud LMS for SMEs
Starts at $599/month (billed annually)
Litmos
Best cloud LMS for social learning
Starts at $3/user/month
360Learning
Best cloud LMS for collaborative learning
Starts at $8/user/month
iSpring Learn
Best cloud LMS for corporate training
Starts at $2.99/user/month
(billed annually)
Lessonly by Seismic
Best cloud LMS for upskilling
Starts at $0 (limited to 25 users)
Moodle
Best cloud LMS for personalized training
Starts at $180 AUD annually for 50 users
Let's now explore each of the tools in detail.
Top 10 Cloud-Based Learning Management Systems
I compiled this collection of cloud-based LMSs using a combination of my personal experience, extensive research, and suggestions from colleagues who have utilized these platforms. Additionally, I considered unbiased evaluations from external websites and feedback from clients when making my selections.
1. ProProfs LMS – Best Cloud-LMS for Readymade Courses & Templates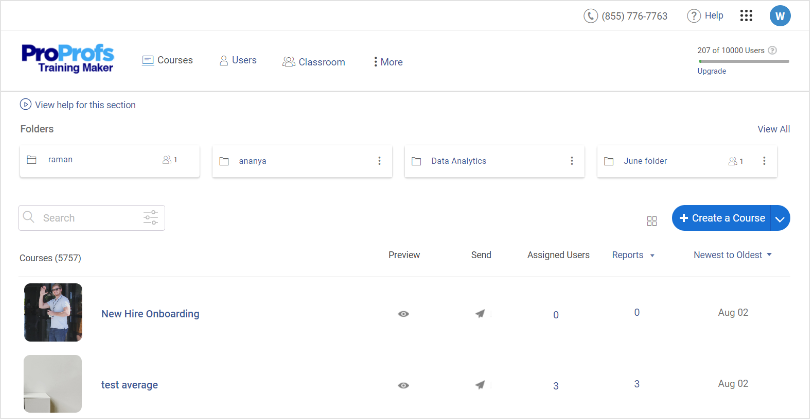 ProProfs LMS stands as a reputed cloud-based learning management system that has garnered recognition in the industry. Designed for enterprise-level usage, this cloud-based system offers a user-friendly interface and has been adopted by millions of customers across the globe.
When I deployed this tool, I was able to simplify, streamline, and optimize my corporate training efforts. I feel this is something that makes it a trusted solution in the realm of online learning.
One of the notable features that I particularly like about ProProfs LMS is the ability to effortlessly create online courses. It comes with professionally designed courses and templates, which you can use as-is or customize based on your needs.
Similarly, the software supports 100+ settings and configurations to ensure that the courses align with the organization's branding and requirements.
What You Will Like:
Professionally designed courses for a quick start

Mobile-friendly LMS for learning on the go

A clean & lean interface that ensures ease of navigation

White labeling capabilities to deliver training your way
What You May Not Like:
The trial period is too short to fully understand all the core features

Need more native integrations for video conferencing

The number of course templates can be increased

Need more frequent software upgrades; currently they are few and far between
Pricing:
Freemium plan available. Paid plan starts at $1.97/learner/month (billed annually). No hidden charges. A 15-day free trial.
2. TalentLMS – Best Cloud-LMS for Course Creation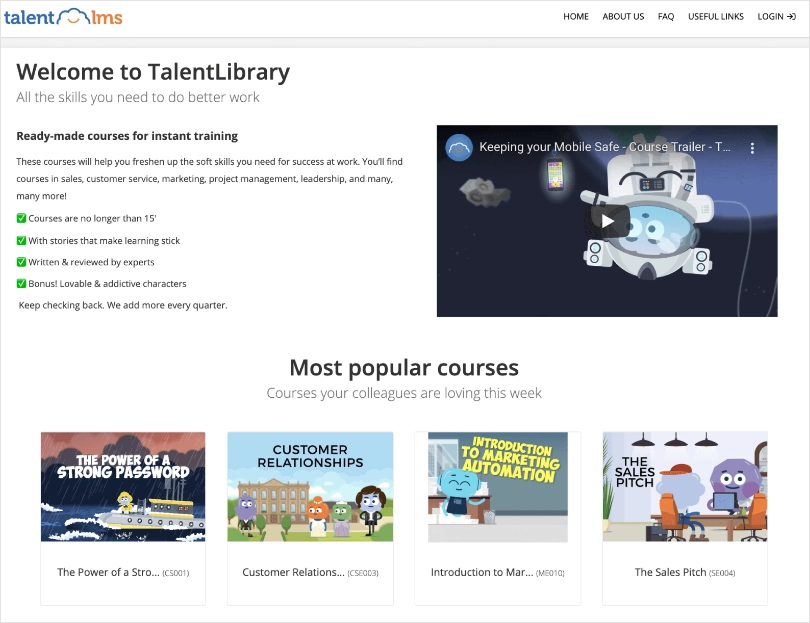 Another tool that I explored for online training was TalentLMS.
For me, this tool is definitely one of the best cloud-based LMS systems, as it allows companies to build a smarter organization by providing training solutions for their employees, customers, and partners.
Learners can access the platform easily from any device, enabling them to engage in training anytime and anywhere. Unlike other LMS platforms that require extensive setup and configuration, TalentLMS is ready to go right out of the box.
Users can create new courses with just a few clicks, add participants, and launch their training programs quickly. This eliminates the need for lengthy setup times and allows organizations to start delivering training in a short period.
Personalization is another strength of TalentLMS. I was able to customize the training experience to align with my branding tone and style.
What You Will Like:
High degree of customization to suit your learning needs

Mobile readiness for self-paced learning

GDPR compliant for better data privacy and security

Certificate of completion to validate achievement
What You May Not Like:
Discussion forum could be improved

Navigation is complex, especially for beginners

Steep learning curve for the beginners

Limited assessment options like question formats
Pricing:
Starts at $69/month (billed yearly)
3. Absorb LMS – Best Cloud-LMS for Artificial Intelligence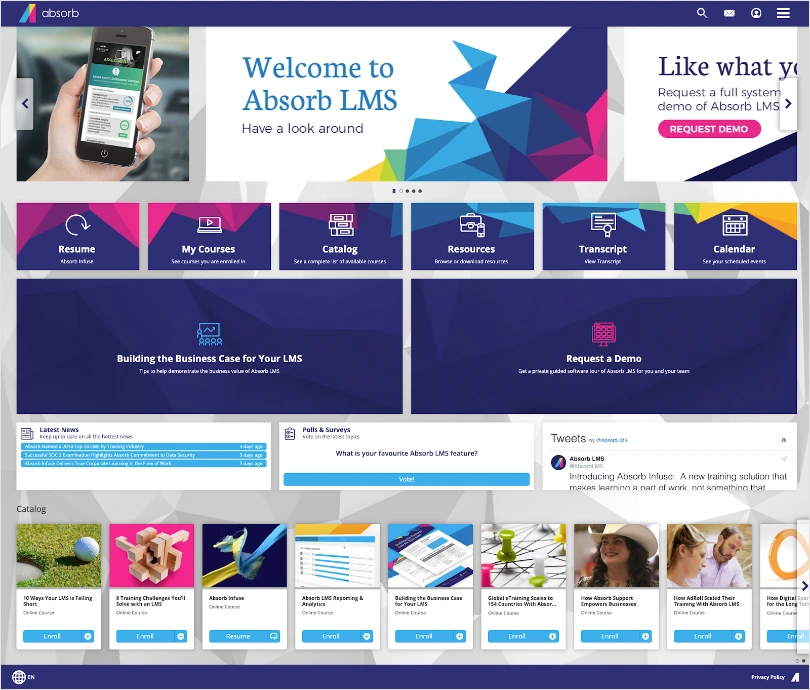 Absorb LMS is an AI-powered learning management system designed to simplify and enhance the learning experience for organizations. It offers a robust platform for managing and delivering training programs, providing personalized learning paths, and analyzing data to optimize learning outcomes.
As the best cloud LMS, the platform provides a user-friendly interface, personalized branding, and mobile accessibility to create an engaging learning environment.
It offers features such as smart administration, learner engagement tools, e-commerce capabilities, reporting and analytics, observation checklists, content libraries, and mobile app support. The integration capabilities of Absorb LMS allow it to connect with other software and platforms, expanding its functionality.
Absorb LMS is trusted by major brands such as Sony, Johnson & Johnson, and Samsung, and it has received positive reviews from its customers.
What You Will Like:
Simple and user-friendly interface for easy navigation

Auto-assignment of curriculum for streamlining the process of assigning courses

Enables self-paced learning to complete modules at a speed that suits individual needs

Ability to track learner's progress in real-time
What You May Not Like:
Some workflows such as user enrollment could be streamlined

Difficulty to manage blended learning

The amount of setup time and configuration is slightly complicated

Inability to schedule recurring sessions
Pricing:
Starts at $800/active user/month
4. Docebo – Best Cloud-LMS for Automated Learning Experiences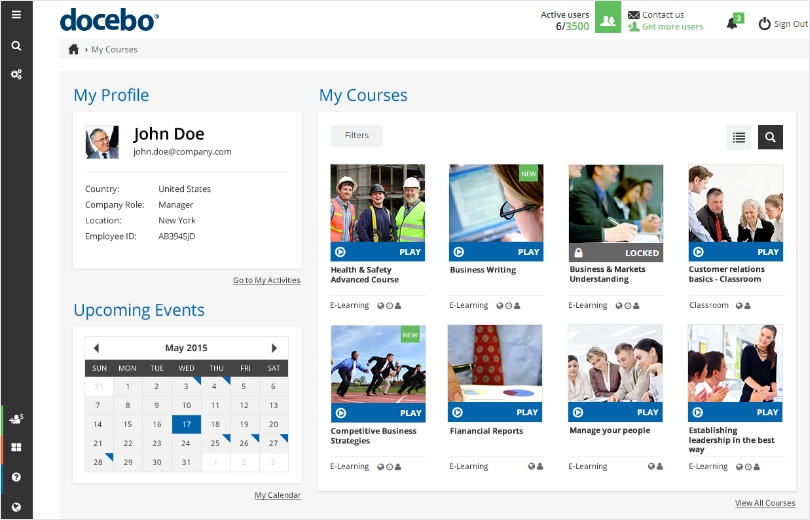 Docebo Learn LMS is an AI-powered learning management system designed for enterprise use cases. It offers a sleek design, powerful functionality, and the ability to scale to meet the needs of any team or use case. Docebo is best for automated learning as it offers intelligent course recommendations, personalized learning paths, automated assessments, and gamification elements to engage learners.
With Docebo's Learn LMS, users can leverage a robust configuration engine that allows for the creation of audience-specific pages using drag-and-drop functionality. This enables the quick setup and deployment of learning programs.
The platform also offers extensive customization options, including free extensions like certifications, e-commerce, gamification, and more, allowing organizations to tailor their LMS to their precise requirements.
The platform also focuses on AI-based upskilling and reskilling, delivering personalized learning experiences that align employees' development with business needs.
What You Will Like:
The user interface is sleek and easy to navigate

You can effortlessly gather content from various sources

Learners can be automatically assigned to specific learning paths

Customize the platform with your own branding elements
What You May Not Like:
Reporting needs improvement affecting the depth of analytics provided

Managing and organizing a large amount of content can be challenging

Need to improve PowerPoint presentations (in terms of interactive features)

Need more integrations for seamless workflows
Pricing:
Starts at $25000/ year
5. LearnUpon – Best Cloud-LMS for SMEs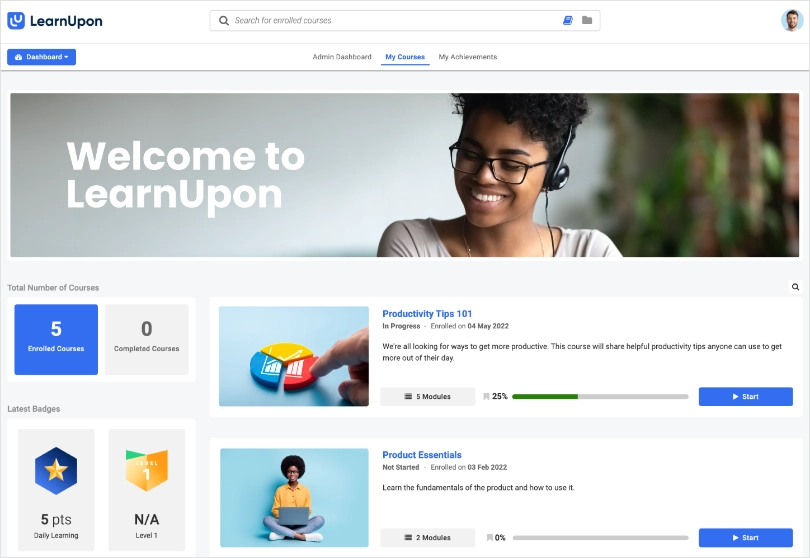 For me, LearnUpon stands a chance to be among the top 10 cloud-based learning management systems. And I'll tell you why!
This is one of the most comprehensive cloud LMS solutions that empower businesses to deliver effective and impactful training experiences. With a focus on simplicity and results, LearnUpon offers a range of features and solutions to meet various training needs. Its affordable pricing plans and exceptional customer support make it a preferred LMS for SMEs seeking a budget-friendly solution.
This cloud-based learning system provides a wide range of features, including course creation, training delivery, user management, learner engagement, portals, reporting, integrations, and webinars. It offers solutions for employee training, customer training, partner training, member training, and extended enterprise training. This makes it suitable for SMEs with moderate learning needs.
What You Will Like:
Course setup is easy for admins

Easy to locate dashboard and classes

Huge customization capabilities to accommodate your branding needs

Range of assessments for range of test creation
What You May Not Like:
Certificates are clunky, therefore, need some improvement

Difficult to search for courses as an admin

ILT scheduling needs improvement

The notification feature should be improved
Pricing:
Starts at $599/month (billed annually)
6. Litmos – Best Cloud-LMS for Social Learning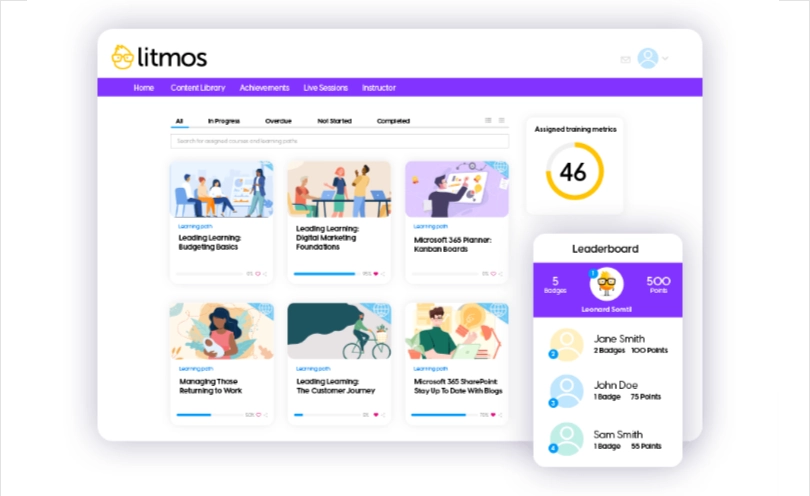 As the leading cloud-based learning system, Litmos facilitates online learning and training programs for organizations. It is utilized by top-performing companies worldwide, with over 20 million learners across 150 countries benefiting from its features.
One of the key advantages of Litmos is its cloud-based and mobile-friendly nature, allowing learners to access training materials and courses anytime, anywhere, and from any device.
I used Litmos to try out different formats of delivering training. What I particularly liked was that it supported various learning formats, including virtual, classroom, mobile, and social learning. With features like discussion forums, social feeds, and user-generated content, Litmos promotes a collaborative learning environment. Additionally, it supports blended learning approaches by enabling learners to interact with instructors and peers through virtual classrooms and live chat.
So, these features helped me create an engaging learning experience for my learners. The platform also facilitates collaboration and co-authoring of content, allowing trainers and instructional designers to create engaging and interactive courses.
What You Will Like:
Large library of content to quickly start with course creation

Excellent user interface for smooth navigation

Engaging learning paths to enable guided learning

Gamification elements for better engagement
What You May Not Like:
The eLearning authoring tool is not very advanced

The mobile app is not very user-friendly and does not support offline access

The user management does not allow you to assign different roles or permissions

Lack of tagging option in learning paths
Pricing:
Starts at $3 per user/month
7. 360Learning – Best Cloud-LMS for Collaborative Learning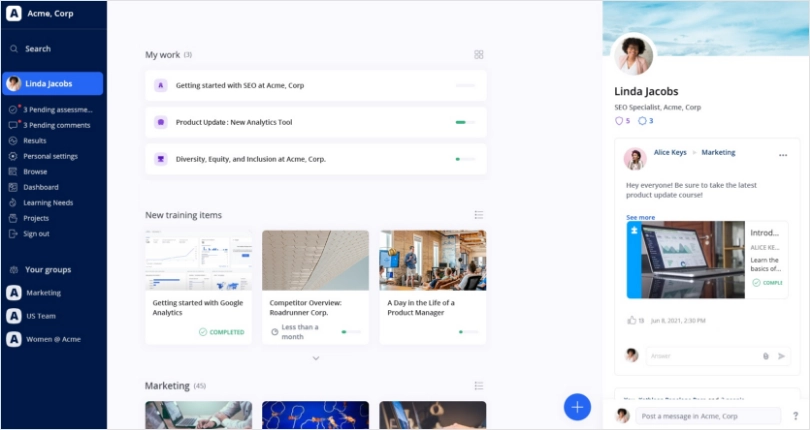 I recently had the opportunity to use 360Learning, and it has truly revolutionized my learning management experience. This powerful tool offers a comprehensive range of features that make managing and delivering training a breeze. It takes care of all the tedious administrative tasks, such as user management and enrollment, allowing me to focus on the more important aspects of training.
With features like group projects, peer feedback, and real-time collaboration tools, 360Learning creates a dynamic learning environment. Its social learning capabilities, combined with robust analytics and engagement metrics, make it the go-to LMS for organizations aiming to facilitate effective and engaging collaborative learning journeys.
The tool also offers a wide range of integrations with popular business systems such as HCM/HRIS, Salesforce, MS Teams, and Zoom. This means that I can seamlessly connect all of my business systems, ensuring data accuracy and optimizing access to learning for my teams.
What You Will Like:
AI-based training creation to save time and effort

Streamline administrative tasks to reduce manual workload

Seamless user integration to leverage existing user data without manual data entry

Easy to navigate, making it accessible and straightforward
What You May Not Like:
Lacks options for tracking and managing certifications

Uploading files and embedded links is not always simple

Search field needs improvement for better filtering options

Need adjustments in assigning programs to provide more control over scheduling
Pricing:
Starts at $8/user/month
8. iSpring Learn – Best Cloud-LMS for Corporate Training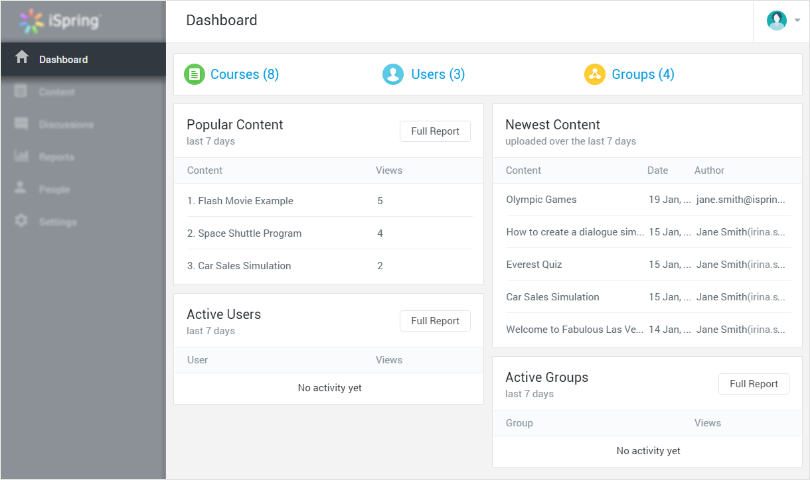 I have been using iSpring Learn, and it has been an incredible cloud-based learning system for our employee training needs. With its comprehensive set of features, including content authoring, tracking, and reporting, iSpring Learn offers a seamless and efficient platform for delivering and managing corporate training programs.
One specific use case where iSpring Learn has made a significant impact is in our new hire onboarding process. With iSpring Learn, we have been able to create engaging and interactive onboarding courses that effectively introduce our new employees to our company culture, policies, and job responsibilities.
The platform's intuitive course creation interface has made it easy for me to develop captivating courses for corporate training programs. Assigning training content to employees has been a breeze with iSpring Learn. I can easily select the specific teams or individuals who need to complete the training and set deadlines for completion.
What You Will Like:
Ability to create combined video and PowerPoint presentations

Easy to collaborate while learning

Works seamlessly across all devices

In-built screen recording tool
What You May Not Like:
Template storage and reuse could be better

Text search feature in presentation needs improvement

SSO does not support the latest standards

Narration editor is not very intuitive
Pricing
:
Starts at $2.29 USD per user/month (billed annually)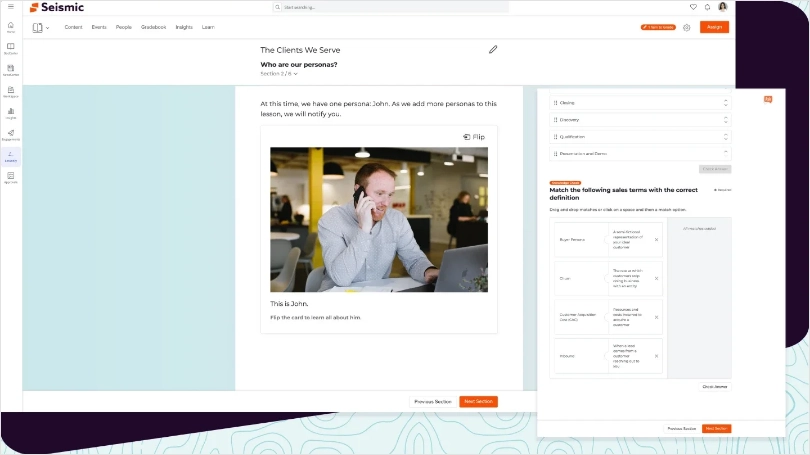 Lessonly by Seismic has been an absolute game-changer for our team. As someone responsible for training new employees, I can confidently say that Lessonly is a powerful training software that has transformed the way we learn, practice, and work.
One of the things that immediately drew me to Lessonly was its simple, mobile-friendly experience, ensuring that our team members can access training materials anytime, anywhere, for upskilling. Its features include personalized learning paths, assessments, and skill tracking, enabling companies to enhance employee knowledge and skills to meet evolving business demands.
As they say, building a lesson in Lessonly is as easy as writing an email. It's that intuitive. The flexibility to incorporate SCORM and other formats has been incredibly beneficial for us. We can customize the learning experience to suit our specific needs.
What You Will Like:
Easy to use interface for smooth navigation

Ability to add engaging elements to lessons

Supports self-paced learning

Grading quizzes and essays are easy
What You Will Not Like:
Lacks self-serve support resources

Needs more audio capabilities

Text editing features need improvement

Search feature is not robust
Pricing:
Starts at $0 (limited to 25 users)
10. Moodle – Best Cloud-LMS for Personalized Training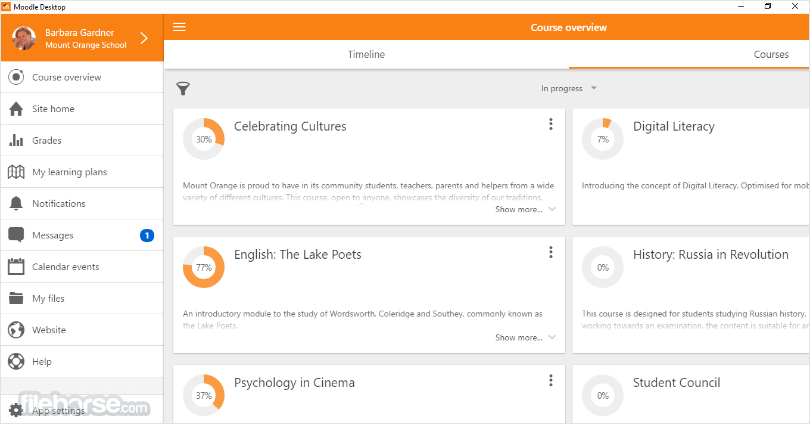 Moodle LMS, in my experience, is an exceptional cloud LMS that offers personalized and engaging eLearning experiences.
Whether you're in K-12 classrooms or multi-campus universities, Moodle provides a flexible and feature-rich platform to meet the diverse needs of learners now and in the future.
The fully customizable nature of Moodle is its main USP. You can easily modify its source code and tailor the platform to run your way. You have the freedom to create and edit courses, delivering content and tasks in various formats to accommodate different learning environments.
The platform integrates with content accessibility checkers and text-to-speech tools to accommodate diverse learning needs and ensure that everyone can access the learning materials. The platform has received global recognition and awards for its excellence and continuous evolution, reflecting the dedication of the Moodle team and community.
What You Will Like:
Allows for flexible teaching and learning, accessible anytime and anywhere

It provides tools to measure and manage learner progress through detailed reports

Text-to-speech tools are available, enhancing accessibility for learners

It supports the delivery of learning materials in various formats
What You May Not Like:
Engagement tracking could be more robust and comprehensive

Integration with third-party software is limited, hindering seamless workflow

Scheduling management could be improved for better organization

The mobile version requires further development to enhance the usability
Pricing:
Starts at $180 AUD annually for 50 users
As a trainer who has experienced the power of cloud-based LMS systems, I can confidently say that finding the right platform can transform your training journey. With a myriad of tools at your fingertips, the possibilities are endless. So, embrace the future of learning and choose the platform that suits your unique needs. It's time to unlock your full training potential and empower your learners like never before.
Which Cloud-Based Learning Management System Is the Best for You?
As I already said, the choice of a cloud-based learning management system will depend on your training requirements, audience, and budget.
However, to make the search process easier for you, here's my opinion on which tool you should consider.
Option A: ProProfs
ProProfs LMS is user-centric and easy to use. Its ready-to-go courses save course development time. Furthermore, the virtual classroom enables you to administer courses with anyone, anytime, anywhere, on any device. ProProfs LMS is best suited for organizations with an ongoing need for training on skills, safety, compliance, and policies.
Option B: TalentLMS
Another option you can consider is TalentLMS due to its strong focus on course creation and customization. It offers a user-friendly platform that allows organizations to quickly create and launch training programs with ease. TalentLMS is highly customizable, mobile-ready, and GDPR-compliant, making it a suitable choice for businesses seeking personalized training experiences.
Option C: Absorb LMS
Speaking from my experience, you can also consider Absorb LMS if you want some powerful AI features in your tool. It simplifies the learning experience and offers tools for learner engagement, reporting, content libraries, and more. Absorb LMS supports various use cases like extended enterprise training, onboarding, and compliance training. It is well-suited for organizations that prioritize advanced features and integration possibilities to enhance their learning programs.
If you ask me, ProProfs Training Maker stands out as the best cloud LMS. Its extensive library of ready-made courses and templates, user-friendly interface, customization options, and automation have simplified and optimized my training initiatives.
Frequently Asked Questions
What is a cloud-based LMS?
A cloud-based LMS is an online platform hosted in the cloud. It allows organizations to create, deliver, manage, and track training and educational content. Such platforms are accessible through the Internet, and they provide scalability, flexibility, and easy access to users from anywhere with an Internet connection.
Watch : What is a Cloud-Based Learning Management System?
Cloud-based LMS vs. self-hosted LMS: What's the difference?
The main difference between a cloud-based LMS and a self-hosted LMS lies in the infrastructure and management. A cloud-based LMS is hosted on remote servers and accessed through the internet from anywhere. It eliminates the need for organizations to manage and maintain the underlying infrastructure. In contrast, a self-hosted LMS is typically installed on-premises or on dedicated servers, requiring organizations to manage and maintain the hardware, software, updates, and security on their own. They require a dedicated in-house IT team and can be expensive. For more on LMS types, read Top 8 Types of LMS to Power Your E-Learning Programs
What are the benefits of a cloud-based LMS?
Cloud-based LMSs offer several benefits. Firstly, they provide easy accessibility as users can access the platform from anywhere with an internet connection. They are scalable, allowing organizations to accommodate growing numbers of users and content without infrastructure limitations. Cloud-based LMS solutions also reduce IT burden as the service provider handles maintenance, updates, and security. They offer cost-effectiveness as they eliminate the need for upfront hardware and software investments.
What are the features of cloud-based LMS?
Cloud-based LMSs typically include user management, content management, assessment and grading tools, collaboration tools, and reporting and analytics. They also provide virtual classrooms, integration capabilities, mobile accessibility, and customization options. Additionally, a cloud-based LMS often provides settings, permissions, and user roles. Check out this LMS features list.
How to choose a cloud-based LMS
Start by assessing your organization's needs, including scalability, user experience, and desired features. Evaluate the platform's usability, customization options, and compatibility with existing systems. Consider security measures, data protection, and compliance with industry standards. Look for a provider with a strong reputation, reliable customer support, and regular updates. Request demos or trials to test the platform's functionality and user interface. Compare pricing models and ensure it aligns with your budget. Lastly, choose an LMS that meets your specific requirements, offers a seamless learning experience, and provides long-term value for your organization. Read this guide to know more or watch this video:
How to Choose the Best LMS Software for Employee Training
How much does a cloud LMS cost?
The cost of a cloud-based Learning Management System (LMS) can vary depending on several factors. These include the number of users, desired features, customization requirements, and the service provider. Most cloud LMS solutions offer tiered pricing models based on user count or active learners. Prices can range from a few hundred dollars per month for small organizations to thousands of dollars per month for larger enterprises. Some providers may also charge additional fees for implementation, support, or advanced features.
You may also find providers offering free cloud LMSs.It's important to carefully evaluate pricing plans, consider your organization's needs and budget, and select a solution that offers value for money.
Do you want a free Training Software?
We have the #1 Online Training Software for employee training & assessment