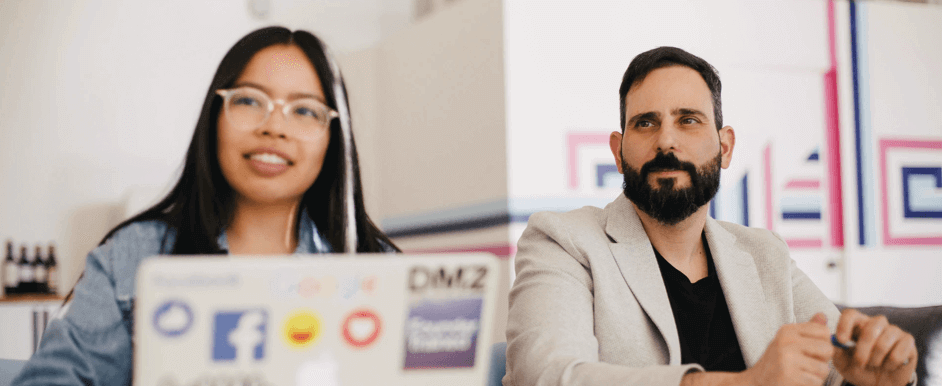 You'll find scores of compliance training courses online. Like other courses, a standard online compliance training course should be relevant, accurate, and up-to-date. It should be informative, interactive, and include practical examples. Ease of access and mobile-friendliness are also worth considering. If the course supports personalized learning, all the better. The course should be suitable for a global audience and take into account cross-cultural differences.
Are you in compliance with major regulations in your state or country?
Compliance is a major topic among companies around the world. They need to comply with a number of rules set by regulatory agencies. Otherwise, they have to pay a heavy price for non-compliance in the form of liabilities, including reputational damage, fines, and even imprisonment.
Sadly, many employers and employees take compliance training programs as a routine task that they perform every one to two years. But the reality is it is not a "check the box" task. You can't simply get it over with; you need to take it seriously. It is a question of safety, efficiency, productivity, and well-being of your employees and organization.
This listicle focuses on compliance training online and discusses the 10 best compliance training courses available today. Take a look.
10 Best Compliance Training Courses
Best For
ProProfs Compliance Training Courses

Professionally designed
Easily customizable
Engaging quizzes
Online Q&A community
100% online
Tracking & reporting

Navex Global

Highly engaging
Regularly updated content
Course library
Available in all formats
Endorsed by industry leaders

Traliant

Designed for modern workplaces
Engaging
Fully customizable
Broadcast quality
Mobile optimized content

Skillsoft

Updated & accurate content
Available in 33 languages
Translation & cultural adaptation
Interactive videos & simulations
Partnership with global advisory firms

Thomson Reuters

Regularly updated
Custom training
Practical examples
Interactive scenarios
25+ languages supported

Cornerstone

Simple training format
General HR Compliance
Courses from leading providers
Content conslitants
Suits different regliatory environments

Clear Law Institute

Critically acclaimed
Compliance learning games
Industry-specific scenarios
Legal expertise's support
Multilingual

Global Learning Systems

25+ years of experience
Award-winning courses
40+ compliance training programs
Engaging content
More than 30 languages

theknowledgeacademy

Specialized courses
Flexible delivery methods
Quality resources
Support of training experts
Accredited by PeopleCert

findcourses.com

Open & scheduled courses
Comprehensive topics
Quality training programs
4,000+ training suppliers
Professional training
Let's now revisit each of these online compliance course providers and see why they are the top names in the industry worth your investment.
10 Best Compliance Training Courses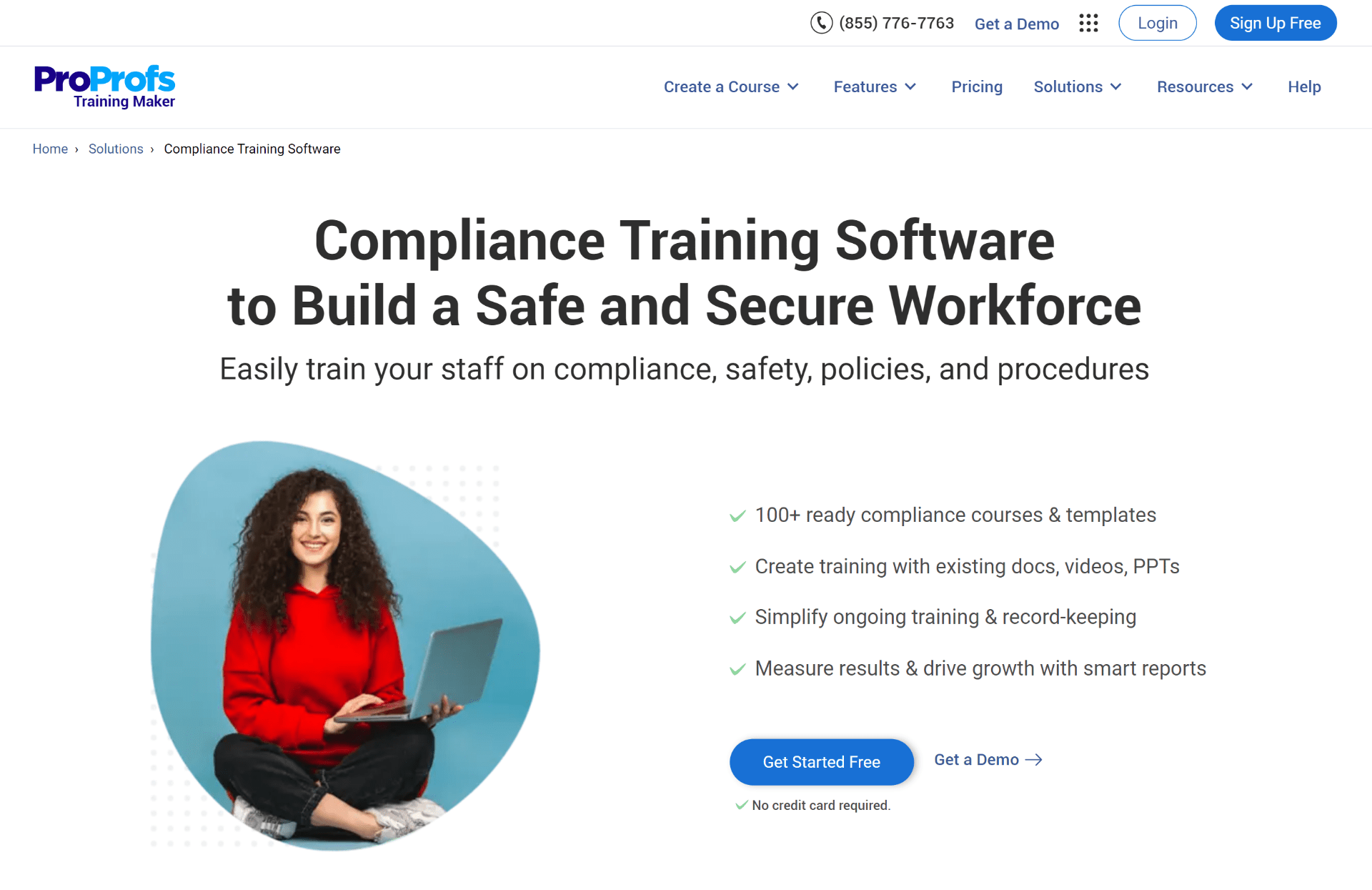 ProProfs compliance training courses feature all the top training programs on popular topics, including OSHA, HIPAA, FMLA Administration, and FLSA. These courses are professionally designed to suit the training needs in every industry. ProProfs regularly updates the content so that you can easily keep pace with changing laws and regulations.
Like ProProfs courses in other categories, these courses are self-paced and learners can take them when and where they want to. Add to that engaging quizzes that keep course participants hooked till the end.
Along with the compliance training courses, ProProfs offers an LMS that you can use to administer training company-wide, including remote teams.
Some of the best compliance training courses ProProfs offers are:
Features:
Ready-to-Use: The courses are specially designed for enterprises with busy schedules. They are deployment ready. You can use them as they are right away. Or, if you want, you can customize them to add existing content, beautiful themes, branding, and more.
Online Quizzes: Take advantage of 100k+ engaging quizzes, 10+ question types, and quiz templates. Keep your learners engaged and simplify how you assess them.
Virtual Classroom Software: Manage groups of learners, course assignments, progress tracking, and view reports on each learner from a single platform. ProProfs' centralized and secure virtual classroom lets you do this and more.
Reporting: Get consolidated data on individuals and groups. Identify completed and pending courses, participation rates, and engagement levels.
Why ProProfs?
Trusted by Millions: ProProfs is trusted by over 4 million people, thanks to its USPs such as delightfully smart software tools, transparency, and data security.
Meets Compliance Rules: The courses meet the requirements of top regulatory agencies in the United States, including OSHA, OCR, and FinCen.
Ease of Customization: You can easily customize the courses by uploading existing docs, images, and videos. You can also add a variety of quizzes and surveys.
Anytime, Anywhere Learning: The courses are 100% online, which means learners can access them anytime and from anywhere using a personal device.
Pricing:
Forever free plan (up to 10 learners). Paid plan starts at $1.97/learner/month (billed annually) for large teams. No hidden charges. 15-day money-back guarantee.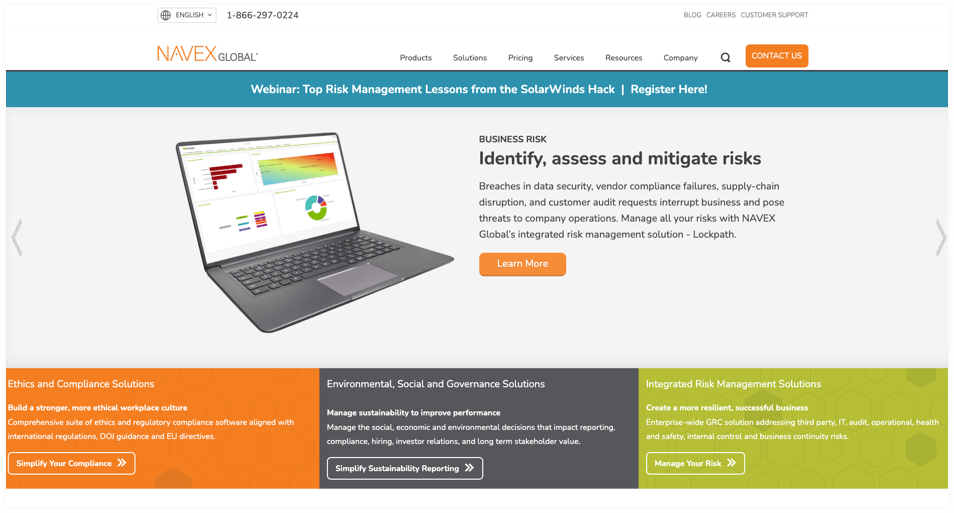 Navex Global is one of the best places to find online compliance training courses to meet regulatory needs. It is committed to keeping organizations risk-free by helping them protect their employees and business reputation.
A large catalog of compliance training courses supports Navex Global in this mission. The courses are legally vetted to ensure they meet the requirements of regulators while successfully transferring the essential knowledge to learners.
Features:
Online Course Library: The course library can meet the needs of organizations of any size or scale. It contains both full-length and microlearning courses. These courses are designed to make sure businesses stay current with regulations.
Professional Services: Avail custom training solutions from professional consultants and maximize the values you get from Navex Global. These experts get to the core of your unique challenges and help solve them quickly.
NAVEXEngage: You can use this eLearning tool for ethics and compliance training programs and further strengthen your efforts to affect behavioral change in your employees. The tool contains custom courses and language translation features.
Ethics & Compliance Platform: NAVEX One is an integrated platform that facilitates easier and effective management of ethics and compliance training programs. Streamline how employees access the system with single sign-on and leverage its reporting capabilities for business decision-making.
Why Navex Global?
Global Leader: Navex Global is a leader in compliance and risk management. Apart from the online courses, it offers robust training software to help companies bring a cultural change.
Different Formats: Easily meet the demands for different learning styles and preferences with different content formats. Drive greater retention and course completion rates.
Up-to-Date Content: The compliance training content is regularly updated to keep pace with fast-changing legal requirements and ensure that learners lay their hands on the latest, relevant topics.
Endorsed by Industry Leaders: NAVEX Global is in an exclusive partnership with the Society for Human Resource Management (SHRM) in the field of online ethics and compliance training.
Pricing:
Available on request.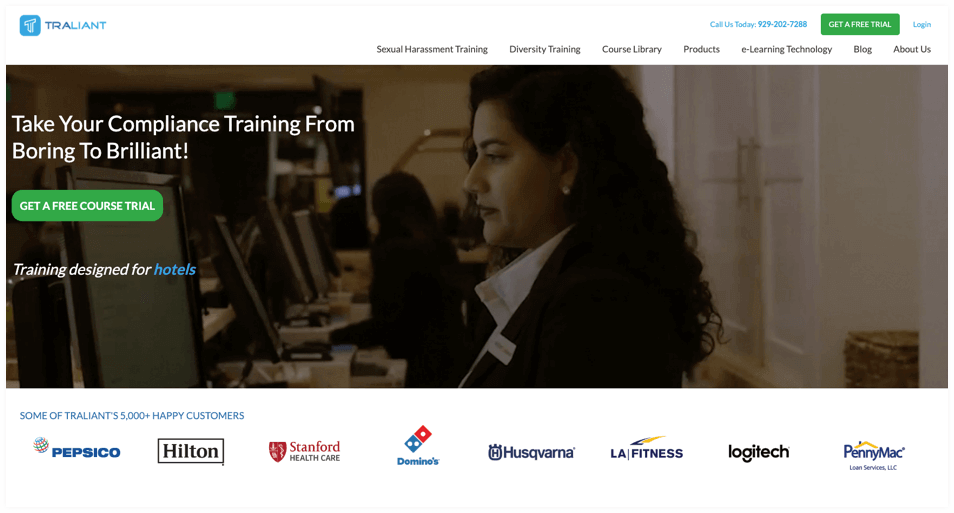 Compliance training doesn't have to be boring and Traliant goes on to demonstrate it through its compliance training courses. It delivers compliance training in engaging broadcast-quality and bite-sized modules. The courses are designed to equip employees with the knowledge and skills needed to respond to actual workplace situations.
Features:
Broadcast Quality Training: Train your employees with highly engaging and millennial-friendly broadcast quality training sessions. Revolutionize how you protect your employees and organization with this game-changing technique.
GamificationTake compliance training to the next level with interactive gamification. Let your employees learn the fun way through friendly competition with their colleagues and scores.
Mobile-Friendliness: Traliant courses are easily accessible on portable devices such as tablets, laptops, and smartphones. This means anytime, anywhere learning that fits all kinds of schedules.
Customization: Easily customize all the elements in a course, such as the text, audio, videos, and graphics to suit your needs.
Why Traliant?
Industry Veterans at the Helm: The company was founded by former executives of top compliance training companies, including industry veterans.
Designed for Modern Workplaces: Traliant takes an innovative approach to deliver compliance training. All of its courses have been designed keeping the modern workplace in mind.
Continuous Learning: Let your employees get access to fresh content at regular intervals so that they can engage in continuous learning and development.
High Ratings: More than 90% of Traliant end-users rate its training programs a 4 out of 5 or higher.
Pricing:
Available on request.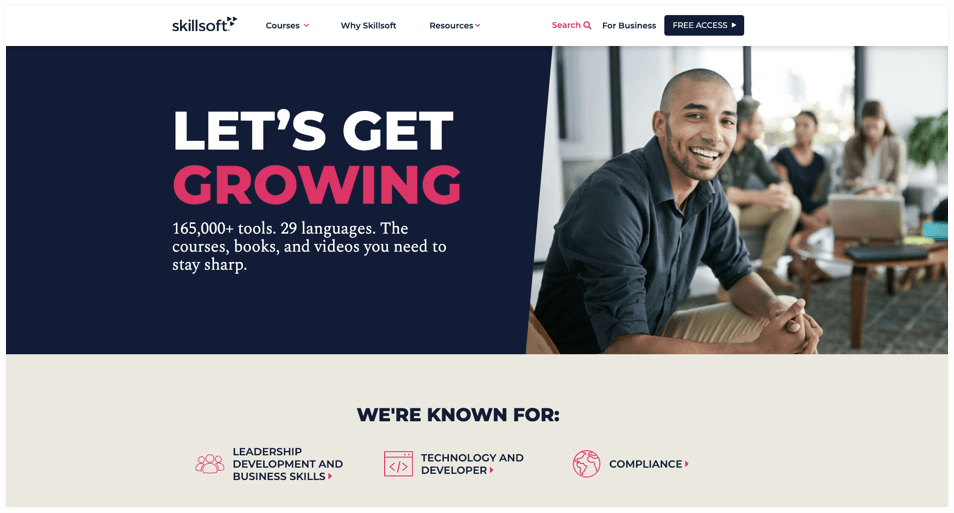 Skillsoft offers sensible ways to learn with the most extensive collection of course content. Through its compliance training, it protects more than 1,800 organizations covering over 500 risk areas. It, thus, makes it easy for these companies to do the right thing and stay within the boundaries of laws.
Skillsoft offers compliance management courses on sexual harassment, code of conduct, privacy, cybersecurity & data protection, and many others.
Features:
Interactive videos: Skillsoft has over 6,000 interactive videos for various training programs, including compliance. This is in addition to practical simulations, books, and audio files that learners can leverage.
Translation & Cultural Adaptation: The company offers online training content in 33 different languages. Not only this, it also supports translation and cultural adaptation to cater to a worldwide audience.
Updated Content: Skillsoft updates all its compliance course content automatically without requiring administrators to do it manually. It includes both major and minor updates.
Course Feedback: Take a course survey on all Skillsoft courses and provide feedback to Skillsoft about your experience. It is optional, but it can help the provider improve its course content for a better learning experience.
Why Skillsoft?
Partnership with Advisors: Skillsoft partners with a number of leading advisory firms in its mission to offer the best training technology and content solutions. Names include Oracle, AWS, and Fujitsu.
Based on Science: Skillsoft relies on the science of learning to develop its courses. This makes learning practical and measurable.
24/7 Access: Enjoy access to all courses on the cloud, 24 hours, 7 days a week.
Learner-Centered: Whether your employees are learning a new skill or upgrading existing ones, Skillsoft has a pool of resources to help them.
Pricing:
Available on request.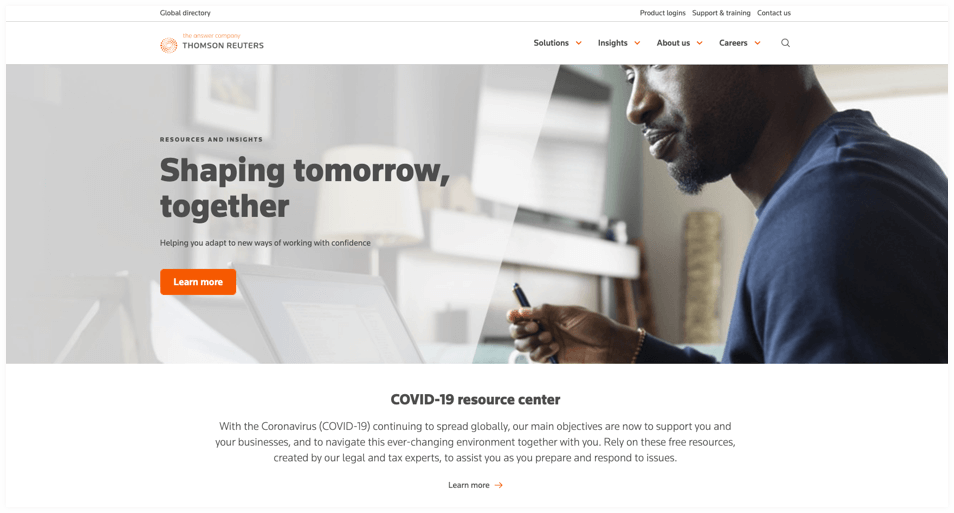 The compliance training courses by Thomson Reuters are authored by former regulators, attorneys, and subject-matter experts. These courses have been optimized for the best experiences. They are interactive and practical.
Thomson Reuters supports businesses around the world with customizable courses, microlearning modules, 25+ languages, and a compliance learning management system. The engaging learning experiences ensure a better understanding of laws and regulations and compliance.
Features:
Microlearning: Let your learners benefit from this complementary learning approach marked by short and impactful modules. Help them retain key compliance concepts better.
Custom Courses: Every compliance course in their catalog is easily customizable to fit your specific training needs and governance. You can also create courses from scratch.
Content Update: Thomson Reuters continuously updates and releases new content to enable its clients to undergo the latest compliance training.
Regulatory Intelligence: Easily manage changes in regulations and the growing complexity with Regulatory Intelligence. Gather, analyze, and monitor regulation-related data.
Why Thomson Reuters?
Trusted Provider: It is one of the most trusted providers of compliance training in the world. It is known for its authoritative and innovative methods in the field of risk management and compliance.
End-to-End Solutions: It brings you the technology and expertise for end-to-end training solutions and helps you navigate some of the toughest compliance challenges.
Awards & Recognition: Thomson Reuters has received many prestigious awards from several organizations as well as mentions in leading publications.
Commitment to Values: For over 100 years, it has been ensuring transparency, accuracy, and fairness in whatever it does for its customers around the world.
Pricing:
Available on request.
6. Cornerstone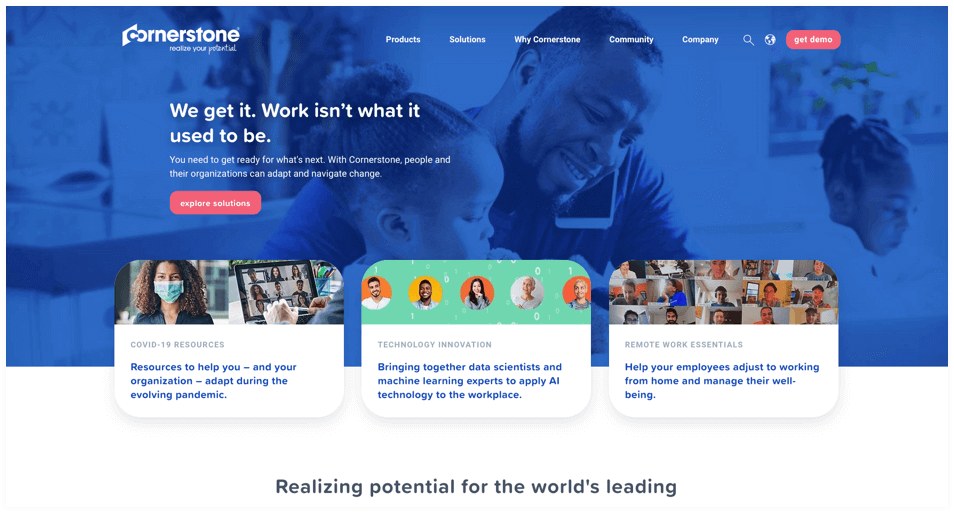 Cornerstone takes the complexity out of compliance training. A pioneer in delivering human capital management (HCM) products, it offers compliance solutions that cover everyone's needs. With curated content from trusted brands, Cornerstone can be your reliable partner in building a culture of compliance and bringing a behavioral change.
Sexual harassment prevention, OSHA compliance course, and active shooting awareness training are some of the online courses it offers.
Features:
Quality Content: Get access to top-quality content from industry-leading brands to close knowledge gaps and stay compliant with laws.
Multiple Formats: Cornerstone offers a large selection of training formats, including video, audio, virtual reality, and digital resources. It, thus, caters to different learning preferences.
Content Consultants: Always ready to help, Cornerstone's content consultants are experts who can explain or guide you in matters related to content. Drive greater engagement through your editorial content and maximize results.
Integration with LMS: Continually build the knowledge and skills of your employees with the world's largest learning management system. Train, adapt and stay relevant with the help of a tool built for the modern workforce.
Why Cornerstone?
Expertise: Regardless of the company size or industry, Cornerstone has expert solutions for all kinds of talent management challenges.
Recognition: It has received accolades from top companies such as IDC, Nucleus Research, Forrester, and Gartner.
Customer Success: Cornerstone is dedicated to helping its clients get the most out of their investments. It collaborates with its customers at every stage of employee training.
Partnership: Two heads are better than one and that's why Cornerstone builds a network of content partners, technology partners, and service partners globally.
Pricing:
Available on request.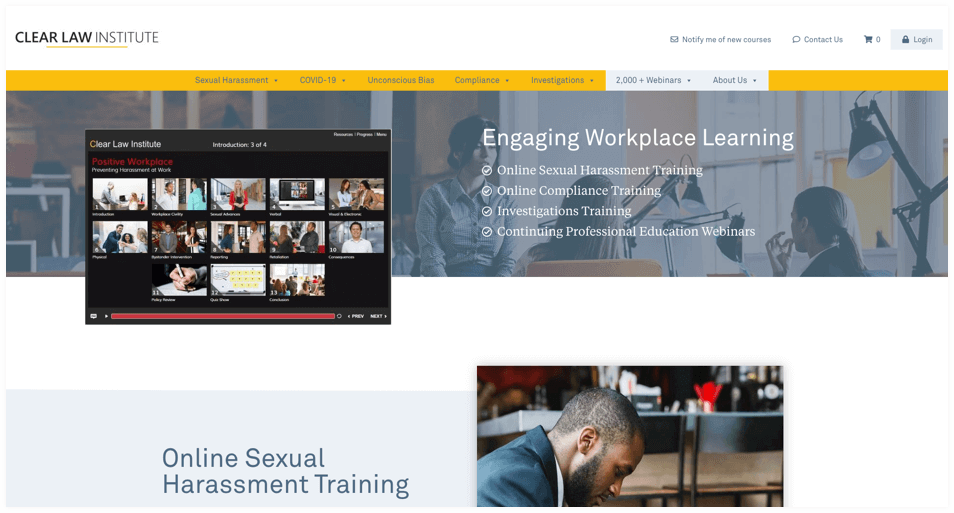 Clear Law Institute is another training provider that can help you stay in compliance with applicable federal and state laws. It is led by Michael Johnson, who was an attorney with the U.S. Justice Department. It provides engaging, practical, and accurate training programs on several topics, including compliance.
Continuing education webinars and learning games are among the educational methods that Clear Law Institute uses.
Features:
Webinars: This online training provider hosts webinars for continuing education on various in-demand topics, including compliance and risk management. These sessions are helpful for compliance officers in identifying and managing regulatory risks.
Games: Let your employees familiarize themselves with compliance concepts and examples in an enjoyable way. They can play online learning games on their computer, smartphone, or tablet. These games are short, trackable, and available in different languages.
Investigation Seminars: Clear Law Institute offers online seminar videos on workplace investigation. Presented by Michael, these seminars discuss scientifically proven and effective investigation techniques. It also includes an optional certification examination at the end.
Electronic Recording; Record course completion electronically and eliminate unnecessary paperwork. Make sure there is 100% participation in your compliance course.
Why Clear Law Institute?
Headed by a Legal Authority: Michael is one of the leading legal experts with extensive experience in various legal matters. He oversees the accuracy of compliance training and other courses.
Responsive & Supportive: In addition to its excellent courses, Clear Law Institute sets itself apart from others through its extraordinary customer support.
Wide Selection of Courses: From regular compliance topics such as code of conduct, diversity & inclusion, and unconscious bias to those of current interest like covid-19 workplace safety training, it provides all types of courses.
All-Access Membership: Access hundreds of professional courses from anywhere each year. Avail discounts for group membership. Most of the webinars come with continuing education credit at no extra fee.
Pricing:
Available on request.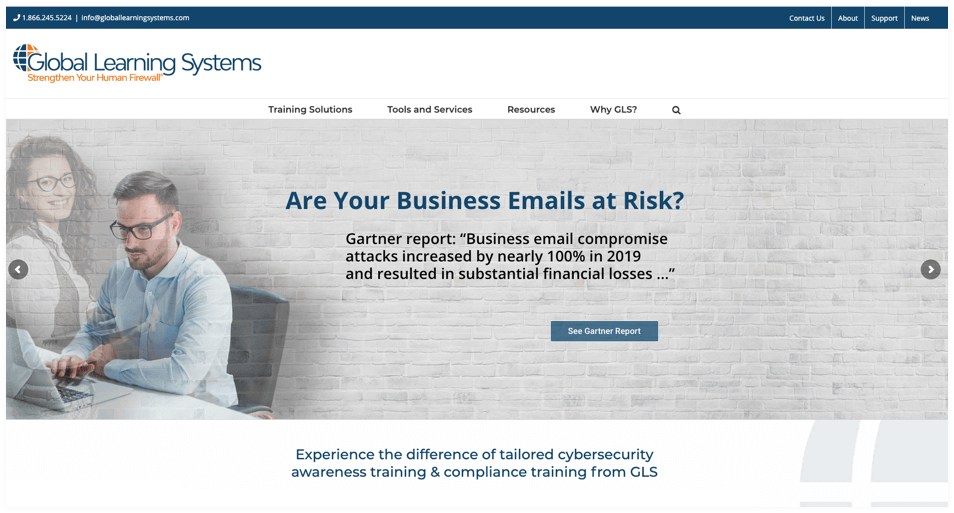 Compliance training courses from Global Learning Systems are award-winning courses. They are designed to safeguard organizations and their workforce from all kinds of risks. An on-demand portal, managed services, and custom course development are some of the tools and services it offers to its customers.
Its compliance training covers more than 40 programs with highly engaging content, delivered in over 30 different languages.
Features:
Learning Videos: GLS provides videos and podcasts as a part of its compliance training programs. They make engaging content that employees can watch and re-watch anytime, anywhere.
GLS OnDemand: It is a learning management system from GLS that you can use to administer compliance training courses and track completion to ensure compliance. The platform comes with assessment tools to evaluate learners objectively.
Content Management: Easily manage course content using the GLS OnDemand premium version. Meet your goals for knowledge management by deploying this intuitive and on-demand tool.
Multilingual Support: GLS provides language and translation options in more than 30 languages. Most of the translations and narrations are done by native speakers.
Why Global Learning Systems?
Decades of Experience: It has over two decades of experience in providing security awareness and compliance training programs to government departments, corporates, and non-profit organizations.
Awards: GLS has been the recipient of several awards and recognition, such as in the Gartner Magic Quadrant year after year for its excellent products and services.
Engaging Content: The course content provided by GLS is engaging and utilizes real-life scenarios to give learners the best learning experiences.
Large Number of Programs: The GLS library consists of over 40 compliance training programs. They are specifically designed to help you stay within the legal boundaries.
Pricing:
Available on request.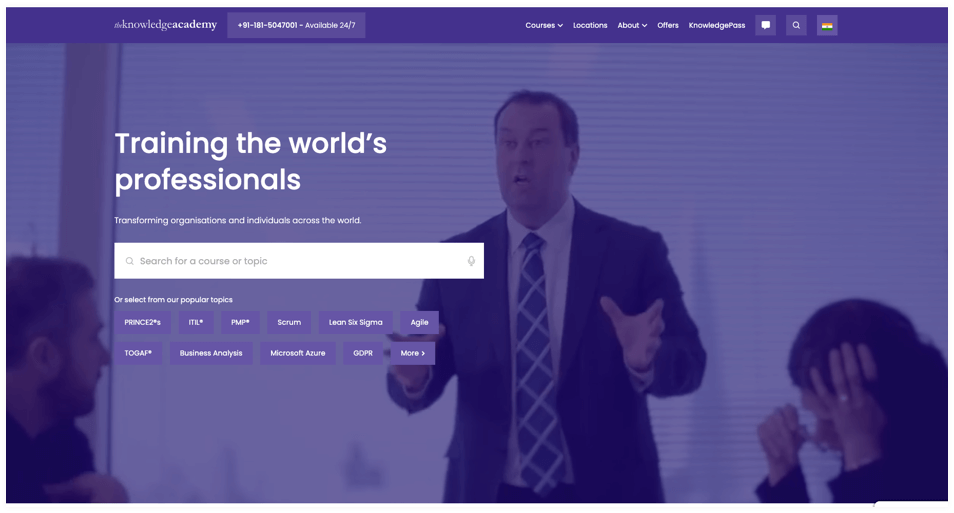 theknowledgeacademy is a globally established and award-winning provider of online training courses. So far, it has delivered thousands of courses to different locations across the world. As a trusted name in quality solutions, theknowledgeacademy offers compliance courses in specialized areas, including PCI DSS, GDPR, ISO, and Sarbanes-Oxley.
It has a large portfolio of accredited courses, a multichannel delivery system, and account managers.
Features:
Specialized Courses: Almost all compliance training courses by theknowledgeacademy are specialized courses dealing with matters like IT, security standards, and regulatory frameworks. They are instrumental in transforming the compliance landscape of businesses around the world.
Multiple Delivery Methods: The courses are not confined to online alone. theknowledgeacademy offers courses for onsite as well as traditional classroom training too.
Trained Delegates: theknowledgeacademy has provided training to more than 1,000,000 delegates all over the world. It invests in their knowledge and skills so that they excel in their profession.
Course Bundles: When you buy multiple courses at a time, you can avail a discount of up to 71%. Each bundle includes professional courses that you can use for workplace learning & development.
Why theknowledgeacademy?
Accredited by Leading Bodies: Leading accreditation bodies such as PeopleCert, APMG, and AXELOS have accredited theknowledgeacademy courses, which indicates the high standards of the training materials.
Support of Training Experts: You can speak to expert consultants for any training-related needs, including identifying your corporate training needs and effective delivery.
Numbers Don't Lie: theknowledgeacademy has all the facts and figures that any company would be proud of – 15,000+ clients, 190+ countries, 30,000+ courses, and 3,000,000+ delegates.
90-Day Access to Courses: When you enroll in the online self-paced training with theknowledgeacademy, you get 90-day access to all the courses. If necessary, you can upgrade it.
Pricing:
$95.13/course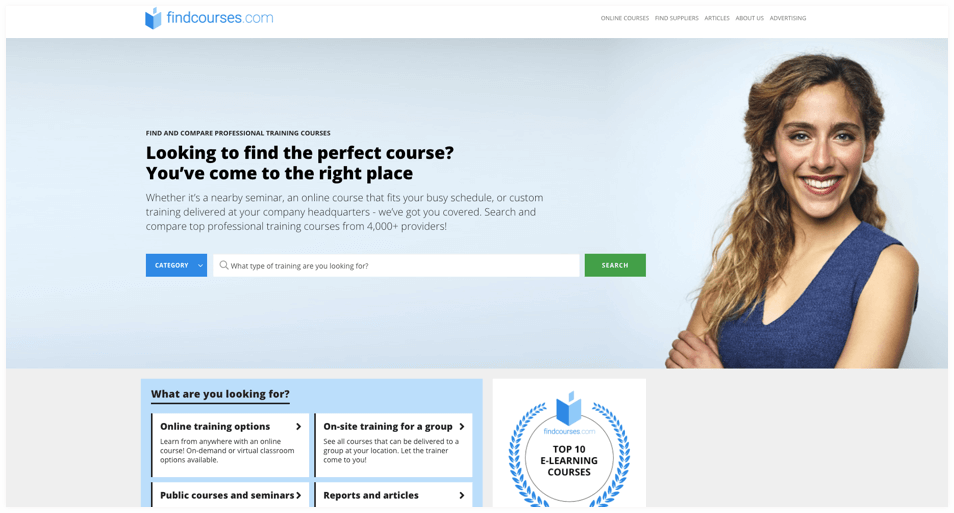 findcourses.com sees professional training as a catalyst for organizations and employees to evolve. You can use this free search engine to find and compare courses provided by 4,000+ different training suppliers.
Choose from different course formats, including self-paced online, live classroom, and onsite, based on your learning needs. HIPAA, anti-money laundering, payroll compliance, and FDA FSMA are some of the top compliance courses available.
Features:
Huge Course Catalog: There are so many courses to choose from for professional growth. It is easy to find relevant courses for corporate training and their method of delivery.
Training Resources: In addition to the search engine, findcourses.com provides useful resources for online compliance training, such as insightful reports and expert articles on industry best practices and trends.
Listing Services: Training suppliers can list their courses on the site. By doing so, they get the benefit of online marketing services that fetch traffic and quality leads for enrollment in their courses.
Webinars: Start building your employees' knowledge and skills through live and recorded webinars. Many of these webinars offer compliance certification online.
Why findcourses.com?
It's Free: findcourses.com is a cost-free search engine where you can find online courses of your choice from more than 4,000 suppliers.
Simple Website: The website is characterized by an intuitive design, which ensures ease of navigation and a satisfying user experience.
Everything in One Place: No matter what you're looking for your compliance training – options for online training software, public seminars, onsite training, or articles – you'll find them at findcourses.com.
Free Consultation: In case you need help finding and comparing the right training programs, findcourses.com's team of experts is there to assist you.
Pricing:
Depends on the course you buy.
Explore the Best Compliance Courses Online
You'll certainly find this exhaustive list of courses helpful in picking the right one for compliance training requirements. The best approach would be to request a free trial or demo of a course before you make up your mind. ProProfs doesn't just offer you a compliance course, you also get its cloud LMS, Training Maker. You can use it to easily administer the course and get detailed reporting on learners.
Do you want a free Training Software?
We have the #1 Online Training Software for employee training & assessment