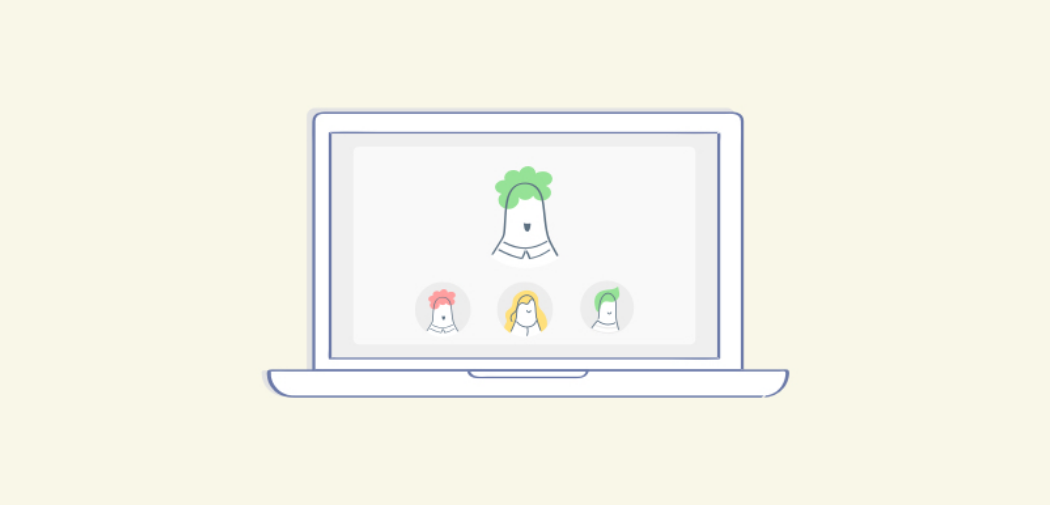 There are several online classroom software that instructors and teachers can deploy for remote training or learning. These tools offer useful features such as course builder, video conferencing, breakout rooms, mobile learning, and localization. These features in virtual training platforms ensure that you implement learning & development programs rapidly, no matter where your learners are. They also enable you to make learning more manageable, engaging, and sustainable.
Virtual classrooms are one of the greatest online training software in recent times. They offer the ease of accessibility from anywhere, anytime, the convenience of asynchronous learning, and centralized control over learners and their activities.
According to TechJury:
The worldwide eLearning market is projected to be worth $325 billion in 2025
eLearning boosts retention rates by 25% to 60%
IBM saved approximately $200 million after they switched to eLearning
Sounds interesting? It really is.
You don't need to compromise learning and training just because your learners are not physically present or share workspaces with you. You can now leverage a virtual classroom LMS and take learning & development initiatives so that learning doesn't stop.
10 Best Virtual Classroom Software
Best For
ProProfs Virtual Classroom

Anytime, anywhere learning
Centralized and secure
Unlimited class size
Course library
Ease of administration
70+ interface languages
Self-help knowledge base

VEDAMO

Live online classes
Distance education
Online tutoring
Session recording
No software installation
Excellent support

LearnCube

Schools
Online tutoring & training
Intuitive UI
No software downloads
Remote learning
ESL tools

Electa Live

Online courses
Tutorials
Live online classes
Web conferences
High audio quality
Data security

Adobe Connect

Business & education
Web conferencing
Desktop sharing
Rapid training
Integrations
Room templates

WizIQ

Ease of administration
Live teaching & training
Session recording
Integrations
HD video conferencing
Integrated library

Blackboard Collaborate

Simplicity
Reliability
High-quality audiovisual
Personalized learning designer
Unlimited recording
Polling tools

eTrainCenter

Easy to use
Synchronized learning
Instant messaging
Live class recording
Breakout sessions
Easy content upload

Edvance360

Designed by educators for educators
K-12 & corporate learning
Adaptable
Modular courses
Customizable interface
Free mobile apps

SAP Litmos

Intuitive & secure
Task automation
Video courses
Rapid deployment
Gamified learning
Helpful support
Before we explore the best online class platforms on the market in detail, let's understand the following.
Why Use Virtual Classroom Software?
In the long run, virtual classrooms can be a better solution than traditional classroom learning. Here's how:
They offer flexibility in scheduling, support self-paced learning, and allow instant feedback.
They also facilitate social learning by integrating with many collaborative tools, such as instant messaging and Q&A forums.
Most virtual classrooms support multiple formats for learning, ensuring better engagement and knowledge retention.
Features like VR in the classroom not only offer an immersive experience but are also disabled-friendly.
Advantages of Using Virtual Classroom Software
There are several advantages of virtual classroom platforms:
They save learners' time and cost as they don't have to step out of their homes.
Learners can access their performance reports as soon as they finish their assignments, as many virtual classrooms support automatic grading.
When you use a virtual classroom, you no longer need to worry about time and location constraints.
Learners can join a virtual classroom using their personal devices. Most of these classroom management software tools are compatible with all popular devices people use these days. A learner can initiate a course on a computer and finish it on his smartphone.
How to Choose the Best Virtual Classroom Software
Ideally, the virtual classroom tool you select should be easy to use, scalable, and customizable. Make sure it offers pre-built courses and templates so that you can get your online learning or training programs up and running in no time.
Course builder, quizzes, collaboration tools, learning paths, and reporting are other features you should insist on while shopping for a virtual classroom.
Also, the software provider should offer quality customer service should you run into any problem while using the tool.
Now, to help you choose the right solution, we did some research and came up with the following list of 10 best virtual classroom software for 2023. You'll find them handy for online employee training and as online education platforms. Take a look.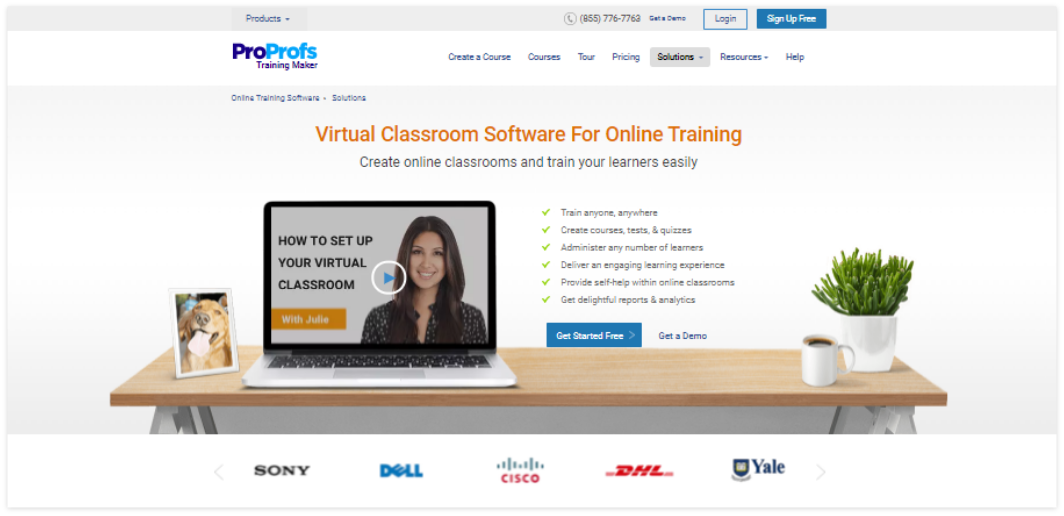 ProProfs virtual classroom software is the easiest cloud-based application for administering online learning. As a multi-purpose LMS with a virtual classroom, you can use it to deploy various types of eLearning programs, including corporate training and online education.
Add admins, enable self-enrollment, create learner groups and sub-groups, create courses, share them, and track progress – all from a single executive dashboard.
You can even provide self-help in the form of a knowledge base within online classrooms.
The classroom comes with built-in testing & assessment software such as Quiz Maker and Survey Maker.
Watch: TM Classroom
Features
Course Library Access a premium library of 100+ courses and templates. These resources are professionally designed, customizable with existing content and branding, and ready to use.
User Administration Administer any number of learners anywhere in the world. Create multiple classrooms, create groups, and assign courses. Leverage multilingual and localization support to teach in different linguistic regions.
Self-Help Provide a self-help or self-service system within the virtual classroom so that learners can easily find themselves the information they want. Integrate a knowledge base of FAQs, manuals, and help centers.
Reports & Analytics Get insights into learning with delightful reports and statistics. View details by individual, group, or course. Use this information to improve participation, engagement, and course quality.
Pros
Ease of use
Ready-to-use courses
Excellent support
Why Choose ProProfs?
Easy to Use It is the world's easiest virtual classroom. Everyone can use it regardless of their experience level.
Premium Course Library 100+ professionally created online courses on topics such HR, sexual harassment, customer service, channel partner, compliance, employee, and more.
Configurable The virtual classroom software is highly configurable to fit your unique learning requirements and train your audience the way you want.
70+ Languages Supported Train a worldwide audience by delivering training in a language they understand
Pricing
Forever free plan (up to 10 learners). Paid plan
starts at $1.97/learner/month
(billed annually) for large teams. No hidden charges. 15-day money-back guarantee.
Watch: How to set up your virtual classroom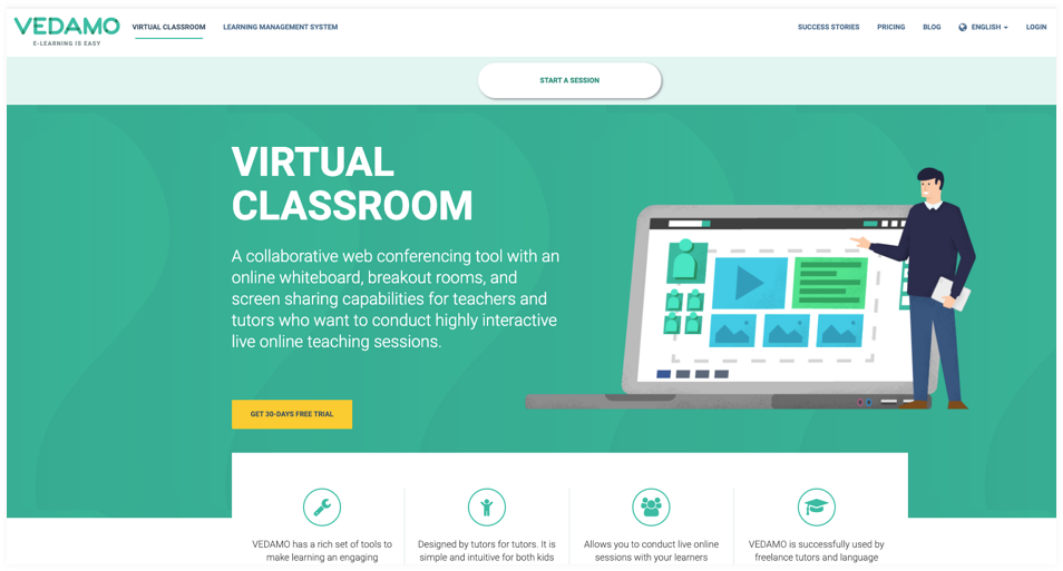 VEDAMO is an eLearning platform hosted in the cloud. It was developed in collaboration with professors and researchers from various universities. Specifically designed to meet the needs of distance education, this remote classroom platform offers a complete solution for creating, administrating, and managing online educational services.
The interactive classroom makes a useful tool for effective online tutoring. It lets you conduct live online sessions without the need to install any additional software. Language teachers, freelance tutors, kindergartens, schools, and universities are among the top users of VEDAMO.
Features
Live Online Classes Conduct live online classes regardless of where your learners are located. Interact with them just like in a real, face-to-face classroom.
Online Academy Create your own online academy to manage learners, courses, and content. Offer training to university students and professionals.
Online Whiteboard Share all kinds of resources on the whiteboard and discuss them with your learners during live sessions. Engage the participants in different collaborative activities with the help of the tool.
Breakout Rooms Create sub-rooms within your online learning session for virtual classroom training. Interact with participants in the main virtual classroom, and assign small individual tasks in the breakout rooms.
Pros
Easy to set up
Session recording
Why Choose VEDAMO?
Trusted by Many From small tutoring companies to universities and enterprises, the virtual classroom is trusted by countless users.
Equal Access to Learning VEDAMO is designed to promote equal access to quality online learning for a wide range of users worldwide.
Feature-Rich The platform offers a rich set of features that make it easy to manage groups of learners.
Excellent Supportspan You can expect an efficient, helpful, and always available support team at VEDAMO.
Pricing
Starts at $25/up to 25 learners/month.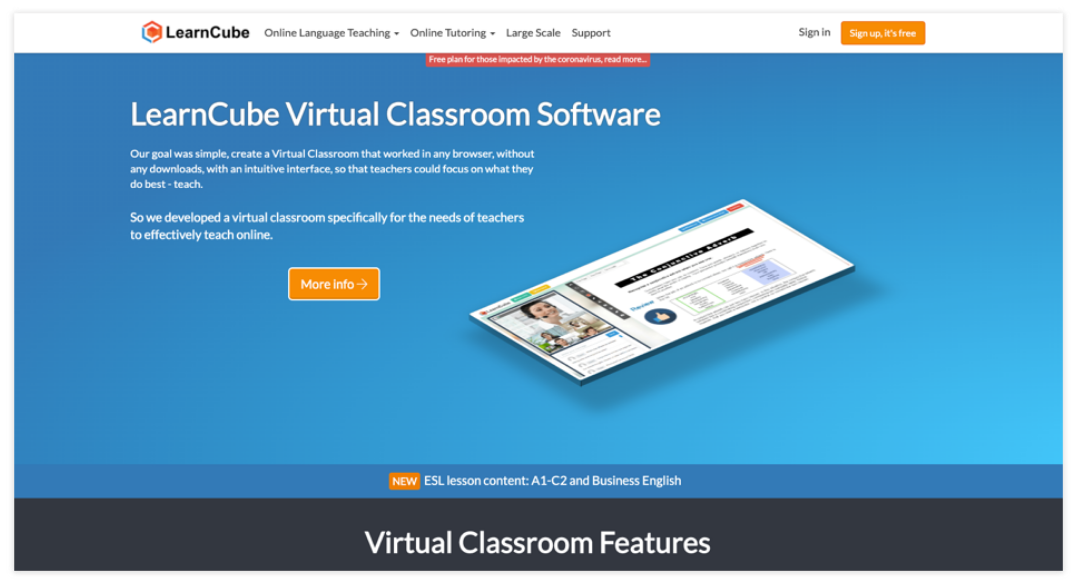 An award-winning virtual classroom software, LearnCube is a great solution for online schools and teachers. It is one of the best online classrooms and people use it for tutoring, teaching, and training. Some call it the Skype for online teaching.
LearnCube is perfect for connecting instructors with learners who live in remote areas. It is driven by its goal to build a virtual classroom that works in any browser without the need for downloads. An intuitive interface ensures that instructors focus on what they do best – teaching.
Features
Download-Free Deliver quality audiovisual content through the real-time communication framework WebRTC. You no longer need to download software applications and spend time teaching learners how to use them.
Interactive Whiteboard Make use of modern interactive whiteboards for collaborative learning. You can type in, draw, and load content easily on the whiteboard.
Video Recording Record live classroom sessions. Both instructors and learners can revisit them for review purposes. This way, you can improve teaching quality and learning styles.
Custom Branding LearnCube allows you to white-label your virtual classroom with logo, color, and domain. This is significant since a generic online classroom software doesn't offer much support for branding.
Pros
State-of-the-art virtual classroom
Impressive interface
Support for ESL tools
Why Choose LearnCube?
Award-WinningLearnCube virtual classroom software has won several awards at various international events.
Trusted by Top BrandsspanLearnCube customers are spread in 95 countries and 1,000+ cities and they include many top names, including Oxford University Press and Babbel.
Offers Everything You NeedspanFrom quality audio and videos to interactive whiteboard, video recording, and custom branding, you get all you need to teach or train.
ReliablespanAs one of the top online classroom platforms, LearnCube continuously optimizes its technology to ensure reliable teaching and learning experiences.
Pricing
Starts at $14/up to 10 learners/month.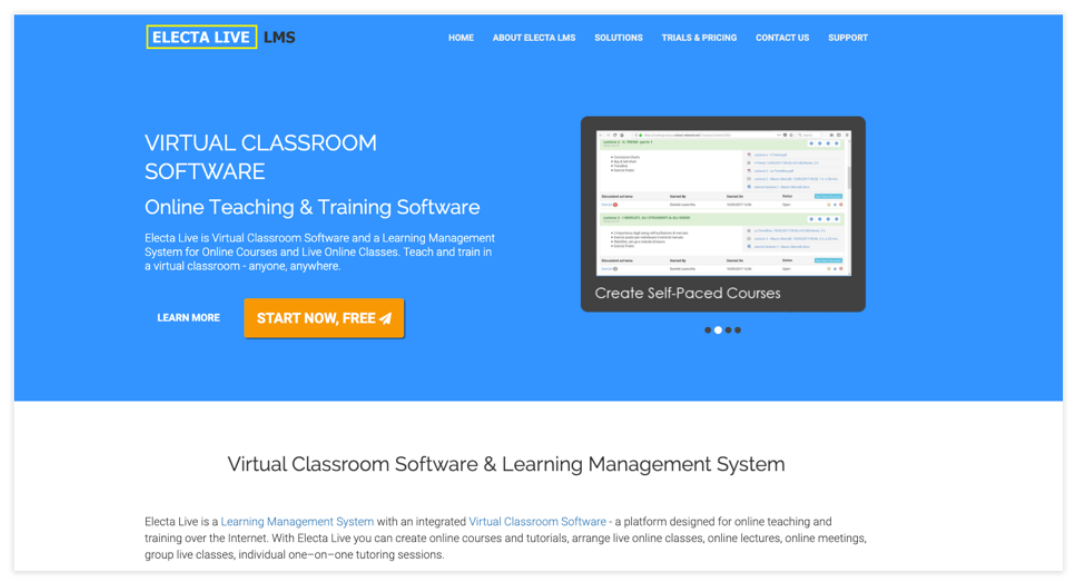 Electa Live is an online teaching and training software and one of the best virtual classroom platforms. Using it, you can create online courses & tutorials and organize live online classes, lectures, & meetings. It lets you host, attend, and interact in online classes and web conferences.
Both trainers and trainees can get the ultimate experience inside the Electa Live virtual classroom. As a state-of-the-art live online classroom platform, it supports live videos with crystal clear audio, screen sharing, interactive whiteboards, and annotation.
Features
Screen-Sharing Take your virtual classroom experience to the next level with the easy screen-sharing feature. Share contents on your screen with learners located in distant locations.
Crystal Clear Audio Electa Live comes integrated with multiple speakers that produce clear audio quality. Its sophisticated VoIP functions even on low bandwidths. No extra charges for audio conferencing.
Online Polls & Surveys Add online polls and surveys with predefined answers to your virtual classroom. Take regular opinion polls to gauge what learners think about your teaching method or the courses.
Guided Web Tour Take your learners to different websites on the internet. Provide the resources they need and assist them in learning. Navigation is easy and secure.
Pros
Simple yet professional virtual classroom
Requires no installation
Why Choose Electa Live?
Designed for EducatorsElecta Live understands the specific requirements of educators and constantly improves its products to offer the best solutions possible.
FlexibilityAs customers' needs change frequently, their software configurations also change. Electa Live offers timely solutions to meet those changing requirements.
Data SecurityYour learners' database is safe at Electa Live. Unlike what other vendors do, Electa Live doesn't make your learners' information a part of shared pools.
No Lock-InIn case the virtual classroom fails to deliver, you can leave any time. Stay because you want to, not because you have to.
Pricing
Starts at $29.90/25 attendees/month.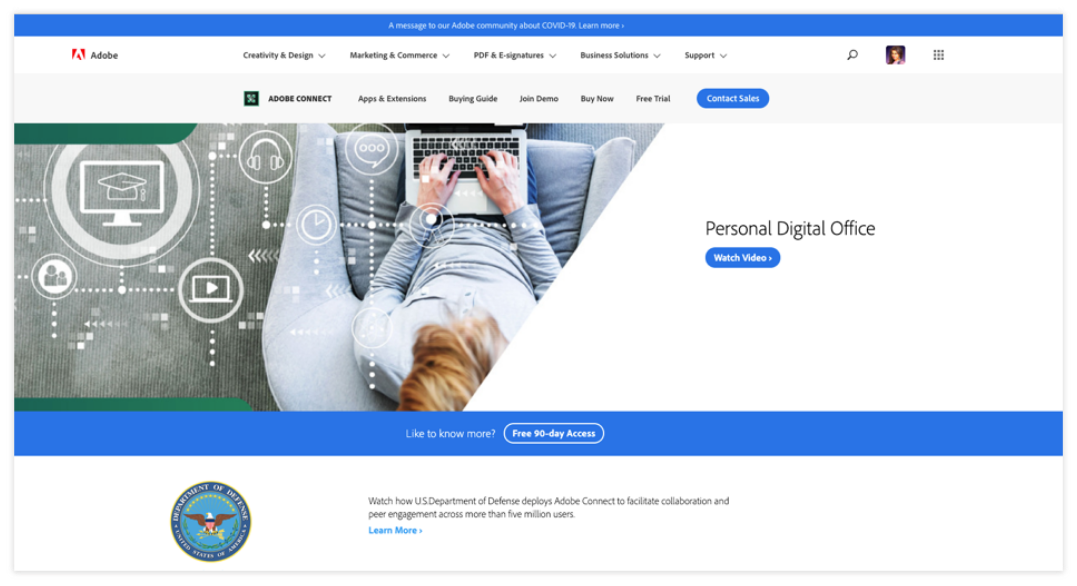 Adobe Connect is a web conferencing and desktop sharing software that you can use to create online training modules and offer a collaborative learning experience. It is the most feature-rich, extensible, and secure web conferencing product on the market. The virtual classroom provides solutions for rapid training anytime, anywhere, and on virtually any device.
The tool is responsive and fast even with multiple participants. It offers solutions for business and education.
Webinars, recordings, demos, and a user community are among the features you'll find. Built on HTML and the open web, the Adobe Connect 11 application offers a completely new UX for hosts, presenters, and participants. It is accessible, modern, and fast.
Features
Mobile Learning Train learners on any of the popular mobile devices with this online teaching software. Host, share files, and use whiteboards on the go; no need to tie yourself to a desktop.
Persistent Room Create your virtual classroom once by choosing the preferred layouts, content, whiteboard, chat, and note, and reuse it repeatedly. Room templates ensure easy and quick setup of the rooms.
Engaging Content Rapidly create and share content using online authoring tools, including Adobe Captivate and Adobe Presenter. Add quizzes and simulations to your virtual classrooms. Manage immersive learning using backstage tools.
Extension Offerings Extend the core capabilities of Adobe Connect by integrating it with learning management systems, custom meeting pods, advanced authentication systems, and more. An open software architecture ensures limitless extensibility.
Pros
Intuitive UI
Document and link sharing
Meeting recordings
Why Choose Adobe Connect?
Complete SolutionFrom creating interactive content to offering learning on-demand and managing and tracking learning, Adobe Connect is your one-stop solution.
Immersive ExperiencesStay in full control of the narrative and drive learner engagement with well-designed interactive elements.
Accessible DesignUnlock the power of virtual classrooms by making them accessible to audiences from all backgrounds and experience levels from around the world.
System SecurityAdobe Connect offers security at all levels – network security, cloud infrastructure security, and application security, for complete protection of hosts, participants, and business data.
Pricing
Starts at $50/host/month. 25 participants.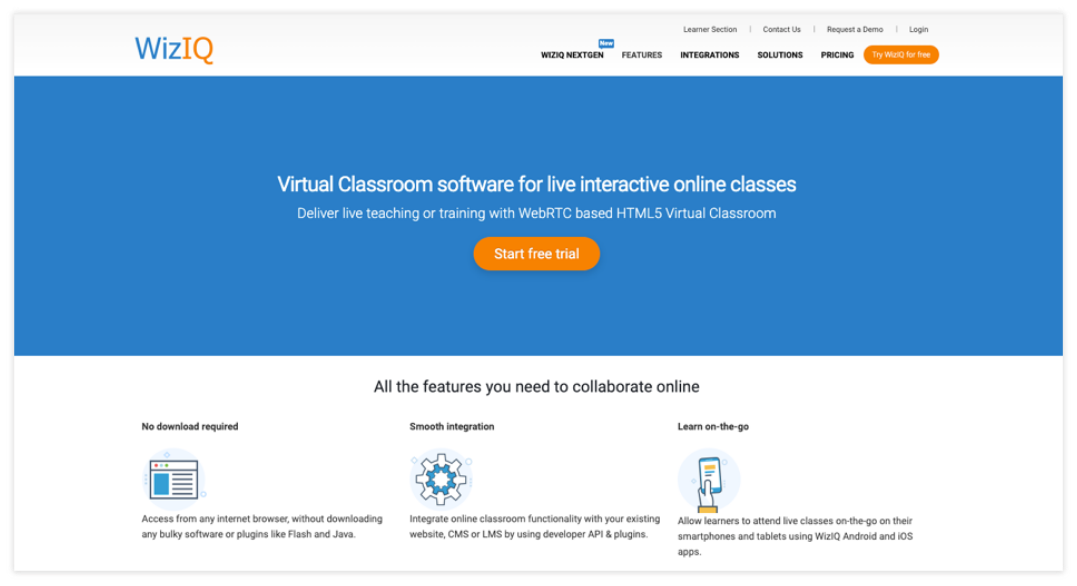 WizIQ is one of the world's largest cloud-based virtual training software. More than 400,000 educators leverage it to deliver different learning services. Deliver live teaching or training by utilizing HTML5 Virtual Classroom based on WebRTC.
The classroom is suitable for enterprises, teachers, trainers, colleges, universities, and test prep companies. You can deploy the virtual classroom to conduct live interactive online classes.
Easily administer live sessions, enable learning on the go, and record sessions. The online classroom supports integration with an existing website, CMS, or LMS.
Features
High-Definition Video Conferencing Arrange video conferencing with a high-quality audiovisual system. Bring alive online classroom experiences with a 5-way audio-video layout and instinctive speaker recognition.
Integrated Library The integrated library supports all types of files. Upload, organize, and store any content in the cloud. Remove the hassle of physically carrying or transferring data.
API and Plugins The API and plugins allow you to integrate to your website the live class functionality. Deliver live classes right from your LMS. Let learners log in to your integrated system using a single ID and password.
Easy Administration Use any browser to access the virtual classroom software. Administer learning or training easily. Assign roles and permissions to attendees and manage classroom sessions with powerful in-class features.
Pros
User-friendly
Excellent recorded video quality
Multiple classrooms
Easy enrollment
Why Choose WizIQ?
Simple UIA simple user interface enables users to focus on teaching instead of the technology.
Exclusive FeaturesIts time-saving and collaborative features ensure that anyone can engage in teaching online.
Multilingual SupportAvailable in 14 languages, including English, Spanish, French, Chinese, Portuguese, Russian, and Arabic.
Discovery PlatformWizIQ is a discovery platform where you can find professional teachers and quality educational content rated by its learner community.
Starts at $25/month (billed annually).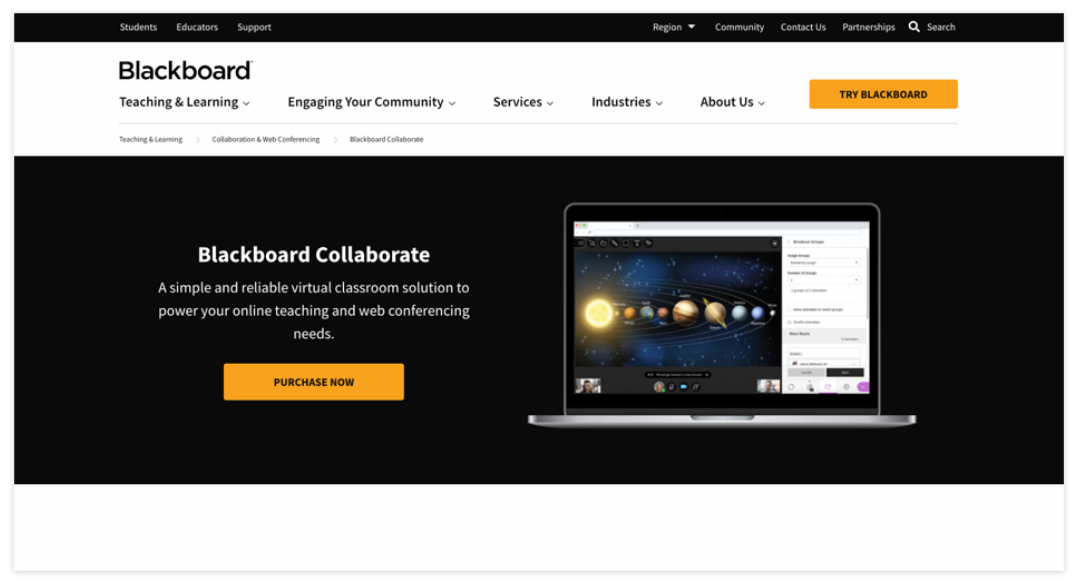 If you're looking for a simple and reliable virtual classroom solution, Blackboard Collaborate is what you need. It can help meet all your online teaching and web conferencing needs. A robust set of tools enables you to connect with one learner or an entire class.
On-demand learning and the ability to reach out to learners, no matter where they are, characterize Blackboard Collaborate. It, thus, serves as one of the best in-house and remote classroom software.
The virtual classroom offers high-quality audiovisual and supports synchronous learning. It is used by higher education, government, and business organizations.
Features
Learning Management System Blackboard classroom provides a state-of-the-art learning management system and online classroom platform. It is driven by the needs of K-12 students and supports competency-based, personalized, and mastery learning.
Integrations The virtual classroom software supports seamless integration with several productivity tools that teachers and corporate trainers often use. They include Dropbox, OneDrive, and Google.
Personalized Learning Designer Set up personalized learning paths for each student. Provide unique learning experiences based on their performance. Identify learners who are struggling with mastering a specific topic and deploy an automated remedial plan.
Analytics & Data Visualization Built-in analytics and data visualization assist teachers and training administrators in making data-driven L&D decisions. They can track and analyze classroom learning with ease.
Pros
You can easily access it via an LMS
Unlimited recording
Polling tools
Why Choose Blackboard Collaborate?
Simple DeploymentThe solution deploys rapidly without any support or downloads.
Engaging ExperienceMaximize learner engagement with a modern UX, HD audio and video, and app sharing.
CredibleBlackboard Collaborate has been designed in accordance with WCAG Guidelines 2.1 Level AA, Section 508 standards and verified by a third party.
Shared ExperienceThe Blackboard Community provides a nurturing environment where members can share personal experiences, learn, and remain engaged with each other.
Pricing
Available on request.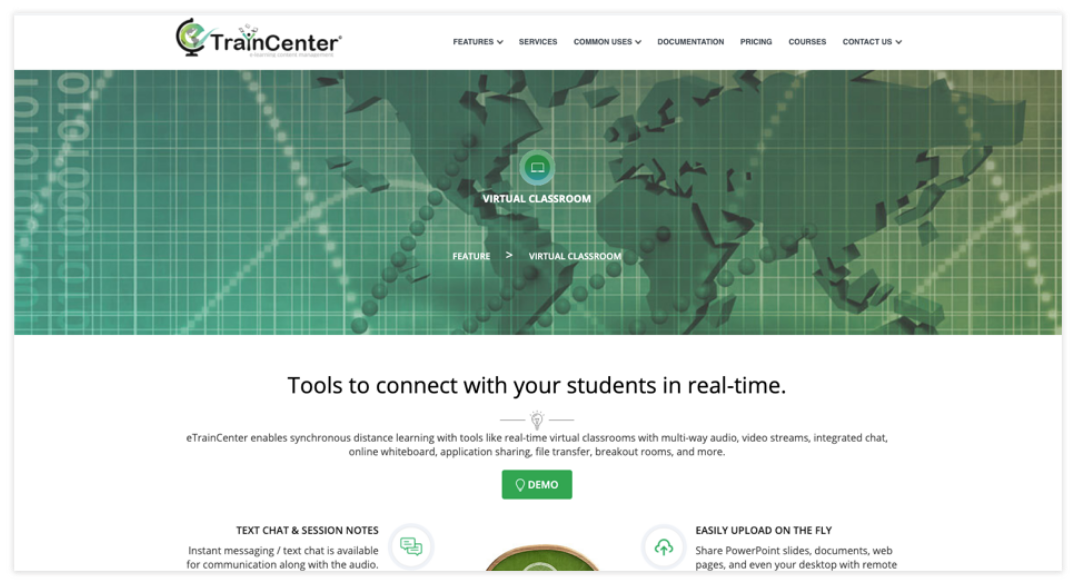 eTrainCenter provides all the tools you need to create online classrooms and connect with learners in real-time. You can engage in synchronized distance learning with audiovisual, online whiteboards, application sharing, breakout rooms, and more.
Learners can communicate with each other with the help of built-in instant messaging. Record live classes for quality control or archiving. You can also create online courses, provide access to them, and facilitate self-paced learning.
Some of the use cases of eTrainCenter are employee orientation, product training, sales training, and HIPAA compliance training.
Features
Messaging & Chat Leverage instant messaging or integrated chat for seamless communication. You can enable or disable text messaging in the online classroom.
Content Upload Upload and share documents, PowerPoint slides, web pages, and even your desktop on the fly with remote learners. You can also share YouTube videos.
Live Video Sessions Enhance your virtual classroom experience with live classes. Organize live group discussions and team meetings with video conferencing tools that run even on lower bandwidths.
Breakout Sessions & Recordings Split a class into smaller groups with the help of breakout rooms. Let your learners collaborate or learn individually. Record live sessions and meetings for quality control or archiving.
Pros
Why Choose eTrainCenter?
Easy to UseSimple and user-centric tool that lets you design and deliver online training easily.
Feature-RichAll the features that content developers and training administrators need are available in one place. This provides an amazing experience for all.
Rapid ImplementationLaunch your own online training center in a matter of days with fast and easy software onboarding.
Engaging ContentCreate original content or reuse existing ones with multimedia elements.
Pricing
Starts at $151/200 registrations/month.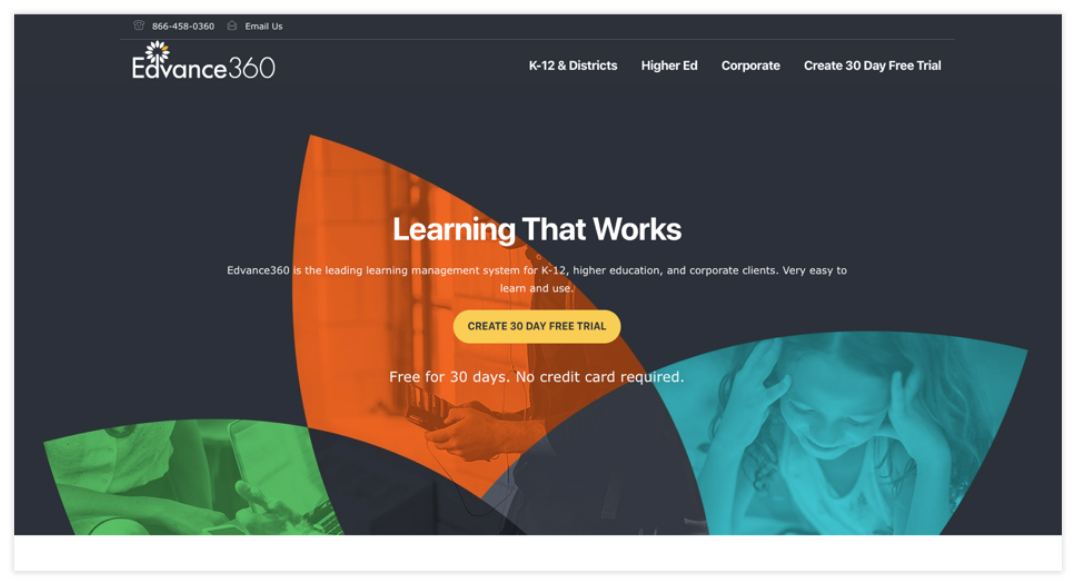 Edvance360 is a learning management system with integrated features that allow you to create a virtual classroom easily. It is easy to understand and use. The virtual classroom training software provides unique solutions for different markets – from K-12 education to corporate training.
Designed with inputs from leading educational experts, Edvance360 can be used to host modular courses. An internal social networking system facilitates collaboration and discussion.
Equipped with a flexible and customizable interface, the platform finds uses in corporations, government entities, military establishments, non-profit organizations, and continuing education programs.
Features
Notification Agents Remind learners of overdue assignments or upcoming events. Notify them when you have updated a grade in their grade book. Ensure ongoing learning compliance and achieve better results.
Mobile Version Edvance360 provides free mobile apps for both Android and iPhone users, making it one of the best free remote classroom software. The mobile version supports essential virtual classroom components such as email, calendar, alerts, and social networks.
Real-Time Chat You'll find real-time chat across all training types and communities. The chat logs are automatically saved and you can review them easily. Edvance360 chat is ADA-compliant and ensures that readers do not start over from the beginning of the chat every time a user submits a chat.
Calendar Each participant can manage their own personal calendar. Any items scheduled on a training calendar automatically display on the homepages of learners and administrators. You can also create system-wide calendars or calendars for selected groups of people only.
Pros
Customization
Ease of navigation
Responsive help desk
Why Choose Edvance360?
Solutions for EveryoneIt is one of the most versatile learning tools out there. It caters to K-12 districts, higher education, and corporate clients.
Designed by Educators for EducatorsEdvance360 is designed by educators for educators. It is the result of insights from several leading educational design specialists.
Easily AdaptableInstead of taking a one-size-fits-all approach, the provider focuses on adapting its learning solutions to the varied requirements of a fast-changing world.
Widely AcceptedEdvance360 has been widely accepted by many prominent users due to its powerful features and attractive offers.
Starting from $3,000/year for start-ups and NPOs.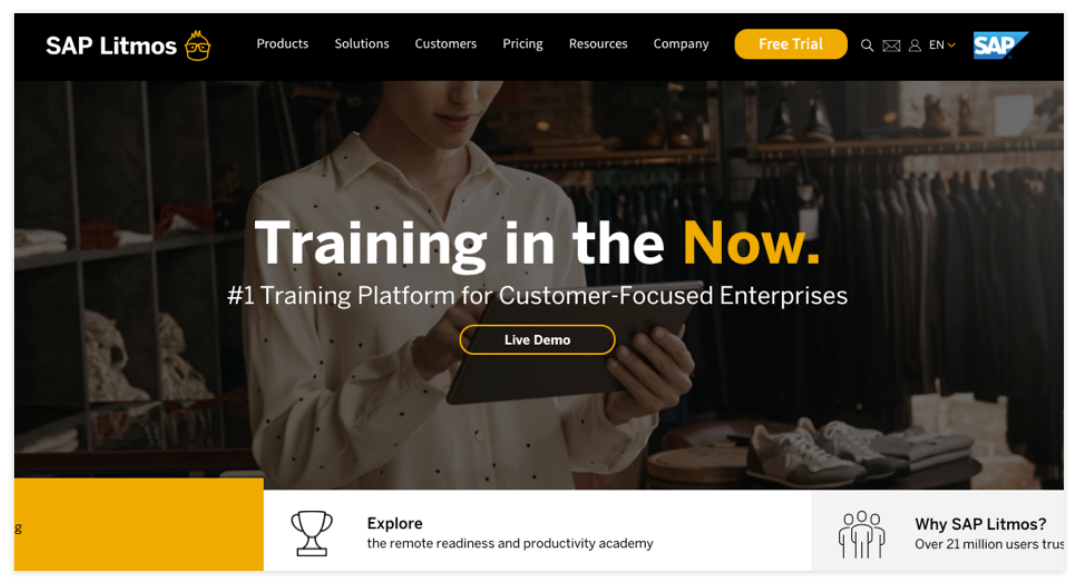 SAP Litmos is a cloud-based LMS for continuous learning with a user base of more than 21 million. It combines classroom, virtual, mobile, social, and eCommerce in an intuitive and secure platform. Solutions include employee training, sales training, gig worker training, and contractor training.
The task automation system allows users to deploy faster and smarter corporate training, from course creation to assignment, tracking, and selling. This enables them to focus their time and efforts on aligning training programs with the company's objectives.
Users get access to a wide range of professionally built, SME-tested, and video-based courses to deploy online learning quickly.
Features
Anywhere, Anytime, Any Device Created for today's intelligent enterprises, SAP Litmos enables employees to learn anytime, anywhere, and on any device.
Scalability SAP Litmos readily scales to accommodate a large number of participants. This enables you to train diverse workforces at the global level.
Gamification As one of the best online classroom platforms, SAP Litmos allows gamified learning. Keep learners engaged and motivated with badges and points. Provide clear learning paths. Build fun and healthy competition among groups.
Rapid Implementation SAP Litmos deploys rapidly, in minutes to be exact. This is true whether you want to use it as standalone software or integrate with other systems such as CRMs and ERPs.
Pros
Simple content upload
Clear videos
Helpful support
Why Choose SAP Litmos?
Supports 35 Languages The platform has customers in 150 countries and supports 35 languages, making it a truly global solution.
Industry-Leading Security Simplify identity and access management with OneLogin and build a more secure and efficient enterprise.
Large Number of Awards SAP Litmos is the recipient of a whopping 50 industry awards.
Trust of Millions More than 24 million users worldwide trust SAP Litmos.
Pricing
Available on request.
Choose the Best Virtual Classroom Platform!
Online classroom software applications aren't new; they have been around for a while. Millions of businesses and individuals have been using it for years to deploy web-based training.
But if you're a first-timer, now is the right time to put it to the test. Don't let the wrong choice of learning solutions hinder the knowledge acquisition and skill development of your employees or students. Conduct a virtual classroom software comparison to land the best one.
ProProfs is an easy, customizable, versatile, and feature-rich virtual classroom that works for all kinds of online learning environments. Easily teach or train learners remotely. Take ProProfs for a test drive.
Do you want a free Training Software?
We have the #1 Online Training Software for employee training & assessment