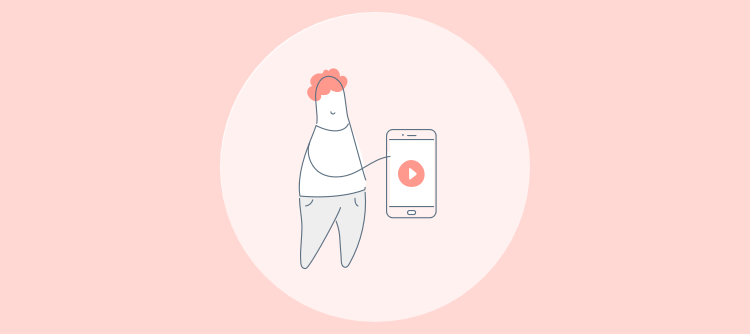 The traditional format of training and learning in different organizations is shifting towards a more mobile environment partly due to the limitations of the traditional classroom method and partly due to the need to keep pace with this tech-driven world.
The classroom mode restricts the learning of employees – they have to leave their day jobs to receive training to improve performance at work.
A lot of inherent issues pile up ranging from cost-ineffective strategies to prohibitive learning facilities for employees. A one-hour training session requires about dozens of hours to plan and execute. This takes up a lot of time for the trainers.
This doesn't mean that millennials don't want to be trained – they do – but they require learning methodologies that they can commit to at their own pace.
This is where mobile learning or mLearning emerges in workplace training. It has been a decade since it started to make waves in the corporate world, giving rise to 'e-mature' organizations that implemented it in employee training.
Why Deploy mLearning in Organizational Structure
Mobile learning delivers content in the form of mobile-friendly and mobile-first support and this allows learners to grab information on-the-go. It doesn't matter which training you're deploying – onboarding, product training, sexual harassment training, or HIPAA. You need mLearning.
It provides learners immediate access to different training resources as and whey they want them.
Today, 83% of top learning companies have incorporated mLearning into their online workplace training programs. This is primarily because most people have already turned into mobile connoisseurs, providing a major reason for any workforce to expect to learn this way.
Here are some of the reasons for incorporating mLearning in employee training:
Accessibility – Employees enjoy easy access to training courses including flashcards, PDFs, infographics and interactive videos for training and development.

Self-Reliance – Employees learn how to be dependent when it comes to learning, promoting a culture of self-reliance and making them more independent.

Accomplishment of Goals – mLearning allows employees to understand company goals and objectives at par with its strategies and plans for execution.

Flexibility – It enables employees to take any content curation strategy to facilitate their personal learning with ease.

Cost-effectiveness – mLearning feature found in advanced online employee training software enables trainers to provide information in the form of content that doesn't take up time or resources.
Read More: 10 Best Employee Training Software
How to Incorporate mLearning into Your Workforce Training
Around 71% of top learning companies have integrated performance management with their strategies for personal development and learning.
To implement mLearning into a workforce training environment, you should consider taking the following steps. They would help you come closer to 52% of companies that provide easy access to learning materials online for their employers.
What's Your Purpose?
As an employer, do you wish to incorporate mLearning into your workforce training because your competition is doing so?
First things first. Define the purpose of incorporating mLearning into your entire corporate training by checking any or all from the list below:
Do you want to provide your workforce with training materials that are easy to absorb, understand, memorize and retain?

Do you want to provide your workforce with a mobile solution that allows the entire team to coordinate with each other?

Do you want to provide your workforce with on-the-go reference materials so that it's easy for them to learn any time, anywhere?
Will mLearning Benefit Your Organization?
Jumping on the bandwagon might appear easy at first, but you must have a set of goals and solutions to strive for in mind. For instance, if you wish to implement mLearning into your organization, you'd have to take the following two factors into consideration:
⇒ Does mobile fit into your strategy?
Most people tend to incorporate mLearning into their strategies mainly because it is an accessory tool for spreading information regarding the training curriculum. Others demand to convert their organization into one tending to a mobile-first performance support program.
There is a 70-20-10 learning mindset when it comes to training out of which the 70% supports the informal learning component via mobile.
⇒ Is It The Right Platform for Your Strategy?
At times, there are instances when a certain platform doesn't fit well into delivering the materials required for training in accordance with certain strategies. Sometimes, you have to teach learners soft skills regarding entrepreneurship, leadership, and management, which might warrant the use of a desktop-enabled platform.
There might be a time when your employees don't have access to headphones or perhaps, your Internet connectivity has started to act up at the very moment. If the videos do require an internet connection, then your employees won't have access to them while they're traveling on airplanes.
Design Your Mobile Course
People have short attention spans – especially employees that somehow are on the brink of acquiring ADHD even with a 15-minute short sermon. Your ultimate goal shouldn't simply be to transfer the training materials into the form of digitized data so that your employees can have access to it. You should be able to design a mobile course that pays attention to the following steps:
✓ Responsive Design
Your mobile course should be responsive and pay attention to the screen size of the devices your team is using. Screen sizes vary from smartphones to tablets and iPads, which is why you should limit data to minute chunks of information.
Format it Properly – Try not to insert a lot of graphics or videos that might make the content seem superfluous or suffocated. This might increase the loading time of each page as well. Add subtitles when required, especially if you're catering to a diverse and inclusive workforce.
✓ Framework
Suppose you're designing an animation video for your employees. Make sure that your content sticks to the framework from the beginning to the end. Ideally, try to stick to one idea or one thought process on one screen so that your employees can relate to it and retain the information properly.
Also, try to produce chunks of information within different segments. If you're considering taking information from pre-existing eLearning courses, make sure you add references for your employees.
Assess the Impact of Content
You can issue a survey at your organization asking your employees about the type of content they're comfortable with in the first place. This will help you create a huge impact on your workplace training.
For instance, interactive videos, podcasts, and infographics are useful in training people faster since the content is in an audio-visual format. If the majority of your team agrees on this format, include people interested in building your workforce with innovative ideas that are easy to implement.
Include All Types of Content
Try to become more diverse with your options, but this doesn't mean continually making use of content that people don't like. Always ask for feedback or organize a practicing session where your employees can cite information from the training material you had conveyed to them across appropriate channels. This will help you analyze whether your content is rich enough and easy to comprehend.
✓ Use Available Content
Use pre-existing content like images, videos, and podcasts, especially if they're of high quality and can deliver a huge impact on your employees. Evaluate the content and determine what content should be edited and used according to your current goals, strategies, and values.
✓ Software and Technology Rep
Incorporate powerful software and technology infrastructure into your mobile learning program. A cloud-based LMS or learning management system that is compatible with multiple devices including smartphones is a good example.
Also, if your employees are using 3G/4G in the workplace, make sure they have average bandwidth with no to minimum data limitations.
Consider opting for cybersecurity programs and secure your files with cloud-computing software for maximum protection.
Use devices that support the operating systems of your content. For instance, if your content is readily available for Apple users and half of your employees use Android smartphones or tablets, this might affect and hinder learners according to the bring-your-own-device (BYOD) training methodology.
In addition, try providing them with devices that have a larger screen size in relevance to the content.
Read More: 15 Best eLearning Authoring Tools
Learning Management System (LMS)
In addition to your training methodologies, it always pays to incorporate social learning into your workforce. Deploy a learning management system to encourage seamless communication, knowledge sharing, and learning. Such tools can also be used as an online compliance training software.
Interesting Read: Best Easy LMS Alternative
Watch This Video to Know What is a Learning Management System (LMS) Software – How To Use LMS Features & Benefits

---
Read More:- What is an LMS?
---
Gamification
Today, corporate trainers are devising apps with the help of software developers. They are developing quizzes or surveys with the help of Quiz Creator Online to create content that is highly interactive for users. Most of these apps consist of workforce-entitled games for sticky learning, high employee engagement, and successful completion rates.
Create an environment that is engaging enough for each employee to participate in learning and training. Each content should seek to deliver a highly optimum and interactive experience so that your employees can improve and perform as expected.
Do you want a free Training Software?
We have the #1 Online Training Software for employee training & assessment