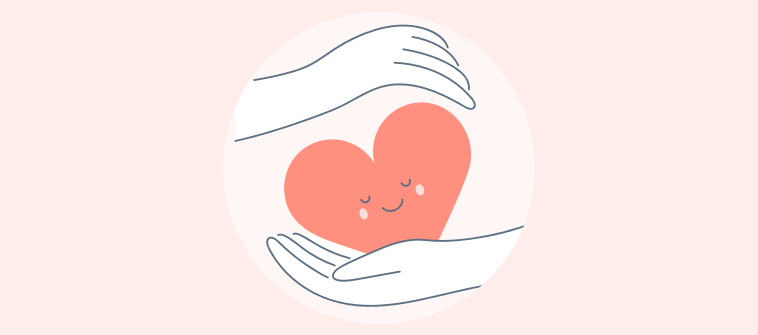 There are 30.7 million small businesses in the U.S., and they account for 99.9% of all businesses in the country.
Over 50% of these small enterprises fail in the first year, and more than 95% of small startups fail within the first five years.
Among the common reasons they fail are the poor labor quality and being outcompeted by close rivals.
So what can small businesses do to overcome these challenges?
Establishing a culture of learning is one of the possible solutions. Systematic employee training programs can improve efficiency & productivity and prepare a workforce for the present and future market competition.
For this, you need to use the right tool for continuous learning and improvement.
With that as the basis, in this post, I'll discuss everything you want to know about a learning management system or LMS for small businesses.
Let's get it going.
Watch: What is a Learning Management System

Getting Started With Small Business Training and Development
Despite the difference in the size of manpower, resources, and scale of operations, small businesses have the same employee learning and development needs as their bigger counterparts.
They need to go through the same process of assessing learning needs and formulate a plan for employee training.
They also need to select the best tools for training and follow the best practices for training and evaluation that align with their business goals.
This will set the tone for learning in your organization.
Why Use an LMS For Your Small or Medium-Sized Business?
There are several great reasons to start using online training management software such as an LMS for your SMB. With this tool, you can:
Switch learning and training to online

Store learning materials and learner data in a central location

Enjoy anytime, anywhere accessibility

Provide custom eLearning experiences

Track learning progress in real-time

Save time and cost on training development

Update training content easily and quickly
---
Read More: Advantages Of Employee Training Software For Small Businesses
---
5 Best Factors to Consider When Choosing for an LMS For Small Business
Finding the best LMS systems for business can be daunting, especially if you're doing it for the first time and know little about it.
You might want to consider using reliable LMS hosting, such as the one offered by Cloudways.
To make things easier, consider the following five factors while you're weighing your options.
Ease of Use
Ideally, the LMS should be easy to understand and use regardless of the knowledge or experience level of users. In other words, it should involve a minimal learning curve. Otherwise, it will cause unnecessary frustration, which can affect the usability and adoption rate.
Features
The LMS for small businesses you're considering should offer a comprehensive set of features. For example, it should offer a content library and support course authoring, virtual classroom, mobile learning, and reporting.
This will enable you to fulfill all your training needs without having to look for a supplementary tool.
Configuration
Make sure the LMS you're considering is highly configurable so that you can bend it to meet your unique needs. Your learners should not lose connection with your brand even when they are using an external tool.
It should be flexible enough to set up just the way you want so that your learners can easily associate it.
Customer Support
A delightful customer experience has a lot to do with the quality of customer service. Whether you have queries about the product or run into any technical issues, responsive and helpful customer support should be one of the criteria.
Visit reviews and testimonials of past and current customers for first-hand information.
Budget
A budget is telling your money where to go instead of wondering where it went. – Dave Ramsey
Budgeting is particularly important for small businesses with limited funds. They need to calculate the right estimate for an investment in training so that they don't fall short of or overshoot the expenditure.
There are many free or low-cost learning management systems with all the essential features that they will find convenient to adopt. So, it makes sense to consider those first before going for pricey ones.
10 Key Features in An LMS For SMBs
To help you land the best employee management software for small businesses, I've compiled a list of top 10 features to consider. These attributes are useful regardless of the use case or industry where you're planning to deploy it.
User-Friendly UI
No matter how feature-packed an LMS is, if the interface is not simple and clear, it's not worth it. It should be straightforward and provide easy access to different parts of the tool. An intuitive UI leads to less chaos and makes everything more organized for both learners and instructors.
Virtual Classroom
A virtual classroom is another essential piece of online training software that enables users to build an online learning environment. An LMS virtual classroom lets you manage learner groups, course assignments, communication with learners, and more. You can take charge of all activities from one centralized place.
Support For Different File Formats
The LMS you choose should support files in different formats, such as images, videos, PDFs, and podcasts. This will give an enriching experience to learners and cater to the needs of different learning styles. You should be able to upload different files to courses with ease.
Collaboration Platform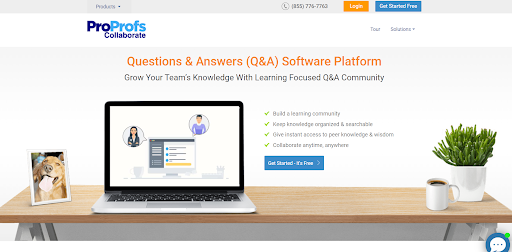 Learner collaboration develops communication skills and thinking capacity. See if the small business employee management software you're considering provides a platform for social learning where learners can learn from their peers. A Q&A forum is an example of such a feature in LMS software.
Course Library
A regularly updated library of courses can be an invaluable asset for LMS users. These courses are usually ready-to-use as they are or with modifications. This can save you the time and effort that you'd otherwise invest in developing courses from scratch. Make sure you insist on this feature as well.
Assessment Tool
A built-in assessment tool, such as quizzes can help you determine mastery of your learners of different topics, identify improvement areas, and ascertain course effectiveness. Besides that, quizzes make learning engaging, which motivates learners and keeps them excited about learning.
Customization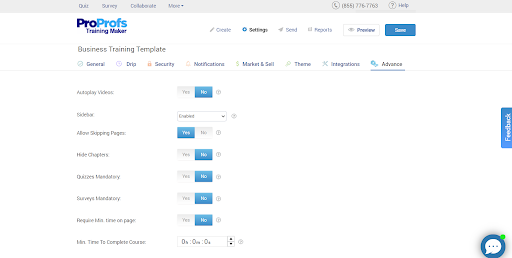 Another trademark of a superior business LMS is its customizable nature. The platform you choose should allow you to tailor it to your specific needs based on your audience type, the number of learners, and their learning needs.
For example, you should be able to choose the interface language, add logo, theme, and messaging, and set up rules for course compliance like assigning a due date.
Automation
A quality LMS for small businesses would support the automation of repetitive admin tasks. The benefit here is that you can focus on things that matter most to your business rather than on housekeeping.
Through LMS automation, you can enable self-enrollment, send out due date reminders, set up single sign-on, and auto-generate learning reports. All this is a time-saving element you need to consider while shopping for an LMS.
eCommerce
Those who want to monetize their courses and tests can do so by selling them online. An eCommerce LMS can assist you in this mission. Using it, you can create and sell your work easily.
Generally, you can sell either through the LMS store or your website using secure payment gateways such as Stripe. You can even generate advanced sales reports even as you reach out to millions of potential customers worldwide.
Reporting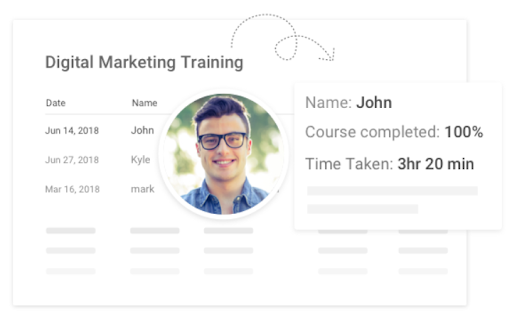 Reporting is a must-have feature in an LMS. It lets you see where your learners are in a course or test, who has completed a course and who is yet to complete it, and areas where they face problems. Based on this data, you can maximize the learning experience and improve course performance. LMS reporting keeps you updated on training and allows you to compare data from different points in time.
10 Best Cloud-Based Learning Management Systems For Small Business Training
Do you know what's worse than having no software solution for workplace learning and development?
It is choosing the wrong solution.
To help you make the right decision, here's our list of the 10 best LMS for small business. They are actively used by businesses of all sizes, including small and medium enterprises. Go over them quickly to find out which one will best fit your training and learning requirements.
1. ProProfs LMS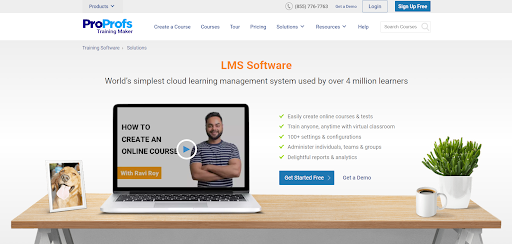 ProProfs LMS is an award-winning and one of the best LMS systems for business. It is an enterprise-grade solution hosted in the cloud. The platform makes online learning and training simple, easy, and fast.
Millions of customers worldwide use it to streamline their corporate training and eLearning programs for optimized results. Using this one-stop solution, you can easily take charge of all your employee training.
Easily create online courses and tests, share them with learners anywhere in the world, and track progress in real-time.
Key Features
Premium Course Library

100+ Customizations

Virtual Classroom Software

Quizzes & Surveys

Collaboration Forum

Powerful Integrations

Delightful Reports & Analytics

eCommerce
Pricing: Starts at $1.97/learner/month (billed annually). No per-user fee. No hidden costs. 15-day free trial on all plans.
2. Absorb LMS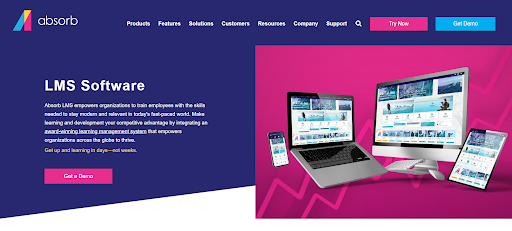 Absorb LMS is an intelligently crafted LMS for small business that caters to the requirements of small and large businesses. It aligns learning needs with the demands of modern businesses. Offering personalized learning experiences, seamlessly adapting to evolving learning needs, and getting the necessary support to keep your teams productive are some of the benefits you can expect from this tool.
The out-of-the-box features and the elegant design of the LMS enable users to get started with it relatively quickly. Absorb LMS is WCAG 2.0-compliant, making it suitable for those with visual, hearing, and other challenges.
Features
Content Libraries

Smart Administration

Learner Enhancement

Artificial Intelligence

SCORM Compliance

Software Integrations

Reporting & Analytics
Pricing: Available on request.
3. eFront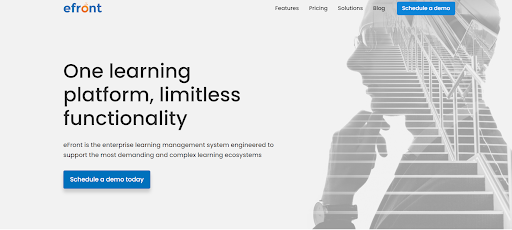 Built upon premium online learning technology, eFront is a mix of simplicity, usability, and robustness. Its mission is to democratize learning by making its tools accessible and affordable to any organization worldwide. The solution offers control, resilience, security, and everything in between you need to deliver online learning and training successfully.
You'll find the LMS flexible, adaptable, and stable. It supports employee onboarding, employee training, extended enterprise training, customer training, and more. Its advanced features cater to all kinds of training scenarios of all complexity levels. The LMS is available in both on-premise and private cloud hosting.
Features
Course Management

Videoconferencing

Skill Gap Testing

Customization

Ready-Made Course Marketplace

Gamification

Blended Learning

eCommerce
Pricing: Starts at $1,000/up to 1,000 registered users/per month. Billed annually.
4. Docebo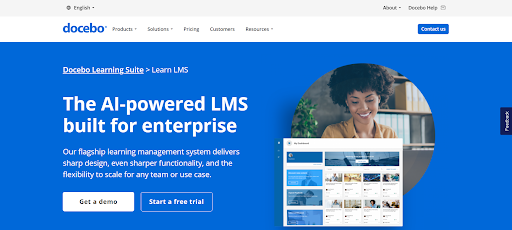 Docebo is one of the most well-known learning management systems trusted by over 1,600 companies. It is highly configurable and supports content curation, personalized learning, social learning, and blended learning. Being cloud-based, the solution is easy to set up, run, and maintain.
The online learning suite from Docebo enables enterprises worldwide to build a sustainable culture of learning in their organization and overcome some of the major learning challenges. Use cases of the platform include employee onboarding, employee training, compliance training, and customer training.
Features
Course Catalog

Mobile Learning

Social Learning

Audit Trail

Automatic Enrollment

External Training App

Gamification

eCommerce LMS
Pricing: Available on request.
5. SAP Litmos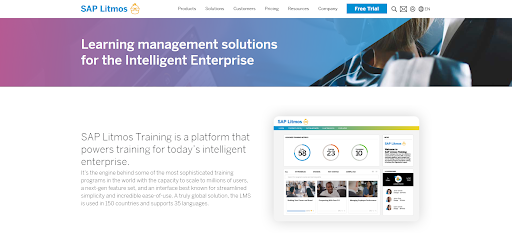 SAP Litmos enables training departments, HR teams, sales leaders, safety & compliance managers to collaborate, author, distribute, and track online training courses. It automates time-consuming tasks, thereby allowing users to focus on aligning training programs with business strategies.
The LMS works seamlessly with existing systems and this is one of the reasons for a high user adoption rate. With a standard set of features, it is usable in any business segment for learning & development programs. Many top companies in the world trust SAP Litmos and it has won 50 industry awards so far.
Features
Task Automation

Video Assessments

Gamification

Social Learning

Custom Learning Paths

Tracking & Reporting

eCommerce
Pricing: Available on request.
6. SkyPrep

Easy to set up and easy to use, SkyPrep is another LMS for small business. It provides integrated solutions for corporate training by facilitating knowledge sharing. You can easily customize this award-winning LMS so that it speaks your brand language.
Create courses in minutes and upload any file type. You can also build auto-graded assessments and surveys, as well as assign custom learning paths. SkyPrep LMS seamlessly integrates with Google Apps, Dropbox, BambooHR, Office 365, ADP, social networking tools, and eCommerce. The LMS releases regular updates of features to improve the user experience.
Features
Course & Content Management

Customization

Assessment Quizzes & Surveys

Gamification

Enterprise-Grade Security

Knowledge Check

Integrations

Advanced Analytics
Pricing: Starts at $299/month (billed annually). 100 active users.
7. Blackboard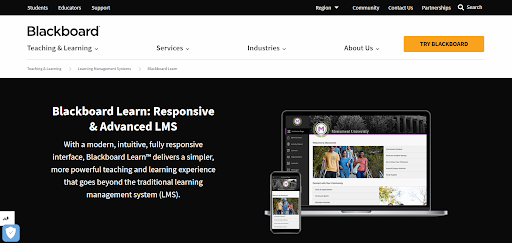 With Blackboard for Business, you can strategically invest in your employees' learning and keep them engaged and productive. Its flexible professional development solutions can help meet the diverse learning needs of a modern workforce. Whether it is leadership development, compliance training, or sales training, you can deliver anytime, anywhere learning on any device.
The LMS is built upon the knowledge of how people learn. Using it, you can share courses, effectively engage learners, and assess learning outcomes. The platform is characterized by an intuitive and responsive design for the best LMS experience. It is a scalable solution that supports inclusive and barrier-free learning.
Features
Course Enrollments

Group Management

Data Management

Active Collaboration

Learner Preview

Calendar

SafeAssign

Grading Enhancements
Pricing: Available on contact.
8. Moodle

Moodle LMS is the world's most popular and customizable learning solution. It offers three ways to get started with online training. You can download the software and install it on your own server, you can use its ready-made cloud platform, or you can go with our Certified Moodle Partners for custom solutions.
Hundreds of millions of learners worldwide use this open-source LMS. You can easily manage employee onboarding, workplace learning, and compliance training with just one platform. It easily integrates with internal and external systems. Automate many of the regular admin tasks and make time to devote to upskilling your employees and transforming your workplace.
Features
Mobile Learning

WCAG 2.1 AA-compliant

100+ Languages

GDPR Compliance

Gamification Plugins

Integrations

Customer User Profile Fields

Reports & Logs
Pricing: Free. In case you want additional functionalities, you may contact the vendor for a custom quote.
9. LearnUpon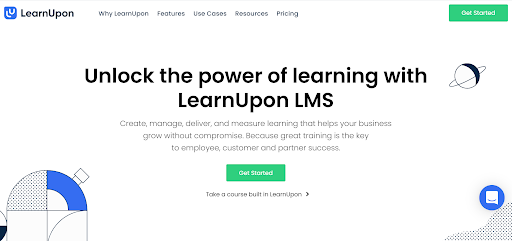 LearnUpon is a learning solution that takes a customer-first approach. Designed to make learning simple and engaging, it enables training administrators to deliver knowledge to both internal and external audiences. Like most LMS tools, LearnUpon offers one powerful platform to manage, deliver, and track online training from one place.
Deliver high-impact training tied to your business goals. New users can undergo platform training with the help of product specialists to simplify and accelerate the LMS implementation. LearnUpon comes with enterprise-grade privacy and security features to provide a safe teaching and learning environment.
Features
Course Creation

User Management

Learner Engagement

Webinars

Learning Portals

Gamification

Integrations

Reporting
Pricing: The basic plan starts at $699 per month. 50 active users. 1 portal.
10. Tovuti


Tovuti LMS comes with a wide range of compelling features. Through this tool, you can launch employee training in a matter of days, not months. Create, assign, track, and report training programs easily.
As the next-generation LMS, Tovuti enables you to phase out your legacy software and replace them with an easy and powerful LMS. Even if you're new to LMS, don't worry. Tovuti offers coaching support to make the switch easy for new clients. Whether you're training your team members, customers, or partners, you can unlock all the possibilities that an all-in-one eLearning system has in store.
Features
Built-In Course Authoring Tools

PowerPoint Importer

Media Library

Course Management

Lesson Gating

Quizzes & Assessments

Learning Paths

Report Builder
Pricing: Available on request.
---
Read : 10 Best Remote Training Tools
---
Before we wind up, let's look at some frequently asked questions about small business LMS.
FAQs
Are There Any Free LMS?
Yes, there are many LMS software tools that offer either a free version or a free trial, or both. Examples include ProProfs LMS, TalentLMS, Moodle, Thinkific, and GoSkills.
ProProfs LMS offers a 15-day free trial on all plans. There are no per-user fees. No hidden costs.
How Much Does an LMS System for SMBs Cost?
Like any other software solution, different LMS solutions are available at different prices. There are also a number of low-cost alternatives to their pricier counterparts.
With convenient pricing plans such as pay per user, duration-based, and customized pricing based on the number of features availed, these providers offer pricing models suitable for SMBs with limited budgets.
What is the Best LMS Platform for SMBs?
The best LMS for business is easy to use, mobile-friendly, customizable, robust, and of course, affordable. It should allow you to train your local and remote teams equally well. It should support self-paced learning anytime, anywhere. Excellent customer service is a bonus should you run into any technical issues.
Choose the Best LMS For Your Small Business
After going through this post, you've hopefully gained a better idea about small business LMSs and removed any indecision or doubt about them. The idea is to help you pick an employee training software system that suits your budget and your distinct learning needs.
In your search, you may include tools that help you streamline employee training in a simple and fast way. In addition to user-friendliness, the tools you choose should ideally provide access to a library of ready-to-use courses and templates, so that it is easy to get started.
Create, design, share, and track online courses and tests easily. You bring the training ideas, and ProProfs takes care of the rest.
Do you want a free Training Software?
We have the #1 Online Training Software for employee training & assessment