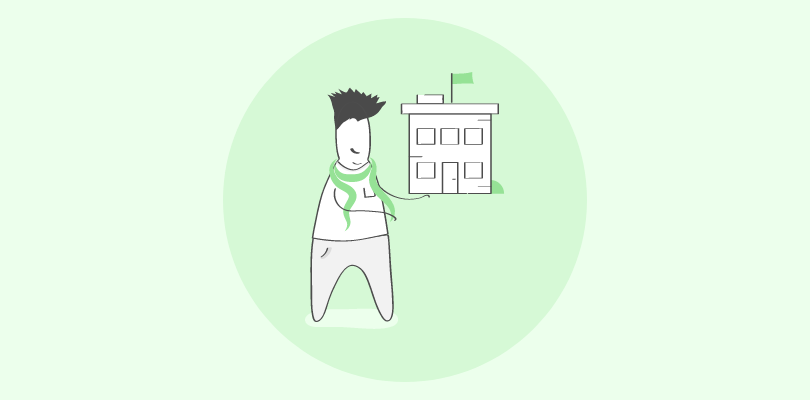 As a startup founder and trainer, I understand life isn't smooth sailing for small business owners.
One moment, you are dealing with the challenge of hiring new employees, the next, you are searching for the best LMS for small businesses.
But despite the chaos and challenges, every day brings new opportunities. There is light at the end of the tunnel!
To make it easier for you, I have compiled a list of 17 popular LMS that will help you deliver customized learning and development programs in your organization.
Ready to take your small business on a BIG learning adventure? If yes, continue reading.
| Best Small Business LMS | Best For | Pricing |
| --- | --- | --- |
| ProProfs LMS | Best for a 360-degree learning experience | Forever free for up to 10 learners. Paid plan starts at $1.97/learner/month for large teams. Billed annually. |
| Absorb LMS | Best for pre-built content libraries | Custom pricing |
| TalentLMS | Best for a drag-and-drop course builder | Starts at $69/month |
| Moodle | Best open-source LMS for small businesses | Free (limited to basic reporting). |
| CYPHER Learning LMS | Best for APIs & third-party integrations | Custom pricing |
| Docebo LMS | Best for AI-powered learning | Starts at $25,000/year |
| iSpring Learn | Best for building quality training programs | Starts at $2.99/user/month |
| 360Learning | Best for LMS automation | Starts at $8/user/month |
| Litmos | Best for training multiple departments | Custom pricing |
| LearnUpon | Best for powerful reporting & analytics | Custom pricing |
| Canvas LMS | Best for k-12 and higher education learning | Custom pricing |
| SkyPrep | Best LMS for employee onboarding | Custom pricing |
| Tovuti LMS | Best for easy content creation | Starts at $775/month |
| Trakstar Learn | Best for creating quizzes & assessments | Starts at $4,599/year |
| eFront | Best for enterprise learning | Starts at $1200/month |
| Blackboard | Best LMS for a modern learning experience | Custom pricing |
| Easy LMS | Best for simplified course creation | Starts at $50/month |
List of 17 Best LMS for Small Businesses
I have always believed that small and medium businesses should invest in their staff members' learning for improved efficiency, engagement, productivity, and retention.
I used my experience and my colleagues' recommendations to come up with this list. I also researched leading software review websites to ensure only the best platforms are listed here. Let's cut to the chase.
1. ProProfs LMS – Best For A 360-Degree Learning Experience

Creating a course from scratch might take several days or weeks. But not anymore!
Thanks to ProProfs' rich library of pre-designed courses, I can start training my team in minutes. You can access pre-made courses on workplace safety, compliance, company policy & procedure, employee skills, sexual-harassment prevention, etc., and give your employees a 360-degree learning experience.
You can deploy mobile learning, gamification, quizzes, flashcards, offline learning, social learning, and more. It makes learning more comprehensive, effective, and measurable.
You can easily integrate your existing systems and workflows with third-party applications and tools. The solution also supports 100+ privacy, security, branding, design, and more customization options.
What you'll like:
Easily upload videos, PPTs, and PDFs to your courses
Manage certificates for individual learners as well as groups
Engage your audience with exciting quizzes and assessments
Integrate with Salesforce, Mailchimp, SugarCRM, Zoom, and other tools
What you may not like:
More course templates should be added
Limited reporting metrics
Pricing:
Forever free plan (up to 10 learners). Paid plan starts at $1.97/learner/month (billed annually) for large teams. No hidden charges. 15-day money-back guarantee.
2. Absorb LMS – Best For Pre-Built Content Libraries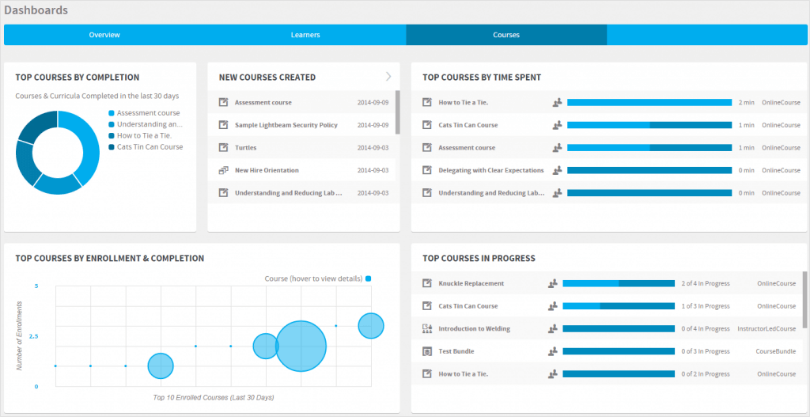 Absorb LMS is an intelligently crafted LMS that caters to the requirements of small, mid-sized, and large businesses.
Learners can select from a vast array of LMS courses thoughtfully handpicked by renowned content providers worldwide. By incorporating expert-designed content into your learning initiative, you can ensure that your team's skills remain up-to-date and compliant.
Another interesting fact I discovered about Absorb LMS is that it is WCAG 2.0-compliant, making it suitable for those with visual, hearing, and other challenges.
What you'll like:
Improve your learning verification process with e-signatures
Allow learners to rate courses and interact with their peers
Sell online courses with an integrated LMS eCommerce platform
Award learners with suitable certificates and badges
What you may not like:
You cannot schedule courses to be assigned sometime in the future
Frequent feature releases and product updates can hamper the admin experience
Pricing:
Custom pricing
3. TalentLMS – Best For A Drag-And-Drop Course Builder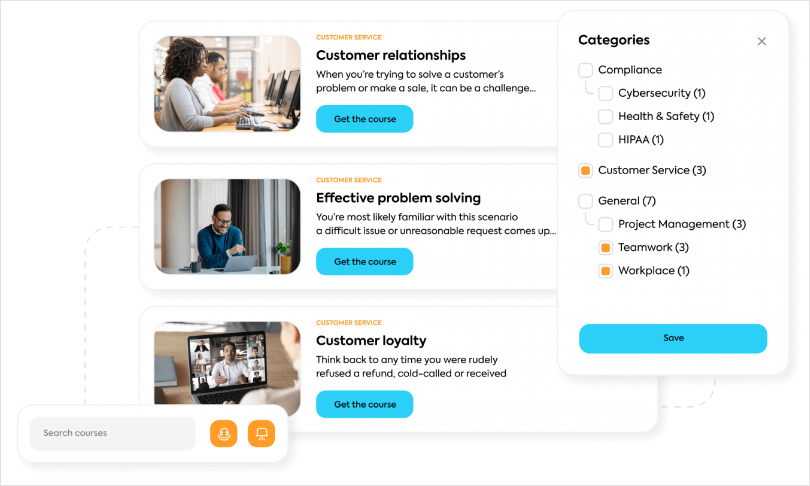 If there is one tool that makes course creation effortless and fun simultaneously, it must be TalentLMS.
I use the tool's drag-and-drop course builder to design multi-media rich content, quizzes, assessments, and surveys to engage my learners actively.
TalentLMS supports various content formats, including videos, presentations, documents, SCORM packages, xAPI, and cmi5 files. The tool also offers gamification features such as points, badges, leaderboards, and rewards to motivate learners.
What you'll like:
Enable single sign-on (SSO) for quick and secure access
Create unlimited courses irrespective of the subscription plan you buy
Build custom reports and perform mass actions on users
Automate course assignments for a streamlined learning process
What you may not like:
The Starter Plan does not offer custom domain functionality
The tool's interface seems quite outdated
Pricing:
Starts at $69/month
4. Moodle – Best Open-Source LMS For Small Businesses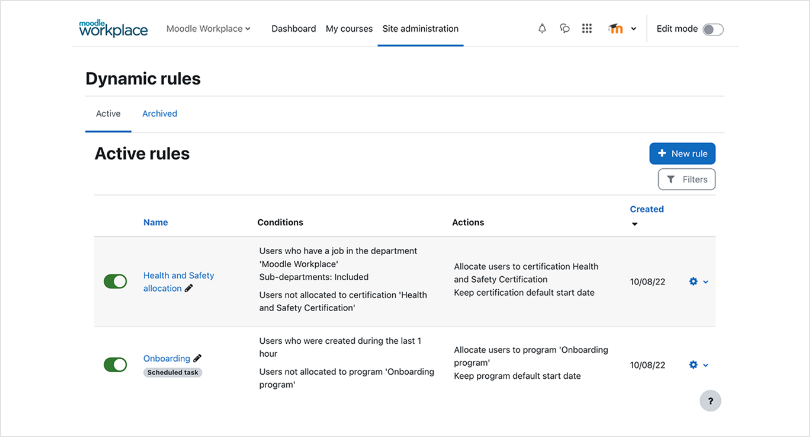 I know cloud-based LMS are a hit among most small and mid-sized businesses owing to their flexible pricing and 24/7 access.
However, if you are specifically looking for an open-source platform, I have a great option in store – Moodle LMS.
Since it is an open-source platform, I can control how it looks, feels, and functions. Admins or developers can use this free LMS for small businesses to easily customize everything from the interface to data security and privacy.
What you'll like:
Keep learners updated with email and mobile notifications
Connect Moodle with plagiarism detection and other LMS integrations
Encourage learning on the move with a mobile app
Leverage a global community for continued support in building a robust learning platform
What you may not like:
You will have to take ownership of server maintenance and data backups
Limited integration options
Pricing:
Free (limited to basic reporting).
5. CYPHER Learning LMS – Best For APIs & Third-Party Integrations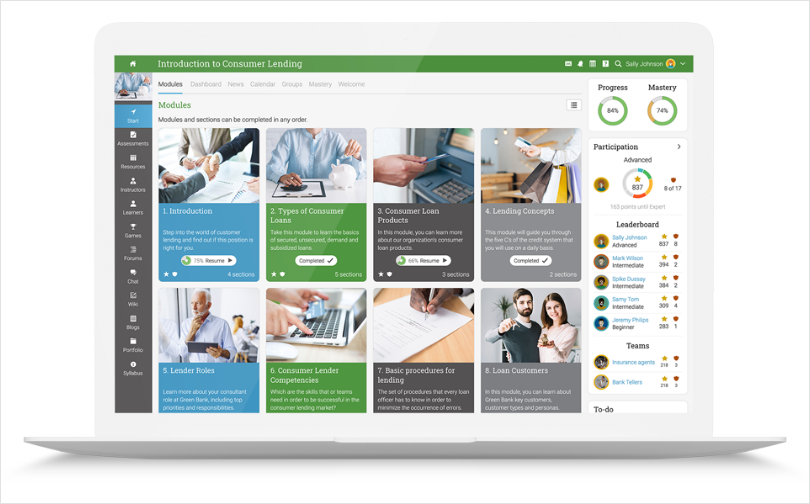 Whether you are an educator, teacher, trainer, HR professional, or course creator, CYPHER will help you bring out the best in you and your learners.
I was fascinated by this tool's integration capabilities. You can integrate CYPHER with 1,000+ apps and systems, such as MS Teams, Google Workspace, OneDrive, PayPal, Stripe, etc.
In addition, the tool can also be integrated with the leading course catalog platforms like Coursera, Go Learn, LinkedIn Learning, and Udemy.
What you'll like:
Save time and automate manual processes with Zapier integrations
Streamline communications with a Universal Translator
Encourage continuous participation with gamification badges and points
Deliver personalized skill recommendations to employees
What you may not like:
CYPHER offers fewer security features compared to other tools available in the market
The tool doesn't allow taking bulk actions on certain items
Pricing:
Custom pricing
6. Docebo LMS – Best For AI-Powered Learning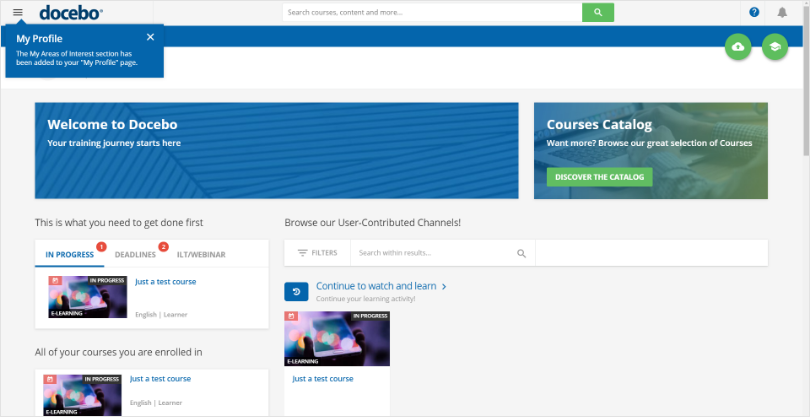 Docebo is among the most well-known learning management systems trusted by over 2K companies, including minor players.
With Docebo's robust AI capabilities, I can create learner-specific pages and share automated, personalized course recommendations with my team members. Its AI support will help your team save time they would have otherwise spent on course creation and recommendation.
Some popular use cases of the platform include employee onboarding, employee training, compliance training, and customer training.
What you'll like:
Let your company's best performers share their knowledge via social learning
Sell online courses to your external audiences
Track your most engaged learners in the leaderboard
Connect Docebo with Slack, Zoom, Shopify, and other popular tools
What you may not like:
Limited integrations and APIs put this tool on the back seat
Docebo's pricing is a little on the expensive side
Pricing:
Starts at $25,000/year
7. iSpring Learn – Best For Building Quality Training Programs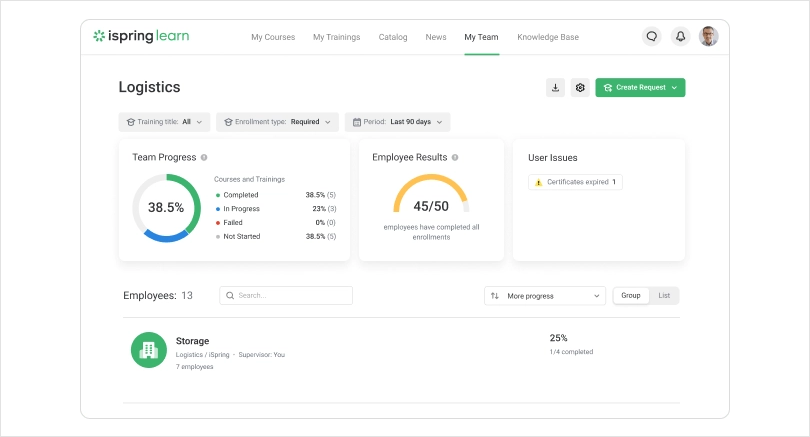 Another LMS for small businesses and startups, iSpring Learn is designed for quality training programs. I can easily create programs centered around new hire onboarding, product training, compliance training, or customer and partner training.
As an administrator, I can access multiple tools to organize and track my learners' progress. Moreover, I can assign courses, set training deadlines, and monitor milestones through detailed reports and analytics.
iSpring Learn also provides automated reminders and notifications to keep learners on track and motivated throughout their training.
What you'll like:
Make training fun with role-plays and video lessons
Automate notifications, report generation, and other processes
Enable learners to share feedback and chat with trainers
Engage your audience with interactive quizzes
What you may not like:
More pre-designed courses should be added to the content library
Reporting and analytics seem quite basic
Pricing:
Starts at $2.99/user/month
8. 360Learning – Best For LMS Automation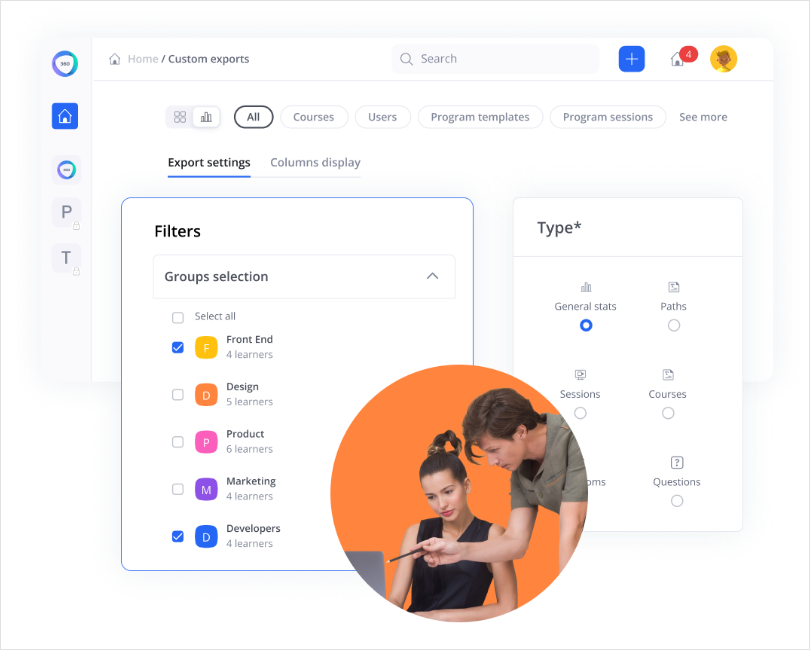 Are you tired of tracking and managing your learning programs manually? I have some good news for you!
360Learning can help you automate mundane and repetitive tasks. The tool helps automate course enrollment, notifications, reporting, and certificate expiration alerts.
I used this award-winning tool to create relevant training courses quickly and cost-effectively. The tool comes with rich editing functionalities and virtually anyone can use them.
What you'll like:
Schedule reports to receive them directly in your inbox
Automate course registration and attendance management
Capture feedback from learners using custom surveys
Allow course authors to collaborate in a private forum
What you may not like:
Customer support is slow to respond at times
360Learning should offer more gamification features
Pricing:
Starts at $8/user/month
9. Litmos – Best For Training Multiple Departments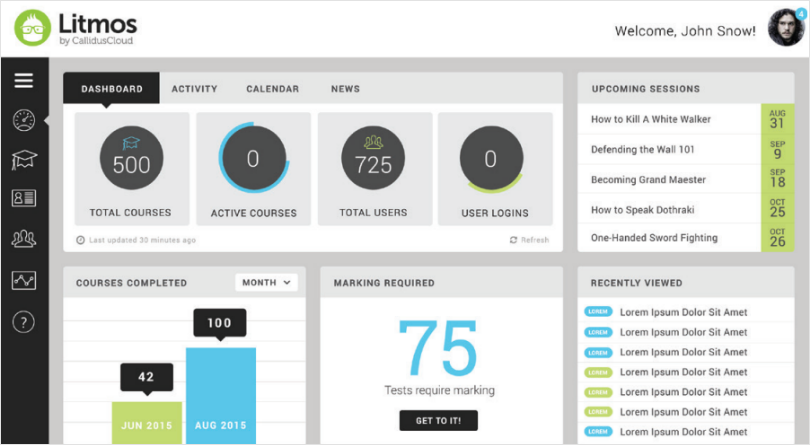 Litmos enables training departments, HR teams, sales professionals, and safety and compliance managers to collaborate, author, distribute, and track online training courses.
I used Litmos mainly to automate time-consuming tasks, giving me enough time to focus on aligning training programs with business strategies.
The LMS works seamlessly with existing systems, which is one reason for a high user adoption rate. With a standard set of features, it is an excellent option for small to mid-sized businesses.
What you'll like:
Track course completions, content popularity, test averages, and other metrics
Leverage ready-to-use courses on compliance and leadership
Make learning a fun experience with gamification features
Create AI-powered video assessments for your audience
What you may not like:
The user interface (UI) is unappealing
Currently, there is no way to customize user roles
Pricing:
Custom pricing
10. LearnUpon – Best For Powerful Reporting & Analytics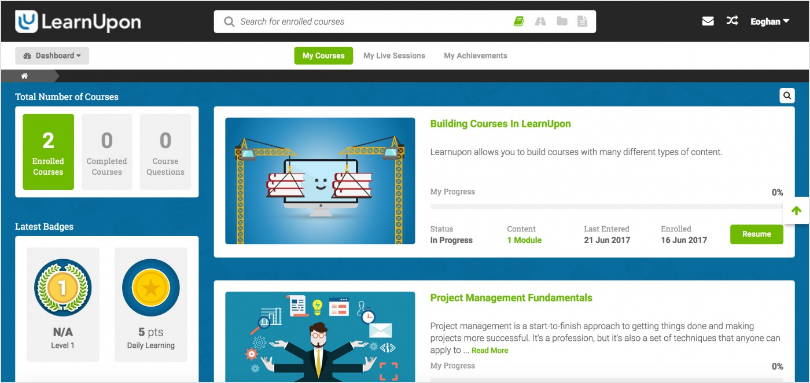 As an educator and trainer, I always look forward to the reporting functionalities of any LMS system for small businesses. The reason is simple – better reports lead to better decision-making and learning.
I can easily track relevant learning metrics such as exam results, survey responses, learner progression, training histories, and more with custom reports and analytics.
Overall, I feel LearnUpon is designed to make learning simple and engaging. It enables training administrators to deliver knowledge to both internal and external audiences.
What you'll like:
Embed Google Docs and Sheets into courses with just a click
Initiate live training sessions and webinars from anywhere
Integrate with Zoom, Microsoft Teams, and AdobeConnect
Track learner scores and status in one place
What you may not like:
The Essential plan misses out on key integrations and white labeling features
Searching for relevant courses can be time-consuming
Pricing:
Custom pricing
11. Canvas LMS – Best For K-12 And Higher Education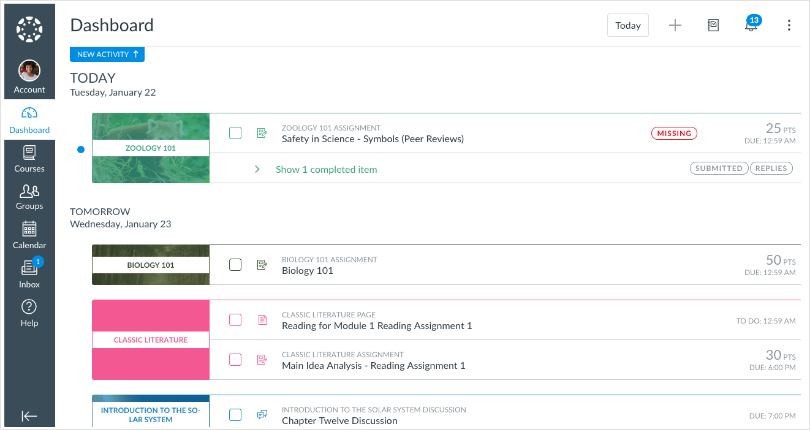 In my opinion, Canvas LMS is the best LMS for small businesses and educational institutions that are focused on K-12 and higher education. So, what makes this tool so unique?
When the students log in to the portal, they are greeted with a simple and intuitive interface. All the relevant courses and study materials are within arm's reach.
I also loved that students can earn digital badges in addition to course certificates, grades, and degrees. This is a great feature that will help you boost learner engagement.
What you'll like:
Organize your courses using the Canvas Catalog
Upload content in the form of assignments, quizzes, and video conferences
Encourage distance learning with a dedicated mobile app
Integrate with Zoom and Microsoft Teams for a collaborative learning experience
What you may not like:
The free-version misses out on many essential features
The initial setup can be complicated for teachers and educators
Pricing:
Custom pricing
12. SkyPrep – Best LMS For Employee Onboarding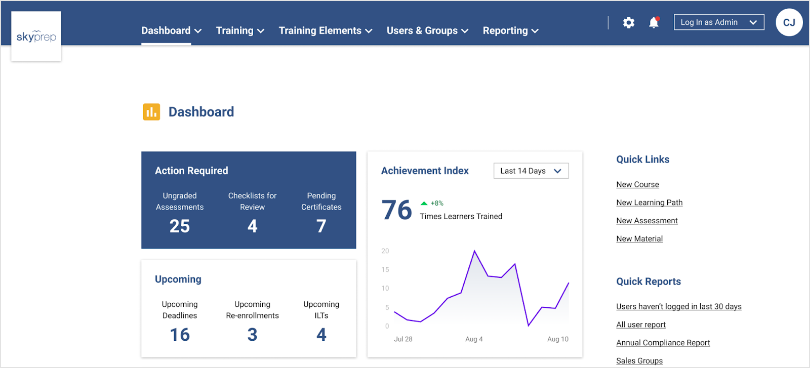 If you are a business on a hiring spree, you must check out SkyPrep.
This LMS comes loaded with powerful features that helped me turn new hires into highly motivated and productive employees. With easy-to-customize onboarding courses and regular insights into employee performance, I was able to reduce my new hire attrition rate by half.
In addition, SkyPrep LMS seamlessly integrates with Google Apps, Dropbox, BambooHR, Office 365, ADP, social networking tools, and eCommerce platforms.
What you'll like:
Improve your onboarding process with assessments and checklists
Easily customize with logo, colors, and certificates
Leverage enterprise-grade security for a stress-free learning experience
Choose from over 20,000 pre-made courses
What you may not like:
The tool comes with a steep learning curve
The reporting feature doesn't cover all data points
Pricing:
Custom pricing
13. Tovuti LMS – Best For Easy Content Creation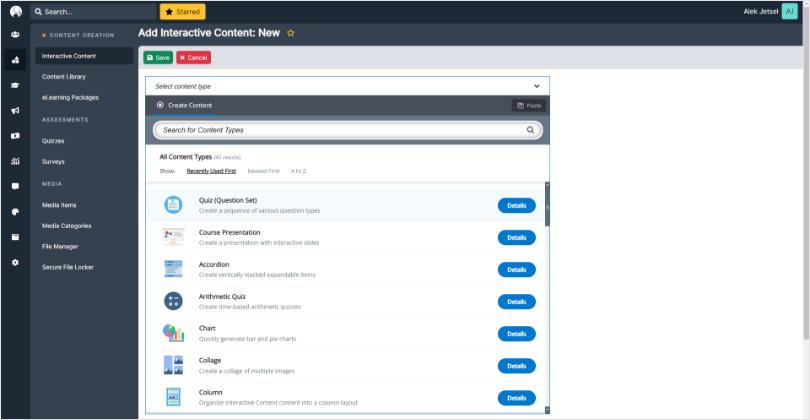 Whether you're training your team members, customers, or partners, you can easily create intensive courses with this all-in-one eLearning system.
Personally, it took me just a few hours to get my first course up and running. Professionally designed themes, ready-to-use templates, and a huge content collection proved helpful.
Even if you're new to LMS, don't worry. Tovuti offers coaching support to make the switch easy for new clients.
What you'll like:
Enable single sign-on (SSO) for a smooth learning experience
Operate your LMS platform in multiple languages
Connect Tovuti with Salesforce, BambooHR, and Workday
Give employees continuous access to resources with a mobile app
What you may not like:
The documentation is relatively poor. Users might find it difficult to search for relevant information
Integrating with Google Calendar can be a challenge
Pricing:
Starts at $775/month
14. Trakstar Learn – Best For Creating Quizzes & Assessments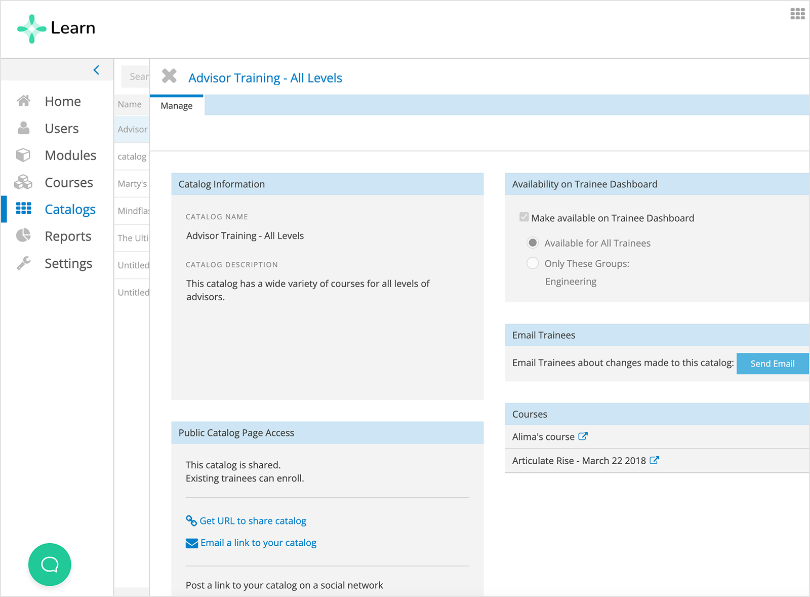 Another perfect LMS software for small businesses, Trakstar Learn is trusted by 1,000+ businesses in 177 countries.
I would recommend Trakstar Learn for its effectiveness in assessing learner interests and progress. I can easily create insightful quizzes and assessments to gauge my learners' knowledge and motivation and identify any knowledge gaps.
While building courses, rest assured that all your animations, slide builds, embedded videos, and audio elements will be retained and flawlessly converted upon upload.
What you'll like:
Add and store as many courses as you need
Create multiple-choice, true or false, or picture labeling quizzes
Connect Trakstar with the leading CRM, HD, and PRM tools
Add custom fields for report regeneration
What you may not like:
Grouping courses into sub-categories can be challenging
Built-in reward system or gamification features would be helpful
Pricing:
Starts at $4,599/year
15. eFront – Best For Enterprise Learning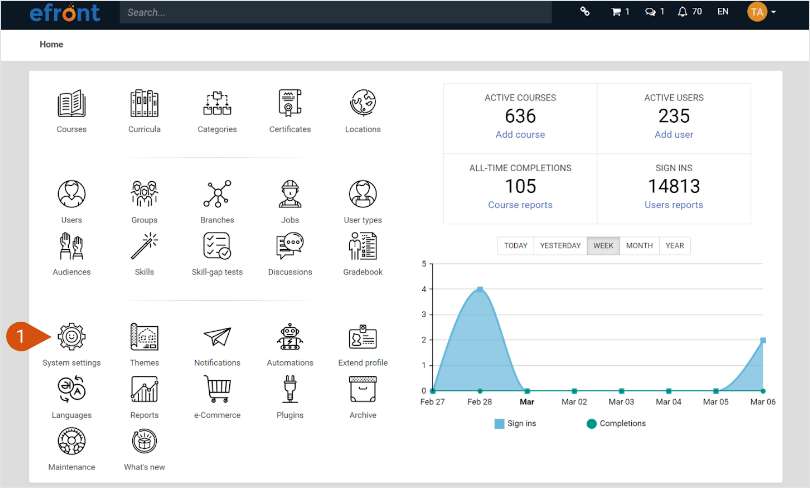 I think the best part about eFront is that it gives admins access to its source code. So, what does this mean?
This means you can build your enterprise training platform from scratch and mold it per your unique training and learning needs. Its advanced features cater to all training scenarios, including the most demanding and complex learning ecosystems.
In addition, robust enterprise-grade security features such as advanced data encryption, audit logs, SSO, extensive access control, two-factor authentication, etc., make this a highly secure platform.
What you'll like:
The LMS is available in both on-premise and cloud versions
Encourage internal communication with emails, calendars, and discussion forums
Customize the course order and completion conditions for your learners
Create courses optimized for mobile devices
What you may not like:
More gamification features should be added to improve learner engagement
It can be confusing to organize courses into files and folders
Pricing:
Starts at $1200/month
16. Blackboard – Best LMS For A Modern Learning Experience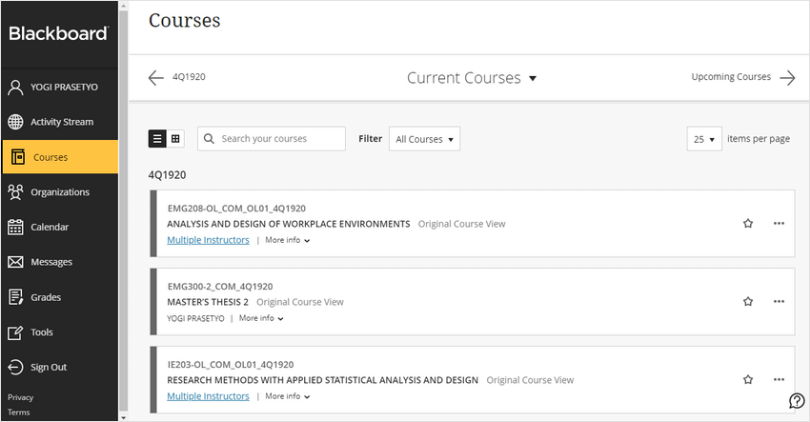 Modern educators and trainers demand modern learning solutions, such as a visually appealing interface and greater customization options. After using Blackboard for over 6 months, I can proudly say that it ticks all these boxes.
The LMS is built upon the knowledge of how people learn. Using it, you can share courses, effectively engage learners, and assess learning outcomes.
The tool offers insights to identify struggling or disengaged learners at the right time. This will help you create a learning culture where learners can get all the support they need.
What you'll like:
Detect plagiarism with built-in content originality scoring
Keep learners engaged with rich multimedia content and quizzes
Deliver personalized content with Blackboard Learn's adaptive course modules
Keep stakeholders in the loop with real-time announcements and alerts
What you may not like:
The mobile application is slow and lags at times
Does not integrate well with other software solutions
Pricing:
Custom pricing
17. Easy LMS – Best For Simplified Course Creation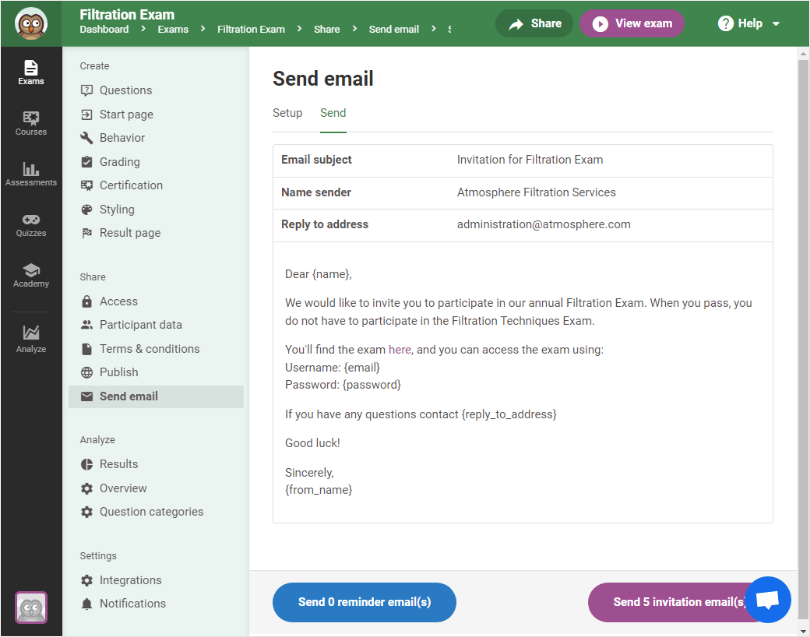 Over 2,500 small and medium businesses use Easy LMS, and I couldn't disagree with them.
As the name suggests, Easy LMS is designed to make it easier for anyone to create and publish courses. A simple and intuitive interface promises distraction-free learning for your employees. Maintenance is easy too!
Apart from simplified course creation, Easy LMS supports centralized content management, custom eLearning experiences, learning paths, assessments, gamification, collaboration, integrations, progress tracking, and analytics.
What you'll like:
Easily add text, audio, video, and PDFs to your courses
Send automated certificates once employees complete a course
Add suitable exams and assessments to measure knowledge
Send reports from Easy LMS to other tools with webhooks
What you may not like:
The interface seems a little outdated
The company needs to offer better documentation to help first-time users
Pricing:
Starts at $50/month
Which Is the Best LMS for Small Business?
Raise your right hand if you are a part of a small or medium business. Keep it raised if you are thoughtful about your team's learning and development. Now give yourself a pat on the back!
I believe continuous learning is the bridge that will take small businesses to bigger heights.
Now, I know after exploring so many options, you might still be clueless. Don't worry, I have narrowed down the list for you. Here are my top 3 small business LMS picks:
Option A: ProProfs LMS
In my viewpoint, ProProfs LMS stands as the frontrunner due to its user-friendly interface, robust automation features, and extensive repository of readily accessible courses. You can effortlessly discover courses covering workplace safety, employee onboarding, GDPR, sales, and various other subjects pertinent to your industry or sector.
Option B: 360Learning
If your struggle revolves around crafting and refining courses collaboratively, 360Learning could be your optimal choice. The tool introduces a range of collaborative features for teams, including co-authoring, feedback exchange, automated notifications, and more. Furthermore, the offline mode that allows learners to continue their education even without a network connection is a feature I believe your learners will find appealing.
Option C: Easy LMS
For organizations looking to quickly set up an LMS and get started with course creation, Easy LMS offers the perfect solution. With easy-to-comprehend insights, you can effectively align learners with suitable skills and share regular assessments for measuring knowledge.
To conclude, I recommend selecting ProProfs LMS to provide a 360-degree learning experience to your learners. It prioritizes the user experience, offers complete customization, and is fortified with readily available resources. Embark on a free trial today to delve into its full capabilities and foster a culture of continuous learning.
Frequently Asked Questions
What is an LMS for small businesses?
An LMS (Learning Management System) for small businesses is a software platform designed to meet the ongoing learning and development needs of SMEs. It provides a centralized and cost-effective solution for creating, managing, delivering, tracking, and analyzing online courses and assessments. With such an LMS, small businesses can efficiently enhance the skills and knowledge of their workforce, improve compliance, and foster professional growth within the organization.
For more, watch
What are the benefits of using LMS systems for small businesses?
Here are some of the top benefits that a small business can expect out of an LMS:
Cost-effectiveness: Reduces training expenses by providing a centralized and scalable platform for employee learning.
Time efficiency: Streamlines training processes, saving time for both employees and trainers.
Process automation: Easily automate repetitive admin tasks, such as notifications, announcements, enrollments, and certifications.
Improved employee performance: Enhances knowledge and skills, leading to better job performance.
Flexible learning: Allows employees to access training materials at their own pace and convenience.
Compliance management: Ensures regulatory and industry compliance through organized training and tracking.
Data-driven insights: Provides analytics to measure training effectiveness and identify areas for improvement.
What are the key features of an LMS for small business?
Here are some top LMS features that you should know:
Course Management: Create, organize, and deliver training courses.
User Management: Administer user accounts, roles, and access.
Content Repository: Store and manage training materials.
Assessment Tools: Create quizzes and assignments for evaluation.
Progress Tracking: Monitor learning progress and course completion.
Reporting & Analytics: Generate actionable insights on individuals and groups.
Mobile Compatibility: Access training content on various portable devices.
Certification: Issue custom certificates upon course completion.
Here's a full feature list of an LMS.
How do I choose the best LMS for small business?
Consider the following before purchasing an LMS:
Identify Needs: Define specific training goals and requirements.
Scalability: Ensure the LMS can accommodate future growth.
User-Friendly Interface: Opt for an intuitive platform for easy adoption.
Support: Assess the quality of customer support.
Security: Prioritize data protection and user privacy.
Cost-Effectiveness: Consider the LMS's pricing structure.
Demo and Trial: Test the LMS before making a decision.
Vendor Reputation: Evaluate the vendor's credibility and experience.
Can an LMS integrate with other systems I use, such as HR software or content libraries?
Yes, most LMS can integrate with third-party applications, such as project management tools, HR software, or even online content libraries.
Watch this video to find out
Do you want a free Training Software?
We have the #1 Online Training Software for employee training & assessment