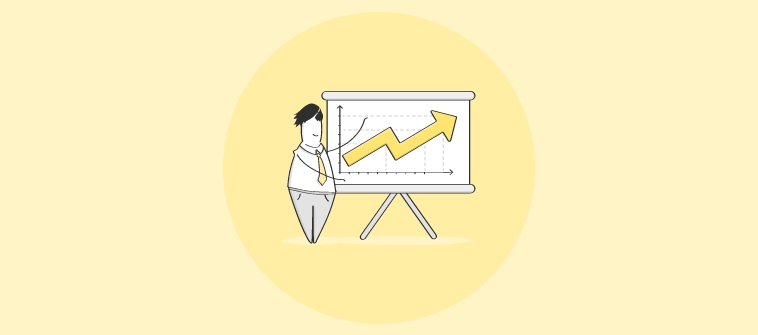 Corporate training may sometimes run into several challenges, depending on the training type, audience, and available resources. They include course creation, administration, learner engagement, flexibility in schedules, progress and performance tracking, and formative and summative assessments. The list is just endless.
Fortunately, the right corporate learning management system (LMS) can be an ideal solution here. When you invest in the right corporate LMS for your employees, you invest in your business' long-term success.
A fully functional, customizable, and supportive LMS system for business can help change the rules of how you plan, conduct, manage, and evaluate your employee training programs.
You can get the best training outcomes every time only when you combine the best enterprise learning management system with proven processes and strategies.
If you're out in the market looking for such a solution for the first time, we can understand the number one question on your mind – how do I get started, when, and where?
You can finally put the question behind you.
This post walks you through the top corporate learning management systems to help you make the right choice easily and quickly. Study their chief features, pros and pricing, and pick the one you think can help meet your needs.
Let's dig in.
Watch: How to Choose the Best SaaS LMS Software
A Quick Feature & Price Comparison Table of the Best Corporate LMS Software
15 Best Corporate LMS Systems
Best For
Pricing
ProProfs LMS
Easy to Use

Ready Courses & Templates

Quizzes & Surveys

English, Spanish & 70+ Other Languages

Collaborative Learning

Mobile Learning

Reports & Analytics

Forever free for up to 10 learners.Paid plan starts at $1.97/active learner/month for large teams. Billed annually.
Paylocity
Custom Courses

Interactive Delivery Methods

Low Maintenance

Mobile App

Integrations

Data Insights

Get in touch with the company for a quote.
Lessonly
Content Automation

Learning & Coaching

Integrations

Strategy & Planning

Sales Content Management

Enablement Intelligence

Get in touch with the company for a quote.
TalentLMS
Drag-&-Drop Course Builder

Ready-Made Courses

Mass Action

30+ Languages

Videoconference

Custom Reports

Starts at $69.
LearnUpon
Course Creation

User Management

Webinars

Integrations

Out-of-the-Box Reports

24/7 Global Support

Get in touch with the company for a quote.
SAP Litmos
Content Authoring

Social Learning

Task Automation

Video Assessment

Gamification

Tracking & Reporting

Get in touch with the company for a quote.
360Learning
Collaborative Learning

91% Course Completion Rate

Suits Every Use Case

Great Support Team

Mobile Learning

User Statistics

Starts at $8/user/month
Docebo
Mobile Learning

Social Learning

Custom Dashboard

Gamification

AI-Powered Learning

400+ Integrations

Get in touch with the company for a quote.
Paycor
Advanced Course Builder

Gamification

Learning Paths

Employee Pulse Surveys

Compliance Tracking

Real-Time Reporting

Starts at $99/month
Absorb LMS
Content Libraries

Smart Administration

Observation Checklists

Mobile App

SCORM Compliance

Reporting & Analytics

Get in touch with the company for a quote.
SkyPrep
Intuitive

Course Creation

Virtual Classroom

Multi-Tenancy

Workflow Automation

Reporting & Analytics

Get in touch with the company for a quote.
Nittio Learn
Responsive Templates

Mobile-Friendly

Enterprise-Ready

Translation in 100+ Languages

Timely Nudges

Learning Reports

Get in touch with the company for a quote.
Adobe Captivate Prime LMS
Comprehensive Platform

Ready for All Use Cases

Headless LMS

Gamification

Social Learning

Role-Based Reporting

$4/registered learner/month
Cornerstone Learning
Unified Platform

Premium Content

Experience-Driven

Engagement Surveys

Personalized Skill Pathing

Analytics & Reporting

Get in touch with the company for a quote.
Thinkific
Custom Course Creation

Course Website

Multilingual Support

Communities

eCommerce

Advanced Reports

Starts at $0.
Before we discuss these tools in detail, let's understand the following:
What Is a Corporate Learning Management System?
A corporate learning management system is an online platform for enterprise training. Generally, it serves as a one-stop solution for managing all aspects of workplace learning – from onboarding to product training, skills training, compliance training, tracking, and reporting.
You can use these software applications to create, manage, share, and track online courses, quizzes, and tests.
A corporate LMS is a more time-saving and cost-effective method of training. Being paperless, customizable, and flexible, these enable users to streamline and accelerate formal training programs. Learners don't have to be traditional classroom-bound. They can learn from anywhere, at any time, and on any device.
Best, there are many intelligent AI-based LMS software these days that automate routine tasks and minimize the need for human intervention. These tools also analyze data, make intelligent recommendations, and adapt to individual learner needs by leveraging AI algorithms.
Who Uses Corporate LMSs?
Currently, the number of LMS users is estimated at 73.8 million. This includes startups, small & medium enterprises, and large companies, including MNCs. Also, many government agencies and non-profit organizations (NPOs) are using these tools to train their employees and volunteers.
So, LMS providers cater to a wide customer base across different industries for training at scale and anytime, anywhere learning.
Main Features of a Corporate LMS
Some of the features common in almost all LMS systems are:
Virtual Classroom
Quizzes
User Management
Roles & Permissions
Mobile Learning
Multilingual Support
Integrations
Personalization & Branding
Reporting & Analytics
Certification
Types of Corporate LMSs
Corporate LMSs come in different forms based on the hosting type or ownership rights. Here are the four popular types that you'll come across in the market.
Cloud-Based
This type of LMS is hosted in the cloud. For this, it relies on cloud service providers such as Amazon Web Services (AWS) and IBM Cloud. Being web-based, these tools are accessible anywhere, anytime, and on any device. Also, it doesn't need an internal IT infrastructure and a technical team. Your data is safe and you can enjoy unlimited storage capacity.
ProProfs LMS is an example of a cloud based LMS.
Locally-Hosted
As the name suggests, a locally-hosted or self-hosted LMS is hosted in-house on an end-user's server. You use your own infrastructure and IT team for operation and maintenance. You also get control over customization and security. No need to pay any service fee for all these tasks. In other words, you've complete ownership and responsibility of the LMS once you buy it from the supplier.
Examples of such LMSs include Forma LMS and Open edX.
Open Source
An open-source LMS is an LMS whose source code is made available for modification and use according to end-users' specific requirements. These LMS software tools are usually available for free as these are developed through collaboration among a community of developers. Companies harness the expertise of their own developers in adopting this type of LMS.
Moodle is a classic example of an open-source LMS.
Commercial
These are proprietary software or closed-source solutions that come with a license fee. LMS vendors create and manage these LMS systems on behalf of their customers. They provide tech support to the customers to ensure uninterrupted operations. A commercial LMS is sold either as a locally hosted LMS or as a software as a service (SaaS).
Examples of commercial LMS include Schoology and Blackboard Learn.
How Can Corporate LMS Software Help Your Business?
Learning management systems are among the pathbreaking solutions in the history of online learning & development tools. They make corporate training more organized and manageable. They streamline each step of training, simplify the job of training managers and learners, and accelerate the process.
You can use these tools to create and deliver any type of training, including:
onboarding
product training
skills training
compliance training
partner training
customer training
Whether you conduct fully online or blended training, a corporate LMS can be your one-stop solution.
Top 15 Corporate Learning Management Systems
Let's now explore the best corporate learning management system we've lined up for you.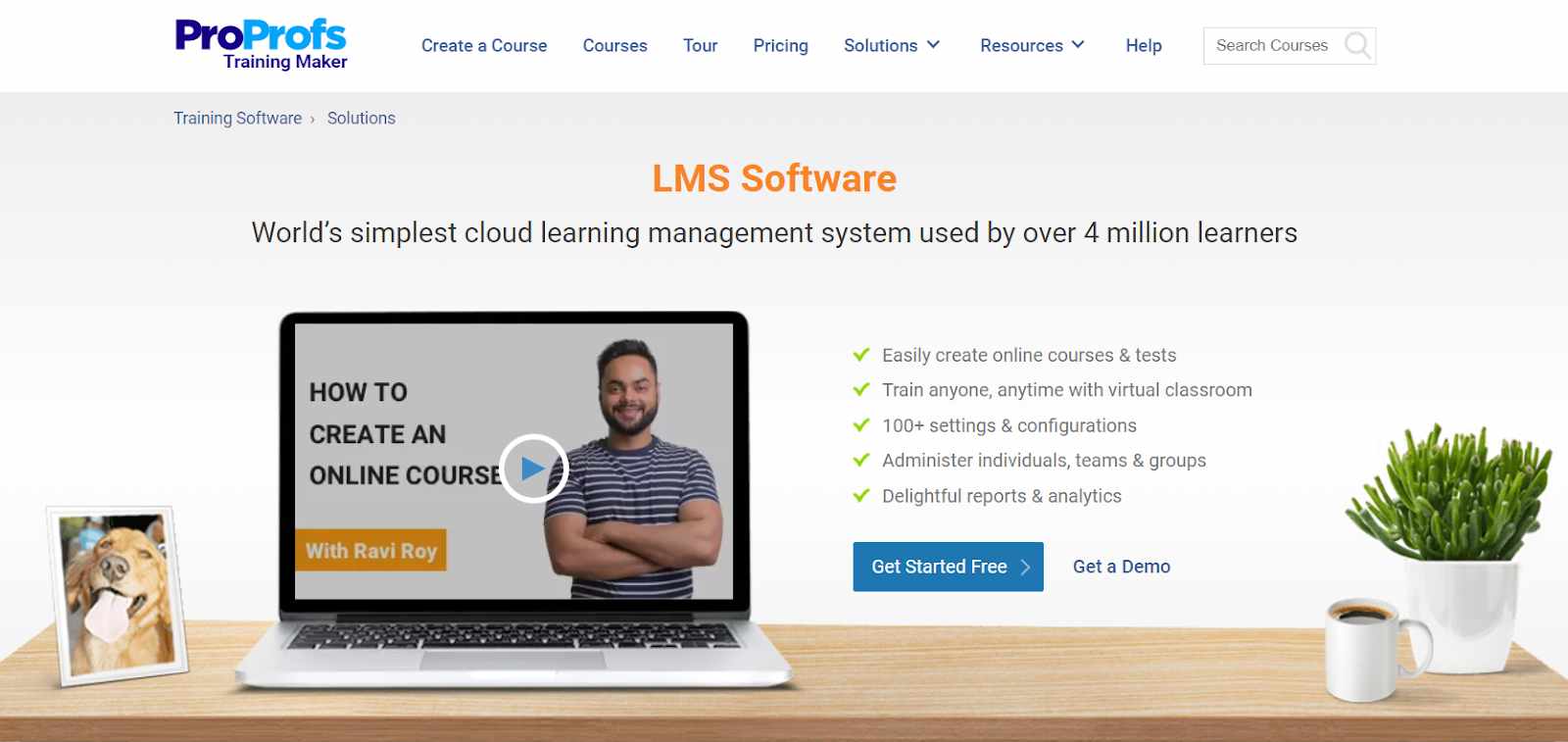 ProProfs LMS is an award-winning and the world's simplest cloud LMS. It is used by more than 4 million people worldwide. Its customers encompass industries such as construction, manufacturing, hospitality, retail, government, and non-profit organizations.
The SaaS platform allows you to create online courses and tests easily, and train learners of any class size using a centralized and secure virtual classroom. It comes with over 100 options for settings making it easily configurable to meet unique training needs.
Creating and managing user groups is also easy. You can create as many learner groups and sub-groups as you want. Roles and permissions for instructors and group admins enable you to hand over control to specific individuals while ensuring the security of the system.
Course library, mobile learning, social learning, multilingual support, and reporting are among the top features of this corporate learning management system. Along with this, you can leverage other tools in its suite, such as the Quiz Maker, to deliver a comprehensive learning experience.
Features
Premium Course Library
Access a well-stocked and regularly updated library of courses and templates. These resources are designed by industry experts, customizable, and ready to use. You can also upload your existing materials, such as videos, docs, PDF files, and presentations.
Virtual Classroom
Streamline course and test assignments, communication, progress tracking, and reporting with an engaging virtual classroom. Learners can access it at any time and from anywhere, 24/7.
English, Spanish & 70+ Other Languages
Train your learners in the language they speak. Improve comprehension and reduce dropout rates. ProProfs LMS supports English, Spanish, and 70+ other interface languages.
Quizzes
Make your online training measurable with beautifully designed quizzes in different formats. Allow participants to upload video responses and prevent question skipping.
Collaboration Tool
Facilitate peer-to-peer social learning with an online community-based Q&A forum. Let learners interact, share ideas, and solve problems together. Never leave a good question unanswered.
Reports & Analytics
Get real-time insights on course participation, progress, and completion. Check total time taken, challenges, milestones, and scores. Make data-driven decisions based on individual & group reports.
Pros
+ Easy to customize & use
+ Content library
+ Customer support
Pricing: Forever free plan (up to 10 learners). Paid plan starts at $1.97/learner/month (billed annually) for large teams. No hidden charges. 15-day money-back guarantee.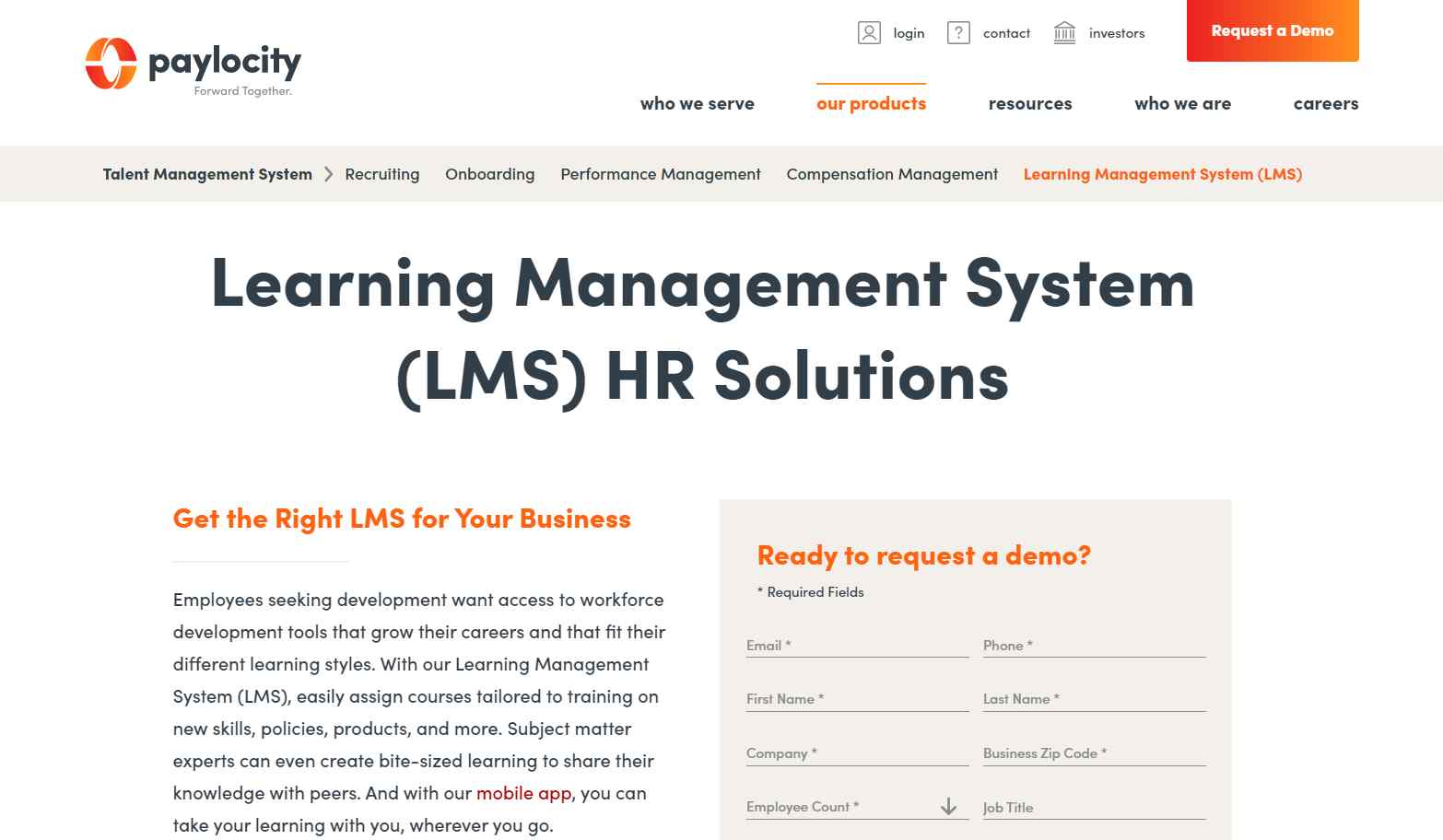 The learning management system by Paylocity allows you to assign tailored courses to employees to train on products, new skills, policies, and more. Pre-built and interactive courses ready for assignment make your job as an instructor easier. You can also add microlearning modules and use the mobile app to support learning on the go.
Users can choose from a variety of course delivery methods, including on-demand and webinars. Improve the course completion rate through timely reminders. The LMS is also scalable to match organizational growth and subsequent rise in the number of learners.
Paylocity helps automate learning processes and develop a workforce with a platform designed for the employee experience. It boasts over 28,750+ clients and 2,200+ partners worldwide.
Features
Custom Course Design
Design your own courses to best meet your learning requirements. Record screen shares, add audio, and build online quizzes. Import SCORM, xAPI, AICC, and CMI-5 files.
Mobile App
Let your learners take their learning wherever they go. Paylocity's mobile app provides a single source for training assignments, policies, and other resources to keep learning consistent.
Progress Monitoring
Set due dates for your online training and track your learners' progress and completion. Link the tracking directly to each employee record. You can also track in-person training.
Integrations
Paylocity offers its customers the flexibility to choose their favorite software applications. It acts as a hub for accessing learning data from other systems. Connect with 100s of other tools based on your needs.
Data Insights
Get access to visualized data on employee engagement and performance in real time. Use a workforce analytics dashboard to dig into employee training data and make more informed decisions.
Pros
+ Thoughtfully designed & reliable
+ Feature-rich
+ Variety of course delivery
Pricing: Get in touch with the company for a quote.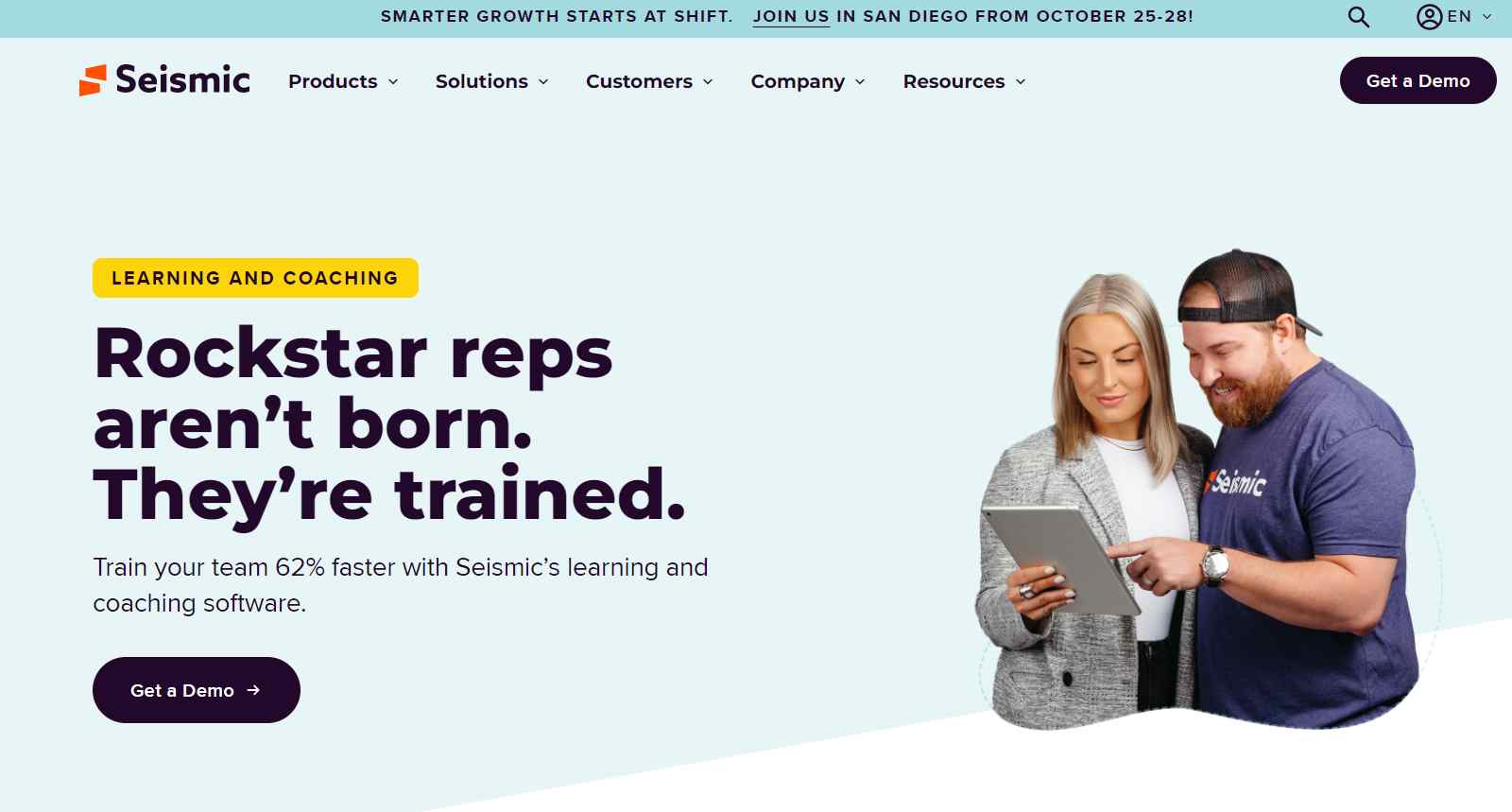 Lessonly by Seismic is online training, coaching, and enablement software that simplifies training creation, implementation, and management. You can use custom-authored courses to train employees and measure training effectiveness with on-demand quizzes and practice exams. This corporate learning management system is designed to speed up time to productivity and teams can show results in days, not months.
Lessonly enables you to train your teams 62% faster. It redefines the enablement space by providing the right coaching and tools that employees need to excel at their jobs.
Streamline learning and improve in-demand skills on any topic and for any team. The tool is used by millions of learners.
For a streamlined workflow, you can easily integrate the solution with your tech stack, including email tools, content authoring, CRM, collaboration software, and several other applications.
Features
Content Automation
Create custom content easily and quickly. Produce a single piece of content or mass-produce thousands in a few clicks. Stay on-brand and compliant with your company policies.
Content Management
Manage content in one place and deliver them to the right users at the right time. Maintain an updated content library and get the flexibility for content customization.
Strategy & Planning
Use the right planning and strategies to empower your teams. Let them focus on what matters most to them through better alignment around their priorities, capacities, and goals.
Enablement Cloud
Bring your sales, marketing, and enablement teams under one platform so that they get everything they need to succeed in their roles. Provide onboarding lessons, product training, and practice scenarios.
Enablement Intelligence
Take your business to the next level with data insights on content, training, and engagement. Ensure repeatable performance and revenue growth.
Pros
+ Clean & user-friendly
+ Onboarding
+ Amazing support
Pricing: Get in touch with the company for a quote.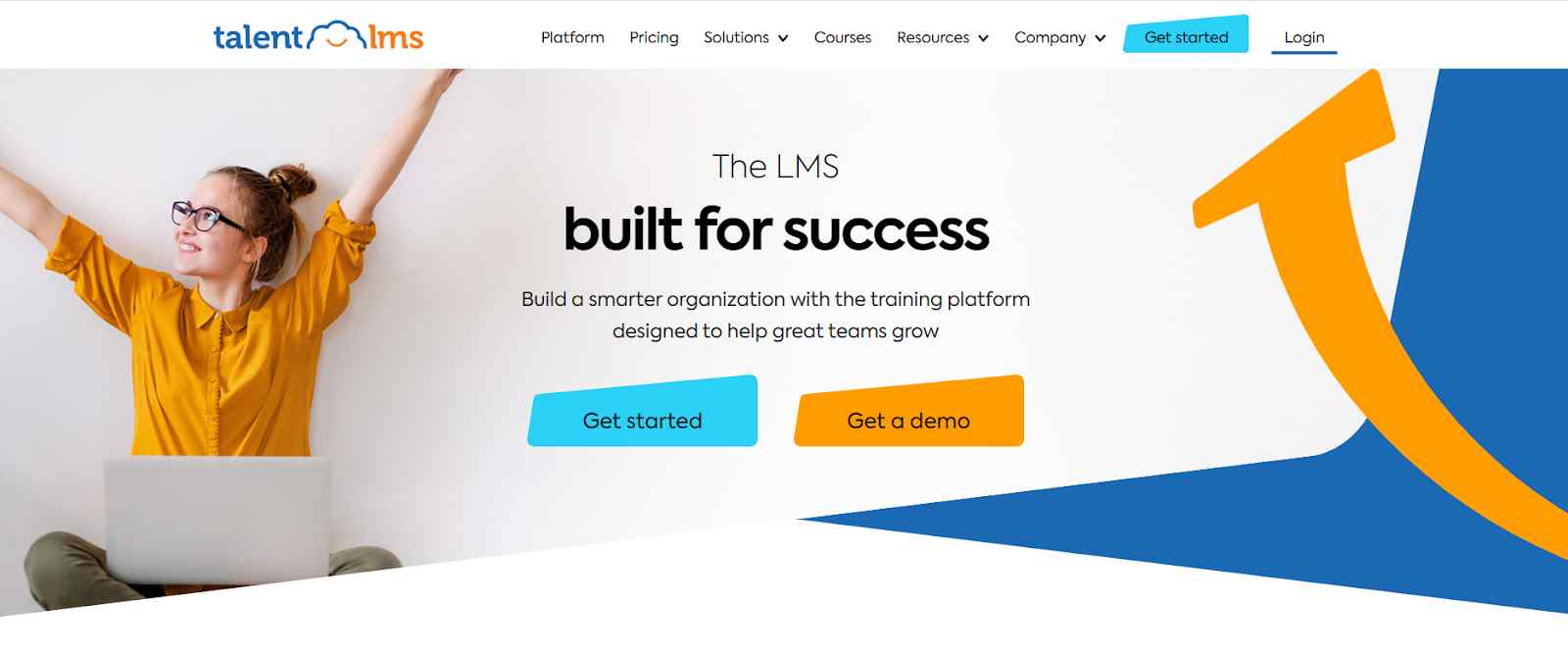 TalentLMS is a cloud learning platform and one of the best LMS for corporate training. It is suitable for onboarding and training both local and remote teams. Being mobile-friendly, it lets employees learn at their own pace. No wonder, with the LMS, people "come for the training, stay for the experience."
Save your training programs from fizzling out by avoiding a months-long setup time. Create new courses in a few simple ways, add your users, and go live by the end of the day.
You can personalize the learning experience through branding and by delivering training in your learners' preferred languages.
TalentLMS is crafted to help build smarter organizations manned by smart people. For this, it makes "learning less busy and more breezy." The LMS platform is backed by Epignosis, a global learning technology pioneer serving 70,000+ teams worldwide.
Features
Course Management
Build online courses from scratch or reuse the ones you already have. You can also subscribe to a library of a growing collection of ready-made courses.
Learning Delivery
Deliver ILT learning, either online or offline, use Unified communication tools, including videoconferencing, and boost learners with engaging gamification.
Mass Actions
As an enterprise-ready solution, TalentLMS simplifies admin tasks with numerous mass actions available across the platform. This automation eliminates repetitive work related to multiple users.
Multilingual Support
The tool is not only mobile-ready but also supports more than 30 languages, including Spanish, German, and French.
Reporting
Access extensive reports on all activities in an account. Get clear reports with the specific data you need to make training decisions.
Pros
+ Intuitive
+ Loads of customization options
+ Timely service
Pricing: Starts at $0.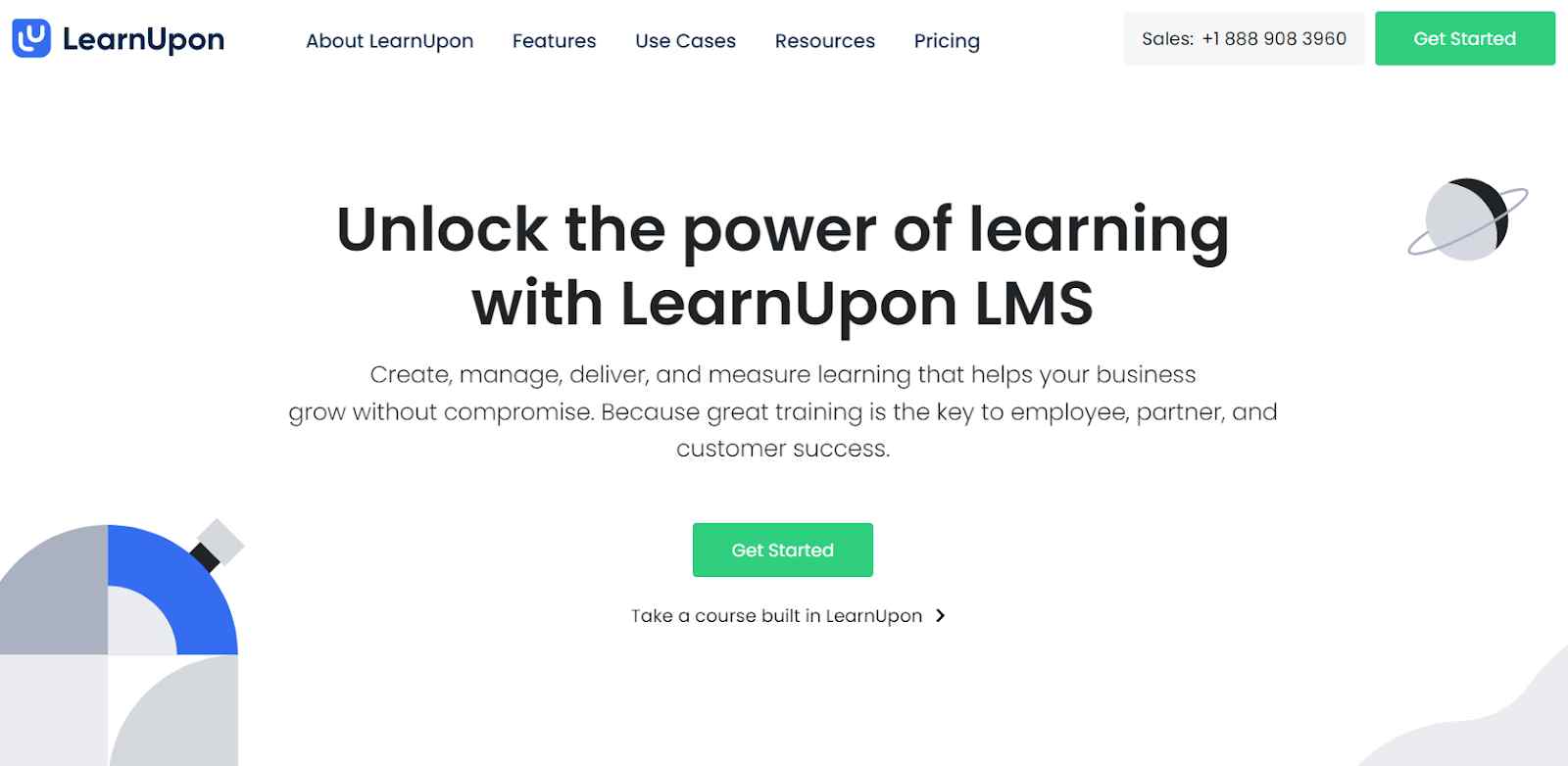 LearnUpon is another widely used corporate LMS that provides a suite of tools for building, administering, monitoring, and measuring employee training programs. It combines industry-leading expertise with user-focused technology in a single platform.
This makes it one of the best choices for delivering impactful learning.
The LMS supports learning across all audience types, including employees, customers, and partners. Using the tool, you can create exceptional experiences driven towards success.
LearnUpon's products are shaped by its customers, thanks to its customer-first approach. The team behind the solution is dedicated to building the features its customers need to succeed.
Features
Course Creation
Create content in various formats so that your learners can learn in the most optimized way. Upload SCORM files, videos, docs, and presentations.
Learn Engagement
The LMS focuses on learner experiences, so you can rest assured that they can expect maximum engagement and interactivity out of the tool. Add gamification and award course credits and certificates.
Webinars
Connect the LMS to a webinar tool of your choice. Automate notifications and easily manage multiple sessions. LearnUpon integrates with Zoom, Adobe Connect, GoToWebinar, and more.
Integrations
The LMS easily integrates with other business tools you use daily and lets data flow between them seamlessly. It offers a number of pre-built integrations and a robust API.
Reporting
Leverage out-of-the-box and comprehensive reports. Track learner progress, test results, survey responses, training histories, and many more data. Send reports straight to team members' inboxes.
Pros
+ Easy to set up and use
+ Automation
+ Client service
Pricing: Get in touch with the company for a quote.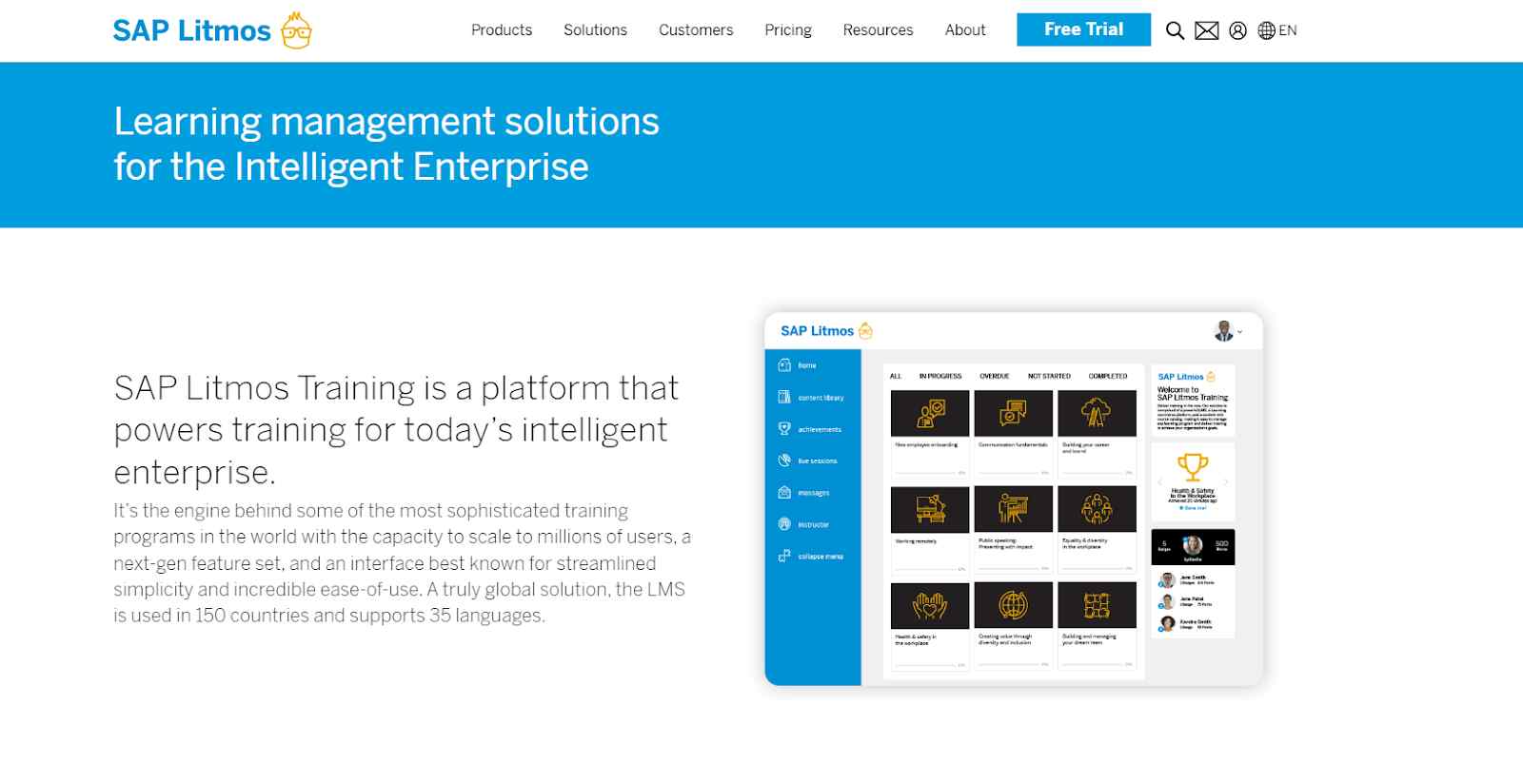 Designed for today's intelligent enterprises, SAP Litmos is a cloud-based LMS that combines virtual, traditional classroom, mobile, and social learning in one centralized and secure environment. It empowers training departments, safety, and compliance managers, sales and service leaders, and HR teams to author, distribute, and track online training courses collaboratively.
The LMS allows you to automate burdensome and repetitive tasks so that you can direct your energy on aligning corporate learning with your business strategies. It integrates with other critical tools such as CRM, HRIS, and web conferencing systems.
SAP Litmos enables users to deliver targeted learning, boost engagement, and ensure brand consistency.
Features
Content Authoring
Remove the need for external content creation apps with a built-in authoring system. Easily create dynamic SCORM content. Everyone from the greenhorns to seasoned instructional designers can use the tool equally well.
Gamification
Drive greater engagement and motivate your learners through gamification. Award badges and points based on their performance. Encourage friendly competition and let them complete more courses.
Video Assessments
Add video assessments to a course to visually evaluate learners' understanding of different topics. Let them record and upload videos of themselves to demonstrate how well they follow the directions in your assignments.
Custom Learning Paths
Bind multiple courses together in a logical order and create custom learning paths for your learners. Let learners access a course only after they complete the preceding course.
Tracking & Reporting
Chart your learners' activities with the LMS, including participation, progress, completion, and performance. Gain insight into the impact of your training with reports and dashboards. Get custom reports delivered via email.
Pros
+ Off-the-shelf quality training videos
+ Automation of complex processes
+ Clean & modern UI
Pricing: Get in touch with the company for a quote.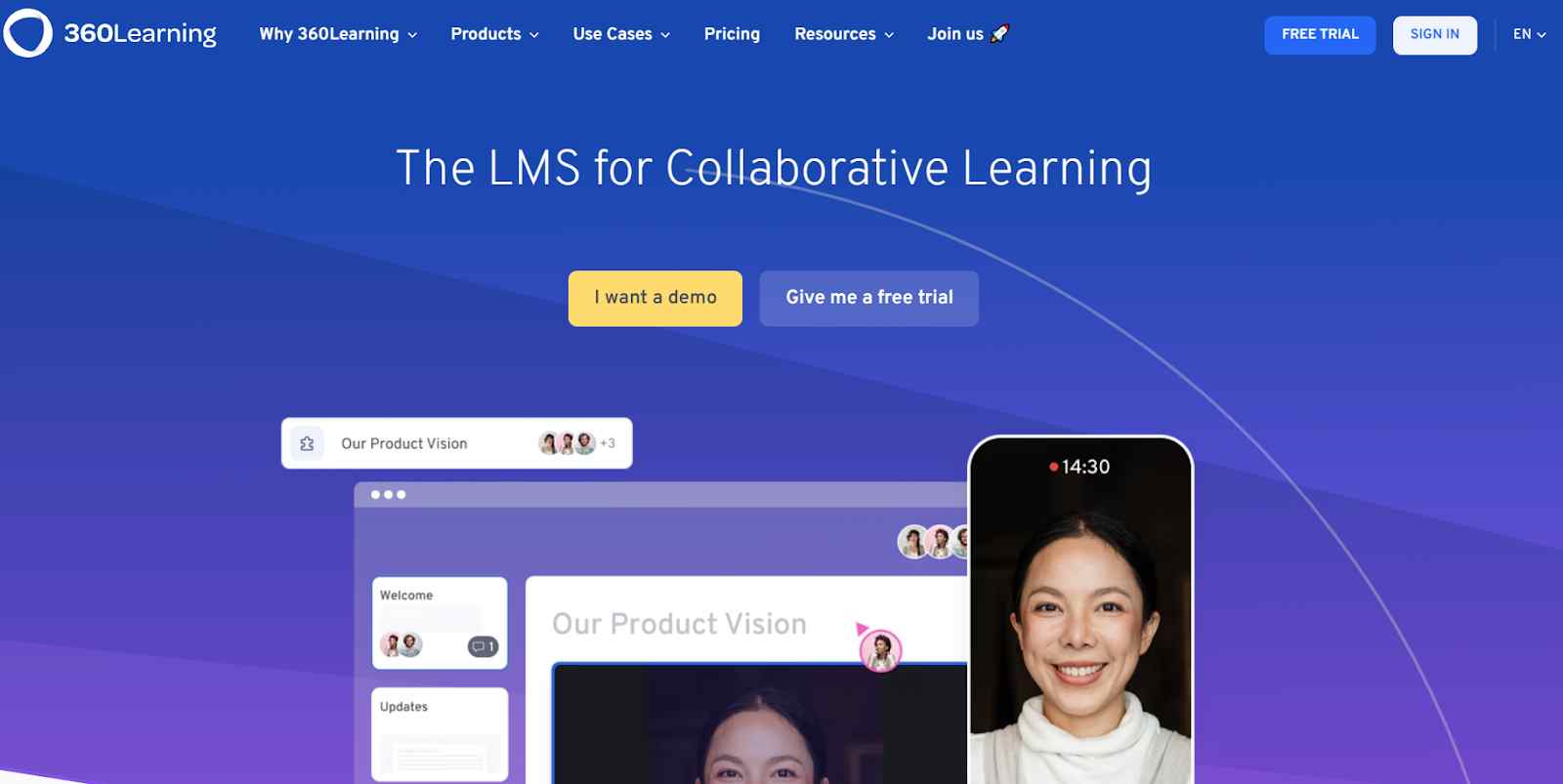 360Learning is the first collaborative online learning platform that caters to businesses of all sizes. Using this solution, L&D teams can design targeted course content. The mobile-ready interface of the LMS makes content easily accessible to learners.
A first-class user experience motivates learners to keep coming back. In the process, you can improve learning outcomes by up to 24%. Deliver a blend of online courses and live training to meet the unique needs of each learner that vary based on their role and professional development goals.
Both L&D leaders and learners love 360Learning. It has got the industry's best training and support team and covers every learning use case.
Features
Collaborative Learning
Let your team members learn faster and better by sharing their knowledge and teaching & learning from one another. Focus on group work and interdependence to get outstanding results.
Mobile Learning
Enable your frontline workers to learn from anywhere and at any time using a plug-and-play mobile app. It supports Android and iOS and comes with a modern UI, push notifications, offline mode, and other features.
Integrations
360Learning seamlessly integrates with numerous business tools, including BambooHR, Salesforce, Zoom, and Google Drive.
Coaching
Leverage scalable coaching to boost performance. Engage in one-on-one coaching, screencast demos, tribal knowledge, and custom assessments.
User Statistics
View total time spent in a course, last activity, number of questions answered, and total score. Similarly, you can track statistics for groups, classrooms, programs, and skills.
Pros
+ Collaborative learning
+ Rolls out innovative features frequently
+ Easy for administrators
Pricing: Starts at $8/user/month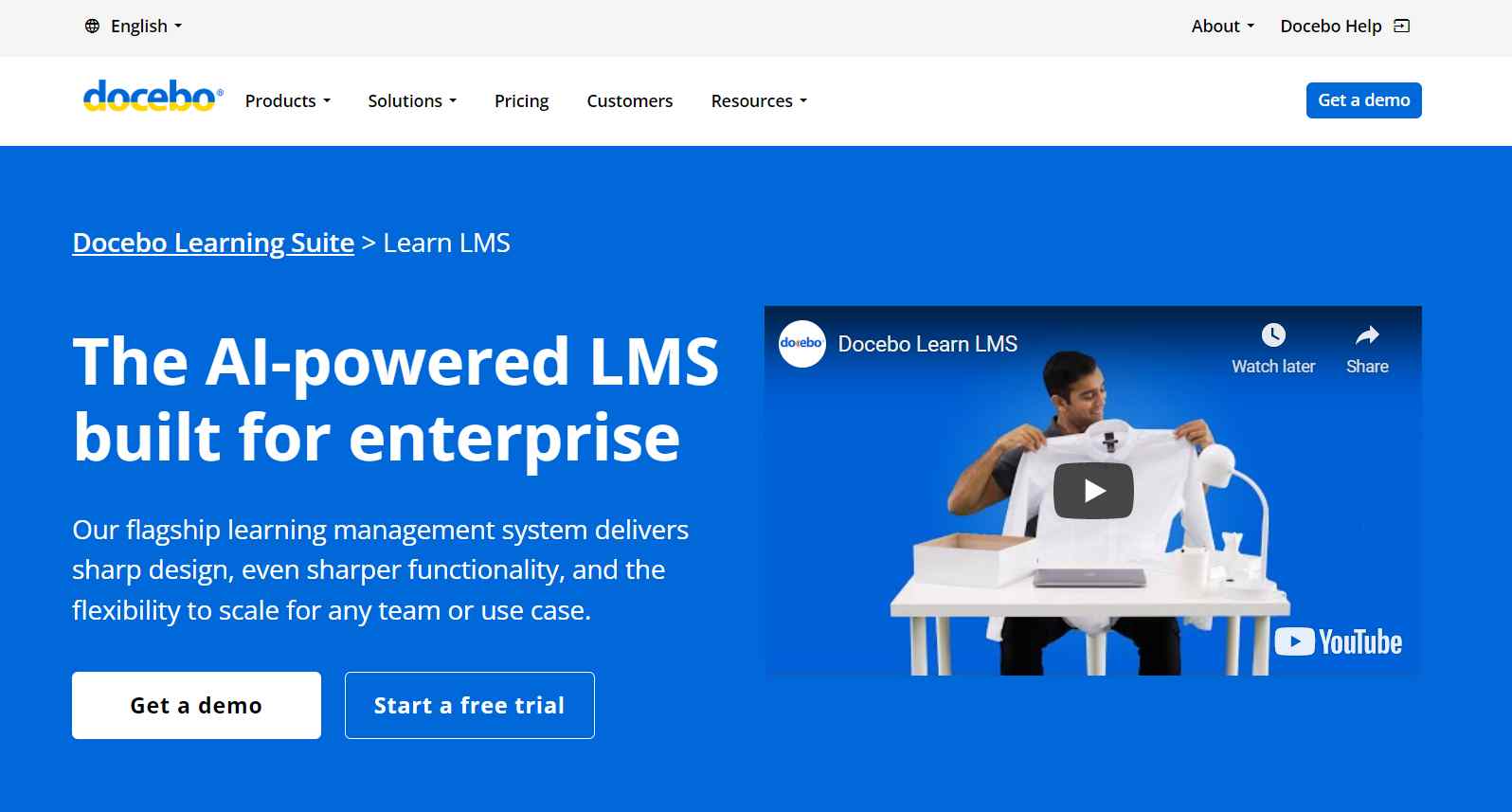 A "sharp design, even sharper functionality, and the flexibility to scale for any team or use case" make Docebo one of the most loved corporate LMS tools. Users can create audience-specific pages using a powerful configuration engine. This corporate learning management system is known for its ease of use, high customizability, and delivery functionalities.
Easily upskill and reskill your employees with personalized and automated learning that smartly aligns their learning needs with your business goals. AI-based features such as virtual coaching, content suggestions, and auto-tagging enable you to work smarter, not harder.
Docebo products are designed to help people succeed by overcoming the challenges of transition to a tech-driven world.
Features
Course Creation
Use the simplified view of the LMS to create eLearning courses. You can also upload a SCORM package, downloadable files, videos, and tests. Publish your courses in just one click.
Course Player
The responsive course player seamlessly adapts to any device and provides an optimized viewing experience. It provides an environment for learners to take courses, download assignments, watch videos, attempt quizzes, and more.
Extended Enterprise Training
Train and retain your customers and partners with an extended enterprise LMS. Increase product adoption, reduce churn, and earn more profits.
400+ Integrations
The integration marketplace, Docebo Connect, offers a no-code and seamless way to bring all connected business tools under one learning environment. The LMS integrates with over 400 SaaS systems.
Custom Reports
Create custom reports to access data on courses, users, and activated apps. Schedule automatic report sharing via email. You can also choose who can view your reports.
Pros
+ Clean UI
+ Automatic assignments to learning paths
+ Straightforward training administration
Pricing: Get in touch with the company for a quote.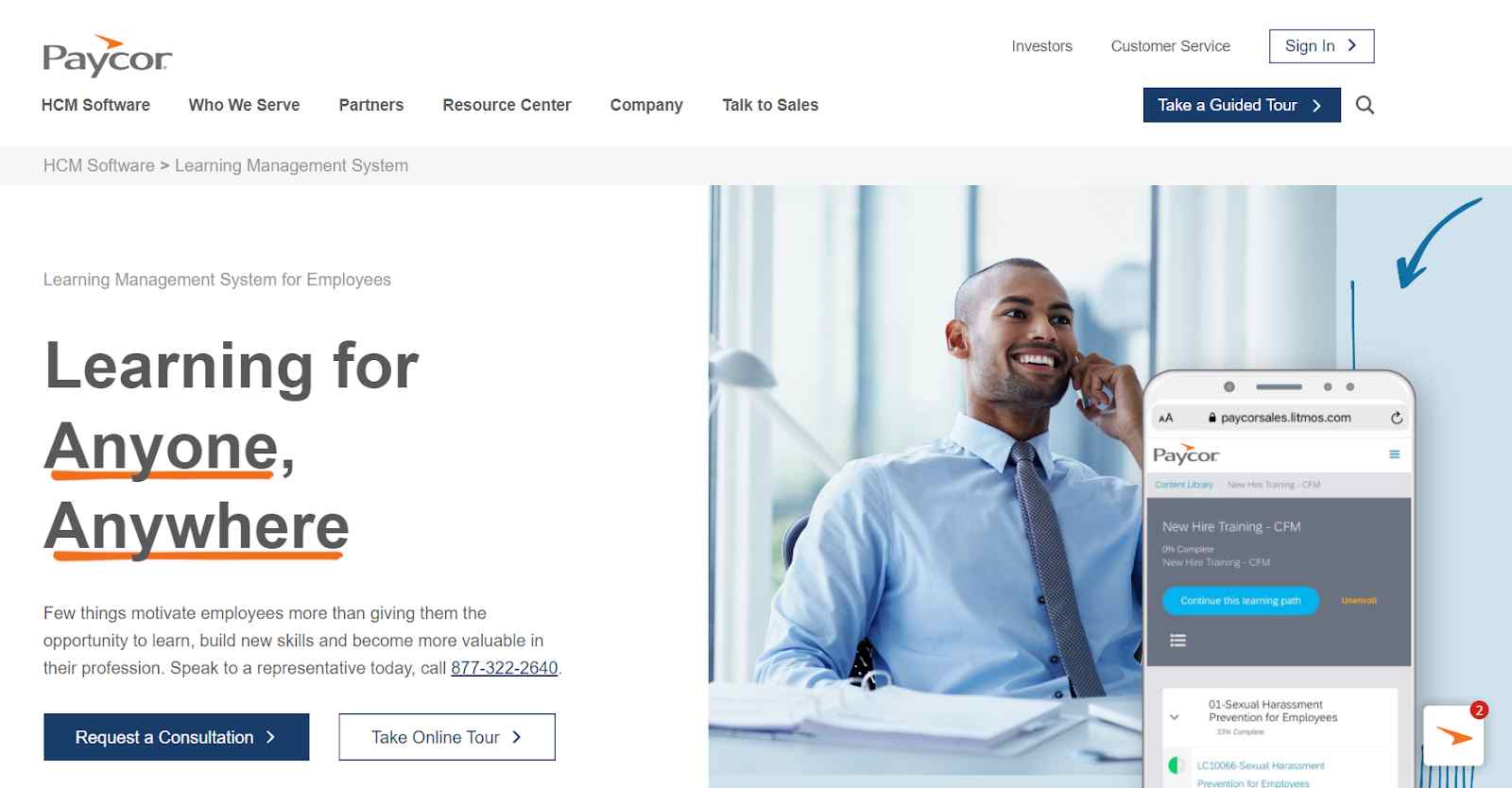 Paycor is one of the best corporate learning management systems to keep employees motivated through opportunities to learn, acquire new skills, and become valuable members of your organization. You can create interactive online courses and set up training programs for individuals, teams, or departments.
Employee training and development is a top HR challenge, but Paycor empowers you to create a sustainable learning culture by adopting all possible methods, including traditional classroom, virtual learning, mobile and social in one platform.
Engage your learners, leverage solutions for specialized compliance training programs, and simplify recordkeeping. Paycor provides modern solutions for people management, from recruiting and onboarding to career development and retention.
Features
Course Builder
Create and publish quality professional courses using an advanced course builder characterized by a simple interface. Personalize and organize courses by individuals, groups, and departments.
Gamification
Use badges and leaderboards with the LMS to engage learners and ensure more course completion. Maximize their learning experience and boost their confidence and chances of success.
Mobile App
Let your employees access important information on the go with Paycor mobile application. They can view benefits information, register clock in and clock out times, and request time off.
Employee Experience
Combine the LMS with other useful applications such as pulse surveys and career management software to deliver the best learning experiences tailored to your audience's needs.
Reports & Analytics
Create custom reports using the Reports & Analytics feature. Add filters, duplicate an existing report, and view employee information on a dashboard.
Pros
+ Provides easy-to-use tools
+ Employee dashboard
+ Reporting
Pricing: Starts at $99/month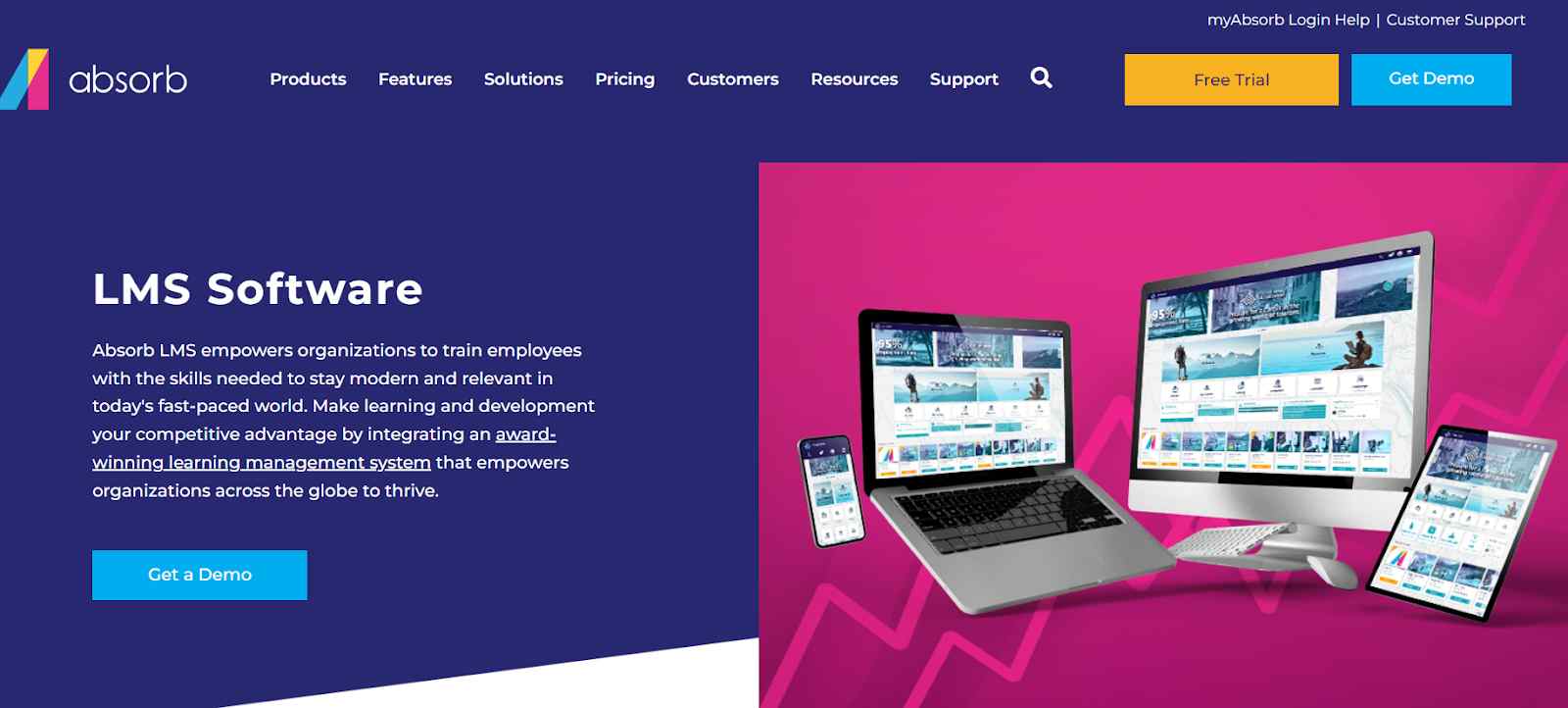 Absorb LMS is another cloud-based learning management system for corporate use cases. It is engineered to inspire workplace learning and fuel business productivity.
The award-winning LMS empowers organizations to train employees for the skills they need to stay relevant in the modern workplace. The solution is intelligently crafted to meet the needs of all organizations and learners regardless of their size and type.
Create personalized learning experiences, adapt to your evolving needs smoothly, and get support along the way to stay productive.
The elegant design of the LMS, out-of-the-box features and content libraries allow users to get started quickly. Absorb LMS is SCORM-compliant, so you can import existing courses to get up and running fast.
Features
Content Libraries
Access thousands of pre-built eLearning courses from proven content providers. They include microlearning modules, videos, and quizzes. The content is mobile-compatible and covers a wide range of skill areas.
Smart Administration
LMS administrators can bend the platform to run it their way. They can automate it to achieve maximum efficiency. It allows easy data access and comes with integrated systems.
Mobile App
Facilitate anytime, anywhere learning, both online and offline. With learning in the pocket, productivity rises through greater engagement and flexibility.
Observation Checklists
Use the checklists to bridge the gap between learning and implementation in the workplace. This feature is particularly helpful in matters of regulatory compliance.
Reporting & Analytics
Get the data you need at your fingertips to make informed decisions. The reporting and analytics dashboards provide key insights to track several metrics. You can configure the reports with custom templates and easily share these with others.
Pros
+ Intuitive & easily customizable
+ Admin portal
+ Responsive support team
Pricing: Get in touch with the company for a quote.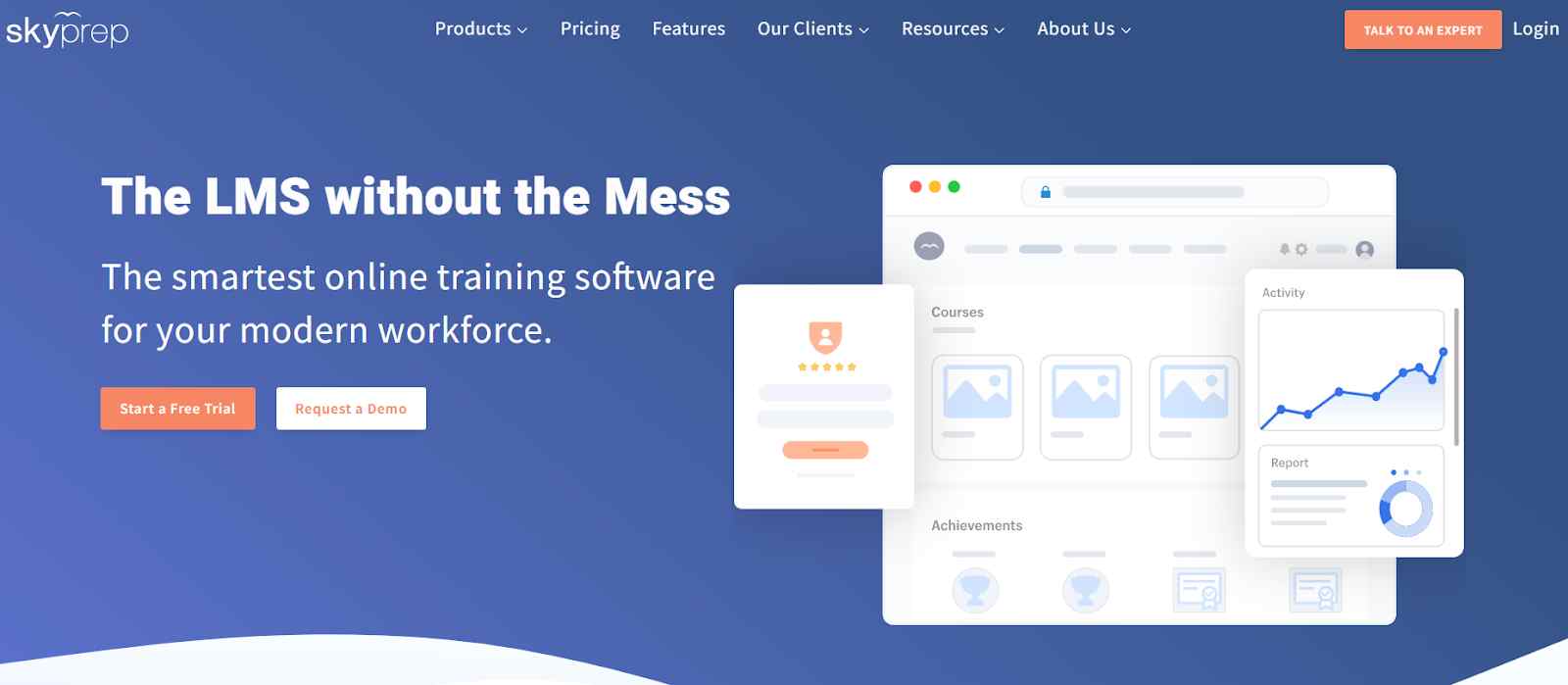 SkyPrep is a corporate training software system for delivering a better learning experience. It allows users to automate online training, manage distance learning, and improve employee productivity.
Like many of its competitors, the LMS supports onboarding, employee development, compliance training, customer training, and other essential enterprise learning programs.
The intuitive nature of the platform enables users to tackle any training challenges while boosting engagement, reducing learning time, and increasing retention.
SkyPrep's integrated corporate training system makes it easy to support continuous online learning and knowledge sharing across an organization. The eLearning professionals behind it offer proven, easy, and fast online training solutions.
Features
Course Creation
Easily create effective online courses and add checklists, assessments, and knowledge checks. The easy course maker software allows you to add existing material like docs, Excel, Powerpoint presentations, PDFs files, and more.
User Management
Streamline the user management process by automating admin tasks and minimizing duplicate data entries. Manage both individuals and large groups with equal ease.
Multi-Tenancy
Assign a separate platform for your clients, brands, and branches by using just one account. Maintain a separate database for each tenant to ensure privacy and security.
Integrations
Connect the LMS to your favorite business tools such as Zoom, Slack, Salesforce, and Mailchimp. Use Zapier to connect with 1,000+ apps without writing a single line of code.
Reporting & Analytics
Get out-of-the-box and actionable reports to improve your training. Track different parameters about your learners and courses. Apply filters and modify the report columns to get the exact data you need.
Pros
+ Course development
+ Smart automations
+ Excellent support
Pricing: Get in touch with the company for a quote.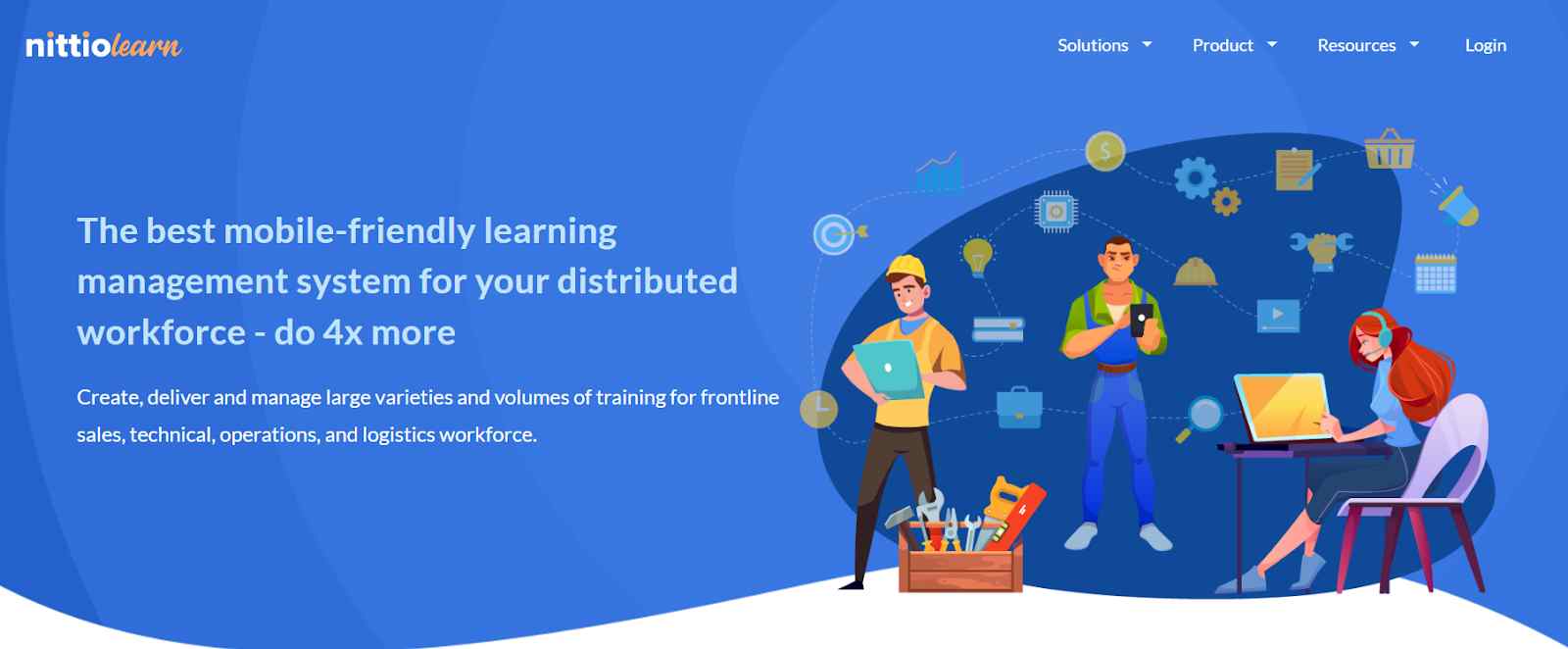 Nittio Learn, now a Whatfix company, is a mobile-ready corporate LMS that lets you create, share, and manage a large volume of training in different forms. The powerful nature of the tool enables users to perform a month's work in one week. You can use the LMS to blend traditional classroom training with eLearning sessions.
Nittio Learn is enterprise-ready. It integrates with any technology environment in organizations. No software to download, patch, or upgrade. The LMS allows you to scale training delivery across your organization in a short time without exhausting your trainers.
The learning management system is primarily used for training deskless & distributed workforce at scale and speedily. So, it can be one of the best choices for training your logistics staff, frontline salespersons, and technicians.
Features
Immersive Content
Create mobile-friendly and immersive training content. Translate them into over 100 languages. Add quizzes, surveys, simulations, and visuals.
Nudges
Set up course due dates and let the LMS send timely nudges to remind your learners so that they complete the courses on time.
Customization
Customize the LMS with a login screen, your logo, background colors, theme, and dashboards. Personalize it to fit your branding and workflow.
Zero-Touch Distribution
Automatically distribute the online courses that you create based on your learners' role, function, designation, and location.
Learning Insights
View granular data and identify employees who need reskilling or cross-skilling. Use the training dashboard to see adoption and completion rates and the training pipeline. Provide targeted training based on these insights.
Pros
+ Simple interface
+ Ease of course development
+ Customer support
Pricing: Get in touch with the company for a quote.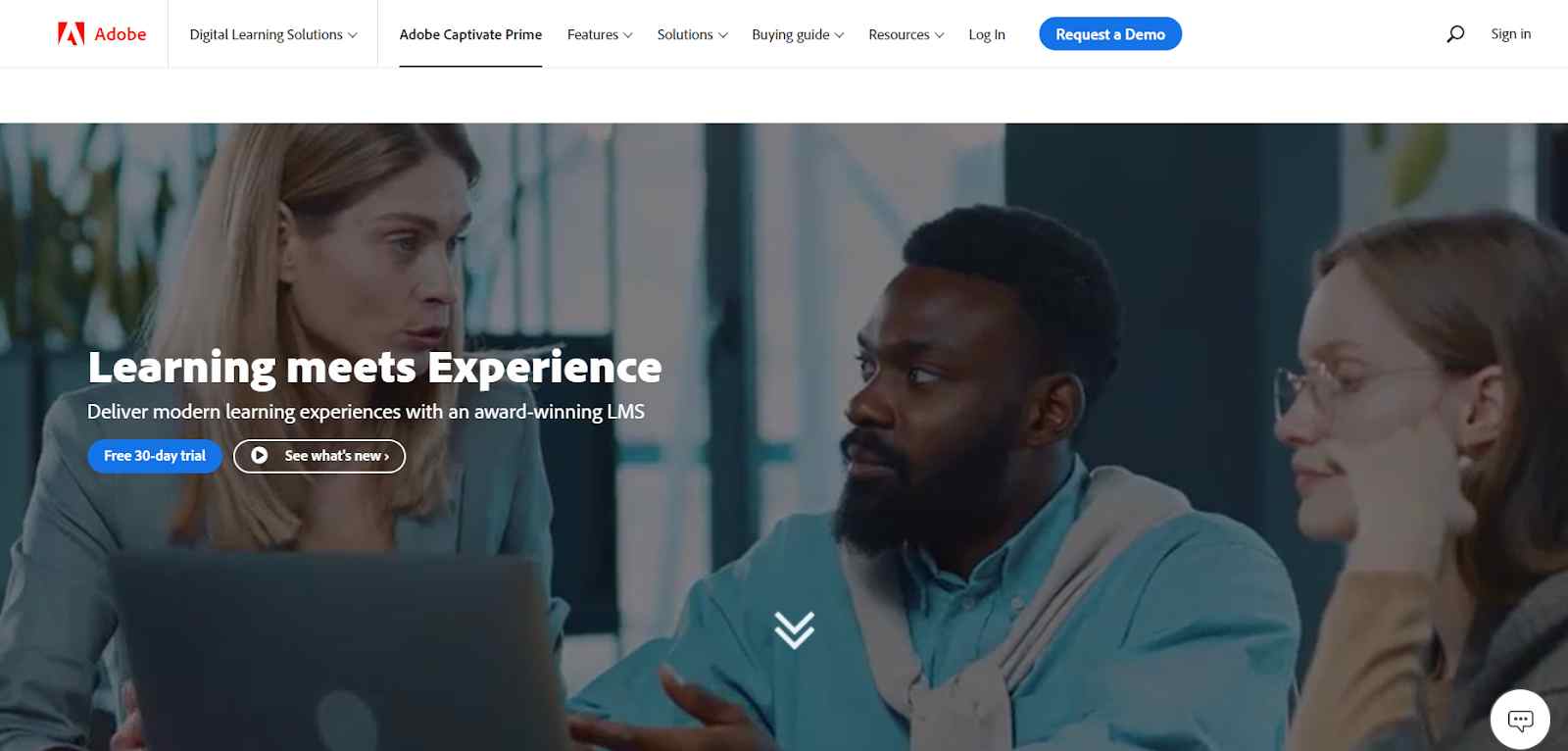 Adobe Captivate Prime LMS is an award-winning LMS for delivering modern learning experiences. It gives users complete control over personalized learning for their employees, customers, and channel partners.
One of the highlights of the solution is that it is a headless LMS, which means you can make the content from this software available on other interfaces, websites, and apps that your learners use.
A personalized dashboard and customizable widgets can transform every learner's experience. The dashboards provide them with an overview of pending, completed, and recommended courses along with their badges and other milestones.
The LMS supports seamless migration from an old LMS. You can easily migrate users, content, and learning data from your existing LMS to Adobe Captivate Prime.
Features
Course Creation
Create courses using the modules for virtual training, self-paced training, and classroom training. You can also use online content that you created using any eLearning tool.
Gamification
Acknowledge achievements with badges and certifications. Use game techniques to engage your learners, motivate them, and improve course completion rates.
Mobile App
Allow learners to stream learning content online or offline with the help of the Adobe Captivate Prime App for smartphones. Make learning seamless and undisrupted.
Push Notifications & Announcements
Keep your learners informed about upcoming courses, events, session details, and certificate expiry dates with push notifications. Don't let them miss any important information.
Reporting Dashboard
Get access to granular insights about the usage of the LMS, user activities, engagement, and license usage with a reporting dashboard. It shows reports of different kinds and at all levels.
Pros
+ Adaptable to any use case
+ All resources are available in one place
+ Interactive objects are easy to work with
Pricing: $4/registered learner/month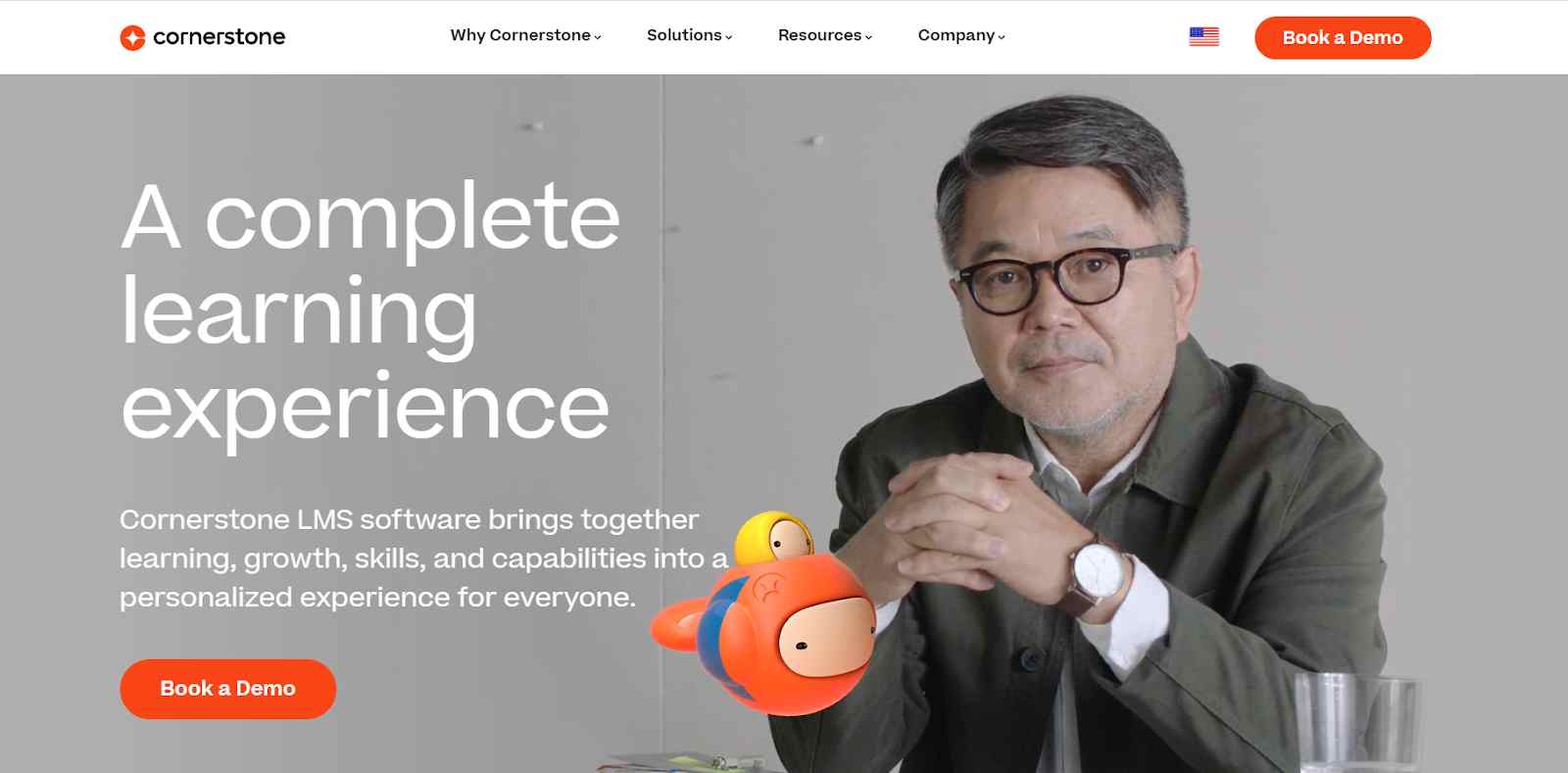 Cornerstone Learning is an experience-driven learning platform that brings together learning, skills, capabilities, and growth into one personalized experience.
Trusted by 6,000+ organizations worldwide, the LMS powers the future-ready workforce with custom and scalable learning. It draws on more than two decades of experience in people and technology strategies to enable its customers to stay ahead of the curve.
The LMS empowers users to deliver the outcomes that matter most to them. It provides solutions at all levels of an employee lifecycle – recruitment, onboarding, learning & development, and performance management.
Features
Quality Content
Access premium, award-winning, and hand-selected content to build workplace skills in your employees. These resources are curated by experts to help people learn the way they want.
Modern Learning Experience
Deliver personalized, multimodal, and purposeful learning experiences. Leverage intriguing features, such as AI-based skills graph, web-sourced content, and auto-curated learning and career pathways.
Extended Enterprise
Deploy customer and partner training to extend learning to stakeholders that play a critical role in your business success. Provide product knowledge to customers and certify your channel partners.
Engagement Surveys
Measure the impact of your training programs and gain a clear picture of employee engagement through pulse surveys. Diagnose issues and take appropriate actions.
Analytics & Reporting
Derive intelligent reports and analytics using powerful dashboards for training managers and decision makers. Access 100+ pre-configured reports and schedule their delivery to stakeholders.
Pros
+ Clean UI
+ Ongoing innovations that adapt to end-users' needs
+ Lots of configuration options for admins
Pricing: Get in touch with the company for a quote.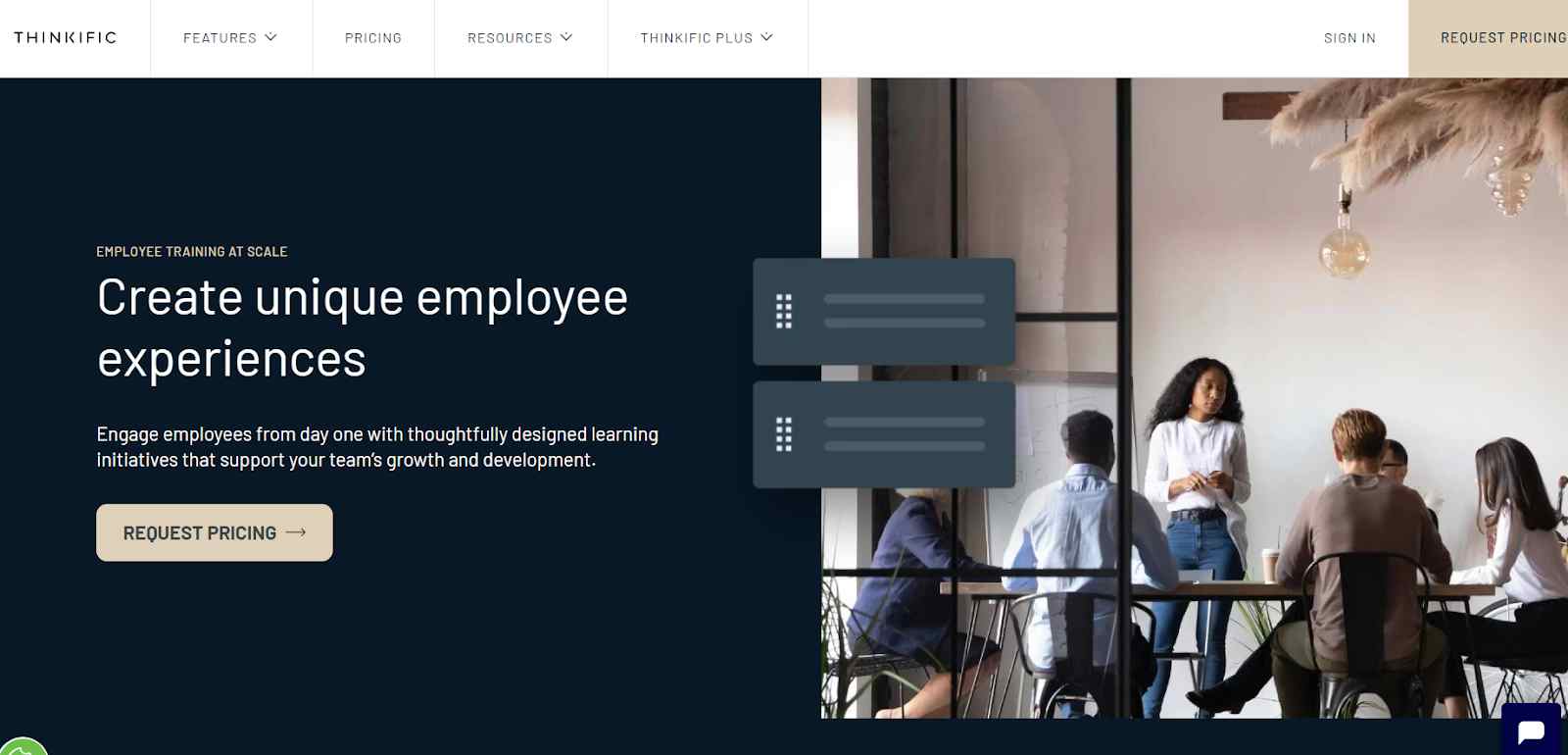 Thinkific is a thoughtfully designed corporate LMS to engage employees and support their growth and development. Administrators find the platform easy to set up and use. It is accessible from anywhere.
Entrepreneurs use the platform to create, market, sell, and deliver online courses. Provide unmatched learning experience with interactive content based on live lessons, assignments, engagement surveys, communities, and more.
The mission of Thinkific is to revolutionize how people learn and earn online. For this, it provides them tools they need to turn their expertise into a sustainable business.
Trainers, enterprises, consultants, professional associations, and universities are among the top customers of Thinkific.
Features
Course Builder
Create courses easily and quickly using templates and a drag-and-drop editor. No coding knowledge is needed. The course builder provides access to the curriculum, course settings, pricing, drip schedule, and publication.
Site Builder
The website builder lets you build a stunning custom website and add a homepage, product pages, and other relevant pages. Set the theme and add the page anatomy.
Learner Community
Electrify corporate training by building online learning communities. Host discussions on specific topics and post important updates using dedicated virtual spaces. Let learners respond and react to comments in a thread, preserving context and continuity.
Advanced Security
The LMS comes with built-in SSL certificates, secure cloud hosting, daily backups, Service Level Agreement (SLA) 99.5%, and 24/7 monitoring. It stores all data in a secure database hosted on AWS.
Reporting
Generate advanced reports to gain insight into your learners' success. Filter and pull reports on progress and for learners in specific courses or groups. Download and export reports in a CSV format.
Pros
+ Admin interface
+ Easy integration with third-party tools
+ Courses support different types of resources
Pricing: Starts at $0.
Leverage the Best Corporate LMS for Your Organization
LMS systems for business are a proven means to conduct enterprise-level training easily and smartly and achieve better results. Whether you're training your employees, customers, or partners, the best corporate learning solutions can be your one-stop solution. You can create, deliver, and track online courses and tests, and pull actionable reports.
The corporate learning management systems we went over in this post are among the front-runners on the market. They offer comprehensive eLearning solutions through a compelling suite of tools. These enablements can be instrumental in taking your corporate training to the next level.
If you're feeling indecisive about the countless learning platforms out there and the new additions almost every few months that only add to the noise, don't worry.
This list of tools is designed to help you land the best one and fulfill your business-specific training needs. Compare their features, prices, and pros before you hit the buy button. Also, go for a free trial or a personalized demo to understand how they work.
Do you want a free Training Software?
We have the #1 Online Training Software for employee training & assessment