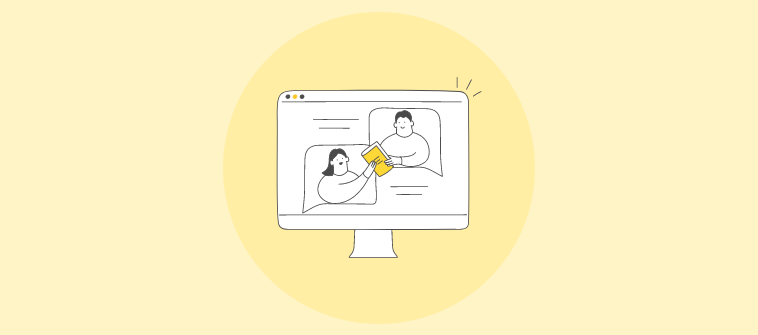 "Online learning is not the 'next' big thing, it is the 'now' big thing."
— Donna J. Abernathy, former executive director, Association for Educational Communications and Technology (AECT)
The global e-learning market was sized at an astonishing $200 billion in 2019 and is projected to double this number by 2026. Offering incredible flexibility and accessibility, e-learning has quickly become a mainstay in education and training.
Creating a virtual classroom is one of the best ways to deliver e-learning.
But how to create a virtual classroom?
This blog post will answer the question.
But before we jump into the steps for creating an effective virtual classroom setup, let's quickly understand what exactly virtual classrooms are and why businesses and educational institutions should leverage them for their learning initiatives.
What Is a Virtual Classroom?
A virtual classroom is an online learning environment that simulates the experience of a physical classroom by using digital and interactive tools, such as a learning management system (LMS), video conferencing platform, online assessment software, and more.
You can create an online classroom to deliver synchronous learning (instructors and learners connect in real-time using a video-conferencing tool) and/or asynchronous learning (instructors and learners log in to the virtual space at their convenience).
Asynchronous virtual learning is achieved using online courses featuring videos, presentations, quizzes, recorded webinars, assignments, and other digital learning materials.
Related Read: Ultimate Guide to Virtual Classrooms
Benefits of a Virtual Classroom
Virtual classrooms offer several benefits that make them both a great alternative and a complement to face-to-face learning.
1. No Geographical Restrictions
Using a virtual classroom, instructors can reach out to a worldwide audience as long as they have an internet connection. Students or employees can access live or pre-recorded courses from the comfort of their homes and overcome geographical barriers to high-quality education/training.
The fact that online classrooms are immune to geographical restrictions makes them indispensable for multinational corporations looking to train globally dispersed teams.
2. Access to Coursework Anytime, Anywhere
Watch: What Is a Mobile LMS & How Can It Help Train Anytime, Anywhere?
By taking your learning online, you can provide learners with 24/7 access to study material, assignments, quizzes, live session recordings, and more using a learning management system. In this way, virtual classrooms eliminate the possibility of learners missing out on key concepts due to missed classes.
Virtual classroom software are also mobile-friendly, meaning learners can access their courses on the go.
3. Self-Paced Asynchronous Learning
LMS-based virtual classrooms are one of the simplest ways to facilitate self-paced asynchronous learning. Learners can log in and log out at their convenience to gain knowledge in a highly flexible way as long as they meet the deadlines for the courses, tests, and assignments.
This flexibility in scheduling allows learners to join a classroom without compromising on any work or family-related responsibilities.
For example, check out how Florida Auto Dealer School used a virtual classroom platform to deliver mandatory pre-licensing training in a self-paced way.
Watch: How Florida Auto Dealer School Found an Excellent Alternative to In-Person Training
Watch: How Florida Auto Dealer School Found an Excellent Alternative to In-Person Training
4. Active and Engaging Learning
Unlike traditional, lecture-driven classrooms that are based on unidirectional and passive learning, virtual classrooms provide an easy way to implement the active learning approach, making them highly effective for keeping learners engaged and developing deep understanding in them.
To improve comprehension and retention, you can add various visual and interactive elements to your online classroom courses. Such elements include:
Quizzes

Lecture videos, webinars, and podcasts

Case study and interview videos

Animated videos explaining concepts

Slide show presentations

Downloadable infographics/handouts
Watch: How to Create Virtual Classroom Courses Featuring Media & Quizzes
5. Collaborative Learning
Virtual classrooms provide the perfect environment for collaborative learning. Using virtual learning software, learners from different time zones can conduct productive, real-time discussions among themselves and with their instructors.
Learners can exchange ideas, ask questions, and receive feedback. Besides clarifying doubts, such discussions can also help develop critical thinking and interpersonal skills.
6. Streamlined Learning Assessment
Virtual classrooms powered by LMS software let you conduct online assessments in a highly organized and effective way. You can automate various admin tasks, such as enrolments, grading, reporting, and certification, and use security and anti-cheating settings to ensure the integrity of your tests.
Automation in assessments saves hours, which instructors can use to improve learners' understanding by providing personalized feedback and mentorship.
What's more, online assessments let you ask questions in diverse formats, boosting engagement and allowing you to test knowledge comprehensively.
Watch: 15+ Question Types for Online Learning & Assessment
7. Cost & Time-Saving
Virtual learning removes the need to arrange physical classrooms, print study materials, and commute to training centers. In this way, virtual classrooms save a lot of cost and time for learners, instructors, and institutions conducting the learning program.
Virtual classrooms' cost & time-saving benefits are particularly important for learners. By eliminating or reducing financial/logistical constraints, virtual classrooms make learning more accessible and the learning environment more inclusive.
8. Blended/Flipped Learning
While virtual classrooms are an amazing alternative to brick-and-mortar learning, they can also serve as an excellent complement to it by facilitating blended learning.
Blended learning is an increasingly popular approach to education and workplace training that combines face-to-face instruction and other classroom-based activities with online learning technologies, such as virtual classroom template, LMSs, assessment software, and Q&A platforms.
Watch: How to Conduct an Online Assessment Using Assessment Software
Blended learning leverages digital tools to make learning more flexible, effective, and comprehensive.
Flipped Classroom
The flipped classroom approach is one of the best examples of how virtual classrooms help achieve these objectives. In this instructional strategy, learners acquire new knowledge at home while face-to-face classroom time is used for problem-solving, discussions, and focused and personalized mentorship.
LMS-based virtual classrooms fit the flipped learning approach like a glove. Learners can explore new topics at home by taking engaging and interactive online courses instead of going through the oft-laborious task of reading the text-only versions.
Read More: What Is a Flipped Classroom and How to Create It
Now that you know all the significant benefits of virtual classrooms, let's jump into the heart of our discussion – how to create a virtual classroom layout for teaching or training by using a learning management system.
How to Create a Virtual Classroom in 10 Easy Steps
Creating a virtual classroom is straightforward if you follow the right steps. Here's how to make a virtual classroom for any e-learning requirement:
Watch: How to Set Up Your Virtual Classroom in 5 Minutes
Step 1: Establish Your Learning Objectives
Before you start building a classroom, you need to be clear about your learning objectives. You need to ask yourself some basic questions, such as:
What all do my students need to learn?

What outcomes am I hoping to achieve with my virtual classroom?

What are the key learning challenges for my learners?
Once you've established your goals, you can choose the right virtual learning platform and build courses tailored to your requirements.
Step 2: Choose a Virtual Classroom Platform
With the online learning market reaching increasingly staggering heights, there's no shortage of options when it comes to virtual classroom tools. Still, you need to pick the one that is right for your requirements and has all the top features.
The best way to go about this would be to go for a create a virtual classroom with free trial before buying a plan.
You should also ensure that your virtual classroom platform is equipped with these essential LMS functionalities:
Easy-to-use interface with an intuitive course builder

Robust reporting

, analytics, and progress tracking mechanism

Option to add a variety of learning material, such as videos, presentations, podcasts, quizzes, assignments, and so on

Option to upload your existing learning materials to your online courses

Integrations with video conferencing tools

Mobile responsiveness and multi-lingual support

Streamlined learner management via multiple instructor accounts, learner groups, and roles & permissions

Single sign-on for easy and secure logins to different applications

Functionalities to set up

automated custom certification

Learning paths

to provide need-based personalized learning plans

Comprehensive settings for security, customization, reminders, and notifications
Besides exploring features and functionalities, also make sure you assess the quality of customer support before committing to any software platform.
Watch: How to Choose the Best Virtual Classroom Software
Related Read: Top 12 Must-Have Features of a Learning Management System
Step 3: Create an Online Classroom and Add Users to It
Once you've chosen your virtual classroom platform, you can start with the virtual classroom setup. If you're using ProProfs Training Maker, this is what the process for creating a classroom and adding users to it will look like.
Click "Classroom"

in the top panel on your dashboard

2. Click "+ New Classroom" in the next screen.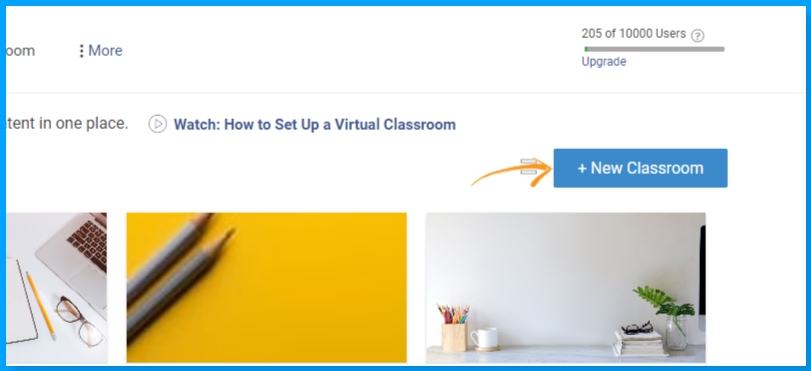 3. Add your classroom name in the pop-up overlay and click "Add."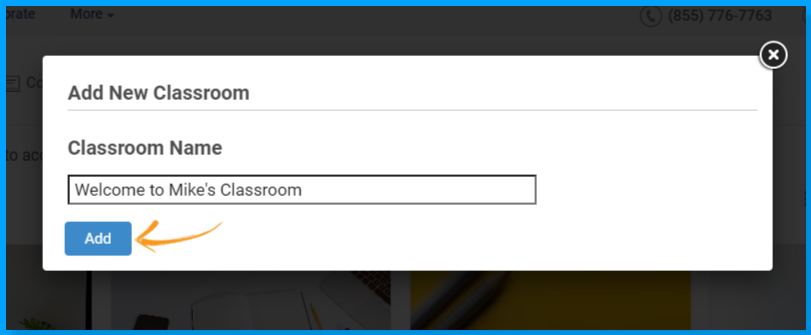 4. In the next screen, click "Add User" to start adding users.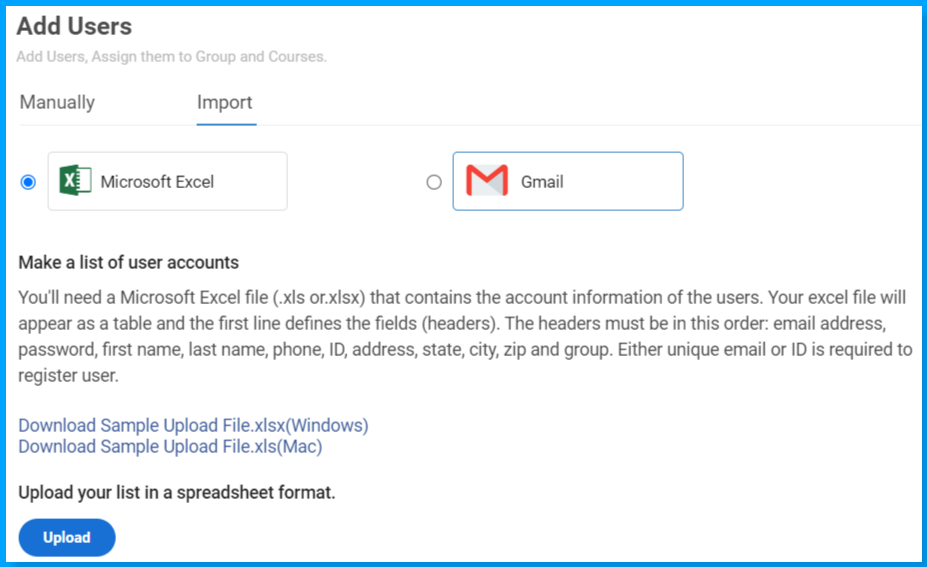 You can add users manually or import them in bulk via Microsoft Excel or Gmail.
Depending on your requirements, you can choose to create a single classroom or multiple ones.
For example, let's say you're a consulting company catering to many clients. In that case, creating multiple classrooms would be a wise step since it would allow you to segregate and manage different data for different clients.
Moreover, maintaining separate classrooms becomes necessary if the clients wish to white-label the classroom and courses with their logo and colors.
Watch: How to Set Up Virtual Classrooms for Multiple Clients
Step 4: Add Instructors, Groups & Group Admins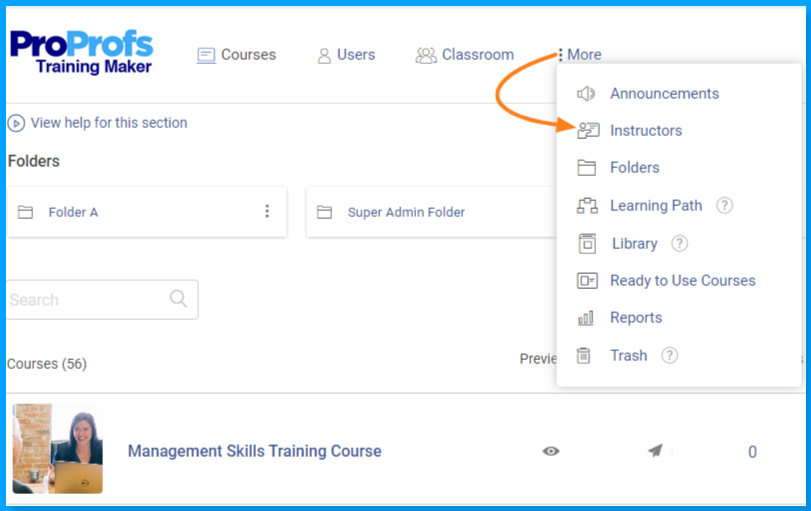 If you have multiple teachers/trainers participating in your learning program, it's best to create separate instructor accounts for them to keep everything organized.
Creating instructor accounts also lets you delegate admin tasks related to learner management so you can streamline virtual learning.
Instructors in ProProfs Virtual Classroom can build and edit courses, add new learners to the classroom, organize learners into groups, and view individual or group reports. They can also collaborate by sharing courses with each other.
Watch: How to Set Up Virtual Classroom Instructor Accounts
To further optimize your learner management, you can assign group admins to learner groups and even create sub-groups. Once you've assigned group admins, you can choose what permissions you wish to grant them.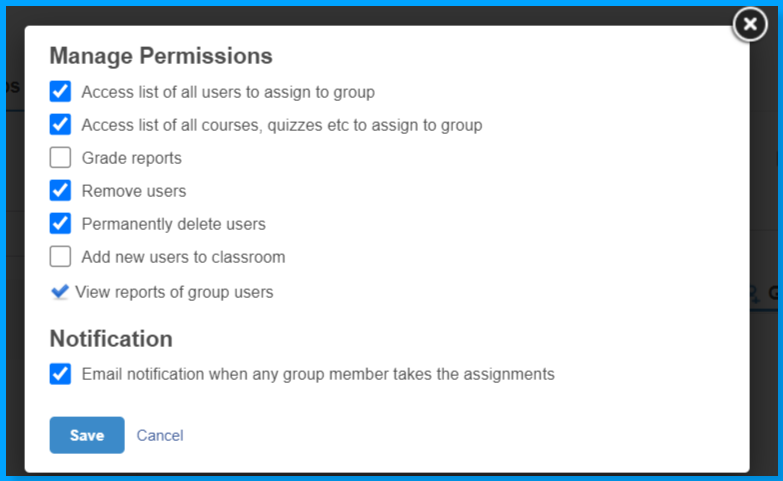 Creating group admins helps when you're training large groups on critical matters such as safety and compliance and need to ensure that everyone takes the course.
Related Read: What Is Corporate Compliance Training?
Step 5: Enable Single Sign-On via Google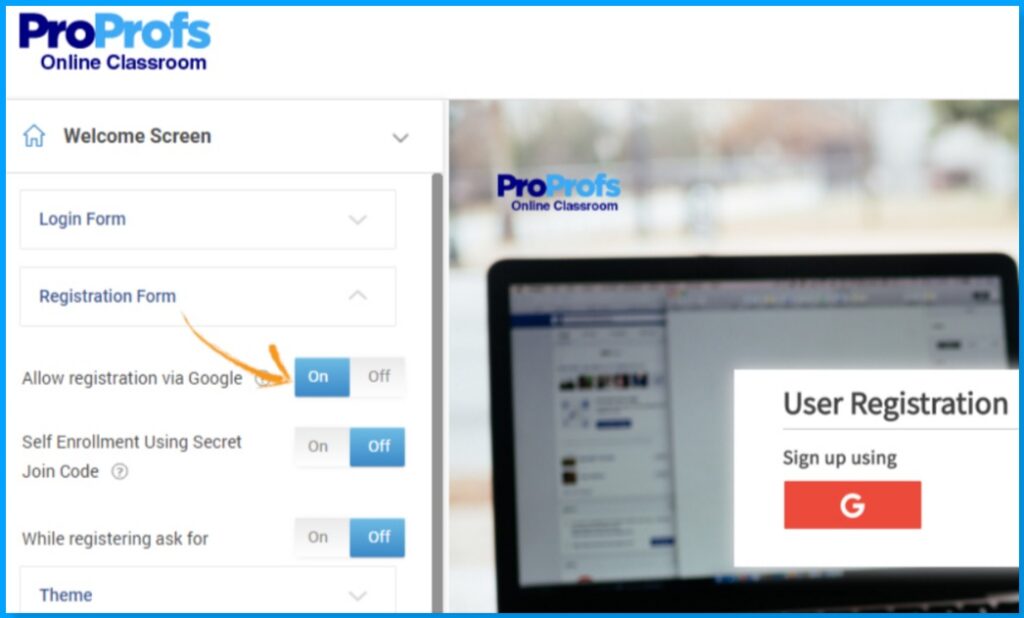 Speaking of large groups, one of the best ways to enroll a large number of learners in your classroom is by enabling Google single sign-on (SSO). Using this fast and secure authentication system, your learners can join your classroom using just one set of login credentials.
They can use the same credentials to log in to other connected virtual classroom app across your organization. This removes the chances of password fatigue and hacking.
All they need to do is sign in the way they do to access Gmail, Google Play, and other Google web services.
Step 6: Build Your Courses and Quizzes
With the framework for your online classroom setup in place, you can begin building your courses and quizzes. Make sure you create learning material that is well-aligned with your goals and your learners' preferences and challenges.
Also, keep these tips in mind to ensure your courses are engaging and effective:
Gather course content from various sources to ensure comprehensiveness.

Don't overload your courses with information.

Leverage professionally designed,

readymade courses

and

quizzes

.

Add videos, audios, images, presentations, quizzes, flashcards, and

step/accordion blocks

to make your courses engaging.
Read More: How to Create an Online Course Like a Pro
Watch: How to Create an Online Course
Step 7: Enable Collaboration and Discussions
Whether you're conducting your learning program in a physical or virtual classroom, effective communication is key to success. Using your virtual classroom platform, you can easily facilitate productive communication and collaboration between your learners by setting up a learning-focused Q&A community.
For example, ProProfs Training Maker lets you add a learning community to your courses by connecting with ProProfs Collaborate, a powerful discussion board software for LMSs. With this integration in place, you can:
Enable learners to ask and answer questions without leaving their course

Initiate and moderate discussions

Collaborate on assignments

Provide personalized feedback to learners
You can organize questions and answers by threads and topics and keep the best answers on top, so you never lose great answers. Learners can also search for answers to quickly get the information they need.
Watch: How to Set Up Virtual Classroom Discussions
Step 8: Integrate With a Video Conferencing Tool

Integrating your virtual classroom platform with a video conferencing tool, such as Zoom or Microsoft Teams, lets you conduct live online learning sessions more easily and efficiently.
For example, if you integrate ProProfs Training Maker with Zoom, you can:
Log in to Zoom via single sign-on

Schedule sessions on Zoom via Training Maker's dashboard

Automatically notify learners about upcoming Zoom meetings

Access Zoom attendance data in Training Maker
Step 9: Test-Run Your Classroom and Courses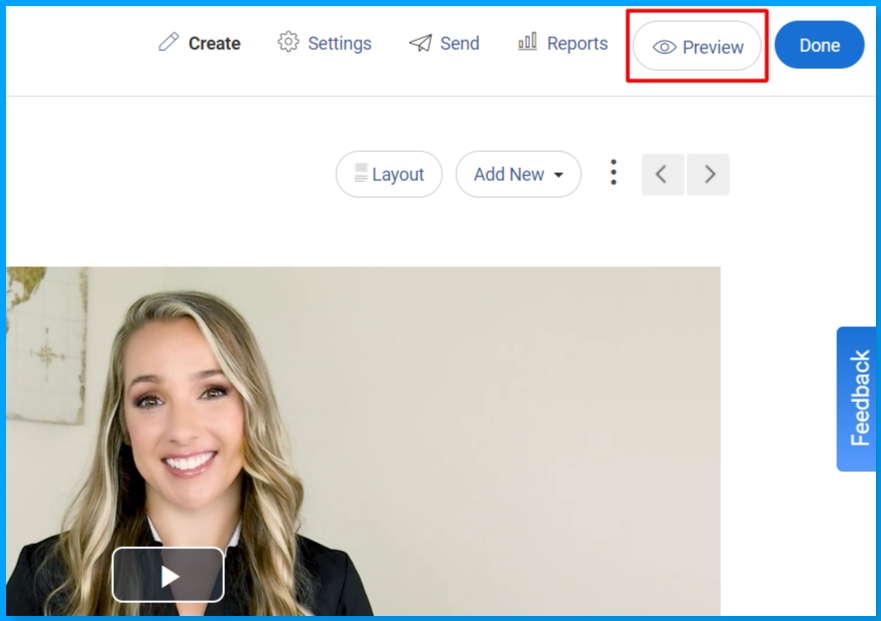 Before you implement a virtual learning program, be sure everything is in order. Test-run your classroom by previewing your courses and quizzes to check for any errors or anomalies and ensure you've configured all settings to your requirements.
For example, you may wish to:
Set a course due date and set reminders for the same

Get notified when someone takes your quiz

Set passing scores for quizzes

Prevent reattempts to quizzes

Enable proctoring and anti-cheating settings in quizzes

Prevent learners from skipping course pages or questions in a quiz

Require minimum time on a course
Step 10: Assign Courses to Learners
With your courses and assessments ready to be deployed, you can set deadlines for completion and assign them to individuals or groups. As mentioned above, you can hand this task to Instructors and/or group admins to reduce your administrative burden.
Watch: How to Administer Training to Large Groups
Bonus: Add a Knowledge Base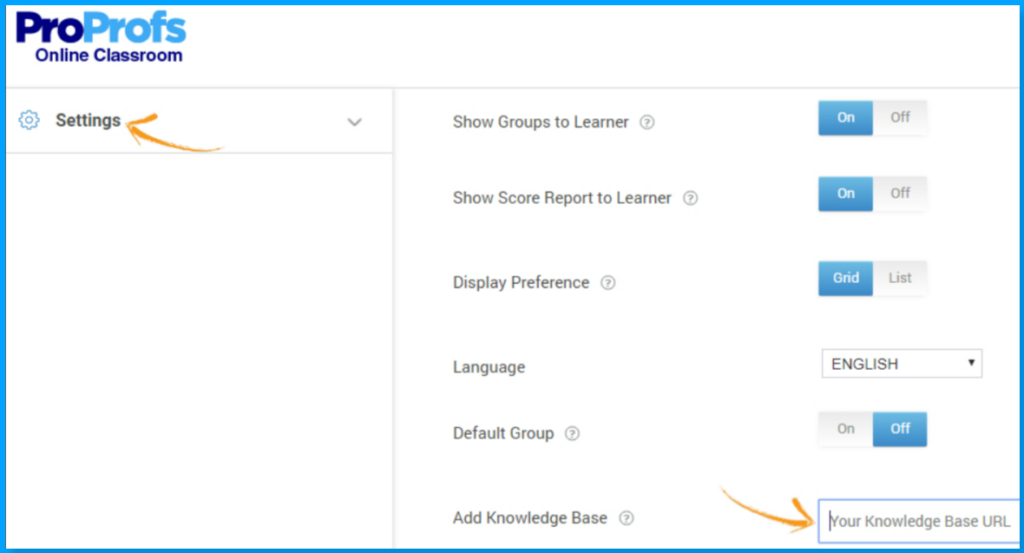 Adding a knowledge base to your classroom can provide learners with additional resources and support via FAQs, manuals, how-to videos, and other learning materials. Doing so can save instructors and learners a lot of time by reducing learners' need to contact instructors every now and then.
Watch: How to Add a Knowledge Base to Your Online Classroom
Pro Tip: You can quickly create an engaging knowledge base featuring images and videos using ProProfs Knowledge Base, a delightfully easy-to-use tool trusted by several major brands, including Acer, Adobe, Nissan, and more.
Watch: How to Create a Virtual Classroom Knowledge Base in 5 Minutes
Virtual Classroom FAQs
1. How to make an interactive virtual classroom
You can make an interactive virtual classroom by using a cloud LMS, such as ProProfs Training Maker. You can create a virtual classroom and use it to deliver engaging online courses featuring various interactive elements, such as quizzes, videos, flashcards, webinars, and more.
2. What are some examples of a virtual classroom?
Some common examples of a virtual classroom include:
Bootcamps:

Short and intensive courses consisting of pre-recorded lectures, live sessions, and assessments.

Online degree programs:

Degree courses offered by colleges and universities via an online platform.
You can conduct such virtual classroom courses easily using a learning management system.
3. What do you need for setting up a virtual classroom?
For setting up classrooms online, you need a software tool that lets you build and administer online courses and quizzes, manage learners in a centralized way, and facilitate discussions. Depending on your requirements, you may also need a video conferencing tool and knowledge base software.
As for the equipment, you'll need a good laptop with a high quality webcam, microphone, and speakers. You can also use a green screen to add an interesting background when recording video lectures.
4. How to set up a virtual classroom at home
Here's what you need to do to set up an online classroom at home:
Step 1: Choose a virtual classroom platform.
Step 2: Add learners, admins, and instructors.
Step 3: Set up proper seating for recording lectures and conducting live sessions.
Step 4: Build and assign your courses and quizzes.
Step 5: Set up a Q&A community for collaborative learning.
Step 6: Integrate your virtual classroom platform with a video conferencing tool for conducting live sessions.
Revolutionize Learning With Virtual Classrooms
So those were all the steps you need to follow for virtual classroom design and setup. You can refer to this quick guide anytime you're wondering how to create a virtual classroom tailored to your learning objectives.
Online classrooms are an innovative and highly effective approach to learning, offering numerous benefits, including accessibility, flexibility, learner engagement, cost-effectiveness, collaboration, and more.
You can unlock all these benefits and more using a powerful yet easy-to-use learning management system such as ProProfs.
ProProfs Training Maker is the world's easiest-to-use cloud LMS packed with in-demand virtual classroom functionalities, including 100+ ready and customizable courses designed by experts, 100+ training assessments, a question bank with over a million questions covering diverse topics, robust AI-powered reporting, and much more.
Do you want a free Training Software?
We have the #1 Online Training Software for employee training & assessment