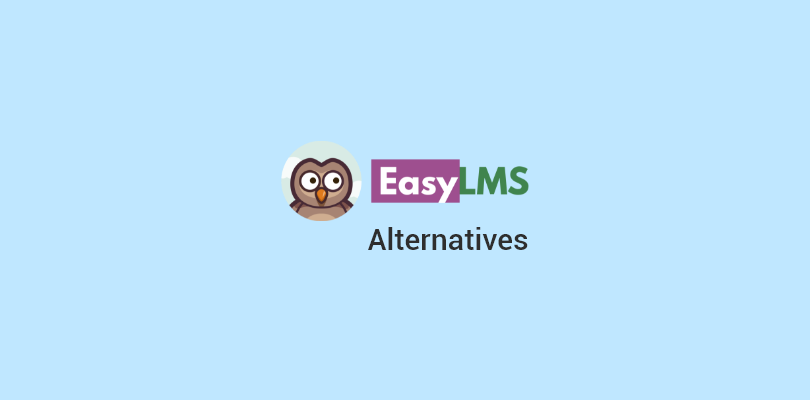 Learning management systems (LMS) are essential tools for online education, training, and collaboration. But not all LMS are created equal.
Some are too complex, some are too expensive, and some too rigid for your needs.
One of the popular LMS platforms is Easy LMS, which claims to offer a user-friendly and affordable solution for creating engaging courses and quizzes. However, Easy LMS may not be the best fit for everyone.
That's why I've compiled a list of the 10 best easy LMS alternatives for 2023. Whether you're a teacher, a trainer, a coach, or a learner, you'll find something here that meets your goals and preferences.
In my experience, these are the LMS that deliver the best results with the least hassle. Let's take a look at them one by one.
10 Best Easy LMS Alternatives
I have worked with various LMS platforms over the years. I have seen the pros and cons of each one and also learned what makes a good LMS stand out from the rest.
In this section, I will share with you my honest and unbiased opinions on the 10 best easy LMS alternatives that I have personally used or tested:
1. ProProfs LMS – Best for Employee Training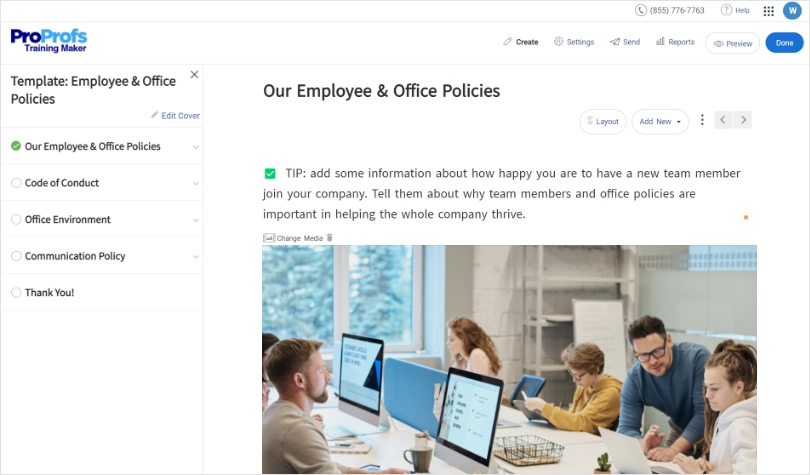 If you're looking for powerful and easy-to-use learning management software, then look no further than ProProfs LMS.
It's one of the best LMS platforms I've ever used, and I'm not the only one who thinks so. Millions of users worldwide trust ProProfs LMS to create and deliver engaging online courses and quizzes.
What I love about ProProfs LMS is that it has everything you need to create, manage, and track online employee training. It provides a fast-growing library of hundreds of professionally designed and fully customizable courses. You can also use the eLearning authoring tool to build courses from scratch or import existing material.
You can also use the virtual classroom to train employees remotely and interact with them via chat and discussion boards. And you can easily measure the impact of your training with in-depth reports and analytics.
This LMS also integrates with popular tools like Zoom, Salesforce, Mailchimp, and more, allowing you to customize it with your logo, theme, and domain.
What you'll like:
You can create engaging and effective learning experiences that cater to the needs of your learners.
You can enjoy a hassle-free and intuitive eLearning platform that does not require any installation or configuration.
This LMS can adapt to any learning scenario, whether online, offline, synchronous, asynchronous, or blended.
You can customize your courses and content to fit any niche or domain, from education and training to marketing and entertainment.
What you won't like:
No industry-specific templates.
The UI has been unchanged for a while now.
Pricing:
Forever free plan (up to 10 learners). Paid plan starts at $1.97/learner/month (billed annually) for large teams. No hidden charges. 15-day money-back guarantee.
Watch: What is a Cloud-Based Learning Management System?
2. Moodle – Best for Blended Learning and Distance Education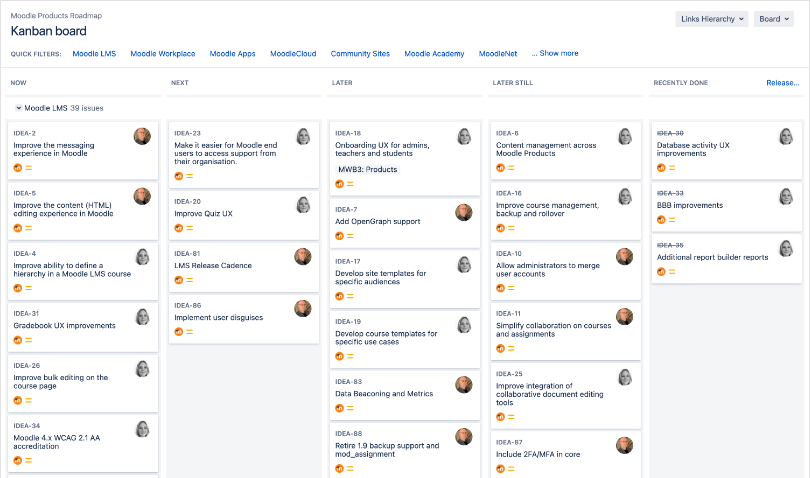 If you're on the lookout for one of the best open-source and flexible Easy LMS alternatives, I highly recommend giving Moodle a shot. Moodle really nails it when it comes to creating engaging, interactive, and personalized online courses and training.
Moodle has all the tools you need to make your online learning experience effective. You have quizzes, forums, wikis, badges, certificates, and more at your disposal to spice up your courses and motivate your learners.
It is accessible on any device, with an offline mobile app, and it encourages collaboration and interactivity through tools for discussions, feedback, peer assessment, group work, and gamification, making it a great tool for blended learning and distance education.
Not to mention, you have the freedom to customize Moodle to fit your specific needs and preferences. Want to change the appearance of your Moodle site? Go for it! Need to add new features and integrations? With thousands of plugins available, you can make it happen.
What you'll like:
Explore a sleek and user-friendly eLearning platform that lets you easily navigate and access your courses.
Track your progress and performance with a customized dashboard showing your achievements, goals, and feedback.
Interact with your peers and instructors through various tools and activities that foster communication, cooperation, and creativity.
Organize your files and resources simply and securely that allows you to upload, download, share, and edit them anytime, anywhere
What you won't like:
Steep learning curve.
Not fully developed to cope with big projects.
Pricing:
Starts at $130/month (billed annually).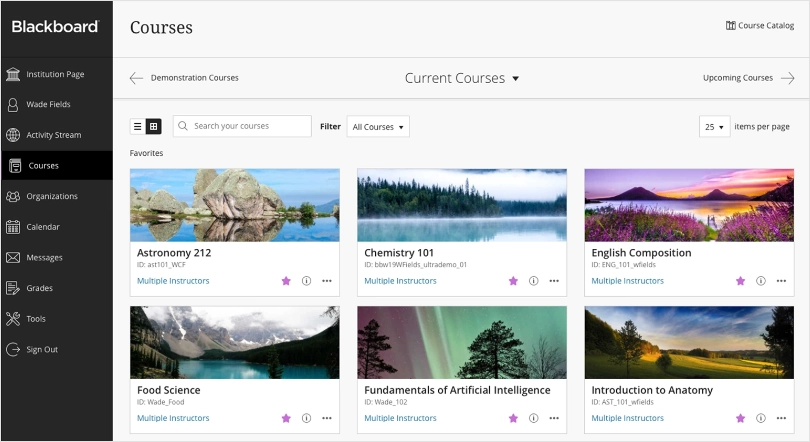 Blackboard Learn lets you create awesome online courses that are engaging, interactive, and tailored just for you.
Blackboard Learn has assignments, tests, discussions, blogs, wikis, portfolios, badges, and more to make your courses awesome and motivate your learners. Plus, you can create your learning paths and track your learners' progress, giving you unmatched pedagogical autonomy.
You can connect Blackboard Learn to tools like Zoom, Microsoft Teams, Turnitin, Ally, and more.
However, you might need some technical skills and resources to set it up and keep it running smoothly. But no worries, you can get assistance from a developer or a Blackboard partner to get things up and running.
What you'll like:
Design your eLearning site that matches your brand identity and style preferences.
Enroll your learners quickly and securely, ensuring their privacy and data protection.
Reach learners from different countries and cultures with a multilingual eLearning platform that supports various languages and scripts.
Enhance your eLearning experience with external tools and applications that extend the functionality and features of your platform.
What you won't like:
It can be buggy and slow to load pages.
Limited ability to track student activity.
Pricing:
Custom pricing
4. Docebo LMS – Best for Delivering AI-Powered Learning to Any Audience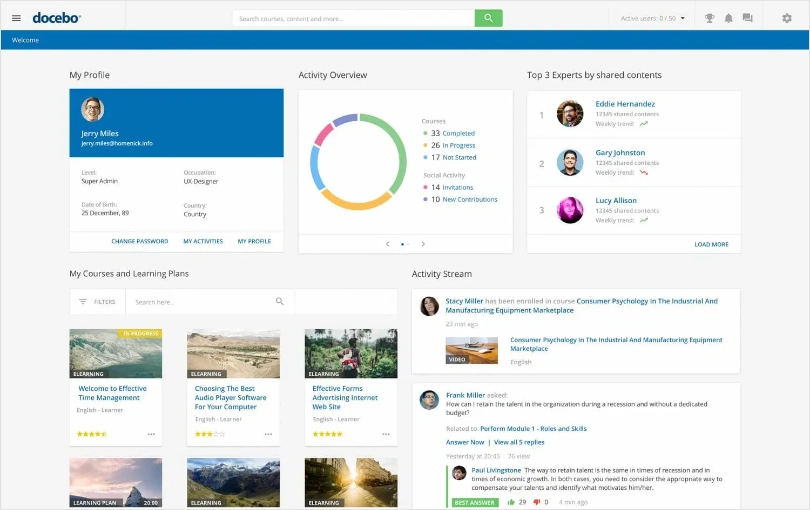 Docebo LMS is one of the top alternatives for Easy LMS software that uses artificial intelligence to deliver personalized and engaging learning experiences. It is used by thousands of enterprises and organizations worldwide, from tech and retail to finance and healthcare.
Docebo LMS is an excellent alternative to Easy LMS because it offers more flexibility, functionality, and scalability. You can customize Docebo LMS to suit your specific needs and preferences.
You can also extend Docebo LMS with hundreds of plugins that add extra features and integrations. And you can scale Docebo LMS to handle large numbers of users and courses.
You can also join the Docebo community to get help, share ideas, and contribute to the project.
What you'll like:
Engage your learners with gamification elements that make your courses more fun and rewarding.
Sell your courses online with a seamless eCommerce integration that allows you to accept payments and manage orders easily.
Manage your classroom efficiently with tools that help you create, assign, grade, and monitor your learners' activities and progress.
Certify your learners with customizable certificates that validate their skills and achievements.
What you won't like:
It can be challenging to get started due to zero onboarding and a cumbersome interface.
Poor support quality for entry-level pricing plans and considerable delays in response times.
Pricing:
Custom Pricing
5. iSpring Learn – Best for Automating Corporate Training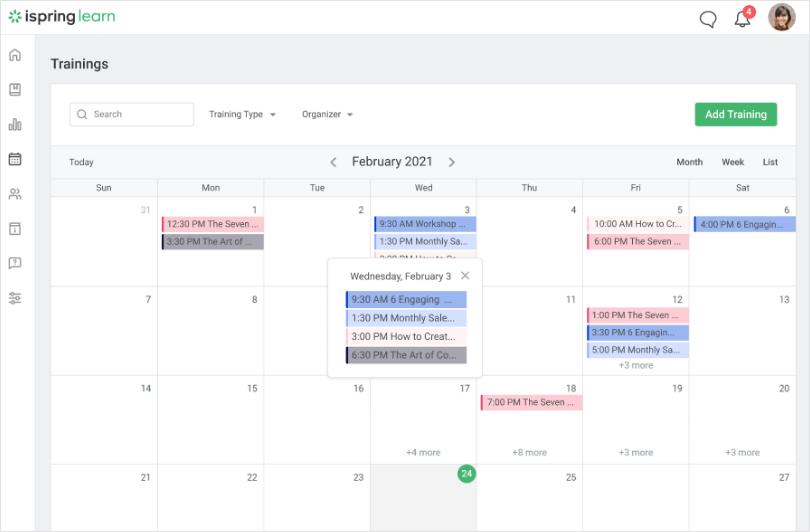 iSpring is a robust LMS for winning teams. It provides a great learning experience to learners via web, mobile, and Android/iOS apps. The platform is incredibly user-friendly and allows for easy content creation.
With iSpring Learn, anyone from L&D specialists to SMEs can create interactive courses, assessments, role-plays, video lessons, and longreads.
One of the best things about iSpring Learn is automation. It streamlines course creation with an integrated authoring tool and supports importing from various formats. You can easily automate user management through mass enrollment and role assignments.
Flexibility is another significant aspect of this platform. You can start with the content you already have, and feel free to upload your presentations (PPT), courses (SCORM), video tutorials (FLV, MP4), Flash clips (SWF), and audio tracks (MP3, WAV), as well as supplementary documents (PDF, DOC, XLS).
What you'll like:
Create your own courses with an integrated course authoring tool that lets you add, edit, and arrange your content easily.
Learn how to use the eLearning platform quickly and easily with an intuitive interface that guides you through the features and functions.
Control your users and their roles with a simple and effective user management system that allows you to add, remove, and assign permissions to your learners and instructors.
Access your courses anytime, anywhere with a mobile learning app that lets you download and view your content offline.
What you won't like:
Missing true discussion boards.
No xAPI, PENS, or LTI support.
Pricing:
Starts at $4.08/month
6. TalentLMS – Best for Versatility in Training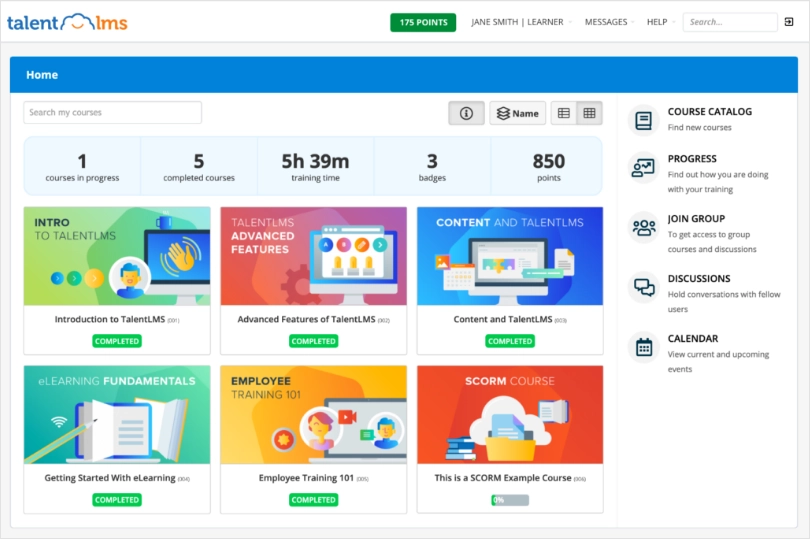 TalentLMS is a fantastic learning management system I've used for some time. It makes delivering top-notch learning courses a breeze, whether it's for your employees, partners, customers, or students.
The best part is it's all done through the cloud, making it perfect for creating and sharing online courses with remote teams.
What I love about TalentLMS is its incredible versatility. It's designed to fit every team and every purpose.
Whether you're training your employees, customers, or partners, TalentLMS ensures you can offer the same outstanding training experience throughout your organization.
What you'll like:
Navigate through the eLearning platform easily and comfortably with a user-friendly interface that simplifies your learning experience.
Personalize your eLearning site with your own choice of colors, fonts, logos, and themes that suit your brand and style.
Register your learners safely and conveniently, protecting their data and identity with a secure authentication and mass enrollment system.
Communicate with your learners in their preferred language with a multilingual capability that supports multiple languages and scripts.
What you won't like:
Limited advanced statistics and reports on learning.
Limited style templates.
Pricing:
Starts at $69/month
7. Litmos – Best for Top-Performing Companies
Litmos is a go-to LMS for top-performing companies looking to ace their enterprise learning management. Using Litmos is a breeze, thanks to its user-friendly interface, robust features, and the bonus of being mobile, scalable, and secure.
You get quick deployment and integration options, making it a time-saver. Plus, the content authoring capabilities are top-notch so you can create engaging training materials without any hassle.
With Litmos, you can seamlessly combine virtual, classroom, mobile, and social learning experiences. It's a one-stop shop for collaboration, content authoring, and global distribution of your training materials.
What you'll like:
Leverage a powerful LMS feature set that enables you to create, deliver, and manage your eLearning courses easily and efficiently.
Deploy and integrate your eLearning platform with your existing systems and tools in a matter of minutes with quick deployment and integration options.
Build your own content with a robust content authoring tool that lets you add, edit, and arrange multimedia elements, quizzes, surveys, and more.
Motivate your learners with gamification and leaderboards that reward them for their achievements and progress.
What you won't like:
The response time for support staff can be slow.
Customization of the tool can be challenging.
Pricing:
Custom pricing
8. Lessonly by Seismic – Best for Improved Organizational Performance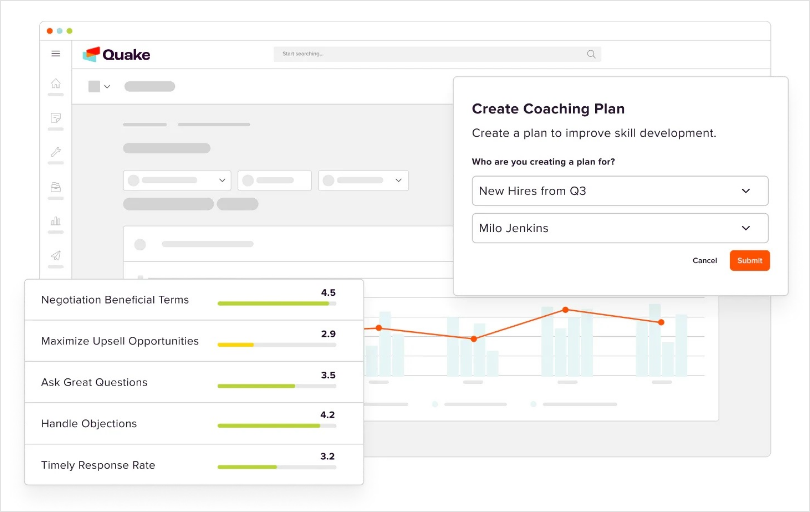 Lessonly by Seismic is an absolute game-changer regarding training, coaching, and enablement solutions. It's a powerful and beautiful platform helps teams ramp up quickly, provide valuable feedback, and continuously improve their skills.
It's an all-in-one solution that covers everything you need for learning, coaching, and skill development. The best part about Lessonly is how it enhances performance and boosts readiness.
Teams can shorten their time-to-productivity, and reps can be up and running in as little as 10 days – that's seriously impressive. Not to mention the personalized coaching and seamless enablement it offers to take things to a whole new level.
What you'll like:
Empower your learners with an all-in-one solution that provides learning, coaching, and skills development opportunities in one platform.
Boost your sales performance and quickly develop rep expertise with a sales readiness solution that delivers engaging and effective training, coaching, and feedback.
Assess your learners' knowledge and retention with interactive knowledge checks that test their understanding and application of the concepts and skills.
Combine the best of both worlds with blended learning and instructor-led training, offering learners a flexible and personalized learning experience.
What you won't like:
Limited customization options for the user interface.
Does not provide advanced analytics and data visualization tools to create custom reports and dashboards.
Pricing:
Custom pricing
9. eFront LMS – Best for Gaining More Control Over Learning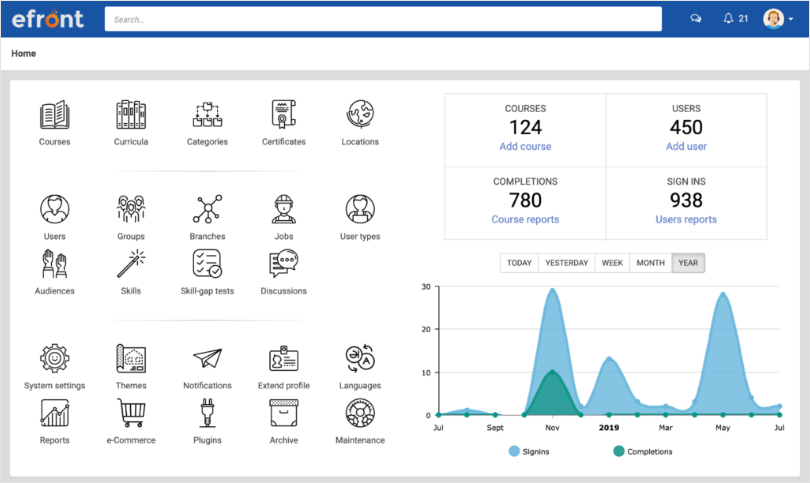 eFront LMS is a fully adaptable alternative to Easy LMS software, which is tailor-made for modern enterprise training. It's designed to handle even the most demanding and intricate learning setups.
You get the choice between on-premise or private cloud hosting, making it super flexible. Plus, you can level up its capabilities by adding plugins, and if you want to make it truly yours, eFront can be white-labeled!
The best part about eFront is the control it gives you. Thanks to its powerful customization options and access to the source code, you can craft an enterprise training platform that's unlike any other. It's all up to you – decide what your training software needs to do, and eFront delivers.
What you'll like:
Find what you need easily and quickly with straightforward navigation that lets you browse and access your courses and content with minimal clicks.
Identify your learners' strengths and weaknesses with skill gap testing and provides them with personalized feedback and recommendations.
Develop your own courses with full course-building tools that allow you to create, edit, and arrange your content, quizzes, assignments, and more.
Reward your learners with gamification elements that make your courses more fun and engaging.
What you won't like:
Slightly outdated graphical interface.
Basic built-in reports.
Pricing:
Starts at $1,200/month
10. Canvas LMS – Best for Businesses with Substantial Training Needs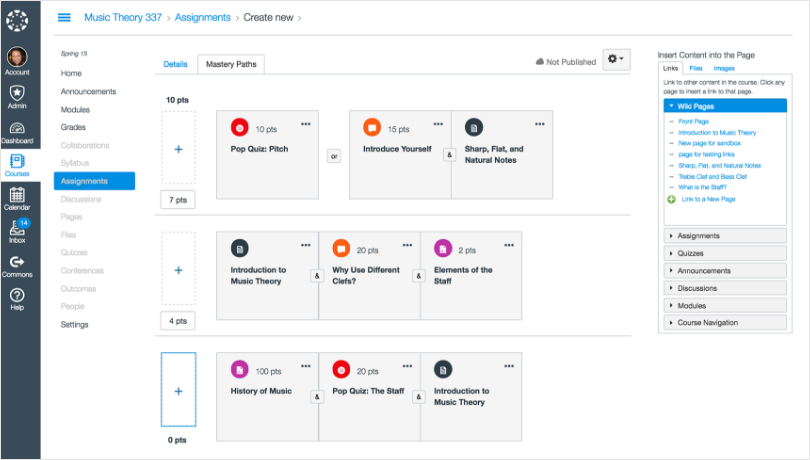 Canvas LMS is a top-notch teaching and learning software that can help you create more engaging educational experiences with all your essential teaching tools at your fingertips.
It ensures equitable access and instructional continuity for every learner, no matter where they are. What sets Canvas apart is its simplicity. The interface is super easy and intuitive, making it a breeze for teachers and students.
Plus, it seamlessly integrates with all your favorite apps and tools like G Suite, Microsoft Teams, Adobe, and many others.
The tool has highly developed features, such as Canvas Studio for video coaching, Portfolium for recording accomplishments, and Canvas Credentials for issuing digital certificates, which makes it best for businesses with substantial training needs.
What you'll like:
Report on your media performance and impact with integrated media reporting that lets you collect, analyze, and visualize your data and metrics.
Customize your user profiles with your own information, preferences, and settings that reflect your identity and style.
Share your resources with your peers and instructors simply and securely, allowing you to upload, download, and collaborate on files and documents.
Integrate your eLearning platform with external tools and applications that support the Learning Tools Interoperability (LTI) standard.
What you won't like:
Slightly outdated graphical interface.
Basic built-in reports.
Pricing:
Starts at $299/month
Which Is the Best Easy LMS Alternative for You
Choosing an Easy LMS alternative can depend on several factors, such as the size and complexity of your organization, the specific training needs of your learners, the level of customization and control you require, and the budget you have available for a learning management system.
Here are my top three picks:
ProProfs LMS – It is a powerful and user-friendly enterprise-grade learning management software trusted by millions of customers worldwide. It's designed to help you simplify, streamline, and optimize corporate training. With ProProfs LMS, you can create and deliver engaging courses tailored to your learners' needs, such as New Employee Onboarding & Orientation, Employee Training & Development, Safety Training and many more.
TalentLMS – TalentLMS is a versatile cloud-based learning management system that makes it easy to deliver engaging and effective learning courses to your employees, partners, customers, or students. It's perfect for creating online courses and sharing them with remote teams, and it offers a wide range of features to help you create a truly engaging learning experience.
Canvas LMS – Canvas LMS is known for its open, extensible learning management system that amplifies everyone's awesomeness. With Canvas, you can make education more engaging by having all your essential teaching tools in one place. It provides equitable access and instructional continuity to every student, everywhere, every day, making it an ideal choice for educators.
In my opinion, after having worked with the ProProfs LMS the longest, it stands out as the best choice. Its design, which focuses on the user, its well-organized layout, and its ease of use make it an excellent option for any eLearning situation, regardless of the industry or specific use case.
Do you want a free Training Software?
We have the #1 Online Training Software for employee training & assessment