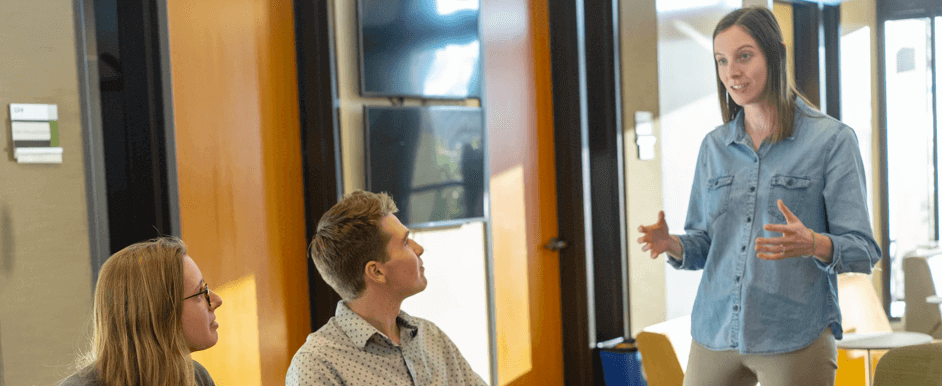 Like other employee training software, several helpful features characterize superior employee onboarding tools. They include a user-friendly interface, workflow automation, e-signatures, new hire portal, integrations, and assessment tools. Employees should find the software easy to understand and use before they know your products, team members, job responsibilities, company policies, and culture.
A shocking 88% of organizations in the U.S. report poor onboarding practices.
According to Digitate, a negative onboarding experience is twice more likely to compel employees to look for job opportunities elsewhere.
Effective onboarding can improve the employee retention rate by 82%.
These findings point out that onboarding is not a mere formality that new hires go through when joining an organization. Companies need to put it on the same level as other corporate training programs. It is important because effective onboarding makes employees feel welcomed and valued. It also initiates engagement with them from day one.
Among the key elements necessary for successful onboarding is employee onboarding software. They can help simplify, streamline, and standardize onboarding, save your time and effort, and accelerate how you integrate new hires into your workplace.
The following is a roundup of the 10 best employee onboarding platforms that you can use to train incoming employees.
10 Best Employee Onboarding Software
Why Is It the Best?
ProProfs LMS

Premium course library
Centralized virtual classroom
Quizzes for assessment
Q & A community
Anytime, anywhere access
Insightful reports & analytics

BambooHR

Award-winning HR software
Applicant Tracking System (ATS)
Electronic signatures
Mobile hiring app
Employee records
Webinar library

GoCo

Paper-free onboarding
Self-service benefits enrollment
HR support on demand
MagicDocs
Employee management software
Automated workflows

Hronboard

Induction templates
Personalized induction
Engagement indicators
Powerful integrations
Onboarding ROI calculator
Easy job offers

ClearCompany

Applicant Tracking System
Employee engagement
New hire portal
Intelligent forms
WOTC & e-verification
Automated task notifications

Hrcloud
Trusted by leading companies
Easy & fast onboarding
Personalized portals
E-forms
E-sign
Integrations
Kissflow

Easy-to-use interface
Applicant tracking
Paperless onboarding
Employee self-service
Digital signature
Dashboards

WorkBright

Easy & fast
Process automation
Fingertip signature
Applicant tracking integration
E-verify
Employee error resolution

Freshteam

Paperless onboarding
Digital welcome kits
Online signatures
Automated reminders
Multiple checklists
Self-service system

Talmundo

Fully integrated
Experience-based onboarding
Automated process
Future -proof
Personal & consistent
Resource center
Before we dive further into the different employee onboarding software, let's understand the following:
What Is Employee Onboarding?
The Society for Human Resources Development (SHRM) defines employee onboarding as the "process of helping new hires adjust to social and performance aspects of their new jobs quickly and smoothly, and learn the attitudes, knowledge, skills, and behaviors required to function effectively within an organization."
In other words, employee onboarding is the process of commencing the journey of new employees in an organization. It is how you initiate professional relationships with the employees.
Onboarding generally involves three things:
A formal welcome and introduction to company culture, policies, beliefs, and mission.
A tour of the office and a team introduction.
Role-specific training.
Why Employee Onboarding Is Important
90% of new hires decide whether to stay or leave an organization within the first six months of employment. – Human Capital Institute
According to Digitate, a software venture of TCS, the onboarding period is so important that 1 in 5 new hires is unlikely to recommend a company to a friend if the onboarding process is negative.
Onboarding is an opportunity to familiarize new hires with an organization and everything associated with it.
It makes them aware of the company structure, their individual roles and responsibilities, and HR policies.
Effective onboarding engages employees productively from the start, ensures workplace compliance, and checks a high turnover rate.
How Onboarding Solutions Help You
Whether you're a training administrator, HR manager, or an employer, an employee onboarding software solution can make your life easier.
All Paperwork in One Place
Popular tools such as learning management systems can help simplify how you onboard new hires. They help you store in one secure place all the important documents that new hires need to sign. Similar information is automatically carried from one form to another, removing the need for you to enter it repeatedly and cutting down the chances of human error.
Real-Time Monitoring
Using these tools, you can easily monitor learners' engagement, understanding, and retention in real-time and auto-generate reports & analytics on the same. This helps you learn where your learners stand in relation to the onboarding.
Ensures Productivity
Such solutions put employees in the productive mode from the first few days. Product training, self-service knowledge base, collaboration tools, and 24/7 support found in top onboarding software help new hires stay on top of the learning process.
How To Choose The Best Employee Onboarding Software
Once you've your learning objectives and training budget sorted out, keep the following points in mind to make sure that you land the best tool.
The onboarding software should be easy to use so that everyone irrespective of their tech skill level can adopt it without any problem.
The platform should ideally come equipped with a content library offering ready-to-use courses or templates. This will enable you to get onboarding up and running fast by minimizing the course development time.
A virtual classroom is another feature to consider as it lets you centrally administer learner groups, course assignments, and progress tracking.
Make sure the software you choose offers engaging quizzes for ease of assessment.
The reporting feature is also an essential criterion for choosing a solution as it supplies data on employees' progress and performance during onboarding.
Now that these topics are out of the way, let's look at the best employee onboarding tools in more detail.
Top 10 Employee Onboarding Software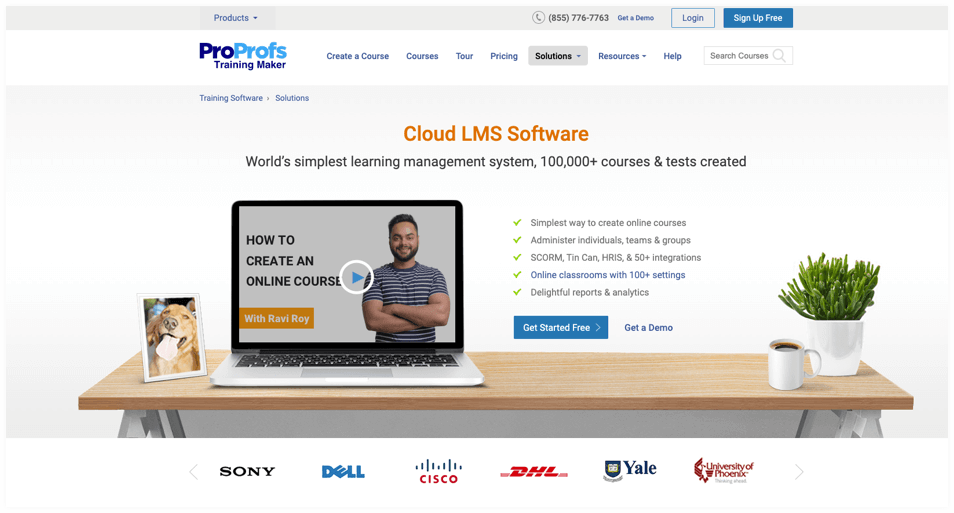 ProProfs LMS is a simple and easy-to-use cloud LMS that you can rely on for onboarding employees, locally or remotely. A premium library of 100+ ready-to-use courses and templates makes kick-starting employee induction a breeze. You can also create onboarding courses and tests from scratch by importing existing materials.
A regularly updated knowledge base and an online Q&A community provide the necessary support to new hires at every onboarding stage.
Using the centralized and secure virtual classroom, instructors can create learner groups, assign courses and tests, make announcements, and view progress reports with a few clicks.
You can add quizzes, surveys, flashcards, and other learning tools to the LMS to provide an enriching onboarding experience.
Features:
✓ Course Library
The courses and default templates are professionally designed to help expedite employee training on virtually any topic.
✓ Virtual ClassroomStreamline how you train your new employees by using this easy and scalable virtual classroom software. Bring all onboarding activities under a single dashboard.
✓ Learning Paths
Assign planned learning paths according to each employee's unique learning needs and experience level. Bundle courses together for progression on predefined paths.
✓ Multilingual SupportOnboard employees anywhere in the world. Train them in a language they understand. ProProfs supports over 70+ languages.
Why Use ProProfs LMS?
It's Easy to UseProProfs LMS is the world's easiest learning management system. No need for coding knowledge. It was designed for users of all skill levels.
Trusted by MillionsProProfs is used by over 15 million users in 150+ countries. This includes companies such as Acer, Gatson Group, California Department of Public Health, Nebraska Department of Human and Health Services and more .
Driven By Customer DelightProProfs is driven by the belief that software should make people happy. It is dedicated to helping you build smarter employees and happier customers.
Awesome Customer ServiceIts delightfully smart tools are complemented by its extraordinary customer support that has won many accolades over the years.
Benefits of Using An LMS For Employee Onboarding
An LMS is the best platform for onboarding employees easily and successfully. Here's why:
They enable you to easily manage multiple learners at the same time.
Customized content that such tools support makes employees aware of what they need to specifically learn during their initial days and meet your company's short and long-term goals.
From course creation to certification, an LMS lets you offer structured onboarding programs that learners find easy to follow.
Since learning management systems are generally cloud-based and work on any devices, browsers, and operating systems, it's possible for learners to engage in microlearning anytime, anywhere.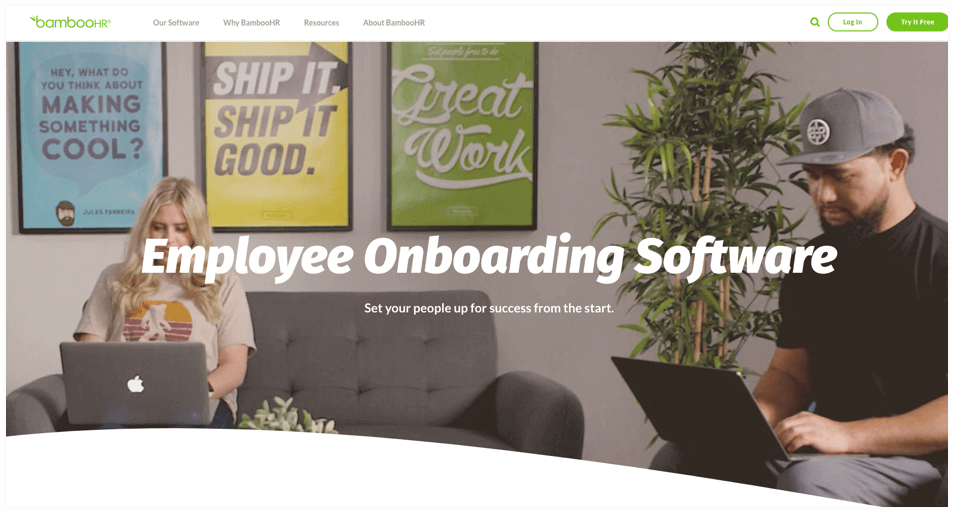 BambooHR develops great HR tools that enable users to do things differently than they did in the past. Its onboarding solutions focus less on the regular formalities and more on delivering exceptional learning experiences for new hires early on.
With BambooHR, the onboarding process becomes more organized and efficient, helping new employees learn better and faster and giving them reasons to stick around longer with your company.
Features:
✓ Applicant Tracking SystemFind and hire the right talent in your industry using this advanced recruiting software. Access applicant information in an organized and efficient fashion.
✓ Electronic SignaturesGo digital with electronic signatures that are fast and environment-friendly. Automate signature requests and do away with filing cabinets.
✓ Webinar LibraryGet insights into HR trends and tips through 100+ expert webinars. Get access to both on-demand and upcoming webinars.
✓ Mobile Hiring AppHire people on the go anytime and from anywhere in the world with BambooHR mobile app. Leverage the ease, speed, and power the software offers.
Pricing:
Available on request
Why Use BambooHR?
Award-Winning Customer ServiceBambooHR offers excellent and award-winning implementation service. Work with a dedicated project manager to adopt the software easily.
Value for MoneyThe provider adds value to organizations by offering the right software features that can strengthen a business and make it more efficient.
Crafted for SMBs89% of BambooHR's customers are made up of small and medium businesses, and it has been delivering award-winning HR software to them for more than 10 years now.
It's Customer-CentricBambooHR puts customer experience at the center of everything it does. It has taken upon itself to make customers' success its success story.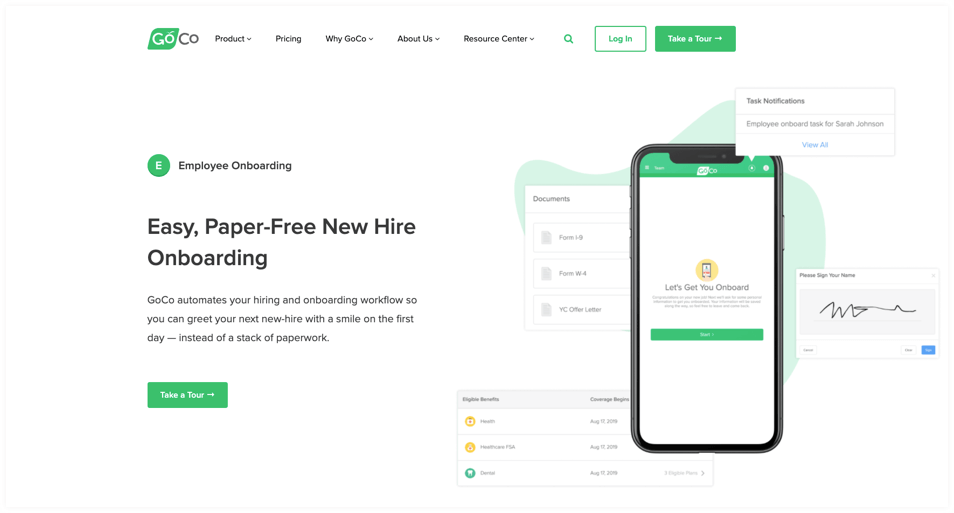 GoCo is a modern onboarding software that offers a delightful digital experience to employees. You can send customized offer letters with e-signature and a preview of benefits and compensation. The platform is useful to streamline all HR workflows.
What's more, you can go completely paper-free as it automates all manual processes. It also takes care of onboarding compliance, like verification of employee eligibility.
Features:
✓ MagicDocsGoCo's proprietary HR document management technology, MagicDocs, empowers you to change the way you manage documents. It lets you send secure links of customized docs to new hires.
✓ Self-Service Benefits EnrollmentThis benefits administration & tracking software makes it easy for employees to enroll in your company's benefit offerings. Free up your time by offering self-service to employees.
✓ Automated WorkflowsThis feature lets you automate routine HR tasks by eliminating time-consuming paperwork. This way, you can digitize hiring and onboarding for greater efficiency.
✓ Employee Management SoftwareGet a consolidated employee management experience, from onboarding to payroll and benefits administration.
Pricing:
Starts at $5/employee/month
Why Use GoCo?
FlexibilityGoCo is built with maximum flexibility in mind. Users don't have to change the way they work just to use the platform. It puts users in the driver's seat to manage all their onboarding processes without any friction.
Guiding PrinciplesThe company attaches values such as integrity, transparency, and continuous improvement to how it develops and offers products to its customers.
Dedicated Customer ServiceGoCo goes out of its way to make its customers successful. It has a dedicated customer success manager to deliver professional services.
Happy CustomersGoCo's customers are among the happiest in the industry. They are three times more likely to recommend the company compared to industry averages.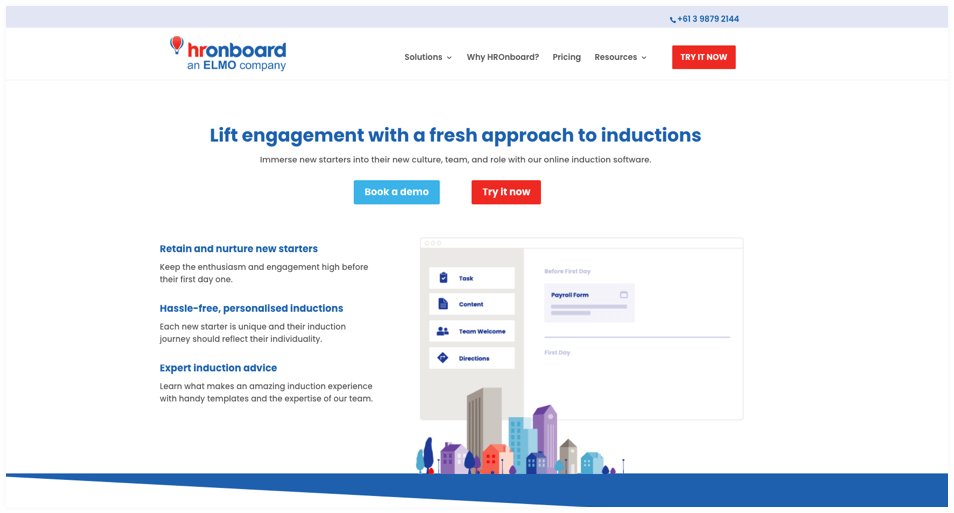 Hronboard can help you build amazing employee onboarding journeys. It takes the complexity out of onboarding. Using the tool, you can onboard faster by automating back-office admin tasks and offering personalized experience & expert advice. Let new hires accept job offers on any device, anywhere. Be clear about what to do and when at every stage of the journey.
Features:
✓ Induction templatesHronboard provides built-in induction templates for contracts, company policies, supporting information, and other internal docs.
✓ Engagement IndicatorsMonitor the engagement level of your employees during onboarding. Identify who's doing well and who needs your attention for improvement.
✓ Onboarding ROI CalculatorMeasure the impact of your onboarding and calculate the return on investment. Deploy quizzes that take only around 5 minutes to complete.
✓ Powerful IntegrationsRemove the restrictions of solitary onboarding tools by integrating Hronboard with other powerful software. Integration between Hronboard and ELMO, a cloud-based HR and payroll software solution, can boost onboarding immensely.
Pricing:
$3,164.92/50 onboards/year
Why Use Hronboard?
ISO 27001 CertifiedHronboard meets the international requirements for Information Security Management System or ISMS. It follows the best practices when it comes to information security.
Faster OnboardingThe platform ensures speedy onboarding by removing all the complexities out of the way. This is true whether you're training 100 or 1,000 employees.
Insights At FingertipsGet useful onboarding insights into your team members' performance and take follow-up steps accordingly for best results.
Customer CommunityJoin a community of customers and share excellent onboarding experiences. Interact and get inspired from each other.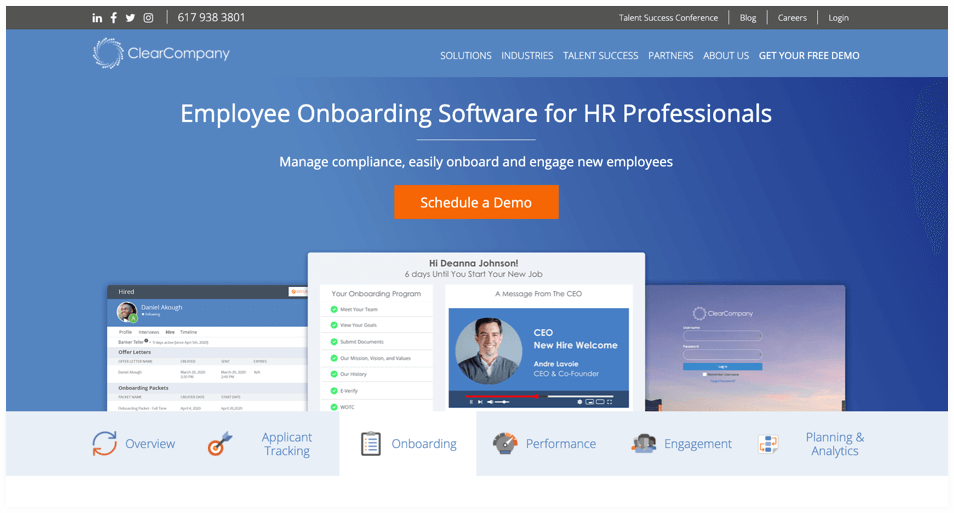 If you're looking for an easy and paperless onboarding solution, ClearCompany is the platform for you. It helps you put new hires on the right path even before they walk into your organization. A new hire portal, auto-fill forms, e-verification, and mobile-friendly onboarding are some of the tools' features.
As the world's fastest-growing talent management platform, ClearCompany helps thousands of companies achieve their onboarding missions easily and satisfactorily.
Features:
✓ Applicant Tracking SystemThis simple ATS can be a great ally in finding and engaging the industry's best talents, including remote applicants.
✓ New Hire PortalImpress new hires from the first day itself with a branded and dedicated employee portal. The portal provides access to all information that they need during onboarding.
✓ Intelligent Forms
These forms are based on auto-fill technology that automatically carries data from one form to form. It is designed to reduce human errors and cut back time spent on entering repetitive information.
✓ E-Verify
ClearCompany takes care of electronic background checks, verifications, and Work Opportunity Tax Credit (WOTC).
Pricing:
Available on request
Why Use ClearCompany?
16 Years' ExperienceWith 16 years of experience behind it, ClearCompany is dedicated to helping its clients hire, align, and engage A players.
Effective Workforce PlanningIts Workforce Planning and People Analytics tools help employers solve their manpower challenges. These tools are crafted to enable employers to make smarter and faster people decisions.
User-FriendlyA clean and intuitive interface ensures ease of navigation and helps HR personnel know where everyone is in onboarding.
Fully CustomizableUse the employee performance management system your way. Easily customize scoring tables and review cycles to fit your unique process.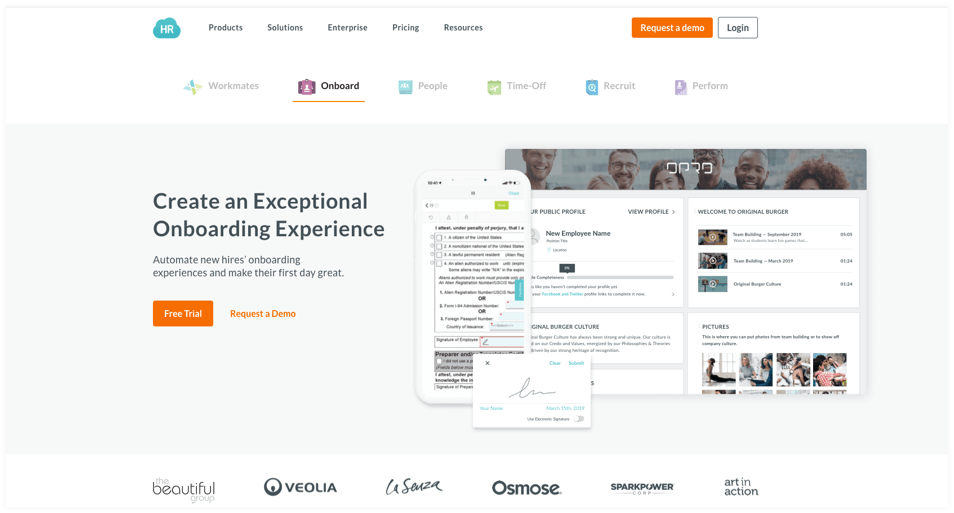 Hrcloud is an employee onboarding software that saves time, improves productivity, and ensures an unforgettable onboarding experience. With automated emails, notifications and reminders, and stepwise workflows, the platform offers a great way to eliminate manual tasks. You can easily customize payroll and tax forms.
Free consultation is also available in case customers want to speak with HR process and technology experts.
Features:
✓ E-FormsThese e-forms let you convert PDF forms into digital formats or create custom electronic forms to store employee data.
✓ E-SignaturesEnable new hires and other stakeholders to save time and effort with easy and fast e-signatures during a fully digital onboarding process.
✓ Employee Self-ServiceLeverage the self-service capabilities for new hires that provide access to tasks and documents. Increase workflow efficiency and productivity.
✓ Remote OnboardingEasily onboard new hires from far and wide. Use automated online communication systems to simplify hiring and onboarding and minimize face-to-face interactions.
Pricing:
Available on request
Why Use Hrcloud?
Trusted By Industry LeadersHRcloud has helped countless organizations improve their employee onboarding experience and translate it into a business advantage.
Comprehensive SolutionsThis leading HR software provider offers a comprehensive suite of HR solutions to help users take care of the entire employee lifecycle, not just annual reviews.
It's a Problem SolverHR can overcome some of the biggest challenges they face today, including successful onboarding, with this robust platform. Increase competitive advantage and achieve a faster ROI.
Bulletproof SecurityHrcloud solutions meet all security requirements to secure employee data privacy and make it easier to stay compliant with major regulations.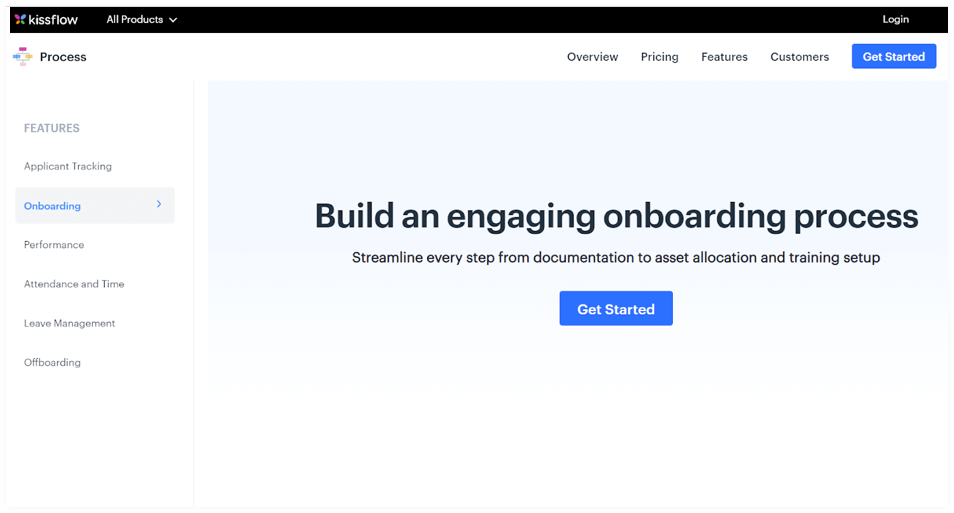 Kissflow is a dynamic onboarding solution that offers a positive and memorable experience to new hires. It is designed to function the way users do. Its online onboarding checklists and workflows help keep the process paperless and free from unnecessary human intervention.
Apart from other features, a collaboration platform, smart notifications, third-party integrations, and digital signatures characterize the platform.
Features:
✓ Intuitive User InterfaceEnsure easier and faster navigation through a simple UI design. Minimize employees' distraction and increase their focus on essential tasks.
✓ DashboardsView useful information on a dashboard in real-time. It's available in a summary format for easy understanding.
✓ Reporting & AnalyticsThis feature helps you generate custom employee onboarding reports and analytics so that you can extract actionable insights.
✓ Social CollaborationThe digital workplace platform facilitates collaboration between individual employees or groups for productive engagement during onboarding and beyond.
Why Use Kissflow?
Trusted By 10,000+ CustomersOver 10,000 customers trust Kissflow. They include top names such as Domino's, Flipkart, Comcast, and British Council.
Unified PlatformKissflow is a unified digital platform that you can use to optimize, manage, and track all onboarding activities.
All-In-One SolutionKissflow lets you manage all HR processes in one place, from hiring to retiring, saving you time and costs.
Hassle-Free OnboardingHire the right talent, keep them engaged with guided onboarding, and empower them with reviews and 360-degree feedback.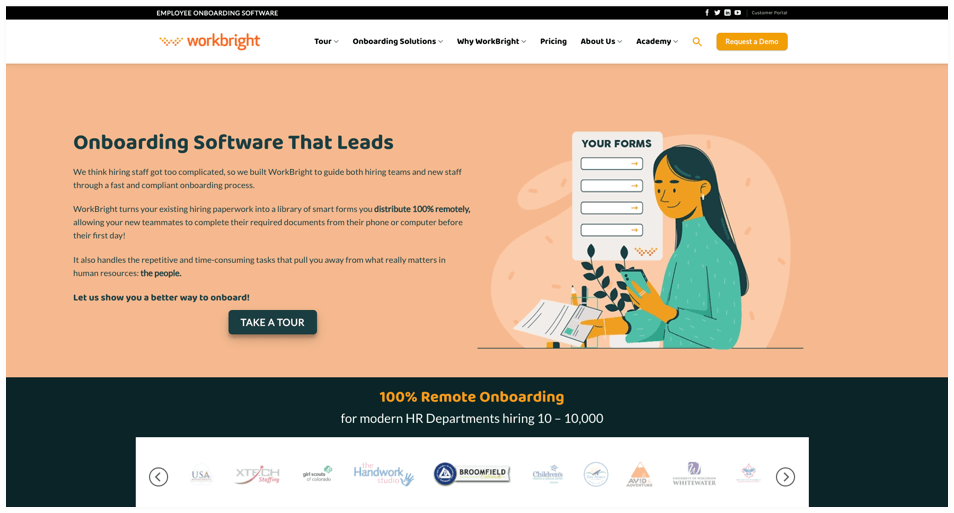 WorkBright is a platform with multiple functions designed to reduce onboarding time by automating and simplifying it. Its streamlined onboarding approach, adjustable to your unique corporate culture, gives you peace of mind.
Applicant tracking, Form I-9, and integrated e-verify are among the top features you'll find in the application. It also supports remote onboarding for remote employees, which removes the need for them to physically present themselves at your office to complete the necessary HR paperwork.
Features:
✓ Applicant Tracking IntegrationPost job vacancies to any job board you want. Automatically filter applicants through custom screening questions. Communicate with applicants through email and text.
✓ Fingertip SignatureWorkBright offers a superior technology for registering e-signatures of employees that are as good as signatures on paper.
✓ E-VerifyAutomate how you verify employee eligibility instead of doing it manually, which is time-consuming. Easily monitor status using a dashboard.
✓ Employee Error Resolution
Ensure the accuracy of employee files through field validation and automatic emails informing employees about errors and how to rectify them.
Pricing:
Starts at $158/up to 100 employees/month
Why Use WorkBright?
Game-ChangingWorkBright enables you to manage people, instead of paperwork. Its digitized process reduces onboarding overheads besides accelerating employee induction.
Increased AccuracyWork on error-free and cleaner files with the field validation feature. Ensure that every data entered by an employee is correct.
Mobile FirstThe platform works on all mobile devices. Your employees can do all the necessary paperwork right on their smartphones.
Built to ScaleWhether you're onboarding 5 or 500 new hires, WorkBright scales easily to fit your requirements without any extra charges on unnecessary functionalities.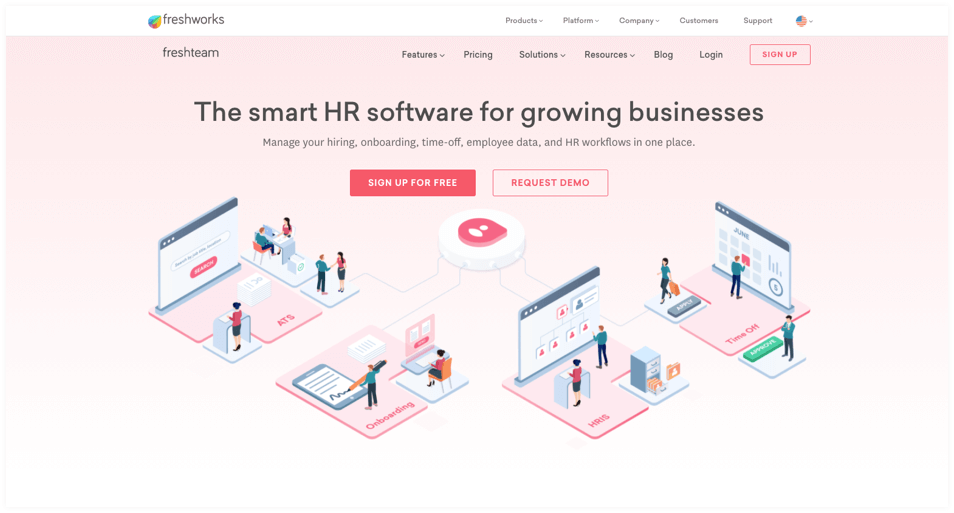 Freshteam from Freshworks lets you manage hiring, onboarding, employee data, and workflows in one place. The tool is easy to set up and easy to use. Assign and monitor onboarding checklists, send updates to all stakeholders, and send reminders in case a new hire is falling behind the deadline.
You can easily share important documents with new hires and get them filled in and signed on the first day itself.
Features:
✓ Digital Welcome KitsWelcome your new hires digitally. Share all the necessary information and documents in advance to ensure there's smooth onboarding.
✓ Self-Service SystemSet up a personal account for each of your employees, provide them access permissions, and let them share docs and information. Increase productivity across all teams.
✓ Online SignaturesSave time and effort with environment-friendly e-signatures. Know the status of document signing and collect all the vital information in one go.
✓ Automated RemindersSend automatic reminders to new hires about current pending and upcoming tasks. Let them be aware of what they need to do.
Pricing:
Starts at $49.72/50 users/month. Billed annually
Why Use Freshteam?
Trusted By ThousandsFreshteam is trusted by 3,000+ businesses, including top names such as JCDecaux, Monster, Daimler, and Australian Conservation Foundation.
One-Stop SolutionThe software lets employers manage hiring, onboarding, employee details, and time-off in one centralized place.
Onboarding On the GoThe Freshteam mobile app enables employers to hire and onboard people on the go. The app is intuitive, handy, and powerful.
Organizational ChartsIts org chart software allows you to not only add employee data but update them automatically. Find employee names, phone numbers, emails, and positions easily.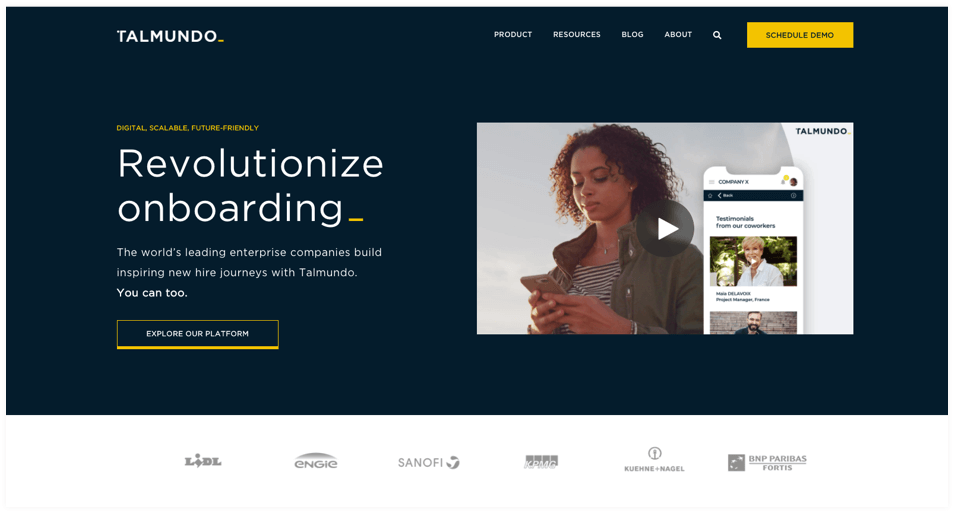 Talmundo puts onbordees' experience at the center of its aim to modernize and simplify employee onboarding. By engaging new hires from start to finish, it is revolutionizing the process and elevating businesses worldwide. Its simple, specific, and fully integrated solutions are content-driven and personalizable.
Talmundo can help you upgrade the onboarding experience and turn new hires into confident and empowered team members.
Features:
✓ Experience-Based OnboardingDeliver an experience-based onboarding that is engaging and easy to implement. Make the journey enjoyable and effective long-term.
✓ Automated ProcessAutomate onboarding documentation, data collection, workflow management, and content delivery. Reduce your HR's workloads.
✓ Quiz & QuestionnaireTalmundo's quiz and questionnaire builder makes it easy to assess new hires and get them up to speed.
✓ Resource CenterProvide your new hires with the resources they need during onboarding, including guides, downloadable checklists, infographics, case studies, whitepapers, and more.
Pricing:
Available on request
Why Use Talmundo?
Long ExperienceThe provider has nearly a decade of experience in employee onboarding solutions. Over the years, it has grown into a full-fledged team encompassing 12 nationalities across the world.
It's Future-ProofWith Talmundo, you can continuously develop your onboarding process for future success. Its in-house team of onboarding experts can help you in this mission.
AI SupportDeploy the AI-backed chatbot nicknamed Eva to support your new hires in moments of need. Eva is multilingual, helpful, and humble.
Easy BenchmarkingSet business goals and compare employee groups across roles, departments, and locations to evaluate performance.
Which Employee Onboarding Tools Are You Using?
Employee onboarding systems like these can help you simplify, streamline, and accelerate the process of hiring, engaging, and integrating employees into your organization. You'll find that these platforms offer many similar features, such as application tracking systems, automation, e-signatures, and e-verify. They are among the essential functionalities that HR and managers would need, no matter which tool they finally select.
ProProfs LMS is the world's easiest employee onboarding software that can take over the task of course creation, training administration, tracking, and reporting seamlessly.
ProProfs doesn't just offer a cloud LMS; it provides a library of ready-to-use courses and templates. It also supports several integrations that amplify the power of the tool.
Do you want a free Training Software?
We have the #1 Online Training Software for employee training & assessment