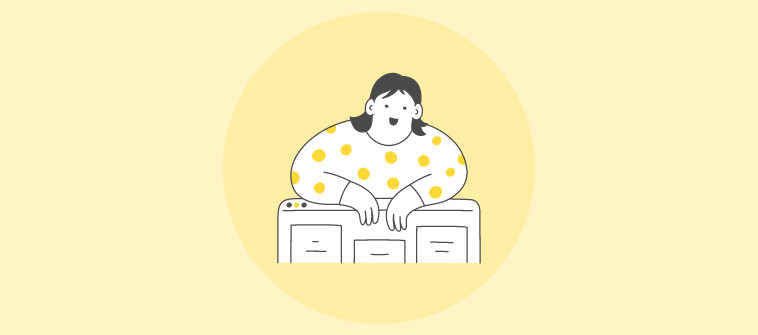 Employee onboarding software is a valuable tool for automating, streamlining, and taking charge of the process of welcoming new employees into an organization.
Like other employee training software, employee onboarding tools are characterized by several helpful features. These include a user-friendly interface, onboarding courses, workflow automation, e-signatures, a new hire portal, integrations, and assessment tools.
The best onboarding systems for new employees can help simplify, streamline, and standardize onboarding, save time and effort, and accelerate how you integrate new hires into your workplace.
A lack of such platforms can prevent you from giving a good start to your new hires' journey with your organization. But don't worry. There are numerous tools that can assist you in this effort.
The following is a roundup of the 20 best employee onboarding platforms you can use to welcome, train, and assess incoming employees.
Employee Onboarding Software Comparison Table
20 Best Employee Onboarding Software
Why Is It the Best?
Price
ProProfs LMS
Premium course library

Centralized virtual classroom

Quizzes for assessment

Learning paths

Multilingual support

Insightful reports & analytics

Starts from $1/user/month
BambooHR
Applicant Tracking System (ATS)

Electronic signatures

Mobile hiring app

Employee records

Get in touch with the company for a quote
GoCo
Paper-free onboarding

Self-service benefits enrollment

MagicDocs

Employee management software

Starts at $5/employee/month
HROnboard
Induction templates

Personalized induction

Engagement indicators

Powerful integrations

Get in touch with the company for a quote
ClearCompany
Applicant tracking system

Employee engagement

New hire portal

Intelligent forms

Get in touch with the company for a quote
HR Cloud
E-forms

E-signatures

Employee self-service

Remote onboarding

Get in touch with a company for a quote
Kissflow
Intuitive UI

Dashboards

Reporting and analytics

Social collaboration

Starts from $10/user/month
WorkBright
Process automation

Fingertip signature

Applicant tracking integration

E-verify

Starts from $178/month
Freshteam
Digital welcome kits

Online signatures

Automated reminders

Multiple checklists

Starts from $0 (Limited to 3 job postings only)
Talmundo
Experience-based onboarding

Automated process

Quiz & questionnaire

Resource center

Get in touch with the company for a quote
Continu
Automated onboarding workflows

Analytics and reporting

Performance reviews

Collaboration

Get in touch with the company for a quote
BirdDogHR
Recruiting and applicant tracking

Compliance tracking and reporting

Real time feedback

Electronic signature

Get in touch with the company for a quote
Zenefits
HR administration

Payroll management

Performance management

People analytics

Starts from $8/month per employee
iSpring
Easy content creation

In depth reporting

Multiple admin roles

Employee engagement

Starts from $2.99/user/month
Gusto
Hiring and Onboarding

Full-Service Payroll

Time and Attendance

Insights and Reporting

Starts at $40/month
EddyHR
Electronic signatures

Welcome message

Automated Reminders

Reporting and Analytics

Get in touch with the company for a quote
Trakstar
Impactful multimedia courses

Mobile optimized learning

Quizzes and assessments

Powerful analytics

Get in touch with the company for a quote
iSolved
Streamline new hire information

Automate manual tasks

Customized onboarding templates

Mobile friendly

Get in touch with the company for a quote
monday.com
Recruitment pipeline

Performance reviews

Employee wellbeing

Leave requests

Starts at $0 (limited to 2 seats maximum)
Scribe
Answer questions easily

Automate process documentation

Fast new hire onboarding

Compatibility across all devices

Starts from $0 (lacks custom branding)
Before we dive into the different employee onboarding tools, let's understand what employee onboarding software is and how it can help you.
What Is Employee Onboarding Software?
Employee onboarding software is a software application that helps HR teams get new hires into their company before they officially begin to perform their job responsibilities. It facilitates a smooth transition of new hires and familiarizes them with their workplace, team members, team structure, company goals, policies, and culture through onboarding training.
These solutions also automate the document management process and eliminate all the mundane tasks of onboarding new hires.
Watch: How to Create an Employee Onboarding Training Program
Benefits of Using an LMS for Employee Onboarding
Whether you're a training administrator, HR manager, or an employer, an employee onboarding solution can make your life easier. An LMS is the best platform for onboarding employees easily and successfully. Here's why:
They enable you to

manage multiple learners.

An LMS helps define an organization's hierarchical structure based on departments, roles, and locations and assign courses and assessments accordingly.

From course creation to certification, an LMS lets you

develop structured onboarding programs

that are clear, efficient, and sustainable.

Since learning management systems are generally cloud-based and work across devices, browsers, and operating systems, learners can

engage in self-paced microlearning anytime, anywhere.

Employee onboarding solutions like an LMS put employees in productive mode from the first few days. Product training, a self-service knowledge base,

collaboration tools

,

and 24/7 support available with the best employee onboarding software help new hires stay on top of the learning process.

Popular tools such as

learning management systems

(LMS) can help simplify how you onboard new hires. They help you store in one secure place all the important documents that new hires need to sign. Similar information is automatically carried from one form to another, removing the need for you to enter it repeatedly and cutting down the chances of human error.

An LMS lets you

track individual and group learning progress

with powerful reports. This helps assess knowledge retention, view course completion rates, engagement levels, etc. Say goodbye to manual checking and messy spreadsheets!
Watch: What is a Cloud-Based Learning Management System?
List of Employee Onboarding Software Solutions
Let's now explore each software solution in granular detail and understand their key features, pricing, and the reasons we picked them. This will assist you in your software purchase decision.
1. ProProfs LMS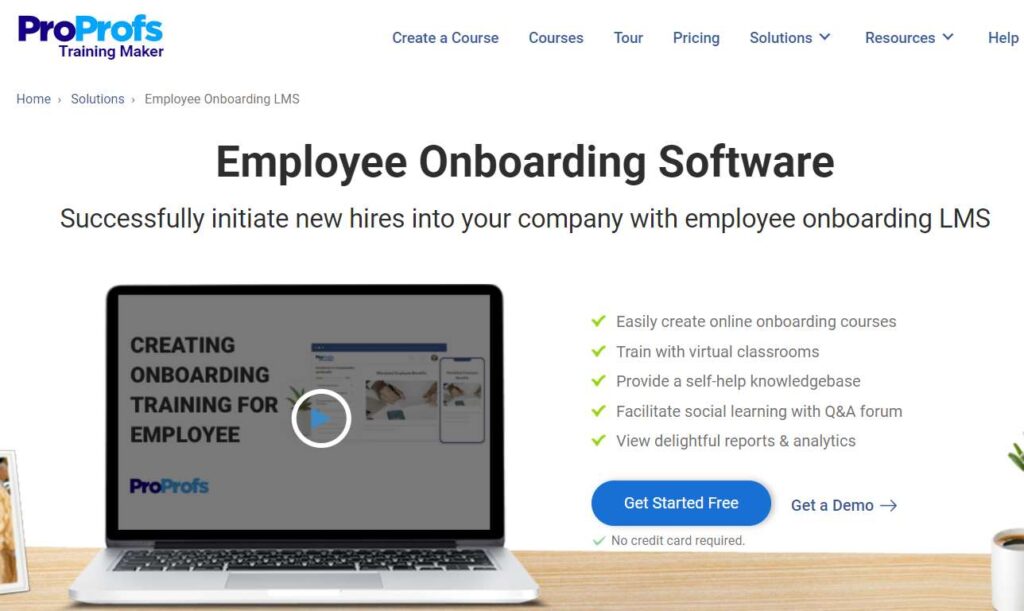 ProProfs LMS is an award-winning and easy-to-use cloud LMS that you can rely on to onboard employees, locally or remotely.

A premium library of 100+ ready-to-use courses and templates in this LMS makes kick-starting employee induction a breeze. You can also create onboarding courses by importing existing materials, such as videos, presentations, PDF files, audio, recorded webinars, and graphics.

A regularly updated knowledge base and an online Q&A community support new hires at every onboarding stage. You can add quizzes, surveys, flashcards, gamification, scenarios, and other learning activities to provide an enriching onboarding experience.
Features
Get access to prebuilt, high-quality, and editable courses and templates to expedite employee onboarding & training on virtually any topic.
Streamline how you train your new employees by using scalable virtual classroom software. Bring all onboarding activities under a single dashboard. Add learner groups & group admins, assign courses, track progress in real-time, and view actionable reports.
Assign planned learning paths according to each employee's unique learning needs and experience level. Bundle courses together for progression on predefined paths.
✓ Multilingual Support
Onboard employees anywhere in the world and train them in a language they understand. ProProfs supports English, Spanish, and 70+ other interface languages.
✓ Quizzes
Embed engaging quizzes into your courses to measure learners' knowledge. Prevent skipping questions and let your learners record video responses.
Assess learners, view course completion rates and learner engagement, and monitor individual skill sets and knowledge gaps through insightful reports.
Why We Picked ProProfs LMS?
Intuitive user interface

Smart real-time reports

Powerful software integrations

Huge customization capabilities
Pricing
Starts at $1/learner/month billed annually. No hidden costs
2. BambooHR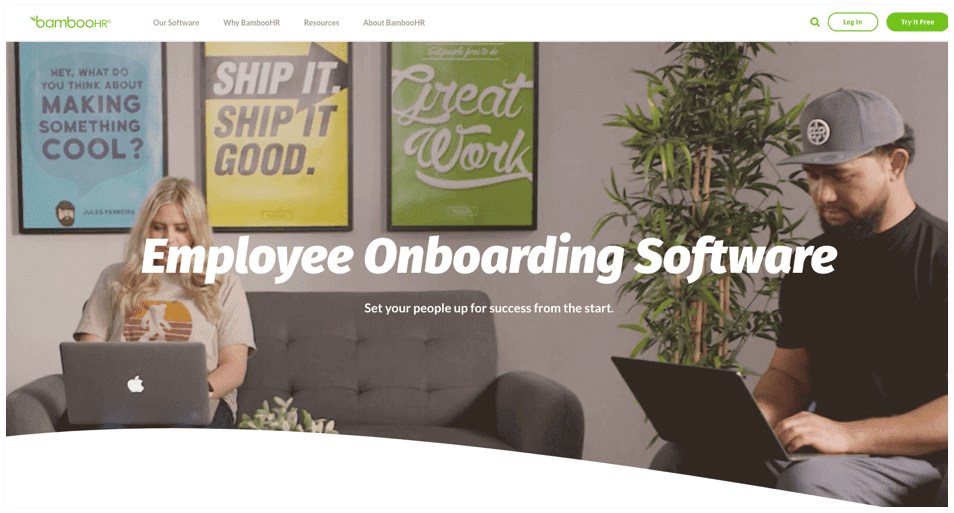 BambooHR develops great HR tools that enable users to do things differently than they did in the past. Its onboarding solutions focus less on the regular formalities and more on delivering exceptional learning experiences for new hires early on.
With BambooHR, the onboarding process becomes more organized and efficient, helping new employees learn better and faster, giving them reasons to stick around longer with your company.
Features
✓ Applicant Tracking System
Use this advanced recruiting software to find and hire the right talent in your industry. Access applicant information in an organized and efficient manner.
✓ Electronic Signatures
Go digital with fast and environment-friendly electronic signatures. Automate signature requests and do away with filing cabinets.
✓ Webinar Library
Get insights into HR trends and tips through 100+ expert webinars. Get access to both on-demand and upcoming webinars.
✓ Mobile Hiring App
Hire people on the go anytime and from anywhere in the world with the BambooHR mobile app. Leverage the ease, speed, and power the software offers.
✓ Employee Records
Manage all sensitive data in one secure and organized database. From payment information to managing custom data, you have full control over all important data in one place.
Why We Picked BambooHR?
Time tracking

Employee directory

Customizable reports and dashboards

Employee self service
Pricing
Get in touch with the company for a quote
3. GoCo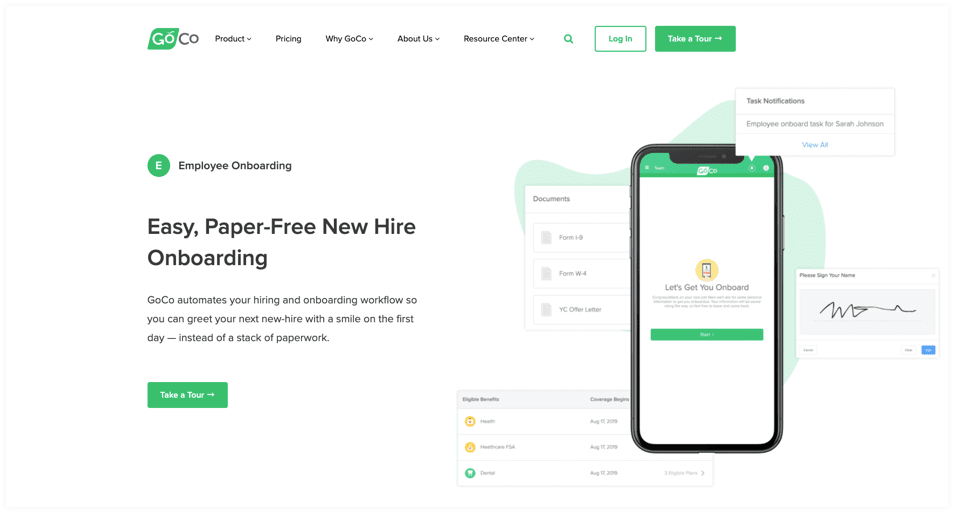 GoCo is a modern onboarding software that offers a delightful digital experience to incoming employees. You can send customized offer letters with e-signature and a preview of benefits and compensation. This is one of the best remote onboarding tools useful for streamlining all HR workflows.
What's more, you can go completely paper-free as it automates all manual processes. It also takes care of onboarding compliance, like verification of employee eligibility.
Features
✓ Paperless Onboarding
Make all your HR operations paperless and organize and secure all your crucial data in the cloud.
✓ MagicDocs
GoCo's proprietary HR document management technology, MagicDocs, empowers you to change the way you manage documents. It lets you send secure links to customized docs to new hires.
✓ Self-Service Benefits Enrollment
This benefits administration & tracking software makes it easy for employees to enroll in your company's benefit offerings. Free up your time by offering self-service to employees.
✓ Automated Workflows
This feature lets you automate routine HR tasks by eliminating time-consuming paperwork. This way, you can digitize hiring and onboarding for greater efficiency.
Why We Picked GoCo?
Easy to use and straightforward

Feedback management

Hassle-free paperless onboarding

Payroll management
Pricing
Starts at $5/employee/month
4. HROnboard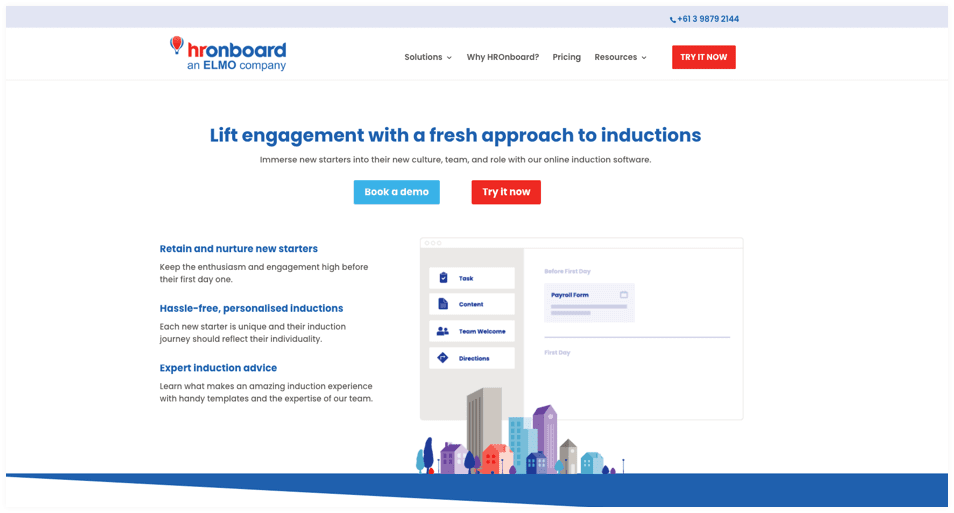 HROnboard can help you build amazing employee onboarding journeys. It takes the complexity out of onboarding. Using the tool, you can onboard faster by automating back-office admin tasks and offering personalized experience and expert advice.
Let new hires accept job offers on any device, anywhere. Be clear about what to do and when at every stage of the journey.
Features
✓ Induction Templates
HROnboard provides built-in induction templates for contracts, company policies, supporting information, and other internal docs.
✓ Personalized Induction
Create mobile-first induction programs with personalized tasks, content, and calendar reminders.
✓ Engagement Indicators
Monitor the engagement level of your employees during onboarding. Identify who's doing well and who needs your attention for improvement.
✓ Onboarding ROI Calculator
Measure the impact of your onboarding and calculate the return on investment. Deploy quizzes that take only around 5 minutes to complete.
Why We Picked HROnboard?
Easy implementation

Configurable workflow

Offboarding and cross-boarding

Compensation management
Pricing
Get in touch with the company for a quote
5. ClearCompany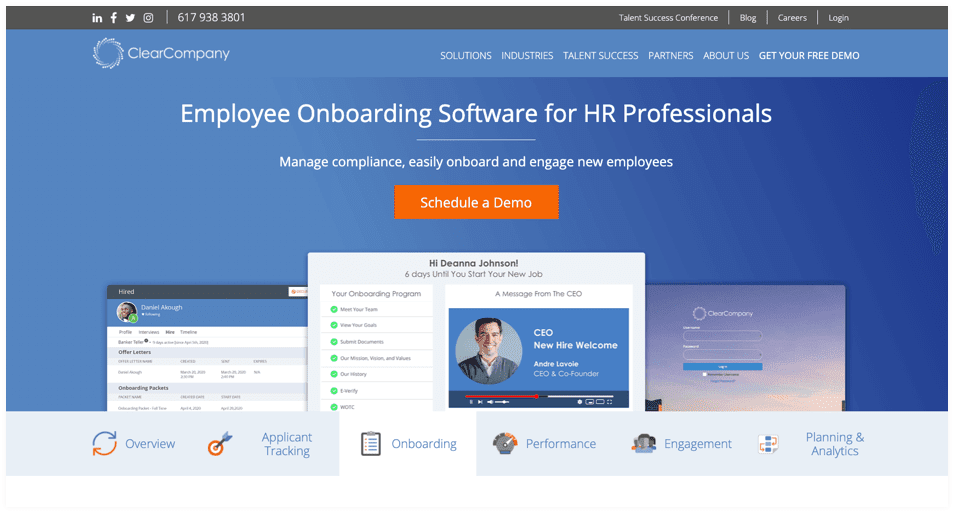 If you're looking for an easy and paperless onboarding solution, ClearCompany is the platform for you. It helps you put new hires on the right path before they enter your organization. Some of the tools' features include a new hire portal, auto-fill forms, e-verification, and mobile-friendly onboarding.
As the world's fastest-growing talent management platform, ClearCompany helps thousands of companies achieve their onboarding missions easily and satisfactorily.
Features
✓ Applicant Tracking System
This simple ATS can be a great ally in finding and engaging the industry's best talent, including remote applicants.
✓ Employee Engagement
Engage your employees, enhance their productivity, and boost morale. Send shout-outs, celebrate personal milestones, and improve workplace culture using pulse surveys.
✓ New Hire Portal
Impress new hires with a branded and dedicated employee portal. The portal provides access to all information they need during onboarding.
✓ E-Verification
ClearCompany takes care of electronic background checks, verifications, and Work Opportunity Tax Credit (WOTC).
Why We Picked ClearCompany?
Tagging feature is great

Change Cadet's DEI surveys

Great applicant tracking system

Performance tracking and analytics
Pricing
Get in touch with the company for a quote
6. HR Cloud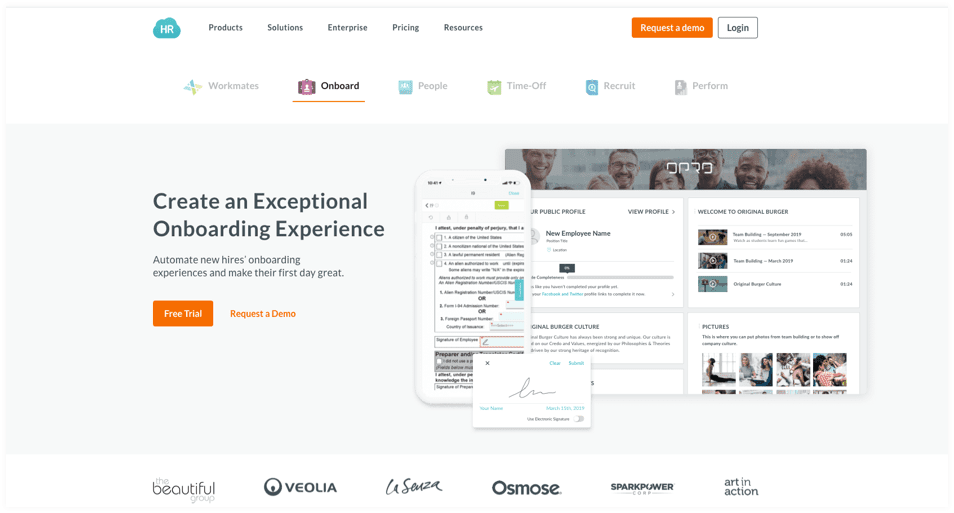 HR Cloud is one of the best online employee onboarding software that saves time, improves productivity, and ensures an unforgettable onboarding experience. With automated emails, notifications and reminders, and stepwise workflows, the platform offers a great way to eliminate manual tasks.
You can easily customize payroll and tax forms. A free consultation is also available if customers want to speak with HR process and technology experts.
Features:
✓ E-Forms
These e-forms let you convert PDF forms into digital formats or create custom electronic forms to store employee data.
✓ E-Signatures
Enable new hires and other stakeholders to save time and effort with easy and fast e-signatures during a fully digital onboarding process.
✓ Employee Self-Service
Leverage the self-service capabilities for new hires that provide access to tasks and documents. Increase workflow efficiency and productivity.
✓ Remote Onboarding
Easily onboard new hires from far and wide. Use automated online communication systems to simplify hiring and onboarding and minimize face-to-face interactions.
Why We Picked HR Cloud?
Easy-to-build hierarchical workflows

User interface is fresh

Auto-generated tasks

360-degree feedback
Pricing
Get in touch with the company for a quote
7. Kissflow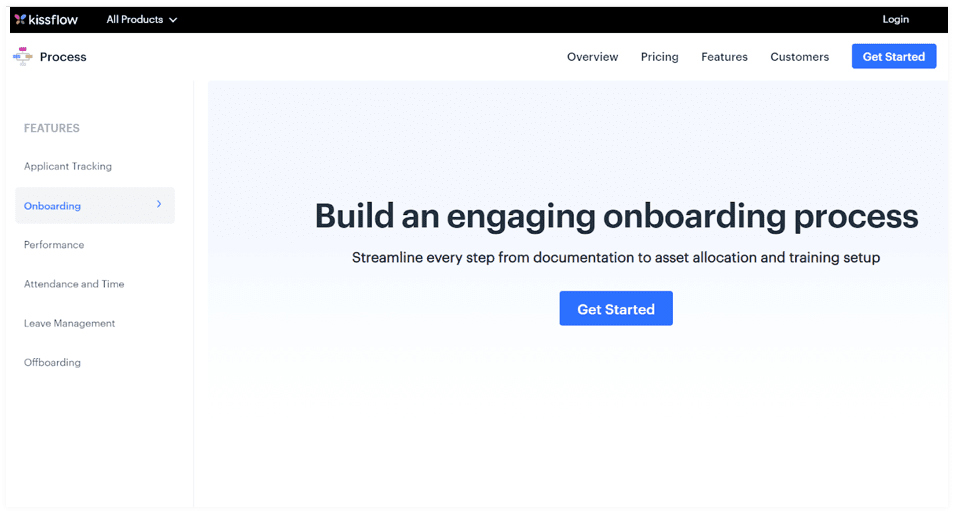 Kissflow is a dynamic employee onboarding tool that offers new hires a positive and memorable experience. Its online onboarding checklists and workflows keep the process paperless and free from unnecessary human intervention.
Apart from other features, a collaboration platform, smart notifications, third-party integrations, and digital signatures characterize the platform. Over 10,000 customers use this solution in 160+ countries.
Features
✓ Intuitive User Interface
Ensure easier and faster navigation through a simple UI design. Minimize employees' distractions and increase their focus on essential tasks.
✓ Dashboards
View useful information on a dashboard in real-time. It's available in a summary format for easy understanding.
✓ Reporting & Analytics
This feature helps you generate custom employee onboarding reports and analytics to extract actionable insights.
✓ Social Collaboration
The digital workplace platform facilitates collaboration between individual employees or groups for productive engagement during onboarding and beyond.
Why We Picked Kissflow?
Agile deployment

Automated workflows

Dynamic reporting system

Contextual collaboration
Pricing: Stars from $15/user/month
8. WorkBright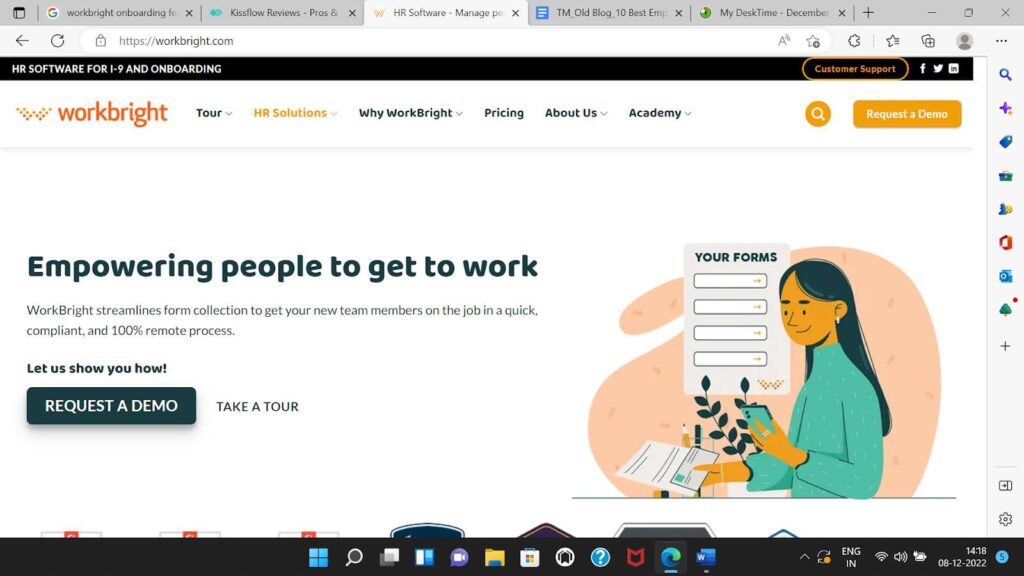 WorkBright is an automated onboarding software solution with multiple functions designed to reduce onboarding time. Its streamlined onboarding approach, adjustable to your unique corporate culture, gives you peace of mind.
Applicant tracking, Form I-9, and integrated e-verify are among the top features of this application. It also supports remote onboarding, which removes the need for new hires to be physically present at your office to complete the necessary HR paperwork.
Features
✓Process Automation
Automate onboarding paperwork and reduce inefficiencies and errors. Auto-generate reminders and notifications for incomplete forms and wrong information.
✓ Applicant Tracking Integration
Post job vacancies to any job board you want. Automatically filter applicants through custom screening questions. Communicate with applicants through email and text.
✓ Fingertip Signature
WorkBright offers superior technology for registering e-signatures of employees that are as good as signatures on paper.
✓ E-Verify
Automate how you verify employee eligibility instead of doing it manually, which is time-consuming. Easily monitor status using a dashboard.
Why We Picked WorkBright?
Reminders

Employee handbook

Digitized paperwork

Applicant tracking system
Pricing:
Starts from $178/month
9. Freshteam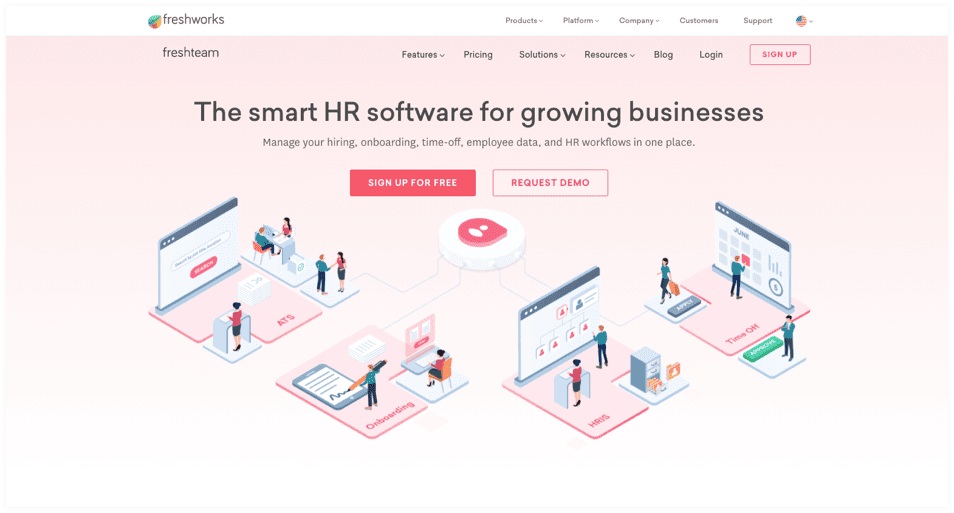 Freshteam by Freshworks lets you manage hiring, onboarding, employee data, and workflows in one place. The tool is easy to set up and use. You can assign and monitor onboarding checklists, send updates to all stakeholders, and shoot email reminders if a new hire falls behind the deadline.
You can easily share important documents with new hires and get them filled in and signed on the first day. Gather all essential information, create new profiles, and manage access permissions easily.
Features:
✓ Digital Welcome Kits
Welcome your new hires digitally. Share all the necessary information and documents in advance to ensure there's smooth onboarding.
✓ Self-Service System
Set up a personal account for each of your employees, provide them access permissions, and share docs and information. Increase productivity across all teams.
✓ Online Signatures
Save time and effort with environment-friendly e-signatures. Know the status of document signing and collect all the vital information in one go.
✓ Multiple Checklists
Create an endless number of checklists based on the joining date, stakeholders, or managers. Assign tasks to the team members concerned to ensure timely completion.
Why We Picked Freshteam?
Feedback capturing

Interview scheduling

Powerful report generation

Talent pool management
Pricing
Starts from $0 (Limited to 3 job postings only)
10. Talmundo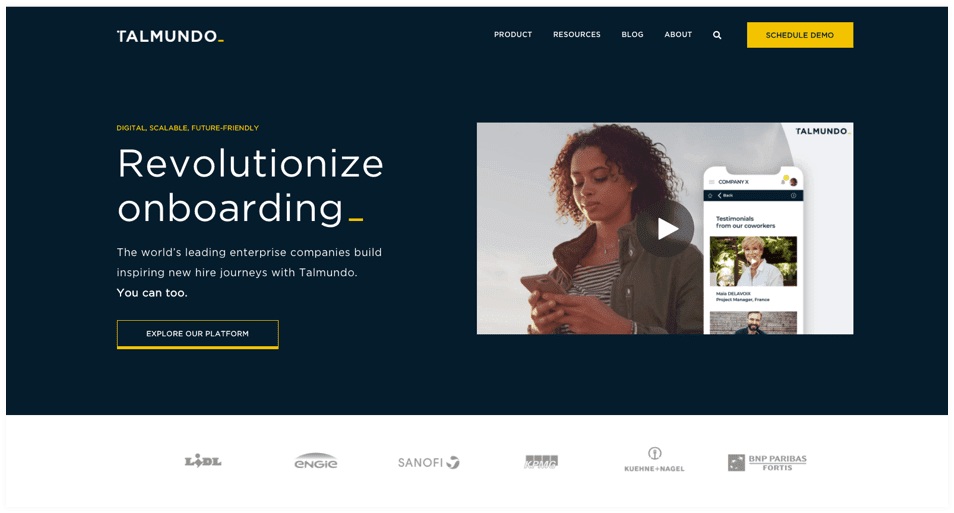 Talmundo puts onbordees' experience at the center of its aim to modernize and simplify employee onboarding. By engaging new hires from start to finish, it's revolutionizing the process and elevating businesses worldwide. Its simple, specific, and fully integrated solutions are content-driven and personalizable.
Talmundo can help you upgrade onboarding with inspiring experiences and quickly turn new hires into productive and confident team members.
Features
✓ Experience-Based Onboarding
Deliver an experience-based onboarding that is engaging and easy to implement. Make the journey enjoyable and effective long-term.
✓ Automated Process
Automate onboarding documentation, data collection, workflow management, and content delivery. Reduce your HR's workload easily.
✓ Resource Center
Provide your new hires with the resources they need during onboarding, including guides, downloadable checklists, infographics, case studies, whitepapers, and more.
✓ Solution-Based Reporting
Keep track of your onboarding data with ease. Visualize onboarding activation, compare performances, and build custom reports based on your needs.
Why We Picked Talmundo?
Simple and easy to use

Ability to customize

Attendance tracking

CRM integration
Pricing
Get in touch with the company for a quote.
11. Cotinu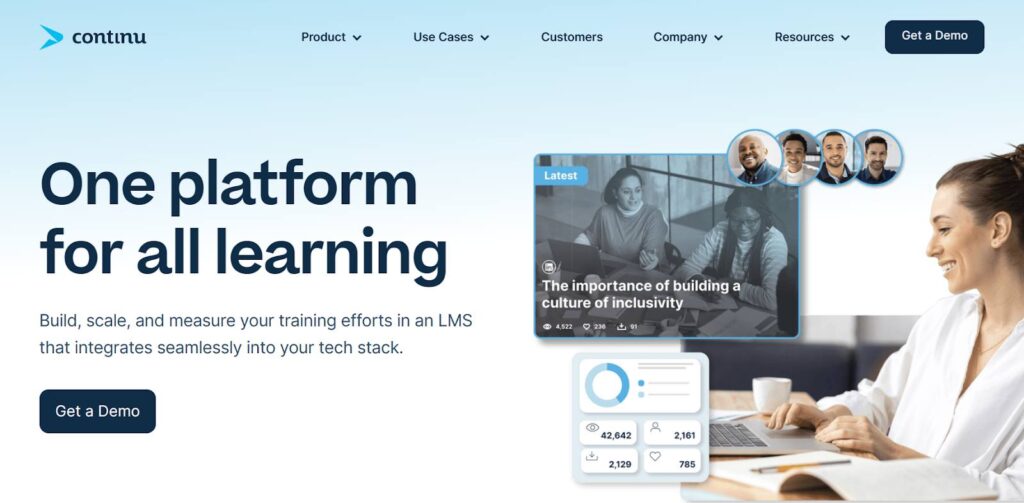 Continu is a modern learning management system for onboarding and training employees, customers, and partners. With this onboarding employee software, you can easily automate all onboarding tasks and set your new hires up for success.
By using the platform's customizable onboarding pathways, automated workflows, reporting & analytics, and collaboration tools, you can create a comprehensive onboarding program for your new hires.
Continu onboarding software is known for providing powerful integrations with third-party tools, such as BambooHR, Zoom, Slack, Google Analytics, and more.
Features
Create and share content with your team based on their learning needs and location. Make the learning process enjoyable and engaging.
Create customized pathways for your learners for an engaging onboarding experience. The pathways may include videos, quizzes, and more.
Remind your new hires to complete certain tasks or alert the managers when a new employee has completed a task.
Don't let geographical locations become a hindrance to new hire training. Enable self-paced learning by allowing new hires to take the training programs on any device.
Why We Picked Continu?
Rich reporting and analytics

Instructor-led training tools

Third-party integrations

Coaching assessments
Pricing
Get in touch with the company for a quote
12. Arcoro

Arcoro, formerly known as BirdDogHR, is a comprehensive recruitment and onboarding software solution covering an entire employee lifecycle, including recruitment, applicant tracking, onboarding, performance management, learning management, succession planning, and reporting for compliance.
The platform is particularly suited for construction industries, although companies from other industries can also use it. Arcoro's cloud-based solution promotes centralized learning, saves time in hiring, and increases employee productivity and readiness to take up more job responsibilities.
The platform is mobile-friendly and configurable, allowing candidates to apply for jobs, complete onboarding paperwork from a mobile device, and access training and evaluations.
Features
Post job openings, accept applications, and track candidates throughout recruitment. Leverage tracking tools for conducting background checks and managing job offers.
Automate all erstwhile paperwork to save your time and efforts. Use a centralized workstation to onboard new hires.
Streamline all your HR functions like bulletproof recordkeeping, payroll management, and compliance reporting. Confirm employees' locations with GPS geofences and breadcrumbing.
Put your employees on the right track and show them the path to success. With the 9-box talent metrics, you can see employee ratings on various forward-thinking attributes.
Why We Picked Arcoro?
Easy to use

Mobile friendly

Robust reporting

Hiring, onboarding & post-hire compliance
Pricing
Get in touch with the company for a quote
13. Zenefits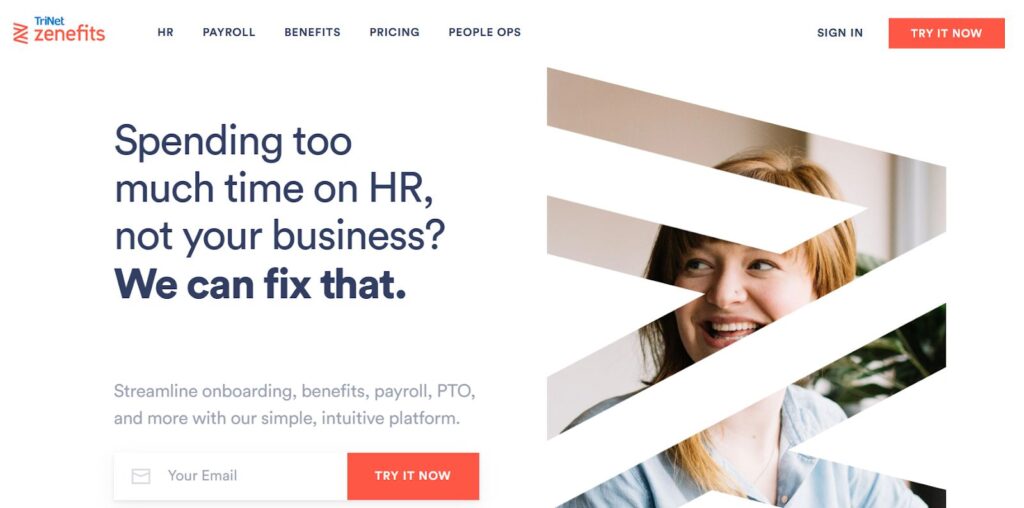 Zenefits is a cloud-based human resource onboarding software designed for small and medium-sized businesses to streamline their HR processes. It offers many features, including benefits administration, time and attendance tracking, payroll processing, compliance management, and employee onboarding.
The platform plays well with other third-party systems, such as accounting software, applicant tracking systems, and performance management tools.
This software's primary objective is to simplify HR management by providing an intuitive and user-friendly interface. It allows businesses to focus on their core operations while managing their human resources effectively.
Features
Let your new hires accept the offer letters online. Upload your offer letter or use the templates to create one.
Zenefits' integration with Checkr lets you perform comprehensive background checks without leaving the platform.
Let your new employees onboard themselves through the website or the mobile app. With self-onboarding, they can manage all employee benefits online, including payroll.
Make the entire onboarding process paperless with e-signatures. Let your new hires sign all the important documents online.
Why We Picked Zenefits?
Great options for customization

Time and attendance management

Mobile friendly

Payroll administration
Pricing
Starts from $8/employee/month
14. iSpring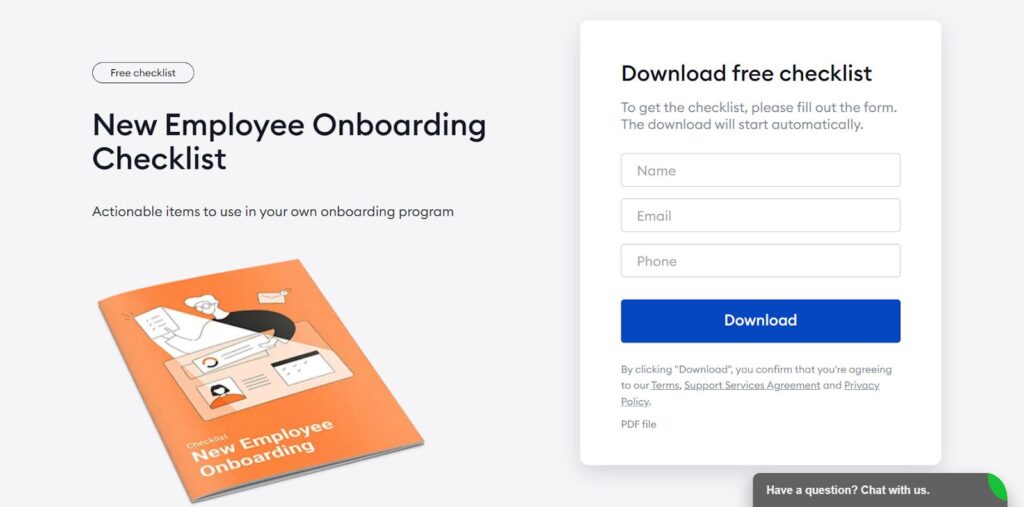 iSpring is cloud-based HR onboarding software designed to help organizations streamline employee onboarding processes. The software provides an easy-to-use platform that allows HR managers and supervisors to create and manage onboarding courses for new hires and track their progress.
iSpring offers a range of features, including customizable onboarding checklists, interactive courses with multimedia content, automated email notifications, and real-time progress tracking. The software also includes pre-built templates and examples to help users quickly create effective onboarding courses.
With iSpring, HR managers and supervisors can easily manage and track new hire progress through an intuitive dashboard, which provides a detailed view of each new hire's onboarding journey.
Features
With this platform, anyone, from SMEs to L&D specialists, can easily create courses, assessments, videos, role-plays, and long reads.
The robust LMS reports let you track learner progress and understand the effectiveness of your programs. Accordingly, you can customize the training based on your needs.
With multiple admin roles, you can invite team leaders and department heads to share the responsibility of checking how well teams perform.
Encourage social learning with reactions, feedback, points, badges, certificates, and leaderboards.
Why We Picked iSpring?
Comprehensive authoring tool

Text-to-speech conversion

Easy to learn and interact with

Integration with quizzes
Pricing
Starts from $2.99/user/month
15. Gusto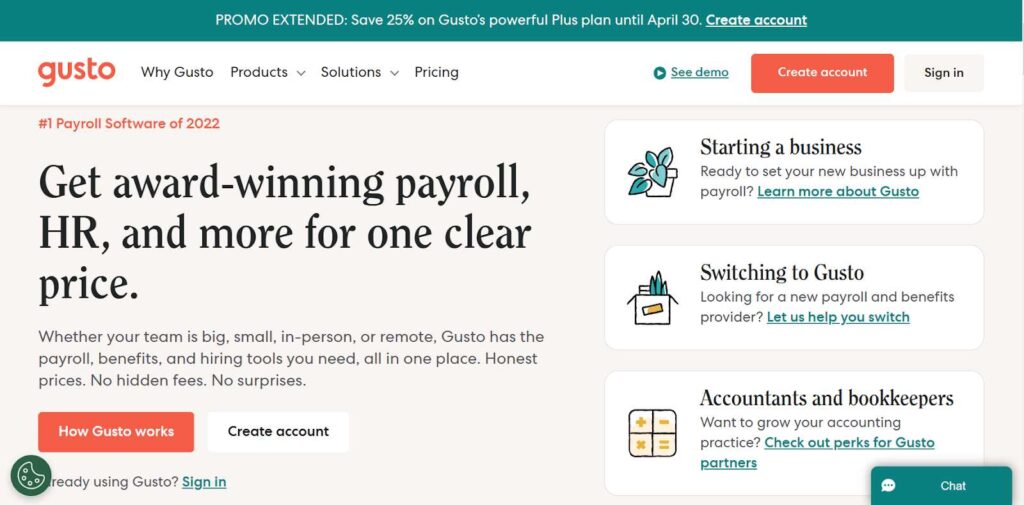 Gusto is an award-winning human resource onboarding software for big, small, in-person, and remote teams. It is an all-in-one HR platform that simplifies employee onboarding, payroll management, health benefits administration, and team engagement for over 100,000 businesses.
Gusto makes even the most complex situations easy for business owners to handle. Gusto offers self-onboarding features with customizable templates and you can also enable your new hires to sign custom docs like handbooks and offer letters. Other benefits of the tool includes employee profiles, time tracking, software provisioning, etc.
The platform also integrates with a variety of other business tools, such as accounting software and time-tracking apps. All in all, the onboarding process with Gusto is simple and streamlined, and employers can easily track progress and completion of various onboarding tasks.
Features
From hiring new employees to scaling your business, Gusto offers all the guidance you need. Onboarding checklists, offer letter templates, and applicant tracking are a few of them.
Gusto helps with tax filing and identifying tax credits to save your money. Some incredible features include unlimited payroll runs, state tax registration, international contractor payments, etc.
Track the time and attendance of your employees with Gusto's automated HR system. It calculates and syncs your team's working hours and holidays with payroll.
Streamline your business decisions with employee feedback surveys, compensation tools, and workforce costing features. Get actionable team insights with automated custom reports.
Why We Picked Gusto?
Streamlines onboarding processes

Employee benefits

Talent management

R&D tax credits
Pricing
Starts at $40/month
16. EddyHR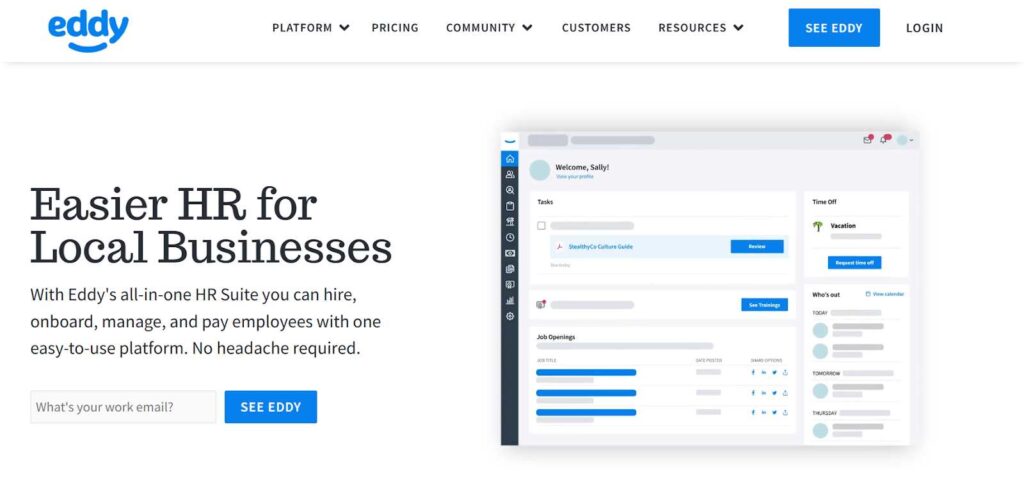 As one of the best employee onboarding HR software, EddyHR offers tools and features to help small and medium-sized businesses manage their HR tasks and processes more efficiently. With EddyHR, businesses can streamline their HR workflows, save time and effort, and improve their overall HR management.
The software is user-friendly, customizable, and scalable, making it a suitable option for businesses of all sizes and industries. The best thing about this software is that it also integrates with other popular software tools and platforms, such as QuickBooks, Slack, and Google Workspace, to provide a seamless experience for users.
EddyHR offers excellent customer support and resources, including live chat, email support, and a knowledge base, to help businesses get the most out of the software.
Features
Eliminate the need for paper-based forms and let your new hires enjoy a seamless onboarding experience with digital signatures.
Make the new hires' first day a memorable experience by sending warm welcome messages with EddyHR's customizable first-day message templates.
Send automated reminders and notifications to new hires and HR managers to ensure they are aware of upcoming tasks, deadlines, and more.
Track and analyze the progress and measure the effectiveness of your onboarding process with EddyHR's robust reporting tools. Make data-driven decisions to improve it over time.
Why We Picked EddyHR?
Has employee self-service options

Customizable onboarding templates

Payroll reporting system

Time off management
Pricing
Get in touch with the company for a quote
17. Trakstar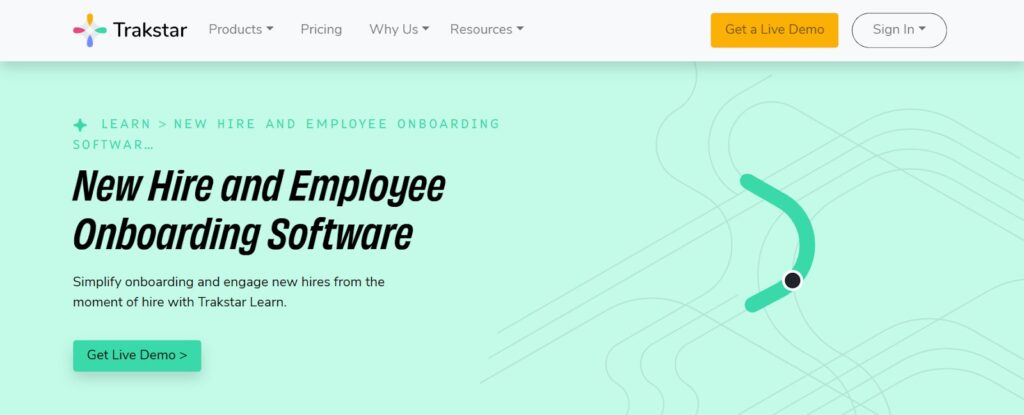 Trakstar is one of the leading employee onboarding software that sets your new hires for success right from day one. The integration between Trakstar Hire and Trakstar Learn has simplified the processes involved in hiring and onboarding new employees.
Trakstar provides interactive templates that you can repeatedly use to create an onboarding plan. Through Trakstar's LMS, you can enroll your new hires in training and workflows before their start date. The software also allows scheduling various activities on calendars, which can keep new employees engaged during their first few weeks.
Additionally, businesses can enroll new employees in Trakstar Perform, an HR tool that promotes continuous improvement and upskilling, to further develop and maintain their skills. Overall, Trakstar provides a comprehensive onboarding solution that simplifies the hiring process and helps businesses maintain high employee engagement and performance levels.
Features
Impactful Multimedia Courses
Create compelling courses for your new hires using your existing content, such as voice-overs, videos, Microsoft Word, PowerPoints, and SCORM files.
Mobile Optimized Learning
Whether your learners use Android or iOS devices, the mobile-optimized learning experiences make it easy to attend training from anywhere, anytime.
Assess learning outcomes through engaging quizzes and assessments. With easy-to-use templates, you can insert questions anywhere in your course. This will keep your employees engaged and help them remember what they learned.
Track learning progress and monitor your onboarding programs' impact. Make necessary improvements based on the reports to enhance your programs.
Why We Picked Trakstar?
It supports collaborative hiring

Best pick for a range of industries

Simple and intuitive UI

Excellent performance management capabilities
Pricing
Get in touch with the company for a quote
18. iSolved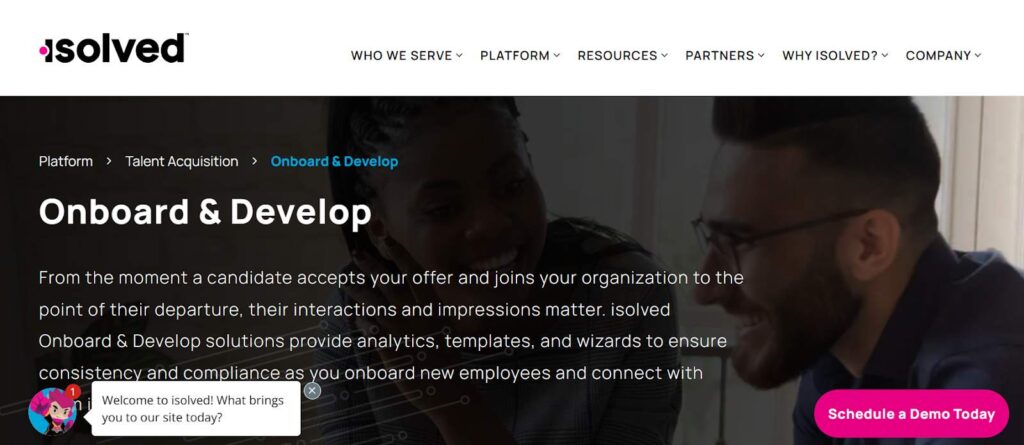 iSolved is an HR management platform that offers a comprehensive onboarding solution for businesses of all sizes. The software simplifies the onboarding process with features such as electronic signature capabilities, customizable workflows, and easy access to new hire paperworks.
With iSolved, new hires can complete their onboarding tasks quickly and easily through a mobile-friendly portal, while HR managers can track progress and completion in real-time. The platform also offers tools to automate tasks such as tax forms and background checks, reducing the administrative burden on HR staff.
Features
Streamline New Hire Information
Streamline the onboarding processes, manage compliance documentation, and automatically populate new hire records with applicant tracking information under a single roof.
Facilitate the use of electronic signatures for agreements and streamline tax processing to mitigate expenses and minimize the probability of errors.
Customized Onboarding Templates
The software also includes a range of customizable templates, so users can quickly create professional-looking courses without starting from scratch.
Enable your new hires to complete all the onboarding tasks anytime and from any device they prefer using.
Why We Picked iSolved?
Make informed onboarding decisions

Friendly and intuitive interface

Accurate and efficient payroll system

System-generated reports
Pricing
Get in touch with the company for a quote
19. Monday.com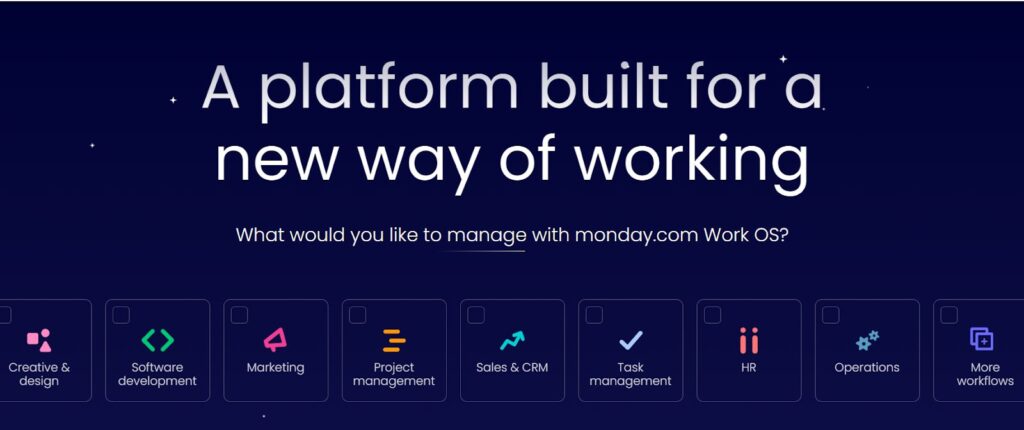 Monday.com is a cloud-based project management and team collaboration platform that offers various tools and features to streamline work processes. It acts as one central workspace for HR teams that automates various tasks, including managing new hire records, compliance documentation, tax processing, and integrating Form I-9 processing.
The platform eliminates paper forms and utilizes electronic signatures for agreements, reducing costs and improving accuracy. monday.com's intuitive user interface allows HR managers to customize the onboarding process to fit their needs.
This employee onboarding software has pre-built templates for common onboarding tasks, such as setting up company policies and guidelines, introducing new hires to the team, and assigning tasks and training modules. It also offers real-time updates on the progress, ensuring that all stakeholders know the status of new hires' transition.
Features
Handle all recruitment procedures by simplifying internal planning and coordination with hiring managers. Keep a record of each stage to conveniently track the status of candidates in the process.
Build engaging activities to boost overall morale and retain employees. Create a yearly plan and gather feedback for each activity.
Facilitate the process of submitting vacation requests for employees and notify them when their request is approved. In case of any unexpected delay, managers can receive timely reminders to address pending requests.
Easily manage performance reviews with monday.com's performance management system. Review meetings and keep a record of the outcomes.
Why We Picked monday.com?
Customizable templates

Progress tracking

Easy to organize tasks into checklists

Robust process evaluation system
Pricing
Starts at $0 (limited to 2 seats maximum)
20. Scribe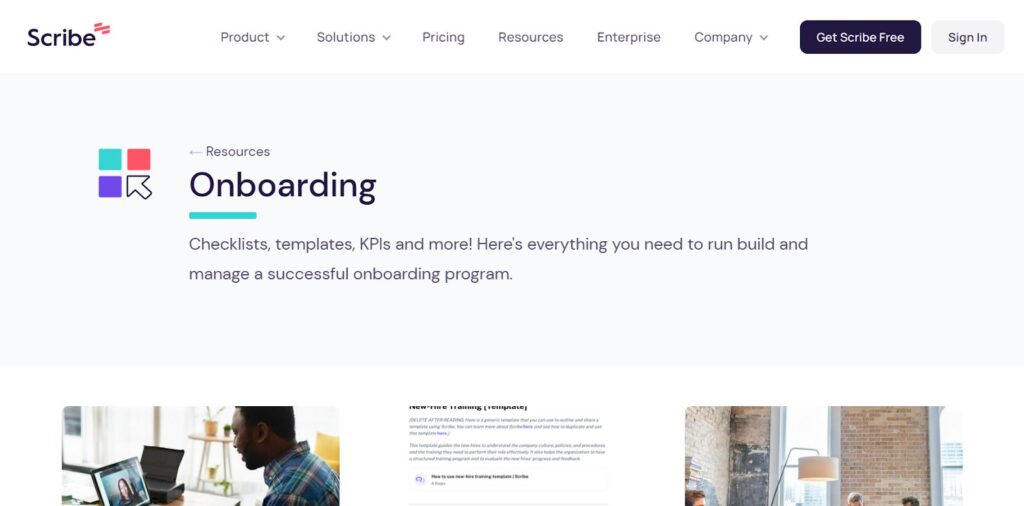 Scribe is one of the best HR onboarding software that helps you build and run successful onboarding programs. The tool helps new hires become familiar with the company culture, policies, procedures, and expectations and ensures a smooth transition into their new roles.
Scribe is a versatile tool for those who want to share how to perform a task. Its wide range of applications includes onboarding new employees, employee training, and customer support. This tool allows for the documentation of simple processes within a single software or advanced workflows across multiple websites.
With Scribe, you can create consistent, modifiable documents such as step-by-step guides, standard operating procedures, work instructions, software and process documentation, onboarding documents, and more.
Features
With Scribe, you can quickly answer repetitive questions in just a few seconds. Turn the digital processes into set-by-step guides. Embed the guides into wikis and other internal resources.
Automate Process Documentation
Eliminate the hassle of manually copying and pasting screenshots into training guides. Instead, save valuable time using Scribe's automatic step-by-step guides to show employees how to perform tasks.
Accelerate the onboarding process for new employees by providing comprehensive step-by-step guides covering all necessary information.
Compatible Across All Devices
New hires can access the guides on any device, be it tablets, laptops, or other portable gadgets. This makes completing all tasks easier, irrespective of location and time zones.
Why We Picked Scribe?
Intuitive UI

Automatically generates visual guides

Provides custom branding options

Integrates well with Notion, Zendesk, and Confluence
Pricing
Starts from $0 (lacks custom branding)
These are the top 20 employee onboarding tools available on the market. The benefits you can get from using onboarding software are many. To choose the right one, you'll need to take the time to review each of the tools from different aspects. This will ensure you give your new hires a fantastic onboarding experience.
How to Choose the Best Employee Onboarding Software
Now that you have a list of tools with you to choose from, let's take a look at the factors you must consider to select the right tool for your business.
The onboarding software should be

easy to use

so that everyone, irrespective of their tech skill level, can adopt it without any problem.

The platform should ideally

have a content library

offering ready-to-use

courses

or

templates

. This will enable you to speed up onboarding by minimizing the course development time.

A

virtual classroom

is another feature to consider, as it lets you centrally administer learner groups, course assignments, roles & permissions, and progress tracking.

Make sure the software you choose offers

engaging quizzes

for ease of assessment.

The platform should come with an internal

knowledge base

for ongoing support to new hires at each stage of onboarding.

The

reporting feature

is another criterion for choosing a solution as it supplies data on employees' progress and performance during onboarding.
Frequently Asked Questions (FAQs)
Which is the best employee onboarding software?
There are lots of onboarding software available on the market. Some of the best ones include ProProfs, Bambee, Lano, Gusto, monday.com, Rippling, and BambooHR, to name a few.
What features should I look for in the best employee onboarding software?
The best online employee onboarding software provides several in-demand features, such as a user-friendly interface, ready-made courses and templates, multilingual support, workflow automation, collaboration, gamification, assessment tools, and strong reporting tools.
What should be included in employee onboarding?
Employee onboarding should include orientation, training, job shadowing, introductions to colleagues and company culture, setting expectations, and providing necessary resources and tools to ensure a successful transition and integration into the company.
What are the major challenges of onboarding?
Some of the challenges of onboarding include a lack of communication, unrealistic expectations, insufficient training, unclear goals, limited resources, and a lack of employee engagement. Poor onboarding can result in high turnover rates, low morale, and decreased productivity.
What is the most important part of onboarding?
The most important part of onboarding is creating a positive and welcoming experience for new employees. This includes introducing them to the company culture, providing necessary resources and tools, setting expectations, and offering ongoing support and training to ensure they become productive members of an organization in the shortest possible time frame.
What is the main purpose of onboarding?
The main purpose of onboarding is to acclimatize new hires to their new roles and the company culture effectively. It aims to provide them with the necessary knowledge, skills, and tools to perform their job successfully and feel engaged and supported in their new work environment.
Why do some onboarding programs fail?
Onboarding programs may fail due to various reasons, such as lack of communication, insufficient training, unclear goals and expectations, a poor company culture, lack of quality onboarding tools, and limited resources. Additionally, failure to evaluate the effectiveness of the onboarding program and adjust it accordingly can also contribute to its failure.
What makes a strong onboarding process?
A strong onboarding process includes clear communication of onboarding plans, effective training, personalized and ongoing support, setting clear expectations, and providing resources and tools. It should also include ongoing feedback and evaluation to ensure continuous improvement and adaptation to the evolving needs of employees and the organization.
Which Employee Onboarding Software Are You Using?
The employee onboarding systems discussed in the post can help you simplify, streamline, and accelerate the process of hiring, engaging, training, and integrating employees into your organization.
You'll find that these platforms offer many similar features, such as application tracking systems, automation, e-signatures, and e-verify. They are among the essential functionalities that HR and managers would need, no matter which tool they finally select.
So, clarify your requirements, set your budget, ask your vendor for a free demo or trial, evaluate the device compatibility, and check out the features it has and the kind of customer support it offers. All these will help you find the best employee onboarding software for your business.
Do you want a free Training Software?
We have the #1 Online Training Software for employee training & assessment