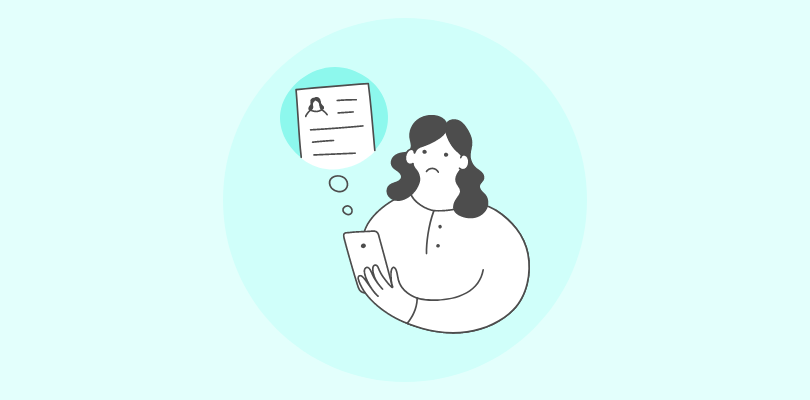 Employee onboarding software is a valuable tool for automating, streamlining, and taking charge of welcoming new employees into an organization.
Like other employee training software, employee onboarding tools are characterized by several helpful features. These include a user-friendly interface, onboarding courses, workflow automation, e-signatures, a new hire portal, integrations, and assessment tools.
The best onboarding systems for new employees can help simplify, streamline, and standardize onboarding, save time and effort, and accelerate how you integrate new hires into your workplace.
A lack of such platforms can prevent you from giving a good start to your new hires' journey with your organization. But don't worry. Numerous tools can assist you in this effort.
The following is a roundup of the 12 best employee onboarding platforms to welcome, train, and assess incoming employees.
Best Onboarding Software for New Employees: A Quick Comparison Table
12 Best Employee Onboarding Software
Why Is It the Best?
Price
ProProfs LMS
Premium course library

Centralized virtual classroom

Quizzes for assessment

Learning paths

Multilingual support

Insightful reports & analytics

Forever free for up to 10 learners.
Paid plan starts at $1.97/active learner/month for large teams. Billed annually.
BambooHR
Applicant Tracking System (ATS)

Electronic signatures

Mobile hiring app

Employee records

Get in touch with the company for a quote
GoCo
Paper-free onboarding

Self-service benefits enrollment

MagicDocs

Employee management software

Starts at $5/employee/month
HR Cloud
E-forms

E-signatures

Employee self-service

Remote onboarding

Get in touch with the company for a quote
iSolved
Streamline new hire information

Automate manual tasks

Customized onboarding templates

Mobile friendly

Get in touch with the company
WorkBright
Process automation

Fingertip signature

Applicant tracking integration

E-verify

Get in touch with the company for a quote
ClearCompany
Applicant tracking system

Employee engagement

New hire portal

Intelligent forms

Get in touch with the company for a quote
monday.com
Customizable templates and workflows

Time tracking

Built-in reporting

Resource management tools

Starts from $0 (Limited to 2 seats only)
EddyHR
Hiring and onboarding

Time and attendance

Payroll

Employee data and documents

Get in touch with the company for a quote
ADP
Open enrollment

Powerful analytics

Automated regulatory compliance

Integration with top carriers

Get in touch with the company for a quote
Freshworks
Application tracking system

Electronic signatures

Employee self-service

Employee offboarding

Get in touch with the company for a quote
Trakstar Learn
Content Creation

Automated welcome messages

Rich onboarding insights

Applicant tracking

Get in touch with the company for a quote
12 Best Employee Onboarding Software for Training New Hires
Let's now explore each software solution in granular detail and find out the reasons we picked them. This will assist you in your software purchase decision.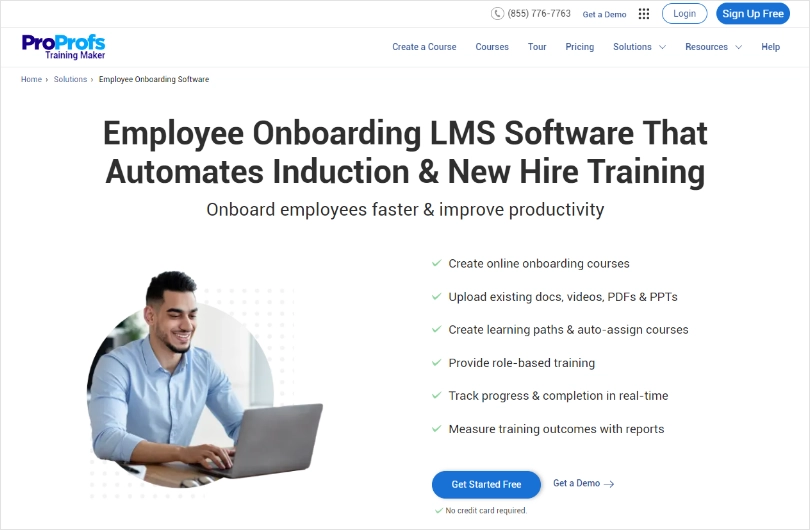 ProProfs LMS is an award-winning and easy-to-use cloud based LMS that you can rely on to onboard employees, locally or remotely.
As one of the best new hire onboarding software, it offers various features and functionalities to provide a smooth onboarding experience. A premium library of 100+ ready-to-use courses and training templates in this LMS makes kick-starting employee induction a breeze.
You can also create onboarding courses by importing existing materials, such as videos, presentations, PDF files, audio, recorded webinars, and graphics.
A regularly updated knowledge base and an online Q&A community support new hires at every onboarding stage. You can add quizzes, surveys, flashcards, gamification, scenarios, labeled graphics, and other learning activities to enrich the onboarding experience.
Why We Picked ProProfs LMS?
Intuitive user interface
Smart real-time reports
Powerful software integrations
Huge customization capabilities
Pricing
Forever free plan (up to 10 learners). Paid plan starts at $1.97/learner/month (billed annually) for large teams. No hidden charges. 15-day money-back guarantee.

BambooHR develops great HR tools that enable users to do things differently than they did in the past. Its onboarding solutions focus less on the regular formalities and more on delivering exceptional learning experiences for new hires early on.
With BambooHR, onboarding becomes more organized and efficient, helping new employees learn better and faster and giving them reasons to stick around longer with your company.
Why We Picked BambooHR?
Time tracking
Employee directory
Customizable reports and dashboards
Employee self-service
Pricing
Get in touch with the company for a quote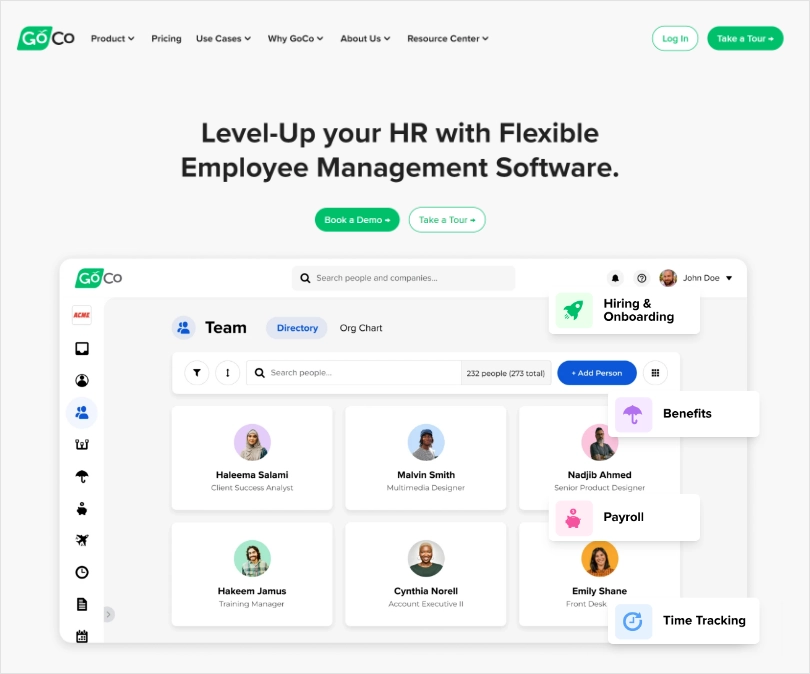 GoCo is a modern onboarding software that offers a delightful digital experience to incoming employees. You can send customized offer letters with e-signature and a preview of benefits and compensation.
This is one of the best remote onboarding tools for streamlining all HR workflows.
Moreover, you can go completely paper-free as it automates all manual processes. It also takes care of onboarding compliance, like verification of employee eligibility.
Why We Picked GoCo?
Easy to use and straightforward
Feedback management
Hassle-free paperless onboarding
Payroll management
Pricing
Starts at $5/employee/month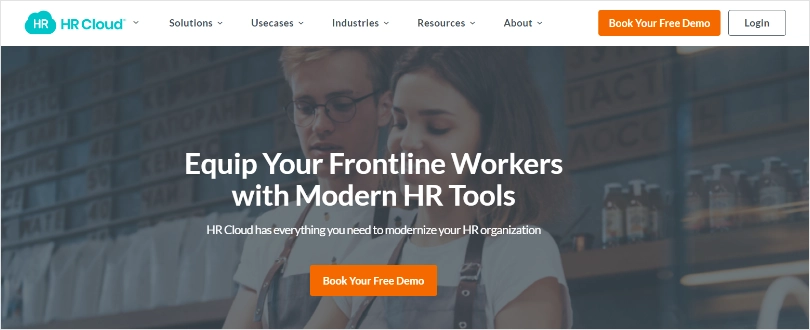 HR Cloud is one of the best new employee onboarding software that saves time, improves productivity, and ensures an unforgettable onboarding experience. With automated emails, notifications and reminders, and stepwise workflows, the platform offers a great way to eliminate manual tasks.
You can easily customize payroll and tax forms. A free consultation is also available for customers to speak with HR process and technology experts.
Why We Picked HR Cloud?
Easy-to-build hierarchical workflows
User interface is fresh
Auto-generated tasks
360-degree feedback
Pricing
Get in touch with the company for a quote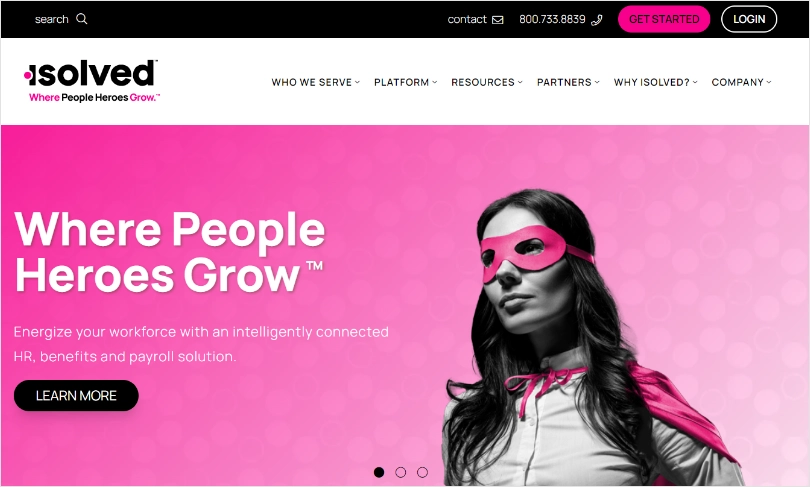 iSolved is an HR management platform that offers a comprehensive onboarding solution for businesses of all sizes. The software simplifies onboarding with electronic signature, customizable workflows, and easy access to new hire paperwork.
With iSolved, new hires can complete their onboarding tasks quickly and easily through a mobile-friendly portal, while HR managers can track progress and completion in real-time. The platform also offers tools to automate tasks such as tax forms and background checks, reducing the administrative burden on HR staff.
Why We Picked iSolved?
Make informed onboarding decisions
User-friendly interface
Accurate and efficient payroll system
System-generated reports
Pricing
Get in touch with the company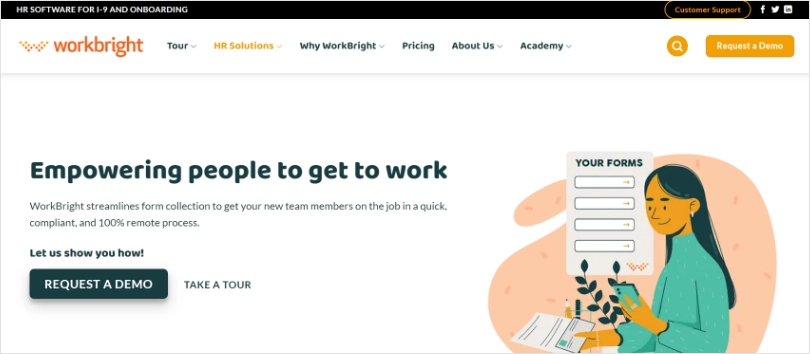 WorkBright is an automated onboarding software solution with multiple functions to reduce onboarding time. Its streamlined onboarding approach, adjustable to your unique corporate culture, gives you peace of mind.
Applicant tracking, Form I-9, and integrated e-verify are among the top features of this application. It also supports remote onboarding, which removes the need for new hires to be physically present at your office to complete the necessary HR paperwork.
Why We Picked WorkBright?
Reminders
Employee handbook
Digitized paperwork
Applicant tracking system
Pricing
Get in touch with the company for a quote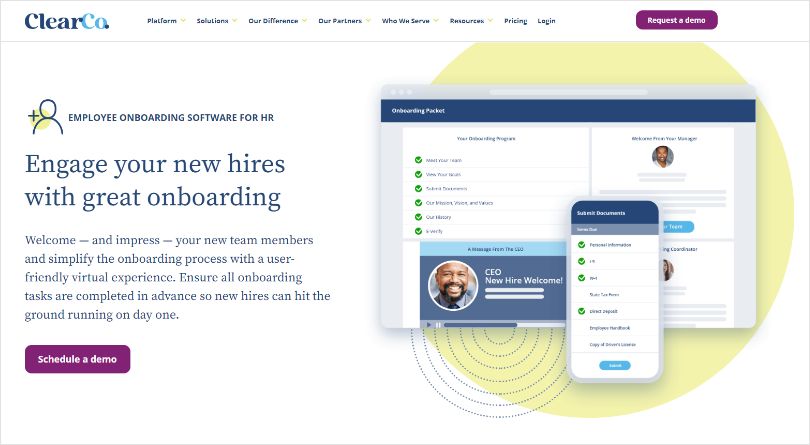 If you're looking for an easy and paperless onboarding solution, ClearCompany is your platform. It helps you put new hires on the right path before they enter your organization. Some of the tools' features include a new hire portal, auto-fill forms, e-verification, and mobile-friendly onboarding.
As the world's fastest-growing talent management platform, ClearCompany helps thousands of companies achieve their onboarding missions quickly and satisfactorily.
Why We Picked ClearCompany?
The tagging feature is great
Change Cadet's DEI surveys
Great applicant tracking system
Performance tracking and analytics
Pricing
Get in touch with the company for a quote

monday.com is a cloud-based project management and team collaboration platform that offers various tools and features to streamline work processes. It is one central workspace for HR teams that automates tasks, including managing new hire records, compliance documentation, tax processing, and Form I-9 processing.
The platform eliminates paper forms and utilizes electronic signatures for agreements, reducing costs and improving accuracy. monday.com's intuitive user interface allows HR managers to customize the onboarding process to fit their needs.
This employee onboarding software has pre-built templates for regular onboarding tasks, such as setting up company policies and guidelines, introducing new hires to the team, and assigning tasks and training modules. It also offers real-time updates on the progress, ensuring that all stakeholders know the status of new hires' transition.
Why We Picked monday.com?
Customizable templates
Progress tracking
Easy to organize tasks into checklists
Robust process evaluation system
Pricing
Starts at $0 (limited to 2 seats only)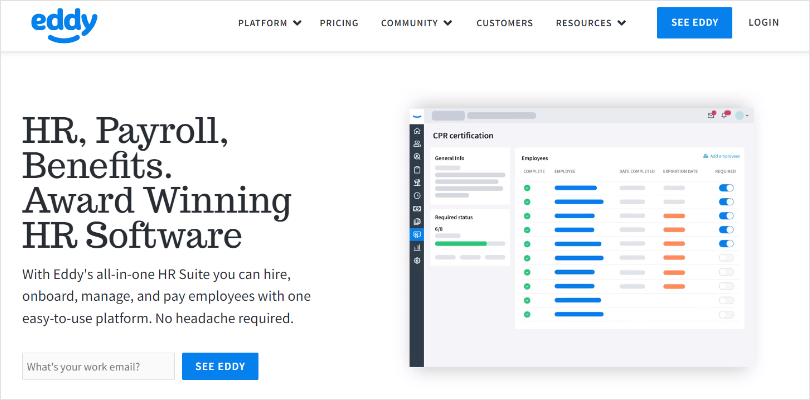 As one of the best employee onboarding HR software, EddyHR offers tools and features to help small and medium-sized businesses manage their HR tasks and processes more efficiently. With EddyHR, businesses can streamline their HR workflows, save time and effort, and improve their overall HR management.
The software is user-friendly, customizable, and scalable, making it a suitable option for businesses of all sizes and industries. The best thing about this software is that it also integrates with other popular software tools and platforms, such as QuickBooks, Slack, and Google Workspace, to provide a seamless experience to users.
EddyHR offers excellent customer support and resources, including live chat, email support, and a knowledge base, to help businesses get the most out of the software.
Why We Picked EddyHR?
Has employee self-service options
Customizable onboarding templates
Payroll reporting system
Time-off management
Pricing
Get in touch with the company for a quote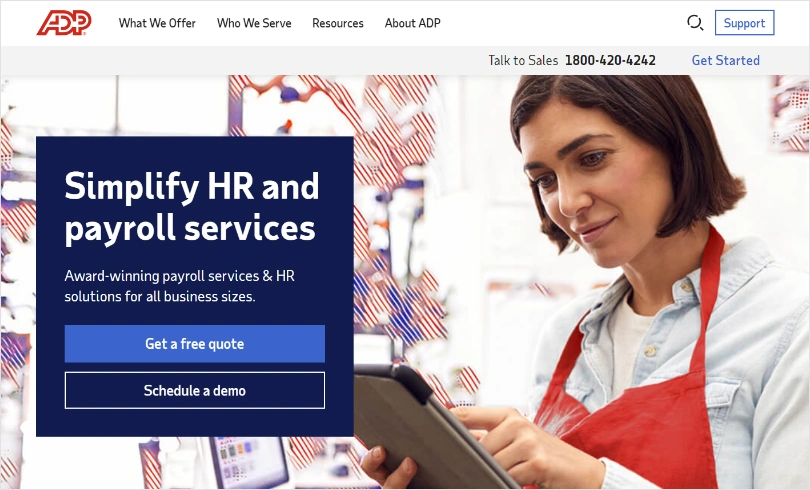 If you're looking for the best onboarding software for a small business, then ADP is for you. ADP tailors solutions to various industries and business sizes, with options for medium, large, and global businesses.
They provide global payroll services with a team of professionals in 140 countries. ADP ensures compliance with built-in features and offers support to stay compliant.
ADP has received awards, including the Global Payroll Supplier of the Year. ADP helps businesses save time and money by integrating payroll and HR information into a unified platform. They also provide time and attendance tracking and HR management services.
Why We Picked ADP?
Time tracking for employees and managers
Real-time attendance tracking
Mobile friendly
Tracks vacations and approvals
Pricing
Get in touch with the company for a quote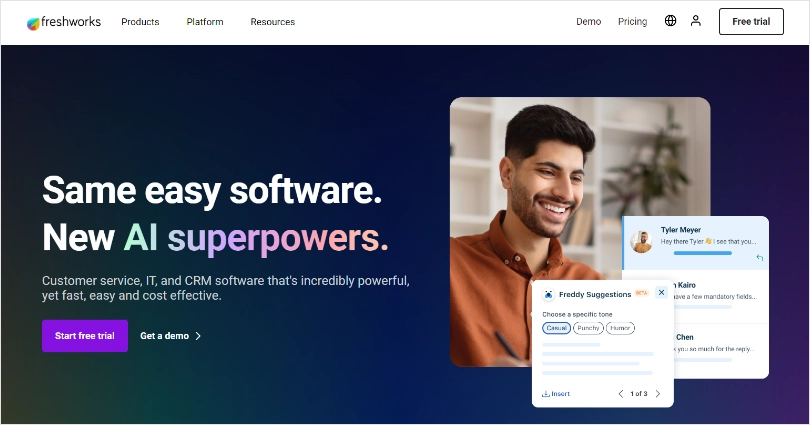 Freshteam by Freshworks is an award-winning HR platform that offers efficient onboarding and offboarding solutions for businesses. With features like automated email communication, document sharing, and task assignment, Freshteam streamlines the onboarding process, saving up to 90% of the time typically spent on these tasks.
The platform allows users to create custom onboarding checklists, send welcome kits to new hires, and collect data seamlessly. It also offers pre-built templates for offer letters and termination forms and integrations with digital signature platforms.
Trusted by over 9,000 businesses worldwide, Freshteam provides a paperless and engaging onboarding experience.
Why We Picked Freshworks?
Workflow automation
Contact and account management
Email and social ticketing
Mobile-friendly
Pricing
Get in touch with the company for a quote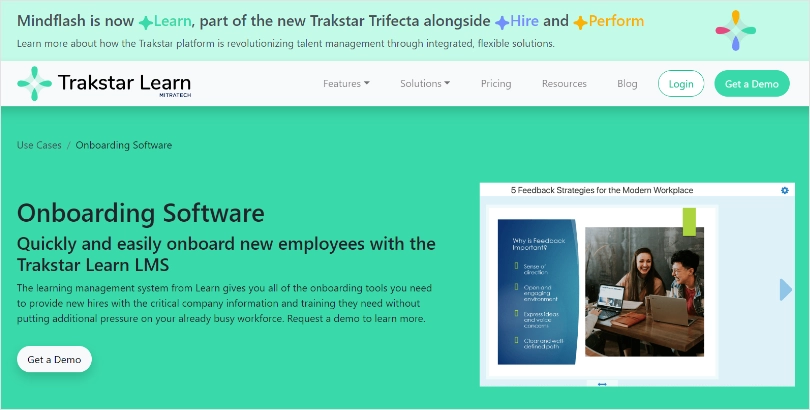 Mindflash has been rebranded as Trakstar Learn and is now a part of the Trakstar Trifecta and Hire and Perform. The Trakstar platform offers integrated and flexible solutions for talent management.
With Trakstar Learn, businesses can efficiently onboard new employees using the learning management system (LMS). The LMS provides onboarding tools to deliver essential company information and training without overwhelming the workforce.
Trainers can easily create online courses using various content formats, and trainees can access the courses from any device.
Trakstar Learn also offers features like enterprise integration, quizzes and assessments, business analytics, and data security. The platform ensures a seamless and accessible onboarding experience with engaging multimedia courses.
Why We Picked Trakstar Learn?
Mobile optimized learning
Powerful analytics
Clean and uncomplicated UI
Sends course reminders
Pricing
Get in touch with the company for a quote
These are the top 12 employee onboarding tools available on the market. The benefits you can get from using onboarding software are many. To choose the right one, you'll need to take the time to review each of the tools from different aspects. This will ensure you give your new hires a fantastic onboarding experience.
Which Employee Onboarding Software Are You Using?
The employee onboarding software solutions discussed in the post can help you simplify, streamline, and accelerate the process of hiring, engaging, training, and integrating employees into your organization.
You'll find that these platforms offer many similar features, such as application tracking systems, automation, e-signatures, and e-verify. They are among the essential functionalities HR and managers need, regardless of which tool they select.
So, clarify your requirements, set your budget, ask your vendor for a free demo or trial, evaluate the device compatibility, and check out its features and customer support. All these will help you find the best employee onboarding software for your business.
Frequently Asked Questions
What is employee onboarding software?
Employee onboarding software is a software application that helps organizations streamline and automate the onboarding process for new hires. These digital platforms are designed to manage all aspects of onboarding, from paperwork and documentation to orientation and training. With employee onboarding software, you can automate tasks, ensure compliance, and create a smoother, more efficient onboarding experience for both employees and HR teams. Watch: How to Create an Employee Onboarding Training Program
What features should I look for in the best employee onboarding tools?
The best online employee onboarding software provides several in-demand features, such as a user-friendly interface, ready-made courses and templates, multilingual support, workflow automation, collaboration, gamification, assessment tools, and strong reporting tools.
What are the benefits of using employee onboarding tools?
There are plenty of benefits to using onboarding tools. It streamlines the onboarding process, reducing administrative tasks and paperwork. You can deliver a consistent onboarding experience, increasing efficiency and productivity. When you give a great start to your new employees, your employees feel engaged and satisfied. Moreover, it also increases retention by providing an organized introduction to the company culture and expectations.
Is there any employee onboarding software for free?
Yes, there are free onboarding software options available. Examples include Talmundo, HRCloud, and Zenefits. However, like any other free tool, you won't be able to access the core features and functionalities essential for a smooth onboarding experience. That's why it's better if you use paid services. However, if you have budget constraints, go for the basic plans.
What should be included in employee onboarding?
Employee onboarding should include orientation, training, job shadowing, introductions to colleagues and company culture, setting expectations, and providing necessary resources and tools to ensure a successful transition and integration into the company.
What makes a strong software onboarding process?
A strong onboarding process includes clear communication of onboarding plans, effective training, personalized and ongoing support, setting clear expectations, and providing resources and tools. It should also include ongoing feedback and evaluation to ensure continuous improvement and adaptation to the evolving needs of employees and the organization.
How to choose the best employee onboarding software for small business?
When choosing the best employee onboarding software, make sure it supports automation and role-based training. The software should align with your training needs and it should be compatible with the tools your organization uses daily. Ready training resources are worth considering for quicker onboarding implementation. Tracking and reporting can keep you posted on learning progress, milestones, challenges, and roadblocks. Also consider the quality of service for ongoing support. Watch: How to Choose the Best SaaS LMS Software
What are the best and reliable onboarding software for SaaS?
Some of the top LMS software for onboarding, in addition to the list we discussed above, are TalentLMS, iSpring Learn, Abara, Docebo, and LearnUpon. You will find pre-uploaded onboarding content, intuitive UI, multiple learning portals, integration with HRIS, formal & informal learning, and assessments. These platforms can help you simplify, streamline, and standardize your new hire onboarding.
Do you want a free Training Software?
We have the #1 Online Training Software for employee training & assessment