What Are the Best Online Courses On Sexual Harassment?
There are many types of online sexual harassment training courses for employees. Generally, the best ones are designed by legal experts and characterized by quality content that's engaging and up-to-date. These courses are compliant with federal, state, and even local laws and regulations. They are comprehensive, learner-centric, cost-effective, and suitable for recurring training.
In addition to the tools you use to deliver online training, the course materials matter a lot. It is through the course that you'll be transferring knowledge successfully to your learners. This is true for any eLearning program, including compliance training.
Since laws and regulations mandate corporate sexual harassment training, employers need to ensure that the course they use covers all the necessary topics.
This article walks you through a list of the 10 best online sexual harassment courses for employees to help you find out which one you can deploy in your organization.
10 Best Sexual Harassment Training Courses
Top Features
ProProfs Sexual Harassment Training

Meets OSHA guidelines
Easily customizable
Interactive quizzes
Self-paced learning
Ease of administration
Tracking & reporting

EasyLlama

Compliant with federal & state requirements
Mobile-friendly
Microlearning sessions
Video content
Real-time tracking & reporting

Inspired eLearning

Meets federal and state requirements
State-specific programs
Designed by eLearning veterans
Optimized for engagement & retention
Excellent support

Udemy

On-demand courses
Free & paid courses
Downloadable resources
Mobile & TV access
Completion certificate

Skillsoft

Up-to-date & accurate
Configurable
Works on desktop & mobile devices
Option for translation
Course for different countries

HR Classroom

Easy format
Suitable for large-scale training
Available for different states
English & Spanish language
Quizzes

Kantola

Award-winning videos
Exceeds all federal & state requirements
Collaboration with Littler
Easily customizable
Works on all LMSs

FreeSexualHarassmentTraining.com

Best for California employers
Developed by certified experts
Engaging & up-to-date content
Nationally relatable information
Free training sessions

High-Speed Training

Developed by professionals
Accredited by CPD
Relevant & up-to-date
Course voiceover
Certification

Traliant

Available for different states
Compliant with state laws
Broadcast quality
Fully customizable
Bite-sized modules
Let's now take a closer look at each of these sexual harassment courses to get a fair idea of why they are top-ranking and why you should consider them.
10 Best Sexual Harassment Courses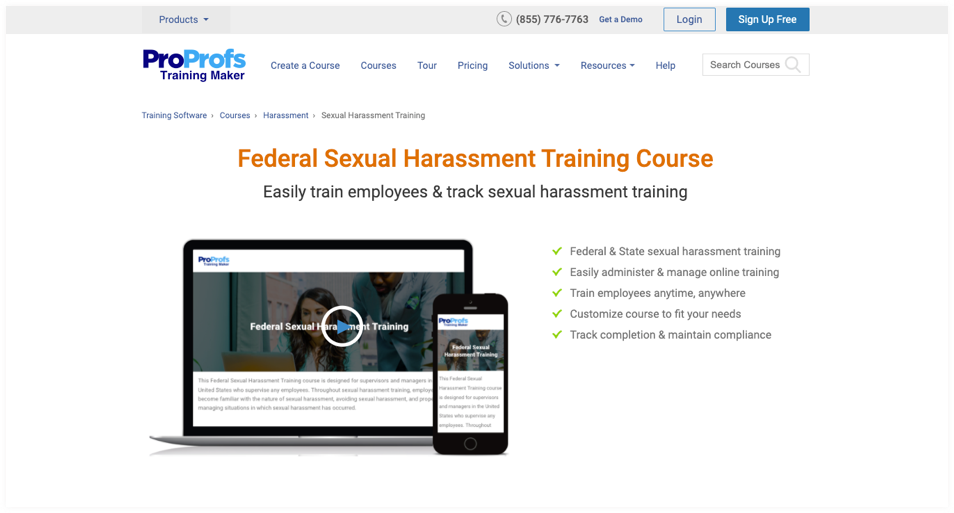 The sexual harassment training courses by ProProfs are designed to help organizations prevent discrimination, intimidation, and harassment. Industry professionals develop them by incorporating the latest rules and regulations at the federal and state levels.
Apart from a federal harassment course, they offer state-specific courses, such as
Delaware Sexual Harassment Training Course
And so on.
A built-in virtual classroom in the ProProfs LMS ensures easy and centralized administration of the courses and learners. You can easily customize the courses with your branding. Learners can take the courses anytime, anywhere, and on any device.
Features:
✓ Ready-to-Use CoursesYou can use the workplace harassment courses as they are or modify them to suit your company's specific needs. It is as easy as drag-and-drop.
✓ Quizzes
Assess knowledge retention through
interactive quizzes
. Integrate them into your online courses. Choose from 10+ question types.
✓ Virtual Classroom
Train anyone, anytime, anywhere with a centralized and secure
virtual classroom
. Manage learners, assign courses, and view reports & analytics seamlessly.
✓ Discussion & Collaboration
Let your course participants collaborate via an in-course
Q&A community
. Keep knowledge organized and easily searchable. Never lose the right answer.
✓ Tracking & ReportingTrack learners' progress in real-time. View training-related data such as start date and percentage completed whenever you want. Ensure course compliance.
✓ Course Certificate
Issue beautifully designed custom certificates on successful completion of
sexual harassment training
. Keep your learners motivated with deserved recognition.
Pricing:
Forever free plan (up to 10 learners). Paid plan
starts at $1.97/learner/month
(billed annually) for large teams. No hidden charges. 15-day money-back guarantee.
Why ProProfs Sexual Harassment Training?
Meets Federal & State Requirements:The courses meet the latest sexual harassment training requirements mandated by the federal & state governments.
Ease of Customization:You can easily customize the courses by adding relevant images, videos, company sexual harassment policy, and more.
Self-Paced Learning:Employees can work around their busy office schedules to take a course, pause, save, and resume at any time.
Trusted by Many:Thousands of companies operating in different sectors rely on ProProfs SH courses to stay compliant.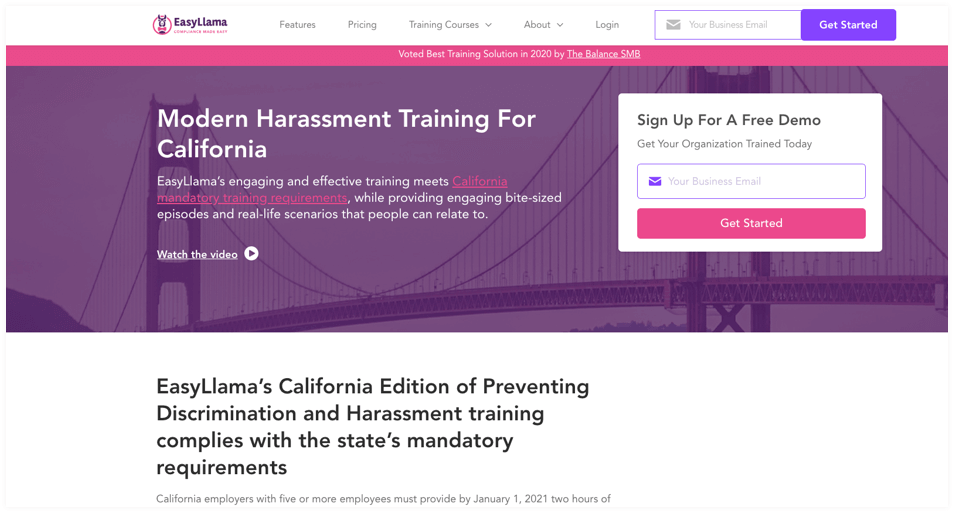 EasyLlama's training is comprehensive by nature. Apart from sexual harassment, it deals with discrimination, retaliation, and other forms of harassment in the workplace. The idea is to help promote an inclusive workplace through training programs that rely on modern and relevant content.
Features:
✓ Video ContentOffer high-quality videos based on real-life examples as a part of the training. Your trainees will find them easily relatable and helpful.
✓ Microlearning Sessions
Compliance training
, such as sexual harassment, doesn't have to be boring. Make them educational and entertaining at the same time with micro-sessions lasting 5-10 minutes each.
✓ Integrations
Add EasyLlama seamlessly to your workflow by integrating it with
LMS
, HRIS, and other useful tools.
✓ Real-Time Tracking & ReportingTrack progress and completion as learners take a course. Use this data to certify them across all departments and locations.
Pricing:
Starts at $9.95/training/employee
Why EasyLlama?
Compliant with Federal & State Requirements:The training is fully compliant with all federal and state laws & regulations surrounding sexual harassment in the workplace.
Mobile-Friendly:Learners can access the courses from any device they prefer. This facility makes the training convenient for them.
Relevant:The courses have up-to-date, practical, and relevant examples in tune with the MeToo era.
Universal Format:The training solution works for all types of employees, whether they work in an office or on the field.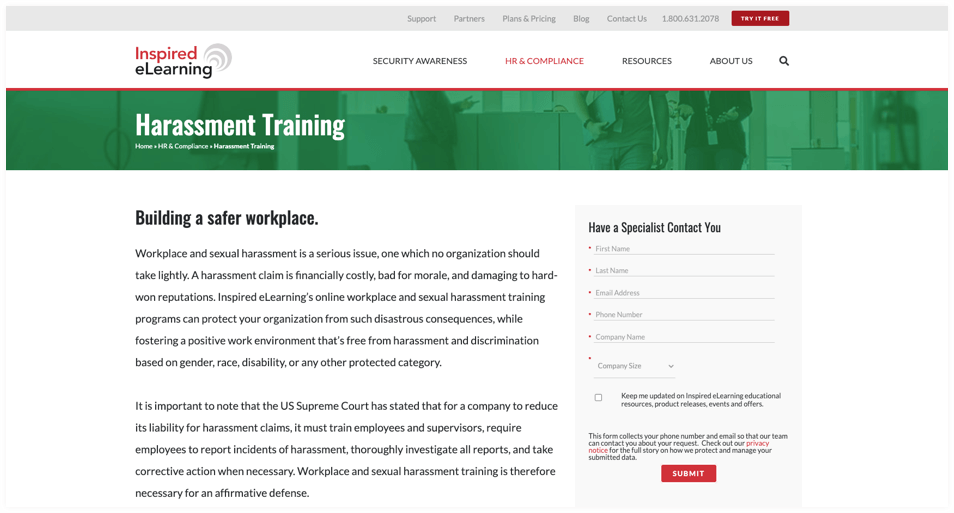 Inspired eLearning is dedicated to fulfilling the needs of employee training. In addition to cybersecurity and HR training, it specializes in harassment training. The sexual harassment courses meet all federal and state requirements by covering a wide range of in-demand topics.
The engaging and regularly updated training content makes an ideal solution for both government and private organizations.
Features:
✓ High-Quality ContentGive your training participants the best learning experience with award-winning courses that adhere to the highest content standards.
✓ Training ChecklistThe checklist for harassment prevention helps you guide your organization-wide training and make it effective in the long run.
✓ Text & Voice TranslationThe courses offer text and voice translation in more than 10 different languages, including English. So, the medium of instruction is not an issue.
✓ Final ExamsEvaluate your trainees' understanding of a course through final examinations. Use mixed question types for the purpose.
Pricing:
Available on contact.
Why Inspired eLearning?
Meets Federal & State Requirements:The training courses are consistent with all the federal and state requirements. They are regularly updated to keep up with the changes in legal provisions.
Designed by eLearning Veterans:The sexual harassment courses from Inspired eLearning are developed by instructional designers with decades of experience. They are optimized for maximum appeal and engagement.
Backed by Fisher PhillipsThe workplace harassment training programs are backed by Fisher Phillips, a renowned employment law firm in the U.S.
Excellent SupportInspired eLearning is noted for its excellent customer service with quick response time.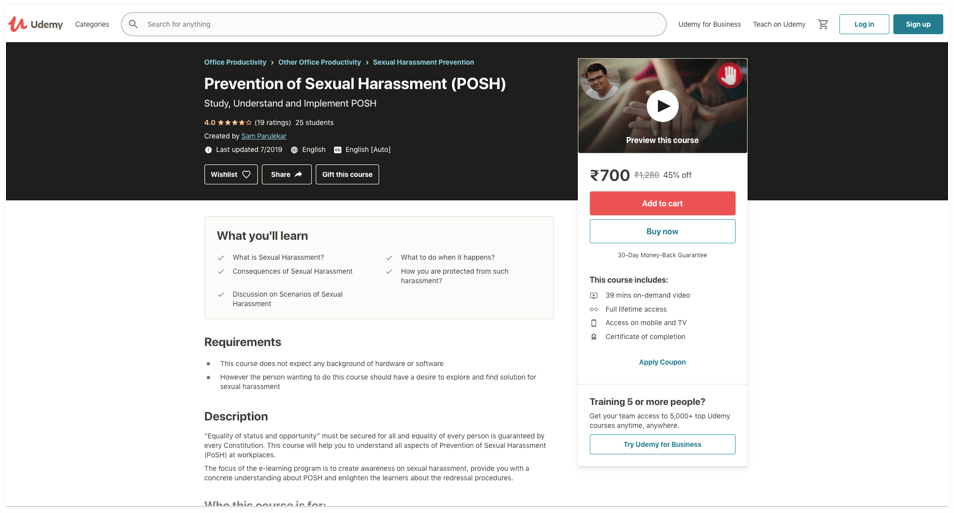 As the provider of the largest selection of online courses, Udemy is one of the first names that comes to one's mind while thinking of sexual harassment courses. Several top companies use these courses for corporate learning programs.
You can select from nearly 20 different courses on the prevention of sexual harassment in the workplace. Videos, downloadable resources, and access on TV are the highlights of Udemy sexual harassment courses. These courses come with a 30-day money-back guarantee.
Features:
✓ On-Demand CoursesUdemy courses come with lifetime access. So, as long as your course participants meet the deadlines, they can learn at their own convenient pace.
✓ Downloadable ResourcesLearners can easily download supplementary training materials such as PDFs that instructors add. This will help the learners enhance the knowledge they gather from a course.
✓ Access On TVThis feature lets you cast the videos in Udemy courses on large screens such as Apple TV for an enjoyable learning experience. You can also play videos using Chromecast.
✓ Certificate of CompletionValidate successful completion of sexual harassment training with a certificate. Your trainees can be awarded certificates on all paid courses.
Why Udemy?
Personalized Recommendations:You can get customized training course recommendations. All you need to do is answer a couple of questions.
Lifetime Access:Once you purchased a course from Udemy, you enjoy access to it for a lifetime.
Continuous Update:The workplace harassment training courses are updated regularly to reflect changes in laws and regulations. This means your learners can always stay up-to-date with the training.
Competitively Priced:Udemy is noted not only for its huge selection of online courses but also for the fact that most people find the courses affordable.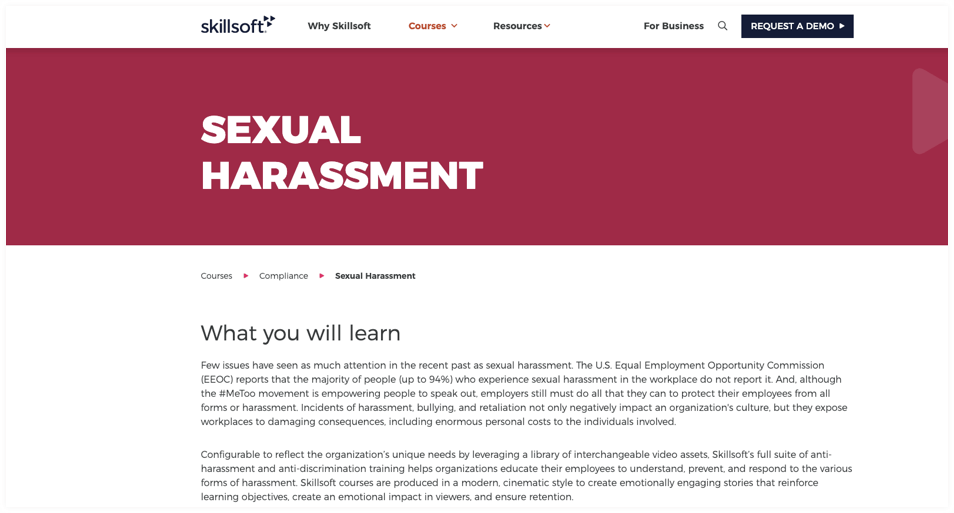 Skillsoft provides cloud-based compliance training courses. The course content includes interactive videos and simulations. Its training programs are designed to help organizations gain an in-depth understanding of harassment and discrimination at the workplace and respond effectively to them.
In addition to the courses meant for the U.S., Skillsoft offers online interactive harassment training for employees in Canada, Australia, New Zealand, and India.
Features:
✓ Language TranslationSkillsoft offers the option for translation, localization, and cultural adaptation of its eLearning content. It doesn't let linguistic and cultural differences come in the way of learning.
✓ Course ConfigurationAdd different sections to your sexual harassment courses such as introduction, company policy, and summary without changing the original course structure.
✓ SimulationPut your trainees in a real life-like eLearning environment with Skillsoft's simulation technology, SkillSim. Assess their knowledge and skills effectively.
✓ Compliance TrackingThe powerful tracking system enables instructors to monitor training, both online and offline. Custom dashboards, reports, filtering, and an option for data export are the core features.
Pricing:
Available on contact.
Why Skillsoft?
Accurate & Up-To-Date:Skillsoft partners with legal experts in developing accurate and authoritative training content that adheres to the current requirements.
Works On Multiple Devices:The POSH courses work across different devices, including desktops and smartphones.
Quick Content Discovery:Learners can discover any content or information they need quickly using Elasticsearch.
Designed for Different Learning Styles:Skillsoft caters to different learning styles, and learners can choose how they want to learn – books, audio, videos, and more.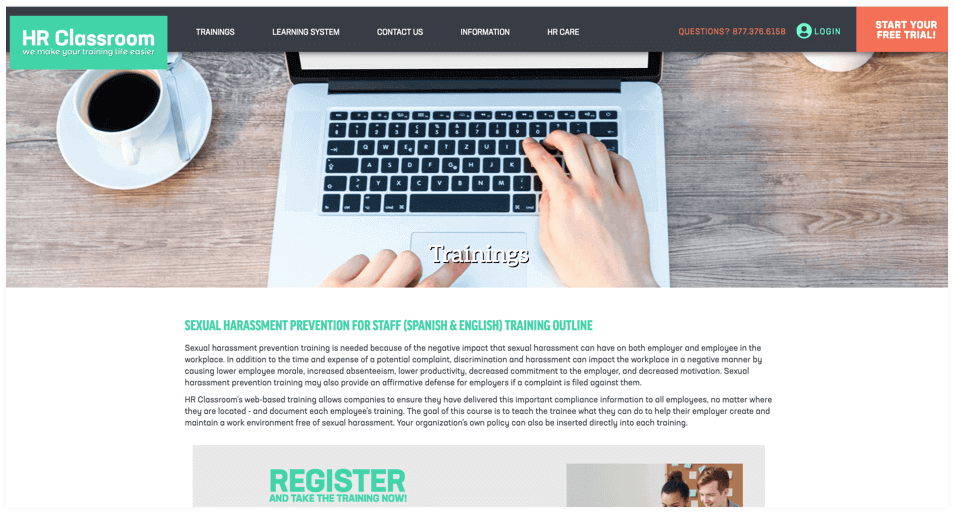 HR Classroom offers sexual harassment training courses that are concise and easy to access. You can easily deliver online compliance training in learner-friendly formats. This enables learners to absorb information quickly and efficiently.
The courses are suitable for companies that need to train employees on a large scale. For this, HR Classroom offers the option for bulk purchases. You'll find real-life examples, quizzes, and other engaging elements to keep learners involved till the end.
Features:
✓ Training OutlinesTraining outlines give your trainees a quick overview of what they will learn and in what order as a part of the compliance training.
✓ QuizzesIn addition to regular quizzes that you can add to the sexual harassment courses, you can deploy a final review quiz. This quiz is mandatory to finish a course successfully.
✓ Training GroupsCreate training groups by selecting training modules from the library. Set a password for each group. Depending on which training you want your learners to take, they can access them easily.
✓ Status BarsThis feature keeps your course takers informed about their learning progress, which can help them know whether they are proceeding too slow or at the desired pace.
Pricing:
Starts at $9.98/unit
Why HR Classroom?
It's Affordable:The per-training costs that HR Classroom charges are relatively affordable. This leaves you with a sufficient budget to allocate to training in other areas.
Multiple Formats:You can easily train your employees using a variety of content formats, including text, audio, video, PDFs, graphics, PowerPoint, etc.
Available for Different States:Depending on which state you're in, you can select a state-specific course and start training your employees right away.
Easy & Simple:HR Classroom is user-friendly. All you and your course participants need is a device connected to the internet. HR Classroom takes care of the rest.
Kantola Training Solutions takes pride in more than three decades of experience in the training industry. It offers training programs covering topics such as workplace diversity, bullying, harassment, and workplace violence.
Its feature-rich LMS, which has been designed for organizations of all sizes, makes it easy to manage training programs. If you already have a training platform, you can easily integrate Kantola's courses into your system.
Features:
✓ Videos
Kantola continuously produces high-quality
employee training videos
. These videos have won many accolades, including Golden Eagle and Telly awards, over the years.
✓ CustomizationPersonalize the sexual harassment courses to tailor them to your training needs. Course developers at Kantola can assist you anytime.
✓ Multilingual SupportKantola offers training courses in English, French, Spanish, Canadian, and other world languages.
✓ FormatsYou can choose from four different eLearning formats namely classroom streaming, simplified eLearning, interactive eLearning, and DVDs.
Pricing:
Available on contact.
Why Kantola?
Exceeds Federal & State Requirements:The sexual harassment prevention courses by Kantola exceed all federal and state requirements. It has you covered regardless of your location.
Collaboration with Littler:Kantola is in a collaborative partnership with Littler, the world's largest labor & employment law firm. Together they build award-winning courses.
Works on all LMSs:The compliance training courses work on all existing learning management systems. The courses are SCORM and Tin Can-compliant.
Quality Content:Kantola brings together legal experts, instructional designers, and talents from Hollywood in building world-class courses that drive real change in the workplace.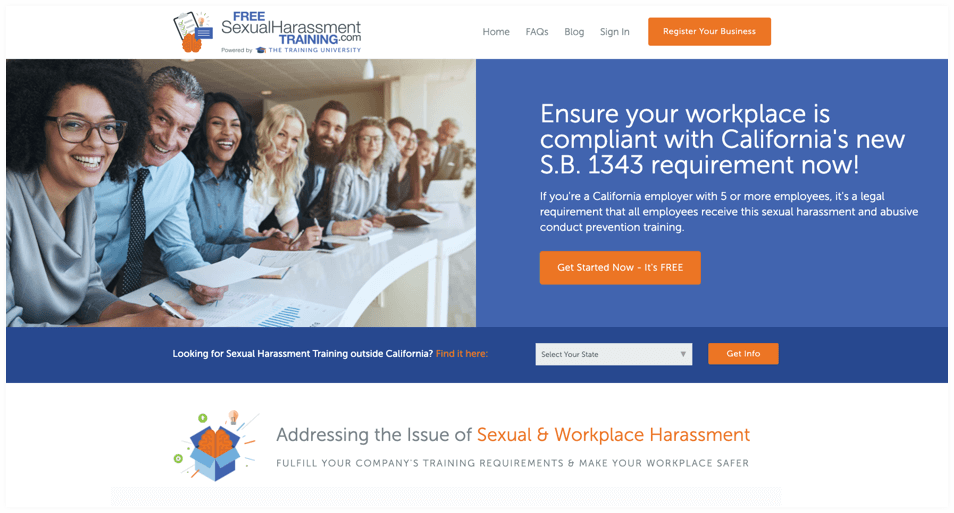 FreeSexualHarassmentTraining.com courses are free for first-time use, after which charges apply. It offers employee harassment training for California in particular, though it has courses for several other states as well.
Businesses must register for an admin account before managers and supervisors can deploy the training programs.
Features:
✓ SB 1343 CourseEasily meet the mandatory requirements of Senate Bill 1343 in California with the sexual harassment prevention training course.
✓ WebinarsLeverage live webinar sessions for your anti-harassment training. Your trainees can ask questions in real-time and you can provide answers then and there.
✓ QuizzesUse quizzes at the end of each course to evaluate knowledge retention and to make online learning more engaging.
✓ Training CreditsYou can purchase several training credits in advance or just one at a time. These credits never expire.
Pricing:
Starts at $10/session
Why FreeSexualHarassmentTraining.com?
Trusted:The harassment training courses are created by HR experts and reflect the latest in state and federal compliance laws.
Constantly Updated:The courses are updated regularly to ensure that they are topical and accurate.
Nationally Relevant:The characters and scenarios used in the courses are based on today's diverse workplace environments and they are relatable across a nation.
It Is Free:The first five 1-hour training sessions for employees and the first two 2-hour training sessions for supervisors are completely free.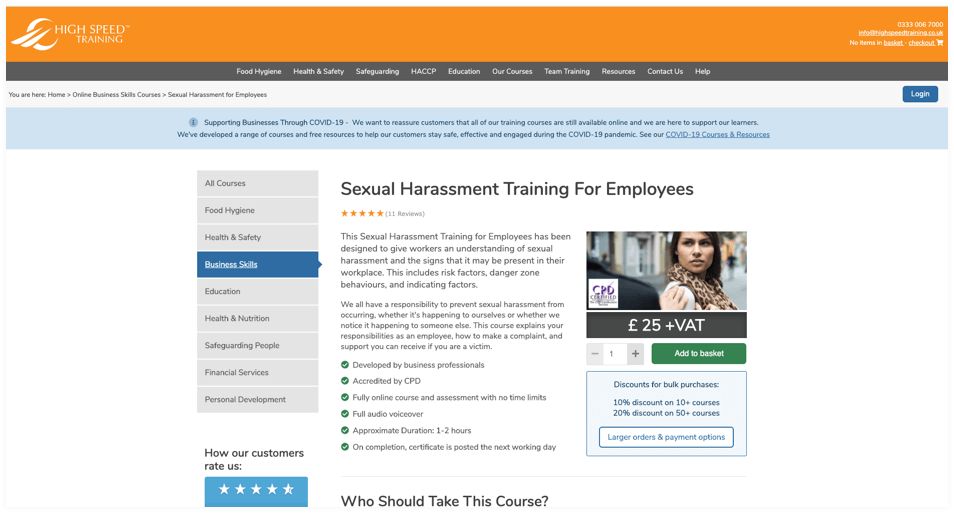 High Speed Training is a highly respected provider of online training with millions of learners enrolled in its courses. Catering to individuals and organizations, it delivers quality training courses on various topics, including compliance, to help them stay compliant with various rules and regulations.
Its sexual harassment training courses are developed by professionals and accredited by Continuing Professional Development (CPD). Learners get completion certificates at the end of this training.
Features:
✓ 160+ CoursesIt offers a wide range of specialized courses developed by top authors. These courses are presented in a simple way without compromising on the engagement quotient.
✓ Free Knowledge BaseTake advantage of the knowledge base housing over 700 resources for post-training support, including free how-to guides, templates, and posters.
✓ Learning PlatformIts easy-to-use central platform lets you assign courses to your employees, keep an eye on their progress, and manage certification.
✓ ReportingUsing the management suite, you can easily track learners' progress. You can also export the data any time you want.
Pricing:
Available on contact.
Why High Speed Training?
Flexibility:Course participants can access the courses from any device they prefer and complete them in as many sittings as they need.
Dedicated Customer Service:A dedicated team of customer support acts as your personal assistant, answering any queries you may have about training.
Continuous Improvement:The teams at High Speed Training always strive to find ways to improve how they serve customers. For this, they follow high business standards.
Support to Millions:Since it began its journey 11 years ago, High Speed Training has certified more than a million learners worldwide.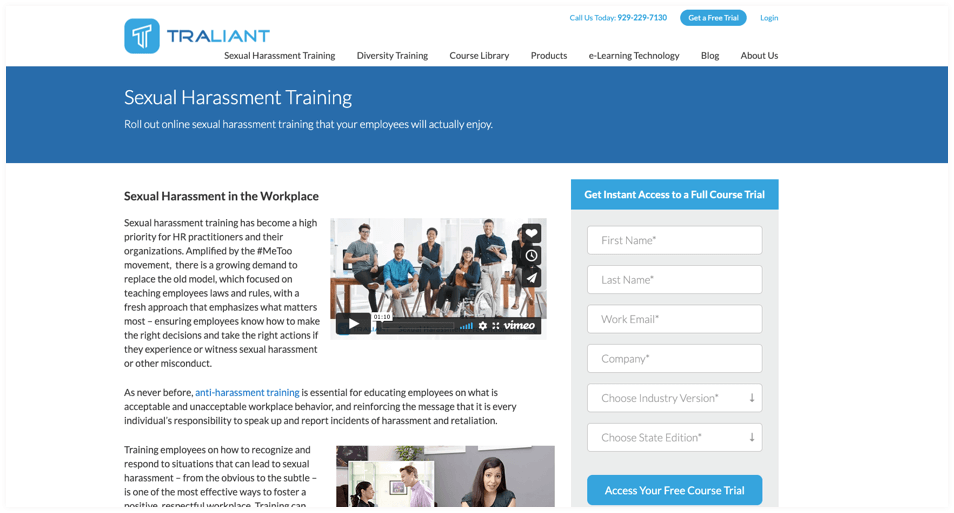 Traliant provides broadcast-quality compliance training. Its mission is to let learners rethink how they look at compliance training programs by transforming them from boring to brilliant. That's why every piece of course content it offers is engaging, modern, and customizable.
The company provides workplace discrimination and harassment training covering a number of states. Bite-sized episodes, storytelling, and videos are some of the methods Traliant uses to deliver the training.
Features:
✓ Industry-Specific VersionsFind different harassment prevention course versions for different industries such as hotels & restaurants, healthcare, retail, and construction.
✓ Full Course TrialGet a free trial of a full course before you go for the paid version. All you have to do is to select your industry type and location.
✓ GamificationKeep your learners engaged with different game elements, immersive videos, relevant scenarios, and rewards.
✓ Bite-Sized ModulesExperience compliance training on a different level with game-changing bite-sized episodes lasting 5-8 minutes and presented in a news format.
Pricing:
Available on contact.
Why Traliant?
State-Specific Versions:Traliant offers state-specific training programs on preventing discrimination and harassment. There's also a general version for states with no applicable laws or regulations.
Fully Customizable:You can easily customize the courses by adding audio, videos, graphics, company policies, and branding.
Manned by Industry Veterans:Traliant was founded and run by industry veterans and former executives of leading compliance training companies.
User-Friendly Licensing:Traliant offers a user-friendly licensing system to deliver the latest content so that learners can engage in continuous learning.
Looking for the Best Sexual Harassment Courses?
Your search for the best corporate sexual harassment courses ends here with this helpful list. You can choose the one that suits you based on different criteria such as topics covered, compliance with existing laws, content quality, cost, customer reviews, etc.
As for ProProfs, it doesn't just offer you a course; you also get our robust LMS, the Training Maker. You can use it to customize, assign, and track the course completion as well as compliance.
Take a quick tour or schedule a personalized demo. Call us at (855) 776-7763 (toll-free).
Do you want a free Training Software?
We have the #1 Online Training Software for employee training & assessment