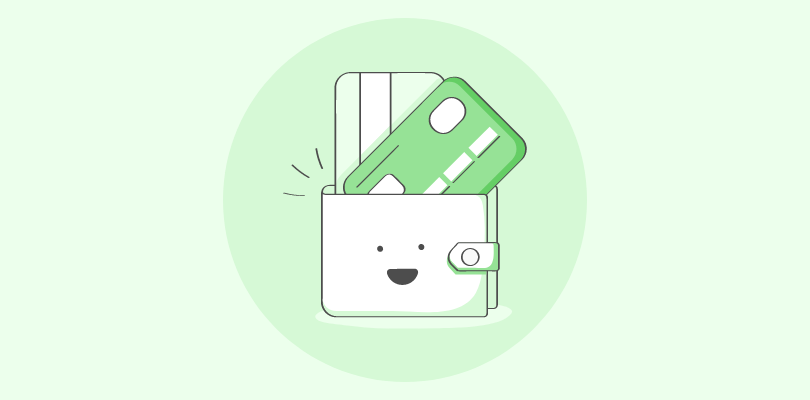 As a training professional with years of experience in the industry, I've tried multiple free LMS tools. Some of these platforms can compete with many paid tools out there in specific scenarios.
Here are my top 5 free learning management systems that you can consider to train your teams.
Before we dive into details, here's a TL;DR for you:
| Free LMS Tools | Best For | Price |
| --- | --- | --- |
| ProProfs Training Maker | Employee training | Forever free for up to 10 learners. Paid plan starts at $1.97/learner/month for large teams. Billed annually. |
| Chamilo | Social learning | Free with limited features |
| MyiCourse | Active community | Free. Paid starts from $50/month |
| Sakai | Self-paced modules | Free with limited features |
| Moodle | Plugins & integrations | Free. Paid plan starts from $120/50 users |
List of 5 Free LMS Software
No 'free trial' trickery. All the tools in the list are completely free with certain limitations. I created this list based on my personal experience with each tool and recommendations from my peers. I also considered customer testimonials from different forums and reviews in software comparison sites.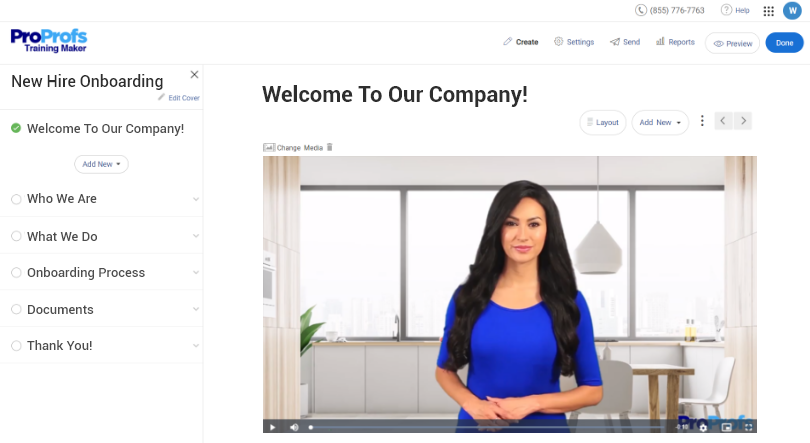 You get all the premium features in the free version and can add up to 10 learners.
The built-in authoring tool is seamless and makes course creation easy and uncomplicated. It also comes with pre-designed templates, so those new to the training world can get started instantly.
Something about this tool, which you might not get for free in other tools, is that you can add interactive quizzes, polls, surveys, badges, leaderboards, and other gamified elements to create engaging courses.
Integration with Mailchimp, Salesforce, BIGContacts, etc., is seamless, and the advanced reporting feature is a progress-tracking marvel.
It also automates admin tasks such as grading, certification, self-enrollment, user authentication, and more. You can also create personalized learning paths with this tool.
The tool suits startups and SMBs with limited training budgets.

What you'll like:
You get a wide range of content formats, from quizzes and assessments to surveys, videos, documents, and presentations.
Personalized learning paths and self-paced options for tailored learning experiences.
SCORM/Tin Can compliance for a smooth learning experience and compatibility with other platforms.
Single sign-on (SSO) and multi-admin capabilities.
Add quizzes, surveys, flashcards, and more to create engaging courses.
You can create courses in as many as 70+ languages.
What you won't like:
The free plan is limited to just 10 learners maximum.
Can't choose between light or dark mode.
Pricing:
FREE for up to 10 learners. Paid plan starts at $1.97/learner/month for 10+ learners. 15-day money-back guarantee. No hidden charges.
Watch: How to Create Employee Training Courses Online
2. Chamilo – Best for Social Learning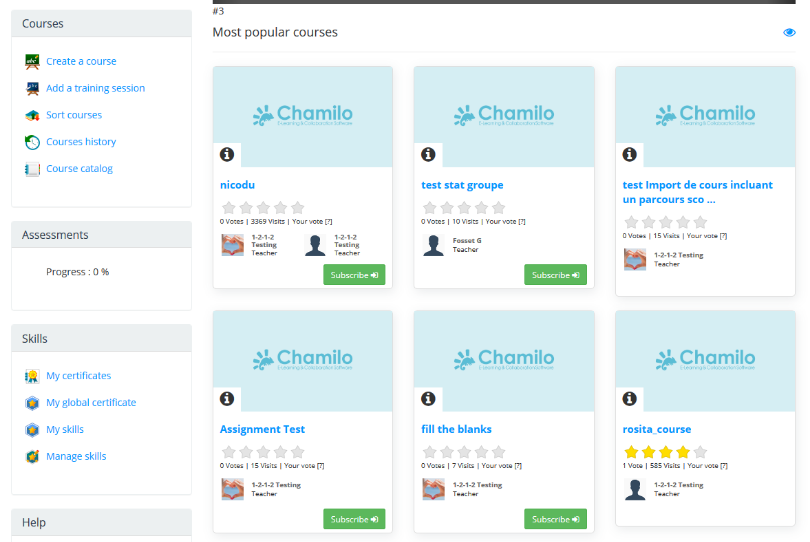 Chamilo LMS is a versatile, open-source platform for creating and managing online courses. I found its dynamic social learning network incredibly captivating. From messaging to document sharing and video chats, it fosters meaningful connections among learners.
Its user-friendly interface simplifies course management, while scalability suits small and large institutions.
What's more, it's loaded with academic features like an activity dashboard, certification options, and compliance tools that keep the learning process on track. You can even make it your own with customizable branding.
It also offers decent analytics functionality (though less sophisticated than ProProfs) to give insights into learner progress and course effectiveness.
What you'll like:
Multilingual support for creating courses.
Easy to access on mobile devices.
SCORM Compliance and certificate management.
High-level customization for its course templates in terms of themes.
Social learning surveys and feedback to boost engagement among learners and trainers.
What you won't like:
Very few templates to choose from.
Free version has limited features.
Lacks a rich plugin ecosystem.
Pricing:
Free.
3. MyiCourse – Best for Active Community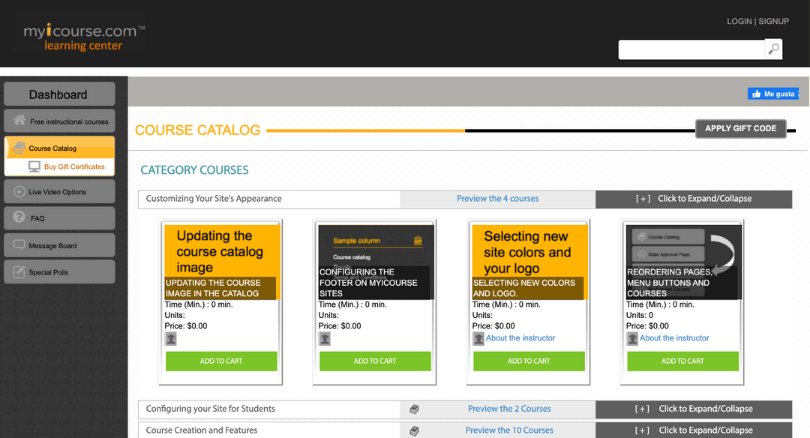 After trying a plethora of pseudo-free learning management tools, I found this gem – a free LMS for nonprofits and small businesses.
Imagine a learning management system that's as user-friendly as it gets; that's MyiCourse for you. No tech wizardry is required, just straightforward simplicity.
Whether you're an independent training professional or a business, it molds to your needs. With customizable courses, multimedia support, quizzes, and mobile-friendliness, it's like having your own virtual classroom on your terms.
But the lively MyiCourse community, a hub of passionate learners and trainers, won it a place on my list. You can share your queries in the community and resolve your issues. The community is active and supportive, and there are many resources available to help users get started and learn more about MyiCourse.
Some more exciting features of this free LMS are public and private course creation, custom banner ads, timed courses, test questions, custom registration fields, and much more.
What you'll like:
Accommodates various content formats, from documents and videos to quizzes and surveys, offering diverse learning experiences.
Brand and customize your courses, creating a cohesive learning environment.
SSL encryption to ensure data protection.
You can add images, slides, videos, and other such elements in courses.
Built-in communication tools that boost training engagement.
What you won't like:
There's a limit on the size of multimedia you can add to courses.
Free plan offers basic features compared to other tools on the list.
Pricing:
Free version available. Paid starts from $50/month for private courses.
Watch: How to Enable Collaboration & Discussions in Your Course
4. Sakai – Best for Self-Paced Modules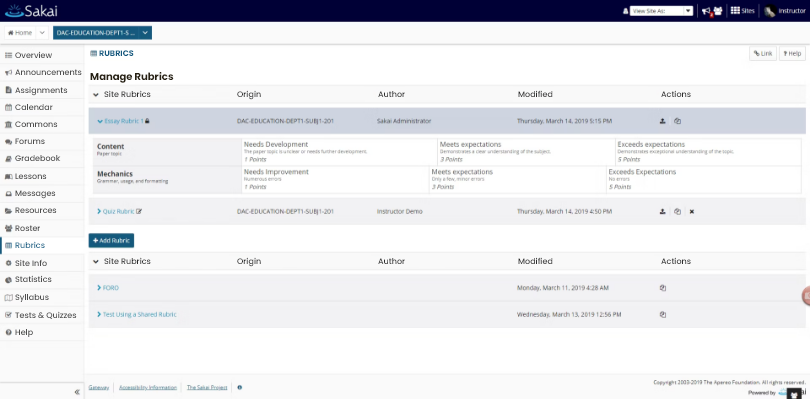 Sakai, let me tell you, it's a game-changing free LMS. You see, Sakai empowers trainers and learners with many built-in tools.
I genuinely appreciate its centralized platform, making organizing and delivering training content easy. Plus, the built-in tools like grade entry and file storage are a godsend for managing training materials.
I also created self-paced modules and scheduled courses for my team to go through on their own. This way, they could learn at their convenience, in an effective manner.
Sakai LMS provides a number of features that make it well-suited for creating and delivering self-paced modules. These features include:
A content management system that allows instructors to easily create and edit content
A learning management system that allows instructors to track learners' progress and provide feedback
A variety of tools for creating interactive learning activities
A flexible permissions system that allows instructors to control who has access to the modules
What you'll like:
An open-source platform supported by a vibrant community.
You can customize lessons and modules with resources, quizzes, tests, assignments, links, videos, and more.
Conditional release feature so you can control access to training materials.
Simple quiz creation with multiple-choice or fill-in-the-blank options.
The ability to randomize questions in assignments.
What you won't like:
Limited integration with other popular tools.
Doesn't automatically save assignments.
Occasional slowdowns can be frustrating.
Pricing:
Free
5. Moodle – Best for Plugins & Integrations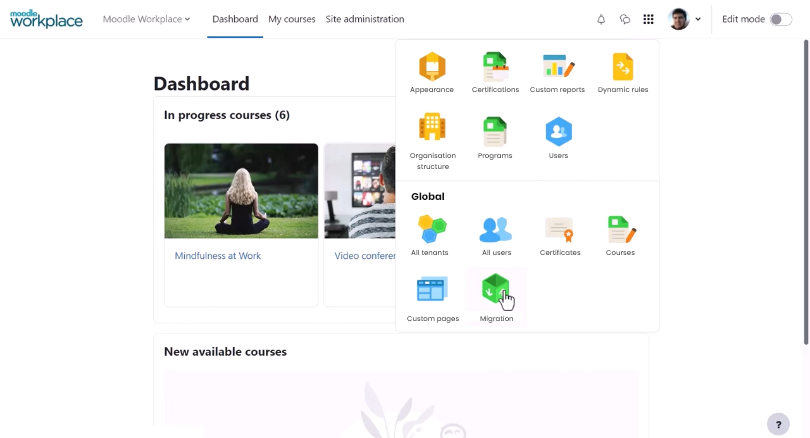 When one thinks of a free LMS, the first platform that comes to their minds is Moodle.
Yes, Moodle is popular and open-source learning management software.
But there's a reason why it's at the end of my list. You see, Moodle majorly focuses on academic learning in its free version.
Of course, it can be used for training purposes, but it leaves a lot of features for wanting, such as ready-made training templates. To access advanced features, you'll have to subscribe to Moodle Workspace.
Nonetheless, the LMS offers hundreds of plugins and integrations with third-party platforms and content repositories. You can also automate many manual tasks and create learning journeys specific to different teams.
It also offers features like a personalized 'my course' page, access to calendar events and deadlines from the dashboard, convenient file management, and more.
What you'll like:
A comprehensive gradebook to track individual learner's progress and pinpoint areas for improvement.
Ability to personalize courses to match your business needs and learners' preferences.
Mobile app allows learners to access course materials and resources offline.
Competency-based learning, where you can design and assess learning based on specific skills.
An active community of learners and trainers
What you won't like:
Limited functions in the mobile app.
Limited functionality for analytics, reporting, and customization.
Pricing:
Open source. Moodle Workspace paid plan starts from $120/50 users.
Which Is the Best Free Learning Management System?
Learning management systems that suit your budget constraints while catering to all your necessary training needs are few and far between. But I hope you can finalize the most suitable tool from my list of free LMS tools.
What's important is that whatever tool you choose should help you enhance your training process. It should allow you complete access to crucial features without subscribing to paid plans.
ProProfs Training Maker is one such tool I've come to rely upon and appreciate. I can use all its advanced features for free, as long as I have up to 10 learners for training. You should try it if you're a startup or an organization with small teams.
This was my take on top free learning management systems. I hope you found it helpful.
Learn More About Free Learning Management Systems
What is a free LMS?
A free LMS, or learning management system, is a software platform that enables organizations and educators to create, manage, and deliver online courses and training programs free of charge.
What features are included in a free LMS?
In the tools I mentioned in my list of free learning management systems, the features vary but often include course creation, content management, user registration, basic analytics, and communication tools like discussion forums.
How many users can access a free LMS?
The number of users allowed on a free LMS varies by platform. For ProProfs Training Maker, the limit is up to 10 learners. You may check the specific LMS provider's website or contact their customer support for precise details on user limits on their free plans.
Is my data secure on a free LMS platform?
Data security can vary, so it's crucial to review the LMS provider's security features. Generally, reliable LMS platforms prioritize data security, employing encryption, user authentication, and regular backups to protect users' information.
Do you want a free Training Software?
We have the #1 Online Training Software for employee training & assessment