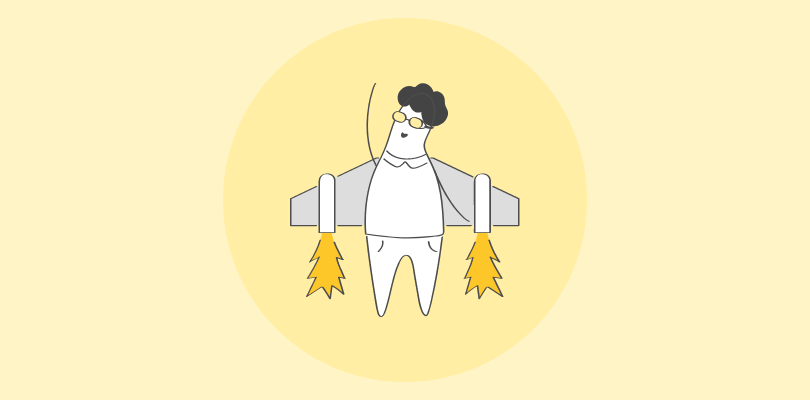 The aviation industry is constantly evolving, with new technologies and regulations coming up from time to time.
You need to train pilots and other staff on safety, compliance, cost management, adaptation to technology, maintenance, and environmental concerns.
In such a scenario, imparting the right training to aviation professionals is paramount.
Having worked in the corporate training industry for years now, I have had first-hand experiences with several LMS tools, including those that have been instrumental in delivering top-notch training to aviation professionals to make them future-ready.
Here's a quick glance at the best LMS for aviation companies:
| Best Aviation LMS | Best for | Pricing |
| --- | --- | --- |
| ProProfs Training Maker | Onboarding & training | Forever free for up to 10 learners. Paid plan starts at $1.97/learner/month for large teams. Billed annually. |
| Aviation eLearning | Reducing training costs | Custom pricing |
| Absorb LMS | AI-driven learner engagement | $14,500 annually |
| Seertech | Mobile Learning | Starts at $0 (basic features) |
| LMS365 | Microsoft 365 Integration | Custom Pricing |
| iSpring Learn | Interactive e-learning experiences | Starts from $770/author/year |
| AvLMS | Simplified yet advanced training program | Custom pricing |
| SAP Litmos | Robust integrations | Custom pricing |
| LearnUpon | Intuitive course creation | Starts at 15,000 |
| Maple LMS | Compliance management | Custom pricing |
List of LMS for the Aviation Industry
I have curated this list of the best aviation LMS based on my experience and peer recommendations.
Besides this, I considered product reviews on third-party platforms and client testimonials.
Let's jump right in and explore what each tool has in store for you!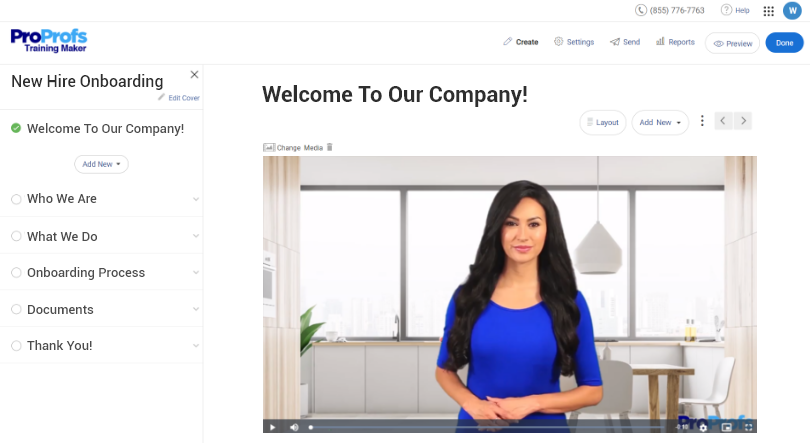 Drawing on my experience as an L&T expert,I present ProProfs Training Maker as the optimal choice for onboarding and ongoing training in the aviation industry.
ProProfs Training Maker is a robust platform that offers a specialized suite of features tailored to meet the intricate training demands of aviation professionals.
It empowers airlines to create, manage, and disseminate training courses with precision, helping them navigate the complexities of aviation regulations effortlessly.
It offers a wide range of expert-designed and fully customizable courses, built-in quizzes, a collaboration forum, and certifications. It supports multiple languages and helps you build mobile-responsive courses for a convenient learning experience.
Want to make learning fun? The software also allows you to add gamification elements and multimedia to courses to ensure professionals have a fun time learning about the essentials of aviation.
What you'll like:
No software download, specialized training, or installation required

Detailed reports on employees' progress and performance.

GDPR compliance

and password protection of courses for bullet-proof security

Extensive customization and branding for a well-tailored training experience
What you may not like:
The forever free plan is limited to 10 learners only

Frequent software updates can be overwhelming for some
Pricing:
Forever FREE plan for small teams (up to 10 learners). Paid starts at $1.97/learner/month for larger teams with a 15-day money-back guarantee. No hidden charges.
Watch: What is a Cloud-Based Learning Management System?
2. Aviation eLearning – Best for Reducing Training Costs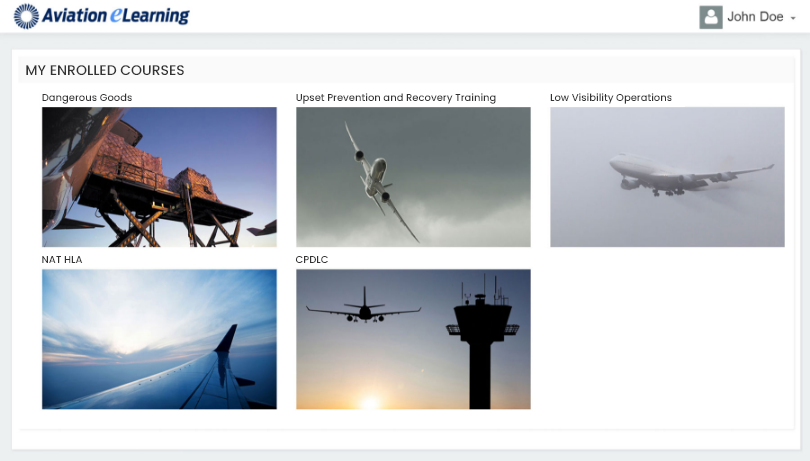 Aviation eLearning is a powerful tool for creating general and specific courses for airlines and aircraft operators.
The LMS, with its user-friendly interface and versatile features, helps you provide a personalized and engaging learning experience while ensuring that the training cost doesn't hit the roof.
It's easy to implement, accessible across devices, and provides case studies to learners so that they can understand topics to the core and connect them with real-life scenarios.
Using this software, I could provide my aircraft crew with a 24×7, stress-free learning environment where they could maintain proficiency and continue learning from home at their leisure.
What you may like:
All-in-one platform to deliver training content

Enhance aviation courses with multimedia elements
What you may not like:
The vendor-provided training content is a bit complex for beginners

Limited practical experience
Pricing
:
Custom Pricing
3. Absorb LMS – Best for AI-Driven Learner Engagement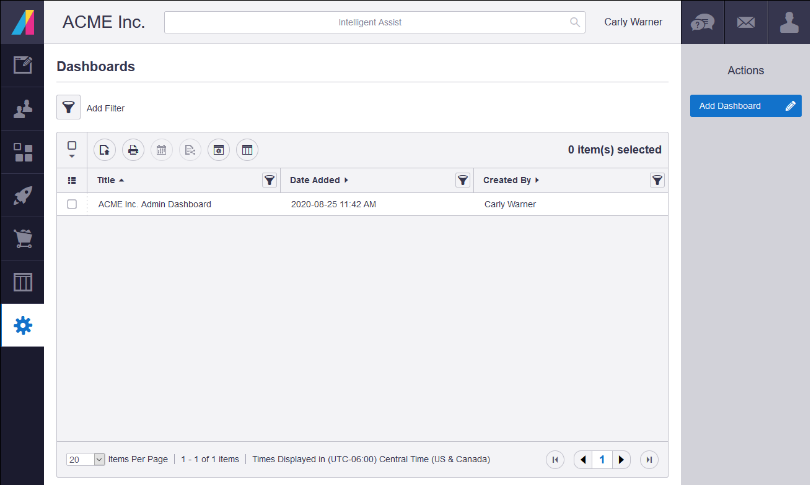 As a training professional, I've experienced the seamless navigation of the corporate training landscape that Absorb LMS provides.
Absorb LMS comes with an intuitive interface and a robust feature set. From creating and delivering aviation courses to tracking progress and analyzing performance, this software simplifies every aspect of aviation employee development.
As I see it, Absorb LMS is one of the best AI-powered aviation learning management systems that automates repetitive tasks and offers a mobile app for anytime, anywhere learning.
Also, it provides a collaborative environment that encourages social learning through a threaded commenting section.
What you'll like:
Comprehensive reporting to monitor learner progress and course effectiveness

You can customize the LMS for a personalized look and feel
What you may not like:
Regular updates and maintenance are required to optimize the LMS.

Understanding the tool's wide range of features may require some investment in terms of time and training.
Pricing:
$14,500 annually
4. Seertech – Best for Mobile Learning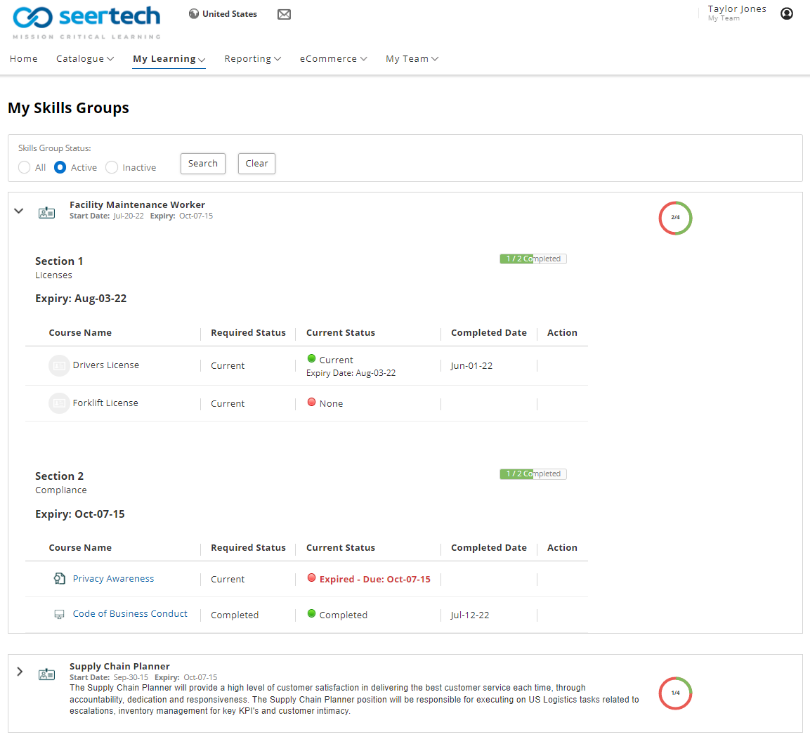 Seertech is another LMS software for aviation that facilitates the management of pilot training, certifications, and regulatory compliance.
Its wide range of features includes aircraft-specific courses and real-time flight data integration.
The best part is that the tool is mobile-friendly, so airline professionals can access the courses anytime and from anywhere they are, even when offline.
This specialized solution streamlines aviation training by covering areas like pilot certifications and regulatory adherence. As far as performance management is concerned, the software lets you create specific benchmarks, so you can easily track budgets and training gaps using real-time reports.
What you'll like:
Compliance, reporting, and delivery can be fully automated

Role and task-based certification for enhanced productivity
What you may not like:
Interface seems outdated

Dashboard is a little complex for administrators
Pricing
:
Starts at $0 (basic features)
5. LMS365 – Best for Microsoft 365 Integration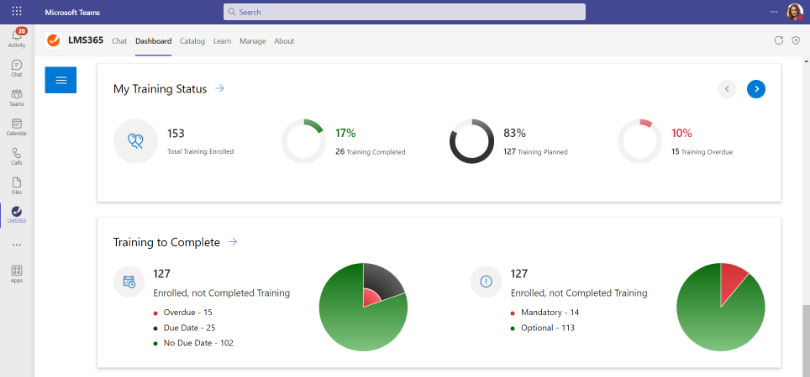 LMS365 is a feature-rich learning management system that is noted for its seamless integration with Microsoft 365. It offers advanced automation, robust security, and powerful customization options to help you build training programs that look brand-aligned.
LMS365 excels in user management through Azure Active Directory, making it ideal for Microsoft-centric aviation organizations. It provides gamification options and integrates effortlessly with Power BI for advanced reporting and data analysis.
I was particularly impressed with its responsive customer support and user-friendly interface which makes LMS365 a powerful LMS choice for organizations seeking an efficient, Microsoft-integrated eLearning solution.
What you'll like:
A flexible mobile app for on-the-go training experience

Several courses can be bundled together for a connected experience
What you may not like:
Focus on Microsoft integration could be a hindrance for organizations using other productivity tools

Extensive feature set can be a little complex for smaller teams with simple training needs
Pricing:
Custom pricing
6. iSpring Learn – Best for Interactive e-Learning Experiences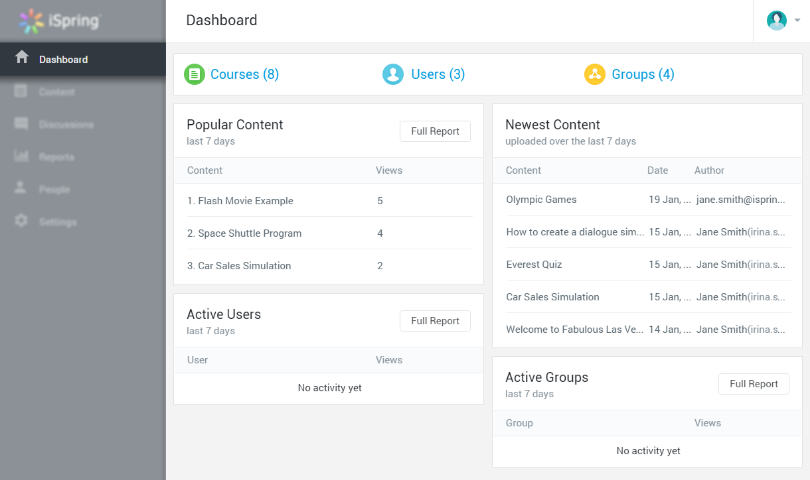 In my long stint in the corporate training world, I also got the opportunity to use iSpring Learn.
From what I have experienced, this learning management system for airlines has an unwavering focus on interactive content. This makes it ideal for designing dynamic aviation courses enriched with multimedia elements, quizzes, and simulations.
With iSpring Learn, it's also easy to assign courses to selected teams, set completion rules, and manage all training activities from a single tab. There is an Events Calendar that helps you keep learners on the right track by keeping them informed about upcoming events and training sessions.
What you'll like:
Automation features to reduce administrative tasks

In-depth reports to track learner progress and assess course performance
What you may not like:
Lacks web conferencing features

Navigation can be a bit clunky and slow
Pricing:
Starts from $770/author/year
7. AvLMS – Best for Simple Yet Advanced Training Platform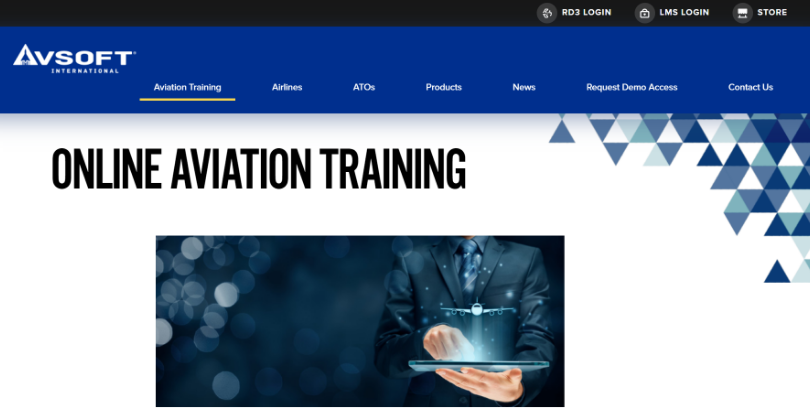 AvLMS is the aviation industry's trusted companion that offers a comprehensive learning management system.
With AvLMS, you get access to a range of features, including customizable courses, real-time progress reports, and content libraries tailored to your specific needs. The platform ensures compliance with stringent industry regulations while fostering a culture of continuous learning.
I like its simple yet advanced platform, where all user records are preserved, course completion certificates are automatically generated, and learners are instantly notified of upcoming training sessions.
You also get a portable classroom app that enables learners to download course content and switch between both online and offline modes, depending on their convenience.
What you'll like:
Works on all browsers and devices

In-depth training content for aviation professionals
What you may not like:
Steep learning curve for administrators

Compatibility issues with existing systems
Pricing:
Custom Pricing
8. SAP Litmos – Best for Robust Integrations

SAP Litmos is one of the best aviation LMS that helps you deliver training through video modules, quizzes, and assessments.
It offers a dynamic blend of user-friendly course creation, insightful analytics, and compliance management, all finely tuned to meet the demands of aviation organizations.
With seamless integration capabilities, robust reporting, and mobile accessibility, I believe, SAP Litmos is a precise and effective tool that can help you cultivate a culture of continuous learning, enhance operational excellence, and ensure regulatory compliance.
What you'll like:
24×7 Course Accessibility both online and offline

Supports over 35 languages to cater to a diverse audience
What you may not like:
Aviation gamification options are somewhat limited

Beginners might find the user interface overwhelming initially
Pricing:
Custom Pricing
9. LearnUpon – Best for Intuitive Course Creation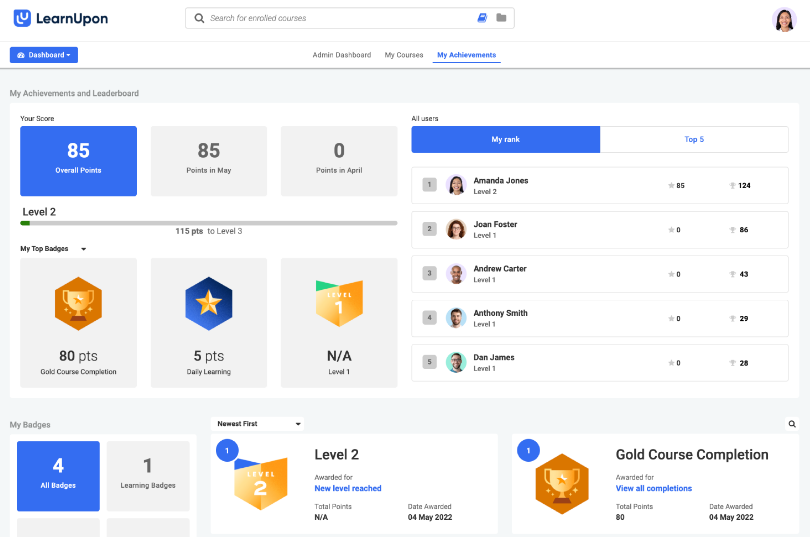 LearnUpon is a versatile learning management system (LMS) that holds significant value for the aviation industry.
Tailored to the sector's unique demands, LearnUpon offers an array of features that resonate with aviation professionals. What I love about this tool is its intuitive course creation features, user-centric design, and multimedia integration.
The platform's extensive reporting and analytics capabilities provide in-depth insights that can help in optimizing training initiatives and compliance efforts.
Through its collaborative tools, certifications, and compliance tracking, LearnUpon emerges as a strategic asset that can support skill development and regulatory adherence within the aviation domain.
What you'll like:
Enhance aviation workflow efficiency with seamless third-party integrations

AI-powered features to eliminate repetitive tasks
What you'll not like:
Lacks language options

Social sharing and peer sharing options aren't that great
Pricing:
Starts at 15,000
10. Maple LMS – Best for Compliance Management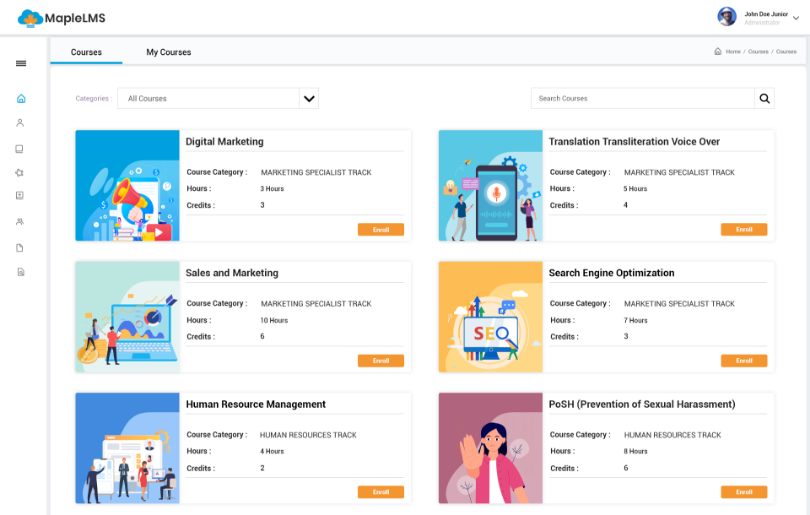 When it comes to navigating the ever-changing skies of aviation education, Maple LMS comes up as a distinguished solution.
Using MapleLMS, my team and I could create comprehensive courses loaded with visuals and easily accessible for aviation professionals. I particularly loved the robust analytics suite that provides profound insights into learner performance.
The platform's emphasis on compliance management is top-notch. With meticulous certification tracking, audit trails, and automated reminders, MapleLMS can be your ally to ensure rigorous adherence to aviation standards.
What you'll like:
Adaptive learning technology that adjusts content based on individual progress, ensuring effective skill development.

Advanced analytics that provides useful insights into learners' progress
What you may not like:
Occasional interface updates might require educators to adapt to changes

The platform can be cumbersome and sluggish at times
Pricing:
Custom pricing
Which Is the Best LMS for Aviation Companies?
The best aviation learning management system is the one that has all the features you need to deliver top-notch training to airline professionals and make them ready for this ever-changing industry.
While all LMS platforms discussed above are the best in their own right, here are my top 3 recommendations based on my experience:
ProProfs Training Maker
ProProfs Training Maker offers customizable courses, quizzes, certifications, collaboration tools, and multilingual support, enhancing learning convenience. Adding gamification and multimedia, ProProfs Training Maker ensures a comprehensive and enjoyable aviation education.
Absorb LMS
With an intuitive interface and robust features, Absorb LMS simplifies aviation employee development from course creation to progress tracking. This AI-powered tool automates tasks, offers a mobile app, and fosters collaborative, social learning through threaded comments.
TalentLMS
TalentLMS provides aviation-specific gamified learning with badges and leaderboards. Its user-friendly interface facilitates course creation, content management, and diverse training formats. It enables personalized reporting and continuous progress monitoring for a comprehensive training experience.
From what I have experienced so far, ProProfs Training Maker is the most ideal solution for delivering training to airline professionals. It's easy, mobile-friendly, supports multiple languages, and, most importantly, has the best-in-class features.
Before picking a tool, go for its free trial version to get a deeper sense of how it works and whether it fits your requirements.
Learn More About Aviation LMS
What Is an aviation LMS?
An aviation LMS (learning management system) is a specialized software that facilitates training in the aviation industry. It can be used to deliver, manage, and track courses and tests tailored to the industry, ensuring efficient learning and compliance.
Watch: What is a Cloud-Based Learning Management System?
What are the key features to look for in an aviation LMS?
Look for features like compliance tracking, aviation-specific content, mobile access, progress analytics, certifications, collaboration tools, and integration capabilities.
How to choose the right LMS for the aviation industry?
Choose by assessing industry relevance, compliance features, course customization, scalability, ease of use, support, and integration options that align with aviation training needs.
Watch: How to Choose the Best SaaS LMS Software
What types of courses are available on the aviation LMS?
Aviation LMS offers a range of courses such as safety protocols, regulatory compliance, aircraft systems, emergency procedures, crew training, and aviation regulations. Visit this course library to learn more about these courses.
Can the aviation LMS be integrated into aviation training programs offered by organizations?
Yes, it can seamlessly integrate into organizations' training programs, enhancing training smooth workflows and efficiency and ensuring compliance with industry standards. Explore all the integrations available with a standard LMS.
Do you want a free Training Software?
We have the #1 Online Training Software for employee training & assessment