What are the best online course platforms to use in 2022?
There is a wide range of platforms from which you can choose to meet your requirements. You just need to know which ones are worth considering. To name a few, ProProfs, Teachable, Kajabi, and Learnworlds are well-known tools used by millions of people around the world. These are comprehensive software applications that you can use to create, manage, market, and sell online courses easily.
Are you a teacher who wants to communicate ideas and inspire young minds? Or are you an authority with specialized knowledge on any domain who wants to share it with others? Now you can translate your dream into a reality.
A simple yet robust tool to create and sell online courses can help you. This is significant because, in the U.S. alone, millions of people pursue online courses. The lockdown triggered by the present COVID-19 has only increased the demand for such courses that they can take from the comfort of their homes.
To help you make the right software choices and ensure that you don't choose a subpar solution, here is an updated list of 10 best online course platforms for 2022 and beyond.
10 Best Online Course Platforms
Best For
ProProfs LMS

Course Creation
Quizzes & Surveys
Discussion & Collaboration
Learning Reports & Analytics
White-Labeling
eCommerce

Teachable

Course Authoring
Tests & Quizzes
eCommerce
Course Backup
Offline Access

Podia

Creating Courses
Digital Downloads
Quizzes
Storefront
Email Marketing

Udemy

Course Creation Resources
Course Catalog
Video Content
Course Marketing
Tools for Instructors

Thinkific

Custom Course Creation
Course Website
Data Security
Multilingual Support
Drip Release Content

LearnWorlds

Building Awesome Courses
Marketing & Selling Courses
School Website
Powerful Testing Engine
Excellent Support Team

Kajabi

Website Building
Marketing Campaigns
Selling Courses
Video Hosting
Quizzes & Assessments

LearnDash

Course Builder
Advanced Quizzing
Multimedia Support
Expert Consulting
Selling Courses

WizIQ

Online Course Creation
Tests & Assessments
Mobile Learning
Reports & Analytics
LMS eCommerce

Ruzuku

Course Creation
Course Management
Webinars & Teleconferences
Marketing & Sales
Seamless Payment
Let's now take a closer look at each of these 10 online course platforms. This will give you a fair idea of why they are the best ones on the market.
10 Best Online Course Platforms
1.

ProProfs LMS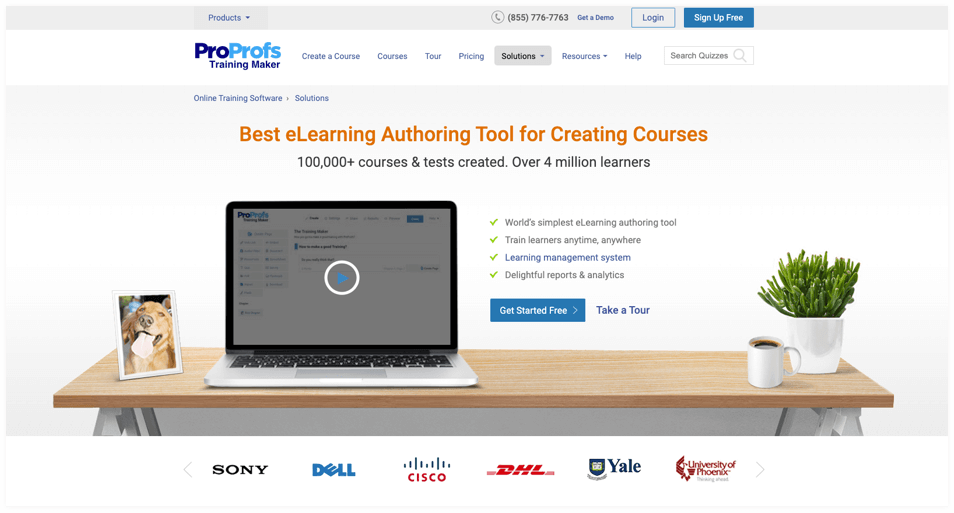 ProProfs LMS is an all-in-one solution that enables users to create, design, and sell online courses. The platform comes integrated with a built-in eLearning authoring tool that you can use to develop delightful courses, lessons, and tests. The best part is that ProProfs is super easy to use.
You can create an online course from scratch using existing materials. Or else, you can leverage the ProProfs library of 100+ customizable courses and templates, including a sexual harassment training course, HR training course, and more.
Add quizzes, images, videos, presentations, surveys, and other engaging elements in your courses. The white-label feature lets you promote your work under your own brand.
As the best platform to create and sell online courses, ProProfs lets you sell courses easily by listing them either on ProProfs Store or your website. Use our secure payment gateway or your Stripe account. You can also add coupons and other promotional strategies.
Features:
✓ Course Builder
Create any type of course using powerful
online course builder software
and deliver a world-class learning experience. Add custom designs for better engagement.
✓ Quizzes & Surveys
Boost learners' motivation and help them recall what they learned with engaging
quizzes
. Gather feedback from users with
surveys
and improve course effectiveness.
✓ Discussion & CollaborationFacilitate peer-to-peer learning among your learners by enabling collaboration and discussion. Provide a Q&A-based and learning-focused online community.
✓ Learning Reports & AnalyticsView advanced sales reports such as items sold, date, and buyer's details. Find out the total number of transactions and earnings, weekly or monthly. Download buyers' data for marketing purposes.
✓ White-LabelingWhite-label your courses to remove any reference to ProProfs. Promote and sell courses under your logo and brand messaging.
✓ eCommerceCreate and sell online courses, exams, and tests. Reach out to millions of potential buyers around the world. Multiple currencies supported.
2.

Teachable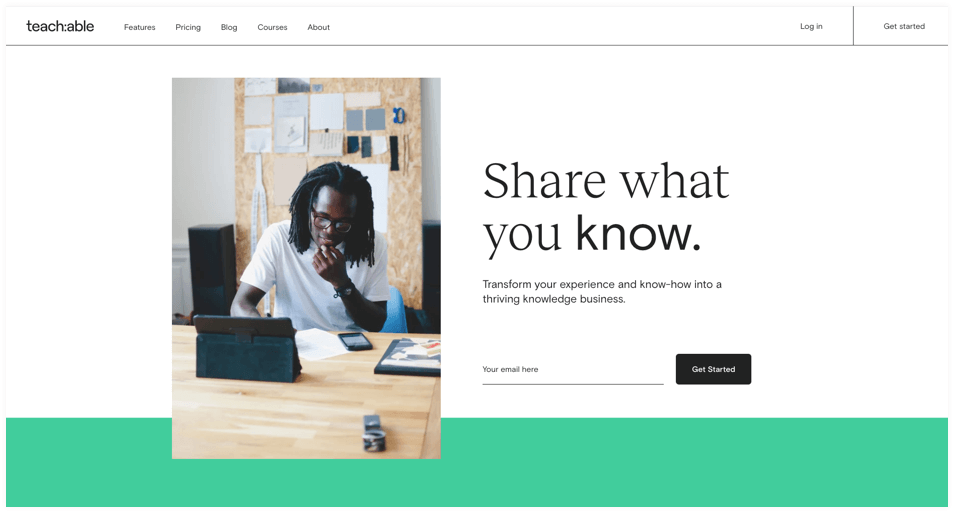 As one of the best LMS platforms, Teachable provides a unique solution to create a course, video lesson, or quiz and develop a brand identity around it. It lets you build and launch courses easily while it takes care of all the technical aspects. Individual course creators and coaching businesses rely on Teachable to create and sell courses on different subjects.
Teachable makes it easy for everyone to use it – with or without technical skills. It offers painless customization options so that users can create courses and teach learners the way they want it. Depending on your needs, you can choose from its different plans, namely basic, professional, and business.
Features:
✓ Course AuthoringEasily set up your school and start creating courses right away. Add lessons and modules to the curriculum. Give your course a name and category and insert author bio and other details.
✓ Tests & QuizzesKeep your learners engaged throughout a course by adding quizzes and tests. Provide simple, multiple-choice quizzes and make them graded or ungraded.
✓ Offline AccessOffer better learning experience to your learners by enabling offline viewing of online content. Teachable's iOS app enables learners to download course content for offline viewing later.
✓ Content DripSchedule the release of your online content on specific days or dates through dripping. Release content, for example, after learners completed their enrollment or incrementally module after module.
✓ Sales PageSell courses using an auto-generated sales page. Use the sales page to collect email addresses from your traffic and to engage with them after you launch your course.
Pricing:
Starts at $29/month. Unlimited learners.
3.

Podia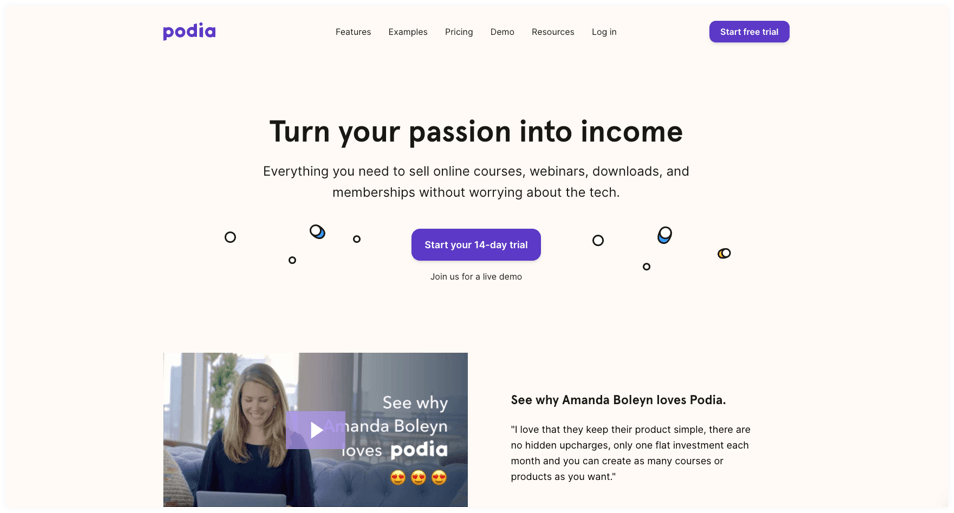 Online course platform Podia offers intriguing features for hosting an unlimited number of courses, including video content. There's no need to pay different prices for multiple platforms such as online course creation, memberships, and email marketing. Podia treats it as one platform, one price.
As a full-featured online storefront, Podia enables you to create, house, and sell online courses easily. It does all the heavy lifting for you so that you can maximize your audience's learning experience.
A 24×7 help center ensures that you get all the answers to your questions, or you can kick-start your online course journey with the platform minus all the headaches.
Features:
✓ Course AuthoringShowcase your wealth of knowledge by creating courses for people who want to learn. Set a price for your course. Offer upsells to increase your revenue.
✓ Digital DownloadsPodia supports all kinds of downloadable digital products, including text, images, audio files, and PSDs. Use them as the initial step to acquire new customers and grow them over time.
✓ QuizzesReinforce what your learners learn from your course. Create multiple-choice quizzes to assess the learners better. Identify knowledge gaps and improve the effectiveness of your course.
✓ StorefrontCreate digital storefronts and display all your products. Add your logo and custom colors to the storefront for branding purposes. No technical know-how or third-party plugins needed.
✓ Email MarketingSend any type of business email to your customers. Set up automatic emails to respond to events such as a signup, purchase, and unsubscribing. Use professional-looking email templates.
Pricing:
Starts at $39/month. Unlimited everything.
4.

Udemy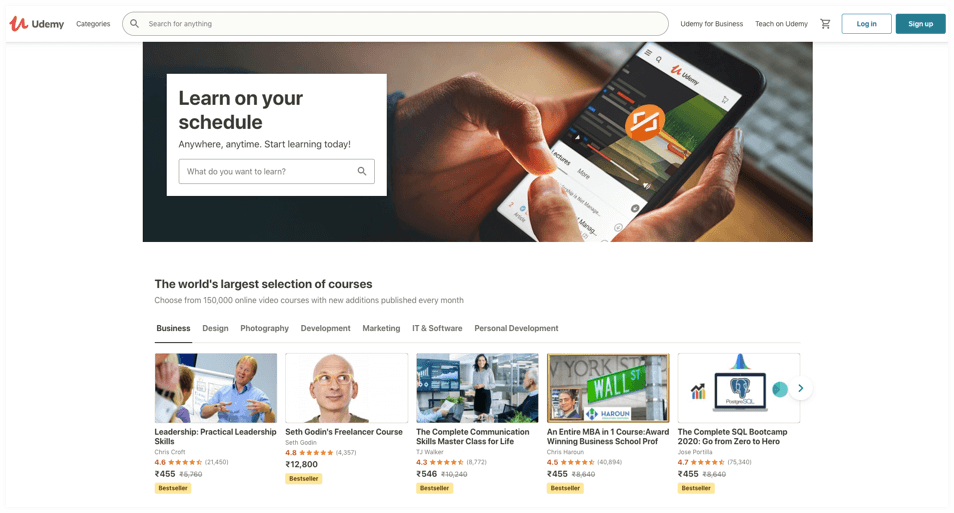 Udemy is considered the largest eLearning platform, boasting more than 30 million learners enrolled in 100,000 courses. It is a teaching and learning platform that you can use to share your knowledge with a global audience. You can simply create a profile as an instructor and upload courses to this platform.
It offers wonderful resources for instructors, for example trending course topics that it updates regularly. Udemy provides over a dozen topics – from professional skills to lifestyle and hobbies. The video player comes with a lot of controls, such as subtitles in multiple languages and auto-scroll transcripts.
Features:
✓ Course Creation ResourcesLeverage one of the largest online course marketplaces with a huge course catalog. Connect with learners around the world by creating and offering them courses. Easily make money online.
✓ Video ContentGive your learners the best learning experiences with quality video content. Let them watch, pause, and replay the videos for self-paced learning.
✓ Course MarketingMaximize learner enrollment and course sales through the platform's effective course marketing functionality. Use email campaigns, retargeting ads, external partner promotions, and more.
✓ Tools for InstructorsGet all the necessary tools and insights to create the right course for the right audience. Find out the average and top incomes for instructors on different course topics.
✓ Course Quality ChecklistFollow course quality guidelines to produce ideal courses. Make sure that you present your courses to engage learners at the maximum level. Let your courses stand out in the crowd.
Pricing:
Starts at $360 /user/year
5.

Thinkific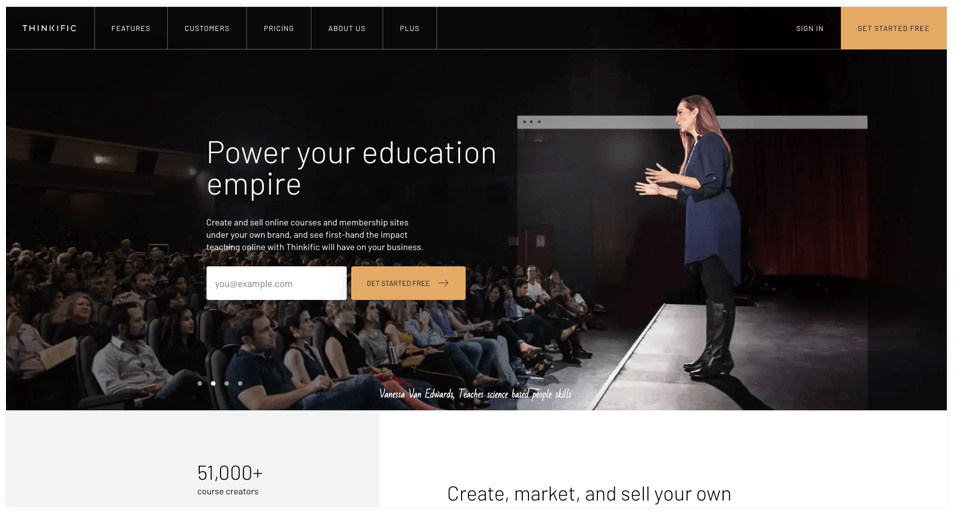 Thinkific is a powerful platform that helps you create, market, and sell online courses. It has everything you need to run an educational business, scale it, and grow your audience. Build a course, add quizzes, upload videos, set a price, and schedule lessons to optimize the learning experience of your learners.
It is easy to set up. You can customize hundreds of features to suit your course business. Everything from the landing page to the learning environment was designed to facilitate an exceptional learning experience and sustainability. Accomplish your goal of course creation and sales faster with Thinkific.
Features:
✓ Custom Course CreationEasily create custom courses that speak of your brand. Keep your learners engaged with rich multimedia content. Come up with an awesome and in-demand curriculum.
✓ Course WebsiteBuild a stunning website to sell your courses. Use different design elements, such as professionally designed themes. Organize and rearrange the web pages effortlessly.
✓ Data SecurityKeep your course data safe. Leverage secure cloud hosting with 99.9% uptime and daily backups. Win the trust of your audience with built-in SSL certificates.
✓ Multilingual SupportEither set a default website language or let learners choose a preferred language. This means all the menus and buttons will appear in the chosen language. Give your learners the best user experience.
✓ Drip Release ContentDrip schedule your course content. Control what your learners have access to and when. This feature is available in all paid Thinkific plans.
Pricing:
Starts at $39/month. Unlimited courses & students.
6.

LearnWorlds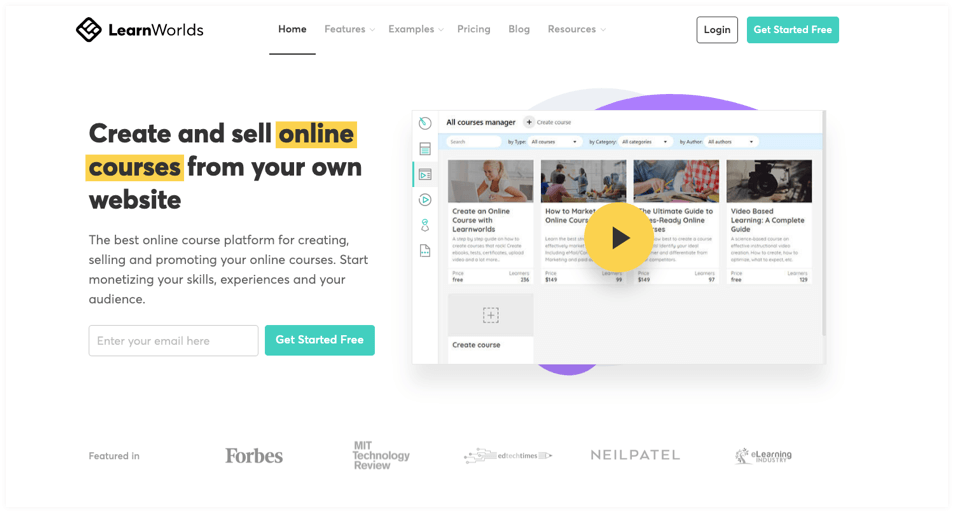 Besides being one of the best online training platforms, LearnWorlds offers a complete solution for creating, marketing, and selling online courses. Whether you're an individual instructor looking to capitalize on your knowledge by selling courses, or a business that needs to train employees and partners, the platform has got you covered.
You can build a school website, create courses, market them, sell them, and get any help you need in the process. Provide various learning activities ranging from quizzes to videos, eBooks, SoundCloud, and SlideShare. LearnWorlds can help you create comprehensive, creative, and future-proof learning experiences.
Features:
✓ Authoring ToolBuild amazing courses that capture learners' attention. Maximize engagement and learning efficiency. Add video content and provide automatic transcripts.
✓ School WebsiteDesign and develop a high-converting school website. Choose the look and feel to suit your and your audience's needs. Use one of the hundreds of eye-catching design templates.
✓ Course Marketing & SellingLearnWorlds offers a complete eCommerce solution featuring built-in marketing and sales tools. Use them to grow your customer base and increase your revenue. Connect these tools with other third-party marketing tools.
✓ Powerful Testing EngineUse a sophisticated testing & assessment engine to deploy a variety of tests and measure different learning needs. You also have access to question banks, formal & informal, and graded & ungraded question types.
✓ Stellar Support TeamYou get the benefit of a 24×7 customer support team that is always ready to help you and become a partner in your success. Grow your online course platform in a secure way with help in every step of the process.
Pricing:
Starts at $24/admin/month.
7.

Kajabi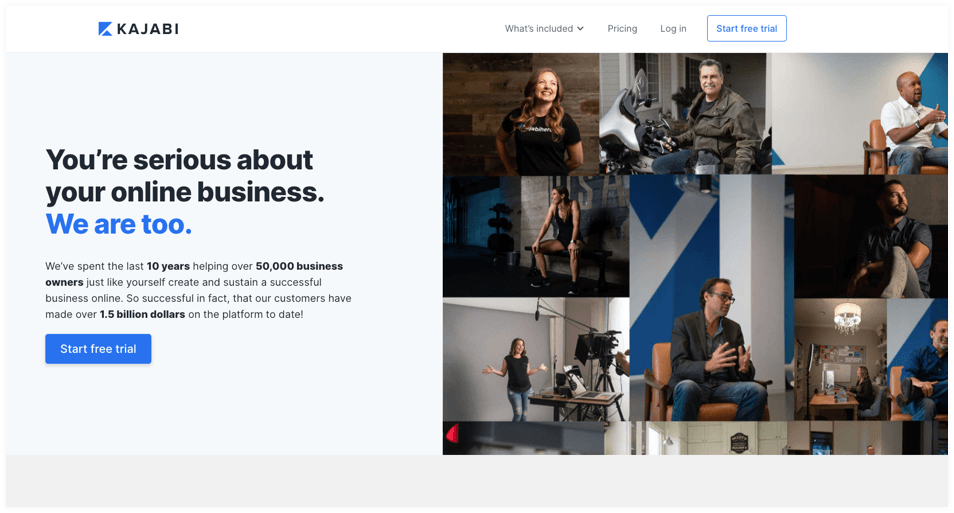 Kajabi has everything that you need in one place to grow your online course business by selling the best courses online. Build a professional and SEO-optimized website to sell your products. Integration with top payment systems makes payments easy and fast.
Automated marketing makes it easy to grow your subscribers' list. Kajabi scores high in terms of ease of use, creating engaging content, marketing & sales, and customer support.
You can also run a blog using this platform. Complete control over policies, learners' data, and course pricing is another significant aspect of Kajabi.
Features:
✓ Website BuilderUse simple drag-and-drop tools to build beautiful online course websites. Upload all your files in a safe and secure place. Grow your brand and make it discoverable with a custom domain.
✓ Marketing CampaignsSend personalized and automated emails to prospects. Increase the chances of conversion by connecting with the right people at the right time. Build marketing pipelines and increase sales.
✓ Course SalesSell your courses with the help of built-in features. Offer free trials to learners and turn them into paying customers. Accept payment in any currency without any hassle.
✓ Video HostingUpload and host an unlimited number of videos with Wistia. No need to worry about bandwidth or storage. Charges for access to Wistia are already included in the fee you pay to Kajabi.
✓ Quizzes & Assessments
Create and share standardized tests &
assessments
such as quizzes. Add them effortlessly after each lesson. Get immediate results after every assessment you make of your learners.
Pricing:
Starts at $119/admin/month.
8.

LearnDash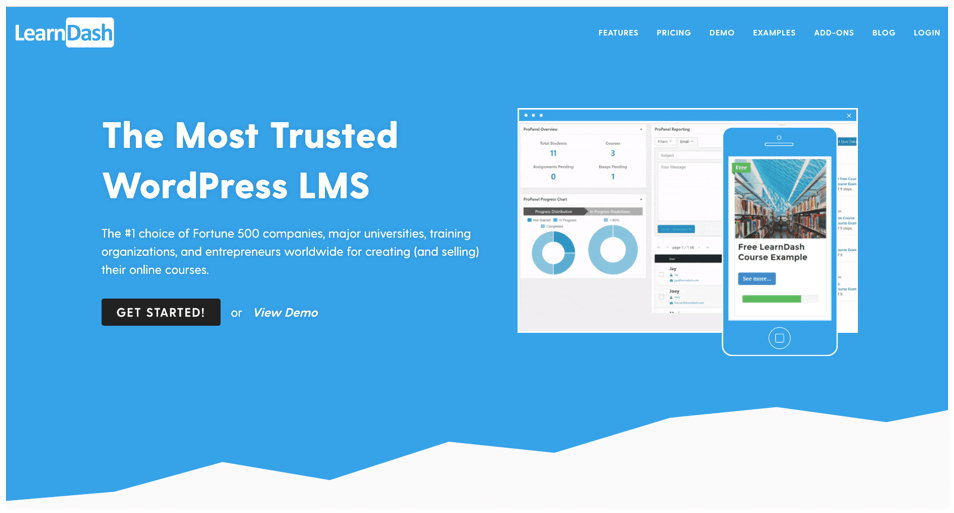 LearnDash is your go-to platform for education or professional training courses. Easily create courses, sell them, manage users, view reports, and issue certificates. It is an eLearning platform that follows industry trends and one that you can bank on at any time.
Put yourself in the driver's seat and take control of the administration of all your content with ease. LearnDash is easy to set up and get all the community support you need. Its major clients include Fortune 500 companies, top universities, and professional training institutes.
Features:
✓ Course BuilderBuild engaging, multi-layer, and dynamic content easily. Drip feed your content, add quizzes, award points for completing courses, and more. Reuse your existing content with modifications.
✓ Advanced QuizzingSelect from eight question types and customize them to suit your specific testing needs. Display personalized messages based on the performance of each learner. Add, edit, and delete quizzes super-easily.
✓ Multimedia SupportUse any kind of media in your course content, and deliver a rich online learning experience. Let your learners gain a deeper understanding of a topic or concept. Build a successful learning model through smart use of multimedia.
✓ Expert ConsultingGet support from industry experts who boast the experience of providing services to corporates and governments. Get all your questions answered and take recommendations on the best ways to achieve your goals.
✓ eCommerceSell your courses individually or as course bundles. It's just a few clicks away. Offer discounts to learners for bulk purchases. Enroll them automatically in all of the courses.
Pricing:
Starts at $159/year. Unlimited users.
9.

WizIQ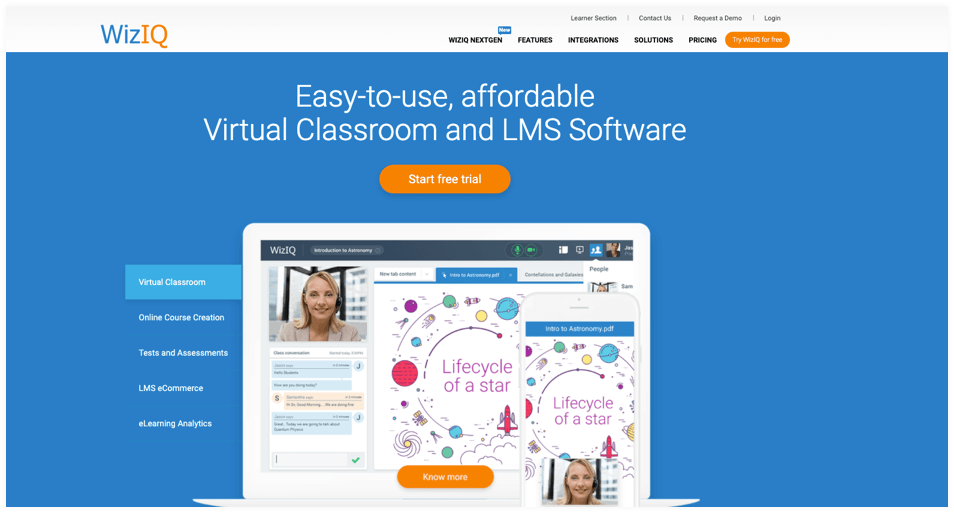 WizIQ is a cloud-based platform for educational services, including creating and selling unlimited online courses. Create MOOCs and enable learning on the go using beautifully designed portals. Upload content in any format and allow self-paced learning.
Its rich features make it the ultimate platform for end-to-end eLearning delivery. Let learners access content from their mobile devices seamlessly. You can assess the performance of your course and learners using a variety of tests.
Features:
✓ Online Course CreationSet up an online learning portal and create interactive eLearning content using the course builder module. Upload content in any format. There's no storage limit of courses.
✓ Tests & Assessments
Assess the performance of your learners with multimedia tests. Create tests in nine different formats using the
online exam builder
. Customize tests with rules and guidelines.
✓ Mobile LearningLet your learners learn on the go with WizIQ's mobile apps. They can access course content and attend live classes right on their smartphones. No need to become desk-bound during learning.
✓ Reports & AnalyticsDerive insights from learning data to improve course effectiveness and learning efficiency. Identify challenges or knowledge gaps and take remedial actions.
✓ LMS eCommerceUse an easy and secure eCommerce platform to sell your courses. Receive speedy and hassle-free payments through Stripe. No commission charges. Easily download your transaction-related data.
Pricing:
Available on contact.
10.

Ruzuku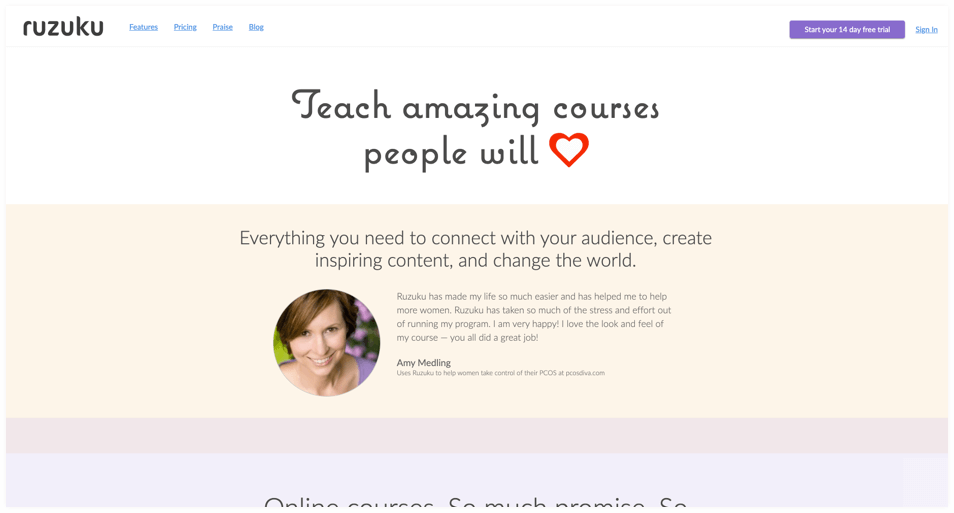 As an online course platform, Ruzuku makes it "ridiculously easy to teach online." You can sculpt online courses, serve a tribe of learners anywhere in the world, and scale your business rapidly. Get everything you need in one place, simple and well-organized.
In terms of ease of use and customizability, Ruzuku does relatively well. You can get your courses up and running within hours. It also offers the flexibility to publish content in any format you want. Video content, quizzes, discussion forums, and certifications are some of the main features you will find in this platform.
Features:
✓ Course CreationCreate and launch your courses without any fuss. Follow a simple step-by-step process to add text, videos, presentations, and other files. Host streaming audios and videos.
✓ Course ManagementManage the look and feel of your courses. Do the settings for notifications and coupons. Make pricing adjustments. Rework the design elements any time you want. Schedule course start and finish dates.
✓ Webinars & TeleconferencesMake learning more engaging by blending regular courses with webinars and teleconferences. You can display slides alongside a video and share downloadable documents easily.
✓ Marketing & SalesFor each course, you can get an overview page in your account. Direct potential learners to this page so that they can purchase a course. Ruzuku doesn't charge any transaction fees on your course proceeds.
✓ Seamless PaymentAccept payment via PayPal or Stripe. Choose either single payments or subscription model. Customize your coupons for each type of payment.
Pricing:
Starts at $74.75/instructor/month.
Choose the Best Online Course Platforms
Whether you are an independent instructor or a company looking to create and sell courses, adopting the right ecourse platform is the first essential step. Such tools can help you streamline and take control of the creation and sales of educational as well as business courses online.
Do you want a free Training Software?
We have the #1 Online Training Software for employee training & assessment