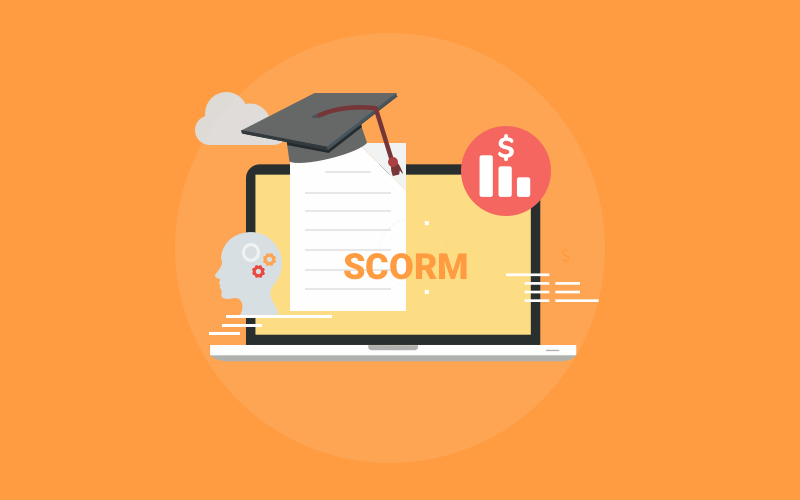 Imagine a situation where you are asked to create an eLearning program or search for a suitable learning management system (LMS) tool for achieving your training objectives.
You encounter the term "SCORM" and start thinking, "What is SCORM? Why is it important? What does it have to do with online learning?"
First up, don't worry! You are not alone. Many like you are still not aware of SCORM and what it can do for eLearning.
When it comes to online learning, "SCORM" and "SCORM compliant" are everyday things.
Since there is a huge population out there who are confused about this odd-sounding acronym, in this post, I will present a complete overview of SCORM – what it is, why it is important, the right approach to implement it in your eLearning programs, and more.
Continue reading to find out.
What is SCORM?
To start with, let's define SCORM.
For those of you wondering what is the meaning of SCORM, it is an acronym that stands for "Sharable Content Object Reference Model". It is a set of technical standards developed for supporting eLearning tools.
SCORM ensures the interoperability between online learning software. Moreover, this model is responsible for determining how eLearning content and a learning management system communicate.
Basically, SCORM covers two things: content packaging and effective data exchange.
While content packaging primarily focuses on delivering a content piece, data exchange or runtime communication specifically deals with how the content 'communicates' with the LMS.
SCORM's vocabulary decides the quality of interactive experience communicated to the LMS. Among the different variants of SCORM, SCORM 1.2 and SCORM 2004 are most commonly used.
In a nutshell, SCORM is a standard responsible for ensuring that the instructional content links with and appears appropriately within the LMS software when both are SCORM compliant.
For this reason, if an LMS vendor claims its software as SCORM-compliant, it means that the LMS supports integration with other SCORM compliant content authoring tools used for creating courses.
Do I Need to Use SCORM?
For many people who are new to the technology, to SCORM or not to SCORM or Tin Can vs. SCORM is a big question.
So should they go ahead and adopt SCORM?
Preferably yes.
SCORM is the de facto standard for software interoperability. It can help you in your online learning programs. SCORM conformance can make eLearning seamless.
You should use it if you want to:

offer more interactive experiences to your learners

use courses that work on multiple platforms

track user data related to courses and tests

simplify how you migrate content from one LMS to another
There are many other benefits of Scorm API. We'll explain these in detail as we move forward.
---
Also Read: Benefits of a Tin Can API Compliant Learning Management System
---
How Does SCORM Work?
SCORM governs two things: content packaging and runtime data exchange.
Let me elaborate on it.
Packaging content, also known as the content aggregation model, is how you deliver a piece of content. For this, SCORM uses a file called "imsmanifest", which contains all the information an LMS requires to import and launch content.
This file also contains XML, which determines the structure of a course from the perspective of learners and a physical file system. It answers questions such as, "What is the name of this content?" and "Which document should be launched?"
Watch: SCORM in 60 Seconds
On the other hand, runtime data exchange or communication specifies how the content "talks" to the LMS. It is made up of two components:
First, the content has to "discover" the LMS.

Once it finds the LMS, it can then communicate a series of messages, such as "request the learner's name" and "inform the LMS that the learner scored 85% on this test."

Based on this vocabulary,

SCORM communicates rich interactive experiences to an LMS.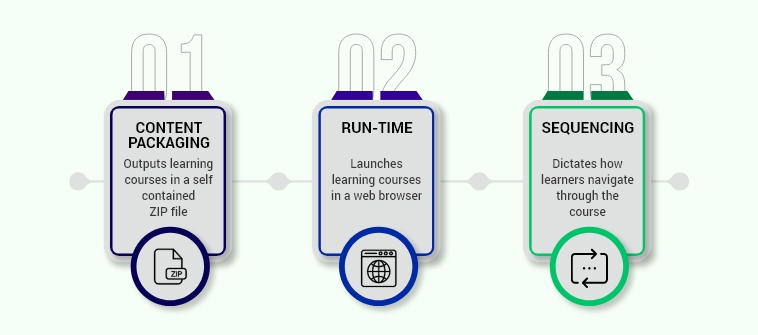 What Does SCORM Track?
The benefits of Scorm API depend on the version of the SCORM you use. Based on that, it can track a number of activities. Some of the top ones are:
Course sequencing

Lesson location (where a learner is in a course)

Interactions with questions

Course completion (lesson status)

Suspend data (data on how a learner answered a specific question)

Scores

Time spent (session time)

Pass/fail
Watch: How to Analyze Online Training Tracking System Reports
Benefits of SCORM API in eLearning
Now that you have a fair idea of what SCORM is, let's now understand: why is SCORM important? Or more specifically, the importance of SCORM in eLearning. Anyone who is engaged in online training or eLearning can benefit from SCORM.
It ensures

improved flexibility

in selecting and switching tools.

Content creation and deployment are much easier with SCORM.

SCORM's standard coding protocol

facilitates seamless interaction

between online content and LMSs.

You can tailor instructor-based content to the needs of every user without spending money, time, and expensive resources on re-coding.

SCORM supports a

sophisticated delivery mechanism

enabling you to reach out to more learners.

It integrates online learning content with LMSs easily. A simple analogy is a USB port that you use whenever you need to plug in a device to your computer. It is the standard specification that all hardware systems are compatible with. This lets companies build products that can exist in an ecosystem.

SCORM makes it possible for course authoring tools and LMSs to sync and work in close collaboration with each other.

SCORM is durable

in that it can withstand technology disruptions without necessarily requiring costly re-design, re-configuration, or re-coding.
What is a SCORM Compliant LMS?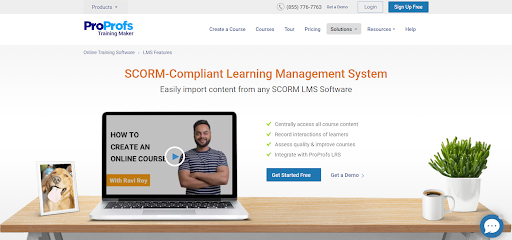 A SCORM compliant LMS or SCORM LMS is a learning management system that conforms to the standards of SCORM. You can upload a SCORM compliant course to the LMS and easily import content from any other SCORM LMS software. It will work perfectly within that system, allowing users to access your content.
When you have a SCORM compatible or SCORM compliant LMS in place, you will be better informed when your course takers have completed the training and the areas where they need to improve.
In-depth information like this becomes relevant when creating content and delivering an engaging learning experience.
Check out these key attributes of a SCORM learning management system to understand this better:
Content development requires less time and resources.

You can easily import SCORM compliant courses from other SCORM LMSs.

It

supports the usage of different authoring tools

since

the best tools for creating courses are compatible with SCORM.

You can reuse old eLearning content, upload external content, or transfer courses to a new LMS within minutes. This way, adapting to individual and corporate needs becomes quick.

You can install a SCORM file on your web portal without installing an LMS and let the unregistered users access content.

It becomes

easy to monetize SCORM courses online.

An LMS having e-commerce facilities and content authoring tools makes your distribution process simpler.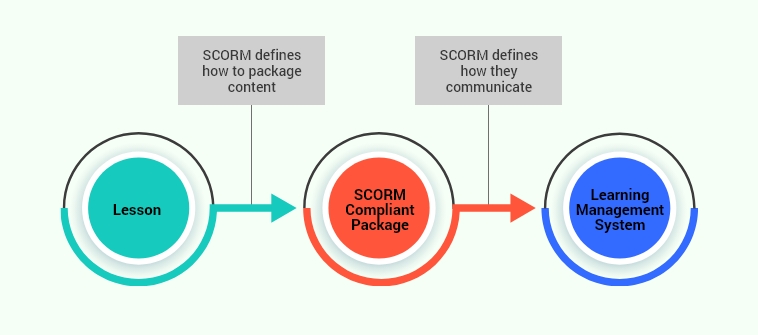 ---
Read: Delivering SCORM Learning on Mobile: Key Things You Should Know
---
How to Create SCORM Courses: Best Practices
Let's now look at some of the best practices for creating SCORM courses.
Use an Authoring Tool & SCORM LMS
According to SCORM developer Rustici Software LLC, the best way to create SCORM courses is to use an authoring tool. In case you're planning to use your courses in an LMS, make sure that the LMS supports SCORM so that the content is compatible with the LMS.
Look for an Integrated LMS
Most of the authoring tools available today easily integrate with LMS software. This means you no longer need to purchase a standalone solution to convert presentations to SCORM. Not only that, these tools come with great functionality, so building professional-looking courses is easy.
Upload Courses to Online Learning System
These authoring tools automatically generate the code necessary for interaction with an LMS and turn all the eLearning material into SCORM packages. You just need to upload the course to your online learning system.
Keep Rustici Driver in Mind
Make sure the authoring tool you choose is based on Rustici Driver to ensure that the content supports SCORM and other standards and can be published according to SCORM standards. Examples include tools such as the ProProfs Training Maker that fully supports courses based on Rustici Driver (formerly SCORM Driver).
Checklist for Choosing the Best SCORM Compliant LMS
After learning a few things about SCORM, including what SCORM is, SCORM courses, and SCORM LMS, you must be interested in adopting a SCORM compliant LMS to meet your online learning needs. And why not? Achieving a seamless teaching and learning experience is everyone's goal.
To help you land the best SCORM compliant learning management system, I've listed below some points you should keep in mind.
Is the LMS Advanced Distributed Learning (ADL) certified?
This is to confirm that the LMS meets the requirements of applicable SCORM standards.
How long has the LMS been integrated with SCORM?
The longer it is, the more depth and maturity in functions and fewer chances of problems.
Which SCORM versions does the LMS support?
An LMS may support all editions of SCORM but works best with a particular edition. For example, the LMS may perform best with SCORM 2004, 4th edition, even though it supports all the previous versions.
Are there tools for content version control?
An LMS that supports process automation, reporting & auditing, and integration with a content management system (CMS) is advisable. Such solutions let you centralize content management, simplify updates, and ensure ongoing compliance.
Is there any limit to the size of uploaded courses?
Different LMS systems put different upper limits on the files uploaded to their systems. While some support 100-200 MB, some others go up to 1 GB. The size can vary depending on the file type and subscription plan. If possible, it is better to opt for an LMS that supports large file upload capacity.
What data privacy and security systems does the LMS use?
Incidents of hacking, phishing, and data theft are common in the online world. So, it is important to know what mechanism and security plan the LMS has to deal with such issues. For example, the LMS should support data encryption, IP blocker, data backup, and domain-based registration.
These are some of the specific questions you need to ask before choosing a SCORM LMS. Apart from this, you should pose a few general questions related to LMS features, customer support, and pricing to get the full benefits of Scorm API.
Watch: What is a Learning Management System
ProProfs is one of the top SCORM LMSs you can consider. Many of our customers have realized its benefits, so you can too.
Case Study: Leon Medical Centers
Leon Medical Centers needed an enterprise learning management system that supports SCORM standards while allowing trainers to create their own courses. The healthcare services provider planned to integrate such a system into its HRIS for ease of data export.
It found those solutions in ProProfs' SCORM & TinCan compliant LMS, which it said, is flexible, and easy to use.
The flexibility to create their own content, access to prebuilt SCORM or Tin Can compliant content, and a hub for employees to find all the training are some of the benefits Leon Medical Centers can realize from the platform.
Case Study: California Department of Public Health
The California Department of Public Health (CDPH) was facing problems developing training programs and tracking learner progress. It needed a tool to create better courses, survey forms, and maintain shareable data.
With ProProfs, it can now create and deliver online training programs to volunteers and residents. It saves a lot of time in issuing certificates and tracking training. Its records are well-maintained now, and it can easily share them with other people.
People are now finding CDPH's courses engaging and useful. More people are taking course feedback surveys, and the state department is getting better and more relevant results.
Ready for SCORM eLearning?
SCORM is now the must-have technical platform in all kinds of online learning environments. It is already over 20 years old, and it has done an excellent job of being a pathbreaking force in the world of eLearning.

Despite xAPI fast gaining momentum, it won't be dethroning SCORM from its position as the preferred medium of eLearning anytime soon. SCORM is strongly embedded in the eLearning industry, and businesses & instructors will continue to depend on it despite technological advancement.

Now that you know what SCORM is and the benefits of Scorm API, it's time to choose an LMS that'll help you realize these advantages in full form.
Enter ProProfs Training Maker — a SCORM compliant learning management system compatible with SCORM compliant courses. Using this online training software, you can easily import training material from other SCORM eLearning tools, such as Articulate, iSpring, and Captivate.

ProProfs LMS comes integrated with a Learning Record Store (LRS), making it super easy for you to import course data from these eLearning tools.
Take a quick tour of the LMS or schedule a personalized demo.
Do you want a free Training Software?
We have the #1 Online Training Software for employee training & assessment