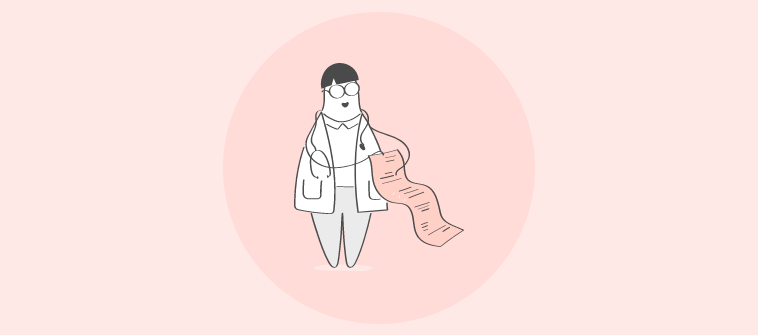 Lately, the definition of patient care has transcended mere medical treatment to include the protection of their privacy.
This is mainly due to HIPAA compliance requirements and it necessitates HIPAA training courses and programs for employees.
We understand that as a healthcare organization, physician, health insurance provider, or clearinghouse, you have an obligation to adhere to these privacy rules in letter and spirit.
But choosing the right resources that are authoritative, up-to-date, and engaging is easier said than done. More so when there are countless courses online.
But don't worry. We can make it easier for you.
This post presents a curated list of the top HIPAA courses and programs for employees so that you don't have to comb the web. They can help you empower your workforce in safeguarding patient information through ongoing compliance.
Continue reading to find out.
HIPAA Training Courses & Programs Comparison Table
Best HIPAA Training Courses
Why Is It Best?
Pricing
ProProfs HIPAA Training Course
Professionally designed

Ready to use

Fully customizable

Compliant with the latest regulations

Self-paced

Comes with a robust LMS

Included in its business plan starting at $1.97/learner/month
HIPAAtrek
Training videos

Quizzes

Compliance tracking

Automatic security reminders

Get in touch with the company for a quote.
HIPAATraining.com
20+ years of experience

Nationally recognized certificate

User-friendly training

Unique zero administration system

Starts at $29.99
Biologix Solutions
Nationally approved

100% Self-paced

Post training tests

Completion certificate

Starts at $10/participant
Accountable HQ
On-demand training

Training videos

Quiz

Integrated HIPAA training software

Starts at $49/month
EdApp
Fully editable

Knowledge checks

HIPAA compliance scenarios

Useful resources

Free
(Provides only sample certificates)
OSHAcademy
Multimedia content

Quizzes

Offline study guide

Training Dashboard

Free
(The certificate needs to be purchased.)
Compliancy Group
Training video

Quizzes

Free HIPAA checklist

HIPAA compliance software

Free
(Limited to basic training & non-personalized certificate)
HIPAA Training Class
100% online & self-paced

Works across devices

100% money-back guarantee

Certification

15
HIPAA for Human Resources Professionals
Audio video component

Free retakes

No recurring fee

Certificate of completion

$28.99/person
HIPAA for IT Professionals
20 years' experience

90-day timeframe

Quiz/test after each section

Completion certificate

29.95
Coursera
100% online

Flexible deadlines

Financial aid available

Shareable certificate

Starts at $24.48/month
AMA Ed Hub
10-min HIPAA podcast

Quiz

Credits available

Certification

Free
(Requires signing in to take a quiz and track certificates)
U.S. Department of Health & Human Services
Downloadable resources

HIPAA for individuals & professionals

15 languages supported

Credible sources

Free
(Requires a Flash plugin)
Medscape
Educational activities

Quizzes

Slides

Credits available

Free
(Activities come with an expiry date)
Before we get to the granular details of these programs, let's understand the following:
What Is HIPAA Training?
HIPAA training is a compliance training program based on the Health Insurance Portability and Accountability Act of 1996. It is a federal law that sets a nationally accepted standard for protecting sensitive patient health information from being disclosed, stolen, or misused.
Initially, HIPAA aimed at streamlining healthcare administration and reducing healthcare costs. But now, it identifies itself with patient privacy and security. The law empowers employees by educating them on how to build a culture of safety besides protecting patients.
HIPAA compliance training is one way to stay clear of the breach portal or the Wall of Shame.
Watch: What is HIPAA Compliance Training? Requirements & Benefits
Who Needs to Take HIPAA Training?
Everyone who handles personal health information (PHI) is required to undergo HIPAA compliance training. They include employees and covered entities.
Covered entities include physicians, nurses, health insurance providers, clearinghouses, and pharmacies.
In short, individuals and organizations with some knowledge of HIPAA and related topics who are looking to maintain vigilance against data breaches can take this training.
What Are the Requirements for HIPAA Compliance Training?
As an administrative requirement under the HIPAA Privacy Rule and HIPAA Security Rule, HIPAA training for employees is mandatory. Regardless of their size and annual budget, organizations are required to provide this training periodically. They may deliver the training at least once annually as a best practice.
Under the requirements of the law:
New hires must receive HIPAA training within a reasonable timeframe. You can make it a part of employee onboarding.
Similarly, refresher training at regular intervals is essential to keep employees updated with changes in privacy regulations.
Training documentation through recordkeeping is another aspect of the training to furnish proof of training and for audit purposes.
HIPAA is made up of five titles:
Title I: It deals with the health insurance coverage of employees experiencing job change or loss. It prohibits group health plans from refusing to cover individuals with pre-existing diseases or medical conditions and setting limits on coverage.
Title II: It sets the standards for electronic healthcare transactions. The main provision here is safe access to patients' healthcare data to abide by the privacy rules.
Title III: It talks about general guidelines for medical care and tax provisions.
Title IV: It outlines reforms in health insurance and includes provisions for employees with pre-existing medical conditions as well as those who seek continued coverage.
Title V: In this section, you will find provisions for company-owned insurance and treatment of individuals who've lost their citizenship for tax-related reasons.
How a Learning Management System (LMS) Can Help With HIPAA Compliance Training
A cloud-based LMS can make a reliable solution for HIPAA training. It serves as compliance training software to make workplaces safer and more secure.
For example, a SaaS LMS accelerates course development, automates admin tasks, and ensures ongoing compliance through real-time progress tracking, reminders, and data analytics.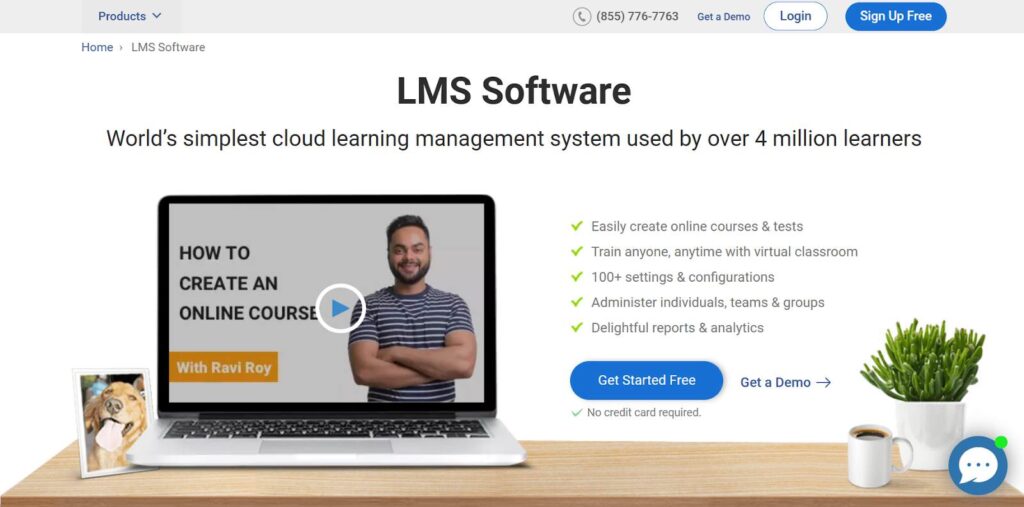 Some of these training platforms provide ready-made compliance courses, including HIPAA. You can also import training materials you already have, such as company policies, videos, images, recorded webinars, and docs.
Make compliance and safety training easily manageable by assigning roles and permissions to multiple admins. Similarly, you can create learner groups based on role, location, department, and team for ease of training administration.
You can even add engaging online quizzes to assess comprehension and retention of key concepts. Configure various settings for course availability, privacy, security, and reminders.
Individual and group reports, completion certificates, aggregate or filtered reports are other functionalities that an LMS supports.
Watch: What is a Cloud-Based Learning Management System?
List of HIPAA Training Courses & Programs for Employees
1. ProProfs HIPAA Training Course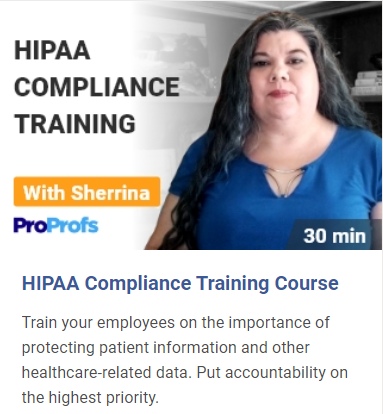 The HIPAA training course by ProProfs is a professionally designed, customizable, and ready-to-use online course. You can use it to meet ongoing compliance requirements as a covered entity or business associate.
The course discusses the latest HIPAA provisions, matters related to information privacy and safeguards, consequences of non-compliance, and the responsibilities of employers and employees.
It includes flashcards, scenarios, handouts, and end-of-chapter assessments and feedback.
The course comes with a robust LMS to simplify, automate, and streamline training administration. Being a cloud-based solution, it enables users to train learners anytime, anywhere, and track course compliance in real-time.
Learners can even engage in offline learning by downloading training resources and accessing them later when there's spotty or no internet connectivity.
You can also issue beautifully designed custom certificates of completion.
Features
Developed by Expert
The course has been developed by a subject-matter expert who is a healthcare compliance professional with more than 15 years of experience.
Adheres to HIPAA Standards
The course meets and exceeds all the standard HIPAA guidelines that are followed nationwide.
Anytime, Anywhere
Deliver online HIPAA compliance training to your learners, local and remote, at the moment they need it and using the device they prefer.
Quizzes & Assessments
Easily conduct knowledge checks at the end of each chapter to assess comprehension and retention. Make learning highly engaging and ensure a higher course completion rate.
Self-Paced Learning
Facilitate self-paced microlearning based on your learners' schedules and convenience. Let them self-regulate what, where, how, and when they learn.
Real-Life Examples
Enable your learners to grasp different topics easily with real-world examples. Prepare them for actual workplace situations in their profession.
Insightful Reports
Get aggregate or filtered reports of individuals and groups. View data visualizations on learners' progress, course completion, engagement level, and satisfaction ratings.
Why We Picked ProProfs
Compliant with HIPAA privacy & security rules
Self-paced learning
Centralized & automated training
Deliverable via its integrated cloud LMS
Pricing
Forever free plan (up to 10 learners). Paid plan starts at $1.97/learner/month (billed annually) for large teams. No hidden charges. 15-day money-back guarantee.
Watch: How to Conduct HIPAA Compliance Training in the Workplace | Course Introduction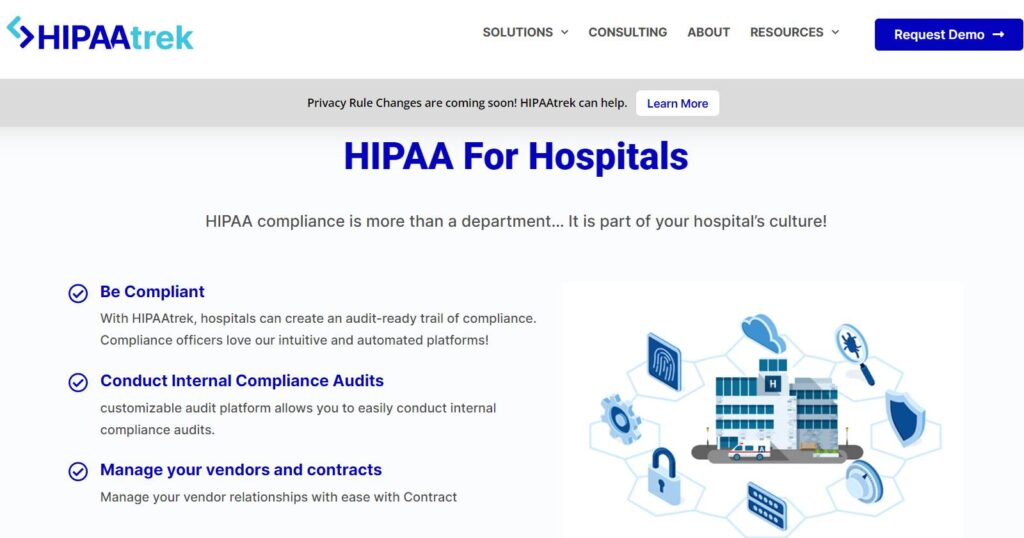 HIPAAtrek was founded by a healthcare administrator who knew the challenges of complying with HIPAA. Its HIPAA training program consists of a series of podcasts and webinars designed to help you get audit-ready easily.
The program, coupled with its intuitive and automated training platform, simplifies HIPAA training. You can easily assign training tasks, send security reminders, and keep employees up-to-date with compliance policies and procedures.
Managers can use the program to tackle some problem areas in HIPAA compliance, including disclosing PHI, recognizing a breach, and speaking to law enforcement.
Features
Training Videos
Assign training videos to your learners on different HIPAA principles. HIPAAtrek comes with many pre-made videos.
Quizzes
Check knowledge retention and evaluate performance with quizzes. Prevent learners from zoning out during long programs with engaging quizzes.
Compliance Tracking
Track compliance using a simple and easy-to-use dashboard. Everything from policies to forms and historical documents is available on one platform.
Automatic Security Reminders
Create and automate custom security reminders and build a culture of security compliance across your organization.
Why We Picked HIPAAtrek
Powered by a team of HIPAA compliance experts
HIPAA compliance consulting service for compliance success
A variety of educational HIPAA webinars and online events
Pricing
Get in touch with the company for a quote.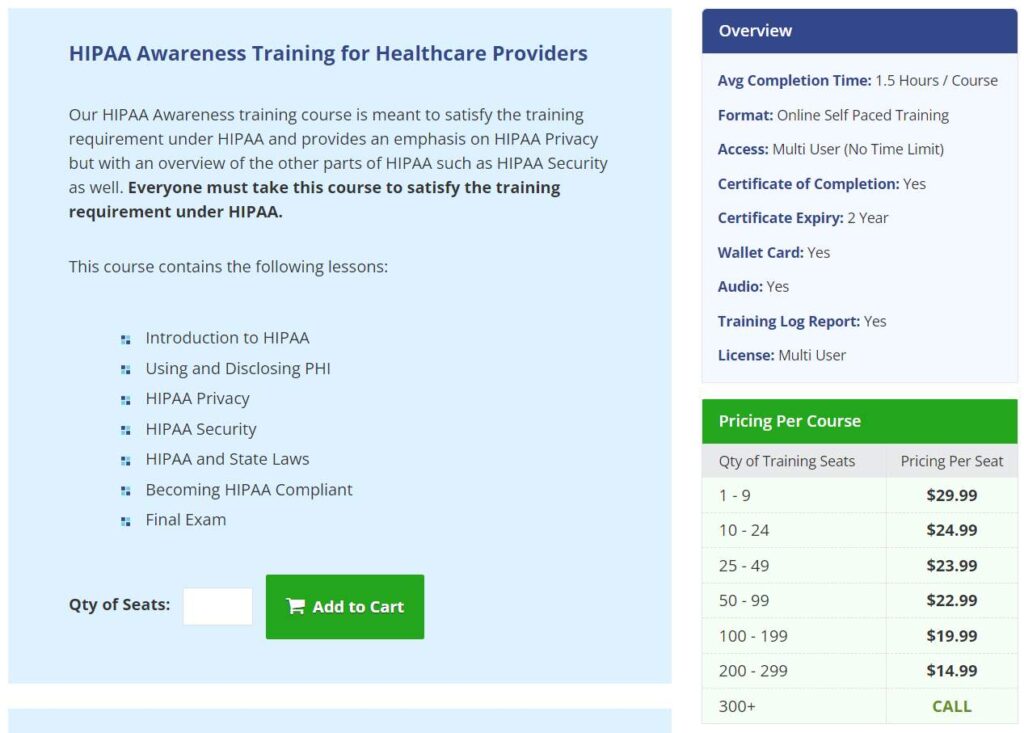 HIPAATraining.com makes HIPAA training and compliance easy, fast, and painless. It offers HIPAA training and certification for individuals and organizations. For this, it provides exceptional training and compliance products.
The user-friendly and easy-to-understand program is available in both English and Spanish languages. Depending on the type of organization you are working for and for which you're trying to get HIPAA compliant, you can choose a version such as healthcare provider, business associate, employer group health plan, and insurance broker.
Users can complete their training online on any device, anywhere, anytime 24 x 7. HIPAATraining.com boasts thousands of satisfied customers in all industries.
Features
User-Friendly Training
HIPAATraining.com is a leader in providing HIPAA training that is not only comprehensive but also user-friendly.
20+ Years of Experience
It has been in the HIPAA compliance solutions space for more than 20 years. It is among the top competitors that command authority and credibility.
Nationally Recognized Certificate
Following HIPAA training and assessments, the training provider generates a 2-year nationally recognized certificate for the purpose of compliance record keeping.
Full Range of Products
HIPAATraining.com provides a full range of compliance products besides HIPAA training. They include consulting and a HIPAA-compliant badge/logo that matches the theme of your website.
Why We Picked HIPAATraining.com
Decade-long industry expertise
User-friendly training
Reasonable pricing & group discounts
Pricing
Starts at $29.99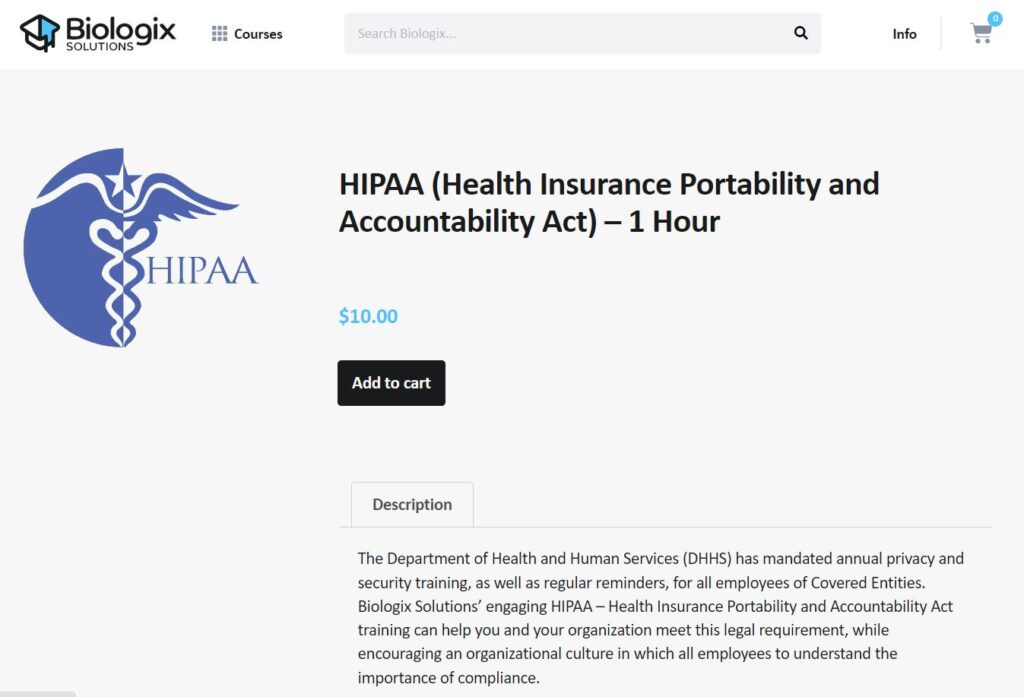 Biologix Solutions is a nationally approved provider of online continuing education and state-required training for healthcare and body art professionals. All its courses are authored by experts to provide the highest quality learning experience.
It offers three courses on HIPAA – one on pharmacy professionals, one on Texas healthcare professionals, and one on privacy and security rules.
These courses are online and meant for independent self-study. They include training and final assessment. Learners are supposed to get a minimum passing score of 70%. They get a printable PDF certificate by email after completing the training.
Features
Informative & Well-Presented
The courses by Biologix Solutions contain relevant information. They are also well-organized and presented clearly. This makes them a convenient program.
Post-Training Tests
Besides various concepts, scenarios, and practical applications, the courses include post-training tests to evaluate understanding and knowledge retention.
Compliance Training
Access online compliance training programs for employees and supervisors, including HIPAA, OSHA, sexual harassment, and workplace violence.
Certificate Verification
Training participants can verify, if necessary, their certificates by entering the 13-digit certificate number on the Biologix Solutions portal itself.
Why We Picked Biologix Solutions
User-friendly
Flexible class hours
Competitive pricing
Pricing
Starts at $10/participant

Accountable HQ provides technology, support, and on-demand courses to help companies of all sizes meet privacy, security, and compliance obligations. You can access its basic training module for free, while the more advanced programs require a monthly subscription.
Its best-in-class training programs are designed to empower employees and enable them to take responsibility for data security, internal policies, and breach reporting.
The video-based HIPAA training includes an introduction to privacy law, HIPAA compliance, protected health information, and business associate agreement. You can also access the transcript of each video.
More than 7,000 organizations have used Accountable to meet compliance, privacy, and risk management requirements.
Features
On-Demand Training
Enable your learners to acquire knowledge and skills at the moment they want it. Let them decide what course to take, when, and at what pace.
Training Videos
Its HIPAA training videos for employees are to the point and engaging. They consist of beautiful graphics and visualizations that aid in comprehending the topics under discussion.
Quiz
Training participants can take a quiz consisting of 15 questions at the end of the HIPAA videos to get a certificate of completion.
Integrated HIPAA Training Software
Accountable HQ offers a powerful training platform to help secure your company with compliance-related matters. It is designed to manage the risks of compliance that grow as your company scales.
Why We Picked Accountable HQ
Useful for HIPAA compliance foundation
Suitable for small to large enterprises
Multiple customer support systems
Pricing
Starts at $49/month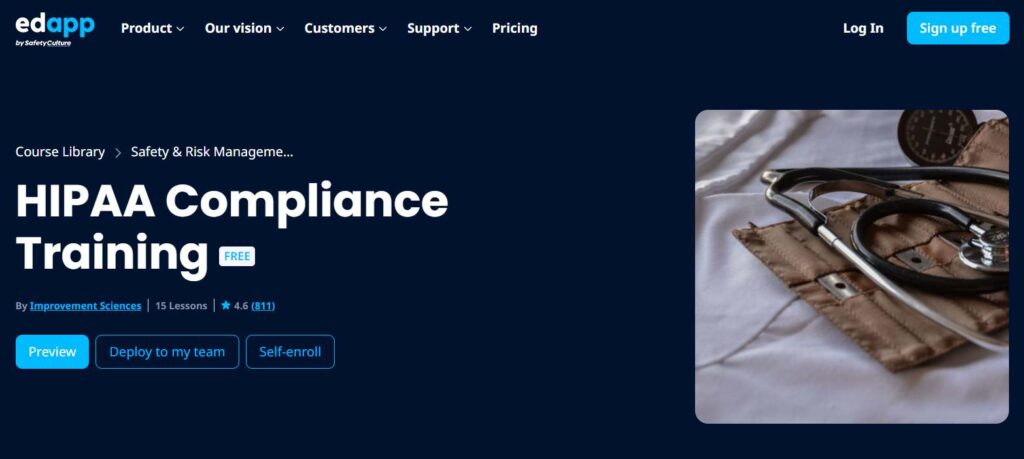 The HIPAA training course by EdApp consists of 15 lessons. It discusses the most paramount skills for clear communication on regulations and presents the best practices in HIPAA compliance scenarios, threats, and remedies, as well as privacy, breach, and security rules.
The course is notable for its fun and engaging quality. It makes learning some of the most essential healthcare information by busy professionals in their own time enjoyable. You'll find applicable skills in the course, and learners can instantly apply them to their jobs.
Besides a HIPAA overview, this free HIPAA training course contains a glossary of HIPAA terms, scenarios, knowledge checks, and useful references.
Features
Fully Editable
The course is fully editable with text, slides, audio tracks that accompany slides, and branding with logo, theme, background, and more with a no-code authoring tool.
Admin Portal
The admin portal in the mobile learning management system gives you full control over your learners, courses, analytics, and integrations in one place.
Course Library
EdApp provides a library of 1,000+ ready-made and editable online courses for a quick start. You can browse the courses by category. The library also features a section on newly added courses.
Reporting & Analytics
Track course compliance, spot problems early, and design better learning outcomes with in-built reporting and analytics. Ensure ongoing compliance with HIPAA by default.
Why We Picked EdApp
Customizable courses
Mobile learning option
Active customer support
Pricing
Free (Provides only sample certificates)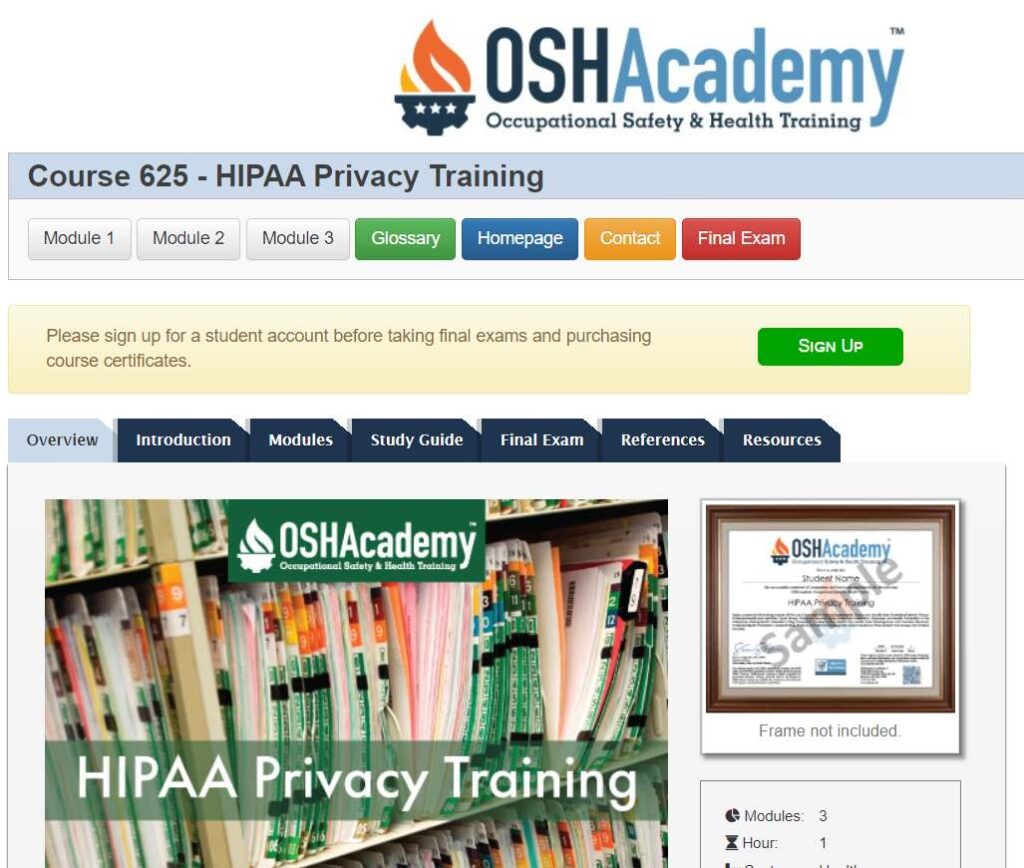 OSHAcademy brings several courses and programs to help meet compliance needs. Whether you are a seasoned healthcare professional or just starting out in the healthcare industry, OSHAcademy has something to offer you.
Its HIPAA privacy training course consists of three modules and it is of 1 hour duration. It is targeted at employees. You can access 100% of the training material for free. It includes a study guide, course activities, module quizzes, course exams, and resources.
Features
Training Dashboard
OSHAcademy comes with a training dashboard where learners can sign up with a login ID and password to create an account and take the final exams and purchase course certificates.
Videos
Find interesting and educational training videos on access rights by patients, how to obtain a copy of health records, and how to provide access to a third party.
Quizzes
Each module in the course comes with a series of quizzes and detailed quiz instructions. The questions are based on small and easily digestible sections in the modules.
Offline Study Guide
If you have your own unique way to learn, you can purchase OSHAcademy's printed study guides to read and learn offline. They are available on the Course Store Page.
Why We Picked OSHAcademy
Distinct sections in modules with audiovisual components
Easy steps to complete the training
A network of 50+ authorized training providers
Pricing
Free (The certificate needs to be purchased.)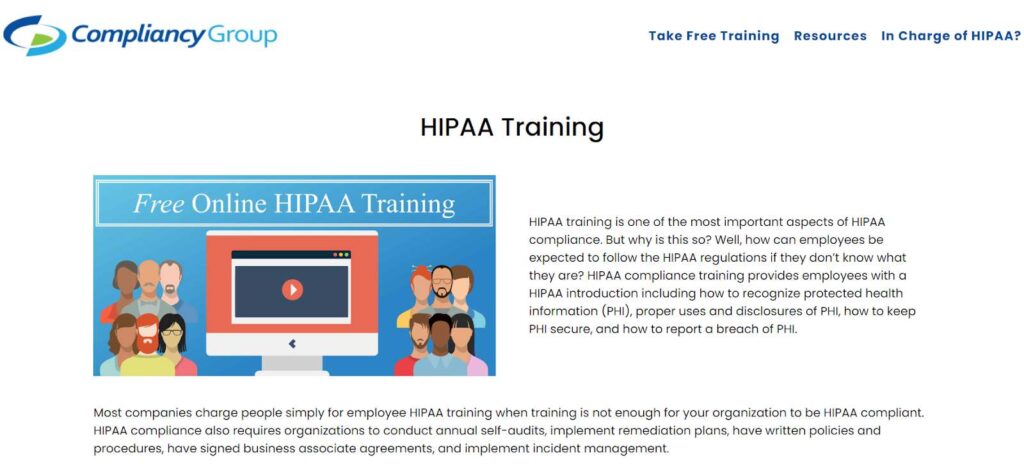 Compliancy Group's HIPAA training course is free and includes HIPAA 101 training, how to comply with HIPAA, and cybersecurity best practices. It offers an engaging way to learn about HIPAA and test your knowledge.
Whether you require training for dental professionals, mental health professionals, business associates, or employees, this HIPAA certification training can be a suitable choice.
You can get started on compliance with this training. But that's not all. Compliancy Group provides a complete HIPAA compliance solution in the form of compliance management software. With it, you can administer and track HIPAA training and ensure compliance.
Features
Train your learners using a series of engaging videos on the basics of HIPAA, security, risk analysis, and compliance.
Quizzes
There is a quiz at the end of the training. You can get the test score instantly and identify where your organization stands in relation to HIPAA compliance.
Free HIPAA Checklist
The HIPAA Compliance Checklist outlines everything you need to know to become HIPAA compliant. Know what you've done and what still needs to be done. The checklist is free and easily downloadable.
HIPAA Compliance Software
The compliance training software makes HIPAA training a breeze and gets users to the finish line, no matter what they've in place already. The solution comes with a compliance coach, risk assessment, breach support, and more.
Why We Picked Compliancy Group
It makes HIPAA compliance easy
Deals with every aspect of the law
Thorough & guided training
Pricing
Free (Limited to basic training & non-personalized certificate)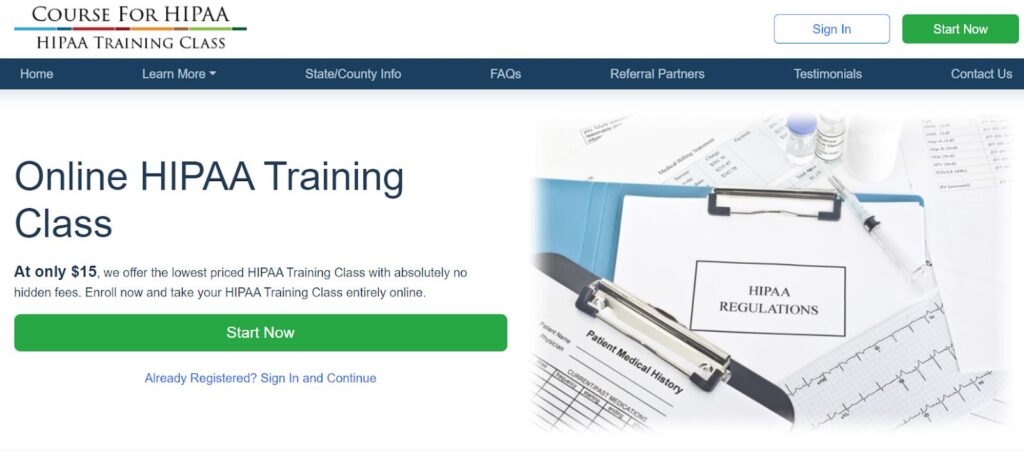 The online HIPAA training class is one of the court-required courses offered by the North American Learning Institute (NALI). The course is 100% online and self-paced.
It covers the key provisions of HIPAA, including Public Law 104-191, the Private Rule, the Security Rule, the Enforcement Rule, and the Omnibus Rule.
This training program also presents information about the General Administrative Requirements, Administrative Requirements, and the Security and Privacy provisions of regulation text 45 CFR Parts 160, 162, and 164.
Participants are required to spend a minimum of one hour reviewing the training material. However, they need not accrue that time in one sitting but take the class at their convenience.
Features
Created By a Certified Specialist
The course is authored by a certified specialist with expertise in several areas of business training and membership in top professional associations.
Works Across Devices
The course is accessible from any of the popular devices, and learners can start, stop, and resume based on their personal schedules.
Student Referral
If you wish to refer a student to the training, you can do so through a form containing an email message and course registration link with or without a referral code.
Certification
Learners get a downloadable certificate of completion and a wallet card via email. NALI guarantees that the certificate will be accepted everywhere.
Why We Picked HIPAA Training Class
It is recognized throughout the U.S. and Canada
The certificate comes with a 100% money-back guarantee
NALI programs are approved by the U.S. Department
of Justice and the Department of Business & Professional Regulation
Pricing
$15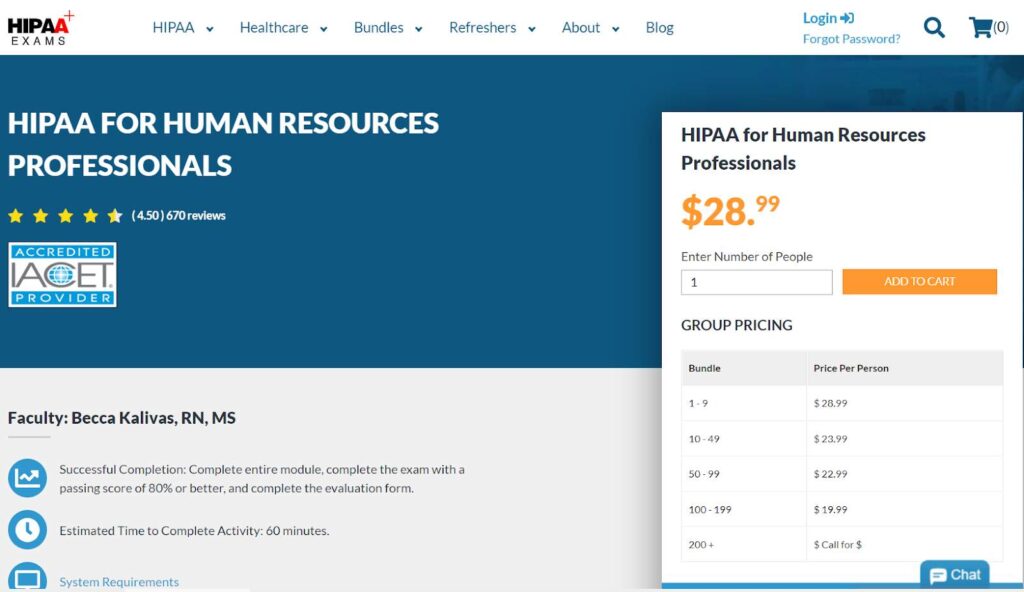 HIPAA Exams' HIPAA for Human Resources Professionals is a HIPAA training course designed for HR professionals. HIPAA Exams is an IACET (International Accreditors for Continuing Education and Training) accredited company.
The course covers the basics of HIPAA and the HIPAA Privacy Rule, Security Rule, and Enforcement Rule. Along with a standalone exam, there are video and audio components in the course.
Learners get a chance to make a total of three attempts to pass the exam. They can get instant access to the course from anywhere, 24/7, since it is 100% online.
Features
No Recurring Fee
The course entails just a one-time expense and there's no recurring fee.
1-Hour Course
The estimated time to complete the course activities is 60 minutes or 1 hour.
Credits
Continuing education credits are available to training participants. They are helpful, particularly for professionals who need to keep their certifications current.
Completion Certificate
Instantly print and get a certificate of completion upon successful completion of the HIPAA for medical office staff.
Why We Picked HIPAA for Human Resources Professionals
It is IACET accredited
The course can be accessed from any internet device at any time
Information-rich and easy to complete
Pricing
$28.99/person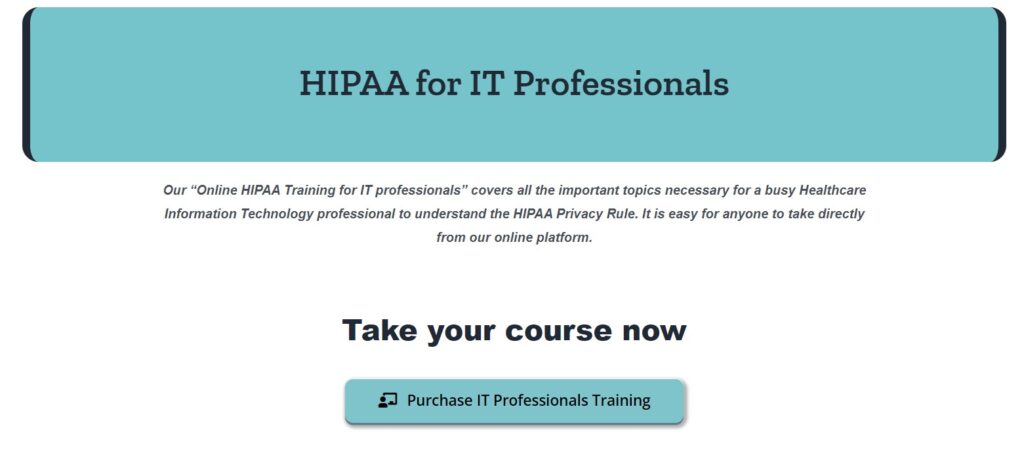 HIPAA compliance training for IT professionals is another HIPAA training course worth considering. It is brought to you by HIPAA Associates, an organization certified by leading healthcare compliance associations.
The course can prepare your healthcare IT professionals with the working knowledge of the HIPAA privacy rule and provide the background information for actively participating in protecting PHI.
This self-paced course discusses HIPAA regulations, their importance, and scenarios. It allows multiple retakes and is available for 90 days.
Features
Quiz/Test
There's a test or quiz at the end of each course section. In addition to the course, learners must take the assessment to get the certificate of completion.
HIPAA Checklist
The HIPAA compliance checklist is designed to assist you in developing your HIPAA compliance plan. It takes you through all the important steps expected by the Office of Civil Rights.
Completion certificate
Immediately after the training, learners are guaranteed a certificate of completion. The certificate is valid for two years.
Regular Updates
HIPAA Associates provides regular updates through its HIPAA ABCs newsletter at no charge. You can sign up for the newsletter as well as visit its resource page.
Why We Picked HIPAA for IT Professionals
More than 20 years' of experience in HIPAA compliance
Covers a vast area of HIPAA
Certified staff with a background in medicine, nursing & compliance
Pricing
$29.95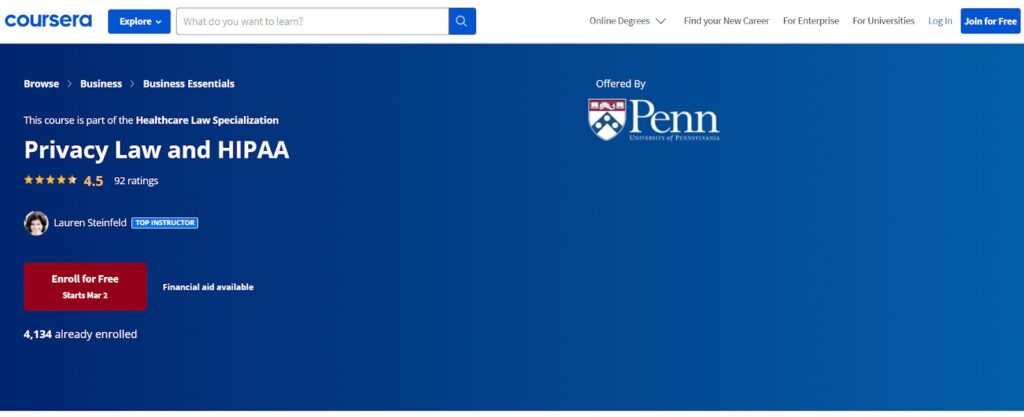 Coursera is one of the most popular and largest massive open online course (MOOC) providers. It boasts unlimited access to 7,000+ world-class courses, projects, and certificate programs.
Its course on privacy law and HIPAA discusses the practical aspects of navigating complex privacy requirements. It looks at the historical context, federal, state, and international health privacy laws, various models that promote the security of personal information, and breach notification laws. The course also includes real-world examples.
Lauren Steinfeld, a lecturer in law at the University of Pennsylvania, is the instructor. She is also the Chief Privacy Officer for Penn Medicine, and Senior Advisor for Privacy for the University of Pennsylvania.
Features
100% Online
The course is 100% online and participants can start it instantly and proceed with learning at their pace and schedule.
Flexible Deadlines
Easily reset the deadline of the course if you miss the initially suggested deadline or need to finish it in more than one session.
Shareable Certificate
You can easily share the course certificates on your CVs, LinkedIn profile, and other places.
Financial Aid Available
You can apply for financial aid or a scholarship if you can't afford the course enrollment fee. You'll find a link to apply for the aid on the description page.
Why We Picked Coursera
Covers all essential topics
Provides graded quizzes with feedback
Coursera certificates are acknowledged by educational institutions and workplaces
Pricing
Starts at $24.48/month
13. AMA Ed Hub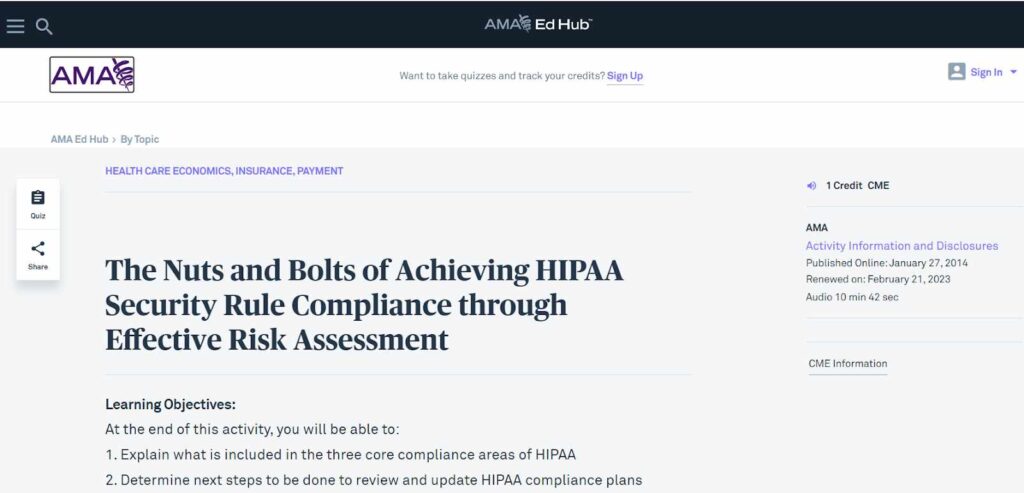 AMA Ed Hub is a unified education portal that provides personalized learning experiences to physicians and other medical professionals. Its high-quality training programs are designed to support lifelong learning, licensure, and certification.
The course titled 'The Nuts and Bolts of Achieving HIPAA Security Rule Compliance Through Effective Risk Assessment' walks you through HIPAA's three core compliance areas, and it can help you determine the next steps to review and update your HIPAA compliance plans.
Physicians can claim CME credits for all applicable activities.
The course includes a podcast, quiz, and resources consisting of FAQs and a HIPAA toolkit.
Features
Podcast
The podcast in the training program explains risk assessments and is 10 minutes 42 seconds long. It's presented by industry experts and downloadable.
Quiz
The quiz consists of 10 questions and you must score 80% or higher to pass it. You need to sign in to take the quiz and track your certificate.
Course Transcript
Here you can see your AMA account or profile, manage emails, choose your areas of interest, and view the training course transcript.
Certification
At the end of the training, you get a certificate of completion to meet your ongoing need for continuing education.
Why We Picked AMA Ed Hub
Trusted source
It's easy to find need-based programs
Supports CME through engaging activities
Pricing
Free (Requires signing in to take a quiz and track certificates)
14. U.S. Department of Health & Human Services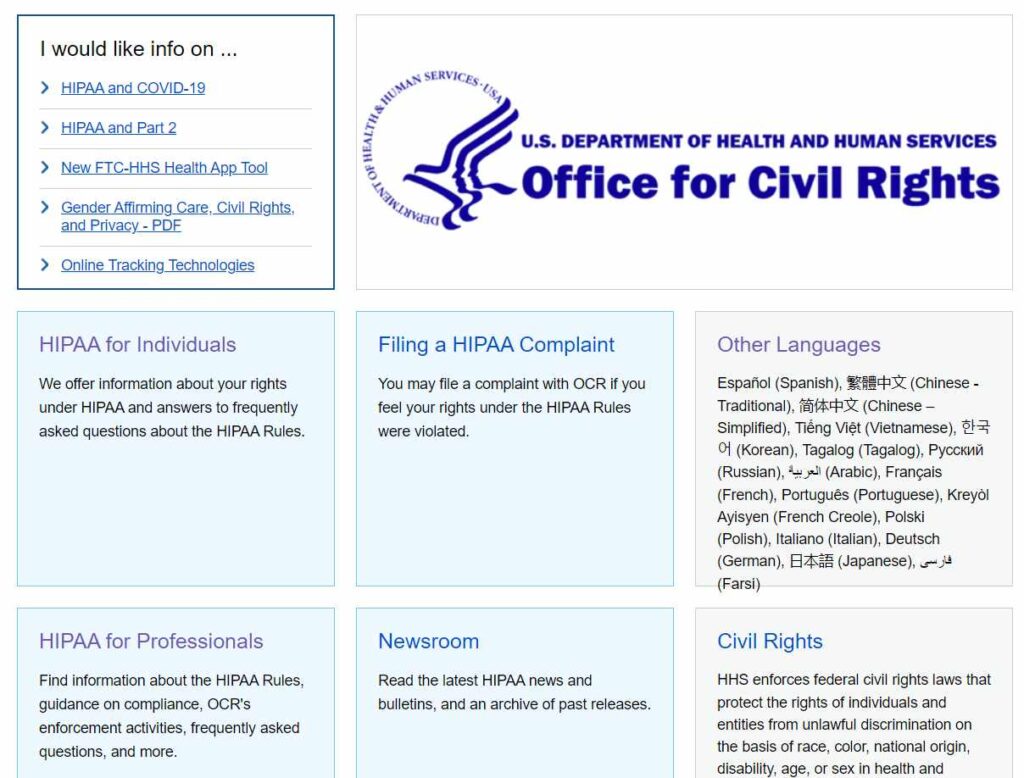 When it comes to a compliance training program such as HIPAA, the U.S. Department of Health & Human Services (HHS) is the most authoritative and reliable place. Its official website houses several publications, important documents, references, videos, and FAQs on HIPAA, civil rights, privacy, and other related topics.
It has classified HIPAA resources into two categories – individuals and professionals. You can print the publications or share them directly on popular social media platforms.
Through HHS, you'll get to learn about HIPAA privacy, security, breach notification, patient safety, filing a HIPAA complaint, and covered entities & business associates.
Features
Multilingual Support
HHS provides educational programs in 15 different languages, including English, Spanish, Chinese, Portuguese, Italian, German, and Korean.
Newsroom
The newsroom section on the website provides the latest news and bulletins as well as an archive of past press releases.
Complaint Filing
HHS lays out the detailed process of filing a HIPAA violation complaint with the Office for Civil Rights (OCR). You can also learn how OCR investigates your complaint and what happens after the investigation is complete.
FAQs
HHS provides HIPAA FAQs to professionals for additional guidance on various relevant health information privacy topics.
Why We Picked U.S. Department of Health & Human Services
Authoritative source
Comprehensive topics
Easy guidance on filing complaints
Pricing
Free (Requires a Flash plugin)
15. Medscape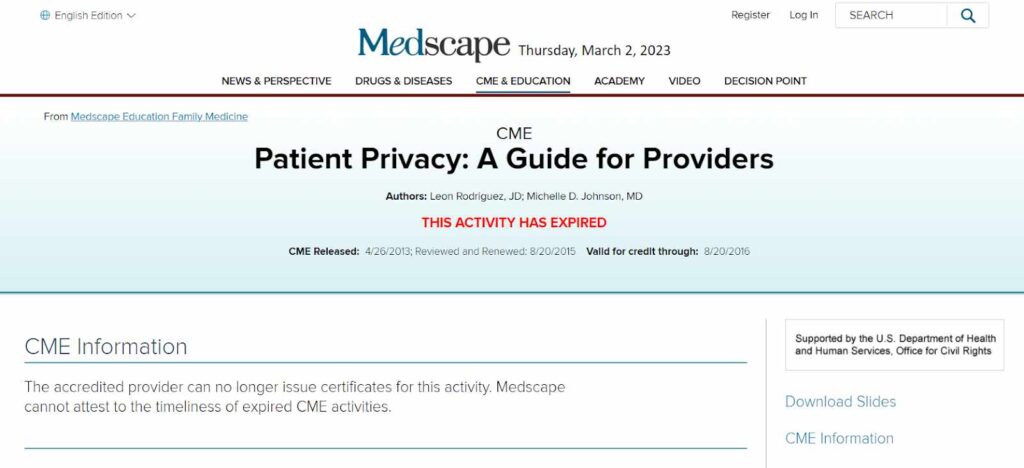 Medscape is a website that provides medical information for clinicians. It also supports continuing education for physicians and other healthcare professionals.
The website offers various activities on HIPAA compliance and one of them is Patient Privacy: A Guide for Providers.
This activity is targeted at practicing physicians and other healthcare providers in the United States. It describes the provisions of the HIPAA privacy rule and how you can implement them to safeguard patients' rights.
Upon completing this activity, you will know the rights of patients under the HIPAA privacy rule, and you will be able to implement strategies to build and maintain a culture of compliance.
Some activities like this expire after a while. But even if an activity has expired, you can still attempt it for the educational content.
Features
Slides
The course comes with downloadable slides that serve as a reference tool for learners.
Quizzes
These post-training tests require a minimum score of 75% to receive AMA PRA Category 1 Credit.
Credits
Participants should claim only the credit commensurate with the extent of their participation in the activity.
Videos
There is a video section on the website featuring conferences, case discussions, perspectives, and other educational programs.
Why We Picked Medscape
A good source of healthcare compliance information
The depth and breadth of content
Quick and easy to access the information
Pricing
Free (Activities come with an expiry date)
How to Choose the Best HIPAA Training Program
A look at these HIPAA training courses and programs would have given you an idea of what a first-rate course looks like. Let's now see some of the considerations you should make when selecting such a course.
Determine what you want from the course. This will be based on your learners' learning needs i.e., knowledge and skill gaps
Find out which course format you want, whether fully online or blended/hybrid approach
Make sure the course is fully customizable with your company policies, media, docs, and other training materials
The course should work across devices, browsers, and operating systems. This will increase accessibility
The course should support self-paced learning any time, anywhere, with flexibility in schedules and deadlines. This feature is necessary for targeting a worldwide audience
There should be enough engaging elements, such as videos, social learning, mobile-based microlearning, quizzes, podcasts, slides, and graphics
The course should ideally provide additional helpful resources and references to trusted sources
Preferably, the course provider should offer a software solution to administer the course. This will enable you to deploy the course in minutes. You can also choose a cloud LMS from the market for the purpose
Watch: How to Choose the Best SaaS LMS Software
HIPAA Training Course FAQs
What does HIPAA training for employees typically include?
Generally, HIPAA training for employees includes everything you need to know about the law as an employee. For example, healthcare staff can learn about HIPAA privacy and security rules from such a program. They are trained on how to handle sensitive protected health information. So, besides an introduction to or overview of HIPAA law, the training covers breaches and how to mitigate them, employers and employees' responsibilities, best practices, relatable scenarios, assessments, and course feedback.
Is HIPAA training free?
Some training providers offer HIPAA courses and programs free of charge. These courses give you greater control over what you learn. There's no financial commitment and so you can start and stop the course at any time without worrying about loss. Similarly, you can learn from experts and stay up-to-date with the law. But like most free offerings, free HIPAA courses come with a few limitations. They usually cover only the basic concepts and don't provide real certificates. Even if they do, you need to pay to get certified. Also, a limited number of participants or seats is another drawback of some of these programs.
Is your training certified by the government?
While the Department of Health and Human Services regulates HIPAA, it has never come out with a process for certifying training vendors. So, like many others, ProProfs simply follows the guidelines of the governing body in offering its HIPAA training course. That said, our course has been developed by a certified compliance officer with more than 15 years of experience.
How long is HIPAA training?
It entirely depends on the number of topics covered. A training that discusses just the basics of HIPAA can take up to 1 to 1.5 hours. The more advanced versions of the training can take a maximum of 2 hours.
How much does HIPAA training cost?
Like other courses, the cost of a HIPAA training course, program, or activity varies from provider to provider. That's why you should conduct a quick price comparison of the top-ranking training before committing yourself. It should suit your employee training budget.
What is HIPAA training certification?
HIPAA training certification is the certification training participants receive upon completing the training. It certifies that a covered entity or business associate has successfully undergone the training program. These certificates are accepted across all educational institutions and workplaces.
What if I take a quiz and don't pass?
You can take a quiz or final exam as many times as necessary. Usually, training providers allow retakes of these assessments until the learners pass them. This is primarily because HIPAA is a compliance matter and organizations must ensure their employees stay compliant with the law for maintaining a healthy audit trail and avoid legal liabilities.
Choose the Best HIPAA Training Course for Your Employees
HIPAA compliance training is a legal and moral obligation of every right-thinking professional or organization. The course you choose for the purpose will determine how well your learners learn, the learning outcomes, and the overall quality of the program.
This updated list of the best HIPAA training courses and programs for employees will hopefully assist you in selecting a training program and educating your employees on this important regulation.
The idea is to choose a program that is professionally designed, editable, engaging, and flexible in terms of scheduling. Also, make sure the course you choose is comprehensive in nature so that you find everything you need in one place.
Do you want a free Training Software?
We have the #1 Online Training Software for employee training & assessment