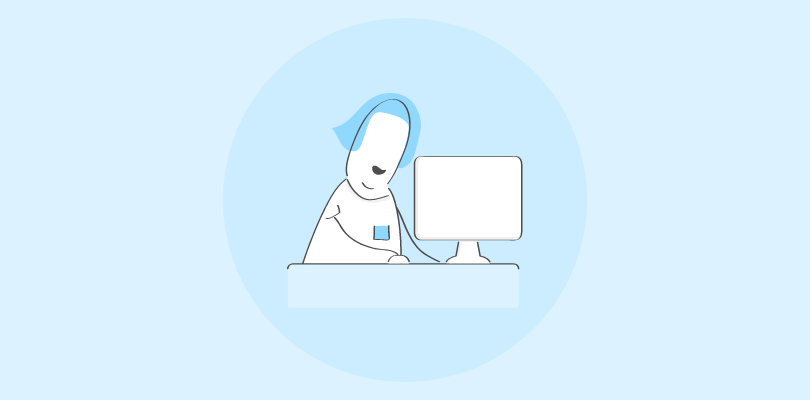 Ensuring a safe work environment and complying with industry regulations is paramount for an organization.
This is where a robust safety LMS comes into play, offering a comprehensive solution to deliver, manage, and track safety training programs effectively.
As an eLearning professional who has seen the value of safety learning management systems, I am excited to share my insights on the best safety LMS options.
Here's a summary of the tools we will discover in the article:
Safety LMS
Best For
Prices
ProProfs LMS
Best Safety LMS for course creation
Forever free for up to 10 learners.
Paid plan starts at $1.97/learner/month for large teams. Billed annually.
SafetySkills LMS
Best LMS for compliance training
Starts from $18/month
Safetyhub
Best LMs for video microlearning
$1-$6 /person/month
Bridge LMS
Best LMS for simplified learning
Starts at $4/user/month (billed annually)
SET Safety LMS
Best LMS for course creation
Starts from $1-$6 /person/month
iSpring Learn
Best LMS for secure content management
Starts from $2.29/user/month
TalentLMS
Best LMS for safety course creation
Starts from $69/month (billed yearly)
360Learning
Best LMS for collaborative learning
Starts from $8/user/month
Docebo
Best LMS for automated learning experiences
Starts at $1,600 per month
Vector LMS
Best LMS for workforce training management
Starts from Starting from $5/month
Top 10 Safety Training LMS for 2023
I curated this list based on my experience, recommendations from peers, and customer reviews that came up during my research for the top safety LMS.
1. ProProfs LMS – Best Safety LMS for Custom Course Creation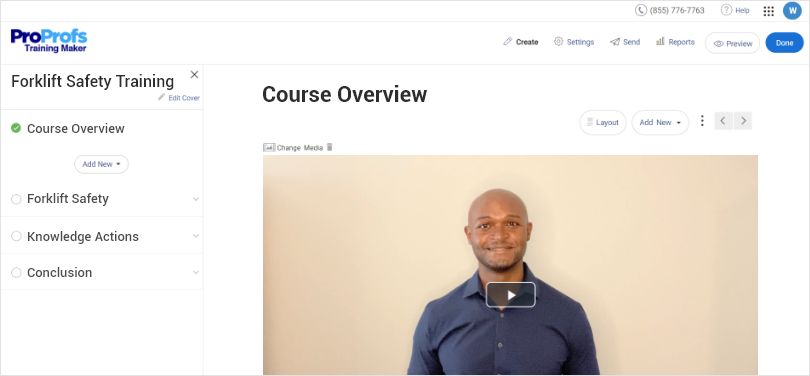 When I tried ProProfs Training Maker, I was delighted with the rich features that make it an outstanding safety LMS. The emphasis on safety was evident through its ready courses on in-demand workplace safety and compliance training topics.
With this safety learning management system, creating and delivering custom online courses is simple since it comes with a built-in authoring tool and ready-to-use templates, courses, quizzes, and assessments to engage learners effectively.
You can easily share the courses via an email, a QR code, an SMS, as a website embed, and on social media.
The LMS benefits high-risk industries, such as construction, healthcare, finance, and manufacturing.
The tool's integration capabilities are seamless, as you can connect with tools like Mailchimp and Salesforce. This integration ensured a safe and efficient flow of data. Not to forget the advanced reporting feature that offers valuable insights into learner performance while maintaining data security.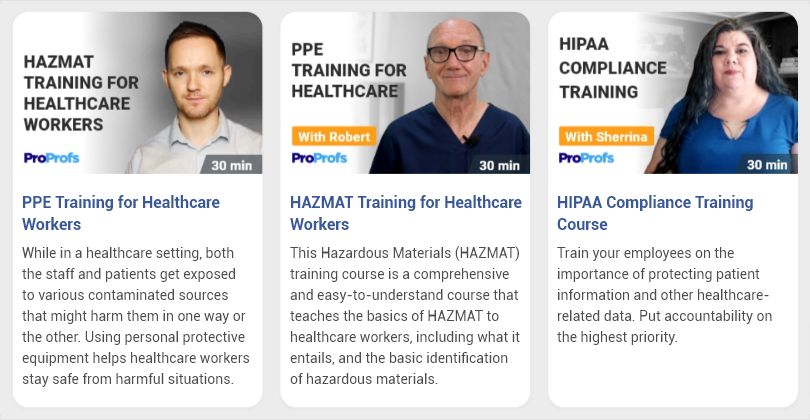 What you'll like:
Self-paced learning made it convenient for learners

Multiple admins access to ensure a seamless management and learning experience

Comes with

GDPR and CCPA compliance

for data security

Offers a 15-day free trial with essential features
What you won't like:
Lacks light and dark mode options

Lacks built-in video conferencing feature for live sessions
Pricing:
Forever FREE plan for small teams (up to 10 learners). Paid starts at 1.97/learner/month with a 15-day money-back guarantee. No hidden charges.
Watch: How to Choose the Best Corporate Training Platform
2. SafetySkills – Best for Compliance Training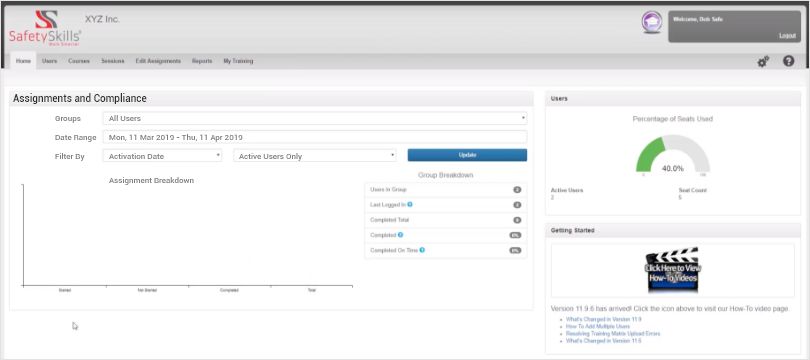 As someone who has used this tool on many occasions, I highly recommend SafetySkills for its exceptional competency-based safety and compliance training and learning management solution.
With over 500 courses meeting health and safety standards, SafetySkills caters to diverse industries like food services, hospitality, construction, and more.
Some notable features are industry-specific courses, multilingual accessibility, and compliance with OSHA, EPA, and DoT regulations. Like me, you can customize your courses with logos and streamline management.
What you'll like:
Effortlessly create learner groups, assign courses, generate reports, and monitor learner progress.

Customizable learning completion certificates with company logos

Enables you to upload courses and company materials
What you won't like:
Lacks course editing functionality for company-specific data

You'll need additional purchases to add certain types of video files to the courses

Crashes sometimes while in the use
Pricing:
Starts from $18/month
3. Safetyhub – Best for Video Microlearning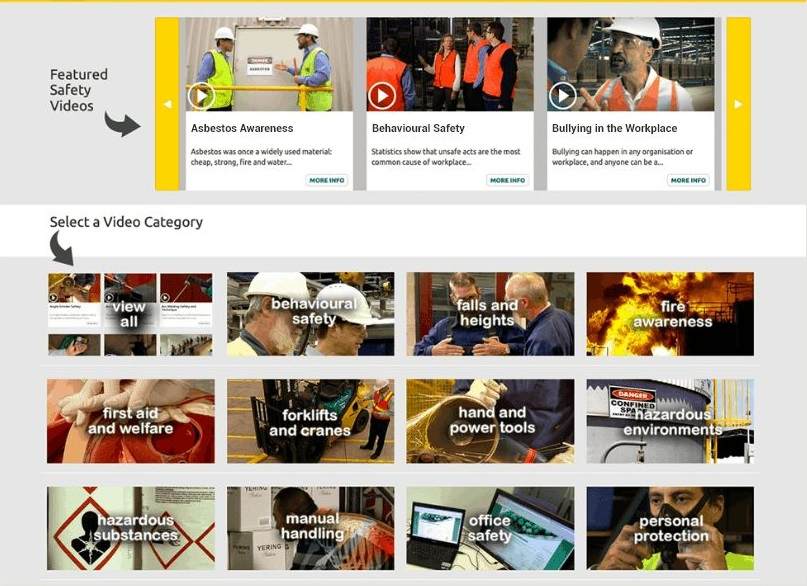 Safetyhub is an incredible safety LMS for its innovative microlearning safety videos. The tool offers a vast library covering major workplace safety issues, also accessible on mobiles.
It allows customization for a personalized training experience and the option to conduct online assessments for engaging safety training.
Cloud-based training simplifies the management of safety challenges and delivers effective training online. Safetyhub's comprehensive content and user-friendly approach made it a top choice to include in this list.
What you'll like:
Provides completion certificate, training progress, and tracks engagement KPIs

Supports multiple devices, including Android, iOS, MacOS or Windows

Offers custom domain name and branding for your company

SCORM functionality allows you to embed Safetyhub's resources into your LMS or vice-versa
What you won't like:
Limited to no integrations with other platforms
Pricing:
$1-$6 /person/month
4. Bridge LMS – Best for Simplified Learning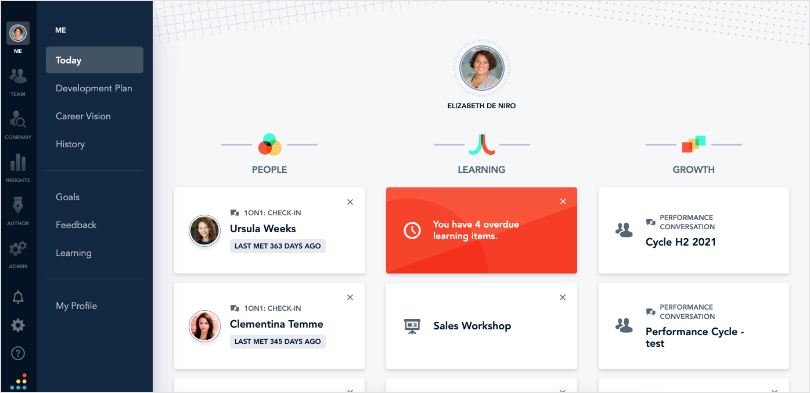 As an online trainer, I can vouch for Bridge as the top safety skills LMS for streamlined and simplified learning. Its features make content creation, delivery, and assessment effortless, resulting in a highly efficient learning process.
This safety LMS ensures engagement and effective learning outcomes through interactive quizzes and real-time progress tracking.
One feature, in particular, stood out to me— Bridge Retain. It allows businesses to send learners quizzes automatically to help them retain the knowledge from the courses.
It also offers a responsive mobile app, facilitating learners to learn on the go even more.
What you'll like:
Offers quick and easy registration for live training sessions

Simplified assignments for targeted learning

Social commenting and video-based learning
What you won't like:
Lack of text editing features in the authoring tool

Categorization functionality is not comprehensive and needs improvement.

The speed of operation is inconsistent
Pricing:
Starts at $4/user/month (billed annually)
5. SET Safety LMS – Best for Building Online Courses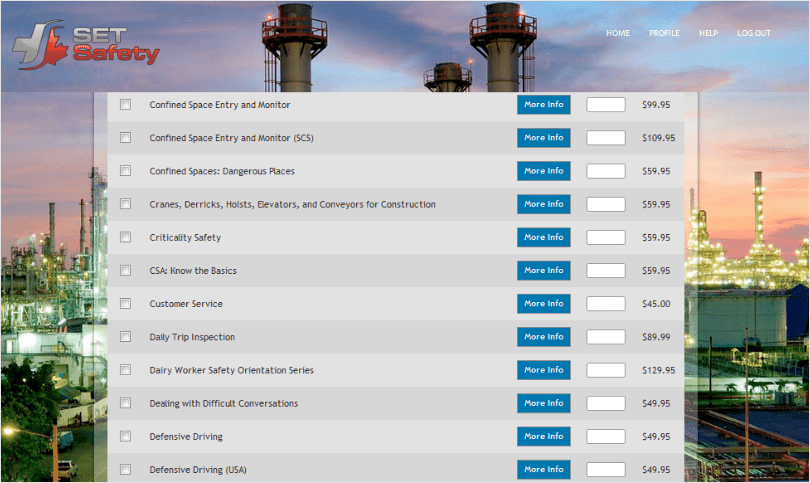 SET Safety is another top-notch safety LMS I recommend for streamlined course creation and safety training. This web-based, mobile-friendly LMS was a perfect fit for our SMB. Tracking and reporting on safety training became effortless with SET Safety's user-friendly interface.
Some of its useful features are compliance-based courses, options to customize content to suit our needs, certificate tracking, and simplified competency validations.
Its integration with our business systems was a game-changer, automating tasks and ensuring seamless data synchronization. Plus, the document management feature made handling employee-specific files and reviews a breeze.
What you'll like:
Calendar management features kept instructor and student schedules in sync across multiple locations.

Robust admin permissions, i.e., assign user access rights based on roles.

Single sign-on functionality made it easy for us to authenticate access to the LMS
What you won't like:
Its mobile app doesn't offer the same functionality as its web version

Lacks advanced reporting and customization capabilities
Pricing:
Starts from $1-$6 /person/month
6. iSpring Learn – Best for Secure Content Management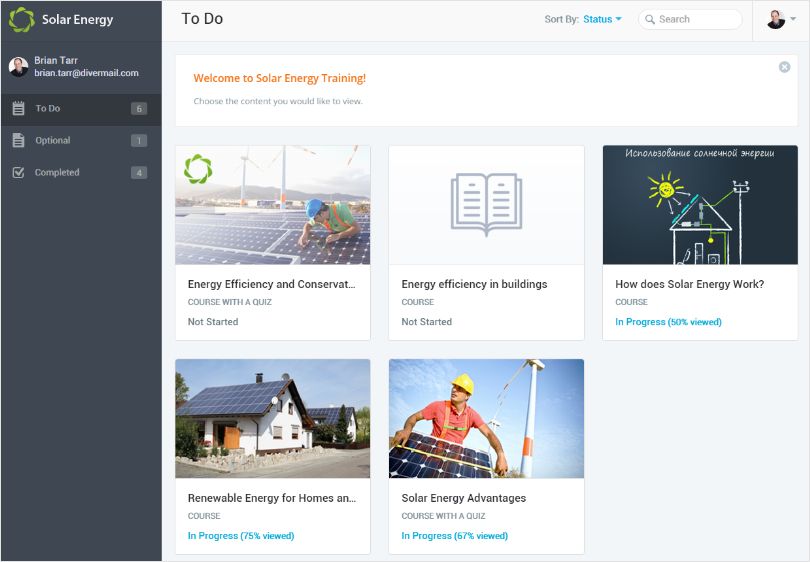 iSpring has rightfully earned its place on this safety LMS list for various compelling reasons. Creating engaging courses and insightful quizzes became effortless with iSpring safety LMS, ensuring my team stayed up to date while allowing me to conduct effective knowledge assessments securely.
As I tried out this cutting-edge, secure LMS, I was impressed by its content management capabilities, such as the easy content publishing options, allowing administrators to make courses available to learners quickly.
Compliance with regulations was seamlessly achieved, and the overall skillset of my team members significantly improved. It also offers multiple safety and training templates.
What you'll like:
Provides certification for courses

Merge PDF guides, SCORM packages, ILT sessions, etc., into courses

Automates tasks like notifications, issuing certificates

Store and save reports with training results securely
What you won't like:
Not compatible with Mac devices, which can affect learning for mac users

Minor bugs in video screen recording feature

Reporting is not up-to-date, which can be a deal-breaker for trainers wanting deep insights into learners' performance
Pricing:
Starts from $2.29/user/month
7. TalentLMS – Best for Safety Course Creation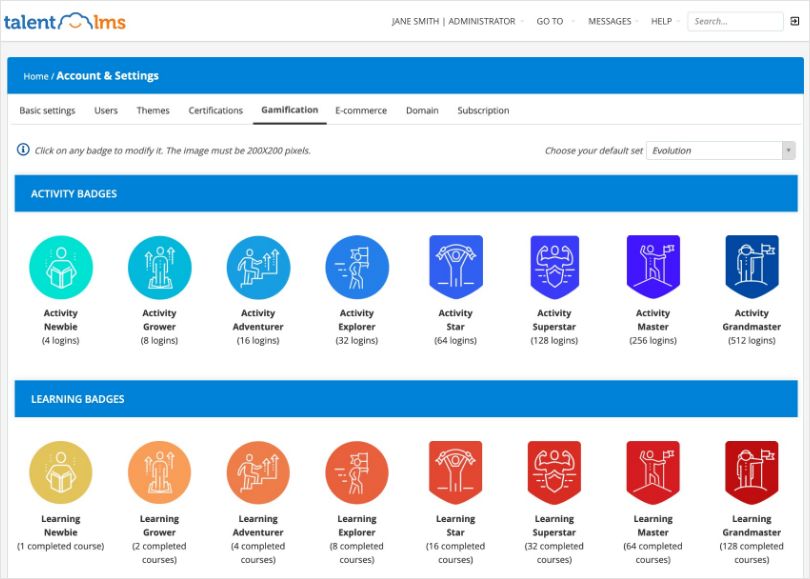 TalentLMS is another highly versatile safety learning management system. It proves to be a comprehensive solution for delivering effective training programs while ensuring safety and security.
For me, transitioning seamlessly from costly in-person seminars to efficient online training reduced expenses and increased accessibility for learners, creating a safe and accessible learning environment.
The smoother course creation, customization options, and secure uploading of training materials further enhance the user experience. It also offers multiple compliance training courses to get you started right away.
With on-demand reporting and certification features, doing administrative tasks became simpler, enabling easy tracking of learner progress and generating compliance reports.
All in all, TalentLMS stands as an invaluable tool for effective safety training, in my experience.
What you'll like:
Comes with SSO functionality and SSL encryption

Incorporates gamification features, such as badges, points, and leaderboards, for enhanced user engagement

Multilingual support catering to the needs of global enterprises with diverse language demands

Virtual classroom functionality integrated for real-time instructor-led training and interactive webinars

Equipped with the exclusive TalentLibrary™, boasting a wide array of ready-to-use courses
What you won't like:
Discussion forum is dated

Navigation can be complex for new users

Learning path function has limitations, such as it is not flexible for creating complex learning journeys
Pricing:
Starts from $69/month (billed yearly)
8. 360Learning – Best for User Management Automation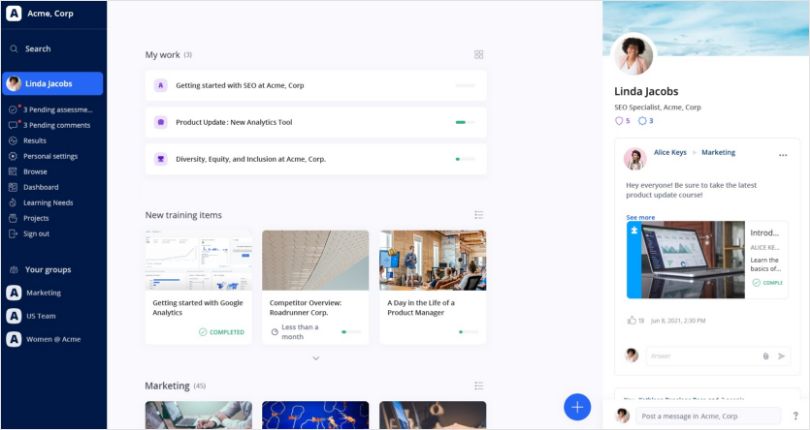 360Learning, the ultimate safety LMS, impressed me with its collaborative and learner-centric approach. From onboarding to frontline training, 360Learning revolutionizes learning by simplifying the process.
One standout feature is its user management automation, which saves time and streamlines administrative tasks. Additionally, the dynamic settings enable the delivery of personalized training, ensuring optimal outcomes for learners.
360Learning can be a powerful safety LMS that fosters collaboration, learner engagement, and effective training across various learning scenarios.
What you'll like:
Comes with project management capabilities

Provides easy-to-use course creation and authoring tools that support various multimedia formats

Facilitates seamless collaboration between learners and SMEs
What you won't like:
Needs more comprehensive compliance features

Some users might find reporting and analytics to be less comprehensive or detailed
Pricing:
Starts from $8/user/month
9. Docebo – Best for Automated Learning Experiences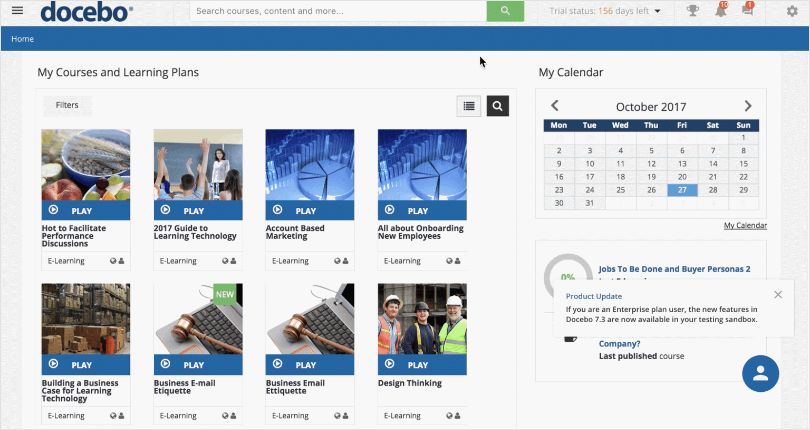 Having explored various safety LMS, one platform that stood out similarly to me is Docebo. It excels as the best safety LMS for automated learning experiences, user-friendly interface, and an intuitive design.
With seamless integration with tools like Salesforce, WordPress, etc., importing, managing, and delivering safety-based courses became effortless. I could access a vast library of pre-existing safety content and create interactive modules.
One of the things I appreciate is that this safety LMS efficiently automates various aspects of the learning process.
From setting up automated course enrollments and notifications to sending reminders, it ensures learners remain engaged and informed without constant manual intervention.
What you'll like:

Offers scalable solutions to accommodate organizations of all sizes

Has a mobile app to help learners learn on the go

Features that help you create learning paths
What you won't like:
Reporting options are limited in their capacity to offer in-depth analysis

Reporting via CSV or Excel is burdensome

Limited admin permissions lead to unoptimized management
Pricing:
Starts at $1,600 per month
10. Vector LMS – Best for Workforce Training Management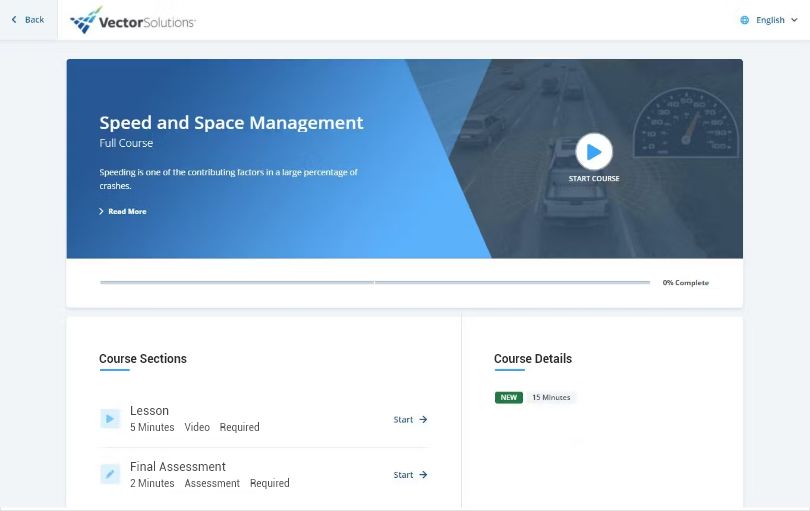 This exceptional safety training and compliance management software provides a seamless single platform for medium-sized companies and large multi-site enterprises to deliver comprehensive training programs.
In my experience, Vector LMS ensures an efficient process, be it importing content via an import wizard or creating custom content using built-in tools.
Automating training courses, scheduling, and assignment becomes effortless with its scheduling engine, complete with email reminders and notifications.
Besides a huge library of safety training material, I also liked the seamless integration with HRIS and eCommerce platforms and custom application development using the API, further enhancing versatility.
What you'll like:
Easy to upload content to training courses

Offers employee and learner portals

Multi-language support for training a worldwide audience

Single-sign-on with SCORM compliance

A centralized management hub to keep tabs on training progress, completions and results
What you won't like:
Limited reporting functionality, such as a lack of real-time insights

Unoptimized design process for new content and designing overlays
Pricing:
Starts from Starting from $5/month
Which Is the Best Safety LMS for You?
Now that we've discussed all the tools in detail, you have a basis for comparing these tools with your needs and choosing the one that best fits your requirements. For me personally, I would like to suggest the top 3 options from the list to make it further easier for you.
Option A: ProProfs LMS
ProProfs LMS sets itself apart as a user-friendly platform that requires no specialized technical expertise. Its intuitive interface enables the creation of safety-centric online courses within minutes, while the added AI-reporting feature enhances the learning experience.
Whether you are an SMB, a large organization, a freelancer, a teacher, an NPO, or a government agency, ProProfs LMS caters to diverse users, providing a comprehensive solution for your safety training needs.
Option B: SafetySkills
One of the things I most appreciate about this safety learning management system is its competency-based quizzes and its adaptive (ABLE) learning framework to promote active participation. It's a perfect safety LMS for startups and small businesses as it's affordable.
Option C: TalentLMS
This safety LMS stands out as one of my top recommendations due to its exceptional ability to streamline administrative tasks, extensive customization options, and safety and compliance courses.
TalentLMS proves to be the perfect fit for small to midsize companies, providing a comprehensive and user-friendly solution to elevate their safety training efforts.
Although all these options are my favorite, if I had to choose one tool, I'd go with ProProfs LMS because it's feature-rich and supports extensive customization options.
In my personal experience, it has a comprehensive library of training courses and allowed me to create my own training courses. Their excellent customer support played a huge role in arriving at this decision.
Learn More About Safety LMSs
What is a safety training LMS?
A safety training LMS is a learning management system specifically designed to deliver and manage safety-related training programs in-house or remotely, ensuring employees receive essential safety knowledge and skills. To understand an example of such training,
Watch this video: What is OSHA Compliance Training? Requirements & Benefits
How does a safety LMS differ from a traditional LMS?
Safety LMS differs from a traditional LMS by focusing solely on safety-related content and compliance, offering specialized safety courses, assessments, and reporting tailored to the organization's safety compliance needs.
What are the key features to look for in a safety LMS?
Key features to look for in a Safety LMS include a diverse catalog of safety courses, real-time progress tracking, compliance reporting, interactive quizzes, and customization options for personalized training.
What are the benefits of using a safety LMS?
Using a Safety LMS provides several benefits, including enhanced safety awareness, improved compliance with safety regulations, reduced workplace accidents, streamlined training processes, and efficient tracking of employee progress.
How can a safety LMS help improve safety training and compliance within an organization?
A safety LMS helps improve safety training and compliance within an organization by centralizing safety-related content and providing easy access to employee training materials.
It ensures consistent and standardized safety training, enables real-time monitoring of employee progress, facilitates compliance reporting, and ultimately contributes to a safer work environment.
Do you want a free Training Software?
We have the #1 Online Training Software for employee training & assessment