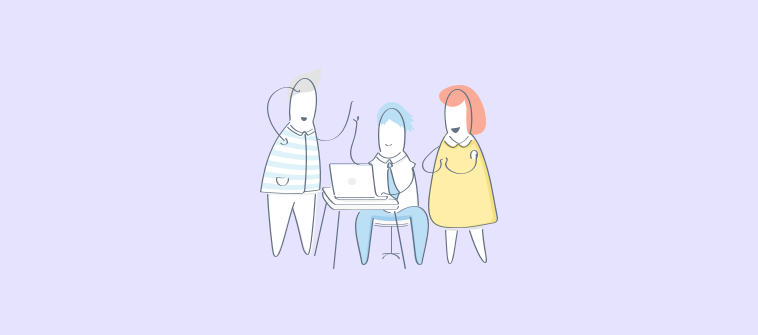 The hospitality industry is one of the fastest-growing industries. It employs people in diverse positions and capacities. In the U.S. alone, 13.13 million people were working in the industry as of December 2020.
Considering this, one can easily imagine how massive the training needs in the hospitality industry are.
In this blog post, we'll be looking at the different aspects of hospitality industry training, including the importance of employee learning & development (L&D), how an LMS can help you, and how to choose the best LMS and courses for the purpose.
This will help you make the most of the training and education in the sector, boost employee performance and productivity, serve customers better, and increase your bottom line.
What is Hospitality Industry Training?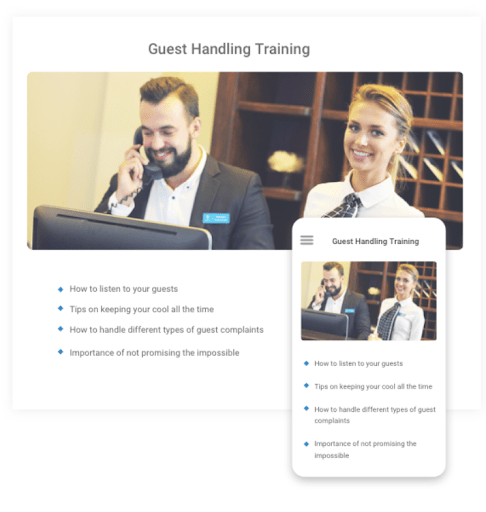 Hospitality industry training is meant for the workforce employed in the hospitality industry. It encompasses establishments such as restaurants and hotels that deal in food & beverages and lodging.
It also includes the travel and tourism industry, such as travel agencies and airline companies. Recreational activities such as spas in resorts also come under this category.
Generally, common training topics are onboarding, food safety, communications with guests, housekeeping, menu management, safety & compliance, and policies & procedures.
The hospitality industry is a service-based industry. Its employee training programs are tailored to educate participants on industry skills and how to use them to offer the best services to customers and uphold a hospitality culture.
These days, most companies rely on online training software to deploy training in the hospitality industry.
Importance of Staff Training in the Hospitality Industry
Like training in other major industries, training in the hospitality industry is significant for several reasons. Some of the top ones are:
Customer Satisfaction
Hospitality is a customer-facing service and its success depends on customer satisfaction. Whether interacting with customers, serving them, or handling their complaints, the hospitality staff needs the skills to meet these requirements.
Only well-trained employees can professionally render quality customer services. This leads to customer happiness, which ensures customer retention, thereby benefiting your business.
Employee Retention
94% of employees would stay at a company longer if it invests in their learning and development.
Increased employee loyalty and decreased turnover are directly related to investment in employee training programs for continuous learning & development. This holds true for training in the hospitality industry too.
Considering the fact that the turnover rate in the hospitality industry in the U.S. is as high as 70% to 75% annually, regular staff training in this sector makes complete sense. This will keep employees' morale and productivity high and prevent job change.
Let's take the example of hotel employees at the booking counter. Without proper training on how to greet customers and close a conversation, the likelihood of them influencing customers to book a room or table decreases drastically.
In fact, a recent report in a hotel publication mentioned that the use of specific "stick" words at the front desk increased booking rates by 2.5 times.
With proper training, you can shape the outcome to be dramatically so different.
This reinforces the importance of customer service training in the hospitality industry. A thoroughly trained employee will consistently deliver as expected by customers and attract more customers to your business.
What is a Hospitality LMS?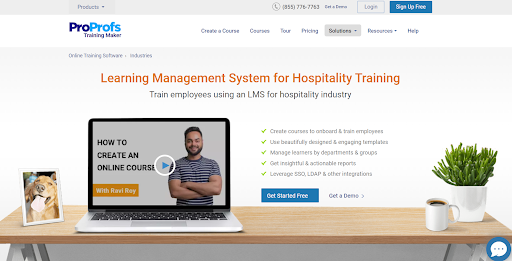 A hospitality LMS is a learning management system designed for use in the hospitality industry. It provides everything in one place for users to create, share, manage, and track online training courses and tests. You can easily create learner groups and sub-groups, create group admins and assign them roles and permissions, update content, and view reports in real-time.
The courses and other online learning resources are available 24/7 in the cloud. So learners can access them anytime, anywhere, and from any device. You can even facilitate social learning through a collaborative forum.
LMS software serves as your customized eLearning portal to implement employee training programs under your own brand and by integrating with your existing systems. By deploying these solutions, you can accelerate training development and save a significant amount of time and costs.
How Can an LMS Help in Hospitality Training?
A cloud LMS for hospitality industry training programs such as Training Maker can help you streamline online L&D in a measurable way. An LMS software dedicated to hospitality training serves as the connecting platform between your training ideas and learners. It's helpful whether you're talking about onboarding, technology training or workplace safety training.
Let's now find out some of the game-changing roles these software applications can play in online hospitality training.
Easy Course Creation
A hospitality LMS makes online course creation a breeze. Generally, you can upload existing content in minutes and build courses, microlessons, and tests. It's as easy as drag and drop.
Some providers even offer a library of customizable courses and training templates. You can reuse the same content to train different groups of learners and ensure consistency in learning.
Centralization of Training
Virtual classroom software found in a corporate LMS enables you to centrally manage how you create, share, and track hospitality training courses.
You can do everything on a single platform, from adding learners to assigning courses to them, tracking, viewing reports, and certification
This removes the need to shuffle between different tools, which can be complicated at times.
Anytime, Anywhere Learning
Like many other eLearning platforms, hospitality training LMSs facilitate anytime, anywhere learning. This means geographical boundaries and time zone differences become irrelevant.
Learners can self-pace learning and follow schedules that suit them best. In other words, learners are in control of their learning, while the instructors simply play the role of a facilitator.
This is perfect for practical operational training of front-line staff or floor staff members, who may face difficulty attending traditional instructor-led training sessions in between work hours.
Delightful Learner Experience
Today, learning is all about experiences and how learners interact with their tools. Retaining information on different topics can be mind-boggling at times for your hospitality staff.
Fortunately, hospitality training software can take care of this need in the following ways to make learning a delightful experience:
* Localization support – Create courses in the language of your choice adapted to local learners' needs.
* Collaborative learning environment – Let learners interact with each other on one platform.
* Pause, save, & resume – Fit training sessions easily into a busy workday.
* Announcements & reminders – Ensure no information or update is missed.
* Multimedia-rich platform – Add videos, quizzes, images, infographics, flashcards, and polls to make learning more engaging.
Security Control
While offering all the exciting features, hospitality industry LMS software doesn't downgrade security measures. For example, Single Sign-On (SSO) allows you to enforce the same authentication management system across your organization.
Likewise, password protection of courses, role-based permissions, and IP address blocking make online training safe and secure for everyone.

Automatic Reporting & Grading
Apart from certification, the best hospitality training systems support the automation of reporting and grading. Automated reporting gives you access to training reports and updates at regular intervals, while automated grading saves you the time and labor from manually evaluating learners.
Plus, it removes the chances of human error and ensures transparency.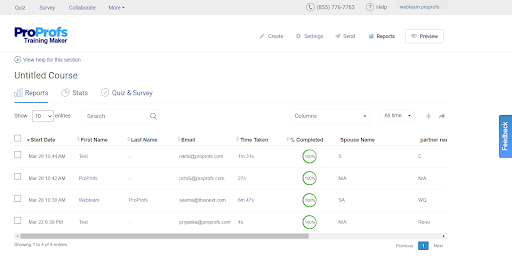 How to Choose the Best LMS for Hospitality Industry
Choosing an LMS for your hospital training can be tricky. The options available are not only overwhelmingly numerous but many of these solutions are similar-looking in nature.
If you're still in the consideration phase, keep the following characteristics in mind so that you land the right one.
Ease of Use
Make sure the hospitality LMS you finally choose is easy to understand and use. It should be usable by people of all skill levels without needing any coding knowledge. This will help with speedy implementation and a short time to value.
Flexibility
This is another key element of LMS software. End-users shouldn't change how they work to adopt a new training solution. Instead, the solution should be easily modifiable to accommodate specific training requirements. The flexibility of time and place in learning is an example of this attribute.
Customization
No two LMS customers have the exact needs. That's why the platform you select should be easily customizable in terms of course settings, security, notifications, and integrations. This will add a personalized touch to your training and help promote your brand.
Course Library
A library of ready-to-use online courses can be one of the main criteria for choosing an LMS for hospitality training. Usually, these resources are designed by professionals and editable. Contrary to creating courses from scratch, which can take time and human labor, these libraries can help you get your training up and running in no time.
Collaboration
When learners learn together, they learn better and improve their problem-solving skills.
A Q&A platform for internal collaboration can promote social learning where participants ask and answer questions, share ideas, and solve problems collectively. This can lead to better training outcomes.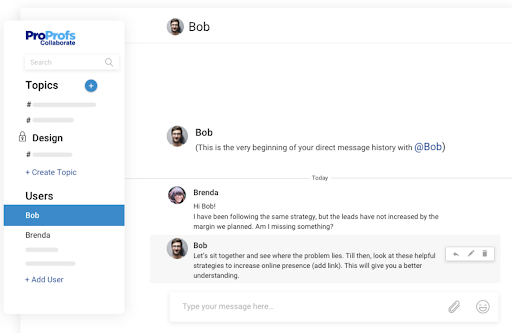 Language Support
Today, many companies enjoy a global presence in their strive to penetrate the international market. This would necessitate training different audiences speaking different languages.
An LMS with multilingual support can be an ideal solution in such a situation. It should ideally support multiple interface languages, localization, and translation. This will enable learners to learn in a language they understand.
Quizzes
Just like courses, quizzes form an essential part of online employee training. Through quiz-based assessments, you can evaluate your learners' comprehension, check retention, and analyze knowledge gaps. You can provide targeted training based on improvement areas.
Make sure the training solution you finally consider comes integrated with quiz-making tools that make knowledge easily measurable.
Reporting & Analytics
This feature is available in almost every LMS. It allows you to track course compliance like start and finish time or pending and completed courses. Engagement level and satisfaction ratings are other insights you can view on a dashboard. Such real-time data aims to help admins and instructors ensure no learner falls behind with the training.
Pricing
Considering the pricing model is also a must to ensure that it suits your budget and does justice to your training requirements. So, regardless of the LMS software you finally choose, make sure it offers fair and transparent pricing devoid of any hidden costs. Ideally, the price should be based on the size of your company, the number of learners, and the scope of implementation.
Customer Support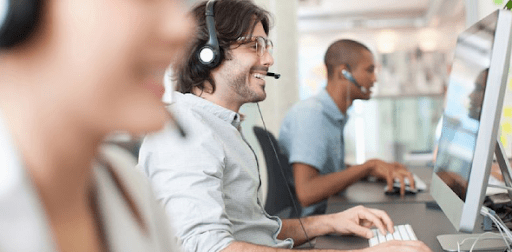 For many LMS users, the quality of customer service is more important than the quality of the LMS they are being offered. In fact, customer support forms the backbone of relationships with customers and it can make or break them. Insist on software with a service, not simply software as a service.
Professional support will make it easy to implement a solution successfully and to address any queries and issues from time to time.
Best Hospitality Training Courses
Before we wrap up, we thought it would help you to give a quick list of some popular hospitality training courses. These courses deal with topics relevant to the industry. Take a look.
Introducing Yourself to Customers
Make a positive and lasting first impression on your customers. Build enduring relationships with them based on trust. Master the art of written and face-to-face self-introduction.
Managing Customer Expectations
Live up to your customers' expectations, keep them delighted, and get repeat customers. This course discusses how to manage customer expectations by providing positive experiences. It helps identify expectation types and factors that influence expectations.
Master the art of business communications by learning how to be a great communicator who gets things done right and on time. Drive increased engagement and transparency in the workplace.
Understand your customers better and make your interactions more meaningful by cultivating active listening. Improve your communication skills and reduce misunderstandings, conflicts, and disagreements.
Never leave workplace conflicts unresolved. Learn how to end them immediately before they get out of hand. This course will help you build a friendly, positive, and healthy environment for everyone.
Health & Safety Awareness Training
Ensure the health and safety of your employees and customers through this awareness training course. Build a workplace where everyone feels safe and remains away from health hazards, including accidents and fatalities.
Provide the Best Hospitality Industry Training
The key takeaway from this topic of discussion is that as a business owner, you should fully understand the importance of hospitality training and use the best tools to administer it. Only then will your employees be able to learn, develop core industry skills, and bring business success.
Get your training programs right the first time. Use the best hospitality training software for efficient, engaging, and effective learning sessions, whether they are for food handling, guest handling, housekeeping, or soft skills training.
Remember, consistent and successful training starts with choosing the right employee training system to put your ideas into action.
Do you want a free Training Software?
We have the #1 Online Training Software for employee training & assessment