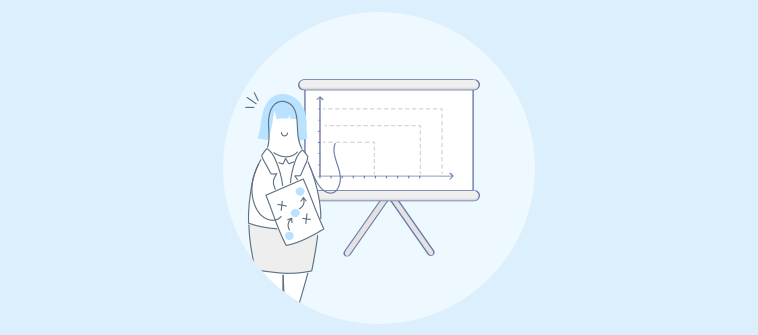 Which is the Best OSHA Training Course?
There are many OSHA courses online that you can use. They include both free and paid editions. The best thing about these courses is that they are designed for learners of all knowledge levels – beginners, intermediates, and professionals. The courses are developed by industry experts for a safer and healthier workplace.
Regardless of the industry you belong to, there is always the need to ensure safe and healthy working conditions for employees. And there is no better way to achieve that than by following the guidelines of a regulatory agency such as OSHA.
Under the Occupational Safety and Health Act of 1970, employers should provide a safe and healthful workplace for workers to avoid injury, illness, or death while performing duties. All employers need to comply with the regulations. There are many online OSHA training courses that are consistent with these guidelines.
In this listicle, we look at the 10 best OSHA training courses that you'll find helpful in ensuring that your employees return home safe and sound every day.
10 Best OSHA Training Courses
Best For
ProProfs OSHA Compliance Training Course

Meets OSHA guidelines
Easily customizable
Engaging quizzes
Anytime, anywhere learning
Online community
Tracking & reporting

OSHA Education Center

OSHA-authorized
Nation-wide training
Bulk discounts
General & construction industry
10 & 30-hour training courses

OSHAcademy

Free access
Used by businesses, govt. agencies, & educational institutes
Corporate discounts
Authorized Training Providers (ATPs)
Training documentation

360training

Regulatory-approved
Quality course content
Dedicated account manager
Powerful LMS
In-depth reporting

ClickSafety

OSHA-authorized
Comprehensive program
Anytime, anywhere learning
Latest compliance standards
10 & 30-hour courses

oshatraining.com

Developed by certified safety professionals
Partnership with 360training
10-hour and 30-hour outreach training courses
General & construction industry
DOL cards

OSHACampusOnline.com

OSHA-authorized training
General/construction industry
10-hour/30-hour training courses
Provided by the University of South Florida
DOL cards

USFOSHA

Nationally accepted
Bulk registration discounts
Anytime, anywhere
Downloadable certificates
DOL wallet cards

Lion Technology Inc.

Live webinars with experts
Group/private training
English & Spanish languages
Experience in safety training
Ongoing support services

OSHA.com

Interactive online courses
10-hour/30-hour outreach
Official DOL card
Free study guide
Total training solution
With this as the background, let's now dig deeper and find out more about each of these courses.
10 Best OSHA Training Courses Online
1. ProProfs OSHA Compliance Training Course
ProProfs OSHA compliance training course focuses on injury and illness recordkeeping as required by the regulatory agency. It also talks about workers' compensation, compensable vs. recordable incidents, recordkeeping exemptions, recording requirements, 300 Log, and more. The course includes quizzes for the purpose of assessment.
This course is completely self-paced, so learners can proceed according to their own schedules as long as they don't fall behind.
In addition to the online OSHA training course, ProProfs offers several other compliance training courses, including:
HIPAA Compliance Training Course
Personal Protective Equipment (PPE) Training
Sexual Harassment Training Course
Workplace Violence Prevention Training
Watch: What is Workplace Violence Training? Risks Factors & Prevention
Features:
✓ Ready-to-UseThe OSHA training course is ready for deployment as it is, or you can edit it according to your needs. Get the training up and running in minutes.
✓ QuizzesInclude engaging quizzes in your online courses for ease of assessment. Choose from question banks, templates, and 10+ question types.
✓ Learning Management SystemShare and track OSHA and other online courses with the help of a robust cloud LMS. Leverage complete eLearning solution, and get customer support 24/7.
Watch: Send Link in Email
✓ ReportingKeep track of learners' progress to ensure compliance. Get accurate reports and analytics in real-time. Filter results by date and view reports by department or location.
Forever free plan (up to 10 learners). Paid plan starts at $1.97/learner/month (billed annually) for large teams. No hidden charges. 15-day money-back guarantee.
Why ProProfs?
Trusted by MillionsMany organizations, both big and small, worldwide use ProProfs OSHA course to stay in compliance with applicable rules and regulations.
Meets OSHA GuidelinesThe course has been designed based on the strict occupational safety standards laid down by the regulatory body.
Easily CustomizableEasily customize the course by editing or adding pages and chapters. You can also upload audio, quizzes, and surveys apart from importing resources for aid.
Anytime, AnywhereThe course is totally web-based. So your employees can take it anytime and from anywhere using a device of their choice.
2. OSHA Education Center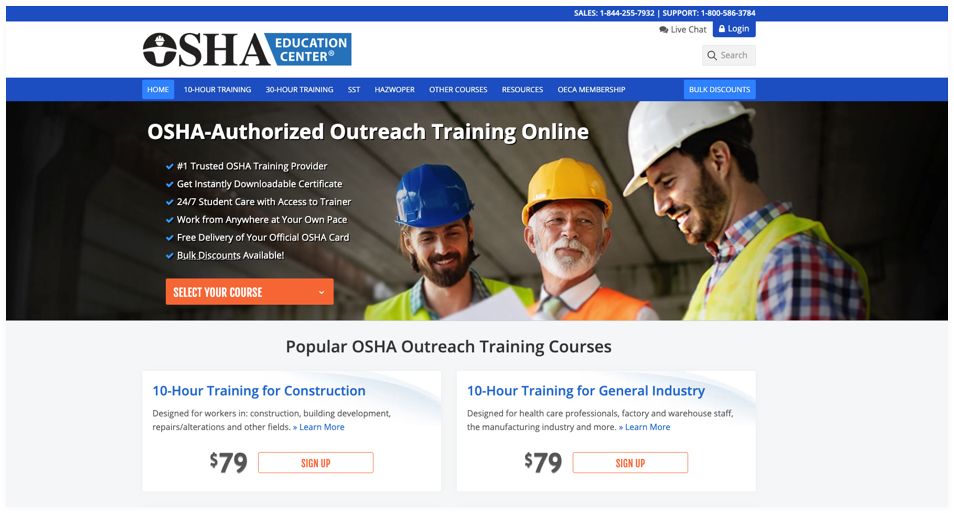 OSHA Education Center provides OSHA training courses for general and construction workers nationwide. The courses are developed by American Safety Council, while the OSHA Outreach courses are offered in partnership with the University of South Florida. U.S. employers use the course to meet requirements under 29 C.F.R. 1926.21(B)(2).
Features:
✓ OSHA Study GuidesLeverage these comprehensive OSHA training guides by referring to them anytime you need them. You can download them as a PDF.
✓ Completion CertificateOSHA Education Centre supports OSHA certifications as it issues official certificates of completion to employees. You can easily download them.
✓ Audio NarrationApart from case studies and interactive exercises, learners get to learn through audio narration. This makes learning more exciting for them.
✓ OECA MembershipBecome a member of the OSHA Education Center Association and get several benefits, including discounts on courses, a bimonthly newsletter, and regular updates on regulations.
Pricing: Starts at $79/course.
Why OSHA Education Centre?
Compliance With OSHAThe courses are compliant with OSHA Standards 29 C.F.R. 1926.21(B)(2).
24/7 SupportOSHA Education Centre provides what is called student care, seven days a week, with access to trainers.
Bulk DiscountsBulk discounts of OSHA training courses are available for group purchases, e.g. for corporate training.
ResourcesWhen you use OSHA Education Center courses, you get a variety of resources, which includes guides, articles, books, government links, etc.
3. OSHAcademy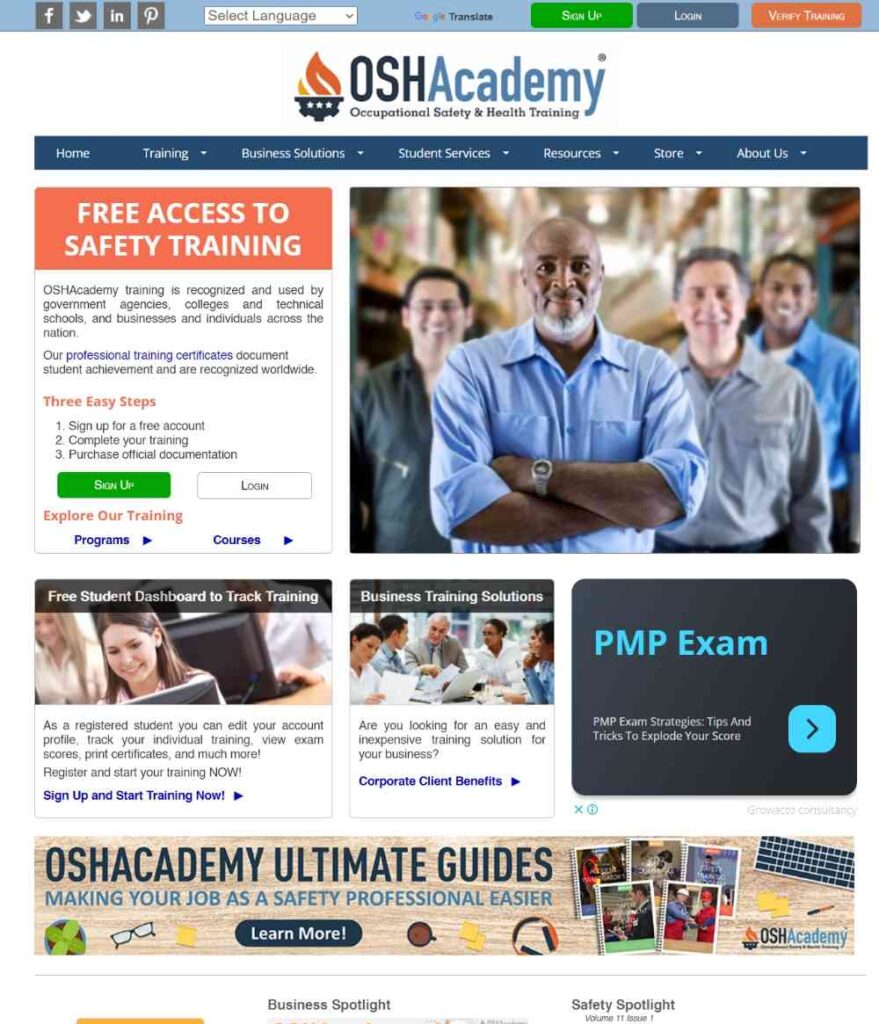 Recognized nationwide, the OSHAcademy courses are one of the best OSHA training courses that you can use. Users get free access to the course materials. You enjoy lifetime access to these materials.
There are charges only for additional items. You can use any device, including smartphones, computers, tablets, and even eReaders to take the courses.
Features:
✓ Student DashboardRegistered students can track training, view scores, print certificates, and do scores of other things from a free dashboard.
✓ Short CoursesShort courses on important topics are a key feature of OSHAcademy's OSHA training programs. They can help you with microlearning.
✓ Downloadable PDFsLearners can download PDF certificates as electronic copies directly from their training dashboard. This is in addition to the hard copies that are shipped to their address.
✓ Safety EncyclopediaThis wealth of resources from different sources can help you create, design, and share an effective safety training program in your organization.
Pricing: Starts at $89/course certificate.
Why OSHAcademy?
Large Customer BaseBusinesses, government agencies, educational institutes, and individuals across the U.S. use OSHAcademy training programs.
Validation ProcessIf you want, you can authenticate or validate the OSHAcademy certificates to prove that they are legitimate.
Corporate DiscountsOSHAcademy offers cumulative discounts for corporates whereby the discount rates increase as more and more employees complete a training program.
Safety Training For All IndustryOSHAcademy provides online OSHA safety training for every industry. You name it and they have it – from agriculture and warehousing to food processing, and meat packing.
4. 360training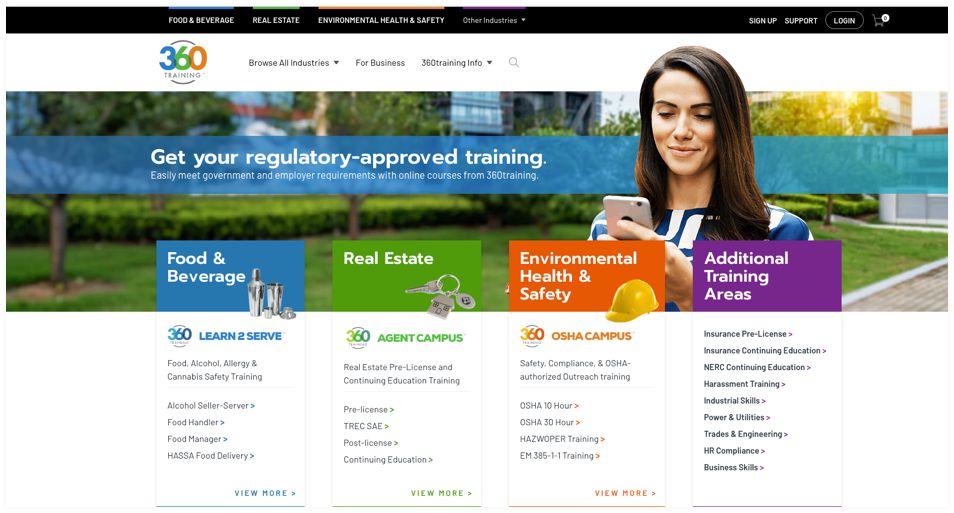 360training is a leading provider of workforce compliance training, including an OSHA course online. It provides individuals and organizations with training programs aimed at ensuring a safe, healthy, and financially secure environment for employees. The company commands over 4 million customers worldwide.
Features:
✓ Approved ContentThe content used in the training programs is approved by regulatory bodies cutting across several industries.
✓ Dedicated Account ManagerEvery 360training customer gets an experienced and dedicated account manager. These managers make sure that you meet all the training goals and fulfill all compliance requirements.
✓ LMS PlatformEasily manage OSHA training with 360training's LMS platform. Streamline workforce training from beginning to end.
✓ ReportingGenerate detailed training reports ranging from data on learning progress to comprehensive overviews at the executive level.
Pricing: Starts at $49/course.
Why 360training?
One-Stop eLearning Solution360training is your go-to source for all eLearning solutions. It has more than 4 million learners in 67 countries.
Growth EngineThe platform serves as a growth engine for resellers. It hosts a custom eCommerce storefront offering many services, including digital marketing.
Affordable SolutionsAdopt affordable online workforce training solutions facilitated by a powerful LMS. Train your employees anytime, anywhere.
Industry-Specific Courses360training uses the latest in instructional designing to develop multimedia-rich courses tailored to meet each industry's needs.
5. ClickSafety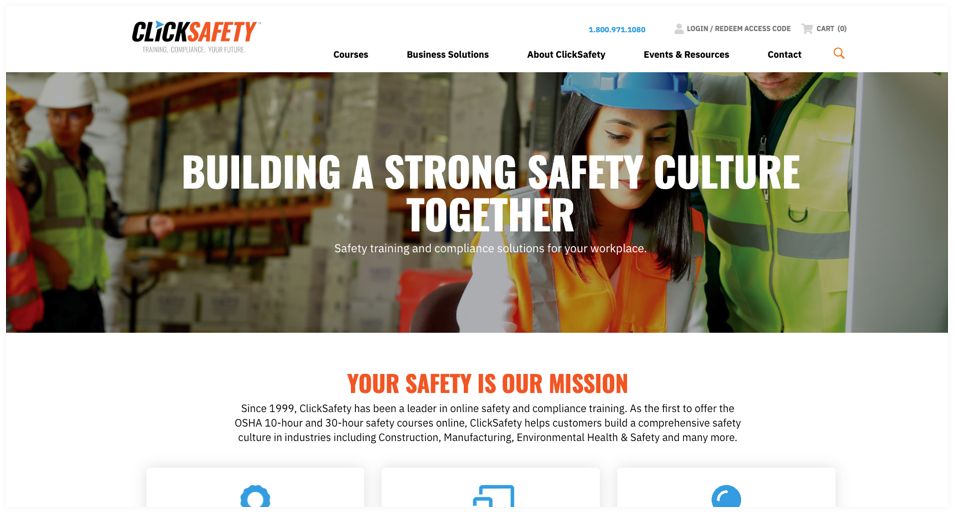 ClickSafety is one of the leading players in the arena of online safety compliance training. It is particularly known for its learner-centric and flexible approach to online training. Authorized by IACET, ClickSafety has an in-house team of OSHA Authorized Trainers, Certified Safety Professionals, and other industry experts to help create and manage comprehensive and up-to-date courses.
Features:
✓ Business AccountsThese accounts are attended by safety experts and offer various pricing options. You can pay per course or per student.
✓ Learning Management SystemDesigned for compliance training, the ClickSafety LMS provides reports on demand. Assign training on multiple levels and automate how you deploy refresher training programs.
✓ Microlearning & BenchmarkingClickSafety supports microlearning on top of enabling you to benchmark the performance of your learners to identify and close compliance knowledge gaps.
✓ Partnership ProgramsGet access to updated content, price discounts, and support from account managers by entering into a strategic partnership.
Pricing: Starts at $79/course.
Why ClickSafety?
Pioneer in OSHA TrainingClickSafety is the first authorized provider of OSHA Outreach Training. Today it helps more than 10,000 customers worldwide in building a solid safety culture.
ExpertiseWith over 20 years of experience behind, ClickSafety has created 300+ courses so far with the help of subject-matter experts.
ConvenienceLet your employees take compliance training the way they prefer, anytime and from anywhere.
Committed to StandardsThe company's partnership with IACET speaks volumes about its commitment to high standards of learning.
6. oshatraining.com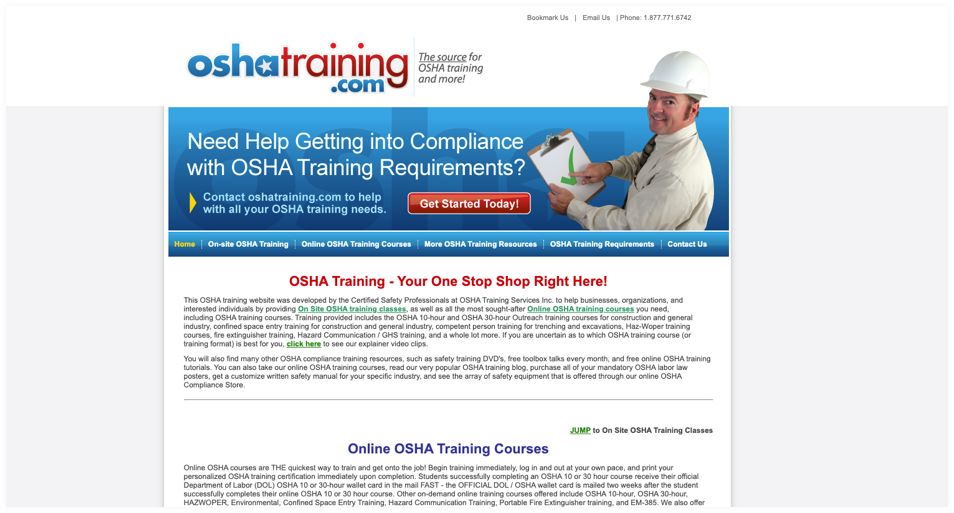 Considered one of the best online OSHA training providers, oshatraining.com offers both onsite and online OSHA training to its clients. It also provides OSHA experts to assist customers in training as well as for the purpose of inspections. Like other providers, oshatraining.com courses include OSHA 10-hour training for general industry and construction, and OSHA 30-hour training for general industry and construction.
Features:
✓ Online & Onsite Coursesoshatraining.com offers primarily two types of OSHA training courses – online and onsite. This serves the needs of both those who need to learn at their own pace as well as those who prefer to conduct training in a traditional classroom setting at the site.
✓ Safety Training DVDsOSHA training DVDs are among the resources that oshatraining.com provides. They are effective in communicating vital information with learners and hold their attention till the end.
✓ Written Safety PlansThese plans have been customized to suit the needs of businesses in each industry. They are compliant with OSHA guidelines. The plans are available in both English and Spanish languages.
✓ Toolbox TalksPre-written and informal safety meetings can help supplement safety training in a big way. You can download and print the free OSHA training toolbox talks from its website.
Pricing: Starts at $89 for a 10-hour course.
Why oshatraining.com?
Free TutorialsTrain your employees on key compliance issues with the help of these online OSHA training tutorials. You may use the tutorials as a supplement to the mandatory OSHA training.
Explainer VideosUsers get the convenience of referring to short explainer videos. These videos deal with different topics related to OSHA training that most beginners would want to know.
Complete SolutionWith online courses, instructor-led onsite classes, training videos, workplace posters, and more, you get a comprehensive package.
Positive ReviewsOn average, oshatraining.com got a rating of 4.41 out of 5, with 96 percent of reviewers saying they would recommend it to others.
7. OSHACampusOnline.com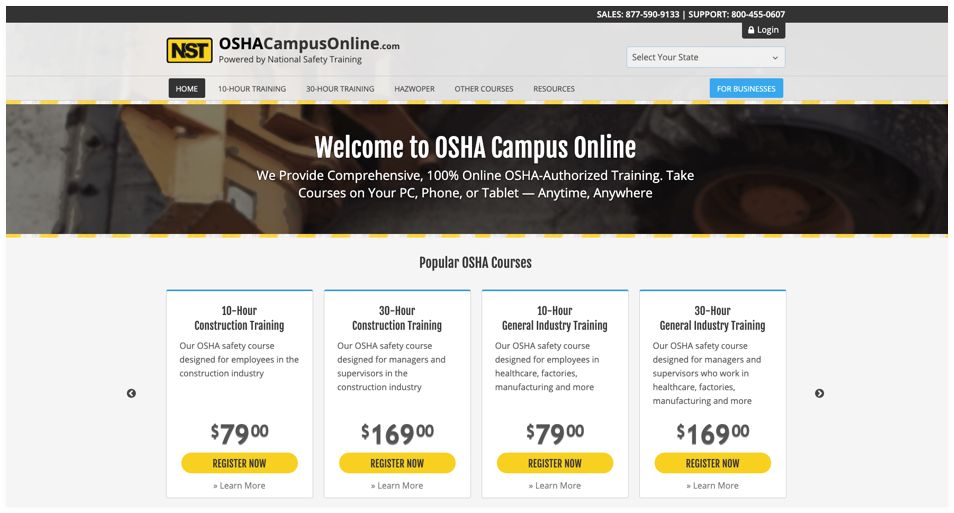 OSHACampusOnline.com is a provider of OSHA-approved online training programs. It offers a 10-hour training course each for construction and general industry workers, and a 30-hour training course for construction and general industry workers. The courses are comprehensive and 100% online. You can take them anytime, anywhere, and on any device.
Features:
✓ OSHA QuickCardsYou can use these pocket-sized cards to remind your workers how to prevent dangerous situations and accidents. These free cards work on simple visuals and language to reinforce safety rules.
✓ Audio Narration & Interactive ExercisesThe courses include audio narrations and interactive exercises to keep learners fully engaged and motivated throughout the courses.
✓ DOL CardsUpon successful completion of the OSHA Outreach courses, employees receive the official plastic card from the Department of Labor.
✓ Customer SupportOSHACampusOnline.com provides chat, email, and phone support to customers on any inquiry or question they may have about its OSHA training programs.
Pricing: Starts at $79/course.
Why OSHACampusOnline.com?
FlexibilityLearners can learn at their own pace and even take up to 180 days to complete a course.
Competitive PricingOSHACampusOnline.com follows competition-based pricing, making it affordable for its customers. It includes bulk discounts meant for businesses.
AccessibilityCourse participants can access the courses on a range of devices, such as PC, smartphones, and tablets.
Speedy ServiceOne example of this is that it delivers certificates of completion swiftly.
8. USFOSHA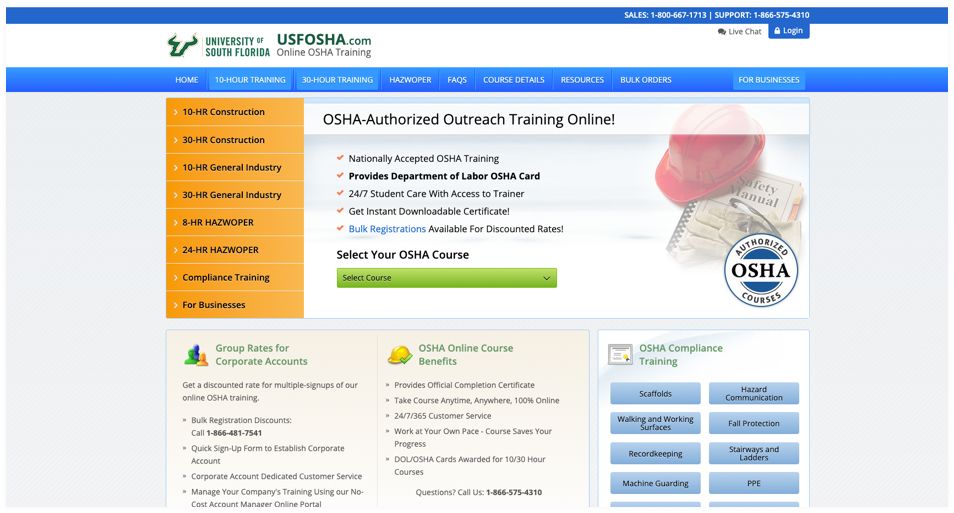 The OSHA training courses offered by USFOSHA are nationally accepted. The programs cover a wide range of topics, including PPE, scaffolds, electrical, fall protection, and machine guarding. It provides discounts on bulk registration. The training program for business includes an OSHA card and a downloadable certificate of completion.
Features:
✓ Interactive ContentThe OSHA training courses are attended by interesting narrations, pictures, and illustrations – all designed to deliver engaging learning experiences.
✓ Bulk RegistrationYou can purchase OSHA Outreach courses, 10-hour or 30-hour, by registering learners in bulk and avail discounts.
✓ 24/7 Customer ServiceIn case you have any questions or need tech support, there is a phone, live chat, and email communication with a real person.
✓ Completion CertificateYou can easily download certificates as soon as you complete a course. This serves as temporary proof until you get the hard copy sent to your location.
Pricing: Starts at $79/course.
Why USFOSHA?
World-Class ServiceGet one of the best services from dedicated account teams. They can walk you through the purchase process, answer any questions, and resolve any issues.
Cost-EffectiveCut down the money you spend on the training without compromising the safety of your employees. Ensure training effectiveness at reasonable prices.
Convenient Registration ProcessUse registration codes to register learners for pre-paid courses. Post registration, learners get 180 days to complete the training programs.
Flexible Payment OptionsUSFOSHA offers flexible payment options that suit different business processes. Alternative payment methods are available for corporate accounts.
9. Lion Technology Inc.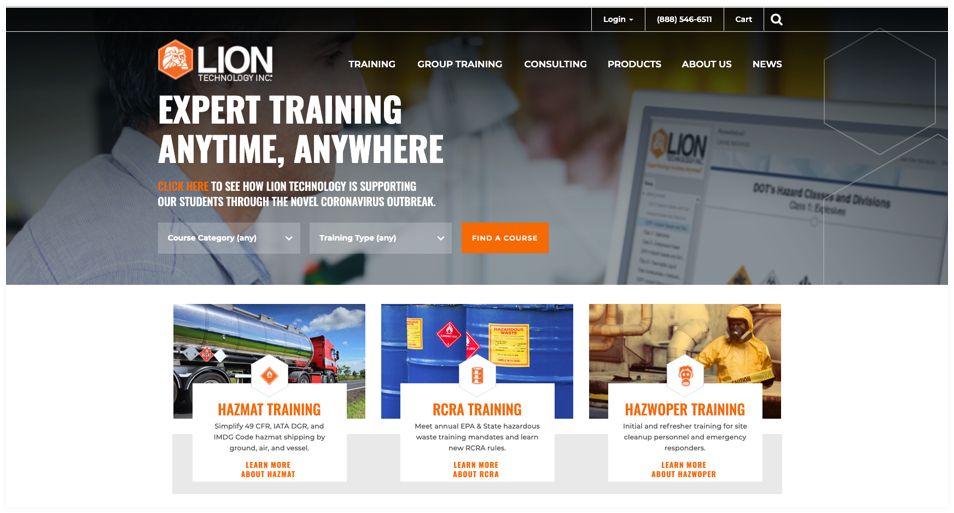 Lion Technology empowers employees with OSHA education and training. Deploy cost-effective and convenient OSHA training online programs or join onsite classes and workshops. You can protect your workers from preventable occupational injuries with their effective OSHA certificate training.
Features:
✓ Live WebinarsSimultaneously train employees located in multiple locations. Let your learners interact with full-time professional instructors.
✓ Growing Course CatalogThe course catalog at Lion Technology is growing continuously to keep pace with new developments in compliance laws and regulations.
✓ English & Spanish CoursesIn addition to English, courses are available in the Spanish language for the convenience of non-English speakers.
✓ Supervisor AccessThis feature enables supervisors to manage training, track due dates, and print training certificates any time they want.
Pricing: Starts at $179/course.
Why Lion Technology Inc.?
Customers' TrustSince 1977, countless businesses have been turning to Lion for regulatory training, such as OSHA and the ongoing support that comes with it.
Experienced TrainersThe instructors at Lion are experienced. They employ engaging methods to teach learners, such as case studies, real-life examples, exercises, and discussions.
Comprehensive SolutionLion is committed to providing the most comprehensive training and support to its customers. Serving more than 200,000 satisfied learners is a testimony to this.
Automatic BookmarkingLet your learners resume OSHA safety course online training from where they left with the help of this feature.
10. OSHA.com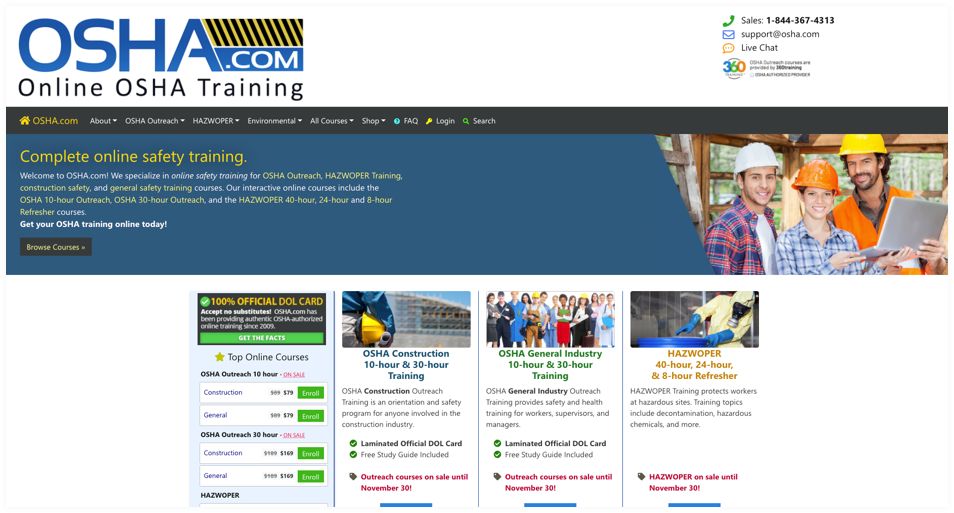 OSHA.com is a top provider of OSHA training. Its educational courses are designed by industry experts to help with safety compliance measures. A course catalog, custom content development services, and an LMS make up its complete solution that ensures return on your investment.
Features:
✓ Construction & General Industry TrainingOSHA.com provides both 10-hour and 30-hour OSHA Outreach training for both the general industry and construction industry.
✓ Sate-Specific CoursesIt also offers courses for the U.S. states having specific requirements for OSHA training programs.
✓ 24/7 AccessEmployees get access to the courses as well as a dedicated customer support team anytime, anywhere.
✓ Attractive PricingOSHA.com offers various pricing models, such as pay-per-view, corporate billing, and group discounts.
Pricing: Starts at $79/course.
Why OSHA.com?
Interactive CoursesAll the OSHA training courses are characterized by interactive multimedia, which keeps learners thoroughly engaged.
All-In-One Training SolutionWith all the tools, courses, and services, you get a complete safety compliance training solution and a real value for money.
Free Study GuideGet access to handy resources in the form of a free study guide to assist you with the training.
Official DOL CardLearners receive a laminated Department of Labor card upon successful completion of OSHA training.
Choose the Best OSHA Training Courses
This list will certainly help you easily navigate the selection process of OSHA courses. You may choose what best suits your needs, though all of these courses are the top ones on the market.
You can include ProProfs in your shortlist. It doesn't just offer you a course; you also get Training Maker, the cloud LMS. You can use it to customize, share, and track OSHA and other courses seamlessly.
Take a quick tour or schedule a personalized demo. Call us at (855) 776-7763 (toll-free).
Do you want a free Training Software?
We have the #1 Online Training Software for employee training & assessment