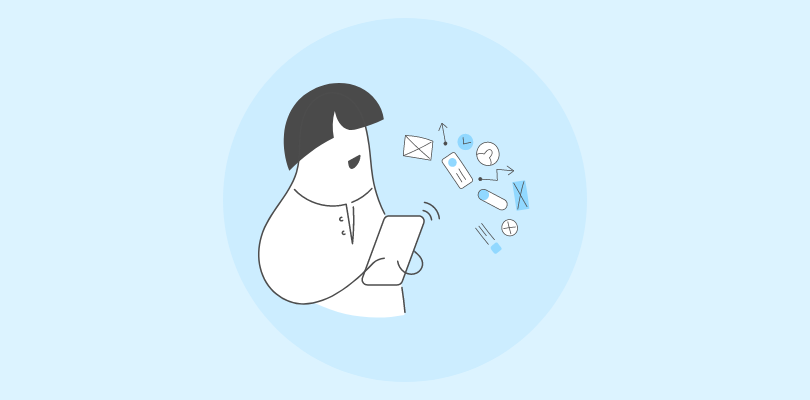 Looking for the best mobile learning management systems out there? We've got the answers.
As a training manager who champions on-the-go e-learning, testing out mobile LMS software is a rewarding hobby for me. I enjoy discovering how different mobile learning tools deliver engaging anytime, anywhere learning with their unique mix of functionalities.
In this post, I share my evaluation of 12 mobile LMSs I believe are the cream of the crop based on my experience. You can use this post as a fair and objective guide when exploring your LMS options to find the best fit.
Here's a brief overview of the LMS tools for the TL; DR.
Mobile LMS
Best For
Pricing
ProProfs LMS
Best Mobile LMS for Compliance & Skill Training
Forever free for up to 10 learners.
Paid plan starts at $1.97/active learner/month for large teams. Billed annually.
Absorb LMS
Best Mobile LMS With AI Features
$14,500/year
Litmos
Best for Modern Enterprises
Starts at $6/user (for 150 to 500 active learners)
Moodle
Best Free and Open-Source Mobile LMS
Free (reporting is basic)
Paid plans start at AUD 180/year.
Blackboard Learn
Best for Instructor-Learner Collaboration
$9,500/year
360Learning
Best for Social Learning
Starts at $8/registered user/month
TalentLMS
Best for Creating Unlimited Courses
Starts at $69/month
Docebo
Best for Large Enterprises
$25,000/year
Canvas LMS
Best for Interactive Learning
Starts at $0 (no course templates)
Lessonly
Best for Team Training
Starts at $0 (limited to 25 users)
EdApp
Best for Video Courses
Starts from $2.95/month/user. Free version available (reporting is basic, and you can't issue custom certificates).
SkyPrep
Best for Upskilling
$199/month
12 Best Mobile LMSs
I have compiled this list of mobile learning LMSs based on my personal experience, extensive research, and peer suggestions. I have also considered unbiased reviews from independent sites and customer testimonials.
1. ProProfs LMS – Best Mobile LMS for Compliance & Skill Training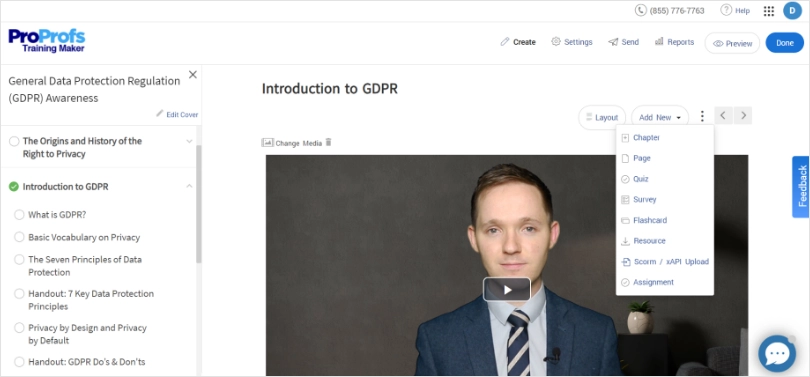 ProProfs LMS is hands down my favorite mobile learning management system and one I currently use. It enables me to easily and quickly create, manage, share, track, and analyze online courses and assessments. The courses look and work beautifully on all devices and can include downloadable training materials for offline learning.
I can't stress enough how useful I've found ProProfs' course library for training employees on compliance, sales, customer service, leadership, and soft skills. There are 100+ customizable and ready-made courses in ProProfs' library, along with beautiful course templates.
A feature-packed mobile LMS, ProProfs offers in-course quizzes and surveys, virtual classrooms, a Q&A forum, learning pathways, automated certification, brand controls, multilingual support, and much more. It supports single sign-on (SSO) for learner authentication, self-enrollment, and SCORM and Tin Can compliance.
ProProfs also allows me to manage learners based on their training topic, department, or location; add presentations, documents, and multimedia content to the courses; and engage learners with interactive features and gamification.
What you'll like:
Simple and intuitive interface that makes it easy to build courses and monitor learning progress

Ready-made courses designed by subject matter experts for effective compliance, skill, and onboarding training

Customization features to ensure courses and classrooms reflect your brand identity

The option to add existing training content to your courses by uploading PDF, PPT, DOC files, videos, and images

Intelligent reporting for in-depth, real-time insights on individual learners & groups

The customer service team is courteous, fast, and always helpful.
What you may not like:
The UI needs to be improved to have a more modern and less outdated look.

More templates can be added.

Some users may find the trial period of 15 days insufficient.
Pricing:
Forever free plan (up to 10 learners). Paid plan starts at $1.97/learner/month (billed annually) for large teams. No hidden charges. 15-day money-back guarantee.
2. Absorb LMS – Best Mobile LMS With AI Features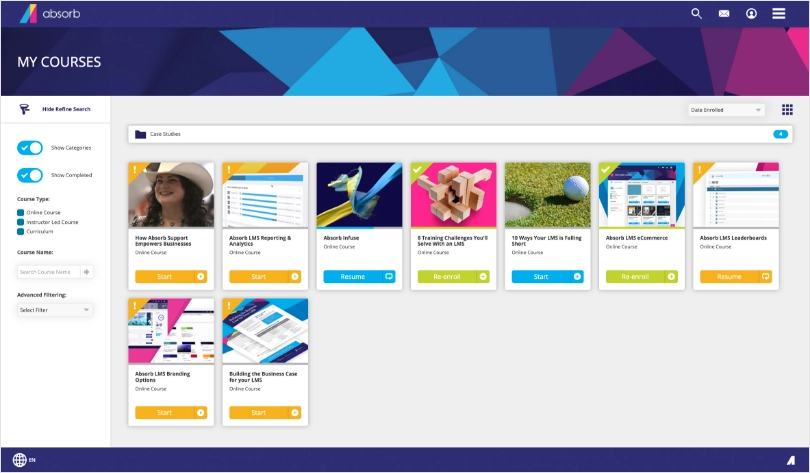 Absorb LMS is a learning management system that leverages AI to deliver personalized and engaging learning experiences. I've found it to be perfect for delivering training programs that suit the needs and interests of learners.
With Absorb LMS, you can benefit from features such as Intelligent Assist, which lets you perform admin tasks more efficiently using natural language commands; Intelligent Recommendations, which suggests relevant and popular content to your learners based on their data; and Intelligent Ranking, which improves the search results based on historical learner choices.
I'd also like to highlight Absorb's reporting system, which is great for optimizing learning outcomes using data-driven insights. Other features I like include a user-friendly interface, customized branding, and learner and admin portals.
The Absorb LMS mobile learning app is available on both iOS and Android devices. It supports offline sync, meaning it enables learners to access learning content from anywhere, anytime, and on any device.
What you'll like:
Stunning site design that enhances the learner experience

Separate portals for learners and admins

Intuitive and easy-to-use interface for smooth navigation

Automatic curriculum allocation for simplifying the course assignment process

Supports self-paced learning, allowing learners to finish modules at their own pace

Prompt and reliable service
What you may not like:
You need to re-enroll users every time you modify a course

The setup and configuration are somewhat complex

No option to schedule recurring sessions
Pricing:
$14,500/year
3. Litmos – Best Mobile LMS for Modern Enterprises

I have found Litmos to be an agile, simple, and scalable tool for mobile learning. Its intuitive and sleek interface made it easy for me and my learners to benefit from its advanced functionalities.
One of the things I particularly like about Litmos is that it is a great mobile LMS for blended learning, which is very important for my organization.
For example, I could integrate Litmos with a virtual classroom and use it to deliver live training sessions and webinars in my organization. This way, I could create interactive and engaging learning experiences for my learners, regardless of where they were located.
Litmos also has a mobile app for offline access to courses and assessments, integrates with many third-party tools, and has robust analytics features to help measure and improve the impact of training programs.
Litmos' ability to create hybrid learning courses combining online, offline, and live training sessions and webinars makes it ideal for modern enterprises.
Other valuable features include gamification, video assessments, custom branding, customized learning paths, and the facility to upload existing content.
What you'll like:
Simple, clean, and fast user interface for hassle-free navigation

Custom dashboard for tracking progress based on learning requirements

Leaderboards and several other gamification elements for delivering engaging learning

Rich training content library for compliance training and employee development
What you may not like:
Reporting on learning paths needs some refinement

The lack of flexibility to make a course optional for learners

There is a learning curve for first-time LMS users.
Pricing:
Starts at $6/user (for 150 to 500 active learners)
4. Moodle – Best Free and Open-Source Mobile LMS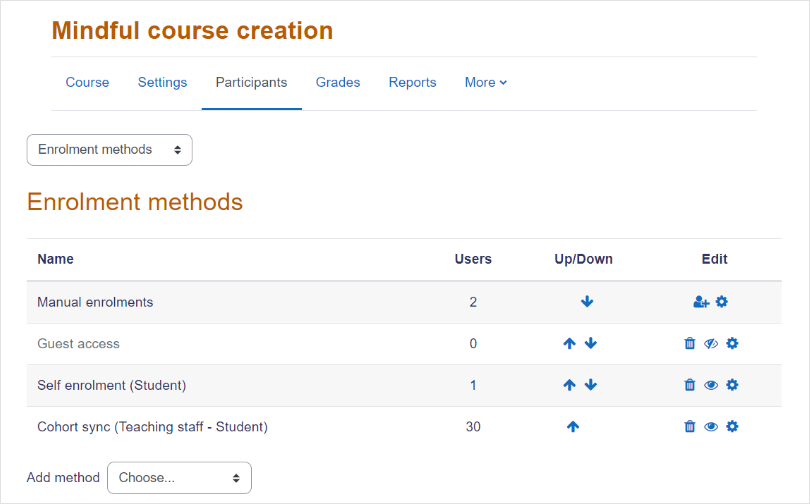 Moodle is an open-source mobile LMS platform you can fully customize to suit your needs by modifying its source code. You can enhance your courses with multimedia, interactive elements, and documents and use Moodle's mobile app to provide learners with a flexible and uninterrupted learning experience.
During my experience with Moodle, I found it a powerful solution that supports different learning styles. It allowed me to design and manage courses easily for instructor-led, self-paced, blended, or entirely online learning.
It's also great for collaborative learning using forums, wikis, glossaries, and database activities. Other useful features include accessibility tools, direct learning paths, competency-based education, badges, and certificates.
What I liked most about this LMS is that it has a large and active community contributing to its development by sharing plugins and integrations.
Moodle's latest release Moodle 4.0 has many new features that make learning more efficient. For example, learners can see the courses they are enrolled in and their progress in the overview block and track deadlines in the timeline block.
What you'll like:
Open-source construction for highly personalized and engaging learning

Rich customization options to tailor courses to instructors' and learners' requirements

It supports the LTI (Learning Tools Interoperability) standard, allowing easy integration with other educational applications.

There are a great number of plugins to extend the functionality and customizability of the platform.
What you may not like:
Limited insights from simple reporting

Course engagement tracking needs improvement

Scheduling management could be enhanced for better organization
Pricing:
Free (reporting is basic) and paid plans are available. Paid plans start at AUD 180/year.
5. Blackboard Learn – Best Mobile LMS for Instructor-Learner Collaboration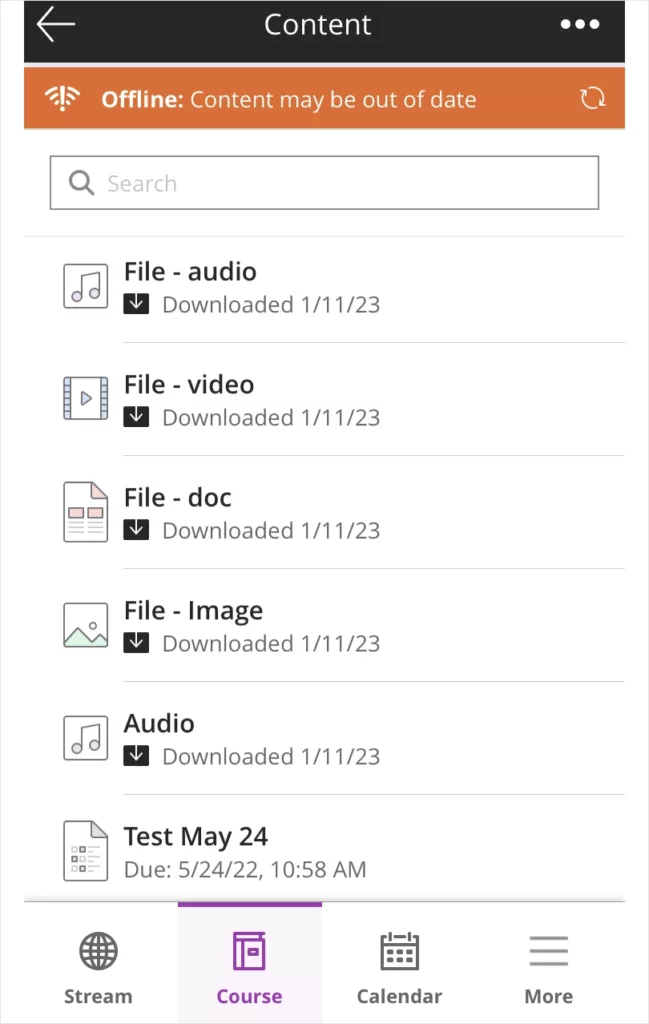 Blackboard Learn is a comprehensive and feature-rich platform, with a powerful and flexible infrastructure.
What stood out to me about Blackboard Learn was its extensive set of functionalities for collaboration. This mobile LMS enables smooth communication and collaboration among learners and instructors through video conferencing, chat rooms, discussion boards, and group projects. It is ideal for fostering active learning and building a sense of community within the virtual learning environment.
Blackboard Learn has a mobile app that lets learners take courses online or offline and lets instructors manage courses, grade assignments, and communicate with learners on the go.
Blackboard Learn has a robust content management system with a user-friendly interface and intuitive course design tools. It can integrate seamlessly with various third-party tools.
What you'll like:
Simple setup and operation for both learners and instructors

It enables smooth communication for effective feedback.

It provides an easy way for learners and instructors to upload and share documents.

A content management system that enables you to upload, organize, and share various types of files and media, such as PDF, PPT, DOC, MP4, and more
What you may not like:
The mobile app has limited functionality.

The messaging system can be improved.
Pricing:
$9,500/year
6. 360Learning – Best Mobile LMS for Social Learning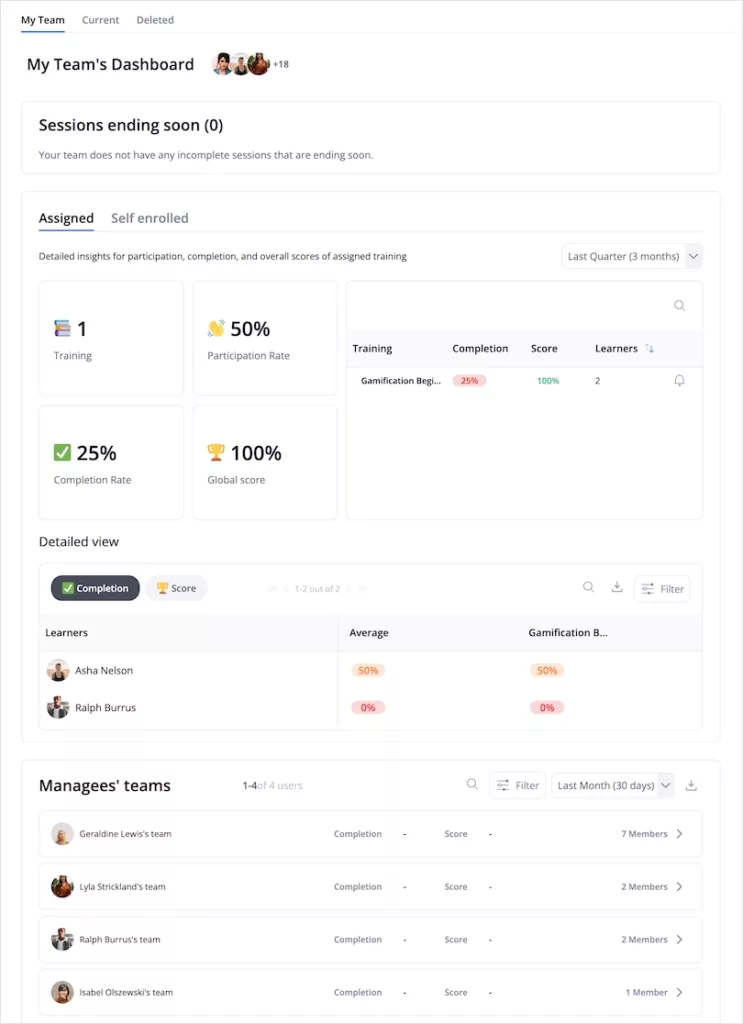 As someone who has been passionate about learning and development for a long time, I think 360Learning LMS is a groundbreaking platform that has transformed the way corporate learning happens.
I was especially impressed by this mobile LMS' community-based learning capabilities. It allows teams to easily communicate, exchange insights, and learn from each other, creating a culture of knowledge-sharing and mutual growth.
With the 360Learning mobile app, learners can access training programs online or offline on any device. They can also share their screen with other participants and receive push notifications.
The centralized management system in the solution is also very effective. Whether it's welcoming new team members, fostering skill development, or ensuring compliance, 360Learning's flexibility meets diverse training needs under one platform.
What you'll like:
Collaborative features that enable instructors to create courses with the help of in-house experts and learners

Video recording and cheat sheets that make it easy to produce high-quality content in minutes

Multiple question types and gamification elements that enhance the learning experience

An excellent mobile app that lets learners take courses and collaborate on the go

Extensive knowledge base and forum that provide helpful resources and community support
What you may not like:
Customer service could be improved

Updates are overly frequent

Quizzes are less advanced and limited
Pricing:
Starts at $8/registered user/month
7. TalentLMS – Best Mobile LMS for Creating Unlimited Courses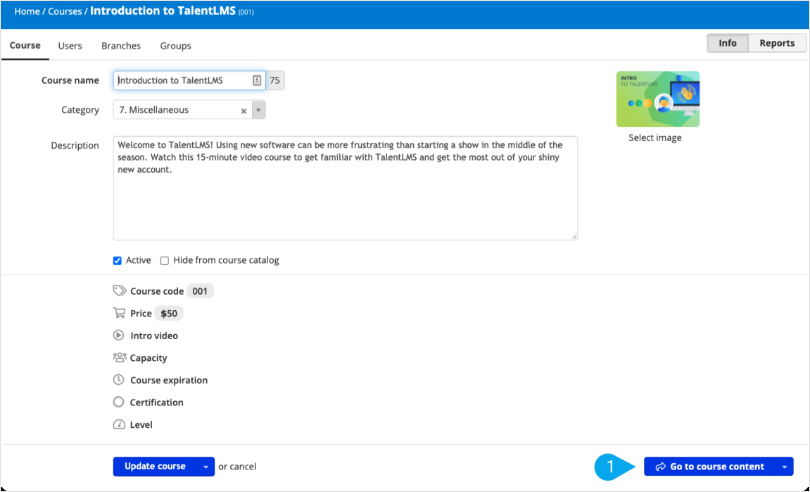 In my considerable experience with TalentLMS, I found it a great choice for creating, managing, and delivering engaging courses for learners of all skill levels. Its USP is that it offers unlimited online courses in all its plans.
TalentLMS is a flexible solution that can help any organization, whether small or large or an educational institution, improve learning outcomes.
It offers various features, such as content creation, assessments, progress tracking, collaboration tools, mobile app, and offline course access. TalentLMS' mobile app also has a compatibility check feature that helps optimize courses for mobile devices.
This mobile-friendly LMS provides real-time reporting on individual learners, groups, and courses and offers impressive integrations with popular apps and services, such as Zoom, Shopify, WordPress, Mailchimp, and more.
What you'll like:
A user-friendly interface that makes it easy to build courses and monitor learning progress

White-labeled interfaces that let you customize your training hub to match your brand identity

Various content types and question formats to create engaging courses

Gamification features that motivate learners and reward achievements with points, badges, and leaderboards

Groups, branches, and user management options that enable you to organize your learners and assign roles and permissions
What you may not like:
The site design could use some modernization

Certification could be more sophisticated

Reports could have more analytics
Pricing:
Starts at $69/month
8. Docebo – Best Mobile LMS for Large Enterprises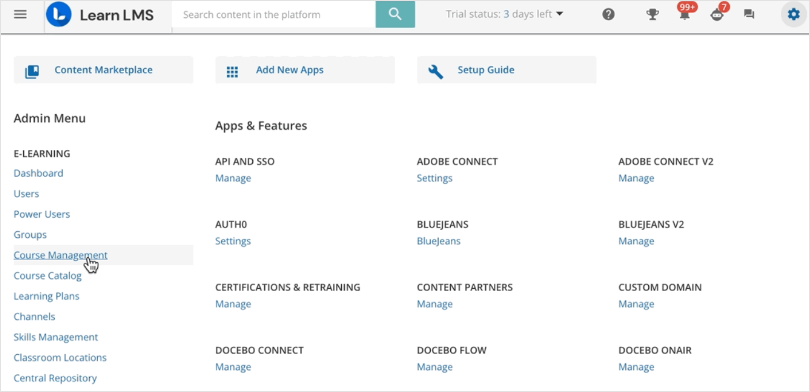 A leading and rapidly evolving technology in the eLearning sector, Docebo is more than just an LMS. It's a learning suite that covers the entire enterprise learning lifecycle.
You can create pages that suit your audience with its unlimited configurability. You can also customize and automate employee upskilling and reskilling to match your business objectives.
What I love most about Docebo is its mobile app. The app lets you download content for offline access and sync your progress when you are back online. It also uses AI to make your learning experience better.
Docebo is a fantastic option for large enterprises as it can scale to millions of users, support multiple languages, and integrate with various platforms and tools.
The mobile LMS app offers features, such as auto-tagging, content suggestions, and virtual coaching that help you find the most relevant and personalized content for your needs.
Docebo Learn LMS enables blended learning through various methods, including webinars, ILT, virtual classroom sessions, micro-learning, and gamification.
What you'll like:
A powerful, flexible, and scalable learning management system that uses artificial intelligence to deliver personalized and engaging learning experiences

A sleek and user-friendly interface that makes it easy to create, manage, and deliver online courses and content

A wide range of features and apps to support different learning scenarios, such as gamification, social learning, coaching, certifications, external training, and more

Seamless integrations with popular tools and platforms, such as Salesforce, Zoom, Adobe Connect, Shopify, and more

A data-driven approach that provides in-depth analytics and insights on learning impact and business outcomes
What you may not like:
There is a limit on the length of training videos

Rigid pricing models for SMEs
Pricing:
$25,000/year
9. Canvas LMS – Best Mobile LMS for Interactive Learning
Canvas LMS is a powerful learning management system that enables you to deliver impactful training to your employees at any scale.
You can easily design courses with interactive videos, personalized feedback, and mobile access. These features allow you to create rich and immersive learning experiences for your learners, regardless of their location or device.
I found Canvas LMS's tools to be learner-friendly, making them ideal for keeping learners engaged. For example, you can use live audio, video, and chat features to enhance learner engagement and lesson delivery.
You can also use SpeedGrader and course analytics to quickly grade assignments and monitor learners' interaction with course materials.
Canvas LMS is also highly reliable, with a 99.9% system uptime guarantee, meaning you can trust Canvas LMS to deliver your training without interruptions or glitches.
What you'll like:
Interactive course elements such as interactive videos, quizzes, comments, live communication, and gamification make learning fun.

An open-source platform that empowers you to customize and extend its functionality with various plugins and integrations

A powerful and flexible learning analytics tool that enables you to measure and improve the learning impact and business outcomes

Robust privacy and security for secure learning and assessments

Smooth integrations with Google Workspace, Microsoft Teams, Zoom, Adobe Creative Cloud, and more

A supportive and helpful user community that ensures you have the best possible experience
What you may not like:
The SpeedGrader may load slowly or not at all if there are too many quiz submissions.

Lags in announcements and messages

Course builder could be more intuitive.
Pricing:
Starts at $0 (no course templates)
10. Lessonly – Best Mobile LMS for Team Training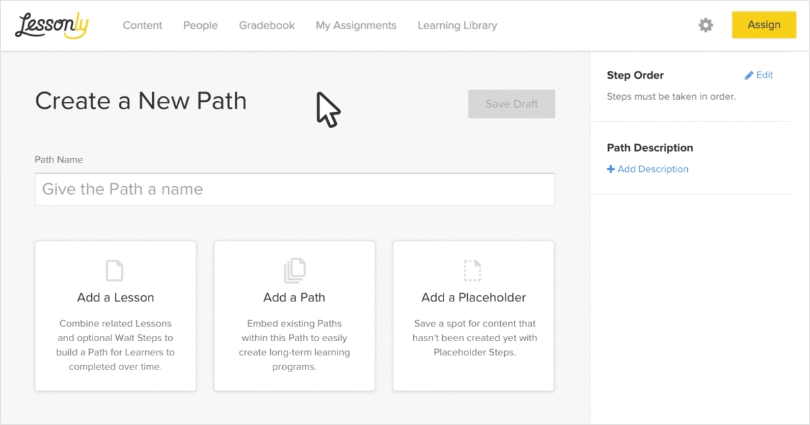 If you're looking for powerful and simple training software that helps your team learn, practice, and do better work, you might want to check out Lessonly.
Lessonly is a platform designed specifically for team training, especially for client-facing roles such as sales and customer service. I had great success training sales teams using this tool. It reduced the learning curve for the teams and increased adoption rates.
Lessonly lets trainers create engaging courses with multimedia, quizzes, and simulations. Instructors can also use Lessonly's coaching feature to provide personalized feedback and guidance.
Other top features include customized learning paths, social learning, integrations, customizable interface, drag-and-drop course building, in-course quizzes and surveys, contextual learning, user management, analytics, and notifications.
You can also get on-demand practice exercises to help employees hone their skills faster.
What you'll like:
Social learning and collaboration features for smooth interactions and idea sharing

Customized learning paths for different roles and goals

Outstanding customer support and resources to help you deliver effective training

Integrations with Salesforce, Zendesk, Slack, Gmail, and more

API to connect the LMS with your other applications to improve efficiency
What you may not like:
Occasionally, the search feature fails to find the item you need

Not enough variety in lesson formats

Customization options are limited to changing the logo and color scheme.
Pricing:
Starts at $0 (limited to 25 users)
11. EdApp – Best Mobile LMS for Video Courses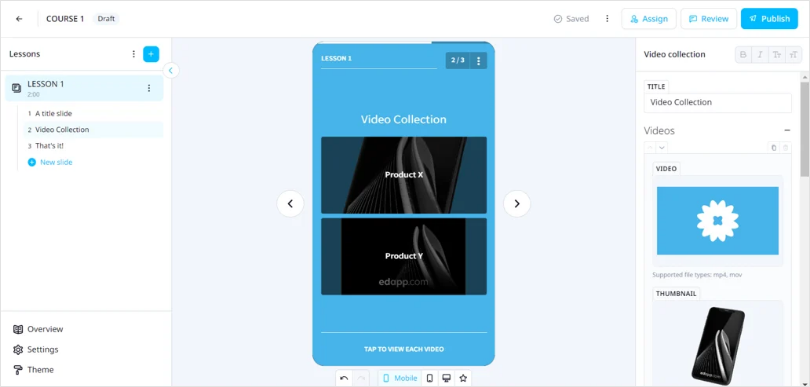 As a mobile and video-based training platform, EdApp offers a unique way to enhance lessons with dynamic video content. This mobile LMS transforms the learning experience by delivering content in small chunks for increased engagement and retention rates.
I found it easy to upload videos to lessons with EdApp. I could also choose whether to set the videos to play automatically or on demand.
EdApp also has an integrated video library with thousands of videos on various topics. You can add interactive elements to your videos, such as questions, feedback, and branching scenarios.
Additionally, EdApp has a mobile-first design that allows learners to access content offline via a mobile app. It also has a feature called AI Create, which enables you to generate lesson content with artificial intelligence in minutes.
EdApp offers 50 microlearning templates and integrates with Zoom, Microsoft Teams, and several other tools.
What you'll like:
EdApp is a

mobile-first LMS

you can use to deliver effective microlearning courses to your learners.

It has a powerful, easy-to-use drag-and-drop authoring tool that lets you easily create courses.

You can speed up course creation with ready-made templates, Canva integration, PowerPoint conversion, and SCORM uploads.

A cloud-based translation feature that allows you to create courses in multiple languages with just a few clicks

A push notification feature that reminds learners to complete their courses and keeps them updated on their progress

Comprehensive analytics that provides in-depth insights on learner performance, engagement, and retention
What you may not like:
Lacks customization options

More layouts are required.

Learner enrolment could be more streamlined.

Help section could be improved.
Pricing:
Starts from $2.95/month/user. Free version available (reporting is basic, and you can't issue custom certificates).
12. SkyPrep – Best Mobile LMS for Upskilling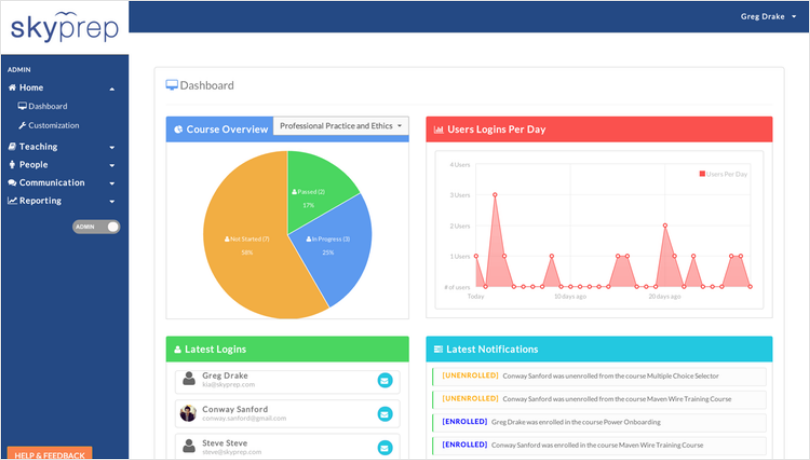 SkyPrep is easy to use, comprehensive, and supports various training methods and purposes.
I've experienced great results using SkyPrep LMS for ongoing skill development. The LMS offers flexibility and adaptability to meet the diverse training needs when upskilling a team.
The platform also encourages a culture of learning and interaction through its social learning tools, such as discussion forums and user groups. Employees can communicate, share knowledge, and collaborate on projects, creating a strong sense of community.
The platform's scalability is a significant benefit for any growing organization. SkyPrep LMS can easily handle your increasing training demands as your organization grows and changes.
SkyPrep LMS also offers features such as SCORM compliance, a mobile app, a content library, a chatbot, and integrations with various business tools.
What you'll like:
A user-friendly dashboard to track learner progress and view details such as course completion, test scores, time spent, and more

You can upload documents and videos easily to quickly build courses with existing learning materials.

A library of high-quality courses and learning paths that cover various topics, such as sales, customer service, and more

Workflow automation features such as course auto-enrolment, automated alerts, and more to save time

Built-in integrations with webinar tools, such as Zoom, GoToMeeting, Cisco Webex, Microsoft Teams, and more
What you may not like:
The data on the dashboard has limited customization options.

The tool needs more features to create detailed performance reports.

Glitches sometimes occur when content is loading.
Pricing:
$199/month
Which Is the Best Mobile LMS for You?
Your choice of the most suitable tool will vary depending on your objectives, which are determined by the kind of audience you have, their level of proficiency, and their learning preferences.
I've shortlisted three options to make the selection process easier for you.
Option A: ProProfs LMS
ProProfs offers a user-friendly and flexible LMS platform with powerful automation functionalities and a fully responsive design. It also provides a variety of features such as ready-to-use courses, quizzes, surveys, reports, certificates, gamification, virtual classrooms, and more to enhance the learning experience and outcomes.
Option B: Moodle
Moodle is open source, meaning anyone can customize it to their needs. It also provides a flexible and user-friendly platform for learning on the go, with offline access, push notifications, and multimedia support.
Option C: TalentLMS
TalentLMS offers a seamless learning experience across both the web platform and the mobile app, with offline compatibility, in-app communication, and gamification features. It is a top-notch tool for simplifying admin work, customizing learning options, and integrating with other platforms.
My personal experience leads me to believe that ProProfs Training Maker is the best mobile LMS software today. It offers an easy-to-use interface, extensive automation features, and flexibility in delivering training across different industries and use cases. It's ideal for compliance, skills, and onboarding training in the services, construction, manufacturing, and healthcare sectors.
Frequently Asked Questions
What is a mobile LMS?
A mobile LMS is a learning management system that lets learners and instructors use mobile devices such as smartphones and tablets for the administration, documentation, tracking and reporting of the learning programs and courses.
A mobile friendly LMS allows learners to learn anywhere and anytime without being tied to a desk. They can also learn at their pace and schedule.
Watch: What Is a Mobile LMS & How Can It Help Train Anytime, Anywhere?
Is LMS available on mobile?
Yes, many LMS platforms offer mobile learning solutions. Some examples are ProProfs Training Maker, Absorb LMS, Litmos, Moodle, Blackboard Learn, 360Learning, TalentLMS, Docebo, Canvas, Lessonly, EdApp LMS, and SkyPrep.
What types of devices are compatible with a mobile LMS?
The device compatibility of an LMS depends on the specific platform and its features. However, most mobile LMS platforms support devices that run on iOS or Android operating systems. Some may also work on Windows or web browsers. You can check the device compatibility of a LMS by visiting its website or app store page.
What are the key features to look for in a mobile LMS?
Some of the key features to look for in a mobile LMS are:
Course creation and management: The LMS should let you create and organize online courses, lessons, quizzes, and more.

Responsive design: It should adapt to different screen sizes and orientations without compromising the user experience or the content quality.

Offline access: It should allow users to download learning materials and access them offline when they have no internet connection or are on a low bandwidth.

Gamification

: It should incorporate game elements such as points, badges, leaderboards, and rewards to motivate and engage learners.

Microlearning: It should deliver bite-sized lessons that are easy to consume and retain on mobile devices.

User management and administration: It should let you manage your learners, instructors, administrators, and other users centrally by creating groups, roles, and permissions.

Tracking and reporting: It should let you track and measure your learners' performance, engagement, and satisfaction with auto-generated reports and analytics.

Integrations: It should integrate with other tools and platforms for email, calendar, video conferencing, cloud storage, etc.
Watch: How to Choose the Best SaaS LMS Software
What are the benefits of using mobile LMS?
Some of the benefits of using mobile LMS are:
Flexibility: It enables learners to access courses anytime, anywhere, and at their own pace. They can also choose the device that suits them best.

Accessibility: It makes learning more accessible to people with limited access to computers or the internet. They can also use voice recognition, text-to-speech, and subtitles to enhance their learning experience.

Engagement: It makes learning more engaging through interactive media, gamification, social learning, and feedback mechanisms. It also allows learners to learn in context by applying their skills in real-life situations.

Performance: It improves learning outcomes by providing just-in-time training, personalized learning paths, adaptive learning, and analytics. It also helps learners retain information better using spaced repetition and microlearning techniques.
Can a mobile LMS integrate with other systems or tools our organization uses?
Yes, most mobile LMS platforms can integrate with an organization's other systems or tools. Some examples are:
CRM systems: Mobile LMSs can integrate with CRM systems such as Salesforce, HubSpot, or Zoho to sync learner data.

HR systems: They can integrate with HR systems such as BambooHR to manage employee profiles, track compliance training, and automate workflows.

Communication tools: They can integrate with tools like Slack, Zoom, or Microsoft Teams to facilitate collaboration, feedback, and social learning among learners and instructors.

Some mobile LMSs can be integrated with a

SCORM-compliant

learning record store (LRS).
Do you want a free Training Software?
We have the #1 Online Training Software for employee training & assessment