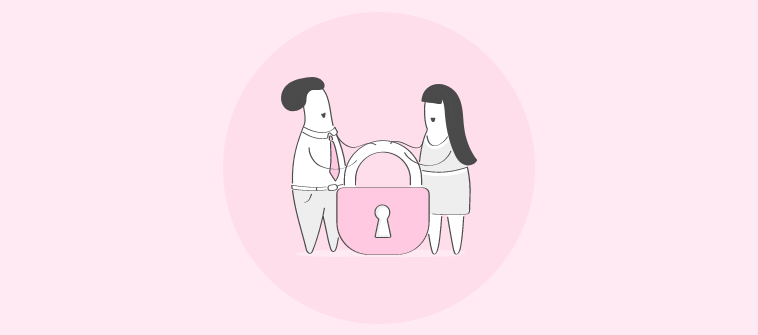 In today's rapidly evolving regulatory landscape, businesses must adhere to various laws and industry standards to ensure smooth and ethical operations.
Compliance training is an essential part of this process. And the right LMS for compliance training can save time and effort by automating course creation, administration, and tracking while keeping your teams updated on the latest regulatory standards.
But the real challenge is finding one that seamlessly provides a centralized space for designing and managing employees' compliance training.
That's why we've compiled a list of such tools for you. We've handpicked the top 10 compliance training software solutions that stand out in terms of features, ease of use, and effectiveness.
We have listed the features and pricing for each tool to help you make an informed decision. So take out your checklist and start cross-referencing the features you seek in your compliance LMS.
Let's dive in!
Comparison Table: Best Compliance Training Software
Best Compliance Training LMS
Why Is It Best?
Pricing
ProProfs
Premium Course Library

Interactive Assessments

Mobile-Friendly Interface

SCORM & Tin Can Compliant LMS

Due-Date Reminders

Collaborative Learning Portal

In-Depth Reporting and Analytics

Forever free for up to 10 learners.Paid plan starts at $1.97/active learner/month for large teams. Billed annually.
EdApp
1000+ ready-to-use courses

Mobile LMS for compliance training

Fully customizable

SCORM & AICC compliant

Real Rewards support

Starts at $2.95 per active user/ month
Cossemble
Pre-Made Course Templates

Built-in Employee Management

Interactive Quizzes

Custom Domain for Your Organization

Flexible integration options

Starts at $50/month
iHASCO E-Learning
Course Content Library

Inbuilt Progress Tracker

SCORM Compliant

Multi-Lingual E-Learning

Gamification

Screen reader compatible

Starts at £112 per user per year
MobieTrain
Built-in CMS and authoring tool

Path-Based Progression

Microlearning

Course Progression and Skill Tracking

SCORM Compliant

Contact company for a quote
Tovuti
Built-in Course Authoring Tools

AICC, SCORM, and xAPI Support

Gamified Learning

Collaborative Learning

Mobile-first design

Contact company for a quote
Elearning Brothers
Lectora Authoring Tool

In-Depth Analytics and Reporting

SCORM, XAPI, and AICC compatibility

Collect feedback on courses

Collaborative authoring

Starts at $999/year
WorkWize
Seamless Course Editor

Automated Online Compliance Training

People Risk Assessments

SCORM Compliant

Contact company for a quote
Training Tracker
Intuitive Authoring Tool

In-Module Assessments

User Management Portal

Multi-Channel Compatibility

SCORM Conformant

Contact company for a quote
Accountable
Customizable Training Courses

Automated Scheduling and Reminders

Real-time Reporting

Interactive Assessments

Mobile Learning Compatibility

Contact company for a quote
What Is Compliance Training?
Compliance training is an employee training program designed to educate them on applicable rules, regulations, policies, and laws governing their industry, organization, or job function.
The training spreads awareness about employers' and employees' responsibilities and the consequences of non-compliance. It promotes a culture of compliance within an organization.
Compliance training programs typically cover a range of topics, such as workplace safety, data privacy and security, anti-harassment, financial reporting, anti-bribery, and environmental regulations. You can conduct the training through different methods, including online training modules, classroom training, videos, and interactive simulations.
It's best to have a dedicated learning management system(LMS) to design and deploy engaging compliance training modules. It also helps you track the learning progress of each employee and keep them updated on the latest programs.
Types of Compliance Training
Depending on your industry type and regulations, there are different types of compliance training you can conduct in your organization:
2. HIPAA Training
HIPAA compliance training aims at safeguarding the privacy and security of medical information. It educates employees in the medical sector on the laws governing the protection of patient data and other healthcare-related data.
Watch: How to Conduct HIPAA Compliance Training in the Workplace | Course Introduction
3. Code of Conduct Training
This type of training helps employees understand an organization's behavioral expectations and ethical standards. The code of conduct explains what behavior is expected from them and the consequences of misconduct.
Watch: Understanding the Code of Conduct | Training Course Introduction
4. Information Security Training
Information security training educates employees on protecting sensitive information from cyber threats like phishing scams, malware, and hacking attacks. It's designed to teach the teams to identify security threats, assess risk levels, report incidents, follow protocols, and fix issues.
What Is Security Awareness Training for Employees? | Course Introduction
5. Diversity, Equity, and Inclusion (DEI) Training
DEI compliance training program promotes awareness and understanding of diversity, equity, and inclusion. It helps employees create a more inclusive workplace culture.
Watch: What Is Diversity, Equity & Inclusion? | Training Course Introduction
6. Anti-Bribery and Corruption Training
Anti-bribery training teaches employees how to identify the different forms of bribery, prevent such incidents of corruption, and the implications of committing bribery. It also details how employees can report an offense within the organization.
7. Anti-Harassment Training
This type of training aims to educate employees about what constitutes harassment in the workplace and how to recognize and report it.
Watch: What Is Sexual Harassment Training?
Benefits of Compliance Training for Your Organization
Compliance training is an essential part of any organization's training program offering a plethora of benefits, such as:
1. Increased Employee Awareness
Compliance training programs increase employees' awareness of regulatory requirements and best practices, helping to prevent accidents, errors, and other compliance failures, and promoting their safety and well-being.
2. Removal of Legal and Financial Risks
With proper training, employees can understand to comply with laws, regulations, and policies, reducing the risk of legal and financial penalties due to lapses in compliance.
3. Improved Corporate Reputation
Strong compliance can promote a positive reputation of an organization by demonstrating a commitment to ethical behavior and responsible business practices.
4. Better Decision-Making
If your teams are aware of the latest regulations and industry standards, they can make better decisions to navigate complex regulatory environments.
Positive Audit TrailTimely compliance training and proper documentation make organizations audit-ready. They help you maintain a healthy audit trail in the long term.
How to Choose the Best LMS for Your Compliance Training
Choosing the best LMS for compliance training can be a tricky affair, given the large number of solutions on the market. But there are some common aspects you can consider while selecting the compliance training software for your business:
1. Ease of Use
You can start your training programs quickly if you don't have to fiddle with the LMS settings and features. So look for an LMS that provides easy compliance course creation and automation features. It would save a lot of time and effort for your teams.
2. Ready-Made Training Modules
There are different types of regulations and compliance courses for various industries. And each course needs to be tailored to the organization's preferences and style. That's why it's better to look for a compliance LMS that offers professionally designed modules, so you don't have to start from scratch.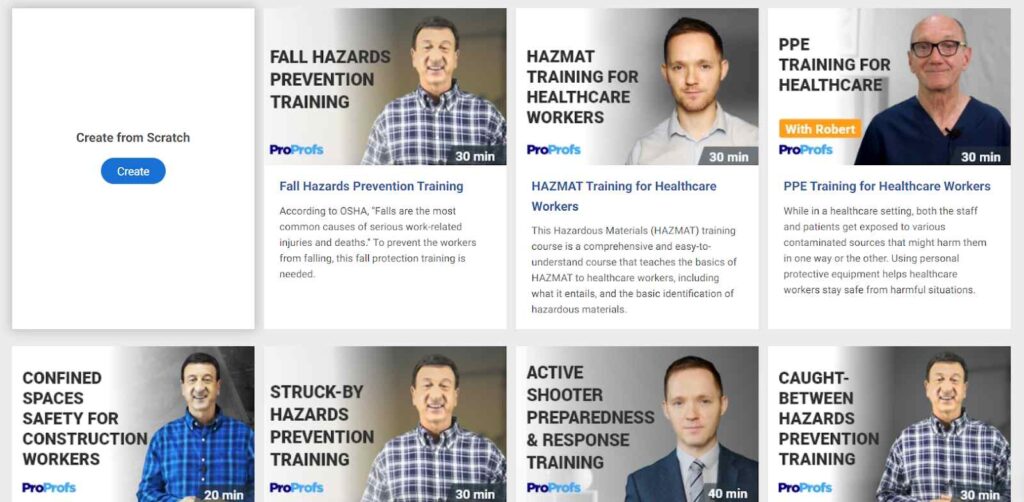 3. Training Assessment Options
Make sure to check for features that enable you to easily assess the training progression, like engaging quizzes. Ideally, these assessments should come in different formats and question types.
4. Security
The LMS should have robust security features, including data encryption, access controls like single sign-on, and course privacy to protect sensitive training data from unauthorized access or breaches.
5. Flexibility to Customize
You should be able to customize the compliance training software you choose to tailor it to your specific needs. It includes the courses, reminders, notifications, certificates, etc. Another important feature to look for is white-labeling and branding options to align the courses with your brand.
6. Anytime, Anywhere, Any Device
The compliance LMS should be accessible on all popular devices, including desktops, mobile phones, and tablets, to enable learning on the go, both online and offline.
7. Reporting and Analytics
In-depth reporting and analytics are a must for any robust compliance training software. It will help you easily identify knowledge gaps, monitor milestones and challenges, and track employee progress.
8. Integration Options
The LMS for compliance training should integrate seamlessly with your organization's existing systems, such as HRIS or ERP, to enable easy data transfer and simplify compliance management.
9. Support
The compliance LMS vendor should provide excellent customer support, including training, technical assistance, and troubleshooting, to ensure the success of your compliance training programs.
10 Best Compliance Training Software for 2023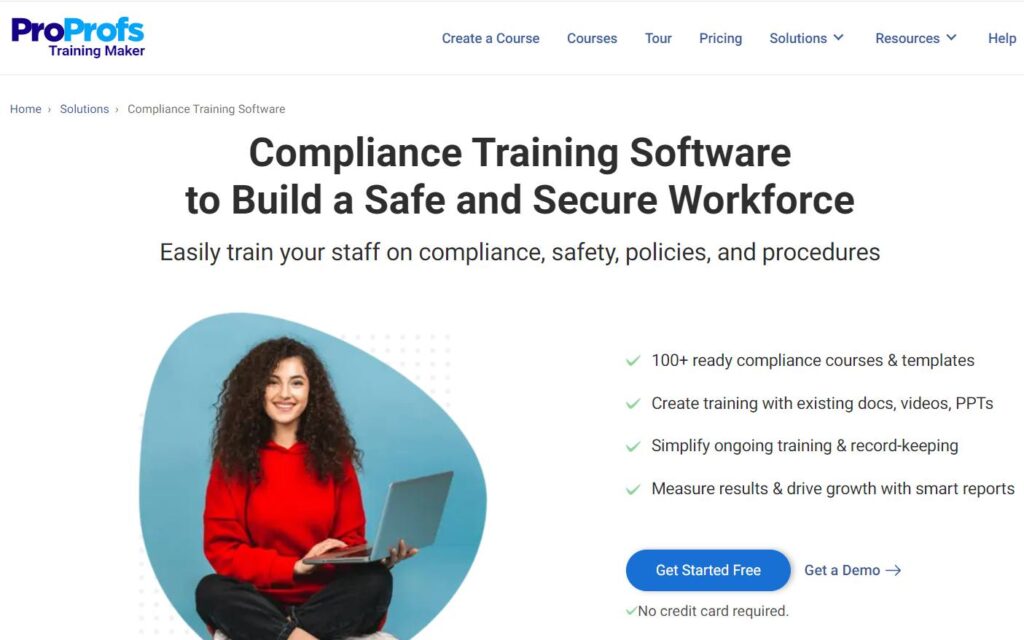 Proprofs Training Maker is the world's most comprehensive and user-friendly employee compliance training software. The cloud-based tool lets you create, manage, deploy, track, and analyze online courses under one platform.
The platform supports an extensive library of ready-made courses, including safety and compliance matters, interactive assessments, collaborative learning tools, and mobile & social learning.
The scalable architecture, mobile-friendly design, and robust reporting capabilities make it one of the best compliance training tools on the market.
The tool has sold over 1 million courses and caters to over 10 million users worldwide.
Features
Full-Fledged Course Builder
Design compliance training courses using 100+ ready-to-use templates and courses or create one from scratch.
Customize the lessons and course theme as you want. Add your logo to align them with your brand.
Add scorecards, quizzes, videos, surveys, and presentations into training lessons to test learners' knowledge and track their progress. Create and publish custom completion certificates.
Mobile-Friendly Interface
Enable the employees to take the course from anywhere and on any device. The mobile responsive courses work on any desktop, mobile, or tablet.
SCORM & TinCan Compliant LMS
Don't start from scratch. Just import and reuse the course content from other SCORM-compliant LMS into ProProfs Training Maker.
Collaborative Learning Portal
Use the Q&A-based community forum to facilitate collaborative learning and build an online community.
In-Depth Reporting and Analytics
Track the compliance training metrics like course completion rate, individual progress, assessment scores, and more. Export the report as Excel/CSV files.
Why We Picked ProProfs Training Maker?
Easy to use

Powerful integration options

Full user and admin control

Automatic course reminders and notifications
Price
Forever free plan (up to 10 learners). Paid plan starts at $1.97/learner/month (billed annually) for large teams. No hidden charges. 15-day money-back guarantee.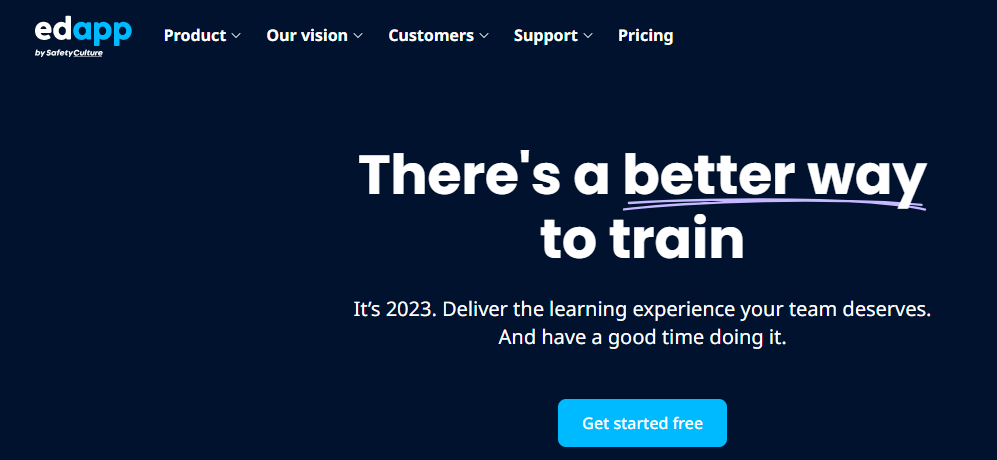 EdApp is another robust LMS for compliance training that can help keep your employees updated and ready to uphold different compliance standards. The platform comes with tons of features like course branding, customizations, micro-learning, multi-lingual support, a PowerPoint compliance course converter, push notifications, and full admin control over the courses.
What's more, you can design full-scale assessments to test employee knowledge and track their progress in real-time with Assessment Software. The tool also provides professional course creation services to design compliance training solutions with the help of experts.
Features
Design compliance training programs in minutes using 1,000+ free courses. Customize them as you want, depending on employee knowledge and your goals.
SCORM and AICC Compatible
No more starting from scratch. Simply import the user data and courses from other LMS software into EdApp.
Continue the compliance training online from anywhere with multi-device support. Your teams can access the courses from their smartphones, tablets, or desktop computers to complete them on time.
Engage your teams with in-built games, quizzes, and leaderboards. Motivate them to get the training done quickly with real rewards and certificates.
In-Depth Reporting and Analytics
View and export engagement and performance insights in real time. Create custom reports for each learner and monitor their progress metrics with ease.
Why We Picked EdApp?
Built-in discussion forum

Video conferencing

Option to take the compliance course offline and then sync the data

30+ integration APIs
Pricing
Paid plans start at $2.95 per active user/ month

With its powerful compliance training software, Coassemble lets you easily create, manage, and track regulatory training programs within your organization.
Whether you want to train new hires on company policies or provide ongoing training on the latest industry regulations, Coassemble has you covered.
Its user-friendly UI, customizable course templates, and real-time reporting let you deliver compliance training at the individual and organizational levels.
Coassemble also provides advanced analytics to give real-time insights into employee performance. It can help you spot knowledge gaps and areas for improvement to optimize the training process further.
Features
Pre-Made Course Templates
Create compliance courses and lessons easily using the intuitive authoring tool and over 35 templates.
Built-in Employee Management
Organize learners by cohorts, teams, departments, etc. Assign courses and track the progress from the user dashboard.
Interactive Quizzes and Assessments
Use in-course quizzes, pop-ups, challenge screens, videos, etc., to assess learners' knowledge and plan the sessions.
Custom Domain for Your Organization
Set up a custom domain for your workspace to improve course accessibility and provide a branded experience within the organization.
Why We Picked Cossemble?
Intuitive UI

White-labeling and branding options

Flexible integration options with other LMS and HR tools
Pricing
Starts at $50/month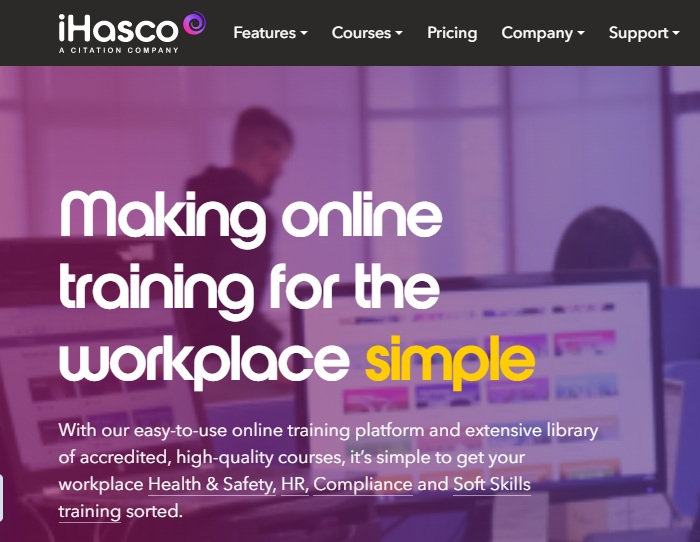 iHASCO is a comprehensive e-learning platform and compliance training software fit for any business size and scope. The tool is designed to simplify compliance training within an organization with features like course transcripts, responsive design, branding, white labeling, admin control, and Single Sign-On (SSO).
With its seamless multi-lingual support and multi-device compatibility, learners can take the course in their preferred language from anywhere to stay up-to-date with the latest regulations.
Features
Choose the compliance training course from the built-in library or create one from scratch. Customize the course as you want.
Inbuilt Progress Tracker and Dashboard
Track online employee compliance training progress with in-depth reporting and custom dashboards.
Import the courses from other LMS into iHASCO elearning to streamline course management.
Use the machine-translation feature to translate the courses into 37 languages and provide a seamless experience to learners.
Gamification and Customizable Certificates
Add scores to courses and ask for ratings from learners after course completion. Create and print certificates to boost employee engagement.
Reminders and Notifications
Configure notifications and reminders to notify the employees about upcoming courses and incomplete modules.
Why We Picked iHASCO Elearning?
IP address whitelisting

99.5% uptime

Screen reader compatible for improved accessibility

Bi-directional data sync using integration APIs
Pricing
Starts at £112 per user per year

MobieTrain is designed to promote microlearning to boost employee participation and meet regulatory compliance. It's one of the best workplace compliance training software on the market. The platform uses bite-sized content and gamification to train employees on compliance courses. Plus, the mobile-first approach ensures they can do it at their own pace from anywhere.
You can design various compliance training programs, set user access rules, track progress through detailed dashboards, and run assessments to make your teams knowledgeable about industry standards.
Features
Use the built-in CMS to design and author the compliance courses yourself. Choose from a range of learning formats and add your branding.
Gradual Path-Based Progression
Design a path-based progression system based on current skills and knowledge. Employees can unlock more modules as they progress through a course.
Microlearning Through Gamification
As employees unlock paths, they gain XPoints, and earn badges and certificates. Use quizzes to run quick assessments and course refreshers.
Course Progression and Skill Tracking
Track learners' progress and identify knowledge gaps through an in-depth reporting dashboard. Easily export data in .xls or .pdf format.
MobieTrain is SCORM compatible so you can import SCORM zip files from other compliance training LMS.
Why We Picked MobieTrain?
Great for onboarding training

Skill management tree for each employee

Native responsive design

Integration options with other LMS and HR tools
Pricing
Contact company for a quote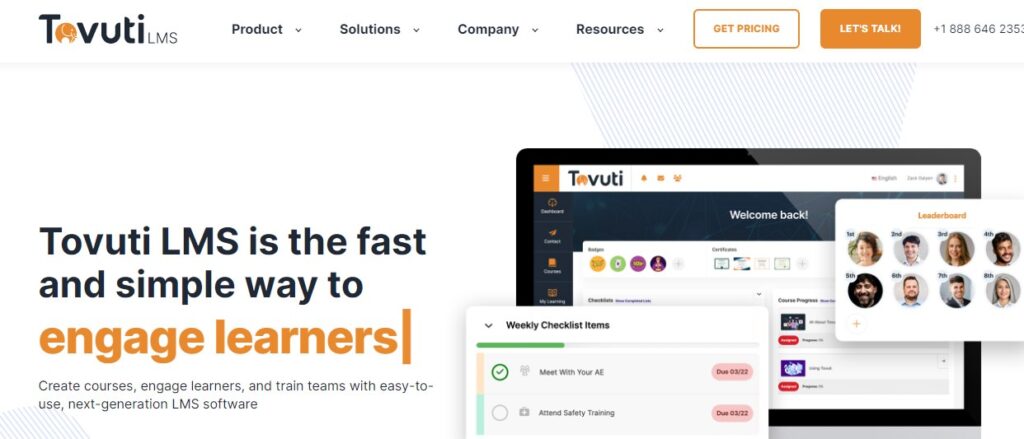 Tovuti is an all-in-one employee training software application that helps you easily create and manage training content. The tool is perfect for designing workplace compliance training programs using inbuilt CMS.
Features like an extensive resource library, SSO, multi-factor authentication, collaborative learning tools, high availability, mobile responsive design, and detailed reporting make it one of the top compliance training tools available out there. The platform also offers ecommerce support so you can sell your courses online.
Additionally, you can integrate it with other workspace systems and tools to manage employee data seamlessly.
Features
Built-in Course Authoring Tools
Visual content editor to design compliance courses in minutes. Add bite-sized content to courses to promote microlearning.
AICC, SCORM, and xAPI (Tin Can) Support
Easily Import and reuse the existing course content from other LMS to Tovuti.
Motivate learners to complete courses by adding badges, leaderboards, points, and games inside the lessons. Design and give certificates to people who complete the courses.
The tool facilitates peer-to-peer interactions using whiteboards, surveys, community discussions, and video conferencing within the platform.
In-Depth Reports and Analytics
Filter user activity by time frame, people, groups, and courses. Visualize how different courses are performing, track due dates, and send notifications. Monitor learner transcripts, activity, skill tree, and progression.
Why We Picked Tovuti?
White label and course branding

Mobile-first design

Language localization to cater courses to a worldwide audience

Set access and permissions based on user roles

Set rules for reminders and notifications
Pricing
Contact company for a quote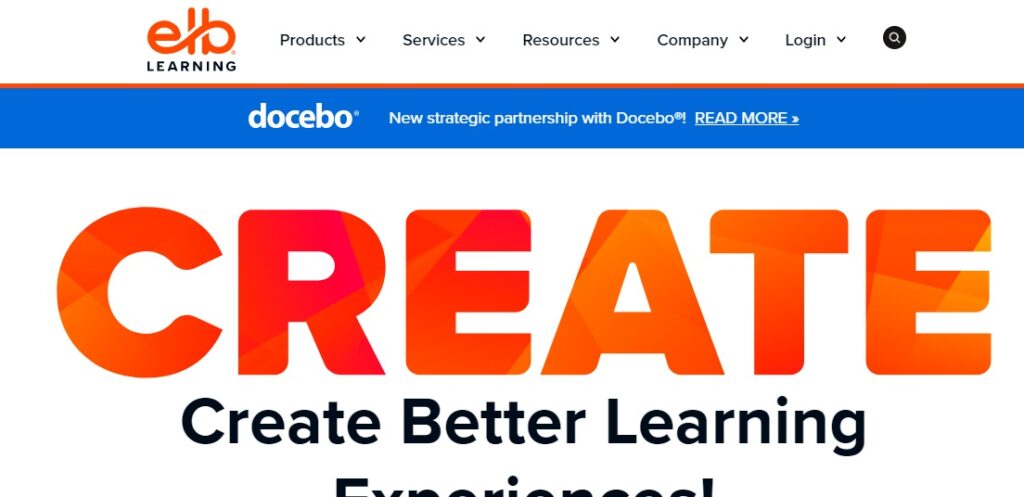 When it comes to training the new-age workforce and remote employees, ELB Learning comes on top. It's an excellent LMS for compliance training suited for businesses of all sizes.
The tool comes with a suite of features, including ready-made course frameworks, mobile responsive themes, an asset library, and more, to design any course type in minutes. You can choose from a range of interactive and engaging content formats, including video and gamification, to keep learners motivated throughout the training process.
Additionally, ELB Learning offers VR-supported courses to train employees on interactive scenarios using immersive simulations.
Features
Design interactive compliance courses using 120 million assets, stock images, videos, animations, and PowerPoint templates.
Training Arcade for Gamification
Choose from over 10 interactive pre-built game templates to make learning fun. Customize them as you want to promote microlearning.
In-Depth Analytics and Reporting
Track learner metrics like leaderboards, completion time, scores, number of attempts, and ranks.
Import Data From Other LMS
SCORM, xAPI, and AICC compatibility lets you import course packages from other tools into ELB Learning.
Why We Picked ELB Learning?
Collaborative authoring to work with others simultaneously

ReviewLink tool to collect feedback on courses from stakeholders

Ability to create branched scenarios and simulations
Pricing
Starts at $999/year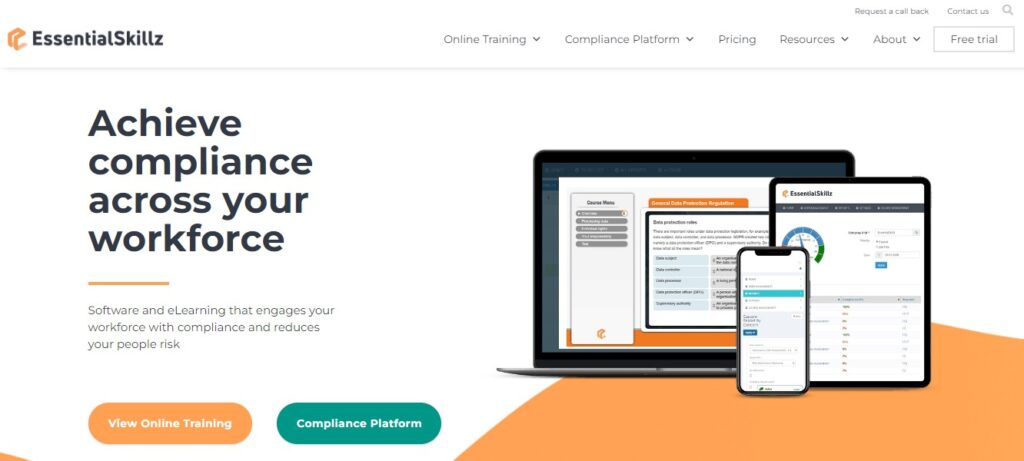 WorkWize LMS is a dedicated compliance-focused LMS designed to enhance your compliance culture. This powerful LMS provides comprehensive solutions to easily create, assign, and track training.
The tool offers a wide range of customizable courses, an intuitive authoring editor, in-depth customization options, and a user management portal. You can set automated reminders, track progress, and create custom reports to build a seamless training process.
Overall, it's an essential tool for organizations looking to stay on top of their regulatory obligations and trying to improve the knowledge and skills of their employees.
Features
Select from various read-to-use course templates or build one from scratch. Develop and implement training programs with ease.
Reduce the burden on administrators. Build instructional hierarchy, auto-assign courses to employees, and send notifications automatically.
Run People Risk Assessments
Identify, manage, and eliminate risk proactively in your organization. Design risk assessments to streamline the resolution process and boost productivity.
Supports 70+ SCORM-compliant online training courses to streamline data import.
Create custom reports to visualize and resolve compliance gaps. Share reports within your organization with a click.
Why We Picked WorkWize?
Easy to use

Ability to run a full audit of compliance platforms

Automated course workflow

White labeling and branding
Pricing
Contact company for a quote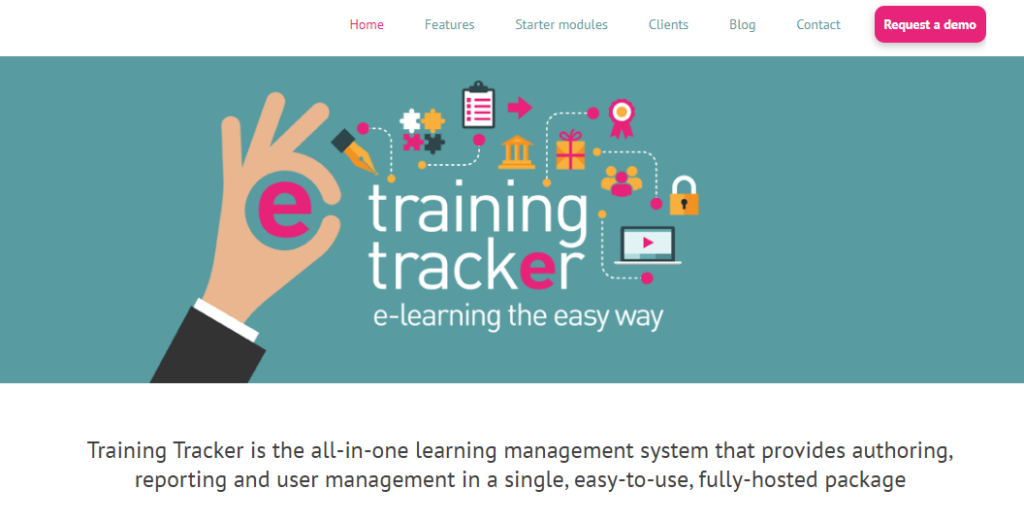 Training Tracker is another cloud-based learning management system that lets you handle authoring, reporting, and user management in one place. You can create compliance training modules and assign them to employees.
The tool also hosts a full-fledged user management system to set administrative hierarchy, create groups and sub-groups, assign user roles, and set access permissions. It is one of the best solutions to streamline high-stake training like compliance.
With an intuitive design, easy-to-use interface, and an ever-increasing list of pre-designed modules, TrainingTracker is one of the best compliance training tools that should make it to your shortlist.
Features
Design compliance modules to train teams on the latest regulations and industry standards.
Add quizzes, tests, or exams to each compliance module to test learners' knowledge and retention capacity.
Manage users in one place. Set authoring and reporting rights. Set automatic notification when the user is no longer compliant.
Create user reports with a click. Sort and filter the data based on categories and groups to track learners' progress and other training metrics.
Multi-Channel Compatibility
Run the modules on any device, including desktops, laptops, tablets, and mobiles.
Import and export data from TrainingTracker to other LMSs and HR tools for improved reporting.
Why We Picked TrainingTracker?
Simplistic design and easy to use

Multimedia support for training modules

Wide range of pre-made modules

No limit to the number of hosted modules
Pricing
Contact company for a quote

Accountable is a powerful LMS that provides comprehensive compliance training solutions to businesses. Its wide array of features makes it perfect for managing different compliance training programs to ensure your teams know the latest regulatory requirements.
This compliance LMS features customizable training modules on HIPAA, GDPR, ADA, and other topics to get you started quickly. Just pick the one you want and edit it to your needs.
One of the biggest advantages of using Accountable is real-time reporting on employee training progress. You can instantly track learners' progress with detailed charts and dashboards.
Features
Customizable Training Courses
Access the extensive course library to design tailored compliance content for your teams in minutes.
Automated Scheduling and Reminders
Schedule automatic reminders about new and incomplete courses to ensure employees don't miss the deadlines.
Real-time Reporting and Analytics
Create detailed reports to track employee training progress. Pinpoint areas of improvement, identify knowledge gaps, and monitor overall compliance health.
Test learners' knowledge with in-course quizzes and simulations.
Mobile Learning Compatibility
Allow employees to take the course on the go with multi-channel support. Access the courses on any desktop and mobile device.
Why We Picked Accountable?
Highly scalable to fit the requirements of any organization

Customizable certifications

Multi-language support for courses

Built-in user management system
Pricing
Contact company for a quote
Compliance Training FAQs
1. How do I deliver effective compliance training?
To deliver effective compliance training, you have to assess needs and set clear objectives, customize courses to suit your organization, run assessments to measure progress, and regularly update and revise the training.
2. Who uses compliance training software?
Compliance training software is used by businesses in regulated industries, such as construction and manufacturing, human resources, compliance departments, training providers and consultants, and government agencies.
3. How do I create compliance training?
You can create compliance training by identifying relevant regulations, setting clear learning objectives, and designing the courses by incorporating real-world scenarios. You can use a learning management system (LMS) to access professionally designed, editable, and ready-to-use courses. This enables you to get started quickly with course creation and training implementation.
4. What resources are available for compliance training?
There are plenty of resources available for compliance training, such as compliance learning management systems (LMS), industry association experts, online courses and training providers, and webinars on compliance topics.
Adopt the Best Compliance Training Software for Your Business
There you have it – our list of top compliance LMSs with their features, pricing, and why you should consider them. Whether you want to set up a new training LMS or migrate from an existing one, we have a tool for everyone in the mix.
Remember, with proper training, you can mitigate the risks of non-compliance, foster a culture of compliance, and create an engaging learning experience for employees.
So look for a tool that provides pre-made courses on compliance, collaborative learning, and responsive design, like ProProfs Training Maker or Tovuti.
Ultimately, the right compliance training software will ensure adherence to industry standards and contribute to the overall growth of your organization.
Do you want a free Training Software?
We have the #1 Online Training Software for employee training & assessment