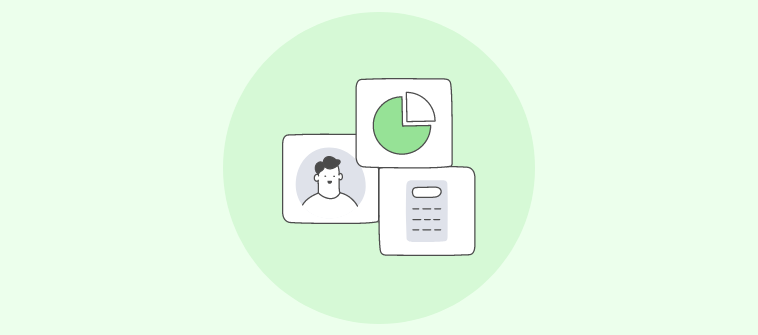 Businesses often turn to their most precious asset – i.e., employees to drive productivity, improve business performance, and stay ahead of the competition. In fact, businesses invest heavily in providing growth and development opportunities to maintain the winning edge. This is where employee training programs play a big role.
These programs are essential for organizations as they help improve employee knowledge, skills, and productivity, reduce errors and turnover rates, increase job satisfaction and morale, and promote a learning culture.
With proper employee training plans and programs, you can make your employees productive, while keeping your organization relevant in a rapidly evolving business climate.
But have you deployed all possible types of employee training programs in your organization to provide continuous learning & development opportunities to your workforce?
Not yet?
Remember: The lack of the right training opportunities can reduce employee engagement, job satisfaction, and retention.
So, in this blog post, you'll learn about the meaning, importance, and different types of training programs. Along with this, we will throw light on how you can create an impactful training program to build a productive workforce.
Let's dive right in.
What Are Employee Training Programs?
Employee training programs are structured learning opportunities provided by organizations to their employees to enhance their knowledge, skills, and competencies.
Such programs can take various forms, such as classroom training, on-the-job training, workshops, online courses, mentoring, coaching, and job shadowing.
Employee training programs aim to increase productivity, boost engagement and satisfaction, increase retention, and promote career development.
Also Read: Employee Training and Development: A Definitive Guide
Watch : What Is Employee Training?
Why Is Employee Training Important?
Would you agree if we casually tell you that companies that invest in both offline and online training programs for employees are investing in their own success?
Probably not!
But you will definitely buy this: Comprehensive training programs offered by companies, as reported by the American Society for Training and Development (ASTD) , result in a 218% higher employee income than those without formalized training.
There are favorable financial returns for firms and their investors as well from such programs, such as a 24% higher profit margin than those spending less on training.
As you can see, the reason for such impressive outcomes is enhanced productivity of employees, which stems from the skill advancements achieved through training and development programs.
Thus, it seems prudent for companies to continue investing in training and development, even during economic downturns.
Let's explore some of the amazing benefits of employee training programs.
Employees are likely to become demotivated when they are unable to meet the standards set by their organization.
However, creating an opportunity to re-skill or upskill your workforce boosts their morale, increases engagement, and adds a sense of satisfaction.
Remember: Satisfied and motivated employees can perform better and they are one of your organization's biggest assets.
Reduced Chances of Employee Errors
Each profession and job position comes with its own set of distinct challenges and prerequisites. Employees may make mistakes or errors if they lack the necessary knowledge or expertise for a specific task.
By providing workplace training, employees become more competent, lowering the likelihood of human errors on the job. This enhances the capabilities and effectiveness of your workforce.
As discussed earlier, you can make your employees productive right from day one with proper training and development opportunities.
One example of a company that experienced increased productivity due to employee training is Walmart. It launched an extensive employee training program called the "Pathways" program to improve employee skills and job satisfaction.
The program included classroom and online training sessions and covered customer service, merchandising, and safety topics.
So, when employees understand what is expected of them and are provided with training opportunities, they become more confident and show high productivity and performance.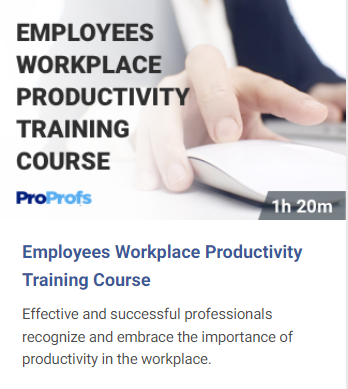 Improved Employee Retention
Providing learning and development opportunities is highly valued by employees. Hence it's not unexpected that workers are likely to stay longer with companies that invest in their ongoing training.
Companies with effective training programs often observe a considerable rise in employee retention.
Losing top-performing employees can be expensive, and most businesses can't bear the cost of replacing them.
This is exactly why you should provide employee training and development opportunities. That way, employees can learn new skills and perform better in their jobs. This leaves no room to quit. On the contrary, companies with strong learning cultures can increase retention rates by 30-50%.
Heightened Business Growth
With the right training opportunities, you can grow your business in terms of expansion, better customer service, and more. It can bring a positive change in your workforce and shape them into leaders of tomorrow who can stand out from the crowd.
Watch : How to Develop Core Leadership Skills | Training Course Introduction
Well-trained employees are more engaged, motivated, and satisfied, which leads to better customer satisfaction, increased sales, and higher profits, ultimately resulting in business growth.
But how can you train your employees?
Well, employee training software can help you create, manage, deliver, track, and analyze online training programs effectively.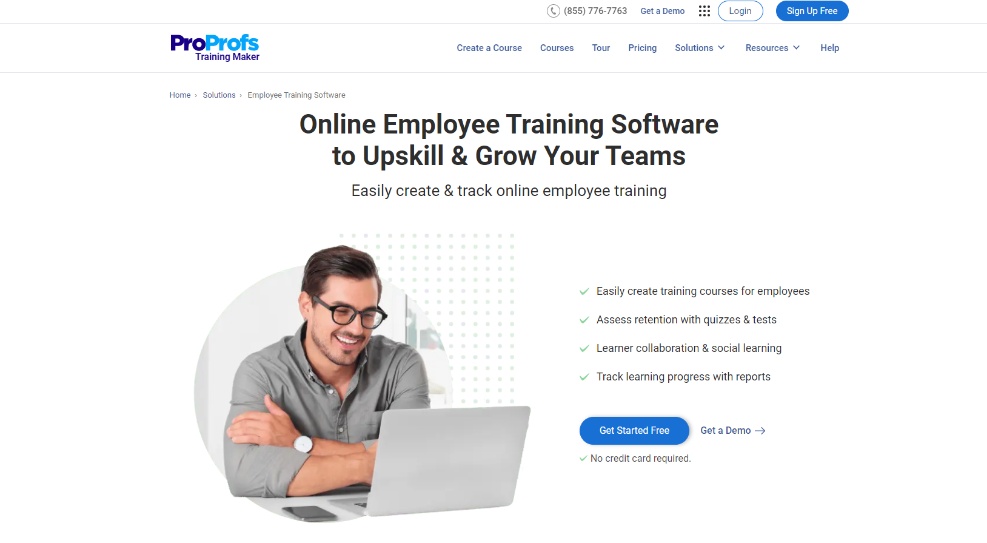 Here's a case study from Tupperware, a multinational brand known for manufacturing kitchen items and household products. The company used training software to provide safety training to its operators. With features like course library and assessments, they could upskill their workforce on several topics like Leadership Courses, Code of Conduct Training, Quality Assurance Training/Certification, etc. Currently, all their plants in Europe use training software for company-wide training.
Case Study – How Tupperware Used ProProfs for Training & Assessment | ProProfs LMS
List of Different Types of Training Programs for Employees
Based on your organization's size, activities, and requirements, you can conduct different types of employee training programs. Let's look at the top ones.
1. Onboarding Training
An effective way to quickly acclimatize new hires is to enroll them in a formal onboarding training program. This program familiarizes them with the software and hardware they will be using and covers all the necessary job responsibilities to perform their duties well.
The duration of the program can vary depending on the complexity of the job and the amount of information that needs to be covered. By assigning an onboarding training program, you can ensure that your new hires are up for success.
Pro tip: You can use an expert-designed and customizable onboarding training template. This will make it easy for you to provide role-based training to your employees.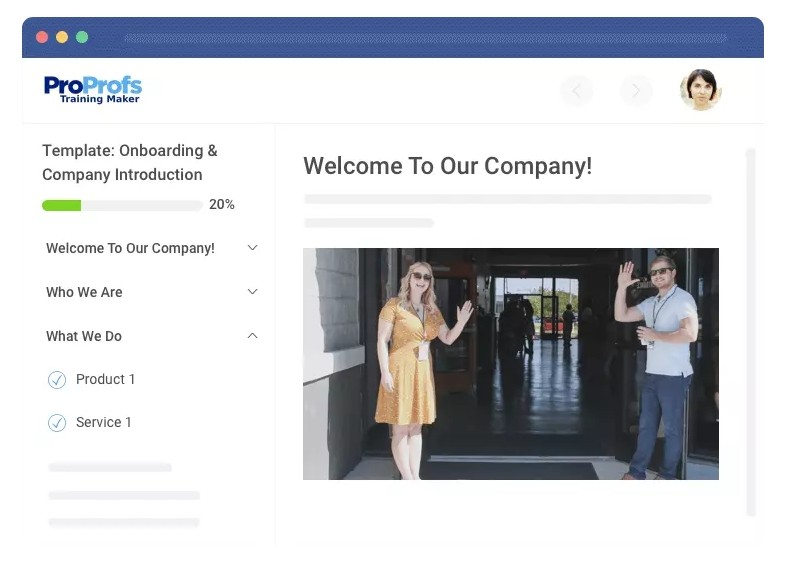 2. Technical Skills Training
Technical skills training refers to employee training that focuses on developing technical expertise in them. This type of training typically includes hands-on practice, demonstrations, and lectures to teach employees how to use various equipment, software programs, tools, and procedures.
Topics covered under this program include computer software, programming languages, machinery operation, safety procedures, etc. This type of training is particularly important in industries that rely heavily on technology or have complex processes that require specialized skills.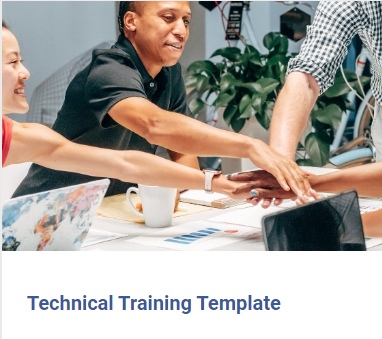 3. Soft Skills Training
Just like technical skills, soft skills are equally important. These skills, sometimes known as people skills or emotional intelligence, play a vital role in how employees communicate, work, and get along with each other.
Employees with excellent interpersonal skills know how to communicate well, collaborate with others, resolve conflicts, or handle customers.
This is exactly why you need to train your employees on soft skills.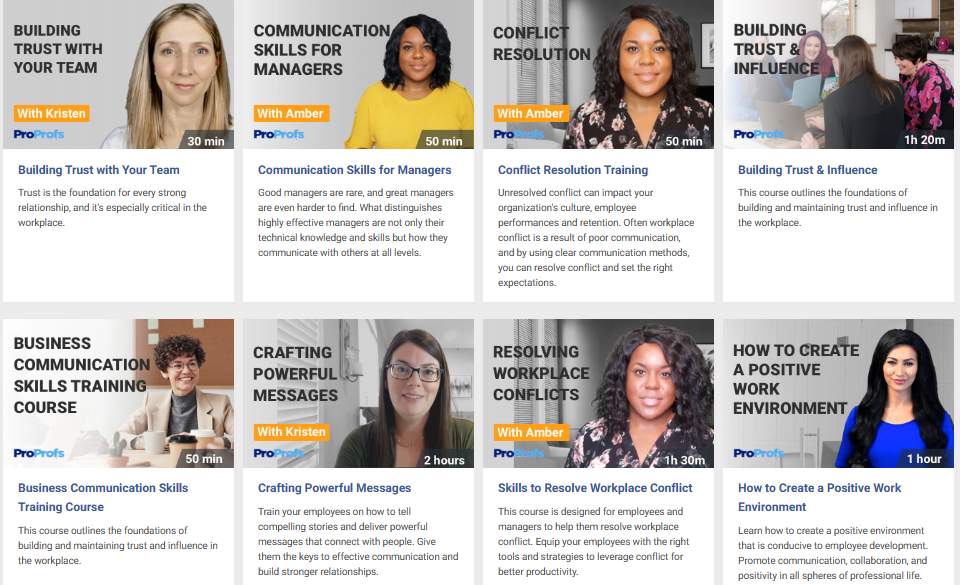 This type of training focuses on developing non-technical skills and attributes important for workplace success, such as communication, teamwork, problem-solving, leadership, time management, and emotional intelligence.
Soft skills training is essential as it fosters a positive workplace culture, improves employee morale, and promotes productivity and collaboration. It is particularly important in industries where customer service and interpersonal interactions are critical for success, such as hospitality, healthcare, education, and business services.
Also Read: How to Develop Soft Skills in the Workplace
4. Product or Service Training
Product/service training is training where you educate your employees on your products or services. It is designed to create awareness around your flagship products and services and build a knowledgeable workforce so that they can work efficiently or provide better customer service.
With product training, you can help your staff learn the minuscule details of a product or service.
The training may include educating your employees on product features, technical specifications, pricing, target markets, use cases, customer needs, competitive landscape, and sales techniques.
In addition, product/service training can help improve customer satisfaction and loyalty by ensuring that employees can provide accurate and helpful information to customers.
For instance, in a survey carried out in the USA, 91% of respondents agreed that knowledgeable store employees made shopping easier and desirable.
Must Read: How to Impart Product Knowledge Training to Your Employees
5. Compliance Training
Another type of training that is crucial for most organizations is compliance training. It educates employees about laws, regulations, and company policies relevant to their industry and job functions.
Compliance training aims to ensure that employees are aware of their responsibilities and obligations and understand the consequences of non-compliance.
Here are a few eye-opening statistics that you should know:
23% of organizations have no formal training

40% of companies rate their training as basic or reactive

Non-compliance issues can cost an organization about $14.82 million per year
Remember: The cost of non-compliance can manifest in the form of hefty penalties and fines, which will erode your company's profits and tarnish the reputation. It can also result in an unhealthy audit trail.
Therefore, compliance training is a must and can cover various topics, including data protection, anti-bribery and corruption, anti-money laundering, workplace harassment, health and safety, HIPAA, OSHA, and many others.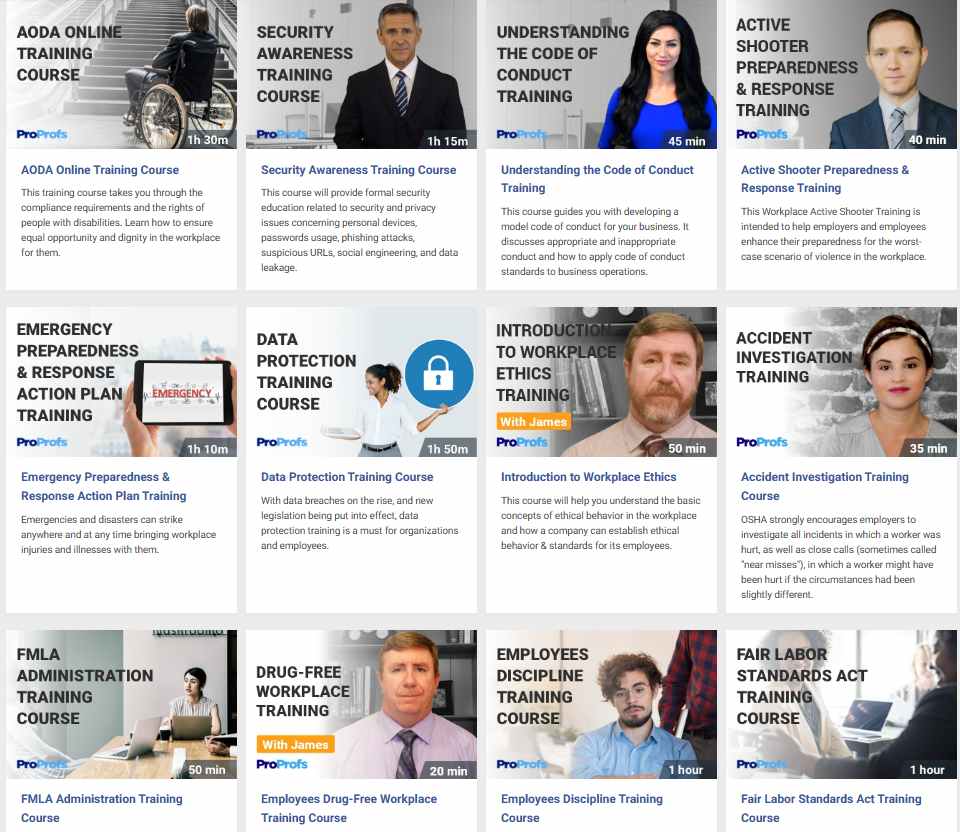 Most organizations provide such training to employees regularly to ensure that they are up-to-date with the latest regulations and policies. This mitigates the risks of legal liabilities and reputational damage that may arise from non-compliance with laws and regulations.
Read: What is Corporate Compliance Training?
6. Sexual Harassment Training
Sexual harassment training is a type of compliance training that educates employees about what constitutes sexual harassment in the workplace and how to prevent and respond to incidents of sexual harassment.
Such training is key to creating a safe and respectful workplace environment free from harassments, discriminations, intimidations, and conflicts. Check out the table below to learn about sexual harassment prevention training requirements for employees and supervisors at the federal and state level in the U.S.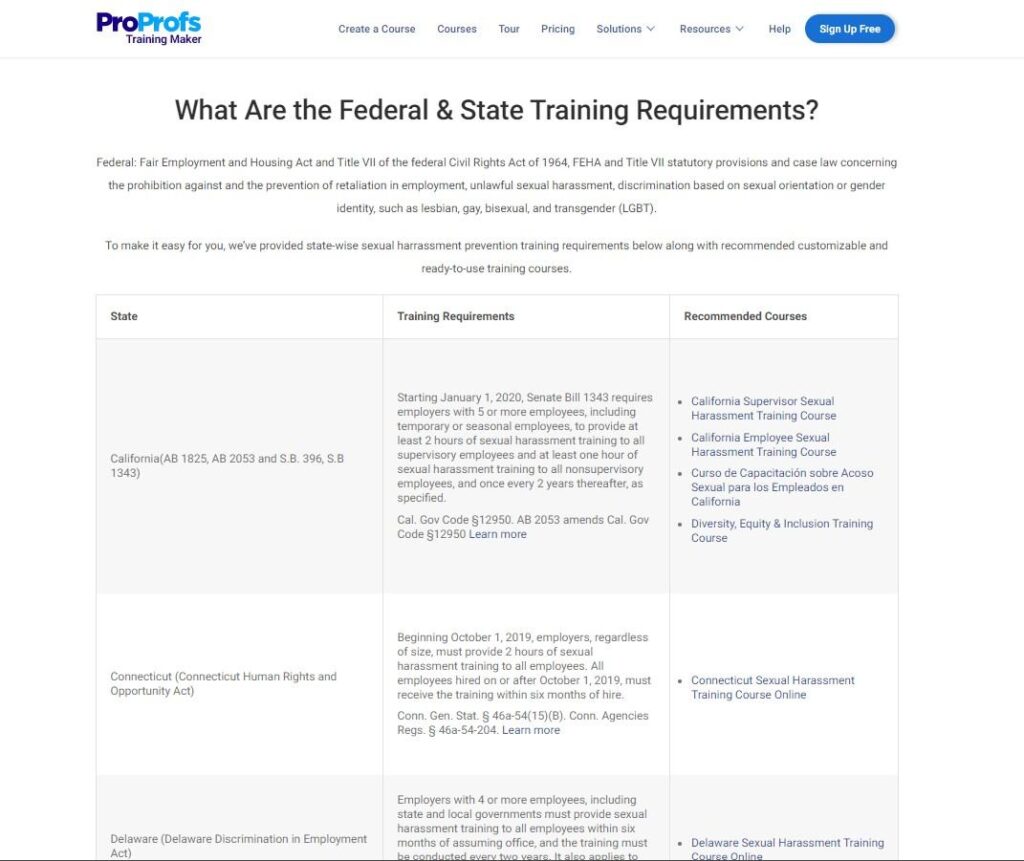 Workplace harassment includes:
Unwanted sexual advances.

Requests for sexual favors.

Inappropriate touching.

Lewd comments.

Showing pornographic materials

Other behaviors that create a hostile or offensive work environment.
Sexual harassment training helps employees to recognize such behaviors and understand their legal and ethical obligations to prevent and report them.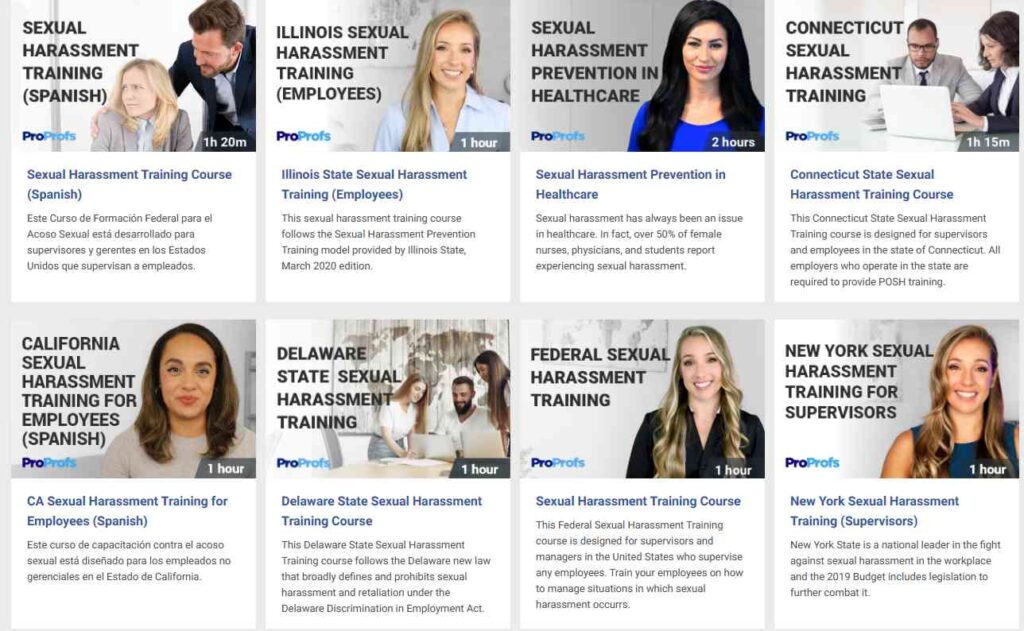 The content of sexual harassment training typically includes information about the various forms of sexual harassment, the legal and policy frameworks that prohibit such behaviors, the consequences of engaging in or condoning sexual harassment, and practical strategies for preventing and responding to incidents of sexual harassment.
Pro Tip: Add engaging quizzes in your courses to measure knowledge and understand how well your learners have grasped the materials.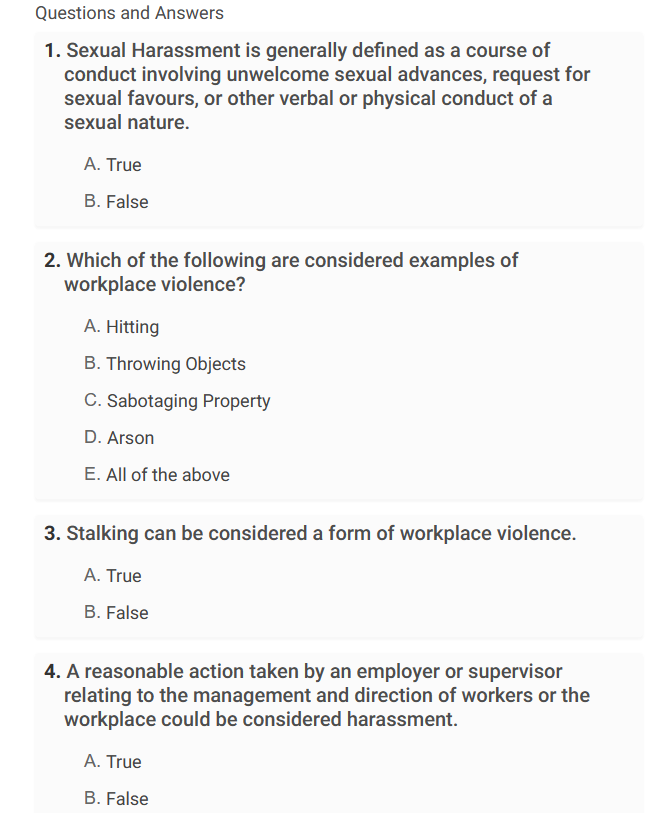 Watch: What Is Sexual Harassment Training?
7. Safety Training
Recently, a New Hampshire-based roofing contractor faced a penalty of $234k for exposing workers to fall hazards. The company was earlier penalized for failing to protect their employees against lethal falls.
As you can see from the above instance, safety training is a must, including OSHA training.
Watch : What is OSHA Compliance Training? Requirements & Benefits
So, what exactly are safety training programs?
Safety training programs educate employees on how to recognize and prevent workplace hazards and how to respond to emergency situations. After the training, employees become aware of the potential dangers of their work environment and are equipped with the knowledge and skills to work safely and avoid accidents.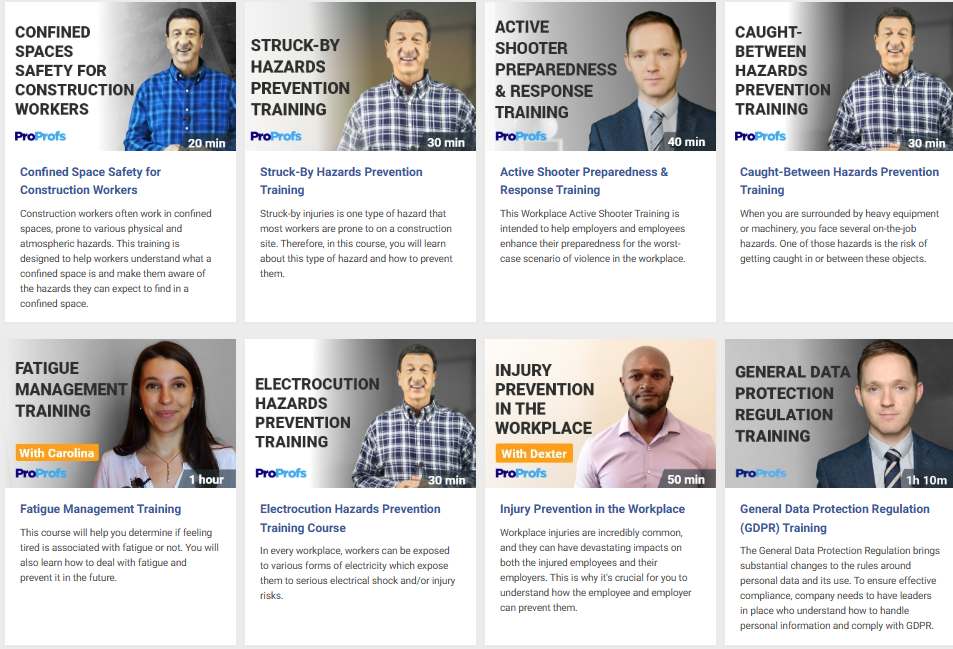 Hazard Identification and Risk Assessment

: This safety training covers how to identify potential hazards in the workplace and how to assess the risks associated with them.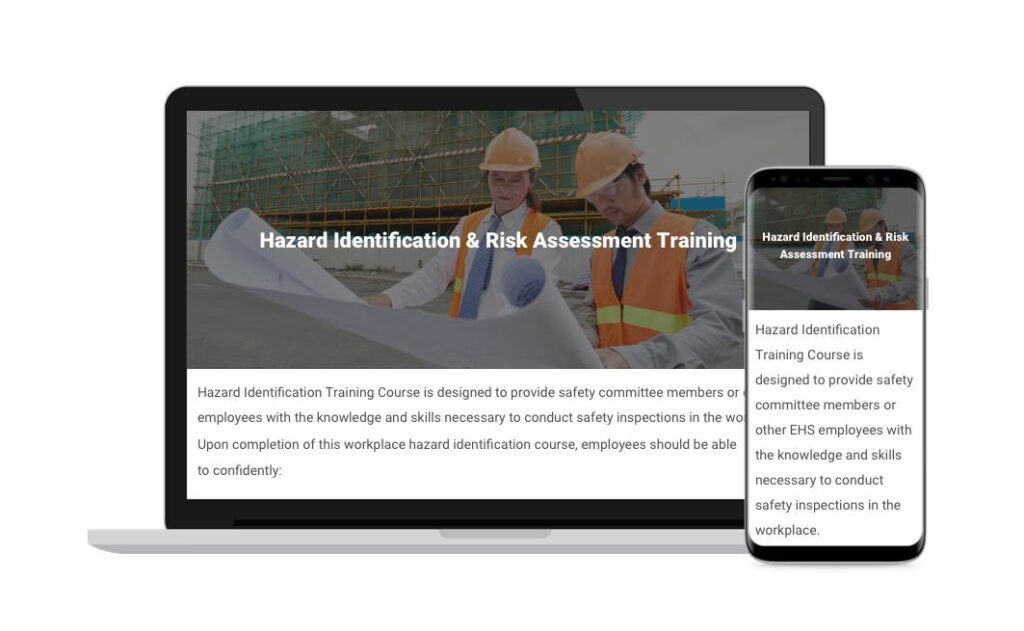 Personal Protective Equipment (PPE)

: Another type of safety training is PPE training, which focuses on how to properly select, wear, and maintain PPE to protect against workplace hazards.
Emergency Response

: This includes training on how to respond to emergencies such as fires, natural disasters, and medical emergencies.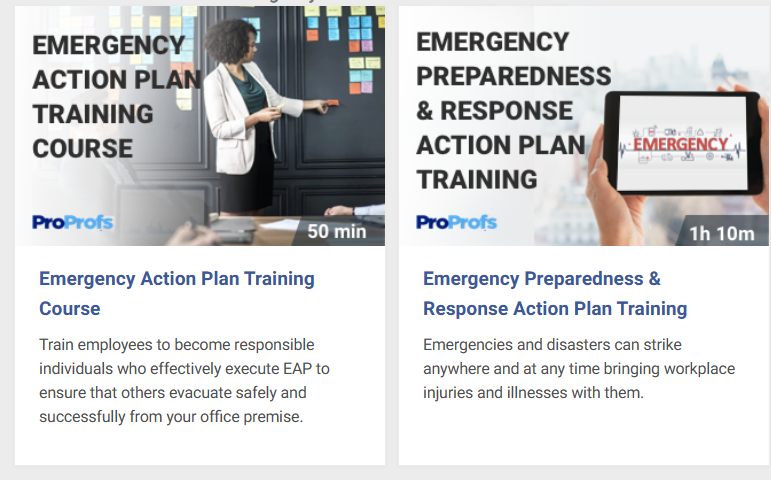 Fall Prevention and Ladder Safety

: Another important safety training is fall prevention and ladder safety training. The training includes instructions on proper ladder usage, identification of potential hazards, techniques for preventing falls, etc.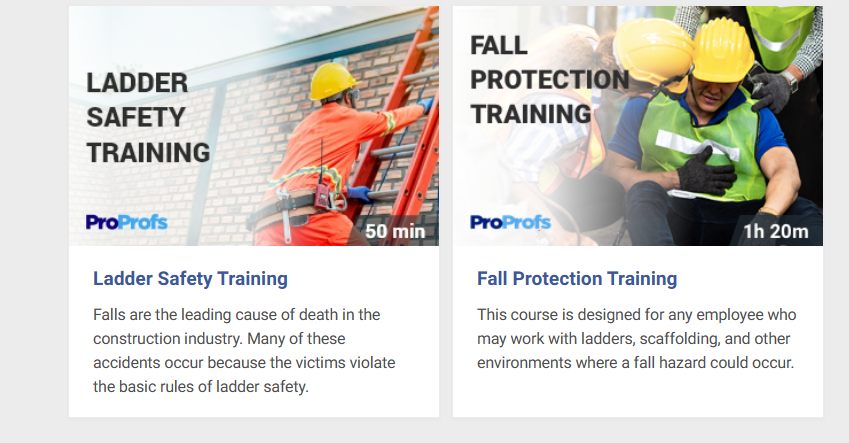 Get This Course Get This Course
Fire Extinguisher Safety

: This training will prepare your workforce to respond effectively in case of a fire emergency and minimize property damage, injury, or loss of life.
Watch: How to Ensure Fire Extinguisher Safety | Training Course Introduction
Workplace Ergonomics

: This includes training on how to set up workstations to prevent repetitive stress injuries and other ergonomic issues.
Watch: How to Prevent Musculoskeletal Disorders | Training Course Introduction
Also Read: What is Workplace Safety Training: Importance and Benefits
8. Managerial and Leadership Training
"Leaders are made, they are not born"– Vince Lombardi.
As rightly said, no one is a born leader. You have to train them to become one!
Managerial and leadership training provides the skills and knowledge necessary to become effective managers and leaders. You can cover topics like communication skills, decision-making, problem-solving, team-building, motivation, and performance management.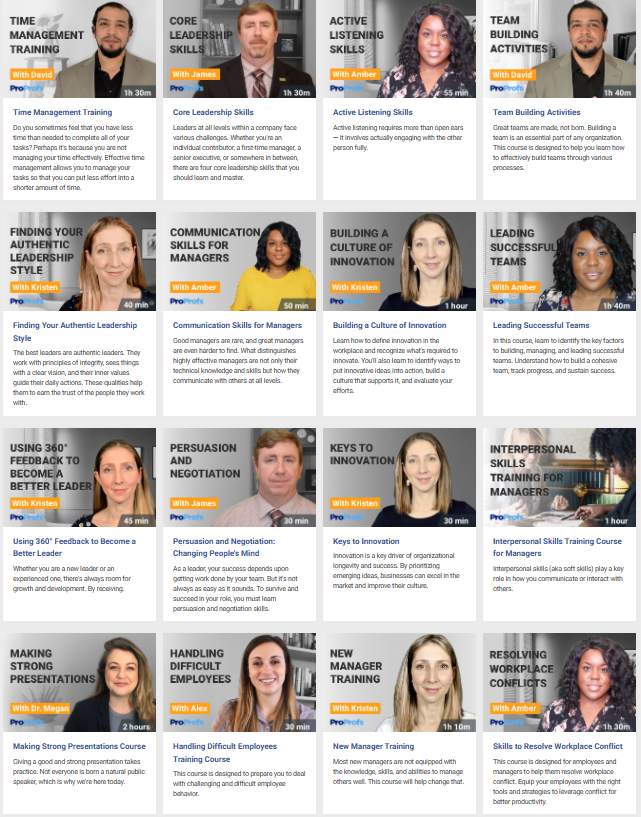 How to Develop Core Leadership Skills | Training Course Introduction
9. Quality Assurance (Q/A) Training
Quality assurance is vital for your business growth as it increases customer satisfaction, reduces waste and costs, and gains a competitive advantage.
Quality assurance training is another type of employee training program that focuses on ensuring that products and services meet or exceed customer expectations. The training covers a range of topics, including quality control, management, and improvement.
The program includes instructions on the principles and practices of quality assurance, such as statistical process control, root cause analysis, and continuous improvement.
Participants in this training learn how to identify defects, measure and analyze quality data, and implement corrective actions to improve processes and products.
10. Sales Training
Did you know that for the majority of sales professionals, 84% of sales training is lost after three months? This is mainly due to a lack of information retention.
And this is exactly why continuous training is important.
Sales training is a kind of training program that helps individuals develop the skills and knowledge necessary to succeed in a sales role. The training covers a range of topics, including making a sales pitch, handling sales objections, nurturing sales leads, closing sales, etc.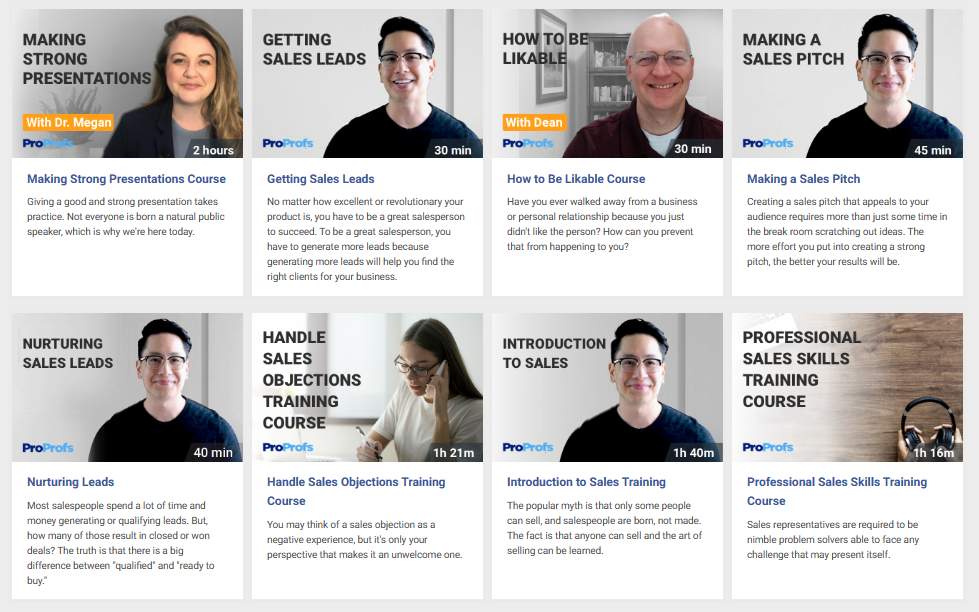 With this training, you can improve sales performance, increase revenue, and enhance customer satisfaction by providing your sales team with the tools they need to effectively communicate the value of their products or services.
How to Master the Art of Selling | Training Course Introduction
11. Diversity Training
You'll be surprised to know that the famous American fast food restaurant chain, KFC, has invested in diversity and inclusion training to develop diverse leaders and franchisees. This is intended to ensure that the brand is a true reflection of its team members and customers' demographics and that diverse perspectives are given greater weightage in making KFC a center for positive change.
Do you also want to make a positive change and build an inclusive work culture?
Then diversity training is the answer.
Diversity training focuses on increasing awareness and understanding of diversity and promoting inclusion in the workplace. This program can cover topics like cultural awareness, unconscious bias, conflict resolution, and workplace harassment.
It seeks to create a safe and respectful workplace by providing individuals with the knowledge and skills needed to get along with colleagues from diverse backgrounds.
The training aims to create a positive work environment that values and respects individual differences, resulting in a more inclusive workplace culture and improved organizational performance.
What Is Diversity, Equity & Inclusion? | Training Course Introduction
12. HR Training
The HR team is the lifeblood of any organization.
Why so?
Because they are the ones responsible for bringing in new talent, managing manpower, and promoting a mindset of continuous growth. Also, lately, they have become a strategic partner for businesses.
But who will take charge of their growth and development?
HR is often seen as a process-driven, operational department that manages the employee lifecycle, but it should play a larger role in developing the company's people strategy and culture. While HR manager training must cover essential hard skills, HR professionals need a mix of soft and hard skills to be successful and make an impact across the organization.
So, what is HR training?
HR training is the process of providing your HR teams with the necessary skills and knowledge to perform their job responsibilities effectively.
You can train your HR teams on onboarding new hires successfully, leadership development, compliance training, and skills training. HR training is important as it impacts employee performance and productivity while also fostering a positive work culture and promoting career growth.
Successful HR training programs require effective communication, tailored content, and ongoing evaluation and feedback system to ensure they meet the needs of both the employees and the organization.
Pro Tip: Use this LMS to train your HR on the policies and laws concerning hiring, employment, and termination, as well as in-demand HR skills.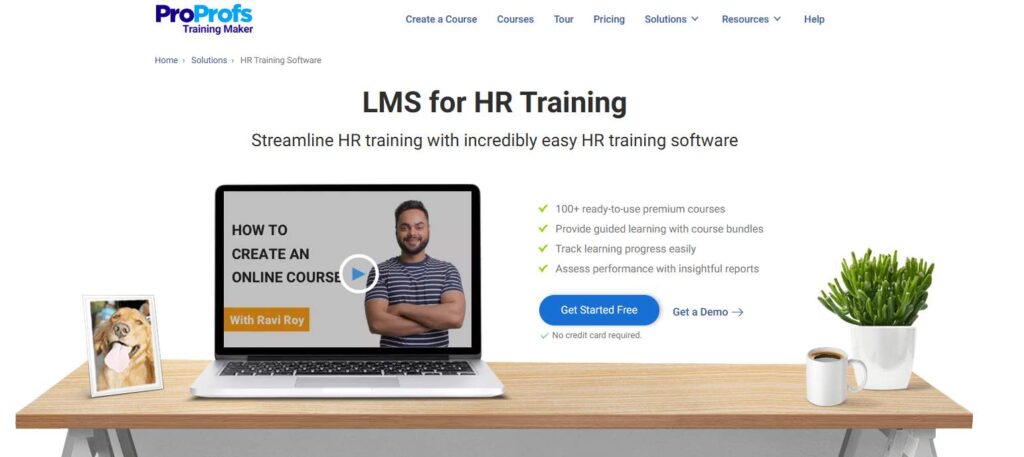 These are some of the employee training programs that will enable your employees to strengthen their soft and hard skills while also staying compliant with the latest industry standards and procedures.
Now the question is how you can deliver such training. Considering you have employees working in offices and from remote locations, you need to choose a delivery method so that no employees miss out on any training.
This is where a learning management system (LMS) can help you!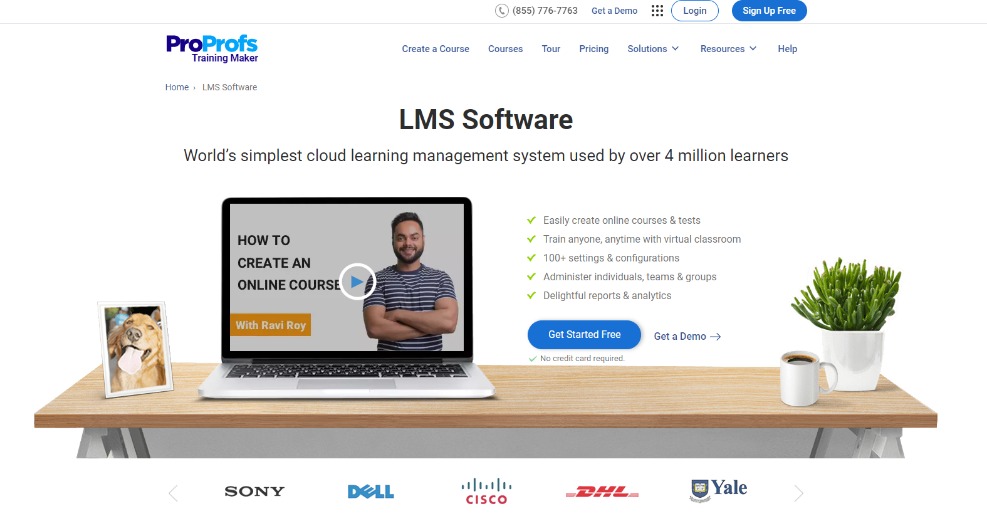 An LMS has the following features that can streamline your training process.
White labeling

Certificates
Watch: What is a Cloud-Based Learning Management System?
How to Develop Impactful Employee Training Programs: 9 Easy Steps
Employee training should not be done blindly or without a clear purpose. Whether it is aimed at improving soft skills or ensuring compliance, it should be designed to achieve specific objectives.
Therefore, it is important to develop and implement effective training programs that follow industry best practices and strategies.
By doing so, the training process can become more meaningful and sustainable, leading to positive outcomes. So, let's check out the steps.
1. Identify Your Goals
First things first. Before creating your training programs, you need to understand what you're trying to achieve. In other words, start with the end in mind.
Do you want to build leadership skills? Or do you want to train your workforce on some new products or services?
Whatever it is, you should know the outcomes you're trying to achieve by the end of the training program. For that, you need to set SMART goals.
When you're clear about your outcomes, it becomes easier to take the right path to achieve your goals.
How to Set SMART Goals | Training Course Introduction
2. Determine Knowledge Gaps
Unless you determine your employees' knowledge gaps, your training won't be effective. So, it's important to assess their existing skills and compare them to the skills required for performing a job or a task.
So, how can you identify gaps?
Well, assessments play an incredible role in this regard.
An online assessment software helps with a skills gap analysis as it is packed with features that lets you create, manage, deliver, track, and analyze your assessments.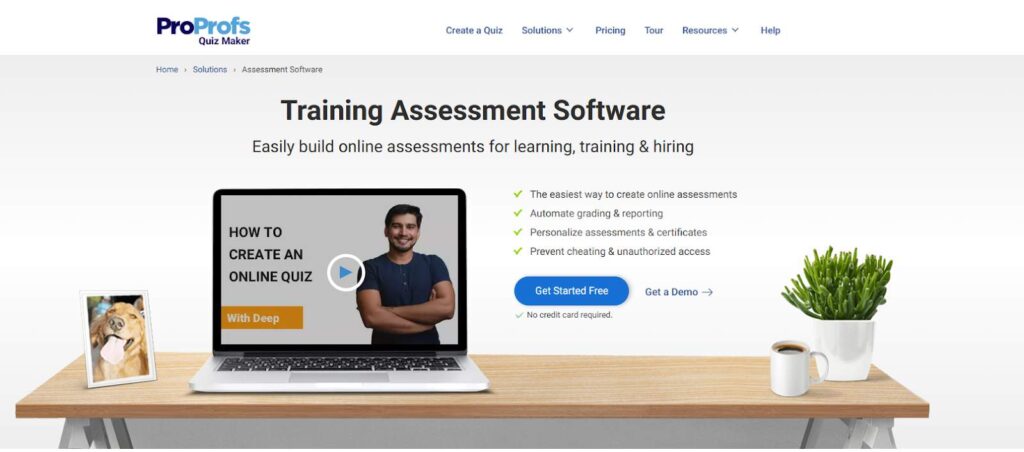 Also, there are various effective techniques available to conduct a skills gap analysis, which you can try to achieve the desired outcomes.
Watch: How to Create an Assessment Online
3. Create an Employee Training Plan
Once you have set your goals and identified the knowledge gaps, create a new employee training plan. This plan will act like a template to help streamline your training process by providing a format and structure.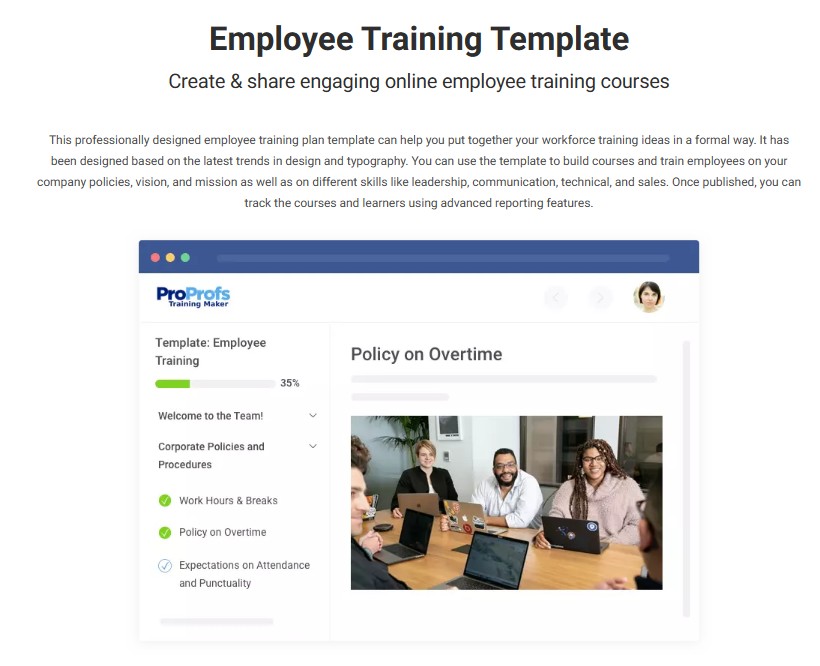 Such a plan includes all necessary information and helps trainers develop and deliver effective training programs. Additionally, it facilitates tracking and evaluation of employee progress and training effectiveness.
Check out this sample plan to know how to create yours.
Sample Training Plan for New Hires – Google Sheets
4. Pick the Right Tool
The next step is all about choosing the right tool.
Numerous employee training platforms are available on the market and cherry-picking the best one among them can be difficult at times. More so, if you haven't tried any of these tools before, then all of them may sound compelling.
The best bet is to look for a solution that is easy to use. No matter how feature-rich a tool is, if it has a steep learning curve, then it's definitely not worth it.
Some other features you should consider are virtual classrooms, readymade courses and templates, built-in assessments, self-paced mobile learning, survey tools, collaboration tools, etc.
Read this guide to know more. Or watch this video below.
Watch: How to Choose the Best SaaS LMS Software
5. Choose the Right Courses
Once you've picked the right tool, next you should choose the right courses. Make sure the courses you pick are professionally designed and should present information in engaging formats.
Another thing you should consider is the customization factor. You should be able to modify the courses to suit your training requirements and white-label them with your brand elements to add a personalized touch.
Watch: How to Create an Online Course
6. Add Quizzes to Measure Knowledge
To understand the effectiveness of your training programs, it's important to assess knowledge retention in your training participants. Unless you know how well they have grasped the concepts, it's impossible to know how seriously they have gone through each chapter.
This is where quizzes can help.
You can embed quizzes into your courses after each chapter or at the end of a course.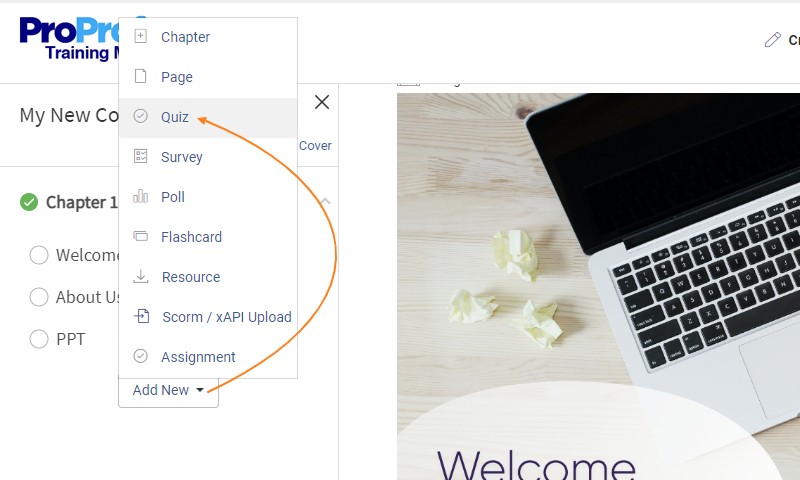 Quizzes enable you to evaluate the effectiveness of the training program and determine if learning objectives have been met. Quizzes also provide valuable feedback to both trainers and learners and can help identify improvement areas.
Watch: How to Create an Online Quiz in Under 5 Mins
7. Implement the Program
After creating your training plan, the next step is to put it into action by implementing it.
With tools like ProProfs Training Maker, you can share courses with your learners through email and social media, or you can embed them on your website.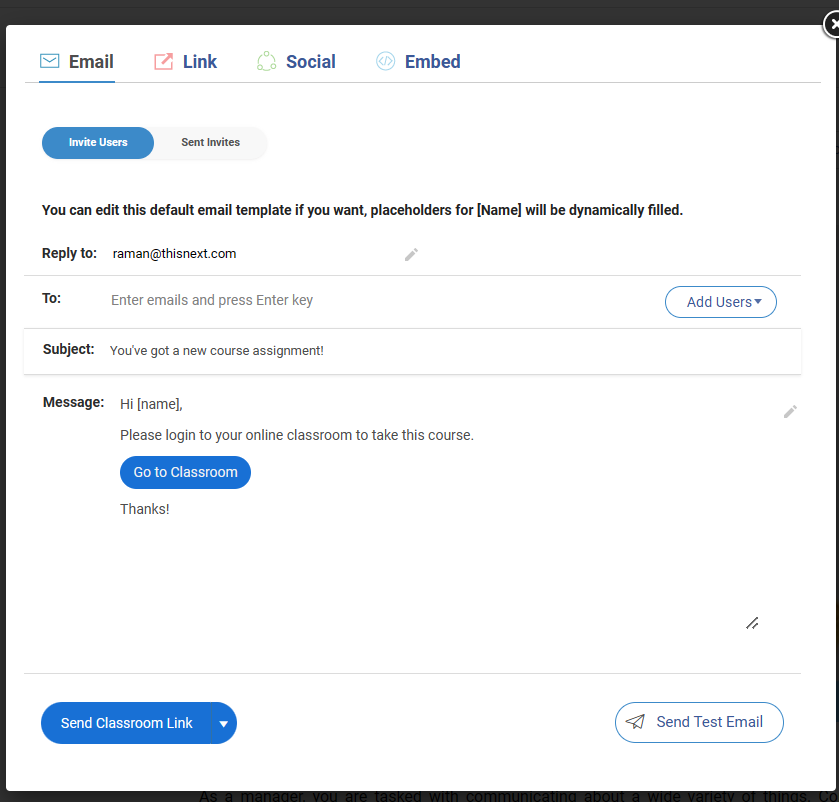 This brings us to the next step where you can track your learner's progress in real-time.
8. Track Learning Progress
Once you assign the courses, you can monitor course participation, pending and completed courses, engagement levels, satisfaction rates, and scores in real-time. You can also check whether your learners are adhering to the course deadlines.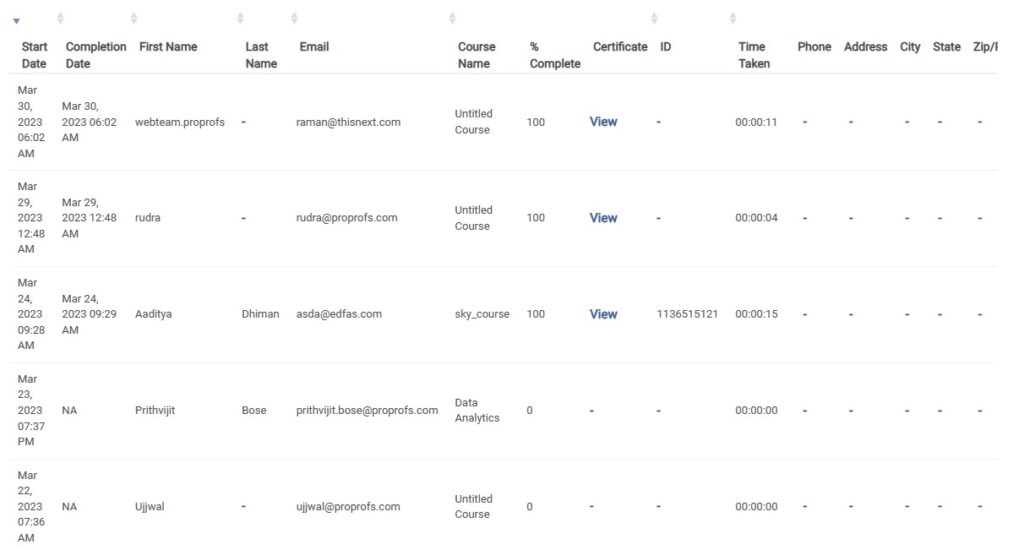 If you want to track your learners in real time, then an LMS can help you. With its robust reporting systems, you can monitor each and every activity of your learners.
Watch: How to Analyze Training Course & Quiz Results
9. Provide Feedback
Feedback is a critical component in any training program as it provides learners with valuable information about their performance, progress, and areas for improvement. It helps learners identify their strengths and weaknesses, which enables them to focus on specific areas that need improvement.
Pro tip: The best way is to add surveys to your courses. This will help you gauge what learners think about your program.

The survey responses are essential for trainers to adjust their training strategies and course materials to better support the learners' needs. Additionally, feedback fosters a growth mindset and encourages learners to continue learning and developing new skills.
Watch: How to Create a Survey Using ProProfs Survey Maker
Also Read: How to Develop an Employee Training Program
Frequently Asked Questions
How often should employee training occur?
The frequency of employee training depends on the training type and the organization's needs. In general, it's recommended that employee training occurs on a regular basis, with ongoing opportunities for skill development and improvement. For instance, compliance training should be conducted annually or as required by law to ensure that employees are up-to-date with regulations and safety protocols. Overall, employee training should be viewed as an ongoing process rather than a one-time event.
Can I get pre-designed employee training programs?
Yes, pre-designed employee training programs are readily available from a variety of sources, including training companies and online training platforms. These programs cover a wide range of topics, including leadership development, compliance training, workplace safety, and soft skills development.
How can I assess my employees after the training?
There are various ways by which you can assess your employees after training. This includes conducting assessments and evaluations to measure learning outcomes, providing ongoing feedback and coaching to reinforce new skills, and regularly checking in with employees to see how they are applying what they learned. Using an LMS can help monitor employee progress and provide insights into areas where additional training may be needed. Check out this guide for more details.
Can I embed training courses into my website?
Yes, you can embed training courses into your website using an LMS or course authoring tool. For example, ProProfs LMS gives you the option to embed courses right into your website. This enables your learners to access training materials without leaving the site.
What is the cost of employee training?
The cost of employee training can vary depending on different factors, such as the type and duration of the training, the number of employees being trained, and the training provider. For example, in-person training can be more expensive due to costs associated with travel, lodging, and instructor fees. On the other hand, online training can be more cost-effective, with prices ranging from free to several hundred dollars per course.
Empower Your Workforce With the Best Employee Training Programs
Employee training programs are important for achieving business success. By providing targeted training, companies can improve employee performance and productivity, enhance customer satisfaction, and reduce turnover rates.
To maximize the benefits of your programs, follow industry best practices and strategies. This can involve choosing the right training plan, designing customized training programs based on your organization's specific needs, providing ongoing support and resources, and measuring the effectiveness of the training through metrics and feedback.
Investing in effective employee training programs can empower your workforce and help you gain a competitive edge in the marketplace.
So, pick the right training software and take your team to the next level with impactful training programs!
Do you want a free Training Software?
We have the #1 Online Training Software for employee training & assessment