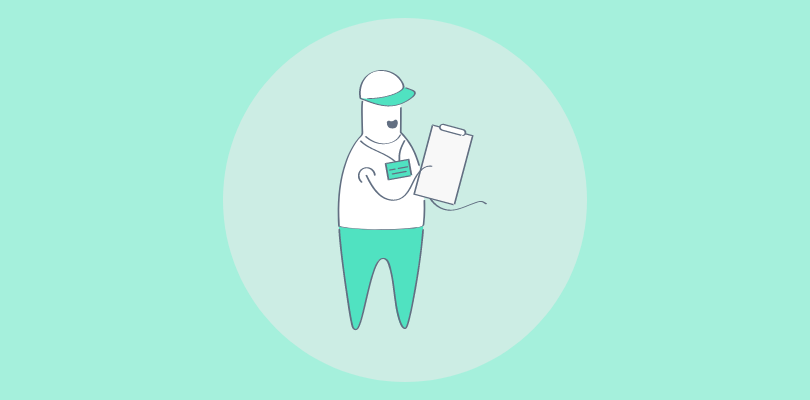 Do you still verbally communicate the do's and don'ts of your company policies and industry regulations to employees? If yes, you might want to rethink your approach.
I have always believed that employees need formal compliance training to not only adhere to legal requirements but also to mitigate job-related risks and increase efficiency and productivity.
This is precisely where a compliance LMS can prove to be a silver bullet that transforms your training programs.
Whether it's data security, workplace safety, or general company policies, the right LMS can help you create an army of knowledgeable and compliant employees.
I have curated a list of the best compliance learning management systems to help you foster a safer and more productive workplace.
List of Compliance Training LMS
Right after an employee has been successfully onboarded, the next obvious step is — compliance training. I think what they learn during this time can make a huge difference between a safe workplace and one full of hazards.
As someone in the corporate training industry, I have worked with multiple tools in the last one decade, and I can't wait to share this knowledge with you.
In addition to my personal experience, peer recommendations and online reviews helped me create this list so you don't have to reinvent the wheel.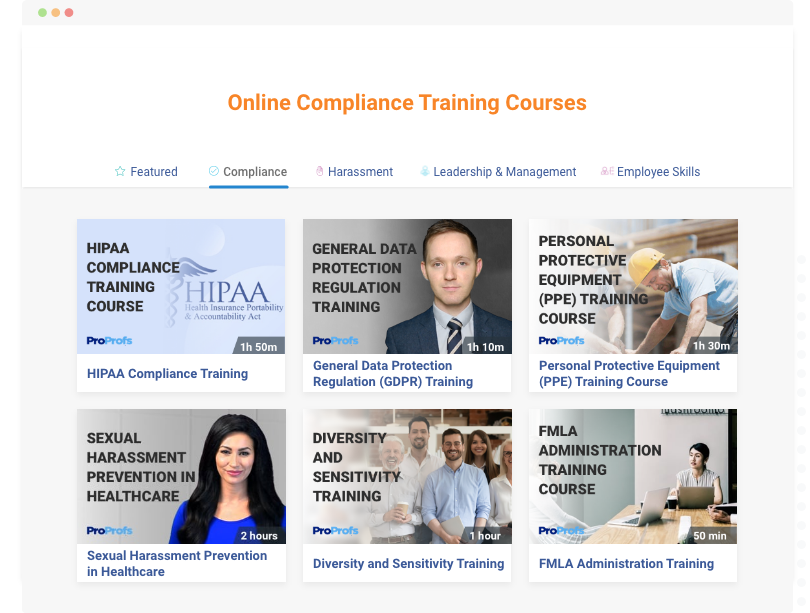 In my opinion, if there is one platform that makes compliance training a breeze, it is ProProfs Training Maker. Don't believe me yet? Keep reading to learn more about this award-winning platform.
Whether you wish to train your employees on HIPAA, OSHA, sexual harassment prevention, GDPR, or diversity, ProProfs Training Maker has got you covered with its ready-to-use courses. So, no more stressing about creating your compliance course from scratch.
Another impressive thing I feel worth mentioning is that ProProfs Training Maker covers the compliance training needs of multiple industries. You will find courses and templates pertaining to construction, healthcare, manufacturing, services, financial, and dozens of other industries.
What you'll like:
In addition to compliance, you can access courses on employee onboarding, skill development, HR, sales, and other topics
Engaging quizzes and assessments can help you test knowledge retention
The tool makes it easier to import SCORM-compliant content
Save time and effort with employee self-enrollment
What you won't like:
The forever-free plan is limited to only 10 learners
Solo trainers might find collaborative tools less relevant
Pricing:
Forever FREE for small teams (up to 10 learners). Paid starts at $1.97/learner/month for large teams with a 15-day money-back guarantee. No hidden charges.
Watch: What Is Compliance Training? Requirements & Benefits
2. Moodle – Best for Customized Learning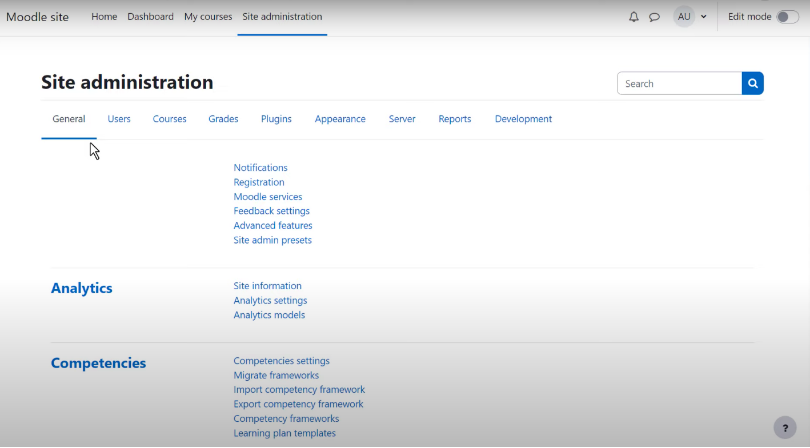 While cloud-based systems dominate the LMS market, I think open-source platforms have their own charm.
As an open-source LMS, you can download Moodle for free and build it based on your company's unique requirements. From built-in collaboration tools to automated grading and certifications, Moodle offers multiple advanced features for employee compliance training.
Once the training is complete, I would suggest you use the quiz feature to test your employees' skills and knowledge retention.
What you'll like:
If you need assistance building your LMS platform, you can get in touch with Moodle Certified Partners
Custom reports help you measure employee progress from time to time
Allow employees to access compliance training materials on the move using the mobile app
Honor employee achievements and learning milestones with badges
What you won't like:
Moodle's extensive customization options can sometimes lead to steeper learning curve for trainers
Managing updates and ensuring compatibility with plugins can be time-consuming.
Pricing:
Free (limited to basic reporting).
3. Absorb LMS – Best for Training Automation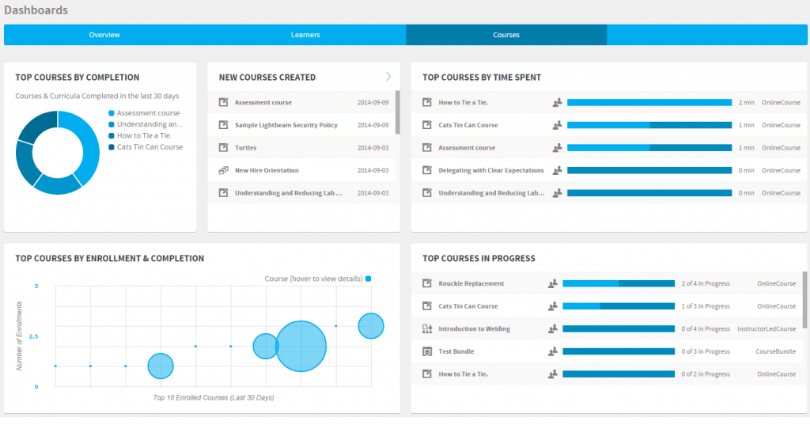 Are you still using manual methods to manage your compliance training programs? It's high time you embrace automation and get more done in less time.
Absorb LMS brings robust automation features to the table that help you eliminate costly human errors. For example, with automated enrollments, course access, scheduling, and certificate delivery, you can speed up your training programs.
But that's not all. If you wish to sell your training modules or courses, you can make the most of an in-built e-commerce module. Setting up pricing and taxes for your courses has never been so easy!
What you'll like:
Foster a culture of healthy competition through leaderboards and badges
Automate learning verification with the help of e-signatures
Absorb offers a vast content library of ready-to-use courses
Employees can create their social accounts and interact with other learners
What you won't like:
Absorb LMS is quite expensive compared to other tools in the market
Implementing some advanced customization features might require assistance from their support team
Pricing:
Custom pricing
4. Docebo – Best for AI-Powered Training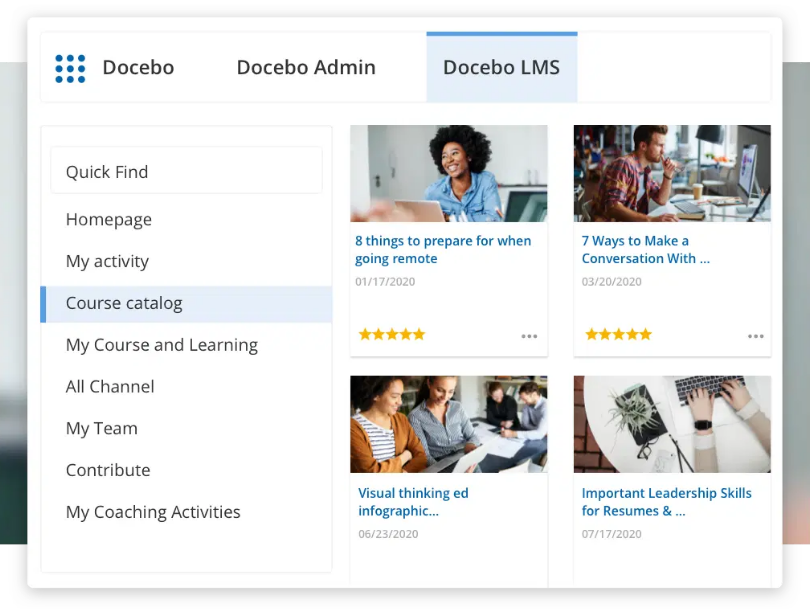 When compliance LMS is combined with artificial intelligence (AI), real magic unfolds!
With the AI-powered capabilities of Docebo, you can create audience-specific pages to personalize your compliance training programs. Moreover, with auto-tagging and course recommendations, AI does the heavy lifting, so you don't have to.
Another interesting aspect of Docebo is that you can mix up different content formats and use gamification features to make compliance training a fun endeavor.
What you'll like:
All course pages can be interpreted by a screen reader
Easily integrate with Google Drive, Asana, Salesforce, and Zendesk
You can create a discussion forum and allow employees to ask and answer questions
Leverage Docebo Skills to identify skill gaps and training opportunities
What you won't like:
Docebo's interface and setup might be confusing for new users
Exporting reports into Excel or CSV requires a lot of manual efforts
Pricing:
Starts at $25,000/year
5. TalentLMS – Best for Engaging Learners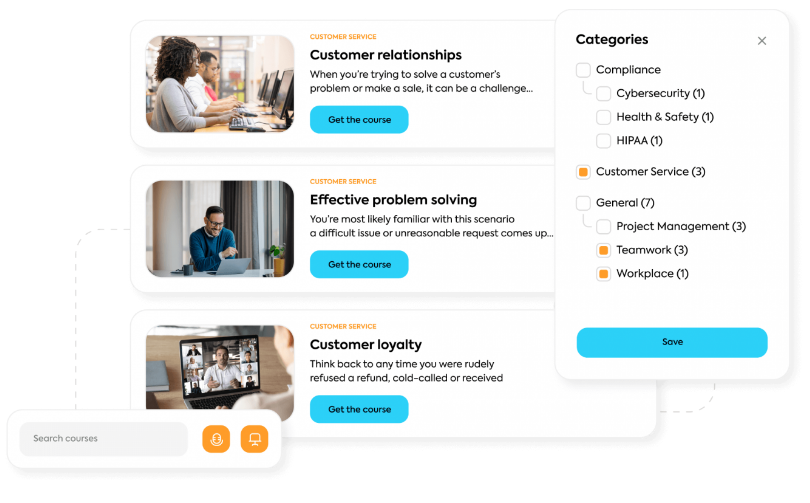 Who said compliance training has to be boring?
I always feel that when employees hear about a new training program, they should have a smile on their face, not a frown. TalentLMS can help you motivate and engage your employees with state-of-the-art gamification features. I guess it's time to say goodbye to low engagement!
You can add multiple levels to your compliance training courses, assign points on completion of each step, and award badges on course completion. In addition, trainers can share surveys with employees and analyze all the responses in one spot.
What you'll like:
TalentLMS allows you to hook employees from the start with leaderboards.
Watermarks can be added to video courses for enhanced security
With a simple content editor, you can keep your compliance courses updated
Gamification reports help you track the number of points and badges collected by employees
What you won't like:
The entry-level plans do not offer custom reporting and automation capabilities
Many users feel TalentLMS lacks in-depth reporting features
Pricing:
Starts at $69/month
6. iSpring Learn – Best for An Intuitive Learning Portal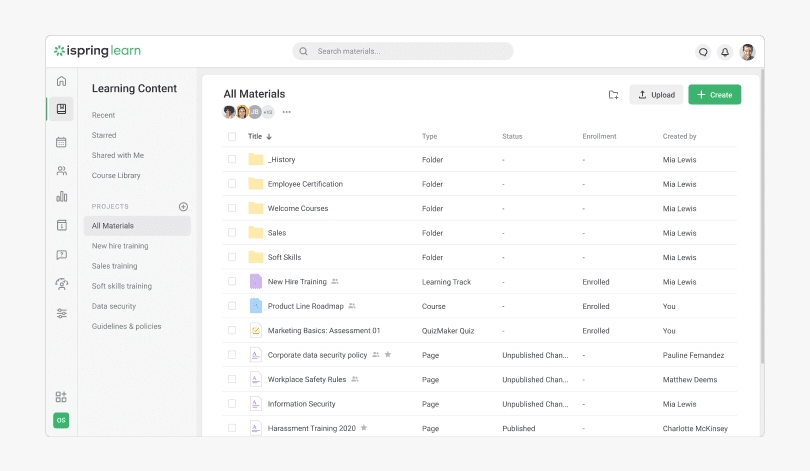 Every compliance learning management system has two faces – one that is visible to trainers or authors and the other which is accessible to employees. The second one is called the learning portal.
You might think, why am I stating the obvious? Well, most businesses ignore how their learning portal looks, and this can significantly hamper the learning experience. Thanks to iSpring Learn, employees can enjoy an easy-to-navigate portal and find all the compliance training courses meant for them.
As soon as an employee logs in to the portal, they are greeted with a content library. All the accessible courses are divided into two categories: 'To Do' and 'Completed.' This means greater visibility and a stress-free training experience!
What you'll like:
Easily customize the learning portal with your company logo and colors
Employees can save courses and take them offline from any part of the world
iSpring Learn uses JWT technology to enable the single sign-on feature
Allow employees to get in touch with course authors during their online training
What you won't like:
More social learning features should be available for collaborative learning
Advanced customization options might require technical expertise
Pricing:
Starts at $2.99/user/month
7. 360Learning – Best for Collaborative Learning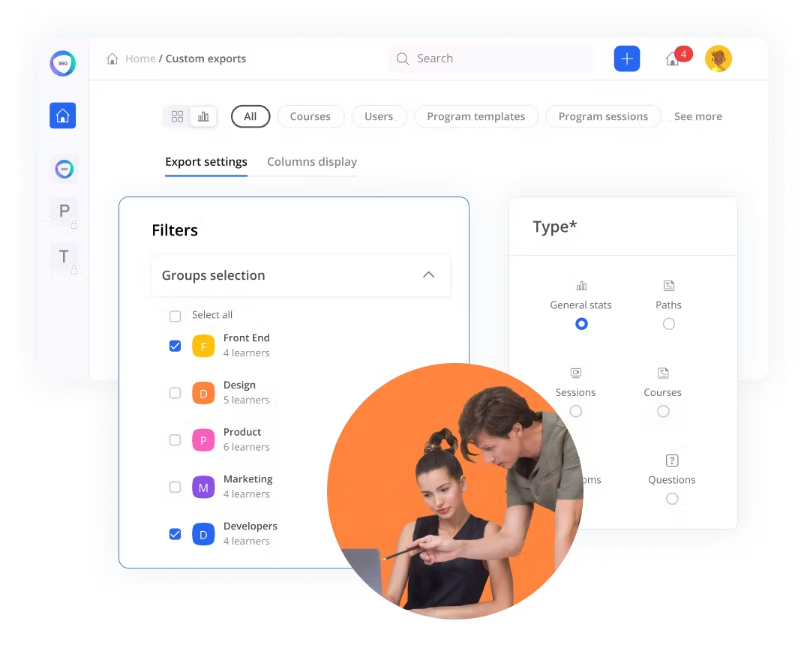 Here is a statistic for data geeks – around 77% of employees say they have untapped knowledge that can be utilized by the organization.
If that's the case with you, I suggest you go for 360Learning. The platform helps you tap into the knowledge of internal subject-matter experts and co-author the best compliance training materials for your team.
I also like how one can use the in-course commenting feature to capture learner feedback in real-time. Moreover, Q&As and content relevance scores help you keep your content fresh.
What you'll like:
Integrate 360Learning with Zoom, Salesforce, and MS Teams for improved learning
You can keep your learning portal public for everyone or restrict it to only some employees
Improve reporting and data management with custom fields
Reduce course creation time with expert-designed course templates
What you won't like:
The built-in assessment feature seem to be less advanced compared to other LMS platforms
Implementing and configuring 360Learning might have a learning curve for administrators who are new to the platform
Pricing:
Starts at $8/user/month
8. SAP Litmos – Best for Simplified Content Authoring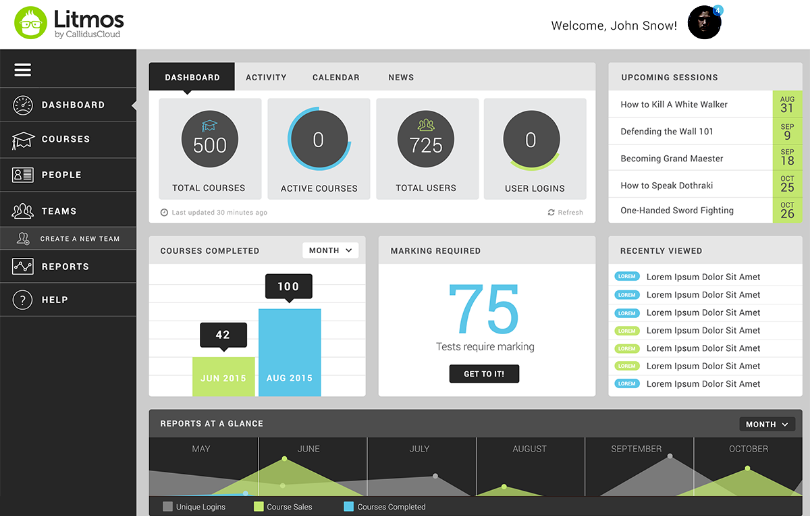 If you are looking for a powerful tool that can help your content authors get started quickly, look no further than SAP Litmos.
This intuitive LMS for compliance helps you create dynamic SCORM content to support everyone from the newly-joined interns to highly experienced employees. I think another impressive aspect is that you can easily schedule classroom or online training with the ILT module.
In addition, SAP Litmos enables your organization to gamify compliance training programs. Employees can track their progress, points, and badges in one spot.
What you'll like:
You can unify in-office and virtual training for a blended learning experience
Drive higher course completion rates with automated notifications
Gamify your compliance training programs
AI-powered video assessments can lead to higher engagement
What you won't like:
SAP Litmos' pricing structure might be perceived as complex
A specific folder for compliance courses should be added
Pricing:
Custom pricing
9. LearnUpon – Best for Reporting and Analytics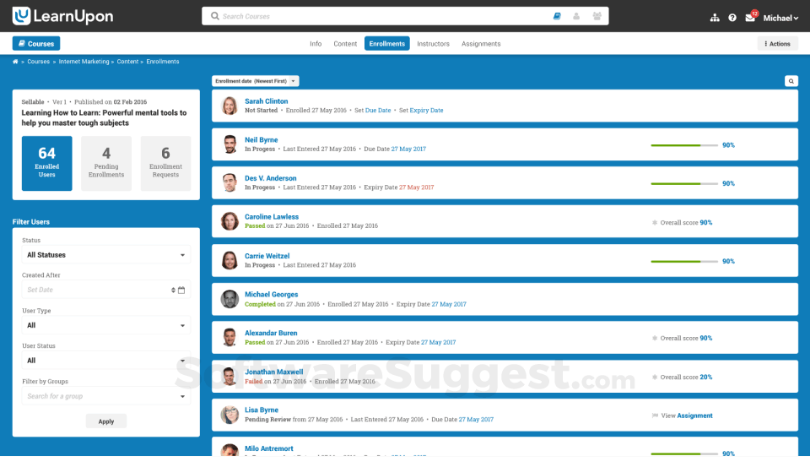 I have always emphasized the role of LMS reporting and analytics in measuring learner progress and course performance. If you, too, want to make data-driven decisions for your team, LearnUpon can be an excellent option.
With out-of-the-box reports, LearnUpon helps you track compliance training completion rates, survey responses, exam results, and training histories in one place.
You can create training courses in multiple formats, such as documents, videos, presentations, webinars, and more. Moreover, a drag-and-drop editor makes course creation and publishing a breeze!
What you'll like:
Schedule training reports to receive them directly in your inbox
Create a branded learning portal with white-labeling
You can easily re-use your content across different training courses
Share iCal invites with employees for conducting webinar sessions
What you won't like:
The UI seems complex and can be simplified
Users might encounter challenges when integrating with certain third-party systems or tools
Pricing:
Custom pricing
10. Tovuti – Best for Enterprise-Grade Security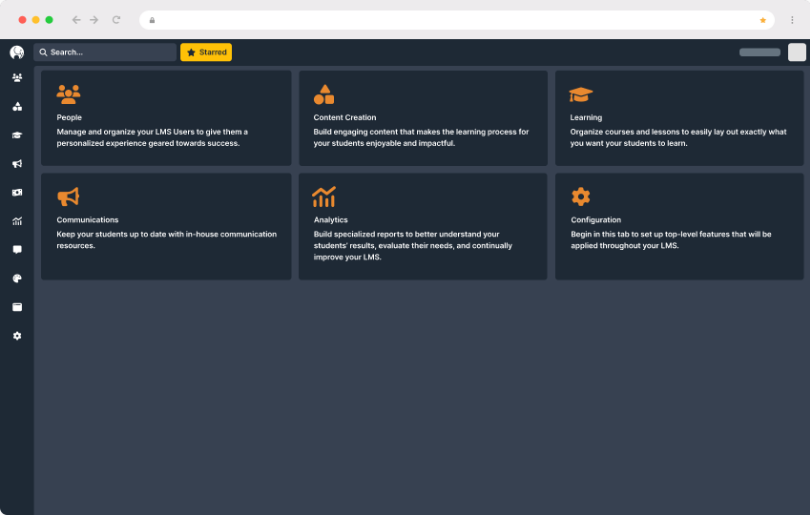 Compliance training courses and modules often include sensitive information about your company processes, rules and regulations, and employee data. That's the reason I feel no business can afford to overlook data security.
Tovuti comes packed with enterprise-grade security features so you can focus more on compliance training and less on data breaches.
This compliance LMS offers end-to-end data encryption, single sign-on (SSO), disaster recovery, and many other features for enhanced data security.
What you'll like:
Enable two-factor authentication to secure your compliance training programs
Tovuti is compliant with HIPAA and GDPR guidelines
Choose from over 40 types of interactive, gamified, and social content
You can sell courses online and provide promo codes to learners
What you won't like:
Tovuti's wide range of capabilities might feel overwhelming for new users
More customization options should be available
Pricing:
Starts at $775/month
Which Is the Best Compliance LMS?
This brings us to a million-dollar question – "Which is the best compliance learning management system on the market?"
The ideal tool will depend on a variety of factors such as team size, courses needed, training budget, and many more. However, to help you make a solid decision, I have narrowed down this list to 3 options.
Option A: ProProfs Training Maker
Compliance training can prove to be an uphill battle, especially if you do not know where to start. This is where ProProfs Training Maker can act as a guiding light and help you access ready-to-use courses on HIPAA, GDPR, OSHA, and other compliance training. A simple UI and powerful automation features are some added benefits that can help you make every training session count.
Option B: Docebo
Docebo's AI-powered capabilities help you offer personalized compliance training with audience-specific pages and automated course recommendations. Its versatile content formats and gamification elements add a fun dimension to the training experience.
Option C: LearnUpon
LearnUpon offers robust reporting and analytics to drive informed decisions. It consolidates compliance data, course metrics, and training histories for your team. Enjoy diverse content formats and easy course creation through a user-friendly drag-and-drop editor.
In the end, I would recommend ProProfs Training Maker for its rich library of compliance training courses and simplified course creation. No matter which tool you choose, go for a free trial and a personalized demo to get a first-hand experience of using different features and functions. Invest in the right LMS today and kickstart your compliance training program!
Learn More About Compliance Learning Management Systems
What's an LMS for compliance training?
A compliance training LMS provides robust features that enable organizations to carry out compliance-based programs that cover the requirements of industry laws and regulations. Some popular compliance training includes sexual harassment prevention training, OSHA, HIPAA, and workplace diversity training.
What are the benefits of deploying an LMS for compliance training?
Here are the benefits of deploying a learning management system (LMS) for compliance training:
Centralized Training: LMS provides a single platform for organizing, delivering, and tracking compliance courses, ensuring consistency and uniformity.
Efficient Onboarding: Streamlined training processes help new hires quickly grasp compliance requirements, reducing ramp-up time.
Automated Tracking: LMS automates record-keeping, making it easier to track training completion and maintain compliance records.
Customization: Tailor content to different roles and departments, addressing specific compliance needs effectively.
Scalability: Easily scale training as the organization grows, ensuring all employees stay updated on regulations.
Real-time Reporting: LMS offers instant access to training progress and results, aiding data-driven decision-making.
What are the key features to look for in compliance training LMS?
Here are the key features to consider:
Customization: Ability to tailor content and courses to specific compliance needs and roles.
User Management: Efficient user enrollment, grouping, and role-based access for targeted training.
Certifications: Capability to issue and manage compliance certifications upon successful completion.
Content Management: Support for various content formats like videos, presentations, quizzes, and documents.
Multi-language Support: Ability to deliver training in multiple languages for diverse workforces.
Gamification: Gamified elements to enhance engagement and encourage active participation.
How do I choose an LMS for compliance training?
Here are some factors you should keep in mind while choosing your ideal LMS:
Assess Compliance Needs: Identify specific regulations and requirements your organization must adhere to.
Customization: Ensure the LMS allows tailoring content to your industry's compliance needs.
Integration Capability: Ensure compatibility with your existing systems, HR software, etc.
Security Measures: Ensure the LMS meets data privacy and security regulations.
Scalability: Choose a solution that can accommodate your organization's growth.
Pricing: Evaluate pricing plans and cost-effectiveness for your needs.
Demo and Trials: Take advantage of demos or trials to assess user experience and features
Vendor Reputation: Consider the vendor's reputation and experience in compliance training solutions.
Do you want a free Training Software?
We have the #1 Online Training Software for employee training & assessment