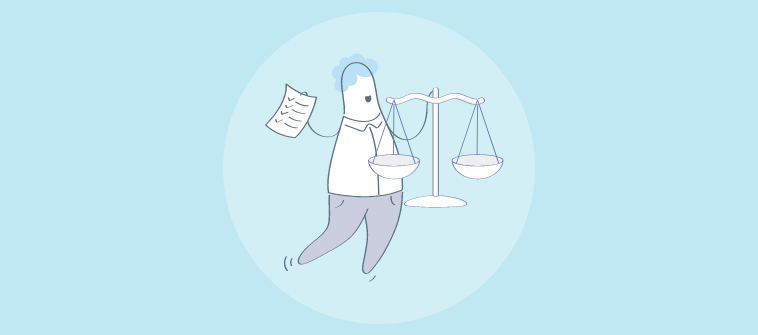 A learning management system or LMS for compliance training is a must for construction, manufacturing, healthcare, and other similar industries.
Employees working in these sectors are at a higher risk of illnesses, injuries, and even fatalities due to the nature of their jobs. They are more prone to accidents and contamination.
Such businesses must adhere to certain industry regulations to prevent injuries and promote workplace safety. Non-compliance can be a major issue, leading to several safety risks, security breaches, license revocations, damaged reputation, and penalties.
Without compliance training, you may lose crucial business contracts or the ability to bid on federal works.
A training management platform such as an LMS can help you streamline and standardize safety and compliance training programs.
However, the market is flooded with so many LMSs that it becomes overwhelming to make the right purchase. So, in this blog, we'll help you understand the meaning, importance, and top 12 features of an LMS for compliance and safety training.
If you are not already familiar with what an LMS is, don't worry. We will cover everything you need to know.
Let's jump in
What's an LMS for Safety & Compliance Training?
An LMS for safety and compliance training is software that helps create, manage, and deliver compulsory training programs at the enterprise level. It's a web-based technology that facilitates online training, stores large quantities of learning data, and helps track learning progress.
A compliance-based LMS provides robust features that enable organizations to carry out compliance-based programs that cover the requirements of industry laws and regulations.
Compliance training includes sexual harassment prevention training, OSHA, HIPAA, and workplace diversity training.
Watch: What is a Cloud-Based Learning Management System?
Why Deploy an LMS for Safety & Compliance Training?
Let's start with what your current training system is lacking. Probably, you're unable to track learner progress in a course. Or maybe managers can track learner progress, but the latter cannot keep track of their performance and progress.
That's where an LMS can help.
Keeping this in mind, let's now explore the many benefits of deploying an LMS for compliance training.
Deliver High-Quality Courses on Safety and Compliance
An LMS lets you deliver high-quality courses on safety and compliance. For instance, ProProfs LMS has a premium course library where you can find a range of professionally designed courses on injury prevention at the workplace, OSHA training, HIPAA training, fatigue management, and more.
Watch: PPE Training for Healthcare Workers | Types of PPE & How to Put On & Remove Them
These expert-designed courses save you time in content creation and let you deliver the best quality learning materials.
You can customize these courses and white-label them according to your training needs. An LMS provides a compliance-oriented environment where you can create assessments, surveys, certificates, and e-learning courses in different formats.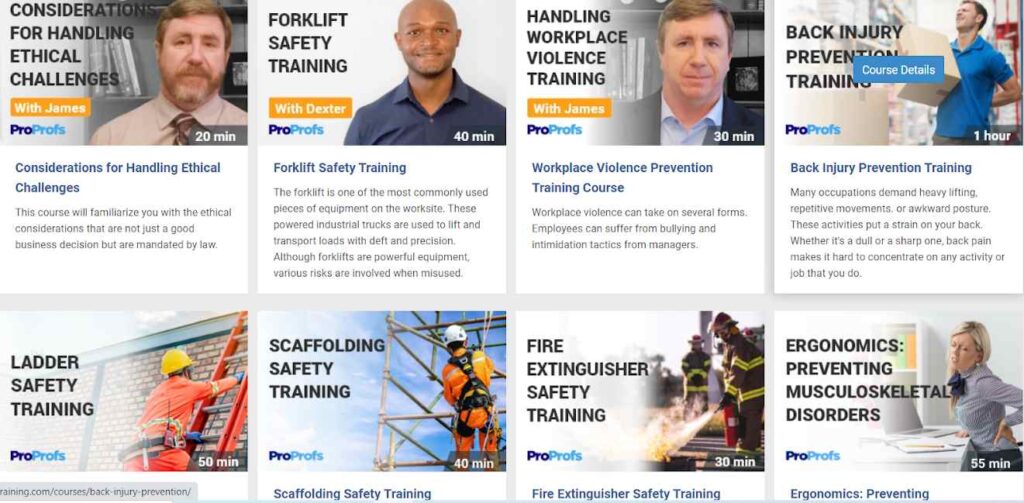 Makes Training Accessible
Face-to-face training sessions are useful, and some LMS software have video conferencing facilities. But having everyone in the same room or getting together for a virtual meeting isn't always possible.
Sometimes, employees might be absent on the training day, working from remote locations, or have other schedules. As a result, your training organization efforts could be a waste of time and money.
In today's modern workspace, employees want flexibility. That's exactly what you can get from an LMS. It facilitates blended learning, i.e., a combination of online and face-to-face training. So, even if employees miss a training session, they can easily access the materials later on, anytime, anywhere.
Organize All Learning Content in One Place
An LMS for safety and compliance training is a one-stop solution where you can create, customize, manage, and store all training resources and learning materials.
An LMS acts as a centralized hub, and course creators or trainers can modify the training whenever needed. Trainers and employees can access an archive of training materials they can use anytime. This way, updating training materials as per the latest developments in industrial regulations or workplace policies becomes easy.
LMS software lets you view training reports in real-time. You can check your learners' progress and view statistics on which learner has taken your course, how far each has progressed, course engagement levels, and participation rates.

This data is crucial for trainers because it helps them understand which part of the course needs improvement to achieve the best results in future training sessions. For example, if you find that most learners fail a particular module, it would mean that the course lacks good explanations or doesn't contain proper materials for better understanding.
Avoid Scheduling Conflicts
Since a compliance LMS facilitates online training, you don't have to worry about coordinating the schedules of your managers, instructors, and employees.
Training experts and instructors can create a course based on learners' schedules and learners can take the courses anytime, anywhere.
This is beneficial, especially when employees work from multiple locations in different time zones. You give them login details, and they can access the training courses whenever possible.
Provide Certificates Instantly
The best thing about deploying an LMS for compliance and safety training is that you can hand out customized certificates to your learners after completing a course.
Watch: How to Create Custom Certificates With Your Own Logo and Branding
Certificates are a compliance requirement. They serve as proof of training completion. It also motivates and engages them to complete other training sessions as well.
As you can see, there are plenty of good reasons to use an LMS for safety and compliance training. Let us now look at how companies from different industries use this new technology for employee training.
Case Studies
AppFolio,

a cloud-based property management software provider based in California, wanted to create a compliance training program.

They were looking for a robust solution to help them create courses that best fit their new startup culture

.
After much research, they tried an LMS to create training programs that comply with industry regulations and federal laws.
Through this solution, they could easily create training materials and make learning fun and engaging.
According to AppFolio, they created a program that was approachable and effective.
Read more about it here.
The California Department of Public Health (CDPH)

, which works to promote public health,

faced challenges while creating and tracking training programs

. So, they wanted a solution that would let them create training materials, manage learning data, and survey forms that have logical question settings.
That's when they turned to an LMS solution.
An LMS allowed them to easily create training programs and add quizzes and surveys to identify knowledge gaps. The software was capable of maintaining all data, and the company was able to share material among learners whenever required.
Plus, they were able to save time in their process for issuing certificates.
Discover in detail how they did it here.
So, from the above case studies, it's clear an LMS for compliance and safety training can bring measurable results.
Now you must be thinking – this all sounds great but there are a lot of LMSs out there. How can my business ensure they select the right one? Or, what features should you look for in an LMS?
In this context, let's discuss the top features you should consider in a safety and compliance training LMS.
12 Must-Have Features of an LMS for Compliance & Safety Training
When buying an LMS for safety and compliance training, you should consider some essential features. They will make the training easily manageable. Let's go through each feature in detail to make your buying process easy.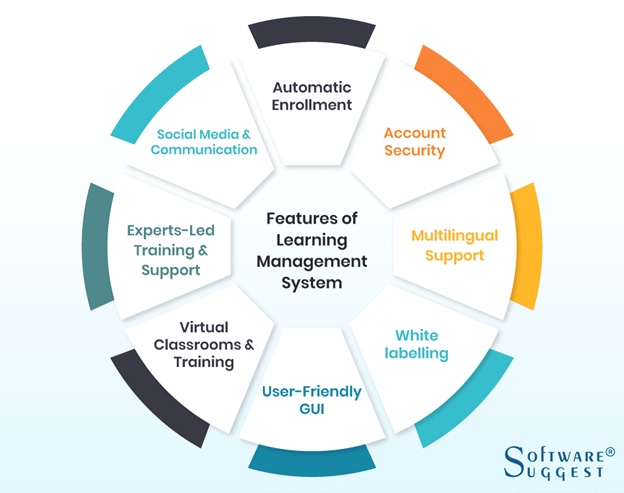 Readymade Courses on Safety and Compliance
Your L&D team will need to create various safety and compliance training courses. That's not because there are plenty of subjects to cover, but every content must be industry-specific. In addition, course creators also need to take into account the varying learning preferences and styles. Also, you cannot afford to miss out on any important laws and regulations.
That's why you should look for an LMS that offers a course library to access professionally-designed and ready-to-go safety and compliance courses.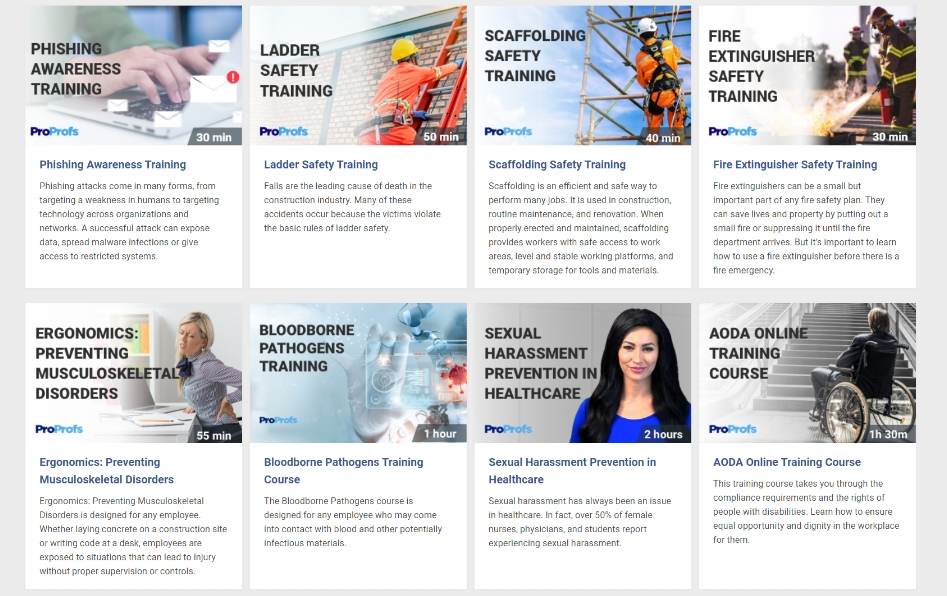 Look for an LMS that lets you edit the courses based on your training requirements because compliance training changes over time. This way, you can modify and keep the content updated with the latest regulations.
Ability to Import Existing Documents
Compliance training can be available in multiple formats, such as PDFs, PPTs, documents, videos, presentations, written materials, and recorded webinars. So, you must look for an LMS that enables you to work with your existing materials to create the best training materials.
For instance, ProProfs LMS lets you upload your existing content and turn them into effective online training courses.
Another feature you should look for in an LMS for safety and compliance training is its compatibility with the learners' devices. Learners should be able to access courses and assessments from any device like smartphones, tablets, desktops, and laptops.
Make sure the LMS is mobile-friendly so that they can learn on the go according to their chosen pace and schedule.
A mobile LMS creates a personalized learning experience that helps users retain information better and longer.
With a mobile learning solution, you can offer unmatched flexibility, encourage participation, and boost engagement. On the other hand, course creators can create and share online courses, add quizzes, collaborate with learners, and view delightful reports easily and quickly on mobile devices.
Watch: What Is a Mobile LMS & How Can It Help Train Anytime, Anywhere?
Simply put, your LMS needs to provide a virtual learning environment where training can happen in real-time. It will be the best if your LMS supports video conferencing tools like Zoom and Google Meet.
Online classrooms offer a centralized way to assign courses and assessments to learners. Learners only need a login ID and password to enter the classroom at their convenience and access all the training materials, reports, and certificates.
Watch: How To Set up Your Virtual Classroom in 5 Minutes
It may not be top of mind for you, but integration with an HR software suite is important for your compliance training needs.
Why?
Because compliance training is a part of the employee onboarding process. So, when your LMS integrates with HR software, you can automatically create a user record once participants log into the HR software.
In some cases, the LMS will automatically assign them compliance courses based on their job role and location. Through this integration, it becomes seamless to sync data between two platforms.
A Shareable Content Object Reference Model (SCORM) enables an LMS tool to run programs created on different e-learning platforms. Put simply, it enables interoperability between e-learning software products.
Choosing a SCORM-compliant LMS has multiple benefits. You can easily migrate courses from one platform to another, saving you time in rewriting content from scratch.
Watch: What Is SCORM & How It Works?
Trying to deliver a personalized learning experience? Then your LMS should let you customize your courses, assessments, and certificates to make them feel like the rest of your company assets.
We recommend looking for an LMS that offers white-labeling features where you can personalize content using your brand logo, color, and themes.
Besides this, it should also provide setting options for the following:
Customizations let you deliver an engaging experience that motivates learners to complete training programs and increases retention rates.
Collaboration is an important part of any e-learning process. Collaborating while learning makes training sessions fun and engaging. Check if your LMS provides collaborating tools because it helps a lot in knowledge retention.
Here's how:
Learners can communicate with each other and exchange knowledge.
Collaboration tools facilitate meaningful discussions between instructors and learners as well.
Participants can discuss important matters and clear doubts with their instructors in real time.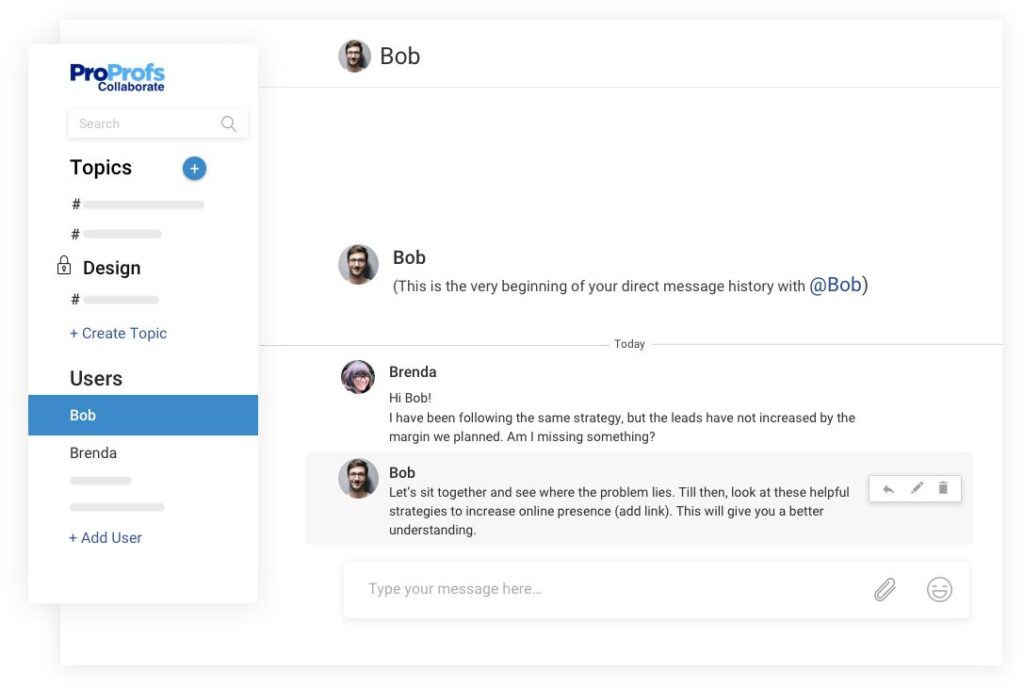 If you need an LMS for compliance and safety training, make sure you check the features offered by your assessment software. Compliance training will differ for every organization, so the assessments you create must be specific and targeted.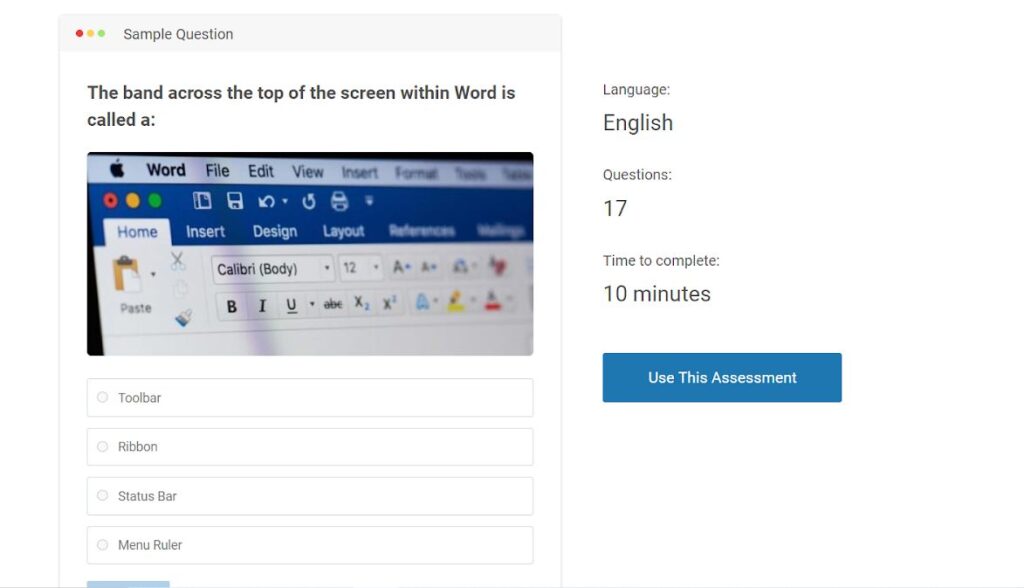 Find an LMS that provides you with lots of flexibility options. Check if it has an assessment library and ready-made questions to ease your quiz creation process.
The best safety learning management system should support a variety of question formats such as MCQs, essay type, fill-in-the-blanks, and matching.
Enabling participants to record video responses and prevent question skipping would be some other additional features you should look for.
Watch: How to Create an Online Quiz in Under 5 Mins
Automated Reminders and Notifications
Automated notifications in an LMS make things easy for your admins and instructors. You should be able to notify your employees of major training events, new courses, new assignments, and course expiration dates.
Similarly, there should also be options to send notifications to course instructors, managers, and supervisors.
Automated reminders enable you to communicate a date by which learners should complete a course. You can also add a date on which course certification will expire and ensure ongoing compliance by defining what will happen if the certificate expires.
This LMS feature ensures high participation rates, automates workflow, and meets compliance deadlines.
Watch: How to Set up Reminders and Ensure Course Compliance
Your learners enrolled in safety and compliance training should be making progress based on the timeline they're following. They don't necessarily have to wait till the last date. Rather, the quicker they complete the training, the faster your organization will run smoothly without breaking OSHA and other safety guidelines.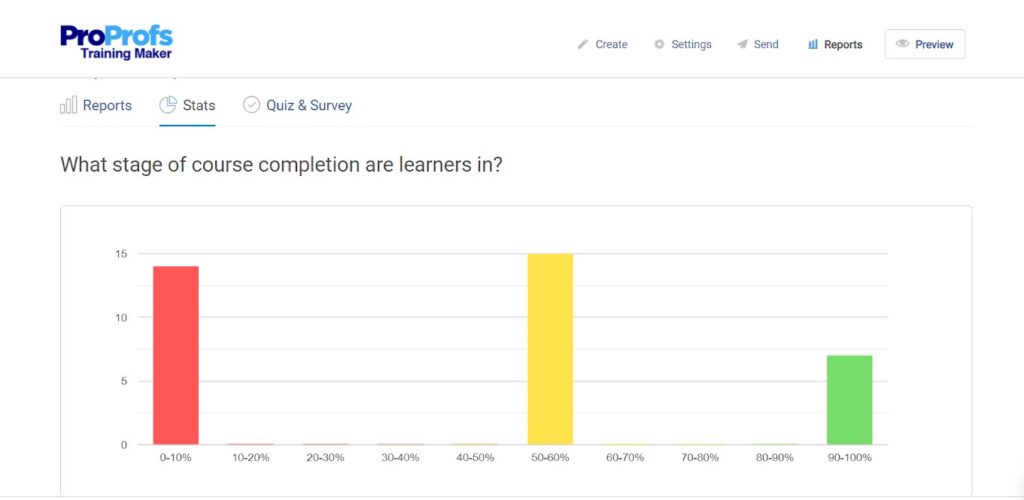 The LMS you choose must have robust reporting features so that you can track learner progress in real-time. The reports will give you an in-depth analysis of who has taken your courses and who hasn't.
You may also view participation rates and course engagement levels. By doing so, you can identify the weak areas of your training and make necessary adjustments for an effective learning experience.
Watch: How to Analyze Training Course & Quiz Results
Even though learner progress can be tracked and stored in an LMS, providing a certificate for course completion leaves employees feeling engaged and motivated in their professional status.
In compliance training, you must prove that your employees have completed their training on time. Certifications are an instrument to provide this proof.
We recommend you choose an LMS for safety and compliance training that has built-in certification templates and lets you create custom certificates from scratch.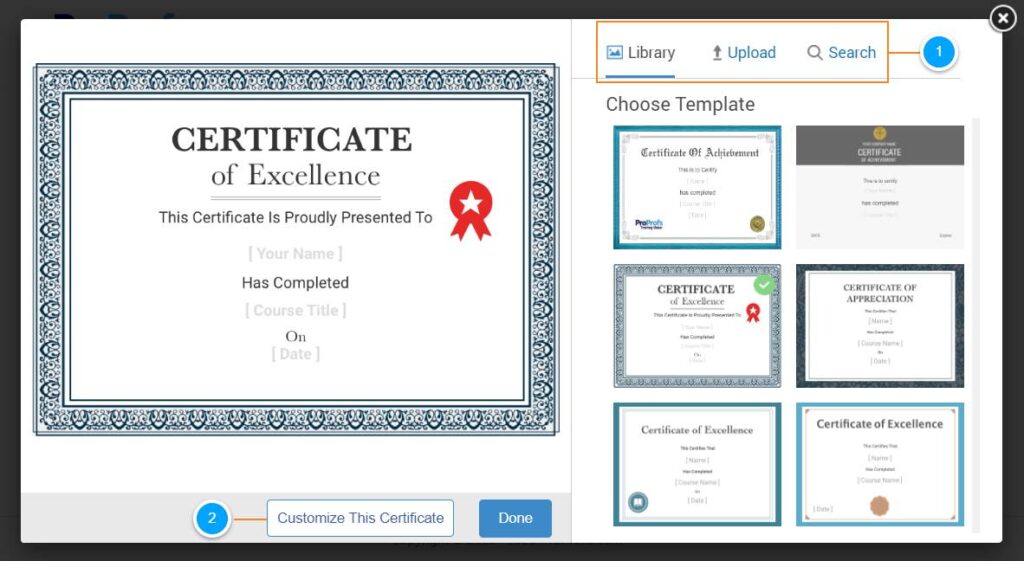 Industries like construction, healthcare, and manufacturing often require employees to renew their certifications. The LMS should let you add an expiry date so that you can be ready for an audit anytime and stay away from the liabilities of non-compliance.
Watch: How to Create Custom Certificates With Your Own Logo and Branding
Frequently Asked Questions
How do I choose the best LMS for compliance and safety training?
To find the right LMS for compliance training, you have to first identify your training requirements and calculate your budget to avoid overspending. Check if the LMS has all the necessary features, such as course builder, assessments, reporting tools, collaboration tools, and certificate builders. Watch this video to learn more.
Why should I use an LMS for compliance training?
You should use an LMS for compliance and safety training because it makes your employees well-trained and compliant with the latest rules and regulations. Plus, you can reach out to workforces based in different geographical locations. Features like automated course assignments, robust reporting and tracking, and automated reminders can make learning easy and enjoyable for learners.
Which LMS is the best for compliance training?
There are various LMS that you can use for compliance training, such as Proprofs LMS, iSpring Learn, Absorb LMS, LearnWorlds, and TalentLMS, to name a few. They are easy to use, robust, and can fulfill all corporate training requirements, including safety and compliance.
Ready to Deploy the Best LMS for Compliance Training?
If you read this far, hopefully you have a better understanding of what features to look for in a great LMS.
Before you start looking at available LMSs on the market, decide on your budget and training requirements. Keep in mind the features we discussed above while making this decision. Ideally, your LMS for compliance training should provide readymade courses and templates, assessments, automated reminders and notifications, collaboration tools, certifications, and the ability to pull reports.
Finally, we recommend keeping your budget slightly flexible, so you don't miss out on the important features. Keep in mind going for a demo or trial of the software can also be a great way to learn more about the LMS to ensure you find a great fit.
Do you want a free Training Software?
We have the #1 Online Training Software for employee training & assessment