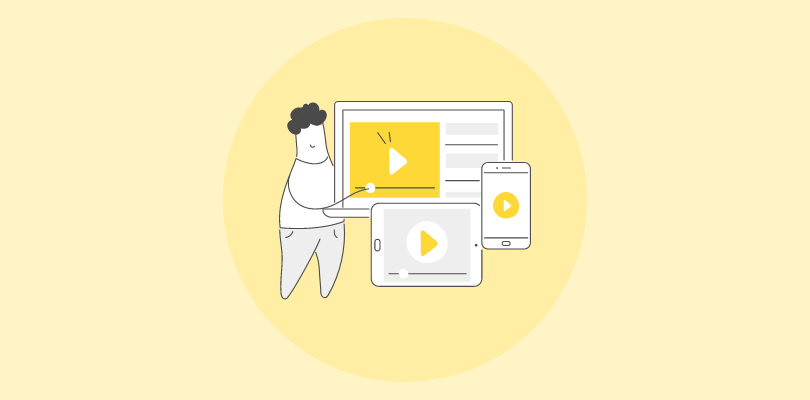 Why do you think these never-ending manuals and lectures are snooze-inducing?
It can be due to a lack of engagement, irrelevant content, information overload, or limited opportunity for interaction and participation.
This is where training videos can help!
They are here to transform the way you impart knowledge to your employees!
Imagine this: You've just joined a new company and feeling excited about your role, but overwhelmed by all the information thrown at you. That's where training videos for employees swoop in to save the day!
Training videos as a learning medium have captured the attention of Learning and Development (L&D) managers worldwide.
These videos aim to train employees on a particular skill or topic that helps solve problems and makes them more productive at work.
Training videos can bring a whole new level of excitement to your learning journey. They come in various flavors, designed to suit every learning style.
For instance, you can incorporate narrations and dialogues for learners who prefer learning through listening. On the other hand, you can add simulations or virtual reality experiences for kinesthetic learners.
Sounds interesting, isn't it?
Creating an outstanding training video for your employees might sound daunting, but it's easier than you think.
Training videos provide flexibility, accessibility, and the freedom to learn at your own pace.
With that in mind, let's explore everything about training videos for employees. This post will shed light on the meaning, importance, and steps to create training videos.
Let's get started!
What Is a Training Video?
A training video, also known as a demonstration or instructional video, is audio-visual content that teaches someone about a particular topic or skill.
A training video for employees could be for software training, sales training, compliance training, employee onboarding, or any other area.
These videos are engaging. They ensure you grasp the necessary knowledge and learn skills while keeping you entertained.
Even better, these training videos create a level playing field. Every employee, from the fresh-faced rookies to the seasoned pros, gets the same training experience. Everyone receives the same essential information, ensuring a consistent and standardized learning journey.
And here's the icing on the cake: these videos are accessible whenever and wherever you are.
Want to squeeze in some learning during your lunch break? Go ahead!
Need to review a concept late at night when you're free? No problem!
You're in control of your learning pace, rewinding, pausing, and replaying as much as you need.
FACT:
Training videos do not use active learning. Rather it supports passive learning.
Now, what does that mean?
It means you can't expect your employees to learn everything by watching a video. Training videos are definitely one of the best elements to incorporate into your learning process, but they should be paired with research-backed learning principles as well.
Examples include learning by doing, recall, spaced repetition, etc.
Watch: How to Create Employee Training Courses Online
Why Are Employee Training Videos Important?
According to a survey, around 75% of employees prefer watching videos for corporate training purposes.
Watching videos also helps learners remember key points better.
When presentations or training materials include videos, they are about 10% more effective than just text alone, especially right after the training.
But the real advantage comes in the long run.
Videos help combat the tendency to forget information over time, boosting retention by an impressive 83%.
Are you still wondering if online training videos are for you?
Read on to learn the importance of using videos in your L&D programs.
High Flexibility
One of the main benefits of training videos is that it provides a high level of flexibility. You can customize them with content based on your learning needs. This is particularly helpful in staying relevant to the latest industry trends and news.
In fact, videos support different learning styles to cater to different learning needs. For instance, some people learn by listening, while others grasp information by watching. And then, there are kinesthetic learners who absorb information through practical demonstrations and physical activities.
Videos can be customized to accommodate multiple learning styles. However, you need to use the best training video maker/software that allows you to customize your program.
Here's a short video on how ProProfs Training Maker allows you to add audio, video, images, and presentations to your online training courses:
Watch: How to Add Media to Your Online Courses
Better Employee Engagement
Did you know that 67% of employees consider video the most engaging training format?
Training videos are the powerhouse, and they engage learners like never before! Combining audio, visuals, and texts awakens the senses, ensuring learners are fully immersed in the learning process.
And the best part?
It can turn complex topics or subjects into relatable narratives that make the whole thing digestible. In short, videos make learning sessions more interactive and turn passive observers into active learners.
More Information Retention
According to a study, in the long run, employees tend to forget 65% of what they have learned in training.
And the worst part?
This number jumps to 90% after six months!
As a visually captivating and diverse medium, video captivates viewers in a manner that conventional methods such as lectures, documents, and even PowerPoint presentations seldom achieve.
When presentations incorporate visuals like video alongside textual slides, their effectiveness surpasses that of text.
According to statistics, it is 83% easier for learners to retain information presented through videos than information imparted through texts.
Supports Self-Paced Learning
Have you ever felt frustrated over scheduling conflicts, especially when training a new class?
This is a common situation faced by many companies and organizations.
But here's the good news.
Trainers now have the option to record training sessions as videos, allowing employees to access them at their convenience.
Just imagine the difficulty of coordinating schedules and finding a suitable venue, especially when dealing with a large team.
That's a big deal, right?
In fact, employees in different countries may find attending these training sessions in person expensive.
Even if you distribute learning materials, only a few will truly understand the content. When training a large group, there is a high chance that some employees will miss out on crucial information.
Videos, on the other hand, offer the flexibility of accessing training content anytime and anywhere. Employees can watch the training session at their own pace and convenient schedules.
Boosts Productivity
Training videos play a crucial role in enhancing employee productivity by providing them with valuable knowledge and skills in an engaging and accessible format.
They enable consistent delivery of information, ensuring that all employees receive the same level of training regardless of location or time constraints. This consistency leads to a standardized skill set across the workforce, enhancing efficiency and productivity.
Want to make your employees productive right from day one?
Here's a professional course that you can try out.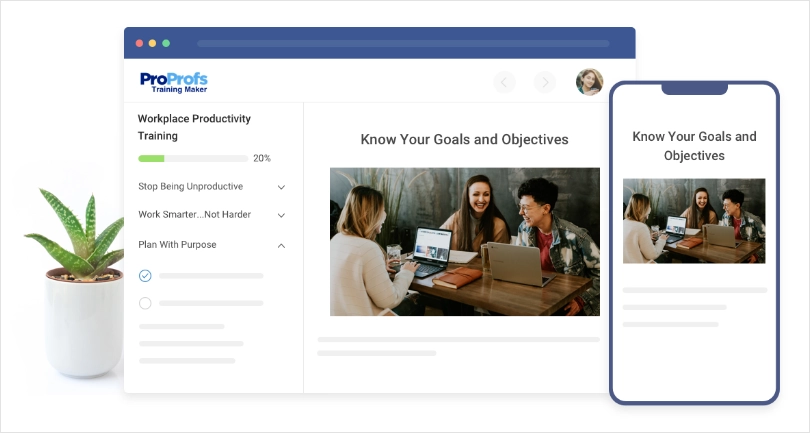 We've explored the numerous benefits of employee training videos. Let's now dive into the various types of training videos that you can use in different contexts.
Types of Training Videos
Training videos make complex, boring, or hard-to-understand ideas easier to grasp. By using videos, you can engage your learners and help them learn in a more immersive way.
The only challenge is that there are many different types of training videos available.
The right type of video depends on what your audience wants to achieve, how much training budget you have, what resources you have, or even your choice.
In this context, let's explore the different types of videos so that you can choose the right one.
Instructor-Led Training Videos
Instructor-led training videos are a common type of training video found in online programs. They involve an instructor presenting information to the camera, but this approach may not be engaging.
The instructor should use other materials such as images, screencasts, or presentations to make it more effective.
Pro tip: Keep these videos short and to the point (max 10 mins) so that learners can quickly acquire knowledge and minimize the forgetting curve.
This saves time and helps learners stay focused. Longer videos can be overwhelming and take more time to process, making it harder for learners to apply the information learned.
Animated Training Videos
These training videos are the best choice for explaining complex concepts and ideas. These training videos usually consist of elements that deliver an engaging virtual experience.
As far as the types are concerned, animated videos can have 3D images and texts, moving infographics, whiteboard animations, etc.
Simulation Training Videos
Another training video example or type is simulation-based training video, which uses scenarios or real-world examples to educate learners. Such videos often contain branching pathways, quizzes, and decision-making points, so that participants can stay engaged with the training.
These videos aim to replicate real-life situations, which enable learners to practice and develop their abilities in a controlled environment.
In this type, a subject matter is explained with a series of real-life examples or tasks so that learners can understand the practical applications, further boosting their critical thinking and problem-solving skills.
How-To Training Videos
As the name suggests, how-to training videos show how to perform a task or acquire a new skill. In this type, the training instructor provides a demo or demonstrates a step-by-step process so that when learners try to imitate those steps, it triggers learning.
In the case of employee training, the videos could be on:
For instance, here's how ProProfs shared a training video on how to use its training maker.
Watch: What Is ProProfs Training Maker & How It Works
Interactive Training Videos
This type of training video includes interactive materials or activities, such as assessments, brain games, and flashcards, to help learners get an enjoyable experience out of their learning sessions.
Though it takes some time to create these videos, the result is worth it. Interactive training videos are one of the best training videos that boost engagement and increase participation.
Pro tip: If budget is not a concern for you, try incorporating interactive elements in your training videos as much as possible. For example, if you are using ProProfs Training Maker, you can embed interactive questions at a specific point in your training videos.
Presenter Training Videos
Presenter training videos are an incredible way to connect with the audience, as they involve an individual speaking directly into the camera.
The beauty of these videos is that it doesn't require much illustration. That's because it showcases the presenter's speaking skills and profound knowledge, leaving a lasting impression on viewers.
If you're wondering when to use such videos, we recommend you try them if you have an in-house presenter with a pleasing personality and excellent communication skills. This will help you create compelling training content, which will further enhance the learning experience.
Watch: How to Make Strong Presentations | Training Course Introduction
HSE Training Videos
Health, Safety, and Environment (HSE) training videos focus on imparting knowledge of workplace harassment, safety and health hazards, and environmental concerns.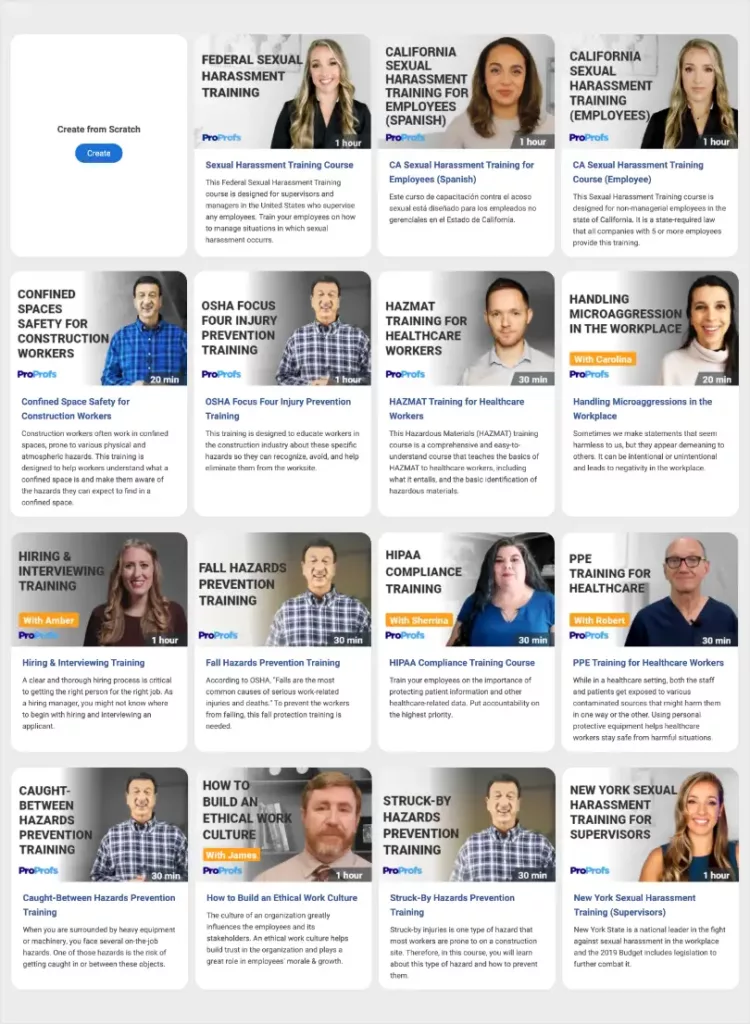 Apart from covering some of the essential topics, these training videos should include the company's internal policies on health and safety.
When you use such training videos, you can build a compliant culture and reduce the likelihood of workplace accidents and injuries.
So, there are plenty of choices for choosing the best type of training videos. Adding videos to your training programs can make them more engaging and fun.
Now that we have discussed the different types, let's now understand how to make the best training videos for employees.
How to Create Training Videos for Employees in 8 Easy Steps
Creating effective training videos for your employees can seem daunting at first, but with the right approach, you can simplify it.
Let's dive in.
1. Define Your Goals and Outcomes
Before we start, let's clarify one thing.
Videos are not something that'll immediately supercharge your L&D efforts. To create a positive impact, it's important to first identify the goals that you're trying to achieve.
Here are three things to consider:
Learning objectives of your business
Your employees' existing knowledge and skill levels
Information and skills you want to impart to seal the knowledge gaps
Now, the question is how you can set the goals and measure skills gaps?
Here's a video that shows how to set your goals. For skills gap analysis, go through this guide.
Watch: How to Set SMART Goals | Training Course Introduction
2. Prepare the Script
With the above information in hand, you can proceed with preparing the video script. For the outline, the best idea is to use professional training templates, as they can help you add all the necessary information and maintain a consistent structure.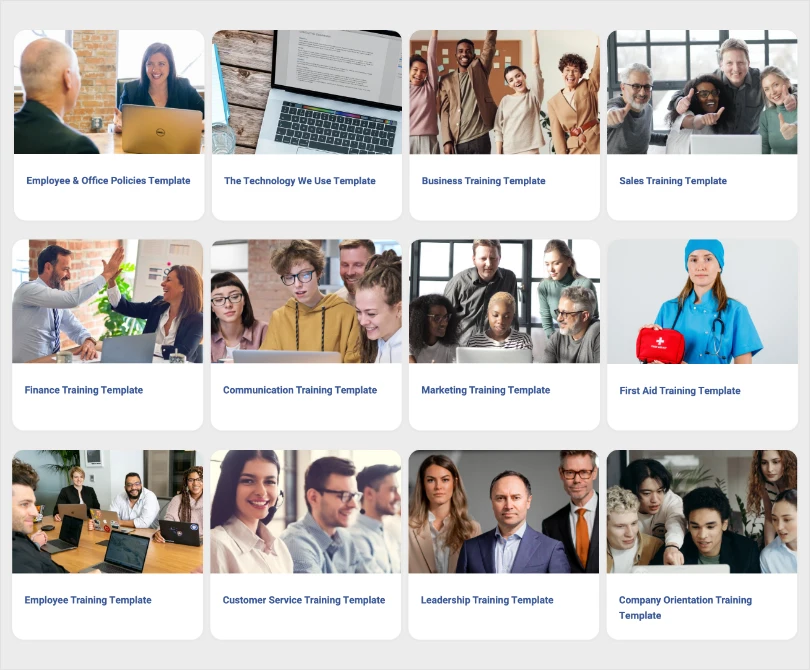 These templates have a pre-designed structure and format, saving time and effort in video creation. You can easily customize the templates by adding content, including multimedia elements.
What's more?
These templates also offer features like interactive quizzes and assessments, which will help you make the videos engaging and interactive for learners.
3. Optimize the Technical Aspects
The next step is to gather the necessary equipment based on your requirements and purpose.
At a minimum, you'll need a high-quality camera, a microphone, video editing software, and a hosting platform like an LMS.
Optional tools that you can use are scriptwriting tools, SFX databases, and more.
4. Collect Additional Learning Materials
Remember we told you before that training videos support passive learning?
At this step, you'll prepare all the supporting content, such as texts and images. Having text-based resources that supplement your training video helps learners better grasp the content and perform better.
You can start preparing your training course once you're ready with all the training materials.
Watch: How to Create an Online Course
5. Enable Collaboration and Discussion
Without interactivity, your training videos won't be engaging. Your learners should have enough opportunities to interact with others during the training.
So, what can you do about that?
You can enable collaboration and discussion, facilitate practical work, create quizzes, and more. This will inject interactivity throughout the training video, and your learners will stay engaged.
Watch: How to Enable Collaboration & Discussions in Your Course
6. Test Your Training Video
Before sharing your training videos with your learners, it's important to ensure that the content is presented as intended and everything is intact.
Review the video once with your stakeholders to check for clarity and usability. Check if the video works properly (ensure there are no technical glitches).
Let your testers check all the aspects of your training video to ensure it's technically streamlined. Or else it could disrupt the entire learning experience, leading to low participation rates and engagement.
7. Publish and Distribute Your Training Video
Once you're ready with the training video, you can share it with your learners.
There are plenty of ways by which you can distribute your training videos. You can share the video link or embed them on your website. Or, you may choose to publish these videos on your learning management systems, intranet network, or internal knowledgebase.
And if you've already created your video course on an LMS like ProProfs, you can share it via email, social media platforms, or embed it on your website.

So, how you want to share your training videos depends on your needs and convenience.
Refer to this guide or watch this video:
Watch: How to Share Your Courses With Learners
8. Track and Improve Your Training Videos
Once your training video is published, you should closely monitor its impact on your team.
Some key metrics to track include participation rates, engagement rates, and performance on assessments.
Continuous improvement should be a priority, such as adding updated information or developing advanced-level videos.
But on what basis should you make these improvements?
The best way is to collect employee feedback, which you can do via surveys.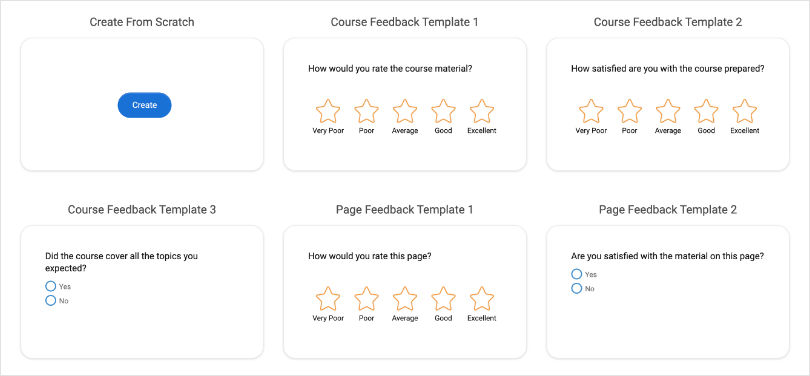 Surveys are an invaluable tool that can help you identify the areas of improvement and assess the overall satisfaction of your employees with the training program. By collecting feedback, you can make targeted improvements to ensure your learners get the knowledge they need to succeed.
Watch: How to Create a Survey Using ProProfs Survey Maker
Boost Employee Performance With Engaging Training Videos
Adding engaging training videos to your L&D programs is one of the best ways to enhance organizational performance.
Since videos contain many engaging elements, learners will retain information better. This can lead to improved skills, knowledge, and job performance.
So, ditch the boring PowerPoint slides and embrace the power of video to unleash the full potential of your workforce.
Follow the steps discussed in this post to create the most engaging training videos for your employees.
Remember: a well-trained employee is a happy and productive employee.
With training videos, you can boost your employee performance and also improve overall business outcomes.
Do you want a free Training Software?
We have the #1 Online Training Software for employee training & assessment