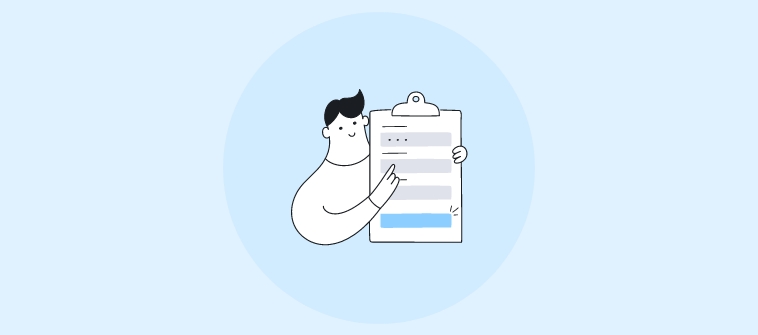 Do you know the top secret strategy for retaining your employees?
It's training and development.
Around 68% of companies believe training and development are crucial for increasing employee engagement and work satisfaction.
But when it comes to learning, experience counts. Learners' interactions with your courses, assessments, and training platforms should be engaging, consistent, and sustainable.
This is where a Learning Experience Platform (LXP) can help because they focus on learners' experiences during training as a part of the bigger learning and development goals.
If you are looking for an LXP for your business, you're at the right place. We will give you an in-depth insight into LXPs, their features, and the best ones you can find on the market.
Our guide will help you make an informed decision before the final purchase.
So, let's start.
A Quick Feature & Price Comparison Table of the Top 10 Learning Experience Platforms
10 Best Learning Experience Platforms
Why Is It Best?
Pricing
ProProfs Training Maker
Course Building

Virtual Classroom

Learning Paths

Mobile Learning

Tests and Assessments

Social Sharing

Forever free for up to 10 learners.Paid plan starts at $1.97/active learner/month for large teams. Billed annually.
360 Learning
Authoring Tool

Knowledge Check

Collaborative Learning

Intuitive UI

Starts from $8 per user/ month
Axonify
Engagement Metrics

Automated Reports

Gamification

Blended Learning

Get in touch with the company for a quote
Auzmor Learn
Course Builder

Lesson Library

Mobile Learning

Social Learning

Get in touch with the company for a quote
Tovuti
Virtual Classroom

Mobile Learning

Blended Learning

Communities

Starts from $775/month
Bridge
Microlearning

Advanced Video Learning

Mobile Learning

Customizations

Starts from $4/month/user, billed annually
Learn Amp
Content Creation

Template Library

Learning Paths

Personalized Recommendations

Get in touch with the company for a quote
Coursera
Content Curation

Personalized Browsing

Smart Reviews

Skills Tracking

Starts from $399 / user, billed annually
LearnWorlds
Build Courses

Video Learning

Assessments and Tests

Certificates

Starts from $24/month, billed annually
Looop
Content Creation

Actionable Data

Powerful Automation

Learning Paths

Get in touch with the company for a quote
10 Best LXP Solutions for an Engaging Experience
We have researched the top 10 LXP solutions that come with exciting features. Go through each of them and pick the one that suits your business and learning needs.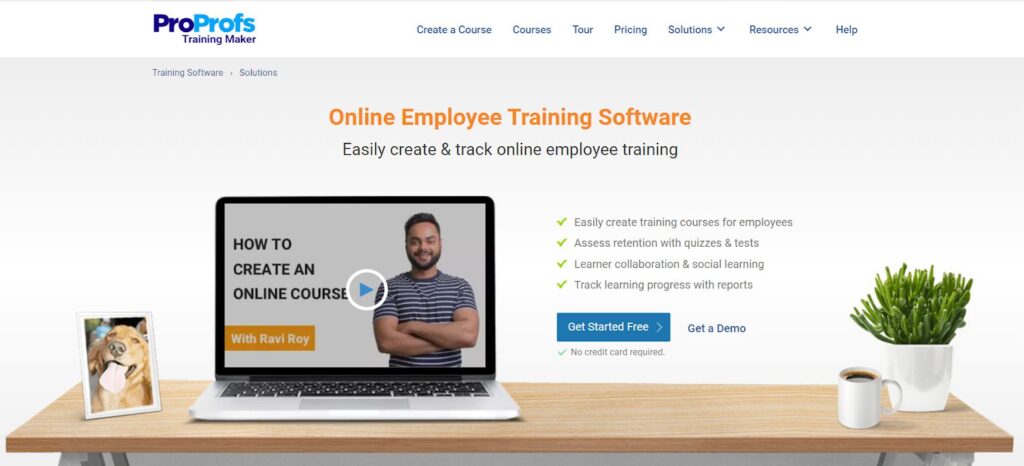 ProProfs LMS is one of the best e-learning platforms with all the features to deliver an engaging learning experience. It has everything you need to level up your training programs, from a course library to AI reporting tools. The platform supports English, Spanish, and 70+ other interface languages, which helps in training employees in their preferred language.
It has a solid client base with over 15 million users in 150+ countries. Some of the noteworthy features of this platform include its mobile LMS, brain games, collaborative learning, and customization options which make it the right choice for training employees on the desk as well as deskless, frontline workers.
Features
Create multimedia courses using images, videos, PDFs, audio files, documents, and more for an engaging learning experience. Get access to readymade courses and training templates for easy course creation.
Teaching and learning is easy with virtual classrooms. Add learners, create groups, send classroom invites, and track progress through reports. With virtual classrooms, you take charge of online learning seamlessly.
Make the whole training journey engaging by creating learning paths. Add a structure to your course to help learners get a holistic understanding of the subject matter.
Learning on the go increases learning flexibility and improves completion and retention rates. ProProfs LMS supports mobile learning so learners can take courses on any device and in their leisure time.
Create quizzes using professionally designed templates to assess knowledge retention and keep learners engaged. Let users record video responses and prevent skipping questions.
Share courses across popular social media platforms like LinkedIn, Facebook, and Twitter, Share and make it easy for people to find them.
Pros
Huge course library

Intuitive UI

Provides Multilingual support
Pricing
Forever free plan (up to 10 learners). Paid plan starts at $1.97/learner/month (billed annually) for large teams. No hidden charges. 15-day money-back guarantee.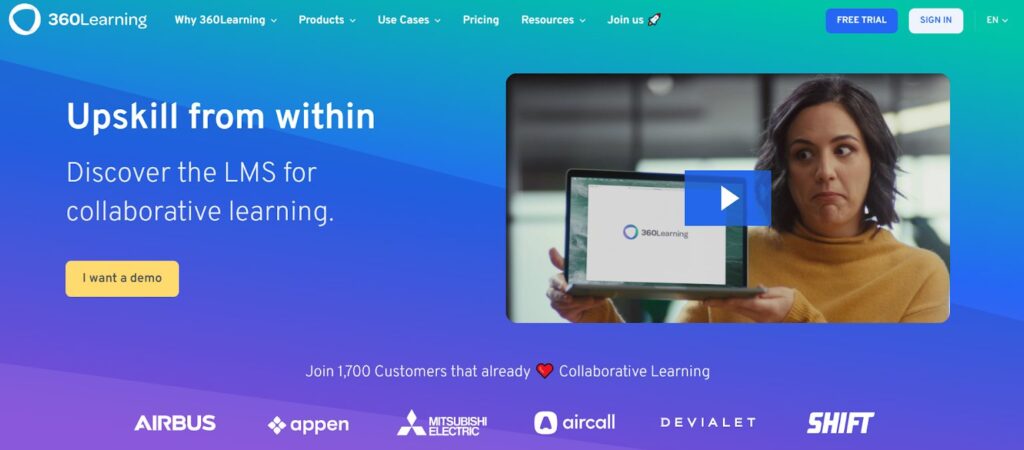 360 Learning is one of the best learning platforms that enable organizations to upskill from within. It has a robust LMS built for any use case. From mobile learning and video recording to content integrations and in-depth reporting, this software possesses all the features of a modern LMS.
360 Learning is used across nations by over 1700 organizations. The unique collaborative learning opportunities of the tool make the learning process engaging. Plus, the platform is best suited for onboarding, staff training, customer training, and more.
Features
Speed up the course creation process with ready-to-use templates based on the finest digital pedagogy. Leverage the rich editing features, use question banks to track learners' performance, and more.
Measure how well your learners have grasped various concepts. Add different types of questions, such as true/false, multiple choice, open-ended, etc., to measure course comprehension.
Facilitate collaboration with 360 Learning's rich collaboration tool, which provides for internal comments, discussion forum, upvotes, and reactions.
Excite your learners with personalized recommendations based on their training history. Make learning fun by giving rewards. Enable learners to create a course playlist so they can pick up from where they left off.
Empower learners to take courses at their convenience. Add flexibility through mobile learning and let them start, pause, and resume training anytime, anywhere.
Pros
Learning on the go

Offline learning

Live training

Powerful compatibility
Pricing
Starts from $8 per user/ month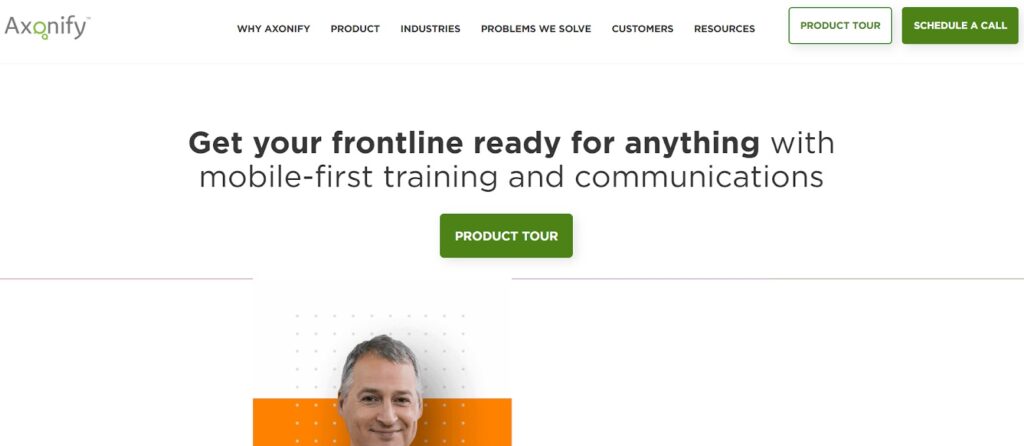 Axonify is a highly engaging and modern learning experience platform software best suited for frontline workers. This AI-based platform has powerful LMS features and delivers a personalized experience to learners.
Users find this platform super engaging, and it's evident from the fact that 83% of them revisit Axonify to conduct training twice or thrice a week. Features like intuitive UI, blended learning, and microlearning make it one of the best choices for delivering engaging training quickly.
Features
Deliver a simple yet frictionless experience to your learners. An engaging UI makes learning more efficient, and navigation becomes easy.
Confidence-Based Assessments
This is one of the key features of Axonify that sets it apart from other LMS solutions and provides reporting accuracy. While completing assessments, learners can add their confidence level to a given response.
Schedule weekly, monthly, or quarterly custom reports and send them automatically to stakeholders. These reports play a key role in continuous progress tracking and identifying problematic areas in your program.
Apply game mechanics, such as badges, points, awards, etc., to improve engagement. Axonify provides virtual currencies to learners on completing learning activities.
Learning becomes effective when you combine digital and on-the-job training. Leverage Axonify's blended learning features to accelerate learning and equip your learners with the right skills.
Pros
Diverse course content

Simple and clean UI
Pricing
Get in touch with the company for a quote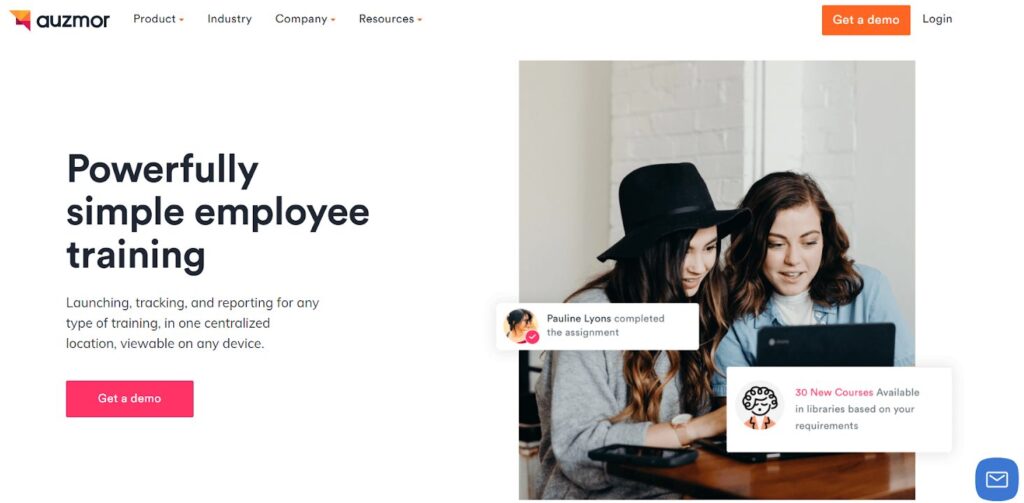 Auzmor Learn is one of the best learning experience platforms that helps businesses manage, track, and deliver training efficiently. The software has excellent course-creation abilities and provides centralized data storage.
Through a personalized dashboard, instructors or admins can get a holistic view of the training program, including learner progress and course engagement. Custom assessment creation and bulk user upload are other exciting features of this platform.
Features
Upskill your learners' knowledge through the course library, covering an extensive range of topics. Or, you may also choose the partner-created library for course building.
Get access to all custom and third-party courses, all under a single platform. Save more time on course creation and focus on learning outcomes.
Use real-time reports and analytics to identify knowledge gaps. This LXP solution is heavy on analytics and offers in-depth insights into the course quality. Make necessary adjustments based on the reports.
Auzmor is mobile-friendly, enabling seamless navigation on all portable devices, such as smartphones and tablets.
Make use of the social learning capabilities for the best learning experience. Let learners participate in group discussions.
Pros
Can be easily implemented

Great customization

Effective reporting and tracking
Pricing
Get in touch with the company for a quote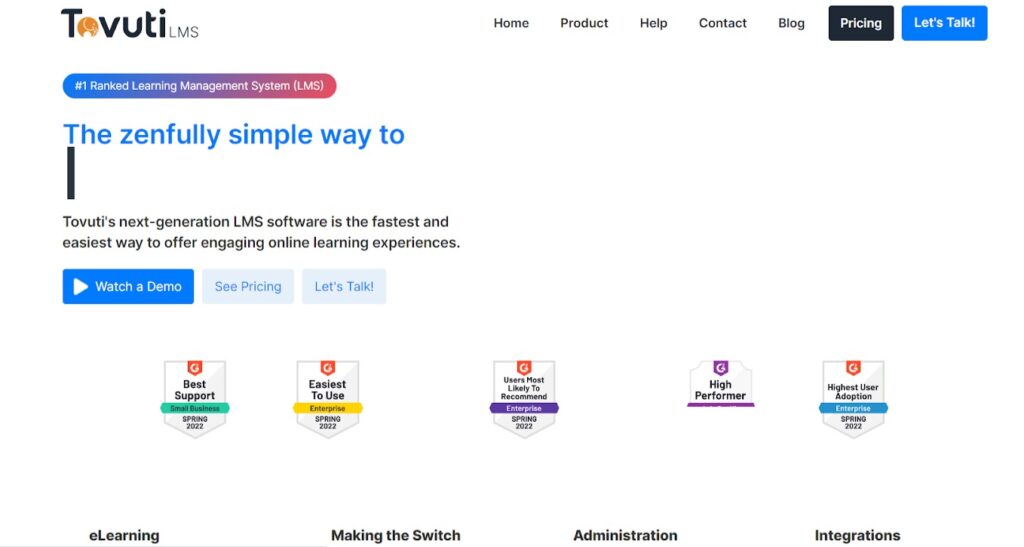 Tovuti is a robust LMS that helps create a highly engaging learning experience. Users consider it one of the top learning experience platforms for obvious reasons. This platform enables you to create, manage, track, and deliver courses easily.
Using the tool, instructors can create 40 different kinds of gamified and interactive training modules – from flash cards to videos and memory-matching games. The library has over 7000 courses on various topics, such as HR compliance, employee onboarding, and more. The live classroom feature is a major plus for both instructors and learners.
Features
Enjoy premium online video conferencing features provided by Tovuti. Track virtual class attendance, conduct virtual meetings through Webex, Zoom, and more!
Tovuti works seamlessly on smartphones and tablets, enabling learners to take courses anytime, anywhere. It also has its own mobile app, which can be easily navigated.
Through the virtual classroom feature, Tovuti supports synchronous learning and facilitates meaningful asynchronous real-time interactions.
Learners can create social profiles to let others know who they are. Connect with others and leverage your profile throughout different places on the platform forums, communities, etc.
This feature acts as a small social media network where learners can create public/private groups, post updates with images and videos, and engage in discussions and other learning activities.
Pros
Simple layouts

Strong reporting

Excellent software integration
Pricing
Starts from $775/month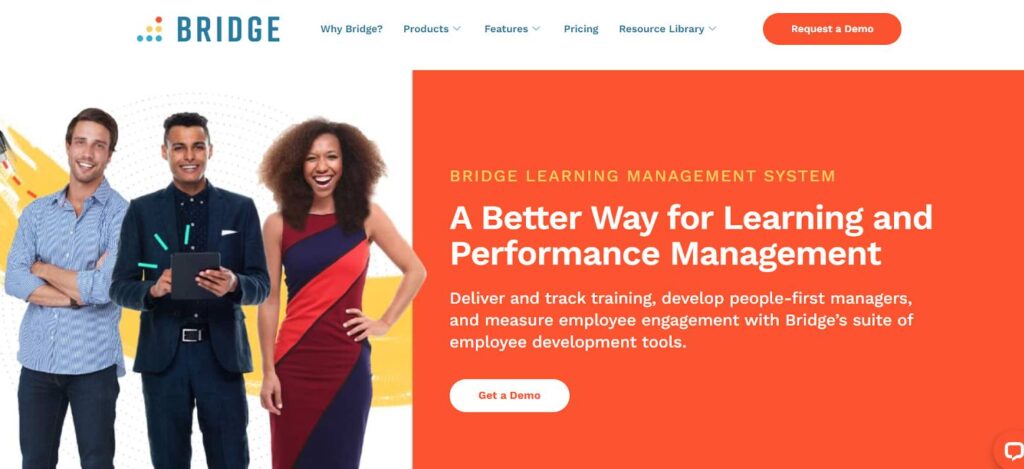 Bridge is the best learning experience platform built for organizations that put people as a priority. It offers a robust and intuitive platform and facilitates video learning, goal tracking, SCORM course upload, course authoring tool, advanced analytics, and skills assessment.
The learning retention tool of this software is one of the main USPs, and it lets you schedule intermittent queries to enhance knowledge retention. This learning platform ensures deeper learning, excellent performance, and greater outcomes.
Features
Create engaging courses and turn them into bite-sized, digestible chunks so that learners don't feel overwhelmed. Create custom learning journeys, schedule learning elements, and add new learning components without disrupting the learning process.
Leverage Bridge Advanced Video to deliver an enhanced video learning experience. Record new content and upload them seamlessly. Use the video editor to edit chapters and trim videos.
Mobile & Offline Learning
Bridge mobile LMS enables learning anytime, anywhere. It provides the flexibility to complete training sessions on portable devices. Plus, it supports offline learning, so you don't need to worry if there's no internet access.
Take your training game to the next level with powerful analytics. Measure the learning impact with ease, get insights into performance management, create custom reports and share it with your learners.
Add checkpoints to assign action items to learners. When learners finish a particular checkpoint, they can mark it as complete.
Pros
Intuitive and elegant design

Ongoing support and training

Strong analytics
Pricing
Starts from $4/month/user, billed annually

Learn Amp is a robust e-learning platform that combines the powerful features of an LMS and LXP to deliver an engaging experience to learners. It caters to all business types ranging from SMEs to large enterprises. This unified platform helps drive engagement, improves performance, and increases employee retention.
It helps create high-quality courses which can be built into learning pathways to ensure learners retain everything they have learned. Also, you can make quick changes to your content without hampering the learning process.
Features
Just drag and drop files or simply use the content library to create your training materials. Learn Amp supports all e-learning formats, such as CMI5, SCORM, and AICC.
Put your learners in the driver's seat and let them find courses from the premium course library. The library has more than 1,000 items, so learners can find materials on any topic.
Map learning paths to add a logical sequence to your course. Help learners quickly acquire knowledge and make learning a delightful experience.
Personalized Recommendations
Thanks to the AI mechanism, learners get instant recommendations based on their preferences which helps in deliver a great learning experience.
Get tangible results and actionable insights from the powerful reporting dashboard provided by this LXP learning experience platform. Drive actions based on real-time reports.
Pros
Smooth implementation process

Easy content creation

Visually appealing UI
Pricing
Get in touch with the company for a quote

Coursera is one of the top LXP solutions available on the market, and it surely deserves a place in the top 10 learning experience platforms. It has an online content library with a vast range of paid and free courses. There are over 4,100 classes, 17 degrees, and 430 specializations. Presently, it works with more than 190 companies and educational institutions.
Coursera lets organizations upskill employees with ease. Features such as learning paths, certified courses across diverse subjects, tailored recommendations, etc., make it an outstanding LXP for corporate sectors.
Features
Partner with in-house experts to develop your courses. Customize your course to align with your business goals and fulfill learning objectives.
Let your learners enjoy flexible learning from anywhere, anytime. Give them access to courses in multiple languages and let them take courses in offline mode.
Coursera is empowered with robust AI functionality, enabling learners to get personalized recommendations for most learning content based on their previous learning journeys.
The machine learning tool offers targeted reviews to learners when they fail to answer a quiz correctly. Review materials are suggested based on questions they've skipped or answered incorrectly.
Track level of mastery with data-driven reporting tools. Learners can also track performance on their dashboard and compare scores with others.
Pros
Large course catalog

Peer-reviewed assignments

International outreach
Pricing
Starts from $399 / user, billed annually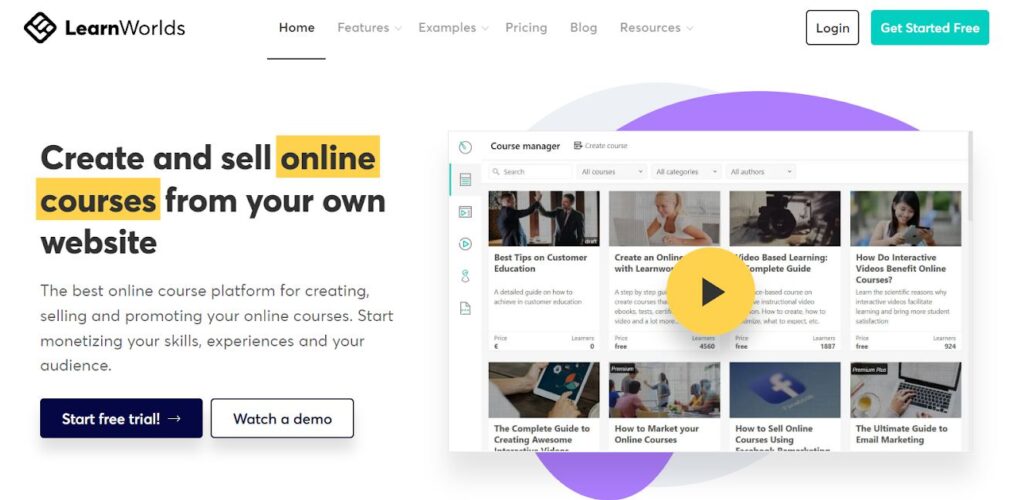 LearnWorlds is a cloud-based LMS packed with all features to accomplish your training goals and enhance learner engagement. It's a lightweight and intuitive LMS catering to more than 4,500 organizations. This e-learning solution is great for sales and compliance training and employee onboarding.
The platform has an intuitive site builder, and you can select from 200+ designs and page sections to blend elements of your choice. You can preview your changes and personalize everything that resonates with your brand.
Features
Leverage the best-in-class tools to build engaging courses based on learners' needs. Add new content to your existing training materials using the SCORM migration feature.
Make your training more interactive and engaging through video sessions. LearnWorlds seamlessly integrates with Webex and Zoom for an excellent live experience.
Use the assessment builder to add examinations to your course with simple or advanced grading and easily track your learner's progress.
Make the most of the built-in professionally designed certificate templates and distribute them among your learners on completing all courses and assessments.
LearnWorlds' robust reporting system delivers more actionable insights than other LXPs. Get real-time information about your training and make necessary adjustments to enhance the overall learning experience.
Pros
Interactive scripts

High definition videos

Excellent tools for course creation
Pricing
Starts from $24/month, billed annually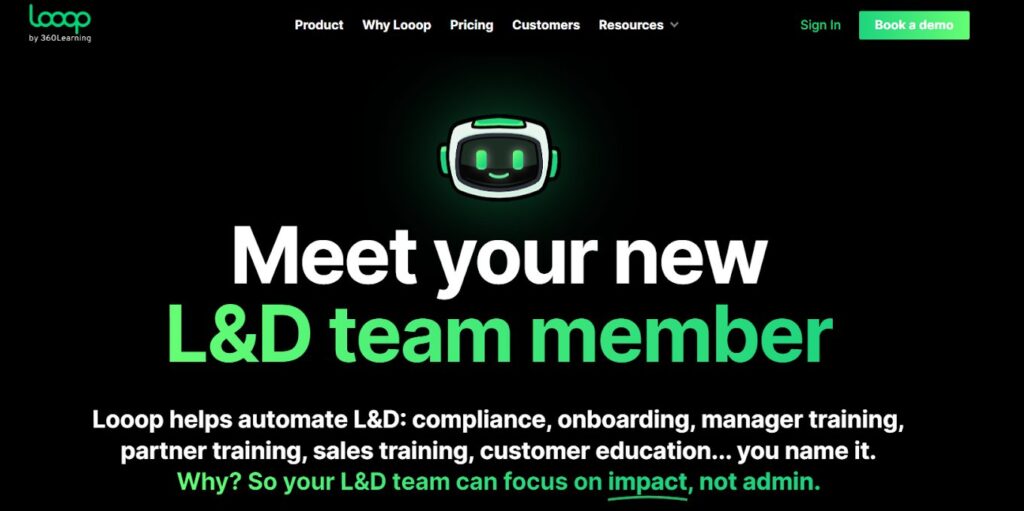 Looop is an advanced and sophisticated learning experience platform that comes with attractive features to help you deliver engaging training to your employees and teams. It takes your L&D initiatives to the next level. It's mobile-friendly, meaning learners can take courses on any device anytime, anywhere.
It's a next-gen LMS that eradicates the redundancies built in today's e-learning platforms. This is done by trimming the unnecessary coursework and delivering what's required by businesses. Create engaging content and share it directly with your learners via team chat, SMS, or inbox.
Features
Creating content on Looop is super easy and takes only a few minutes – thanks to the strong editor, which makes it easy to build multimedia and engaging content.
Use its powerful reporting tools to check course engagement and know how well your course is performing. Glance through your engagement metrics and make necessary adjustments to your program.
Scale your training program with powerful automation features offered by Looop. Add course rules, trigger reminder notifications, and launch campaigns with automation templates.
Guide users and show them the right path to complete a course. Distribute certificates to learners who complete courses and pathways.
Learners can easily take courses anytime, anywhere on their personal devices. The web pages and courses can be easily navigated on smartphones and tablets.
Pros
Drag and drop interface

Reporting feature is great

Actionable data
Price
Get in touch with the company for a quote
FAQs
What are Learning Experience Platforms?
LXP is a user-friendly and intuitive platform delivered as software as a service (SaaS) for personalized learning experiences. LXPs are collaborative learning spaces where learners get complete control over their learning.
This modern training technology enhances learners' experience by enabling them to use exciting features embedded in a Learning Management System (LMS), such as social functionality tools, collaboration, learning paths, video assessments, games, mobile learning, and more!
LXPs support user-generated content that mainly includes user bios, activities, and achievements to facilitate self-directed learning. Plus, it uses artificial intelligence, which helps deliver a personalized experience based on their learning style, search preference, and more.
What are the Must Have Features of Learning Experience Platforms?
The best online learning platforms should be able to support an engaging learning experience. On top of all the standardized functions, there are a few other features that any good LXP must have.
User Generated Content (UGC) to obtain more expertise and knowledge.

An intuitive User Interface (UI). It should be visually appealing and easy to navigate on any device.

Fresh content keeps learners engaged. So, an LXP should provide for content creation on any device. A course library and readymade templates would be a plus.

An LXP should seamlessly integrate with existing software.

LXPs must serve content based on learners' previous behavioral data. This includes the kind of content they have liked, the groups they are a part of, the kind of tags they are using, etc.

It should have a robust reporting functionality to measure course performance, learner engagement, learning history, and more.

Any LXP should let users collaborate and connect with each other through likes, comments, and chat.

Automation features, such as auto reporting, auto curation, automatic push notifications, auto-tagging, and more.
What are the Benefits of Using Learning Experience Platforms?
The best LXPs deliver a great learning experience which can take an organization's L&D strategy to the next level. Besides this, there are several other benefits that LXPs provide.
It improves employee engagement and increases employee retention

Enables self-directed & self-paced learning

Enables socializing and effective collaboration

Helps in building cross-functional relationships

Identification of skill gaps
These are some of the top benefits that organizations can get by using the best learning platforms. Besides these, LXPs can also help increase job satisfaction, improve employee morale, and deliver personalized experiences.
Find the Best Learning Experience Platform for Your Business
So, these are the top 10 LXPs you can find on the market. LXPs facilitate a continuous learning process and give learners control over learning.
Analyze the features, pros and price carefully before selecting your LXP solution. Your use case, audience, learning objectives, and budget will play a significant role in the decision-making process.
Each tool discussed in this post has its own USPs. Do some research from your end to better understand the products and explore all their features. Once done, you can pick the best tool for your business and deliver a streamlined and personalized learning experience.
Do you want a free Training Software?
We have the #1 Online Training Software for employee training & assessment