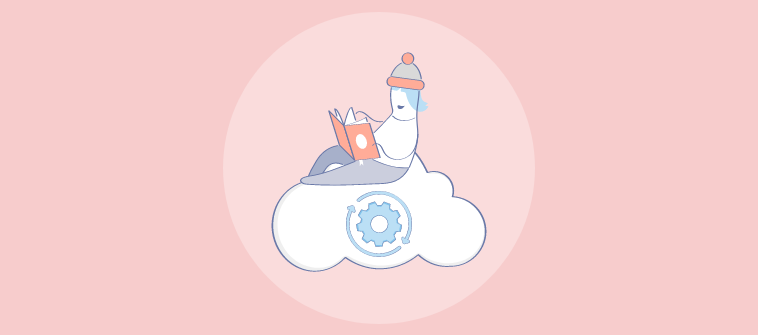 Today almost every business process has become automated. Look at email marketing, recruitment, and customer service, and you will find workplace automation in action.
So, with all this, can training automation be far behind?
The answer is no.
Automation is also fast catching up in the area of corporate training, thanks to robust tools such as a learning management system (LMS).
Automated training can make your life easier by boosting efficiency and letting you focus on more important tasks while your training system takes over mundane tasks.
Handling every task manually the old-school way can drain your energy, affect your productivity, and take colossal time and money.
If you're still using traditional training methods, this post is for you. Find out what automated training is, its business benefits, and best practices, and start delivering training programs in your organization in a smarter way.
What Is Automated Training?
Automated training is a type of training in which some parts of it run in an automatic mode rather than manually.
For example, enabling self-enrollment for repetitive tasks like learner registration online is automated training. It lets admins spend less time on routine administration tasks and more on developing quality content and measuring learning outcomes.
A software application with built-in automation features usually makes this possible.
Training automation is one of the advantages of breakthroughs in modern learning tools and technologies.
Watch: Manage Your Tasks, Time & Stress
Want to Gain More Control Over Your Tasks? View These Courses
8 Keys Benefits of Automated Training
You may be asking: Is employee training worth automating?
It is.
According to McKinsey:
at least one-third of workday activities in about 60% of occupations can be automated
83% of IT decision-makers believe that automation is the key to digital transformation
A poll conducted by the specialist recruitment firm Hays UK showed that most workers believe technology and automation are improving their work lives.
There are many reasons like this to consider training automation. Here are its eight main benefits:
1. Elimination of Repetitive Tasks
During a training program, you perform several tasks, from planning to execution and results analysis. Some of these are repetitive, monotonous, and seem thoughtless at times.
Hardly anyone wants to sit for hours and go through such formulaic and routine processes every other day or week.
Training automation can take over tedious tasks, such as learner enrollment, course due-date reminders, and recordkeeping for audits. Advanced training software helps you configure these tasks with automation rules to get them done on time — no matter how many times.
2. Time & Cost-Saving
This is one of the greatest benefits of automated learning. It saves a huge amount of time and makes tasks effortless.
For example, in traditional classroom training, sometimes you hire external experts and pay them hourly or monthly wages. Also, employees need to stay back after their work hours to attend sessions, which may lead to fatigue.
Watch: Fatigue Management Training Course
Trust us, you want to avoid this scenario at all costs!
With an automated training management system, you can enable your employees to learn at their chosen schedules independent of time and place.
All they need is a device and an internet connection. This removes possible interruptions to business operations due to training.
Watch: Time Management Training
Need Better Time Management Skills? View These Courses
3. Faster Employee Onboarding
According to Gallup, only 12% of employees believe their organization does a great job of onboarding.
Another area where you will find automation helpful is new hire onboarding. Tasks such as sending welcome emails, sharing employee manuals, and training on company policies are repeated with every batch of recruits.
You can set up and organize these processes and automatically deploy onboarding training for every hire. By automating the workflows and providing key information in one place, you make the process more efficient and reduce the chances of mistakes by new hires.
This will welcome the new members, acclimatize them to the new culture, and offer the necessary training materials for a good start without extra effort.
Watch: How to Create an Employee Onboarding Training Program
4. Check on Duplication of Tasks & Errors
Without training automation, there are high chances of duplication of training tasks.
For example, compliance training is a recurrent program in every company where employees undergo training mostly on an annual basis. You can simply create one course and add all the updated rules and regulations. Then you can use just that resource to train different groups of employees from different departments, roles, or locations.
You don't need to create different courses for different groups. Otherwise, you can get tired of the process. Automated training takes learners through the same course.
Similarly, training managers can easily end up making errors, especially while handling large volumes of training data at a time. Revisiting and rectifying these human errors take time.
With automation, you can minimize these errors that can prove costly at times and make the process more reliable. This also saves you from compliance breaches, which can attract penalties.
5. Quick Identification of Learning Needs
There is no room for just-in-time learning in traditional learning methods. In most cases, employees must request and wait for training to happen.
But today's business environment and job roles demand continuous learning. Employees expect to acquire new knowledge and skills as and when they need them.
Watch: What Is a Mobile LMS & How Can It Help Train Anytime, Anywhere?
Automated training helps you gather insights from skill gap analyses and self-assessments. Based on this information, you can quickly identify your employees' learning needs and assign them the right courses.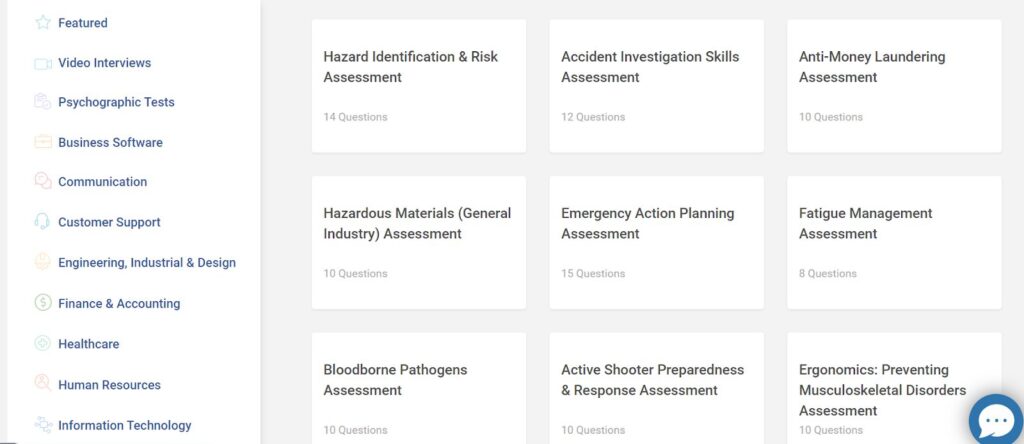 This will enable them to pick the relevant knowledge and skills necessary for their performance and productivity.
6. Increased Employee Engagement
Training automation also offers a way to boost deep engagement with employees. By automating their recognition programs, such as digital badges, points, leaderboards, quizzes, brain games, and certification, you can keep them engaged and motivated during training.
This reward & recognition system is a part of almost every training program. So, managing them manually on an ongoing basis is difficult and unsustainable. Only automation can deal with it easily.
Here, an LMS or learning management system with gamification and course certification features can help you set up these rewards, automate learning, and keep your learners hooked till the end.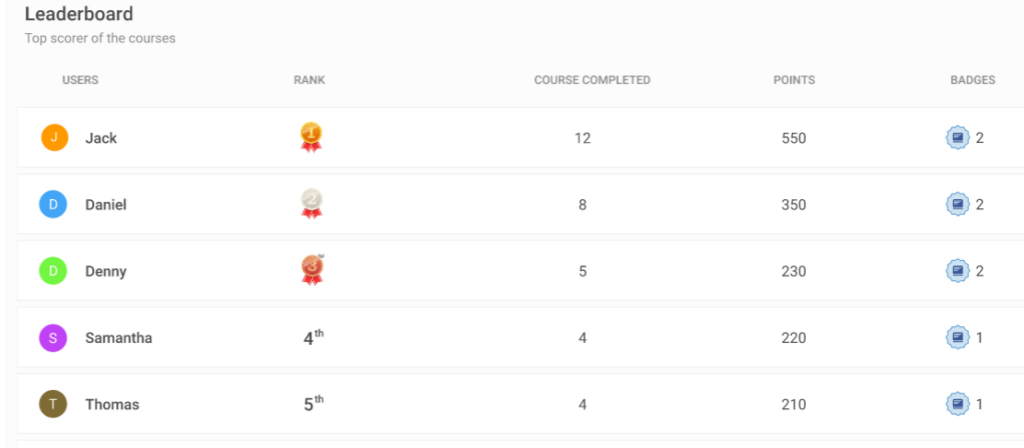 7. Easy Training Feedback
Failure to provide timely feedback means missed opportunities for course correction and to act on knowledge gaps. As a result, learners don't know if they are on the right track and what they should do to further improve their training performance.
Automation offers a way to provide instant feedback based on how training participants fare.
For example, you can add short quizzes at the end of each course chapter to assess learners and provide automated feedback. This way, they will get to know their comprehension and whether they need to revisit a particular topic to ensure they completely grasp it.
This will solve the issue of learners arriving at the end of a course only to realize after a final assessment that they have not understood the topic at all.
Watch: How to Give Great Feedback
Want to Give Effective Feedback to Your Employees? View These Courses
8. Consistent & Reliable Learning Experience
At any given time, companies in industries such as construction, manufacturing, and healthcare have tons of strict compliance requirements to follow. In this situation, learning consistency is vital to ensure there's no risk of non-compliance.
Automated training can help you update information in your courses easily and quickly, considering that government regulations keep changing.
Also, a centralized and secure training automation system, such as an LMS, enables stakeholders to access the same training resources in one location.
All this makes training management and administration seamless, consistent, and reliable.
Where Does Automation Not Work?
You have seen the substantial advantages of training automation. Now the related question here is: Can you automate everything? Does automation work in every training scenario?
Unfortunately, no.
To give you an example, for customer-facing employees such as hotel receptionists, on-the-job training would be a better option. They thrive on real human contact, and the way people communicate gets complex at times.
In such a situation, mere automation cannot cover the ground expected in the position.
Such employees need a more humanized form of training because it requires human intervention, not just automation.
Even if you automate some of the tasks here, you should follow them up with personalized training, either face-to-face or virtual — which means you may need blended training.
LMS as a Tool for Automated Training
In the previous section, we've hinted at LMS as an effective tool for training automation. Let's now see how these solutions actually automate training activities, making them easy for both instructors and learners.
Watch: What is a Cloud-Based Learning Management System?
1. Learner Self-Enrollment
Self-registration of learners to a classroom or course is time-saving and hassle-free. You'll find the learner registration automation feature in top LMS systems.
For example, ProProfs LMS lets learners enroll themselves via their Google accounts. Learners who are logged into their Google account are automatically logged into ProProfs Classroom. You don't require any username and password.
Similarly, they can self-enroll in a group using a secret join code. Each group has an assigned secret join code. Learners just need to enter the code in the user registration form, and they are good to go.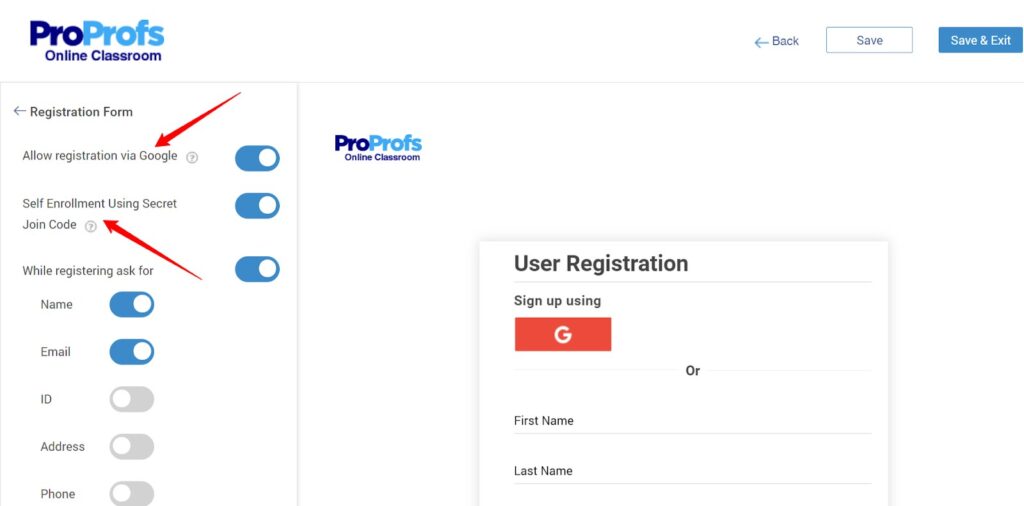 2. Group Creation & Course Assignment
You can simplify learner group creation and course assignments by using a superior LMS. You can create custom groups and sub-groups based on job roles, departments, or locations.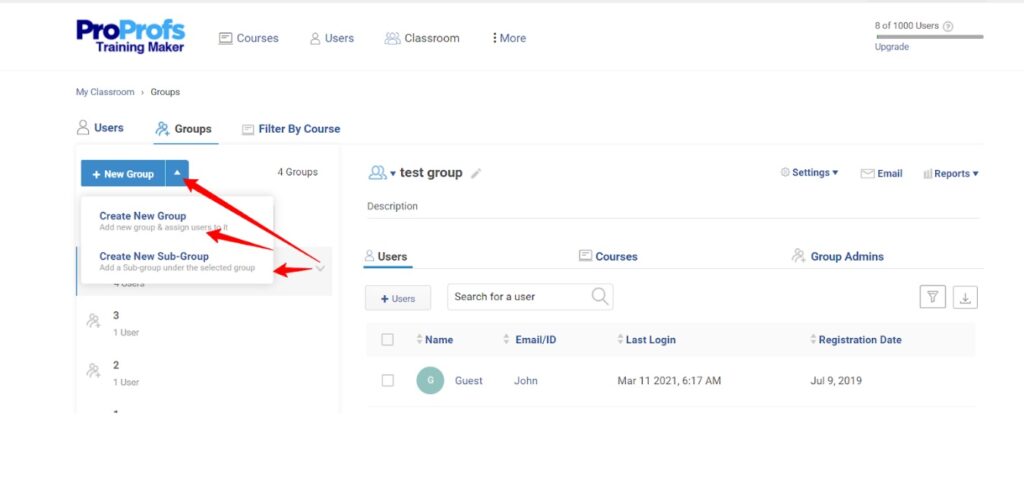 The advantage of having this feature in an LMS is that you can set up rules for automatic course assignments based on a specific group. When you assign a course to a group, you automatically assign the course to all learners enrolled in that group.
This removes the need for assigning a course separately to each learner in a group, which takes up a lot of time.
Watch: How to Share Your Courses With Learners
3. Notifications & Reminders
Most LMS tools have an automatic system for classroom invitations, notifications when someone takes a course, and course and certificate expiry reminders. This ensures timely enrollment, course attempts, and completion.
In other words, you can do the following with this feature:
✔ Set a date by which learners need to complete a course
✔ Ensure high course completion rates through automated reminders
✔ Set a date by which the course certification expires
✔ Define what happens when a certificate expires to ensure ongoing compliance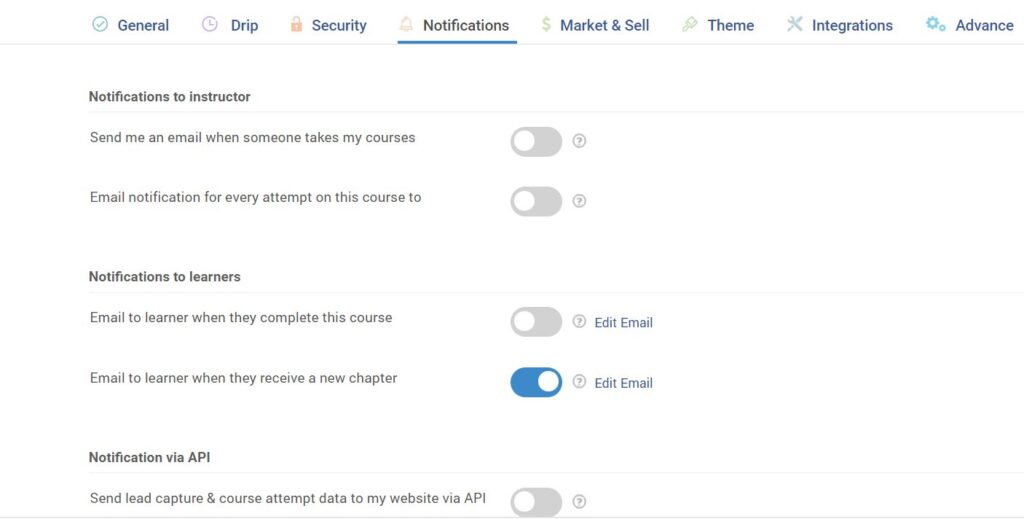 4. Access to Specific Reports
With an LMS having robust reporting features, you can pull out reports for any chosen time, like today, yesterday, the last seven days, this year, or last year. This saves you from the trouble of spending hours rummaging through a pile of reports.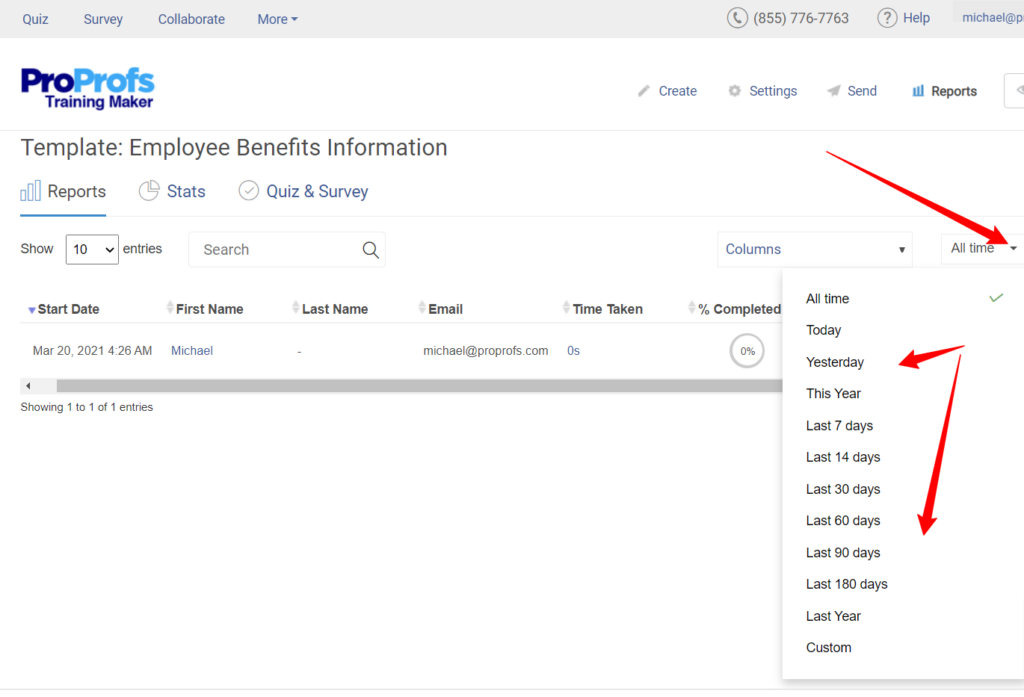 Usually, an LMS generates user reports, group reports, course reports, reports of quizzes, and grade books. You can easily download or share these reports with stakeholders.
Watch: How to Share Quiz or Course Reports With Your Learners
Such automated access to reports lets instructors stay on top of learning data and make informed learning & development decisions.
5. Recurring Certification
Learner certification is an essential and repeated part of any employee training program — more so when you're offering compliance training.
An LMS lets you provide training participants with personalized certificates as soon as they complete a course.
For example, with ProProfs LMS, you can set up what learners can see on their course completion page, including certificates, messages, and an option for sharing the certificates on social media.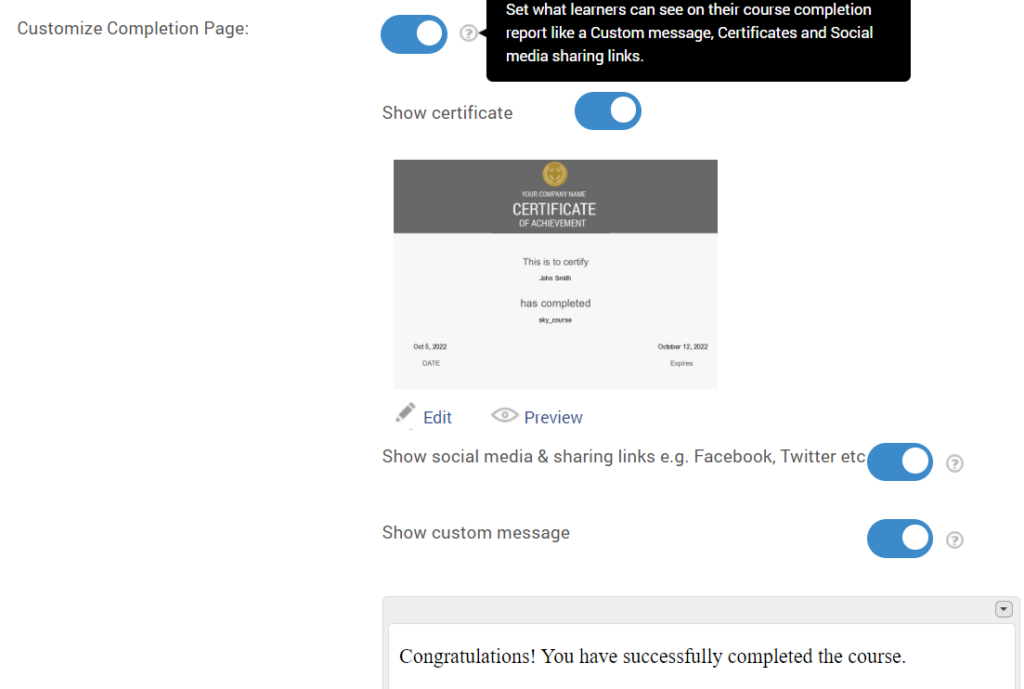 You can use a standardized and branded certificate with your logo, signature, and custom designs for your learners. All you have to do is change the recipient's name, training name, and completion date before issuing the certificate to each learner.
After that, the certificate will be automatically displayed upon completion of training.
Training Automation Case Study
Here's a case study on how training automation revolutionized a continuing education provider's efforts to test learners.
Who: Stacy Potter
Occupation: National Certified Continuing Education Provider for Massage Therapy
Problem: Stacy provided continuing education for massage therapists. For that, she assigned tests to participants similar to the state tests they took to get massage licenses. Until recently, she was engaging in manual grading of these tests and needed a tool to streamline them.
Solution: A cloud LMS enabled Stacy to create tests in the format she needed to provide continuing education. She liked how the tool gave immediate results and enabled learners to know their performance.
She could easily embed the tests on her website. She also got email notifications on how the learners were doing.
She no longer had to grade the tests manually. This saved time and provided feedback to participants right away in a way that she couldn't do earlier. This made her website for continuing education so much easier to manage.
Stacy made sure learners passed the tests and then generated the certificates after they had paid for the service.
Result: The LMS with automation features enabled Stacy to respond immediately with constructive feedback. She found the program revolutionary as it provided valid feedback for knowledge gained. It made her life a lot easier.
According to her, the tool was hands down the easiest and most efficient program she had ever used in her classroom. Her learners loved it too.
Best Practices for Automating Your Corporate Training
When we discussed learning management systems as a training automation tool above, we looked at some of the capabilities for automation they support. You can leverage them by adopting superior LMS software.
Here are some more ways to consider automation as the best practice.
Plan the Process Ahead
Before you implement training automation, you need to have the process in place based on clarity about repetitive tasks that take away your time.
The best approach here is to work closely with team members who handle these tasks and know them well. Their input is invaluable as you will be removing certain pain points from the activities they perform daily.
Systematic planning like this will help you understand which tasks you will automate, how, and why, and deploy it successfully.
Take Your Entire Organization Into Account
Generally, most processes in an organization span different teams and departments. In other words, automation affects different groups of people at the same time. That's why important to understand how things will pan out across your business.
When you bring your entire company together and demonstrate how automation will benefit them, you increase the chances of adoption.
For example, you need to involve your IT teams in implementing training automation, as they will be instrumental in getting the ball rolling. Apart from ensuring the security of the process, they will be responsible for smooth implementation by removing possible bottlenecks.
Choose the Best Automation Tool
A software application designed for automating training planning, delivery, and tracking can help you change the rules of the game. So, important to adopt a purpose-built solution such as an LMS.
While it should tick all the automation boxes, the tool should also be easy to understand and use. This will make it easy to simplify tedious tasks without spending much time on the tool's learning curve.
Similarly, the tool should support custom settings to suit your business needs in terms of:
» Notifications
» Course order
» Course and chapter availability
» Number of attempts allowed
» Branding
» Integration with related tools
Watch: How to Choose the Best SaaS LMS Software
Automate How You Create & Design Courses
Creating online training courses and adding custom designs don't necessarily have to be time-consuming and labor-intensive. All you need is an intuitive authoring tool with automated course-building features. Such tools let you create courses by importing materials you already have through drag and drop.
Some of the superior LMS software systems offer a library of professionally designed, customizable, and ready-to-use online courses and templates.
They make it easy for you to implement training immediately. You can use them as-is or modify them to suit your learning and branding requirements.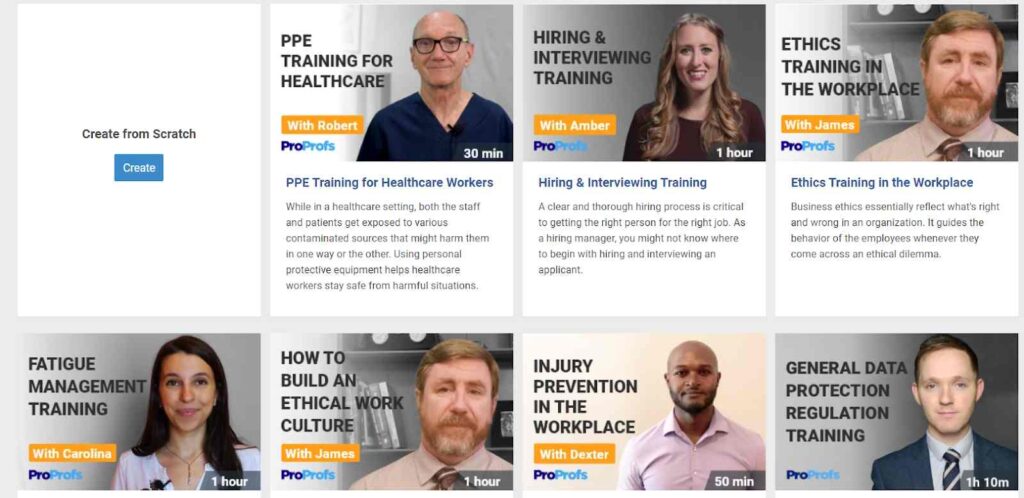 Such courses should ideally support different media like videos, slides, quizzes, recorded webinars, and graphics. These engagement elements ensure a faster and better learning experience and a higher course completion rate.
Assign Learning Paths
Learning paths let you assign multiple courses to the same learner at a time. This way, it helps you get over the time-consuming task of assigning the same learner to different courses separately.
Such learning paths work by tying multiple courses into a bundle and offering a structured route for mastering different skills.
This system makes sense since your learners will take all the courses sooner or later. You can enroll them in such a training program, and as soon as they complete one course, they can move to the next without any input from your side at that time.

Automate Outbound Communications
After every enrollment, training admins and instructors will need to engage in some outbound communications with the learners. For example, they need to share the course duration, start time, and due date. These are important tasks but carrying them out manually and repeatedly amounts to inefficiency.
An AI-based LMS can take over these tasks through automation and communicate all this information to learners via emails as soon as a course gets assigned.
Since these trainer-to-learner communications are repeated tasks you perform with every course, it will be beneficial to automate them like many other tasks related to online employee training.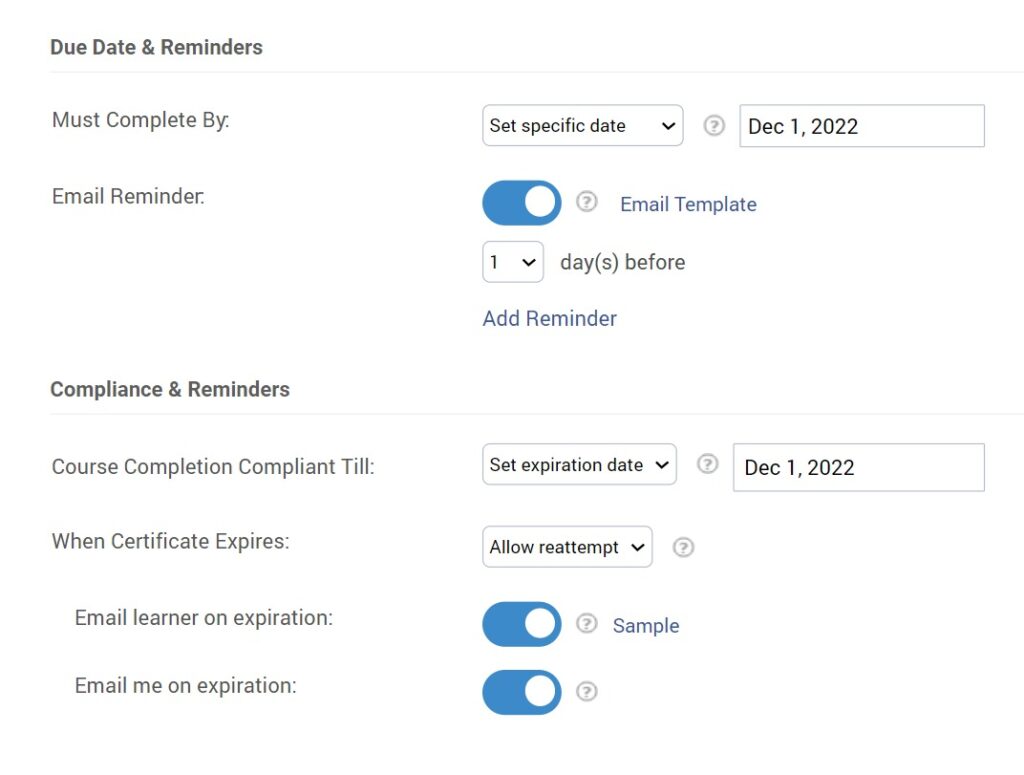 Automate HR Processes
Automation can also be a savior for repetitive and time-consuming HR processes, such as onboarding. The task becomes difficult, especially when it involves a large number of recruits or remote hires.
But with automation, HR professionals can minimize the complexity of the task by half. For this, they can rely on employee onboarding software to:
» automate welcome emails
» create courses and tests in minutes
» facilitate self-paced learning
» provide a self-service knowledge base
» automate repetitive tasks through a range of settings
This will enable HR departments to focus on more meaningful tasks.
If you're looking to develop key HR skills to become a knowledgeable professional in the field, these courses will help you.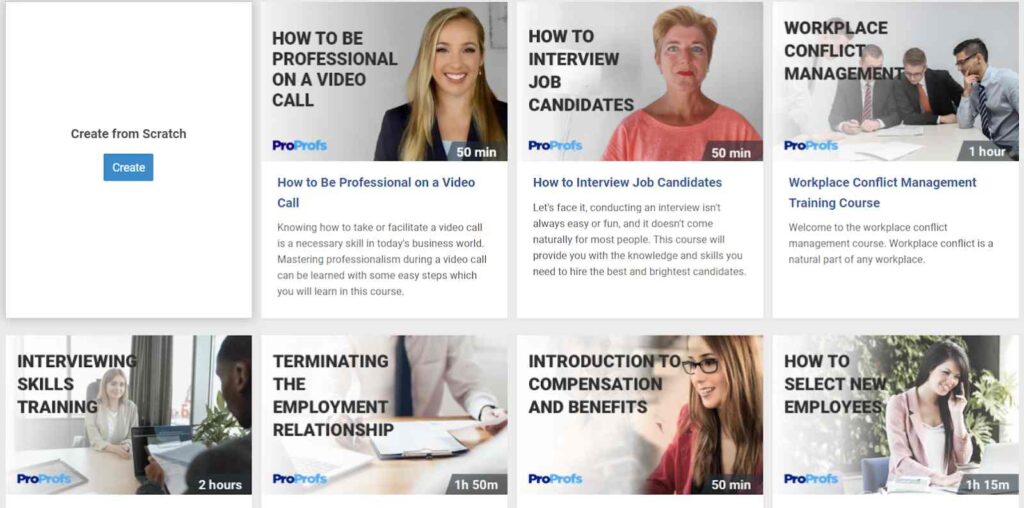 Simplify Training Record Management
Another training-related task that previously required human input was managing training records. Now you can automate this as well.
Accessing training records as and when you need them is crucial. Besides helping you keep tabs on employee learning and performance over a period of time, training records are also vital for external audits, such as safety and compliance matters.
By automating how you collect and maintain training data in one secure place, it becomes easier for your organization to track specific training outcomes and certification status.
It also drastically reduces time spent on entering training data manually, which entails potential human errors and chances of compliance breaches.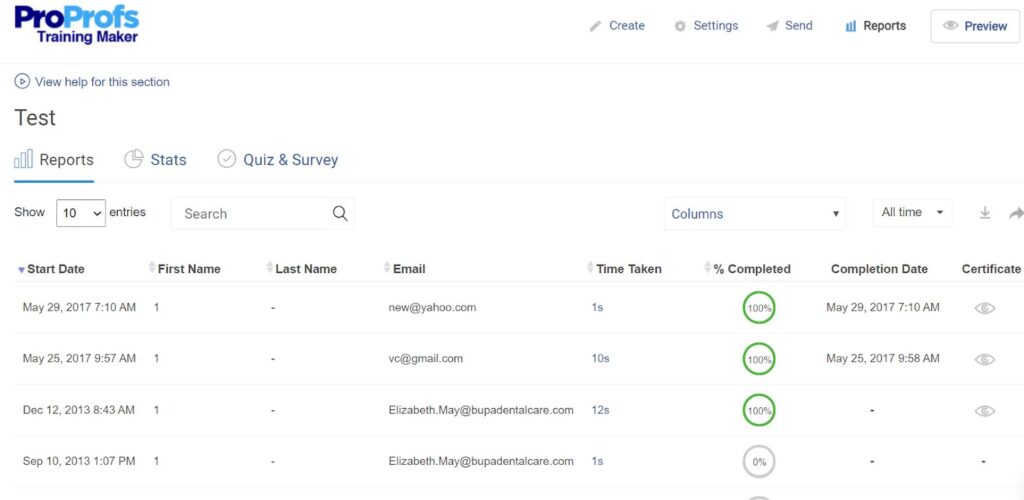 Training Automation FAQs
How do I know it's time for training automation?
You know it's time to introduce automation in your training programs when you perform some tasks repeatedly, they require a great deal of human labor, and there are rising instances of human errors. In addition, if some tasks are causing inefficiency in the process and causing unwanted delays, time to go for automated training.
Who can benefit from automated training?
Apart from training departments and employees, customers stand to gain from training automation. For example, training automation reduces the time customer support teams take to become well-trained professionals. This enables them to spend less time learning and dedicate more time to keeping customers delighted with their services. This, in turn, reduces the customer churn rate.
How can an LMS help my business in terms of automation?
An advanced LMS lets you automate new hire onboarding and ongoing employee development. It also makes customer service delivery more efficient through technologies like chatbots and AI that can answer queries through canned responses or walk customers through your products.
Feedback collection from employees and customers also becomes easy with automation. You can use this information to improve your training and products & services. Similarly, you can alert employees about course updates or any other changes in your training plans through group-based automated notifications.
What should I look for in automation software?
To land the best software for training automation, make sure the tool you're considering is user-friendly and flexible to use when you want it and where you want it. It should also play nicely with the websites and applications you already use, such as email marketing tools, CRMs, and communication tools like Zoom through seamless integrations.
Also, there should be excellent service in case you have any questions or run into any trouble.
Watch: How to Choose the Best Corporate Training Platform
Get Great Experiences With Training Automation!
At any given time, training managers, HR departments, and instructors have their plates full. Generally, they have batches of learners to train one after another. So, it is reasonable to automate tasks that can be automated. This will save time, reduce human errors, and avoid duplication of efforts.
Also, you can onboard and train employees faster and minimize the time to productivity with process automation. It can help you simplify repetitive tasks, such as:
learner enrollment
group creation
course and test assignments
announcements and notifications
individual, group, and quiz reporting
feedback collection
certification
All this leaves you with more time to devote to monitoring learning outcomes and improving training.
If you're yet to automate your training programs, don't wait any longer. Things aren't going to improve on their own. Take action now and adopt a training automation tool and set yourself and your teams up for wonderful training and learning experiences.
Do you want a free Training Software?
We have the #1 Online Training Software for employee training & assessment