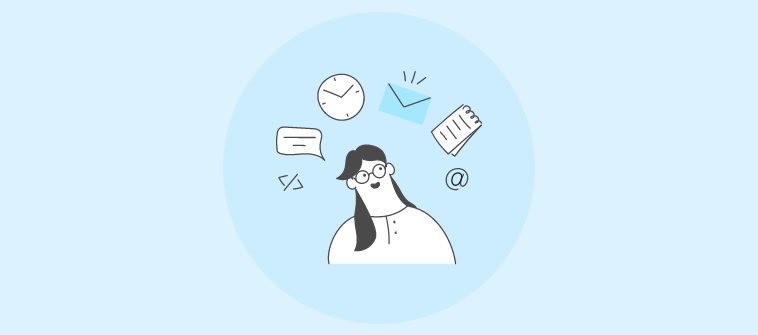 In today's fast-paced and competitive market, organizations need to ensure that their employees stay updated with the latest industry trends and knowledge.
This is exactly why Learning Management Systems are in high demand. They can be your right-hand man in your online learning & development initiatives.
But what is so fascinating about these tools that more and more businesses are adopting them?
Well, it's the compelling features of a Learning Management System and their corresponding benefits.
In this post, we'll explore those features in-depth, but before that, we will give you a brief idea of what is an LMS and also provide a few case studies to highlight its importance.
So, let's dive right in.
What Is an LMS?
An LMS is a software application that lets you take charge of all your online learning activities. It enables you to design, deliver, manage, and track online courses and assessments seamlessly.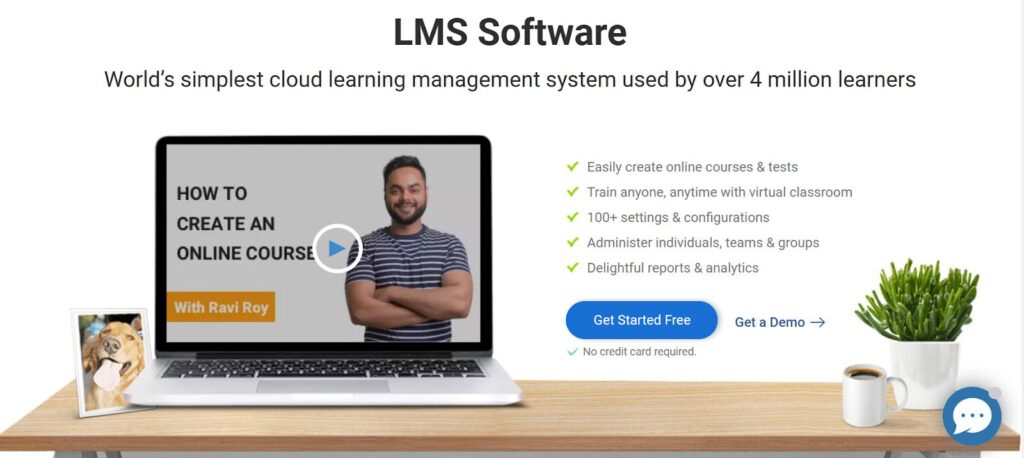 An LMS consists of two parts – user interface and admin interface. An admin interface is where the instructors or training managers create user groups and admins, design courses and tests, automate notifications, and analyze learner progress through reports. The user interface is what learners see when they are assigned a course or test.
An LMS makes it easy to keep your learners engaged by providing features like learning paths, brain games, quizzes, surveys, self-paced microlearning on portable devices, and collaborative social learning.
Watch: What is a Cloud-Based Learning Management System?
Case Studies
According to statistics, LMS software is estimated to reach a market value of $29.9 billion by 2025.
This clearly points to a fast-growing demand.
But let us give you a better idea on this with the help of a few case studies showing how LMS has become a quintessential tool for online training.
Case Study 1
About
Access to Counseling is an Oklahoma-based mental health service provider offering community-based programs to help people deal with life's challenges through counseling and support. The agency has 50 therapists, each specializing in their field.
Problem
As the company kept growing, there was an increased need for training its employees and contractors. It was a daunting task to maintain all the records. So, they needed a solution that could help organize a large amount of training required by governing bodies.
Solution
They used an LMS which helped them organize information and maintain records of employees and contractors who have completed the training sessions. They could easily do away with the burdensome paperwork by automating all the tasks. They particularly liked the automated scoring feature and the ability to provide certificates on training completion.
Result
By using an LMS, they could easily store and maintain all the training records in one place. All manual tasks were automated, which saved their time and effort.
Case Study 2
About
Tupperware is a leading American brand known for manufacturing kitchen and household items. It manufactures innovative and environment-friendly products. With over 75 years of market experience, it continues to be one of the trusted names in millions of homes.
Problem
The company was looking for an effective training solution to provide safety training to its operators. It was also searching for a tool for its ISO certification program.
Solution
After some research, it adopted ProProfs LMS because the tool was easy to use and enabled it to train employees at scale. Tupperware used the premium course library with a range of leadership courses and code of conduct training, quality assurance training, and more. Plus, the LMS also helped the company with its ISO certification.
Result
The online assessments made it easy for Tupperware to understand how well its learners had grasped the concepts. All its plants in Europe are now using the LMS.
Case Study – How Tupperware Used ProProfs for Training & Assessment | ProProfs LMS
From the above case studies, it's clear how organizations are turning toward this powerful solution to fulfill their training needs.
Now, let us go through some of the features of an LMS that enable organizations to take charge of their training programs.
12 Essential Features of an LMS
Here's a list of LMS features and corresponding benefits you can expect from a standard LMS.
1. Course Builder for Easy Content Creation
One of the most basic functionalities of a learning management system is its ability to build courses. It lets you build professional-looking courses within minutes. You can add audio, video, and other multimedia files. You can even upload training materials in Word or PDF format.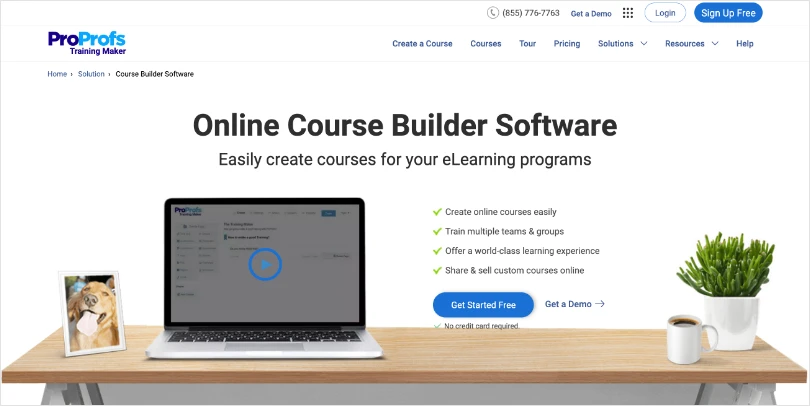 To meet your branding needs, you can apply white-label by adding your company logo, messaging, and color schemes. You can also organize content topic-wise and by chapters.
Watch: How to Create an Online Course
2. Content Library to Save Time in Course Creation
Some of the LMS providers offer a library of professionally designed courses. Generally, these resources are ready to use with or without customization. Such LMSs can significantly reduce your course development time.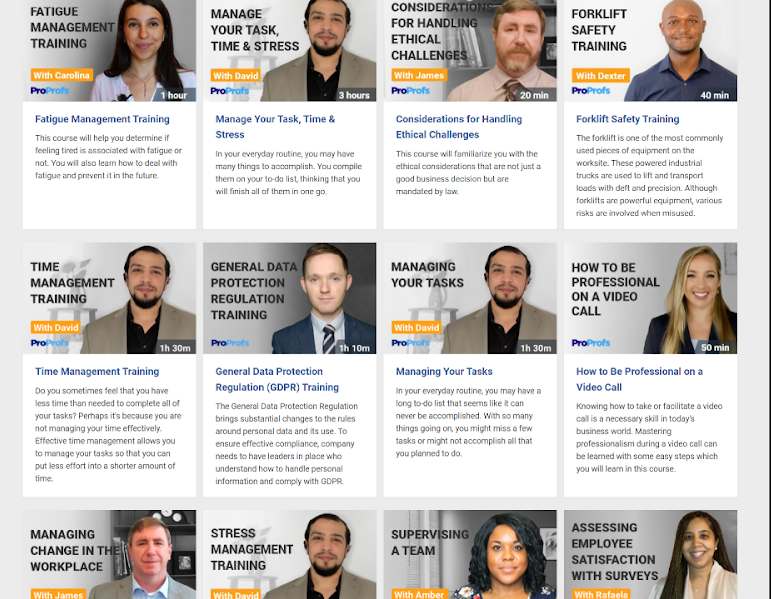 You can create course bundles out of these individual courses and provide designated learning paths to each learner or group.
3. User & Group Management for Ease of Administration
Like in conventional classrooms, a learning management system lets you organize learners into groups based on training type, department, location, role, and other criteria.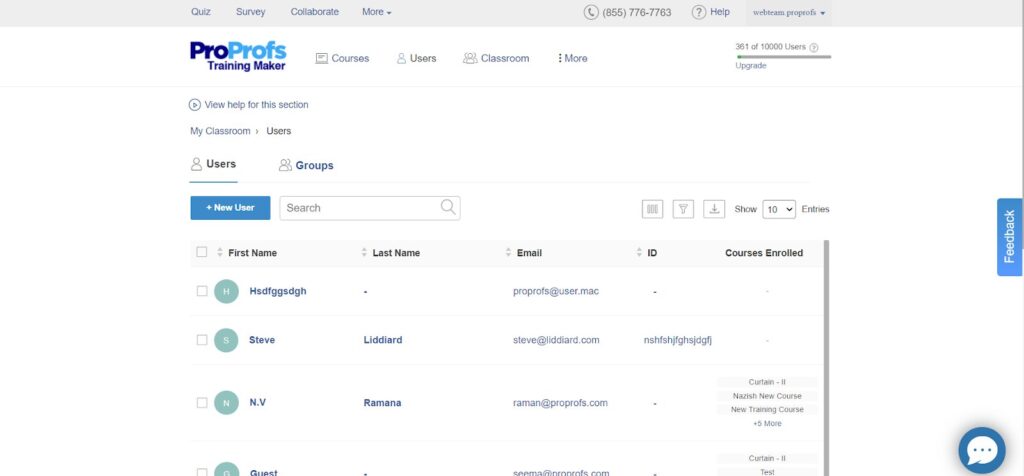 After that, you can do the following:
4. Quizzes to Assess Knowledge Retention
Regular assessment remains indispensable in any outcome-based eLearning software or program. This is true whether you're training five people or 500.
You should be able to measure progress against your L&D goals with the help of online quizzes.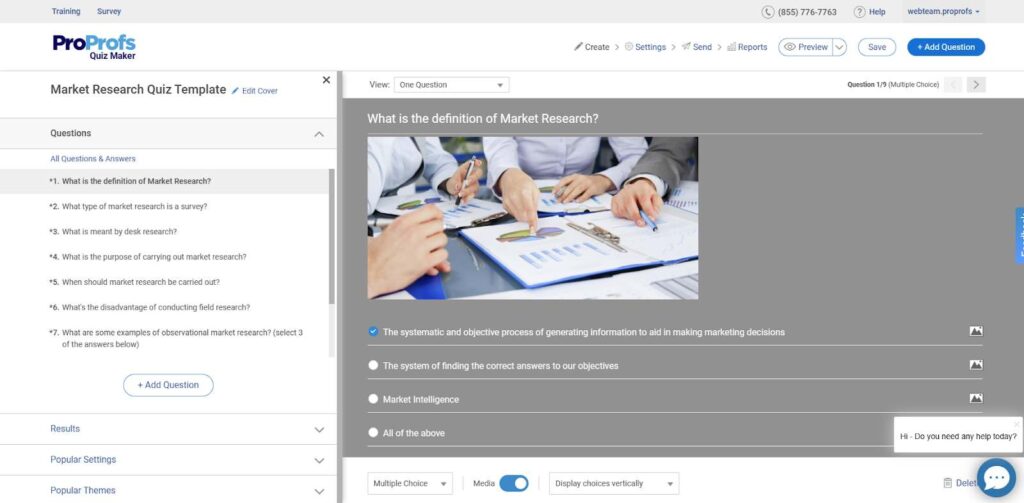 Add these quizzes at the end of each course chapter as a final assessment to test retention. You can make learning more exciting by embedding quizzes right into your courses like this.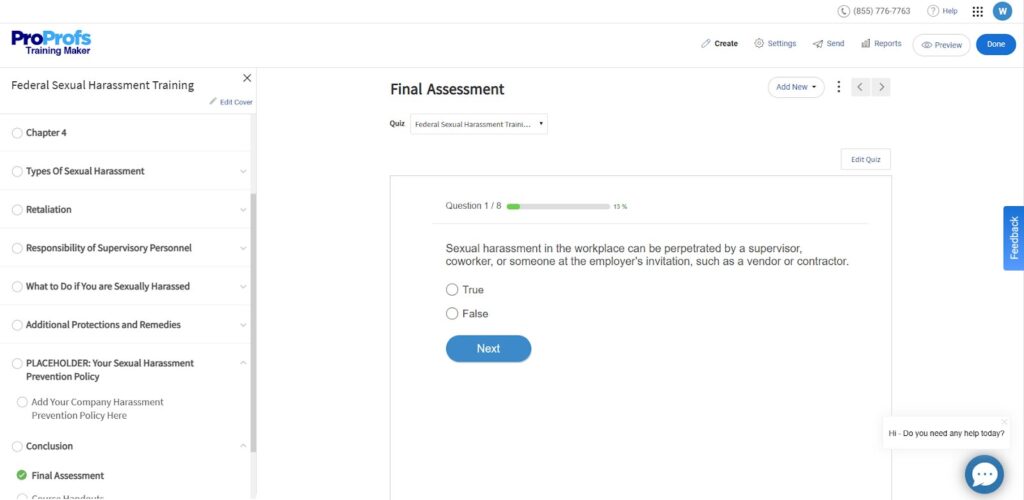 Leverage the social media sharing feature in an LMS platform so learners find your quizzes more easily.
Watch: How to Create an Online Quiz in Under 5 Mins
5. Reporting & Analytics to Track Progress in Real-Time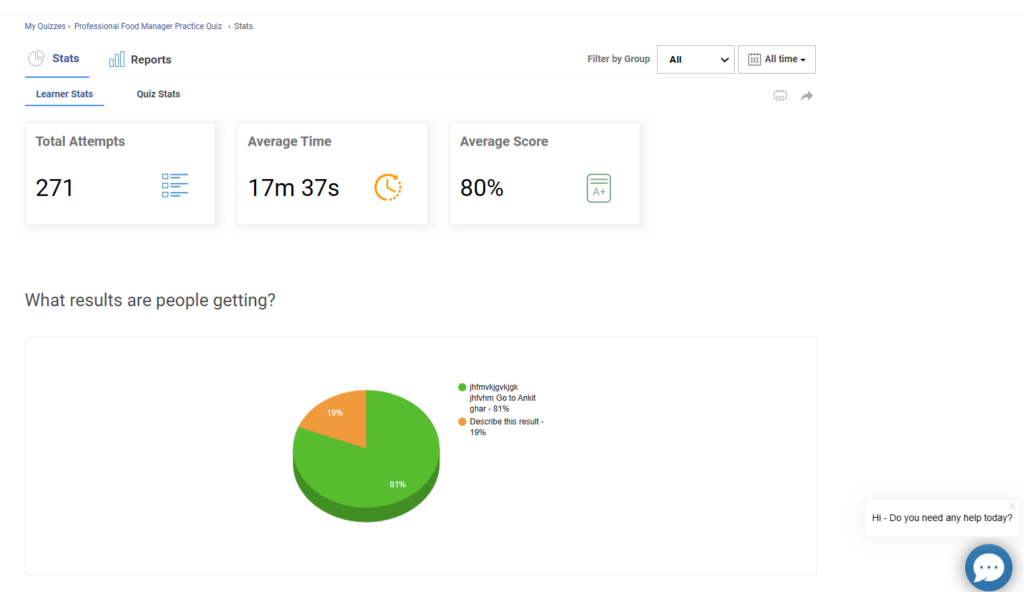 An AI-based LMS auto-generates insightful reports and statistics for a quick data visualization of your learners' progress, performance, milestones, and challenges.
This LMS reporting feature lets you access actionable learning data as and when you want them. View consolidated reports of individuals and groups. These reports present a bird's eye view of your learners' scores in the form of a grade book.
Similarly, you can filter reports by time, such as today, yesterday, and the last seven days. View just what you need without having to scroll up or down a report.
Watch: How to Analyze Training Course & Quiz Results
6. Mobile Learning to Facilitate Learning on the Go
One of the best features of a Learning Management System is that it enables users to access training materials and assessments on portable devices, such as smartphones and tablets. Plus, it encourages them to complete their courses on time and helps in better retention.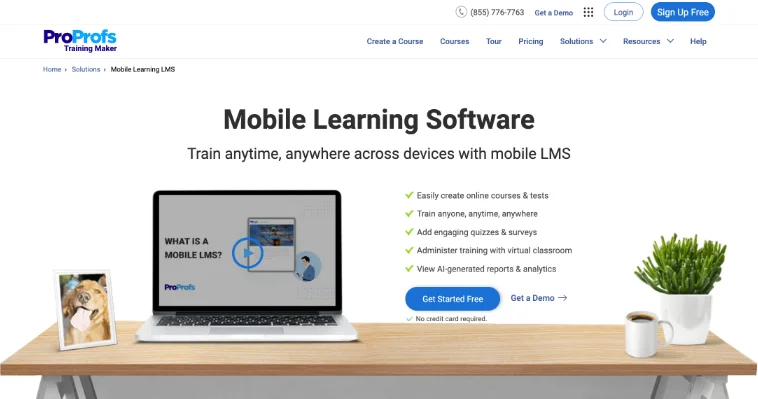 This powerful technology is immensely helpful as it aids in self-paced microlearning on personal devices without being desk-bound. This is valuable for workers in the construction and manufacturing industries. Remove common scheduling issues, and let learners learn at their own convenient pace as long as they meet the deadlines.
Watch: What Is a Mobile LMS & How Can It Help Train Anytime, Anywhere?
7. Multi-Lingual Support to Train a Worldwide Audience
Language is one of the major factors for learners to enroll in a course. Make sure the learning management system you choose supports multiple languages.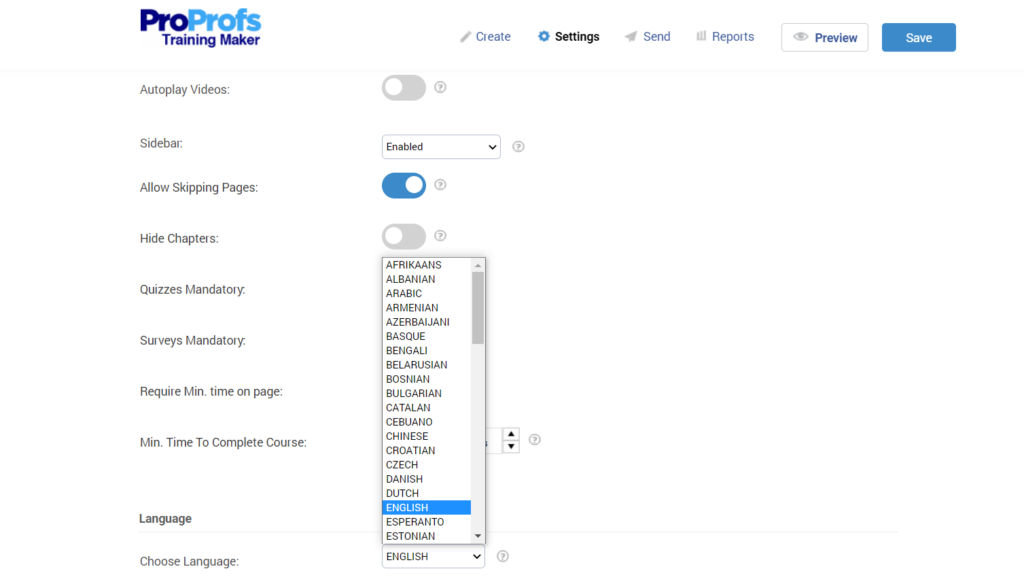 Remove language barriers and train learners in the language they prefer. Make your system available in numerous linguistic regions. This will enable you to teach or train a global audience easily.
8. Personalized Learning Paths to Increase Learner Efficiency
With an LMS, you can create personalized learning paths to provide an end-to-end understanding of your courses. Bundle your existing courses into specific topics and arrange them in a logical sequence for a smooth learning experience.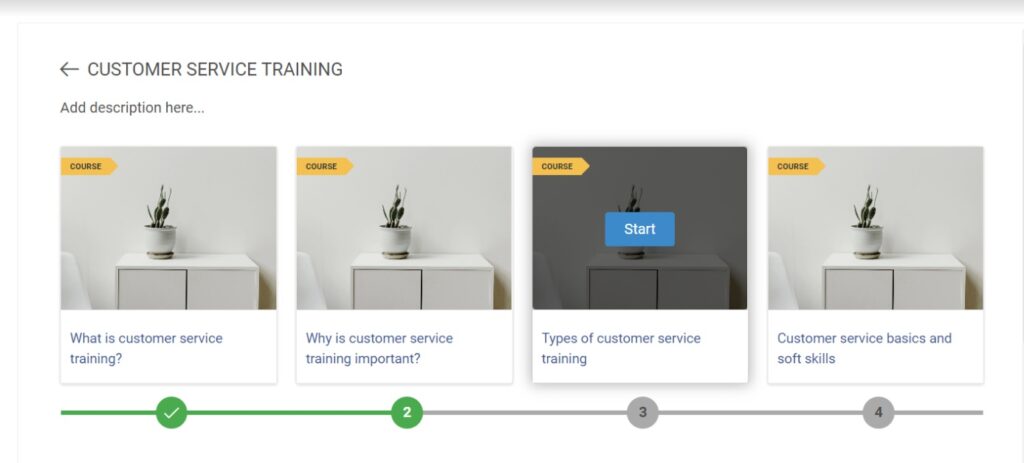 Enable your learners to take courses in the order of complexity and help them excel in a particular subject. Let them collaborate with their learners and instructors at every learning point to solve doubts.
9. Collaboration Tools for Group Discussions & Knowledge Sharing
This social learning feature is common in most LMS software. It promotes collaborative learning, which is an essential element in modern learning.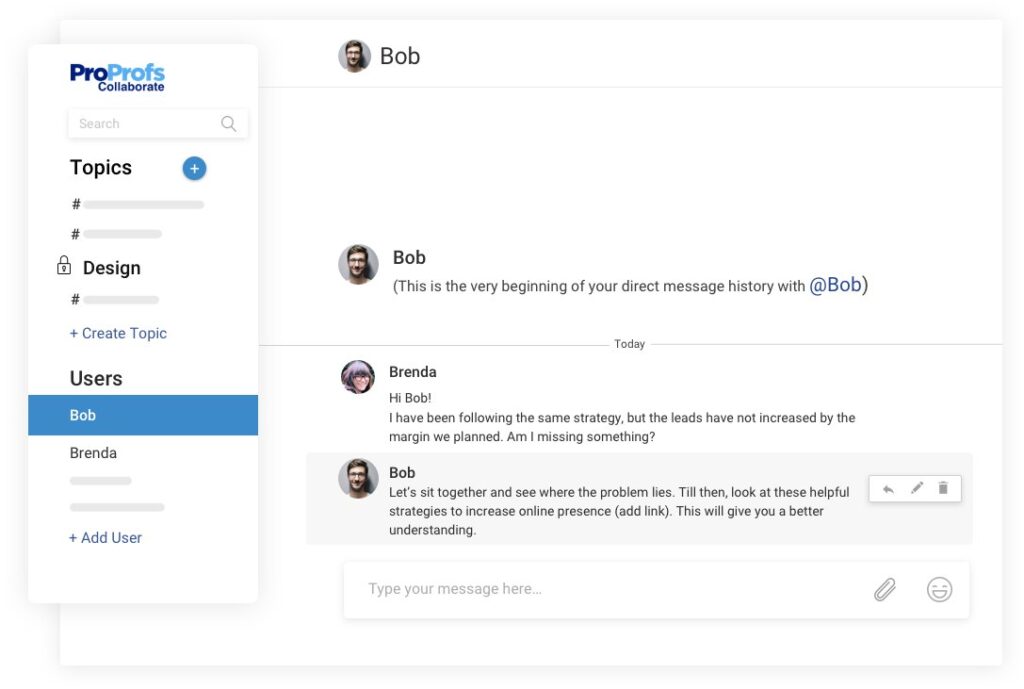 Build an online community of learners and facilitate real-time discussions and collective problem-solving. Promote higher-level thinking skills in learners through peer-to-peer learning, and boost their confidence.
Watch: How to Enable Collaboration & Discussions in Your Course
10. Reminders & Announcements to Ensure Ongoing Compliance
Reminders and announcements are other key features in an LMS for training. They enable learners to abide by course completion or certificate expiration dates.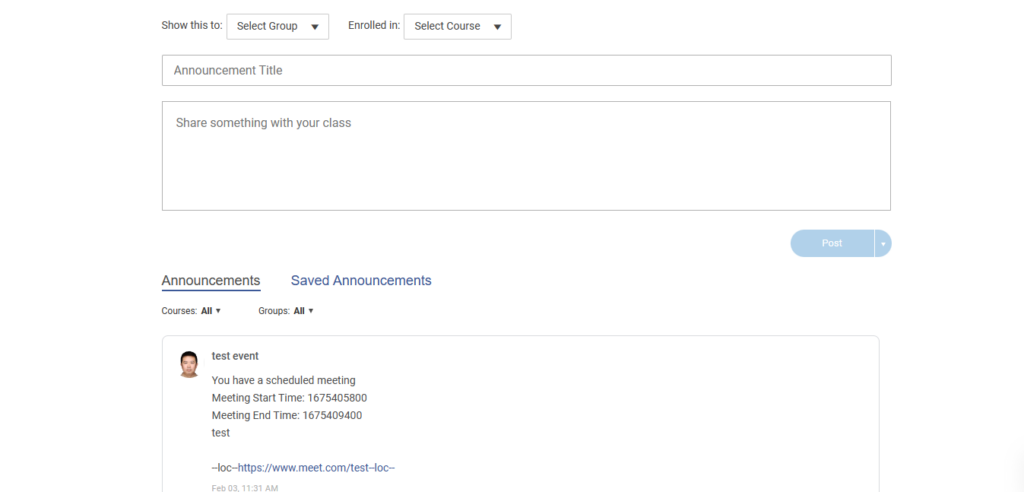 Instructors can use this feature to set a complete-by date for courses or quizzes. Similarly, they can set certificate expiration dates.
Doing so can easily ensure ongoing compliance and achieve a higher course completion rate.
Watch: How to Set up Reminders and Ensure Course Compliance
11. Integrations to Leverage Software Interoperability
What if you could get the benefits of two tools perfectly merged into a single platform?
A learning management system makes that possible. No more switching constantly between platforms.
Powerful integrations with popular tools such as CRMs and CMSs bring the advantages of software interoperability to LMS users and make these learning tools more powerful than they already are.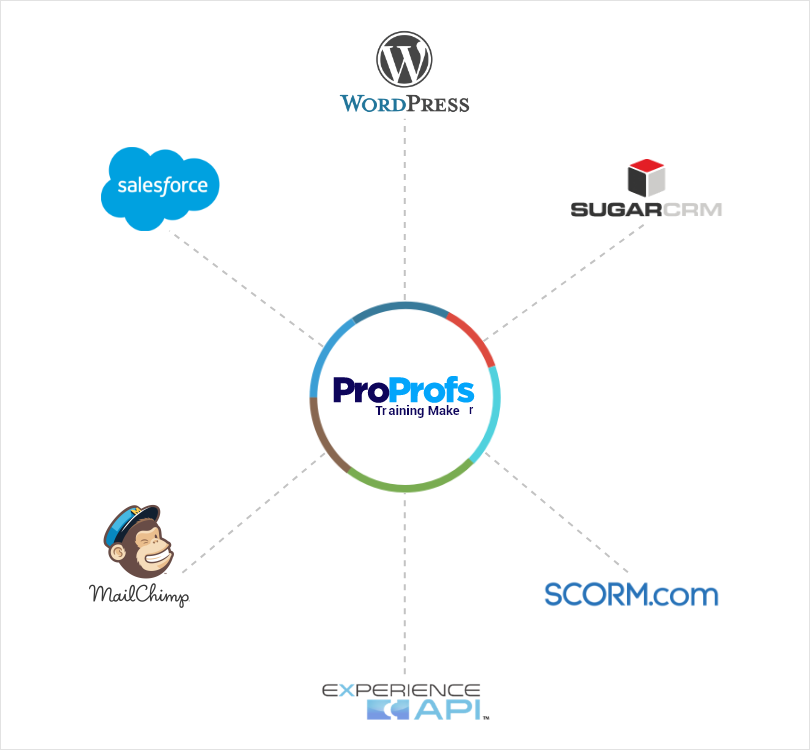 For example, integration between an LMS and SugarCRM allows you to train your customers and channel partners while engaging in marketing automation at the same time.
12. Security & Permissions for Access Control
Some of the top cloud-based LMS training systems available today are easily configurable in terms of security settings. You can set up secure access control and assign user roles and permissions.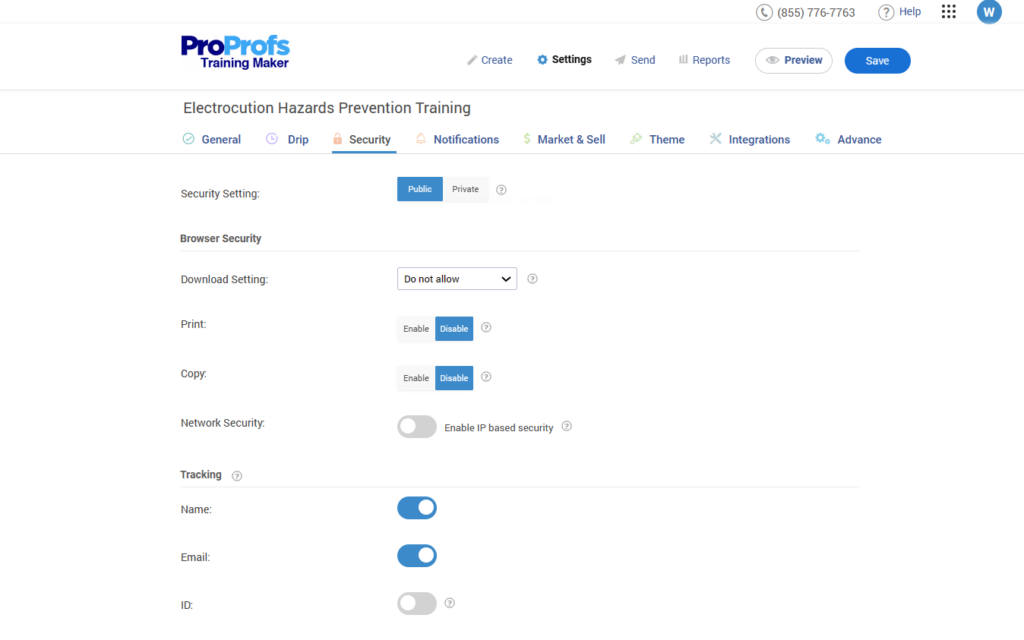 You can also control user login by using Single Sign-On (SSO) and REST API. You can keep your courses public or private through password protection.
A GDPR-compliant cloud LMS ensures personal data privacy and helps build customer trust.
Watch: How to Configure Your Online Course Settings
That was all about the best features of a Learning Management System.
At this point, you must be wondering how to choose the best LMS. Which features will be the most suitable for your business?
Well, we have the answer for you.
Keep the following LMS features checklist in mind while purchasing one of these platforms.
Ease of use
Easy course creation
Virtual classroom
Customization options
Upload videos/PPT/PDF/SCORM/Tin Can
White labeling
Multiple instructors
Mobile-friendliness
Multiple languages
Quizzes
Surveys
Reporting
Certificates
Also, do not forget to check the quality of customer support of the LMS provider. This will decide your experience, and you can stay assured that the support team has your back in case of any assistance after the purchase. You can also watch this video to learn how to pick the right LMS.
Watch: How to Choose the Best LMS Software for Employee Training
Frequently Asked Questions
What is the main purpose of an LMS?
The main purpose of an LMS is to host and track e-learning programs. An LMS provides a platform where instructors can create, manage, deliver, and track learning progress. On the other hand, learners get access to online training courses and tests, which they can take from any device and according to their chosen pace and schedule.
What are the benefits of a learning management system?
Learning management systems offer a range of benefits. It lets you organize all your learning activities in one place, provides access to learning materials, and helps you track learner performance. An LMS also reduces learning and development time and cost and keeps your organization updated with the latest compliance regulations.
Ready to Deploy an LMS for Online Training?
Learning Management Systems have become the backbone of modern workforces. They are a one-stop solution for creating, managing, delivering, and tracking courses and assessments . Make sure you check the features of a learning management system and consider your training needs and budget before taking the plunge.
This will ensure that you make the right purchase for your business. Ideally, the best LMS software will have features like e-learning authoring tools, professional courses and templates, social learning tools, quizzes, surveys, and reports. If you're still confused, check this blog on the 15 best learning management system software of 2023.
Remember, the LMS you choose should provide the features you truly need to meet your training goals. In other words, it should be feature-rich, not feature-bloat.
Do you want a free Training Software?
We have the #1 Online Training Software for employee training & assessment