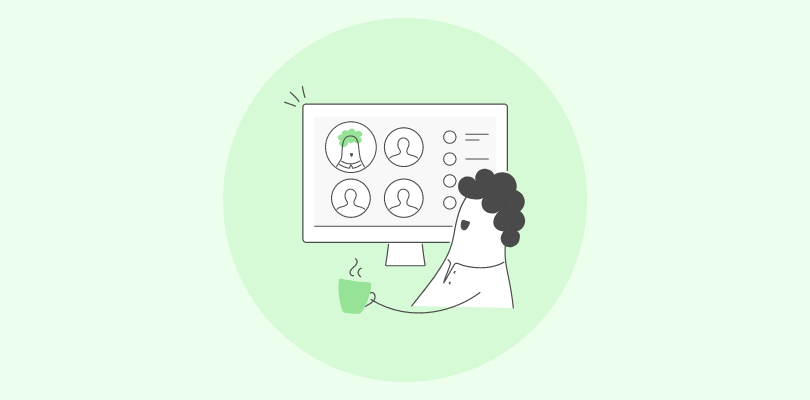 With the inception of e-learning and the rise of specialized online learning platforms, it has become easier for instructors to create courses. Most importantly, it has allowed learners to access learning materials anytime, anywhere.
The best online learning platforms have all the tools and services essential for delivering quality online training.
But the question is, how can you find the right platform for your business?
We have the answer for you.
Read this article to find the top online learning platforms we've handpicked for you.
Best Online Learning Platforms: A Comparison Table
20 Best E-Learning Platforms
Why Is It Best?
Pricing
ProProfs Training Maker
Course Library

Quizzes and Surveys

White Labeling

Roles and Permissions

Real-Time Tracking

Consolidated Reports

Great Customer Support

Forever free for up to 10 learners.Paid plan starts at $1.97/active learner/month for large teams. Billed annually.
Udemy
Course Creation

Instructor Capabilities

Certifications

Mobile-Friendly

Testing and Assessments

Get in touch with the company for a quote.
Teachable
Course Builder

Course Website

Student Discussions

Live Classes

Reporting and Analytics

Starts from $0/month (Limited to 1 published product of each type)
WizIQ
Virtual Classroom

Self-Paced Courses

Online Exam Builder

Track Learner Progress

Mobile Learning

Starts from $25/month (billed annually)
Coursera
Certified Courses

Auditing Features

Automated Coaching

Smart Reviews

Financial Aid

Starts from $399/user/billed annually
LearnWorlds
Course Creation

In-Platform Assignment Feature

Quizzes And Assessments

Gamification

Track Progress

Starts from $39/month (billed annually)
edX
High Course Quality

Official Certificates

Blended Learning

Flexible Learning

Track Progress

Starts from $50 per course
Thinkific
Course Creation Tools

Assessments and Certificates

Collaborative Learning

Mobile-Friendly

Student Progress Tracking

Starts from $0/month (limited to one course)
Skillshare
Unlimited Access to Courses

Community-Based Learning

High-Quality Courses

Live Courses

Accessibility on Multiple Devices

Get in touch with the company for a quote
Kajabi
Course Creation

Assessments

Quiz Creation

Supports Multiple Languages

Easy Course Delivery

Starts from $149/month
LinkedIn Learning
Learning Paths

Exercise Files and Assessments

Certificate of Completion

Relevant Recommendations

Share Courses

Starts from Rs 762.71/month
Podia
Online Courses

Webinars

Community

Digital Downloads

Customizable Branding

Live Previews

Starts from $0/month (8% transaction fees applicable)
Docebo
AI-Based Learning Content

Measure Learning Impact

Learning Data and KPIs

Personalized Learning Experiences

Advanced LMS Reports

Get in touch with the company for a quote
LearnUpon
Course Creation

Reporting

Webinars

Gamification

Powerful Integrations

Get in touch with the company for a quote
Litmos
Content Creation

Tracking and Reporting

Social Learning

Customized Learning Paths

Supports Blended Learning

Get in touch with the company for a quote
iSpring Learn
Easy Course Creation

In-Depth Training

Automated Training

Employee Engagement

Video Lessons and Screencasts

Get in touch with the company for a quote
Blackboard Learn
High-Quality Courses

Mobile Learning

Tests and Assignments

Multilingual Support

Grading and Reporting

Get in touch with the company for a quote
Moodle
Bulk Course Creation

Manage User Roles and Permissions

Learning Paths

Collaboration

Supports Mobile Learning

Get in touch with the company for a quote
TalentLMS
Course Creation

User Management and Authentication

Branding and Customization

Reporting and Tracking System

Gamified Learning

Starts at $69/month, billed yearly
Canvas
Built-In Courses

Assignments

Discussions

Quizzes

Grading and Reporting

Get in touch with the company for a quote
What Are Online Learning Platforms?
Online learning platforms, or e-learning platforms, are digital platforms used for imparting online education or training creatively and consistently.
These platforms allow learners to learn anytime, anywhere, and instructors can track their performance through assessments and quizzes.
They act as a web-based method of delivering online learning. E-learning courses can be coupled with images, videos, polls, quizzes, and surveys to make the experience interactive and engaging.
But why are these platforms in high demand?
The answer is simple.
E-learning is constantly evolving, and its growth is tremendous.
And the following statistics prove the same.
The above data clearly shows why online training platforms are in high demand.
There is nothing like taking control of your learning at your own pace.
Whether you're training students or employees, managing courses while receiving real-time feedback on learners' performance can be an additional arrow in your quiver.
And this is possible only when you pick the best online training platform, such as a learning management system (LMS).
Watch: How to Choose the Best LMS Software for Employee Training
List of Online Learning Platforms
Let's now take a closer look at the best online training platforms listed above to get a better idea.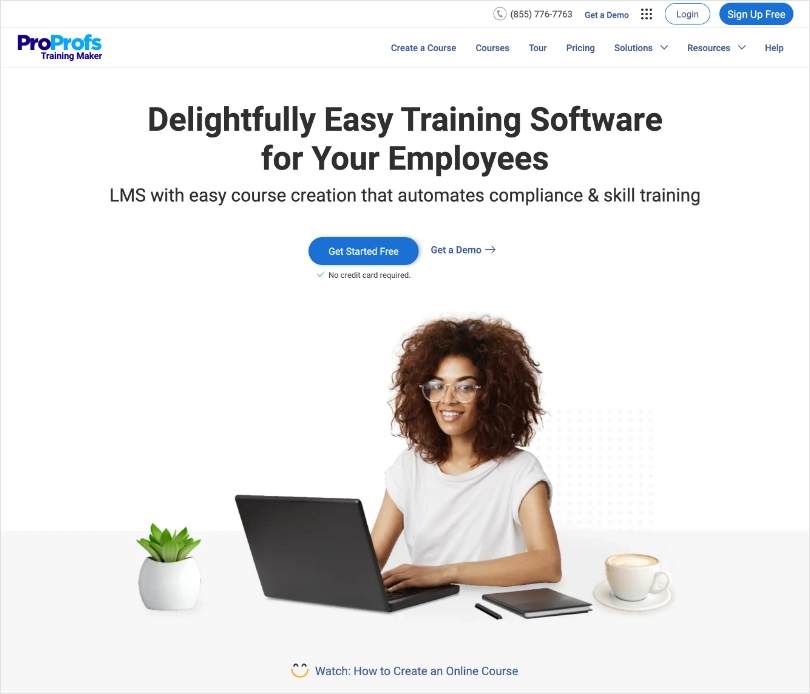 ProProfs Training Maker is the world's easiest and most versatile learning management system to create, share, track, and analyze online courses for businesses and educational institutions.
Besides creating courses and integrating quizzes and surveys, this online learning platform lets you track real-time progress and get insightful reports on course engagement levels and learners' involvement.
This LMS offers many powerful features to help streamline training processes. You can use existing training materials such as docs, images, videos, and presentations.
With ProProfs, you can create learner groups and sub-groups and assign different roles and permissions based on group, team, department, and location.
The software has excellent features like due-date reminders, gamification, Q&A community, learning paths, and a fast-growing library of customizable courses and templates designed by experts.
Why We Picked ProProfs?
Incredibly easy to use
Customizability
Complete solution for any industry
Delightful support
Pricing
Forever free plan (up to 10 learners). Paid plan starts at $1.97/learner/month (billed annually) for large teams. No hidden charges. 15-day money-back guarantee.

Udemy is one of the best online learning platforms for businesses and students, where users can take online courses on different subjects.
It's a massive open online course (MOOC) platform, allowing instructors to create courses using images, videos, PDFs, ZIP files, and live classes.
Creating a course on any platform requires time and effort. But Udemy has done an outstanding job of simplifying it for new instructors.
Apart from course creation, it also allows you to market them to your students. And this has been made possible through email campaigns, retargeting ads, external partner promotions, and search & delivery.
This software has partnered with popular niche content sites to help instructors in course promotions. Its course quality checklist ensures the courses are professional, marketable, and worthy of delivering a great learning experience.
Why We Picked Udemy?
Great training tool
Self-paced learning
High-quality courses
Upskills workforce
Pricing
Get in touch with a company for a quote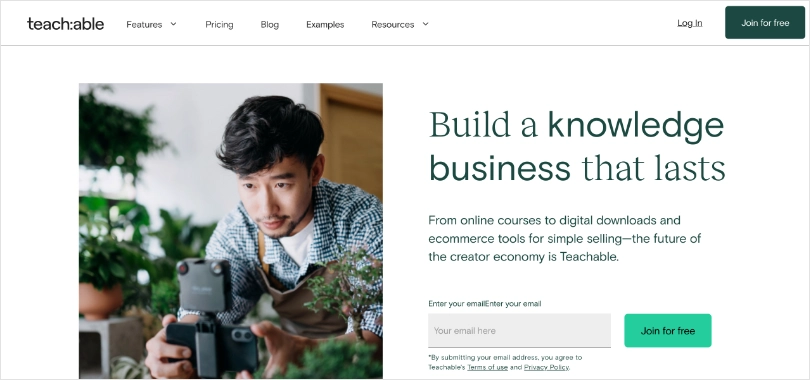 Teachable is a learning management system where instructors can build subscription-based courses for learners. This online software doesn't require you to know CSS or HTML.
The online learning platform suits those requiring a high-quality mid-tier solution. It's a great pick for small businesses and beginners creating courses for the first time. Thanks to its user-friendliness and affordability.
Overall, it's intuitive, and you don't need to go through too many complicated settings and options.
Apart from course creation, you can include quizzes, custom brand your course, and use live classes, drip feeding, and certificates for course delivery.
Why We Picked Teachable?
User-friendly interface
Best for beginners
Supports live classes
Allows collaboration and discussions
Pricing
Starts from $0/month (Limited to 1 published product of each type)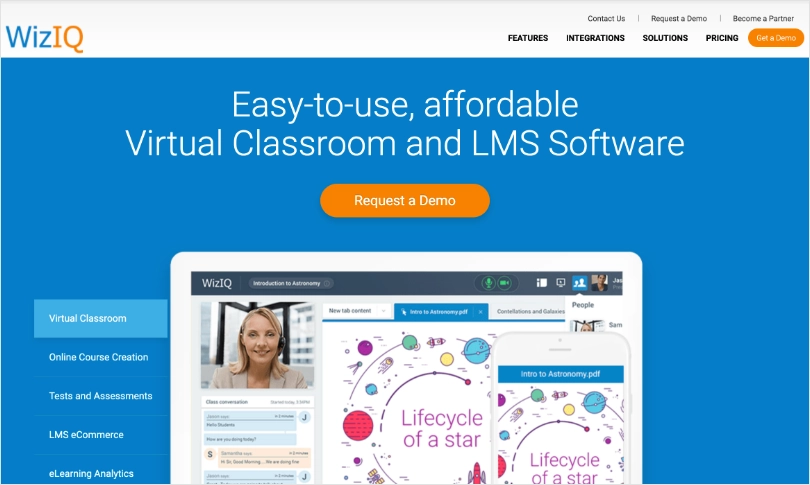 WizIQ is a web-based LMS for high school students and businesses. It offers a comprehensive solution to instructors and organizations to deliver online courses efficiently. You can now replicate your physical classroom experience with this feature-rich platform.
The software allows instructors to develop branded teaching programs that can be delivered in real-time or recorded lectures. Also, WizIQ supports live classes, HD video streaming, and multiple instructor accounts.
As one of the top online learning platforms for students, it provides testing functionality and reporting tools that help track students' engagement, progress, and performance of the training course.
Why We Picked WizIQ?
Self-paced courses
Intuitive interface
Easy integration with other LMSs
Supports mobile learning
Pricing
Starts from $25/month (billed annually)

Coursera is one of the best online course platforms where expert instructors can create courses on any topic they wish to teach. This platform is available to a global base of learners. And students can have access to unique courses, which they might not get under traditional learning schemes.
No matter wherever you are in your teaching journey, Coursera has all the resources and tools you need to accomplish your goals.
With Coursera, you can create resilient learning models. Along with the University of Michigan and Duke University, Coursera has developed the best practices and guidelines to deliver an excellent learning experience and measurable learning outcomes.
Why We Picked Coursera?
Certified courses
Audit classes
Financial aid
Flexible timetables
Pricing
Starts from $399/user. Billed annually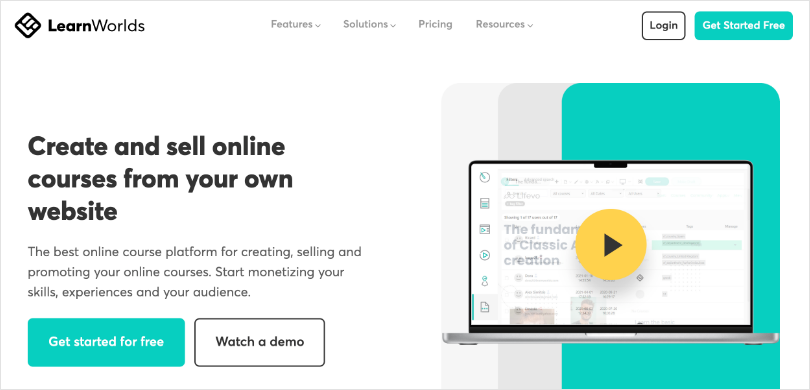 LearnWorlds is a robust online course creation platform that lets you create and sell your courses. The software solution is packed with advanced features like gamification, site builders, student feedback, etc.
This software solution offers a high level of customization. But it has a steeper learning curve than other course creation platforms.
With so many impressive features, this online learning software deserves a place among the top 20 solutions. Leverage their readymade course catalogs once you're ready to create your course.
These catalogs have interesting features like video players, downloadable attachments, and online tests.
Why We Picked LearnWorlds?
User-friendly interface
Pre-built templates
Mobile friendly
Supports gamification
Pricing
Starts from $39/month (billed annually)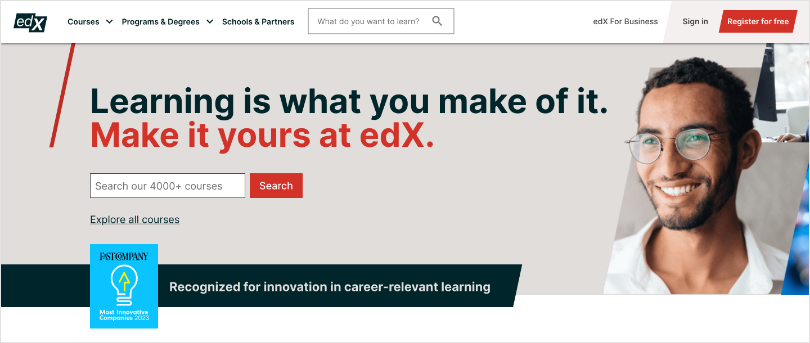 The concept of edX is quite similar to Coursera's in that they bring certified courses created by top universities to everyone. Learners can access over 2,500 courses on diverse subjects like History, Chemistry, Medicine, Biology, Physics, EVS, Music, Law, and more.
edX provides an online discussion forum to collaborate, share ideas, and get answers to your questions. And the best part is that it provides an e-book to gather more knowledge from tutorial videos.
edX's ability to train and upskill aspiring entrepreneurs and business owners with top-notch learning quality makes it one of the best online learning platforms.
Why We Picked edX?
Verified certificates on course completion
Partnership with prestigious organizations and universities
Free course auditing option
Self-paced learning
Pricing
Starts from $50 per course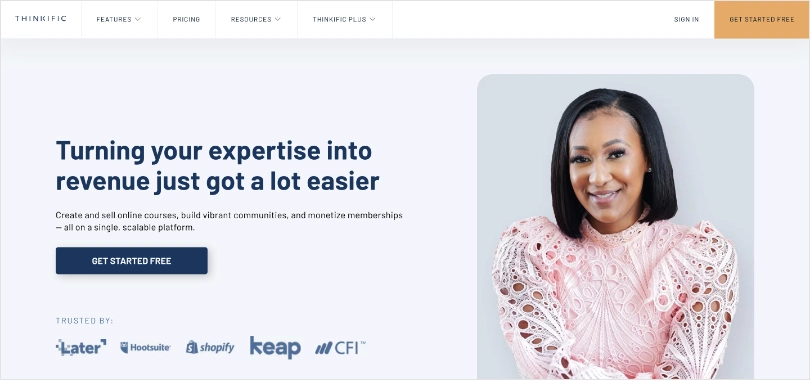 Thinkific is online e-learning software for entrepreneurs to create and market courses. It has all the tools necessary to build an e-learning curriculum and improve learners' experience.
The software was launched in 2012, aiming to reach more learners. It is ideal for e-learning experts who want to offer educational programs as a part of their existing business or those who want to share their knowledge with others.
The opportunities Thinkific provides are endless, and it lets you stand out from the crowd – thanks to the learning tools and useful customization features.
It provides an intuitive toolkit for instructors and learners to navigate with ease. You get access to a help center regularly updated with guidelines, tips, and ideas from other course creators.
Why We Picked Thinkific?
Supports collaborative learning
Simple and easy interface
Enables delivery of high-quality courses
Mobile friendly
Pricing
Starts from $0/month (limited to one course)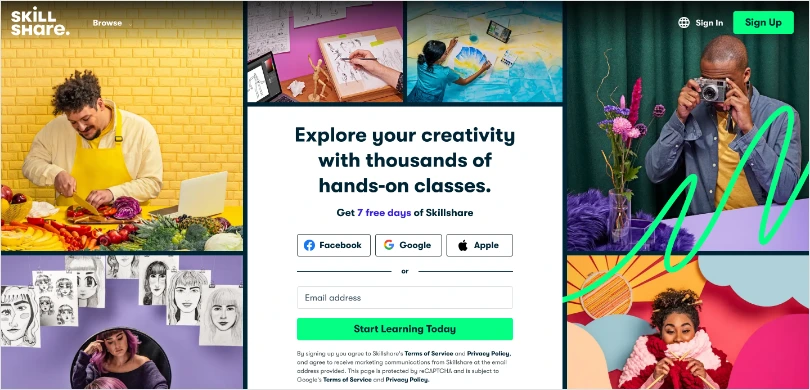 Skillshare is a new online learning community where students can learn in self-paced settings. This platform is focused more on maintaining a collaborative environment rather than lecturing – and it's a unique feature of Skillshare that sets it apart from other online platforms.
This learning platform is for everyone wanting to teach or take a class. However, it is ideal for people interested in learning leadership, photography, analytics, and creative writing.
The seamless instructional features, user-friendly interface, and excellent customer support make it one of the most reliable e-learning platforms for instructors and learners.
Why We Picked Skillshare?
Easy to use
Free classes
Community-based learning
Accessibility on multiple devices
Pricing
Get in touch with the company for a quote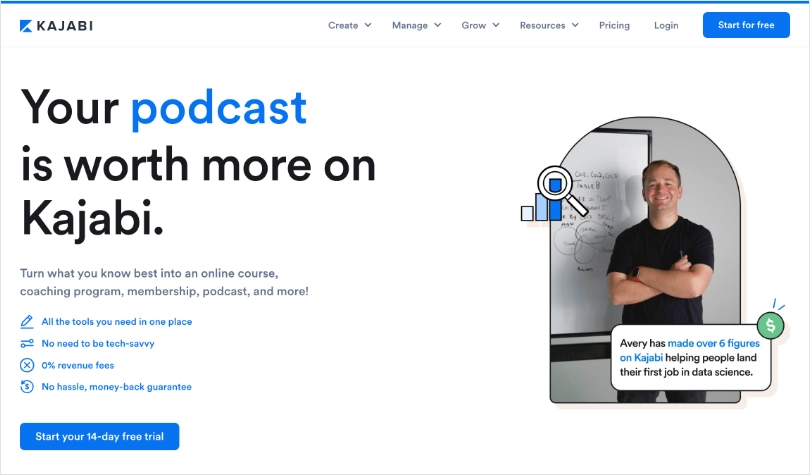 Kajabi, one of the top online learning platforms, provides an advanced course builder to build, market, and sell courses under one roof. This course creation solution offers exciting features like course automation and email campaigns.
This platform has a steep learning curve, but it is highly customizable. Kajabi suits experienced course creators requiring high-end design capabilities and marketing tools.
The entire idea behind this platform is to offer a range of tools to run your business efficiently. It empowers you to create content like coaching programs, online courses, podcasts, and more. Kajabi provides a simplified system to market your products.
Why We Picked Kajabi?
Diverse themes to suit different course needs
Built-in marketing pipeline schematics
Provides multilingual support
Free trials available
Pricing
Starts from $149/month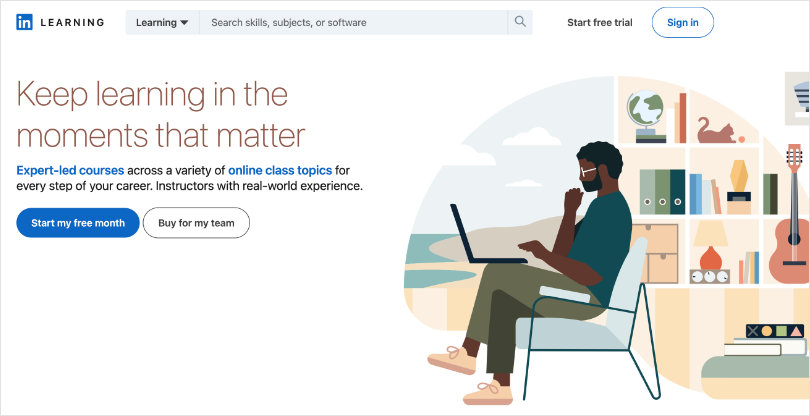 LinkedIn Learning is a reputed online learning platform that offers a wide range of high-quality courses to enhance professional skills.
With a vast library of over 21,300 expert-led courses covering various fields such as business, technology, and creative disciplines, it enables learners to acquire new knowledge and stay ahead in their careers.
The platform provides interactive and engaging video-based content taught by industry experts. Users can access courses at their own pace, receive certificates of completion, and conveniently integrate their learning progress with their LinkedIn profiles, enhancing their professional credibility and networking opportunities.
Why We Picked LinkedIn Learning?
Intuitive interface
Course library
High-quality training
Supports microlearning
Pricing
Starts from Rs 762.71/month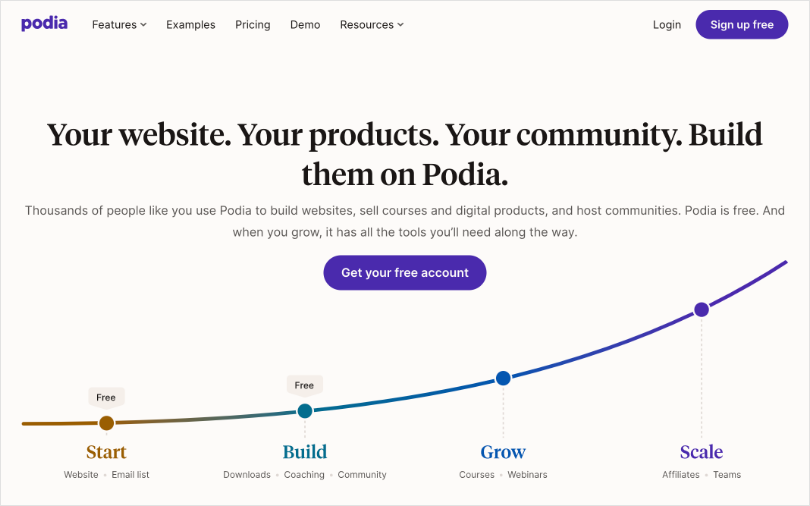 Podia is an all-in-one online learning platform that provides a comprehensive solution for creators, entrepreneurs, and businesses to create and sell online courses, memberships, and digital products.
With Podia, users can quickly build their own branded website, design and organize course content, set pricing options, engage with students through discussions, and track progress and analytics.
The platform offers a user-friendly interface, customizable templates, integrated email marketing, affiliate marketing capabilities, and 24/7 customer support.
Podia simplifies the process of launching and managing online learning products, empowering creators to monetize their expertise and connect with their audience effectively.
Why We Picked Podia?
Ease of use
Excellent course builder
Best for webinars and coaching sessions
Self-paced learning
Pricing
Starts from $0/month (8% transaction fees applicable)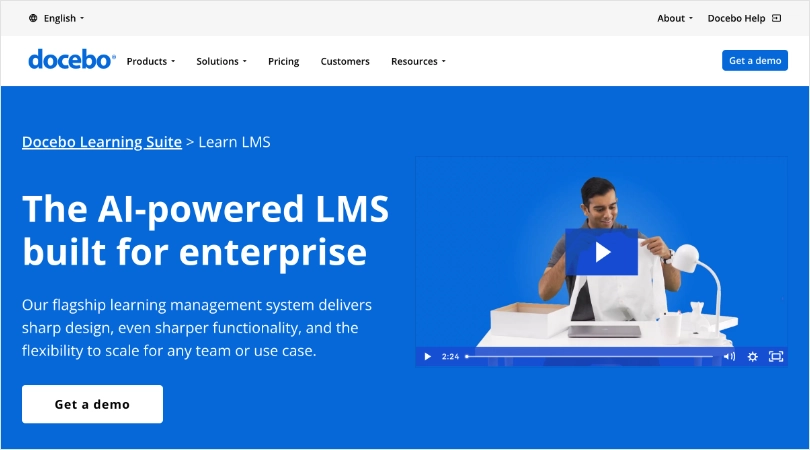 Docebo is an award-winning tool that facilitates efficient and engaging training programs. With its user-friendly interface and extensive features, Docebo enables organizations to create, manage, and deliver effective e-learning content.
It supports various learning formats, including webinars and social learning. Docebo incorporates advanced analytics to track learner progress, identify knowledge gaps, and provide personalized learning paths.
The integration feature enhances accessibility and collaboration. This platform empowers businesses and educational institutions to deliver high-quality online training experiences through its scalable learning management capabilities.
Why We Picked Docebo?
Easy to customize
Has PPT import feature
Clean UI
Curated learning paths
Pricing
Get in touch with the company for a quote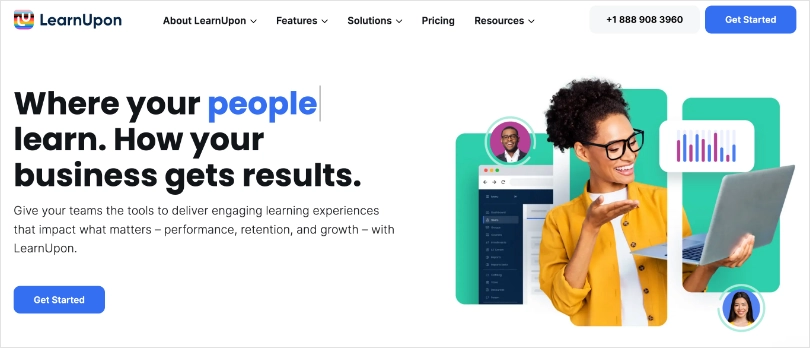 LearnUpon is a cloud-based learning management system that enables organizations to deliver and manage online training programs. With LearnUpon, companies can create and distribute courses, track learner progress, and assess performance through quizzes and assessments.
The platform supports various multimedia formats, including videos, presentations, and documents, allowing for interactive and engaging learning experiences.
As one of the best online learning platforms, it offers features like certification management, reporting and analytics, and integrations with popular tools and platforms. It caters to various industries and organizations, providing a user-friendly and scalable solution for effective online training and development.
Why We Picked LearnUpon?
Ability to create customized learning spaces for multiple audiences
Intuitive platform
Deliver high-impact training
Pricing
Get in touch with the company for a quote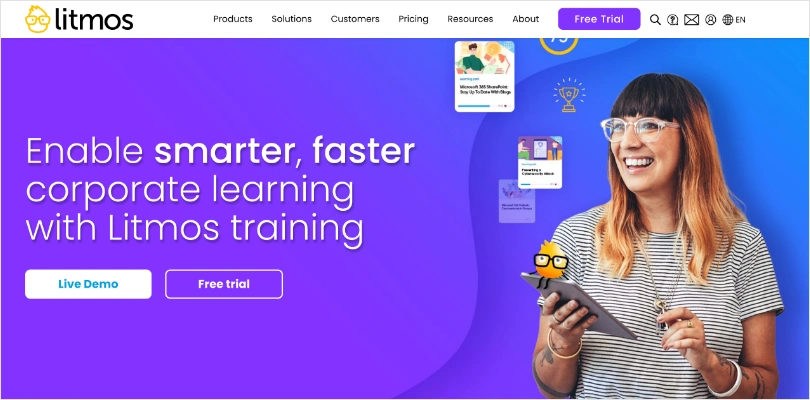 Litmos is a versatile learning solution offering a comprehensive corporate training and employee development platform. With its user-friendly interface and robust features, Litmos enables organizations to deliver engaging online courses, track learner progress, and assess performance.
The best part about this LMS is that it supports mobile learning, blended learning, and gamification, making it adaptable to diverse training needs.
Litmos is known for its strong focus on customer satisfaction, providing excellent support and customization options. It has gained recognition for its innovative approach to training, helping businesses worldwide enhance their workforce skills and drive organizational growth.
Why We Picked Litmos?
High flexibility
Great customization options
Real-time progress tracking
24/7 accessibility of courses
Pricing
Get in touch with the company for a quote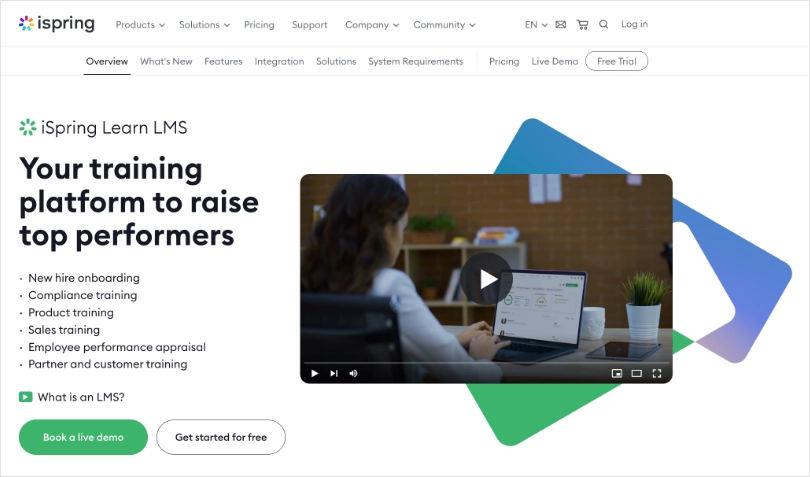 iSpring Learn is a versatile learning platform that helps organizations streamline their training processes. It offers a user-friendly interface, making it easy for administrators and learners to navigate. This tool is suitable for new hire onboarding, product training, and compliance training, to name a few.
This tool allows organizations to create and deliver interactive courses, track learners' progress, and assess their performance. The LMS supports various types of content, including presentations, quizzes, and videos, to make it engaging for learners.
With its robust features and flexible customization options, iSpring Learn empowers organizations to deliver effective and engaging online training, improving learning outcomes and boosting productivity.
Why We Picked iSpring Learn?
Time-saving automation
Enables data-driven decision making
Smart training management
Social learning
Pricing
Get in touch with the company for a quote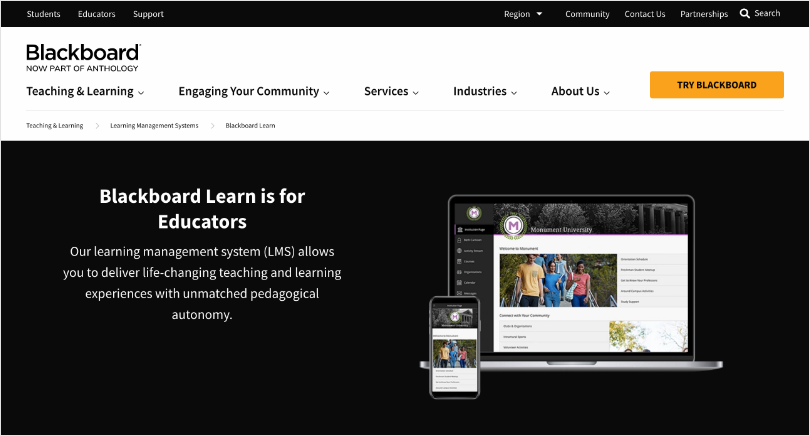 Blackboard Learn is a widely-used online learning platform designed to facilitate education and training in a virtual environment. With its robust capabilities, Blackboard Learn has become a trusted platform for universities, colleges, K-12, and corporate training programs, enhancing the learning experience and enabling flexible and accessible education.
It offers a comprehensive set of tools and features that enable institutions and educators to create, deliver, and manage courses effectively. Blackboard Learn supports various instructional formats, including multimedia content, assessments, and assignments.
It provides a collaborative learning experience through discussion boards, group projects, and virtual classrooms. The platform provides tools for tracking student progress, grading, and feedback.
Why We Picked Blackboard Learn?
Mobile-friendly learning experience
Powerful integrations
Eliminates downtime
Comes with anti-plagiarism tools
Pricing
Get in touch with the company for a quote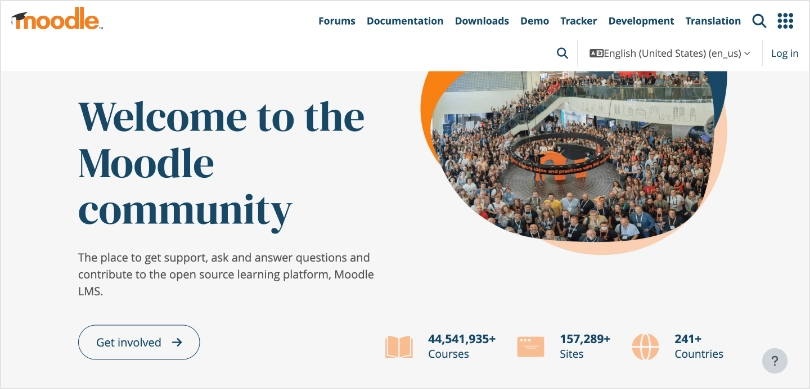 Moodle is one of the best online learning platforms that facilitate educational activities and course management. This open-source learning platform offers a comprehensive range of features for teachers, students, and administrators, enabling a seamless virtual learning experience.
Moodle provides tools for creating and organizing courses, sharing learning resources, conducting assessments, and facilitating student engagement through forums and messaging. It supports a variety of multimedia formats and allows for personalized learning paths.
This platform is highly customizable, adaptable to educational settings, and integrates with various third-party applications.
Why We Picked Moodle?
User-friendly interface
Highly flexible and fully customizable
Makes learning interactive
Supports gamified learning
Pricing
Get in touch with the company for a quote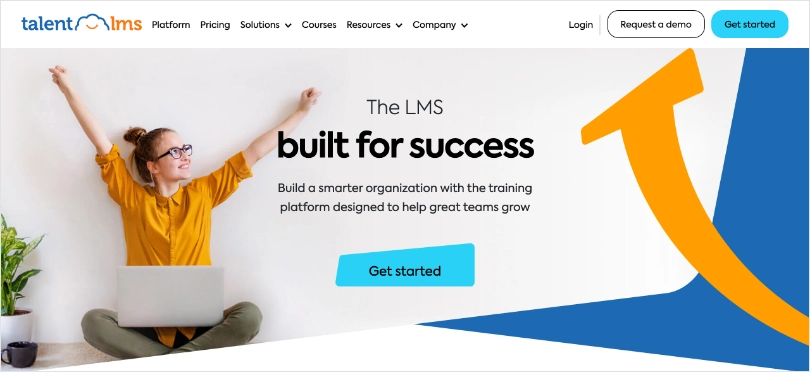 TalentLMS redefines online learning with its dynamic and intuitive platform. Designed for businesses and organizations, TalentLMS offers rich features to create engaging and impactful training programs.
From course creation and management to tracking progress and performance, TalentLMS streamlines the learning journey. Its sleek interface and customizable branding options provide a seamless user experience.
With interactive multimedia support and social learning features, it promotes collaboration and knowledge sharing among learners. Whether for employee training or customer education, TalentLMS empowers organizations to unlock their full learning potential.
Why We Picked TalentLMS?
Supports SCORM, xAPI, and cmi5 files
Helps create custom roles and permissions
Automate tasks
Powerful integrations
Pricing
Starts at $69/month, billed yearly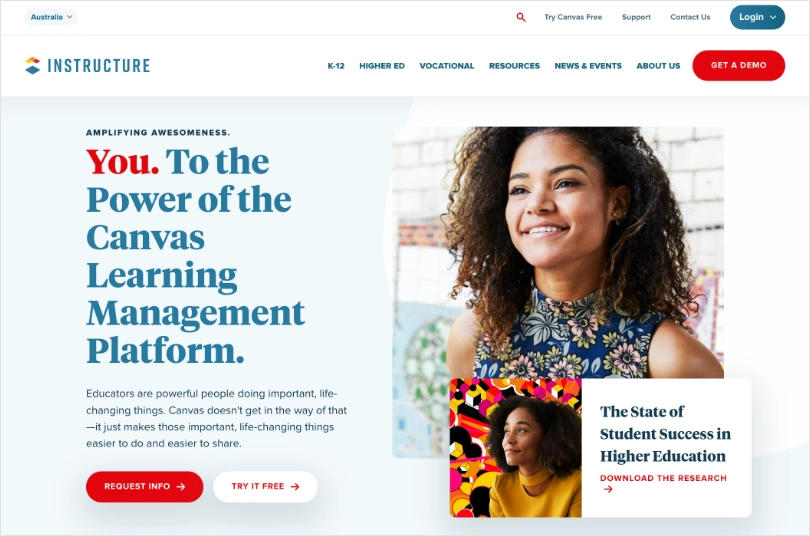 Canvas LMS by Instructure is one of the most robust and versatile online learning platforms for K-12 students and organizations. Apart from course creation, it offers powerful tools for collaboration and assessment, allowing instructors to engage students effectively.
Canvas supports a wide range of multimedia formats and provides seamless integration with various third-party applications. It enables personalized learning experiences, facilitates communication through discussion boards and messaging, and offers comprehensive analytics for tracking student progress.
With its flexibility and scalability, Canvas LMS empowers educators and institutions to deliver high-quality online education.
Why We Picked Canvas LMS?
Live video sessions
Mobile friendly
Supports gamification
Single Sign On (SSO) enabled learning
Pricing
Get in touch with the company for a quote
Frequently Asked Questions
What is the difference between online learning platforms and online course platforms?
Online learning platforms refer to comprehensive systems that facilitate learning experiences through various digital tools and resources. They can include a wide range of features, such as video lectures, interactive quizzes, discussion forums, and progress tracking.
On the other hand, online course platforms specifically focus on providing a platform for hosting and delivering structured courses. They typically offer tools for creating and organizing course content, managing enrollments, and tracking student progress. Online course platforms are more specialized and tailored for instructors and institutions to offer specific courses to learners.
How to choose the best online learning platforms
When choosing the best online learning platform, consider factors like course variety, accreditation, teaching methods, user reviews, pricing, and customer support. Look for platforms that offer high-quality content, interactive features, flexibility, and a user-friendly interface. It's important to assess your learning goals, compare features of multiple platforms, and read reviews to make an informed decision that suits your needs.
What are the key features to consider in online learning platforms?
When evaluating online learning platforms, key features to consider include course quality, flexibility in scheduling and pace, accreditation or certification options, user-friendly interface, robust customer support, compatibility with other devices, progress tracking, and reporting, and collaborative features for group learning. These features help ensure an effective and engaging learning experience that aligns with your goals and preferences.
Which is the best online learning platform?
There is no one "best" online learning platform as it depends on individual needs and preferences. However, some popular platforms include ProProfs, Coursera, Udemy, LinkedIn Learning, and edX. Explore their features, course offerings, and user reviews to determine which platform aligns best with your specific learning goals.
Why use an online training platform?
There are plenty of reasons why you must use an online learning platform. Such platforms provide flexibility in terms of scheduling and location, allowing learners to access courses anytime, anywhere. The best online learning platforms give you a comprehensive experience when you can also manage and track all the learning activities. Last but not least, online learning is much more cost-effective as compared to traditional learning methods. You can easily do away with time and location constraints with these platforms.
Are You Ready to Deploy the Best Online Learning Platforms?
Now that you've got ideas on the best online learning platforms on the market, the final decision rests on you.
After all, an appropriate tool would simplify your training process and enhance the task's efficiency. For instance, learning platforms such as an LMS have all the features you need to create, manage, deliver, and track your learning programs.
So take the time to analyze the factors you need to consider before choosing the right platform. Make sure it fits your budget and brings you close to your business goals.
Do you want a free Training Software?
We have the #1 Online Training Software for employee training & assessment