How to Know Which WordPress LMS Plugin is Right for Me?
The LMS for WordPress you choose should be easy to use and have a shallow learning curve. It should let you create, manage, and sell online courses hassle-free. The plugin should preferably support an eCommerce site and multiple payment gateways so that you can monetize your courses. Other features, such as customization, coupons, certification, and pricing options are worth considering.
The online courses you create are as good as the tool you use for the purpose. If you're planning to sell courses from a WordPress website, you should consider using an LMS plugin. It can help you streamline the online course creation process and easily build a Udemy-like platform.
But if you're like most first-timers, you must be wondering which WordPress online courses plugin is best for you. There are scores of them on the market offering numerous enticing features.
To make your search easier, we bring you a roundup of the 10 best WordPress LMS plugins for 2023 and beyond. Take a look:
10 Best WordPress LMSs
Best For
Course builder
Instructional design
Course reviews
Multi instructor
Lesson downloads
Prerequisites
Course authoring
Free & paid courses
Email marketing
Live chat integration
Certificates
Built-in payment gateways
Course creation
Selling courses
Course marketplace
Quizzes
Coupon code creator
Certificates
Course builder
Course points
Multiple payment gateways
Forums
Pricing options
Certification
Creating, managing, & selling courses
Different payment options
Content export
Add-ons
LMS themes
Scheduled content
Creating, sharing, & tracking online courses and tests
Quizzes & surveys
Discussion & collaboration
Online community
eCommerce
Payment gateways
Reports & analytics
Custom certificates
Course creation
Quizzes
WooCommerce integration
WordPress themes
Grading
Learner management
Online course builder
Marketing tools
Advanced security
Pricing options
Unlimited courses & students
Extensive customization
Course builder
Quiz creator
eLearning management
Money withdrawal options
Earning & commission allocation
Reports & analytics
Drag-and-drop course builder
Quizzes
Grade books
Shopping cart
Free courses
Integrations
With that groundwork, let's now dig deeper and examine each WordPress LMS – features, pricing, and why you should use them.
1.

ProProfs LMS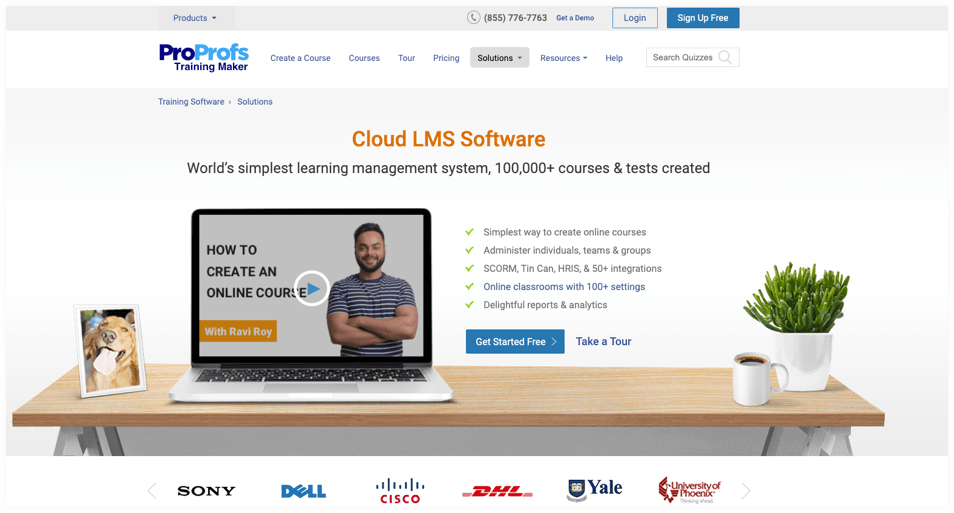 ProProfs LMS is a simple and fully integrated cloud-based learning management system. It offers complete solutions for course creators – from building courses to sharing or selling them with a worldwide audience.
You can easily add quizzes, surveys, videos, and flashcards to make learning engaging and ensure course compliance.
An intuitive user interface with a shallow learning curve enables users to get the system up and running in minutes. No specialized knowledge, no software download & installation required.
Features:
✓ eLearning Authoring Tool
Easily create delightful
online courses
using existing content, the ProProfs library, or completely from scratch.
✓ Course Library100+ premium courses and professionally designed templates that are customizable and ready-to-use.
✓ Virtual ClassroomCentralize how you add learners, share courses with them, make announcements, and more with a secure classroom.
✓ Quizzes & Surveys
Add a variety of quizzes and
surveys
to courses to make learning interactive. Assess knowledge retention and gather feedback.
✓ 100+ CustomizationsEasily configure your courses with security settings, access control, custom designs, and branding.
✓ Discussion & CollaborationPromote social learning among your learners through knowledge exchange, discussions, and collaborations in real-time.
✓ eCommerce Site
List and sell your courses on
ProProfs Store
. Reach out to millions of potential buyers around the world. Use secure payment gateways and get advanced sales reports.
✓ Reports & AnalyticsView insightful reports of learners, both individuals & groups. Track learning progress, participation rates, and engagement levels.
✓ CertificationIssue beautiful custom certificates at the successful completion of a course. Add your logo, messaging, and signature.
Free Trial:
Yes, for 15 Days.
Why Use ProProfs LMS?
Easy to Use: It's the world's easiest LMS plugin. Installing and using it with WordPress is easy. Even users with zero tech knowledge can use it.
Multi-Lingual Support: 70+ languages and localization make it easily adaptable to different regions of the world.
Powerful Integrations: Integrations with email marketing and other useful tools offer extended functionalities to the LMS.
Highly Secure: ProProfs is GDPR-compliant. You can password-protect your courses and assign role-based permissions to users.
2.

LearnDash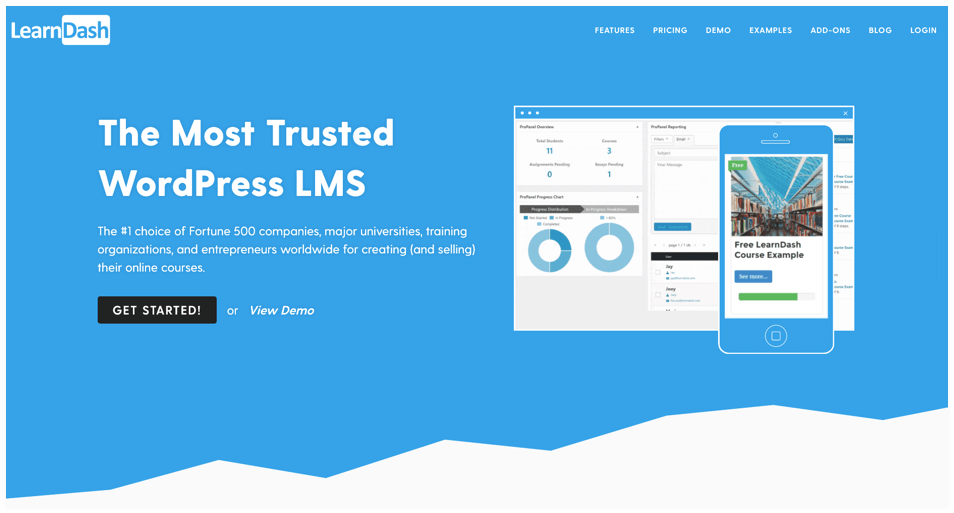 LearnDash is the most popular WordPress course plugin. It is the top choice for professional training, higher education, and WordPress projects.
The tool lets you create an impressive range of courses and sell them. Powerful administrative tools enable you to manage courses and learners efficiently.
This LMS plugin is based on the latest eLearning industry trends. It was designed while keeping sustainable learning experiences in mind.
Features:
✓ Course Builder
One of the industry's most powerful
course builders
that makes developing courses a snap. Create multi-layer courses through a simple drag-and-drop method.
✓ Course PointsLet your learners earn points on completing a course, which serves as a key to unlock further courses. Use this game element to engage them.
✓ Payment GatewaysSet the prices for your courses, choose a preferred payment method, and start taking orders. Charge a one-time fee or make it subscriptions-based.
✓ Certification
Award customized official
certificates
on completing a course or quiz. Put the recipient's name, date issued, and much more.
Pricing:
Starts at $159/year for 1 website.
Why Use LearnDash?
No Need for Tech Know-HowCourse creators, trainers, and educators can easily create online content with LearnDash. They don't need to depend on developers.
World-Class SupportYou can always rest assured that there will be a professional support team at your beck and call whenever you encounter troubles.
Extended FunctionalityA broad range of plugins and add-ons in the LMS makes it super-easy for users to extend a WordPress website's functionality.
Competitive PricingCompared to other WordPress LMS plugins on the market and considering the features it offers, LearnDash is inexpensive.
3.

LifterLMS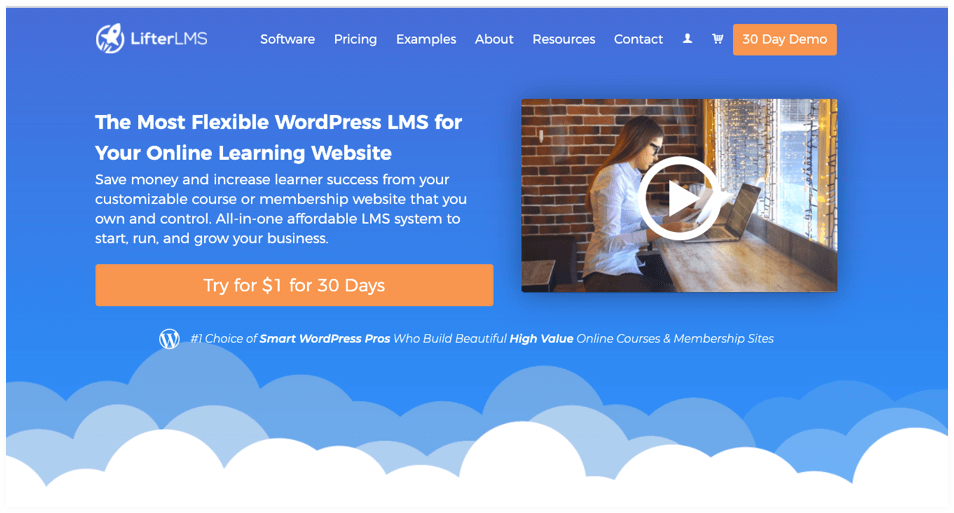 If you're looking for a versatile online course builder that you can plug into WordPress, look no further than LifterLMS. It is designed for both beginners and professionals. Like ProProfs LMS, it provides comprehensive solutions to create, manage, and launch online courses.
You can easily create online training programs and generate revenues from them. What's more, paid as well as free add-ons are available. LifterLMS integrates seamlessly with Astra, an elegant and SEO-friendly WordPress theme.
Features:
✓ Course Builder
Use the multi-tier course builder to
build online courses
easily from a single intuitive interface with drag-and-drop features.
✓ PrerequisitesSet prerequisites to complete a specific chapter or course before your learners can unlock and move to the next one.
✓ Lessons DownloadsOffer a variety of downloadable files such as PDFs, audios, ebooks, and worksheets so that learners can engage in offline learning.
✓ eCommerce DashboardGenerate custom reports and view sales analytics to help with your accounting and business decision-making.
Pricing:
Starts at $99/year for 1 active site.
Why Use LifterLMS?
Excellent SupportThe support team always goes to great lengths to help its customers. All you have to do is submit a ticket.
Fast EvolvingThe plugin is one of the fastest evolving to adapt to modern users' growing needs.
Helpful CommunityJoin a community of like-minded individuals and get the support you need in your course creation journey.
All-in-OneThis LMS for WordPress offers a complete solution and you don't need to piece together any other software.
4.

LearnPress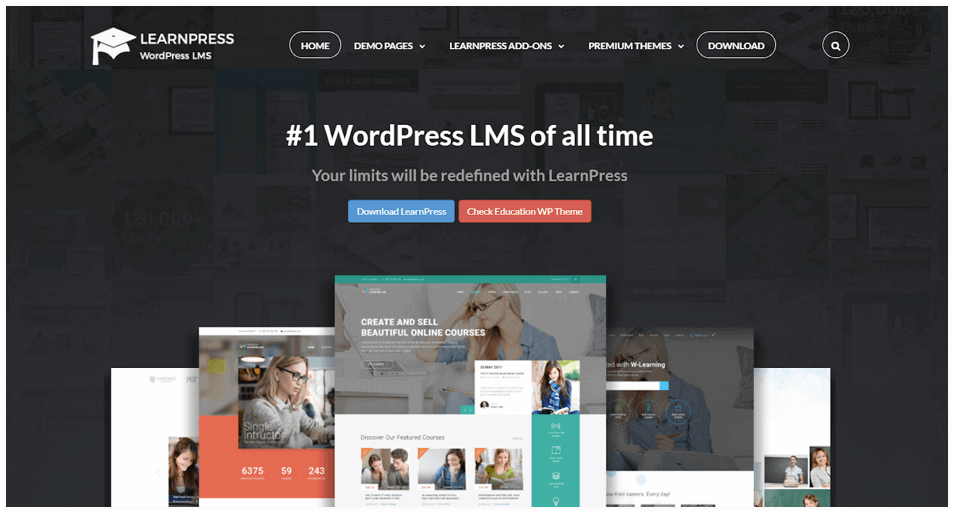 With thousands of active customers, LearnPress is counted as one of the most reliable open-source LMS plugins for those building an online learning platform. Create, market, and sell courses online from your own website.
LearnPress offers a comprehensive WordPress LMS Plugin solution. You can use it to create, market, and sell online courses. A Facebook community of educators who are working on education projects with the help of LearnDash can support you in building a WordPress website.
Features:
✓ Instructor PageRegister yourself as an instructor on your website and build an online school. You just need to create an account on the website.
✓ Membership Add-onCharge a monthly fee by creating a subscription site with the LearnPress Paid Membership Add-On.
✓ Payment GatewaysThe plugin supports multiple payment gateways, including PayPal, Stripe, and Authorize.Net. Offline payment is available as well.
✓ CertificationInstructors can create beautifully designed certificates of completion and share them with their learners. The Certificate Add-On lets you do it.
Pricing:
Starts at $49/1 site license.
Why Use LearnPress?
It is freeThe course LMS plugin it offers is completely free along with several free extensions.
StraightforwardCourse creation takes a straightforward path. The WordPress dashboard offers a logical flow throughout the entire process.
ReliableLearnPress is stable and reliable. It installs and works fine for all kinds of users.
Value for MoneyPremium features such as add-ons and themes are reasonably priced. You can choose just what you need without the need to pay for what you don't.
5.

WP Courseware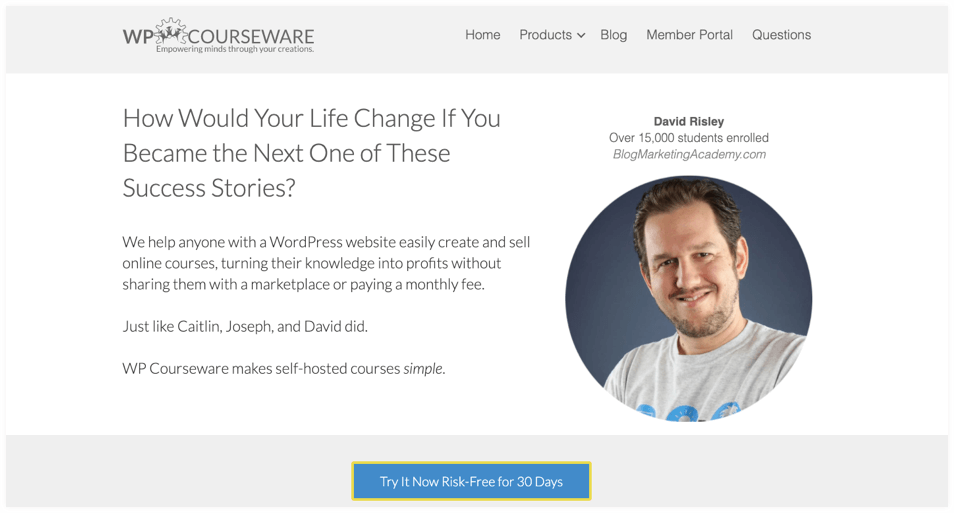 As a leading LMS for WordPress, WP Courseware makes it easy to create and sell courses to a large audience. You can build and grow an online teaching and learning business on your terms. An impressive range of features and integrations, including WooCommerce, makes it a good choice for many.
Since its launch in 2012, it has changed the lives of scores of course creators. It is a recommended solution for corporate training departments, entrepreneurs, and educational institutions that rely on WordPress CMS.
Features:
✓ Visual DesignerLeverage essential tools for protecting your courses, drip feeding, and sending out email notifications. All this through a simple drag and drop.
✓ Quiz Module
Get access to quizzes with different question types. Deploy
randomized quizzes
as well as blocking and non-blocking quizzes.
✓ Progress ResetReset user progress by selecting one or multiple learners at a time and placing them at a preferred point within a course.
✓ File SupportThe plugin supports all types of files, such as text, audio, and video, thereby enabling you to deliver an engaging learning experience.
Pricing:
Starts at $99/year.
Why Use WP Courseware?
Training MaterialsFirst-timers can learn how to use the WordPress LMS plugin with its training materials. Turn your ideas into profits easily.
Constant UpdatesWith an average of one update a month, WP Courseware developers constantly improve the plugin for users' benefits.
IntegrationsLeverage powerful integrations with eCommerce and membership plugins so that you can sell your courses on a large scale.
TransparentThe plugin engages in transparent pricing. No large monthly fees; only a low annual license fee.
6.

Tutor LMS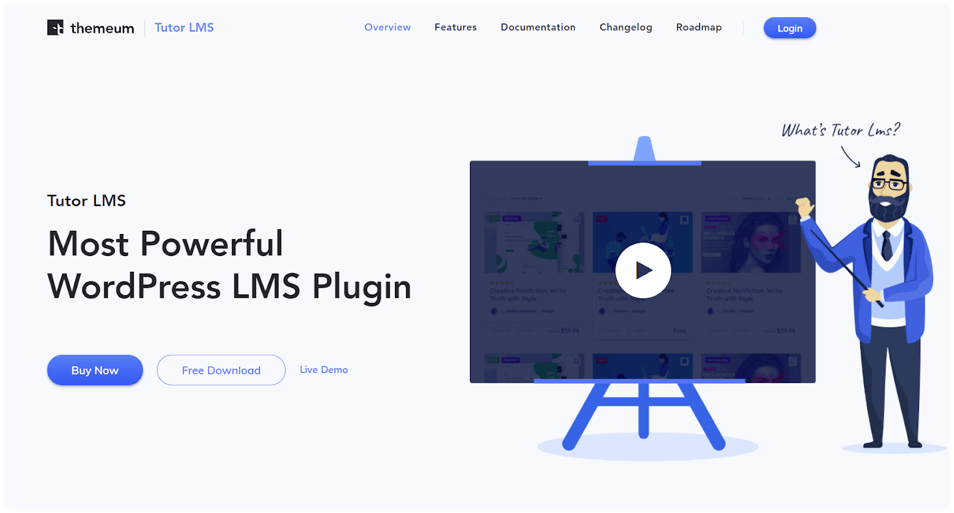 Like many other LMS plugins, Tutor LMS can help you simplify the online course creation process. It is feature-rich and provides users everything they ever need to create and sell online courses. Website owners who want to capitalize on online teaching can rely on it.
Tutor LMS has been designed to take your WordPress experience to the next level and finds users in many schools and universities. It is one of the best choices on the market, especially for those who want to teach or train learners
Features:
✓ Course Builder
Tutor LMS comes equipped with a game-changing tool to
create online courses
characterized by an easy UI and customization options.
✓ Quiz Creator
Create quizzes
with different question types, set time limits for answering, automate the results, and display the grades.
✓ Withdrawal OptionsChoose how you want to withdraw your earnings, such as the minimum amount to be withdrawn, bank transfer, and eCheck.
✓ Reports & AnalyticsGet an overview of your course performance at a glance with auto-generated reports. You can also filter reports by time.
Pricing:
Starts at $149/year.
Why Use Tutor LMS?
Expanded FunctionalityThe plugin expands a WordPress website's functionality by bringing several useful features to the table.
Seamless DesignA user-friendly and modern UI ensures ease of navigation. Course creators can easily visualize courses as they create them.
Course MonetizationWith a number of payment gateways, selling courses is easy with Tutor LMS.
Unlimited CoursesThere's no limit to the number of courses you can create and add to your catalog. Reach out to a global audience in your niche.
7.

Teachable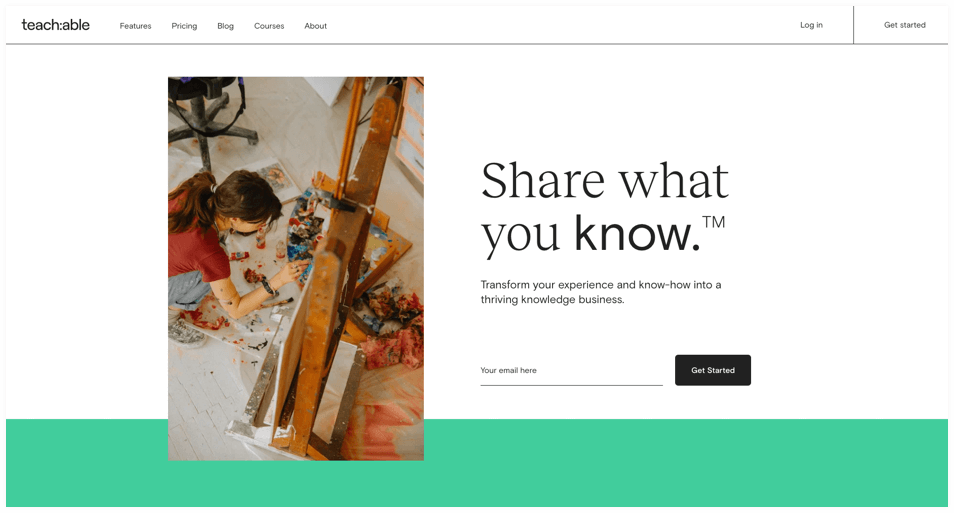 Teachable enables you to "teach the way you want to learn." It lets you create online courses with a powerful course builder and host them. For that, it provides a toolset. Popular payment gateways such as PayPal and Stripe simplify how you take care of your earnings.
The LMS plugin has been built to handle any number of courses and learners. You can build a branded website and launch your courses with sales pages. The courses can be offered individually or in bundles.
Features:
✓ Custom DomainUse a custom domain to link Teachable to your existing business website. Choose and use any integrated tools you want.
✓ Pricing OptionsSet up different pricing options such as one-time payments, subscriptions, and memberships. Offer coupons to your audience.
✓ Affiliate MarketingLeverage affiliate marketing tools to enable others to share information about your online course business.
✓ SecurityA 2048-bit SSL certificate, 24×7 monitoring, and PCI level-1 compliant payment services keep your data safe and secure.
Pricing:
Starts at $29/month. Unlimited students.
Why Use Teachable?
Very EasyAccess everything you need to create online courses in minutes. It is a stress-free exercise, even for newbies.
Rapid GrowthThis WordPress LMS is registering fast growth, rolling out new features at a rapid pace.
UpsellingThe one-click upsell feature can help you grow your revenue. Offer related courses to your customers during a purchase.
Customer SupportYou can expect an above-average customer service that is polite, responsive, and operates in real-time.
8.

Good LMS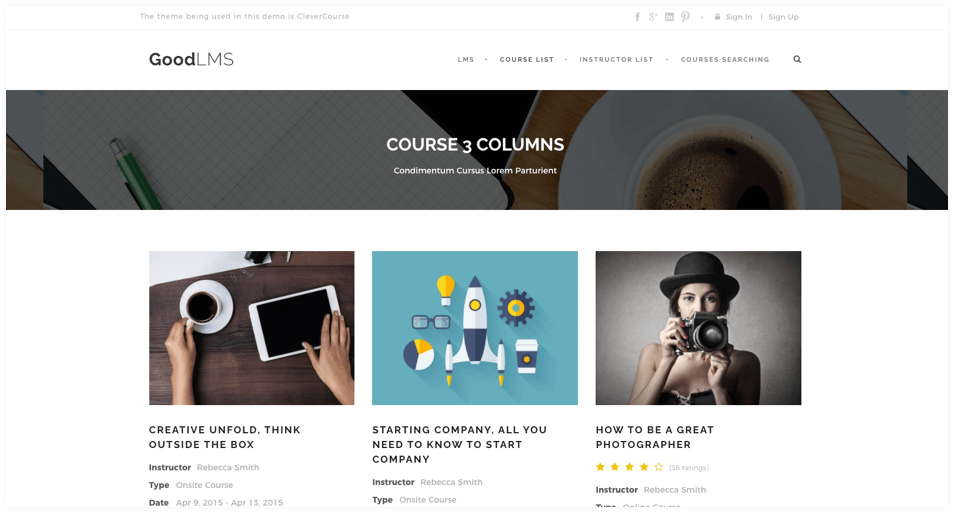 Like the rest of the WordPress online course plugins, Good LMS offers all the basic features for creating and selling courses as well as for quizzes and certification. Apart from the onsite content, course creators can provide downloadable materials for offline learning. They can choose from a variety of payment methods, which includes, Paypal, Stripe, Authorized.net, and PAYMILL.
The WordPress LMS plugin is easy to set up and easy to use. Timed quizzes, coupons, badges, and certificates are other features that you can expect from it.
Features:
✓ Course RatingLet your existing learners rate your courses and display them on your website so that you can gain the trust of new audiences.
✓ CommissionsIn case you have instructors who teach your learners, you can easily set the commission rates for them.
✓ Coupon Code CreatorCreate and share coupon codes with your customers to get them more excited about what you are offering.
✓ SubsectionsAdd subsections to courses and also sub quizzes to go with them. Neatly organize content in each subsection.
Pricing:
Starts at $32 for a regular license.
Why Use Good LMS?
Flexibility in PaymentEasily decide how you want to receive payments for your courses – PayPal, Stripe, PAYMILL, or Authorized.net.
Ease of SetupSet up the plugin hassle-free. Get premium support from the customer service teams anytime.
Learner EngagementKeep the learners motivated and engaged with your courses with badges and certificates issued on completion.
Curriculum DisplayShowcase your course curriculum to subscribers and keep them in the loop about what they will be learning.
9.

Sensei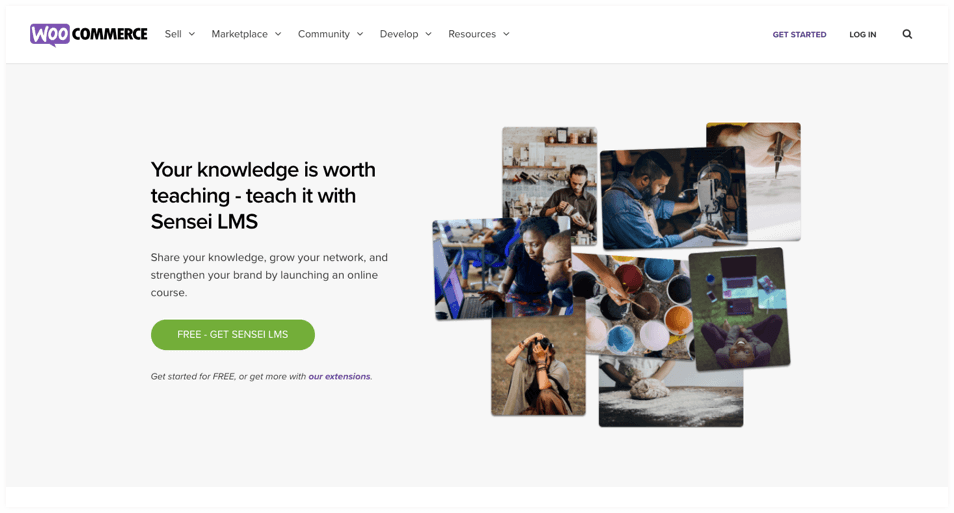 Sensei is a premium WordPress eLearning plugin from the makers of WooCommerce. It offers all the necessary features to kick-start an online course creation process. You can deliver content through two hierarchies – courses and lessons.
Most of the WordPress themes work seamlessly with this plugin. In addition to the basic features, you can go for free as well as premium extensions to expand the functionality of the plugin.
Features:
✓ Course BuilderEasily create courses at two levels – modules and lessons and set the prerequisites for them.
✓ QuizzesUse engaging quizzes to reinforce your learners' understanding of important concepts and to assess knowledge retention.
✓ WordPress ThemesThe LMS plugin works seamlessly with existing WordPress themes without any modifications.
✓ GradingGrade lessons and quizzes manually. Add grading notes, which serve as feedback for learners.
Pricing:
Starts at $149/year for one site license.
Why Use Sensei?
Seamless IntegrationIt integrates seamlessly with your current WordPress site, enabling you to create courses, lessons, and quizzes.
No Need for CodingThere is no need to hire a developer and spend time and money on coding. The plugin takes care of it all.
Built by AutomatticSensei WP course plugin has been built by Automattic, the name behind many renowned products such as WooCommerce, WordPress.com, and Jetpack.
Easy SellingYou can leverage the extension called WooCommerce Paid Courses and sell your courses with ease.
10.

CoursePress Pro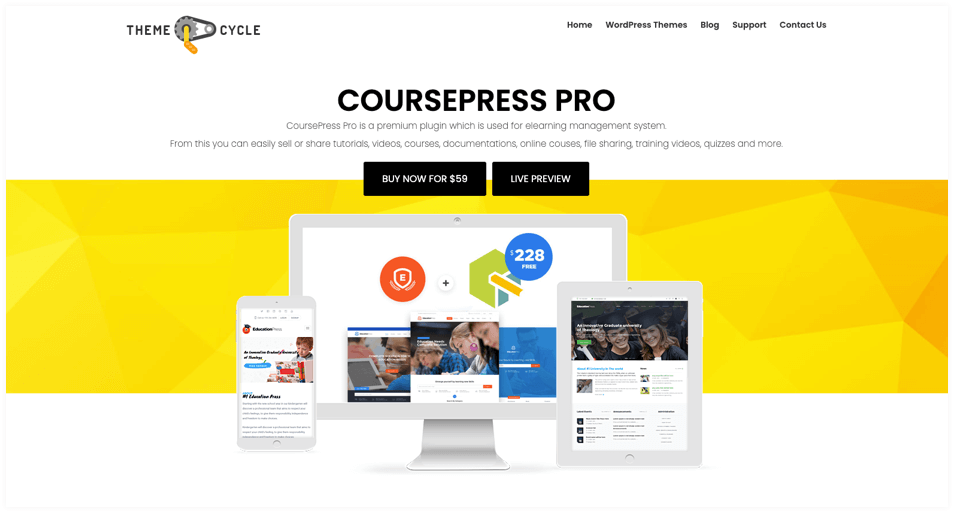 CoursePress Pro is a powerful WordPress LMS plugin that makes course creation as simple as it can be. Using it, you can easily set up online as well as offline courses and add files, including audio, videos, and quizzes. It lets users create, manage, and sell online courses like a pro.
CoursePress Pro is a comprehensive LMS plugin solution with support for unlimited course creation, marketing, assessment, and more than a dozen payment gateways.
Features:
✓ Free & Paid CoursesOffer free courses or charge fees on them. This plugin for LMS is integrated with WooCommerce and MarketPress and offers built-in payment gateways.
✓ Marketing ToolsTake advantage of the easy-to-use tools that enable you to market and promote your courses.
✓ Reminders & NotificationsDrip release your lessons and send notifications to participants as soon as the lessons are available.
✓ Discussion BoardsBuild an interactive eLearning environment with discussion boards for instructors and learners.
Pricing:
Starts @ $59 for a single site license.
Why Use CoursePress Pro?
Easy to Set UpSetting up the plugin, adding courses to your website, and getting the word out is easy.
Huge Payment OptionsChoose from 13+ payment gateway options available with the LMS plugin.
Handy ToolsThe plugin is packed with all the features of a standard LMS, including tools for assessment, grading, and reporting.
PromotionLet your audience know what they are registering for by providing a detailed course description, promo video, and more.
Pick the Best LMS for WordPress Today!
This exhaustive list of WordPress LMS plugins gives a fair idea of the unique features that each offers. Yet you'll find all of them helpful in creating and selling online courses. Try as many of them as possible. Go for a demo to get an idea of which one works out for you.
Do you want a free Training Software?
We have the #1 Online Training Software for employee training & assessment