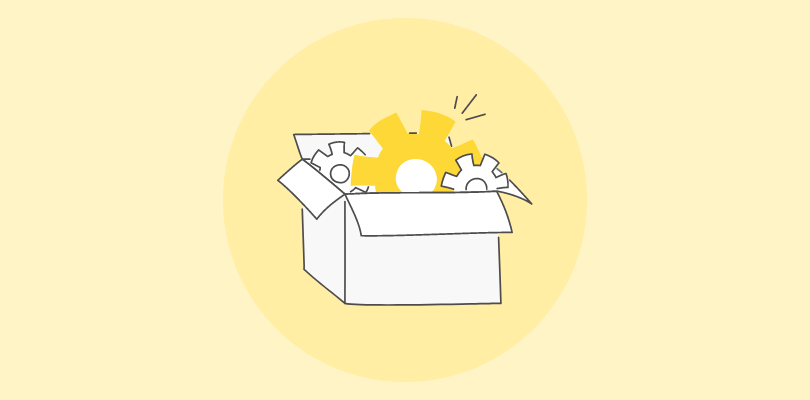 Are you an instructor or a training company on a mission to transform the way you deliver knowledge to your audience?
Are you searching for the right WordPress LMS plugin to translate this into a reality?
Trust me, as an educator myself, I've been there. I've encountered the same pain point that you might be facing right now finding the perfect plugin that marries ease of use with powerful features.
But don't worry.
I've shared below the 12 best WordPress learning management system plugins to help you take your online training or eLearning initiatives to new heights.
12 Best Tools
Best For
Pricing
ProProfs LMS
employee training
Forever free for up to 10 learners.
Paid plan starts at $1.97/learner/month for large teams. Billed annually.
Good LMS
course marketplace
Starts at $31
LearnPress
creating & selling courses online
Free plan available (no course membership/subscription)
Paid plans start at $149
Namaste! LMS
developer-friendliness
Free (limited functionality & control)
Pro version starts at $67/year
Tutor LMS
drag-and-drop course building
Free plan available (limited eCommerce options)
Paid plans start at $199/year
CoursePress Pro
integrations
Starts @ $59 for a single-site license
Sensei LMS
interactive online courses
Free plan available (limited to basic quizzes)
Paid plans start at $15/month
LearnDash
intuitive course builder
Starts at $199/year
MemberPress
membership
Starts at $179.50/year
LifterLMS
online courses & memberships
Free plan available (no credit card & PayPal payments)
Paid plans start at $199/year
WP Courseware
simple course builder
Starts from $129 /year
MasterStudy LMS
specialized eLearning portal
Free plan available (limited add-ons)
Paid plans start at $54.99
12 Best LMS Plugins for WordPress
I've worked with several WordPress LMS plugins over the years, and based on that knowledge and experience, I prepared this exclusive list. I also did thorough research and got insightful recommendations from fellow educators.
Neutral reviews in third-party sites and client testimonials were additional sources on which I based the recommendation for these tools.
1. ProProfs LMS – Best for Employee Training

I always believe that the employee training we deploy is as good as the tool we use for the purpose.
ProProfs LMS is one such tool that I can confidently vouch for in this regard.
I find creating online courses, lessons, and quizzes using this tool super easy. As the best WordPress LMS for course creation, it offers a huge and regularly updated library of professionally-designed and fully editable courses.
Conversely, you can also use training materials you already have, such as videos, PDF files, images, and presentations, and quickly put together an engaging course.
ProProfs supports multimedia, mobile learning, a Q&A forum, gamification, and many more to make training highly engaging and impactful.
An intuitive user interface with a shallow learning curve enables users to get the system up and running in minutes. No specialized knowledge, no software download and installation required.
What you'll like:
Even users with zero tech knowledge can use the plugin
Integrations with email marketing and other useful tools extend the functionalities of the LMS
ProProfs is GDPR-compliant and you can password-protect your courses
Delightful service proved by high satisfaction ratings from customers worldwide
What you may not like:
The number of learners is limited to just 10 in the free plan
Frequent updates can make the experience a bit cumbersome for users
A dark mode in the tool would be a welcome addition for an enhanced user experience
Pricing:
Forever free for up to 10 learners. Paid plan starts at $1.97/learner/month (billed annually) for large teams. A 15-day money-back guarantee. No hidden charges.
Watch: How to Install ProProfs WordPress Quiz Plugin
2. MemberPress – Best for Membership Sites

Another platform I discovered along the way is MemberPress.
It is a game-changing WordPress LMS plugin that has taken my online courses to a whole new level.
With its seamless integration into my WordPress site, I could effortlessly create and manage exclusive memberships, captivating my learners with personalized content, and engaging course structures.
The power of MemberPress lies in its intuitive interface, allowing me to customize access rules, drip-feed content, and even set up recurring subscriptions for recurring revenue.
Content protection, powerful analytics, and easy payment gateway integration are other highlights of the LMS for WordPress.
What you'll like:
Users can set up and manage their online memberships and courses without technical expertise
The plugin provides robust access control options, allowing you to gain visibility into potential security risks
The ability to release content gradually via drip-feeding to avoid overwhelming learners
MemberPress supports various payment gateways to collect payments from learners, whether one-time purchases or recurring subscriptions
What you may not like:
It lacks advanced course management features found in other LMS plugins
The plugin's quiz capabilities are relatively basic
MemberPress offers limited gamification features, which may impact learner engagement
Pricing:
Starts at $179.50/year
3. LearnPress – Best for Creating & Selling Courses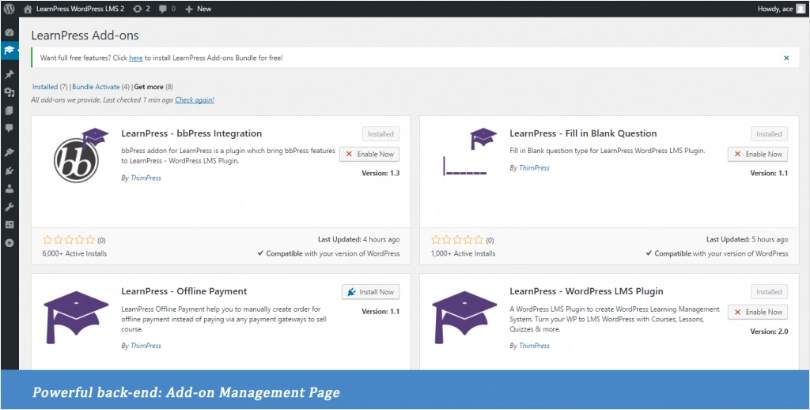 As someone who closely follows learning tools and eLearning trends, I can't help but sing praises about LearnPress.
It is the ultimate WordPress LMS plugin that has revolutionized my e-learning ventures.
With LearnPress, I could effortlessly create and sell captivating courses online, all within the familiar and user-friendly WordPress environment.
This powerful plugin equips me with everything I need to craft interactive lessons, quizzes, and assignments, captivating my learners at every turn.
Not to mention, the seamless integration of payment gateways empowers me to effortlessly monetize my expertise and reach a global audience.
Available as both a paid and free LMS WordPress plugin, LearnPress is the game-changer you've been searching for to unlock boundless possibilities in the world of online teaching or training.
What you'll like:
An intuitive interface that makes it easy for users to navigate the platform
The plugin provides an extensive range of course management tools
LearnPress supports various payment gateways, which means the flexibility to set pricing options that suit your business needs
There's a wide selection of add-ons and extensions to extend the core features
What you may not like:
It lacks advanced assessment features such as proctoring, timed quizzes, or question types that some users might require for specialized courses
There are occasional delays in receiving plugin updates and new features
Some users have reported mixed experiences with customer support, citing delayed responses or difficulty in resolving complex technical issues
Pricing:
Free plan available (no course membership/subscription). Paid plan starts at $149
4. LearnDash – Best Intuitive Course Builder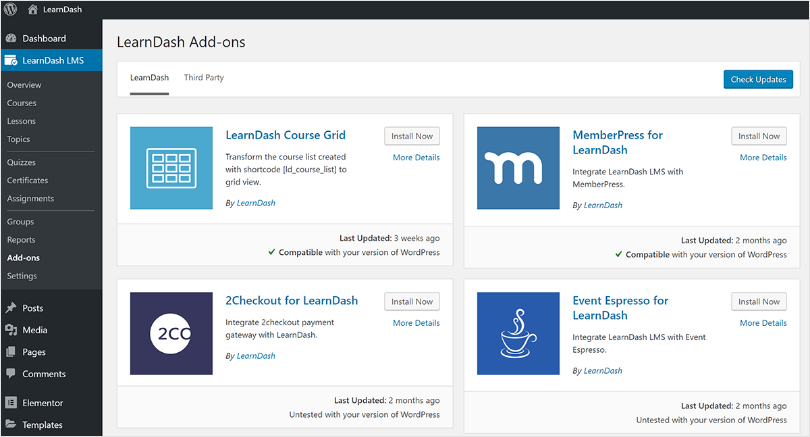 Next up is LearnDash.
I couldn't be more thrilled to share my experience with LearnDash. It is one of the best WordPress LMS plugins for professional course creators.
Its user-friendly course builder features enabled me and my teams to craft beautiful and interactive courses and lessons easily and quickly.
From creating multimedia-rich content to setting up quizzes and assignments, LearnDash provides a seamless experience that meets all my instructional needs.
The drag-and-drop functionality effortlessly arranges course elements, while the advanced customization options ensure that courses align perfectly with your brand.
If you're looking for a powerful and easy-to-use LMS plugin, LearnDash is the tool that will elevate your course creation journey.
What you'll like:
The drag-and-drop interface makes it easy to create engaging courses
LearnDash offers flexible and customizable quiz functionalities
The plugin supports multimedia elements, allowing for dynamic course content
Detailed insights help track learners' progress and course performance
What you may not like:
Some users may find the initial setup and configuration challenging
Additional features often require purchasing premium add-ons
Integrating with certain third-party plugins may require additional efforts
Pricing:
Starts at $199/year
5. Tutor LMS – Best for Drag-and-Drop Course Building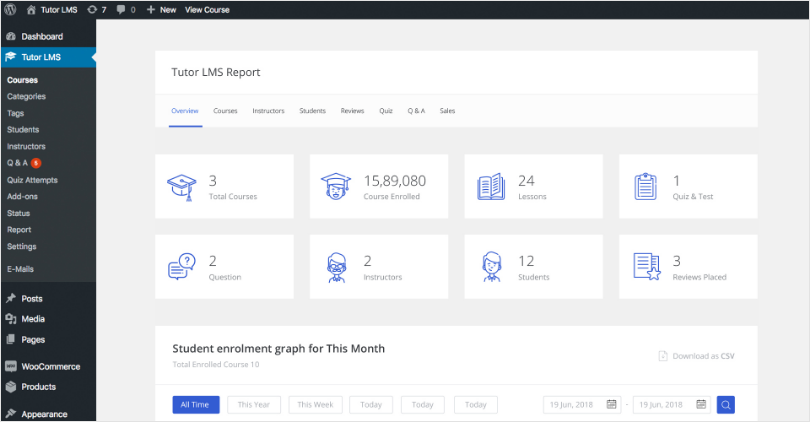 I find Tutor LMS equally exceptional as a WordPress LMS plugin.
With its robust course building capacity, the plugin empowers users to craft engaging and interactive eLearning modules.
The intuitive course builder offers an array of multimedia options to seamlessly incorporate videos, quizzes, assignments, and downloadable resources into lessons.
The real-time preview feature allows me to fine-tune every element, ensuring a visually appealing and engaging course layout.
Overall, Tutor LMS is truly the go-to tool for crafting top-notch eLearning experiences that leave a lasting impact on learners' knowledge acquisition.
What you'll like:
You can expect to see simplified course creation, management, and learner engagement
Robust quizzing and assessment features to gauge progress, retention, and recall
Extensive course monetization options to sell your courses easily
Comprehensive earning reports that help you keep track of your course revenue and financial performance
What you may not like:
Limited free features may restrict certain customization options for free users
It lacks some third-party integrations, which limits users who require extensive integrations
Customer support response time is slower than expected at times
Pricing:
Free plan available (limited eCommerce options). Paid plans start at $199/year
6. LifterLMS – Best for Online Courses & Memberships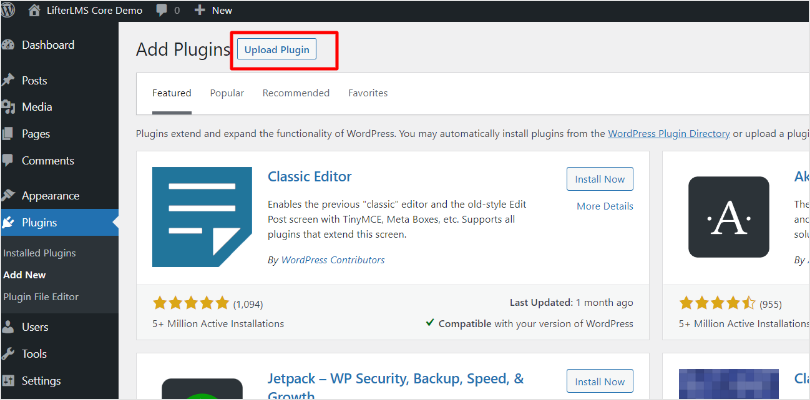 My experience with LifterLMS has been positive. I find that it can transform any website into a dynamic online learning hub, offering rewarding online courses and membership programs.
Creating and managing online courses is easy with the LMS. It empowers users to effortlessly design interactive lessons, quizzes, and assignments, while tracking learners' progress in real-time.
The intuitive interface helps customize every aspect of courses to suit a brand and engage learners effectively.
But that's not all.
The membership feature is equally interesting. You can use LifterLMS to build exclusive communities, grant members access to premium content, private forums, and resources.
The flexible membership options have helped me monetize my expertise while providing unparalleled value to my loyal audience.
What you'll like:
It's an all-in-one solution for building and selling educational content on WordPress websites
Course creators can easily set up and manage their online courses without requiring extensive technical know-how
It provides flexibility in course structures with lessons, quizzes, assignments, multimedia, and content drip
The plugin seamlessly integrates with popular eCommerce solutions, such as WooCommerce, for easy monetization
What you may not like:
Users might need to purchase add-ons or upgrade to a paid plan for more functionality, which can increase the overall cost
Managing a large volume of content can be challenging within the WordPress environment
Relying on third-party plugins other than WooCommerce may lead to potential compatibility issues and require additional configuration
Pricing:
Free plan available (no credit card & PayPal payments). Paid plans start at $199/year
7. Sensei LMS – Best for Interactive Online Courses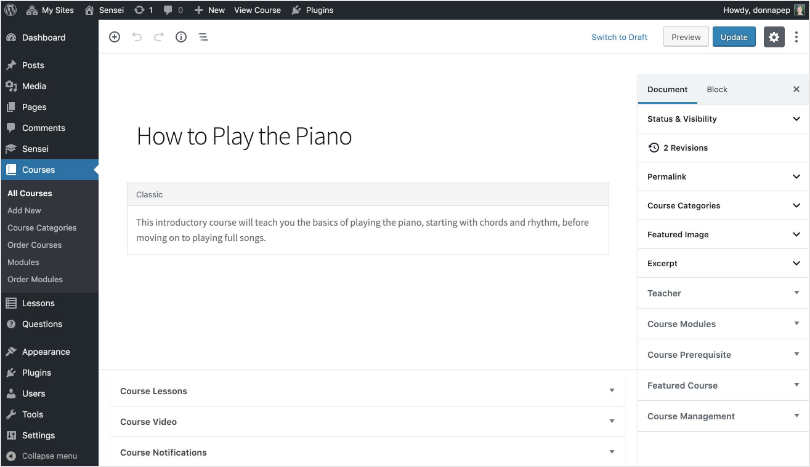 Sensei LMS is another popular learning management system plugin for WordPress that you can use.
Developed by Automattic, the same company behind WordPress.com and WooCommerce, Sensei LMS seamlessly integrates with WordPress, making it a versatile choice for creating and managing interactive online courses directly from your WordPress dashboard.
As a regular course creator, I've had the pleasure of using the plugin, and I found that it certainly added value to my activities.
The user-friendly course builder enabled me to create interactive courses, lessons, quizzes, and assignments. I was able to deliver the course materials efficiently, thanks to the easy content management.
Sensei LMS takes interactivity to a new level by incorporating multimedia, gamification, and discussion forums, fostering active learner participation.
What you'll like:
The plugin lets you build multimedia-rich and well-structured courses
Content dripping and prerequisites allow instructors to control the release of course content based on learner progress or specific timelines
Seamless integration with WooCommerce to monetize courses by selling them as products on your website
Reporting in Sensei LMS is comprehensive and provides valuable insights for instructors and site administrators to track learner progress and course performance
What you may not like:
Sensei LMS has limited built-in payment gateway options compared to some other WordPress LMS plugins
It is a solid choice for basic course creation and management only as it lacks some advanced features
Since there's no built-in membership functionality in the plugin, you may need to use a separate membership plugin
Pricing:
Free plan available (limited to basic quizzes). Paid plans start at $15/month
8. WP Courseware – Best for Simple Course Builder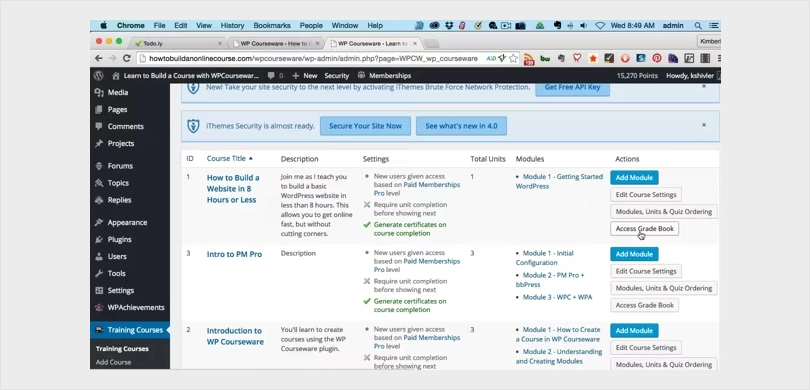 As a leading LMS for WordPress, WP Courseware makes it easy to create and sell courses to a large audience. You can build and grow an online teaching and learning business on your terms.
An impressive range of features and integrations, including WooCommerce, makes it a good choice for many.
Since its launch in 2012, it has changed the lives of scores of course creators, including myself.
Its course builder helps instructors and course creators easily create and organize engaging online courses directly within WordPress. It is a popular LMS plugin for WordPress that provides a seamless course creation experience.
The plugin is a recommended solution for corporate training departments, entrepreneurs, and educational institutions that rely on WordPress CMS.
What you'll like:
The drag-and-drop course builder simplifies the process of adding lessons, quizzes, and assignments, making it accessible even for those with limited technical knowledge
The plugin supports various multimedia, including videos, audio, images, and downloadable files, allowing instructors to create engaging and interactive course content
WP Courseware supports drip feeding that offers a structured learning experience
Powerful quizzing and grading options to create different types of quizzes and set custom passing grades
What you may not like:
While the plugin offers a user-friendly interface, advanced users or developers may need to utilize custom code or other plugins to achieve specific design or functionality preferences
Some advanced features, such as gamification, certificate generation, and content protection, require separate add-ons or extensions, which could result in additional costs
WP Courseware supports limited built-in payment gateways, requiring additional integrations or extensions
Pricing:
Starts from $129 /year
9. MasterStudy LMS – Best for Specialized Learning Portals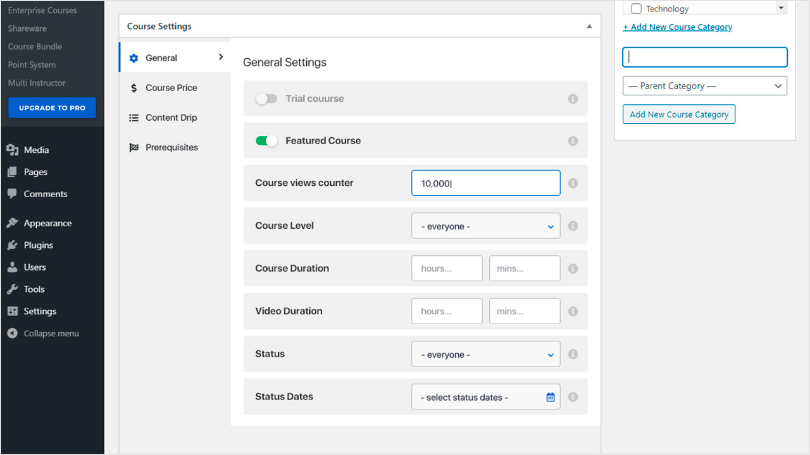 As an eLearning enthusiast, I also find MasterStudy LMS a worthy plugin for WordPress.
Through its powerful eLearning portal, the LMS plugin offers a seamless platform to create and deliver engaging courses to learners.
The intuitive course builder enables users to effortlessly organize content, from lessons and quizzes to assignments and multimedia elements.
Like other top-notch plugins, it supports drip content, prerequisites, and robust reporting & analytics.
Similarly, with MasterStudy LMS, you can easily create engaging quizzes with different question types. The advanced quizzing options enable instructors to set passing grades and provide instant personalized feedback.
What you'll like:
Easy-to-use interface for course creation and management.
Flexible and customizable course options to cater to different learning styles
Comprehensive reporting and analytics features to guide your instruction
Integrates well with other WordPress plugins for a unified experience
What you may not like:
Some users may find the initial setup process slightly complex
Lacks certain advanced features available in other LMS plugins
Limited customer support options like access to customer support representatives or slower response times
Pricing:
Free plan available (limited add-ons). Paid plan starts at $54.99
10. CoursePress Pro – Best Integrated WordPress LMS System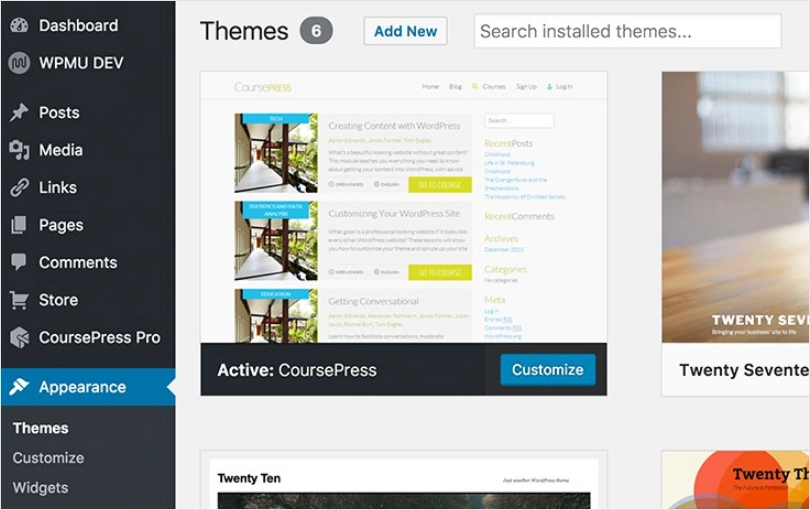 CoursePress Pro is a powerful WordPress LMS plugin that makes course creation as simple as it can be.
Using it, you can easily set up online as well as offline courses and add files, including audio, videos, and quizzes.
The LMS plugin lets users create, manage, and sell online courses like a pro.
It stands out for its seamless integrated solution and during my trial with the system, it let me effortlessly create and manage online courses, handle learner registrations, and even process payments through integrated e-commerce solutions.
CoursePress Pro is undoubtedly a comprehensive LMS plugin solution with support for unlimited course creation, marketing, assessment, and more than a dozen payment gateways.
What you'll like:
Intuitive interface for easy course creation
Robust customization options to match branding and design preferences
Seamless integration with popular payment gateways and LMS WordPress themes
Comprehensive assessment and grading features for effective learner evaluation
What you may not like:
The plugin can be resource-intensive, affecting website performance on shared hosting
Some users may find the initial setup and configuration process overwhelming
Advanced features may entail additional add-ons and associated costs
Pricing:
Starts @ $59 for a single site license
11. Good LMS – Best for Course Marketplace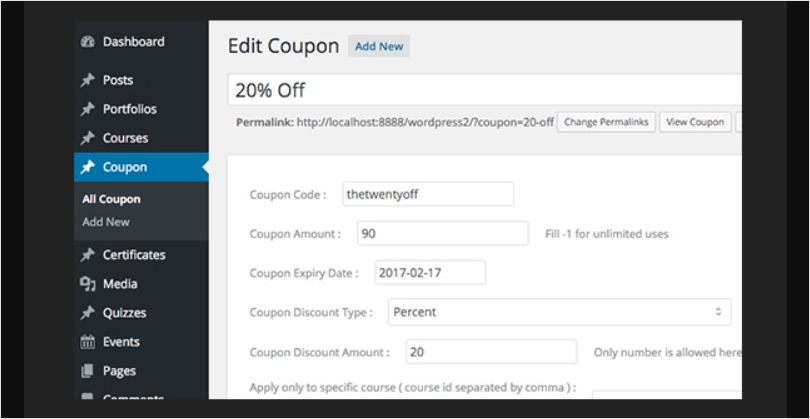 Like most quality WordPress LMS plugins, Good LMS created a positive impact on my experience.
It's one of the best LMS plugins for WordPress that offers all the basic features for creating and selling courses as well as for quizzes and certification.
The course marketplace feature is designed to empower users to create and manage their own online course marketplace within their WordPress website.
This powerful functionality enables site owners to become course instructors or facilitators, and at the same time, allows other educators or experts to offer their courses on the platform.
They can choose from a variety of payment methods, including Paypal, Stripe, Authorized.net, and PAYMILL.
The WordPress LMS plugin is easy to set up and use. Timed quizzes, coupons, badges, and certificates are other features that you can expect from it.
What you'll like:
Set up the plugin hassle-free. Get premium support from the customer service teams anytime
You can keep learners motivated and engaged with your courses, badges, and certificates
Showcase your course curriculum to subscribers and keep them in the loop about what they will be learning
There is flexibility in payment; you can easily decide how you want to receive payments for your courses
What you may not like:
A lack of some advanced features limits the range of capabilities available to users with complex learning needs
Good LMS may have fewer customization options compared to some other LMS plugins, restricting the ability to tailor the appearance and functionality to specific needs
Infrequent updates may lead to compatibility issues with newer versions of WordPress or other plugins
Pricing:
Starts at $31
12. Namaste! LMS – Best Developer-Friendly LMS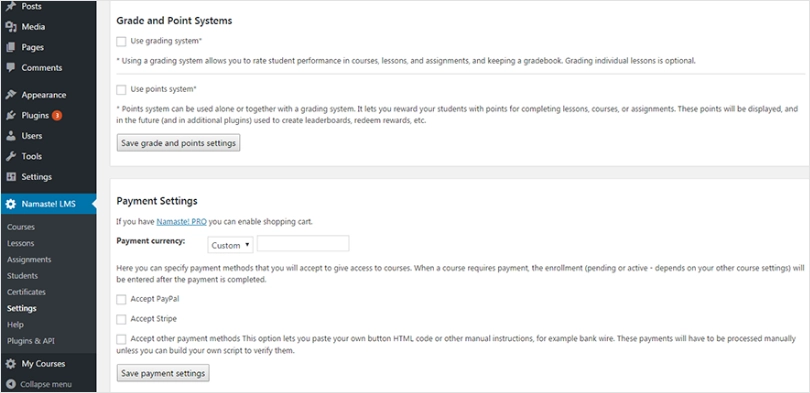 Namaste! LMS is a developer-friendly LMS plugin meticulously designed for WordPress.
With a focus on ease of use and versatility, it empowered me in the past to craft personalized eLearning solutions seamlessly.
This plugin boasts a plethora of customization options, allowing developers to tailor the LMS to match the unique requirements of any project.
Its rich array of APIs and hooks facilitates effortless integration with other WordPress plugins, expanding its capabilities further.
From building interactive courses to managing assessments and tracking participants' progress, Namaste! LMS personally offered me a robust foundation to create engaging and innovative online learning experiences on the WordPress platform.
What you'll like:
Developer-friendly nature characterized by extensive customization options
Seamless integration with other top WordPress plugins on the market
User-friendly interface for easy and quick course creation and management
Robust tracking and reporting features for learner progress
What you may not like:
Limited range of pre-built course templates compared to some other LMS plugins
Some users may find it slightly complex to set up and configure the plugin initially
Integration with certain third-party tools and platforms might require custom development
Pricing:
Free (limited functionality & control). Pro version starts at $67/year
Which Is the Best WordPress LMS Plugin for You?
The ideal choice will vary according to your specific requirements, which are influenced by your target audience, their proficiency, and learning preferences.
To streamline your search and aid you in making a well-informed decision, here are the three handpicked plugins for you:
Option A: ProProfs LMS
Apart from countless enablements, ProProfs LMS makes it incredibly easy to create online courses, lessons, exams, and quizzes. You can start right away with its ready-to-go and fully customizable courses and templates. The plugin is used by SMBs, large enterprises, freelancers, teachers, NPOs, and government agencies.
Option B: LifterLMS
You should use LifterLMS if you're serious about monetizing your online courses. You can effortlessly build and scale your online course business, sharing valuable knowledge and generating steady revenues in the process. It is used by course creators, membership sites, and training companies.
Option C: Namaste! LMS
Namaste! LMS has been shortlisted here primarily for its developer-friendly nature. It empowers developers to seamlessly integrate the plugin with other WordPress tools and plugins, expanding its functionalities for a more robust eLearning experience. It is suitable for educational institutions, training centers, and corporate entities of various sizes.
However, based on my experience and having spent the longest time working with it, I'd say ProProfs LMS plugin is the clear winner. Its user-centric design, layout, and lightweight nature make it worthwhile for any eLearning environment, industry, and use case.
Frequently Asked Questions
What features should I look for in a WordPress LMS plugin?
When choosing a WordPress LMS plugin, consider capabilities such as course creation and management, content delivery formats, assessment & grading, learner progress tracking, membership and user management, and eCommerce integration. Additionally, it should ideally support in-demand features like gamification, mobile responsiveness, multilingual, and integrations. Lastly, make sure the privacy & security policies and customer support are up to the mark. By factoring in these features, you can choose a WordPress LMS plugin that best aligns with your specific online learning needs and delivers a smooth and effective learning experience for your audience.
Does WordPress have an LMS?
WordPress doesn't have a built-in LMS by default, but there are numerous LMS plugins available that can be easily added to WordPress websites. These LMS plugins allow users to create and manage online courses, deliver educational content, track student progress, and offer various engagement features.
How do I integrate an LMS with WordPress?
Integrating an LMS with WordPress is easy. It can be done in a few steps. Refer to this dedicated page on the integration for ideas. You can also refer to this installation guide. If you want to turn your WordPress site into a thriving online training portal, find out how to embed a course on WordPress.
How much does an LMS plugin for WordPress cost?
The cost of an LMS plugin for WordPress varies widely depending on the features, functionalities, and level of support offered by the plugin provider. Some LMS plugins are available for free, while others come with a one-time purchase fee or a subscription-based pricing model.
How do I choose the right WordPress LMS plugin for my needs?
To choose the right WordPress LMS plugin for your needs, you should consider your specific learning requirements, identify your goals, and make a list of must-have features. Also, you should take into account the ease of use, compatibility, scalability, mobile readiness, support, and updates. Budget consideration is yet another element. Before you commit yourself to any tool, request a demo or free trial, and read reviews and ratings. To know how to choose an LMS plugin wisely.
Watch: How to Choose the Best SaaS LMS Software
Can I sell courses with a WordPress LMS plugin?
Yes, you can. Many WordPress LMS plugins offer built-in eCommerce functionality to help users sell online courses and generate revenues. These plugins typically integrate with popular payment gateways, such as PayPal, Stripe, and WooCommerce, to facilitate secure and seamless transactions. To learn the art of selling courses,
Watch: How to Sell Your Quizzes and Courses Online
Do you want a free Training Software?
We have the #1 Online Training Software for employee training & assessment