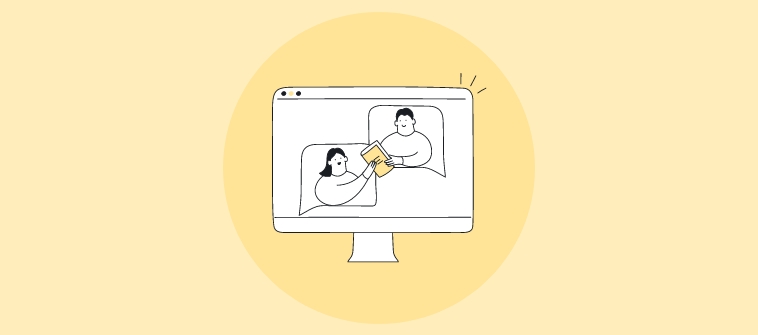 Mobile learning, or mLearning, is not just for students or the mobile workforce. It serves everyone under all learning circumstances.
When we talk about it in the context of businesses, corporate mobile learning is an important strategy in learning & development programs.
Learning delivered through mobile devices offers enhanced engagement, improves retention, increases the shelf life of training, and is unlikely to become obsolete.
According to the latest market research report by Technavio, the global tech-driven education market is expected to grow by $46.88 billion during 2020-2024.
The U.S. alone accounts for more than 31% of mobile eLearning expenditures.
This gives you a valid reason to incorporate mobile learning in your enterprise learning, if you haven't already.
To help you pave the way towards a mobile-enabled learning culture in your organization, in this post, we'll be looking at what mLearning is, its business advantages, why it's better than traditional learning methods, how to use it for skills development, and some of the best mobile learning tools you can use.
Let's dive in.
What Is Mobile Learning (mLearning)?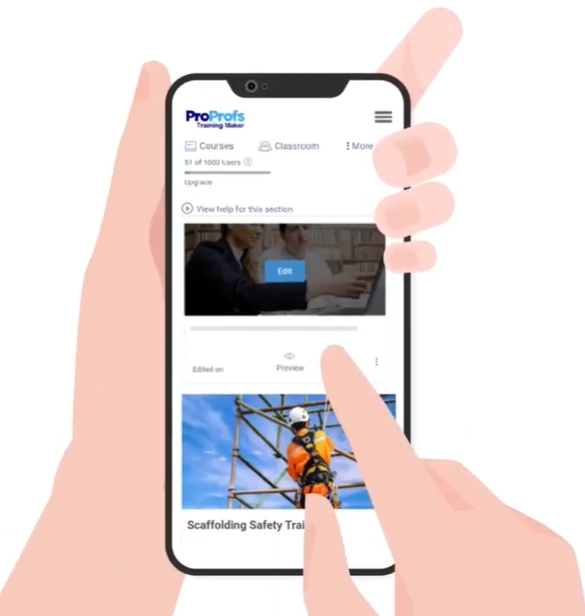 Mobile learning is learning that takes place over portable computing devices such as smartphones or tablets.
It refers to any eLearning system delivered and consumed over mobile devices. In other words, learning takes place in the moment of need.
Mobile learning in education has already been a trend for years. The idea is to replicate the same at the enterprise level.
mLearning is synonymous with anytime, anywhere learning using the devices you generally carry in your pockets or bags. You can access training or educational content whenever and wherever you want through a modern device connected to the internet.
It can keep learning uninterrupted even when employees are outside their office. They can learn from their home, while commuting, while sitting at a park, or while standing in a queue. This is because mobile learning is often concise and relevant, and learners can take learning materials in minutes.
Watch: What Is a Mobile LMS & How Can It Help Train Anytime, Anywhere?
Examples of Mobile Learning
You can understand this definition better with the following mobile learning examples. Many companies that have already implemented a culture of mobile learning use these methods of learning. They include:
micro-lessons

short videos

checklists

guides

simulations

employee manuals
How Is Mobile Learning Different From eLearning?
Though mobile learning technically comes under eLearning, there are some differences between the two. Check out the following table for an idea.
| eLearning | mLearning |
| --- | --- |
| An alternative or supplement to physical classroom learning | An option for need-based learning anytime, anywhere, & on any device |
| Courses, lessons, and videos are of longer duration (30 mins to 1-2 hours) | Micro-lessons, mini-courses, short modules, and short videos (3-5 mins) |
| Doesn't need special software since they can run in a browser itself | Needs a purpose-built app like a mobile learning management system or mobile LMS |
| Courses are marked by complex designs suitable for optimal viewing on desktops and laptops only | Content is designed with small screens and ease of navigation in mind. Learning takes place primarily through smartphones and tablets |
| It tethers learners to desks | Participants can learn on the go |
Watch: What is eLearning and How Can It Help You?
mLearning in Corporate Training & Education
Apart from the education sector, mLearning finds extensive usage in the corporate world. For example, around 40% of Fortune 500 companies use online learning for training.
Since mobile-accessible learning enables you to take training out of the workplace and make it available on-demand, it's a boon for busy employees.
Still thinking how it can help you?
You should consider adopting mobile learning for corporate training if you want to do any of the following:
Supplement traditional classroom training

Provide ongoing performance support

Provide refresher training at regular intervals
There are several use cases for mobile learning in the context of corporate training. You can implement it in almost all workplace training programs whenever you find there's less need for in-person guidance.
The idea is to provide need-based and just-in-time information, for example, in the form of an internal knowledge base that employees can access on their mobile devices.
Here are some examples of mLearning in corporate training and education that you can take a cue from and apply to your organization.
Employee onboarding marks an important phase in every new team member's journey with an organization. Since they are new to the environment, they have plenty of things to learn.
From company policies and structure to key team members, departments, benefits & compensations, and leave policies – the list is endless.
In such a situation, conducting a day-long session and expecting the new hires to digest everything doesn't go down well with almost all learners.
What they actually need is spaced learning, breaking lengthy lectures and courses into several sessions or modules punctuated by breaks in between.
Such sessions will give learners a breather to recall and relate what they've learned to real work situations.
Only mobile learning can help you implement learning in this way for the best results.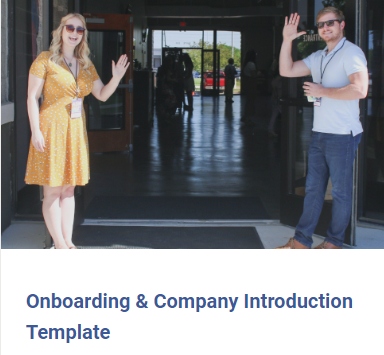 The same is true about compliance training. This type of training is organized at least annually to meet mandatory industry standards.
Unfortunately, most employees are dismissive of compliance training as they usually find them boring. There is a large amount of information, including technical aspects, that can easily overwhelm learners.
Mobile education can help summarize the key points about what to do in specific compliance situations and share them with learners at the end of each session. This way, learners will know the bare essentials of the topic.
You can deliver short videos based on specific compliance scenarios. This will engage learners, increase their comprehension, and maximize knowledge retention.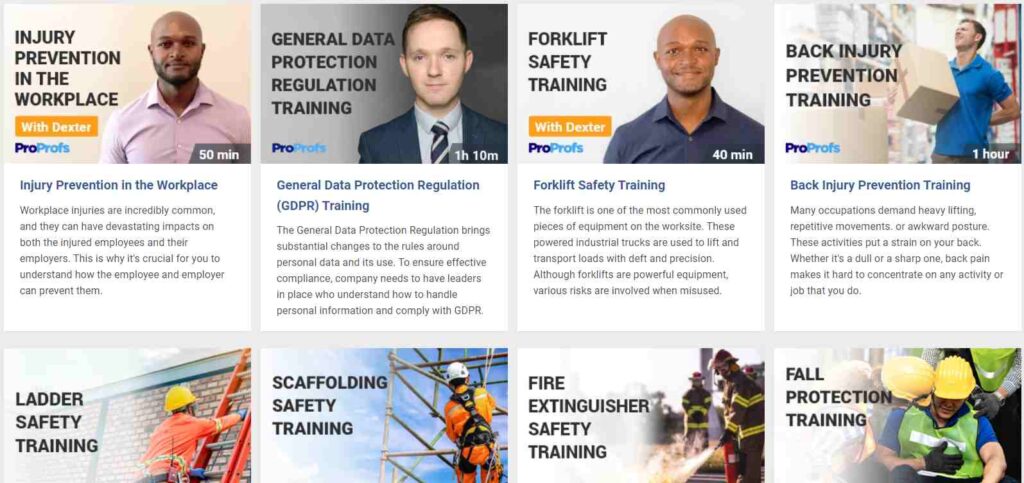 Suppose your learners have scored high marks in your courses and tests.
Great!
But how much of that information do they retain, say, after a week, month, or year?
It's not consistent as it depends on the difficulty level of the training topic, how engaging it is, and so on.
Maximum retention is the primary goal of every learning & development program. You can easily reinforce your learning objectives with refresher courses and assessments delivered over mobile devices.
When done at regular intervals, post-training reinforcement can help you follow up on the key aspects of a program. As a result, your employees will learn better and find it easy to apply knowledge to their job.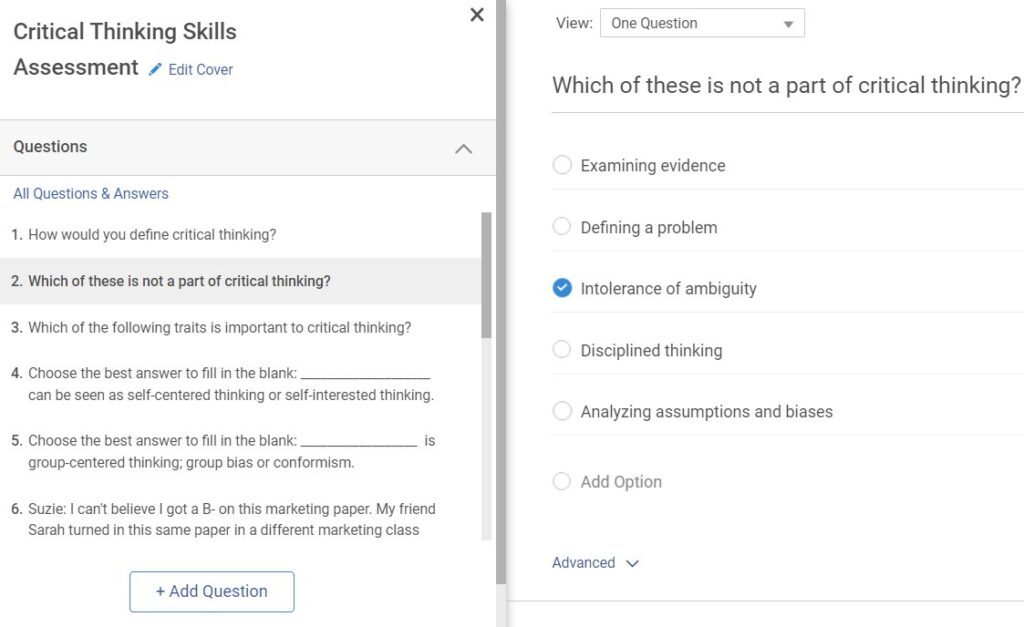 Here's what learning expert Matthew Tang has to say about this:
Frequency of periodic assessments should be based on the nature of the job/task as well as past performance. It is required more often in high risk areas such as hospital settings where people's lives are dependent on how well compliance measures are met or let's say if a company is dealing with a recent compliance related complaint.

Knowledge and skill acquisition through training is not a one-off event. Employees need continuous support in the workplace to refresh information gained during training. This is essential to assist employees in the successful completion of a task or a project.
Mobile learning is an ideal medium for performance support resources. It can provide self-service information at their fingertips and remove the need to approach someone with questions repeatedly.
An online knowledge base is a perfect example of a performance support tool. Employees can realize its true benefits by easily accessing it on their personal devices such as smartphones.
When employees have any questions or need some instant tips about executing a task, they can do it through a mobile device.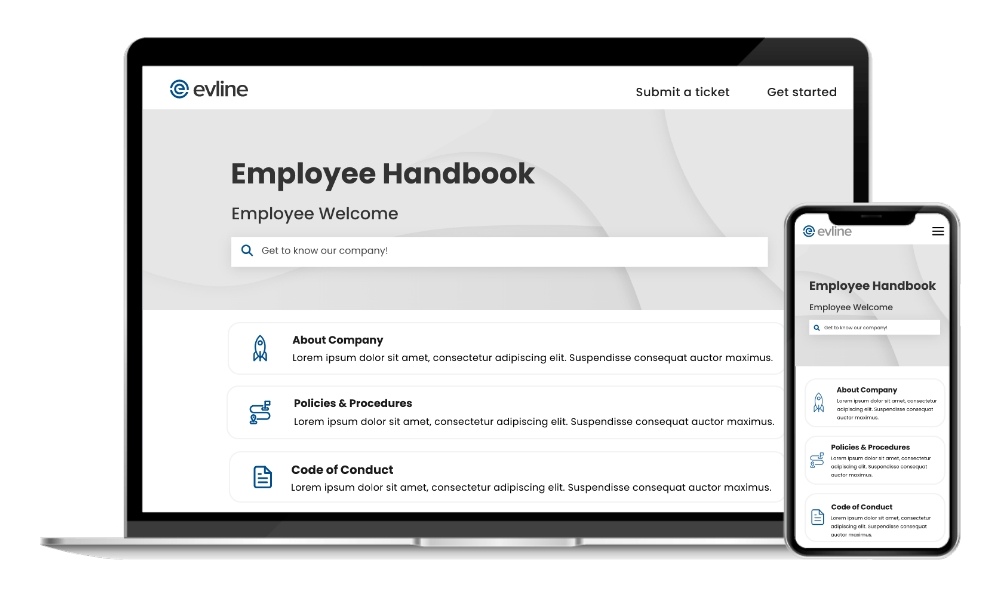 5 Benefits of Mobile Learning
"If your plans don't include mobile, your plans are not finished." – Wendy Clark, former SVP, Coca-Cola"
Mobile learning makes learning more personalized. It also enables learners to engage in learning regardless of the circumstances.
The Merrill Lynch GoLearn initiative has found that smartphone users finish courses 45% faster than PC users on average.
Best of all, it provides instant access to training resources and makes learners feel more relaxed while learning.
Let's now explore other advantages of mobile learning to understand its real significance.
1. Anytime, Anywhere Access
With the ability to access learning from anywhere and at any time, mLearning makes the most convenient and learner-friendly form of learning.
Here, distance becomes immaterial. Learners can attend training remotely even if they and their instructors are thousands of miles apart.
All this makes mLearning a revolutionary concept in education and training.
2. Rich Variety of Content
One of the best things about mobile learning is whatever you can view on computers you can view on mobile devices. This means you can share images, videos, audio, docs, PDFs, graphs, and infographics via these hand-held devices.
The result is an enriching multimodal learning experience that caters to different learning styles and preferences.
Watch: How to Add Media to Your Online Courses
3. Checks Forgetting Curve
Just as you access social media and connect with friends, you can make mLearning an integral part of your learners' daily habits.
It maximizes retention and minimizes the forgetting curve by making eLearning content highly engaging and accessible whenever and wherever learners want.
Everything is just there right in front of their eyes.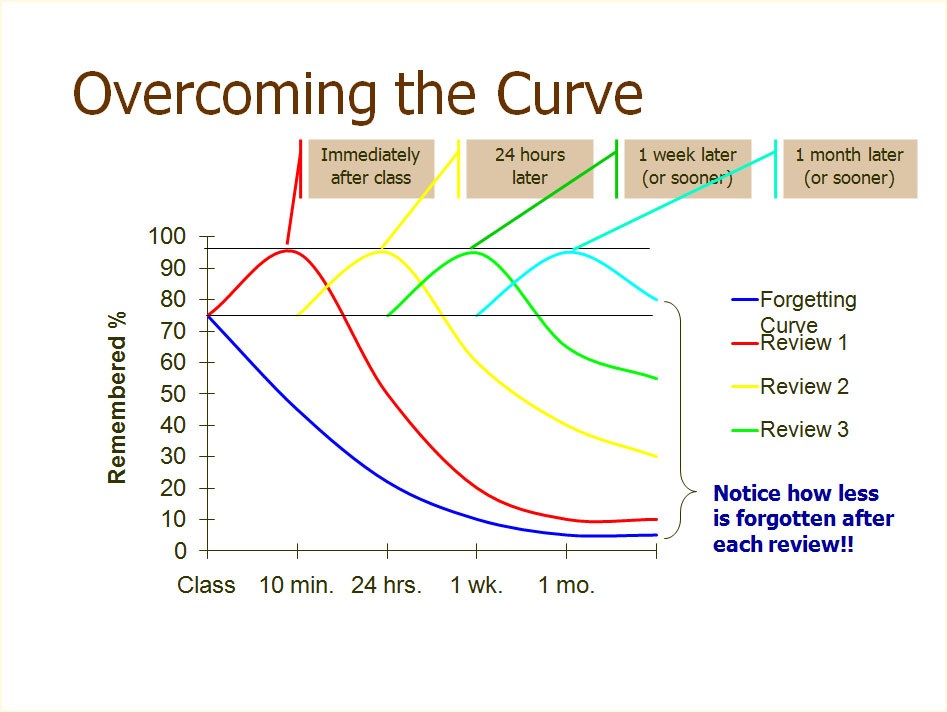 (Source)
4. Supports Continuous Learning
Most of the time, one-off training sessions don't work. Employees need continuous opportunities for skill development to learn, relearn, and refresh their memories.
This can lead to a happier, more productive, and more loyal workforce.
Mobile learning can fulfill this need by enabling them to learn both in and outside of the workplace.
5. Cost & Time-Efficient
The efficiency of cost and time is one of the biggest advantages of mLearning. Whether you're talking about new hire training or recurring compliance training, you don't need to arrange in-person training sessions or unnecessarily interrupt your employees' workday.
Simply create and share courses and assessments with your audience and let them take them on their smartphones or tablets.
This removes the need for training participants to schedule a specific time and place to learn or for companies to spend on hiring external trainers.
Why is mLearning Better Than Conventional Classroom Training?
Not to sound harsh, but traditional classroom training comes with several limitations.
It lacks the flexibility of time and place

It's primarily based on lectures without the support of engaging media

It descends into passive listening

It may involve commuting or putting a halt on one's work
Mobile learning can help you rescue your enterprise training from these disadvantages.
For Generation Z, accustomed to getting instant gratification, learning through mobile devices means a lot.
Learning is available on demand

There are no unnecessary distractions from other people

Engaging modules lead to a higher course completion rate

Personalized content brings learners closer to learning

Responsive eLearning designs help future-proof the content
Related Post: 10 Best Learning Experience Platforms for Exceptional Experiences
5 Best Mobile Learning Tools
Let's now take a look at some of the best mobile learning tools you can use as a part of your mLearning plan.
1. ProProfs LMS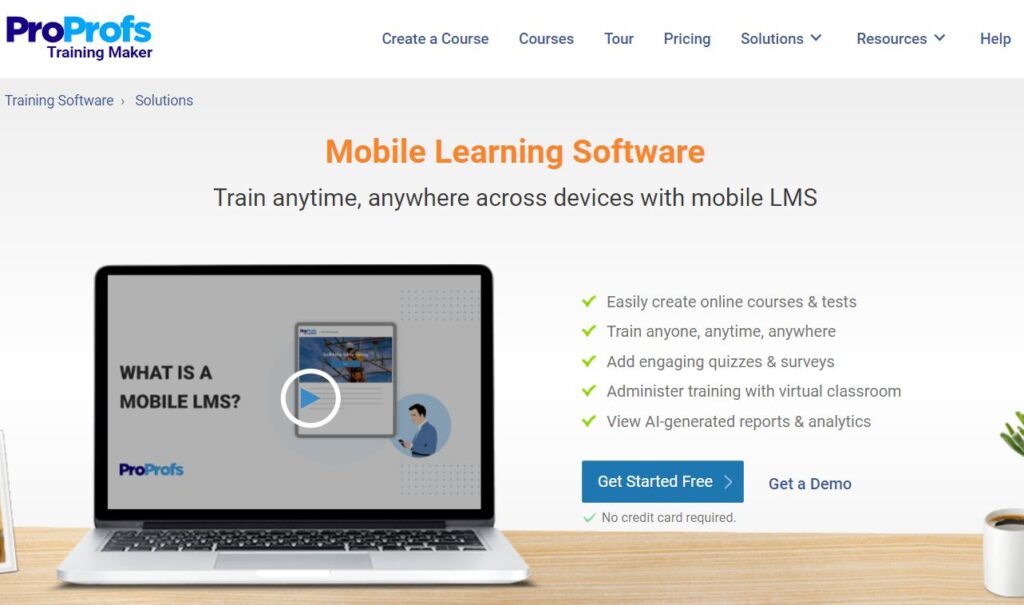 ProProfs is a cloud-based and learner-centric mobile LMS to train anyone, anytime, anywhere across devices. This mobile-ready and platform-independent solution supports continuous learning through increased mobility, thereby improving retention.
You can use it to boost engagement, make learning easy and fast, and reduce training costs.
Since the SaaS platform provides access to online content 24/7, you get the benefits of convenient and impactful mlearning.
The platform works on different operating systems and devices and supports multimedia such as docs, images, videos, presentations, recorded webinars, and podcasts.
Key Features
Easy to Use:

Perfect for businesses of all sizes and users of all skill levels.
Compatibility:

ProProfs LMS works flawlessly across all operating systems and browsers. You can continue to use your favorite technology while deploying ProProfs.
Content Library:

Access a

premium library

of 100+ ready-to-use courses & templates. They are designed by experts, fully editable, and display well on all screen sizes.
In-App Collaboration

: Promote

social learning

right in the mobile-ready LMS with instant chat and a

Q&A community

. Facilitate real-time collaboration between training participants.
Reports & Analytics:

AI-powered

reports

and stats keep you posted about individuals and groups. Track progress, course completion, and gaps in real-time.
Pricing: $1/learner/month (billed annually).
Here's a real-life case study of ProProfs LMS that illustrates how the tool can help you.
Who: Dedicated contract carriage service provider, FirstFleet
Problem It Faced: The company wanted to train its drivers on DOT regulations and company policy. It also wanted to make training location-specific.
Solution It Received: FirstFleet chose ProProfs LMS and using the tool, it could develop training, assign it to drivers, and track progress and completion.
Initially, FirstFleet started with only a few subjects. After discovering how easy it was to create training programs, it expanded to over 100 different topics. The best part was it was not just 'generic' training but specific to the company's needs.
Result It Got: At one point, keeping track of training assigned and completed was a huge challenge for FirstFleet. Fortunately, ProProfs assisted it in getting this under control. Its drivers can now take training while on their breaks or at home.
2. Adobe Captivate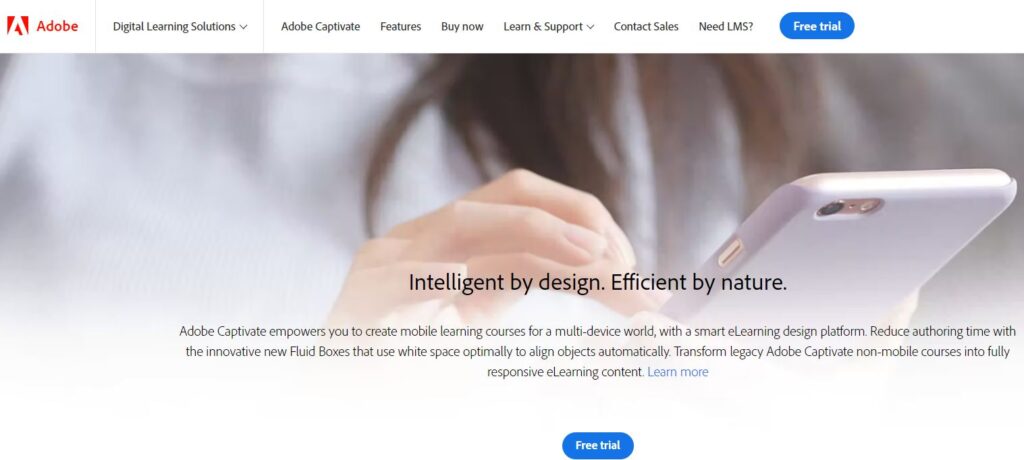 Adobe Captivate lets you create fully responsive mLearning content with the support of scalable HTML5, mobile themes, play bar, and a pause-and-resume feature.
Its smart authoring tool enables users to transform non-mobile courses into mobile learning content. With this, you can facilitate learning anywhere, any time, and on virtually any device.
Any type of content you deliver gets automatically rearranged according to the device a learner uses. The platform offers eLearning mobile apps for Android and iOS.
Key Features
Responsive Content:

Author a single eLearning content and deliver it to any device. They remain fully responsive across all device types and screen sizes.

HTML5 Publication:

Easily import your PowerPoint presentations into Adobe Captivate and publish them directly in HTML5. Retain text, audio, animations, and other elements.

Fluid Boxes:

This layout model provides an arrangement of containers on a slide. The objects added to the containers behave predictably when a slide accommodates devices of different screen sizes. The containers expand or shrink objects to fill available white space or to prevent overflow.

360° Learning:

Add 360° images and videos to your standard 2D Adobe Captivate projects. Let your learners get immersive experiences by augmenting mobile learning.
Pricing: Get in touch with the company for a quote.
3. EdApp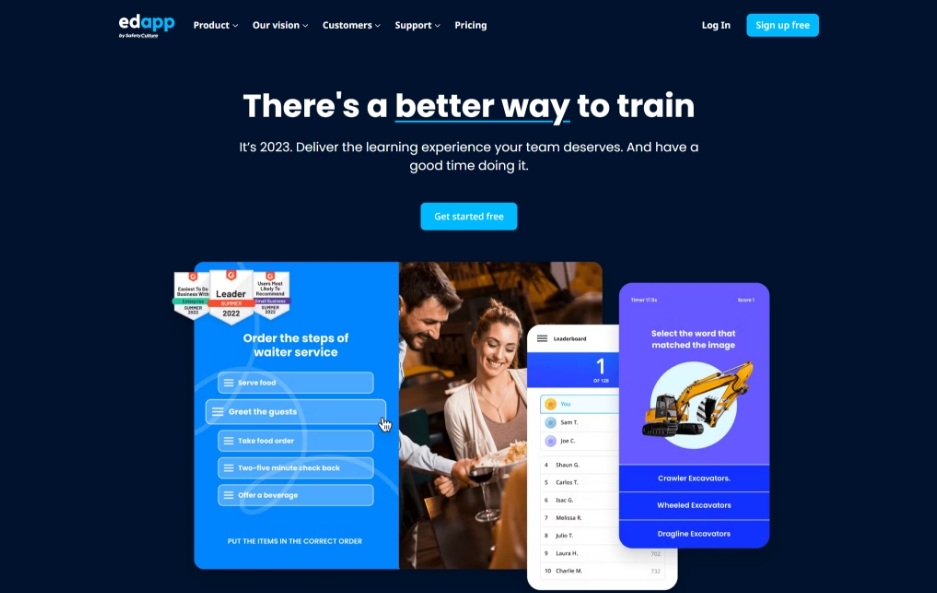 Turn your training materials into mobile-friendly content with EdApp. Let your learners take them anywhere for free. The built-in and easy-to-use templates let you create courses and add videos, quizzes, games, and assessments.
You can also use the free courses from the mobile learning platform and customize them with your branding.
The platform is easy to use, and you can administer training in minutes. Update content quickly to bring your audience up to speed. It also supports multiple languages so that you can deliver micro-lessons to different regions of the world.
Ensure information retention and higher course completion rates.
Key Features
Course Authoring:

Create a mLearning course in minutes using dozens of ready-to-use templates, PowerPoint conversions, and SCORM uploads.

AI Translation:

Cater to a worldwide audience by delivering training in multiple languages. Use a cloud translation tool to translate and distribute content with just a click.

PowerPoint Conversion:

Simply upload your training slides and convert them into engaging micro lessons. The PPT converter is free and usable any number of times.

Gamification:

Learning becomes effective when it doesn't feel like learning. EdApp's

gamification

features infuse competitive elements in learning with scores and prizes.
Pricing: Starts at $0 for unlimited users.
4. Lectora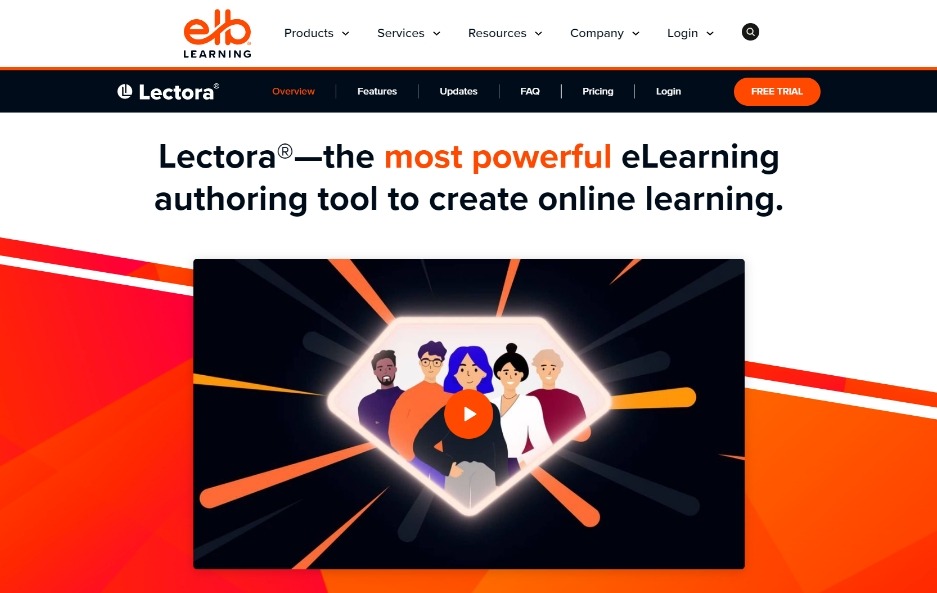 Lectora, a trusted eLearning authoring tool, enables users to develop modules rapidly with mobile-ready themes and style packs. The tool supports adaptive learning for personalized learning experiences. You can design responsive courses once and publish them everywhere.
Choose from a variety of eLearning frameworks and interactions. Embed virtual reality in your courses.
Lectora provides mobile-friendly templates for online learning designers that they can use within Lectora, Captivate, and Storyline.
Key Features
Flexible Mobile Learning Design:

Lectora takes a unique approach to mLearning design. It's flexible and gives you control over how your content displays across different devices.

Unparalleled Interactivity:

Add branching navigation, click-to-reveal interactions, animations, knowledge checks, quizzes, and feedback pop-ups. Make your learning more interactive.

Built-In Asset Library:

Enhance your lessons and tests with cut-out characters, icons, stock images & videos, audio files, and more. Let your content come alive.

Language Translation:

Translate your content into several languages, including English, French, German, Spanish, Swedish, and Chinese. Save time importing and exporting translation files with XLIFF.
Pricing: Starts at $999/year.
5. UpsideLMS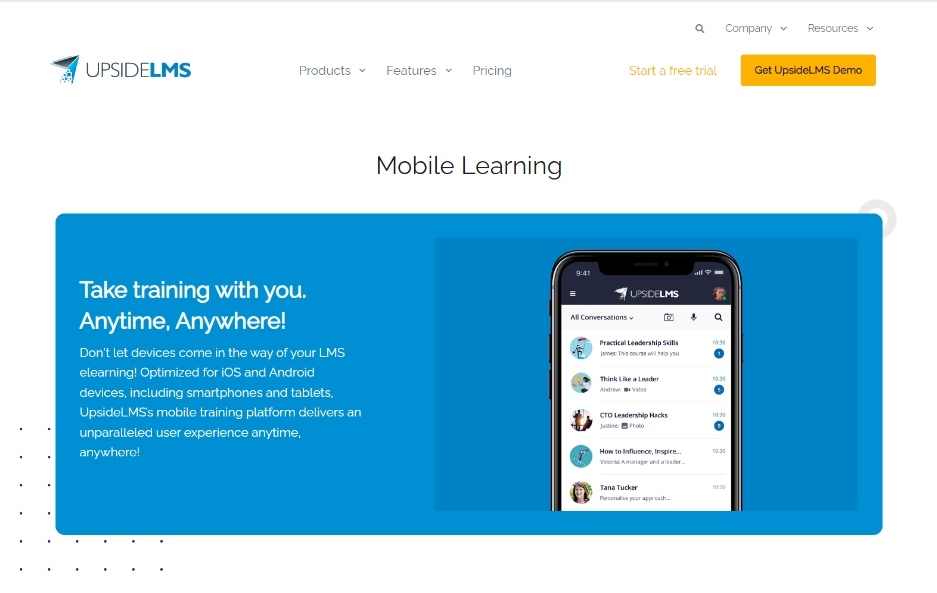 With UpsideLMS, you can take learning to where your learners are. They can go back and forth between different devices and pick up from where they last left in a lesson or assessment.
The mobile learning software even supports offline learning in that learners can download resources directly to their mobile learning devices and access them whenever and wherever they want.
The ability to access eLearning in rich formats such as videos, SCORM courses, reference materials, assignments, surveys, and assessments makes learning engaging in this tool.
Learning paths, social learning, gamification, and content authoring are other offerings in the mobile LMS.
Key Features
Offline Mobile Learning:

Don't let connectivity issues come in the way of learning. Let your learners download online resources and access them offline. The tool syncs progress once it becomes online.

Multilingual Support:

Train your learners in a language of their choice like English, French, Spanish, Arabic, Hindi, Chinese, Vietnamese, and Thai. Users can switch languages with a single click.

Ready-to-Use Content:

Access a mLearning portal consisting of high-quality online courses and videos. It offers over 80,000 content pieces on various topics optimized for maximum engagement.

Business Intelligence:

Leverage intelligent analytics and reports on learning to aid decision-making. Get insights into the most active users and popular curriculums.
Pricing: Get in touch with the company for a quote.
How to Use mLearning Software for Skill Development
Whether you're using a native app, a web app, or a hybrid app, you can always leverage them to conduct skill development training via mobile devices. Learners can stay connected with these tools and training materials unlimited by time and place.
Modern learning apps like Quizlet, SoloLearn, and Duolingo use tips, interactive lessons, flashcards, practice tests, and game-like exercises to deliver engaging learning experiences.
You can use tools like this to perform the following functions:
1. Promote Active Learning
With mobile learning, learning never stops. You can keep your learners engaged even when they are outside the classroom. You can also send notifications and reminders to learners for pending courses and tests.
This is particularly helpful for those with busy schedules. For example, construction workers are out in the field most of the time. They can't afford to spend long hours in the classroom as it would interfere with their productivity.
In such situations, you can share microlearning nuggets and short quizzes for quick and engaging learning sessions on a mobile device. This will ensure that the employees learn on the go without compromising their work.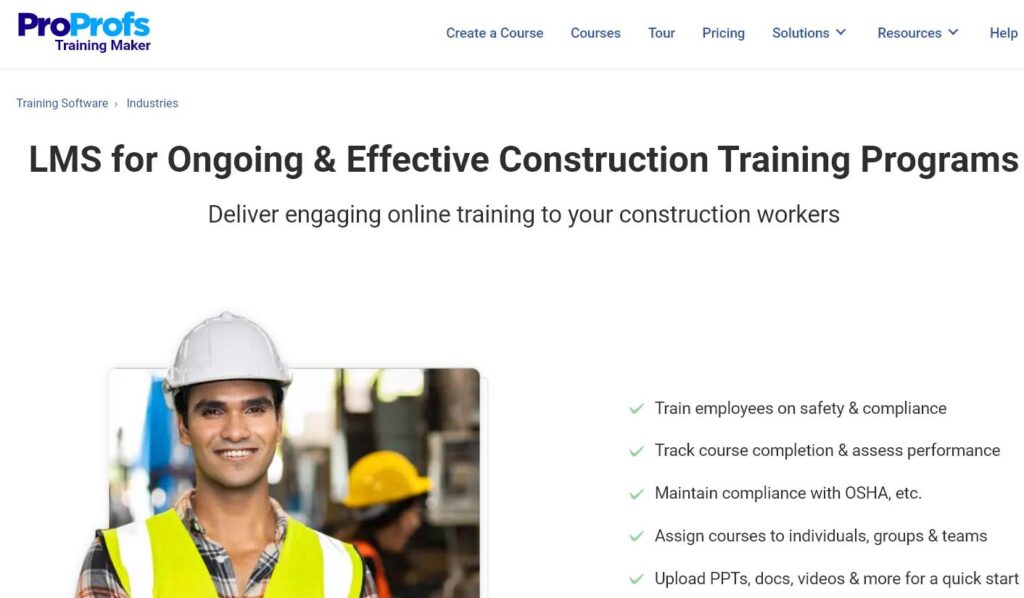 2. Offer Personalized Learning
Modern learners expect complete control over their learning. So you should provide this capability as a part of your effective learning strategies. In this effort, mLearning apps can prove handy.
You can share mini-courses, quizzes, short training videos, and slide presentations that learners can take at a time and place that work for them.
You may tailor the content to individual job roles and learning goals to ensure engagement and completion.
Also, customizations such as offering a choice of language and deciding the amount of information to be shared based on the proficiency level can add to personalization.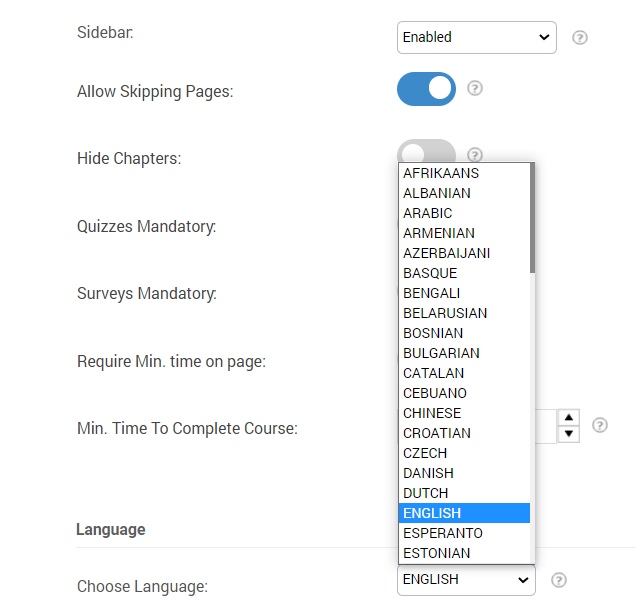 3. Track Progress & Completion
Monitoring learners' progress, milestones, and challenges is key to successful training in any online skill development program. Mobile learning dispels the notion that tracking is possible only within an organization.
A mobile LMS with reporting & analytics feature can collect learning data as it happens on your employees' mobile devices.
You can visualize all the information on each learner or group on a dashboard.
Based on the tool you use, you can get an overview of their progress, score, and even satisfaction rating.
With such data in your hands, you can see who has completed a lesson or assessment, the total time taken, and the final scores.
Taking remedial actions to bridge knowledge gaps, if any, also becomes easy with such data.
Watch: How to Analyze Training Course & Quiz Results
4. Enable Offline Learning
Like many other online learning platforms, mLearning apps support offline learning. Learners can download training resources and access them offline during their free time.
Similarly, learners can continue learning even when the connectivity is spotty or they are experiencing downtime. You can track all offline activities of the learners and sync their progress. This will get updated on the platform you use as soon as the connectivity is restored.
So this is another functionality in mobile learning apps or software that you can leverage for skill development in your workforce.
5. Optimize Performance Support
Before mLearning became a trend, providing performance support to learners at the moment of need was unknown. But today, this enablement has become one of the main reasons businesses adopt mobile learning systems.
For example, you can now make guides, micro-videos, checklists, and FAQs available to your employees anytime, anywhere, on any mobile device. This minimizes the need for human assistance.
There are several performance support tools that can help you implement performance support, regardless of the industry you're in. They can improve employee performance, reduce errors, troubleshoot problems quickly, and save time contacting someone to get the necessary information.
Redefine the Way Employees Learn With Mobile Learning Technology
Getting started with mLearning is easy once you understand all the advantages, use cases in corporate training, and the technology you can use.
These days, employees spend more time on their smartphones than at a work computer. This is a significant development that you can tap into to deliver mobile learning and get better results.
For that, you need a mobile learning strategy, understand the mobile learning trends, and adopt an intuitive and mobile-ready LMS.
You must also ensure that such LMS software solutions support different file types, multiple languages, and offline learning.
Only then can you be a part of the mlearning success story.
Do you want a free Training Software?
We have the #1 Online Training Software for employee training & assessment