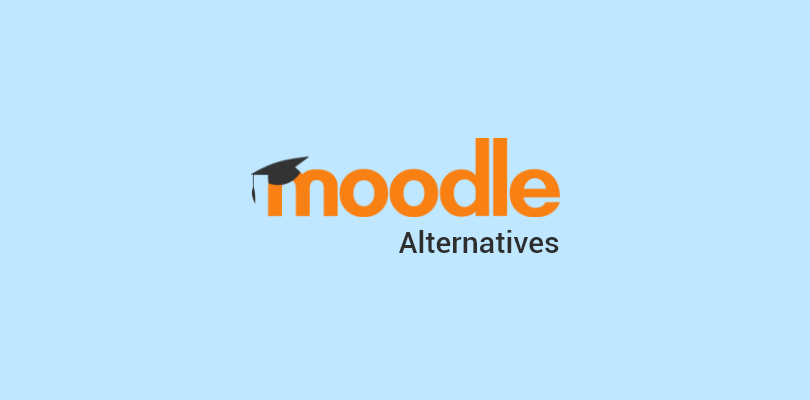 Looking for the best Moodle alternatives?
I understand that choosing between Moodle and its top competitors can be challenging. I'm here to help you, as I have used Moodle and other popular platforms.
As we all know, Moodle is an open-source platform that enables organizations to build a custom eLearning environment.
Despite being a widely-used solution, Moodle scores less in terms of its user interface and ease of navigation. In other words, it may not be a perfect solution for everyone. Most organizations are looking for better Moodle alternatives.
To help you choose the best ones on the market, I am presenting you with the top 10 Moodle competitors to help you make an informed decision.
Keep reading to find out.
12 Best Moodle Alternatives in 2023
I've curated this list of the 12 remarkable Moodle alternatives based on customer testimonials, peer feedback, neutral third-party reviews, and my first-hand experience.
1. ProProfs LMS – Best for Employee Training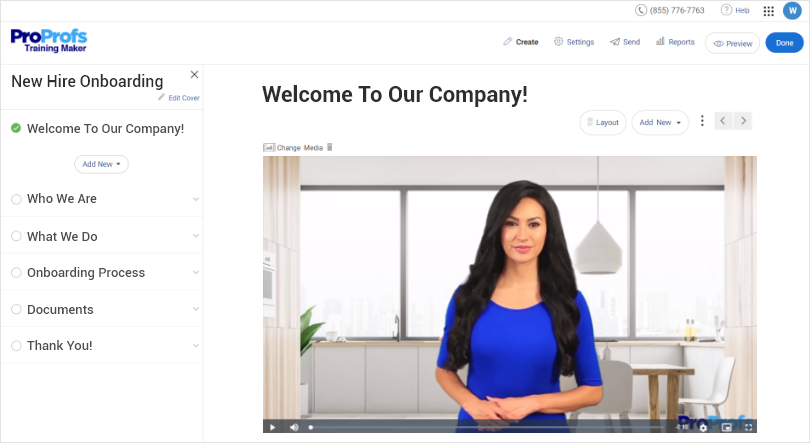 While exploring LMS platforms, I found ProProfs LMS as the easiest one to use, which is why I feel it's one of the best alternatives to Moodle LMS. The tool is designed keeping in mind users of all skill levels. It is learner-centric, and you can get it up and running in no time. No software download or installation necessary.
What impressed me the most is its collaboration features let course participants learn together, discuss ideas, and ask and answer questions on a centralized platform. You also get a library of 100+ professionally designed, interactive courses that ensure immersive learning experiences.
Unlike Moodle, ProProfs LMS offers seamless integration capabilities, making it a breeze to incorporate multimedia content and interactive quizzes. You can access comprehensive reports that provide valuable insights into learners' progress, pending courses, scores, and performance.
What you'll like:
Ease of setup and navigation; everything is self-explanatory
AI-powered reports & analytics to assess learner performance
Extensive customization and branding options to create courses the way you want them
What you may not like:
User interface needs to be updated
Limited course creation templates
Pricing:
Forever FREE plan for small teams (up to 10 learners). Paid starts at $1.97/learner/month with a 15-day money-back guarantee. No hidden charges.
Watch: What is a Cloud-Based Learning Management System?
2. Thinkific – Best for Self-Paced and Cohort Courses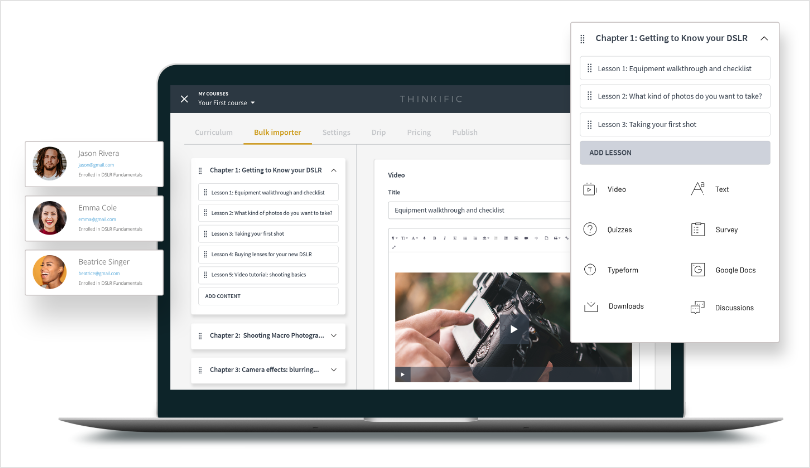 I found Thinkific's drag-and-drop course builder intuitive, allowing me to create captivating courses with minimum effort.
I am particularly impressed with the tool's seamless integrations and comprehensive analytics. These features helped me build a collaborative learning system and monitor learner performance closely.
Another exciting aspect of Thinkific is that it gives you the power and flexibility to design self-paced and cohort courses, keeping in mind the convenience of the modern learner.
With its user-friendly interface and exceptional customer support, Thinkific can be the ultimate choice for educators seeking to deliver exceptional learning experiences without the complexities often associated with Moodle.
What you'll like:
An easy-to-use mobile app for any time, anywhere learning
Bulk importing of content to save time and effort.
What you may not like:
Limited customization options
Limited third-party integrations
Pricing:
Starts from $36/month.
3. Absorb LMS – Best for Task Automation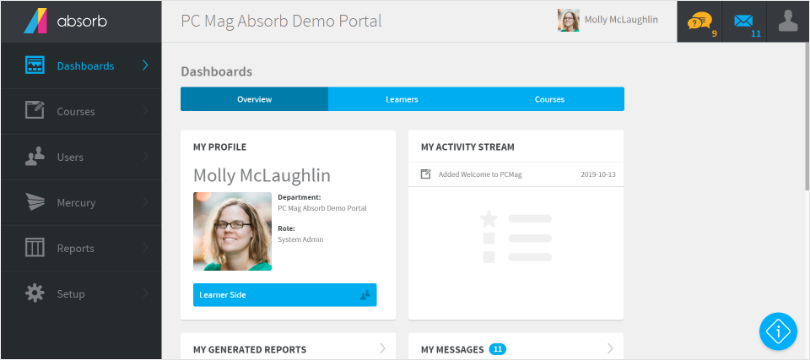 Absorb LMS brings together progressive technology and excellent customer service in the LMS. It houses an intuitive interface and powerful course creation features that streamline the process of designing engaging courses.
While exploring Absorb LMS, I realized how easy it is to automate admin tasks and mold the platform to the chosen rules and schedules. This level of control ensured that the platform seamlessly integrated into our existing workflows, enhancing overall productivity and performance.
Its mobile app runs seamlessly without interruptions and supports 24/7 learning, even offline, making Absorb LMS one of the top Moodle competitors.
What you'll like:
In-depth reporting to monitor learner activities and progress
An array of pre-built courses to get you started in minutes
What you may not like:
UI can be a little complex to navigate
Inactivating courses and monitoring past content is complicated
Pricing:
Starts from $800 to $1350/month
4. TalentLMS – Best for Incorporating Gamification in Courses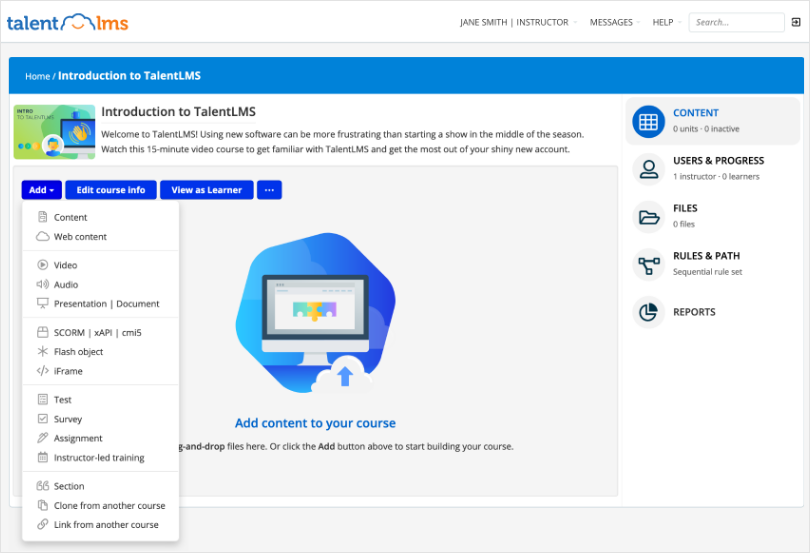 In my comprehensive analysis of Moodle alternatives, TalentLMS stood out as a versatile and user-friendly learning management system.
As I see it, it has got an intuitive interface, powerful course creation tools, and social learning features that foster active engagement and collaboration among learners.
What sets TalentLMS apart is its gamification features, subtly motivating learners with badges and leaderboards.
The platform's mobile app ensures convenience and flexibility, enabling learners to access courses on the go.
TalentLMS surpasses Moodle's mobile accessibility, comprehensive reporting capabilities, and extensive integration options.
What you'll like:
Incorporate fun elements in learning like badges, points, and leaderboards
No-code integrations for smooth training flow
What you may not like:
Managing users is cumbersome
UI looks outdated
Pricing:
Starts from $69/month
5. Docebo – Best for AI-Powered Learning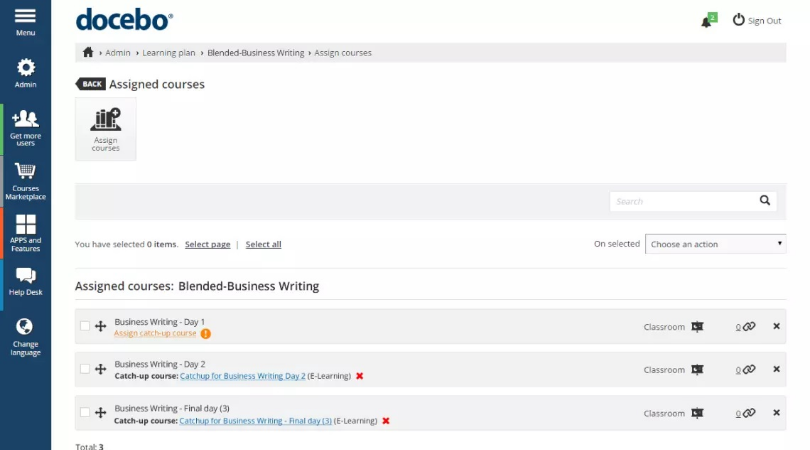 Docebo is a cloud-based and mobile-ready SaaS LMS powered by AI. From what I experienced, this software gives access to over 60,000 courses and social learning features for an impeccable learning experience.
Its intuitive design, AI-powered learning recommendations, and gamification elements.
AI does the heavy lifting for me through auto-tagging, virtual coaching, and content suggestions. This makes my learners self-sufficient and leaves more time for admins to focus on improving training
Docebo's social learning capabilities, robust reporting, and seamless integrations make it a powerful choice for organizations seeking a more modern and engaging alternative to Moodle.
What you'll like:
Free extensions to configure your LMS your way
Personalized learning paths for immersive experiences
What you may not like:
Gets glitchy at times
Delays with update releases
Pricing:
$1,600/month
6. Google Classroom – Best for Collaborative Learning Across the Google Workspace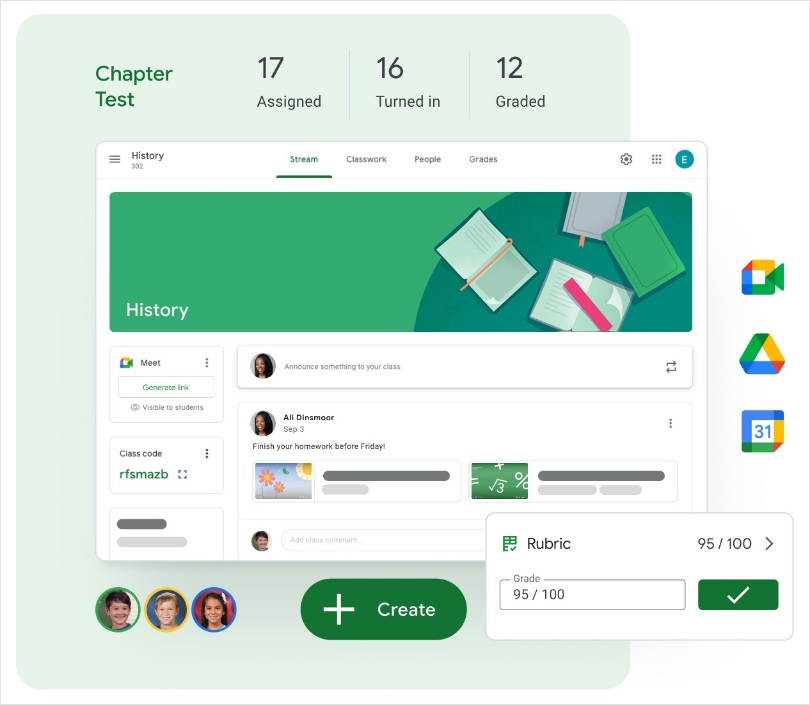 Having explored Google Classroom, I can confidently say that it's a simple and powerful platform for educators. Seamlessly integrated with other G Suite apps, it streamlines the educational process by enabling you to create, distribute, and grade assignments effortlessly.
The real-time collaboration and feedback options enhance student engagement, while the easy-to-navigate interface fosters a positive learning environment. Its compatibility with various devices ensures accessibility for everyone, making it a standout alternative to Moodle.
With its easy grading and assignment tracking, Google Classroom is the perfect Moodle alternative for educators seeking a hassle-free and effective way to enhance the learning journey.
What you'll like:
Self-paced learning and real-time feedback to reinforce concepts
Detailed insights into learner performance to make informed decisions
What you may not like:
A limited number of learners can join a classroom
Limited customization options
Pricing:
Free (Lacks advanced customization and in-depth analytics)
7. Canvas LMS – Best for Learner Collaboration and Discussions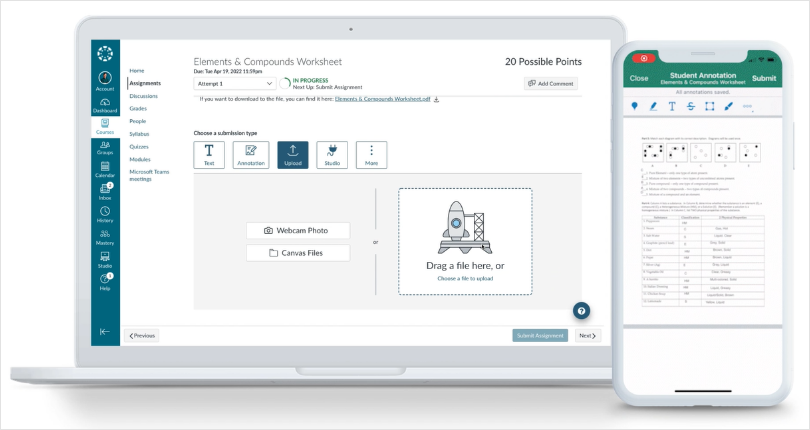 From its seamless course creation and management to its interactive discussion boards and assignment tracking, Canvas offers a delightful learning experience.
With the help of messaging, video, and audio notes, Canvas LMS helps learners collaborate and stay on the same page.
Its mobile app ensures students and instructors can stay connected on the go.
Moreover, the system's analytics and reporting tools provide valuable insights into learner progress, making it a top choice for educational institutions of all sizes.
If you want to eliminate the headaches of modern-day learning, this open and extensible Moodle alternative is the way to go. You get everything in one place, whether engaging course content, quizzes, insights, user interactions, or grades.
What you'll like:
Interactive analytics to help you unlock valuable data
A responsive mobile application for easy accessibility
Why you may not like:
Lack of customization options
Data security is not that strong
Pricing:
Free (Basic reports and analytics)
8. 360Learning – Best for Multilingual Training Management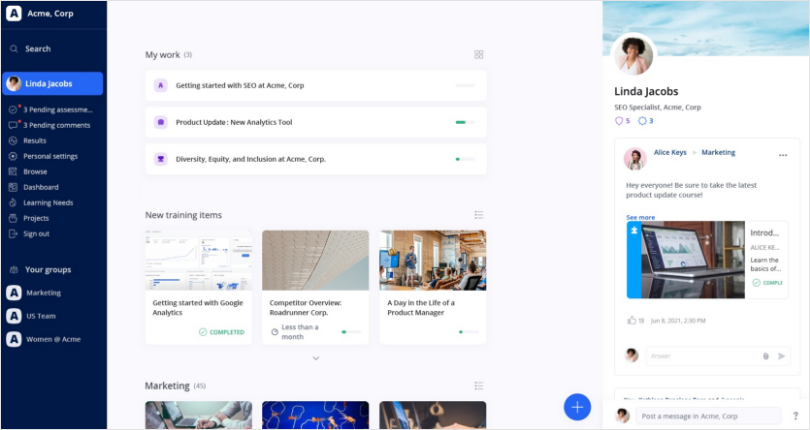 360Learning has proven to be a refreshing Moodle alternative with its collaborative and engaging learning platform. I love that it supports over 30 languages, making it a great choice for multilingual training management for a global workforce.
The platform's mobile-friendly design and robust reporting capabilities provide valuable insights into learners' progress. Unlike Moodle, 360Learning delivers a more interactive and learner-centric approach, empowering you to create effective training programs.
The tool also supports collaborative editing by allowing everyone to have a say in creating courses. It offers co-authors, internal comments, feedback inbox, and other collaborative tools for this.
What you'll like:
Workflow tools that help keep learning in the flow
Real-time feedback from learners to improve course quality
What you may not like:
Lacks gamification options
Reports are not that comprehensive
Pricing:
Starts from $8/user/month
9. SkyPrep – Best LMS for the Modern Workforce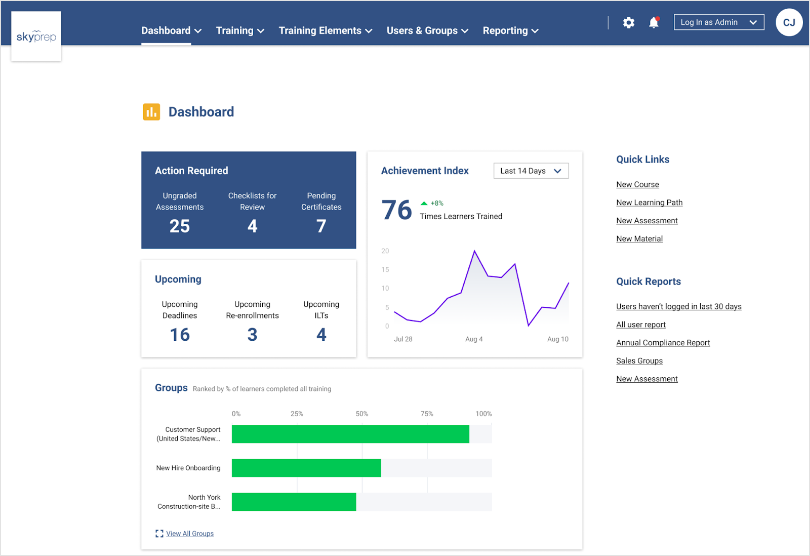 I found SkyPrep's intuitive course creation tools and customizable branding options highly valuable. The automated course enrollment feature automates the training process, making it an excellent Moodle alternative.
SkyPrep's extensive integration capabilities and responsive customer support make it a reliable and efficient choice.
It is one of the most intuitive platforms and an LMS without a mess. It also provides integrated solutions for corporate eLearning to help you facilitate online training and knowledge sharing in the workplace.
Unlike Moodle, SkyPrep offers a more streamlined and user-friendly experience, making it the go-to platform for versatile and effective learning management.
What you'll like:
Multilingual capabilities for your global workforce
Bulk user updates to manage learner success
What you may not like:
Reporting functionality is not that advanced
No system to delete duplicate applicant entries
Pricing:
Starts from $199/month
10. SAPLitmos – Best LMS for Creating Courses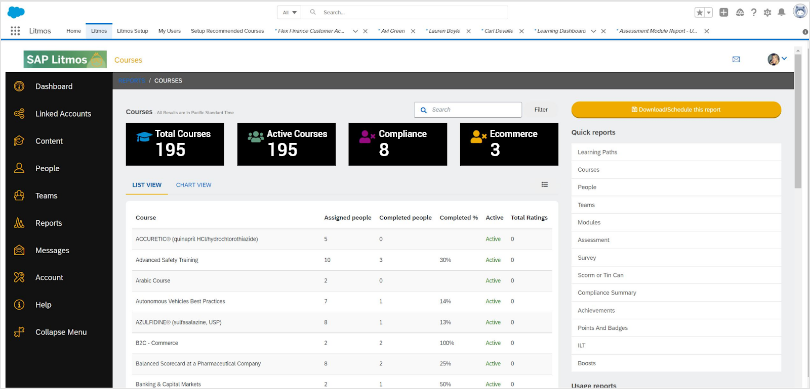 With SAP Litmos, creating course content and assessments is a real breeze. Creating and managing courses becomes effortless, thanks to its intuitive interface that requires minimal training for administrators.
The robust reporting and analytics far exceed Moodle, providing valuable insights into learners' performance. With its gamification features and responsive design, SAP Litmos creates an engaging and immersive learning environment.
Unlike Moodle, its scalability, security, and seamless integration with other SAP solutions make it ideal for businesses seeking a modern and comprehensive training platform.
What you'll like:
Universal accessibility for 24/7, uninterrupted learning
Gamification features for interactive learning
What you may not like:
The app gets buggy at times, demanding extra work to be done
Limited third-party integrations
Pricing:
Custom Pricing
11. Blackboard Learn – Best for Collaborative Learning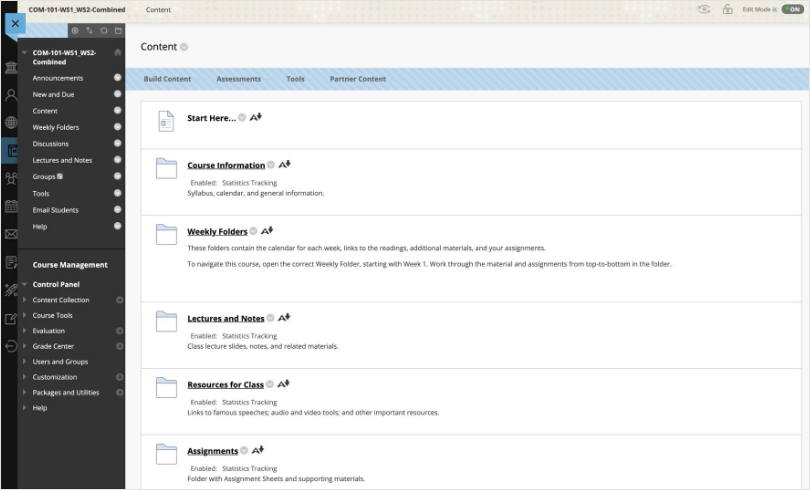 Blackboard Learn offers a comprehensive set of tools for course management, content delivery, and communication, making it a go-to platform for educators. The user-friendly interface and seamless integrations have made my training journey more efficient.
Unlike Moodle, Blackboard Learn offers a more collaborative and adaptive learning experience with features like interactive discussions and grade book functionality. You can employ natural workflows for streamlined learning and its built-in collaboration functionality to help learners learn better in a global community.
What you'll like:
Built-in originality scoring to prevent plagiarism
Real-time insights for continuous learner improvement
What you may not like:
The mobile version gets inconsistent at times
Doesn't offer a free version
Pricing:
Custom Pricing
12. Chamilo – Best for Creating Adaptive Learning Paths
Chamilo is an open-source Moodle competitor that brings versatility and customization to the forefront. It offers an intuitive course builder, enabling you to effortlessly design engaging and interactive learning content.
It comes with adaptive learning paths to personalize the learning experience based on the learner's progress and knowledge level.
Moreover, Chamilo's extensive reporting and analytics empower administrators with valuable insights into learner performance, facilitating data-driven decision-making.
This potent combination of creativity, personalization, and data intelligence makes Chamilo a powerful Moodle alternative, revolutionizing the way we educate and cultivate knowledge.
What you'll like:
Professional and prompt support team
Continuously upgrading with more functionalities
What you may not like:
Uploading files gets slow at times
The software's support manuals are not regularly updated
Pricing:
Free (Limited third-party integrations)
Which Is the Best Moodle Alternative for You?
The best Moodle alternative depends on what you are really looking for in a tool.
Is it workflows and collaboration that you focus on?
Or is it the ease of use and integrations that are your priority?
List what you want and then identify tools that best meet your needs.
For a simplified search, here are some of the tools I would recommend:
Option A: ProProfs LMS
This is one of the most accessible tools I have used. No technical knowledge is required! It has compelling features that get the job done and offers power-packed integrations for a holistic learning experience. It is best for large enterprises, freelancers, small and mid-sized businesses, and government agencies.
Option B: Docebo
Docebo is another tool I admire for its AI-powered learning system. Some key highlights are its intuitive design, gamification elements, and social learning capabilities. The tool best suits financial services, healthcare, and hospitality organizations.
Option C: TalentLMS
TalentLMS is another top pick because of its mobile accessibility, robust reporting, and extensive integrations. Its gamification features further act as the cherry on the cake! Small to midsize companies can benefit substantially from this software.
To sum it up, I think ProProfs LMS is the best of all, based on my personal experience. It has everything you need to deliver a stellar learning experience – an intuitive interface, great customization features, powerful automation, and reports.
Do you want a free Training Software?
We have the #1 Online Training Software for employee training & assessment