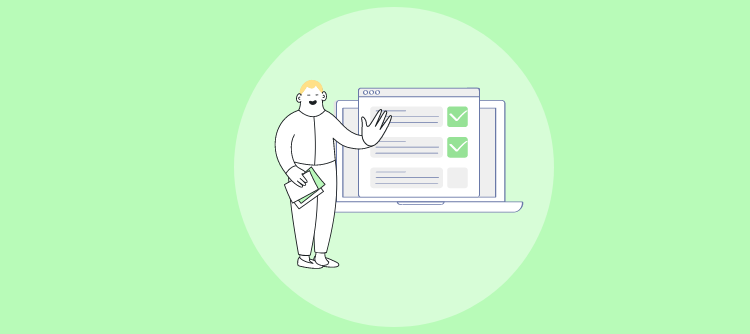 Moodle is a popular LMS software with rich features for building online courses. This open-source platform enables organizations to build a custom eLearning environment. Despite being a widely-used solution, Moodle scores less in terms of its graphic user interface and ease of navigation. In other words, it may not be a perfect solution for everyone.
That's why, you might want to explore some other alternatives to Moodle so that you can adopt a software system that serves you best.
To help you choose the best ones on the market, in this blog post, we present the top 10 Moodle competitors where we share an overview of each platform at length, the pros and cons, and pricing. This will help you make an informed software purchase decision.
Continue reading to find out.
A Quick Feature & Price Comparison Table of the 10 Best Moodle Alternatives
10 Best Moodle Alternatives
Why Is It the Best Alternative?
Pricing
ProProfs
Course & Template Library

Quizzes

English, Spanish & 70+ Languages

Social Learning

AI-Powered Reporting

Starts at $1/learner/month
Thinkific
Live Lessons

Customizable Website

Assessments & Certificates

Communities & Memberships

In-Depth Reporting

Starts at $39/month.
Absorb LMS
Content Libraries

Smart Administration

Mobile App

SCORM Compliance

Reporting & Analytics

Available on request.
TalentLMS
Course Management

Assessment Engine

SCORM, cmi5 & xAPI

Learning Paths

Starts at $0/month.
Docebo
eLearning Content

Learning in the Flow of Work

Learning Impact Analysis

400+ Integrations

Available on request
Google Classroom
Video Meeting

Custom Learning Plans

Multilingual Support

Automatic Calendar Reminders

Free plan available.

Paid version starts at $3/learner/year

Canvas LMS
Open & Extensible

Quizzes

Mobile Learning

Learner Collaboration

Available on request.
360Learning
Easy Course Creation

Course Templates

Video Recording

Dashboard Reporting

Starts at $8/user/month.
SkyPrep
Course & Content Management

User Management

Customization & Branding

Advanced Analytics

Available on request.
SAP Litmos
Built-In Content Authoring

Off-the-Shelf Content

Quick Deployment

Universal Accessibility

Available on request.
Moodle LMS: An Overview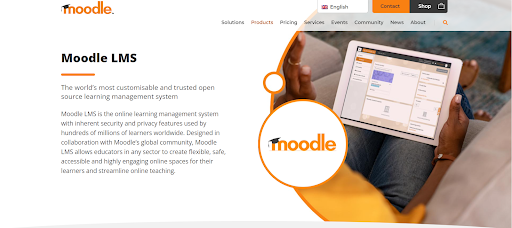 Moodle is one of the world's most widely used online learning platforms with 213 million users. It offers a free version that educators and enterprises can use to create personalized eLearning environments. Being an open-source platform, it is easily customizable with numerous plug-ins and add-ons to fit the needs of any organization.
Moodle supports both online and blended learning. In addition, it offers chats, forums, wikis, chats, and blogs.
Key Features
Modern & easy-to-use UI

Personalized dashboard

File management

Intuitive text editor

Notifications & tracking

Multilingual support

Integration with external apps

Reporting & logs
Now the question is: why would someone consider a Moodle alternative?
Since it is open source, you need to download the software to your local server, which may not be the best option for small and medium businesses.
The tool also lacks customization options for graphic user interface (GUI). First-timers may find Moodle hard to navigate.
Benefits of Moodle LMS
Before we do get down to discussing the top Moodle alternatives, let's look at some of its real benefits that make it one of the most popular LMS options for countless users worldwide.
Moodle is easy to use because of its simple interface, drag-and-drop functionality, and documentation on getting started, managing the site, and new features.

The learning management system is flexible enough to deliver any eLearning or training program, be it blended or fully online.
More than 100 language packs are available for installation on your Moodle site. All you need to do is simply select the preferred language from the list and click the "Install selected language pack" button.

Moodle is supported by a global community of learners, educators, administrators, and developers. It is a place where you can meet, share ideas, and get support.

Works Across Devices & Browsers
It is compatible with all popular devices and browsers. So, learning anytime, anywhere, and on any device is easy with the platform.
Moodle updates its security features regularly to ensure that user data is fully protected from loss, unauthorized access, and misuse.
That was a brief look at Moodle. Now let's look at some of the best alternatives to Moodle.
Top 10 Alternatives to Moodle LMS
1. ProProfs LMS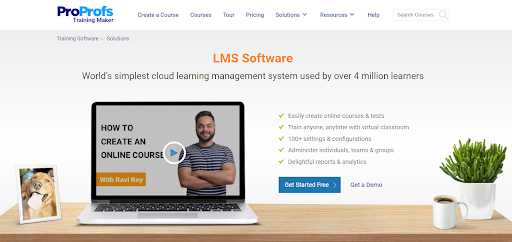 ProProfs LMS is arguably the world's easiest cloud learning management system and the best alternative to Moodle LMS. The tool was designed keeping in mind users of all skill levels. It is learner-centric and you can get it up and running in no time. No software download or installation necessary.
A library of 100+ professionally designed and ready-to-go courses ensures rapid course development. These resources are fully editable by adding a logo, existing training materials, personalization, and branding.
Other notable features in the LMS include:
a Q&A-based online collaboration forum

engaging quizzes

100+ customization options

support for English, Spanish, and 70+ other languages
ProProfs enjoys a large customer base spread across the world. It is trusted by leading companies, teachers, colleges, and universities.
It offers 24/7 chat, email & phone support. You can call or chat with its customer service, use its knowledge base, or raise a ticket and it will get right back to you! ProProfs has a track record of resolving issues faster than customers expected.
The LMS is hosted using world-class cloud infrastructures – Amazon and IBM. This ensures that users benefit from faster and more reliable deployment of the system.
Why We Picked It
+ Incredibly easy
+ Ready-to-use courses
+ Awesome support
Pricing
Starts at $1/learner/month. No hidden costs. No per-user fee. Free trial for 15 days on all plans.
2. Thinkific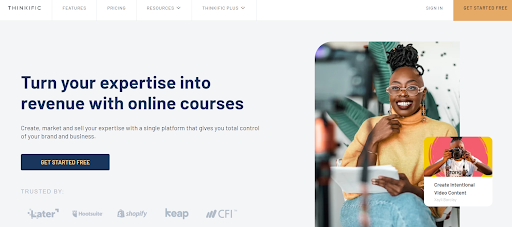 Thinkific is a software platform to create and deliver employee training. Its mission is to revolutionize the way people learn. Using it, you can create engaging onboarding and other educational content and get your learners up to speed faster.
The platfrom is easy to set up and it has been designed for both trainers and their audiences. Learner management becomes easy as the platform displays each learner's name, photo, and contact information and provides details on how they are progressing through a course.

The admin dashboard in the solution serves as the control center for accessing the site builder, the course builder, learners' progress, integrations, reports and more.

If you are a course creator and in the business of selling courses, Thinkific is what you need to build and design an eCommerce website to sell your courses. This is something you will find lacking in Moodle.
Why We Picked It
+ Complete course creation tool
+ Adaptable
+ Ease of integration
Pricing
Starts at $39/month. 1 site admin account. Unlimited courses, students, and content.
3. Absorb LMS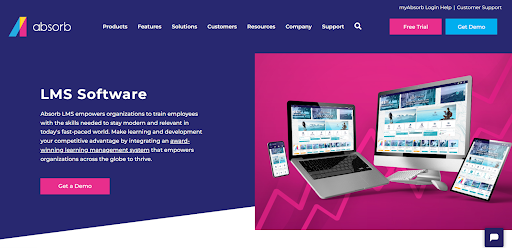 Absorb LMS is an award-winning cloud LMS for business. It brings together progressive technology and excellent customer service in the LMS. If you want to continuously engage your learners, ensure retention, and elevate your training programs, Absorb LMS is the go-to solution.
Get started with your online training faster with pre-built online courses. These are quality content from established content providers.
Automate your admin tasks to achieve efficient and smart administration. You can mold the platform to run according to your rules and chosen schedules.
Promote uninterrupted learning by adopting the mobile app that supports learning anytime, anywhere, even offline.
Make informed decisions by accessing the data your organization needs. Reporting and analytics in the LMS provide you key insights specific to your business.
Why We Picked It
+ Easy to implement & customize
+ Professional in their dealings
+ Admin view
Pricing

Available on request.
4. TalentLMS

One of the most popular LMS systems, TalentLMS is characterized by an intuitive interface and easy access on any device. With training solutions right out of the box and ready to go, you can avoid spending months on setting up an LMS. This means you can prevent your training programs from fizzling out. Simply create online courses, add learners, and go live by the end of the day.
That's why people "come for the training, stay for the experience" at TalentLMS.
Personalize your training to reflect your preferences, styles, and branding requirements. Deliver it in your learners' language. When you make your training relevant like this, you can ensure a greater acceptance level from users.
With TalentLMS, you can deliver the same engaging training experience for any eLearning scenario – onboarding, compliance, or sales, as well as any team, whether they're employees, customers, or partners.
A team of experts is there to help you at each step of the way so that you reach your training goals and build a smarter organization.
Why We Picked It
+ User-friendly
+ Outstanding support
+ Value for money
Pricing
Starts at $0/month. Up to 5 users and 10 courses. Unlimited email support.
5. Docebo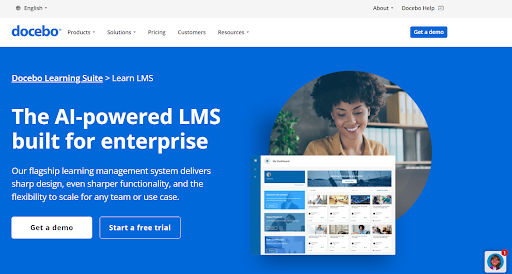 Docebo is a cloud-based and mobile-ready SaaS LMS powered by AI. Using this system, you can automate learning management, facilitate informal learning, and personalize learner experience. Customers use Docebo for employee onboarding, to develop and retain employees, centralize compliance training, and more.
Access a library containing 60,000+ courses and leverage social learning to reverse the forgetting curve.
The LMS supports unlimited configurability that enables users to create audience-specific pages. Similarly, you can boost your employee training with 400+ integrations, whether it is CRM, web conferencing, SSO, or payment gateways.
Not only that, you can build a culture of learning through social learning and expand the frontiers of formal training for greater productivity. Discover, Coach & Share brings social learning and content curation into a single place.
AI does the heavy lifting for you through auto-tagging, virtual coaching, and content suggestions. This makes learners self-sufficient and leaves more time for admins to focus on improving training programs.
Why We Picked It
+ First-rate customization options
+ Constant updates
+ Refreshingly easy to navigate
Pricing
Available on request
6. Google Classroom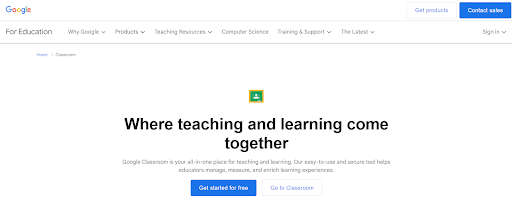 "Technology alone will not improve education, but it can be a powerful part of the solution." – Sundar Pichai, CEO, Google
Google Classroom is a teaching and learning platform available free for schools, non-profits, and anyone with a Google account. It provides easy-to-use and secure tools in one place. These tools are generally those that you already use to supplement in-person learning.
Ease of setup, paperless assignments, improved organization, seamless communications, and security are some of the highlights of this Moodle LMS alternative solution.
Instructors and learners can work simultaneously on the same documents anywhere and on any device. They can also connect face-to-face via Google Meet.
Google Classroom is already a part of Google Workspace for Education and works seamlessly with the collaboration tools in Google Workspace. In addition, you can integrate thousands of educator-approved apps with Classroom.
You can use the originality reports to check your learners' work for potential plagiarism. Look for missing citations. Let them turn in their best work.
Google products, including its Classroom, are created with accessibility in mind so that all learners can participate in the learning process in their own way and achieve their full potential.
Why We Picked It
+ You can use all Google tools with the Classroom
+ Team interactions & collaboration
+ Ease of grading
Pricing
It offers a free plan for individuals and schools. The paid version starts at $3/learner/year.
7. Canvas LMS

A fast-growing online learning management platform, Canvas LMS helps streamline learning for a simpler and more connected experience. It empowers instructors with innovations and learners with successful learning outcomes. This makes it another popular option as a Moodle alternative.
If you want to eliminate the headaches of modern-day learning, this open and extensible Moodle alternative is the way to go. Whether it is the engaging course content, quizzes, insights, user interactions, or grades, you get everything in one place.
The LMS is suitable for in-person, online, and blended learning. You get to focus on teaching and learning while the tool handles all admin tasks.
Easily develop large-scale training programs that impact your bottom line. Enrich your courses and lessons with audio and videos. There's no limit on the number of files you can upload.
Reduce grading time by half using SpeedGrader, a tool for viewing and grading assignment submissions in one place.
Why We Picked It
+ It's easy to use
+ Dashboard
+ Self-contained & secure
Pricing
Available on request.
8. 360Learning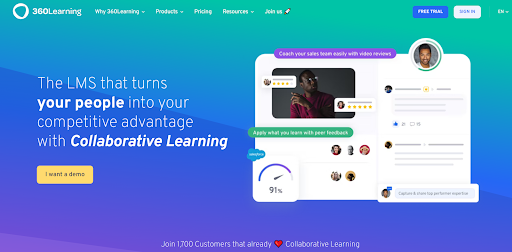 At 360Learning, the whole concept of learning revolves around collaborative learning. The learning platform makes it easy to build a culture of collaborative learning. This is intended to change the trend of corporate learning, which is still primarily top-down, siloed, and slow and no longer does justice to the way people work today.
As the learning needs of organizations change over time, 360Learning helps them tackle new learning needs as they arise.
360Learning makes course creation a breeze. A built-in authoring tool and course templates are some of the resources you can use to get started. You can reduce your course creation time from 3-6 months to just 17 minutes with the solution.
Also, on average, 360Learning courses register a 91% completion rate compared to 20% for legacy platforms.
The tool also supports collaborative editing by allowing everyone to have a say in creating courses. For this, it offers co-authors, internal comments, feedback inbox, and other collaborative tools.
Other useful features in 360Learning include course playlists, android and iOS apps, analytics, dashboards, assessments, and certifications.
Why We Picked It
+ Its strength lies in collaborative learning
+ Course and quiz creation
+ Responsive customer service
Pricing
Starts at $8/user/month. 1 to 100 users.
9. SkyPrep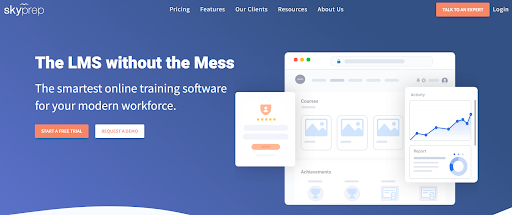 SkyPrep is another online training software that is designed to offer a better learning experience. It is an award-winning LMS that organizations use to deliver, track, and optimize training for their employees, customers, and channel partners.
You can automate your training programs, facilitate distance learning, and improve employee productivity. Its innovative knowledge-sharing platform BoostHQ enables organizations to centralize, share, and discuss workplace knowledge.
SkyPrep is one of the most intuitive platforms and an LMS without a mess. It is designed to tackle any enterprise learning challenge and move the needle. The LMS provides integrated solutions for corporate eLearning to help you facilitate online training and knowledge sharing in your organizations. These include:
course builder

test maker

virtual classroom

employee onboarding

employee training

compliance training

customer training

remote training

course selling
This way, it can help you boost engagement, reduce the time spent on learning, and increase knowledge retention.
SkyPrep's award-winning products serve more than 1,000,000 users from leading companies operating in different sectors and industries.
Why We Picked It
+ Easy for admin to implement and maintain
+ Automation
+ Creating & deploying courses
Pricing
Available on request.
10. SAP Litmos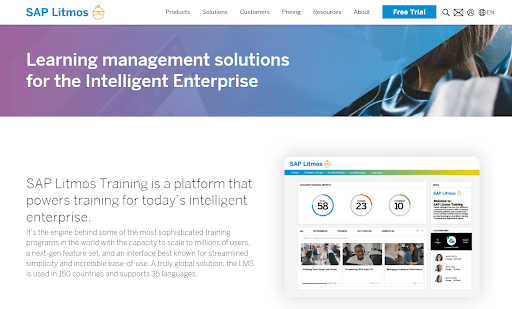 SAP Litmos is still another widely used online learning platform and one of the best alternatives to Moodle. The LMS deploys in minutes and provides universal accessibility 24/7 from anywhere, online or offline.
While a built-in content authoring tool allows you to create dynamic SCORM content, the LMS offers relevant and current off-the-shelf content on compliance, communication and social skills, leadership & management, and much more.
Built-in reporting and analytics in SAP Litmos enable you to measure performance, track course completion, check averages, the popularity of your content, and more.
Some of the best companies use SAP Litmos and one of the reasons is that it caters to the online learning needs of every segment of a business. These include training for employees, customers, sales, compliance, and service & support.
The platform can dramatically change the way you create and manage online learning.
Why We Picked It
+ Course builder
+ Video resources
+ Quick & consistent support
Pricing
Available on request.
Looking for a Moodle Alternative?
That was a quick list of some of the best Moodle alternatives that you can explore and make a conscious choice based on your requirements.
You may have been a Moodle user for long and meeting your online or blended learning needs one way or the other. But a look at these alternatives will give you an idea of how you can improve your employee training programs with features, resources, support, and other enablements that don't come with Moodle.
The idea is if you can expand the boundaries of your training by utilizing the best tools available, why to limit yourself to one tool. So choose the best alternative that can easily meet all your requirements today.
Do you want a free Training Software?
We have the #1 Online Training Software for employee training & assessment