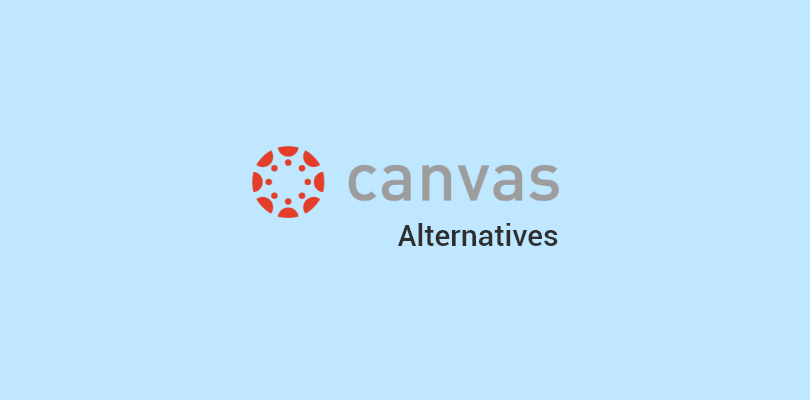 Looking for the best Canvas LMS alternatives to build a robust training management system? I've got you covered.
Canvas LMS is a well-regarded platform, but it may not be suitable for every individual or organization. This necessitates users to find a superior tool.
With that in mind, I tried many tools to create a detailed list of the best LMS tools that can compete with Canvas LMS regarding features and pricing. I settled on the top 12 to help you pick the one that suits your requirements.
Here's what we have covered for each tool:
What sets the tool apart from others
Best features
Limitations
Pricing
Keep reading to find out.
12 Best Canvas LMS Alternatives for 2023
While selecting the tools for this list, I read the customer reviews, tested the features, sought recommendations from my peers, and searched the company's website. Here are the ones that passed the process:
1. ProProfs LMS – Best Canvas LMS Alternative for Compliance & Skill Training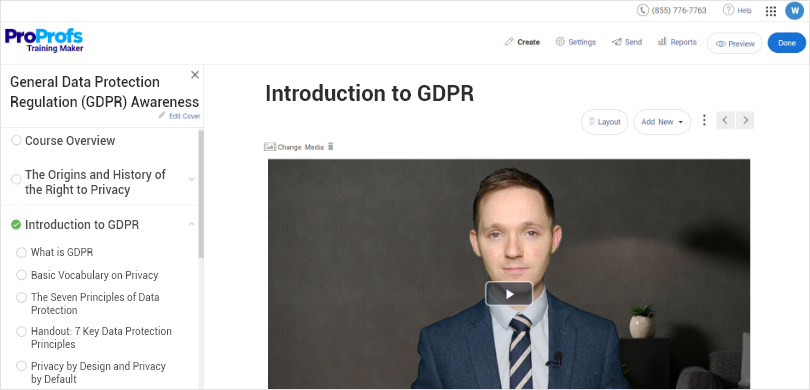 ProProfs LMS is one of the best tool systems for cloud-based learning.
I found it fascinating how easy it is to create, manage, and track online courses and assessments using this platform.
Over 100 pre-built courses on various training topics like safety, compliance, sales, customer service, leadership, and soft skills exist.
These ready-to-go resources prove helpful for industries such as construction, manufacturing, healthcare, NPOs, and government agencies where competencies and regulatory compliance are a must.
The mobile-friendly LMS promotes learning on the go. You can even download training materials to go through them offline without worrying about the internet, making it one of the best Canvas LMS competitors.
The platform also supports virtual classrooms for a centralized learning environment, in-course assessments to engage the learners, and a built-in Q&A forum to promote social learning.
What you'll like:
Intuitive interface to create courses and training modules easily.
Professionally designed ready-to-use courses on compliance, skills, onboarding, and more.
Create quizzes, assessments & surveys to assess learners' knowledge.
Upload PDF, PPT, DOC files, videos, and images.
In-depth reporting and real-time insights into learners' progress and course popularity.
Publish and sell courses online through ProProfs marketplace.
Award certificates on successful course completion.
Support
What you won't like:
ProProfs can update UI to give it a modern look.
Needs more templates to expand the course library.
Pricing:
Forever free plan (up to 10 learners). Paid plan starts at $1.97/learner/month (billed annually) for large teams. No hidden charges. 15-day money-back guarantee.
2. Absorb LMS – Best Canvas LMS Alternative for AI Automation of Training Management

Creating and managing courses felt like a piece of cake with Absorb LMS.
I love its AI-based Intelligent Assist feature. You can type your query, and the system automatically takes you to the required setting, page, or courses in a second. You can make the necessary changes without manual input, making it a top Canvas LMS competitor.
You can also use it to automatically suggest courses to learners based on their progress and skill level. Plus, Absorb LMS also hosts a native mobile app to promote learning and development on the go.
What you'll like:
Multiple modules for employee upskilling and cross-skilling.
Drag and drop feature to create customized reporting dashboards and widgets.
Centralized file manager to store reusable course assets in the cloud for quick access.
Create a department and team hierarchy structure to track training assessments.
Supports media embeds to make courses engaging with videos and images.
Track the team's performance with metrics like course enrollments, completion certificates, and acquired competencies.
Award learners for their accomplishments with certificates and badges.
Built-in e-commerce website support if you want to sell your courses online.
What you won't like:
Issues while downloading consolidated reports of multiple users for multiple courses.
I would like a scheduling feature that automatically assigns the course to the users based on their progress. Otherwise, it's an arduous manual effort.
Pricing:
$14,500/year
3. Docebo – Best Canvas LMS Alternative for Creating Personalized Learning Pathways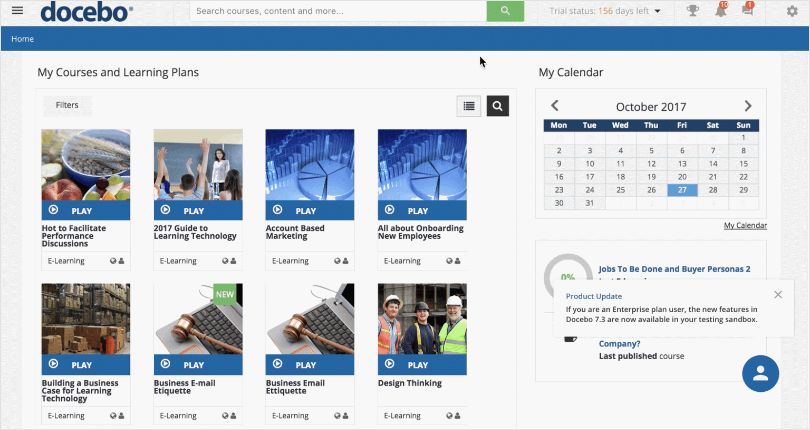 Docebo lets me build training courses for customers, partners, or employees. The one thing I liked while testing the tool was the level of personalization it offers to ensure learners get relevant content. You can create custom learning paths for every learner so they know which courses to take up next.
The reporting dashboard is also highly intuitive. It lets you track metrics like assigned vs. achieved tasks ratio to peek at individual progress quickly.
Moreover, they have recently integrated the platform with generative AI to make it more accessible and intuitive. You can use it to transform external and internal knowledge sources into engaging learning modules without much effort.
What you'll like:
Intuitive drag-and-drop course builder with free extensions to design any training material.
Deliver and sell online courses with Docebo's extended enterprise platform.
AI-based course translation to make it more accessible.
More than 20,000 pre-built professional courses and training modules.
Use built-in gamification elements like quizzes, certificates, awards, badges, etc., to engage learners.
In-depth reporting to track training progress and plan the next steps.
What you won't like:
The site design could be more flexible and easier to navigate.
There is no option for gap analysis to identify learners' growth.
Pricing:
$25,000/year
4. TalentLMS – Best Canvas LMS Alternative for Live Sessions and Recordings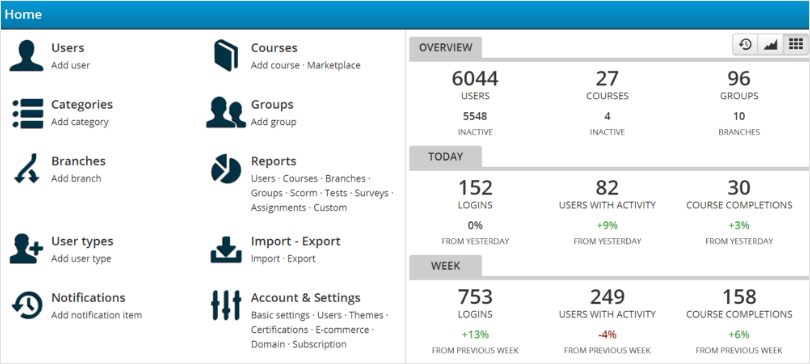 TalentLMS is a good fit for you if you host live sessions and webinars. It can feel quite overwhelming when you first start to use the tool. But the learning curve is quite linear, facilitating quick adaptation, making it one of the Canvas LMS competitors.
I tried the live training video, and it's fantastic. You can host live sessions and record them to design the course content later. Plus, the tool supports interactive quizzes to keep the live audience engaged. And to track the training progress, you can leverage real-time custom reports, dynamic dashboards, and training infographics.
Lastly, it has a mobile-friendly design so the learners can access and attend the courses from anywhere using a desktop, mobile, or tablet.
What you'll like:
Just drag and drop elements to design courses for employees, customers, and partners.
Built-in user management dashboard to bulk import and manage learners.
Set access rules and permissions for each user.
Auto-assign courses to automate training pathways.
Gamify courses with badges, points, levels, leaderboards, and rewards.
What you won't like:
The UI needs to be modernized for seamless user onboarding.
Lacks collaboration features to manage and co-author courses.
Pricing:
Starts at $69/month. Billed yearly
5. Moodle – Best Open-Source Canvas LMS Alternative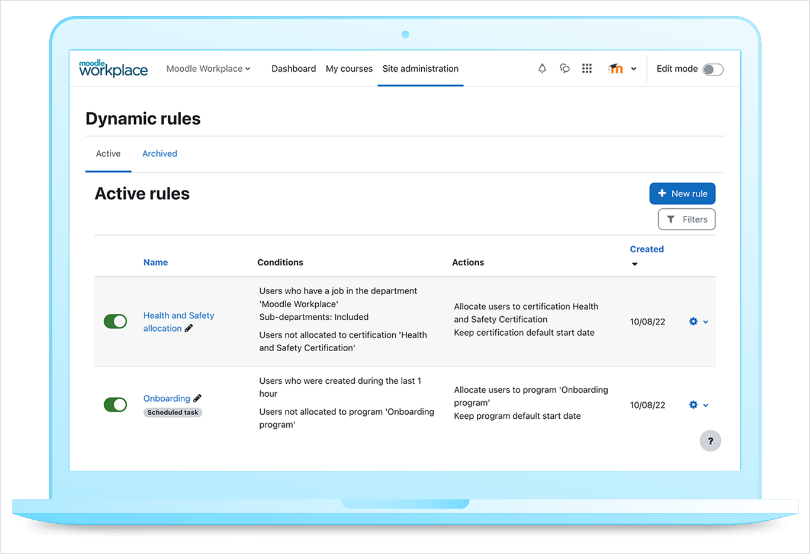 Although Moodle is an open-source platform, it can compete with the best LMS tools. The UI is pretty simplistic but provides many features to create and manage courses for employees, students, and avid learners.
It took some time to set it up, and admittedly I took the developers' help. But the documentation is quite clear to guide through the installation process.
Users can modify the source code, allowing them endless possibilities to tailor the platform to their unique learning requirements.
Moodle is also supported by an active international community, which keeps the tool growing with continuous updates and can assist you with any issues.
What you'll like:
Bulk course creation and pre-built templates.
Provides a mobile app to encourage learning on the go.
Built-in forums to help teachers and students exchange ideas using comments.
Assignments and quizzes to test learners' knowledge.
Reporting and analytics to track course completion metrics.
What you won't like:
No option to sell the courses online.
Lacks advanced reporting capabilities.
Pricing:
Free. Paid plans start at AUD 180/year.
6. Blackboard Learn – Best Alternative to Canvas LMS for in-Depth Reporting and Analytics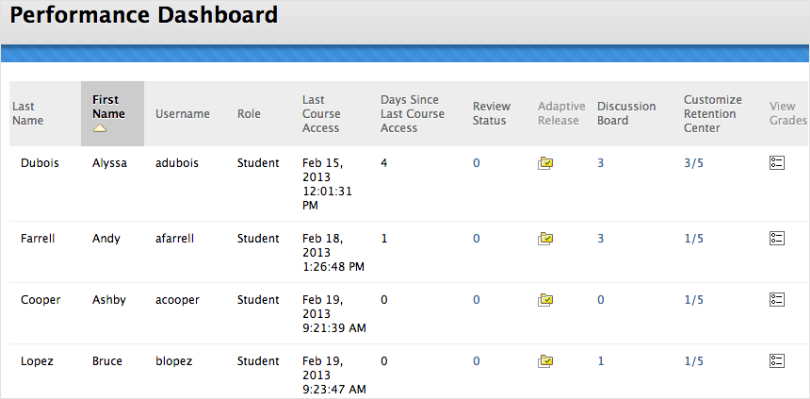 With Blackboard Learn, I must say that one of the standout features is its robust learning analytics and reporting capabilities. The analytics dashboard provides a comprehensive view of learners' progress to track their participation in discussions, assess their performance in quizzes and assignments, and even monitor their activity within the course.
You can generate detailed reports on learners' grades, average scores, and assessment completion rates. And you can export the data in various formats, like spreadsheets or PDFs, for further analysis.
Its SafeAssign feature is highly effective in plagiarism detection to promote academic integrity. Perfect if you teach students.
What you'll like:
Intuitive course authoring tool to create courses in various formats.
Built-in online discussion board to promote and foster student interaction and collaboration.
Automated assessments with quizzes, tests, assignments, and customizable grading options.
Email announcements and notifications to keep students informed about course updates.
Insights into student performance with advanced analytics.
What you won't like:
The mobile app lacks stability.
Limited options to export the data from Blackboard Learn.
Pricing:
$9,500/year
7. 360Learning – Best Canvas LMS Alternative for Easy Course Creation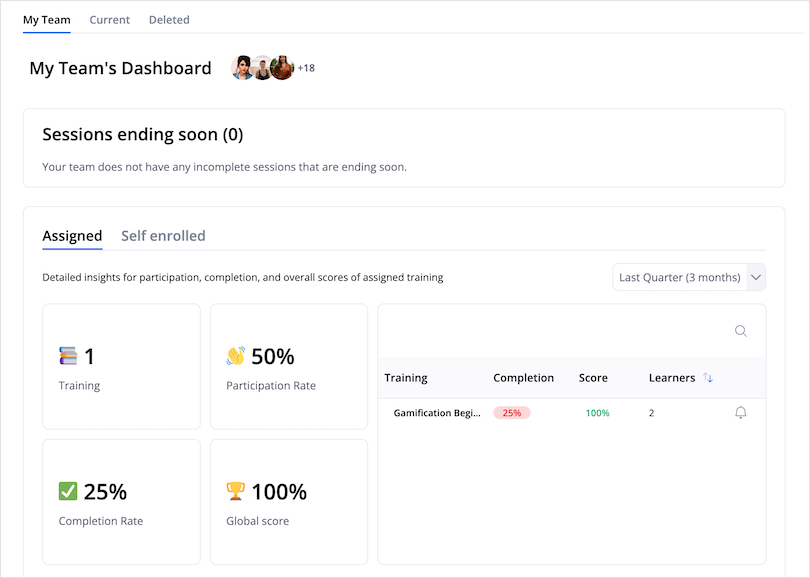 360learning LMS recently integrated generative AI with its platform to automate course creation and tailor custom learning paths without tedious effort. You can create complete courses effortlessly with one click using prompts.
I ran a few prompts and created a simple Excel beginners course in a few minutes, including course assessment quizzes.
On top of that, you can build personalized learners' paths based on their job titles and skills to deliver targeted learning experiences. There are some hiccups while using the AI-tool creation kit, but it's much better than manual effort.
What you'll like:
Create courses flawlessly using AI prompts and drag-and-drop SCORM builder.
Collaborate with other authors to edit the courses and make them better.
Automated skill-based course recommendations to create personalized learning paths.
Build in-course assessments and give away certifications to promote engagement.
AI skill mapping to identify skill gaps and suggest training courses to users.
Native mobile apps (iOS and Android) to promote learning from anywhere.
What you won't like:
The app crashes sometimes.
Needs more gamification options.
Pricing:
Starts at $8/registered user/month
8. Lessonly by Seismic – Best Canvas LMS Alternative for Sales Enablement Training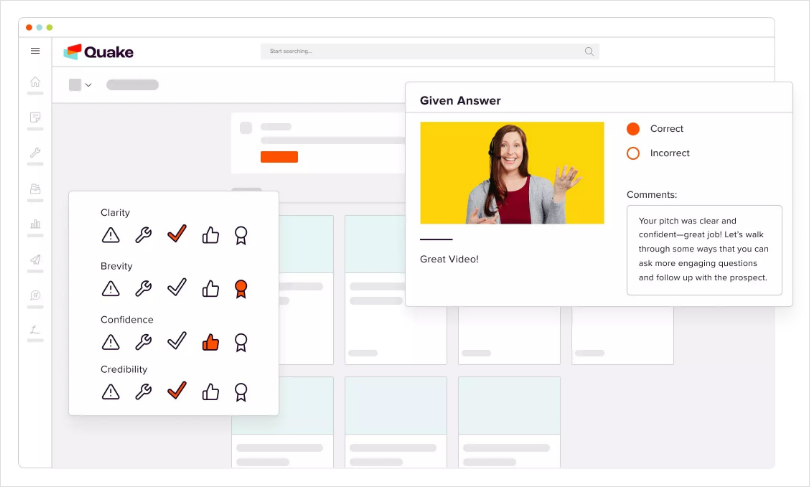 I have added Lessonly to the list of best Canvas competitors because of its neat sales enablement tool. It's designed to train sales reps and boost productivity and revenue without a separate tool.
You can create courses to streamline the onboarding process for new sales reps, providing them with interactive training modules and easily accessible learning materials.
Moreover, you can support continuous learning and development with advanced training for each rep, catering to their unique strengths and areas for improvement. It also lets the team collaborate by asking questions and learning from each other's experiences.
What you'll like:
Easy-to-use course builder with interactive elements like quizzes, simulations, and multimedia content.
Customizable learning paths for personalized training based on employees' skills and knowledge gaps.
Facilitates practice sessions, surveys, and role-plays to test learners' knowledge.
Centralized content library to store and manage training materials.
Integration with Seismic Sales Enablement to train sales teams.
In-depth reporting and analytics to track learner progress, course completion rates, and course effectiveness.
What you won't like:
No option to set up and send notifications about new assignments to users.
I would love to see a skill gap analysis dashboard.
Pricing:
Starts at $0 (limited to 25 users)
9. LearnUpon – Best Canvas LMS Alternative for Managing Multiple Learning Sub-Environments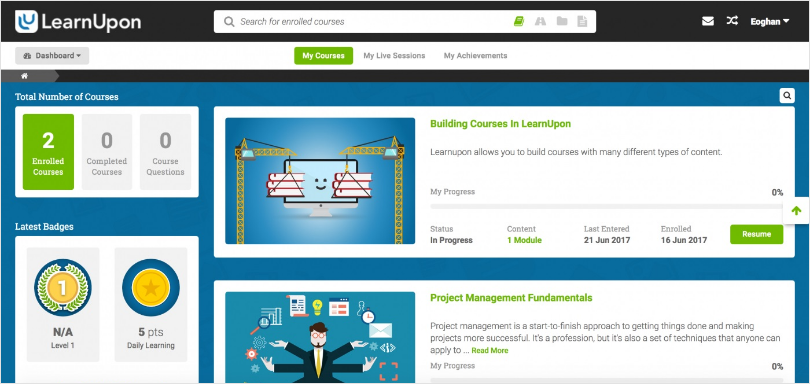 LearnUpon is another great LMS for building learning environments for your employees, students, and users. Besides course creation and management features, the tool lets you develop portals or mini-environments for each learner.
Each portal is like an LMS with targeted courses based on a specific audience and skill level.
You can add courses to multiple portals according to your needs. If you change the reference course, the same gets updated for that course in each portal.
Plus, you can create a forum for each portal to encourage learners to ask questions and search for topics.
What you'll like:
Create courses in various formats, including webinar and instructor-led training, SCORM and xAPI files, documents, and video.
Build a catalog with learning modules to enable self-learning.
Check learners' knowledge during training with exams, surveys, quizzes, and assignments.
Built-in CRM to handle enrollment and progress of learners.
Admin dashboard to track enrollments, user logins, course progress, and user progression.
Filter and sort to build custom reports and share with a click.
What you won't like:
The learning paths UI is difficult to navigate.
The forums need an update to revamp the UI and provide more flexibility to users.
Pricing:
Starts at $599.0/month
10. Litmos – Best Canvas LMS Alternative for Designing Instructor-Led Corporate Training Courses

Litmos is one of the best LMS for setting up corporate training architecture. The biggest advantage of using Litmos is the extensive library of 2,000+ pre-built professional training courses. I could find every compliance course in there, and they keep updating the list with new ones.
Using the tool is quite easy; you can design professional courses in minutes using the templates. To put the icing on the cake, you can hire Litmos's professional services to implement, optimize, and expand the L&D system.
All this makes it a deserving alternative to Canvas LMS.
What you'll like:
Automate workflows like group enrollments, course assignments, and learning paths.
Ability to monetize your courses with its built-in e-commerce capabilities.
Gamification elements like awards, points, and badges to motivate learners.
Group relevant courses together to create customized learning paths for learners.
Track performance, course completion rate, test averages, content popularity, and more.
Supports over 35 languages to provide enhanced accessibility.
What you won't like:
The authoring tool feels very basic and lacks fluidity, unlike other tools on the market.
Learning paths should provide user-level customization for flexible course assignments.
Pricing:
Starts at $6/user (for 150 to 500 active learners)
11. Tovuti LMS – Best Canvas LMS Alternative for Advanced Reporting and Analytics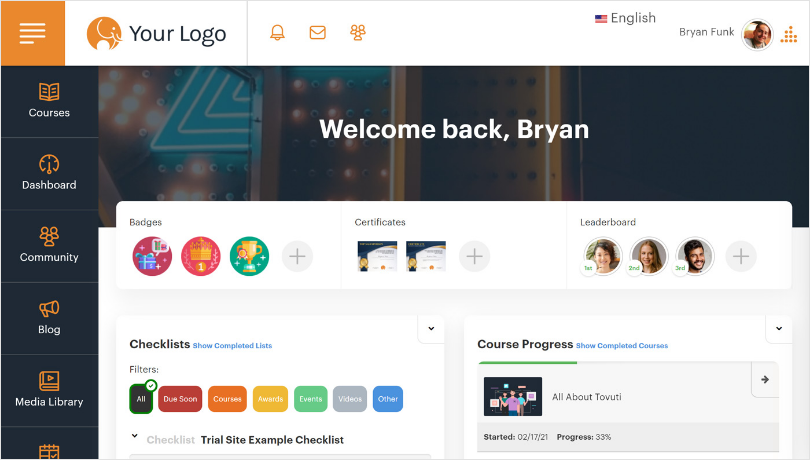 Tovuti LMS also boasts advanced reporting and analytics capabilities to help you track every aspect of users' learning experience. This is what I liked on the platform.
It also lets you create individual manager dashboards to follow individual and team performance, view learning paths, and interact with learners directly through messages.
The platform also provides a built-in CMS to organize and publish content and attract more learners.
What you'll like:
One of the most intuitive content authoring tools on the market.
Support for multiple formats while importing data into Tovuit LMS like AICC, SCORM, and xAPI (Tin Can) packages and PPT presentations.
Various gamification features like leaderboards, points, and games.
Mobile responsive design to promote learning on the go.
Add interactive activities, multimedia, and quizzes to keep learners interested.
What you won't like:
Most courses are available in English only, limiting their utility to a broader audience.
The E-commerce UI for selling courses felt a little rigid, with limited payment management options.
Pricing:
Starts at $11,160/year
12. Google Classroom – Best Canvas LMS Alternative for Seamless Collaboration Through G Suite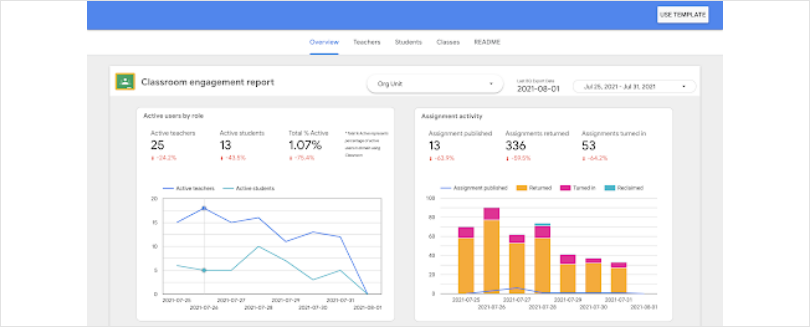 The final tool in my list, Google Classroom, lets you leverage the power of Google Drive, Google Docs, Google Sheets, Google Slides, and other productivity apps.
The tool allows educators, administrators, non-profits, and schools to run online classrooms and training courses.
The G Suite integration makes it easy to collaborate with the team, run assignments, build reports, design presentations, and more.
Moreover, it also facilitates teamwork with Google communication to schedule and host virtual classes, webinars, or online discussions.
What you'll like:
Chat, video conferencing, and video broadcasting allow real-time interaction with learners and teachers.
Create individual assignments based on the learner's proficiency and knowledge level.
Built-in grading tool to score assignments and track progress.
Interact with each learner using internal comments.
Boom cards to interact with students using personal questionnaires and collect feedback.
Track students' progress, assignment status, grades, and learning trajectories.
Discussion boards to promote peer learning with comments and topics.
What you'll not like:
Limited grading options to assess an assignment.
No built-in plagiarism checker
Lacks in-depth course customization options
Pricing:
Starts at $0/month (No skill analysis framework)
Do You Find the Canvas LMS Alternative You Were Looking For?
There you have it! The list of best Canvas LMS competitors in one place. Finding the right tool can be arduous when so many options are available. That's why I have further narrowed down and shared below the top three options from these tools.
Option A: ProProfs LMS
ProProfs stands out with its user-friendly interface and powerful automation features, making it a top choice for seamless e-learning. The platform's fully responsive design ensures an engaging remote learning experience. Course management is also easy thanks to the extensive features, including pre-built courses, versatile assessment options, comprehensive reports, completion certificates, and virtual classrooms. It's a win-win for both functionality and affordability.
Option B: 360Learning LMS
360Learning LMS stands out with its generative AI for automated course creation and personalized learning paths. You can build the courses effortlessly using prompts, collaborate with authors, send skill-based recommendations, and benefit from AI skill mapping.
Option C: Docebo
Docebo's impressive personalization features let learners access relevant content and build custom learning paths. The intuitive reporting dashboard tracks individual progress efficiently. The recent integration of generative AI has enhanced content creation and management with AI-based course translation, 20,000+ pre-built modules, and engaging gamification elements.
Based on my research, ProProfs Training Maker is among the best LMS software today. Its user-friendly interface, advanced automation capabilities, and adaptability to various industries make it a complete training solution. Irrespective of the industry type or training requirements, the tool is designed to set up a robust training program and improve productivity.
Do you want a free Training Software?
We have the #1 Online Training Software for employee training & assessment