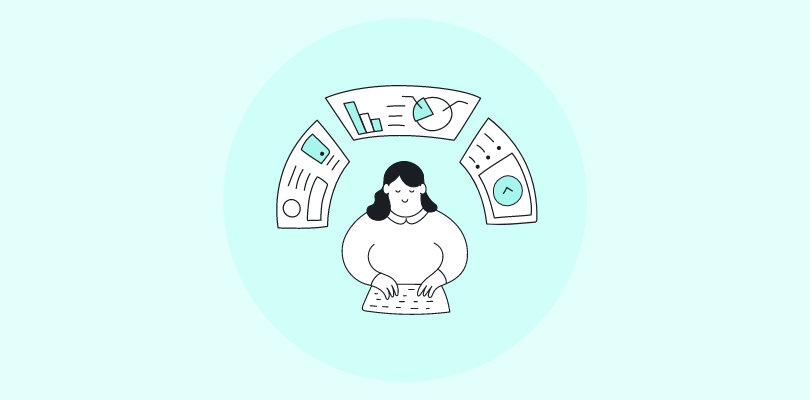 Searching for the best LMS for employee training? We can help you out.
One of my passions as a training manager is to explore different employee training management systems and see what they have to offer that my current tools don't.
In this post, I share my insights on 12 employee training LMSs I think are the best on the market based on my personal evaluation (at least I can speak for ProProfs LMS as I've used it extensively). You can use this post as a reliable and unbiased reference to pick the best training platform for your needs.
But if you're short on time, here's a quick summary of the LMS tools:
Top Employee Training LMSs
Best For
Pricing
ProProfs LMS
Best for compliance & skills training
Forever FREE plan for small teams (up to 10 learners). Paid starts at $1.97/learner/month with a 15-day money-back guarantee. No hidden charges.
Absorb LMS
Best employee training LMS with AI features
$14,500/year
CYPHER Learning
Best for automated learning
$549/month
TalentLMS
Best for creating unlimited courses
Starts at $69/month
Docebo
Best for large enterprises
Starts at $25,000/year
LearnUpon
Best for SMEs & training companies
Starts at $599/month
Litmos
Best for modern enterprises
Starts at $6/user (for 150 to 500 active learners)
360Learning
Best for social learning
Starts at $8/registered user/month
Moodle
Best free and open-source employee training LMS
Free (reporting is basic)
Paid plans start at AUD 180/year.
Lessonly by Seismic
Best for team training
Starts at $0 (limited to 25 users)
iSpring Learn
Best for HTML5-based learning
Starts at $2.29/user/month
EdApp
Best for video courses
Starts from $2.95/month/user. Free version available (reporting is basic, and you can't issue custom certificates).
List of the Best LMSs for Employee Training
I have curated this list of employee training LMSs based on my own firsthand experience, thorough research, and recommendations from peers. Additionally, I have taken into account impartial evaluations from independent websites and feedback from satisfied customers.
1. ProProfs LMS – Best Employee Training LMS for Compliance & Skills Training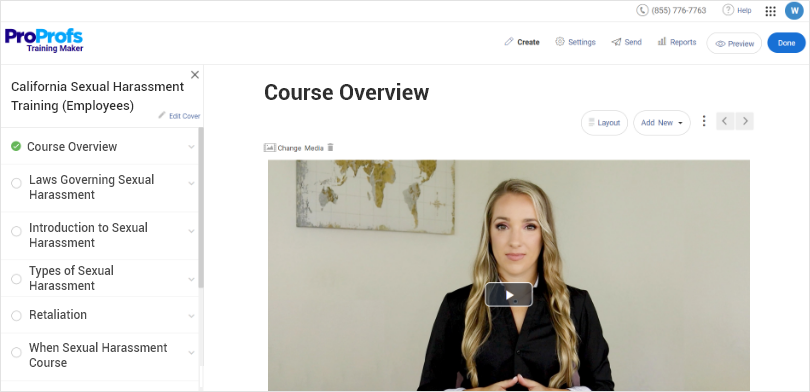 ProProfs LMS is undoubtedly the best learning management system I have ever used. Creating, managing, sharing, tracking, and analyzing courses and tests is a breeze with this tool. ProProfs' course library is a great resource for training my employees on compliance and various employee skills.
I was particularly impressed with ProProfs' ready-made courses on sexual harassment prevention, workplace safety, leadership, and sales. The engaging courses feature instructor videos, real-life scenarios, quizzes, downloadable resources, and more for effective and comprehensive training.
I can also add my own training materials, such as presentations, documents, and multimedia to the courses. Being SCORM and Tin Can compliant, ProProfs also lets me import courses and course data from other e-learning tools.
Other key features include quizzes, surveys, virtual classrooms, a Q&A forum, learning pathways, automated certification, brand controls, multilingual support, SSO authentication, gamification, and various interactive course elements.
What you'll like:
Expert-created courses on various in-demand training topics, such as compliance, skill development, and onboarding
Easy-to-use course builder, with intuitive reporting and learner management functionalities
Personalization options to make courses and classrooms match your training requirements and brand image
The ability to add your existing training materials to your courses by uploading files such as PDF, PPT, DOC, videos, and images
Smart reporting for detailed, real-time data on individual learners & groups
The customer support team is friendly, quick, and always reliable
What you may not like:
The UI could have light and dark mode options
More templates could be provided
Some users may feel that the trial period of 15 days is not enough
Pricing:
Forever FREE plan for small teams (up to 10 learners). Paid starts at $1.97/learner/month with a 15-day money-back guarantee. No hidden charges.
2. Absorb LMS – Best Employee Training LMS With AI Features

Absorb LMS relies on AI to deliver tailored learning experiences and reduce administrative workload.
For example, Absorb's Intelligent Assist increases efficiency in performing admin tasks using natural language commands. You can simply type or speak what you want to do, and Absorb LMS will do it for you.
Another AI feature I loved is Intelligent Recommendations, which suggests relevant and popular content to learners based on their data. It analyzes the learner's profile, preferences, behavior, and feedback to recommend courses, videos, articles, and other resources.
In addition to the excellent AI features, Absorb LMS also offers a robust reporting system, a user-friendly interface, customized branding, learner and admin portals, a nifty mobile app, content libraries, and more.
What you'll like:
Top-notch AI features for faster and more personalized training
An attractive website design that enriches the learning experience
Distinct portals for learners and administrators
An intuitive and user-friendly interface for effortless navigation
Streamlined course assignment process via automatic curriculum allocation
Support for self-paced learning, enabling learners to complete modules at their own speed
Reliable and timely customer service
What you may not like:
Users need to be re-enrolled after each course modification
The setup and configuration may be relatively intricate
It's not possible to schedule recurring sessions
Pricing:
$14,500/year
3. CYPHER Learning – Best Employee Training LMS for Automated Learning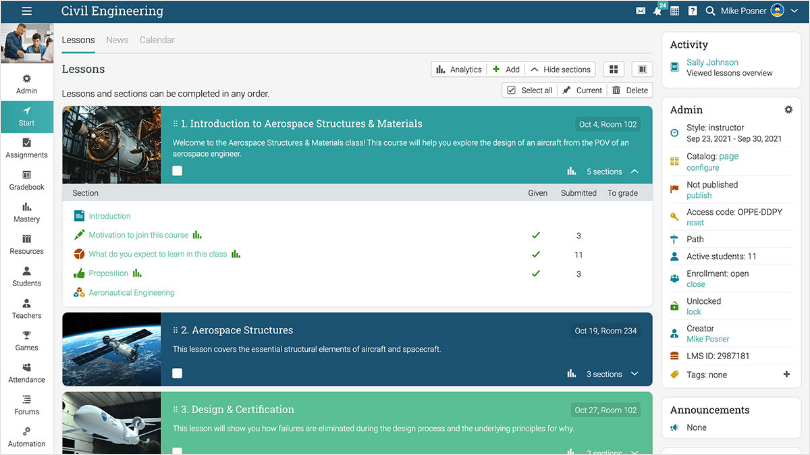 CYPHER Learning has an advanced automation system that simplifies the management of learning activities, such as enrollment, grading, and communication.
A dynamic LMS, it aims to empower learners in their pursuit of skill development.
CYPHER Learning provides personalized skill enhancement by allowing users to create their own learning paths, choose their preferred learning style, and receive recommendations based on their interests and goals.
However, my favorite feature in this LMS is CYPHER Copilot, an AI-powered tool that quickly generates multimedia-based, interactive, and gamified courses.
To ensure a seamless experience, CYPHER Learning offers round-the-clock support facilitated by a dedicated customer success manager who assists users in maximizing the platform's potential.
What you'll like:
A modern learning platform that uses automation to make learning more personalized, flexible, and efficient
A user-friendly and attractive interface that makes learning fun and easy
A variety of features and options to customize your courses and classrooms, such as themes, logos, colors, fonts, layouts, and more
A smart reporting system that gives you insightful and real-time data on your learners' progress, performance, and feedback
Safeguarding user information and privacy are top priorities for the LMS.
What you may not like:
Some features or functions may not work properly or as expected due to bugs or glitches.
The platform may be too complex or overwhelming for some users who are not tech-savvy or familiar with the features.
The LMS does not notify the sender when an email bounces due to an incorrect address.
Pricing:
$549/month
4. TalentLMS – Best Employee Training LMS for Creating Unlimited Courses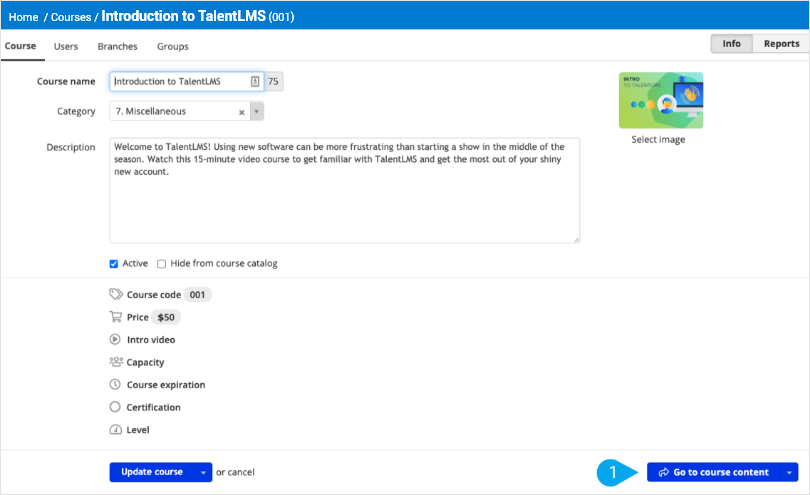 Based on my extensive experience with TalentLMS, I have found it to be an excellent choice for designing courses for learners of diverse proficiency levels. One of its standout features is that it lets you create unlimited courses across all its subscription plans.
In my opinion, TalentLMS is a versatile solution that can be beneficial for organizations of any size, be it small businesses or large enterprises.
The platform offers a wide array of functionalities, including course creation, assessments, progress monitoring, collaboration tools, a mobile app, and offline course accessibility.
It also lets you reward learners with badges and points to improve course engagement and adoption rates. You can also set up instructor-led training sessions using TalentLMS' built-in videoconferencing tool.
TalentLMS provides real-time reporting on individual learners, groups, and courses and seamlessly integrates with popular applications and services such as Zoom, WordPress, Mailchimp, and more.
What you'll like:
Unlimited courses in all the plans
An intuitive interface facilitating easy course creation and progress tracking
Customizable training hub with white-labeled interfaces reflecting your brand identity
Diverse content types and question formats for creating immersive courses
Gamification elements, such as points, badges, and leaderboards to inspire learners to improve
Built-in videoconferencing to easily conduct live training sessions
What you may not like:
The site design can benefit from modernization
Reports could have more analytics
Course management, especially moving units around, could be made less complex
Pricing:
Starts at $69/month
5. Docebo Learn LMS – Best Employee Training LMS for Large Enterprises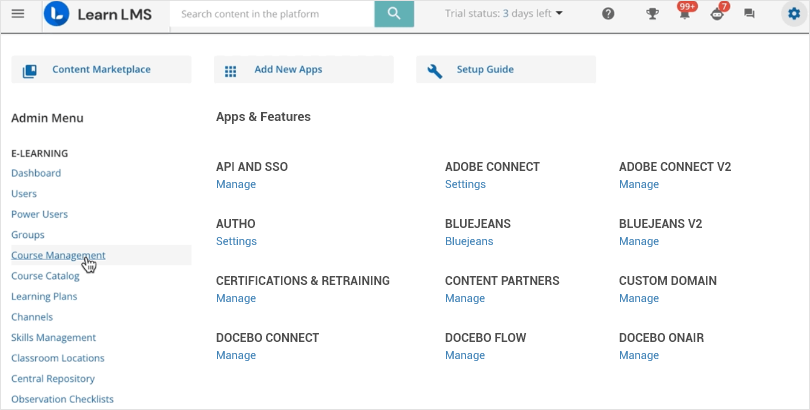 Docebo Learn LMS is a rapidly advancing technology in the eLearning industry, offering more than just a regular LMS. It serves as a comprehensive learning suite for the entire enterprise learning lifecycle.
Docebo is especially beneficial for large enterprises due to its scalability to accommodate millions of users, seamless integration with various platforms and tools, and a long list of supported languages.
The platform allows for boundless customization, ensuring you can tailor content to suit your audience. Additionally, you can automate employee upskilling and reskilling according to your specific business objectives using Docebo's AI capabilities.
Your learning content is scanned and labeled by AI based on the skills it contains. Then, the content is automatically linked to your workforce through learning paths that adapt to their changing needs and the changing needs of your business.
Docebo Learn LMS is also ideal for blended learning, supporting webinars, ILT, virtual classroom sessions, micro-learning, and gamification.
What you'll like:
Use of artificial intelligence to personalize learning experiences
A modern and intuitive interface that simplifies the process of creating, managing, and delivering courses
Functionalities to support various learning scenarios and styles, such as social learning, coaching, and gamification
Connects with numerous tools and platforms, including Salesforce, Zoom, Adobe Connect, and others
Comprehensive analytics that makes it easy to implement a data-driven approach to employee training
What you may not like:
The training videos have a size limit.
The API is not very rich and does not allow access to all the objects and actions on the LMS side.
Small and medium-sized enterprises may find the pricing plans inflexible.
Pricing:
Starts at $25,000/year
6. LearnUpon – Best Employee Training LMS for SMEs & Training Companies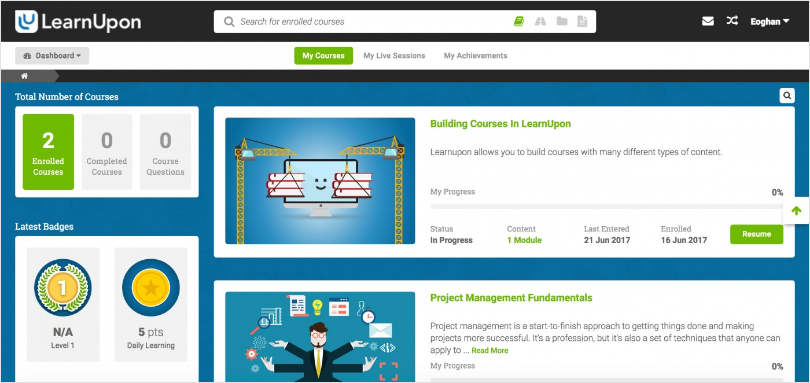 With LearnUpon, learners enjoy a positive and practical learning experience. The platform believes in delivering simple yet impactful learning solutions, serving different audiences under one unified system.
This LMS caters to the diverse needs of training companies and SMEs, such as onboarding, skill development, and compliance training. It automates course enrollment, saving time and effort for administrators.
I found it easy to create customized training content and collect feedback with this LMS. It also proved effective in providing personalized learning environments for different audiences. The platform also integrates smoothly with other daily tools, allowing data to flow seamlessly.
LearnUpon's powerful reporting suite helps users to evaluate the effectiveness of employee training. The platform also supports other types of training programs, such as customer, partner, member, and extended enterprise.
What you'll like:
Affordable, cloud-based, and SCORM/Tin Can-compliant LMS with easy admin-side functionality and user management
You can generate custom reports, dashboards, and certificates.
Integrates with various third-party tools, such as Google Analytics, Salesforce, and Zapier
You can access 24/7 live chat, phone, and email support, as well as online help guides and webinars.
What you may not like:
Generating course modules requires significant effort.
If there's a course or test update, retaking it is not possible.
LearnUpon may not be suitable for users looking for highly advanced features.
Pricing:
Starts at $599/month
7. Litmos – Best Employee Training LMS for Modern Enterprises

In my experience, Litmos proves to be an agile, user-friendly, and scalable corporate learning tool.
One key advantage is its effectiveness in supporting blended learning, as it seamlessly integrates with virtual classrooms for interactive training sessions and webinars, regardless of where the learners are located.
Litmos is well-suited for modern enterprises due to its capacity to develop hybrid learning courses that integrate online, offline, and live training sessions while incorporating gamification, video assessments, and personalized learning paths.
Additionally, Litmos offers a mobile app for offline course access and assessments, seamless integration with various third-party tools, and robust analytics capabilities to measure and enhance the impact of employee training initiatives.
What you'll like:
An efficient user interface that allows for smooth navigation and a great user experience
A personalized dashboard to monitor progress based on specific employee training requirements
Engaging gamification features, including leaderboards, to enhance the learner experience
A comprehensive library of training content for compliance and skill training
What you may not like:
The reporting system for learning paths needs to be more intuitive.
You can't make courses optional for learners.
First-time users may experience a learning curve when using the LMS.
Pricing:
Starts at $6/user (for 150 to 500 active learners)
8. 360Learning – Best Employee Training LMS for Social Learning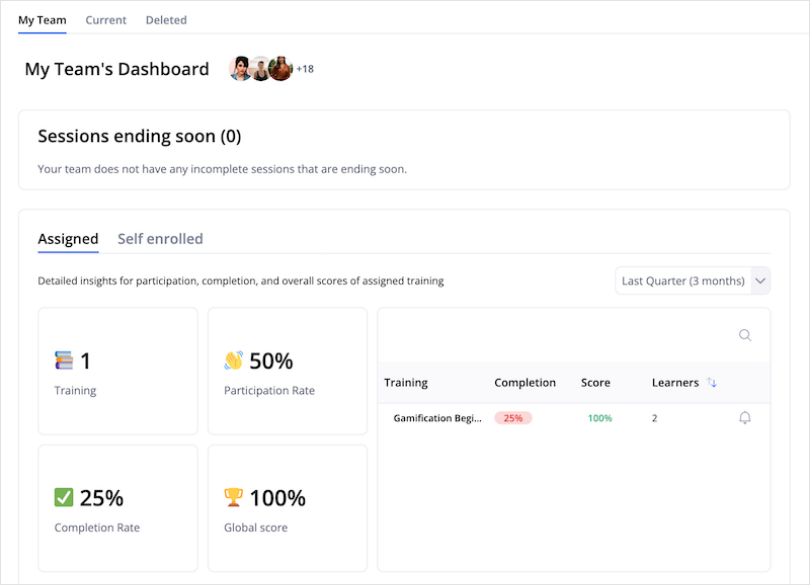 360Learning is a platform that I have always admired for its innovative approach to corporate learning. It enables community-based learning, where teams can interact, share insights, and learn from each other, fostering a culture of knowledge-sharing and mutual growth.
The employee training LMS promotes collaboration among learners and experts through course discussions, live chat, social features, and feedback mechanisms.
360Learning allows users to create engaging courses with drag-and-drop modules, video or text boxes, assignments, surveys, and tests. Learners can access training programs online or offline on any device. They can also share their screen with other participants and receive push notifications.
The solution also has a centralized management system that makes it easy to cater to diverse training needs and a large learner base. Whether it's onboarding new team members, developing skills, or ensuring compliance, 360Learning's flexibility adapts to various scenarios.
What you'll like:
The platform offers collaborative features, allowing trainers to create courses in partnership with other in-house experts and employees.
The incorporation of various question types and gamification elements enhances the overall learning experience.
The mobile app is excellent, allowing learners to access courses and collaborate while on the move.
There is an extensive knowledge base and forum available, offering helpful resources and community support.
What you may not like:
Customer service could be enhanced to provide a better user experience.
The frequency of updates may be considered excessive by some users.
The quizzes may be perceived as less advanced and limited in scope.
Pricing:
Starts at $8/registered user/month
9. Moodle – Best Free and Open-Source Employee Training LMS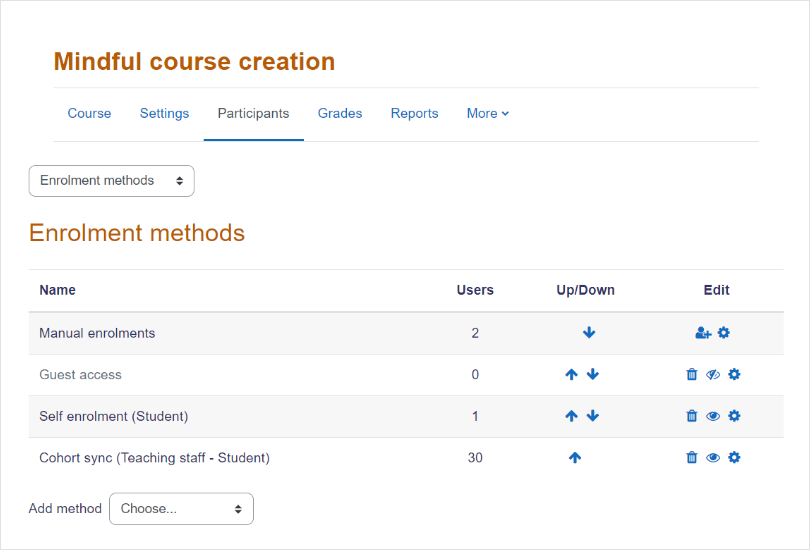 Moodle is an open-source LMS platform, meaning you can customize it to your preferences by changing its source code.
My experience using Moodle was amazing. I could easily create and manage courses for various types of learning, such as instructor-led, self-paced, blended, or fully online.
Moodle also supports collaborative learning through forums, wikis, glossaries, and database activities.
Some other features that I found useful are accessibility tools, direct learning paths, competency-based education, badges, certificates, and interactive course elements.
Moodle benefits from a highly active community that greatly contributes to its enhancement by sharing plugins and integrations.
Moodle's latest release Moodle 4.0, has many handy new features. For example, learners can view the courses they are enrolled in and their progress in the overview block and monitor deadlines in the timeline block.
What you'll like:
The platform adopts an open-source approach, enabling a highly personalized and engaging learning experience.
Numerous plugins are available to extend the platform's functionality and customization capabilities.
There are rich customization options available, allowing instructors and learners to tailor courses according to their specific requirements.
It supports the LTI (Learning Tools Interoperability) standard, making it simple to integrate with other educational applications.
What you may not like:
The reporting feature provides limited insights, which may be a downside for some users.
The course engagement tracking could be improved to provide more comprehensive and detailed information.
The scheduling management system could benefit from enhancements to facilitate better organization and planning.
Pricing:
Free (reporting is basic) and paid plans are available. Paid plans start at AUD $180/year.
10. Lessonly by Seismic – Best Employee Training LMS for Team Training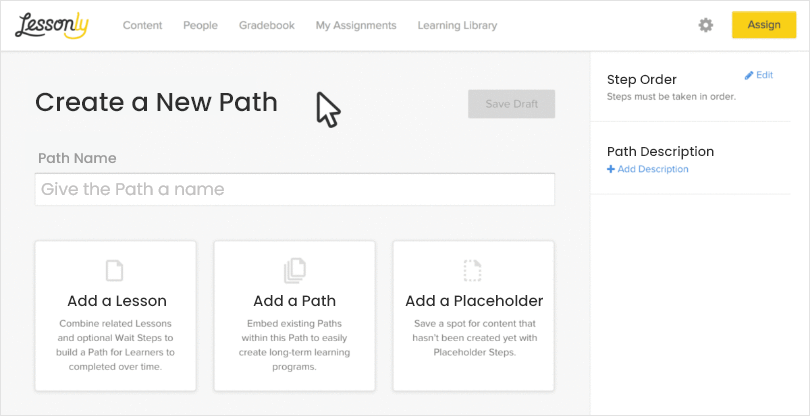 Lessonly by Seismic is a powerful and simple software that helps teams learn, practice, and perform better at work. It is ideal for training teams that interact with clients, such as sales and customer service.
I used this tool to train sales teams, and it helped me significantly improve their learning outcomes and engagement.
With Lessonly, trainers can create interactive courses that include multimedia, quizzes, and simulations. They can also use the coaching feature to give individual feedback and support.
Some of the best features of Lessonly are in-course quizzes and surveys, personalized learning paths, social learning, a customizable interface, a drag-and-drop course builder, contextual learning, centralized user management, analytics, and notifications.
Additionally, employees can access practice exercises on demand to sharpen their skills faster.
What you'll like:
Personalized learning paths tailored to specific roles and objectives
Social learning and collaboration features that promote seamless interactions and idea exchange
Outstanding customer support and resources to enhance your training delivery
Excellent integrations with popular platforms like Salesforce, Zendesk, Slack, Gmail, and more
API to connect the LMS with other applications to enhance its functionality and overall efficiency
What you may not like:
Customization options are restricted to changing the color scheme and logo.
Some users might find the variety in lesson formats limited.
On occasion, the search feature may fail to locate the specific item you are looking for.
Pricing:
Starts at $0 (limited to 25 users)
11. iSpring Learn – Best Employee Training LMS for HTML5-Based Learning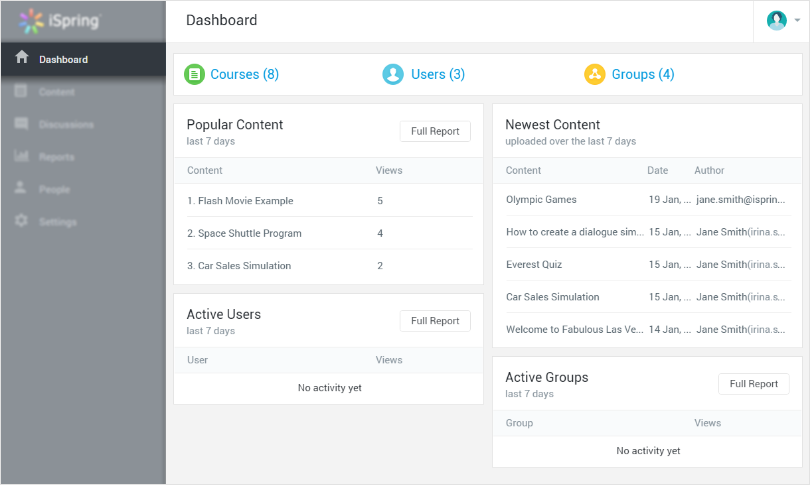 iSpring Learn is a cloud LMS that lets you launch eLearning for employee training in a snap. It combines simplicity, interactivity, and power to deliver an amazing experience for trainers and learners.
It has a unique feature that allows you to convert PowerPoint presentations to HTML5 with one click, preserving all the animations and effects of your slides. This way, you can create stunning courses without any coding or design skills.
You can also use iSpring Learn to create a social learning environment where learners can interact with each other and earn rewards. This social environment can feature news feeds, chats, feedback, leaderboards, and more.
iSpring Learn covers all the common features of an LMS, such as content creation, training automation, smart management, and in-depth reporting. You can use it for various training scenarios, such as onboarding, compliance awareness, product and sales training, etc.
What you'll like:
Easy custom course creation for tailored e-learning experiences.
User-friendly portal for efficient course management
An extensive reporting system that provides valuable insights into learning gaps
Seamless conversion from PPT to HTML5 for quickly creating engaging training content
What you may not like:
Limited language support makes it difficult to train culturally diverse teams.
The LMS requires significant time to master its functionalities and settings.
It does not have a built-in course marketplace or content library.
Pricing:
Starts at $2.29/user/month
12. EdApp – Best Employee Training LMS for Video Courses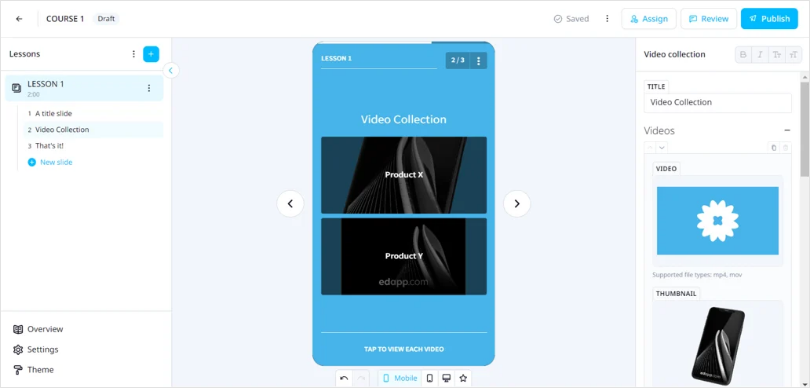 EdApp lets you create excellent video and microlearning courses for your learners. You can easily add videos to your lessons, either by uploading your own or choosing from a vast video library with thousands of videos on various topics.
You can also make your videos interactive with questions, feedback, and branching scenarios. I used EdApp to deliver a time management course in bite-sized chunks that my learners could access offline via a mobile app.
Combined with EdApp's push notification feature, this helped me greatly improve the buy-in from my learners for optional training courses.
EdApp offers 50 microlearning templates to get you started quickly. It also has a feature called AI Create, which allows you to generate content with artificial intelligence.
What you'll like:
It lets you speed up course development with ready-made templates, a video library, PowerPoint conversion, SCORM uploads, and Canva integration.
A mobile-first LMS, ideal for delivering effective microlearning courses to your learners
The platform boasts a robust, user-friendly drag-and-drop authoring tool, simplifying course creation.
Cloud-based translation feature, enabling easy course creation in multiple languages
Robust analytics, providing valuable insights on learner performance, retention, and course engagement
What you may not like:
Customization options are limited.
Additional layouts are needed.
Improvements are required to streamline learner enrollment.
The help section could be enhanced for better user support.
Pricing:
Starts from $2.95/month/user. Free version available (reporting is basic, and you can't issue custom certificates).
Which Is the Best Employee Training LMS for You?
Choosing the right LMS for your needs is crucial to achieving your training objectives and ensuring a great ROI. Your audience's characteristics, proficiency level, and learning preferences play a significant role in this decision.
To simplify the selection process, I've narrowed it down to three options. Let's find the perfect fit together!
Option A: ProProfs LMS
ProProfs LMS is super easy to use and comes with powerful automation functionalities. You also get ready-to-use courses, in-course quizzes, surveys, AI reports, automated certification, gamification, a fully responsive design, and more. With ProProfs, you can easily elevate your team's skills and compliance awareness with this all-in-one training solution!
Option B: TalentLMS
With TalentLMS, you can unlock seamless learning across web and mobile and simplify admin tasks. You can benefit from offline compatibility, in-app communication, and captivating gamification features. You can pick any TalentLMS plan for unlimited course creation.
Option C: Docebo Learn LMS
Docebo Learn LMS provides a comprehensive employee training suite for large enterprises. It lets you seamlessly scale your training, personalize courses with AI, and automate upskilling. You can also easily implement blended learning through webinars, virtual classrooms, and gamification.
In my opinion, ProProfs Training Maker is the best employee training LMS software available today. It is simple, power-packed, and offers unmatched flexibility in delivering compliance, skills, and onboarding training across different industries, such as services, construction, manufacturing, and healthcare.
Frequently Asked Questions
What is an LMS for employee training?
An LMS, or learning management system, is a cloud-based software application that enables you to create, deliver, and manage online training courses for your employees. With an LMS, you can design and organize your training content in a central location, assign courses to learners, track their progress and performance, and generate reports and analytics to evaluate the effectiveness of your training programs.
Watch: What is a Cloud-Based Learning Management System?
How can LMS benefit my organization's employee training initiatives?
Here's the role of LMS in training and development:
Saving time and money by eliminating the need for travel, venues, instructors, and printed materials.
Increasing the accessibility and flexibility of your training courses, as learners can access them anytime, anywhere, and on any device.
Enhancing the engagement and retention of your learners, as you can use various multimedia elements, interactive features, gamification, and feedback mechanisms to make your courses more appealing and relevant.
Improving the quality and consistency of your training content, as you can easily update and maintain it in one central location.
Streamlining the administration and management of your training programs, as you can automate tasks such as enrollment, reminders, notifications, grading, and certification.
How can an LMS help track and manage employee training progress?
An LMS can help you track and manage employee progress in their training courses by providing you with various tools and features, such as:
Dashboards and reports that show you the completion rates, scores, time spent, and other metrics of your learners across different courses and groups.
Analytics and insights that help you identify the strengths and weaknesses of your learners, as well as the gaps and opportunities in your training content.
Surveys that allow you to collect and analyze the opinions and satisfaction levels of your learners regarding your courses.
Notifications and alerts that inform you of the status and performance of your learners, as well as any issues or problems that may arise during their training.
Watch: How to Analyze Training Course & Quiz Results
How does an LMS facilitate employee onboarding and ongoing training?
An LMS facilitates employee onboarding and ongoing training by enabling you to:
Create customized learning paths for your new hires based on their roles, responsibilities, skills, and goals.
Deliver orientation and induction courses that introduce them to your organization's culture, values, policies, and procedures.
Provide them with continuous learning opportunities that help them develop their competencies, knowledge, and abilities throughout their career journey.
Monitor their progress and performance during their probation period and beyond, and provide them with feedback and support.
Watch: How to Create an Employee Onboarding Training Program
What features does an LMS offer to create engaging and interactive training content/material?
An LMS offers various features to create engaging and interactive training content/material, such as:
Course authoring tools to create interactive and engaging content
Multimedia integration to enhance engagement with videos, audio, and images
Quizzes and assessments to provide instant feedback and gauge progress
Responsive design to ensure seamless access from various devices
Gamification elements to motivate learners with rewards and competition
Discussion forums and chat to encourage collaboration and peer learning
Social Learning features to promote teamwork and knowledge sharing
Personalization features to tailors learning paths to individual needs
Centralized learner management and virtual classrooms to efficiently assign courses and track learning progress
Reporting and analytics to inform data-driven decision-making
Content libraries and external integrations to grant access to additional learning resources
Watch: How to Choose the Best LMS Software for Employee Training
Do you want a free Training Software?
We have the #1 Online Training Software for employee training & assessment