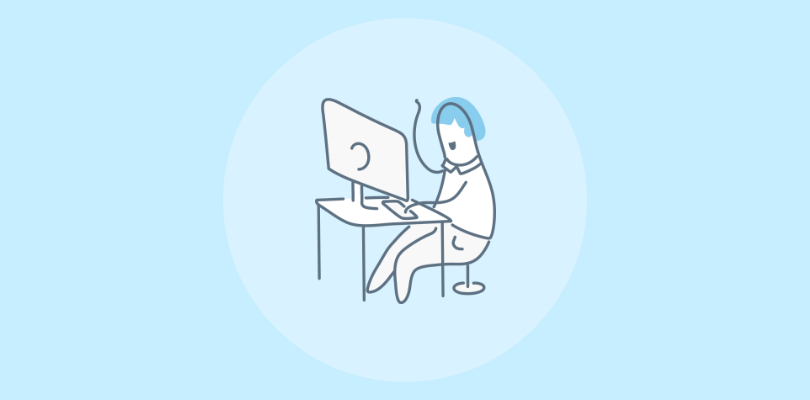 The automotive industry goes through rapid technological advancements.
Also, it constantly faces the challenges of a highly regulated industry.
Organizations are expected to meet the training needs for compliance, technology, policies, and procedures.
Here, an automotive LMS (learning management system) can be the best platform for training in any area of the industry.
But deciding the right tool can take quite a toll on you.
Don't worry because I have already done the job for you.
Whether you need to train your staff on the latest engineering & designs, servicing, marketing, or safety matters to reduce accident risks, I'm confident that my list will serve your unique purpose.
Here's a quick glance at the tools I have shortlisted:
List of the Best LMS for Automotive Industry
As a professional in the industry, I've had the opportunity to test and use several LMS software, including automotive LMS solutions.
The tools I discuss below are entirely based on my first-hand experience with them, recommendations from colleagues in the industry, reviews on top software comparison sites, and client testimonials.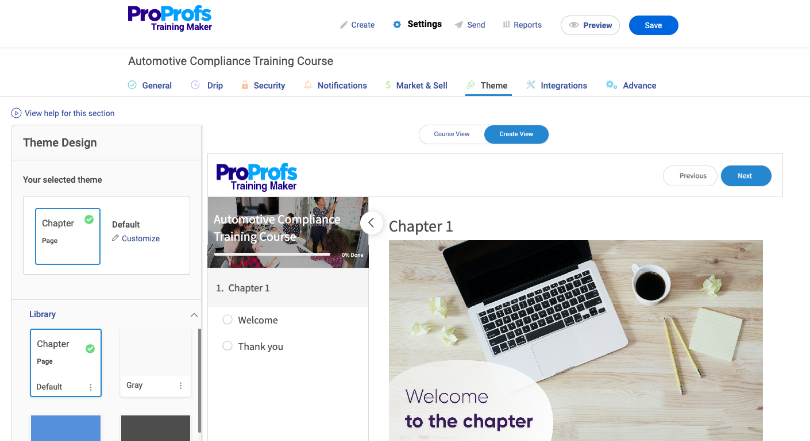 (Source)
ProProfs Training Maker has proven to be an exceptional choice for employee training, especially in the automotive industry. It is an award-winning LMS that combines simplicity and effectiveness in one robust tool.
With this cloud-based software, creating online courses has been a breeze. I've been able to repurpose my existing training materials and train dealers and factory teams at my own pace.
The course library, consisting of 100+ ready-to-use courses on skills, safety, compliance, leadership & management, and more, also helped me immensely.
Using these resources, I could train both remote and local teams equally well.
Managing learner groups, group admins, and assignments has never been easier.
The best thing? It lets me monitor progress, generate reports, and assess learners through quizzes and surveys.
What you'll like:
What you may not like:
While a free plan is available, it is just for a limited number of learners.
Frequent updates might seem overwhelming to some users.
Pricing:
A FREE plan is available for up to 10 learners. Paid options start from $1.97/learner/month (billed annually) for large teams. 15-day money-back guarantee. No hidden costs.
2. iSpring Learn – Best for Interactive Course Creation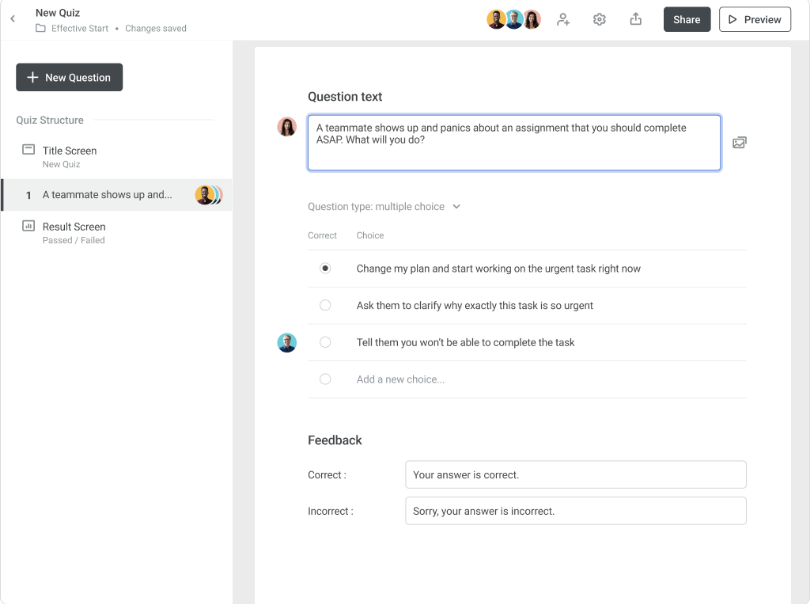 (Source: https://www.g2.com/products/ispring-learn/reviews)
Next on the list, I have iSpring Learn, a cloud-based LMS software. What caught my attention right away was the software's ability to make interactive course creation a breeze!
Its course editor seamlessly integrates with PowerPoint – which has allowed me to add interactive elements to automotive training courses. And with a single click, I can publish them directly to iSpring Learn. Talk about time-saving!
Automation has been another highlight. Assigning courses to targeted learner groups is a great benefit.
The ability to schedule and integrate webinars with the courses has made automotive training coordination a breeze. Plus, the email notifications and reminders keep everyone on track.
What you'll like:
Engaging course creation with iSpring Suite – a powerful course editor that works within PowerPoint
Monitoring of learner activity, completion rates, quiz results, skill gaps, etc.
Custom reports generation and exporting them to Excel/PDF
Badges, points, and leaderboards to motivate learners
Compliant with industry standards such as SCORM, xAPI, AICC, GDPR, etc.
What you may not like:
You may not be able to share your courses with other LMSs.
It does not have a built-in eCommerce function to sell your courses online.
Pricing:
Starts from $770/author/year.
3. EdApp – Best for Gamified Microlearning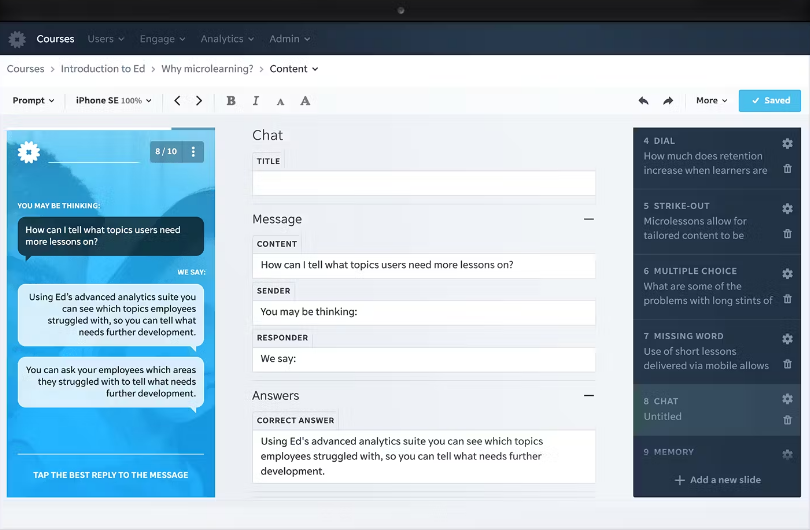 (Source: https://www.saasworthy.com/product/edapp#screenshots)
If you're looking for automotive LMS software that offers the best of gamification and microlearning, EdApp can be a great choice.
So, first things first, let's talk about gamified microlearning. The courses are short, interactive, and rewarding. I bet your team will love every bit of it – earning points, badges, and even prizes as they learn.
And the best part? You can access the courses whenever you want, remotely, on any device.
Now, let's dive into the course creation part. EdApp's course creator tool has pre-set templates that you can tweak to match your strategies. You also get a library of free online automotive training courses.
From machinery safety to customer service and sales techniques – they've got it all.
What you'll like:
The ability to use templates, multimedia, and customization to craft engaging courses
Bite-sized learning modules to keep learners engaged
Mobile-friendly content makes it easy to learn on the go
Detailed reporting on learner progress to track the effectiveness of training programs
Gamification elements like points, badges, and leaderboards to boost learners' motivation
What you may not like:
You may not be able to customize your reports to suit specific preferences.
Some windows may appear low-resolution on some screens, affecting user experience.
Pricing:
Starts from $2.95/user/month. A free plan is available with certain limitations.
4. Litmos – Best for Reporting & Analytics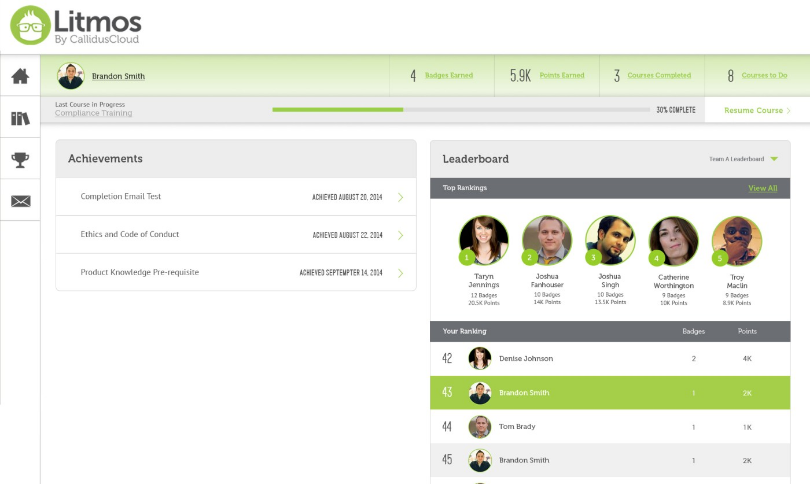 (Source: https://technologyadvice.com/products/litmos-reviews/)
Here's another remarkable tool that I truly believe to leave a mark on your training journey – Litmos.
The platform is all about delivering automotive training that clicks. It's not just about the tech; it's about the numbers, the insights, and the "aha" moments. And yes, you can't forget the real power of measuring training impact with real-time reports and analytics.
Litmos breathes the mantra of "training in the now."
This means learners have the flexibility to hop between devices, picking up where they left off – no more interruptions in the learning flow.
And the cherry on top? Microlearning modules that pack a punch – short, sweet, and hyper-focused learning nuggets.
What you'll like:
Video-based assessments to evaluate learners' communication skills, knowledge, etc.
Leaderboards to show learners' progress, which motivate them to compete more
Custom branding to change the LMS layout and suit preferences
Integrations with top workflow tools to streamline task automation, data sync, etc.
Advanced reporting to chart the performance of learners
What you may not like:
The basic plan lacks features like content authoring, gamification, etc.
Some users have reported frequent downtimes and glitches.
Pricing:
$3/user/month for 150 to 500 active users.
5. SkyPrep – Best for Real-Time User Tracking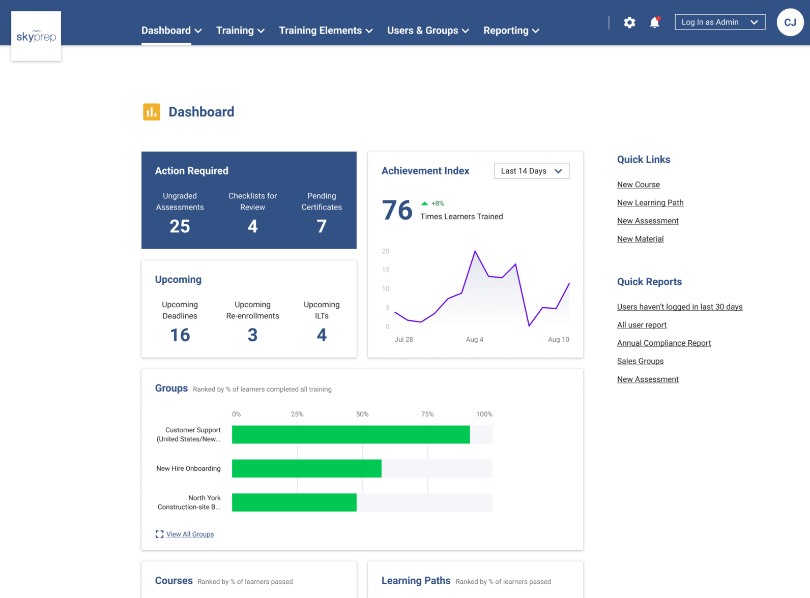 (Source: https://www.g2.com/products/skyprep/reviews)
Over the past year, SkyPrep has proven itself to be a reliable automotive training tool. Some of my colleagues recommended it, saying it "simplifies the automotive training process." But how exactly?
Well, you can craft courses and implement them almost instantly. From sales and customer service to technical skills and compliance – the range of topics is impressive. You can add videos, PDFs, quizzes, etc., to make the courses engaging.
But what truly stands out is SkyPrep's monitoring capability.
You can effortlessly track learners' progress and generate insightful reports. This will help you understand their strengths and areas that need improvement.
What you'll like:
Course creation from scratch or from various sources – such as YouTube, Vimeo, Dropbox, Google Drive, etc.
The ability to assign courses, set deadlines, prerequisites, and completion criteria
Course monetization by setting up a payment gateway via PayPal, Stripe, etc.
Real-time tracking on course completion, learner engagement, quiz results, feedback, etc.
Seamless employee onboarding to reduce the time and cost of training new hires
What you may not like:
The basic plan lacks advanced security controls.
You can know about pricing plans after talking to their experts – not exactly a fast process.
Pricing:
Starts at $199/month.
6. Speexx – Best for Online Language Training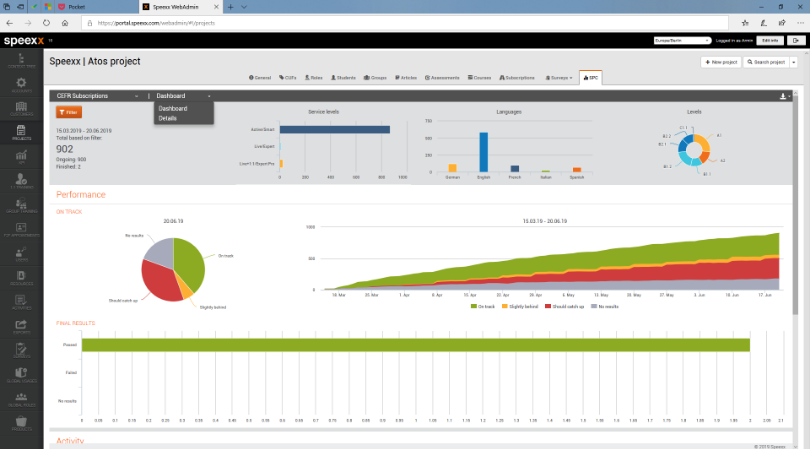 (Source: http://www.lt-innovate.org/sites/default/files/14%20Armin%20Hopp.pdf)
Let me tell you about Speexx – it's a bit different from other options out there, especially in the automotive industry.
This online language training software uses AI to create personalized training for my team. It starts with a personal assessment to determine what I want to achieve and where to improve.
Then, their intelligent algorithm kicks in to deliver automotive training that's tailored to my team's specific needs. Tracking their progress is a breeze with top-notch learning analytics tools.
However, what makes Speexx unique is that it acknowledges that everyone learns differently. Using AI, the software focuses on each learner's strengths and areas to work on.
What you'll like:
Micro-learning content and skills assessments to drive LMS adoption rates
Adjustable personalized learning paths for individual learner needs
Adaptive learning content in real-time based on student performance
Assessments to gauge the performance of learners in learning activities
An interactive whiteboard enables learners to ask questions or offer insights
What you may not like:
The starting plan lacks AI-powered features like assessments or labs.
Some users complain about limited support for technical issues.
Pricing:
Custom Pricing.
7. Mykademy LMS – Best for Branded Training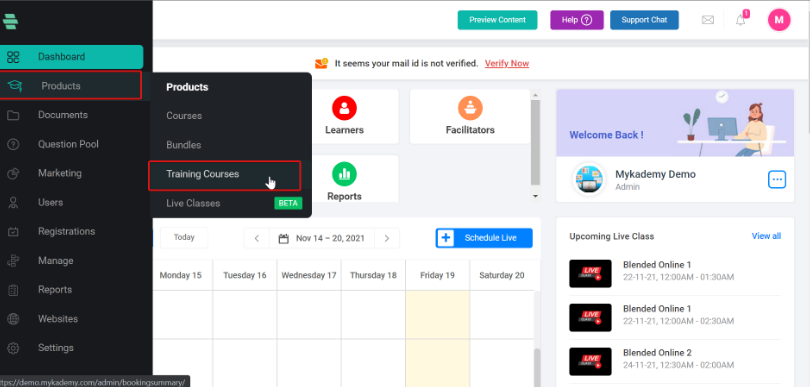 (Source: https://support.mykademy.com/hc/en-us/articles/4407737235727-How-to-add-a-new-Training-Course)
If you're in the automotive industry and want a customizable training platform, try Mykademy LMS.
You can create online courses that fit your brand perfectly. Let me break it down for you. With this LMS, your learners will feel like they're in a space designed just for your brand. No more generic platforms!
And here's the cool part – you can do all this without the hefty price tag of building something from scratch.
The software helps you launch an automotive training program quickly and cost-effectively. Plus, you've got expert support to guide you every step of the way.
What you'll like:
The ability to create a fully white-labeled website and mobile app
Discussion forums and collaboration tools allow learners to interact with each other
AI tool that seamlessly converts learning content into highly immersive automotive eLearning videos
Built-in document management system to manage training materials in one place
Detailed reports on learner progress to track training effectiveness
What you may not like:
Mykademy LMS has a bit of a limit when it comes to website templates.
Limited third-party integration can be a disadvantage if you rely on multiple tools for training programs.
Pricing:
Custom Pricing.
8. Skill Lake – Best for Competency Management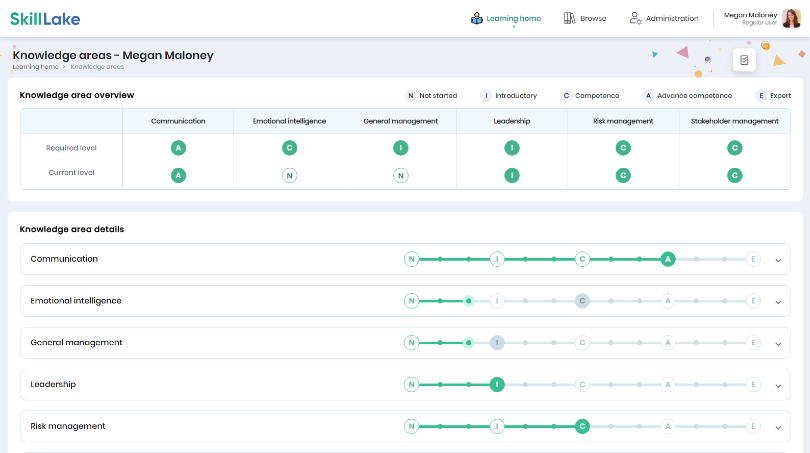 (Source: https://www.g2.com/products/skill-lake/reviews)
Now, here's a tool I've been recommended multiple times for its modern approach to automotive learning.
Based on my impressions, Skill Lake LMS blends personalized learning with individual goals and company requirements.
You'll find its AI-powered personalization pretty impressive. It tailors learning content based on what learners like. Whether self-paced learning, instructor-led courses, or a mix of both, the LMS has it all.
But that's not all. This platform puts the spotlight on competency management.
It's about identifying the automotive skills learners need and fine-tuning them to match your strategy. You can keep tabs on these plans, ensuring everyone's on track and no gaps are left behind.
What you'll like:
Artificial intelligence and machine learning to provide personalized content to learners
Detailed learning plans help mentors plan the learning goals of each enrolled learner
Supports both synchronous and asynchronous delivery of learning content
Gamifies with virtual rewards to nudge learners to achieve learning goals
Mobile learning enables learning anywhere through secure iOS and Android apps
What you may not like:
You may face software bugs that hinder the learning experience.
You can know about pricing only after requesting a demo, which may be a time-consuming process.
Pricing:
Custom Pricing.
9. Violet LMS – Best for Content Authoring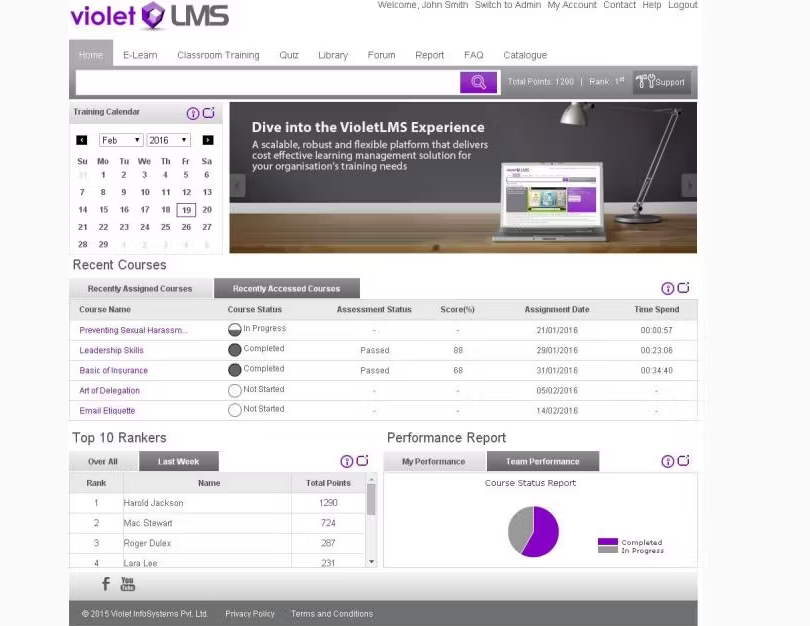 (Source: https://www.getapp.ca/software/119179/violet-lms#media)
Last but not least, I have Violet LMS on the list – a tool that's perfect for training your automotive team or speeding up onboarding.
Creating courses on the software is a breeze, even if you're not a tech whiz. The content authoring tool lets you organize learning content in a way that makes sense to automotive learners.
Security is a big deal, and the software takes it seriously. The robust authentication process and regular security updates guarantee that your automotive team's personal info stays safe.
Also, what's really interesting is how it syncs up with other tools.
Think Zoom, WebX, and MS Team – it plays nice with them all. This makes it super easy to set up live training sessions for remote teams.
What you'll like:
Compatible with communication methods and data models of SCORM
Content authoring tool to organize learning content into a standardized course structure
Step-by-step navigation to explore concepts in a sequential manner
You can get details on attempts made, scores captured against each, time spent, etc.
Role-specific learning paths that allow users to attain a structured training experience
What you may not like:
The forever-free version comes with limited storage space.
You may face slow loading times occasionally.
Pricing:
Custom Pricing. A free-forever plan is available.
Which Is the Best LMS for Automotive Training?
Selecting the right automotive LMS software for training employees is crucial.
The ideal software should facilitate effective learning and boost workforce skills. You need to prioritize a user-friendly interface, tailored content creation, custom configurations, and reporting features. Based on these factors, here are my top three picks from the list:
Option A: ProProfs Training Maker
ProProfs Training Maker is a blend of simplicity and usability. It enables users to easily create online courses, monitor progress, generate reports, and assess learners through quizzes and surveys. Its ready and fully editable resources on employee training are its greatest asset.
Option B: EdApp
EdApp is my second pick because of its gamified microlearning courses. Learners can access the courses remotely on any device and earn points, badges, and even prizes. The course creator tool has pre-set templates that you can tweak to match your strategies. You also get a library of free online automotive training courses.
Option C: Litmos
Litmos offers real-time reports and analytics to measure training impact. It breathes the mantra of "training in the now" and offers microlearning modules that pack a punch – short, sweet, and hyper-focused learning nuggets. Learners have the flexibility to switch between devices, picking up where they left off – no more interruptions in the learning flow.
Among these three, I think ProProfs Training Maker steals the show, thanks to the all-in-one package it offers at a competitive price.
I suggest you try the forever-free plan to experience how it can rev up your automotive training processes. It's time to invest in the right software and see the growth yourself!
Frequently Asked Questions
What is an automotive LMS?
An automotive LMS is a learning management system designed to train employees working in automotive factories, dealerships, etc. It allows you to offer training faster, anytime, anywhere. Automotive LMSs serve as a unified platform to deliver skills and compliance training critical to the industry. In simple words, it's a cloud-based LMS for the automotive industry. To know more,
Watch: What is a Cloud-Based Learning Management System?
What are the key features to look for in an automotive LMS?
An automotive LMS should have in-demand features, such as creating and managing online training programs, easy accessibility, personalized training, and a centralized learning hub. It should also provide interactivity, quizzes, and peer interactions. The LMS should be compatible with numerous devices, allowing employees to access training materials whenever needed. For more on standard LMS features, click here.
How do I choose the right LMS for my automotive company?
Selecting the right LMS depends on your business needs and expectations. Here are some factors to consider when choosing one –
Define your automotive training needs and objectives.
Prioritize relevant features for the automotive industry, like video-based training and gamification.
Confirm compatibility with existing systems to avoid future issues.
Opt for an intuitive user interface for easy navigation and a hassle-free learning experience.
Ensure the LMS provider offers timely updates and industry-leading features.
Evaluate the software balances between features and cost.
To know more, click here or watch this video:
Watch: How to Choose the Best LMS Software for Employee Training
Who can benefit from an automotive LMS?
An automotive LMS is designed for the automotive industry and can benefit a wide range of people, including automotive technicians, salespeople, managers, new employees, existing employees, and independent learners. Most LMS software offers a range of features that are tailored to the needs of the automotive industry, including video-based training, mobile learning, and gamification.
What types of courses are available in an automotive LMS?
A trusted automotive LMS software provider like ProProfs Training Maker offers multiple training courses under different categories. They include safety, compliance, engineering design, operating procedures (for manufacturing units), sales, communication, and customer service.
Can the automotive LMS be integrated into automotive training programs offered by organizations?
Yes, automotive LMS software can be integrated into automotive training programs offered by organizations. This integration is beneficial as it ensures compatibility with existing systems and software. For example, ProProfs Training Maker can be integrated into a suite of tools like a knowledge base, quiz-maker, survey, collaboration, CRMs, CMSs, email marketing tools, help center, etc., for a seamless workflow.
Do you want a free Training Software?
We have the #1 Online Training Software for employee training & assessment