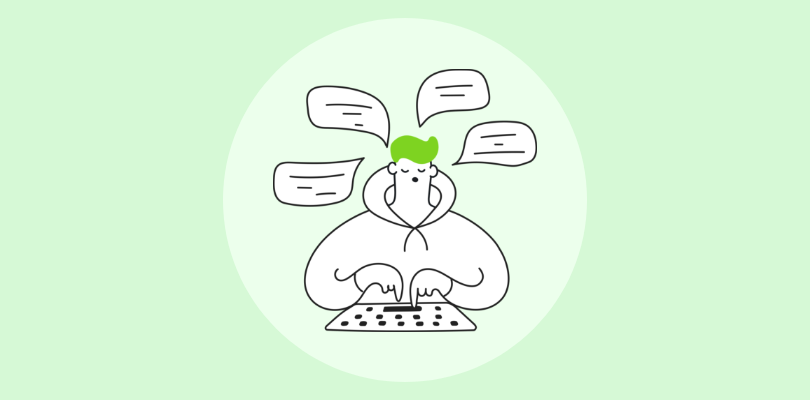 New hire onboarding can be challenging but only when you don't use the right tools and strategies.
Have you ever imagined how much easier it would be if you had a tool to onboard them faster, keep them engaged from day one, and reduce the time to productivity?
That's precisely what an employee onboarding LMS can do for you.
A well-designed onboarding program and an employee onboarding LMS to deliver it can help new employees learn about your company's culture, policies, and procedures and get up to speed quickly and efficiently.
Such an LMS can help you create, manage, deliver, track, and analyze customized courses and quizzes in your onboarding programs.
But with so many LMS on the market, selecting the right one for your business can take time and effort. This blog post will help you overcome that.
| Best Onboarding LMS | Best For | Pricing |
| --- | --- | --- |
| ProProfs Training Maker | Onboarding & Ongoing Employee Training | Forever free for up to 10 learners. Paid plan starts at $1.97/learner/month for large teams. Billed annually. |
| Cornerstone OnDemand | Compliance Management | Paid plans start at $6.0/month |
| Absorb LMS | Learner Engagement | Paid plans start at $800/active user/month |
| Docebo | AI-Based Upskilling | Paid plans start at $25,000/year |
| TalentLMS | Training Large Teams | Paid plans start at $69/month (billed yearly) |
| iSpring Learn | Training Management | Paid plans start at $2.29/user/month |
| 360Learning | Collaborative Learning | Paid plans start at $8/user/month |
| Litmos | Instructor-Led Training | Paid plans start at $3/user/month |
| LearnUpon | AI-Powered Learning | Paid plans start at $599/month |
| Bridge LMS | Custom Learning Library | Paid plans start at $4/user/month (billed annually) |
Let's dive into the best onboarding LMSs to give your new hires the best welcome aboard!
List of the Best LMS for Employee Onboarding
When it comes to employee onboarding, there's a famous quote that comes to my mind:
"Onboarding is a critical point in the talent lifecycle where a great experience can set the stage for productive, engaged employees, and a poor one can lead to high turnover and lost productivity." – Sherlyn Lobby
This is where an LMS shines.
An LMS excels during onboarding by delivering structured training that ensures effective skill acquisition, efficiency, and productivity.
I feel fortunate to have used some of the best LMS tools for onboarding new hires in my organization. Some were great for simplifying the process, while others were good at giving detailed reports.
In coming up with this list, I didn't rely just on my own experience. I also took peer recommendations, read customer testimonials, and checked neutral reviews online.
1. ProProfs Training Maker – Best for Employee Onboarding & Ongoing Training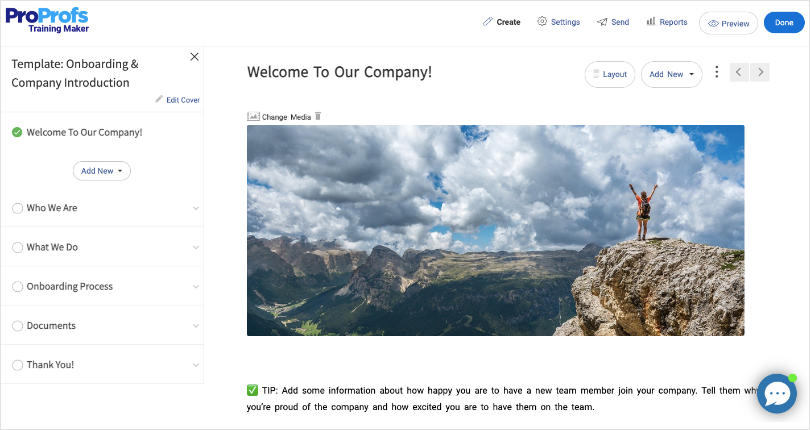 Are you looking for hassle-free course creation?
Well, let me introduce you to ProProfs Training Maker!
The platform's intuitive interface facilitates easy and quick course creation, allowing you to upload videos, PDFs, quizzes, and presentations easily.
ProProfs is an award-winning and easy-to-use cloud LMS that can help you onboard employees, locally or remotely, and put them under recurring training. I've been particularly impressed with its ready-to-use onboarding templates and learning paths – they've been a huge time-saver.
You can easily add quizzes and surveys to courses to test knowledge retention and capture valuable feedback.
The progress tracking feature impressed me a lot. I can keep a close eye on how my learners are doing, which really helps me tailor the learning experience to their needs.
And when it comes to managing users, it's a piece of cake. The platform allows for organized user categorization and role-based course assignments. The Single Sign-On (SSO) feature ensures easy and secure access, while customization options meet branding needs.
Watch: How to Create an Employee Onboarding Training Program
What You Will Like:
Explore a premium library with 100+ professionally designed, customizable, and ready-to-go courses
Efficiently manage users, no matter the class size, using a secure and centralized virtual classroom setup
Deliver branded learning experiences using your company logos, themes, and fonts
Extend your reach by delivering courses in over 70 interface languages, including English and Spanish
Ideal for custom trainings, internal courses or compliance trainings
What You May Not Like:
While the software generously offers free access, it's limited to just 10 users
The software boasts a plethora of features, which, while impressive, can be a bit much for those looking for a simpler experience
Pricing:
Forever free plan for up to 10 learners. Paid plans start at $1.97 /learner/month (billed annually) for large teams. A 15-day money-back guarantee. No hidden costs.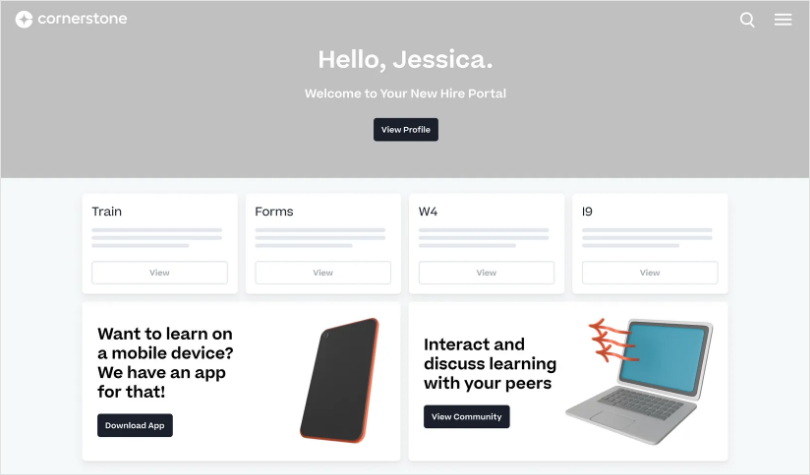 Another tool I would like to add to this list is Cornerstone.
This comprehensive tool is designed to revolutionize talent management.
With a focus on hiring and retaining the best talent, this platform offers an array of features to enhance the entire employee lifecycle.
It empowers organizations to attract top candidates with an ideal recruitment experience, from job search to offer acceptance. Automated processes and candidate management eliminate bottlenecks, saving me time and effort.
The compliance management feature is something I like about this tool. The platform offers centralized compliance hosting, supporting training in various languages and formats.
This provides real-time visibility of completion to reduce risk. Auditing is made easier with trail records, and training is delivered when needed.
What You Will Like:
Easy to navigate and access learning content as it has an intuitive interface
Huge customization capabilities that enable users to tailor their learning experience to their goals and needs
Provides a range of courses on various topics and skills, from soft skills to technical expertise
Users benefit from valuable insights into their performance, strengths, and areas for improvement
What You May Not Like:
Can be slow to release updates, which can sometimes lead to bugs and other problems
Does not offer a free trial, so you have to commit to a paid plan before you can try it out
The mobile app is less user-friendly than some other LMS apps. The interface is not as intuitive and can be difficult to navigate
Pricing
Paid plans start at $6.0/month
3. AbsorbLMS – Best for Learner Engagement

Are you struggling to keep your learners engaged and motivated throughout your training programs?
Look no further than Absorb LMS.
Through personalized learning paths, interactive content creation, and specialized experiences, Absorb LMS ensures that your learners remain engaged, informed, and empowered.
I've found that Absorb LMS lays the foundation for employee success. As someone always looking to improve training programs, this user-friendly tool has been a boon.
It empowers my organization to provide comprehensive training programs, ultimately boosting employee confidence, productivity, retention, and skill advancement.
With Absorb LMS, new hires can access training on any device, anytime, anywhere. It creates personalized learning paths and experiences, unlocking employee potential. Scalable for organizational growth, it maintains high-quality learning experiences.
What You Will Like:
All course pages being interpretable by a screen reader ensures that the platform is accessible to all learners, including those with visual impairments
The ability to easily integrate with popular tools like Google Drive, Asana, Salesforce, and Zendesk enhances workflow efficiency
Employees can ask questions, share insights, and answer queries, promoting engagement and knowledge-sharing
Best for identifying skill gaps and training opportunities to deliver a targeted approach to employee development
What You May Not Like:
The user interface of the software is not as modern or user-friendly as some other LMSs
Absorb's administration system is different from other LMSs. For example, the way that courses are created and managed in Absorb is different from how it is done in other LMSs
Experience crashes and breakdowns that can prevent learners from accessing courses or completing assignments
Pricing:
Paid plans start at $800/active user/month
4. Docebo – Best for AI-Based Upskilling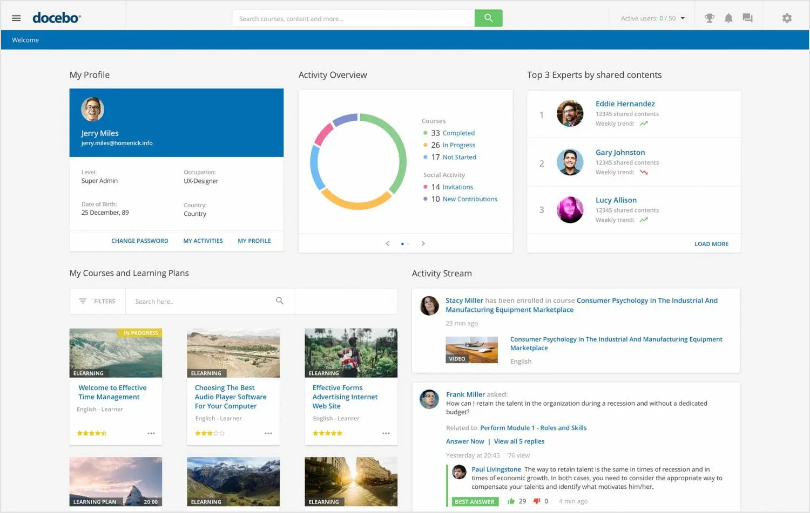 Living in the era of AI, I feel our LMS need to step up their game to address the unique challenges of upskilling in this rapidly changing landscape.
For someone like me who's exploring this AI-driven world, Docebo appears as the ultimate choice when it comes to AI-based onboarding and upskilling.
Docebo's AI adapts the learning content based on your learner's performance. This means you won't get overwhelmed by content that's too advanced or bored by material that's too basic. The system ensures that the learning journey aligns perfectly with the progress and capabilities.
Collaborative learning is also a significant aspect of upskilling in the AI era. That's where Docebo excels! The AI facilitates peer learning by suggesting relevant discussion groups, forums, and virtual collaboration spaces.
What You Will Like:
Has a clean UI that is easy to use for both learners and administrators
Social learning features to enable collaboration and discussion in real-time
Scalable to meet the training needs of organizations of all sizes
Docebo gels well with a variety of other systems, such as CRM, HRIS, and learning content providers
What You May Not Like:
Docebo has a size limit for training videos, which may limit the quality and length of your content
The certification module is not very robust and may not meet the needs of some industries or regulations
This LMS can be complex to set up and manage, especially if you don't have a lot of technical expertise
Pricing:
Paid plans start at $25,000/year
5. TalentLMS – Best for Training Large Teams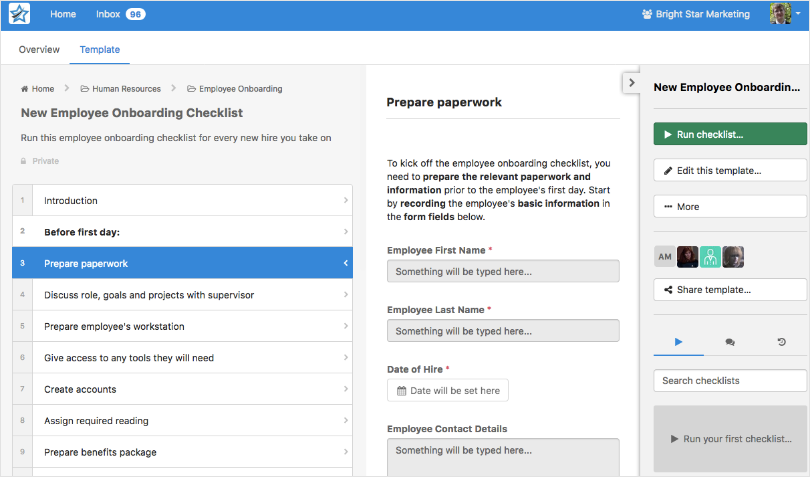 Are you struggling to onboard a large number of new hires quickly and effectively?
Well, I've been there too.
Onboarding new employees used to feel like a mountainous task, especially when dealing with large teams.
But it doesn't have to be.
With TalentLMS, you can easily create and deliver engaging and effective onboarding courses to your team.
You can personalize learning paths, ensuring each team member gets the right content at the right time. Engage learners with interactive and gamified courses, track progress effortlessly, and analyze results in real-time.
Plus, it's cost-effective, scalable, and flexible, allowing you to create a standardized onboarding process that boosts productivity and retention. You can use the platform's video conferencing feature to introduce your team, helping you connect with others even when you're not in the same place.
What You May Like:
Supports various types of content, such as videos, presentations, quizzes, SCORM, xAPI, and more
TalentLMS is customizable to your branding, theme, logo, domain, and language. You can also configure the system to match your workflows, rules, and preferences
Integrates with various third-party tools, such as WordPress, Shopify, Zoom, Salesforce, Zapier, etc.
Powerful reporting tools that help you track the performance, progress, and engagement of your learners
What You May Not Like:
Limitations in the area of user certificates, such as the inability to customize the certificate layout
Has some challenges in creating more complex report types that involve cross-object data or advanced filters
The pricing plans are based on the number of active users per month, which can add up quickly if you have a large or fluctuating learner base
Pricing:
Paid plans start at $69/month (billed yearly)
6. iSpring Learn – Best for Training Management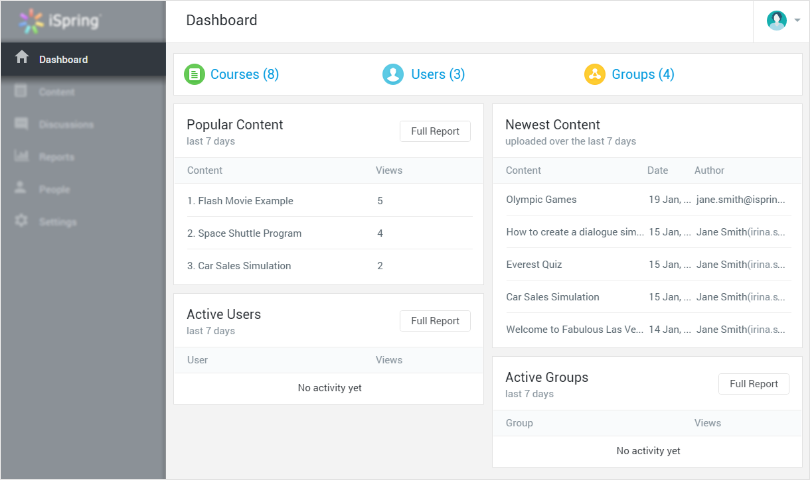 When it comes to efficient onboarding and training management, I think iSpring Learn takes the lead. Streamline your training processes, from enrolling employees in courses to automating assignments in one user-friendly platform.
The software offers tools for explaining roles, benefits, product knowledge, company culture, and basic policies to new hires. It's incredibly versatile, allowing you to sort users by criteria such as team, job title, or even set custom parameters.
Based on what I've seen, iSpring's software looks promising to improve your onboarding process and set your new hires up for success.
The benefits are pretty clear. It can reduce turnover rates, save time and money by avoiding traditional training methods, and even start training before employees officially start working.
What You Will Like:
The interface is intuitive, and there are plenty of tutorials and resources available to help you get started
You can build interactive courses that engage learners
iSpring Learn courses can be accessed on any device, including smartphones and tablets
The tool is customizable to your branding, theme, logo, domain, and language
What You May Not Like:
While the platform is user-friendly, administrators might need some time to explore and utilize all its features effectively fully
The platform has been known to be buggy at times. This can be frustrating for users, but iSpring is usually quick to fix any issues
Not as customizable as some other e-learning platforms. If you need a lot of flexibility regarding how your courses are designed, you may want to consider other alternatives
Pricing:
Paid plans start at $2.29/user/month
7. 360Learning – Best for Collaborative Learning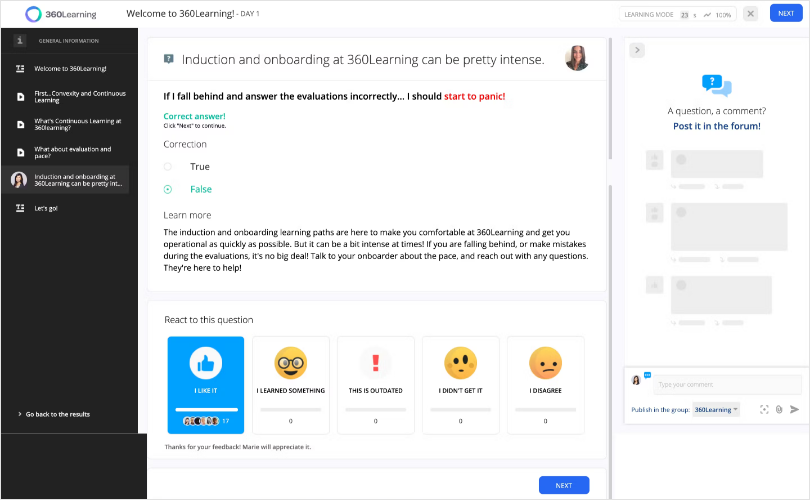 Ever found yourself in the midst of onboarding, wishing there was a way to make the learning experience more dynamic and engaging?
Wel! Then you need to check out 360Learning!
The traditional approach to onboarding often feels ad hoc and lonely. Scrolling through files hardly promotes engagement. But with 360Learning, a new paradigm emerges. Automation meets role-specific engagement, turning onboarding into a vibrant learning journey.
What caught my attention is the platform's knack for automating and decentralizing processes. No more manual data entry or reinventing the wheel for each new cohort.
Business managers and learning teams collaborate within the project workspace to create cohort-specific experiences. And when it comes to content creation, 360Learning's collaborative authoring tool promises speed and relevance.
What You Will Like:
Enables scalable learning through internal expertise and collaboration
Engaging content creation enhances dynamic learning experiences for users
Data analytics guide informed decisions in optimizing training strategies
Customer support and online training academy facilitate smooth implementation
What You May Not Like:
Course completion often requires a specific module sequence, limiting flexibility
Occasional course crashes were reported, impacting user experience
Initial interface complexity may pose a usability challenge for some users
Pricing:
Paid plans start at $8/user/month
8. Litmos – Best for Instructor-Led Training

When it comes to effective onboarding using Instructor-Led Training (ILT), Litmos undoubtedly stands out as the top choice for an LMS. As someone who has navigated the complex realm of employee training, I've grown to appreciate Litmos' strong features and user-friendly approach.
The platform's flexibility caters to different training methods, whether it's in-person workshops or virtual classrooms, ensuring a personalized experience. Litmos offers an ILT module that allows training administrators to create and manage ILT sessions within a course.
The ILT module can be integrated with GoToTraining, a web conferencing tool that enables online collaboration and communication.
Incorporating multimedia elements adds to the engagement factor, allowing trainees to access resources, videos, and assessments conveniently from a single location.
What You Will Like:
Provides customizable email templates, waitlist option, display session details option, and roll call feature for instructor-led training
Has a powerful reporting feature to track and evaluate learner performance and progress
It supports SCORM and xAPI standards for content compatibility and interoperability
The user-friendly UI makes it easy to navigate and create courses
What You May Not Like:
Issues with stability and performance, such as slow loading times, glitches, and errors
Learning paths are somewhat confusion as there is no option for tagging
A modest learning curve for the first time users due to variety of advanced features
Pricing:
Paid plans start at $3/user/month
9. LearnUpon – Best for AI-Powered Learning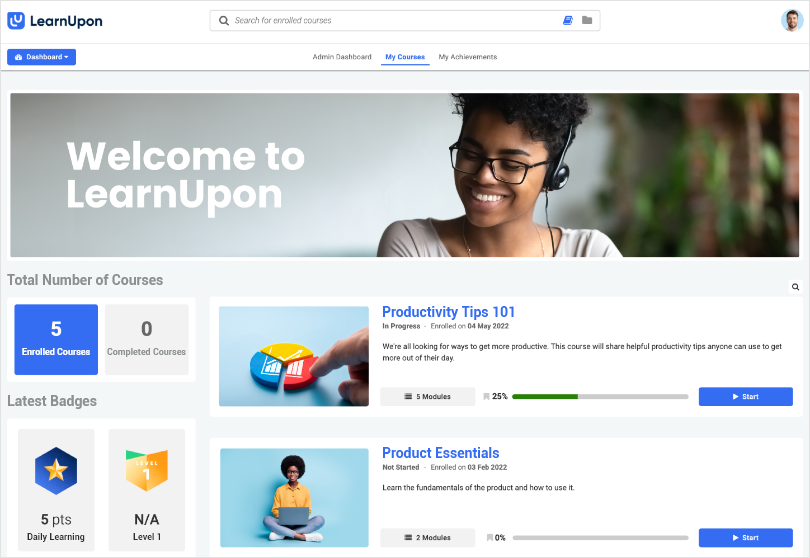 LearnUpon is a remarkable employee onboarding LMS I recently came across that truly elevates the training experience. It's more than your average learning platform – it's like a powerful accelerator for employee growth and business success.
It covers all the essential bases, from onboarding new hires to helping your team build crucial skills. But what caught my eye is how it weaves ethics and compliance into the training fabric, ensuring everyone's on the same page.
Its learning organization is impressive, too. It guides individuals through their necessary courses and even automates enrollment.
AI brings a touch of magic to learning. Interactive bots act as coaches, tailoring assessments to provoke critical thinking. Automated, machine-powered recommendations ensure learners know what's next in their learning journey. An interactive smart coach (coming soon) will transform how learners engage with and reflect on their learning.
What You Will Like:
Engaging exams are generated instantly, ensuring relevant and effective assessment of comprehension
It offers gamification and mobile learning, ensuring that employees stay motivated
The self-serve hub empowers employees to choose courses that align with their interests and goals
Plays well with various third-party applications, such as Zoom, Salesforce, Shopify, Mailchimp, Stripe, and more
What You May Not Like:
Does not offer a free trial or a free version of the system. Users have to request a demo or sign up for a paid plan to access the system
May not be suitable for large organizations and may face issues with scalability, performance, reporting, or compliance
Users cannot create branching scenarios or adaptive learning paths within the system
Pricing:
Paid plans start at $599/month
10. Bridge LMS – Best for Custom Learning Library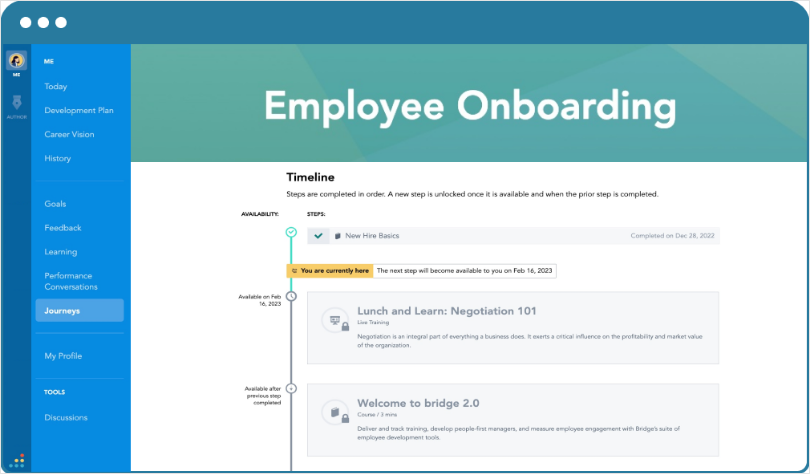 Are you tired of the old, clunky onboarding processes that leave new hires overwhelmed and disconnected?
Ever wondered if there's a way to make the transition smoother and more engaging?
I was in the same boat until I discovered Bridge – a solution changing the onboarding game. It's designed to eliminate the hassle of traditional onboarding and make the process efficient and enjoyable.
I was impressed by how it takes care of everything, from delivering courses and training to scheduling meetings and collecting feedback.
But what sets Bridge apart is its custom learning library. Employees are greeted with a learning hub tailored to their needs as soon as they log in. No more searching through endless menus – they can access the information they need right away!
What You Will Like:
The analytics dashboard lets you keep a check on how your new hires are progressing
The org chart feature helps new hires understand the company structure and get to know their colleagues
Personalized 1on1s are a fantastic way to make new hires feel valued and integrated into the team from day one
Intuitive interface that makes navigation easy for new employees
What You May Not Like:
Has technical issues or bugs that affect the user experience, such as login errors, data loss, or broken links
It is slow to load or respond at times, especially when there are many users or courses
Does not integrate well with some third-party platforms or applications, such as Zoom, Google Drive, or Microsoft Teams
Pricing:
Paid plans start at $4/user/month (Billed annually)
Which Employee Onboarding LMS Is the Best for You?
Well! Now, that's the million-dollar question. You need to understand your requirements and priorities to choose the right employee onboarding LMS. Let's dive into the factors that matter most.
The right fit depends on factors like ease of course creation, compliance management, and learner engagement.
My top recommendations are:
Option A – ProProfs
Ideal for hassle-free course creation. Its intuitive interface simplifies uploading documents, videos, and presentations. Ready-to-use templates and learning paths are a huge time-saver. Quizzes and surveys enhance engagement, while progress tracking ensures tailored learning.
Option B – Cornerstone OnDemand
Perfect for compliance management for very large enterprises. It streamlines talent management, focusing on hiring and retaining top talent. Automated processes and hosting compliance make tasks efficient. Real-time visibility and auditing reduce risks, making compliance a breeze.
Option C – Absorb LMS
Best for learner engagement. Personalized learning paths, interactive content, and specialized experiences keep learners engaged and informed. Scalable and accessible on any device, it boosts confidence, productivity, and skill advancement.
Of all three, I would say ProProfs stands out because of its incredibly user-friendly interface and efficiency in creating onboarding courses. I was impressed by the option to easily incorporate quizzes and surveys for knowledge retention and feedback. ProProfs simplifies onboarding in a way that truly resonates with trainers and learners.
Learn More About Employee Onboarding LMS
What is an employee onboarding LMS?
An employee onboarding LMS is a specialized software that facilitates and streamlines the process of introducing new employees to an organization. It is like a centralized hub for managing, delivering, and tracking various aspects of the onboarding process, including induction, orientation, product & service training, and cultural training.
Watch: What is a Cloud-Based Learning Management System?

What are the key features to consider in an employee onboarding LMS?
An effective employee onboarding LMS should offer content management for organizing materials, personalized course delivery, progress tracking, assessments, compliance training, collaborative tools, HR system integration, automation, feedback mechanisms, and robust reporting. It should facilitate knowledge transfer, engagement, compliance adherence, and data-driven insights, enhancing the new employee's integration into the organization. The LMS must be user-friendly, adaptable to various roles, and support a dynamic learning experience. Read this blog to know more.
How do I choose the right LMS for employee onboarding?
When selecting an LMS for employee onboarding, consider factors like content customization, ease of use, scalability, integration capabilities, mobile-friendliness, and analytics. Prioritize platforms offering personalized learning paths, adaptable to diverse roles. Look for intuitive interfaces to ease navigation for both administrators and employees. Ensure the LMS can accommodate your organization's growth and technological advancements. Integration with HR systems simplifies data management. Mobile accessibility enables learning on the go. Robust analytics aid in tracking progress and effectiveness.
Watch: How to Choose the Best LMS Software for Employee Training
How does an onboarding LMS benefit new employees?
An onboarding LMS offers new employees a structured and engaging introduction to their roles and the organization. It provides easy access to essential training materials, policies, and resources, expediting how you assimilate them into your culture. Personalized learning paths ensure relevant content delivery, enhancing understanding and confidence. Interactive features foster collaboration and networking, helping them connect with peers and mentors. Clear progress tracking empowers individuals to monitor their development, boosting motivation.
What types of content are available on an onboarding LMS?
An onboarding LMS, such as ProProfs, offers a variety of content to cater to diverse learning needs. This includes content on compliance, employee skills, leadership and management, sexual harassment prevention, and more. Most LMS also enables users to build engaging courses from scratch using your existing docs, presentations, podcasts, and videos. Read this guide to learn how to create a course.
Watch: How to Add Media to Your Online Courses
Can an onboarding LMS be integrated into employee training programs offered by organizations?
You can integrate an onboarding LMS into your broader employee training programs. This integration is highly beneficial as the onboarding process serves as the initial step in your learning journey. Extending the LMS beyond onboarding gives you access to continuous learning opportunities, skill development, compliance training, and professional growth resources. This integrated approach streamlines training efforts, maintains consistency, and ensures you have a unified learning experience throughout your tenure. This enhances your skills, knowledge, and overall contribution to the organization, enabling you to grow and succeed in your role.
Do you want a free Training Software?
We have the #1 Online Training Software for employee training & assessment