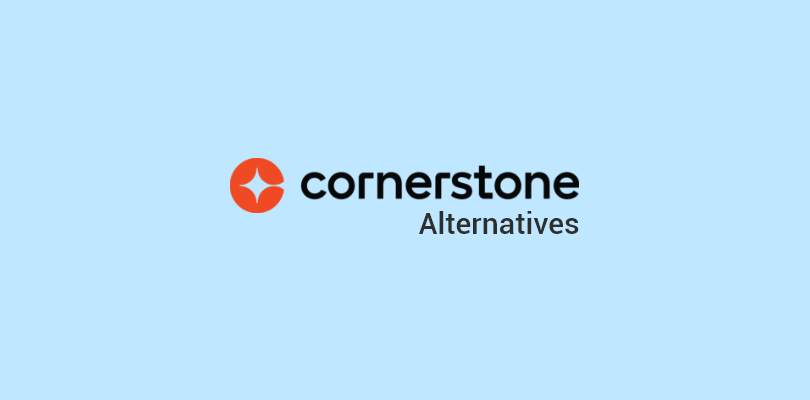 If you've been relying on Cornerstone for your business needs but looking for fresh options and enhanced capabilities, you're in the right place.
As an expert in this field, I've spent extensive time exploring various Cornerstone alternatives and competitors, and today, I'm thrilled to present you with a handpicked selection of the best ones.
Drawing from my expertise, I'll walk you through the top Cornerstone LMS competitors that offer enhanced features and functionalities tailored to your unique requirements. Go through each of the tools carefully before you make a choice.
12 Best Cornerstone Alternatives & Competitors
I have compiled these top 12 Cornerstone alternatives and competitors for 2023 based on my hands-on experience, extensive research, client feedback, and insights from trusted peer reviews.
1. ProProfs LMS – Best LMS for Employee Training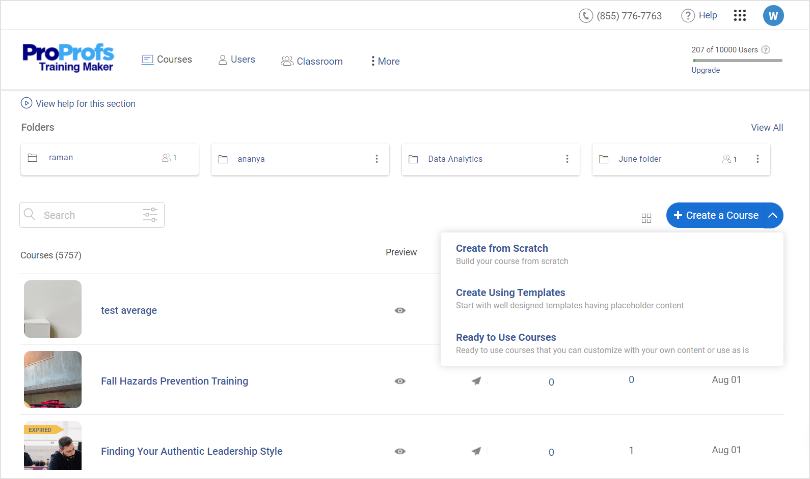 I must say that ProProfs Training Maker can indeed serve as a compelling alternative to Cornerstone. This platform impressed me with its user-friendly interface, making course creation and management a breeze. Whether for employee onboarding or customer education, I can quickly assemble comprehensive lessons without technical headaches. Besides, I also found this platform to be the best LMS for employee training.
The abundance of interactive features and customization options allowed me to craft engaging and dynamic training modules. What truly won me over was the seamless integration of multimedia elements that cater to different learning styles and comprehensive analytics that enable me to track learners' progress effectively.
Another aspect that sets ProProfs Training Maker apart is its built-in assessment tools. From quizzes to polls and surveys, you can quickly gauge learners' progress and collect valuable feedback to improve your courses.
The accessibility features like WCAG 2.1 Level AA accommodate diverse learners, including those with learning challenges. This inclusivity aligns with my values, and I take pride in creating training materials that are accessible to everyone.
Also, the tool supports mobile learning, which enables learners to take training at their own pace.
Watch: How to Create an Online Course
What You Will Like:
The platform's intuitive interface makes it easy to create and manage training courses easily
Supports various content formats (text, images, videos, quizzes) that enhance engagement and cater to different learning styles
White labeling features to incorporate your branding
It is GDPR-compliant, and you can password-protect your courses
What You May Not Like:
The platform offers a limited number of course templates, which restricts the diversity of course designs accessible to users
Though the interface is easy to use, it has remained unchanged for several years
The platform lacks video conferencing tools. So, users would need to rely on external platforms for conducting live sessions
Pricing:
Forever free plan (up to 10 learners). Paid plan starts at $1.97/learner/month (billed annually) for large teams. No hidden charges. 15-day money-back guarantee.
2. Absorb LMS – Best LMS for Simplified Learning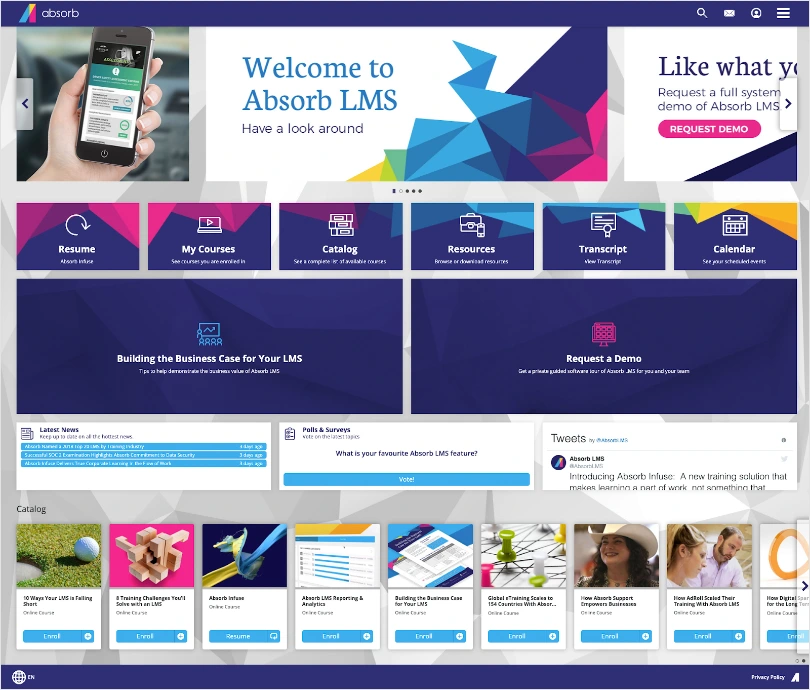 From my experience using Absorb LMS as an alternative to Cornerstone on Demand LMS, I must say it's a game-changer for simplifying organizational training. The platform's user-friendly interface makes navigating and creating impactful eLearning courses incredibly easy.
I love the variety of available content formats, including text, images, videos, and interactive quizzes, as they keep learners engaged and cater to different learning styles.
One of the standout features is the AI-powered capabilities that enable learning on the go and provide personalized learning paths. This has been instrumental in making knowledge accessible whenever and wherever needed.
The seamless integration of content libraries and other tools has enriched the learning experience. From employee onboarding to compliance training, Absorb LMS has proven versatile and adaptable to various training needs.
What You Will Like:
The AI-powered features enable personalized learning paths and adaptive content, enhancing learner engagement
Mobile-friendly design which allows learners to access training materials on various devices, promoting flexibility in learning
Various customization options to suit your organization's branding and specific training needs
Robust reporting tools and analytics that provide valuable insights into learner progress
What You May Not Like:
Some users (especially beginners) might find it challenging to navigate and set up the LMS initially
There is room for improvement in the reports section, specifically regarding the ability to download reports for multiple courses and individuals simultaneously
Absorb lacks the feature to automatically assign courses based on the hire date. Additionally, there is no option to schedule course assignments
Pricing:
Starts at $800/month
3. Docebo – Best LMS for Artificial Intelligence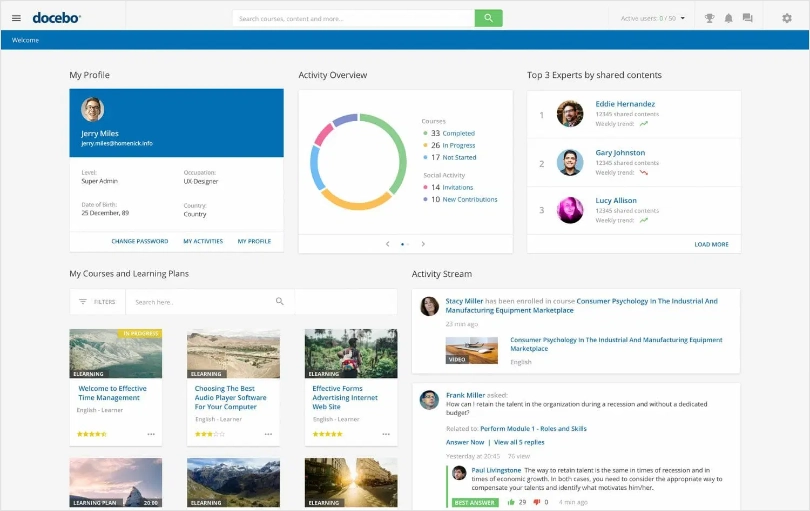 As per my experience, Docebo emerges as a highly compelling alternative to Cornerstone. As an AI-powered LMS designed for enterprises, Docebo showcases a sharp design, impressive functionality, and remarkable scalability that rival Cornerstone's capabilities.
With AI-driven features like virtual coaching, content suggestions, and auto-tagging, Docebo streamlines administrative tasks and boosts learner autonomy.
What I particularly like about this tool is that it fosters a learning culture with social learning and offers a mobile app, Go. Learn, which ensures continuous blended learning experiences on the go.
Furthermore, the platform's 400+ integrations provide a no-code solution to seamlessly bring various SaaS business systems together.
What You Will Like:
Clean and intuitive user interface that ensures ease of use
Capability to fetch content from various sources, increasing versatility
Automatic assignment of learners to designated learning paths, streamlining the process
Option to incorporate personalized branding elements, reinforcing brand identity
What You May Not Like:
Reporting functionality could be enhanced to provide a comprehensive view of learner progress
Additional customization options for branding would be beneficial
More integrations could be introduced to facilitate smoother workflows
Pricing:
Starts at $25,000/year
4. TalentLMS – Best LMS for Extensive Course Management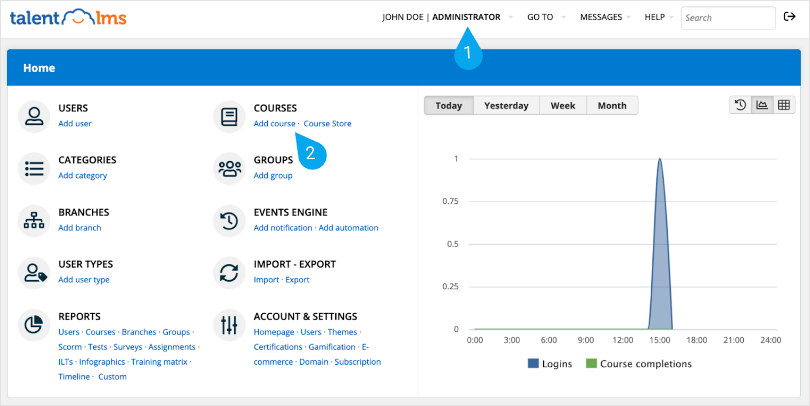 I've been using TalentLMS for quite some time, and I can confidently say that it's one of the best Cornerstone LMS competitors. Building courses is a breeze with the drag-and-drop functionality, allowing me to add various media types like videos, presentations, and documents.
I also appreciate the platform's ability to pull in content from different sources, giving me more flexibility in designing engaging courses. The option to create detailed learning paths and completion rules helps keep learners on track and focused on their development.
Course management is another strong point of TalentLMS. I love how easily I can organize my courses with various file types. It supports SCORM, xAPI, and cmi5 files for enhanced interactivity.
The seamless integration with other apps and services is a bonus, allowing our training to fit seamlessly into our workflow.
What You Will Like:
Extensive customization options for courses, allowing easy management
Mobile-ready platform, enabling learning on the go, anytime and anywhere
White labeling support for seamless branding integration
Learning paths providing guided learning experiences
What You May Not Like:
Discussion forum requires improvements to enhance collaboration among learners
Navigation can be a bit complex, especially for first-time users
Customization may be challenging for beginners
Search functionality for users and courses could be more user-friendly and simplified
Pricing:
Starts at $69/month (billed yearly)
5. Blackboard Learn – Best LMS for Collaborative Learning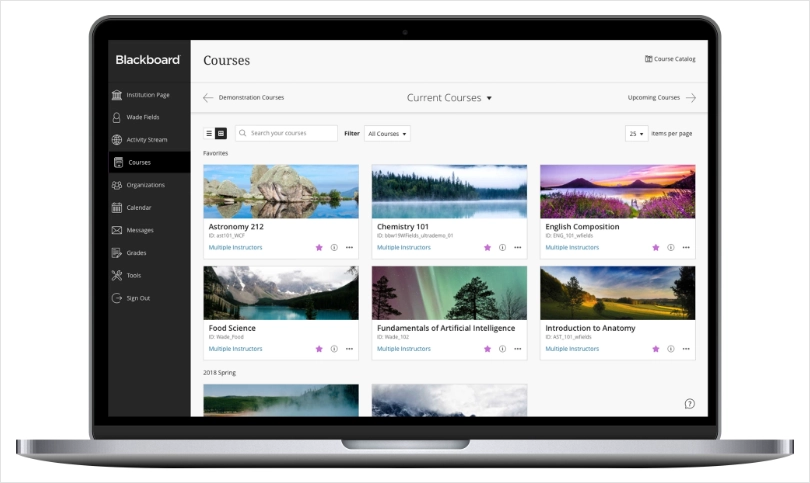 Another alternative to Cornerstone Learning LMS is Blackboard Learn. I must say that this tool is undoubtedly a strong player on the market. This innovative system caters to the needs of learners at all levels, from K-12 to higher education and beyond.
I firmly believe that Blackboard Learn has consistently been at the forefront of learning management technology.
I simply adore its learner-centric approach. The platform fosters engagement, interaction, and quality learning throughout the learner's journey. Features like discussion boards, group projects, and real-time collaboration tools foster active participation and knowledge sharing, making it an ideal platform for collaborative learning experiences.
Blackboard Learn's social and mobile learning capabilities ensure that learning can happen from anywhere, on any device, making it highly accessible and adaptable to modern learners' needs.
Jose Bernier, Associate Vice President of IT & Chief Information Officer, Stetson University, said, "In Blackboard, we found a partner willing to listen, one who worked hard to provide a solution beneficial to both faculty and students." Testimonials like this affirm the value that Blackboard brings as a partner in education.
What You Will Like:
The import tool is robust, making it easy to bring in content and resources from various sources
Online tasks and quizzes are straightforward to administer and grade, simplifying the assessment process
The platform is easy to navigate, which streamlines the learning experience and creates a familiar environment
Integration with Zoom and Panopto enhances the platform's capabilities for remote learning and video content
What You May Not Like:
Sign-on errors are common leading to disruptions in the learning process
The overall layout lacks appeal, potentially affecting student engagement and motivation
Locating and managing assignments can be cumbersome with unclear assignment locations
Pricing:
Starts at $9,500/ year
6. 360Learning – Best LMS for Automated Learning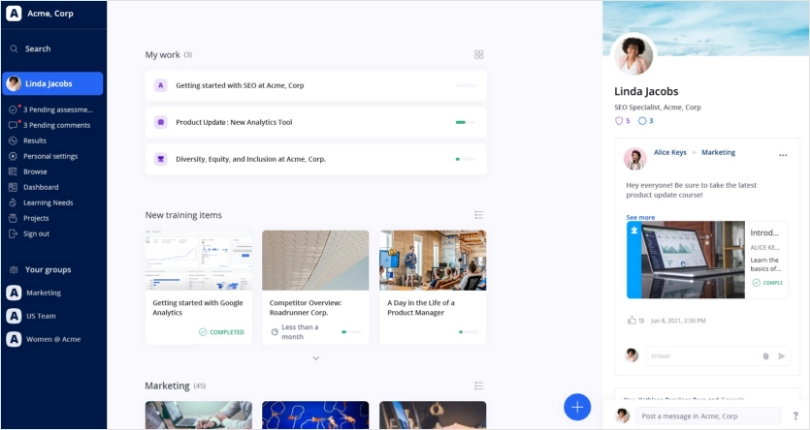 360Learning offers a powerful LMS with automation capabilities that eliminate time-consuming tasks. With over 1,700 teams embracing this platform, it stands out as a solution promoting efficient learning experiences.
What I particularly like about 360Learning is that it excels in content creation and management. Its award-winning authoring tool empowers organizations to leverage internal expertise to create relevant training content promptly, reducing reliance on external content providers.
Compliance training becomes more manageable with 360Learning's automation features. Organizations can automate mandatory training and retraining, ensuring learners comply with training requirements.
This end-to-end orchestration includes automated enrollments, reminder notifications, certificate expiration alerts, and comprehensive audit-proof reporting.
What You Will Like:
With flexible training delivery options, organizations can personalize learning paths, integrate online courses, and conduct instructor-led training seamlessly
Simplifies multilingual training management. Translations can be created and managed from a single integrated interface
Offers extensive reporting across groups, users, courses, and paths, providing insights into progress, milestones, and challenges
Integration with various tools like Salesforce, MS Teams, and Zoom enhances the platform's versatility and utility for training and collaboration
What You May Not Like:
Lacks the ability to edit videos recorded within the platform, limiting the potential for post-production adjustments
Lacks the capability to manually mark courses as complete for a group of users, causing administrative burdens for organizations
Currently only supports the creation of single-question graded quizzes rather than multiple-question quizzes at once
Pricing:
Starts at $8/user/month
7. Moodle – Best LMS for Personalized Learning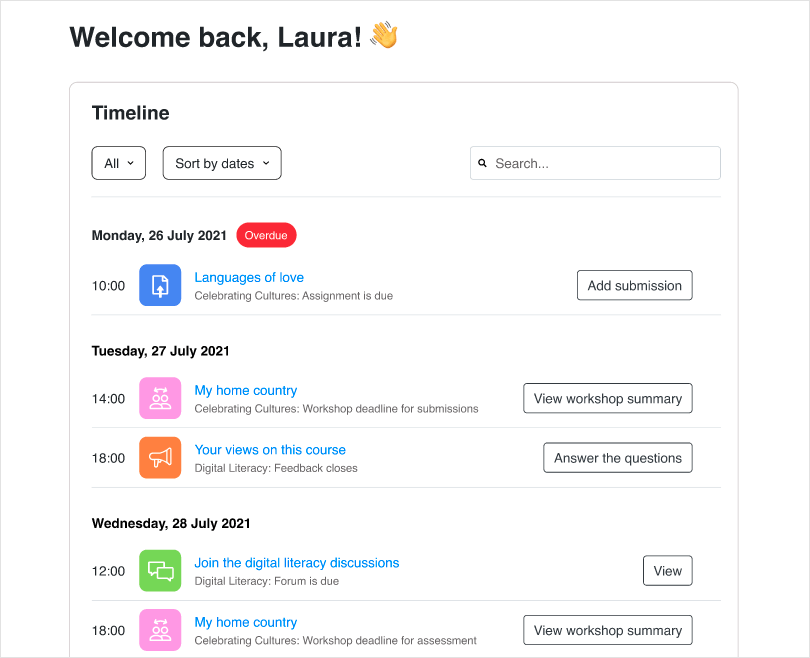 Another tool that I feel is the best Cornerstone competitor is Moodle LMS. Its fully customizable platform caters to diverse learning environments, from K-12 classrooms to corporate training, ensuring a seamless experience for learners of all ages.
Instructors can deliver content in various formats, set deadlines, and update learners through alerts. Its accessibility features, integrated content checkers, and text-to-speech tools cater to diverse learners, creating a tailored and engaging learning experience.
With numerous success stories and industry recognitions, Moodle remains a leader in the online learning landscape.
The Moodle App enables learners to access courses anytime, anywhere, making it a convenient solution. Whether you partner with an expert from Moodle's certified network or choose a self-service option, this LMS stands out as an empowering tool for instructors seeking to improve the learning experience for their learners.
What You Will Like:
A wide array of learning materials, such as documents, videos, and multimedia for a diverse learning experience
User-friendly interface facilitates easy navigation and management of courses
Supports asynchronous learning giving learners the flexibility to learn anytime, anywhere
Managing learners' profile and setting enrollment keys are a good feature of Moodle to restrict to the valid users
What You May Not Like:
Reporting capabilities could be more advanced as administrators may need to collate data from various learning groups manually
No dedicated technical support or automatic updates. Organizations need to allocate resources to keep the system running smoothly and securely
Demands huge server resources, especially when hosting a large number of users, courses, and multimedia content
Pricing:
Starts at $180 AUD annually
8. Lessonly by Seismic – Best LMS for Learning and Coaching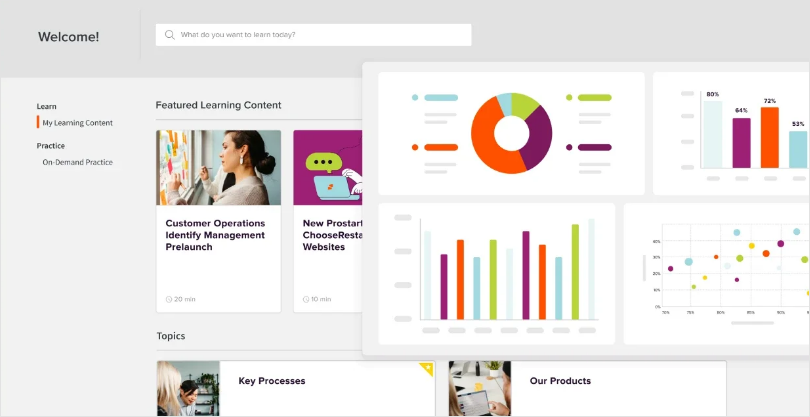 As someone who has used both Lessonly by Seismic and Cornerstone LMS, I must say that Lessonly has emerged as a refreshing and efficient alternative to Cornerstone. Unlike Cornerstone, which can feel cumbersome at times, Lessonly streamlines content creation and updates, allowing for quick and seamless customization of courses.
With this solution, your new learners will be trained 62% faster, ensuring a quicker ramp-up period for new hires in just 10 days.
The software allows systematic skill development by guiding teams to relevant resources, accelerating their skills enhancement by 2.3 times. Coaching is made easy with data-driven plans that pinpoint knowledge gaps, leading to 76% more closed-won deals.
With responsive customer support and continuous platform improvements, Lessonly has become my top choice for employee training and development. Its flexibility and engaging approach make it a standout solution on the market.
What You May Like:
Build interactive training to enhance engagement and learning retention
The option to build personalized certificates adds a sense of accomplishment and recognition for learners
The real-time progress monitoring feature allows trainers and managers to keep a close eye on learners' performance
Streamlined user interface. Creating content is straightforward, and learners can easily digest the information
What You May Not Like:
The sound editing feature on-screen recordings need improvement
Minor problems arise with lessons, such as the swapping of images and text in some instances when transitioning from edit mode to preview mode
Need to have a discussion ability, which is not available at the moment
Pricing:
Starts from $0/month (Limited to 25 users only). Billed annually
9. LearnUpon – Best LMS for Training at Scale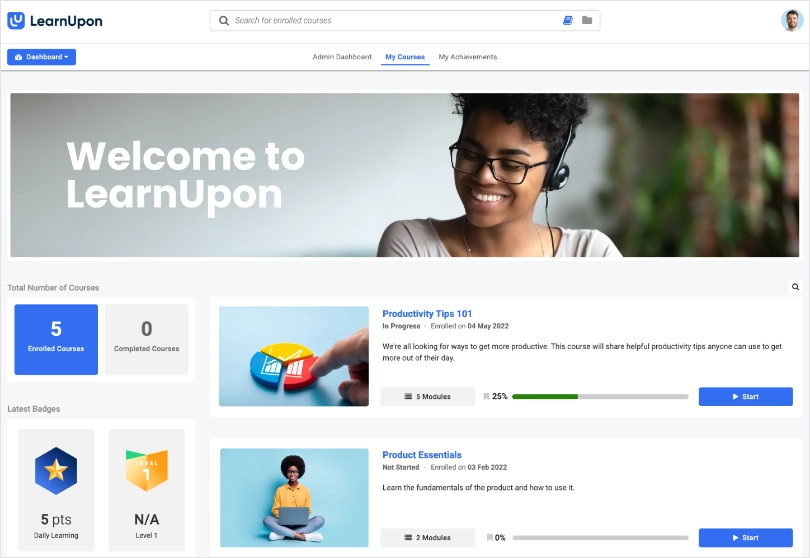 LearnUpon is another tool I find to be an excellent alternative to Cornerstone. The tool offers a comprehensive and intuitive platform for fast and efficient training. The course creation feature allows users to create engaging content effortlessly, while the training delivery ensures seamless knowledge dissemination.
With LearnUpon, organizations can streamline administrative tasks and focus on delivering great learning experiences efficiently at any scale.
The platform allows for easy automation of user creation and enrollments, even with large numbers of learners, through bulk uploads and API integration with CRM or HRIS systems.
Users can be organized into specific groups, receiving tailored content and allowing for easier progress monitoring through group-specific reports. The platform also offers different user types and permissions, enabling organizations to delegate tasks and build a user structure that suits their needs.
What You Will Like:
The platform is designed in a way that even learners with limited tech knowledge can learn and navigate it with minimal assistance
You can effortlessly host multiple portals for different audiences, create learning paths, and upload various video and document formats without limitations
Exceptional test creation and implementation capability, providing an advantage for creating assessments with ease
Huge customization abilities in terms of branding and course settings, which makes it easy to personalize training
What You May Not Like:
Searching for courses as an admin becomes challenging, especially with multiple course versions
Standard reports do not allow running reports for bundles, limiting comprehensive data analysis
Certificate generation can be clunky, with slow field selection and there may be issues with printing
Pricing:
Starts at $599/month. Billed annually
10. Litmos – Best LMS for Virtual Training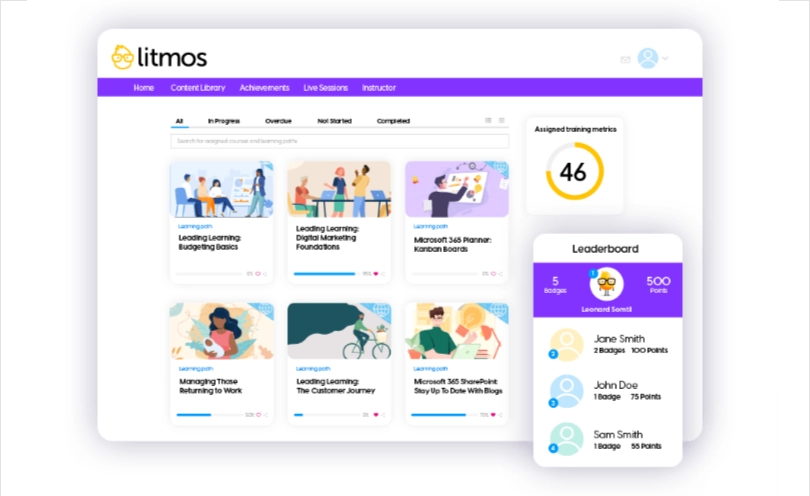 Litmos is a leading corporate learning platform that empowers organizations to facilitate smarter and faster employee training. With a diverse range of online learning solutions, Litmos caters to various segments of businesses, including sales, service and support, operations, compliance, customers, and employees.
The vast library of off-the-shelf content covers subjects like compliance, leadership, communication, and social skills. The platform also provides robust reporting and analytics features to effectively track performance and course completion.
The best thing about Litmos is that it offers robust virtual classroom capabilities, enabling real-time interactions between trainers and learners. Its intuitive interface and comprehensive tools make it easy for trainers to conduct live virtual sessions, host discussions, share materials, and conduct assessments seamlessly.
Renowned companies like FordDirect, Cerebral Palsy Association, and Grace Group trust and rely on Litmos for training.
What You Will Like:
An extensive content library to easily kickstart course creation
A user-friendly interface that ensures seamless navigation
Engaging learning paths that facilitate guided learning
Gamification features that enhance user engagement
What You May Not Like:
Too much manual work due to lack of integrations or APIs
The mobile app's user-friendliness is limited, and it lacks offline access support
User management feature lacks the ability to assign different roles or permissions
Learning paths lack the option for tagging
Pricing:
Starts at $3/user/month
11. Tovuti LMS – Best for Learner Engagement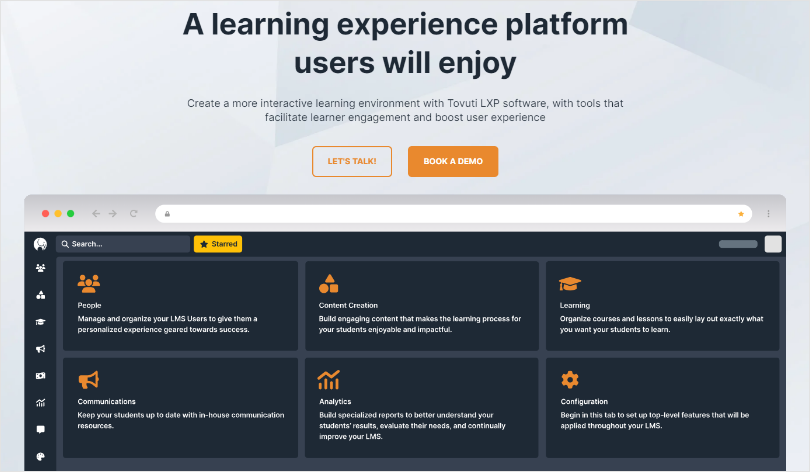 From my experience, I find Tovuti LMS to be a formidable competitor to Cornerstone. Tovuti offers a fast and user-friendly platform for engaging learners, allowing easy course creation and efficient team training.
The software boasts visually appealing and interactive learning experiences that adapt seamlessly to any screen size. With its all-in-one LMS system, Tovuti simplifies training management and analysis.
Notably, Tovuti ensures enterprise-scale security with end-to-end data encryption and privacy protections.
Furthermore, it is a cutting-edge learning experience platform (LXP) designed to create engaging and interactive learning environments. The platform facilitates collaborative remote learning through whiteboards, surveys, and screen sharing.
It also has features like user transcripts, video conferencing, language localization, and live learning options, making it a comprehensive solution for diverse learning needs.
What You Will Like:
The platform is user-friendly and easy to use once you get familiar with it
The support team is highly responsive and provides great assistance
Designing courses is straightforward, even without web developer experience
Reporting and analytics are comprehensive, offering detailed insights into learner activity
What You May Not Like:
The design functionality could be improved, allowing users to easily customize colors and sizes that are currently hard-coded
The prebuilt content is relatively expensive, especially if you don't use all the available content pieces
The documentation lacks clarity and does not provide straightforward answers to more in-depth inquiries
Pricing:
Starts at $775/month
12. Bridge LMS – Best LMS for Upskilling and Reskilling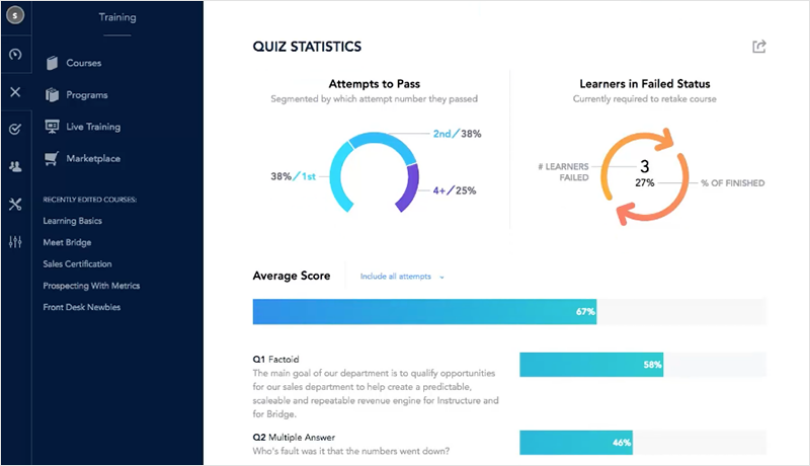 Having explored Bridge as an alternative to Cornerstone LMS, I find it a compelling learning and performance platform that simplifies employee development. Before using Bridge, my training process was fragmented, and engagement was low.
After implementing Bridge, learning became organized, employees were actively building skills, and performance reviews became actionable and effective.
What sets Bridge apart is its seamless integration of learning and doing. The LMS is easy to use and loved by both learners and administrators. Bridge Skills, powered by AI, identifies skills gaps and recommends relevant courses to help employees upskill and re-skill effectively.
The platform's integrations with various HRIS, SSO platforms, and content providers add further convenience and flexibility. With Bridge, organizations can enhance employee development, foster internal mobility, and make strategic talent decisions while ensuring a smoother learning experience.
What You Will Like:
The authoring tool enables you to create top-notch content effortlessly
It accepts various raw SCORM data, ensuring compatibility and interoperability
The platform offers a simple and intuitive interface, enhancing navigation
You can combine courses and checkpoints for personalized learning experiences
What You May Not Like:
Lacks text formatting options, restricting customization
Inability to export course content could hinder the learning process
A more robust quizzing engine is needed for improved assessments
The text editor is quite basic and requires improvement for advanced functionality
Pricing:
Starts at $4/user/month (billed annually)
Ready to Choose from the Best Cornerstone Alternatives and Competitors?
Choosing an alternative to Cornerstone will depend on multiple factors, such as your training needs, budgetary allocations, scalability requirements, employees' skill level, and integration capabilities.
Here are my top picks:
Option A: ProProfs LMS
ProProfs LMS offers a comprehensive learning management system with user-friendly features, making it suitable for businesses of all sizes. Its robust course creation tools, customizable interface, and in-depth analytics enable organizations to deliver effective training. The tool seamlessly integrates with existing systems, ensuring a smooth transition and simplifying administrative tasks.
Option B: Absorb LMS
Absorb LMS stands out for its scalability and ease of use. Focusing on employee development, it provides a diverse range of learning options, including gamification and social learning. Its mobile-friendly interface enables access on the go, and its powerful reporting and analytics allow for insightful assessments of training effectiveness and learner progress.
Option C: Docebo
Docebo is a feature-rich LMS known for its AI-powered learning capabilities. It offers personalized learning paths, content curation, and advanced reporting. The platform's scalability and multilingual support make it an excellent choice for global organizations with diverse training needs.
In my opinion, ProProfs emerges as the best alternative to Cornerstone. Its intuitive interface, extensive course creation tools, and seamless integration options have significantly enhanced my training process. The platform's affordability and exceptional customer support further strengthen its position as the top choice, making it the ideal solution for training needs.
Do you want a free Training Software?
We have the #1 Online Training Software for employee training & assessment