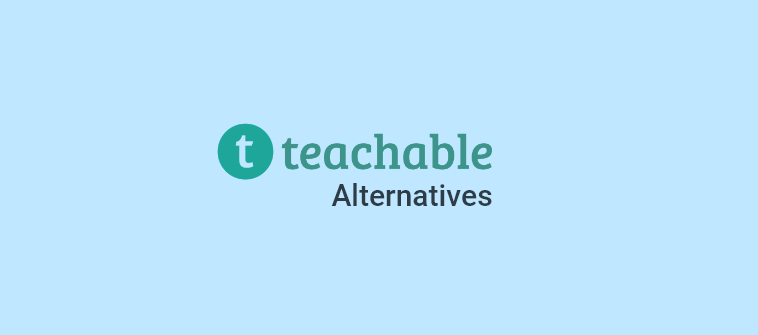 Customers switch software applications for various reasons:
They outgrow the solutions

Lack of enough customization options

They are not user-friendly

They no longer suit their training budgets

Poor support
Whatever the reason behind such a move, the changeover to another software solution is common among businesses of all sizes and across industries.
If you have been using Teachable for a while and considering a switch to another similar or better tool, this post is for you. It presents some of the closest alternatives to this online platform for creating, managing, hosting, and selling courses.
But before we explore those next best solutions, let's touch on Teachable.
An Overview of Teachable
Teachable is one of the most widely used platforms for online training and education. You can use it to create courses, coaching programs, lectures, videos, and quizzes and sell them online. The cloud-based learning management system (LMS) is easy to set up and run. It also provides an excellent payment processing system for course creators to monetize their work.
However, the platform comes with a few drawbacks:
high transaction fees

limited functionality, such as no built-in community

frequent downtime for maintenance

issues with storing payment details

no functionality for branding
That's why, in this post, we take you through a detailed overview, pros & cons, and pricing of the top alternatives to Teachable. This will help you land the next best replacement for the LMS.
A Quick Feature and Price Comparison Table of the 10 Best Teachable Alternatives
10 Best Substitutes for Teachable
Why Is It Among the Best?
Pricing
ProProfs LMS
Authoring tool

Course library

Engaging quizzes

English, Spanish & 70+ Interface Languages

Desktop & mobile support

Reports & analytics

Starts at $1/learner/month
Easy LMS
Build courses

Assessments & exams

Tracking & reporting

Software integrations

Starts at $50/month
Paradiso LMS
Course library

Gamification

Social learning

Video conferencing

Get in touch with the company for a quote.
Docebo Learn LMS
Course catalog

Gamification

Certifications and retraining

Custom domain

Get in touch with the company for a quote.
TalentLMS
Content creation

Assessments

Gamification

SCORM, cmi5, & xAPI

Starts at $0/month
iSpring Learn
Authoring tools

Interactive quizzes

Customization

Mobile learning

Starts at $2.82/user/month
Thinkific
Course creation

Custom marketing websites

eCommerce features

Learning community

Starts at $0/month
Udemy
Huge selection of courses

Marketplace

Community

Course insights dashboard

Get in touch with the company for a quote.
Academy of Mine
Self-paced courses

White-labeling & branding

eCommerce

Reporting

Starts at $599/month
Gurucan
Course builder

Marketing automation

Integrations

Analytics

Starts at $99/month
Let's now look at each of these alternatives in detail so that you can form a better idea of which one to choose.
1. ProProfs LMS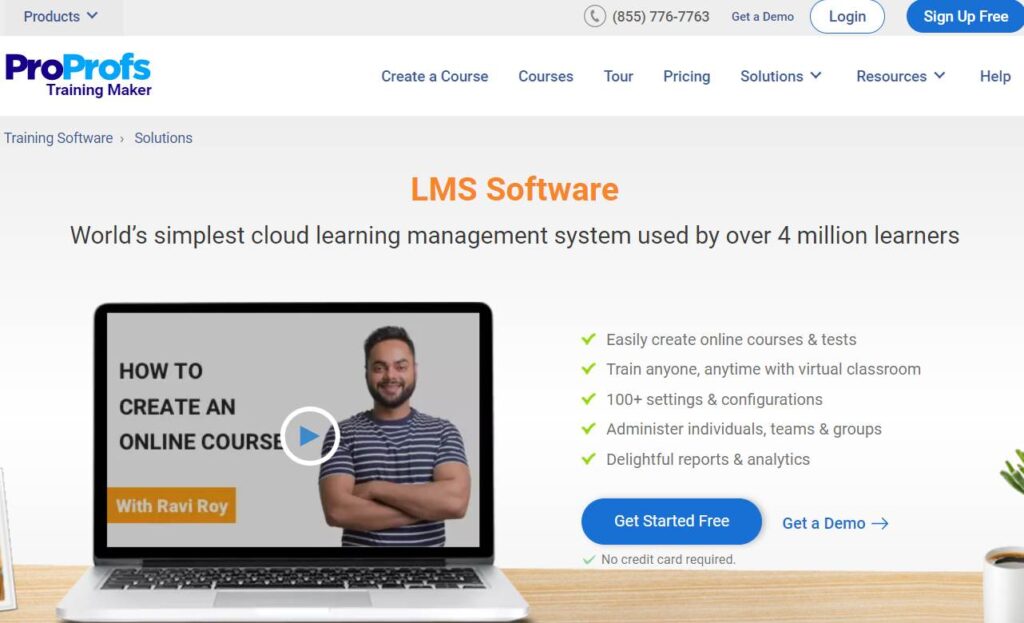 ProProfs LMS is an award-winning and the world's easiest-to-use cloud learning management system. It's versatile and robust, making it a suitable choice for delivering training of all kinds, including onboarding, safety and compliance, and skills training.
Course creation becomes super easy with the platform. It provides an intuitive authoring tool and a regularly updated library of 100+ courses and templates. These resources are professionally designed, customizable, and ready to use.
Online quizzes in different formats and question types, an option for video responses, and settings for preventing skipping questions are available.
The LMS also comes integrated with a virtual classroom for centralized course and test assignments, group management, assigning roles & permissions, and pulling out training reports.
Surveys, collaboration tools for social learning, mobile LMS, SCORM and Tin Can compliance, software integrations, and certification are other in-demand features you'll find in the solution.
Its eCommerce platform enables users to sell their courses online, reach out to more potential buyers, and generate sales reports. They can sell courses, tests, quizzes, and exams either on their own website or the ProProfs site. You can leverage secure payment processing systems and accept multiple currencies.
ProProfs LMS is easy, reliable, and maintenance-free. Undoubtedly, it's the next best alternative to Teachable. You can also create and share or sell online courses in less time and with less effort.
Why We Picked It
Quick setup & user-friendly interface

Ready courses for a quick start

All-in-one solution that combines otherwise standalone tools
Pricing
Starts at $1/learner/month (billed annually).
2. Easy LMS

Easy LMS is another user-friendly online platform that makes it to the list of preferred Teachable alternatives.
The LMS focuses on small and medium enterprises, though it works great for all teams and scenarios. This full-fledged yet simple LMS makes it easy to create and manage courses, exams, and certificates. It's an ideal solution for onboarding and continued education.
With this solution, learners can expect self-paced and distraction-free learning experiences. Knowledge transfer to employees becomes easy with end-to-end training solutions, including unlimited courses, multiple admins, styling & branding, knowledge measurement, and more.
Easy LMS can help you make your learning & development programs more interactive, train people in multiple locations, and automate routine tasks.
Why We Picked It
Ease of use

Course and test creation

Easily integrates with existing infrastructure
Pricing
Starts at $50/month
3.Paradiso LMS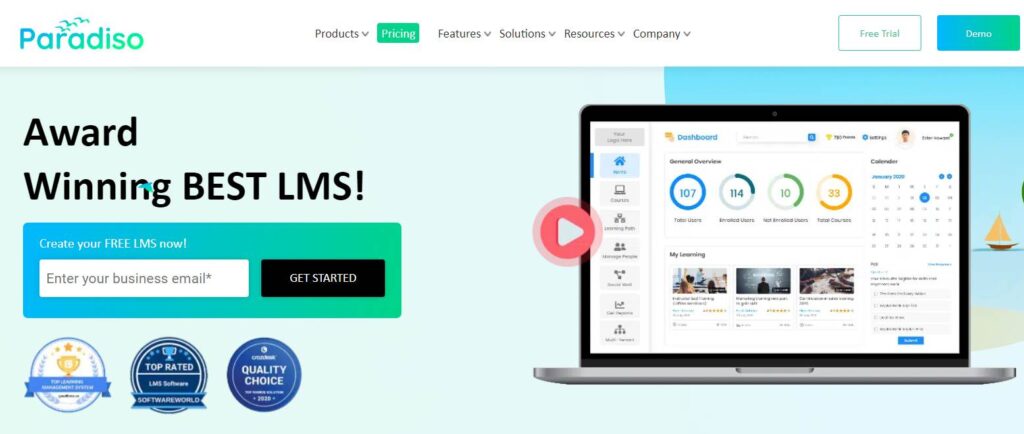 Paradiso LMS is award-winning and the "world's most customizable eLearning software". You can use it for internal and external training programs.
The LMS supports blended learning, extended enterprise training, SCORM and Tin Can API, and social and mobile learning.
Create and sell courses online by using one of the best online platforms. Promote your courses and drive and retain traffic. Upload mobile-friendly content and add responsive videos.
Course composer, course catalog, multilingual support, gamification, multitenancy, and 100+ integrations are other offerings in the tool.
The LMS takes care of all eLearning needs and provides memorable experiences worldwide. It can help you easily scale up your course creation, training, and course-selling business.
Why We Picked It
Great UI

Rich features

Easy for beginners
Pricing
Get in touch with the company for a quote.
4.Docebo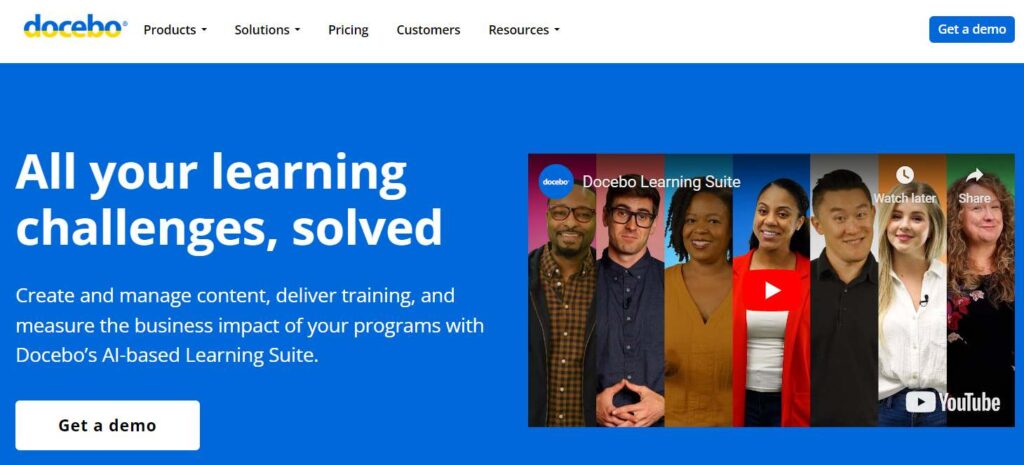 Is your current learning technology holding you back instead of helping you move forward? Don't worry. The sweet spot of multiple technologies and strategies is already here.
Docebo Learn LMS is designed to deliver AI-powered learning experiences to any audience. With a sharp design, even sharper features, and the flexibility to scale, it helps you work smarter, not harder, as a course creator or training manager.
Expect boundless configurability to shape the platform to your exact use case. The tool supports 400+ integrations to bring business systems together. Social learning lets you move beyond the boundaries of formal learning.
Through its powerful set of tools, Docebo Learn LMS facilitates engagement, upskilling, and business impact measurement to create a learning culture.
The LMS is the engine behind learning and learning tools that enable organizations to adapt and thrive in a fast-changing environment.
Why We Picked It
Clean UI

Easy file upload and conversion

Auto assignment of learning paths
Pricing
Get in touch with the company for a quote.
5.TalentLMS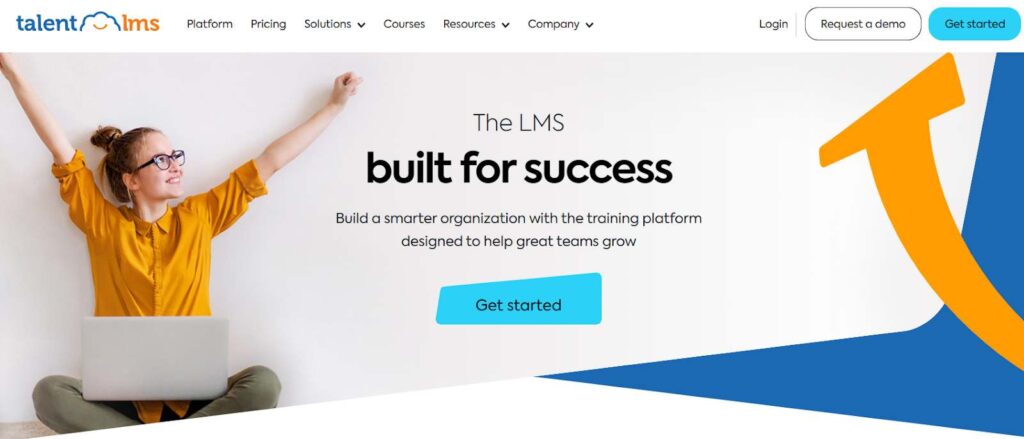 TalentLMS is another strong contender for Teachable. The LMS is cloud-based and makes an ideal solution for fast-tracking employee training.
The platform is easy to use and versatile so you can use it to build online courses quickly and share them with learners. You can go live by the end of the day by avoiding months-long setup times that many other tools entail.
The LMS integrates with the applications and services you use daily, enabling you to work without any interruptions. What's more, it's one of the best solutions out there for delivering microlearning.
With TalentLMS, you come for the training and stay for the experience. The platform has been designed based on what users usually want from an ideal training system. It can change the way you feel and think about corporate training.
Why We Picked It
Clean interface & usability

Easy setup and deployment

Course design and management
Pricing
Starts at $0/month
6.iSpring Learn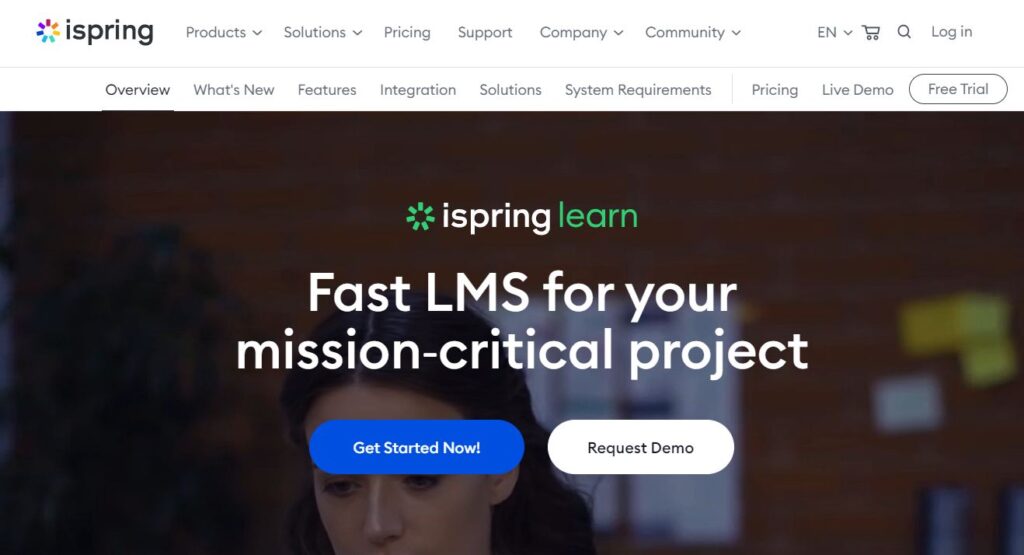 iSpring Learn is a fast and robust LMS that can help you create and launch training programs in a matter of hours. Both training administrators and learners find the platform easy to use.
You can put training management on autopilot with invites and deadline reminders, enabling you to focus on more important matters.
An industry-leading authoring tool, user groups, interactions, customizations, security, and comprehensive reports are among the top features of the LMS.
iSpring Learn has been designing eLearning software for more than 20 years to drive growth for people and businesses. Top-notch engineers and a continuous learning culture are behind this popular software solution.
With all the training scenarios taken care of by the LMS, it can be your chosen tool for mission-critical learning and development projects.
Why We Picked It
Creating diverse courses is easy

Multiple ways to meet different learning styles

Excellent integrations
Pricing
Starts at $2.82/user/month
7.Thinkific

As one of the best technologies in the learning industry, Thinkific lets users create online courses, membership sites, and vibrant communities with confidence. Its multiple learning products enable you to leverage the power of them working together or simply pick the perfect product that your business needs.
Advanced features include custom domains and themes, quizzes, drip scheduling, community spaces, live lessons and events, coupons, and cross-selling.
Integrate the LMS with tools you already know by using the Thinkific app store and create an even more powerful online learning environment.
You can fine-tune your content, optimize the user experience, and maximize the impact through a deeper understanding of your learners' behaviors and interests.
Scale your business without the usual pains that hold you back. All kinds of course creators and businesses have benefited from Thinkific.
Why We Picked It
Easy & powerful admin interface

Delivering quality courses without coding knowledge

Videos and tutorials
Pricing
Starts at $0/month
8.Udemy

Udemy is an online teaching and learning marketplace with 204,000+ courses and 54 million learners. Leading companies use Udemy courses and certifications to upskill their employees.
As a global destination for online learning, Udemy connects people through knowledge. It's the right place to find yourself in, whether you want to learn or to share what you know.
Its course catalog and global community keep growing by the day, catering to the needs of organizations of all shapes and sizes.
You can use the platform to teach learners your way, inspire them, and get rewarded.
Deliver impactful learning programs through the integrated solution. Engage, retain, and develop your workforce to keep up with the pace of change.
With Udemy, you can expect transformative learning through custom, on-demand, and immersive experiences.
Why We Picked It
Free as well as affordable courses

Lifetime access to courses

The platform is easy to use and manage
Pricing
Get in touch with the company for a quote.
9.Academy of Mine

Academy Of Mine is another Teachable alternative. It's a cloud-based and award-winning LMS that supports unlimited users, transparent pricing, and a set of powerful features.
Built for professional training, certifications, and continuing education, the solution lets you create, manage, and deliver quality content in a way that works for your employees, customers, partners, and business.
The simple, all-in-one, and adaptable LMS enables users to manage professional training & development programs, create brand awareness, and supercharge their learning business with its powerful set of tools and excellent support.
AOM has been helping businesses overcome their training and development challenges since 2014. The platform integrates with different apps and works great for delivering programs, including compliance & safety training.
It delivers solutions according to users' specifications. It also provides additional services such as custom website development, instructional design, and migration from existing platforms.
Why We Picked It
Rich options for customization

The page designs are easy to adjust to your liking

Supports various mediums, so no limit to how you can teach learners
Pricing

Starts at $599/month
10.Gurucan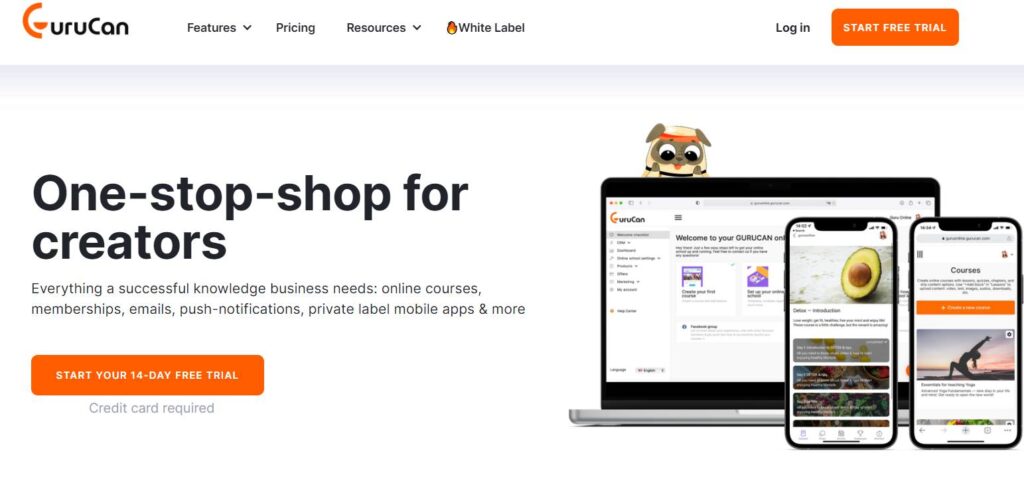 If you are looking for a superior alternative to Teachable that serves as a one-stop solution for course creators, Gurucan can be a top choice. It provides everything you need to build and manage a successful training or eLearning business.
Landing pages, course builder, membership, marketing automation, integrations, mobile app, CRM, and analytics are some of the compelling features you'll find in the tool.
Gurucan is the only platform that lets you create white-labeled mobile apps for your knowledge business. Its piracy protection technology acts as a safeguard against your content.
Easily create video courses, podcasts, live sessions, and other content with text and digital downloads. Schedule drip feeding. The tool also comes with built-in quizzes, chat, and reports.
Managing push notifications, email campaigns, and sales pipelines has never been easier. Gurucan puts all this on autopilot.
You can also build an engaged community and create a successful membership business in areas of expertise ranging from culinary to finance. Manage free subscriptions, give free trials, run live mastermind sessions, create group chats, share articles, and more with one solution.
Why We Picked It
A simple and quick solution

Works great for non-technical persons in building a course or other programs

Neatly-packed features
Pricing

Starts at $99/month
Looking for a Teachable Alternative?
That was a quick list of some of the best Teachable alternatives available on the market. Hope it helps you make a conscious choice of the next best tool you can adopt.
Give each of them a try before you buy to see which one can best serve your learning & development needs.
You may have been a Teachable user for long, but a look at these alternatives will give you a fair idea of how you can improve your employee training programs with enablements that don't come with Teachable.
So, choose the best alternative and set yourself and your teams up for unprecedented teaching and learning experiences.
Do you want a free Training Software?
We have the #1 Online Training Software for employee training & assessment