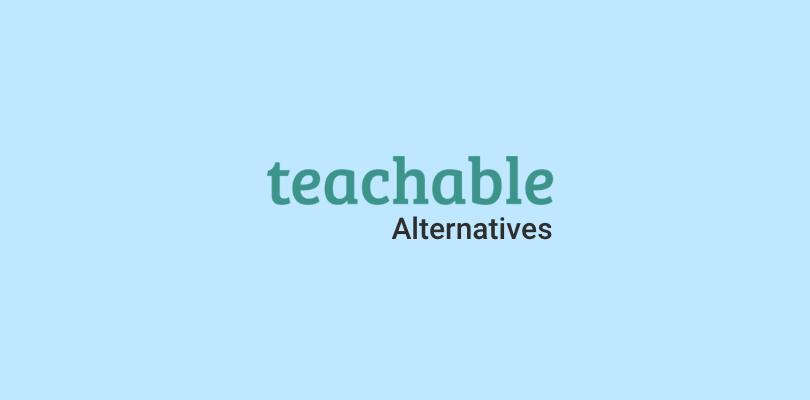 Customers switch software applications for various reasons:
They outgrow the solutions
Lack of enough customization options
They are not user-friendly
They no longer suit their training budgets
Poor support
Whatever the reason behind such a move, the changeover to another software solution is common among businesses of all sizes and across industries.
If you have been using Teachable for a while and considering a switch to another similar or better tool, this post is for you. It presents some of the closest alternatives to this online platform for creating, managing, hosting, and selling courses.
But before we explore those next best solutions, let's touch on Teachable.
What Is Teachable?
Teachable is one of the most widely used platforms for online training and education. You can use it to create course bundles, digital downloads, coaching programs, lectures, videos, and quizzes and sell them online.
This cloud-based learning management system (LMS) is easy to set up and run. It requires no coding or technical expertise to use.
The platform supports course hosting, video hosting, student management, course analytics, and marketing tools. You can offer coupon codes and set up an affiliate program to promote courses.
It also provides an excellent payment processing system for course creators to monetize their work.
Individuals and businesses, including educators, entrepreneurs, coaches, and online influencers rely on this solution to monetize their expertise through online courses.
Teachable Pricing
Teachable provides straightforward pricing with best-in-class features. There are four pricing plans.
Free: The free plan is suitable for getting started with earning before paying anything. It includes one admin and author seat, one published product of each type (course, coaching, and downloads), student referrals, no-code course builder and web pages, email support, integrated payment processing, and $1 + 10% transaction fee.
Basic: The basic plan costs $39 a month and it is billed annually. It comes with the foundational tools and support you need to build your business. This plan is inclusive of all the features in the free plan plus two admin and author seats, five published Teachable courses, unlimited coaching and downloads, custom domains, integrated email marketing, coupons and order bumps, live group coaching, accelerator challenge access, and 5% transaction fee.
Pro: Priced at $119 a month, the Pro plan is marked by advanced tools and support to help you scale. It includes all the features in the Basic plan and also five admin and author seats, unlimited published courses, coaching, and downloads, public API access, affiliate marketing, upsells to increase order value, removable branding, live chat support, and 0% transaction fee.
Business: This plan is for those looking for enterprise solutions. It is pegged at $499 a month and it comes with all Pro plan features plus 20 admin and author seats, custom user roles, advanced theme customizations, and bulk student enrollment.
Teachable Reviews
Here's what some customers have to say about the Teachable machine.
"Overall, my experience has been great. Their customer service team is super helpful when you need them and the platform is very familiar to a lot of other bloggers and online business owners."
"Flexibility and ease of use is excellent. The pricing model works best for our purposes."
"Teachable has been an absolute life-saver for me. As a business coach, I needed a platform that could help me create and sell online courses quickly and easily. Teachable has done just that!"
"I have enjoyed my time with Teachable thus far and I think it's one of the best platforms out there. I'm enjoying the user-friendly process."
Why Look for a Teachable Alternative?
Teachable is a popular online platform with standard features to build, grow, and manage a thriving online course business. It believes in the transformative power of knowledge and the fact that entrepreneurs will be selling knowledge over products in the near future.
That said, the platform comes with a few drawbacks. They include:
high transaction fees
limited functionality, such as no built-in community
frequent downtime for maintenance
issues with storing payment details
no functionality for branding
That's why, in this post, we take you through a detailed overview of the top alternatives to Teachable, their pricing, and why we picked them. This will help you land the next best replacement for the LMS.
Teachable Alternatives: A Quick Comparison Table
Top 13 Teachable Competitors
Why Is it Worth Considering?
Pricing
ProProfs LMS
eLearning authoring tool

Premium course library

Built-in assessments & surveys

100+ settings & configurations

White labeling

Robust reports

Multilingual support

Sell courses

Forever free for up to 10 learners.Paid plan starts at $1.97/active learner/month for large teams. Billed annually.
Thinkific
Course builder

Multimedia lessons

Communities

White-labeling

Single sign-on

Bulk selling of courses

Starts at $0/month (limited to 1 course)
Kajabi
Course builder

Coaching

Podcasts

Communities

Easy payment gateways

Creator trend reports

Starts at $119/month
TalentLMS
Create courses easily

Automate repetitive tasks

Customizable certificates

Employee discussions & forums

Branding

Affiliate program

Starts at $69/month
Skillshare
Easy class creation

Video lessons

New teacher programs

Community

Resources for teachers

Royalties & referral bonus

Get in touch with the company for a quote.
Udemy
Custom course publication

Video recording

Instructor support team

75+ languages

Partnerships & integrations

Mobile app

Get in touch with the company for a quote.
Podia
Website builder

Create online courses

Digital downloads

Webinars

Coaching

Affiliate marketing

Starts at $0/month (limited to one coaching product)
Learnyst
Website builder

Teaching apps

Marketing

Sell courses & tests

Fast checkout

Course security

Starts at ₹0/month (limited to 1 question pool)
FreshLearn
Course builder

Media library

Digital downloads

Sales pages

Email campaigns

Reports & insights

Starts at $0 (limited to 25 enrolments)
Teachery
Unlimited courses & lessons

High-end customization options

Course bundles

Live course editor

Payment pages

Powerful analytics

Starts at $49/month
Mighty Networks
Cohort-based courses

Content-only course

Resource libraries

Events

Insights

Course communities

Starts at $33/month
LearnDash
Drag-and-drop course builder

Course cloning

Learning paths

Focus mode

Automated notifications

eCommerce solution

Starts at $199/year (for 1 site)
LearnWorlds
Website builder

Flexible courses

Interactive videos

Live sessions

SCORM

Assessment builder

Starts at $24/month
Let's now look at each of these alternatives in detail so that you can form a better idea of which one to choose.
List of Popular Teachable Alternatives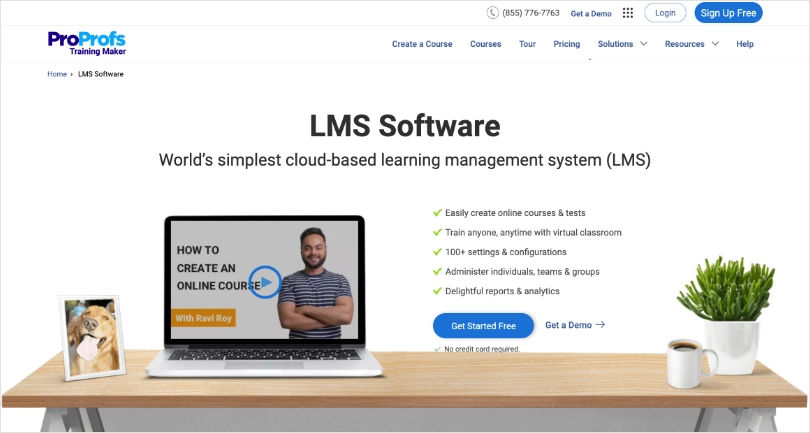 ProProfs LMS is an award-winning and the world's easiest cloud LMS. It's versatile and robust, making it a suitable choice for delivering training of all kinds, including employee onboarding, safety and compliance, and skills training.
Course creation becomes super easy with the platform. It provides an intuitive authoring tool and a regularly updated library of 100+ courses and templates. These resources are professionally designed, fully customizable, and ready to use.
Online quizzes in different formats and question types, an option for audio/video responses, and settings for preventing skipping questions are available.
The LMS also comes integrated with a virtual classroom for centralized course and test assignments, group management, assigning roles & permissions, and pulling out training reports.
Surveys, collaboration tools for social learning, mobile LMS, SCORM and Tin Can compliance, software integrations, and certification are other in-demand features you'll find in the solution.
Its eCommerce platform enables users to sell their courses online, reach out to more potential buyers, and generate sales reports. They can sell courses, tests, quizzes, and exams either on their own website or the ProProfs site. You can leverage secure payment processing systems and accept multiple currencies.
ProProfs LMS is easy, reliable, and maintenance-free. Undoubtedly, it's the next best alternative to Teachable. You can create and share or sell online courses in less time and with less effort.
Why We Picked It?
Super easy to understand & use
Quick setup & implementation
Ready courses for a quick start
All-in-one solution that combines otherwise standalone tools
Pricing
Forever free plan (up to 10 learners). Paid plan starts at $1.97/learner/month (billed annually) for large teams. No hidden charges. 15-day money-back guarantee.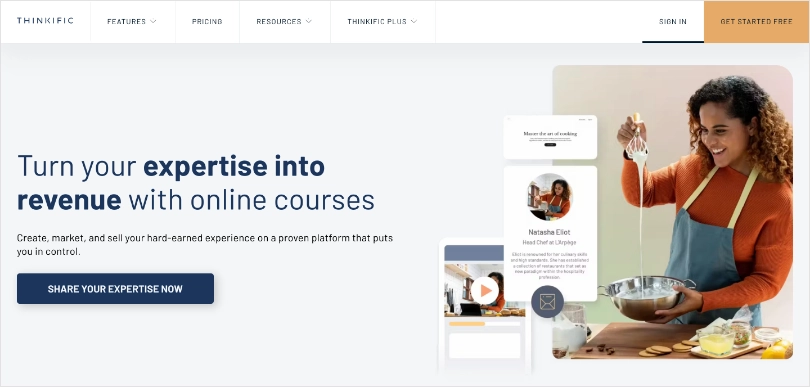 As one of the best technologies in the learning industry, Thinkific lets users create online courses, membership sites, and vibrant communities with confidence. Its multiple learning products enable you to leverage the power of them working together or simply pick the perfect product that your business needs.
Advanced features include custom domains and themes, quizzes, drip scheduling, community spaces, live lessons and events, coupons, and cross-selling.
Integrate the LMS with tools you already know by using the Thinkific app store and create an even more powerful online learning environment.
You can fine-tune your content, optimize the user experience, and maximize the impact through a deeper understanding of your learners' behaviors and interests.
Scale your business without the usual pains that hold you back. All kinds of course creators and businesses have benefited from Thinkific.
Why We Picked It?
Easy & powerful admin interface
Delivering quality courses without coding knowledge
Videos and tutorials
Exceptional learner experiences
Pricing
Starts at $0/month (limited to 1 course)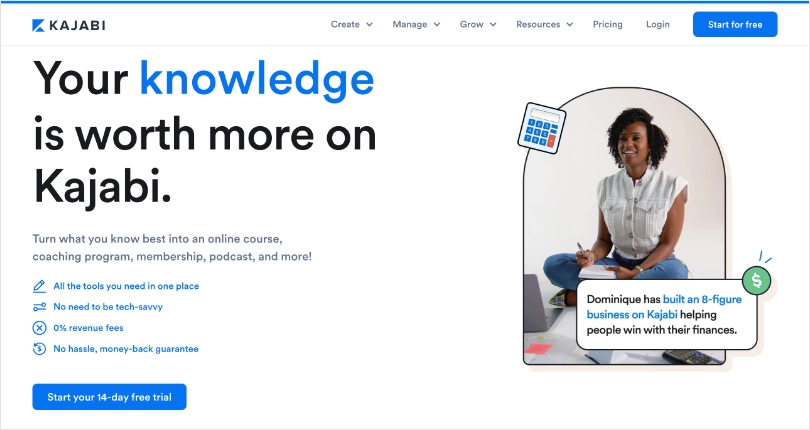 Kajabi is an all-in-one online platform for course creators and entrepreneurs to create, market, and sell online courses and other digital content. It is one of the best solutions to remove barriers to building a successful online business.
A powerful suite of tools enables users to create branded websites, landing pages, and sales funnels. Other notable features of the tool include email marketing, marketing automation, customer management, and analytics.
Non-technical users can easily create and customize their online courses and products using an intuitive drag-and-drop interface.
Kajabi provides personalized support through email and live chat. With Kajabi, businesses can focus on creating and delivering high-quality online courses and digital products while leaving the technical details and marketing to the platform.
Why We Picked It?
Everything in one place
Ease of use
Course hosting
Great support
Pricing
Starts at $119/month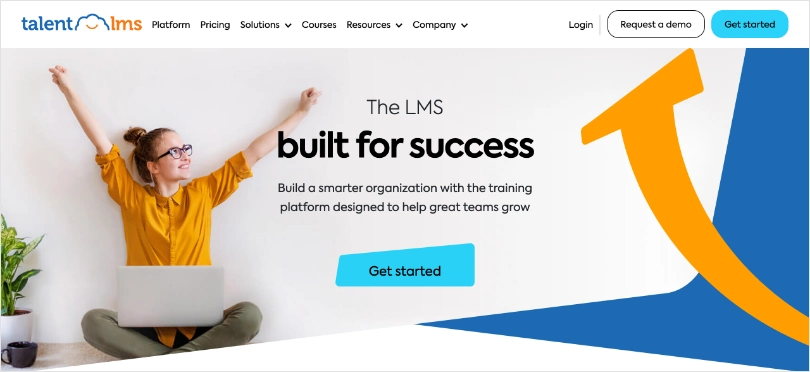 TalentLMS is another strong contender for Teachable. The LMS is cloud-based and makes an ideal solution for fast-tracking online employee training.
The platform is easy to use and versatile so you can use it to build online courses quickly and share them with learners. You can go live by the end of the day by avoiding months-long setup times that many other tools entail.
The LMS integrates with the applications and services you use daily, enabling you to work without any interruptions. What's more, it's one of the best solutions out there for delivering microlearning.
With TalentLMS, you come for the training and stay for the experience. The platform has been designed based on what users usually want from an ideal training system. It can change the way you feel and think about corporate training.
Why We Picked It?
Clean interface
High usability quotient
Easy setup and deployment
Course design and management
Pricing
Starts at $69/month

Skillshare is an online learning platform that offers thousands of classes on a wide range of topics. This makes it a great place for course creators and teachers.
By teaching on Skillshare, you can grow your online following, share your expertise, and earn money. If you're someone with demonstrable knowledge and skills, the platform offers an extensive suite of resources and support to help you create classes that inspire.
All you have to do is apply for teaching, create your first class, and start earning. For this, new teacher programs help new teachers create their first class and successfully launch their teaching journey on Skillshare. Once you are approved to teach, you'll be invited to one of the programs.
There is a monthly or annual subscription that gives learners unlimited access to all the classes on the platform. The solution supports video lessons and community features.
Why We Picked It?
Best for aspiring teachers & other professionals
Shared learning experiences
Stable functionalities
Creators earn when learners enroll in a class and view video lessons
Pricing
Get in touch with the company for a quote.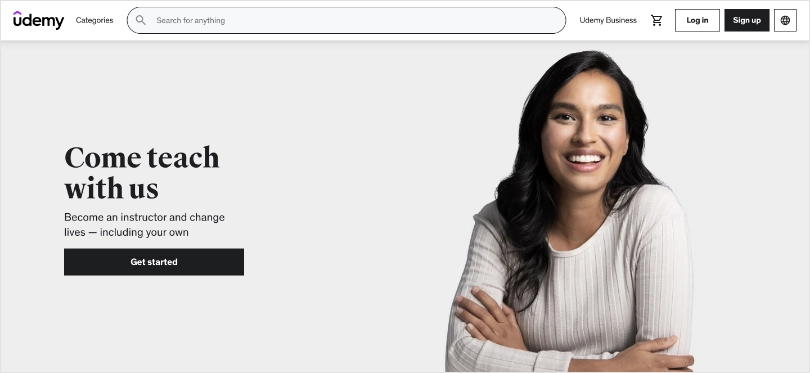 Udemy is an online teaching and learning marketplace with 213,000 video courses and 57 million learners. Leading companies use Udemy courses and certifications to upskill their employees.
As a global destination for online learning, Udemy connects people through knowledge. It's the right place to find yourself, whether you want to learn or share what you know.
Its course catalog and global community keep growing by the day, catering to the needs of organizations of all shapes and sizes.
You can use the platform to teach learners your way, inspire them, and get rewarded.
Deliver impactful learning programs through the integrated solution. Engage, retain, and develop your workforce to keep up with the pace of change.
With Udemy, you can expect transformative learning through custom, on-demand, and immersive experiences.
Why We Picked It?
One of the world's largest online learning marketplaces
Free as well as affordable courses
Lifetime access to courses
The platform is easy to use and manage
Pricing
Get in touch with the company for a quote.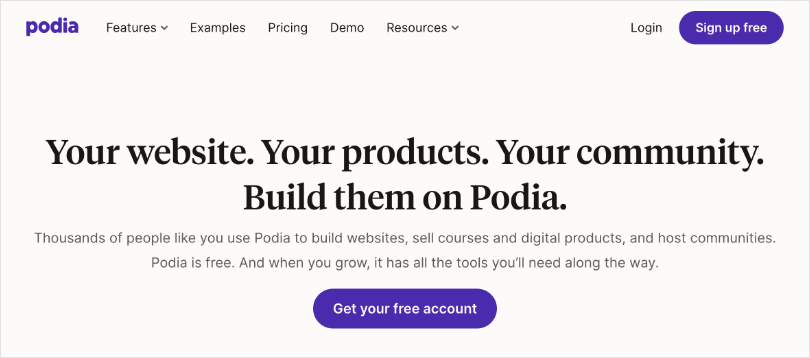 Podia is a top alternative to Teachable. Creators can use it to create, market, and sell online courses, memberships, and digital downloads directly to their audience.
The platform does not require any coding or design skills. You can create professional-looking products through drag-and-drop editors and customizable templates and themes.
In addition to product creation, Podia offers a suite of marketing and sales tools to help users promote their products and grow their audience over time.
Users can create custom landing pages, email campaigns, and sales pages, and leverage affiliate programs to incentivize others to promote their products.
Podia's user-friendly and all-in-one platform combined with incredible customer service makes it a popular choice among creators and entrepreneurs. They can easily sell digital products online without the hassle of using separate tools and services.
Why We Picked It?
Easy to use
Frequent updates
You find everything in one platform
Amazing support
Pricing
Starts at $0/month (limited to one coaching product)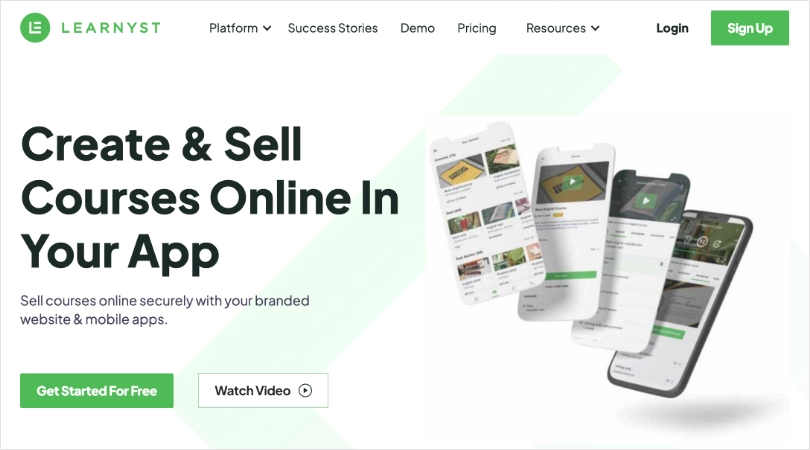 Learnyst is an intuitive platform for creating and delivering online courses. It enables users to create profitable online courses in minutes and sell them online securely with their branded website and mobile apps.
The platform also provides tools for building, managing, and collaborating with learner communities. It supports video content, live classes, offline access, course certification, and many more.
Its powerful reporting and analytics let instructors track learners' progress, identify areas for improvement, and measure the effectiveness of their courses. They can use this data to refine course content and improve overall learning outcomes.
Whether you're a seasoned instructor or completely new to eLearning, Learnyst provides everything you need to create engaging and effective online learning experiences.
Why We Picked It?
Easy to deploy and maintain
Supports a variety of content
Content security
Superior customer support
Pricing
Starts at ₹0/month (limited to 1 question pool)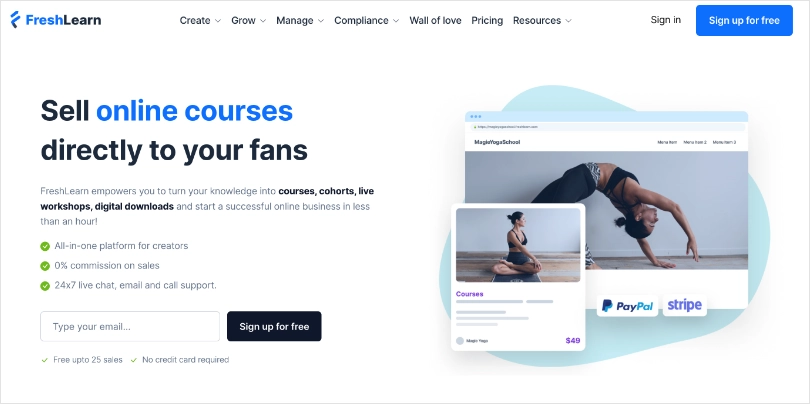 FreshLearn is yet another Teachable alternative that promises a record time of starting a successful online business. The platform's product builder empowers users to turn their knowledge into courses, cohorts, digital downloads, and live workshops.
In addition, you get all the necessary tools to amplify your voice and grow your audience. You can build your email subscribers with regular newsletters, nurture them with campaigns, and engage your audience in your community.
The AI course idea validator can help you ensure course success by validating your course idea. You just need to share your interest area, customize your course page, and publish and share with your audience.
Setting up conversion-optimized checkout pages and payment systems is easy.
FreshLearn is an all-in-one platform for creators with zero percent commission on sales. The tool is trusted by 13,000+ creators.
Why We Picked It?
User-friendly
Course gamification
No need to pay until users make their first dollar
Top-notch live human support
Pricing
Starts at $0 (limited to 25 enrolments)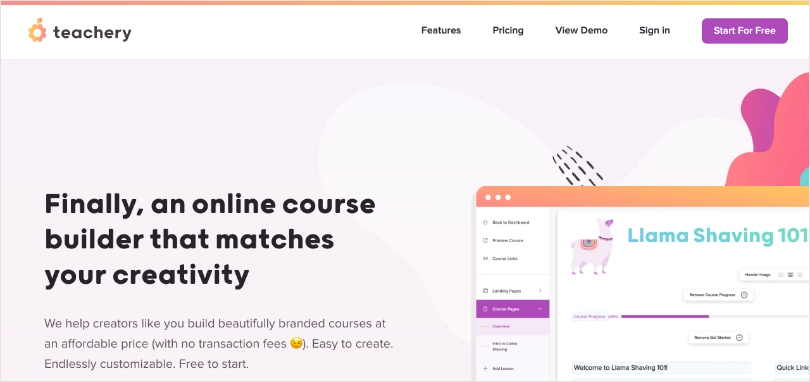 Teachery simplifies how you create and deliver online courses. It makes "course creation as easy as writing an email…." As an uncomplicated tool, it does not require extensive technical knowledge or programming skills to get started.
The platform follows a straightforward process. Easily add your videos, audio, and text as lessons and sub-lessons. Use the options for endless styling to add branding, colors, and fonts. Create a payment page and start selling right away.
You get the freedom to create unlimited courses and lessons and train an unlimited number of learners. All this at zero additional transaction fees on your online sales.
The templates are simple, clean, mobile-friendly, and responsive. They come with numerous custom branding color options and easy-to-navigate sidebars.
The tool has been specially designed for users who care about simplicity and customization.
Why We Picked It?
Simple course creation process
Good for beginners
All course authoring & marketing features
Safety of edits and changes to online courses
Pricing
Starts at $49/month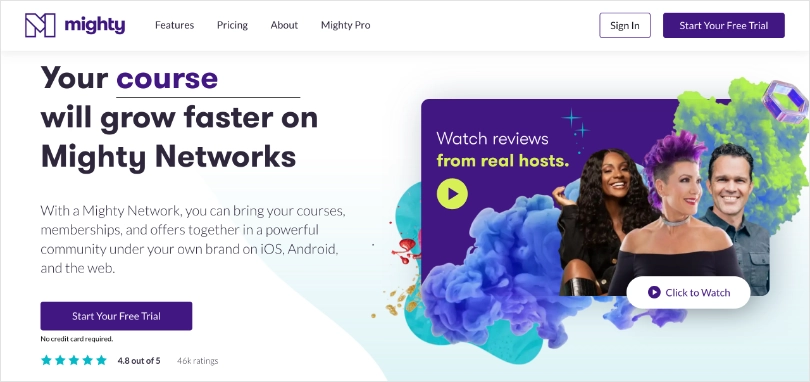 Mighty Networks is a platform to create courses, memberships, and online communities. It is characterized by a comprehensive set of tools designed to help businesses and individuals build and engage with their audiences in a meaningful way.
With Mighty Networks, users can easily build a branded website and mobile app and add multimedia content, discussion forums, events calendars, and polls.
The platform enables community leaders to foster deeper connections and engagement among members. For this, it supports personalized member profiles, direct messaging, and community challenges.
Mighty Networks is well-suited for small businesses, entrepreneurs, and creators who are looking to build a loyal following and monetize their expertise.
The platform offers flexible pricing options, including a free plan for starters and premium plans with additional features and customization options.
Overall, Mighty Networks makes a powerful tool for building thriving online communities.
Why We Picked It?
Easy setup
Great features
Supportive customer service
Excellent community-building tools
Pricing
Starts at $33/month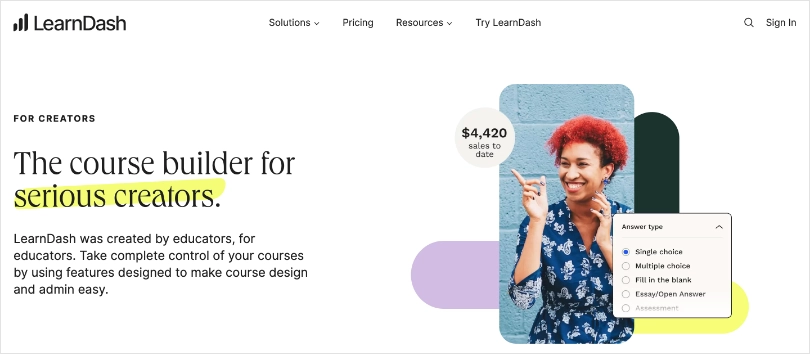 LearnDash is an award-winning WordPress LMS you can use to create professional and engaging online courses. It was created by educators for educators so that they can take complete control of courses in terms of design and administration.
At its core, LearnDash consists of a user-friendly interface and tools that let course creators design, organize, and structure their educational content super easily. You can create online courses with customizable designs and flexible pricing models.
Robust assessments enable course creators to create quizzes with various question types, grading options, and feedback mechanisms.
Similarly, progress tracking provides learners with an overview of their completion status, performance metrics, and achievements while allowing instructors to monitor learners' progress and intervene whenever necessary.
LearnDash integrates seamlessly with popular eCommerce platforms to facilitate enrollment management and the sale of courses.
Community engagement, discussion forums, social learning, and interactive elements are other notable features in the platform.
LearnDash is highly expandable via plugins and add-ons and it, thus, magnifies how you create, deliver, and manage online learning experiences.
Why We Picked It?
Full of must-have features
It keeps evolving and improving
Usable across numerous WordPress sites
Comparatively flexible quiz builder
Pricing
Starts at $199/year (for 1 site)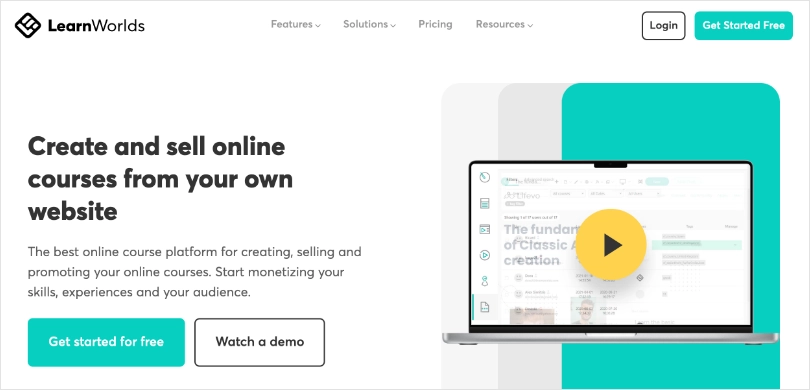 Last but not least in our list of top Teachable alternatives is LearnWorlds, a comprehensive and innovative learning platform. It is used by individuals and organizations to create, promote, and sell high-quality online courses and training programs.
Users can expect a seamless experience, thanks to its user-friendly interface and robust features. Course creators can easily design professional-looking and engaging content, interact with learners, and track progress effectively.
LearnWorlds offers a range of customization options, multimedia integration, and interactive learning tools to deliver immersive and impactful learning experiences. Building a high-converting website becomes easy with hundreds of beautifully crafted templates.
eCommerce capabilities with marketing and monetization features are other offerings.
You can sell courses, bundles, and memberships, and upsell and cross-sell with promotions. Connect marketing stack seamlessly.
All this makes the platform an all-in-one solution for individuals and businesses looking to establish a successful online learning presence.
Why We Picked It?
Full control over changes
Stable site
You can import SCORM files
Responsive customer service
Pricing
Starts at $24/month
Looking for a Teachable Alternative?
That was a quick list of some of the best alternatives to Teachable available on the market. Hope it helps you make a conscious choice of the next best tool you can adopt.
Give each of them a try before you buy to see which one can best serve your course creation and selling needs.
You may have been a long-time Teachable user, but a look at these alternatives will give you a fair idea of how you can improve your online course business and training programs with enablements that don't come with Teachable.
So, choose the best alternative and set yourself and your audience up for unprecedented teaching and learning experiences.
Do you want a free Training Software?
We have the #1 Online Training Software for employee training & assessment