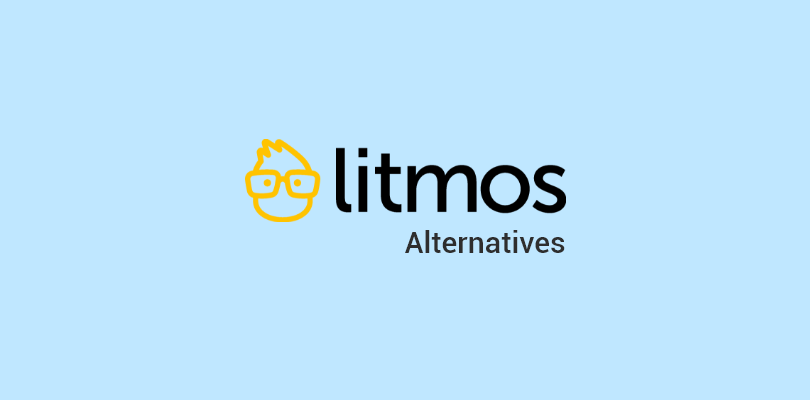 Here are the finest Litmos alternatives & competitors for you to explore so you can find the perfect one, saving your precious time. These exceptional tools have impressed users with their unique features, user-friendly interfaces, and remarkable learning experiences.
In this article, I will share recommendations from my peers (including my own), hoping to assist you in discovering the perfect platform to elevate your training endeavors.
Some of the points we will discuss in all these Litmos competitors are:
What sets the tool apart from Litmos
Best features (Pros)
Limitations (Cons)
Pricing
Continue reading to find out.
List of Best Litmos Alternatives
I've hand-picked these Litmos alternatives based on customer testimonials, reviews, ratings on different third-party platforms, and my first-hand experience. The tools I've picked also cater to different budgets.
1. ProProfs LMS – Best Litmos Alternative For Employee Training With Ready-To-Use Courses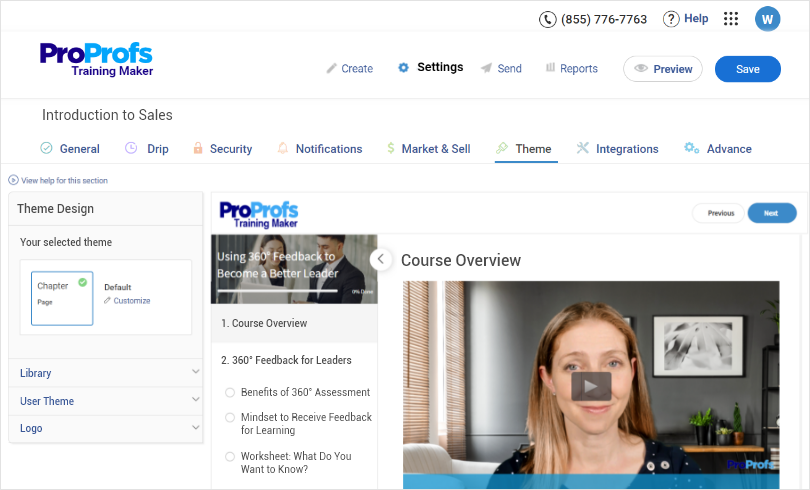 ProProfs Training Maker is not your ordinary LMS; it's a feature-packed tool that can give Litmos a run for its money.
The built-in authoring tool and diverse templates let me design engaging courses with quizzes and assessments to keep learners hooked till the end and provide a holistic learning experience.
What sealed the deal for me is its advanced reporting feature that provides priceless insights into learner performance. It also offers turnkey integrations with multiple platforms like Salesforce, Sugar CRM, ProProfs Knowledge Base, and more.
This Litmos alternative also allows sharing courses via email, QR codes, SMS, and social media to enhance accessibility and engagement. Also, with GDPR and CCPA compliance, its data security is top-notch.

What you'll like:
You can add different content formats like quizzes, assessments, surveys, videos, documents, and presentations to your courses.
Single sign-on functionality to simplify user authentication and secure learning data against unauthorized access.
A library of premade 100+ courses and templates for a quick start.
SCORM compliance for a smooth user experience.
Comes with a 15-day free trial with all the necessary features.
What you won't like:
I wish there were light and dark mode options.
The classroom is too static
Pricing:
Forever free plan (up to 10 learners). Paid plan starts at $1.97/learner/month (billed annually) for large teams. No hidden charges. 15-day money-back guarantee.
2. Absorb LMS – Best Litmos Alternative For Personalized Learning

Absorb LMS is the perfect alternative to Litmos, and I highly recommend considering it. Its AI-powered features deliver engaging and personalized learning experiences on a cloud-based platform.
With natural language commands, administrative tasks are a breeze, and its Intelligent Ranking tailors search results to suit learners' preferences.
I appreciate the AI-based Intelligent Assist feature; it swiftly takes you where you need to be.
And the best part? It automatically suggests courses based on learners' progress and skill levels, with a native mobile app for on-the-go learning. It's a strong competitor to Litmos!
What you'll like:
Diverse modules for upskilling and cross-skilling employees.
Centralized file manager stores reusable course assets in the cloud for quick access.
Track training assessments with department and team hierarchy structure.
Create customized reporting dashboards and widgets with a drag-and-drop editor.
Engage learners with media embeds like videos and images.
Measure team performance with course enrollments, completion certificates, and acquired competencies metrics.
Recognize learner achievements with certificates and badges.
Integrated e-commerce support for selling courses online.
Native mobile app for on-the-go learning and development.
Integrates with tools like Zoom, BambooHR, Salesforce, etc.
What you won't like:
Pricing plans could be more affordable for smaller businesses.
You may face hiccups while downloading reports of multiple users and courses.
Pricing:
Starts from $14,500/year
3. TalentLMS – Best Litmos Alternative For Live Training Sessions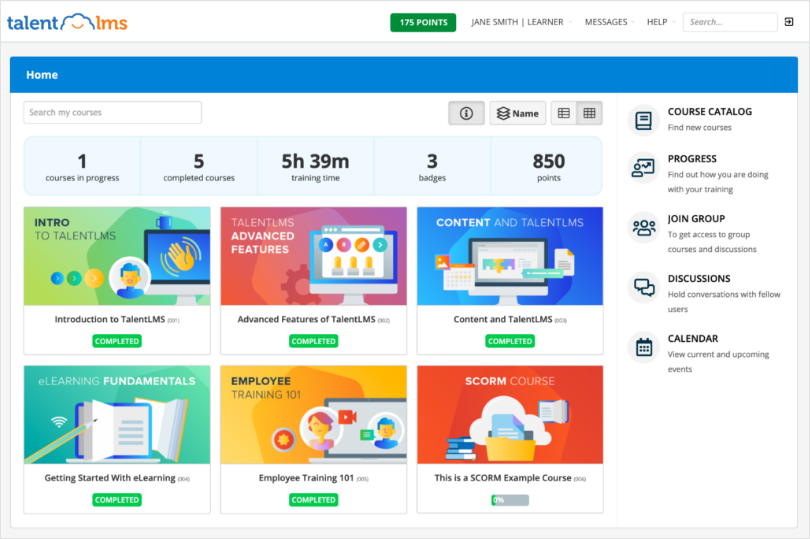 TalentLMS is a versatile learning management system offering a comprehensive solution for delivering effective training programs.
Besides the simple user interface and easy adaptation due to the linear learning curve, I included this tool because it facilitates hosting live sessions and webinars. You can use it as a fully-online instructor-led training or in a blended form.
This virtual face time can help increase engagement and interactivity with your audience, regardless of location.
This Litmos alternative also supports interactive quizzes to keep learners engaged. Plus, real-time custom reports and dynamic dashboards make tracking progress a breeze.
What you'll like:
Design courses effortlessly through drag and drop.
Utilize the built-in user management dashboard to import and manage learners in bulk easily.
Establish access rules and permissions individually for each user.
Automate training pathways by auto-assigning courses.
Add gamification elements like badges, points, levels, leaderboards, and rewards to make courses more engaging.
Mobile-friendly design allows learners to access courses from anywhere using any device.
Learning Delivery – Deliver ILT learning, either online or offline, use Unified communication tools, including videoconferencing, and boost learners with engaging gamification.
Mass Actions – As an enterprise-ready solution, TalentLMS simplifies admin tasks with numerous mass actions available across the platform. This automation eliminates repetitive work related to multiple users.
Multilingual Support – The tool is not only mobile-ready but also supports more than 30 languages, including Spanish, German, and French.
What you won't like:
Needs to improve the user onboarding experience.
Lacks collaboration features, making managing and co-authoring courses collaboratively challenging.
Pricing:
Starts at $69/month. Billed yearly
4. Docebo – Best Litmos Alternative For Designing Personalized Learning Paths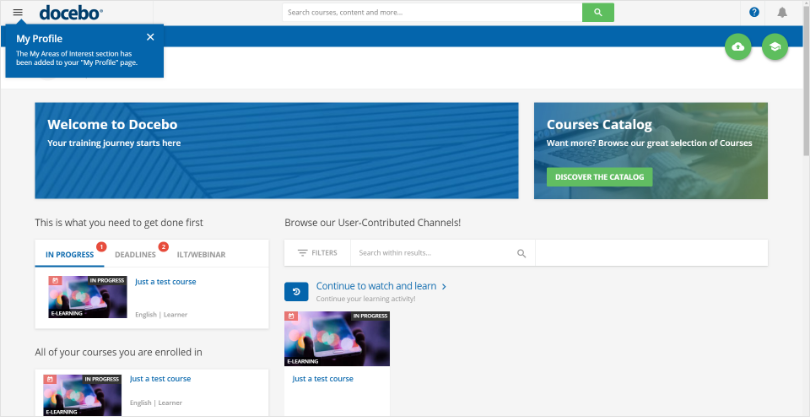 A versatile platform catering to customers, partners, and employees alike, Docebo LMS definitely deserves to be on my list of Litmos alternatives.
One thing that truly impressed me during the testing was the level of personalization it offers, ensuring learners receive relevant content and experience. It helps design custom learning paths for each learner to guide them seamlessly through their courses.
I also feel its intuitive reporting dashboard works really well and allows quick tracking of individual progress, showing metrics like assigned vs. achieved tasks ratio.
And that's not all; they've integrated generative AI, making it even more accessible and intuitive. Also, the exceptional automated learning experiences, from enrollments to reminders, made training and tracking my team a breeze.
What you'll like:
A user-friendly drag-and-drop course builder with free extensions to create personalized training materials.
Leverage Docebo's extended enterprise platform by delivering and monetizing your online courses effectively.
AI-based course translation, making learning available to a broader audience.
Vast library of over 20,000 pre-built professional courses and training modules to save time and effort.
Learner engagement with built-in gamification elements, including quizzes, certificates, awards, and badges.
In-depth reporting to track training progress and strategize your next steps with precision.
What you won't like:
Site design needs to be more flexible and easier to navigate.
Doesn't support gap analysis to identify learners' growth.
Pricing:
Starts from $25,000/year
5. Lessonly by Seismic – Best Litmos Alternative For Training Teams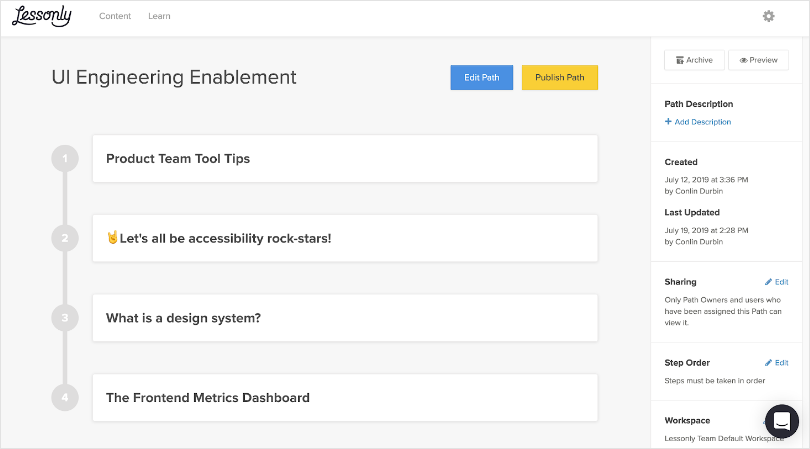 This Litmos alternative comes with recommendations from me and some of my peers because of the ease of training teams with this tool.
It empowers users to craft captivating and interactive courses for teams, incorporating multimedia elements, quizzes, and simulations to elevate the learning journey.
You can also monitor learner progress, identify knowledge gaps, and evaluate the effectiveness of their training initiatives.
Lessonly takes a collaborative approach to learning, facilitates knowledge-sharing among learners, and boosts engagement. It allows learners to share feedback to make the training and learning paths more personalized.
What you'll like:
Create captivating courses with an intuitive builder and incorporate quizzes, simulations, and multimedia content to keep learners engaged.
Tailor learning paths to individual needs, addressing employees' skills and knowledge gaps with personalized training.
Enhance learning with practice sessions, surveys, and role-plays, allowing for thorough testing of learners' knowledge.
Centralized content library for seamless storage and management of training materials.
Seamlessly integrate with Seismic Sales Enablement, Zendesk, Glean, etc.
Gain valuable insights with in-depth reporting and analytics, tracking learner progress, course completion rates, and course effectiveness.
What you won't like:
Limited options to configure and send notifications for new assignments to users.
A skill gap analysis dashboard would be a fantastic addition, providing valuable insights into learners' strengths and areas for improvement.
The free option only allows 25 users and offers very few features.
Pricing:
Starts at $0 (limited to 25 users)
6. Cornerstone LMS – Best Litmos Alternative For Virtual Training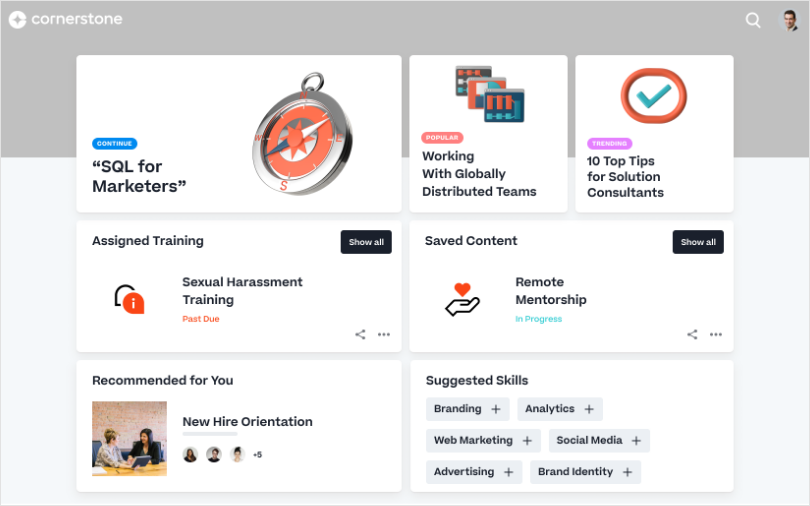 Okay, a few features of Cornerstone LMS impressed me. Its e-learning authoring simplifies course creation, and the centralized system empowers personal goal tracking and seamless knowledge sharing.
But what caught my attention the most was its virtual training capability, offering real-time, interactive virtual classrooms and online training materials. This flexibility fosters remote learning and ensures accessibility for all.
This Litmos alternative also supports a comprehensive learning management system tailor-made for diverse organizational needs.
What You Will Like:
Streamlined accreditation audits with instant access to data and reports.
Personal goal-tracking and engagement-building features.
You can offer personalized virtual or in-person training.
Targeted learning through dedicated learning paths.
AI-driven insights to assess individual performance.
What You May Not Like:
A learning curve for new users that might require some effort.
Limited branding options for certifications.
Pricing:
Starts at $6/user/month
7. Moodle – Best Open-Source Alternative To Litmos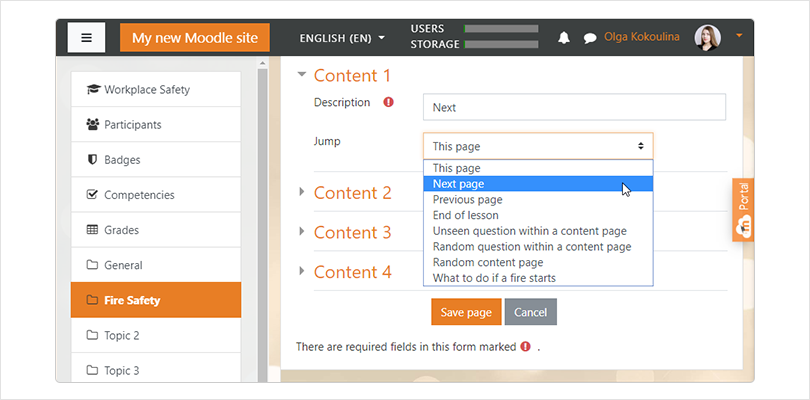 Moodle competes head-to-head with the best LMS tools as an open-source platform, offering a simple UI packed with robust course creation and management capabilities for employees, students, and avid learners.
Though the initial setup took its sweet time, the clear documentation helped me do it without any assistance from a developer. But, if you genuinely want to tailor the tool to your needs, you'll require a developer's help to modify the source code.
Notably, Moodle has a highly active international community, so you can get a prompt resolution to your queries. Its collaborative learning features, like forums and group activities, make it ideal for vocational training, fostering knowledge-sharing and practical learning exercises.
What you'll like:
Personalize courses to align with unique organizational needs and learner preferences.
A mobile app that empowers learners with offline access to course materials and resources, enhancing learning flexibility.
Competency-based learning, designing and assessing based on specific skills for targeted training.
A vast library of plugins and add-ons amplifies the learning experience.
What you won't like:
The mobile app has limited features and options, which may hinder learning for mobile users.
As a free tool, the analytics, reporting, and customization features may be somewhat limited.
Pricing:
Free
8. 360Learning – Best Litmos Alternative for Collaborative Learning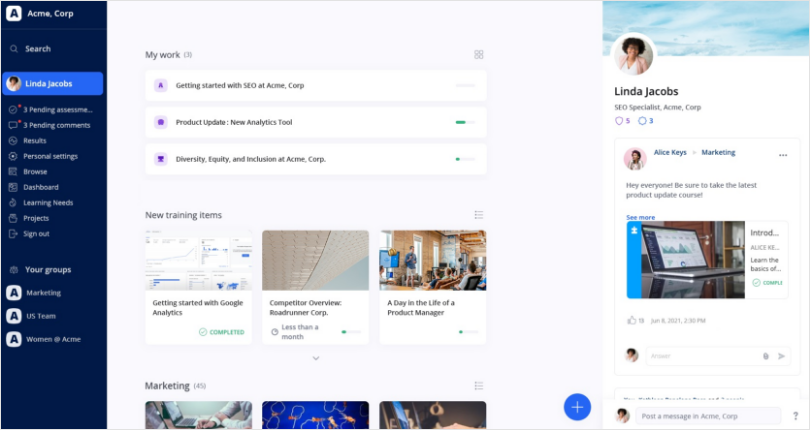 Another recommendation from my peers for a Litmos alternative is 360Learning, an LMS redefining collaborative and learner-centric learning.
Its recent integration with generative AI automates course creation and custom learning paths, offering prompt-driven, complete courses in minutes. It facilitates personalized learning paths tailored to job titles and skills, delivering targeted experiences.
What sets it apart is the dedicated spaces, fostering discussions, questions, and feedback, creating a vibrant learning community.
What you'll like:
Seamlessly create courses with AI prompts and a user-friendly drag-and-drop SCORM builder.
Collaborate effortlessly with other authors, enhancing course content and quality.
Personalized learning paths through automated skill-based course recommendations.
Engage learners with in-course assessments and certifications to boost motivation.
AI-driven skill mapping identifies gaps and suggests tailored training courses.
Native mobile apps (iOS and Android) ensure learning on-the-go from anywhere.
Gamification with features such as leaderboards and badges.
What you won't like:
Occasional app crashes might be encountered.
More gamification options could further enhance the learning experience.
Pricing:
Starts from $8/user/month
9. Learnupon – Best Litmos Alternative For Managing Multiple Learning Sub-Environments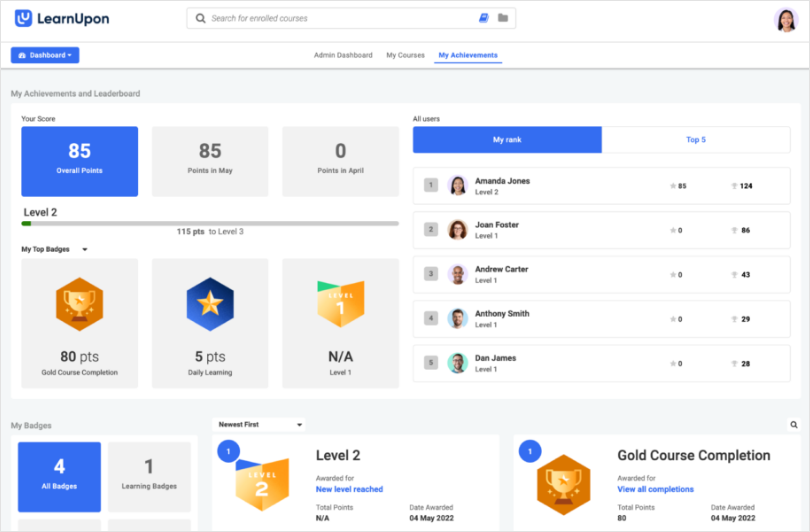 I only tried the free trial of Learnupon, and here are my thoughts on it. This Litmos alternative offers a user-centric and engaging learning experience.
It enables the development of personalized portals or mini-environments for each learner, delivering targeted courses based on specific audiences and skill levels.
The flexibility to add courses to these portals and have updates reflected across all of them streamlines content management. The forum feature encourages learner engagement and promotes questions and topic discussions.
With robust user management, integrations, webinars, and reporting capabilities, LearnUpon simplifies training administration.
What you'll like:
Easily create courses in diverse formats, from webinars and instructor-led training to SCORM, xAPI files, documents, and videos.
You can design a catalog of modules, empowering self-learning for learners' convenience.
Assess learners' knowledge with exams, surveys, quizzes, and assignments during training.
A built-in CRM for smooth enrollment and progress tracking of learners.
Admin dashboard allows comprehensive tracking of enrollments, user logins, course progress, and user progression.
Filter and sort data effortlessly to generate custom reports and share them with just a click.
What you won't like:
The learning paths UI is difficult to navigate.
Forums need an update to revamp the UI and provide more flexibility to users.
Pricing:
Starts at $599.0/month
10. SkyPrep – Best for Enterprise Learning Needs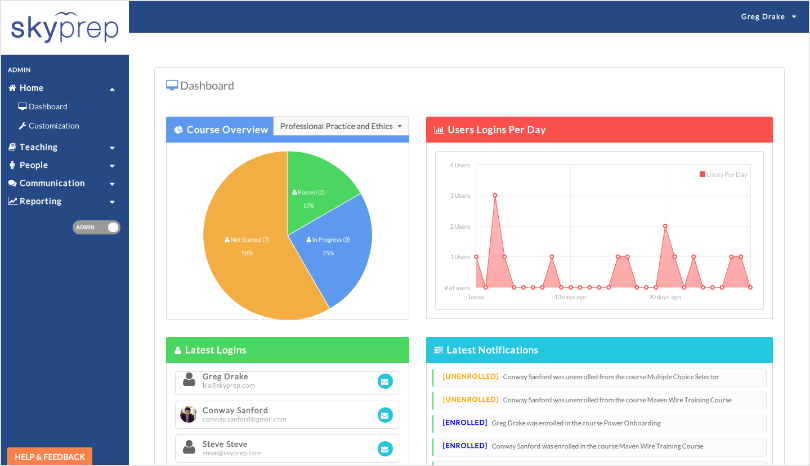 With its user-friendly interface and comprehensive features, SkyPrep easily supports various tailored enterprise training use cases.
Whether onboarding new employees, delivering compliance training, or fostering ongoing skill development, SkyPrep LMS offers unparalleled flexibility and adaptability, catering to diverse training needs.
It also offers social learning tools, such as discussion forums and user groups, to create a culture of learning and interaction within the organization. Employees can connect, share knowledge, and collaborate on projects, fostering engagement and a sense of community.
Another advantage of this tool that I would like to highlight is its scalability to fulfill growing organizations' increasing training demands and workforce needs.
What you'll like:
The learner and admin dashboard is incredibly intuitive, making navigation effortless.
Uploading documents and videos is straightforward, which streamlines content management.
Enjoy excellent coursework and well-structured learning paths for a seamless learning experience.
Ensures consistency in the learning journey across different teams.
What you won't like:
User feedback email feature is no longer available, limiting direct feedback collection.
Additional options to generate detailed performance reports would be a valuable addition.
Limited control over the data displayed on the dashboard might restrict customization options.
Pricing:
Starts from $199/month
11. Tovuti – Best Litmos Alternative For Advanced Reporting And Analytics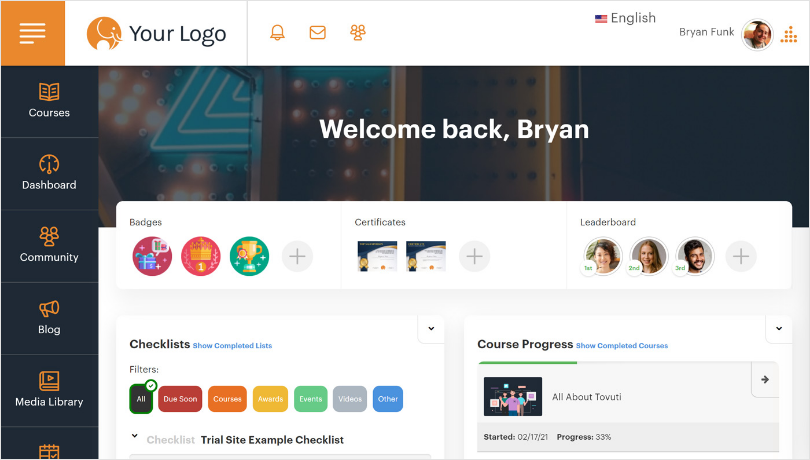 In my colleague's recommendation, Tovuti LMS stands out as a powerful alternative to Litmos, especially for training large teams due to its exceptional scalability. The user-friendly platform centralizes training programs, streamlining management, tracking, and promoting transparency.
What impressed me most was Tovuti's advanced reporting and analytics capabilities, allowing comprehensive tracking of users' learning journeys.
The option to create individual manager dashboards, interact with learners directly, and use the built-in CMS to organize and publish content further elevates the learning experience.
What You Will Like:
Deliver tailored experiences with personalized learning paths, catering to individual learner needs.
Access over 30,000 pre-built courses, expediting the course creation process.
Engage learners with captivating gamification features, boosting motivation and participation.
Enjoy the convenience of automated enrollment, reminders, and certifications for seamless training administration.
Easily navigate the administrative portal, efficiently managing all aspects of the learning journey.
What You May Not Like:
The courses are limited to English.
The price point might not be suitable for small businesses with budget constraints.
Pricing:
Starts at $775/month
12. Bridge LMS – Best Litmos Alternative For Simplified Learning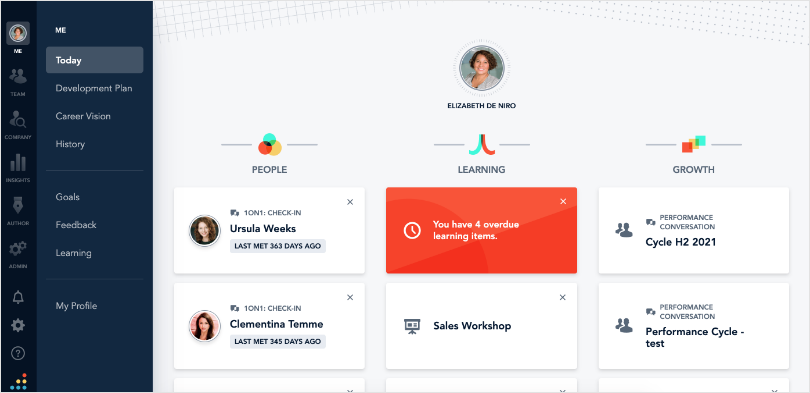 Last but not least, on my list of Litmos alternatives is Bridge.
With Bridge, content creation, delivery, and assessment become effortless, resulting in an incredibly efficient learning experience.
This LMS prioritizes engagement and ensures effective learning outcomes through interactive quizzes and real-time progress tracking.
One standout feature that captivated me is Bridge Retain, enabling businesses to send quizzes to learners, aiding knowledge retention automatically.
Moreover, Bridge offers a responsive mobile app, empowering learners to access learning materials on the go, and fostering continuous learning at their convenience.
What you'll like:
Enjoy swift and hassle-free registration for live training sessions, ensuring seamless access to valuable learning opportunities.
Experience simplified assignments, catering to targeted learning objectives and enhancing the learning process.
Engage in social commenting and embrace video-based learning for interactive and immersive educational experiences.
What you won't like:
The authoring tool lacks comprehensive text editing features, warranting potential improvements for content customization.
The categorization functionality requires enhancements for a more efficient and user-friendly experience.
The speed of operation could be inconsistent, and optimizing its performance would be beneficial for smoother usage.
Pricing:
Starts at $4/user/month (billed annually)
Which Is the Best Litmos Alternative for You?
Now that you have a brief idea about all the Litmos alternatives, I hope you can pick the one that best fits your requirements.
If you want me to make it easier, here are my TOP three recommendations for Litmos competitors.
Option A: ProPros Training Maker
ProProfs' fully responsive design captivates learners by emphasizing an engaging remote learning experience, making it one of my top choices.
With extensive features, from pre-built courses to versatile assessment options, comprehensive reports, and virtual classrooms, it makes course management easy.
ProProfs strikes the perfect balance between functionality and affordability, offering a win-win solution for educators and learners. It is also perfect for small businesses and large organizations alike, thanks to its affordable pricing and scalability.
Option B: Docebo
If you don't mind spending big bucks, you can go with Docebo to design customized and personalized learning paths. Its generative AI feature and intuitive reporting make it an incredible choice as a Litmos alternative.
Option C: Moodle
It's a suitable option if you don't want to commit to any one tool just yet, given your training group is small and doesn't require sophisticated features which ProProfs offers as a paid tool.
Moodle offers basic features so your training can take off quickly with features such as customizable source code. For a free tool, it provides decent customization options.
In summary, depending on your training budget and feature requirements, you can choose these three tools. As for me, I prefer ProProfs LMS since it provides high-level customization with elaborate features within my budget.
Do you want a free Training Software?
We have the #1 Online Training Software for employee training & assessment