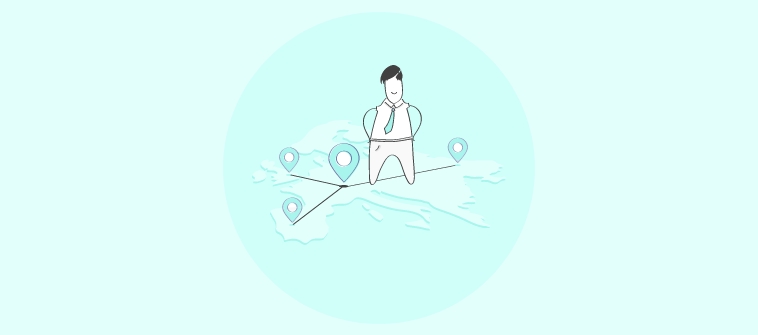 Looking for the best Litmos alternatives? You're in the right place.
SAP Litmos is a cloud-based LMS used by organizations to train employees on soft skills and other essential skills by delivering high-quality courses.
It is a great training solution for companies with 51 to 1,000+ employees. Most organizations use this tool to help them with blended learning, academic/education, and asynchronous learning.
However, it may not be the right choice for you in terms of price, use, and purpose.
To help you find the best alternatives, we've handpicked the top 10 Litmos competitors along with their features, pros and cons, and pricing.
Continue reading to find out.
A Quick Feature & Price Comparison Table of the 10 Best Litmos Alternatives
10 Best Litmos Alternatives
Why Is It the Best Alternative?
Pricing
ProProfs LMS
Course and Template Library

Virtual Classroom

Track Real-Time Data

Supports English, Spanish, and 70+ Languages

Collaboration Tools

Mobile-Friendly

Starts at $1/learner/month
TalentLMS
Customization

Assessments

Gamification

Collaboration Tools

Starts from $0/month
Docebo
Advanced LMS Reports

Gamification

Certifications

Personalized Learning Paths

Get in touch with the company for a quote.
Absorb LMS
Smart Administration

Reporting and Analytics

Artificial Intelligence

Content Library

Get in touch with the company for a quote.
LearnUpon
Course Creation

Al-Powered Reporting

Powerful Software Integrations

Assessments and Knowledge Checks

Get in touch with the company for a quote.
Lessonly
Learning Paths

Content Hub

Single Sign-On

Admin Tools

Get in touch with the company for a quote.
SkyPrep
Course & Content Management

Advanced Reporting

Tests and Assessments

Powerful Integrations

Starts from $239/month (billed annually)
Tovuti
Built-In Course Authoring

Gamification

Virtual Classroom

User Groups & Permissions

Starts from $775/month (billed annually)
Cornerstone LMS
Unified Learning

Mobile-Friendly

Get Actionable Insights

Engagement Surveys

Get in touch with the company for a quote.
Moodle
Customization

Mobile-Friendly

Assessments

Live Engagement

Starts from $110 / per year
Litmos: An Overview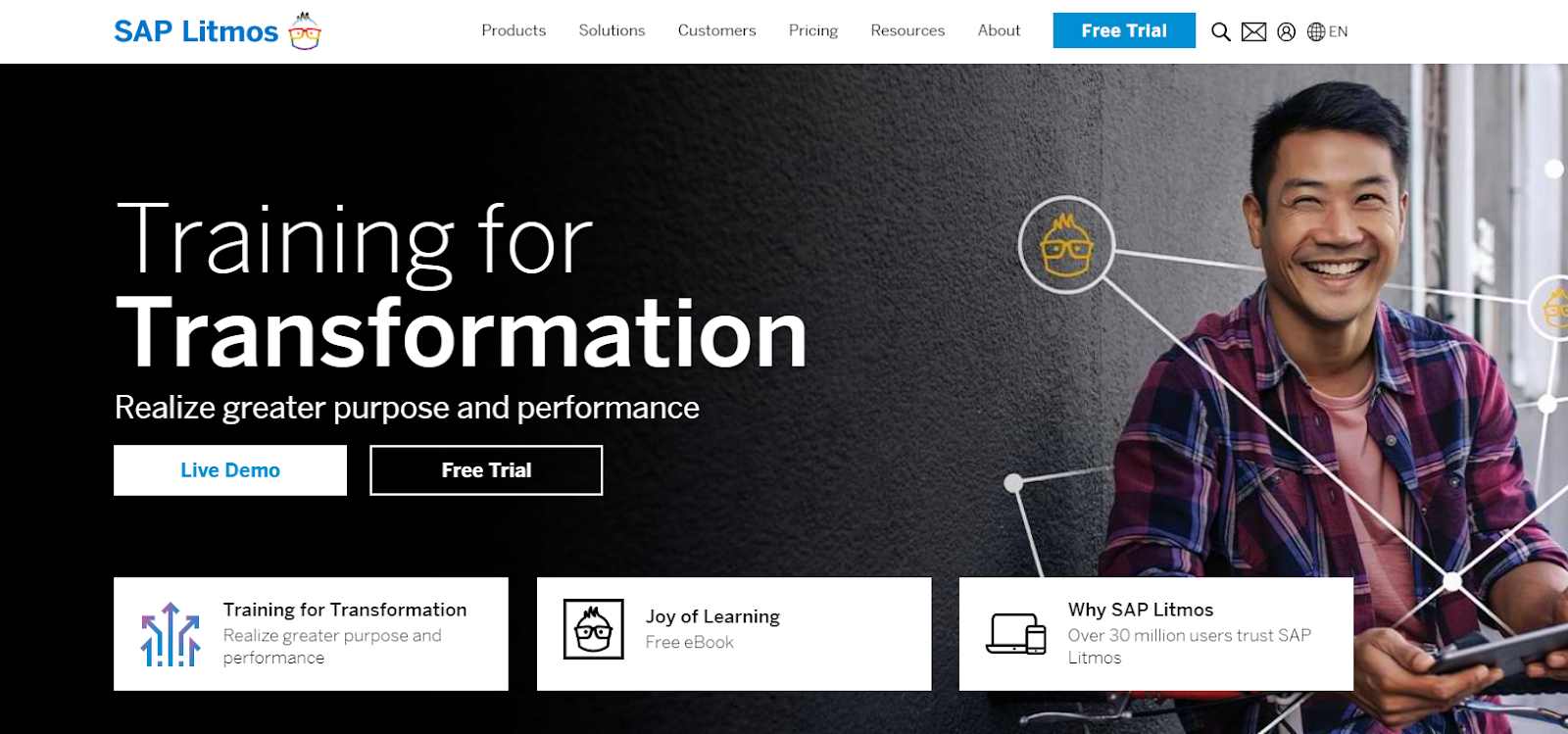 Litmos is a popular LMS used for delivering Instructor-led Training and e-learning that empowers organizations to prepare their employees with all the necessary skills and knowledge.
It's the best learning management solution for the modern intelligent enterprise. It supports 35 languages and caters to 150+ countries.
The best thing about this LMS is that it works for everyone and integrates well with the other software applications.
Features
Litmos LMS provides incredible features to facilitate a great training experience. Some of them are:
Litmos lets you create courses that support multiple formats.

You can add videos, images, presentations, documents, and other elements to improve the course quality and learner engagement.

You can reward learners with badges, points, and awards.

Litmos supports learning on the go. You can make your courses available to learners 24/7.

You can schedule

virtual classroom

training through its Instructor-Led Training model.
These are all about the top features of Litmos but it has its share of disadvantages as well.
Top Reasons Why You Need Litmos Alternatives
This LMS has minimal customization capabilities

Automation bundle needs to be purchased separately

Quality of customer support is not up to the mark

The budget is the primary concern as well. The price is higher than the other Litmos competitors that provide better features than this e-learning system.
Let's now take a look at the top 10 Litmos alternatives.
10 Best Litmos Alternatives
1. ProProfs LMS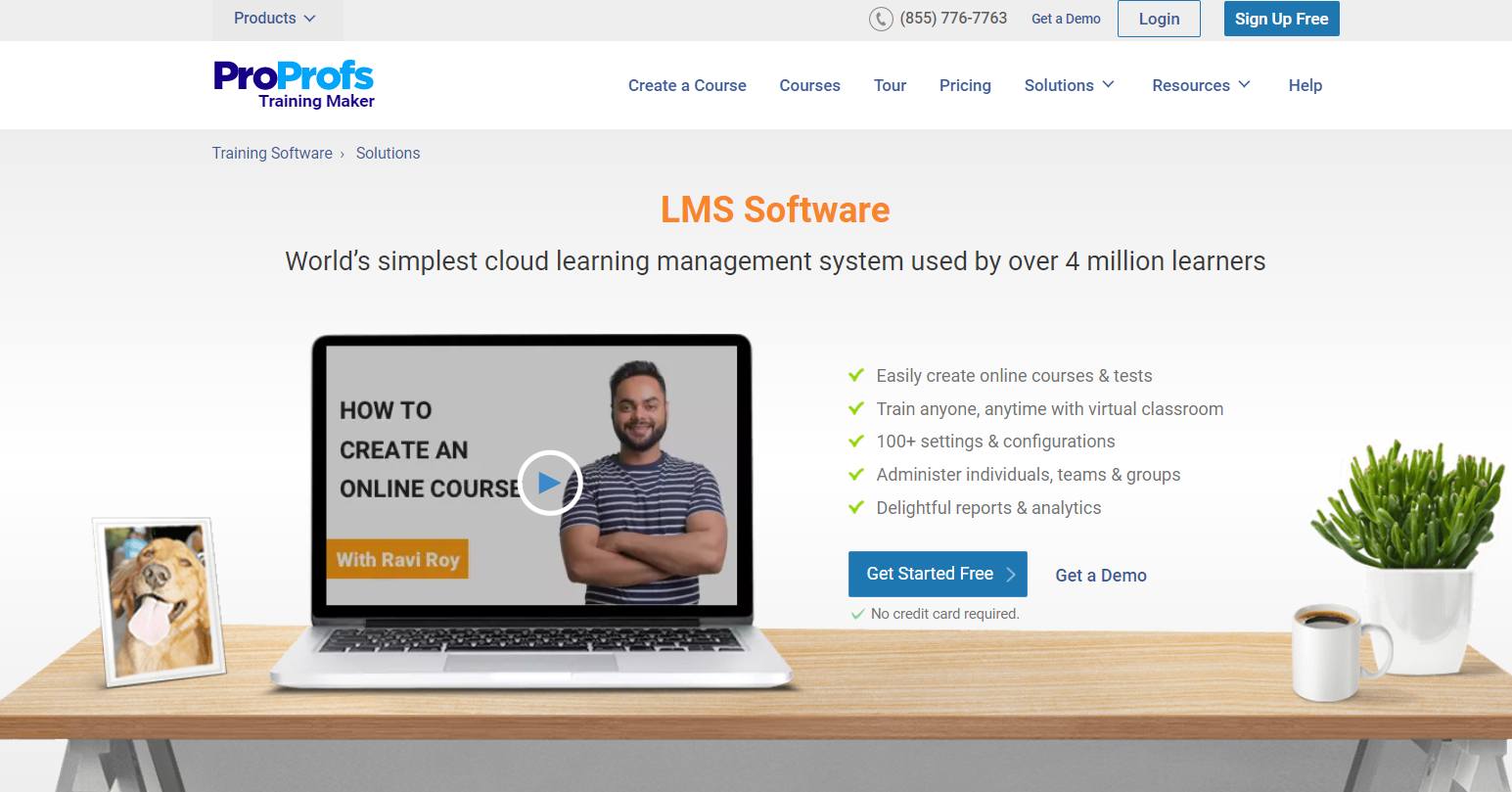 ProProfs LMS is an award-winning cloud-based LMS system and the best alternative to SAP Litmos.
It is an all-in-one learning solution consisting of a course builder, feedback tools, and learning aids.
The software is designed keeping in mind users of all experience levels. It is a comprehensive online learning solution for companies, teachers, trainers, and universities.
The virtual classroom, course library, white labeling, integrations, assessments, reporting, and certification tools are some of the extraordinary features of ProProfs LMS.
Other notable features of this platform include:
E-learning authoring tool for

building courses

Q&A platform

for effective collaboration

Mobile friendly

Smooth integrations with CMS and CRM

Supports English, Spanish, and 70+ languages
ProProfs has a solid client base spread across the world. This LMS offers learning solutions for industries like manufacturing, education, technology, healthcare, construction, and more.
It offers excellent customer support services. You can get 24/7 chat, email, and phone support. One of the reasons ProProfs is the best alternative to SAP Litmos is because it resolves customer issues faster than they expect.
Why We Picked It
+ Easy to set up
+ 100+ professionally designed templates and courses
+ Awesome customer support
Pricing
Starts from $1/learner/month. Free trial for 15 days for all plans.
2. TalentLMS

TalentLMS is a cloud-based e-learning tool that lets you make plenty of adjustments to your training courses. This SaaS training platform helps you design various training courses to suit your business needs.
This LMS features an intuitive interface that streamlines the L&D's e-learning efforts. You can enjoy a high level of mobility and flexibility while creating courses on this platform.
Any L&D manager would love the features available on TalentLMS. From creating engaging courses to assessment options, it lets you do everything. This e-learning platform has impressive gamification settings so you can keep your learners engaged.
Teams embrace learning when it's relevant to their needs. With this LMS, you can customize their experience by adjusting the look and feel of the portal so that your learners can grasp the settings quickly.
In a nutshell, it offers out-of-the-box solutions for all your training needs.
Features like content localization, single sign-on, video conferencing tools, discussion forums, mobile-friendliness, and enhanced accessibility make it one of the best alternatives to SAP Litmos.
Why We Picked It
+ Easy to use
+ Great customer support
+ Good grading and reporting tools
Pricing
Starts from $0 per month. Unlimited email support. Up to 5 users and 10 courses.
3. Docebo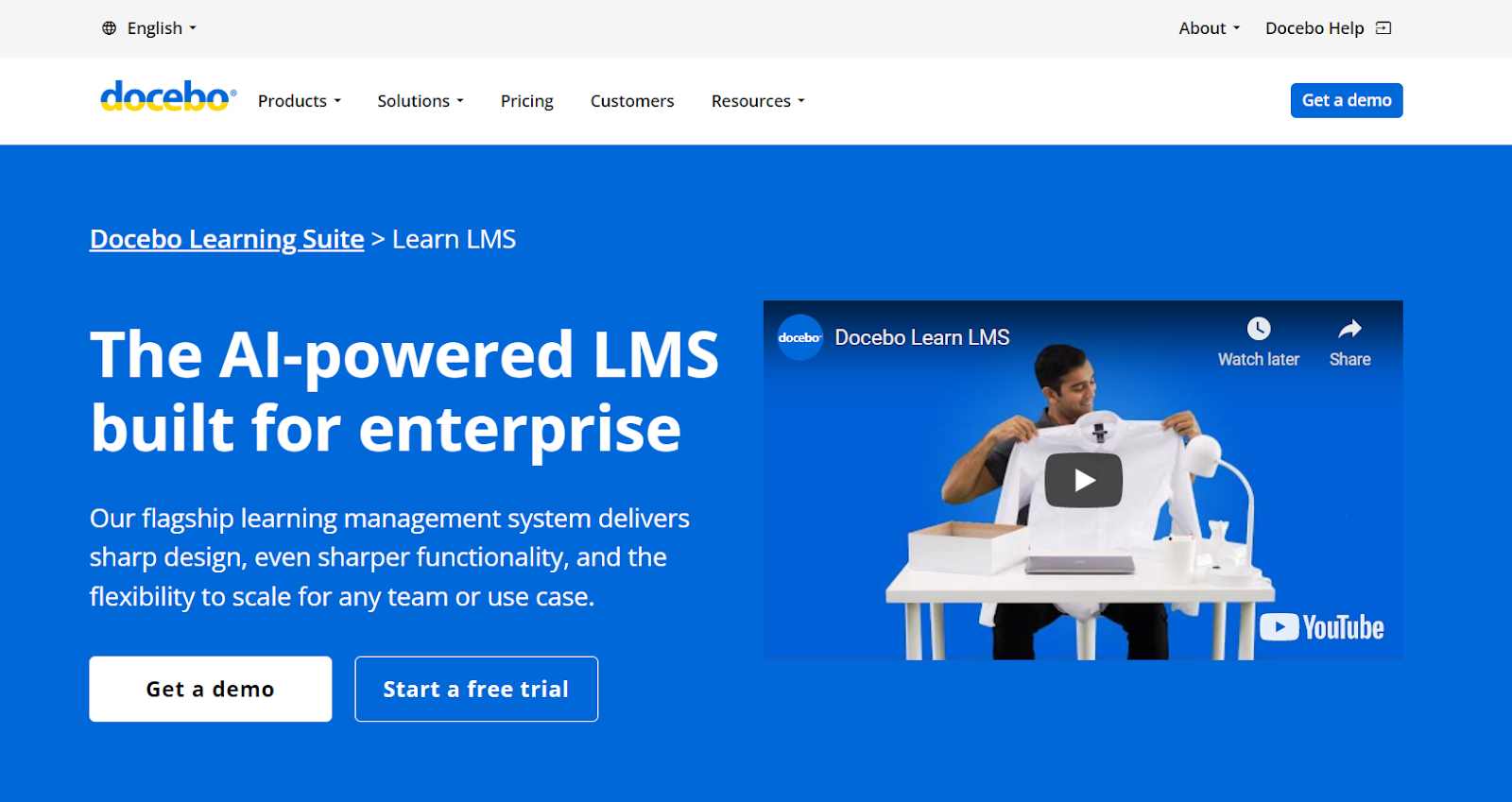 Docebo's learning solution transforms how corporate and enterprise customers conduct employee onboarding and customer education. It is best for mid-sized and large enterprises that have a considerable quantity of courses to deliver.
Tackle any learning challenge with this powerful LMS! Create engaging content, deliver AI-powered learning to your audience, and measure the effectiveness of the training programs under a single platform.
Designed to meet your training requirements, from content creation to tracking learning progress, Docebo offers everything to scale your business.
The robust features, intuitive interface, and excellent customer service are a boon to learning initiatives. Most importantly, the validation tools are great for error identification that might have been overlooked.
Why We Picked It
+ Easy to use interface
+ Value for money
+ Excellent PPT importing feature
+ Great learning analytics
Pricing
Get in touch with the company for a quote.
4. Absorb LMS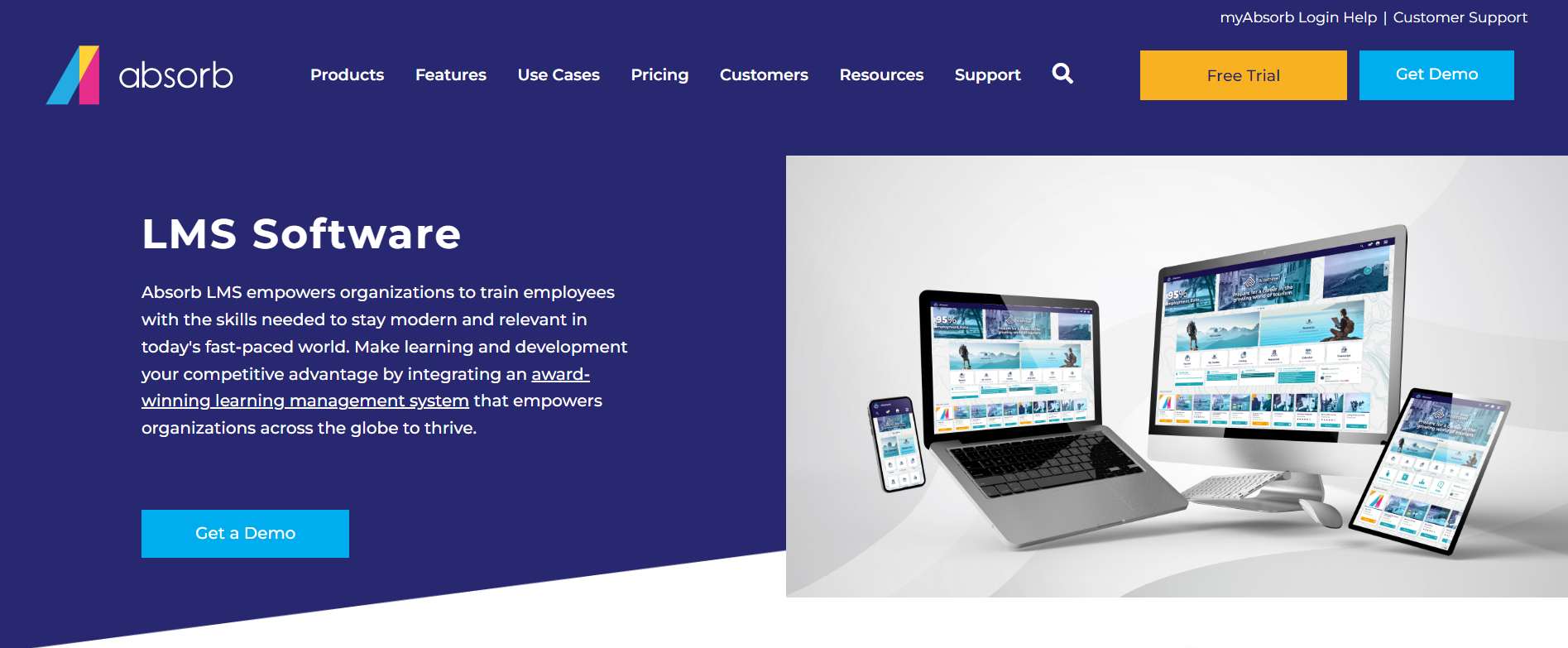 Absorb LMS is an award-winning learning software for higher education, businesses, government, and NGOs worldwide. It caters to customers in 120 industry verticals.
It combines forward-thinking technology with excellent customer support rarely seen in the LMS space. Built to deliver online training, the robust features and intuitive designs enable you to create a learning space that keeps your learners engaged throughout the process.
The LMS is secure, easy to manage, and scalable for businesses of all sizes. This LMS will power your success, whether you're training your staff or channel partners.
Why We Picked It
+ Time-based credential reporting
+ Excellent customer service
+ Customizable interface
+ Intuitive and easy to use on the backend
Pricing
Get in touch with the company for a quote.
5. LearnUpon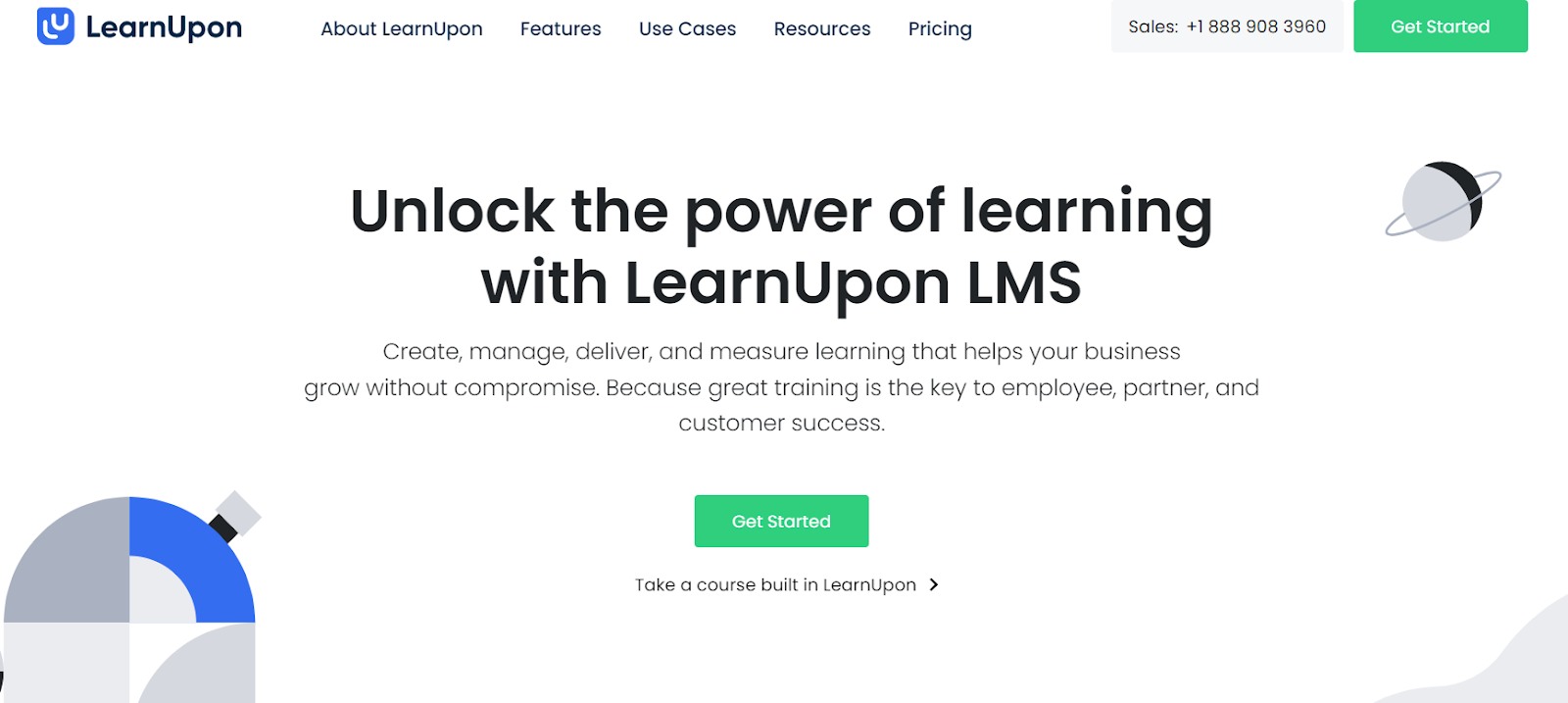 LearnUpon is a centralized training solution for training employees, partners, and customers on compliance and other areas. As one of the top 10 alternatives to SAP Litmos, it offers plenty of features and a range of capabilities to create an effective training program.
You can create delightful courses, integrate brainstorming games, add assessments and tests into courses, and track reports and analytics. Admins can automate the management of multiple user groups.
LearnUpon supports SCORM-based content development and integrations like CRMs, web conferencing, digital payments, and HRISs. The best thing about this LMS is that it enables self-paced learning and live class streamings.
Why We Picked It
+ Easy to set up
+ Integration with other BI tools
+ Content structuring
+ Great customer support
Pricing
Get in touch with the company for a quote.
6. Lessonly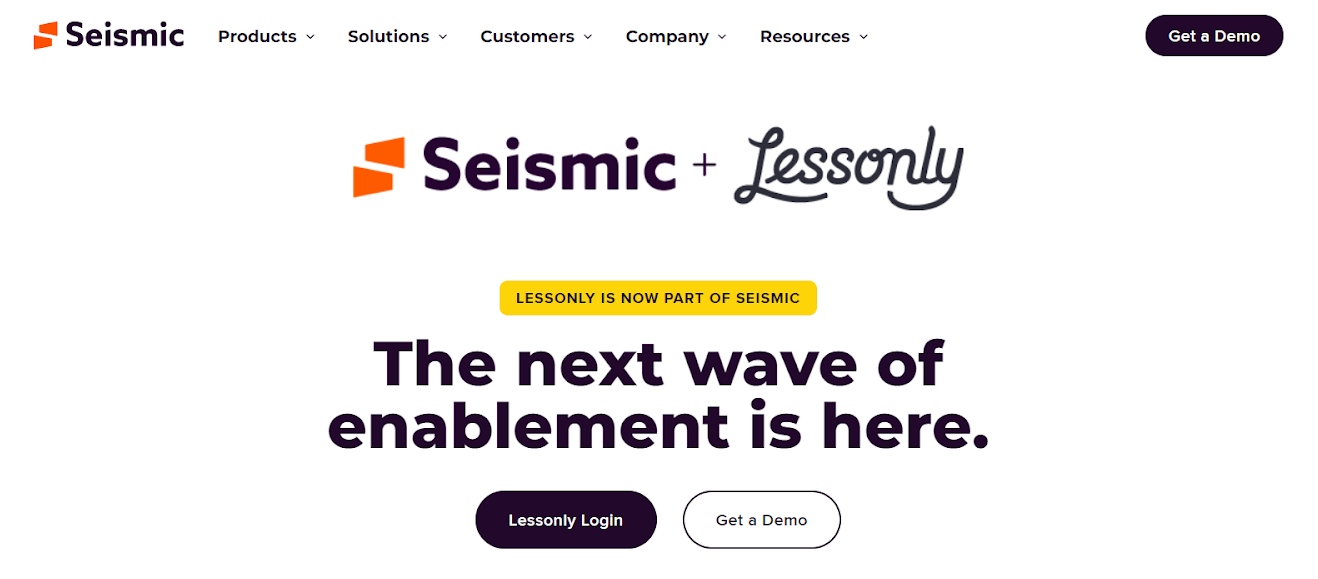 Lessonly is a robust learning management system with a vast client base across industries. More than 550 companies have implemented this e-learning platform. Cisco, Zendesk, and Ibotta are some of the prestigious clients of Lessonly.
This platform works great for corporate training and employee onboarding. It has an intuitive interface, which is simple to learn and adopt.
You can quickly create courses using its lesson builder with engaging elements like videos, images, PDFs, and more. It has a content hub serving as a repository for pre-built courses that your learners can access.
The platform offers customized support services to companies after purchase. It also offers a knowledge base covering 80 topics for self-support.
Why We Picked It
+ Intuitive UI
+ Best for corporate training
+ Friendly customer service
Pricing
Get in touch with the company for a quote.
7. SkyPrep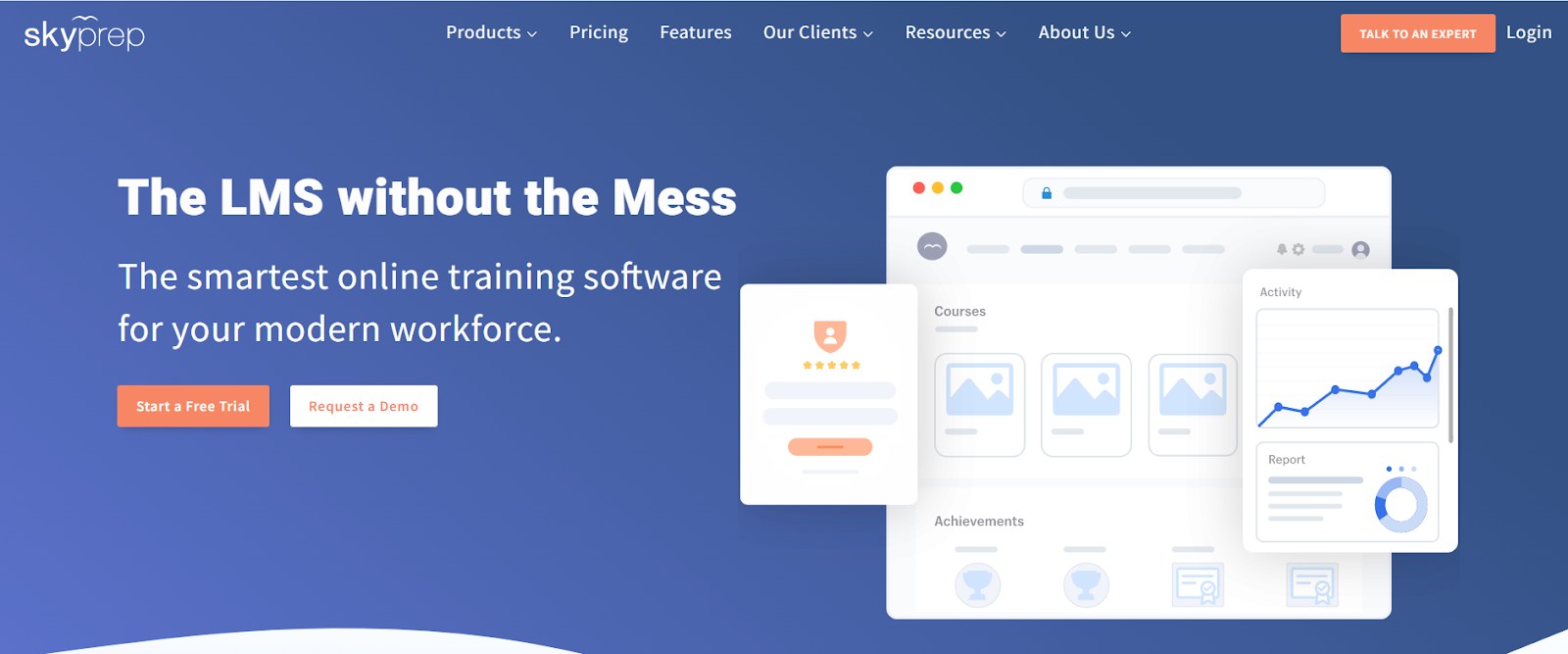 SkyPrep is a smart LMS designed for the modern workspace. It's great for employee onboarding, customer training, compliance training, virtual classroom, and course selling.
As one of the top Litmos competitors, SkyPrep proves to be a big hit for enterprise learning, and the platform has 1,00,000+ learners. All thanks to its features like a robust course management system, advanced reporting and analytics, customized branding, and high-end integration with Zoom, PayPal, and Stripe.
The best thing about SkyPrep is the enterprise-grade security and gamification settings to create an engaging experience. Create questions, track learner responses, and provide feedback to elevate your team's performance.
Why We Picked It
+ Intuitive UI
+ Easy navigation
+ Advanced analytics and reports
+ Tests and assessments
Pricing
Starts from $239/month, billed annually. Up to 100 users and 2 administrators.
8. Tovuti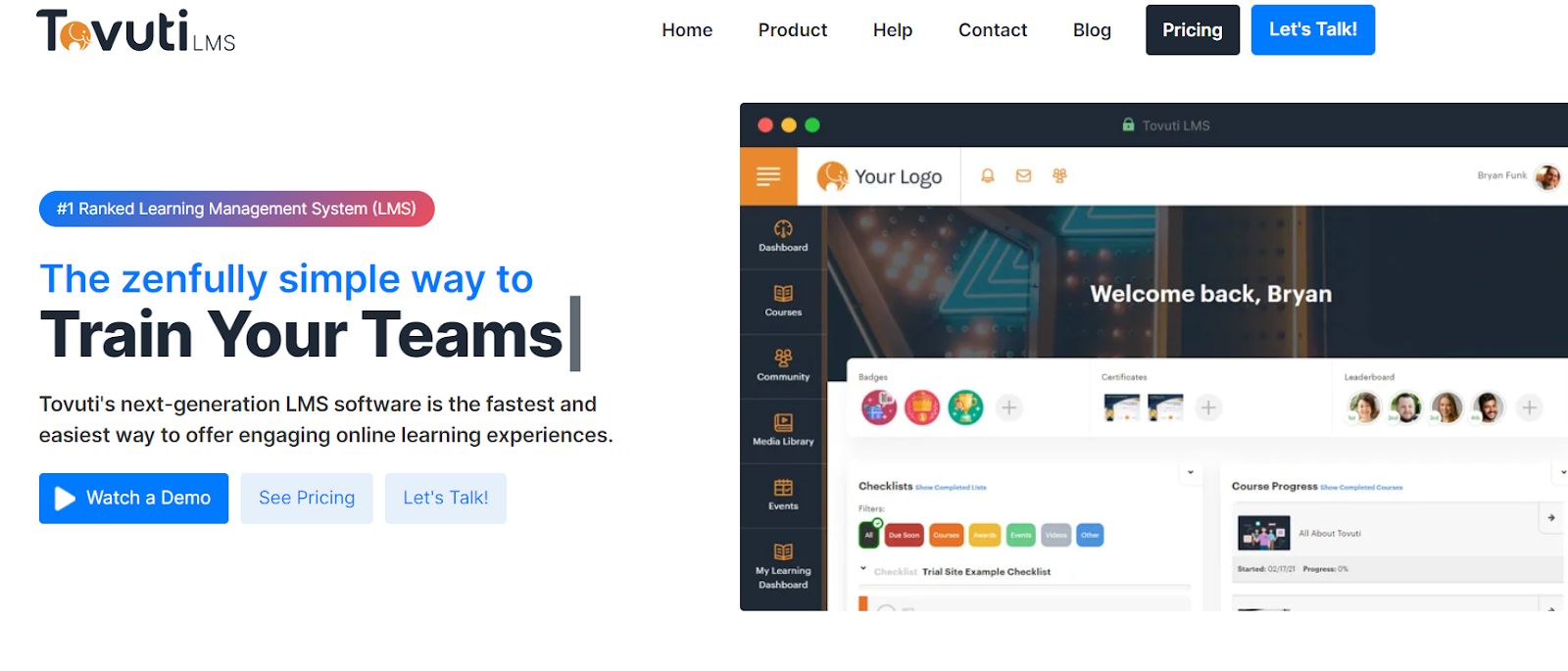 Tovuti is an all-in-one LMS that offers a range of tools to create, deliver, and track performance of e-learning programs.
Tovuti is an all-in-one cloud based solution that offers state-of-the-art course authoring tools to help organizations create engaging courses for learners.
It is one of the top Litmos alternatives for apparent reasons. It empowers admins to create more than 40 kinds of interactive and gamified modules to keep learners engaged. Import PDFs, images, videos, SCORM files, and more!
Get access to 7,000+ built-in courses on essential topics like professional development, compliance training, etc. Leverage the built-in video conferencing feature to conduct live training sessions.
Why We Picked It
+ Coaching support and tutorial library
+ Reports, analytics, and KPI dashboards
+ Powerful integrations
+ Content gamification
Pricing
Starts from $775/month, billed annually. For 50 users.
9. Cornerstone LMS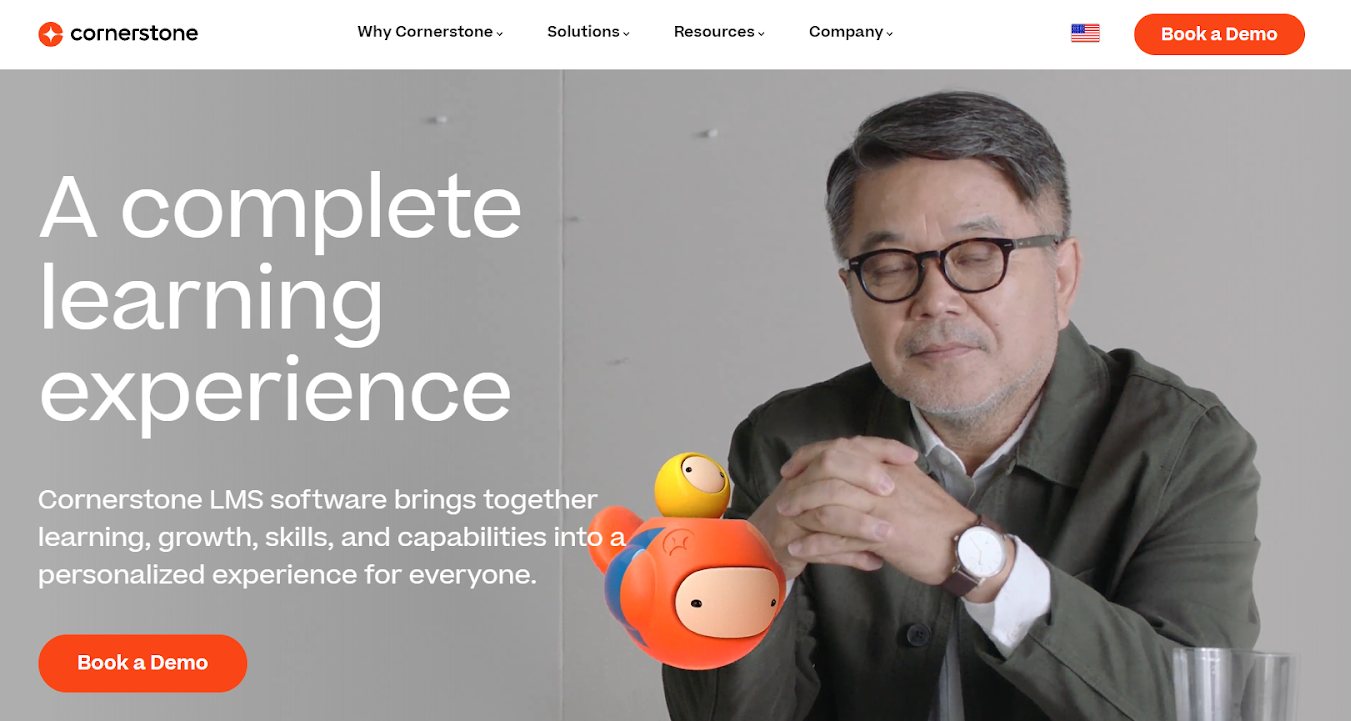 Cornerstone LMS deserves to be among the top 10 alternatives to SAP Litmos. This online training solution is ideal for SMBs. It provides high-end tools to deliver employee training.
It provides various functions that help with employee training like instruction-led classes, reporting, gamification, and more!
This LMS lets you offer cohort-based programs to personalize the experience for various groups. You can use analytics to monitor their progress and hand out certificates to learners.
As far as industry expertise is concerned, Cornerstone LMS serves over 42 million people in 192 countries. This platform is known for streamlining the enterprise training process. The most popular features include course creation tools, customization options, communication capabilities, and integration functionality.
Why We Picked It
+ Easy to learn
+ Powerful integration
+ Great customer support
+ Excellent UI
Pricing
Get in touch with the company for a quote.
10. Moodle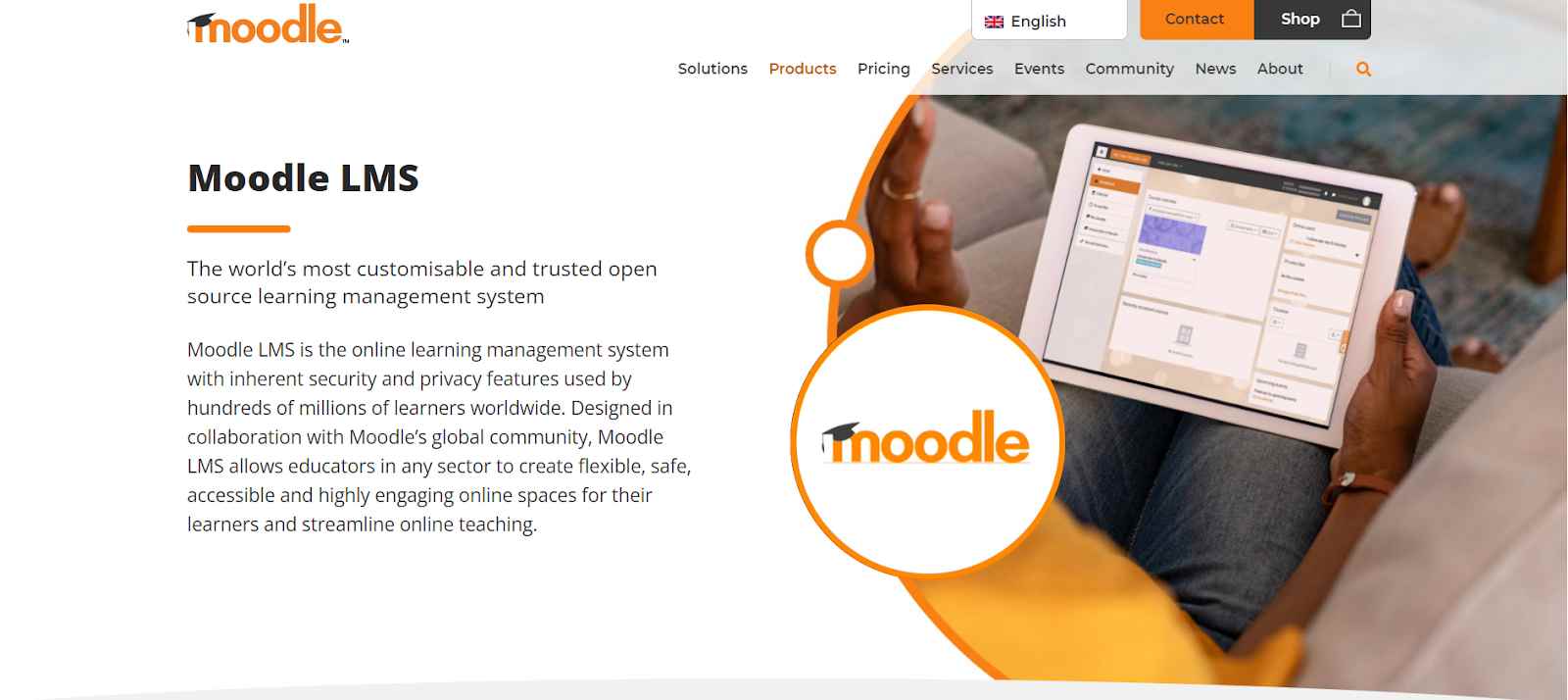 Moodle is a popular LMS platform for building online courses. It boasts over 100 million users. With over 100,000 Moodle sites deployed worldwide, this e-learning platform caters to different types of organizations for fulfilling their training needs.
Moodle is used for onboarding, compliance, workplace safety, competency-based, etc.
This LMS is known for its flexibility and customization options. Moreover, it gives real insights into your courses and learner performance. Moodle has been adopted widely because of its rich features and configurations.
With over 1,000 plugins developed by learners, administrators, and managers, it makes learning fun, engaging, and collaborative.
Why We Picked It
+ Highly flexible
+ Multilingual support
+ Works across devices
– UI can improve
– No end-to-end security
– No custom reports
Pricing
Starts from $110 / per year.
Get the Best Litmos Alternative for Your Business
These are some of the best Litmos alternatives you can consider to make an informed decision.
You may be a long-time user of Litmos or consider it as an LMS option, but these alternatives will give you an idea of the other LMSs available in the market, which can help improve your employee training programs.
So, explore the Litmos alternatives, weigh their pros and cons, and pick the one that meets your business requirements.
Do you want a free Training Software?
We have the #1 Online Training Software for employee training & assessment