LMS Software Comparison
Features
ProProfs Training Maker
Litmos
Pricing
Starts at
$1/learner/month
Starts at
$6/per user/month
Storage
Unlimited
Unlimited
Hosting
Cloud-Based
Cloud-Based
Designed For
SMBs/Enterprises
Corporates/SMBs
Installation & IT Support
Not Required
Not Required
Easy Course Creation
Yes
(100+ professionally designed templates)

Ready-to-Use Courses

Add Powerpoint, Images, Videos & Docs

Built-In Quizzes & Surveys

Quiz Library
Yes
(100,000+ questions)
Survey Library
Yes
(100+ ready-to-use templates)
eCommerce & Sell Courses

Design & Experience

Learning Management System

Testing & Assessment

Learner Experience

Integrations

Reporting & Tracking

Coding & Customization Knowledge

Data Security & Permissions

Scalability

Customer Support
Why Choose ProProfs?
It is the world's easiest SaaS LMS. No technical background required. No software download and installation. Minimal learning curve. Gets started right away.

The platform is used by over 15 million active users in more than 150 countries. It includes corporates, SMBs, educational institutes, and government agencies.
Train up to 10 learners completely free. Get all the basic features, including online classroom, eCommerce, and storage.

Human support available on the phone, live chat, & email, 24×7. 80% reduction in tickets assured. Resolves issues instantly.
Want to explore a few more alternatives to Litmos LMS? Here you go.
1.

eFront LMS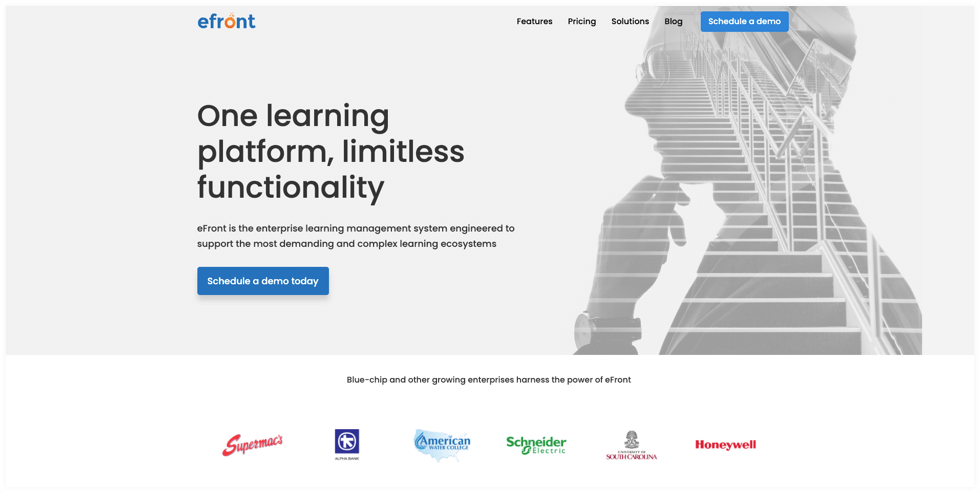 eFront is an enterprise-grade LMS for employee training. You can build a custom enterprise training platform using its range of settings. An advanced data protection system keeps everything safe and secure. The tool is optimized for use on all mobile devices.
Pricing:
starts at $750/month/up to 1,000 learners
2.

Docebo LMS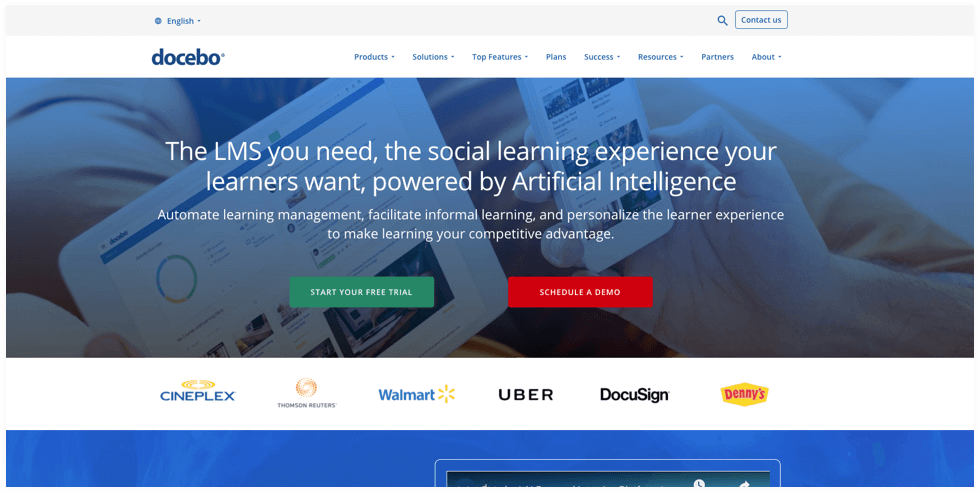 A close competitor of SAP Litmos, Docebo, is another cloud-based LMS that is suitable for training employees, customers, and partners. It lets you deploy informal learning and deliver rich learner experiences. It also supports social learning. A vast course library makes training content readily available.
Pricing:
Available on Request
3.

iSpring Learn LMS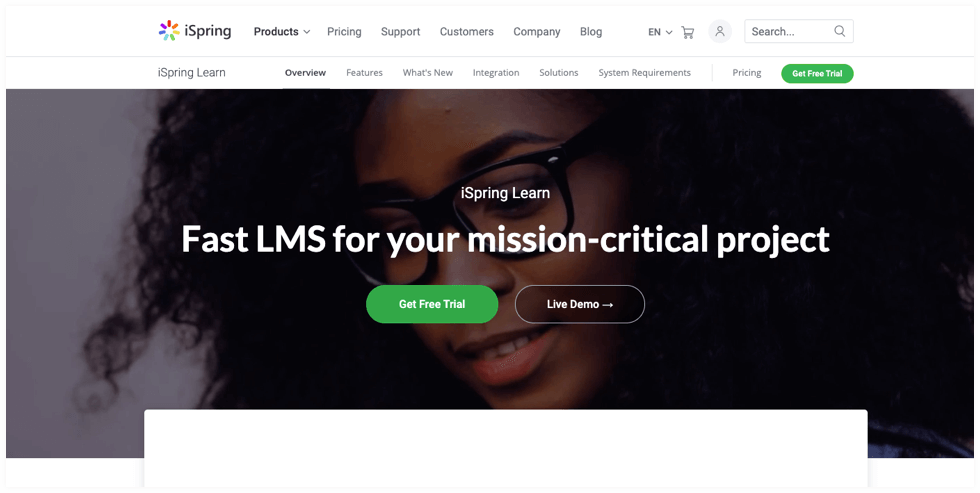 iSpring Learn is an excellent choice for the rapid deployment of critical online training programs. Simply upload your training materials, invite participants, and track their learning progress. The tool is fully hosted, easy to use, SCORM-compliant, and provides unlimited data storage.
Pricing:
Starts at $3.66/user/month
4.

TalentLMS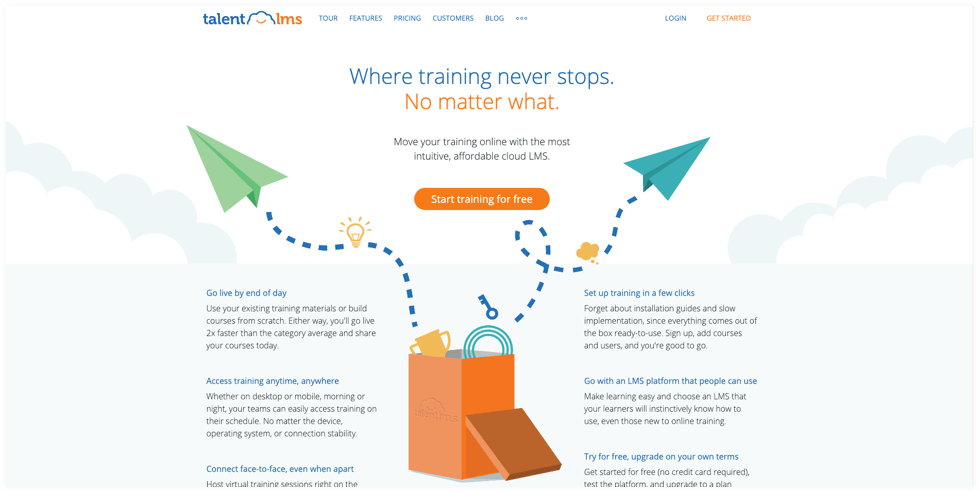 Another useful tool for speedy employee training, TalentLMS, allows users to build courses in minutes and train learners right away. Even first-timers find this software application easy to use. It is versatile and easily configurable to meet specific training needs. Suitable for businesses of all sizes.
Pricing:
$59/up to 40 users/month
5.

Blackboard Learn LMS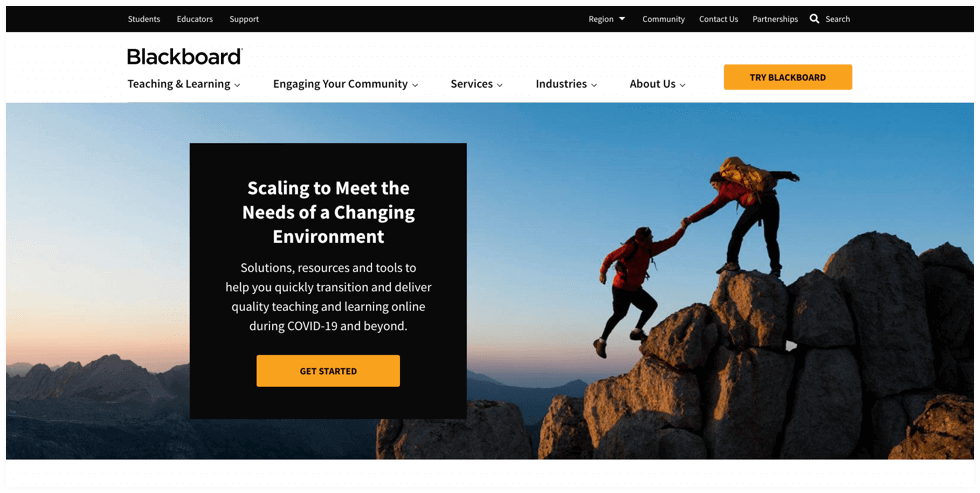 Blackboard is known for its interactive virtual learning environment. This learning management system has evolved to help meet the changing needs of its customers. With a modern interface, Blackboard gets things done quickly and efficiently far beyond what you would generally expect from conventional learning management systems.
Pricing:
Available on Request
These are some of the best Litmos alternatives out there. Choose the one that can help optimize and accelerate your training programs.
In case you are still unsure, we can help you. Give us a call at (855) 776-7763 (toll-free), and one of our support staff will help you with making the right choice.
Switch From Litmos to ProProfs LMS
Do you want a free Training Software?
We have the #1 Online Training Software for employee training & assessment