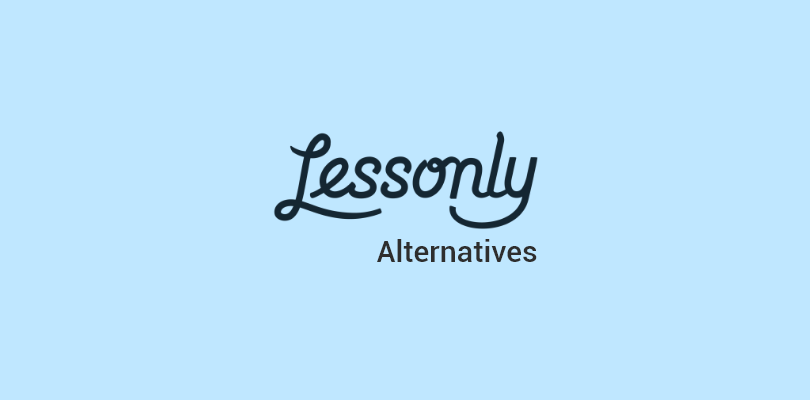 If you've been using Lessonly by Seismic or have used it in the past, like me, you must have encountered its limitations, such as the lack of self-support resources, absence of diversity in course templates, siloed communication between instructor and learners, and limited scalability.
These are enough reasons for users like you and me to try better Lessonly competitors out there.
That's what we're here for. I have compiled a list of top Lessonly alternatives I've tried and shared my experience with each tool in detail.
12 Best Lessonly Competitors to Consider in 2023
While selecting each tool, I kept certain parameters in mind, such as customer reviews, must-have features, recommendations from peers, and my first-hand experience.
1. ProProfs LMS – Best SaaS LMS for Automated Reporting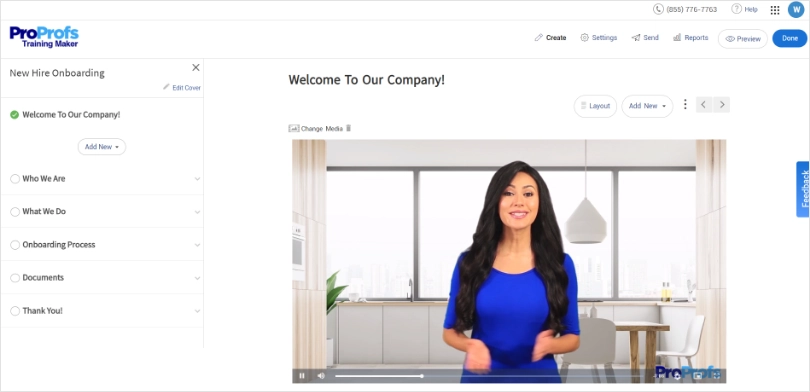 Let's start the list with ProProfs LMS. It is a feature-rich LMS tool and is an incredible Lessonly competitor.
I feel its features, such as a built-in authoring tool, ready-to-use templates, quizzes, and assessments to engage learners for ongoing knowledge checks, are outstanding for creating and delivering online courses.
Two of the primary reasons why I continue to use this tool are, first, it supports integration with tools like Mailchimp, Salesforce, and second, because of its AI reporting feature. It handles routine admin tasks, provides adaptive and personalized learning experiences, and much more.
Other useful features are single sign-on (SSO), SCORM/Tin Can standards, multiple admins, multilingual support, and the ability to add questions to course videos for enhanced engagement.

What you'll like:
Supports a wide variety of content formats, including quizzes, assessments, surveys, videos, documents, and presentations
Self-paced learning with rich learning paths for a personalized learning experience
Offers SCORM-compliance for seamless experience
Offers additional resources such as quizzes, surveys, flashcards, etc., making it easy to create and share important reference materials
What you won't like:
The 15-day trial period might seem too short for some users
Offers limited templates for course creation
Pricing:
Forever free plan (up to 10 learners). Paid plan starts at $1.97/learner/month (billed annually) for large teams. No hidden charges. 15-day money-back guarantee.
Watch: What is a Cloud-Based Learning Management System?
2. EdApp – Best for Video Courses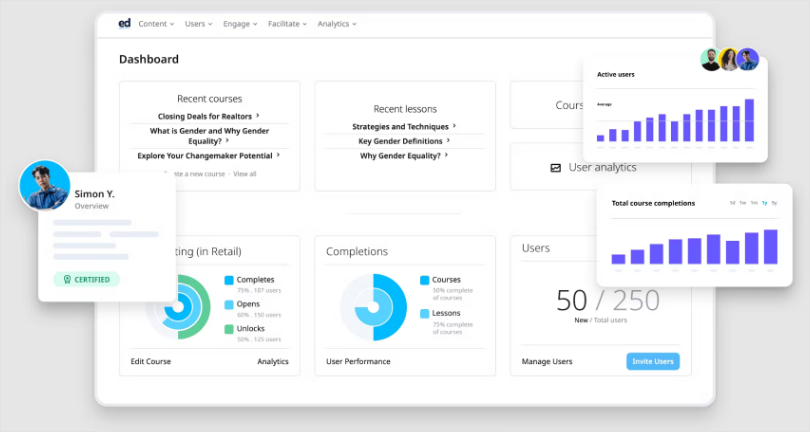 EdApp is a very interesting tool, in my experience, as it is a mobile and video-based training platform designed to enhance your lessons with dynamic video content.
With a strong emphasis on microlearning, this Lessonly alternative revolutionizes the learning experience by delivering content in bite-sized modules, ensuring higher engagement and improved retention rates.
Its user-friendly drag-and-drop functionality helps effortlessly upload videos to lessons, set videos to autoplay, play on demand, or auto progress. It has features like 50 microlearning templates and integrates with platforms like Zoom and Microsoft Teams.
What you'll like:
It's mobile-first approach ensures that learners can access training content on their smartphones and tablets
Provides a vast library of pre-built courses and templates, saving time and effort in course creation
Allows for quick course creation with its built-in authoring tool
What you won't like:
Microlearning may not cater to training needs that require complex, in-depth courses
Free version has very limited features, not enough to explore the full features of the tool
Pricing:
Starts from $2.95/month/user. Free version available
3. Moodle LMS – Best for Vocational Training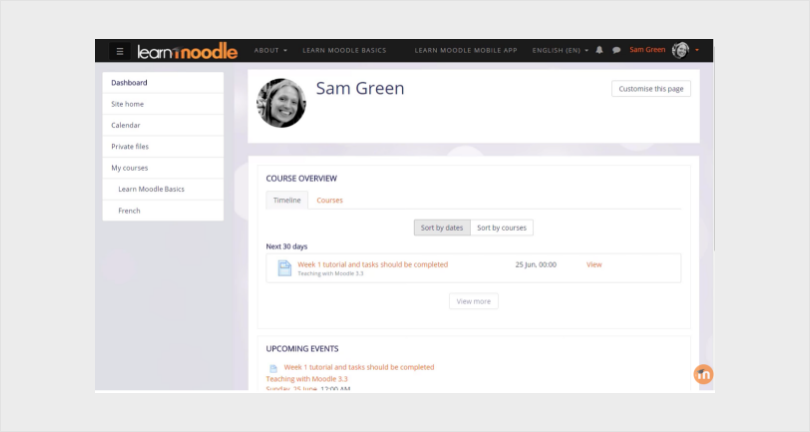 Another of the top Lessonly competitors I'd like to mention is Moodle LMS. I was captivated by its versatility and rich features that seamlessly streamline training for onboarding, skills, and compliance.
This Lessonly alternative comes with collaborative learning through forums, chats, and group activities, which is great for vocational training. Learners can share knowledge, discuss industry-related topics, and engage in practical learning exercises.
What truly blew me away was Moodle's nifty app, ensuring an uninterrupted learning journey, be it online or offline. Trust me, the customization, simplicity, and tangible learning outcomes are incredible.
What you'll like:
An open source and free platform, ideal for startups and SMEs
Comes with WCAG 2.1 AA compliance for security of employee data
Offers advanced customization & flexibility for personalizing courses
What you won't like:
Offers limited functionality on its mobile app
Complicated customizations for a new user
Offers limited features compared to other paid tools since it is free
Pricing:
Free tool
4. TalentLMS – Best Lessonly Alternative for Course Creation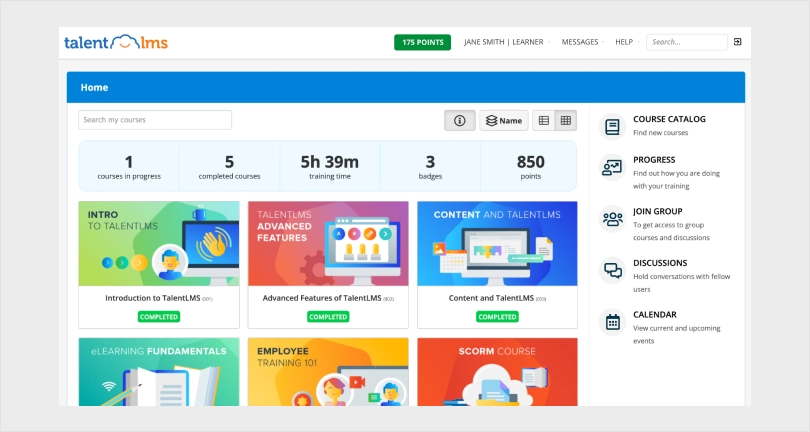 Another great Lessonly alternative worth adding to the list is TalentLMS, a versatile learning management system. In my experience, TalentLMS offers a comprehensive solution for delivering effective training programs.
The tool helped me seamlessly transition from costly in-person seminars to online training, reducing expenses and increasing accessibility. It allowed me to create unlimited courses, customize them, and upload existing training materials for a smooth transition.
I was also able to simplify administrative tasks with on-demand reports and certificates, track learners' progress, and generate compliance reports.
What you'll like:
Supports multiple languages, making it suitable for global organizations with diverse language requirements
Includes a built-in virtual classroom feature, enabling live instructor-led training and interactive webinars
Comes with the TalentLibrary™, full of pre-built courses
Offers gamification elements like badges, points, and leaderboards
What you won't like:
Discussion forum needs improvement
Learning path feature has limitations and is less flexible in designing complex learning journeys
The navigation is complicated which hampers the experience
Pricing:
Starts from $69/month (billed yearly)
5. iSpring Learn – Best for Content Management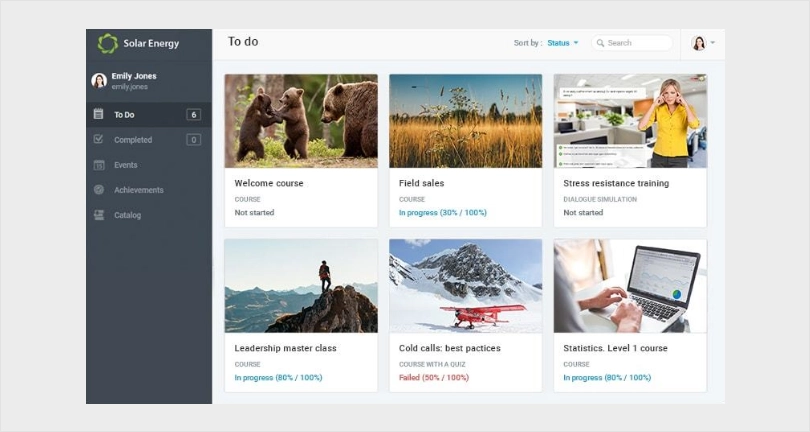 I've added iSpring to this Lessonly competitors list for more reasons than one. This cutting-edge LMS empowers organizations to deliver top-tier training to their employees, ensuring compliance with regulations while elevating the overall skillset.
I created engaging courses and insightful quizzes to keep my team members up to date and allow effective knowledge assessment.
A few benefits I noticed during my trial of this Lessonly alternative are that it enhanced employee readiness and reduced training expenses.
Also, I liked that iSpring Learn provided a centralized content repository where I stored all my training materials, such as courses, presentations, documents, and multimedia assets in one place.
What you'll like:
Enables collaboration among content creators and subject matter experts
Offers certification and recertification
Comes with version control, which updates training materials and keeps a track of previous versions
Allows you to organize content into folders and categories based on topics, departments, or any other criteria
What you won't like:
The tool is not compatible with Mac devices
Found minor bugs in the online video screen recording
Reporting is not extensive and needs improvement
Pricing:
Starts from $2.29/user/month
6. LearnUpon – Best for Course Creation for Small Businesses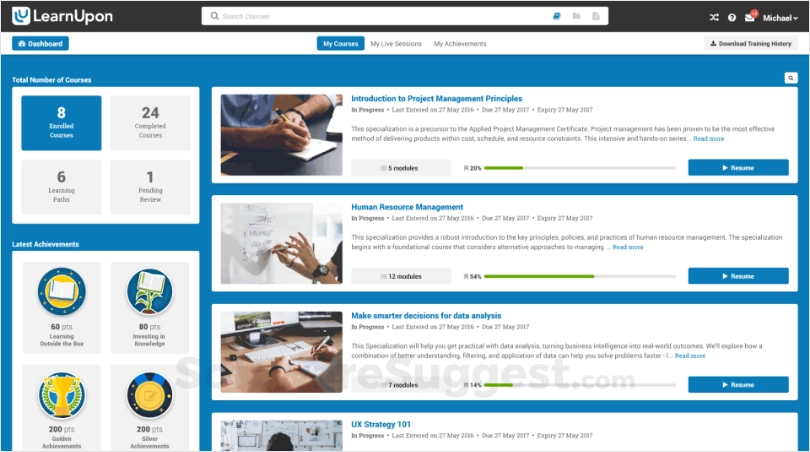 I found LearnUpon to be an ideal Lessonly alternative. It's a user-centric learning solution that simplifies and makes learning engaging, allowing training administrators to deliver knowledge to internal and external audiences effortlessly.
Like other Lessonly competitors I've used in the past, this Lessonly alternative has all the essential features at your fingertips, including course creation, user management, portals, integrations, webinars, and reporting capabilities.
Another feature I appreciate from LearnUpon provides an enterprise-grade security environment for safe teaching and learning.
What you'll like:
Provides an instructor-led training (ILT) center, allowing you to offer webinars and in-person sessions in courses
Offers integration with a lot of platforms, such as Personio's HRIS, Oracle, HubSpot, Marketo
offers a dedicated mobile app, enabling learners to access training content on-the-go conveniently
What you won't like:
Customization options for branding and design are not extensive
Few admin functionalities didn't work as they should
Pricing is not flexible or suitable for SMEs and solopreneurs
Pricing:
Starts from $599/month
7. 360Learning – Best for Collaborative Learning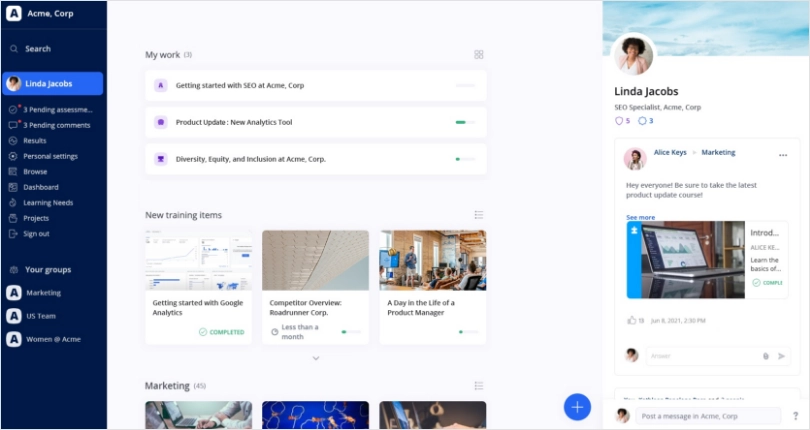 360Learning, the ultimate Lessonly alternative, blew me away with its collaborative and learner-centric approach. Its remarkable course completion rate of 91% on average showcases unparalleled engagement.
From onboarding to frontline training, 360Learning simplifies the process, revolutionizing how we learn. The award-winning authoring tool empowers even non-technical users to create impactful content effortlessly.
I found its dedicated spaces very unique. It's where learners can engage in discussions, ask questions, and provide feedback. This fosters a sense of community and encourages collaborative problem-solving.
This Lessonly alternative also allows multiple users to collaborate on creating and updating learning materials in real-time, promoting knowledge sharing.
What you'll like:
Offers project management features for streamlined learning
Supports group projects and assignments, promoting teamwork
Gamified features like leaderboards and badges, encourage healthy competition
What you won't like:
Lacks comprehensive compliance features
Doesn't allow you to upload user completions manually
Integration with third-party apps isn't the strong suit
Pricing:
Starts from $8/user/month
8. SkyPrep – Best for Enterprise Learning Needs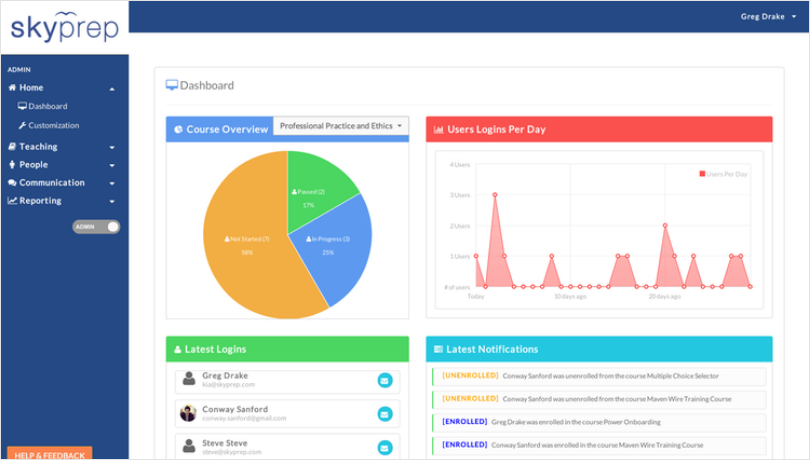 I also tried SkyPrep briefly, and it seems a viable choice among the alternatives to Lessonly. SkyPrep's robust LMS ensures employees receive recognized certifications upon course completion, enhancing their expertise and turning them into SMEs.
What I also appreciate about this alternative to Lessonly is it excels at HIPAA and policy compliance training and comprehensive reporting capabilities to meet regulatory demands.
It's especially helpful for enterprises dealing in data-related business, which requires a high level of safety and cautions from its employees. The seamless and user-friendly platform empowers learners to access training anytime, anywhere.
What you'll like:
Support for gamification to make training engaging
Offers certification and license tracking
What you won't like:
Reporting feature is not detailed
Doesn't support auto-generation of certificates upon completion of courses or Learning paths
Pricing:
Starts from $199/month
9. Chamilo – Best Open Source LMS for SMEs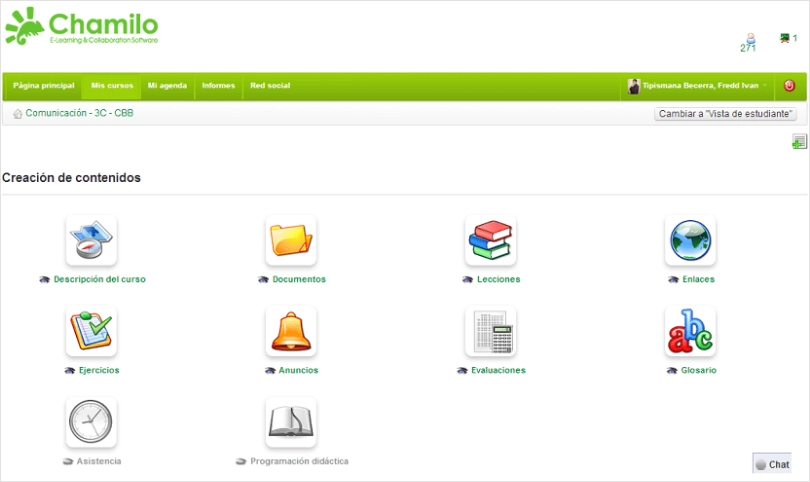 Chamilo LMS captivated me with its complete social learning network, enabling messaging, document sharing, and video chats. Its API and academic features fostered valuable learning relationships.
This Lessonly competitor comes with an activity dashboard and alerts, course authoring, certification, compliance tools, and customizable branding for seamless assessment management to enhance the learning process.
Some other features that make this a worthy Lessonly alternative are data import and export, third-party integrations, mobile accessibility, and video conferencing.
Since it is an open source solution like Moodle, you can easily modify its source code to tailor the platform to your specific requirements.
What you'll like:
High-level customization for its templates
SCORM Compliance
Social learning surveys and feedback
What you won't like:
Limited templates to choose from
The free version has limited features that aren't enough to get an idea of the tool
Documentation needs updation
Lacks a rich plugin ecosystem
Pricing:
Free
10. Sakai – Best for Creating Self-paced Modules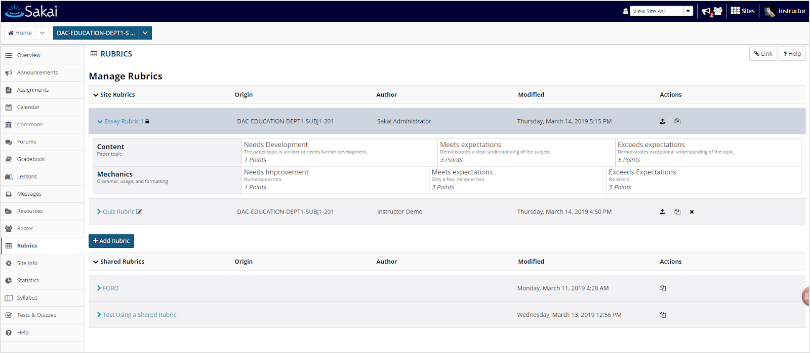 Sakai is among the few Lessonly competitors empowering educators and learners with various built-in tools. I appreciate that it provides a centralized platform for organizing and delivering training content. It also offers built-in tools like grade entry and file storage, helping organizations manage training materials.
During my trial, I liked the interactive features, such as discussion forums and communication tools, allowing employees to collaborate on group projects, participate in discussions, and seek clarification, enhancing the learning experience.
I created self-paced modules or scheduled courses, allowing my team members to learn at their own convenience or schedules. All in all, it's worth considering in place of Lessonly.
What you'll like:
Open-source with an active community
Easy to create short quizzes with multiple choices or fill in the blanks.
Randomize questions in assignments
What you won't like:
Lacks integration with other prominent tools
Doesn't save assignments automatically
Becomes extremely slow sometimes
Pricing:
Free
11. MyiCourse – Best Lessonly Alternative for Public and Private Courses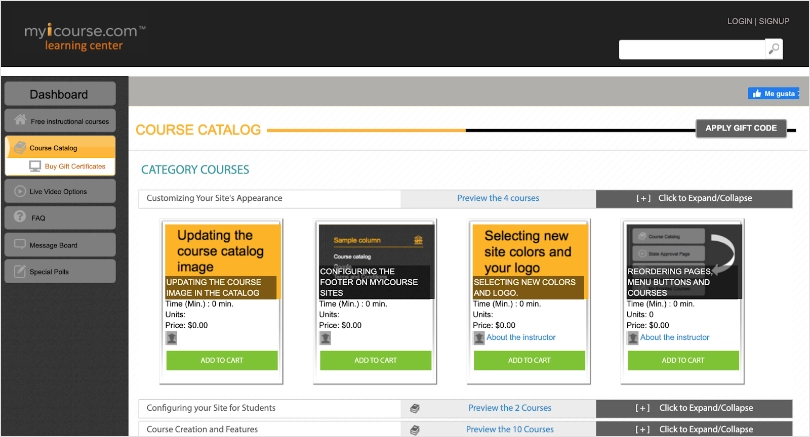 Having experimented with various Lessonly competitors, I must say my encounter with MyiCourse was very positive. I was able to issue official personalized certificates to learners upon course completion, boosting their confidence and recognition.
Apart from a captivating user experience, it also provided unique features like creating both public and private courses and custom banner ads, which were of no use to me but could come in handy for someone launching their course for the general public.
The platform's diverse capabilities added a layer of customization and control to my training programs, like creating test questions, advanced analytics, timed courses, support for diverse multimedia, and custom registration fields.
What you'll like:
Seamlessly uploads slides, videos, and other media in courses
Advanced reporting and analytics to help you track learners' progress
Built-in communication tools fostered collaboration and engagement
Helpful editor to create courses from scratch
What you won't like:
You can only add on multimedia of a certain size in your courses
Documentation provided is not very detailed or helpful
Comes with a free version that only gives access to very basic features
Pricing:
Starts from $50/month for private courses. Free version available
12. Docebo – Best Lessonly Alternative for Automated Learning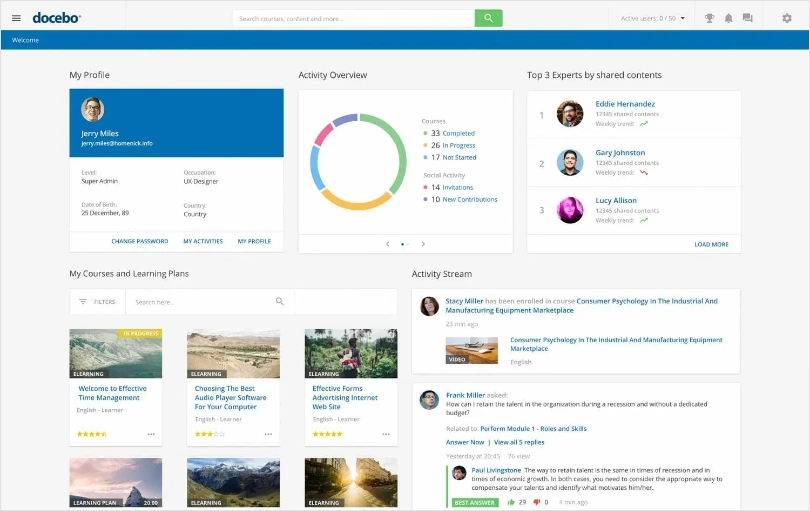 This Lessonly alternative may be the last on my list but certainly not the least. I had a good experience with Docebo and found some of its features very helpful in simplifying tasks. For example, its exceptional automated learning experiences were the highlight of my experience.
From automated course enrollments and notifications to timely reminders, it ensures learners remain engaged and well-informed with minimal manual intervention, making training and tracking my team a breeze.
Additionally, the platform's user-friendly interface, intuitive design, and robust reporting and analytics features provided valuable insights for continuous improvement. I especially valued the extensive library of pre-existing safety content that allowed me to craft engaging and interactive modules.
What you'll like:
Integration with Salesforce and WordPress facilitates effortless importing, managing, and delivering of safety-based courses
Comes with features that promote designing intuitive learning paths
Provides a mobile app for learning on-the-go
What you won't like:
Can't offer in-depth analysis of learners' performance due to limited reporting features
Admin permissions are limited which lead to unoptimized management
Reporting and exporting data via CSV or excel is manually done
Pricing:
Starts at $1,600/month
Which Is the Best Lessonly Alternative for You?
The best choice for Lessonly competitors varies depending on your needs, audience type, skill levels, and learning requirements. Here are my top 3 recommendations for Lessonly alternatives to streamline your search for the right tool:
Option A: ProProfsLMS
It is a user-friendly LMS that doesn't need specialized technical expertise to get started with. You can create online courses within minutes with its easy-to-use interface, not to mention its AI-reporting feature. ProProfs LMS caters to various ranges of users, including SMBs, large organizations, freelancers, teachers, NPOs, and government agencies.
Option B: TalentLMS
I recommend this Lessonly competitor because it simplifies administrative tasks and offers extensive customization possibilities and seamless integrations. You can consider this tool to deliver personalized and impactful learning experiences. TalentLMS is ideal for small to midsize companies.
Option C – EdApp
EdApp is an excellent Lessonly alternative if you're looking for a mobile and video-based training platform. With its multiple templates and powerful integrations, you'll be able to create engaging courses.
EdApp is a great option for startups and SMEs as it offers a free version. Mid-sized companies can also use this tool as it offers customizable features and pricing.
As a closing comment, I would like to share my personal preference. Based on my experience with these 12 Lessonly competitors, ProProfs LMS is the best SaaS LMS software available in the market.
Why? Because it offers ease of usability, ready-to-go courses for a quick start, comprehensive automation and reporting features, and countless integrations to keep things moving smoothly.
Do you want a free Training Software?
We have the #1 Online Training Software for employee training & assessment