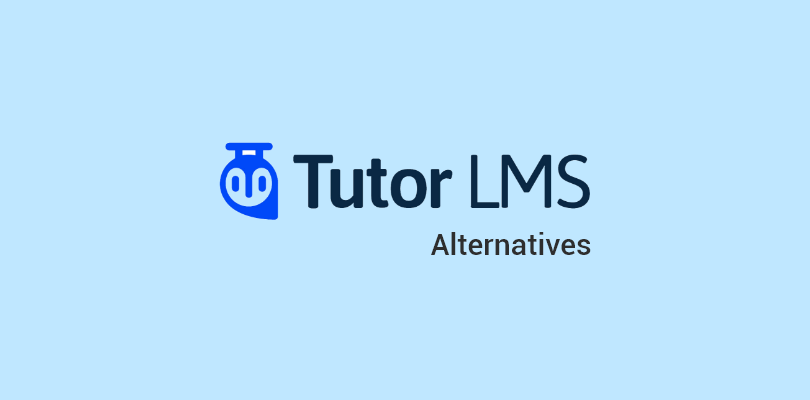 In this fast-paced world of e-learning, staying up-to-date with the latest trends and advancements is essential to ensure your training methods remain effective, engaging and productive.
That's precisely why I decided to explore a few Tutor LMS alternatives. Tutor LMS is a popular platform that has served us well but might not fully align with the evolving requirements in 2023.
Perhaps you, too, are seeking a change. Whether it's about seeking more features, better pricing options, or enhanced user experience, the search for the perfect LMS match is an exciting journey.
Today, we'll delve into 12 of the best Tutor LMS alternatives that have emerged on the scene, offering the potential to take your online teaching to new heights.
Best Tutor LMS Alternatives and Competitors
I have compiled this tool list after extensive research. I also took recommendations from my peers, considered my hands-on experience, and referred to reviews on third-party sites.
1. ProProfs LMS – Best for Employee Training

ProProfs is the best alternative to Tutor LMS for course creation due to its robust features and user-friendly interface. It has all the features essential for employee training. The tool offers an intuitive course authoring tool that allows me to effortlessly create engaging and interactive content.
With its vast library of readymade courses and 100+ customizations, I can tailor courses to meet specific learning objectives and styles. You can share the courses through a unique QR code, which is the new feature of this tool. You can download and share the code in any form or print it out and paste it, which enables learners to scan it with their mobiles and take the course.
You can also share your courses by embedding them on your website or via email.
The platform's analytics and reporting capabilities enable me to track learners' progress and identify areas for improvement. Other notable features include the virtual classroom, gamification, learning paths, and the ability to build quizzes, polls, and surveys.
Furthermore, ProProfs offers excellent customer support and a responsive community, ensuring I have assistance whenever needed. Its cost-effective pricing and scalability make it an ideal solution for small-scale and enterprise-level training.
Watch: How to Create an Online Course
What You Will Like:
Lets you easily notify learners of assigned courses through the Schedule Send feature
Ability to add assessments and tests to gauge learner performance
Add multimedia elements, such as videos, images, podcasts, quizzes, and games to enhance learner engagement
A mobile-friendly tool enabling self-paced learning
What You May Not Like:
Need more video conferencing tools for live training sessions (currently, it only integrates with Zoom)
The cloud-first approach can turn off some of the users looking for a more traditional desktop experience
Though designed for collaborative learning, solo users might find some functionalities redundant
Highly specialized tools for experts which casual users may find unnecessary
Pricing:
Forever free plan for 10 learners. Paid plans start at $1.97 /learner/month (billed annually) for large teams. No hidden costs. A 15-day money-back guarantee.
2. TalentLMS – Best LMS for Extensive Course Management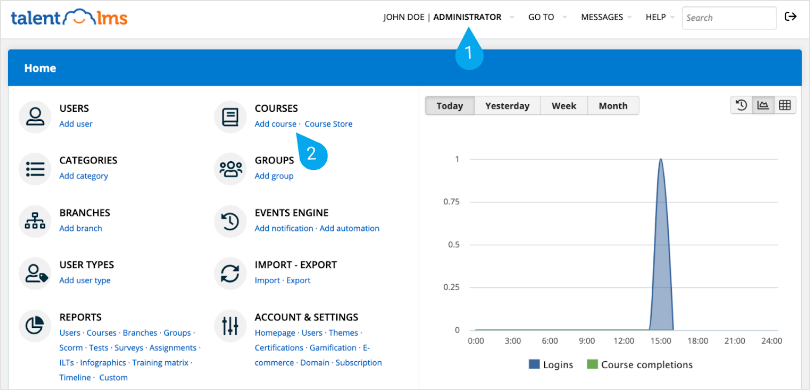 Having used TalentLMS for my team, I can confidently say that it is a top competitor to Tutor LMS. Designing courses has become incredibly effortless, thanks to its user-friendly drag-and-drop functionality, enabling me to incorporate diverse learning formats such as videos, presentations, and documents.
Moreover, one aspect I truly value is the platform's capacity to integrate content from multiple sources, offering me greater flexibility in crafting captivating courses. Creating comprehensive learning paths and establishing completion rules proves invaluable in keeping learners focused and on track with their development.
TalentLMS excels in course management as well. The ease with which I can organize courses and accommodate various file types is a major plus. Additionally, the platform supports SCORM, xAPI, and cmi5 files.
Another bonus is the seamless integration of TalentLMS with other applications and services, ensuring our training seamlessly aligns with our workflow.
What You Will Like:
Provides multilingual support catering to the needs of global organizations with diverse language requirements
The built-in virtual classroom feature facilitates live instructor-led training and interactive webinars
Comes with the TalentLibrary™, a collection of pre-built courses for added convenience
Offers gamification elements such as badges, points, and leaderboards to enhance user engagement and motivation
What You May Not Like:
TalentLMS can improve the collaboration among learners in the discussion forum with certain enhancements
Navigating the platform might pose some challenges, particularly for first-time users
Beginners may find customization options to be a bit difficult to handle
Simplifying and making the search functionality more user-friendly for both users and courses would be beneficial
Pricing:
Starts at $69/month (billed yearly)
3. Moodle LMS – Best for Vocational Training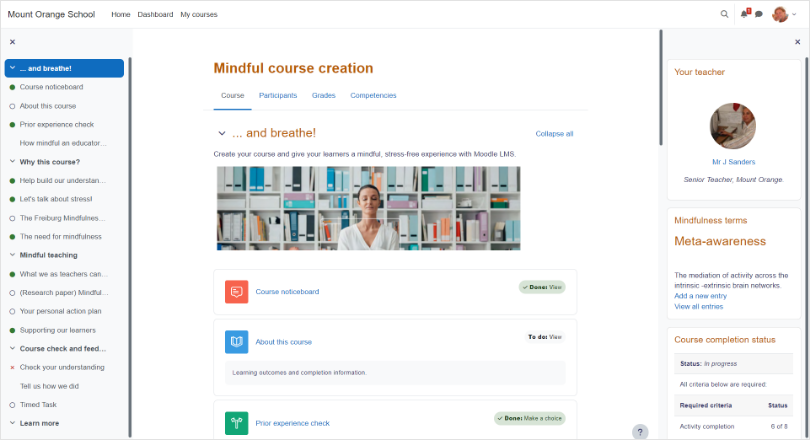 Are you searching for a fantastic alternative to Tutor LMS that can effectively fill the skills gap in vocational training? Look no further than Moodle LMS!
Balancing course quality, security, affordability, and accessibility for learners can be challenging, but Moodle LMS provides the ideal solution to overcome it. This is something I particularly like about this tool.
With Moodle, you can create safe, engaging, and tailored learning experiences for your learners, whether graduates, apprentices, career changers, or those re-entering the workforce. Its open-source platform allows you to build your education platform, customize it to your needs, and teach in the way you prefer.
Moodle LMS also simplifies tracking learner progress, making informed decisions, and automating tasks to save valuable time. With a range of interactive features, such as quizzes, video conferencing, badges, and assignments, you can get your learners job-ready with confidence.
What You Will Like:
Streamline repetitive tasks like course enrolments and due-date reminders to focus on delivering the most exceptional training programs
Your learners can receive course badges to display their achievements and milestones on their Moodle profiles
You can set up activities to unlock after specific dates or milestones and save time with automated grading
The integrated web conferencing tool, BigBlueButton, helps you capture your lessons and share your screen, whiteboard, or slides in real-time
What You May Not Like:
Moodle can be overwhelming for new users, especially those with limited technical expertise
While Moodle offers some customization options, it has certain limitations when it comes to altering the overall user interface
Some Moodle plugins may not work seamlessly together or with certain versions of the platform, leading to compatibility issues
Pricing:
Starts at 180 AUD annually
4. LearnDash – Best LMS for Learner Experience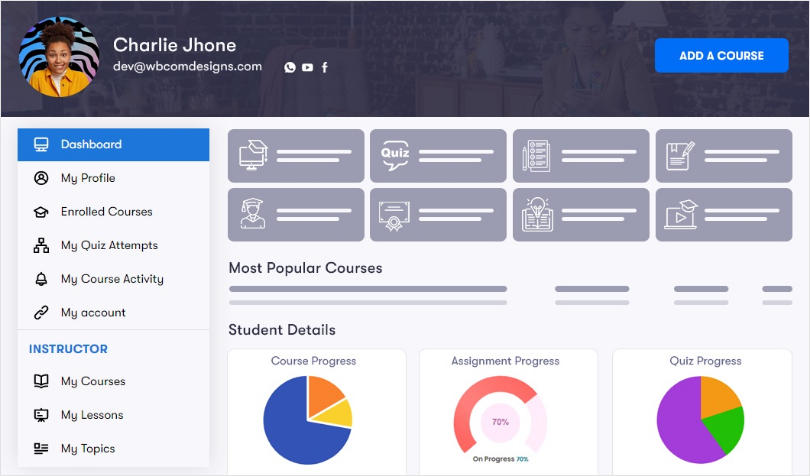 Based on my research, I can tell you that LearnDash is an excellent Tutor LMS alternative worth trying. The course builder offers complete control, allowing me to engage learners and boost revenue effortlessly. Creating courses became a breeze with its user-friendly interface and advanced features.
One of the standout features is the ability to manage assignments effectively. Approving submissions, leaving comments, awarding points, and gamifying course content enhanced the learning experience.
I also appreciated the seamless learner interface, with Focus Mode keeping learners focused and motivated. Rewarding students with badges, certificates, and course points further encouraged their progress.
LearnDash's flexibility in e-commerce was a game-changer. I could choose from various checkout options, including PayPal, Stripe, WooCommerce, RazorPay, or 2Checkout, and sell courses through recurring subscriptions or limited coupons. What impressed me the most was that LearnDash never takes a cut of my course profits, providing a fair deal for educators.
What You Will Like:
Courses crafted by top experts (created by the top minds in the e-learning industry)
Customizable templates to promote engagement and retention
Easily minimize distractions like sidebars and menus that lead learners out of the course
Enables two-way communication where learners can take notes on course and responders can engage directly to answer questions through the "Notes" feature
What You May Not Like:
LearnDash has a bit of a learning curve, especially for beginners who are not familiar with WordPress or LMS systems
Organizing and tracking multiple courses and learners might be challenging for some educators
Some users find the available add-ons to be lackluster in terms of functionality and overall impact on the user experience
Users find it challenging to differentiate between Lessons and Topics, making it difficult to navigate seamlessly between course components
Pricing
Starts at $139.30/year
5. 360Learning – Best LMS for Collaborative Learning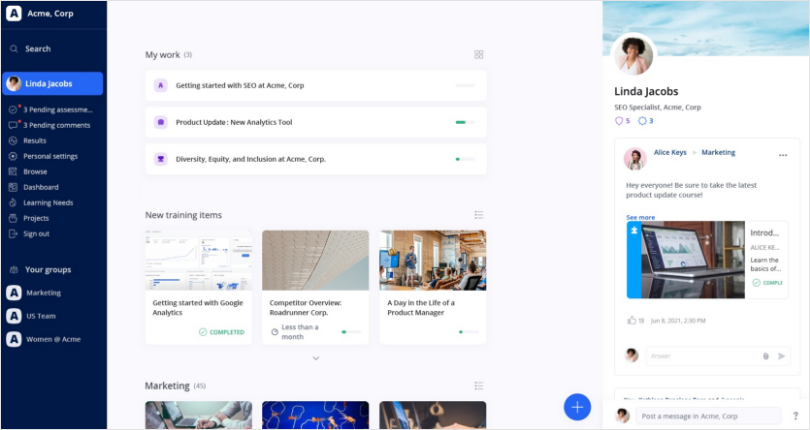 In today's rapidly evolving corporate landscape, traditional top-down learning methods are no longer effective. 360Learning presents a refreshing approach, empowering learners to become teachers and vice versa. By tapping into the collective expertise of employees, organizations can upskill from within and bridge skill gaps in real time, enabling them to stay ahead in the race for innovation.
360Learning's success speaks for itself, with an impressive 91% completion rate for its courses, far surpassing the industry average. Renowned L&D leaders have also embraced the platform, recognizing it as a leader in its category on platforms like G2 and Capterra.
Since its inception in 2013, 360Learning has pioneered the collaborative learning movement, partnering with over 1,700 leading companies worldwide to revolutionize how knowledge is shared and captured.
This revolutionary platform empowers organizations to crowdsource learning needs, find in-house experts, and collaborate with L&D to create high-quality courses. With comprehensive support and training, seamless scalability, and real-time feedback, 360Learning ensures your learners receive a world-class experience.
What You Will Like:
Anyone can quickly adapt to the platform, thanks to its intuitive UX/UI, making navigation and finding resources a breeze
The software offers a user-friendly authoring tool that simplifies content creation
Reduced manual workload through streamlined administrative tasks
AI-powered training creation that saves valuable time and effort
What You May Not Like:
Limited options for tracking and managing certifications
Occasionally, it is cumbersome to upload files and embed links
The search function may require enhancements for better filtering capabilities
Assignment of programs may need adjustments to offer more scheduling control
Pricing:
Starts at $8/user/month
6. Docebo – Best LMS for AI-Powered Learning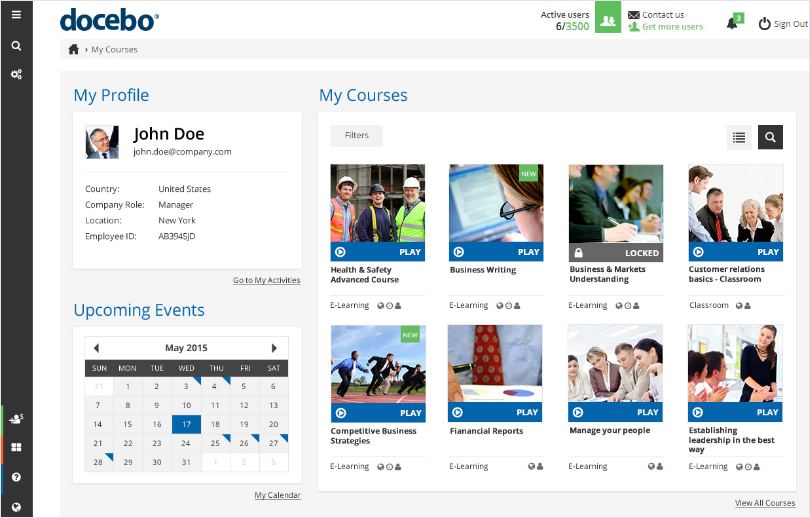 Docebo's AI-powered LMS impressed me. Its sleek design, robust functionality, and unmatched flexibility make it a perfect fit for any team or learning requirement. Setting up learning programs was accessible, thanks to their powerful configuration engine, which allowed me to create audience-specific pages effortlessly using drag-and-drop features.
The platform's versatility shines through with various free extensions, such as certifications, automation, e-commerce, custom domains, audit trails, and gamification. The AI-based upskilling and reskilling with Docebo Skills ensured employees received personalized and automated learning experiences, aligning perfectly with business needs.
AI-driven virtual coaching, auto-tagging, and content suggestions enhanced the learning experience, making it self-sufficient and personalized. Moreover, the native LMS integration with Salesforce brought significant value to my sales team, helping them close more deals and strengthen customer relationships.
What You Will Like:
Vast customization options with free extensions
Docebo's Go. Learn mobile app enables blended learning, ensuring learners are empowered beyond just desktop access
Social learning and content curation capabilities foster a learning culture that extends beyond formal training
The Extended Enterprise feature proved invaluable for delivering and selling online courses to external audiences
What You May Not Like:
Uploading files and embedded links on Docebo can sometimes be cumbersome
The search feature on Docebo could benefit from enhancements to provide better filtering options
Frequent updates and changes to the platform can pose challenges for users who have become accustomed to certain features
Users may find it challenging to monitor and administer certification programs Pricing efficiently
Pricing:
Starts at $25,000/ year
7. Absorb LMS – Best LMS for Smart Administration

Absorb LMS is another alternative to Tutor LMS that I believe you should add to your shortlist. With AI-powered capabilities and a seamless user experience, Absorb LMS simplifies training and enhances learner engagement.
Whether you're looking to streamline compliance training, onboard employees, or provide customer training, Absorb LMS is the ideal solution. An intuitive interface and robust reporting characterize it.
Absorb LMS offers an innovative administration solution that empowers LMS administrators to achieve maximum efficiency. The platform is flexible and customizable, catering to the unique training requirements of various industries. Administrators can create personalized dashboards and reports with immediate access to essential training data and analytics.
The Intelligent Assist feature utilizes AI to streamline day-to-day admin tasks, making LMS administration faster and more efficient. Team leaders can access performance data for their teams independently. With automation, easy data access, and integrated systems, Absorb LMS ensures a seamless learning experience, making it a top choice for intelligent administration needs.
What You Will Like:
It boasts exceptional ease of use, ensuring a seamless learning journey for both learners and administrators
The platform provides quick and responsive page loading, optimizing efficiency and reducing wait times
Absorb LMS offers powerful API and direct database access features, enabling in-depth training program management and comprehensive reporting
Organizations can tailor the platform's interface to their specific needs, while seamless integration with content provider libraries simplifies enrollment and rule deployment
What You May Not Like:
Some difficulties may arise in managing and deploying blended learning effectively
Users may want more pre-configured and comprehensive training program reports for departments, groups, or training centers to gain deeper insights
Some users feel there could be more flexibility in defining departments, roles, and user privileges within the system
It would be beneficial to have the option to customize the appearance of reports within the tool before exporting them
Pricing:
Starts at $800/active user/month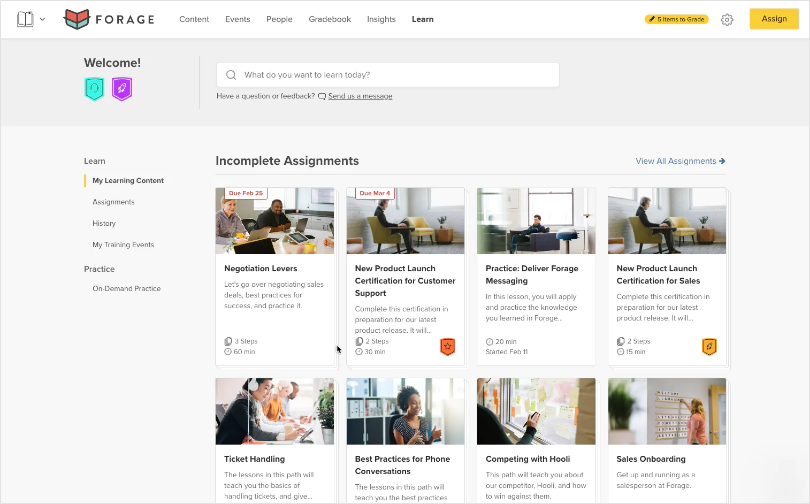 Lessonly by Seismic is a user-friendly cloud-based LMS that simplifies training for customer service, sales, and HR teams. Users can create, share, and track training materials and activities with a single interface. Its mobile compatibility allows on-the-go access. Customization options, such as branding and personalized URLs, make it seamlessly blend with a company's identity.
You can create unlimited courses and lessons with text, images, audio, video, and more. Assigning learners and groups is effortless, and due-date notifications via email ensure timely completion. With content automation, users can create personalized content effortlessly, saving time and ensuring compliance.
Seamlessly integrating with various applications, Seismic is scalable, extensible, and intelligent. It empowers teams with data-driven insights for better business outcomes. From small teams to large enterprises, Seismic delivers effective solutions for sales enablement challenges, fostering increased pipeline and faster deal closures.
What You Will Like:
Both learners and administrators find Lessonly simple and easy to use, enhancing the overall user experience
The "Trigger" feature allows easy assignment of training content to groups of employees, streamlining the process of content distribution
The easy-to-use search bar makes it convenient for users to locate the content they need quickly, saving time and effort
It's integration with the Knowledgebase system allows articles to be linked within the training without requiring employees to navigate to a separate system
What You May Not Like:
Some users have experienced bugs in the platform, and although they report them to Lessonly, the follow-up on issue resolution is often lacking
Lessonly does not offer built-in self-branding options, necessitating the involvement of a third-party service
There are minor glitches in lesson editing, where images and text get swapped when moving from edit mode to preview mode
Managing a large volume of content and learners might become more complex within the platform
Pricing:
Starts from $0/month, billed annually (Limited to 25 users only)
9. Tovuti LMS – Best for Mobile Learning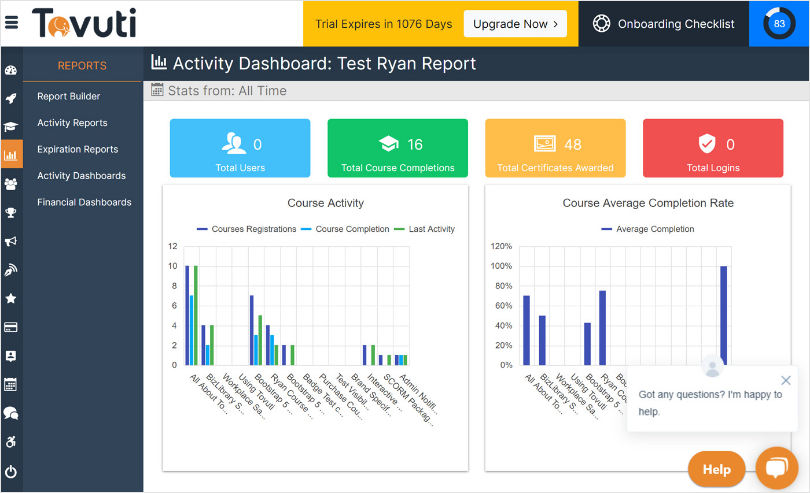 Another Tutor LMS alternative that I have recently tried out is Tovuti LMS. It's a next-generation, user-friendly LMS that offers a fast and straightforward way to create courses, engage learners, and train teams.
Its features include easy content creation with professionally designed themes and templates, visually appealing and engaging online learning experiences that adjust to any screen size, simplified training management and analysis, and enterprise-scale security with data encryption and privacy protections.
Tovuti is notable for its personalized learning experiences, seamless adaptability, and in-house support. Customer success is evident from positive testimonials.
Tovuti LMS offers powerful mobile learning software that enables learners to access courses anytime, anywhere. With intuitive design and white-label branding options, the platform provides engaging and personalized learning experiences for various audiences.
Tovuti's mobile LMS supports SCORM compliance, ensures enterprise-level security, and allows easy integration with existing systems.
What You May Like:
Detailed reporting and data insights aid in making data-driven decisions and improving ROI
It is best for compliance training and uses both gamification and automation for increased learner engagement and completion rates
Build personalized learning experiences to reduce downtime and enhance productivity
Highly flexible and scalable solution that enables you to expand your training capabilities
What You May Not Like:
The lack of functionality to change hard-coded elements such as colors and sizes hinders the ability to achieve desired design aesthetics
The prebuilt content option is costly, especially if not all pieces of content are used
Clicking on links within the LMS currently opens them in the same window, causing difficulty for learners to navigate back to Tovuti LMS after accessing external content
Pricing:
Starts at $775/month
10. Canvas LMS – Best LMS for Corporate Learning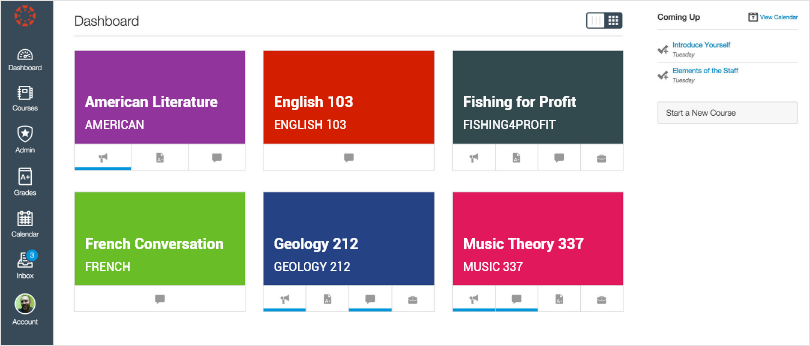 I have had the opportunity to explore Canvas LMS as well. This software offers a robust set of tools that empowers companies to deliver engaging and effective employee training programs on a large scale.
Canvas LMS is known for its user-friendly interface and ease of course creation. Trainers and learning developers can effortlessly design courses that incorporate interactive elements, such as video content and targeted feedback loops. These features enhance the learning experience, making training more memorable and impactful for employees.
One aspect I particularly appreciate is the platform's focus on leadership development. By providing ongoing leadership training and opportunities for deliberate practice, Canvas helps individual contributors develop essential managerial skills. This benefits the employees personally and equips them to lead teams effectively, contributing to the business's overall success.
What You Will Like:
Canvas encourages organizations to become "Learning Native" by establishing a digital learning foundation
The tool is open to integrations, allowing seamless connections with other systems to enhance further the learning experience
The platform facilitates seamless internal communication, enabling effective interactions between learners, trainers, and administrators
Allows easy course assignment to learners and provides comprehensive progress tracking, giving insights into learners' degree of completion and performance
What You May Not Like:
The built-in video platforms like Microsoft Teams and Zoom in Canvas LMS may have compatibility issues, mainly when used on specific browsers like Firefox
Users have reported connection issues and occasional problems with the microphone and camera, which can disrupt training sessions and require troubleshooting
In the assignment overview, the tool only displays the total amount of points for an assignment, and users must navigate to the assignment page to see the scores
Navigating to announcements takes multiple clicks. It shows announcements as unread even after they have been accessed
Pricing:
Starts at $299/active user
11. Litmos – Best LMS for Instructor-Led Training

Litmos is a leading cloud-based learning management system (LMS) that empowers organizations to deliver effective and engaging training programs. You will find a user-friendly interface and diverse learning formats in the LMS.
In addition to self-paced eLearning, Litmos caters to traditional Instructor-Led Training (ILT). This integration of ILT enables organizations to blend online and in-person training seamlessly. Through ILT, instructors can schedule and manage classroom sessions, while learners can easily register for these events and receive reminders and notifications.
With Litmos, organizations can improve training outcomes, drive employee development and maximize business success.
What You Will Like:
Works effectively with small and large decentralized teams, as well as content providers looking to create and monetize courses
Offers innovative content creation tools, including support for various modules and file formats
The gamification feature motivates and engages learners
Administrators benefit from unlimited file and course transfer, instant approval, and semi-automated evaluation
What You May Not Like:
No tagging option in Litmos makes assessment and feedback delivery more tedious, leading to confusion in learning paths
The absence of direct payment processing and a dedicated payment gateway connection for the eCommerce feature can create hurdles for selling and managing courses online
Some learning curve for first-time LMS users due to its plethora of advanced features and content creation options
Would be great if they can improve the certification feature (currently it does not look engaging)
Pricing:
Starts at $3/user/month
12. Bridge LMS – Best LMS for Employee Development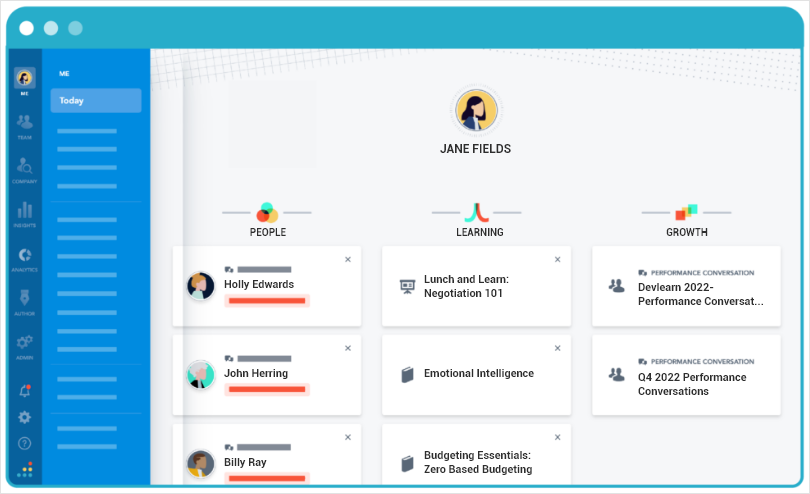 As someone who is actively involved in employee development and organizational success, I found Bridge to be another solid tool.
Before Bridge, the challenges of scattered employee development, disengaged learners, and tedious performance reviews were all too common. But after implementing this tool, everything changed.
Learning became organized and seamless, employees began building crucial skills, and performance reviews transformed into actionable insights. The manual progress tracking was replaced by an intuitive system that connected HR tools with team goals and individual growth.
With Bridge, you can go beyond mundane mandatory training and empower your workforce to excel. The LMS and Performance Management combination creates a powerful synergy, incorporating learning programs into career development plans and measuring how learning impacts performance.
Moreover, Bridge supports skill-building journeys, employee development analytics, and flexible learning pathways. Performance reviews become more meaningful with automated reminders and skill gap analysis.
What You Will Like:
The seamless integration with various HRIS, SSO platforms, and content providers ensures a smooth experience
The AI-Powered Skills feature supercharges employee upskilling, helping identify skill gaps and recommending relevant courses
Bridge provides a powerful tool to nurture, recognize, and retain employees
Empower your leaders to foster accountability by aligning individual and team goals with your organization's strategic objectives
What You May Not Like:
The text editor is very basic and devoid of features that would enhance content creation and formatting capabilities
There is no option to create a media library within Bridge, making it challenging to manage and access media resources efficiently
The absence of built-in fonts or the ability to select Google fonts from within Bridge limits design customization and branding options for content
Classes categorized as optional or not assigned to specific learners are placed in the Learning Library, but the search functionality for these classes is cumbersome
Pricing:
Starts at $4/user/month. Billed annually.
Which Tutor LMS Alternative Is Best for You?
Honestly the right choice of Tutor LMS alternative will depend on several factors. Consider factors such as user experience, course creation capabilities, integration options, and the learning needs of your audience when making the final decision.
If you ask me, my top picks would be:
Option A – ProProfs LMS
ProProfs LMS offers a user-friendly interface, extensive course creation features, and built-in assessment tools. It also provides a wide range of integrations, making it suitable for businesses of all sizes. Its USP lies in its simplicity and comprehensive feature set, catering to both beginners and experienced users.
Option B – TalentLMS
TalentLMS boasts robust e-learning features focusing on user engagement and gamification. It offers customizable learning paths and supports various multimedia formats. Its interactive learning approach makes it ideal for companies creating engaging and motivating training programs.
Option C – LearnDash
LearnDash is a popular option for WordPress users due to its seamless integration with the platform. It delivers a flexible and scalable learning experience, allowing advanced users to create intricate courses.
In my opinion, ProProfs LMS deserves to be the best alternative due to its ease of use, comprehensive features, and wide range of integrations. It strikes the right balance between simplicity and functionality, making it suitable for a broad audience across industries and use cases.
Do you want a free Training Software?
We have the #1 Online Training Software for employee training & assessment