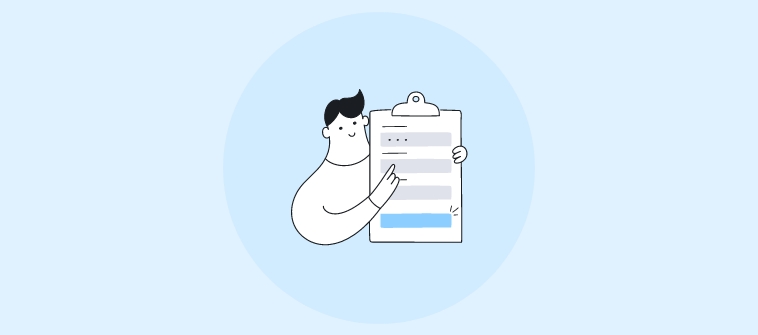 As one of the most popular learning management systems or LMS software, Docebo is used by several well-known brands in the world. While some of its clients use it as an improved solution overall over their previous learning tools, others use it to fulfill a specific need such as customized training.
That said, like all other solutions, Docebo has its share of downsides. Many users raise the issue with integrations and the need for a richer API and more features for small and medium enterprises. Limitations in custom reporting and a short trial period for those who want to test advanced features are other disadvantages of the LMS.
This brings us to the need to explore alternatives to Docebo so that you can adopt the next best solution for your needs.
This blog post presents the top 10 Docebo alternatives, including an overview of each software application, the pros and the pricing structure. This is designed to help you choose the best ones on the market and make an informed software purchase decision.
Continue reading to find out.
Watch: How to Choose the Best SaaS LMS Software
A Quick Feature & Price Comparison Table of the 10 Best Docebo Alternatives
10 Best Litmos Alternatives
Why Is It the Best Alternative?
Pricing
ProProfs LMS
Course and Template Library

Virtual Classroom

Track Real-Time Data

Supports English, Spanish, and 70+ Languages

Collaboration Tools

Mobile-Friendly

Forever free for up to 10 learners.Paid plan starts at $1.97/active learner/month for large teams. Billed annually.
TalentLMS
Customization

Assessments

Gamification

Collaboration Tools

Starts from $0/month
Docebo
Advanced LMS Reports

Gamification

Certifications

Personalized Learning Paths

Get in touch with the company for a quote.
Absorb LMS
Smart Administration

Reporting and Analytics

Artificial Intelligence

Content Library

Get in touch with the company for a quote.
LearnUpon
Course Creation

Al-Powered Reporting

Powerful Software Integrations

Assessments and Knowledge Checks

Get in touch with the company for a quote.
Lessonly
Learning Paths

Content Hub

Single Sign-On

Admin Tools

Get in touch with the company for a quote.
SkyPrep
Course & Content Management

Advanced Reporting

Tests and Assessments

Powerful Integrations

Starts from $239/month (billed annually)
Tovuti
Built-In Course Authoring

Gamification

Virtual Classroom

User Groups & Permissions

Starts from $775/month (billed annually)
Cornerstone LMS
Unified Learning

Mobile-Friendly

Get Actionable Insights

Engagement Surveys

Get in touch with the company for a quote.
Moodle
Customization

Mobile-Friendly

Assessments

Live Engagement

Starts from $110 / per year
Docebo LMS: An Overview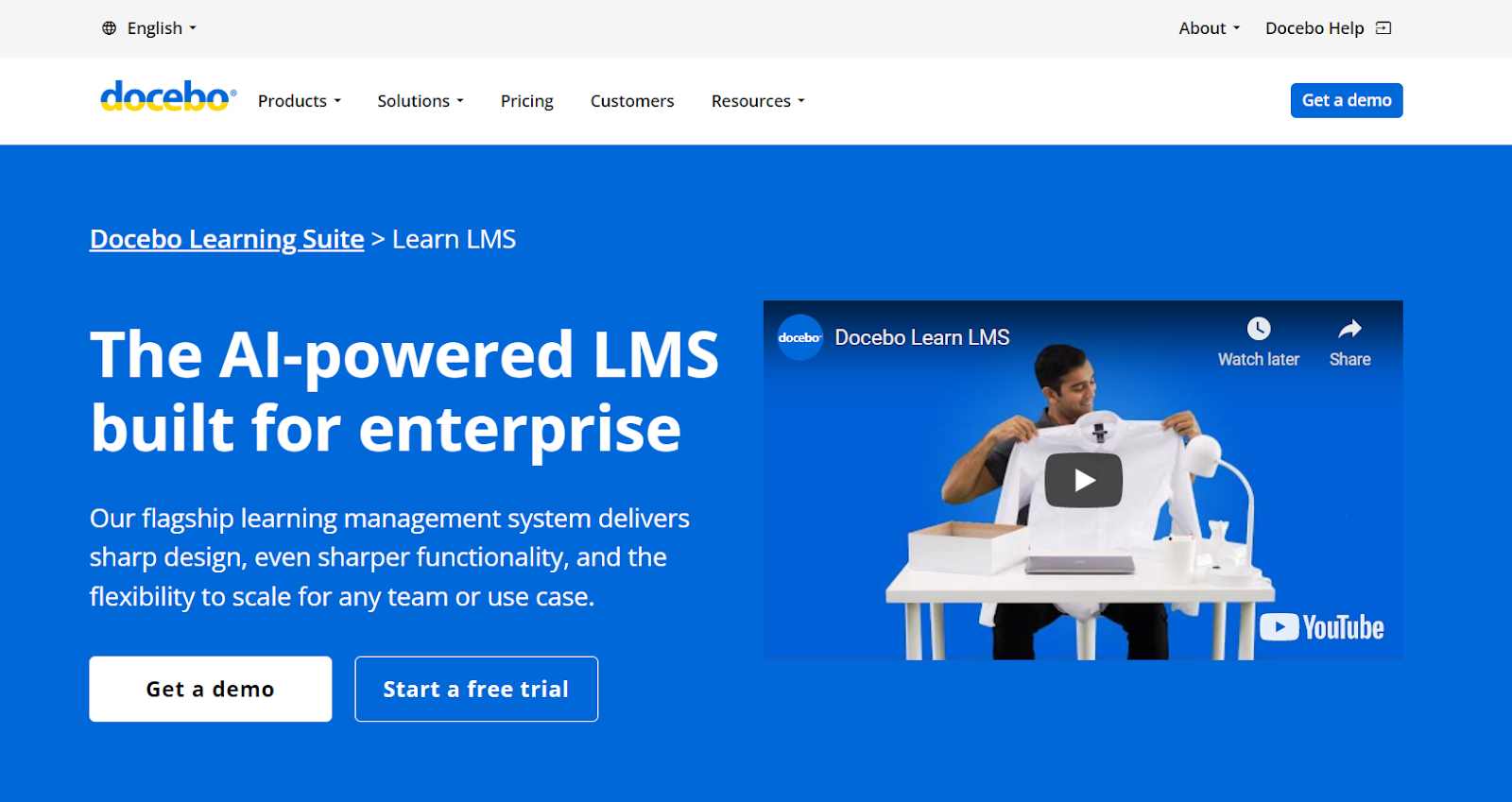 Docebo is one of the most widely used LMS out there. It is easily configurable and delivers a positive user experience. Enterprises use it to train their employees, channel partners, and customers. Both training administrators and learners find the platform easy to use, resulting in a higher engagement and adoption rate.
The LMS was built with a mission to create a learning technology that would make a real impact on end-users. It supports formal, social, and mobile learning. Today, it is one of the most innovative and fastest-growing learning systems on the market.
Key Features

Drag-and-drop page builder

No-code integrations

Social learning

Learning analytics

Extended enterprise training

40+ languages

Virtual coaching

AI-based learning
It sounds like a standard LMS for enterprise use cases, isn't it?
But why on earth would someone consider a Docebo alternative? In addition to the limitations mentioned at the start, many users talk about the affordability quotient of the LMS for small businesses. Along with this, the size limit on training videos, quality of support for entry-level plans, and unsuitability for short-term projects are other concerns with the tool.
If you've been using Docebo or are in the consideration phase, you may want to look at some of the top Docebo LMS alternatives.
Here they are:
Top 10 Alternatives to Docebo LMS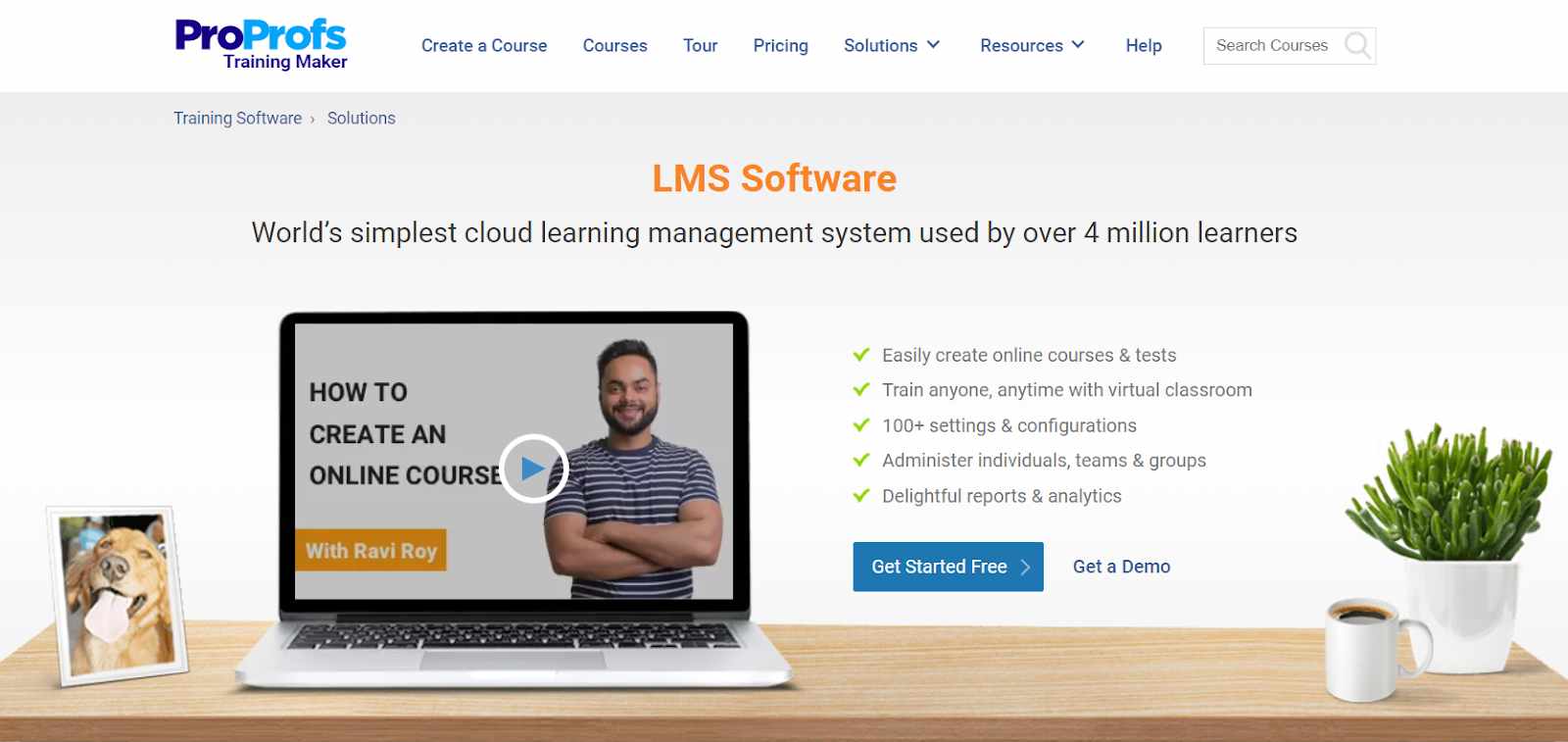 ProProfs LMS is by far the easiest cloud LMS and the best alternative to Docebo LMS. The tool is learner-centric and comparatively user-friendly. You can get it up and running in no time without any coding knowledge. There is also no need for software download or installation.
A library of 100+ professionally designed and ready-to-use courses drastically reduces course development time. These resources are fully customizable with existing materials, gamification, and branding.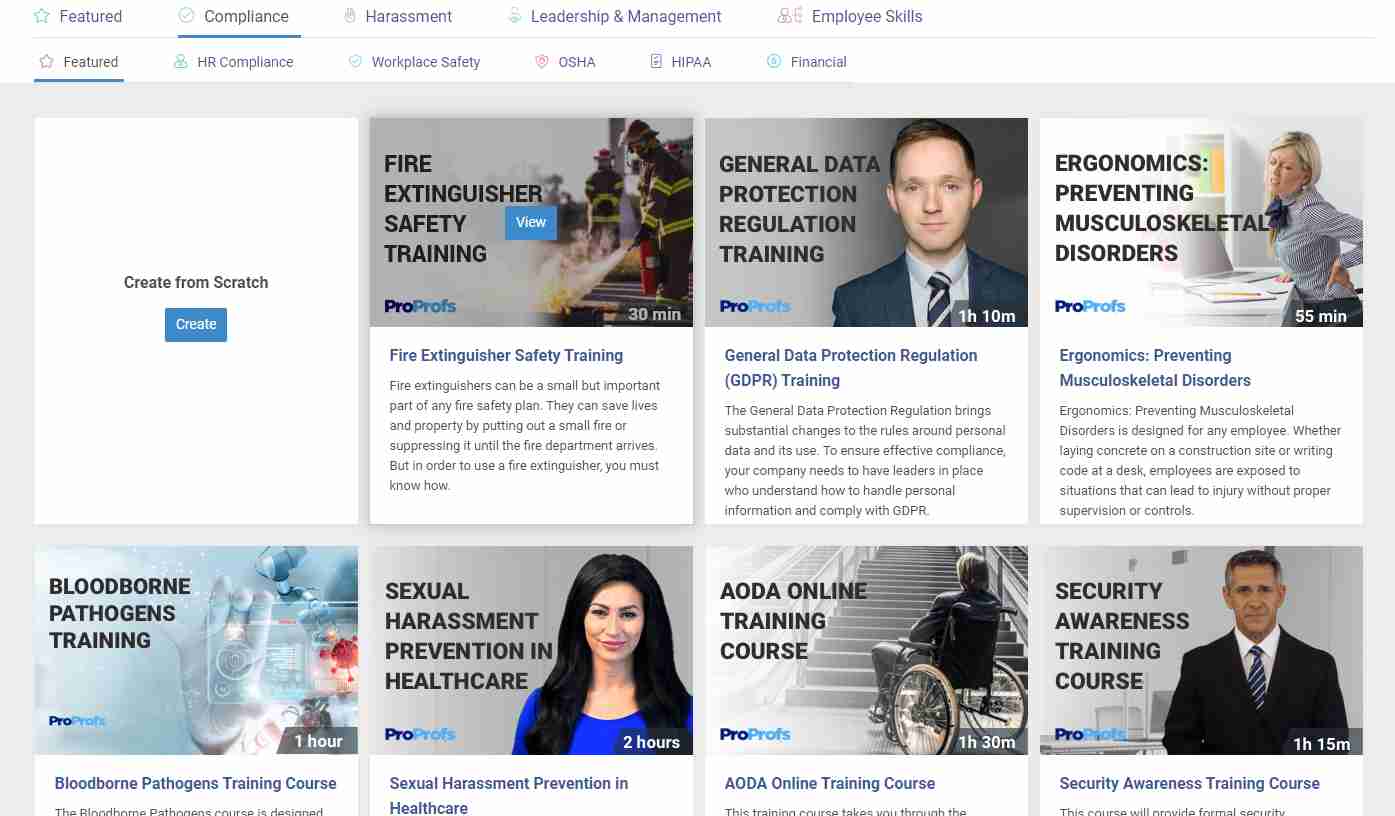 That's not all. You also get access to other appreciated features in the LMS, including:
engaging

quizzes

100+ readymade expert-designed courses

mobile learning

SCORM/Tin Can compliance

100+ customization options

English, Spanish, & 70+ other languages
ProProfs boasts a large customer base worldwide. It is trusted by leading companies, schools, colleges, and independent teachers as one of the top Docebo alternatives.
It offers 24/7 customer support. You can call or chat with its customer service team, use its knowledge base, or raise a ticket. ProProfs has a track record of resolving issues faster than customers expected.
The Docebo LMS uses world-class cloud infrastructures for hosting. This ensures faster and more reliable deployment of the tool.
Why We Picked It
+ It's easy
+ Ready-made courses
+ Excellent support
Pricing
Forever free plan (up to 10 learners). Paid plan starts at $1.97/learner/month (billed annually) for large teams. No hidden charges. 15-day money-back guarantee.


At TalentLMS, you "come for the training, stay for the experience". That's how irresistible the solution is for users.
It is one of the most popular LMS systems characterized by an intuitive user interface and a mobile responsive design. With out-of-the-box solutions, setting up the LMS is easy. Create online courses, add your audience, and go live by the end of the day.
You can configure the platform to your training and branding requirements, and use it to train your employees, students, partners, and customers. A team of experts is ready to help you at each step of the process so that you achieve your learning & development goals.
TalentLMS works great for employee onboarding, continuous online employee training, and short-term learning projects.
Why We Picked It
+ User-friendly
+ Support
+ Cost-effective
Pricing

Starts at $0/month.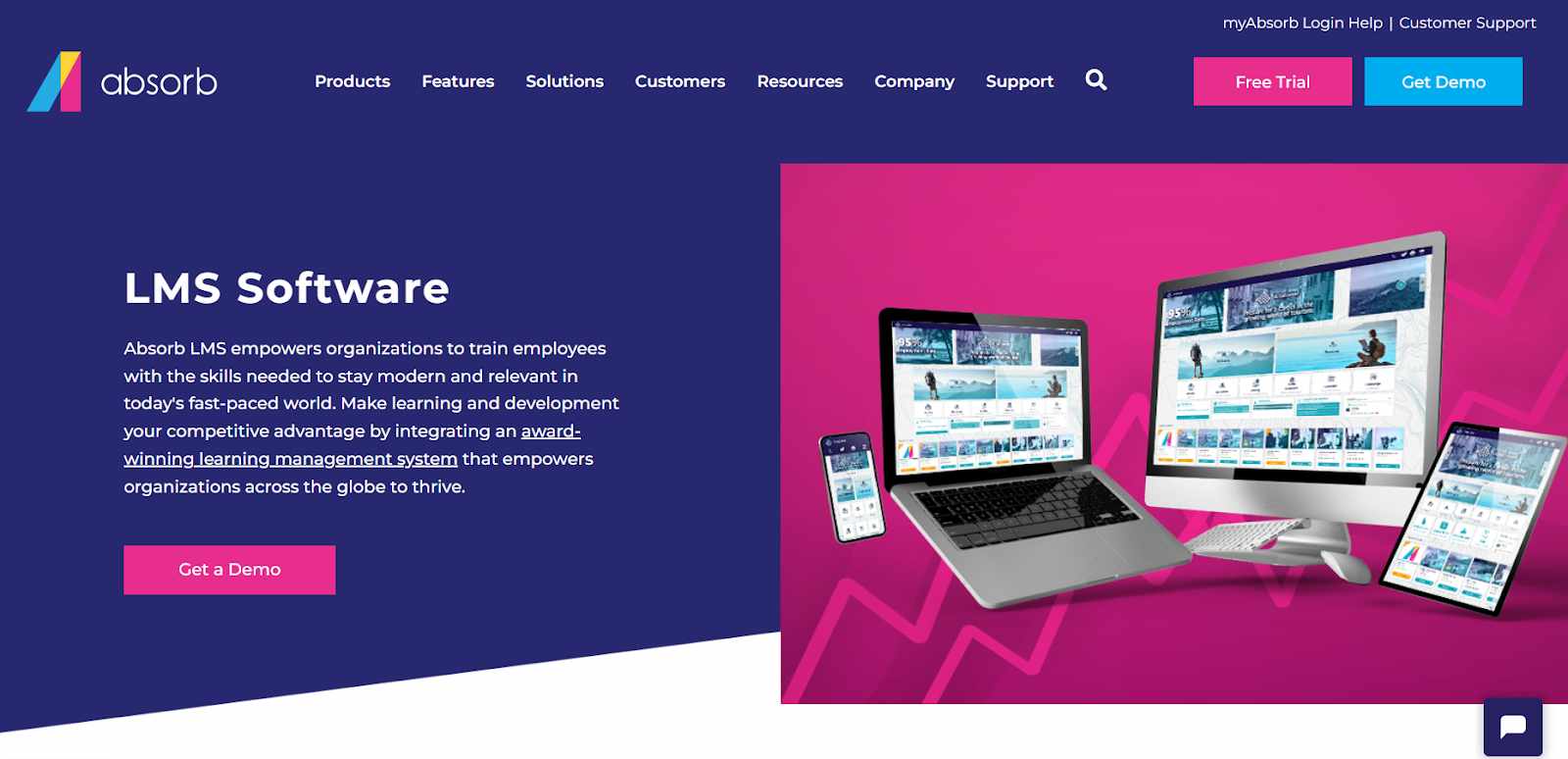 Award-winning cloud LMS for enterprises, Absorb LMS is "engineered to inspire learning and fuel business productivity." It combines progressive technology and excellent customer service in one platform. This makes it one of the best solutions to engage learners, ensure knowledge retention, and improve training programs.
Its pre-built online courses from reputable content providers enable users to get started with online training quickly.
You can easily tailor the LMS to run according to your specific requirements and automate many of the repetitive admin tasks.
The mobile app supports undisrupted learning on the go, anytime, anywhere, even offline.
Reports and analytics provide access to vital data that decision-makers in your organization need.

Why We Picked It
+ Easy to customize & run
+ Above-average support
+ Admin onboarding
Pricing

Get in touch with the company for a quote.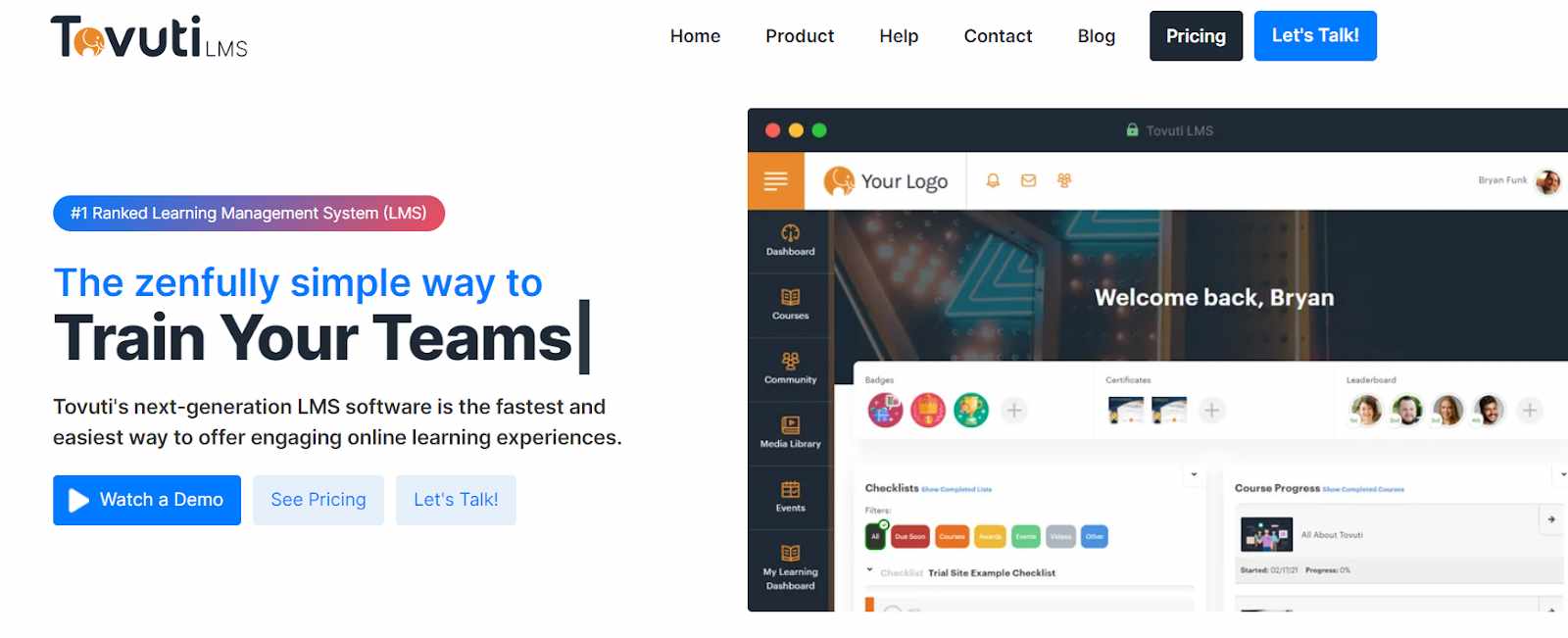 This next-gen LMS software offers one of the easiest and fastest ways to create, deliver, and track eLearning programs. So, whether you need to train your employees, partners, or customers, the platform makes it easy for both admins and learners. It perfectly fits into the L&D needs of any type of organization.
The LMS comes with an impressive list of features that make online training easily manageable. From built-in course authoring, virtual classroom, gamification, admin management to software integrations, branding, and professional services – you name it and you'll find all in the tool.
These features and amazing customer service make Tovuti LMS a great system to work with for customers.
With the LMS, you can put aside your clunky dinosaur-era learning technology and embrace it for a simple and powerful experience.
Why We Picked It
+ Easy interface
+ Complete platform
+ Data visualizations
Pricing

Starts at $775/month/50 users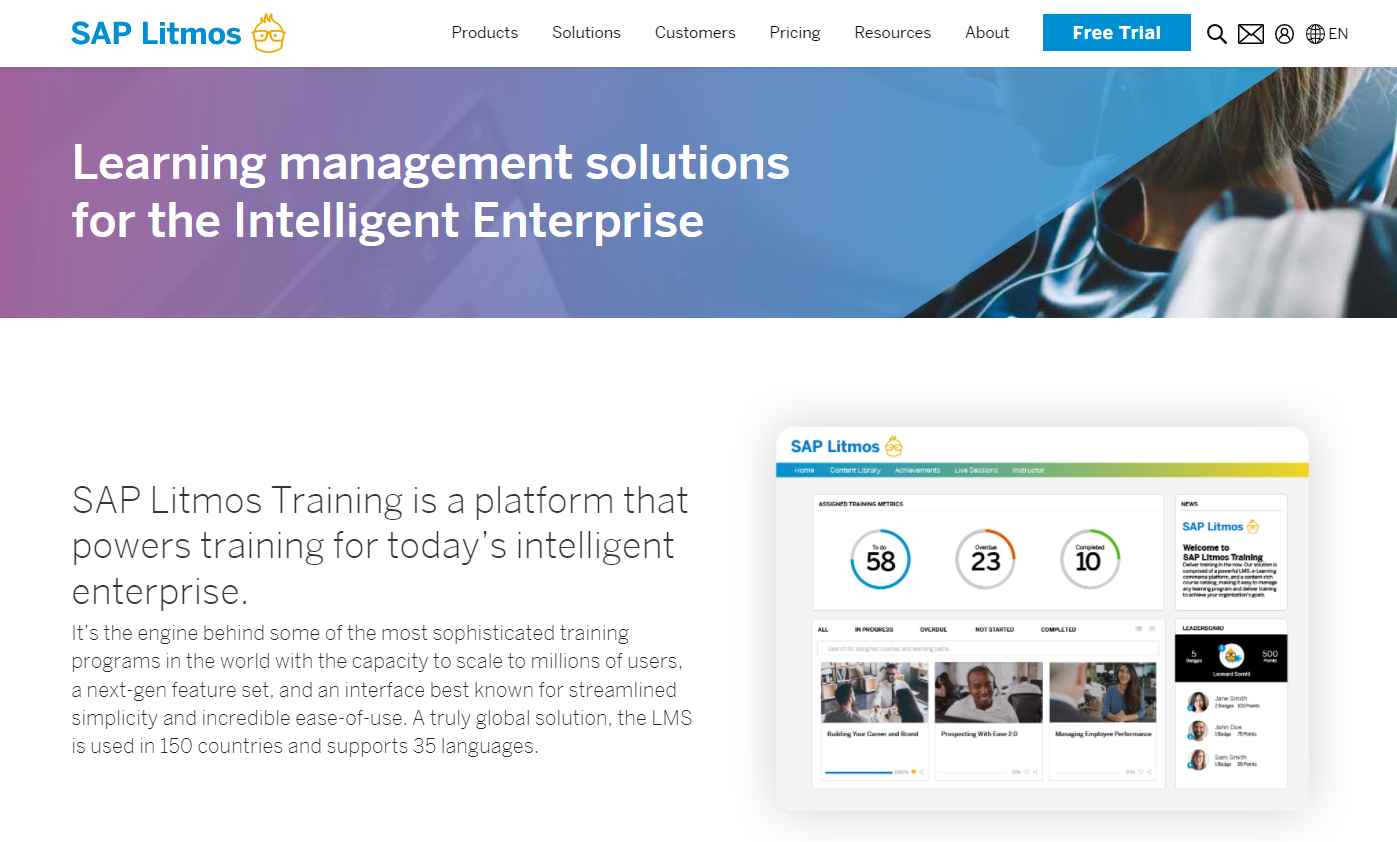 SAP Litmos is another widely adopted online learning platform and one of the strongest Docebo competitors. As a cloud-based and user-centric solution, it enables companies to leverage learning as the vital link between employees and business performance.
The LMS makes it easy to create online courses, assign them to learners, and track progress. A built-in authoring tool allows you to create dynamic SCORM content. It also offers off-the-shelf content on various topics.
Simple and quick reports and analytics let you track course completion, measure performance, and check average scores and course popularity.
Since SAP Litmos caters to the learning needs of every segment of a business, you can use it as your go-to tool for training employees, customers, partners, and other stakeholders.
Why We Picked It
+ Course building
+ Video resources
+ Excellent support
Pricing
Get in touch with the company for a quote.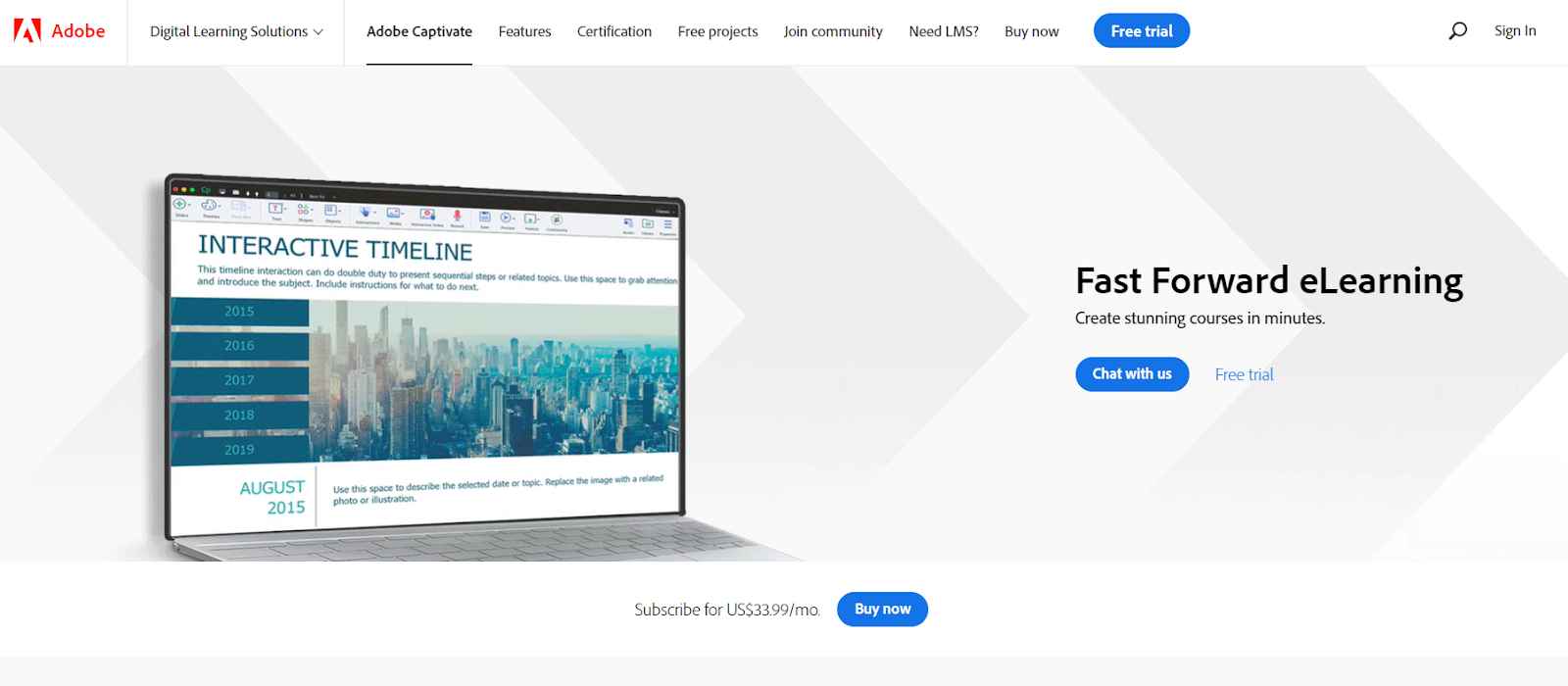 Adobe Captivate is a fairly common eLearning authoring tool and a digital learning platform. Using it, you can create beautiful and mobile-ready courses in minutes. Its ready-to-use slides, out-of-the-box interactions, and responsive Quick Start Projects ensure speedy course development.
Converting PowerPoint content into interactive videos is easy with the tool. You just need to record your PowerPoint content as a video and add interactions and knowledge-check questions as video overlays.
VR-based walkthroughs, screencasts, simulations, branching modules, quizzes, and text-to-speech are other features in the tool.
Its award-winning LMS platform, Adobe Captivate Prime, is designed to help users deliver modern learning experiences to employees, partners, and customers.
Why We Picked It
+ Excellent interactions
+ Easy to use
+ Customization & personalization
Pricing
Starts at $33.99/month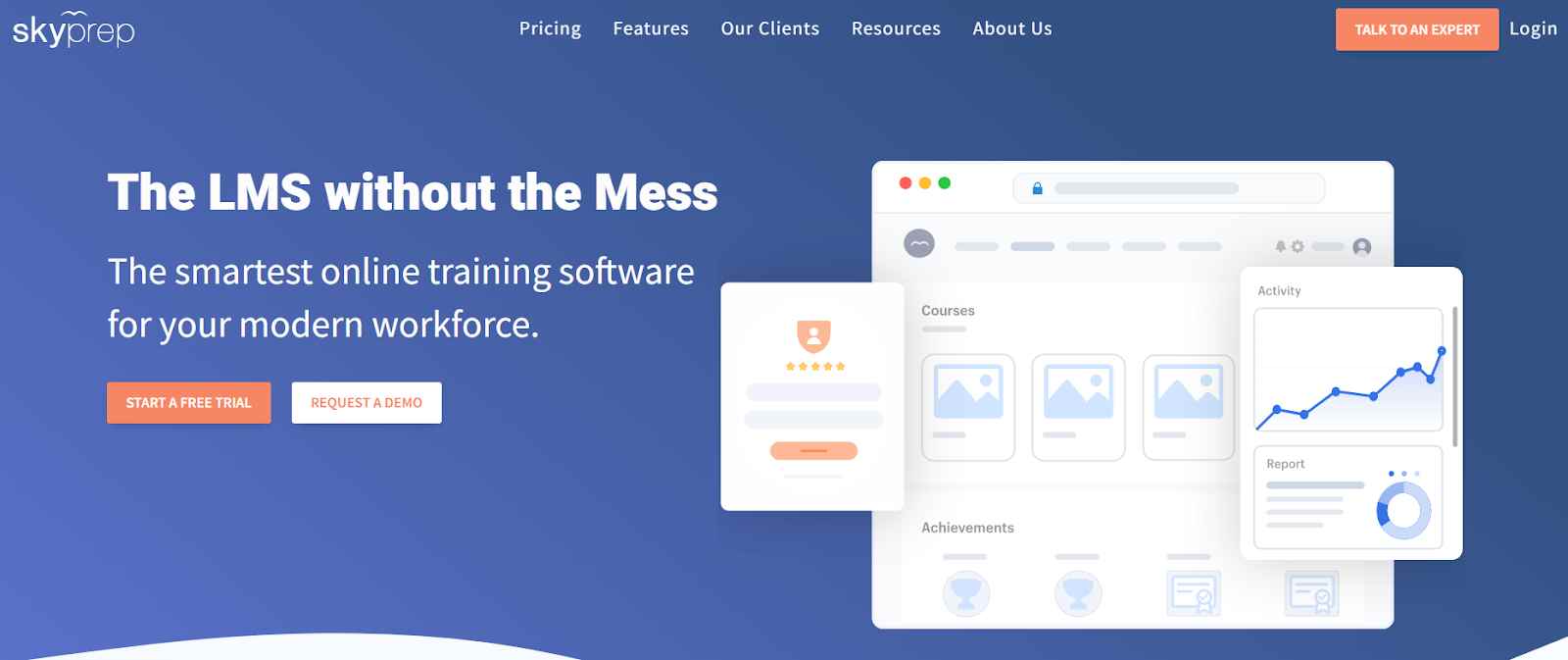 SkyPrep is another award-winning online training software that can be one of the best alternatives to Docebo LMS. You can use it to deliver, track, and continuously optimize training for your employees, channel partners, and customers.
As "the LMS without the mess", the tool makes it straightforward to tackle any enterprise learning challenge and offer effective learning experiences. To assist users in this mission, the LMS provides an array of features, including a course builder, virtual classroom, test maker, and remote training solutions.
An innovative knowledge-sharing platform enables organizations to centralize and share workplace knowledge. This results in better learner engagement, reduced learning time, and increased retention.
SkyPrep's online learning products are used by more than 1,000,000 people worldwide.
Why We Picked It
+ It's easy
+ Training automation
+ Course building
Pricing
Get in touch with the company for a quote.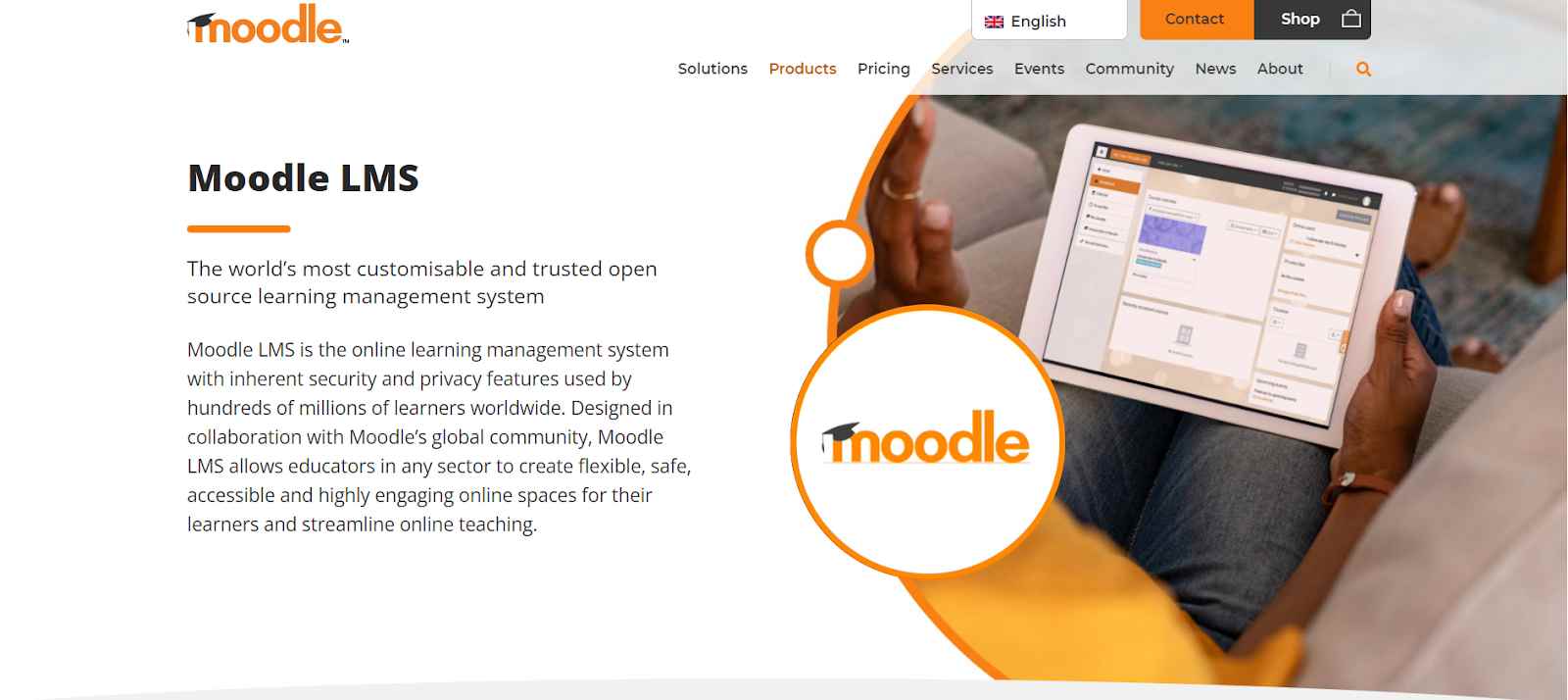 With 213 million users, Moodle is one of the world's most popular LMS software. The software is a result of more than 10 years of development based on social constructionist pedagogy. It is designed to support exceptional teaching and learning experiences.
This online learning platform provides learner-centric tools and collaborative learning environments. It is packed with rich features for building online courses in a custom eLearning environment. Since it is open-source, you can easily customize it with plug-ins and add-ons according to your requirements.
Both enterprises and educators can use Moodle to deliver online and blended learning programs. The solution is characterized by a modern and easy-to-use UI, personalized dashboard, intuitive text editor, multilingual support, and tracking & reporting capabilities.
In addition, you'll find blogs, wikis, chats, and forums on the platform.
Why We Picked It
+ Customization
+ Helpful plugins
+ Great features
Pricing
Starts at $110/year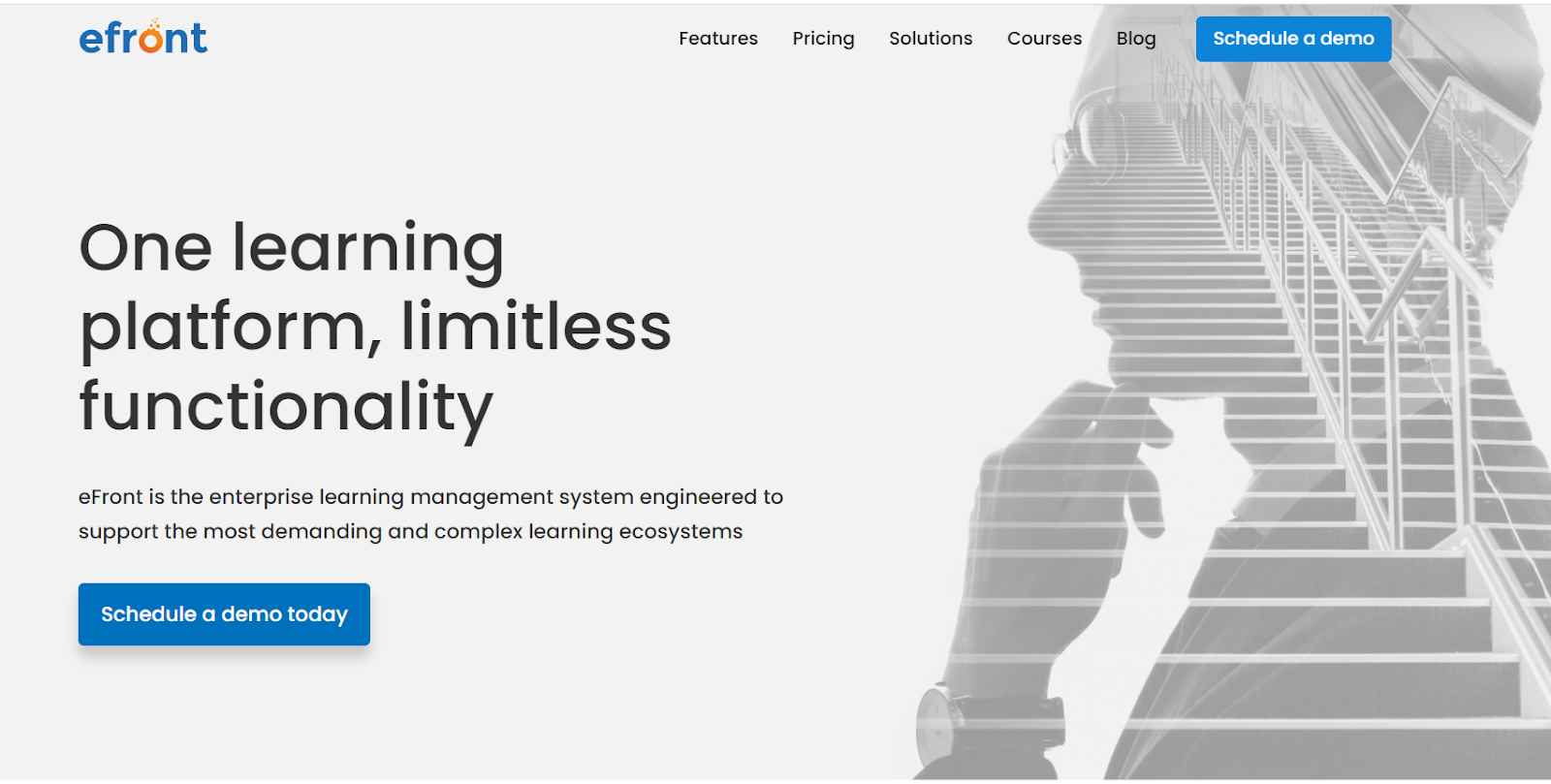 eFront is a fully adaptable enterprise-grade LMS and one of the most listed alternatives in Docebo LMS comparisons. The system is "engineered to support the most demanding and complex learning ecosystems." It gives you control over enterprise training, various security filters, and the resilience to go the extra mile.
The LMS is mobile-optimized and it provides numerous APIs and native integrations, including an eCommerce functionality. Technically, users find the software stable and flexible besides requiring low maintenance.
All this makes eFront one of the best LMS choices for employee training and onboarding, extended enterprise training, compliance training, and ongoing L&D programs.
According to elearningindustry.com, it is an LMS that won't become obsolete with time and break under the pressure of training hundreds of learners at short notice.
Why We Picked It
+ A high degree of flexibility
+ Customer service
+ Custom reports
Pricing
Starts at $1,000/month

If you're looking for an online learning platform that makes teaching and learning simple and easy, Canvas LMS can be a great choice. You can use it to deliver eLearning to anyone – from school-going kids to business leaders. The tool encourages instructors with innovative ideas and motivates learners to achieve positive learning outcomes.
It is open source and extensible. Anyone can use it to create free courses and use these for as long as they want. But you need to pay a certain cost if you want administrative control, integrations, and other advanced features.
The LMS is suitable for both online and blended learning. It handles all admin tasks at the backend so that you can focus on teaching and learning.
A customizable interface, course content in the cloud, collaborative spaces, and control over grading are a few reasons people love to use this LMS software.
Why We Picked It
+ Intuitive UI
+ Keeping track of assignments & grades
+ Course organization
Pricing
Get in touch with the company for a quote.
Choose Your Docebo Alternative Today
As you can see, these Docebo alternatives or competitors make a convincing case for themselves in terms of the significant shift they can bring to online learning and training.
If you're a longstanding Docebo user who is considering its alternatives for one reason or another, take time to explore some of these available alternatives so that you land the next best platform.
Go for a free trial with as many of them as possible to evaluate their capabilities such as course authoring, course management, mobile optimization, ease of assignments, grading, security, and admin control.
Don't settle for less when you deserve the best.
Do you want a free Training Software?
We have the #1 Online Training Software for employee training & assessment