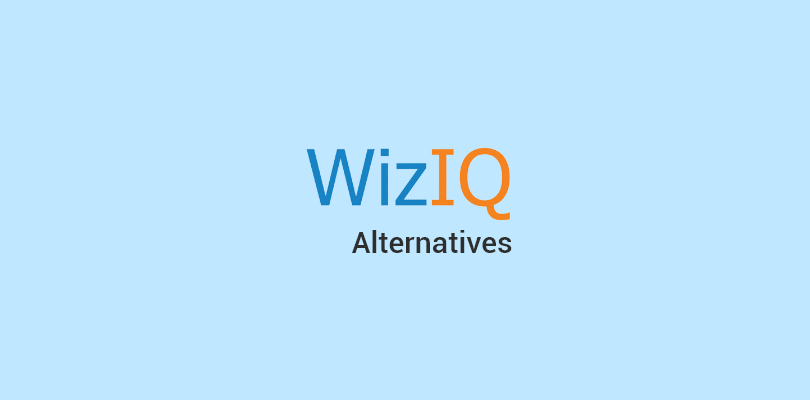 Are you looking for fresh alternatives to WizIQ? Well, you're in the right place! In this article, I will share the top 12 best WizIQ alternatives and competitors you'll want to check out.
While WizIQ has been a well-known player in the e-learning world, exploring other options might unearth hidden gems that perfectly match your teaching style or learning preferences.
As a training manager responsible for delivering continuous learning, I understand the importance of exploring diverse learning management systems (LMSs) to cater to various learning needs. WizIQ has been one of the platforms in my arsenal. While it offers a reasonable price and valuable features, I've always considered exploring other options to find the perfect fit.
In my quest for top-notch LMSs, I've had the opportunity to explore a range of alternatives to WizIQ that have impressed me with their unique strengths.
So, let's get started and discover the best WizIQ alternatives together.
List of WizIQ Alternatives and Competitors
I have shortlisted these 12 best WizIQ alternatives and competitors based on my experience, software comparison platform reviews, and in-depth research. These platforms are tailored to meet diverse e-learning needs, ensuring a seamless and enriching learning experience.
1. ProProfs LMS – Best LMS for Employee Training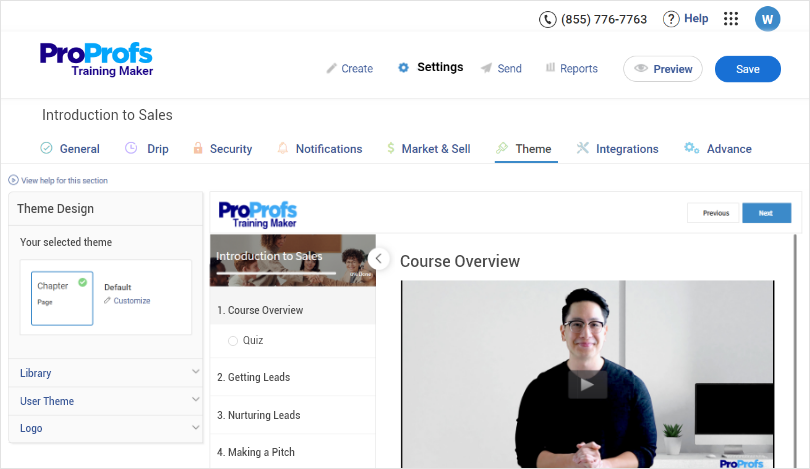 ProProfs LMS stands out as the ideal platform for employee training. I appreciate its white labeling feature, which allows me to brand the entire learning experience with my company's logo and design. This creates a seamless and immersive environment for my learners, fostering a sense of belonging and identity.
Moreover, the course setting features are second to none, enabling me to tailor the learning journey to each individual's needs. ProProfs LMS is an excellent tool for course creation, and it comes with 100+ settings to choose from. Whether you want to set a reminder date for your course or password-protect it, ProProfs lets you do that.
With its user-friendly interface and comprehensive analytics, I can continuously track progress in real-time, ensuring every learner receives the best possible education. Other features of the tool that I like are online collaboration, surveys, quizzes, gamification, and mobile learning.
What You Will Like:
Allows learners to access courses and learning materials from any location.
The LMS provides a virtual classroom environment where instructors can conduct interactive training sessions.
Supports SCORM compliance, ensuring seamless integration with a wide range of e-learning content, authoring tools, and third-party applications
The platform offers robust assessment tools and detailed analytics that track learners' progress and performance
What You May Not Like:
Currently, it only integrates with Zoom. It would be great if the tool integrated with more video conferencing tools
While it offers a free plan, it's limited to just 10 users. This can be a great way to test the waters, but larger teams might need to consider premium plans
Frequent updates may give you the latest and the greatest, but it also would need you to constantly adapt to the new changes
The collaborative features may not be useful for solo trainers
Pricing:
Forever free plan (up to 10 learners). Paid plan starts at $1.97/learner/month (billed annually) for large teams. No hidden charges. 15-day money-back guarantee.
2. Blackboard Learn – Best LMS for Developing Digital Capabilities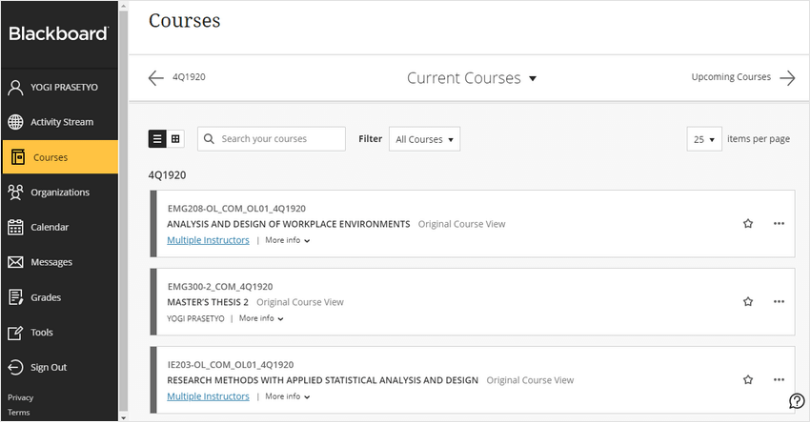 I highly recommend Blackboard Learn (part of Anthology) to institutions seeking a comprehensive, reliable, and future-ready learning management system. The best part about Blackboard Learn is its reliability. I can always count on it to keep my learners engaged and on track, whether in the classroom or navigating the virtual landscape.
Blackboard Learn facilitates ongoing communication between me and my learners. I can easily engage with them, answer questions, and provide the necessary guidance, fostering a collaborative and interactive learning environment.
The professional development opportunities through Blackboard Academy have been invaluable. You can hone your digital capabilities and pedagogical skills as an instructor to deliver exceptional learning experiences.
One of the standout features is the extensive autonomy it provides to educators. Blackboard Learn allows users to implement best-practice pedagogical approaches seamlessly in traditional classrooms, online environments, or a blend of both. This flexibility empowers instructors to tailor the learning experience to meet the learner's unique needs.
What You Will Like:
The built-in accessibility tools ensure that all learners can fully participate in the learning process regardless of their abilities.
The platform's user-friendly interface and intuitive workflows make it incredibly easy to manage and deliver content
The anti-plagiarism tools help you check the originality and address potential instances of plagiarism
It effortlessly connects with various tools and data sources, making it a harmonious addition to any institution's EdTech ecosystem
What You May Not Like:
Blackboard Learn is not without its technical challenges, and sign-on errors are relatively common
In some cases, the locations of assignments and course materials can be obscure or poorly organized
The overall layout and visual design of Blackboard Learn may not be very appealing to some users
Pricing:
Starts at $9,500.00/year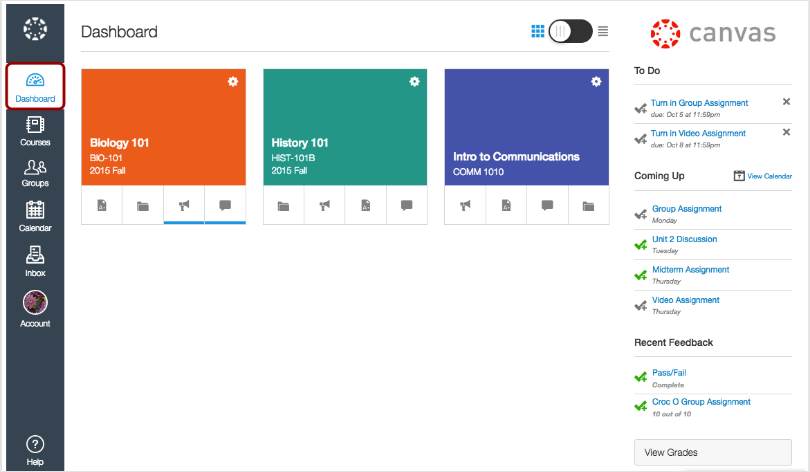 Another WizIQ alternative that I would suggest is Canvas by Instructure. If you've been looking to deliver the best vocational training, then this would be your ideal pick. With robust mobile apps and responsive design, Canvas LMS ensures learners and trainers can access content anytime, anywhere.
Its collaborative tools enable trainers to interact through messaging, audio, video, and more, fostering workforce-ready skills. Features like SpeedGrader, enriched multimedia lessons, analytics, and cloud-based access further enhance teaching and learning.
It supports both synchronous and asynchronous learning, accommodating diverse teaching approaches. Canvas stands out for its customizable modules, analytics for data-driven insights, and integrations with various third-party tools.
What You Will Like:
Offers an intuitive interface that makes it easy for both instructors and learners to navigate and engage with the platform
Allows instructors to tailor courses by integrating external tools and resources for a customizable learning experience
Facilitates seamless communication through discussion boards, announcements, and messaging features, fostering learner engagement
Provides robust analytics that empowers educators to track learner progress and refine their teaching strategies
What You May Not Like:
Some users have reported experiencing technical problems, such as poor mobile app performance, slow loading times, difficulty accessing certain features
Does not support branching scenarios, drag-and-drop interactions, or gamification elements
Canvas LMS has a lot of options and settings that can be overwhelming and confusing for new users
Pricing:
Starts at $299/year/user
4. TalentLMS – Best LMS for Hosting Live Sessions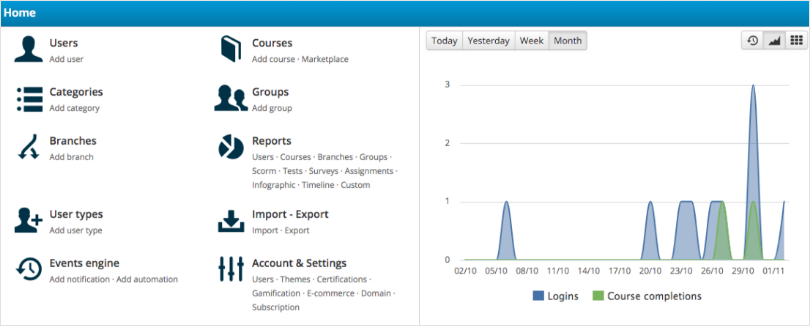 If you've been planning to replace WizIQ LMS with a better tool for hosting live sessions, look no further than TalentLMS. The tool offers a user-friendly interface, making it easy for businesses to create and customize courses.
Detailed learning paths and completion rules keep learners on track, and courses can be grouped into categories for easy access. Custom roles and permissions further enhance the platform's management capabilities.
One of the key features of TalentLMS that most users like is the ability to host live online or in-person training sessions. Administrators can effortlessly set up and invite learners to self-register, while automatic reminders keep everyone informed about upcoming sessions.
In addition, TalentLMS allows organizations to connect with learners through various communication tools, such as video conferences, messaging, discussions, and feedback. This keeps the learners engaged throughout their learning journey, regardless of location or device.
What You Will Like:
The platform emphasizes scalability, allowing organizations to create unlimited sub-accounts tailored to different teams and departments
Enable automatic emails, auto-assign and unassign courses, set expiration dates, deactivate inactive users, and put tasks on autopilot
With the added advantage of offline training on mobile, learners can seamlessly synchronize their progress once they reconnect to the internet
Easily import users in bulk, invite them to self-register, and synchronize accounts from other systems
What You May Not Like:
Certification management needs further improvement by enhancing the system's features related to handling and tracking certifications efficiently
Obtaining the certificate ID number is not a straightforward process and may require streamlining to make it more user-friendly and accessible
The reporting functionality could be enhanced by adding filtering options based on additional criteria
Pricing:
Starts at $69/month (billed yearly)
5. Litmos – Best LMS for Gamified Learning

Litmos LMS is an impressive platform with a user-friendly interface and robust feature set. As a cloud-based solution, it offers excellent scalability and ensures the security of training programs, making it a preferred choice for businesses of all sizes.
What particularly impressed me was the versatility of Litmos, allowing us to unify various learning methods such as virtual, classroom, mobile, and social learning. This flexibility enabled our learners to access courses anytime, anywhere, and on any device.
Litmos fosters learner engagement through its innovative tools, including video assessments and gamification with leaderboards. These features motivate learners and contribute to a dynamic and immersive training environment.
Automation features like group enrollment and task assignment save time and effort, making administration tasks more manageable. The instructor-led training (ILT) module provides a smooth experience for scheduling and managing classroom or virtual sessions.
What You Will Like:
Customization is a key advantage of Litmos, as the platform allows organizations to brand the LMS to match their corporate identity
Compatibility with various workflow tools, such as CRM integrations, streamlines the training process
It supports 35 languages, making it suitable for multinational organizations with diverse workforces
Provides detailed tracking and reporting capabilities to understand learner's progress in real-time
What You May Not Like:
Course creation lacks flexibility, with no sub-module organization or content drip-feed functionality available
The compliance courses suffer from below-average learning design, being passive and generic
Litmos lacks stability, leading to broken page links, non-functional buttons, and accessibility issues
Pricing:
Starts at $3/user/month
6. Absorb LMS – Best LMS for AI-Powered Learning

I highly recommend Absorb LMS to any organization looking for a powerful and easy-to-use LMS. As one of the leading WizIQ competitors, the platform offers a wide range of features that can be customized to meet your specific needs, and it is backed by a team of knowledgeable and responsive support staff.
One of the standout features of Absorb LMS is its AI-powered search functionality, known as Absorb Pinpoint. This smart feature ensures learners find relevant content precisely when needed. This personalized learning experience has significantly improved the overall engagement of our learners.
As someone who values data-driven decision-making, Absorb Analyze has been a lifesaver. The reporting and analytics feature provides comprehensive insights into learner data, helping me track progress, identify trends, and make informed decisions for continuous improvement.
The versatility of this tool is commendable, making it suitable for various use cases, such as employee onboarding, compliance training, sales training, partner learning, and more.
What You Will Like:
Users find the platform's interface and content browsing experience enjoyable and engaging
The search tool is highly effective in quickly locating and accessing the required courses, saving time and effort for learners
The mobile app lets users access the platform from anywhere and at any time
The evaluation process is hassle-free for both learners and administrators to assess progress and performance
What You May Not Like:
The platform lacks a high level of personalization in the learning processes, potentially hindering individualized learning experiences for users
Some users face challenges in managing blended learning on the platform, which can impact the effectiveness of specific training methods
There have been complaints regarding customer support, with some users reporting slow response times or non-existent support in some instances
Pricing:
Starts at $800/month
7. iSpring Learn – Best LMS for Upskilling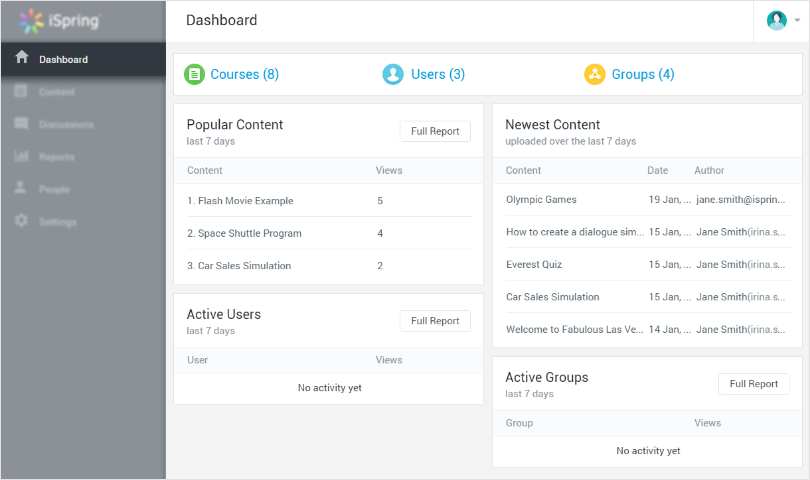 As a forward-thinking organization, we recognize the importance of investing in our team's development to stay competitive in today's fast-paced business landscape. With iSpring Learn, I have found a comprehensive and efficient solution to achieve this goal.
The content library housing ready-made courses has saved us time and effort in course development. These pre-built resources cover many topics, and you can easily customize them to suit your specific training needs.
Creating captivating courses and assessments doesn't require any coding skills. Assigning training content to learners is easy, and the platform even reminds them of deadlines, ensuring everyone stays on track.
Another significant benefit we've experienced is the ability to measure training ROI. With concrete data and analytics, you can assess the qualifications and competencies of your team.
What You Will Like:
The system demonstrates commendable capabilities in providing comprehensive reporting on training progress
The software can handle different types of files. This is like having a tool that can read many different languages, not just one
The tool is easy to configure, which means you can set it up and get it running without much hassle
You can deliver a certificate of completion for validating knowledge and skills
Why You May Not Like:
Users might find the available interaction styles to be somewhat limited, which can restrict their creativity and flexibility in designing engaging course content
Editing process can be cumbersome, particularly when trying to modify role plays or other content elements within PowerPoint
Users may face challenges in obtaining actionable insights from custom surveys and quiz results. This could require additional manual effort to interpret the data effectively.
Pricing:
Starts at $770/author/year
8. Teachable – Best LMS for Selling Courses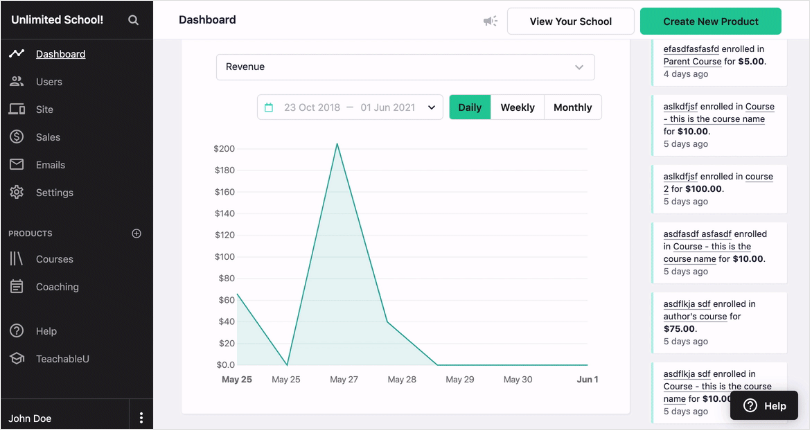 As a training manager, I find Teachable to be a great WizIQ alternative that understands the dynamics of effective learning and prioritizes the success of both creators and learners. Teachable's no-code platform has enabled me to empower our training initiatives.
Its diverse offerings, ranging from online courses to coaching products, provide flexibility to tailor our training methods to meet the diverse needs of our employees.
The simplicity of the course builder ensures that crafting engaging and informative content doesn't demand extensive technical expertise. The monetization tools, such as upsells and bundles, have allowed us to enhance the value of our training programs.
From order bumps and upsells to increasing your revenue and tax handling that takes the headache out of accounting, this platform prioritizes efficiency and profitability. With tax-inclusive pricing, you can boost global checkout conversions by up to 22%, making every sale count.
What You Will Like:
A toolbox for success that comes with course design templates, lecture comments, and student management tools
Buy Now, Pay Later (BNPL) options like Affirm, Afterpay, and Klarna provide payment flexibility that directly translates to higher sales
From the "teachable:u" mini course library to the insightful blog and exclusive community, there's a wealth of information and networking opportunities to leverage
Training managers can offer various formats, from online courses to downloadable resources and coaching products
What You May Not Like:
Charges a transaction fee on all plans, ranging from 5% to 10%, depending on the plan you choose
Does not offer much flexibility when it comes to designing sales pages or course pages. You can only choose from a few templates and colors but cannot edit the HTML or CSS code
Lacks native gamification feature, meaning you cannot create badges, points, or leaderboards to motivate your students.
Pricing:
Starts at $0 (Limited to 1 admin & author seat)
9. SkyPrep – Best LMS for Virtual Classrooms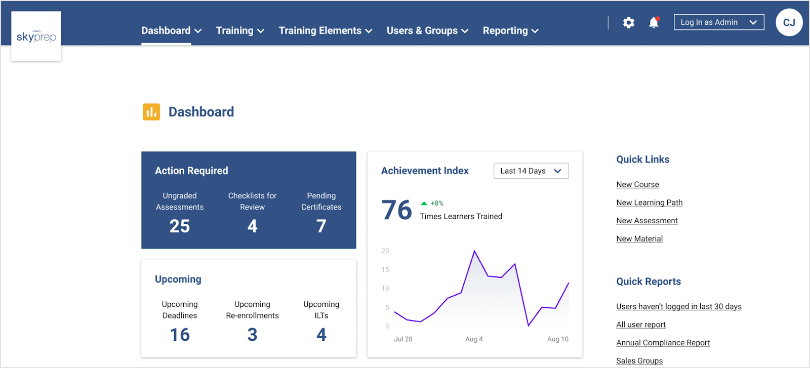 If you've been using the WizIQ virtual classroom and looking for something better, then SkyPrep is the go-to platform.
What truly sets SkyPrep apart is its holistic approach to online training. Whether it's automating employee onboarding, nurturing employee growth, supporting customer training, ensuring compliance, or creating a virtual classroom experience, SkyPrep covers it all.
The tool's fully-integrated virtual classrooms elevate online learning by facilitating face-to-face connections and maximizing engagement through interactive features.
From interactive whiteboards and screen-sharing to breakout rooms and on-demand recordings, these tools create an immersive training environment that replicates the in-person experience.
Managing webinars is easy with SkyPrep's comprehensive features. The entire webinar lifecycle is centralized within the LMS platform, from scheduling sessions and enrolling learners to tracking attendance and generating attendance reports. Automated enrollment and session reminders further streamline the process.
What You Will Like:
Calendar for upcoming events allows users to have a clear overview of their schedule, helping them plan and prepare effectively
The inclusion of a link to the specific course document folder within the course settings is a valuable feature
The navigation system is seamless and user-friendly. The layout is designed logically, avoiding any unnecessary steps or confusing elements
The ability to increase employee engagement by 18%, reduce training time by 40%, and improve knowledge retention by 60% shows the platform's efficacy in delivering meaningful results
What You May Not Like:
The "Studio" feature is a bit challenging as it has a learning curve
Lacks control over the content displayed in the dashboard
There's room for improvement in the email delivery system. A streamlined approach could enhance communication efficiency
Pricing:
Starts at $199/month
10. Tovuti – Best LMS for Learner Experience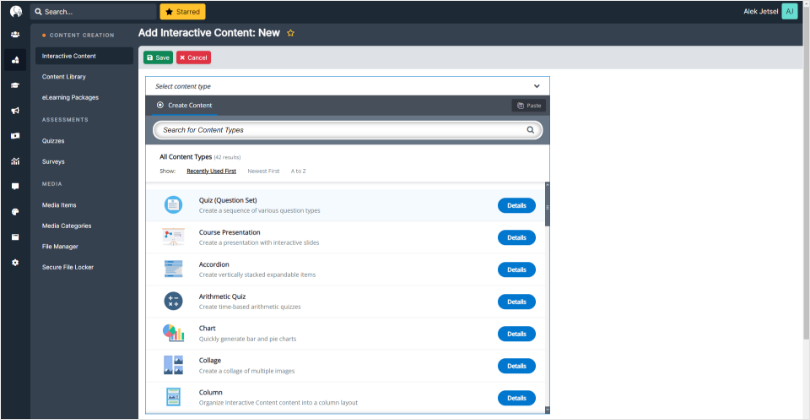 Having experienced Tovuti LMS firsthand, I can confidently say it's a game-changer for learning. The modern design and intuitive navigation make every lesson engaging and easy to follow.
What impressed me the most was the mobile learning feature—accessing my courses on any device was incredibly convenient.
The interactive content, from quizzes to multimedia activities, kept my learners hooked and excited. Collaborative learning became easy with tools like whiteboards and live discussions, connecting me with my teams.
The personalized learner portal felt like my own learning hub, with everything I needed at my fingertips. And the global reach through language localization? It's phenomenal! The live learning sessions and integrations added an extra layer of dynamism.
What You Will Like:
Provides an easy-to-use interface facilitating the creation, delivery, and tracking of captivating online learning experiences
Provides virtual classes, breakout rooms, whiteboards, gamification, quizzes, surveys, badges, and certificates
Monetization is made simple, allowing users to sell courses individually or in bundles, and even charge for webinar and event registrations
Detailed reports and analytics empower users to gauge the efficacy of their learning initiatives and pinpoint opportunities for enhancement
What You May Not Like:
The tool can be expensive for some users, especially if they need a large number of active users or custom integrations
May have some bugs and glitches that affect the functionality and performance of the platform
Tovuti LMS does not have all the integrations that some users need or prefer, such as SCORM compatibility, social learning, or third-party tools
Pricing:
Starts at $11,160 (For one year, up to 50 users)
11. BrainCert – Best LMS for Instructor-Led Training (ILT)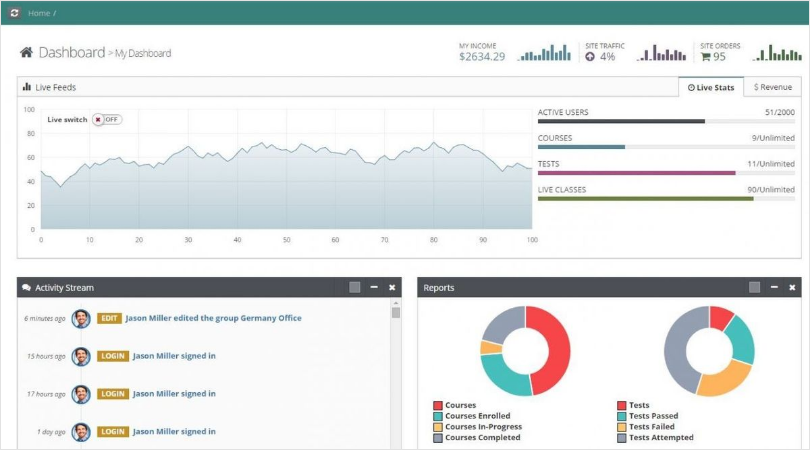 Another alternative and competitor to WizIQ is BrainCert, an all-in-one solution for online learning, teaching, collaboration, and marketing. It offers interactive courses, assessments, and gamification.
The platform's scalability and security are evident in its ability to support small and large businesses. It equips users with all the essential tools to construct a robust eLearning ecosystem.
The platform supports e-commerce integration for selling digital and physical products, while its landing page builder facilitates easy website creation. Users can also conduct targeted email marketing and integrate with various apps.
Another feature I particularly like is Instructor-Led Training (ILT). The platform supports various learning styles, allowing personalized and distraction-free environments. It includes a built-in virtual classroom, integrated testing, and other features.
What You Will Like:
Offers a highly intuitive interface, requiring minimal training to create and upload courses
The ability to sell courses is a standout feature, allowing for revenue generation
BrainCert is praised for its polished and professional appearance that enhances its appeal
The platform supports various question types, easy CSV question uploads, and a holistic learning experience
What You May Not Like:
Some users have reported minor issues, such as bugs during sign-in that could affect course access
Navigating between different components within the LMS, like courses, questions, and exams, could be confusing for some users
Certain actions on the platform can't be undone, leading to frustrations if mistakes are made during course management
Pricing:
Starts at $39.00/month (Billed Annually)
12. Velpic – Best LMS for Creating Video Lessons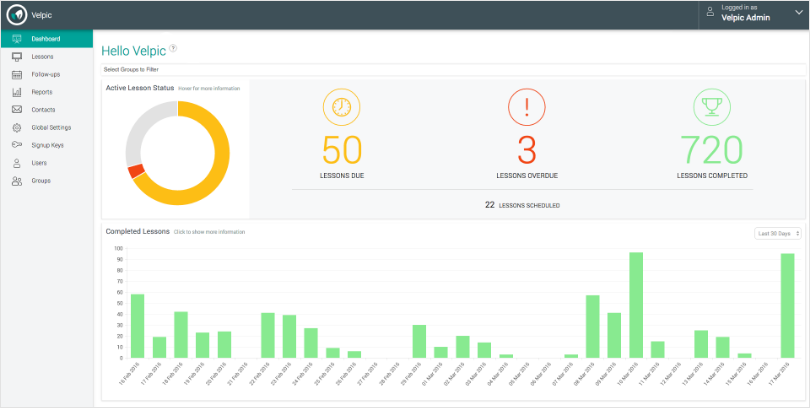 Though I haven't tried out this tool, my research and peer feedback has made me conclude that Velpic could be a great WizIQ alternative. The platform enables you to create or even purchase video lessons, or if you have existing training material in PPT, PDF, or Word formats, you can effortlessly upload them.
This flexibility ensures that no matter what type of content is available, you can seamlessly integrate it into the training process.
The built-in editor for creating video lessons is remarkably user-friendly. Users can easily add text, audio, video, and images. This versatility lets users craft engaging and comprehensive training content that keeps their team members engaged throughout the learning process.
The best part is that it has a range of customization options, which lets you maintain the branding and style that resonates with your organization. Similarly, managing users has never been simpler. Whether you want to upload existing user lists or add users automatically through single sign-on integration, Velpic's approach is efficient and hassle-free.
What You Will Like:
Offers an intuitive and easy-to-navigate interface, enhancing user engagement and minimizing the learning curve
The platform allows for flexible customization of training content, enabling organizations to tailor courses to their specific needs and branding
The detailed analytics and reporting tools empower administrators to track learner progress and identify areas for improvement
With mobile-friendly design and apps, Velpic LMS enables users to access training materials on various devices
What You May Not Like:
The current system lacks sufficient customization options for auto-generated emails, specifically in terms of subject line content
Some users have reported issues with third-party integrations, such as SCORM, LTI, and xAPI
As the number of lessons and employees grows, potential scalability issues might arise
Pricing:
Starts at $499 AUD/month (billed monthly)
Which WizIQ Alternative Should You Choose?
Choosing a WizIQ alternative will ultimately depend on your specific needs, budget considerations, and desired features. While various options exist, your decision should align with these factors to ensure optimal eLearning success.
That said, I would recommend the following tools:
Option A: ProProfs LMS
Known for its user-friendly interface and comprehensive course creation tools, ProProfs LMS suits diverse training needs. It caters to businesses across various industries, including business services, construction, manufacturing, healthcare, service, financial, non-profit, and government sectors. It is ideal for HR, Training, Compliance, and Operations departments, simplifying training for new employee onboarding, compliance, safety, policy procedures, skills development, and more.
Option B: Blackboard Learn
Renowned in the educational and corporate sphere, Blackboard Learn offers robust features and collaborative functionalities that promote engaging online learning experiences.
Option C: Moodle
Moodle's open-source nature, coupled with its extensive customization options, makes it a versatile choice for organizations seeking adaptable and tailored eLearning solutions.
Each recommended option has its own merits that benefit different eLearning requirements. But in my opinion, ProProfs LMS is the best, and it emerges as a strong contender among the alternatives. Its user-friendly interface, comprehensive course creation tools, and top-notch customer service make it a worthy choice.
Do you want a free Training Software?
We have the #1 Online Training Software for employee training & assessment