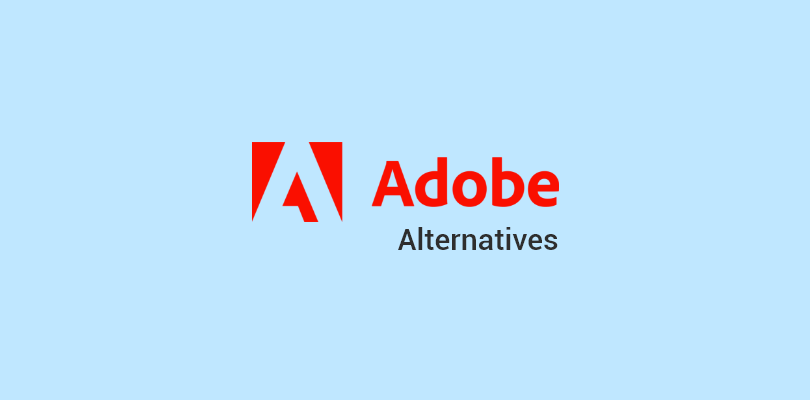 Everyone who has ever tried creating an online course knows about Adobe Captivate. From its virtual reality functionality to interactive videos, branched courses, and software simulations, it has garnered much attention.
Be that as it may, it comes with drawbacks: high subscription costs, limited animation capabilities, or not being a part of Creative Cloud.
That's why I considered compiling a list of top Adobe Captivate alternatives to help those seeking better options.
These LMS tools are impressive with their unique features, user-friendly interfaces, and diverse capabilities. With these tools, I can quickly create, deliver, and track online courses that are immersive, personalized, and AI-driven.
So, without delay, let's check out these exceptional Adobe Captivate competitors.
List of Adobe Captivate Alternatives
While creating this list of top Adobe Captivate competitors, I kept a few parameters in mind, such as options for different budgets, tools with unique USPs, customer testimonials, reviews in third-party sites, and recommendations from my peers based on their experience.
I hope you find the information helpful in choosing a suitable Adobe Captivate alternative.
1. ProProfs LMS – Best Adobe Captivate Alternative For Employee Training Course Creation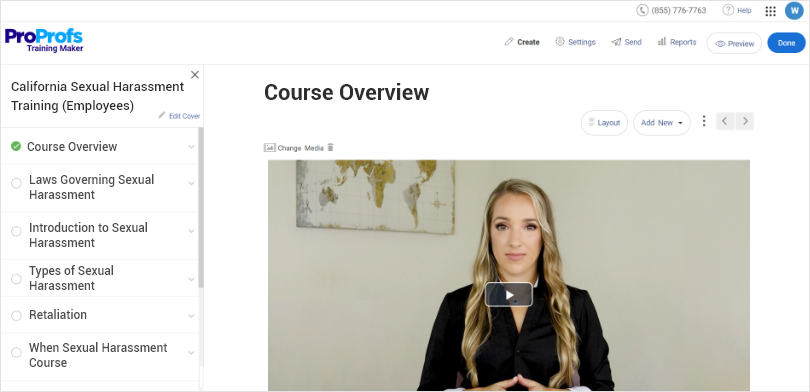 Starting with the tool I currently use, I'd like to share my delightful experience with ProProfs Training Maker. It's easily the top alternative to Adobe Captivate and might be better in some features.
This LMS is perfect for creating and delivering engaging online courses, thanks to features like built-in authoring tools, premade courses, adding engaging quizzes, and ongoing assessments to keep learners involved and informed.
The primary reasons I find this tool indispensable are its seamless integration with 50+ tools like ProProfs Collaborate and Salesforce, facilitating efficient workflows, and centralized training with a virtual classroom.
Some additional features I appreciate are single sign-on (SSO) functionality, multilingual support, multi-admin access, and easy customization of courses with media and branding.

What you'll like:
A premium library of 100+ professionally-designed, customizable, and ready-to-go courses.
AI reporting feature that auto-generates in-depth individual & group reports.
100+ settings & configurations to deliver online training just as you prefer.
Data visualization to help you track learners' progress, course completion, challenges and other information in real time.
SCORM compliance for a smooth user and learning experience.
Learning resources like surveys, quizzes, flashcards, etc.
What you won't like:
No option to choose light or dark mode.
The classroom feels too static.
Pricing:
Forever free plan (up to 10 learners). Paid plan starts at $1.97/learner/month (billed annually) for large teams. No hidden charges. 15-day money-back guarantee.
Watch: How to Choose the Best Corporate Training Platform
2. Absorb LMS – Best Adobe Captivate Alternative For Personalized Learning

Absorb LMS is another superb Adobe Captivate alternative I want you to consider. It supports engaging and personalized learning experiences backed up by AI features.
This cloud-based LMS aims to meet learners' specific needs, streamline most administrative tasks using NL (natural language) commands, and share smart recommendations for popular content based on each individual's preference and learning path.
It also offers an Intelligent Ranking feature that personalizes learners' search results based on their search history.
What you'll like:
Seamless mobile learning with offline sync support for content access anytime, anywhere.
A dedicated development team to continuously improve the system based on user feedback.
Compliance with WCAG 2.0, SOC 2 Type 2, and GDPR for data security and accessibility.
Turnkey integrations with solutions like Salesforce, BambooHR, Namely, Zoom, and ADP.
Automatically assigns learning plans, dashboards, courses, and catalogs.
What you may not like:
Requires re-enrolling users whenever you modify a course, which can be challenging with large teams.
Pricing is not suitable for small businesses and solopreneurs.
Pricing:
Starts at $14,500/year
3. Docebo – Best Adobe Captivate Alternative For Automated Learning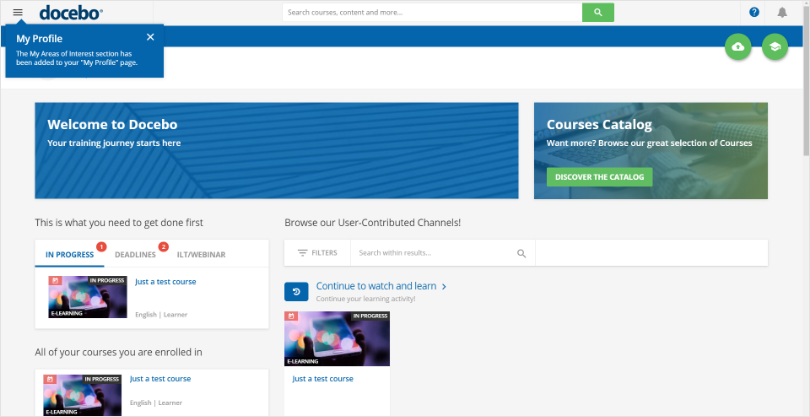 As an alternative to Adobe Captivate, Docebo has proven to be a highly effective tool, in my experience, offering a range of features that simplify tasks and enhance the learning experience.
One feature I found particularly helpful is its exceptional automated learning experiences. Docebo's automated course enrollments and notifications, along with timely reminders, kept learners engaged and well-informed with minimal manual intervention, making training and tracking my team's progress effortless.
But what's truly remarkable were the robust reporting and analytics features. These provided valuable insights into learner performance and course effectiveness, empowering me to make data-driven decisions for continuous improvement.
What you'll like:
An extensive library of more than 80,000 courses arranged under different categories.
Incorporates social learning elements, such as discussion forums and collaboration tools, fostering community.
Cloud-based architecture ensures scalability, making it suitable for organizations of all sizes.
Supports gamification and interactive elements to add fun and engagement to the learning process.
You can easily design intuitive learning paths.
Integration with tools like Salesforce and WordPress.
What you won't like:
Exporting data via CSV or Excel in Docebo requires a manual process.
Customizing certain advanced features may have a learning curve.
Mobile app has limitations in supporting offline learning capabilities.
Pricing:
Starts at $1,600/month
4. iSpring Suite – Best Adobe Captivate Alternative For Content Management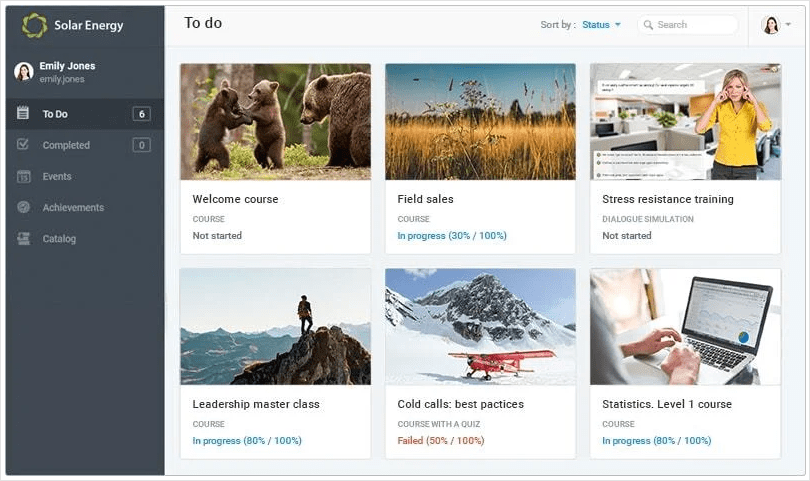 iSpring Suite is a compelling alternative to Adobe Captivate. It empowers organizations to deliver top-notch training, ensuring regulatory compliance while enhancing employees' overall skillsets.
I discovered several reasons to consider it a competitive option to Adobe Captivate. For example, its ability to create engaging courses and insightful quizzes, keep team members up-to-date, and facilitate effective knowledge assessment.
A key advantage that caught my attention is iSpring Suite's centralized content repository. This feature allowed me to store all my training materials, including courses, presentations, documents, and multimedia assets, in one convenient location, simplifying content management and organization.
What you'll like:
SCORM and xAPI standards for seamless experience.
Integration with Microsoft 365, Zoom, Salesforce, etc.
Certification and recertification options for efficient tracking of employees' achievements.
Version control to manage updates and access historical content.
Easy content organization with folders and categories for learners' convenience.
What you won't like:
Transitioning from another LMS isn't smooth.
Incompatibility with Mac devices, limiting access for macOS users.
Limited reporting compared to some other LMS platforms.
Pricing:
Starts from $2.29/user/month
5. TalentLMS – Best Adobe Captivate Alternative For Course Creation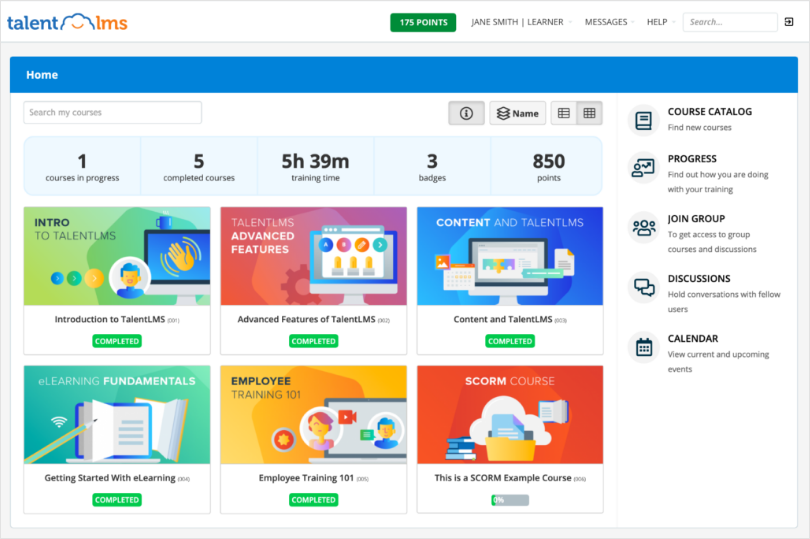 TalentLMS, a versatile learning management system, stands out as an excellent alternative to Adobe Captivate, providing a comprehensive solution for delivering effective training programs.
In my experience, I found it a cost-effective solution that seamlessly transitioned in-person seminars to online training. The platform allowed me to create unlimited courses, customize the content, and effortlessly upload existing training materials for a quick start.
TalentLMS also simplified my administrative tasks with on-demand reports and certificates, enabling easy tracking of learners' progress and generating compliance reports.
What you'll like:
Support for multiple languages to fulfill diverse language requirements of global organizations.
A built-in virtual classroom feature for engaging live instructor-led training and interactive webinars.
A TalentLibrary™ with pre-built courses, saving time and effort in content creation.
A course marketplace where organizations can access and purchase third-party courses on various topics.
You can directly include multimedia elements like videos, images, and documents within the course content.
What you won't like:
The discussion forum needs improvement for a more user-friendly experience.
The navigation is complicated, requiring adaptation for an improved user experience.
Pricing:
Starts from $69/month (billed yearly)
6. Moodle – Best Adobe Captivate Alternative For Collaborative Training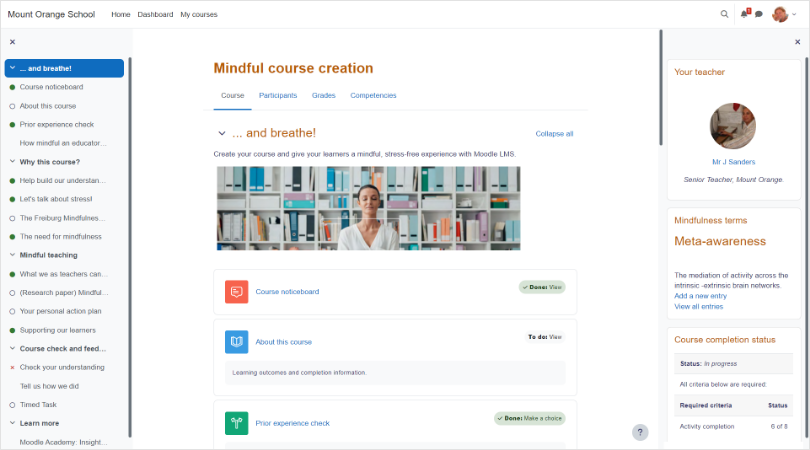 Moodle LMS impressed me with its versatility and rich features. The platform can be your right-hand man in streamlining onboarding, skills training, and compliance initiatives.
This Adobe Captivate competitor supports collaborative learning through forums, chats, and group activities, making it an excellent choice for vocational training. Learners can share knowledge, engage in discussions on industry-related topics, and participate in practical learning exercises.
The platform's remarkable customization options, user-friendly interface, and tangible learning outcomes make it a compelling choice.
What you'll like:
Open-source and free LMS, making it an ideal choice for startups and medium-sized enterprises (SMEs) with budget constraints.
Flexibility in personalizing courses to suit specific organizational needs and learner preferences.
Mobile app allows learners to access course materials and resources offline.
Competency-based learning, where you can design and assess learning based on specific skills.
Vast library of plugins and add-ons.
What you won't like:
The mobile app offers limited functions.
Offers limited analytics, reporting, and customization features since it is a free tool.
Pricing:
Free tool
7. 360Learning – Best Adobe Captivate Alternative For Collaborative Learning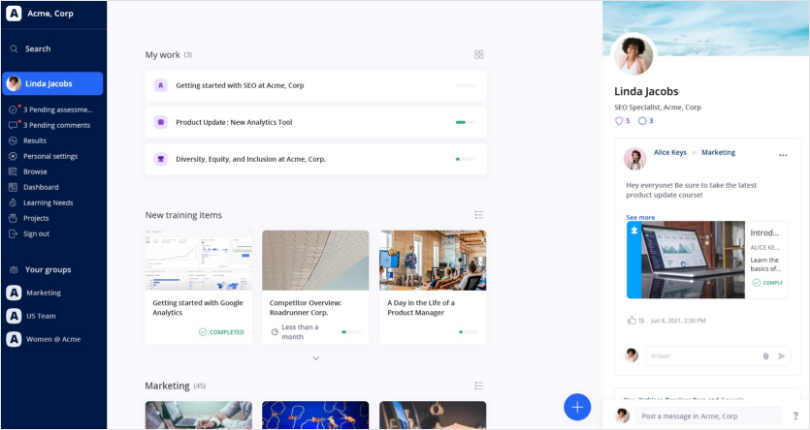 Another compelling alternative to Adobe Captivate is 360Learning. I like its innovative approach to collaborative learning and engaging content creation.
The tool fosters a sense of community and knowledge-sharing among learners. This social learning aspect enhances engagement and promotes active participation, making the learning experience more enjoyable and effective.
I also found its user-friendly interface and intuitive content creation tools equally helpful for seamless course development.
What truly sets 360Learning apart is its emphasis on learner feedback and continuous improvement. The platform enables learners to provide feedback and suggestions, empowering them to actively contribute to the learning experience.
What you'll like:
Encourages learner feedback and participation to provide valuable insights for continuous improvement.
Built-in social features enable learners to like, comment, and share content for the interactive learning experience.
Gamification with features like badges, leaderboards, points, and more.
Peer learning through discussion forums and collaborative activities.
What you won't like:
Needs to have more gamification options.
Have limited support for offline learning.
Pricing:
Starts from $8/user/month
8. Lessonly by Seismic – Best Adobe Captivate Alternative For Personalized Learning Paths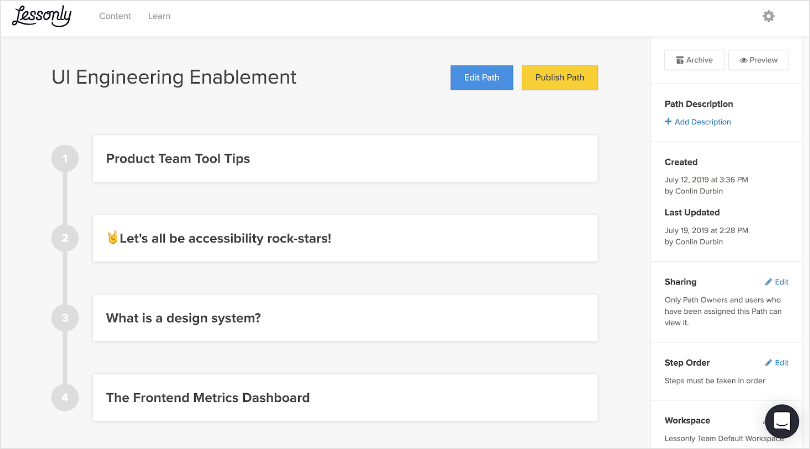 I've had an incredible experience with Lessonly, a game-changing alternative to Adobe Captivate.
Its collaborative learning approach fosters engagement and knowledge-sharing among learners.
Similarly, the user-friendly course creation tools allowed me to develop interactive content effortlessly.
The continuous flow of learner feedback shaped the training and its personalized learning paths. With the latter, my learners could receive customized courses and content based on their specific needs, skills, and job roles, ensuring engagement with relevant and targeted materials.
What You Will Like:
You can create interactive content using quizzes, videos, and simulations.
Facilitates self-paced learning based on each individual's needs.
User-friendly interface simplifies course authoring, enabling trainers to easily create and update content.
You can incorporate SCORM and other formats.
Integrates with various tools like Salesforce and Zendesk, streamlining training processes.
What You Will Not Like:
The mobile app has limited features compared to other tools.
Lacks built-in gamification features, which may impact learner motivation and engagement.
Pricing:
Starts at $0 (limited to 25 users)
9. LearnUpon – Best Adobe Captivate Alternative For Small Businesses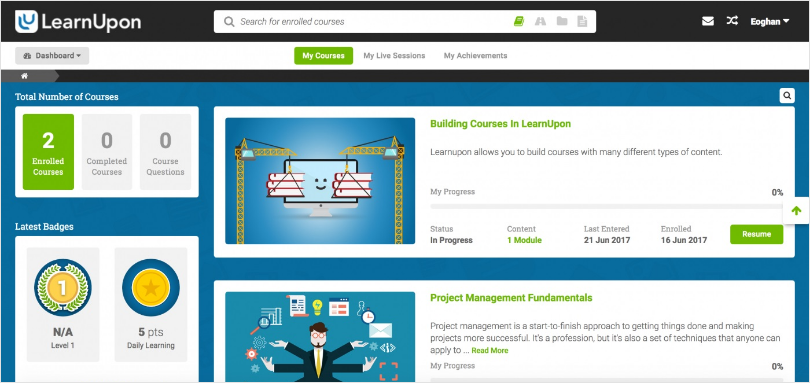 Having used LearnUpon as an alternative to Adobe Captivate, I must say it's a user-centric and engaging learning solution. Its features, such as user management, portals, integrations, webinars, and reporting capabilities, are all beneficial, making training administration effortless.
One notable feature is LearnUpon's course creation, where you can easily organize and structure the training content, including lessons, modules, quizzes, videos, and other interactive elements.
Through an intuitive and user-friendly interface, I was able to assemble course materials, arrange content in a logical sequence, and customize the learning experience based on learners' needs.
What you'll like:
Platform supports various content types, including presentations, videos, quizzes, SCORM packages, and more.
Offers integrations with tools like Zapier, Salesforce, Marketo, Oracle, etc.
Comes with an instructor-led training (ILT) center so you can offer in-person sessions.
Allows you to create and manage multiple portals for seamless training delivery to different audiences with tailored experiences.
What you won't like:
Has limited customization options, so you can't brand your courses completely.
Some users may find LearnUpon's pricing structure complex.
Some mobile app functions might be limited compared to the web version.
Pricing:
Starts from $599/month
10. Litmos – Best Adobe Captivate Alternative For Social Learning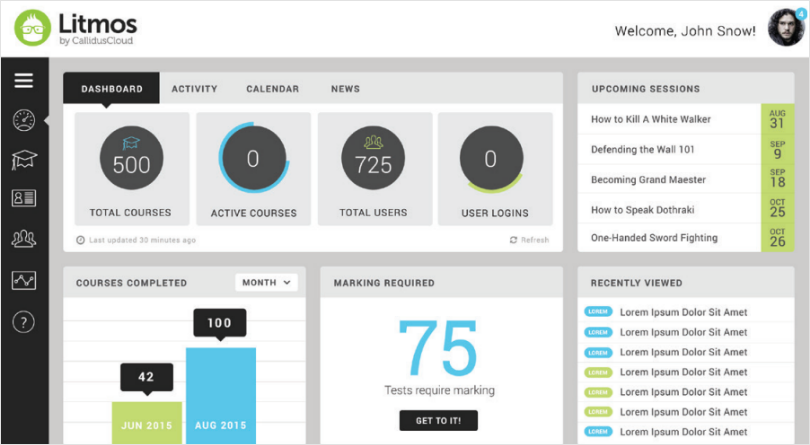 After using Litmos for a short while, I found it to be a leading cloud-based learning system that excels in facilitating online training programs for organizations.
Litmos' engaging learning paths, collaboration features, and content co-authoring capabilities made creating an interactive learning experience a breeze.
I appreciate its support for diverse learning formats, including virtual, classroom, mobile, and social learning, fostering a collaborative environment with features like discussion forums and social feeds.
The platform helped me deliver blended learning by allowing interactions with instructors and peers through virtual classrooms and live chat.
What You Will Like:
Offers an extensive content library for effortless course creation.
Interactive learning paths to guide progression.
Provides engaging gamification features for enhanced participation.
Robust analytics and reporting so you can get data-driven insights and track learning progress.
What You May Not Like:
The content authoring tool doesn't have comprehensive features.
The mobile app does not provide offline access.
User management feature doesn't support assigning different roles or permissions.
Pricing:
Starts at $3 per user/month
11. Tovuti LMS – Best Adobe Captivate Alternative For Training Large Teams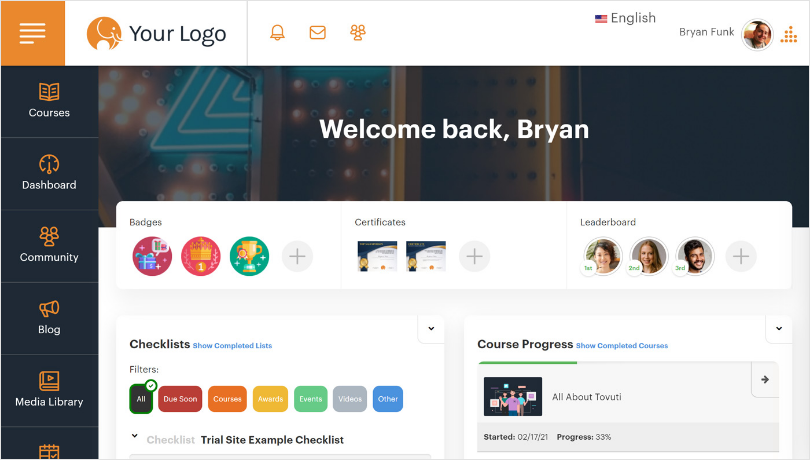 Although I didn't use it myself, Tovuti LMS comes with a recommendation from my peer as an effective Adobe Captivate alternative for training large teams because of its scalability.
It is a user-friendly platform, which centralizes training programs, simplifies management, tracking, and promotes transparency.
Some features pointed out to me were its ability to create captivating courses, automated enrollments and notifications, and leverage data for improved training efficacy.
Tovuti ensures compliance through an easily searchable audit trail and simplified reporting. It also offers seamless integration with over 2,000 APIs, enhancing its functionality.
What You Will Like:
You can offer tailored experiences via personalized learning paths.
Offers access to over 30,000 pre-built courses to expedite course creation.
Comes with engaging gamification features to enhance engagement.
Supports automated enrollment, reminders, and certifications.
An easily navigated administrative portal to manage everything.
What You May Not Like:
New users may feel intimidated by the steep learning curve.
Limited courses in languages other than English.
Price point isn't suitable for small businesses.
Pricing:
Starts at $775/month
12. Cornerstone – Best Adobe Captivate Alternative For Virtual Training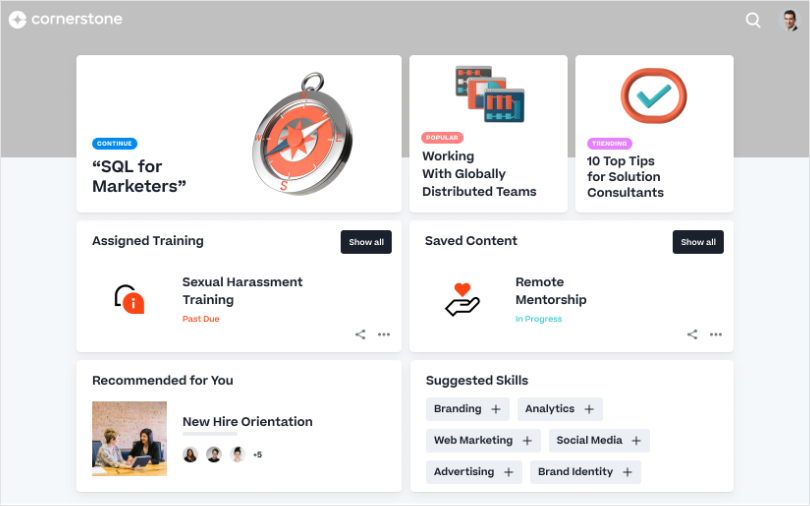 In my brief experience with Cornerstone, some of the things I came to appreciate are its centralized system facilitating personal goal tracking and knowledge sharing.
While Adobe Captivate focuses on content creation and e-learning authoring, Cornerstone LMS provides a comprehensive learning management system with features tailored to meet the unique needs of organizations.
I found this tool suitable for virtual training as it offers a virtual classroom for real-time, interactive training sessions and access to online training materials. This flexibility enables remote learning and ensures accessibility.
What You Will Like:
Provides instant access to data and reports to streamline accreditation audits.
Offers personal goal tracking and engagement building.
Facilitates targeted learning through dedicated learning paths.
Comes with AI-driven insights so you can evaluate each individual's performance.
What You May Not Like:
Has a steep learning curve for new users.
Limited branding functionality for certifications.
Lacks comprehensive integration options.
Pricing:
Starts at $6/user/month
Which Is the Best Adobe Captivate Alternative for You?
After exploring an array of Adobe Captivate alternative tools, three stand out as the most remarkable choices for me, each offering unique strengths that cater to diverse learning needs.
Option A: ProProfs Training Maker
ProProfs Training Maker emerges as the top choice due to its user-friendly interface, robust authoring tools, engaging quiz features, and seamless integration with over 50 tools. I appreciate its comprehensive e-learning ecosystem, making course creation and delivery a breeze.
Option B: Moodle
Moodle LMS impressed me with its versatility and collaborative learning approach, making it ideal for vocational training. The platform's rich customization options, open-source approach, and tangible learning outcomes set it apart as a top contender. It's an affordable alternative, for sure.
Option C: Absorb LMS
Absorb LMS shines as a superb Adobe Captivate alternative, offering engaging and personalized learning experiences through AI-powered features.
The platform's focus on meeting learners' specific needs, efficient administrative tasks through natural language commands, and intelligent recommendations for popular content made it an excellent choice for me to include it in the top three.
These tools offer a powerful blend of usability, customization, and personalization, making them the most compelling choices.
But, if you ask me to pick one out of the three, I'd have to go with ProProfs LMS because of its features-to-price ratio. It has functionality, valuable features, and a pocket-friendly pricing plan. There's something for everyone in it.
Do you want a free Training Software?
We have the #1 Online Training Software for employee training & assessment